We showed up to Potsdam, Germany not quite understanding what we were getting ourselves into. We knew it was going to be beautiful from the photos we had seen but we didn't realize HOW beautiful or how interested we would be with every aspect of our trip that we even came back a second time to travel and explore all the best things to do in Potsdam, Germany.
Our first trip was a short four-hour bicycle tour and another hour or so on our own which wasn't nearly enough time to scratch the surface of Potsdam, Germany. Most people make the mistake that we did, they come to Berlin and only alot for a half day trip to Potsdam. This is a destination that deserves so much more time, and just over a year later we came back to do just that spending four incredible days sightseeing and learning about all the amazing things to do in Potsdam, Germany for cultural, historical, and all their beautiful sites that make up Germany's largest UNESCO World Heritage site.
What makes Potsdam even more amazing is that it's easy to get to being only located on the outskirts of Berlin in Brandenburg accessible 30 minutes by train making it a perfect day trip from Berlin. But let's be honest, you will want to spend more than a day here!
Table of Contents
Top
Things to do in Potsdam
Visit the Opulent Palaces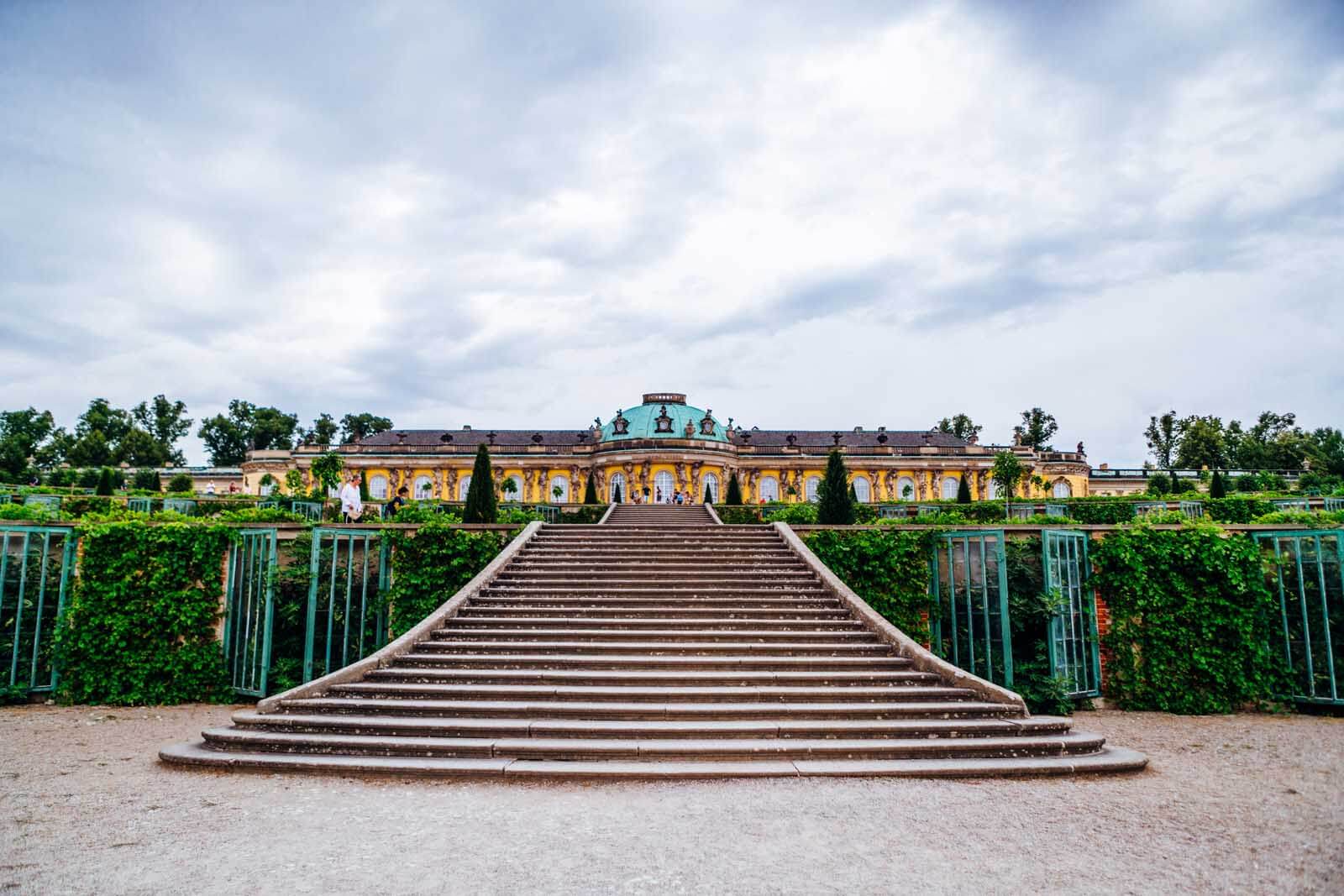 Can you believe that one small city could have 16 palaces? That's right, you didn't read that wrong. One of the best things to do in Potsdam, Germany is to visit all the opulent and incredible palaces.
Potsdam was the residence of the different Prussian Kings as well as the German Kaiser, each of which had their own impressive home. Potsdam, Germany was considered the capital of Prussia and eventually the capital of the German Empire during the 20th century.
Each palace is as unique and beautiful as the next with carefully planned gardens and parks surrounding each impressive home.
Exploring through Potsdam it was just fascinating seeing one palace after another, palaces facing eachother, and palaces off in the near distance. No matter where you looked or where you were somewhere near multiple palaces.
Many of the palaces allow tours inside, those that don't still allow for visitors to enjoy the surrounding park views by foot.
The most famous palace to visit is Sanssouci Palace, the summer home of the Prussian Royal and German Imperial families. The layered gardens leading up to this gorgeous residence is one of the most popular spots photographed in Potsdam, Germany.
Located in the Sanssouci Park where you can find a number of the other palaces as ornate structures that make up the 16 palaces of Potsdam.
Below are the list of all the palaces of Potsdam, Germany.
Babelsberg Palace
Belvedere Pfingstberg
Belvedere Klausberg
Cecilienhof Palace
Charlottenhof Palace in Sanssouci Park
Orangery Palace
Marble Palace
New Palace
Sanssouci Palace
Picture Gallery of Sanssouci
New Chambers of Sanssouci
Sacrow Palace
Stern Hunting Lodge
Lindstedt Palace
Marquardt Palace
Golm Palace
Check out our other guide on the city to learn about all the incredible Palaces of Potsdam to learn more.
Visit the Incredible Parks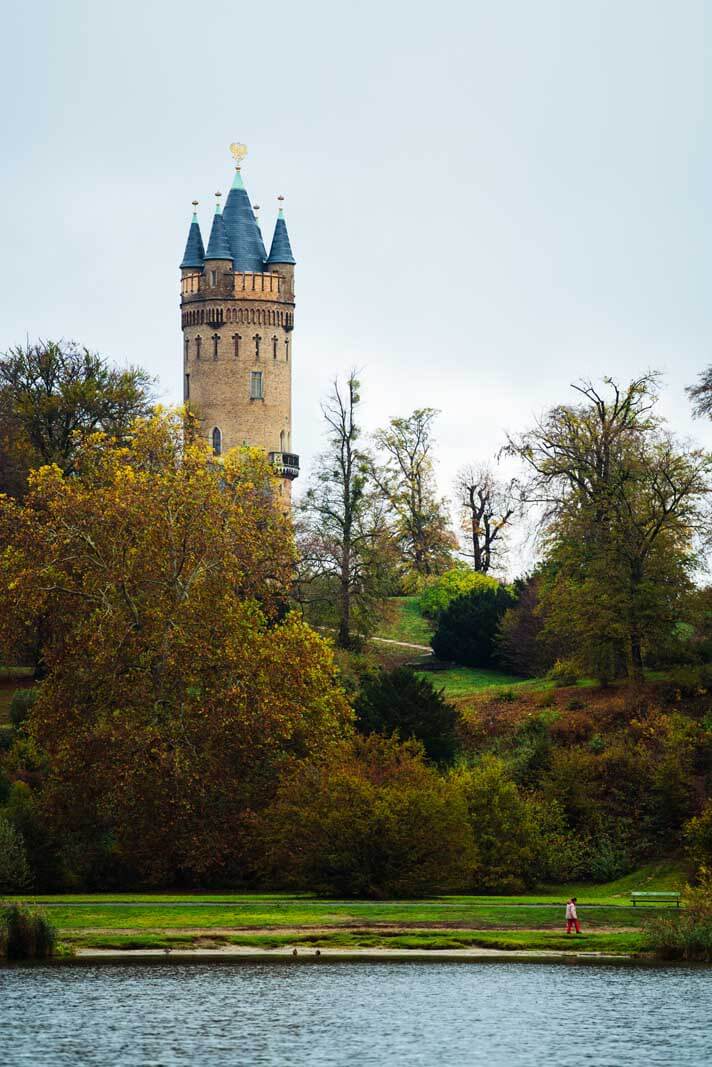 With each of the 16 palaces come their very own unique parks that surround the property. The one that we explored the most was at Bablesberg Palace where the landscape felt a bit similar to something we had seen before.
We found out that Count Pückler, whom we were introduced to during our trip to Cottbus was not only a count but a landscape architect who became known for his passion with his masterful gardens at his residence at Park Branitz in Cottbus, he was called upon at Babelsberg Palace to help with the landscaping.
If you make it to Branitz you may catch on to some of the similarities in the way he frames sceneries by planting trees a specific way. Pückler believed himself to be like a painter, but with nature.
There are parks and gardens for each of the palaces, many of which are in the impressive and massive Sansoucci Park which you need a good amount of time to explore extensively.
There are a total of 5 parks that make up the Potsdam cultural landscape:
Park Sanssouci
Park Babelsberg
Neuer Garten
Volkspark Glienicke
Schlosspark Sacrow
Tour Cecilienhof Palace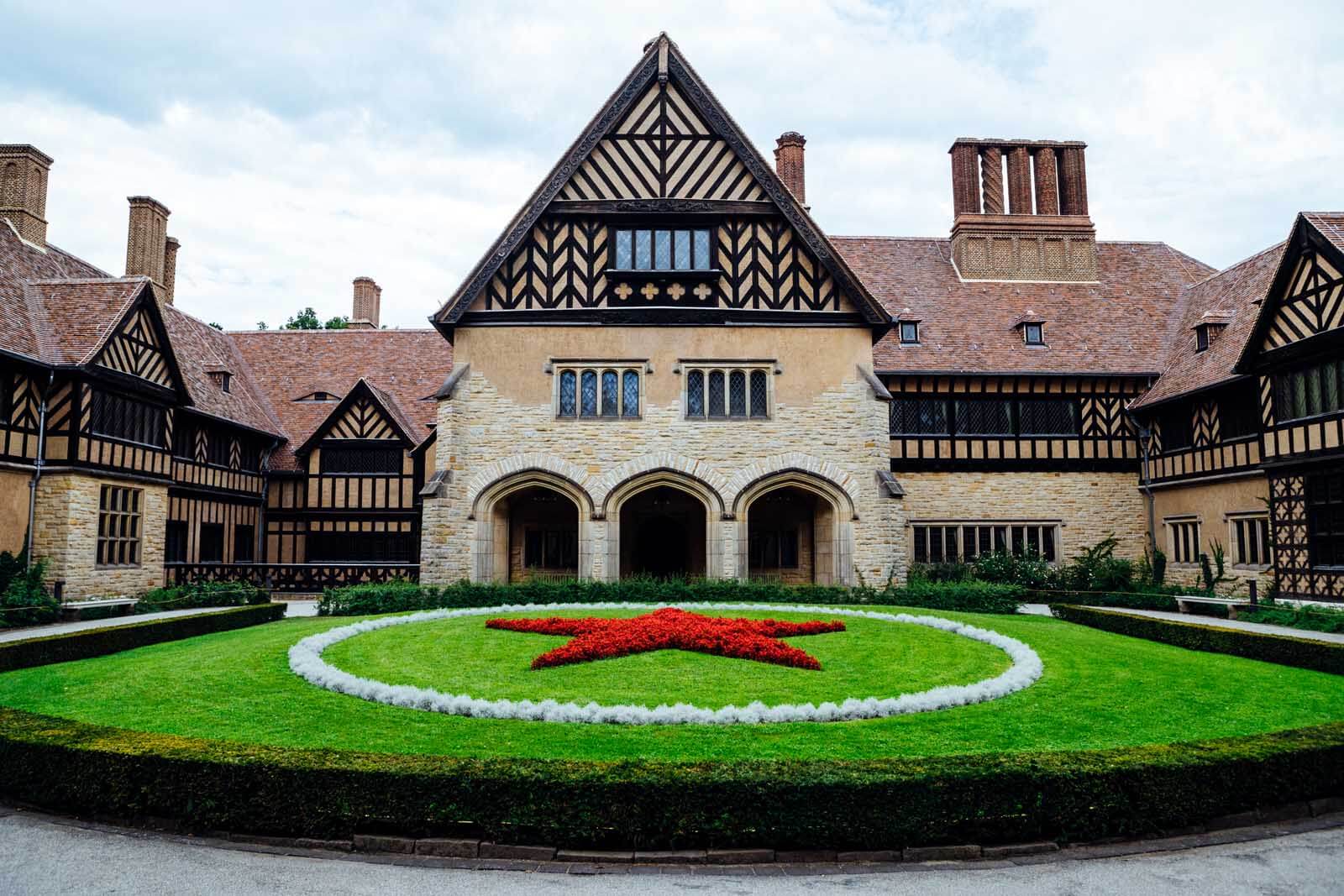 While I could list every single of the 16 palaces on here to tour, this is one that if you only had time for one and you're a history buff, this would be the one to tour located in the northern end of Neuer Garten.
Cecilienhof Palace is one of the most famous things to do in Potsdam, Germany and is where the famous Potsdam Conference took place in 1945, or as some know it as the "Big Three," where the three heads of state of the USSR, USA, and UK all met to negotiate the ending terms of WWII and decide what the new bordering lines would be in Europe post war.
The three heads of the time were Truman, Churchill, and Stalin. As you can imagine, this was a very notable moment in the history and the end of WWII and there are many daily visitors who come here to tour the inside where this historical event took place.
You will also learn about the most recent residents of Cecilienhof Palace, German Crown Prince Wilhelm and his wife Duchess Cecilie. The two ended up supporting the rise of Hitler's power, Adolf Hitler visited the palace on three different occasions, and ended up being used by the Nazi regime ending with both Wilhelm and Cecilie fled after WWII.
Visit the former KGB Prison Memorial Leistikowstrasse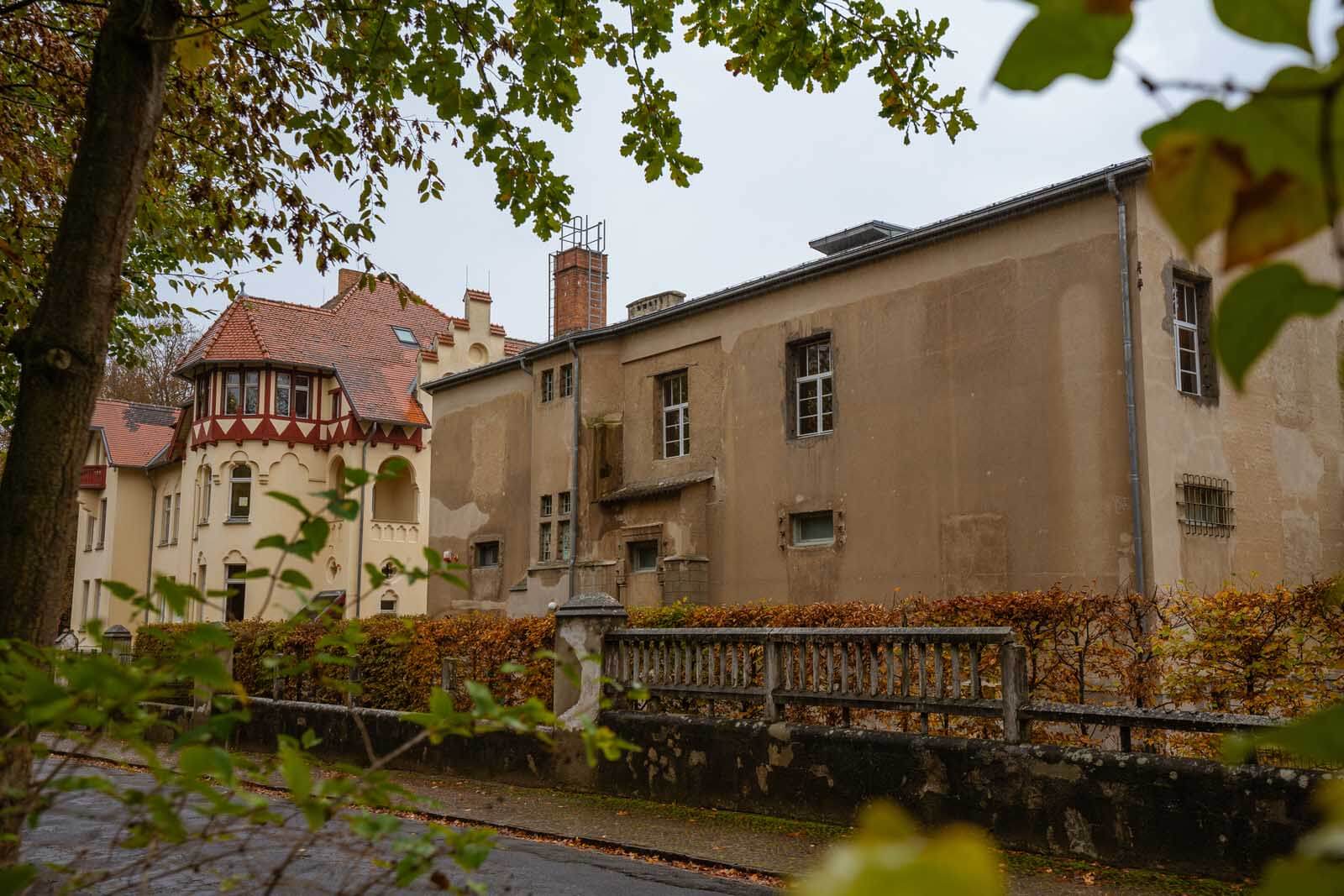 A dark but interesting historical point of interest near Cecilienhof Palace is the old KGB headquarters and the KGB prison known today as Memorial Leistikowstrasse. There were three buildings here that were used as the headquarters for the Soviet Secret Service after World War II.
The headquarters were located in an unassuming, beautiful pink children's school building in the Military Town No. 7 on the edge of West Berlin as well as a house and the not as nice, standout building next door that was used as a KGB prison until 1991.
The purpose of this Soviet counterintelligence unit was to find anyone against the system or espionage causing hysterical paranoia and the imprisonment, torture, and deaths to many innocent people. Even some of Stalin's own men were accused of espionage and given the same fate as the thousands of innocent people punished, tortured, and murdered without any evidence.
These buildings were the location of interrogation and torture to Soviet and German Nazi soldiers who committed some sort of war crime as well as innocent people who were accused of espionage.
This is definitely a more gruesome and dark place to visit, but there is a visitor center here and a tour that takes place, you can read all about it here.
However, we do think it is important to visit some of the more educational attractions in the city as they do make up the fabric of history that took place here. The prison is used as a memorial and remembrance for all of those who were victims of the KGB's cruel mistreatment and torture.
Visit the Lindenstrasse Museum
Located in the Potsdam Germany historic city center is another dark, historic landmark located at Lindenstraße 54/55. This former Nazi and Stasi Prison is now open to visitors as a memorial to walk through and learn about the gruesome past that took place here as well as a way to remember the victims of both the German dictatorship and the National Socialist era under Stalin.
During the German dictatorship, this center was used for ethnic cleansing and forced sterilization of anyone who was considered by the Nazis to be genetically diseased.
By 1939, this was used for political prisoners.
During the Soviet occupation, this location was used by the KGB similarly as the Memorial Leistikowstrasse.
Again, these aren't the most fun or glamorous things to do in Potsdam, Germany but they are an important part of history and remembering the victims of this cruel time in history.
Art Museum Barberini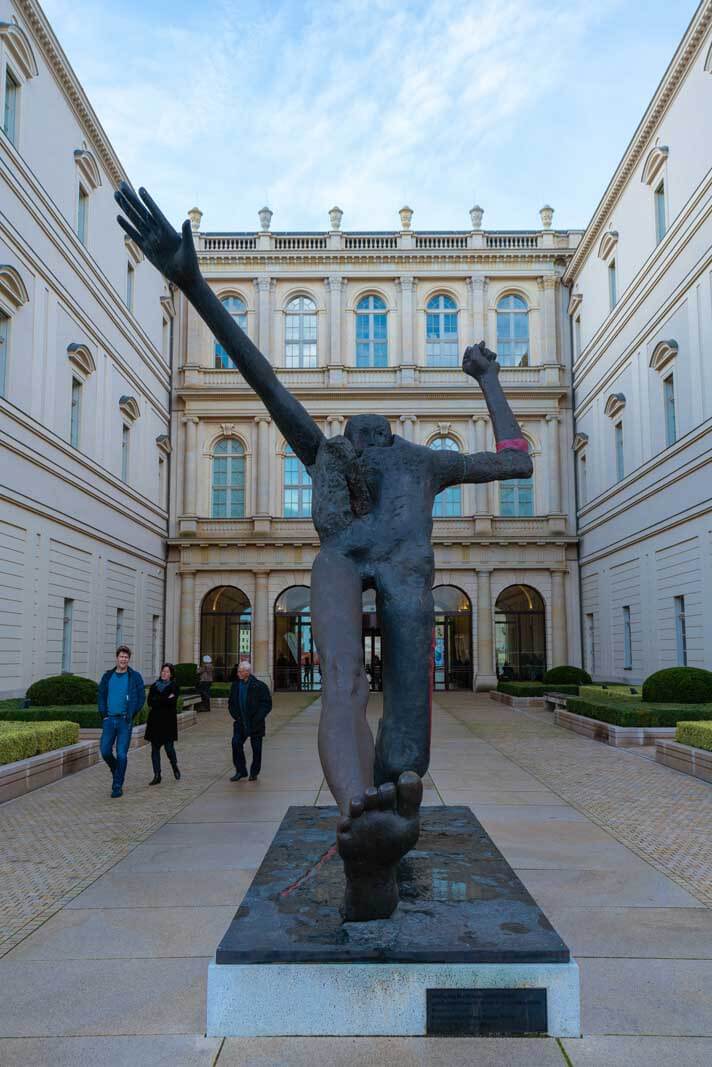 One of the newer things to do in Potsdam is visit the Museum Barberini in the Old Market Square. This location has just become an art museum as of 2017 and offers exhibits featuring old Classic artists like Rodin, Monet, and Munch to contemporary art.
The museum is known for its collection of impressionist paintings and has three different temporary exhibits each year along with its permanent collection.
If you're visiting during peak season or on a weekend you may want to purchase your ticket in advance or go buy your ticket for the next time slot available. When we showed up there were only tickets available for an evening timeslot that we couldn't attend. We do believe this had to do with the special Van Gogh exhibition temporarily housed here, but if you're an art lover you will want to air on the side of caution to make sure you don't miss this popular Potsdam attraction.
Filmmuseum Potsdam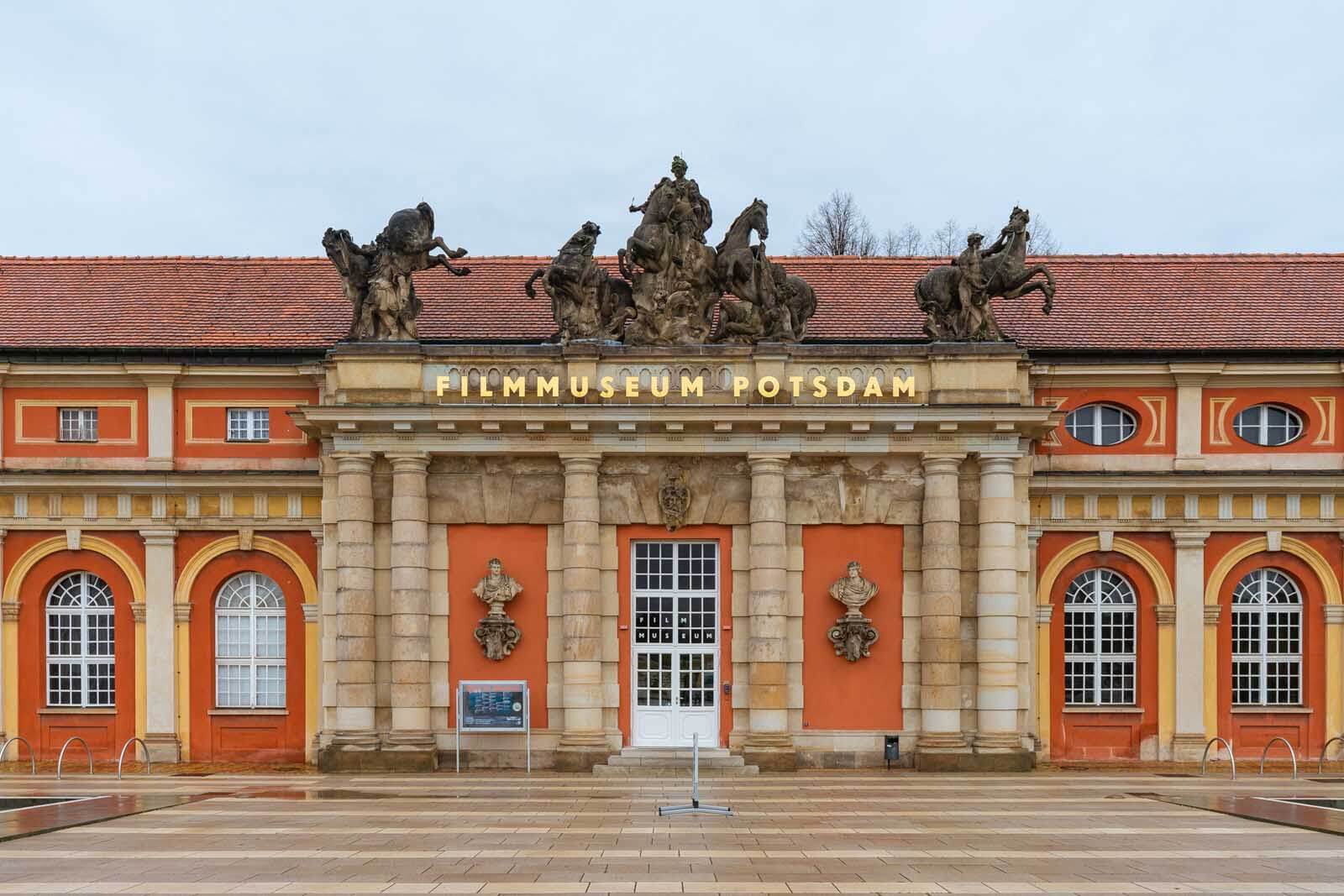 Did you know that Potsdam, Germany is home to Europe's Hollywood? Potsdam is known worldwide for the films it produces in Babelsberg Studios including famous films like Academy Award Winning "Bridge of Spies," Wes Anderson's "Grand Budapest Hotel," "V for Vendetta," Marvel's "Captain America: Civil War," Tarantino's "Inglorious Basterds," and "The Bourne Ultimatum" to name a few.
As a matter of fact, Babelsberg Studios is even older than Hollywood!
So much film history has took place here that there's an entire museum dedicated to Potsdam, Germany's history of film from Ufa propaganda films by Goebbels to modern films and props of today.
On display, you'll find interactive exhibits teaching you the history of the different periods of film in Potsdam including all the different periods of film production from Nazi propaganda and Ufa, Deca, and bioscope for example as well as various set props from movies filmed in Studio Babelsberg.
There is also a working theater in the museum with daily showings, some of which are shown on antique 35 mm projectors. The show-stealer in the theater though is the movie theater organ here. There are only two of this kind that were meant to accompany silent films.
The unassuming looking wooden organ plays sound effects and music along with silent films and was much more cost-effective than hiring an entire orchestra. Peek behind the screen and you'll see the elaborate one man band set up full of instruments, pipes, and machinery to help make the sound effects!
There are two movies each month that have one of the two live performers who play during a silent film, so be sure to call ahead and see if this lines up with your trip to Potsdam, Germany to witness this dying art in person.
Explore Potsdam's Historic City Center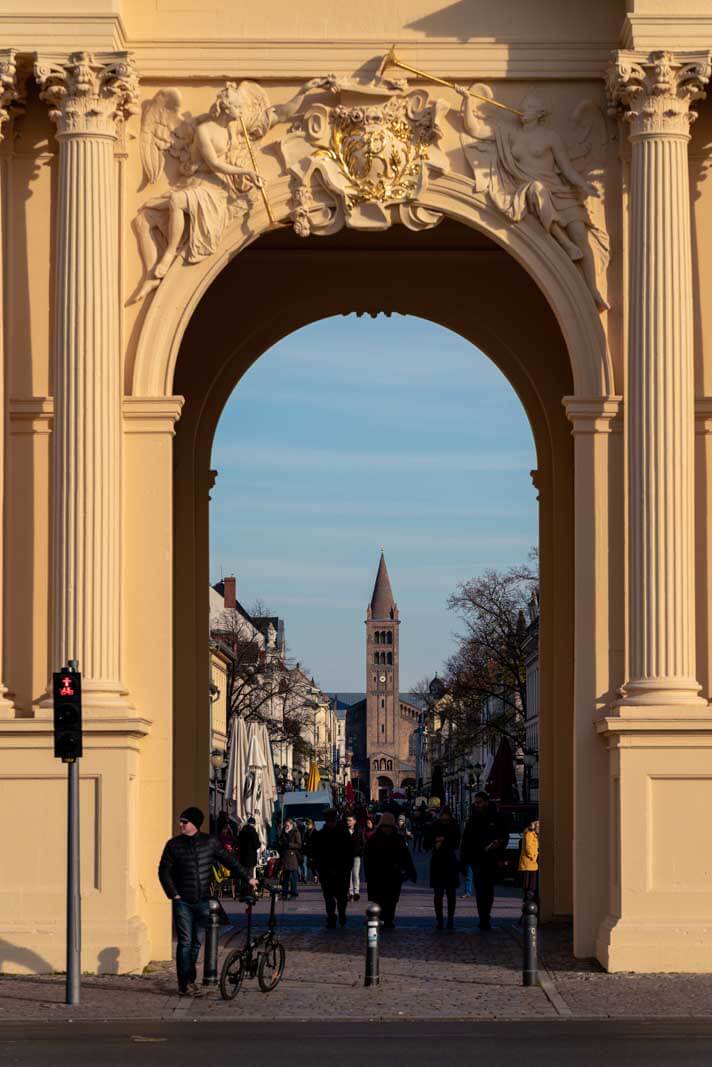 Another one of the best areas to explore is Potsdam's historic city center and the shopping street of Brandenburg Strasse. The historic city center is completely walkable and is where you can find the Dutch Quarter, the main shopping street, the historic gates to the city, a maze of courtyards, and great places to eat.
The Brandenburg Gate is one of the most remarkable sites in the historic city center. The more famous of the Brandenburg Gates is found in Berlin, however, this Brandenburg Gate is actually older by 20 years built by Frederick the Great after the Seven Years War.
Another amazing historic landmark and gate to the historic city center is Nauener Tor which looks like a castle.
This is a really fun area to walk around and we highly recommend exploring the different courtyards of the historic city center. Walking through the city center you may not realize that there are doors, hidden in plain sight, that open up to hidden courtyards full of more cafes, restaurants, beer gardens, and private residential green spaces.
We took a private tour exploring the courtyards that we would have never known existed without someone pointing them out to us. Unfortunately, many businesses suffer when they are located in the courtyards as many visitors don't know they exist.
We recommend having breakfast or a tea/coffee break at A Slice of Britain to explore one example of a cute courtyard or put the BAR-O-Meter Bar in your map to find one of the smallest and hidden courtyards that has a unique bar located in it open in the evenings!
Walk Across the Bridge of Spies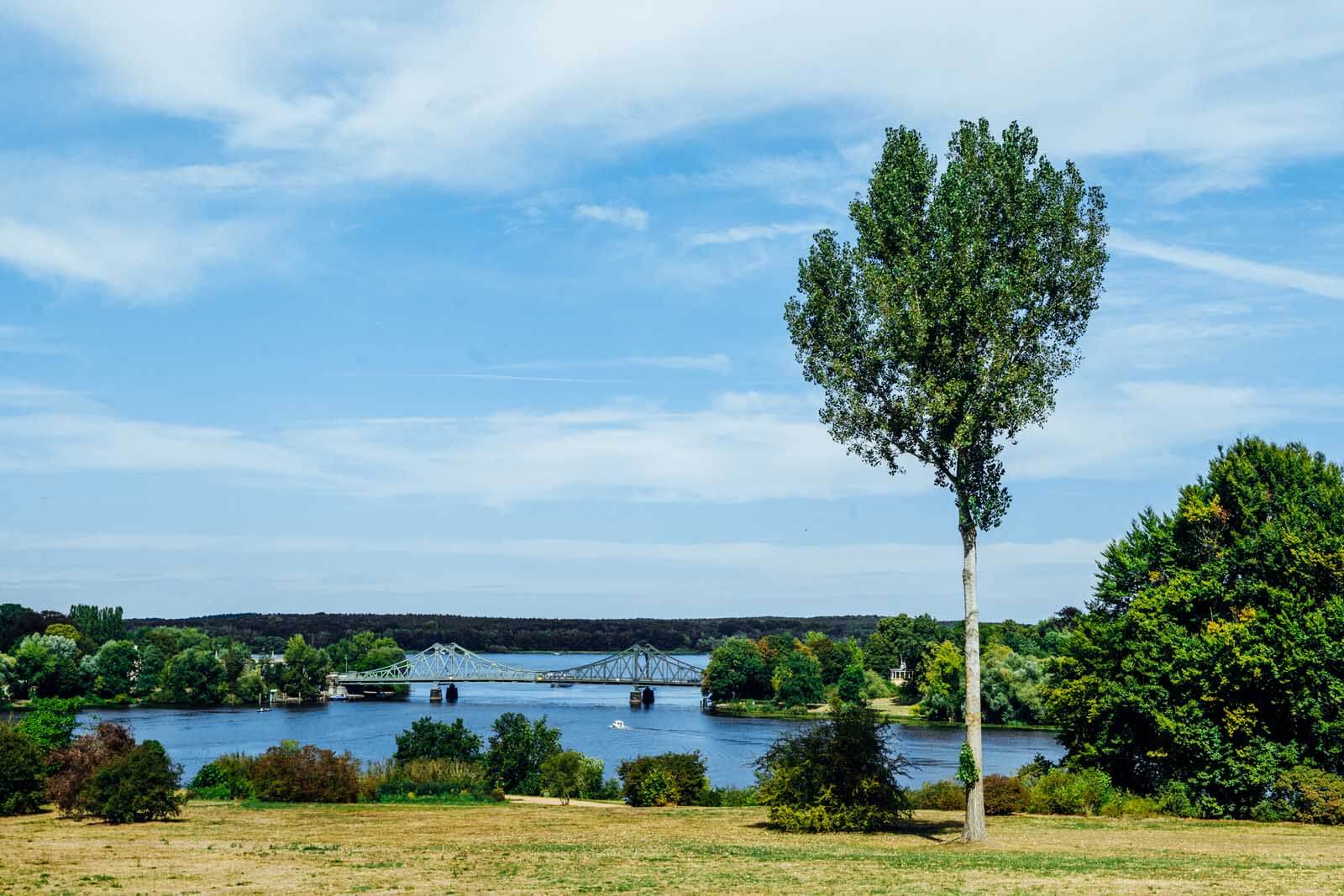 From the park of Babelsberg Palace is one of the most renowned historical landmarks of the Cold War, the Glienicke Brücke (bridge), also known as the Bridge of Spies was used during the Cold War to exchange spies.
Perhaps you've seen the Steven Speilberg movie, the "Bridge of Spies," if you haven't we highly recommend so as it was up for an Academy Award and Tom Hanks gives a spectacular performance.
Anyways, that famous bridge scene takes place here on the Gilenicke Bridge and was actually filmed here.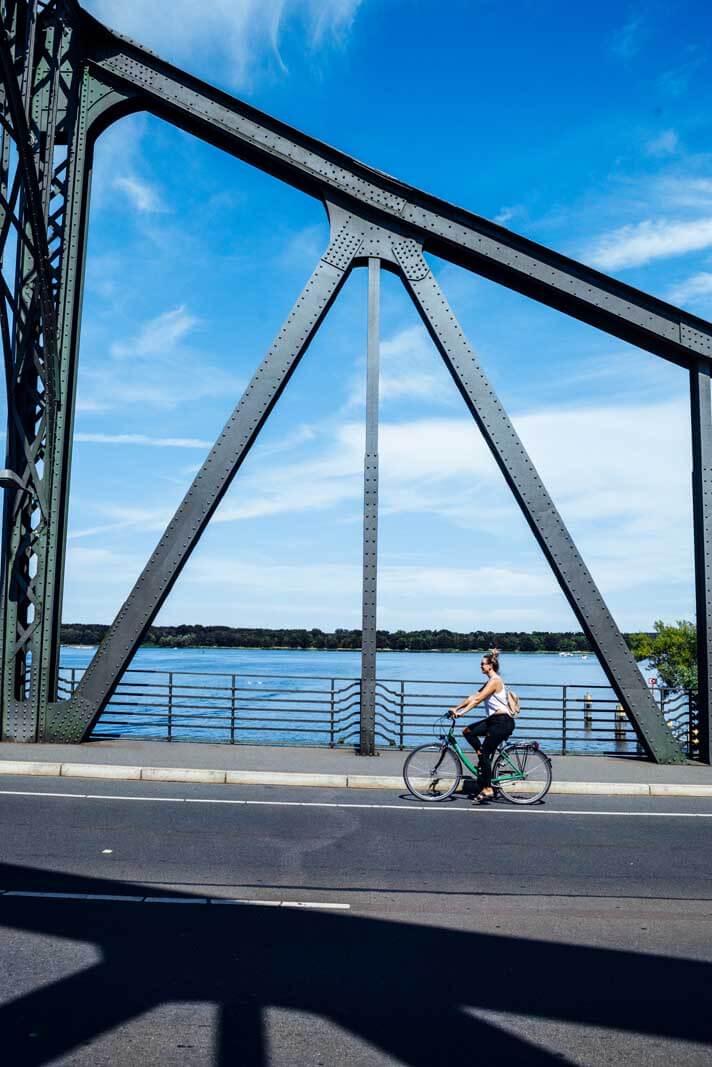 If you look closely the bridge is split into two colors right in the middle, there are a lighter green and darker green side of the bridge. The lighter green color is the Potsdam side of the bridge which was under the German Democratic Republic (or Eastern Germany) and the darker green side of the Bridge is considered West Berlin.
When you are physically standing on the center of the bridge there is a dividing line. Besides being a famous spot during the cold war this bridge is also a symbol of how complicated politics were during this period.
The Berlin Wall separating West Berlin and East Germany also used to run right through the water and the gardens of Babelsberg Palace.
The Dutch Quarter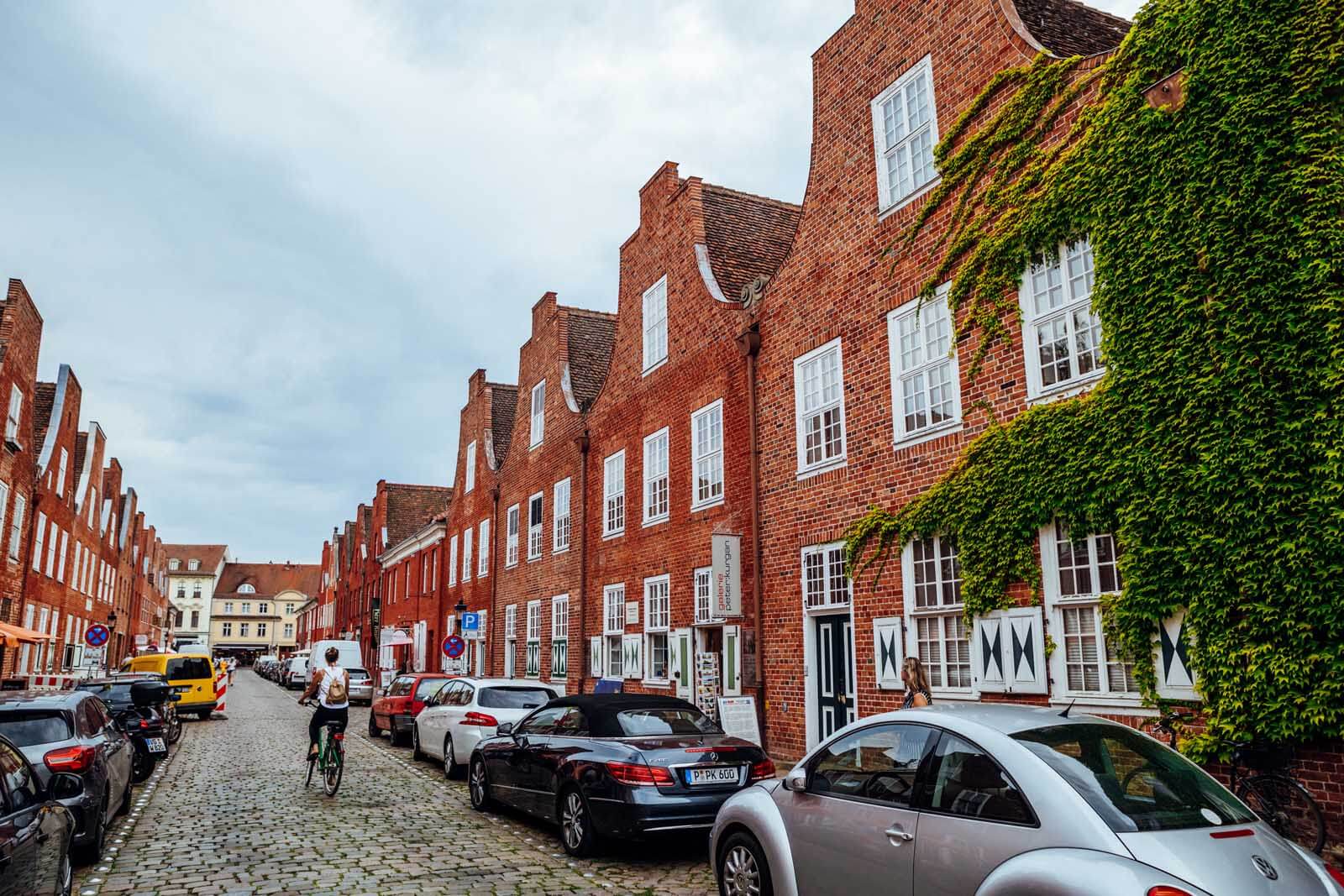 You can't miss one of the most picturesque spots in Potsdam, Germany's city center. The Dutch Quarter consists of two intersecting streets with gorgeous rows of red brick Dutch style buildings. Scattered among the Dutch buildings are cafes, shops, and restaurants. This area is too adorable not to check out.
In the two intersecting streets there are around 150 brick Dutch-style houses that were all built in the 18th century to be used by Dutch settlers invited to live and work in Potsdam. Our guide told us only about 20 or so families came, but this area is unique and beautiful and a popular spot for photos!
This is the largest Dutch settlement outside of the Netherlands. This is also a great area to find a bite to eat in their many cafes and restaurants.
Alexandrowka aka the Russian Colony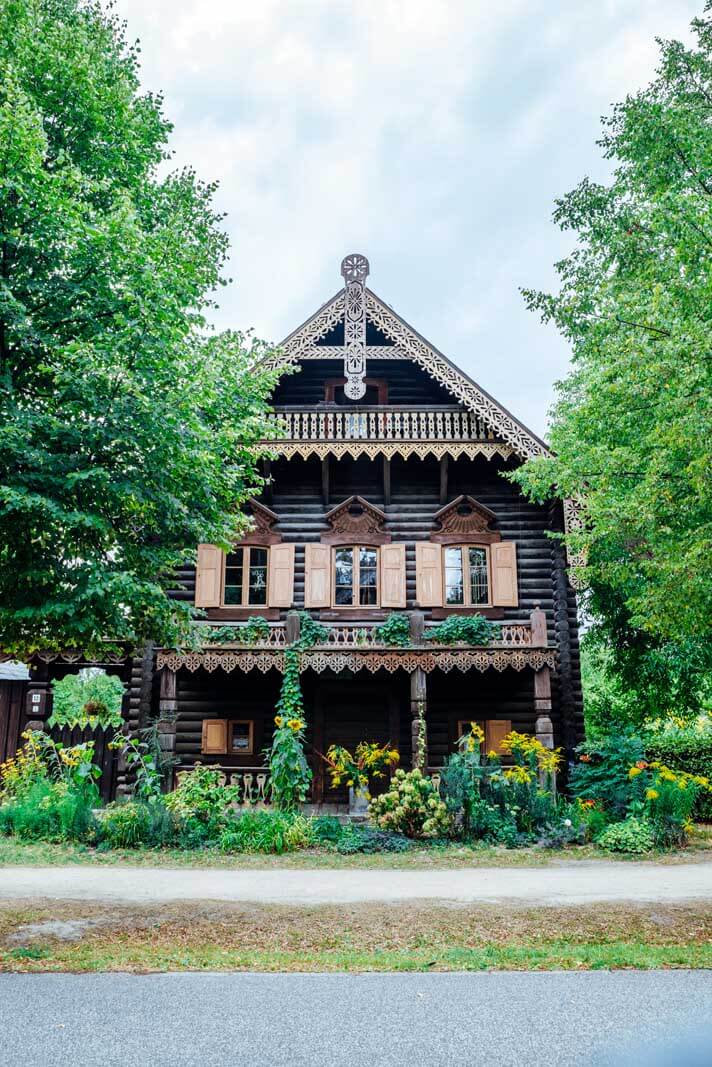 The Russian Colony, also known as Alexandrowka is another picturesque and unique spot to visit during your trip to Potsdam, Germany. The beautiful wooden homes make up the Russian enclave of the city for the small group of Russian immigrants in the 19th century that were a gift by Frederick William III to honor his close friend, the Russian Czar.
The Russian quarter feels like it's situated in its own park with plenty of space between the homes and is the perfect place to explore by foot or bicycle.
One of the timbered homes also houses a museum if you're interested in learning more.
Old Market Square
The historical city center or Alter Markt is another must see stop in Potsdam, Germany. Much of the original city center was destroyed and bombed during WWII, since then some of the monuments and historical buildings have been built upon so there is still incredible buildings to see here.
The most notable building in this part of Potsdam, Germany would be the unmissable turquoise dome of St. Nicholas Church.
Where to Eat & Drink in Potsdam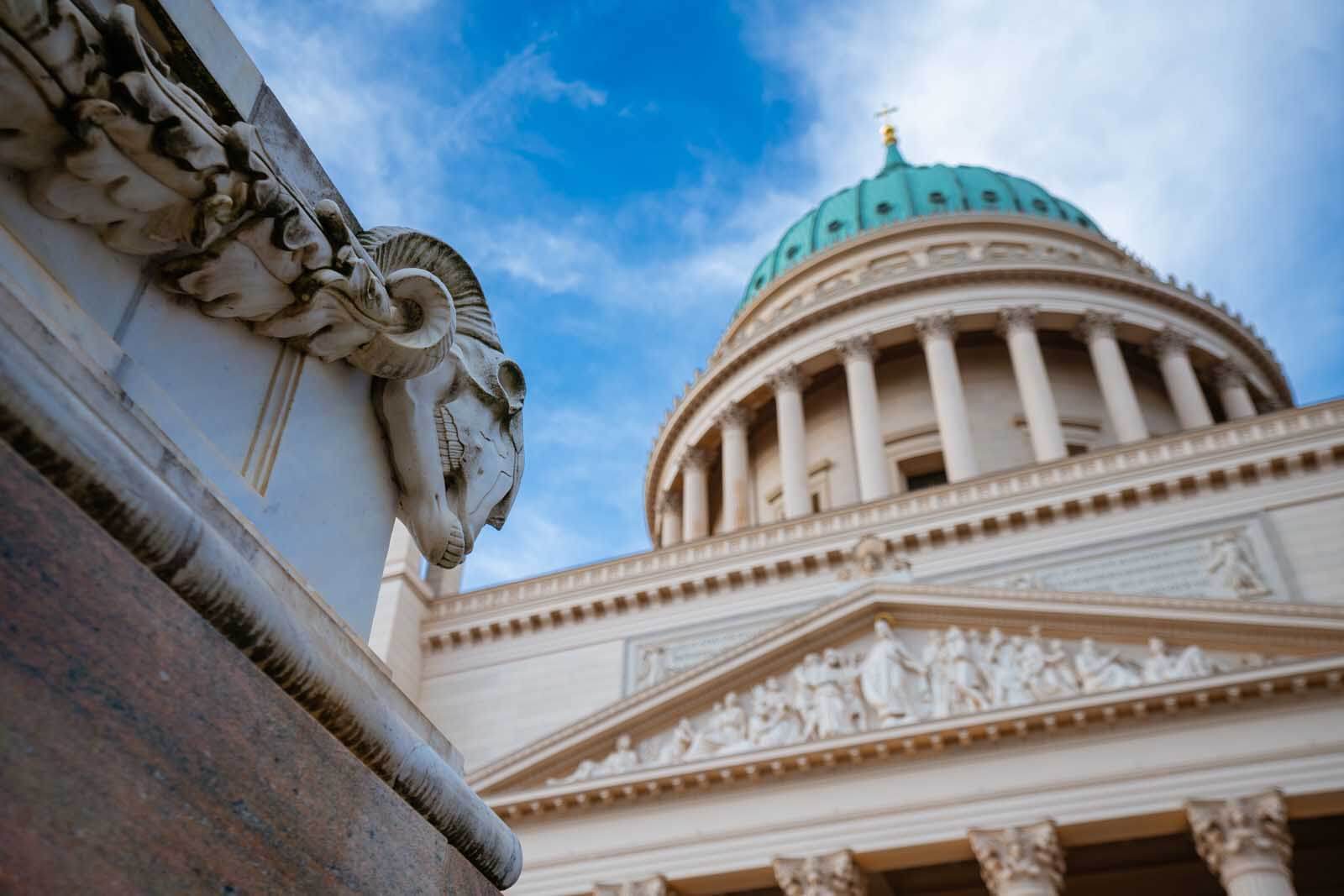 Potsdam has a great food and drink scene and plenty of options for all kinds of cuisine. Here are some of our favorite places to eat in Potsdam.
Curry Wolf: If you need a light snack or quick bite to eat this is a great spot to get currywurst or a sausage on a roll.
A Taste of Britain: Located in one of the hidden courtyards in the historic center of Potsdam this is your best spot for brunch or tea with a scone with clotted cream run by a Brit.
Meierei: Located on the lake next to Cecilienhof Palace is this incredible brewery and restaurant. We only stopped here for their delicious beer (try it, it's some of the best we had in the Berlin area) but we saw plenty of delicious, hearty plates of food being served around the restaurant.
Kades Restaurant: One of our favorite meals of the entire trip was at this restaurant. Serving up local specialties and located right at the foot of the Belvedere Pfingstberg.
Genusswerkstatt: Located in the same building as the Filmmuseum Potsdam, this restaurant has a lively vibe with international dishes on their menu.
Restaurant Lewy: Another fabulous choice serving up a variety of dishes in the heart of the historic city center.
Alter Stadtwächter: A great traditional german restaurant with a beer garden located next to the Brandenburg Gate.
Restaurant Zum Fliegender Holländer: Aka the Flying Dutchman located in the Dutch Quarter is a great option for some local cuisine.
Thai Restaurant LemonGras: Located in the Dutch Quarter this is a great option for lunch if you're a Thai food lover like us. They have lunch specials that are a great deal and delicious.
Tours in Potsdam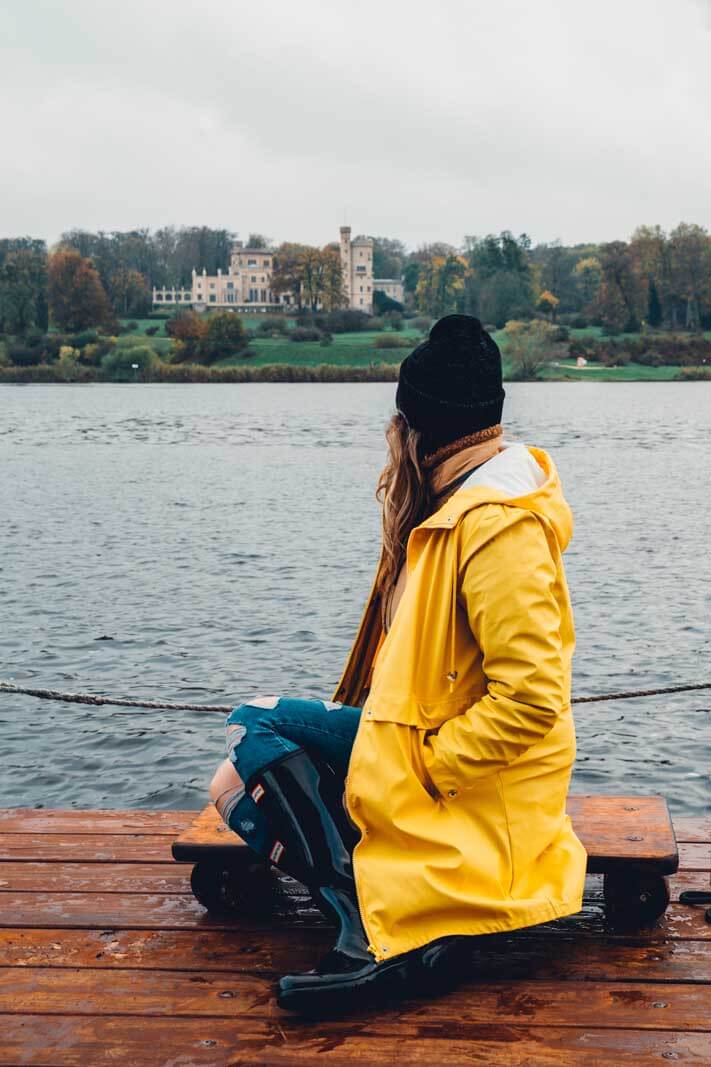 In order to learn the history of Potsdam, Germany and see the most during your time we recommend seeing this area by tour or even renting a bike.
On our first trip, we explored the area by bike using Pedales bicycle rentals right outside of the Potsdam Hauptbahnhof, aka Potsdam Central Station which comes with a free audio guide tour of the city using their app. You can cover alot of ground by bicyle and this is a great way to explore if you have a limited amount of time.
Hop on Hop Off Tours
We also recommend the Hop on and Hop Off tours through Potsdam since you can get on and off as you please and get transport around the city. This is a great way to explore the area and get from one Potsdam attraction to another.
Buy your Potsdam Hop on Hop off bus tickets in advance here.
Boat Tour
Another fantastic way to see Potsdam, Germany is by boat. Potsdam is an actual island surrounded by water, as you'll see on your tour. One of the most scenic ways to see this historical and gorgeous area would be by water!
Buy your Potsdam boat tour tickets in advance here.
There are also the adorable wooden boats by Huckleberry Tours that you can rent out for a small group or just you and a friend or lover. This was a more intimate way to see Potsdam by water.
Historic City Center Courtyard Tour
Remember those adorable hidden in plain sight courtyards we talked about in the Historic City Center of Potsdam? If you want a local to show you around some of the best courtyards as well as learn about the architecture and history of the area you can arrange for a private tour!
Reach out to our guide Regina if you're interested. 0331 / 270 16 49
Private Tour of Potsdam
If you're like us and love private customizable historic tours then you can arrange one with an English speaking, local guide. Johannes was our guide the first day and took us through the Babelsberg area for a private, custom 3 hour tour.
If you want a personalized experience through this historic city – which we highly recommend as there's alot of history to unpack here then you can reach out to our guide. [[email protected]]
Getting to Potsdam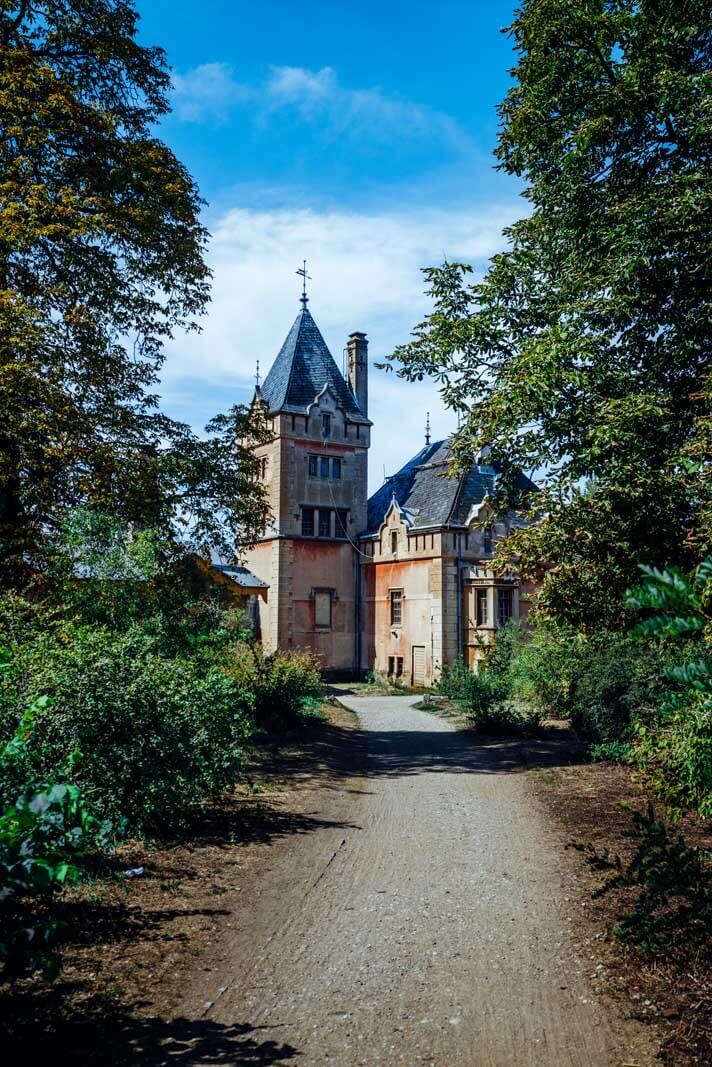 Getting to Potsdam, Germany couldn't be easier from Berlin. There are trains that run every 30 minutes and take 30 minutes from Berlin to Potsdam Hauptbahnhof, aka Potsdam Central Station.
You can buy an ABC zone train ticket for Berlin and it will work for Potsdam since it runs on line C for 6.80 Euro for the day or 3.40 for a one-way ticket.
The most common train routes from Berlin to Potsdam leave from Berlin Hauptbahnhof (central station), Alexanderplatz, and Berlin Zoologischer Garten Station.
Tip for taking the Berlin Train: make sure you validate your ticket before getting on the train in Berlin. This will be on the platform in a little box. If you don't validate your ticket beforehand and get caught it is a 60 Euro fine, ouch!
Once you are in Potsdam you can buy an all-day transportation ticket or a multi-day transportation ticket. This ticket ONLY works in Potsdam, you will need to buy a new ticket to get back to Berlin. This ticket works for the buses, trains, and trams in Potsdam and is a great way to get around the area quickly.
Where to Stay in Potsdam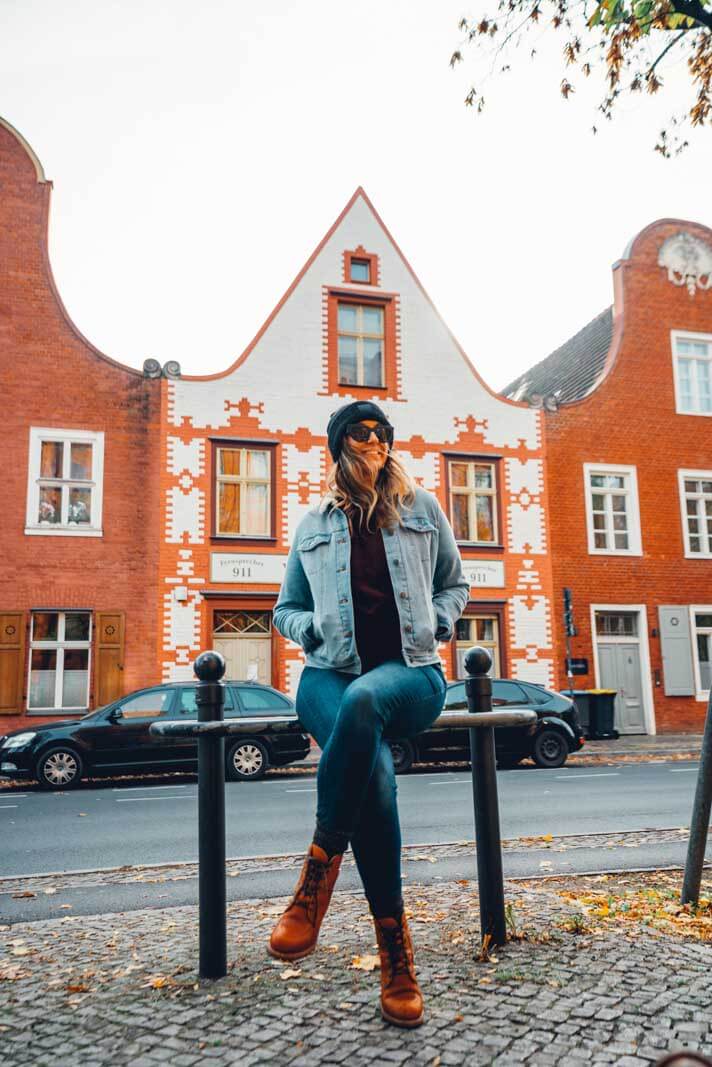 Hotel Brandenburger Tor
This is where we stayed during our multi-day trip to Potsdam, Germany and loved this location and property. This hotel is located conveniently right next to the Brandenburg Gate in the historic city center and less than a 2 minute walk to the local tram stop which makes getting around the city a breeze. The rooms are nice and the breakfast spread is top notch!
Book Now on Booking.com | Compare Prices for Later on Agoda.com
NH Potsdam
This is a great hotel and option for where to stay during your visit to Potsdam, Germany. This beautiful hotel for a great price and its located just steps away from the Dutch Quarter in one of the amazing courtyards of the Potsdam historic city center.
Book Now on Booking.com | Compare Prices for Later on Agoda.com
---
There are plenty of amazing things to do in Potsdam, Germany we recommend spending more than a day. You will get lost in the history and architecture here.
Disclaimer: This post contains affiliate links, by purchasing through these links we receive a small commission at no extra cost to you!
---
Liked this post about all the best things to do in Potsdam, Germany? Bookmark for later or share the love below on Pinterest! Happy Travels!