For the best way to spend 3 days in Savannah, use our fantastic, easy-to-use itinerary! Below you'll find things to do in Savannah to make the most of your time in this beautiful city. We cover everything from Savannah's great restaurant scene, fascinating historic city squares, and all the fabulous shopping you can find!
We fell in love with Savannah during our visit. You will too, with the romantic cobblestone streets and gorgeous old mansions framed with ancient oak trees and wispy Spanish moss. The history is moving and intense, and the arts and culture scene is a must!
There's so much to do during a weekend in Savannah, so we suggest doing what we did and booking a tour. On our itinerary, you'll find a few of them, as well as some of our favorite places to enjoy your favorite cocktail while soaking in the local atmosphere.
Use our Savannah itinerary below as is or use it as a starting point for a relaxing weekend getaway to this amazing Southern city!
And before traveling, check out our guide to our top things to know before visiting Savannah which includes local rules (like how to legally drink outside), a few things that might come up during your visit, and some background on the history of this gorgeous Southern city!
Day 1 of 3 Days in Savannah Itinerary
Breakfast at Franklin's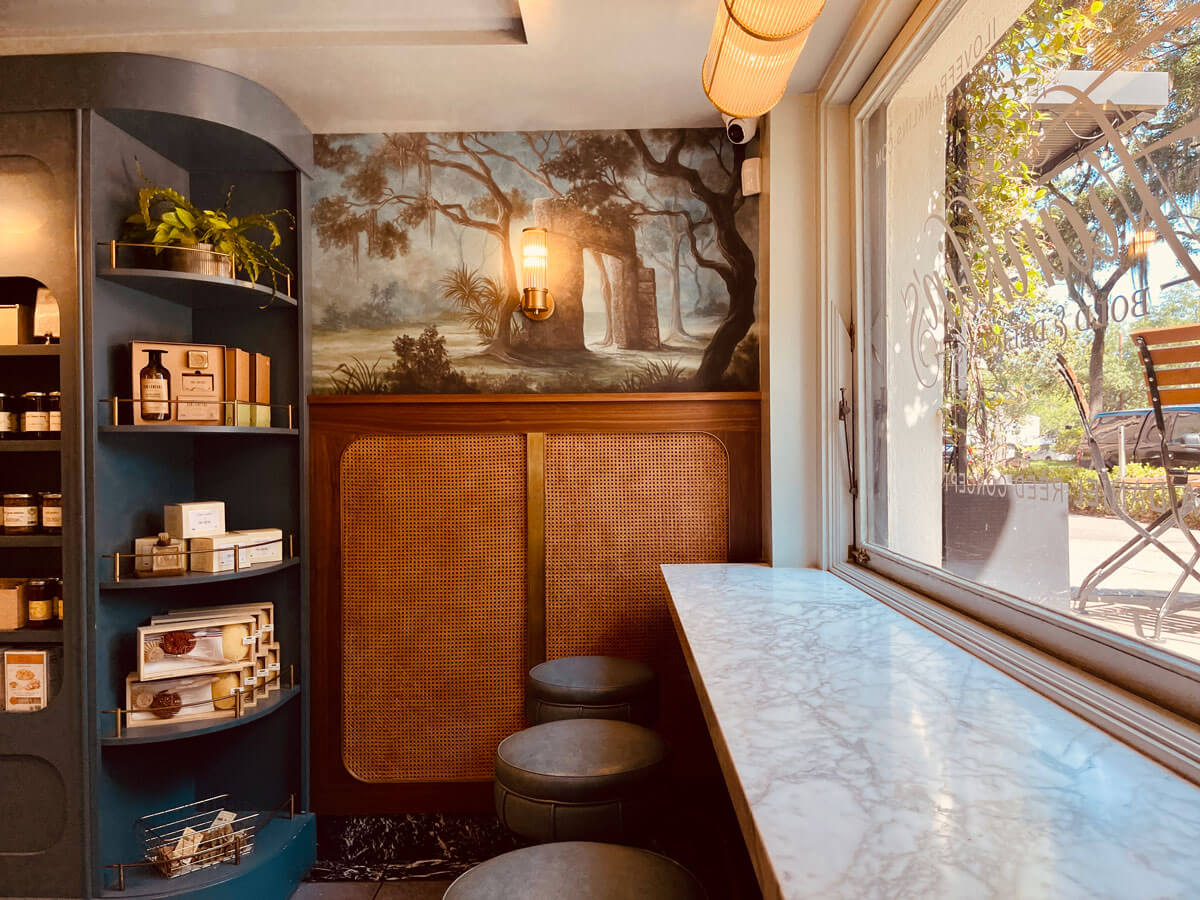 The first stop on your Savannah weekend getaway is a dreamy brunch spot called Franklin's. It's a gorgeous café filled with a mid-century modern feel and a warm ambiance. We were left speechless by the hand-painted art murals on the wall!
Franklin's is a newer place that locals adore for its fun iced coffees and breakfast sandwiches. We can personally recommend the Croque Monsieur! They're also famous for the gourmet tomato bisque and rustic grilled cheese combo.
Trolley Tour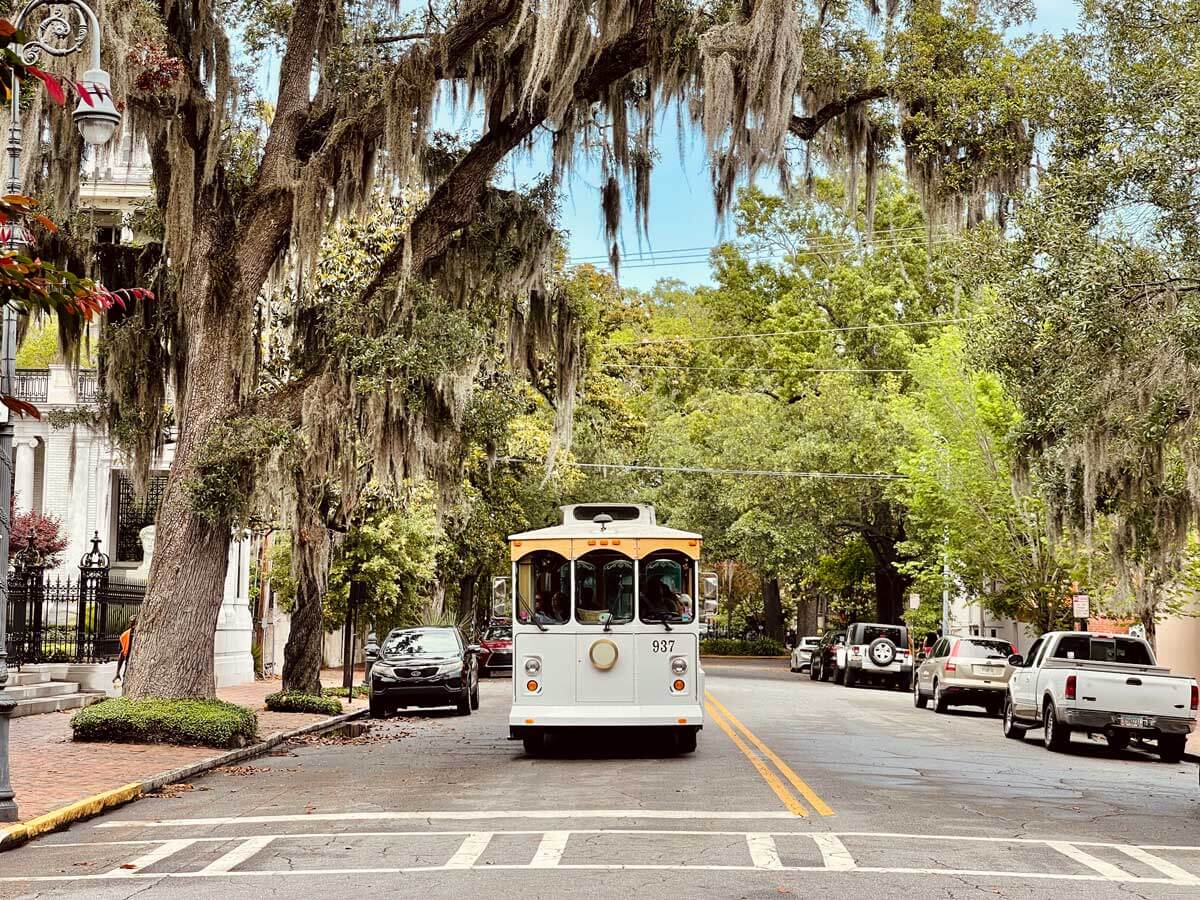 After a hearty breakfast, the best way to start your first day of 3 days in Savannah is a trolley tour of the city with Old Savannah Tours. This casual, fun tour is an easy way to see a lot of the city with a hop-on-hop-off ride in a vintage city trolley.
Buy your tickets in advance for this popular tour and meet at the Savannah Visitor Center at 255 Montgomery Street. It's a 90-minute ride with fun narration by a well-versed guide. And better yet, you can go at your own pace and use it to get your bearings for the city before exploring on your own, which is why we recommend doing this on the first day of your Savannah itinerary.
Enjoy great views of historic buildings and Savannah's most famous squares. It's a lot of fun because historical actors in period clothing will get on and share stories based on the stop!
Lunch at Treylor Park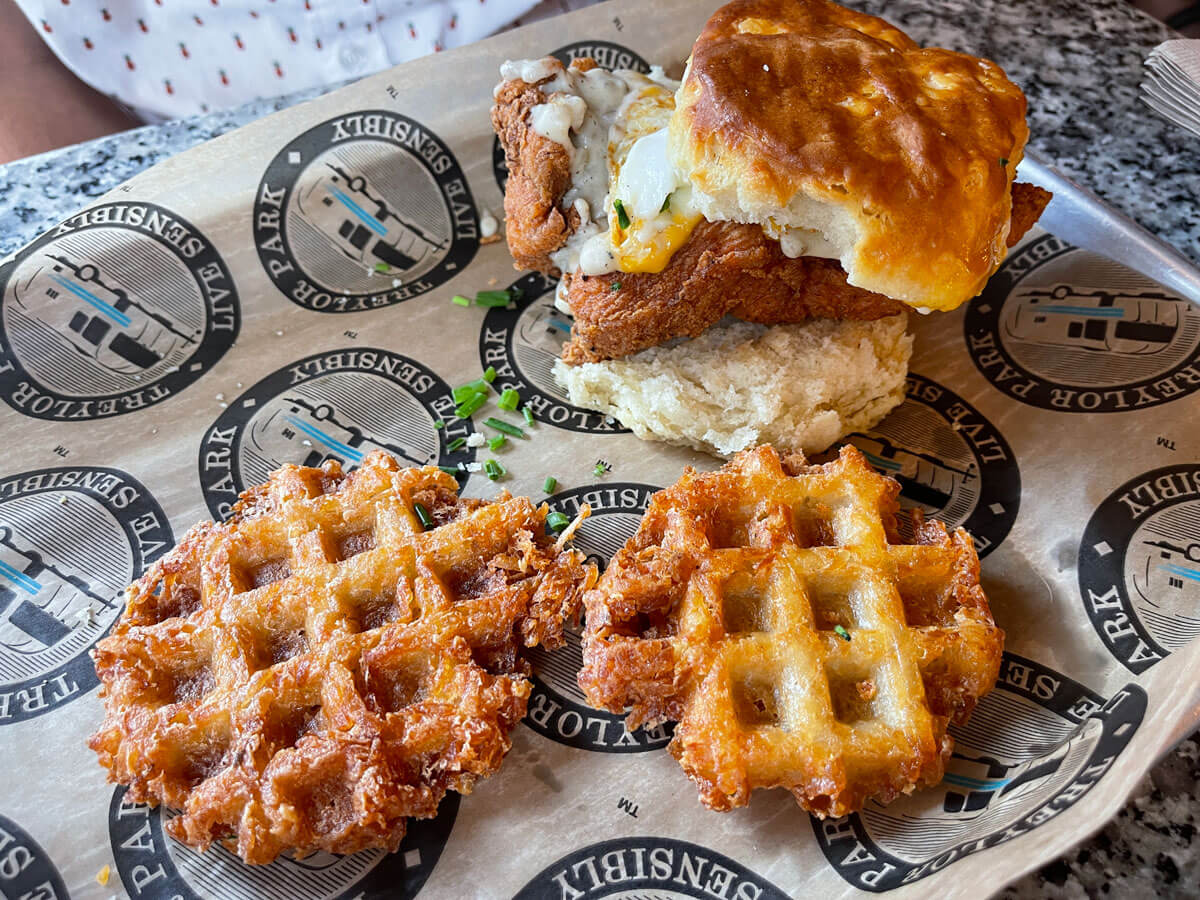 One of the last stops on the hop-on-hop-off trolley tour is the Old City Exchange Bell. It's almost directly across the street from a fun, vintage-y restaurant called Treylor Park. Take a break and enjoy a yummy lunch of Southern food in a wonderful atmosphere.
You can enjoy a variety of creative variations on classic appetizers and Southern comfort dishes. This place got our stamp of approval because of the fried green tomatoes and a fried chicken biscuit, which were both phenomenal.
Finish Trolley Tour and Visit Famous Savannah Squares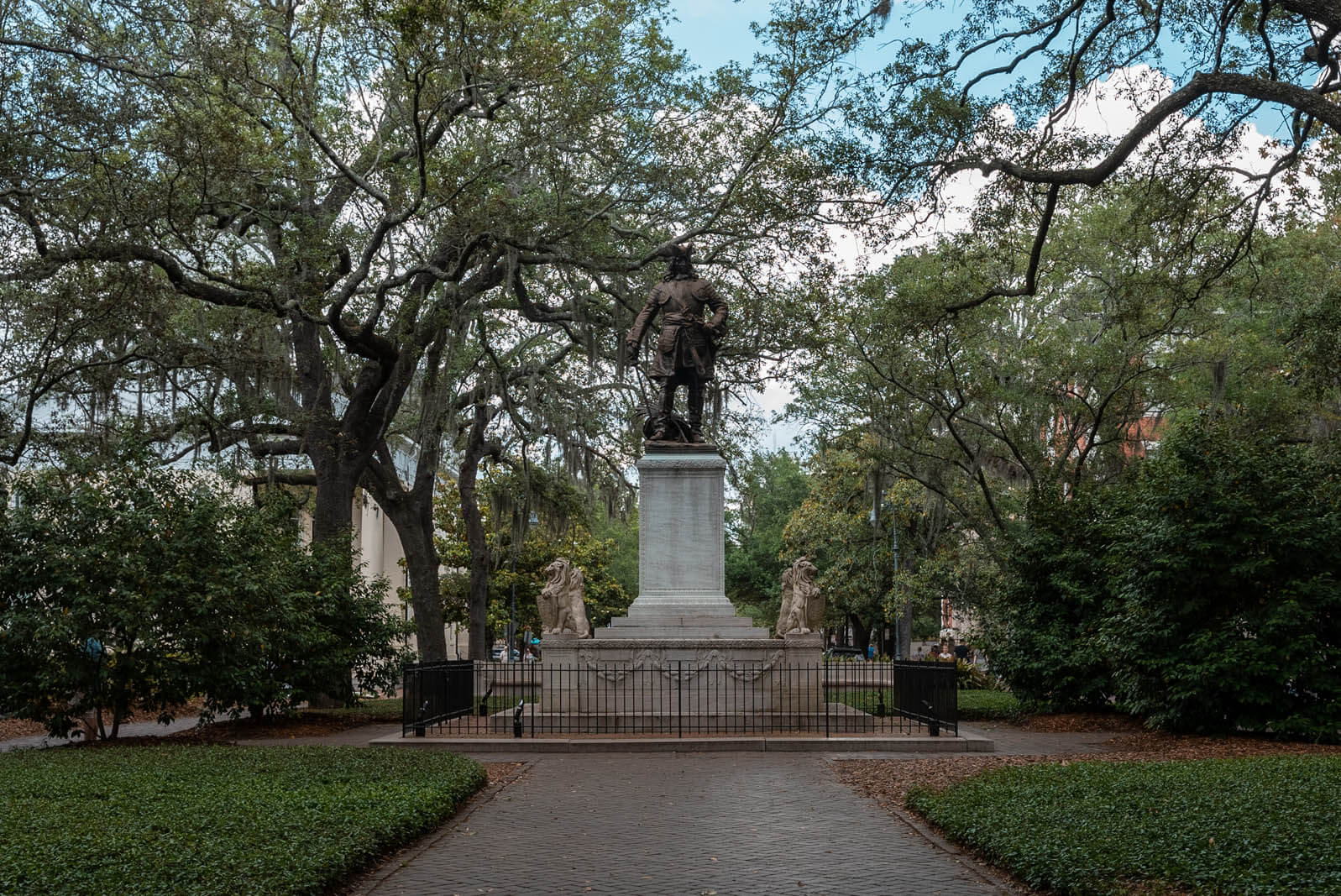 Back at 225 Montgomery, you're at the perfect starting point for a nice stroll around historic Savannah. There are 22 different historic squares of Savannah, each with its own unique history, and they're all worth a visit!
There's Chippewa Square, which was featured in Forrest Gump! And personally, our favorite square was Monterey Square. There are some informative historical plaques you can read. And nearby is the Mercer Williams House Museum from the book, Midnight in the Garden of Good and Evil, which is one of the most haunted places in Savannah too!
JW Marriott Plant Riverside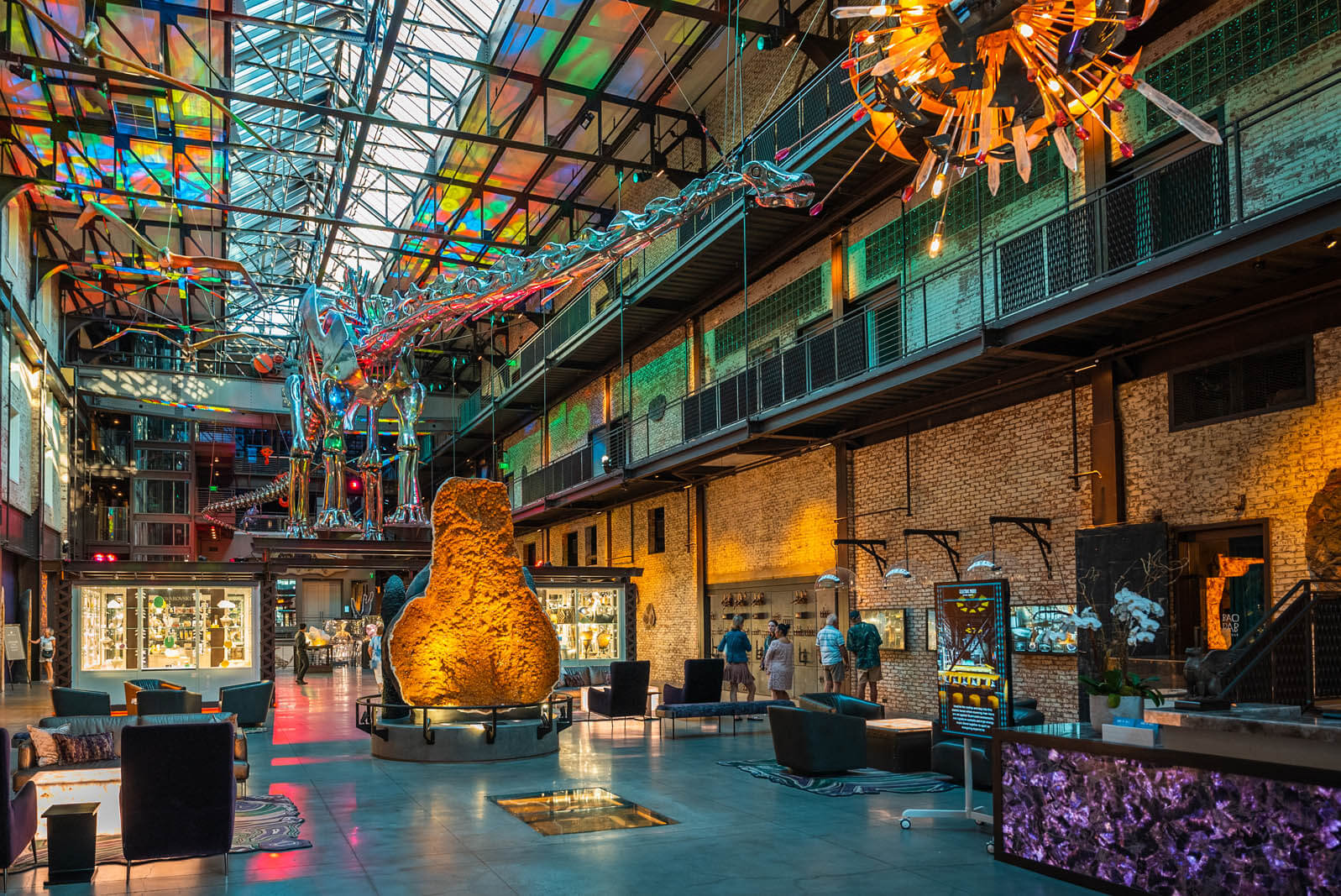 The JW Marriott Plant Riverside District hotel is a must-see. It's in a historic industrial building with a prime location in the historic River Street district. You'll be blown away by all the stunning restaurants, including a chophouse, a sushi bar, and a pizzeria, each with a different theme.
But the big draw to the JW Marriott hotel is that the lobby doubles as an exciting, dramatic natural history exhibit! It's fun to walk around and see stuff, like the larger-than-life massive gemstones and the real-life mammoth tusks. Oh, and the giant chrome dino bones hanging from the rafters!
Try Some of Savannah's Sweet Treats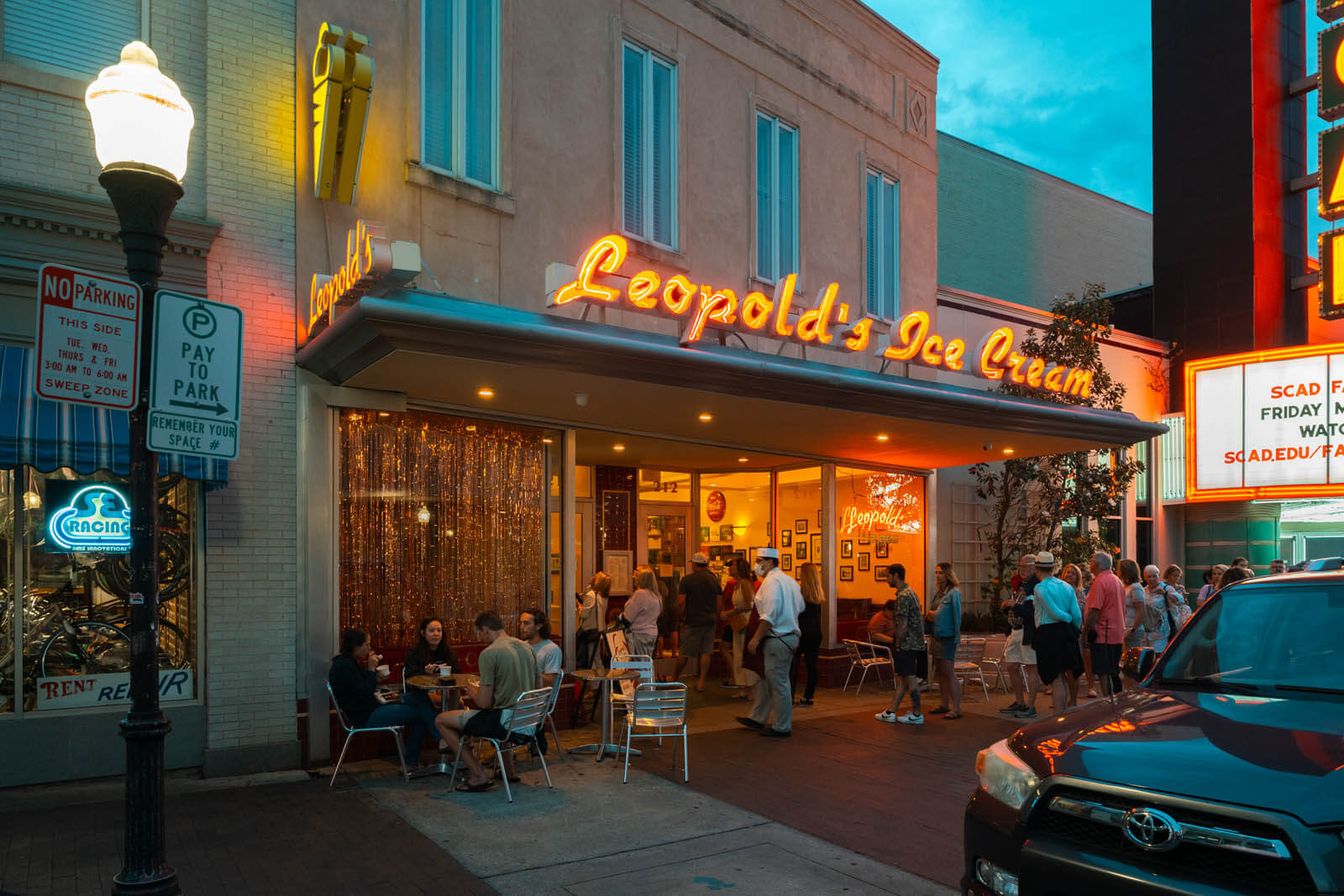 End your day one of three days in Savannah the right way, with a visit to one of the amazing dessert shops in the downtown area! Definitely stop into Leopold's, an old fashion ice cream shop with a fun history and great flavors like Tutti-Frutti.
Byrd's has a few locations and makes the most adorable bite-sized cookies in a bunch of different flavors. And if you're a fan of pecan praline, head to Savannah's Candy Kitchen. You might not be able to stay away during the rest of your 3 days in Savannah!
Day 2 of 3 Days in Savannah Itinerary
Brunch at Collins Quarter in Forsyth Park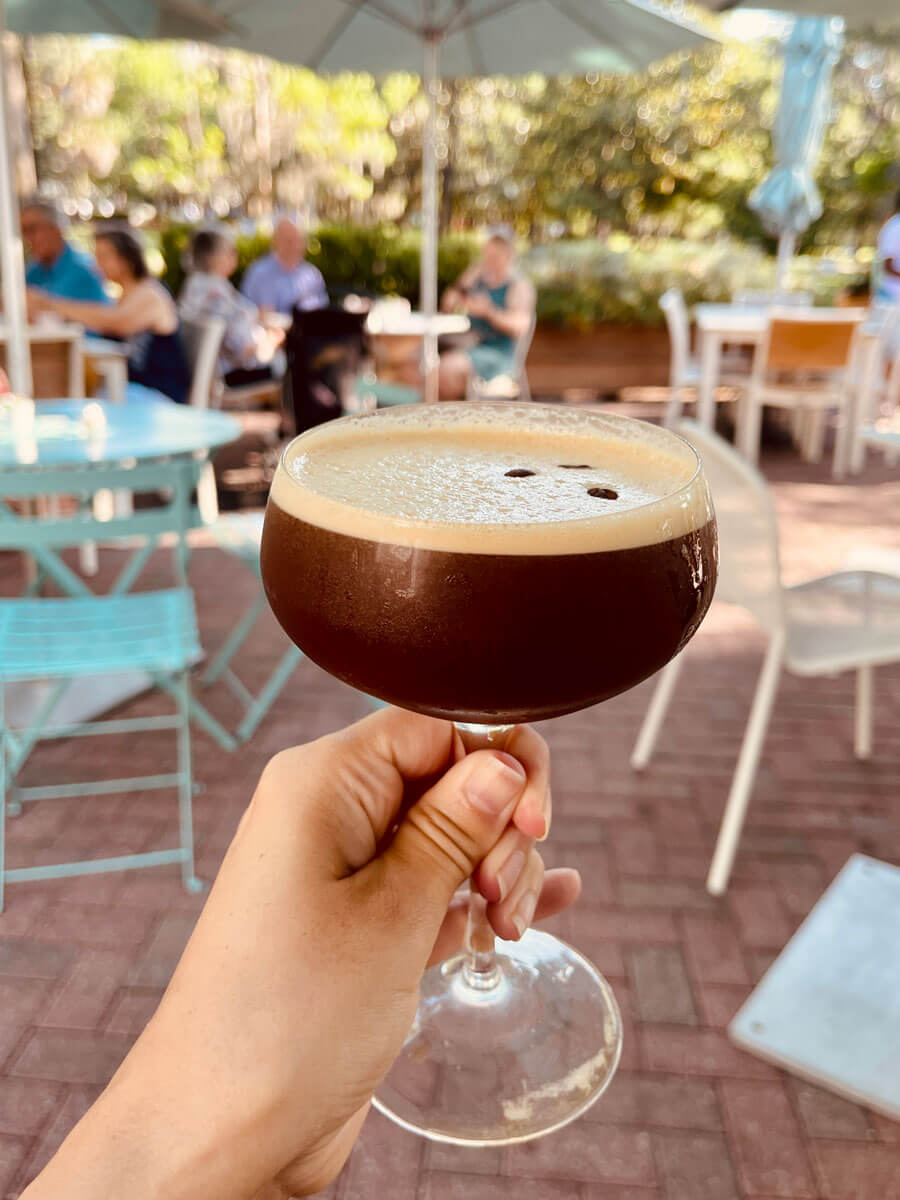 You'll get to see the beautifully iconic Forsyth Park on your 2nd morning in Savannah. It's a stop everyone should make, with stunning walking paths lined with lamp posts under canopies of century-old oak trees.
But you're here for breakfast at The Collins Quarter, in the middle of the park, across from the Bandshell. The brunch menu is top-notch, with fun takes like mushrooms on toast and crab cake Benedict. But the best part is the creative cocktails, like lavender lychee martinis and their espresso martini is excellent!
And then you get to take a walk through one of the prettiest parks in the country!
Tour the Telfair Museums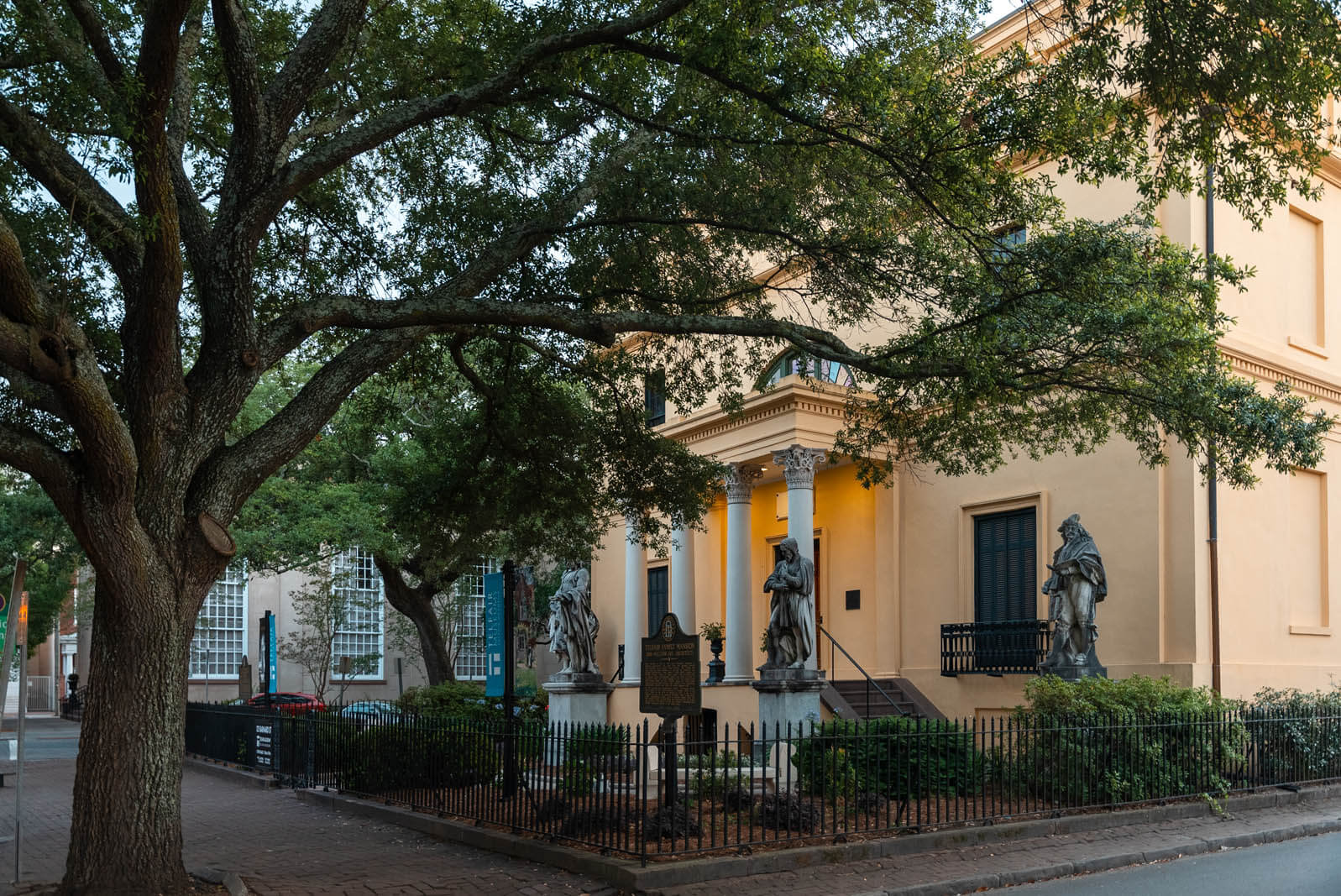 Savannah is really passionate about art, and you'll get a sense of that when you visit the Telfair Museums that sit around Telfair Square. This is also a great way to add more history to your Savannah itinerary.
The museums were funded by an old Savannah family and started in 1883. One of the museums is actually the mansion of the Telfair's. All three buildings feature a different era of art and history in the region, from the 1800s through today.
At the Owens-Thomas House, you can walk through a 19th-century mansion and learn about the everyday lives of free and enslaved Georgians. The Telfair Academy highlights both 19th- and 20th-century American and European art. And the striking Jepson Center has breathtaking contemporary art installations across 3 levels.
The Paris Market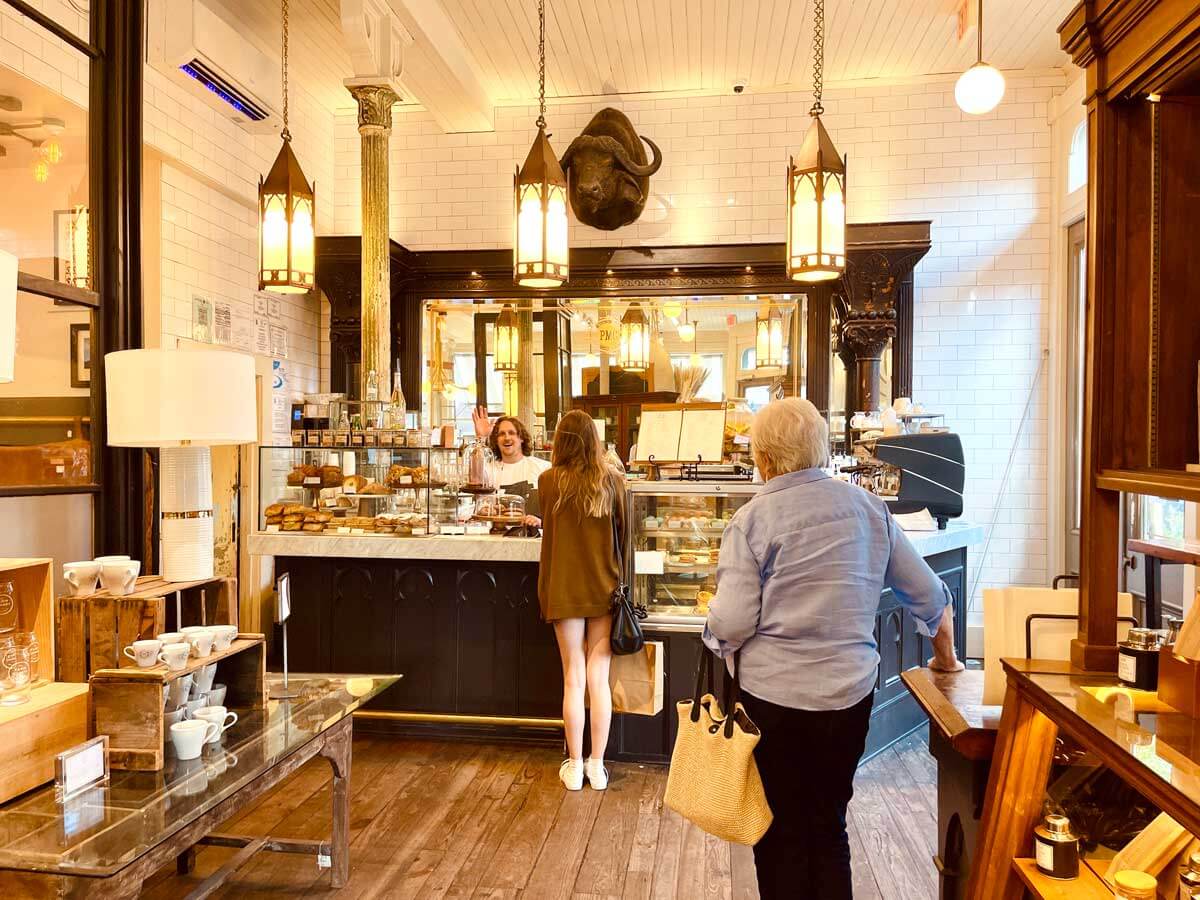 If you love unique shopping experiences, you'll love our next stop at The Paris Market. This family-owned boutique on W Broughton Street is a labor of love. Everywhere you turn in this store, there's something beautiful to look at!
Paula and Taras Danyluk have curated special, one-of-a-kind home goods and lifestyle pieces. You might find glass jars full of antique matchboxes, and then turn a corner and be presented with artisan candles displayed on top of an antique upright piano.
There's Tara's own beautiful jewelry line, as well as French perfumes, leather goods, and bath products from around the world. And while you're here, you'll want to stop at The Paris Market's French bakery counter. Order tea and a macaron (or even champagne!) and sit outside at their Parisian-style outdoor dining area.
Go for Sorry Charlie's $1 Oysters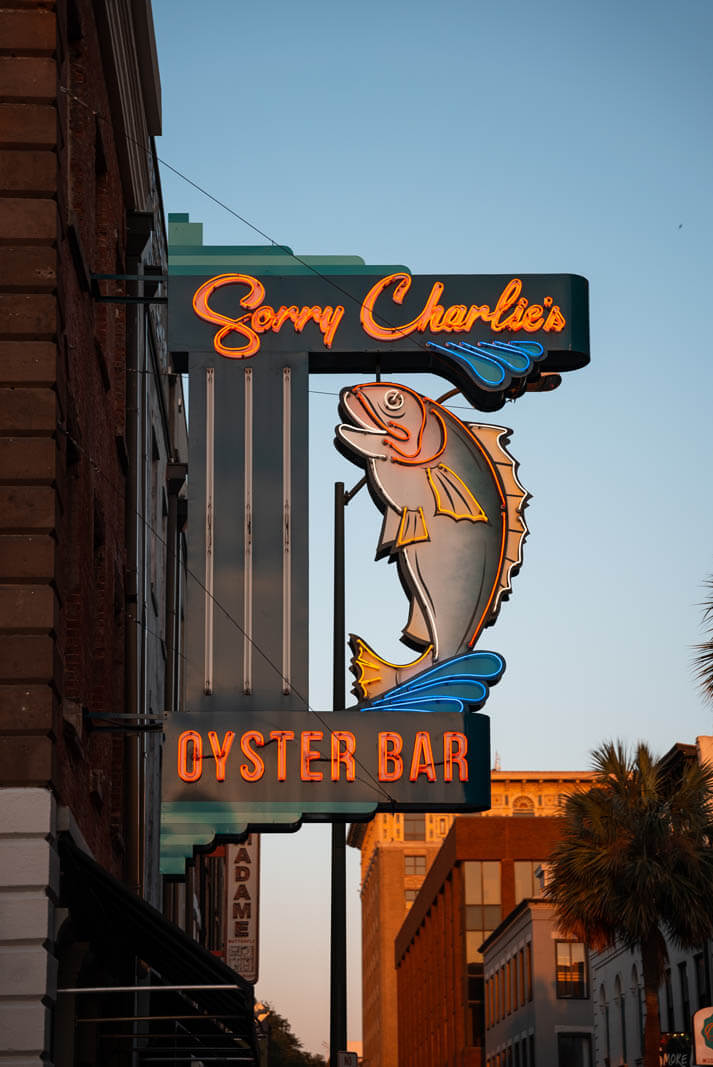 Time for one of our favorite things to do in Savannah, more eating! At this point, you'll be ready for some quality Savannah seafood, and there's no better place than Sorry Charlie's. This local hangout spot is a must, with a great vibe and lots of regulars!
Visit just in time for happy hour, which runs from 4 to 6 PM, Monday through Thursday. Besides the freshest $1 oysters, you can enjoy $3 local Savannah beers! Or you can order other seafood classics like shrimp 'n' grits, gumbo, or a low country boil.
Oh, and don't miss their rooftop lounge area!!
Planters Tavern or Pirates' House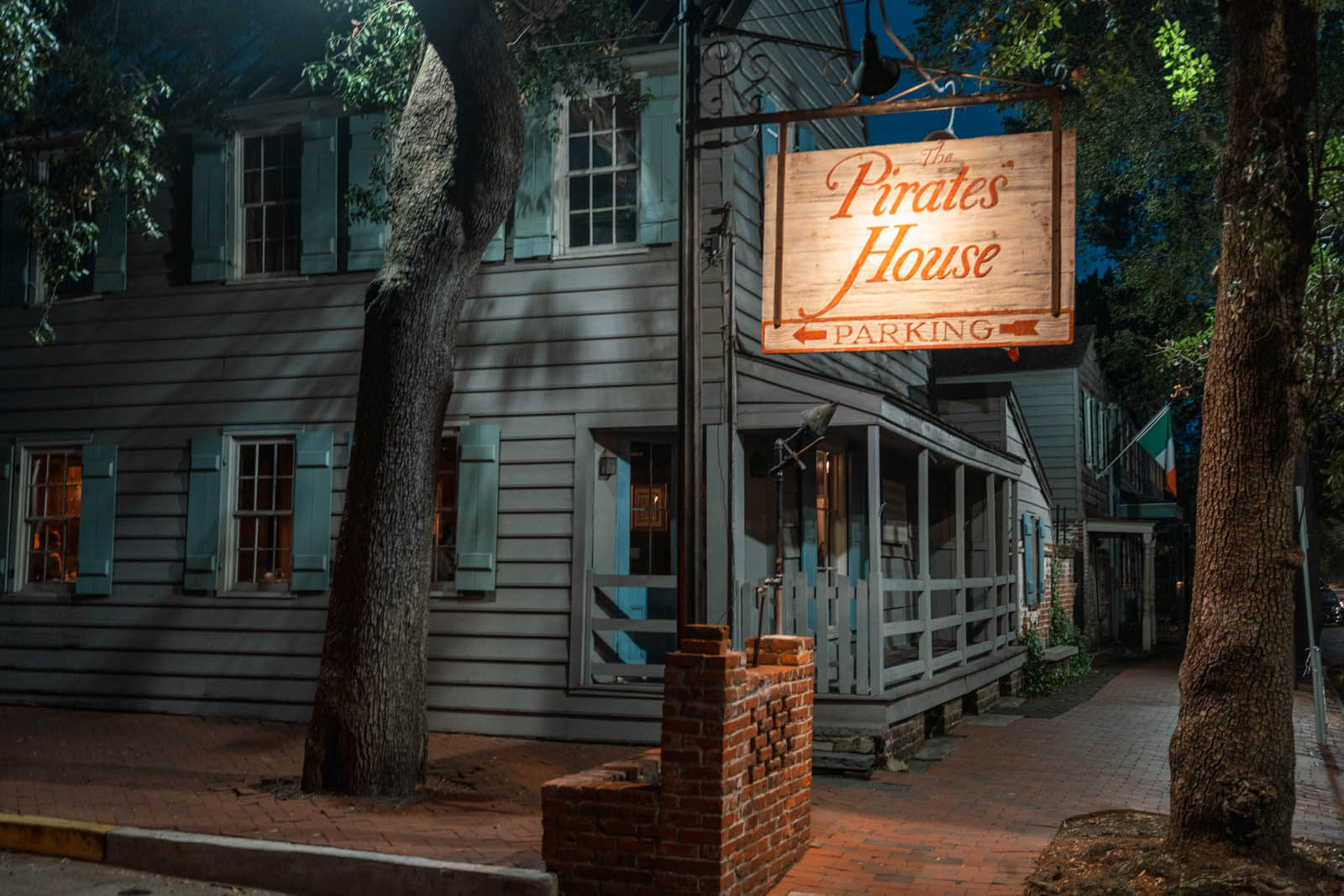 Nightlife is hopping in this city, and drinks at one of our favorite stops is a must during your Savannah weekend getaway! Planters Tavern is a moody basement bar inside the Old Pink House Restaurant. They say it's haunted, and the entire place just has a fun vibe to it. Plus, the drinks and food are delicious.
And history lovers will adore The Pirates' House. It's a bar and restaurant inside what was an old inn for sailors and pirates (actual pirates!) coming in from the harbor. The old inn is over 250 years old and you'll feel like you've stepped back in time!
Experience a Classic Savannah Ghost Tour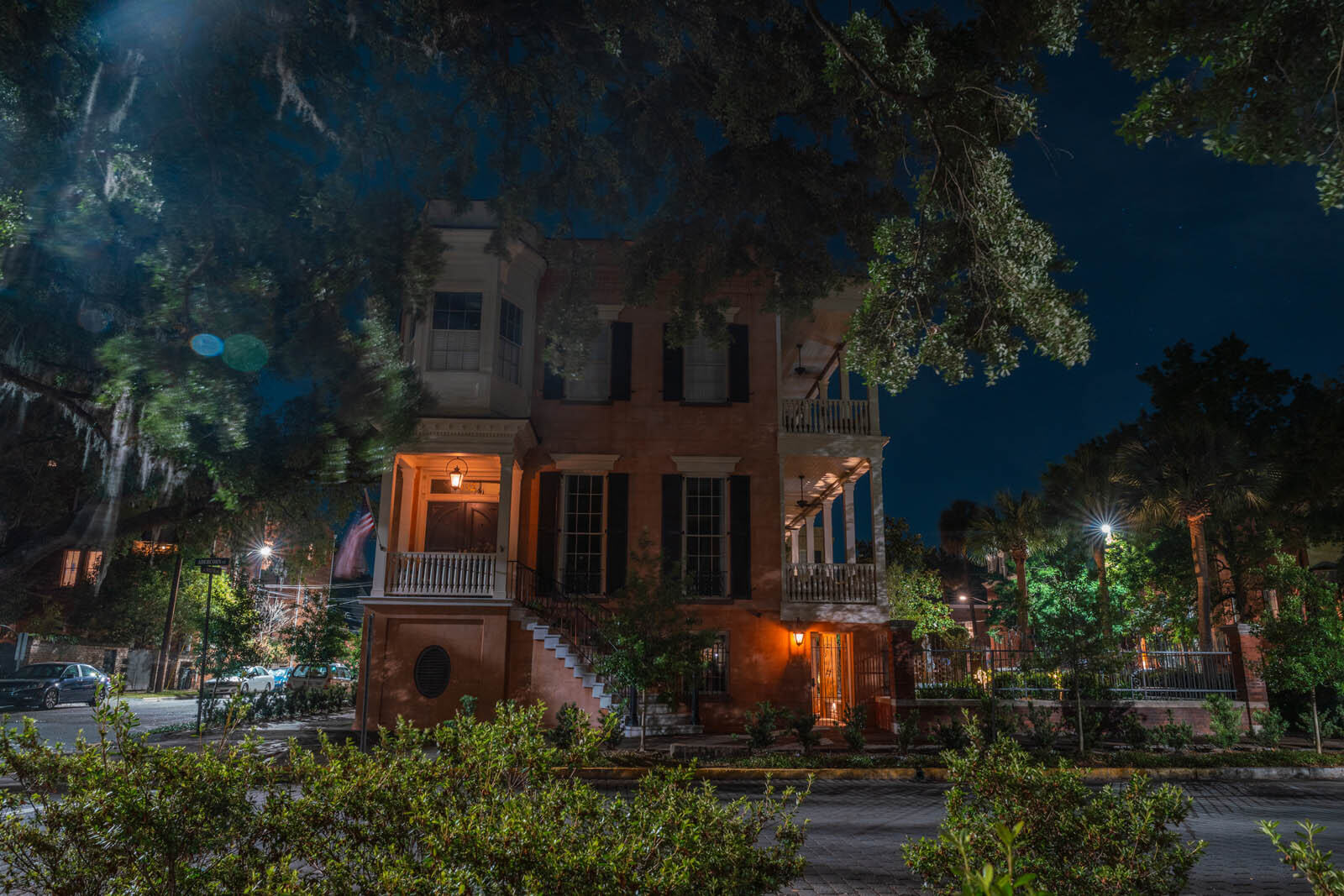 A trip here isn't complete without one of the ghost tours of Savannah! As one of the most haunted cities in America, it's a big draw for visitors to the city. You'll easily find a tour to your liking with all the different ones offered.
There are different nighttime walking tours through the city squares and cemeteries, as well as haunted trolley tours similar to the hop-on-hop-off tour we mentioned earlier. Savannah's relaxed open-drink laws make haunted pub crawls especially fun! And we love the idea of a silly, spooky tour where you ride around in a modified hearse.
Day 3 of 3 Days in Savannah Itinerary
8 AM Breakfast at Clary's Café
Get an early start on your last day with a visit to a Savannah staple, Clary's Café. Open for over 100 years, it's a classic Irish American diner where you can enjoy heaping breakfast and lunch platters.
Besides having amazing corned beef hash and French toast, Clary's is famous for being in the book, Midnight in the Garden of Good and Evil. Plus, it was an actual film location for scenes in the movie. This is why it draws crowds throughout the day and we advise getting here right at 8 for breakfast!
Bonaventure Cemetery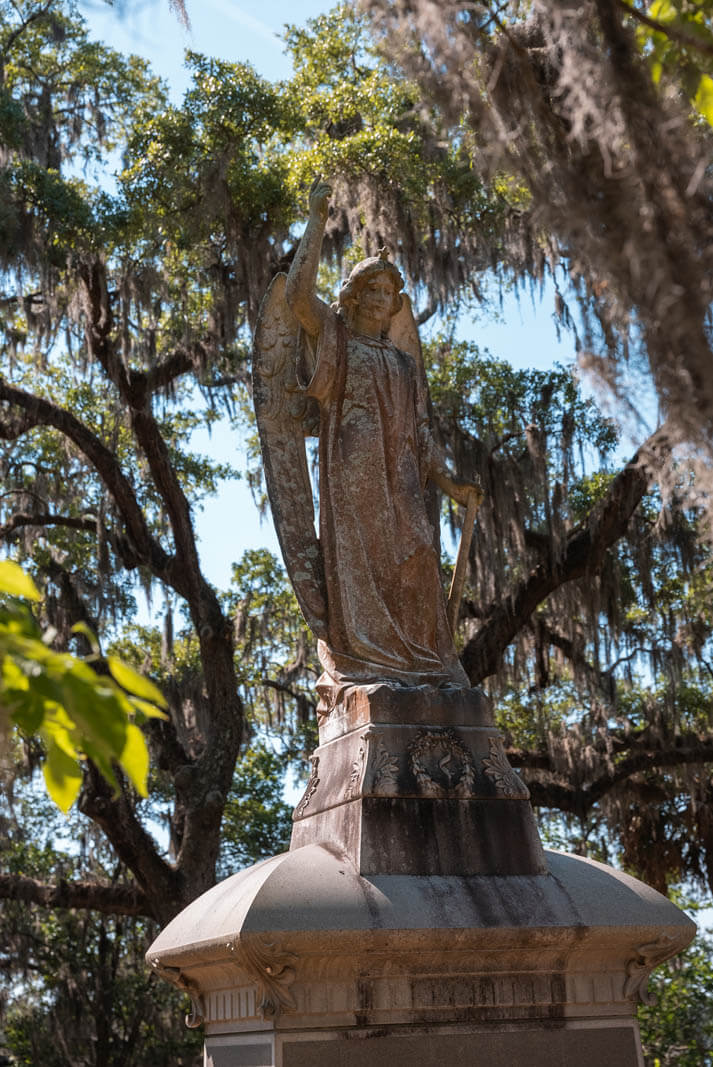 Head over to Bonaventure Cemetery, a few minutes outside of Savannah, along the Willmington River. It's one of the city's oldest cemeteries, it's eerie and romantic, and it's a major part of the storyline for Midnight in the Garden of Good and Evil.
You could easily spend a few hours here, just learning about the stories of those laid to rest. Bring water and bug spray! If you're there on the weekend, stop by the Bonaventure Historical Society Visitors Center to pick up a map and find out about free tours given the 2nd weekend of the month. There are also specialized guided tours that you can book, we recommend booking this tour.
The Bonaventure Cemetery Tour with Shannon Scott, an eccentric historian and cemetery aficionado who breaks down the history of the entire place with the most minute details plus taking you to some of the most fascinating points of interest on the grounds. He's really knowledgeable about the topic and do yourself the favor and learn from him.
If you can't make the tour, you can just walk along the pathways among statues of children and angels, weathered tombstones, and grand mausoleums framed by Spanish moss. The cemetery is spread over almost 200 acres and holds famous Georgians, a Jewish section with a Holocaust memorial, and over 1300 soldiers from 4 different wars.
Spend the Afternoon at a Rooftop Bar or Restaurant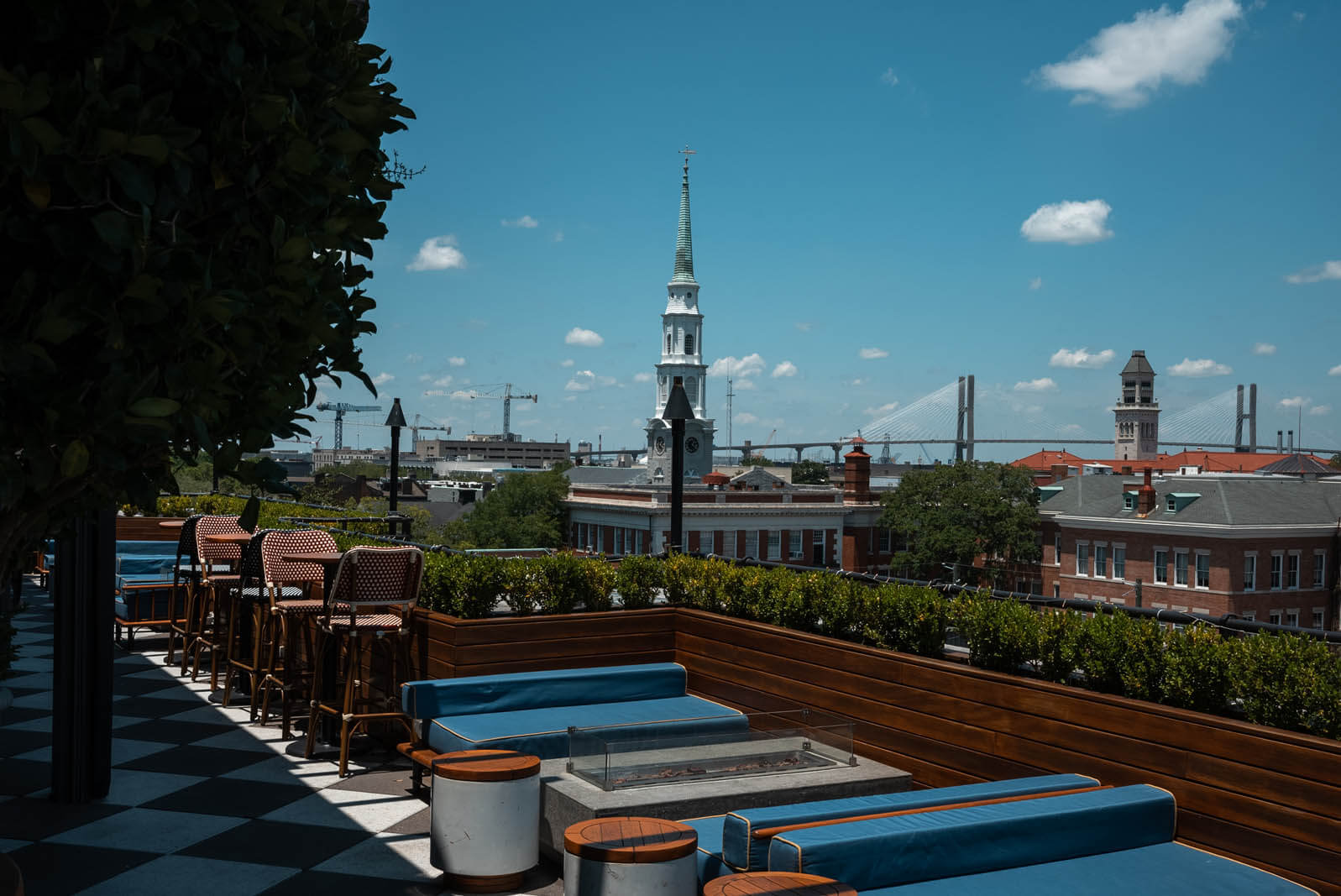 Your 3 days in Savannah wouldn't be complete without a nice evening at one (or a few) of the city's amazing rooftop bars or restaurants. Savannah's sparkling skyline with spires and bridges must be seen at sunset.
The JW Marriott has two different rooftop bars, each with very different vibes! The Myrtle & Rose is a pretty rooftop garden with botanical-infused cocktails. And the Electric Moon Skytop Lounge is exciting with an industrial feel and energizing dance music.
Back at Sorry Charlie's, they have an edgy rooftop cocktail lounge that comes alive after dark with casual seating and a raw bar.
For a more sophisticated experience, enjoy your drink of choice at the Perry Lane Hotel. Their rooftop lounge, The Peregrin, has bamboo lawn chairs, lawn games, and live music with amazing views. And the Rooftop at the Drayton Hotel is equally as chic. Soak in City Hall and the Savannah River at sunset over cocktails and appetizers.
Extra Time on Your Weekend in Savannah
Tybee Island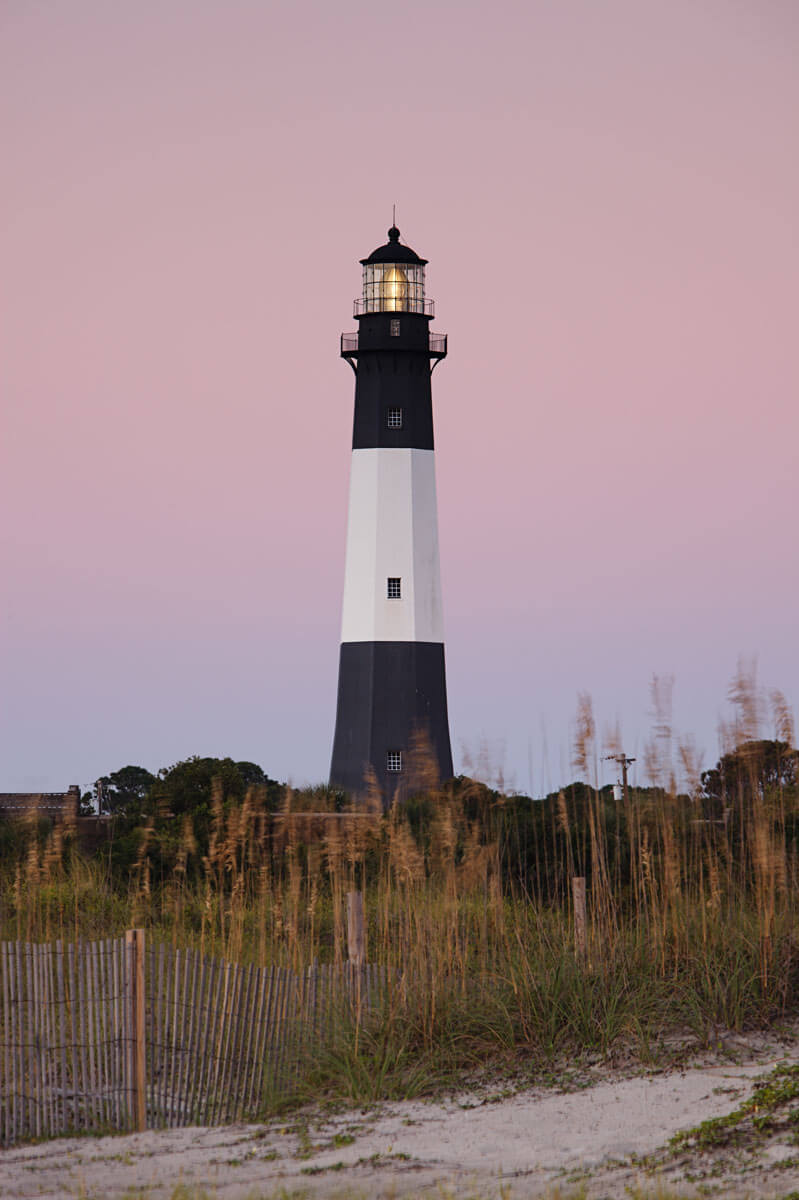 If you have a few extra hours or even an extra day on your own Savannah itinerary, we suggest you visit Tybee Island. A day trip is best to capture this oceanside town that's been a popular vacation destination for over a century.
Just a short drive from Savannah, Tybee Island is a barrier island located along the Savannah River where it meets the Atlantic Ocean. The town by the same name offers miles of undeveloped, golden sand beaches for swimming. And there's tons of outdoor dining at excellent seafood restaurants.
You can walk nature trails and explore the historic Fort Pulaski where the Union Army used to train. There's a historic lighthouse built all the way back in 1773 that you can climb.
And here's an interesting bit of information: Tybee Island is the only known location in America where the US has dropped an atomic bomb! It's a fascinating story with a mysterious ending. Ultimately, it's believed that the bomb is buried under the sea off the southern tip of Tybee Island!
Where to Stay During Your Savannah Weekend Getaway
Mansion on Forsyth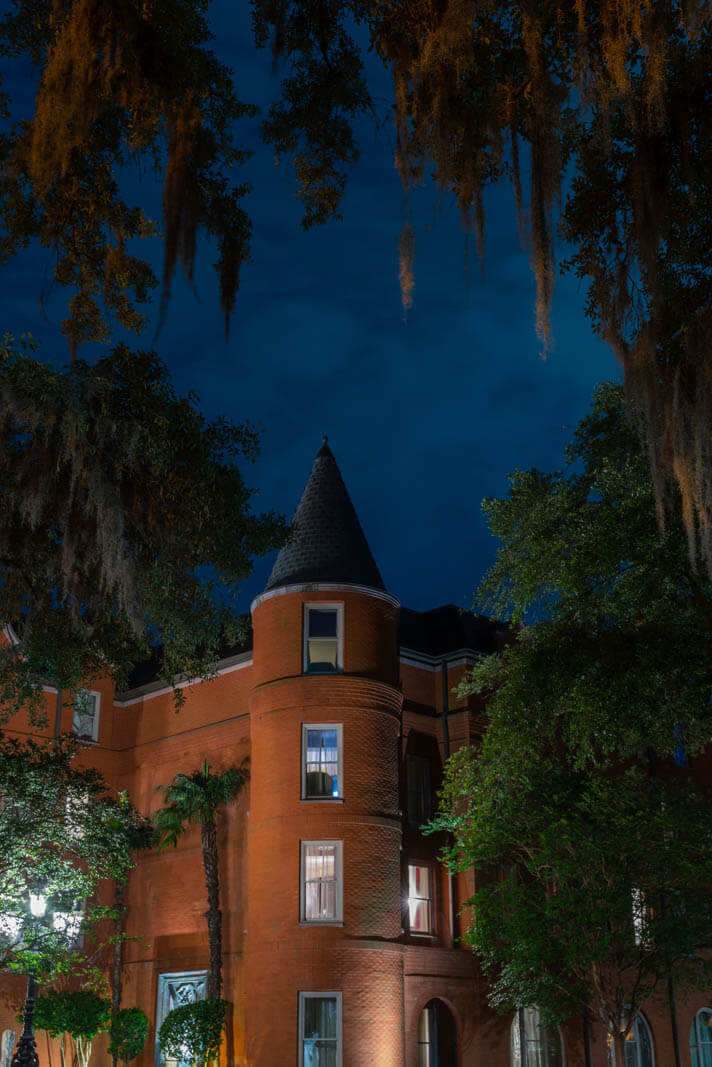 The Mansion on Forsyth is a gorgeous hotel and property is where we stayed during our trip and we would 100% absolutely stay here again in a heartbeat. Located overlooking the picturesque Forsyth Park, this Victorian-Romanesque mansion has been converted into one of the best hotels in the city.
The location is perfect and it's only a 10-15 minute walk to the heart of historic Savannah. Each of the rooms at the Mansion on Forsyth are outfitted with original artwork, marble bathrooms, and plush pillowtop beds. There's an art gallery on site, a beautiful collection of women's hats from the past century, a beautiful pool and courtyard, and loaner bikes for guests.
Our room was incredibly spacious and comfortable. The large soaking bathtub was just one of the many things we loved about our room and staying here. Book the Mansion on Forsyth here.
Hamilton-Turner Inn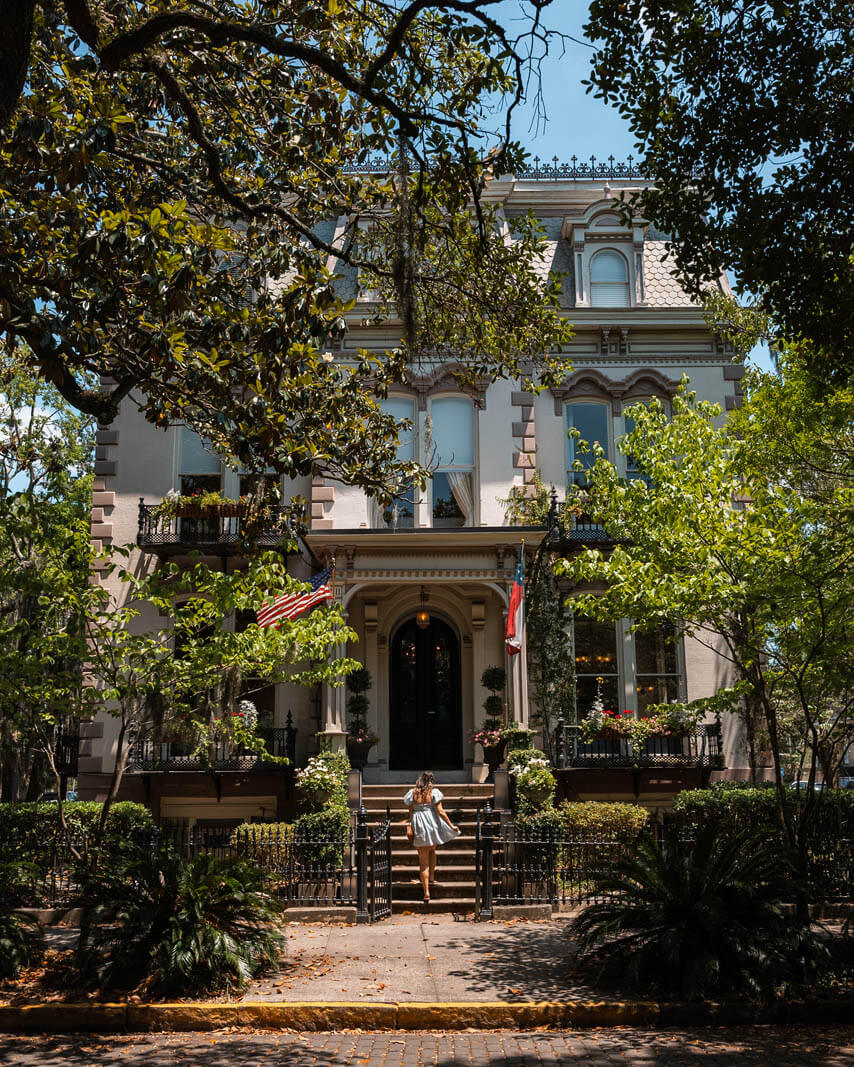 If you're looking to stay in one of the most historic homes in Savannah, look no further than the Hamilton-Turner Inn. This gorgeous home and is one of the best Bed and Breakfasts in the country located on the picturesque Lafayette Square.
The house is riddled with history, like many of the historic sites here and some of the most fascinating facts is that it was the first house in Savannah to have electricity, it's rumored to be the inspiration for Disneyland's Haunted Mansion, and it's a rumored to have residents of the paranormal kind here too. It even had a special appearance in the story and movie, Midnight in the Garden of Good and Evil.
The Hamilton-Turner Inn is considered one of the most romantic stays in the city and its furnishings and interiors are a great example of the grandeur of the social class that lived in these mansions. The rooms are beautifully decorated and you're entire stay will truly be unique, plus you can't beat the location. Book the Hamilton-Turner Inn here.
JW Marriot Savannah River Plant Riverside
And another place to visit during your 3 days in Savannah where you can also stay is the JW Marriot Savannah River Plant Riverside is more than a hotel! Besides the great riverfront location, you're riddled with options to dine, shop, and drink along River Street.
The hotel itself has one of the most impressive lobbies for any hotel in the world boasting a full Natural History museum inside with an impressive collection of fossils, dinosaur bones, giant crystals and gemstones, chunks of a meteorite, prehistoric bones, and a giant chrome dinosaur floating from the ceiling!
The rooms are also at the JW Marriot are also luxurious and modern, which is a great alternative if you're not into staying at the historic properties. You can also choose rooms that overlook the giant chrome dinosaur and pre-historic collections or pick a room with a view of the Savannah River! There are over 400 rooms as this entire hotel is basically its own neighborhood in the city, each of them offering something different. Book the JW Marriot Savannah Plant Riverside here.
---
Enjoyed this guide to how to spend a perfect 3 days in Savannah itinerary? Bookmark for later or share the love below on Pinterest.