Looking for the best skiing near NYC? We got you. This guide covers the best ski resorts near New York City within a 5 hour drive. Also, if you're like us and don't have a car, no worries, there are several carless options including the NYC ski bus options which basically is a commuter bus to take folks from the city to some of the best skiing in Upstate New York and even Vermont and New Jersey too.
We break down each of these ski resorts near New York City including the different amenities they offer, lodging options including if they have ski-in and ski-out styles of accommodation, on-site dining, what type of trails they have, and more to help plan your next ski trip in the New York area a breeze. Plus how far each of these skiing options are from the city.
Something to keep in mind, skiing in Upstate New York, the season typically starts sometime around Thanksgiving/end of November and continues through March. Each year it varies as that's in Mother Nature's hands and with climate change, its getting a little less predictable.
If you're looking at ski resorts near NYC in Vermont (Southern Vermont ski resorts are around a 4-5 hour drive from NYC) their season is typically a bit longer starting a bit earlier in November and sometimes going all the way through to May!
Disclaimer: This post contains commissionable links.
Best Ski Resorts Near NYC
Hunter Mountain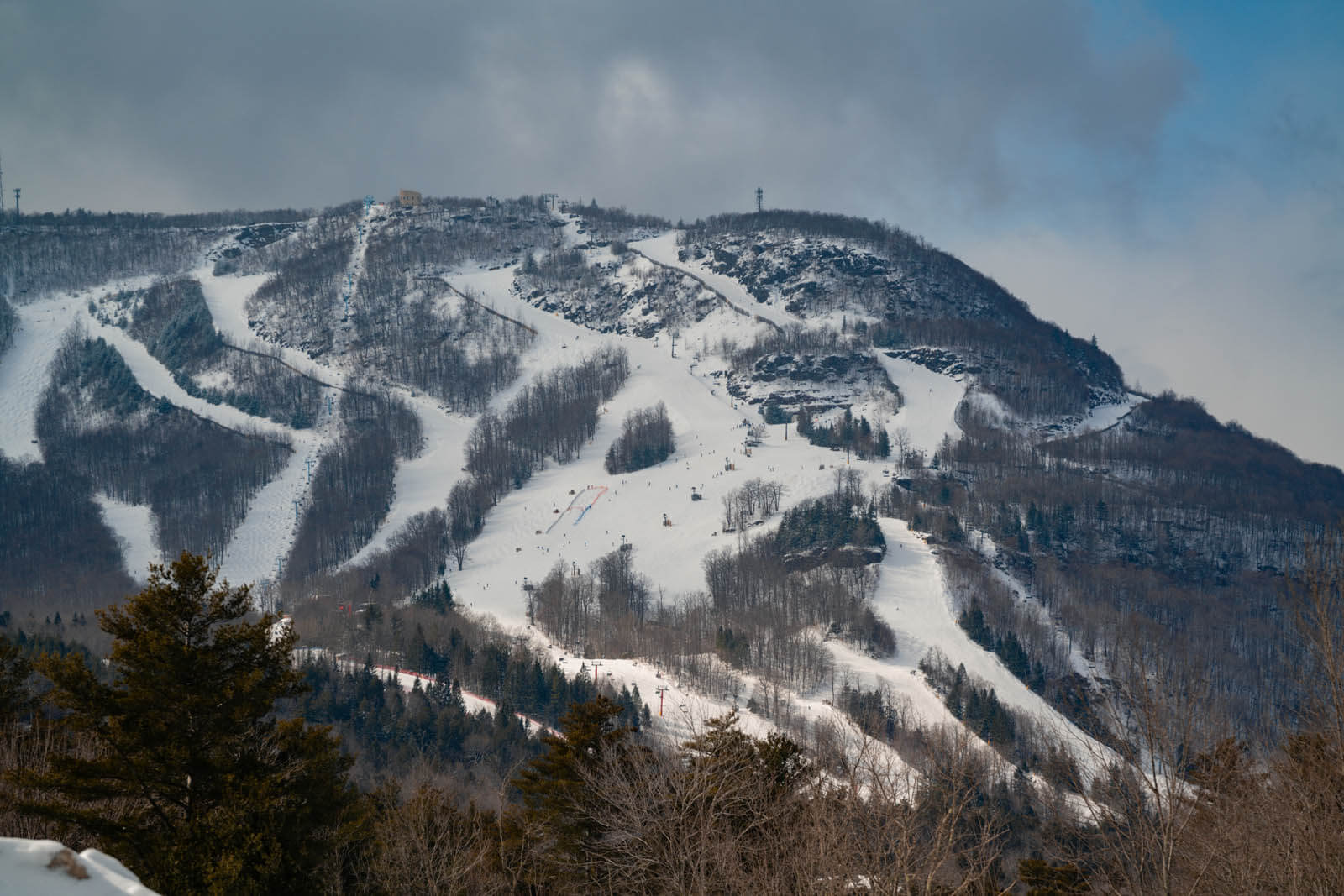 Go with Hunter Mountain Resort if you like a mountain with a family-owned feel. Vail Resorts bought it a while back, but they've done an amazing job maintaining the original feel of the resort. This welcoming atmosphere is why Hunter Mountain has been a mainstay for the Catskills in winter since the 1950s and some of the best skiing near NYC.
Hunter Mountain offers some of the closest skiing to NYC, just a little over two-hour's drive by car from the city! You can also take an NYC ski bus to Hunter Mountain.
Several shuttle companies cater to the resort, like OvrRide, which picks you up from stops in Manhattan, Queens, and Brooklyn. Just make sure to double check dates, because none of the companies offer shuttle services 7 days a week.
Hunter Mountain is known for catering to more experienced skiers, but there are more than enough slopes for beginners to have a great time. Hunter has 3,200 feet of diverse terrain with wide trails. You can also try out 2 different terrain parks for all skill levels with jumps, rails, and more. And there's a full tube park and a year-round zipline.
A big draw to Hunter Mountain is their new Skyline airlift. They also have several magic carpet lifts, with the bunny slopes having their own dedicated lift. This is a super popular resort and the number of lifts really helps with lines, especially on the weekends when Hunter is the busiest! And if you need to rent gear, the rental shop has everything you'll need for skiing and snowboarding.
If you're looking for some of the closest skiing to NYC with lodging, this is a great option with ski-in/ski-out condos and villas. There are several different eateries onsite. The town Hunter has a pizzeria and 2 bars, as well as a ski-in/ski-out restaurant at the top of the mountain. And on the weekends, the resort often hosts great local food trucks and live music.
Also, check out the town of Tannersville nearby which is full of restaurants, shops, antique stores, and more in their colorful western looking downtown, definitely one of the most charming towns in the Catskills and less than 10 minutes away from Hunter Mountain if you have your own car!
Windham Mountain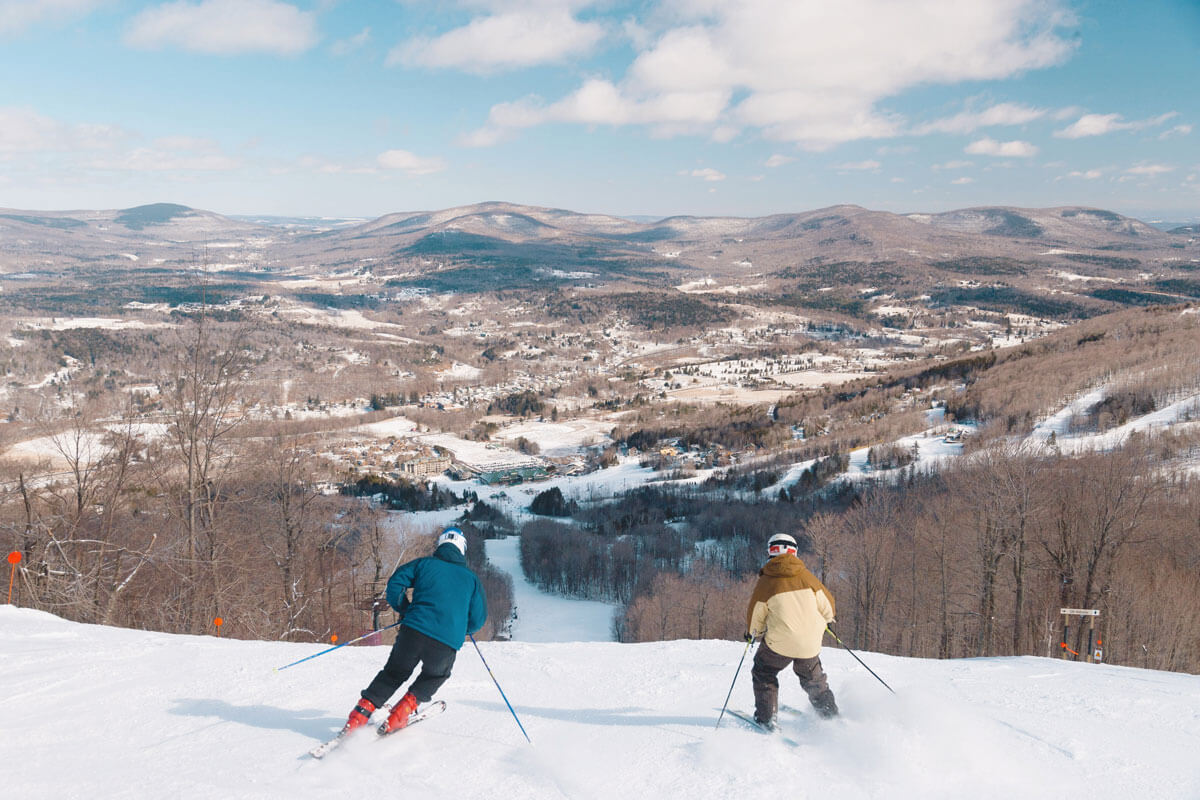 While Hunter might be the best of the best in the East, Windham Mountain is another great ski resort in the Catskills! It's less crowded than Hunter and it's super family-friendly with lots of activities just for the kids.
Think about a visit to Windham if you're a beginner or intermediate level. You'll find excellent trails for both groups (plus black-diamond and double-black-diamond trails as well). Besides skiing, Windham also has ice skating and 6 terrain parks, each with its own unique features. Start in the beginner park and graduate upward through each one!
Windham is one of the best ski resorts near NYC at around 2.5 to 3 hours away by car. You can also take Amtrak to Hudson and get a car to take you the last 40 miles to the resort. Or there are also several NYC ski bus options. NYC Snow Bus offers different ticket packages for Windham that include things like gear rental and even ski lessons at the resort.
While there isn't much of a base camp at Windham Mountain, you can enjoy a few quality amenities. There's the Alpine Spa, which offers a range of massages, skin and body treatments, as well as yoga. And there are also quite a few different restaurants at both the base camp and the mountainside. There's everything from a tavern and a sushi bar to a waffle hut next to the lifts!
Whisper Creek Condos is a beautiful ski-in/ski-out lodge at the resort (better for groups as they can sleep 8-10), or you can find some top-notch hotels just a few minutes away from the mountain like Hotel Vienna which has an indoor spa and pool too. And if you're staying at the condos, there's a complimentary shuttle that picks you up from the Windham bus stop when you arrive.
Stratton Mountain Resort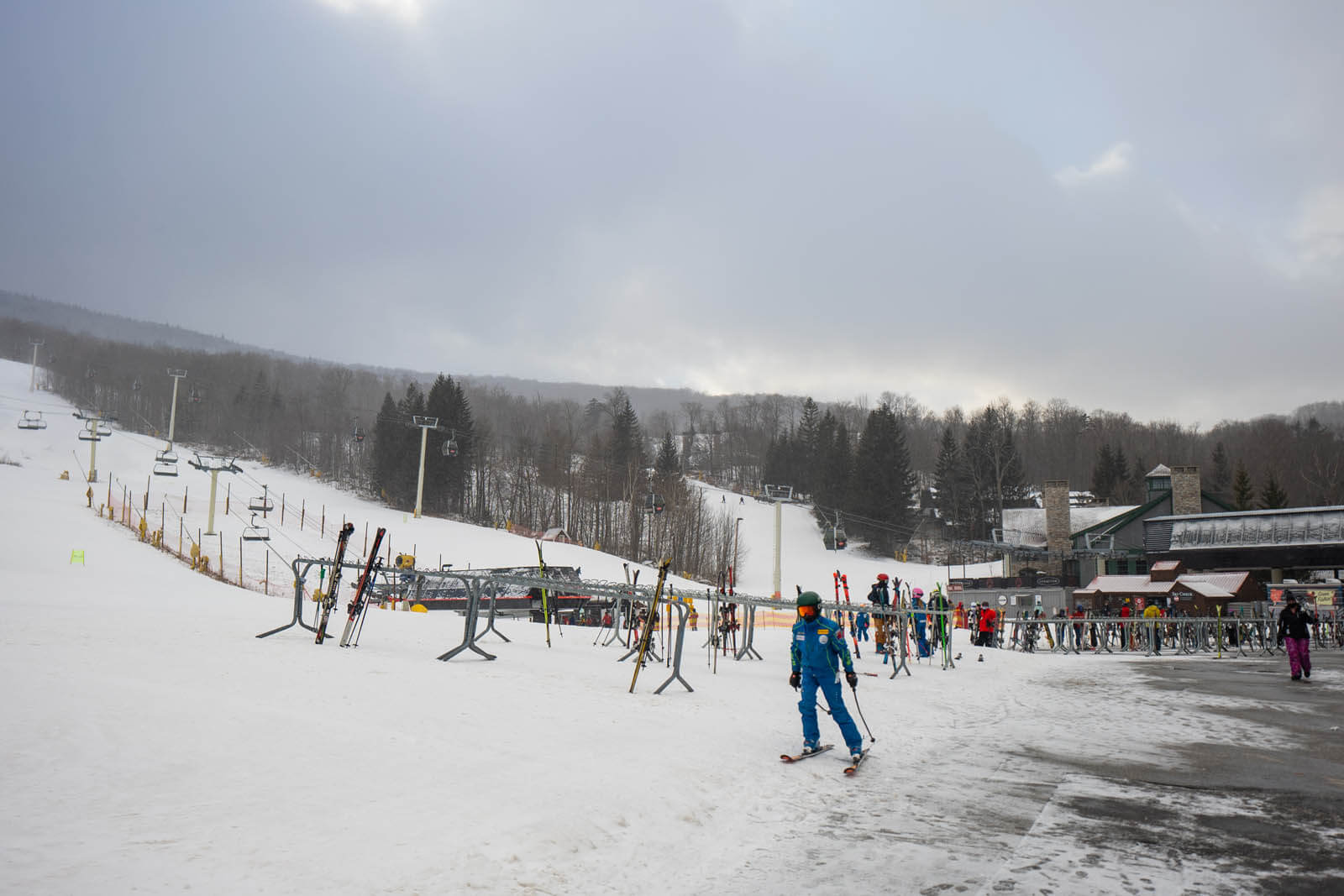 Vermont offers some of the best skiing near NYC and on the East Coast, including at Stratton Mountain Resort. Located near Manchester in Southern Vermont, you can drive there in about 4 hours from New York City. Or catch the Hampton Stratton Jitney from NYC. Then you can sit back and enjoy a scenic 4-hour ride!
Come to Stratton Mountain Resort if you want the full luxury ski resort experience with a beautiful ski village. This is the perfect getaway with a variety of restaurants and shopping options, plus the village is charming. Everything you'll need is in the village, including the rental shop. They have a smooth gear rental system that's easy to use.
Stratton Mountain is family-friendly and great for skiers of all skill levels across the north and east faces of the mountain. You can join group classes or book a private lesson. And besides skiing, there are tons of things to do, including snow tubing, snowmobile tours of the mountain, and yoga classes in the snow!
At the Nordic Center, you can join a group for snowshoeing hikes or cross-country skiing, or rent a fat bike and hit the trails. There's also nighttime skiing and snowmobiling, and you can book a romantic dinner for two after taking a snowcat to your mountainside restaurant.
You'll find 21 different lodge options at Stratton, including high-end 4-star hotels, cozy B&Bs, condos, and villas, each with its own amenities. Choose from a stay in the village, in the valley with a shuttle service to the lifts, or at one of the ski-in/ski-out locations. We really like the Long Trail House at Stratton Mountain Resort.
Gore Mountain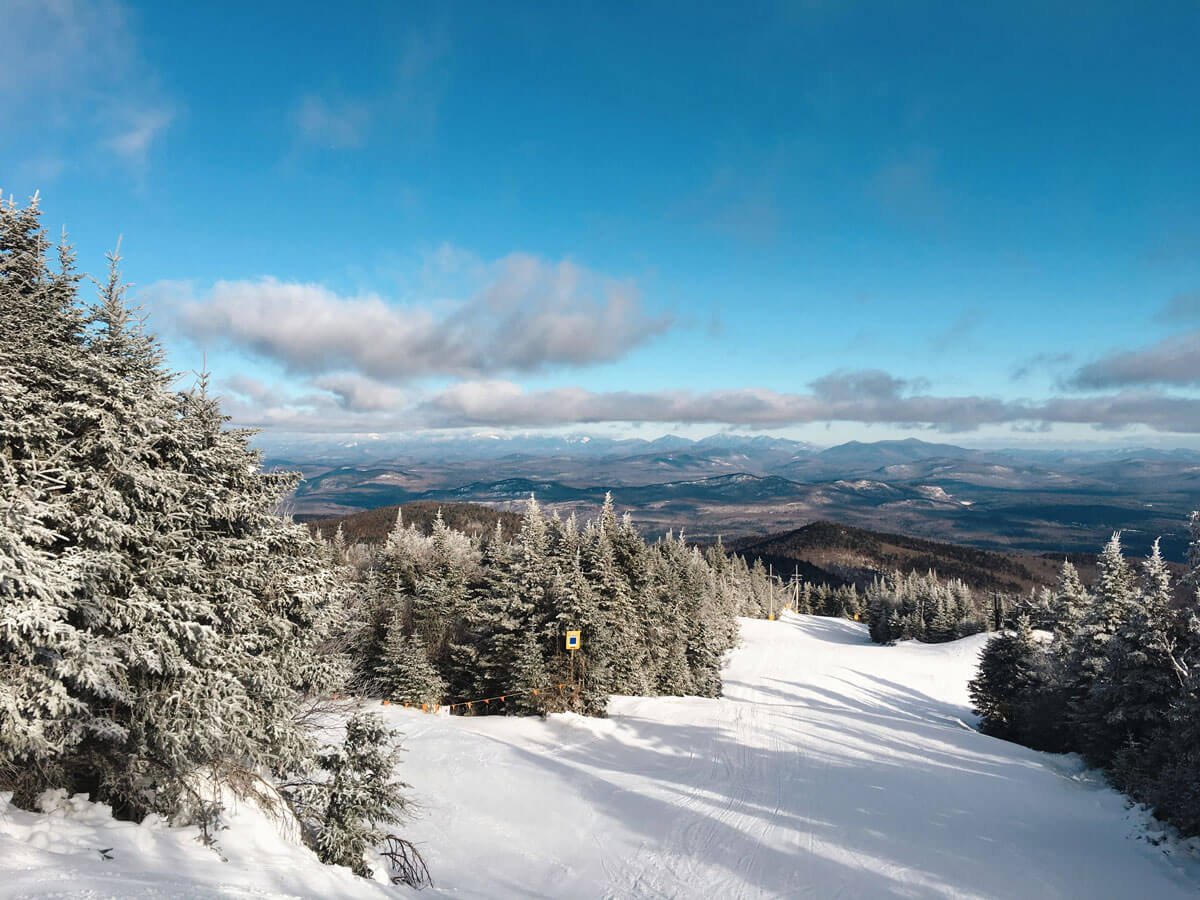 Gore Mountain is the largest ski resort in New York with over 100 trails over 4 different peaks and great views of the Adirondacks! But what makes it some of the best skiing in New York is that, despite its size, Gore Mountain is known for its warm, laid-back atmosphere! While it's about a 4-hour drive from NYC, it's worth the trip! You can also take the NYC Snow Bus when it's available.
The tallest mountain peak at Gore is 3,600 feet in elevation. On a clear day, you can see the Green Mountains in Vermont and even all the way to Canada! It's such a massive ski resort that it's divided into 7 different ski areas, each one offering a different experience.
And with a busy resort like Gore Mountain, you hardly have to wait in lines! That's because of the dozens of gondolas, magic carpets, and chair lifts, getting everyone up the slopes fast.
Besides amazing skiing and different terrains, there are a whopping 28 different glades and 8 unique terrain parks available to all skill levels. Gore Mountain has two different base camps, including the Ski Bowl base lodge, which was the original ski base almost 90 years ago. And you have access to four different lodges, including a mountaintop lodge, where you can sit by the fire and enjoy a hot meal.
Gore Mountain has a few different areas for nighttime skiing and snowboarding. Snowshoeing is also a popular pastime at Gore with snowshoe trails along most of the ski slopes. And the rental shop offers snowshoes and cross-country ski gear, besides the usual ski and snowboarding gear. And if you need it, they offer tuning and repairs.
Garnet Hill Lodge is one of the best options to stay nearby within a 16-minute drive. The rooms offer gorgeous views of the mountains with their own trail system for cross-country skiing and snowshoeing plus a restaurant on site. This is definitely one of the best places to enjoy a winter getaway in the Adirondacks.
Mount Snow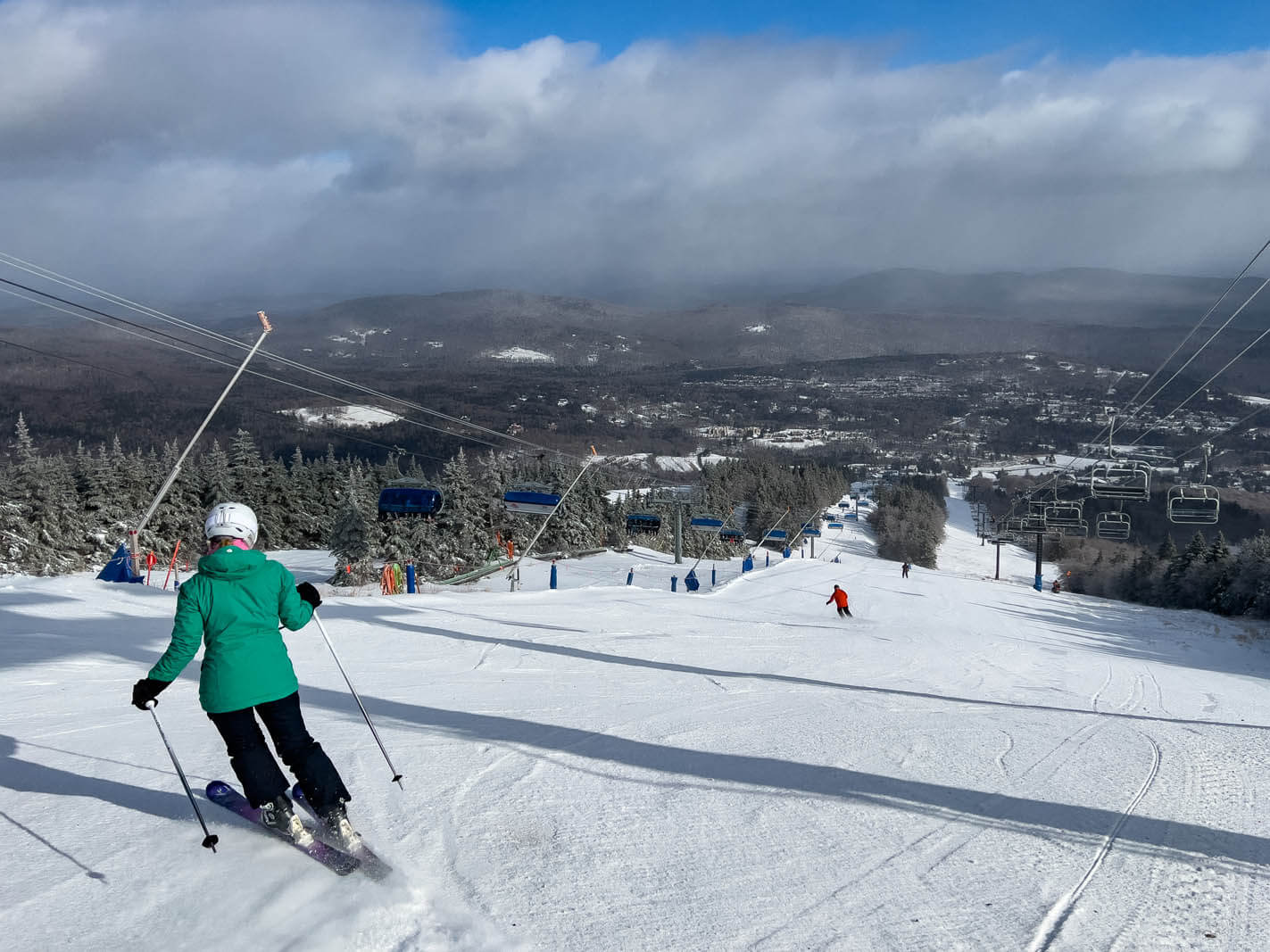 Mount Snow is the heart of West Dover, Vermont. This popular ski resort is considered some of the best skiing near NYC because it caters to skiers of all skill levels. Visitors love the manageable setup with all trails leading back to the base camp. This is actually where we spent a wonderful winter getaway in Southern Vermont and I, as a beginner, and Scott, who is more advanced both really enjoyed this mountain.
Most people drive the 4-hours to Mount Snow from New York City by car. If you want to get there without a car, you could take the Amtrak Vermonter from Penn Station to Battleboro, Vermont. It'll take a little less than 6 hours and then you'll need to book a car or take the local bus for the 40-minute ride from there to the ski resort.
The diverse skiing at Mount Snow is spread across three ski areas and over three mountain faces, plus 19 different lifts. And there's even an additional mountain face with a total of 10 individual terrain parks across 100 acres! You can also book lessons or go snow tubing.
Relax with massages and skin treatments at the Naturespa inside the Grand Summit Resort Hotel at the Main Base Village. If you need to thaw out, grab a hot meal at one of the restaurants to be found at the base or along the lifts. There's also the Summit Lodge Café at the Main Mountain Summit with amazing views from 3,600 feet!
Mount Snow features an impressive number of properties where you can stay, including the Grand Summit Resort Hotel, or a variety of condos, villas, and townhome villages. Many of them are slope-side for a great ski-in/ski-out option or benefit from a regular shuttle service to the Main Base.
We had the best A-Frame cabin with a hot tub and views of the slopes about a 5-minute drive away from the resort. We would 10/10 stay here again, it was perfect and it felt romantic and secluded. Or check out more romantic cabins in Vermont near all the best slopes too!
Whiteface Mountain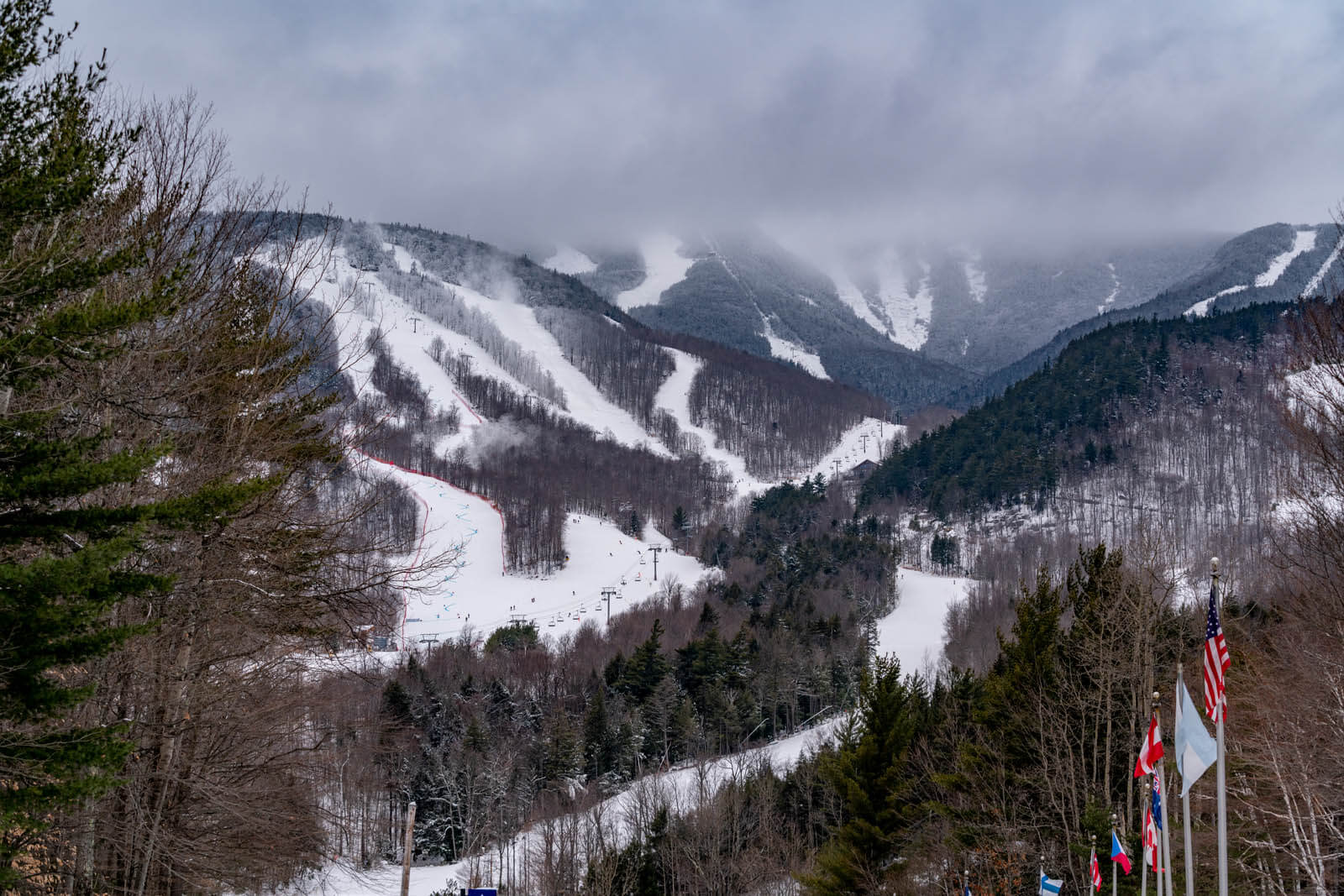 While Whiteface Mountain is technically over 5 hour drive from NYC, it's worth mentioning because it was part of the 1932 & 1980 Winter Olympics! You won't regret spending a weekend in the beautiful Lake Placid nearby. And while Whiteface Mountain doesn't have any lodges to stay at, you can simply take the 20-minute shuttle from Lake Placid.
This is possibly the best skiing in upstate New York for experienced skiers. Whiteface Mountain is one of the tallest mountains in the Adirondacks and the resort is known for The Slides, the largest vertical drop on the East Coast!
During the 1980 Olympics, Whiteface Mountain hosted six of the alpine events. Today, you can run the same trails as the best sportsmen in the world!
Every season, Whiteface Mountain offers a special Uphill Pass. You'll wake up early to trek up the slopes, watch the sunrise over the mountains, and then spend the morning skiing. It's a must! The resort also has a large terrain park for skiers and snowboarders. And while Whiteface is largely focused on skilled skiers, beginners and intermediates will find things to do in each area at the resort.
The two top-notch rental shops at Whiteface are you're one-stop-shop for all things gear-related. You can rent ski and snowboarding equipment, or have your gear tuned up or repaired. And you can rent lockers for the day, overnight, or for the season.
For the best places to stay near Whiteface Mountain in Lake Placid, check out Whiteface Lodge which also has a heated pool and is a stately 4.5 star resort or Mirror Lake Inn, which is a AAA Four-Diamond hotel right on Mirror Lake in Lake Placid. Upgrade to a room with a view of Mirror Lake and a fireplace to cozy up to at night.
Mountain Creek Resort
View this post on Instagram
At around 90-minutes away from NYC by car, Mountain Creek Resort in New Jersey is a great option when you're looking for the closest and best skiing near NYC! There's also an NYC ski bus to Mountain Creek Resort through Sourced Adventures that offers pick-ups in Manhattan on the weekends.
Though Mountain Creek is a smaller ski area with only 44 trails across two peaks, it's a popular place, especially on the weekends! You can book skiing and snowboarding lessons for all ages. Plus, there's a full terrain park on another peak with enough to do to keep everyone busy, from beginners to skilled skiers and riders!
This ski area offers both daytime and nighttime skiing, as well as snowboarding and snow tubing. This isn't just a winter getaway either, all year round, you can get in the air by riding the park's zipline course or the alpine coaster! Mountain Creek Resort is also utilized by the surrounding townships for middle school and high school ski racing. And the resort hosts Special Olympic events, so look out for opportunities to attend events throughout the season.
Make a weekend of it and stay at the slope-side Appalachian Hotel. They have 1- and 2-bedroom suites steps away from the lifts. Or for more space, stay across the street at Mountain Creek's gated Black Creek Sanctuary which has beautiful, spacious townhomes for rent. And if you get hungry, there are 2 restaurants in site.
Plattekill Mountain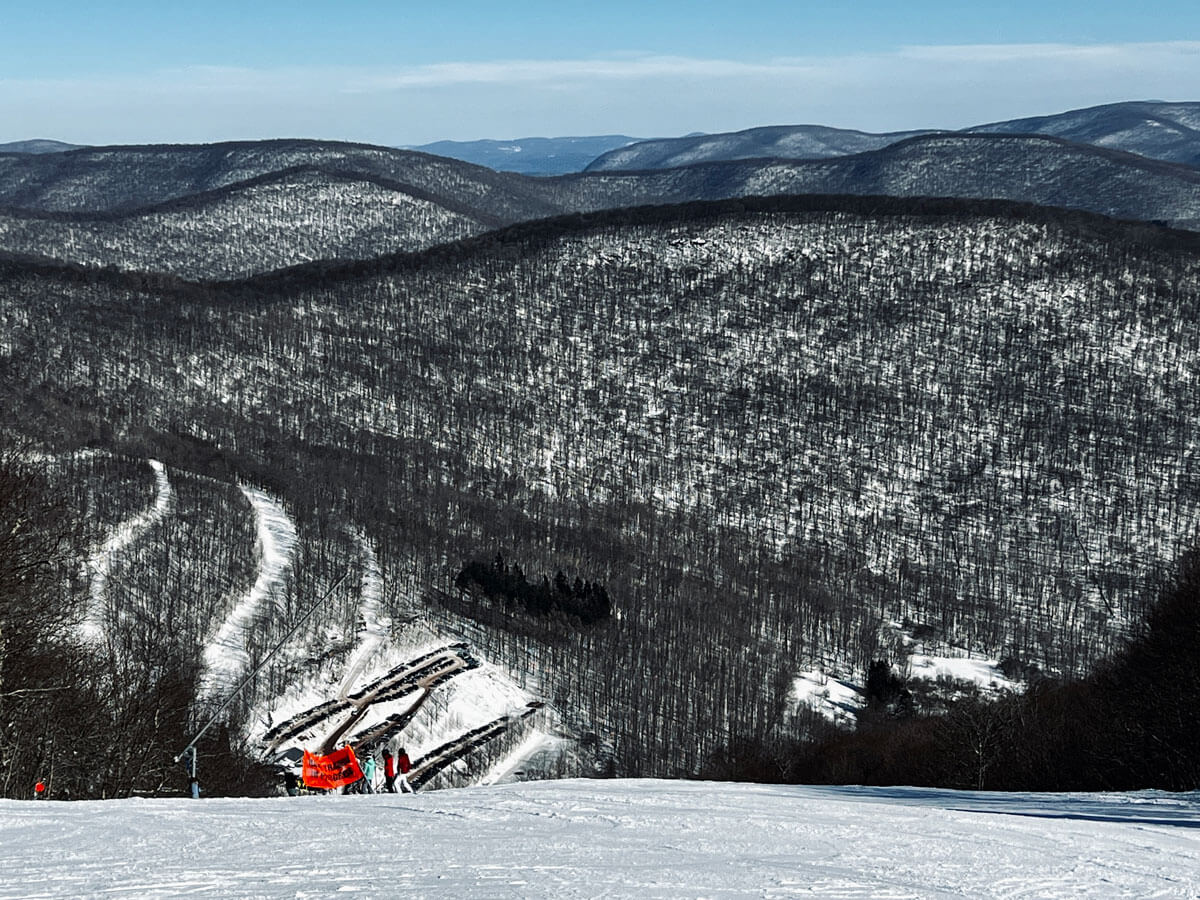 As one of the last family-owned, locally-owned ski mountains in the East, Plattekill Mountain offers a rare experience and some of the best skiing in New York. It's a smaller ski mountain with 38 trails and just a 1,100-foot drop. Plattekill Mountain has gathered a crew of committed patrons who come back year after year because of the rugged, old-school feel of the ski mountain!
People love that Plattekill Mountain is a bit off the beaten path, and not like the bigger, modern ski resorts. If you're driving, it's about 3 hours north of New York City by car in the Catskills. And if you need transportation, Plattekill Mountain also has different shuttle packages from NYC available through Urban Sherpa Travel from 2 pick-up sites in Manhattan.
This mountain offers something for everyone. For more experienced skiers and snowboarders, Plattekill Mountain is no-frill with long, narrow forest paths (tricky for a beginner snowboarder like me). And even though there are only four lifts, there are hardly ever any wait times! Also, Plattekill Mountain is known for being family-oriented and accessible to children and new skiers.
You can book group lessons or private lessons, or just enjoy the old-school atmosphere of the lodge. There's also a classic après ski bar there if you need to warm up and refuel. And snow tubing is a huge deal here with a great tubing park! You can buy tubing tickets in 2-hour increments that include your snow tube and a lift ticket.
If you need gear, there's a rental shop but don't expect anything flashy! That's part of Plattekill's charm, though. Everything is worn in and a little beat up but in the best way.
While there's no lodging here, we highly recommend taking advantage of any of the nearby towns in the Catskills to stay in. We highly recommend The Roxbury Experience, a luxury yet, fun-themed getaway located close to the mountain or check out our guide for where to stay in the Catskills as you can pick cool spots near Phoenicia too, which is about a 50-minute drive plus you'll have access to Belleayre Mountain too.
Thunder Ridge Ski Area
Thunder Ridge Ski Area is the closest skiing to NYC, being only an hour away from the city in Patterson, New York. It's the perfect winter day trip with a Ski Train from Grand Central Station. You'll arrive in Patterson, where the free Thunder Ridge ski shuttle will take you the rest of the way! It's available 7 days a week all season, but during the week you'll just have to call ahead so the shuttle will come to get you.
With such a great location, Thunder Ridge Ski Area is a quality place to learn to ski, especially if you're coming from the city. It's perfect for new skiers, with 22 fun trails that are great for progressing. They also have a variety of lessons available for different skill levels, including racing programs. Thunder Ridge offers a large learning area and great green and blue trails. But more experienced skiers can also enjoy quality black diamond trails on the mountain.
Most of the trails are open for nighttime skiing and snowboarding, and there's a mountainside terrain park as well. Plus, there are a good number of lifts and magic carpets for the size of the mountain. Visit the Ski Shop to purchase any gear you'll need, and you'll find snacks inside the lodge.
Belleayre Mountain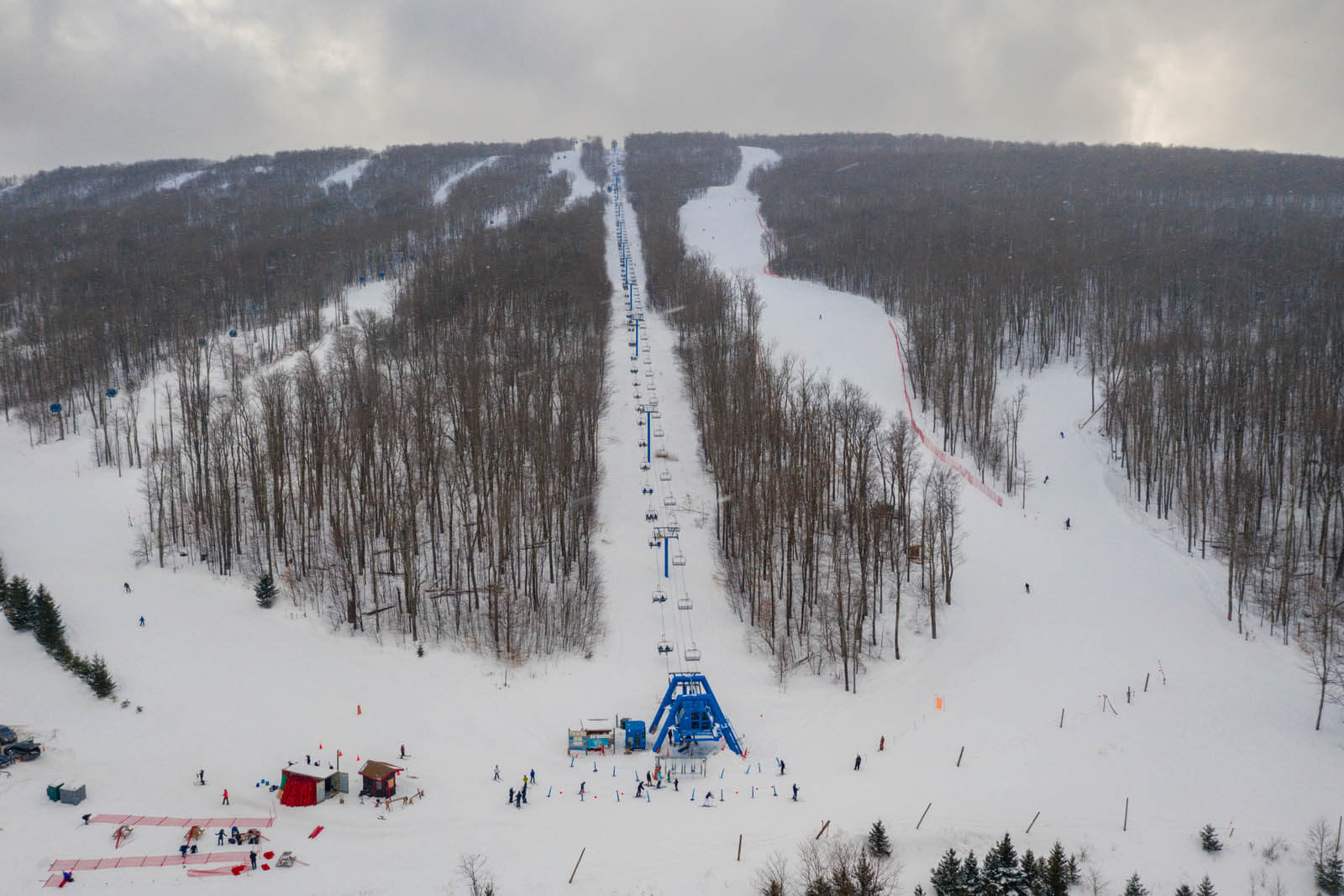 Another great option for ski resorts near NYC, Belleayre Mountain is another quality day trip with some of the best skiing near NYC for intermediates. It's just 2.5 to 3 hours from New York City by car along the Catskills Scenic Byway. On the drive, you'll pass through some of the prettiest towns in the Catskills!
Located just outside of Fleischmanns, Belleayre is a popular state-owned ski mountain known for its excellent prices. There aren't any places to stay and the food options are limited, but you'll find several small towns just a few minutes drive away with tons of places to choose from.
This mountain is great for beginners with the entire bottom half featuring tons of green trails. Most of the glades and open trails are intermediate, but there are also diamond and double-diamond trails near the summit. Belleayre Mountain also offers lots of wooded trails for cross-country skiing and snowshoeing, and terrain parks for snowboarding.
While you're at Belleayre, you'll find three different lodges for your enjoyment, one each at the base, mid-mountain, and near the 3,400-foot summit. Each lodge has a small café, while the Overlook Lodge at the summit has a BBQ restaurant. Also, the shop at Base Camp doubles as a gift shop and a gear shop. You can also rent lockers there, or get basic tuning and repairs done on your equipment.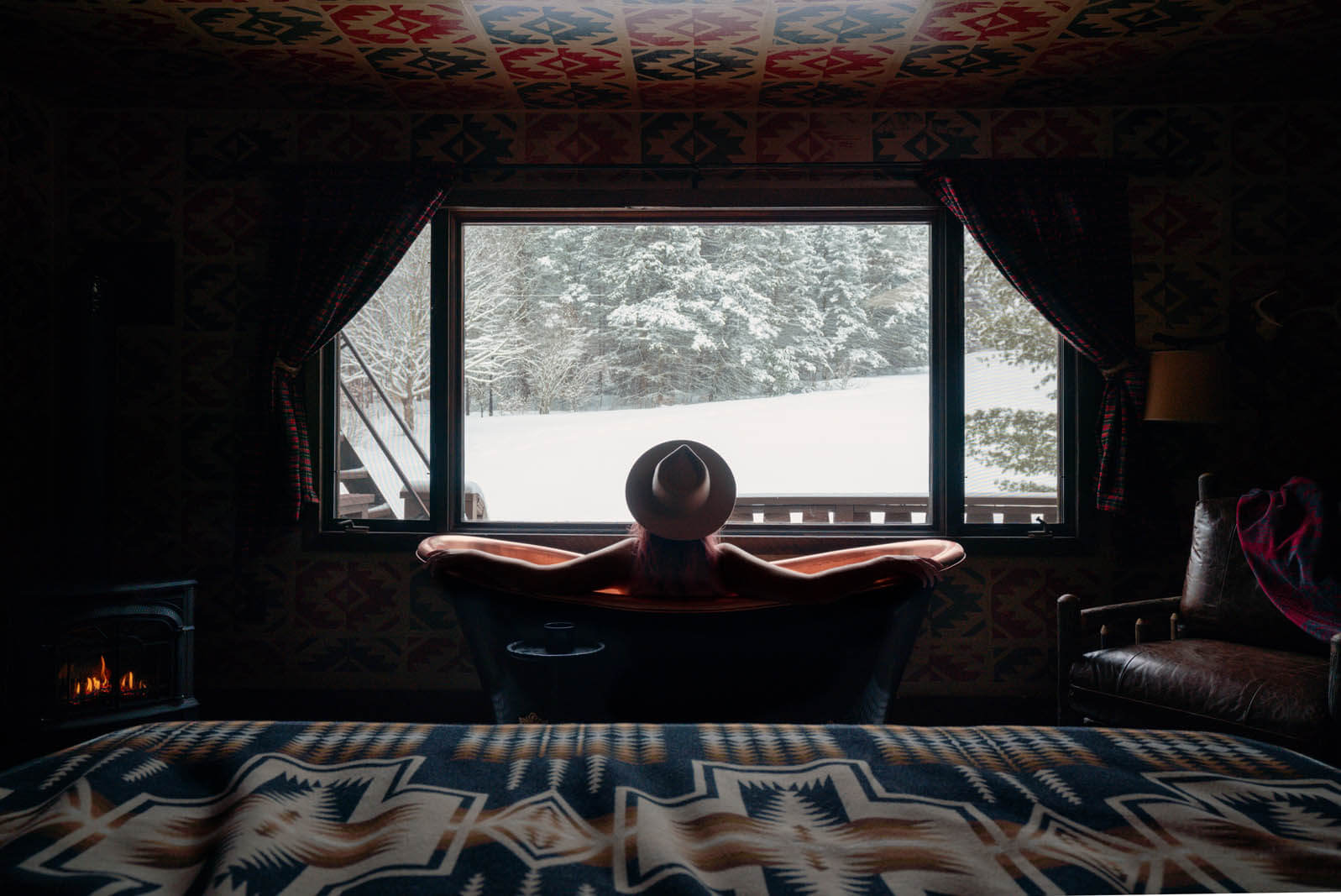 We highly recommend staying in and exploring all the things to do in Phoenicia while you're here if you're doing an overnight trip. You can find one of the most unique things to do in the Catskills at Emerson Resort & Spa, which is one of the best resorts in the area. This is where you can find the world's largest kaleidoscope!
Or for one of our favorite romantic winter getaways in Upstate New York, splurge on an Alpine Bathing Suite at Urban Cowboy Lodge in Big Indian, New York. Their rooms and lodge are dreamy with every detail carefully thought out and designed. Not to mention you'll want to soak your muscles in the clawfoot tubs overlooking the wintery wonderland outside.
Camelback Mountain Resort
If you prefer a sparkly resort experience with tons of different amenities, go with the famous Camelback Mountain Resort outside of Tannersville, Pennsylvania in the heart of the Poconos. Camelback Mountain is known for its adventure park and indoor waterpark that's fun for families. But the company also offers one of the best ski resorts near NYC right there in the Poconos!
It only takes 90-minutes to drive to Camelback Mountain Resort by car, or you can take an NYC ski bus. Urban Sherpa Travels offers a 2-hour ride from two Manhattan locations. Make it a day trip, or book one of the luxurious suites or condos at the Camelback Lodge just steps from the lifts!
On the mountain, everyone can enjoy 39 trails for beginner, intermediate, and experienced skiers and snowboarders. And Camelback Mountain has the biggest snow tubing park in Pennsylvania with 42 dedicated tubing trails. You can choose from 4 different lifts, including one right outside the resort's ski-in/ski Trails End Bar & Grill.
Book lessons at the mountain base or visit the rental shop at the resort for skiing and snowboarding equipment. They also offer lockers and gear tune-ups. And what's fun about Camelback is that when you're ready to get out of the cold, you have tons of fun things to do indoors. There are arcades, escape rooms, VR games, free access to the waterpark, and a range of different restaurants you can enjoy.
This is an ideal family getaway with all the activities for the kids including the waterpark, games, and entertainment options when staying at Camelback Lodge. Perfect for a family trip and a ski resort near NYC.
Jiminy Peak Mountain Resort
View this post on Instagram
Jiminy Peak Mountain Resort is another year-round resort located only 3-hours away from New York City by car. They have a wonderful location in the Berkshires close to Pittsfield, Massachusetts, and offer another great option for some of the best skiing near NYC. Jiminy Peak Mountain Resort is popular for its beautiful village center that features shops, restaurants, a bonfire area, a ski school, a children's center, and ski-in/ski-out vacation rentals.
The mountain boasts an elevation of 2,380 feet with 45 trails and a 1,115-foot vertical drop. You'll find variety among the 9 lifts, and trails offer both daytime and nighttime skiing and snowboarding for more time on the slopes. Plus, they have a pleasant mix of beginner, intermediate, advanced, and difficult trails so there's something for everyone in your group.
At Jiminy Peak, you also have 3 terrain parks, as well as fun areas at the base where you can sit around the bonfire. And there are a variety of different lesson plans, including beginner lessons, kids lessons, group lessons, and advanced lessons. You'll be directed by caring, knowledgeable instructors so you know you'll be ready when you get on the snow.
It's worth mentioning that the resort has a quality retail shop at the resort with winter clothing, accessories, and all the skiing and snowboarding gear you'll need. You'll also find gear for rent, and they do boot fitting and adjustments as well! Or you can visit the Just Jiminy gift shop for branded souvenirs.
In the village and mountainside, Jiminy Peak Mountain Resort caters to guests with a range of restaurants, pubs, and grab-and-go cafes, as well as a pantry market for lodge guests.
And if you're staying overnight, there's a spacious all-suite hotel inside the mountain village. It has the classic amenities you'd expect at a hotel! Or choose from 3 different ski-in/ski-out vacation rental villages across the base of the mountain.
Catamount Mountain Resort
View this post on Instagram
Literally sitting on the southern Massachusetts/New York border is more skiing in upstate New York. Benefiting from the peaks of the Adirondacks and the lush Berkshire forests, Catamount Mountain Resort is just 2-hours from New York City by car.
This is the place to come if you're looking for an affordable, laid-back ski park without all the amenities of the bigger parks. Everyone comes here to get on the trails and that's it! Still, there's great support from expert ski instructors. In fact, Catamount is known for being family-friendly with children's lessons and activities.
Choose from the classic menu of lessons for both adults and children, including group and private lessons. But Catamount also has season-long programs including women-only groups and adaptable programs for skiers with different physical needs. We love that the beginner trails are all grouped together. There are a handful of black-diamond and double-black-diamond trails, as well. However, without much vertical, this ski resort isn't going to challenge an advanced skier.
You can also enjoy two terrain parks and nighttime skiing for all skill levels. And if you love snow tubing, this is the place to be! At the base lodge, there's a full-service rental shop for day- and season-long rentals of skiing and snowboarding gear. There's also a separate tuning shop, and you can purchase gear and apparel at the Gear Box.
Plus, if you fall in love with Catamount, they also offer high-end and basic seasonal lockers with perks like boot dryers and family lockers for up to 4 people. And for an overnight stay, Catamount has two different lodges with cozy rooms just minutes from the base lodge and the lifts.
Mohawk Mountain Ski Area
View this post on Instagram
Located inside the sprawling Mohawk Mountain State Park near Cornwall, Connecticut is the Mohawk Mountain Ski Area. You can enjoy the scenic views and over 100 acres of skiable mountainside just a 2.5-hour drive from the city! This small resort has been serving up some of the best skiing near NYC since the 1940s. And a fun fact is that Mohawk is where snowmaking was invented!
With a summit of only 1,600 feet, Mohawk is a smaller mountain with 26 trails and 8 lifts, perfect for a day trip or weekend ski trip. The ski area is popular with skiers and snowboarders from the tri-state area. Come here if you love nighttime skiing and snow tubing. You can also take lessons or visit the historic mountainside Pine Lodge.
Mohawk Mountain is a basic, casual ski area without a ton of amenities, but you can find a rental and repair shop in the Main Lodge. They offer both day- and season-long rentals for skiing and snowboarding gear. And when you get hungry, there are 2 full-service restaurants, one at the Main Base Lodge and one at the mid-mountain Pine Lodge. They're perfect for fueling up or taking a mid-day break from all the fun!
And while there is no official lodging here, if you do want to do an overnight getaway or weekend trip, check out the cool cottage and home rentals nearby the mountain.
Mount Peter Ski Area
View this post on Instagram
Another super convenient ski area close to the city is Mount Peter Ski Area. You'll find it near the New York/New Jersey border in the Hudson Valley. It's just an hour's drive from Manhattan, but you can also easily take an NJ Transit bus to Warwick if you don't have a car. Just hop on at Port Authority and enjoy the ride. In Warwick, you would need to get a car the remaining mile to the ski area.
This is another rare family-owned New York ski area and longest running ski area in the state as well. Mount Peter is a small mountain that's great for all skill levels. They offer free beginner courses for skiing and snowboarding! There are 13 different trails, including 3 black-diamond trails. And there's a fun tube run and an outdoor ice-skating rink.
Mount Peter is also super family-friendly, offering a variety of kid-centered lessons, including family lessons and programs for children as young as 3 years. There are also full-season racing programs for all ages that you can sign up for or attend a race!
At the Main Lodge, you can visit the gift shop, pick up gear rentals, and enjoy a beer and piping hot meals at Pete's Pub. And while there are no overnight digs at this casual little ski area, you'll find several great B&Bs and hotels just minutes away in Warwick and Greenwood Lake.
While there is no official lodging at Mount Peter Ski Area, there are several vacation home rentals including cabins and cottages nearby.
---
Enjoyed this guide to the closest skiing to NYC and best ski resorts near NYC? Bookmark for later or share the love below on Pinterest!