Looking for the best things to do in Savannah, Georgia?! You've come to the right place. If you've never been, be prepared to fall head over heels in love with this incredibly beautiful city, not to mention, there are plenty of amazing things to do here!
Savannah, Georgia is famous for its picturesque and historic squares, giant live oaks draping with Spanish moss, beautiful homes, a haunting history, great food, and some of the famous southern hospitality you've always heard about. The city oozes with European character through its architecture and beauty. It's no wonder why many consider it one of the most beautiful cities in the United States.
If you're planning your first visit (or even a return visit) it may be hard to choose what must-do Savannah items you should add to your trip. That's why we put together this guide to help you narrow down some of the amazing things to see in Savannah so that planning your trip is easy peasy.
Also, be sure to check out our guide to useful things to know before visiting Savannah to help you plan your dream trip or weekend in Savannah!
Disclaimer: This post contains commissionable links.
The Best Places to Visit in Savannah
1. Forsyth Park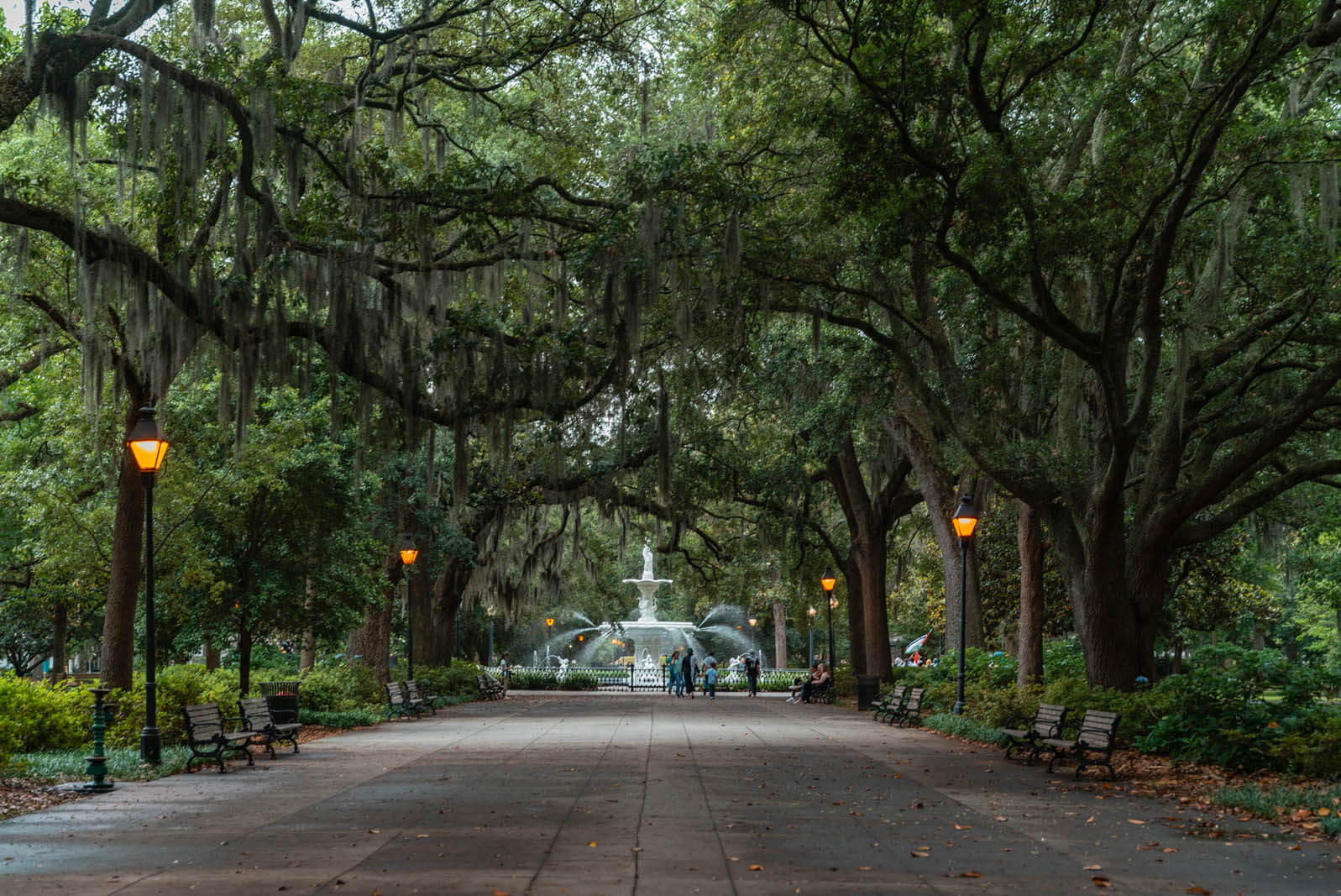 One of the most popular things to do in Savannah is visiting Forsyth Park. It's Savannah's largest and oldest park, with a 150-year-old fountain as the main focal point, and it's also a stunner. Draped in Spanish moss and majestic live oak trees, the area around the fountain feels especially romantic. It's not unheard of to see someone getting proposed to here! We felt the whimsy and romantic vibes this place radiates ourselves, so we get it.
What's funny about the gorgeous fountain is that it's rumored to have been ordered from a catalog! While the surrounding scenery might be unique to Savannah, the fountain certainly is not. This fountain was purchased from the Janes & Kirtland Co. catalog and the exact fountain can also be found in Madison (Indiana), Poughkeepsie (New York), and Cusco in Peru!
Even if you just go for a walk on the paths around the park, we love the outer perimeter along Gaston Street as the lamp posts and trees with dangling Spanish moss are just so stunning to see in person, not to mention you're right next to the fountain too.
If Forsyth Park couldn't get anymore beautiful, the entire park is surrounded by gorgeous pre-war mansions, one of our favorites was Magnolia Hall.
There's also a neat garden for the blind with fragrant plants worth checking out too.
There's always something going on in the park. Many city events are held here, and there's a bandshell where concerts are held. Also, you can check out the Forsyth Park Farmers' Market on Saturday mornings! It's just inside the southern side of the park and it's open year-round.
If you get hungry, there's a great brunch spot inside the park! Collin's Quarter is in the building directly across from the bandshell. We highly recommend having brunch or lunch here one day as their food is really good and they have really creative cocktails like lavender martinis!
2. Take a Ghost Tour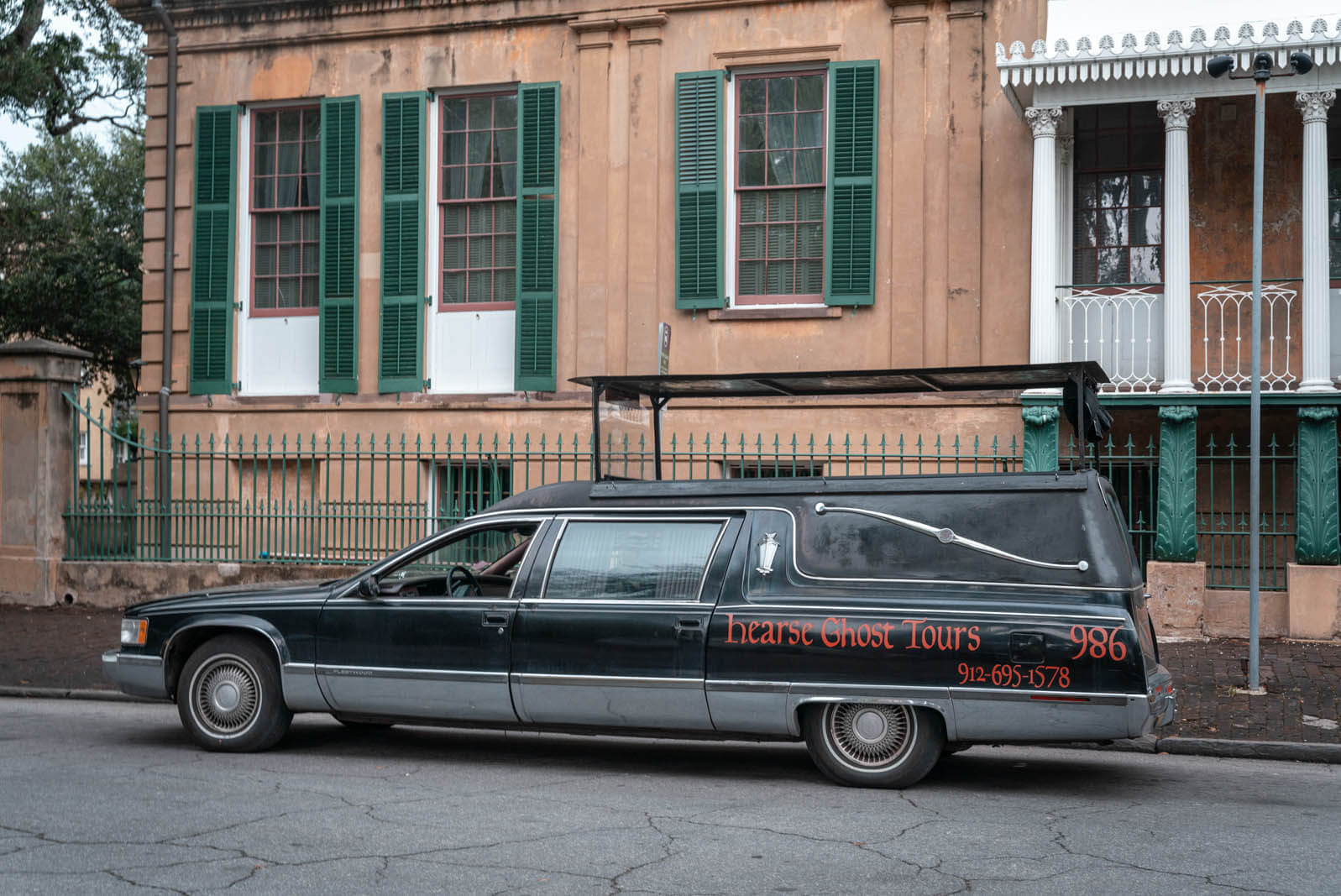 Savannah is really popular with ghost hunters, being one of the most haunted cities in the US. For fun things to do in Savannah (if you're into the macabre), check out one of the many amazing ghost tours in Savannah.
Like New Orleans, there are tons of ghost tours available. Here are some of the different types offered and the most highly-rated ghost tours to check out!
3. Visit the Gorgeous and Historic Squares of Savannah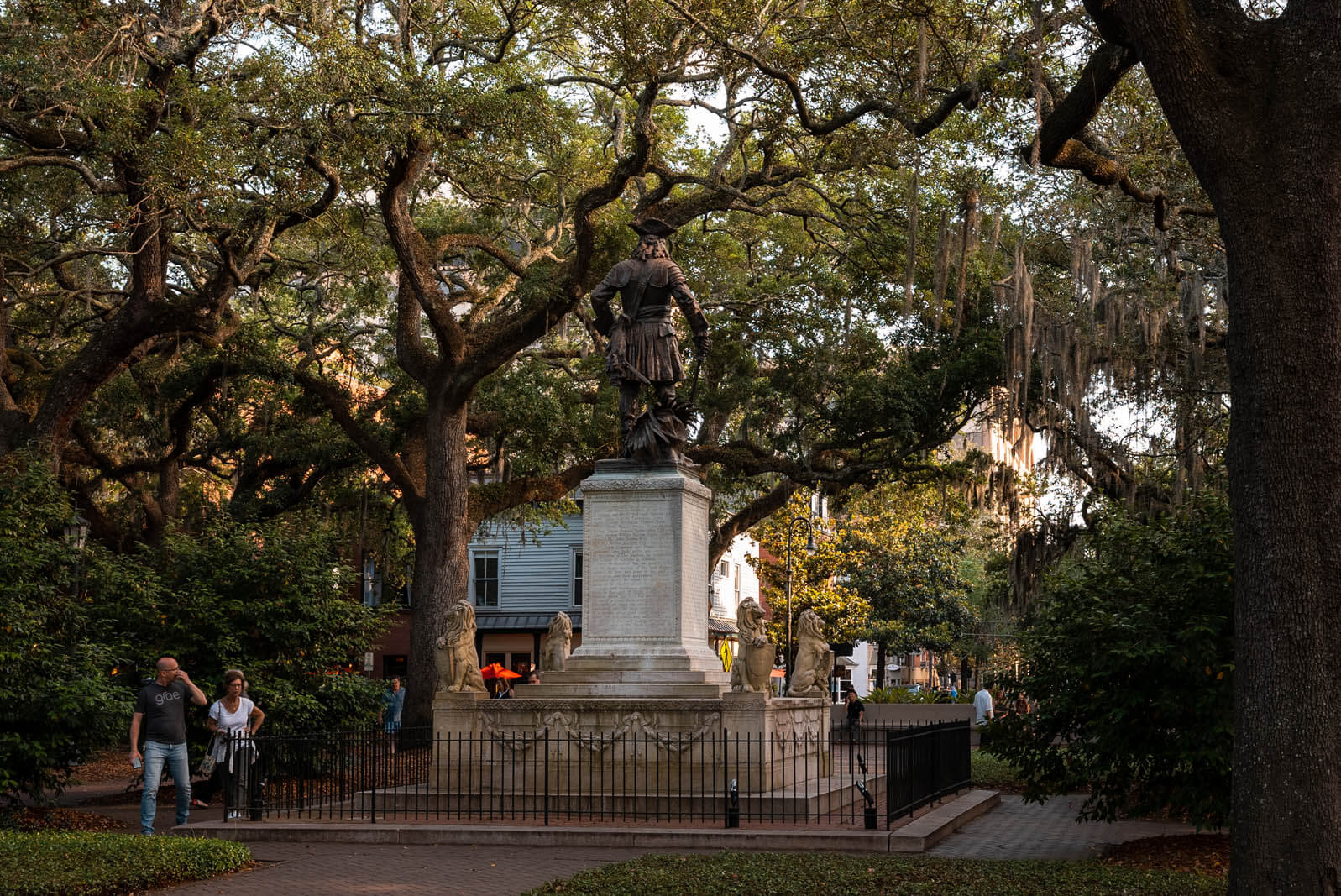 One of the must-do Savannah experiences is exploring, walking, and even taking a break in one or all 22 of Savannah's historic squares.
Beyond taking a walking break, each of the squares is unique and most of them are surrounded by stunning mansions and homes.
Many also have historic monuments or fountains as their centerpiece and each has a story of its own. This includes darker stories from hauntings to being the place where the Confederate militia trained during the Civil War, and even places like Calhoun Square are said to have been built on top of unmarked graves of those who were enslaved which is why those that are sensitive to spiritual beings and the paranormal often feel uneasiness.
Unless you take a tour or read the history of each of the squares, you may not realize or know the history behind each of these squares. Each one is admittedly beautiful and we recommend taking time to read the informational signs near the landmarks within the squares.
If you're a fan of the classic film Forrest Gump, one of the best things to do in Savannah is visit Chippewa Square. Head to where Hull Street and Bull Street meet, this is where the infamous bench scene was filmed. The actual bench used in the movie was a prop though, which sadly isn't here but can be seen at the Savannah History Museum.
Another beautiful square, and one of our favorites, is Monterey Square. Surrounding the square you'll see giant, pre-Civil War mansions along with boutiques and art galleries. One of the most famous houses and Savannah attractions is also located here. The Mercer Williams House, which is a very haunted site, is one of the main central storylines for the novel, Midnight in the Garden of Good and Evil, which is based on true events and was popularized more when the 1997 film starring John Cusack and Kevin Spacey came out.
You can tour the Mercer Williams House, or you'll probably learn a little bit about it if you go on any of the ghost tours mentioned above.
Then there's Lafayette Square. This is a popular square with guests to Savannah, and it's no surprise! You'll find the Cathedral of St. John the Baptist at one end and a romantic fountain in the middle of the square. It's a great place to relax under the Spanish moss and take in all the lovely buildings all around the square's perimeter.
These were just three of our favorite of the many squares in Savannah, we recommend visiting more, most are just a few blocks from one another and you'll most likely encounter many of them while checking out all the different things to see in Savannah.
4. Colonial Park Cemetery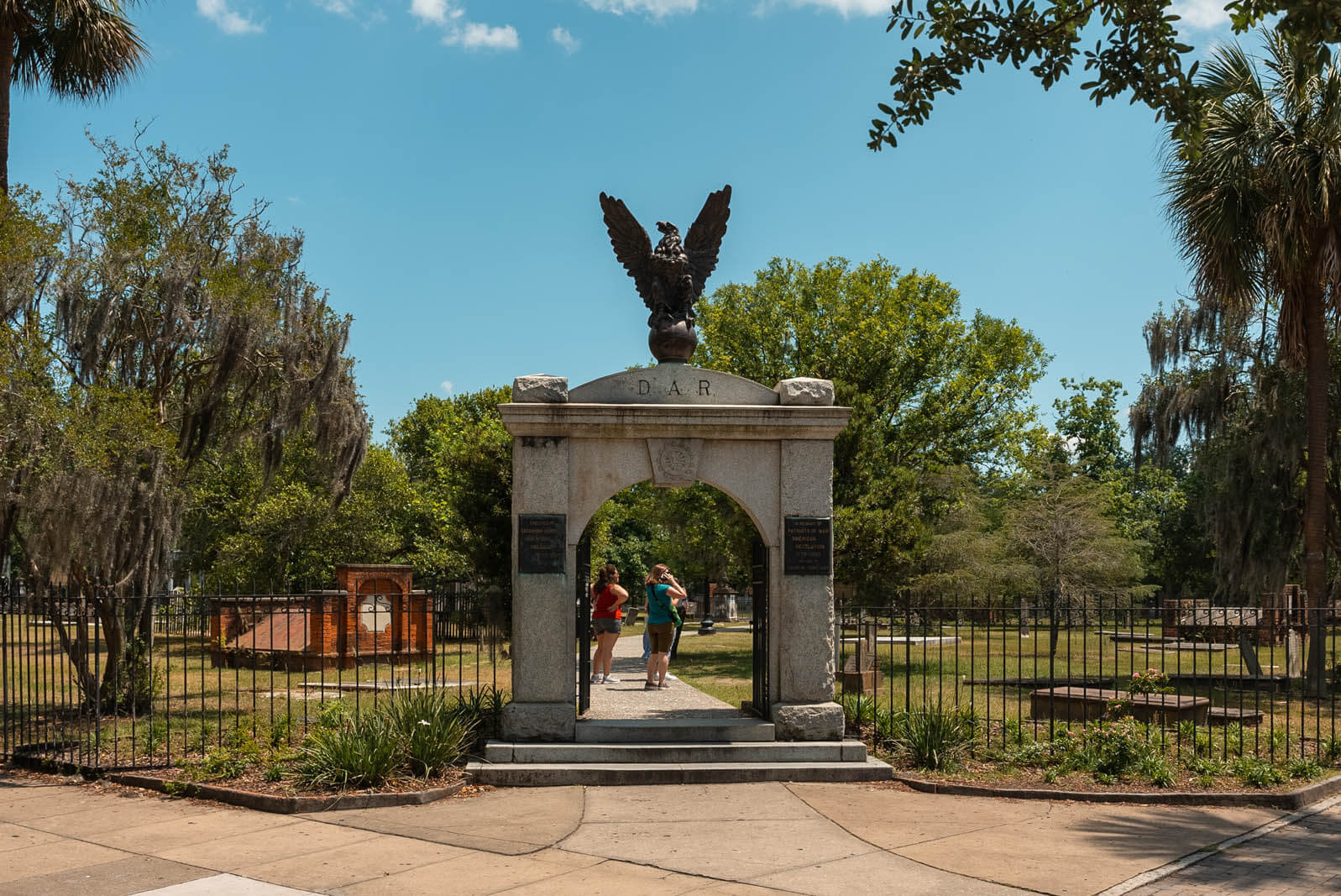 Located near Chippewa Square is Colonial Park Cemetery. It's the oldest cemetery in Savannah, and one of the most haunted places in Savannah! It was established in 1750 and was active with burials until 1853, just a few years before the start of the American Civil War. Since 1896, the cemetery was named a park and many ghost tours and historic tours of the city stop here or at least mention this historic site.
There are famous people throughout history buried here including those who fought in the Revolutionary War, notable figures from Savannah's history, as well as victims of a yellow fever epidemic in 1820.
And if you are up for a scavenger hunt, you can read the graves (though they're a bit hard to read as they are very weathered) and try to find dates that don't make sense – for example, the date that marks their birth is before their last day here on earth.
During the Civil War, General Sherman's army made camp in the cemetery. Some of the Union soldiers defaced headstones, changing dates with their bayonets. You can find several graves of people who supposedly lived for 500 years and more, which we know didn't happen. We looked but we couldn't spot any on our own.
But one of the most interesting parts of the cemetery is on the southeast corner. There's a brick wall where fallen gravestones have been preserved by securing them to the bricks. Some reports say that these gravestones fell over the years when the cemetery was vandalized. Others say they were moved to make more room for more graves. It's a spot where most people claim to see ghosts and feel a presence!
If you want to visit and walk through the cemetery, you'll have to do it during the day before they close for the evening. Otherwise, you can get a glimpse from the exterior.
5. Savannah Trolley Tour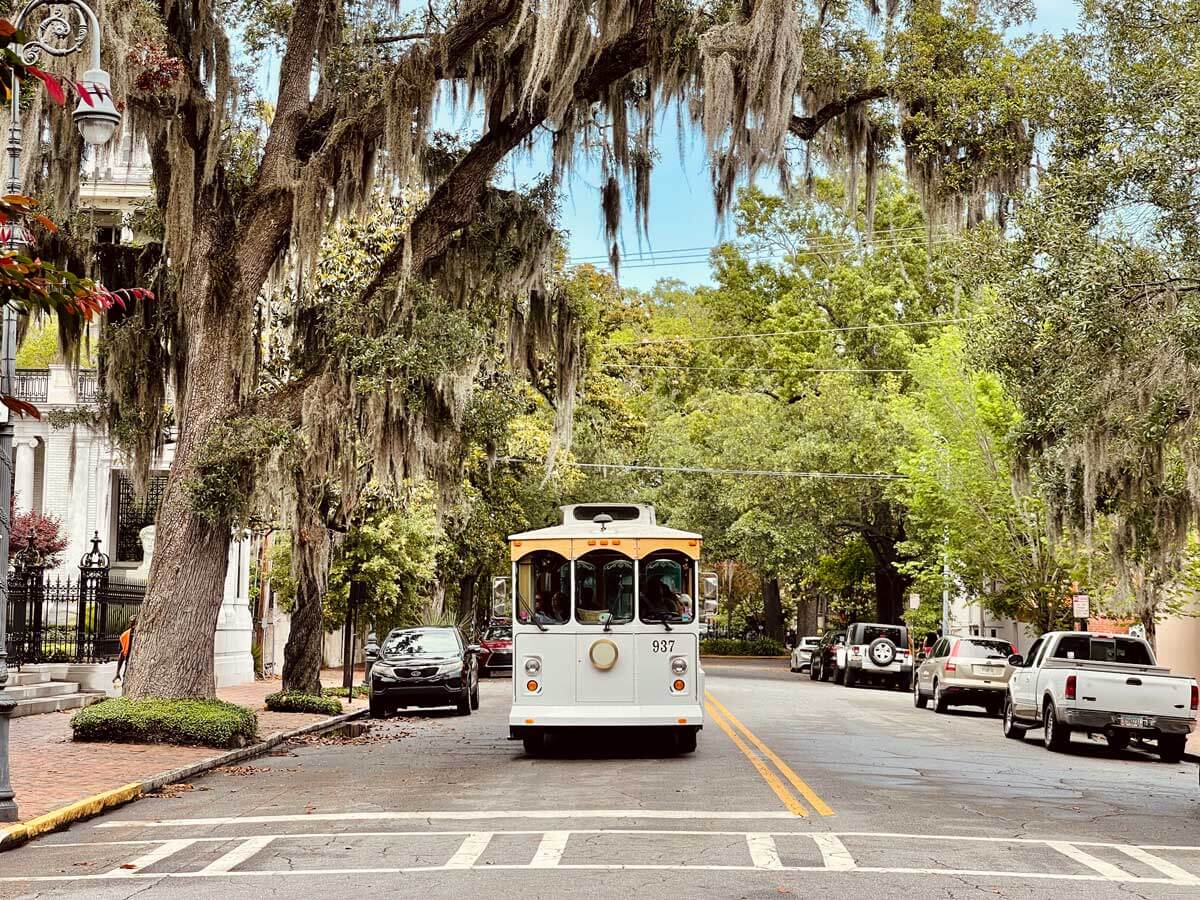 One of the best ways to get your bearings and see many of the top Savannah places to visit is to take the historic Savannah trolley tour. If possible, we recommend doing this on your first day, as you'll have an idea of where you want to go and the other things to see in Savannah during your trip.
And since the trolley takes you around, you'll have a better idea of where you are. The trolley tours are hop on and hop off at many historic points of interest, so you're welcome to get off and wander around an area and then get back on at one of their designated stops (indicated by a sign) which come around every 15-20 minutes.
If you decide to do the entire tour without hopping off, it takes around an hour and half to cover America's largest urban historic district. Each trolley is narrated by a guide or driver, if you are on a trolley that has as guide you really like, we recommend staying on.
We love that we were able to learn about all the places to visit in Savannah that we'd be checking out over the next several days. Be sure to book your tickets in advance to make it easy when you arrive.
Once you have your tickets, you just meet at the Old Savannah Tours location at 255 Montgomery Street. There's a free parking lot if you drive there. Before joining the tour, you have to get a sticker and have someone check your ticket. You can call ahead and have the company pick you up at your hotel if you're not sure where to go, they will take you to the starting location.
The tour does pick-ups at their designated stops every 20-minutes between 9 AM and 4:30 PM every day of the week, giving you some flexibility.
6. Bonaventure Cemetery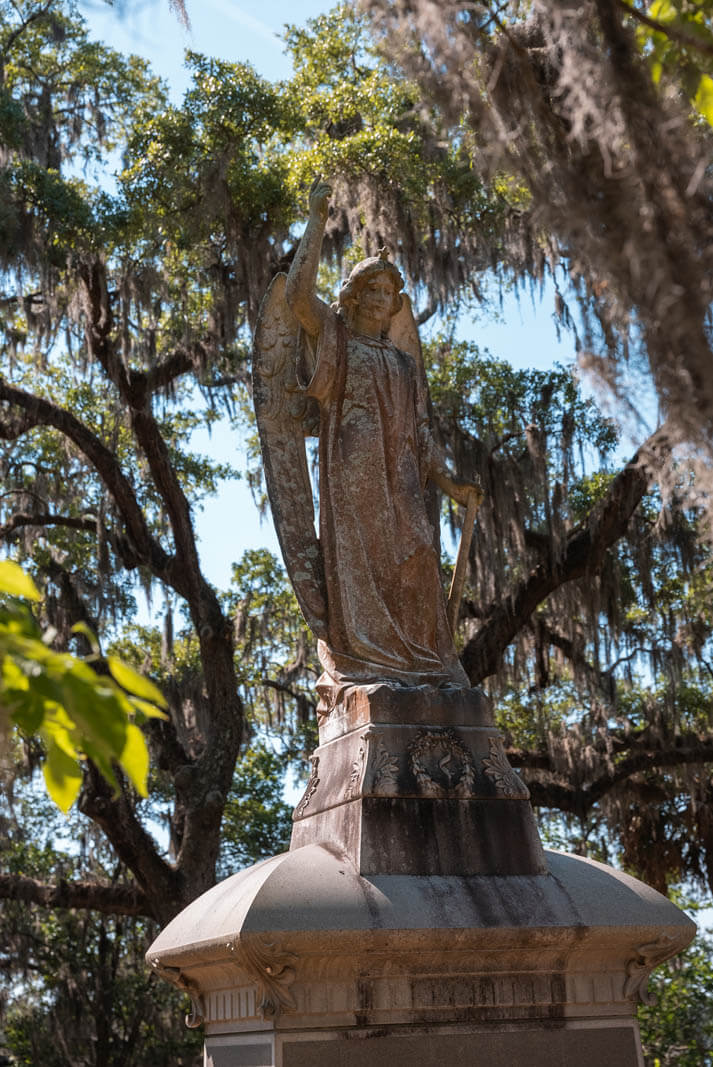 If you're a fan of the book (or the movie), Midnight in the Garden of Good and Evil, you might recognize one of Savannah's oldest cemeteries. Bonaventure Cemetery is about 15 minutes east of Savannah, settled on a hill overlooking the Wilmington River.
Once a plantation, the cemetery covers 200 acres and has been open to the public since 1907. Graves and statues inside hold entire families, including soldiers from both the Civil War and the World Wars. You'll experience reverent feelings as you walk through among the old live oak trees here.
Tapophiles or "tombstone tourists" are already aware of Bonaventure Cemetery because it's one of the most beautiful cemeteries in the country. With Spanish moss dangling from the trees, the angelic statuaries, tombstones, and Wilmington River views from the bluff you can easily see why Oscar Wilde said that this cemetery is "incomparable" as a Savannah place to visit.
The cemetery is open daily from 8 AM to 5 PM. You can find different tours of this popular Savannah attraction, like the Bonaventure Cemetery Tour with Shannon Scott. Meet Shannon, the eccentric historian and cemetery aficionado at the cemetery for a 2-hour walking tour. He breaks down the history of the entire place with the most minute details plus taking you to some of the most fascinating points of interest on the grounds.
We did his tour, and it was one of the best we've been on, his knowledge, passion, and respect for the cemetery is evident on the tour. He's also been featured on many TV shows because of his knowledge of the cemetery. And you can't beat our first impression of him, rolling up in an all-blacked-out Escalade with the license plate that reads "BUZZARD". Dressed in all black, once Shannon introduces himself, you can tell he's passionate and invested in sharing the stories of the cemetery. You can book his tour here.
7. Jones Street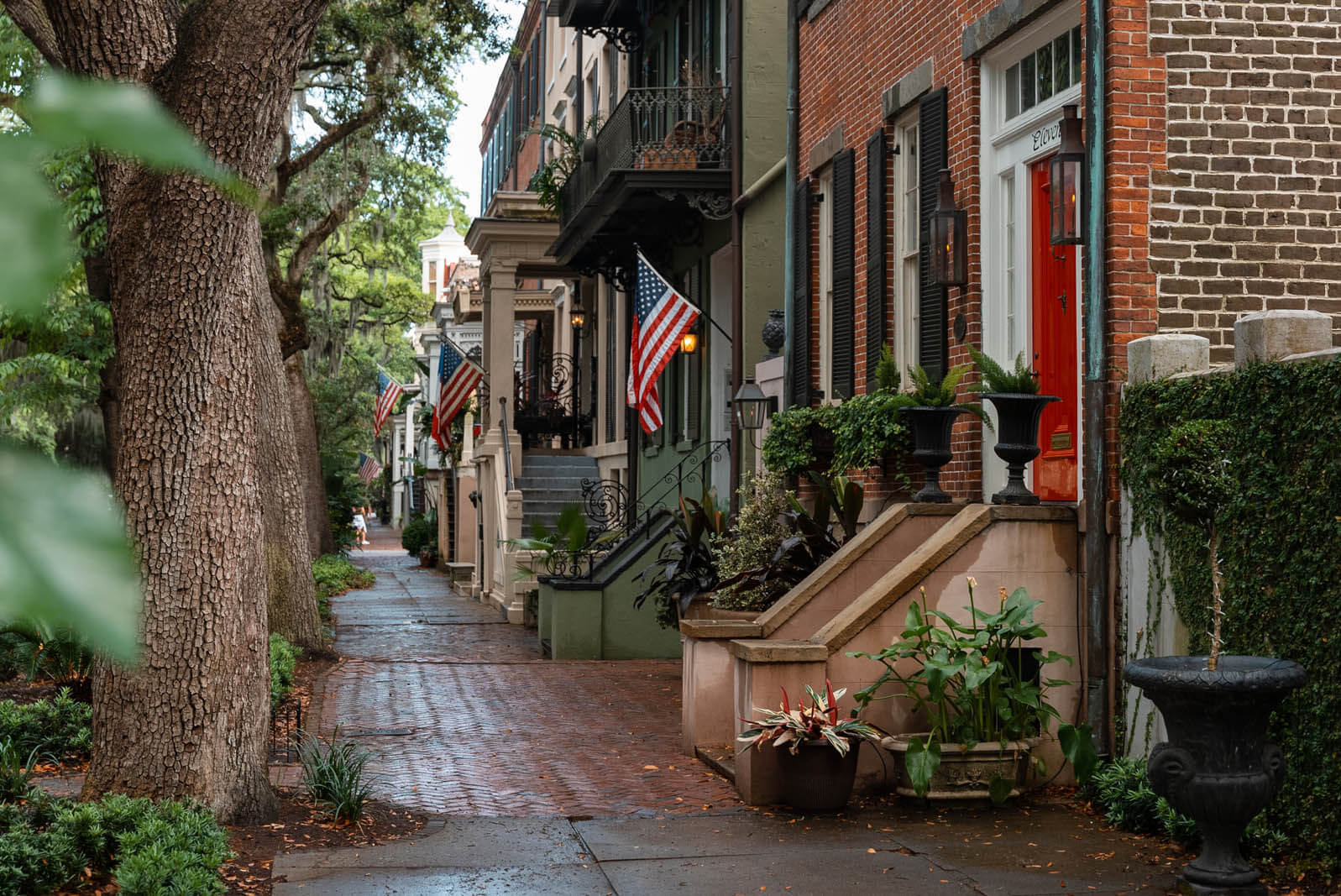 One of the most beautiful things to see in Savannah is one of the most beautiful streets in all of America, Jones Street. What makes Jones Street one of the most gorgeous places to visit in Savannah? The row high stooped homes and the live Oak trees with dangling Spanish moss over your head and flickering gas lanterns are just a picture-perfect scene.
Jones runs east-to-west, a little over half a mile long between Tatnall Street to E Broad Street. The prettiest section of the street, in our opinion, were the blocks between Abercorn Street and Whittaker Street. But don't just take our word for it, walk along Jones Street for several blocks.
Most of the homes you'll find on Jones Street were built between the 1840s and the 1860s. You'll find elaborate single-family homes with tall stooped staircases all the way to smaller row-style homes with street-level porches. You'll love the front stoops, covered in thick, lush greenery. There's everything from vines spilling out of window boxes to climbing jasmine and showstopping ferns.
And while you're walking down one of the most picturesque of Savannah attractions, you'll find a few of the best restaurants in Savannah, as well as historic homes with fascinating stories behind them.
One of the most classic restaurants and places to eat in the city is hidden inside one of the mansions here on Jones Street. Mrs. Wilkes Dining Room is a famous restaurant serving up Southern cusine family style. There are tables that seat 10 people and you'll most likely be dining with strangers, then come all the platters of food to share with your new friends.
And another fact about Jones Street has to do with a woman who had a vision and saw the full potential of this destination early on. A prominent influence on Jones Street was Eliza Ann Jewett. She was known for being successful in the 1900s as a single, divorced woman. Jewett was in the real estate business, making her own way in the male-dominated field. She eventually built almost two dozen homes here!
8. Olde Pink House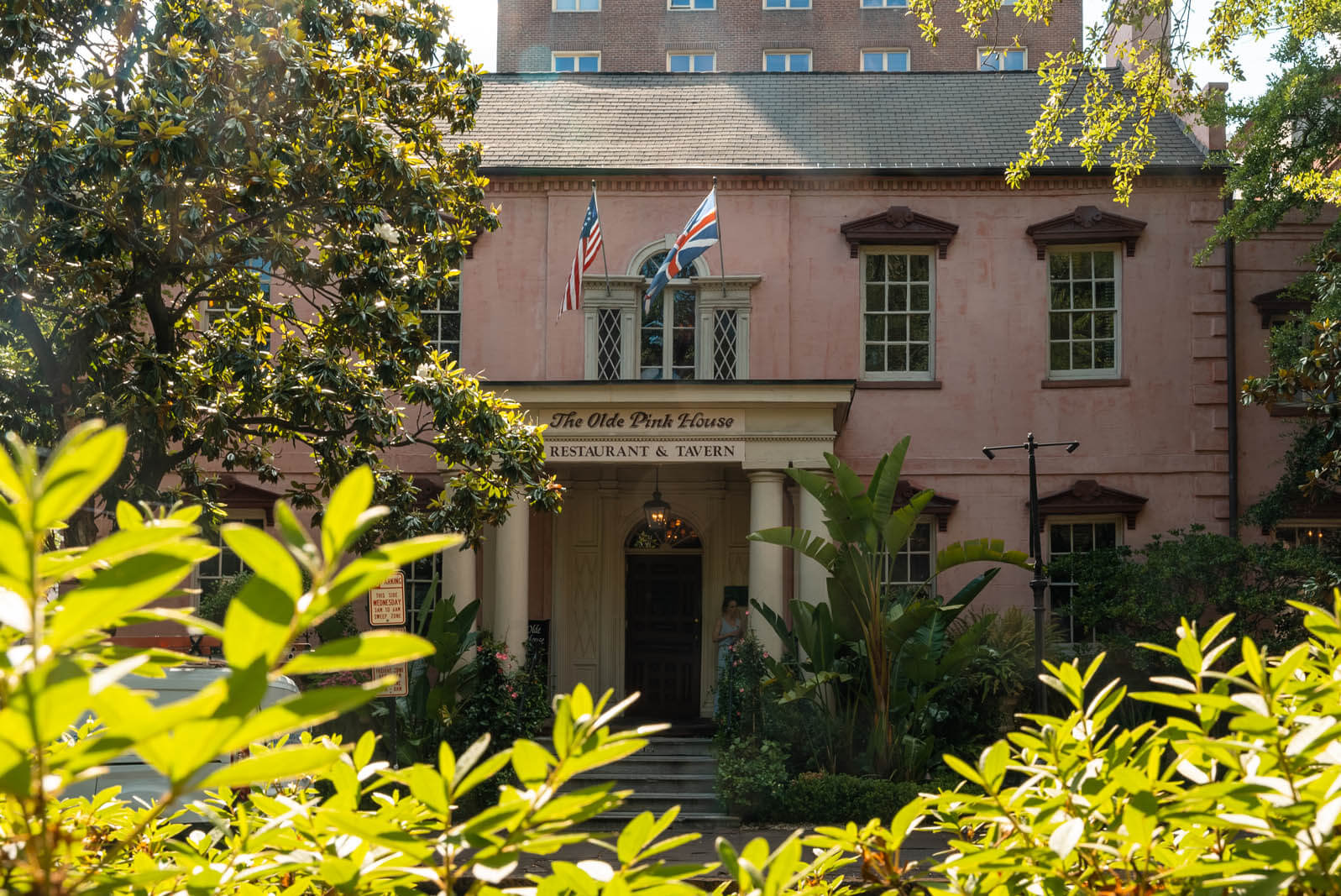 One of the most popular Savannah attractions is the Olde Pink House. It's a restaurant and tavern serving up elevated Southern cuisine. The lovely bright pink building is an old mansion built in the late 1700s! It had many lives over the years, including as a bank, a bookstore, and a tearoom before it was bought and restored as a restaurant.
The Olde Pink House is located just off Reynolds Square. The elegant formal dining hall opens for dinner, but you have to make reservations, and they're VERY competitive! This is one of the things to do in Savannah that requires you to secure a reservation early!
But don't worry, if you're like us and making dinner reservations is an afterthought, there's an alternative option if you weren't able to score a reservation.
If you can't get reservations, you can go to Planters Tavern. It's located in the cellar on the lower level and accepts walk-ins for dinner. Just get there right when they open (or a few minutes earlier). They fill up fast and serve the same menu as upstairs.
We got there RIGHT when they opened and there was a line down the stairs and we got one of the last bar seats as the tables were full. The tavern has an entire mood and ambiance, it's dim and feels a bit like you stepped back in time. Our food was amazing and because of the entire experience, we have to say this was one of our picks for most fun things to do in Savannah – plus we love pink!
A fun random fact about this Savannah attraction is that an almost identical house was built at 102 East Gaston Street, the only difference is really that the Gaston Street house isn't pink!
9. The Pirates' House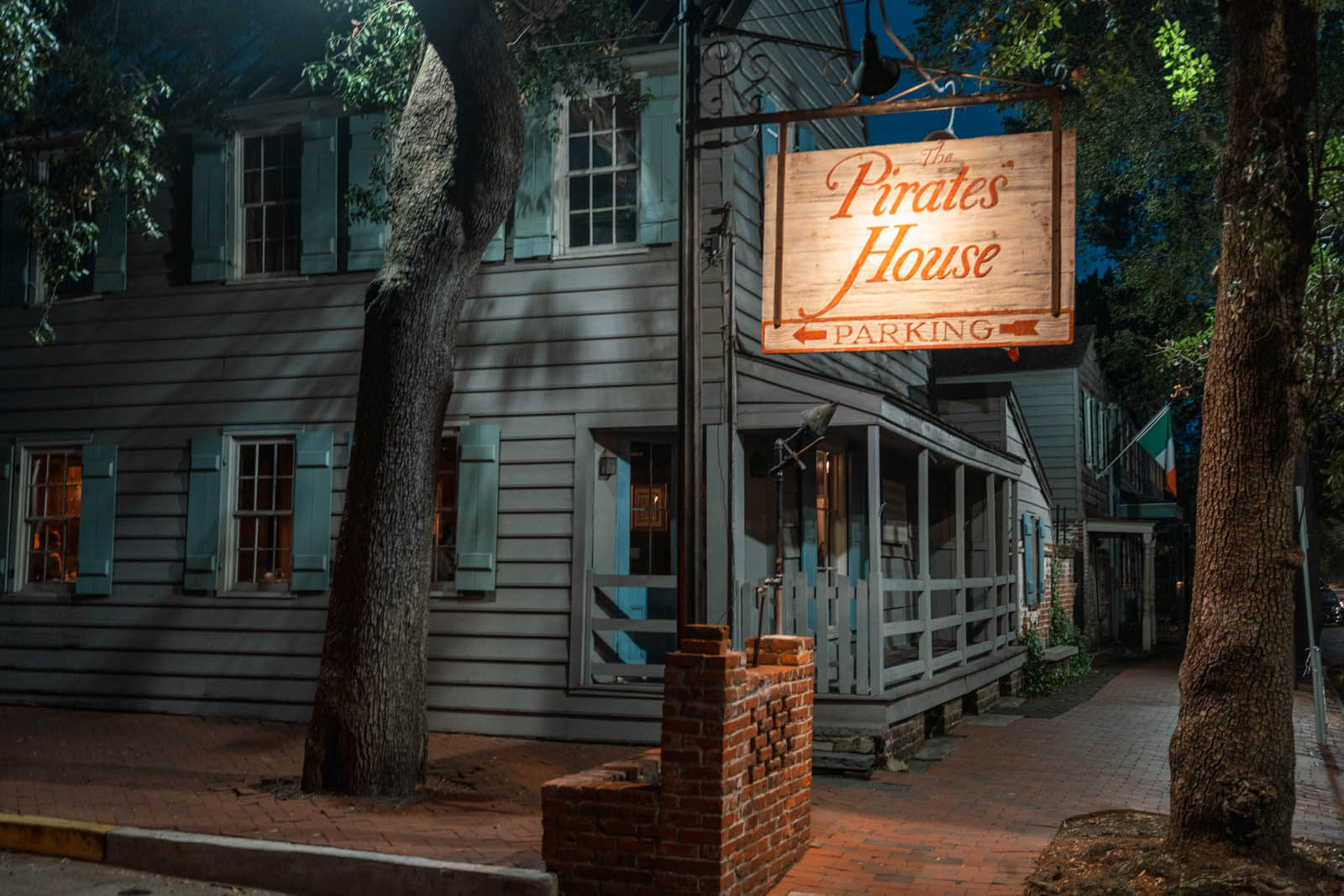 Another one of the most fun things to do in Savannah is dine at The Pirates' House. This pirate-themed restaurant and tavern is located in a historic inn at the northern end of E Broad Street, just a block from the Savannah River.
Pre-southern cuisine serving days, this building was an inn that opened in 1754 to serve people coming into the port city. Today it's a rustic spot to get southern comfort food and take in all the character this spot has to offer.
It's on our list of fun things to do in Savannah because of the fascinating history. The land where The Pirates' House sits actually dates all the way back to 1733! It was originally the food garden colonists established after arriving. When Savannah become more established, an inn was built on the spot in 1753.
The inn restaurant quickly became a popular gathering spot for sailors and pirates. And book lovers might be interested in knowing that this is where Robert Stevenson wrote the first pages of Treasure Island!
By the 1940s, the building had been abandoned and was going to be demolished. But it was saved and restored, eventually becoming The Pirates' House.
You can sit at the bar or in one of several different dining rooms. Every room has signs to read with fun historic information. Dine in the 300-year-old Herb House where the gardener of the colony garden used to live. Or there's the tunnel in the Captain's Room that used to be used for pirates to make quick escapes under the streets of the city!
10. Leopold's Ice Cream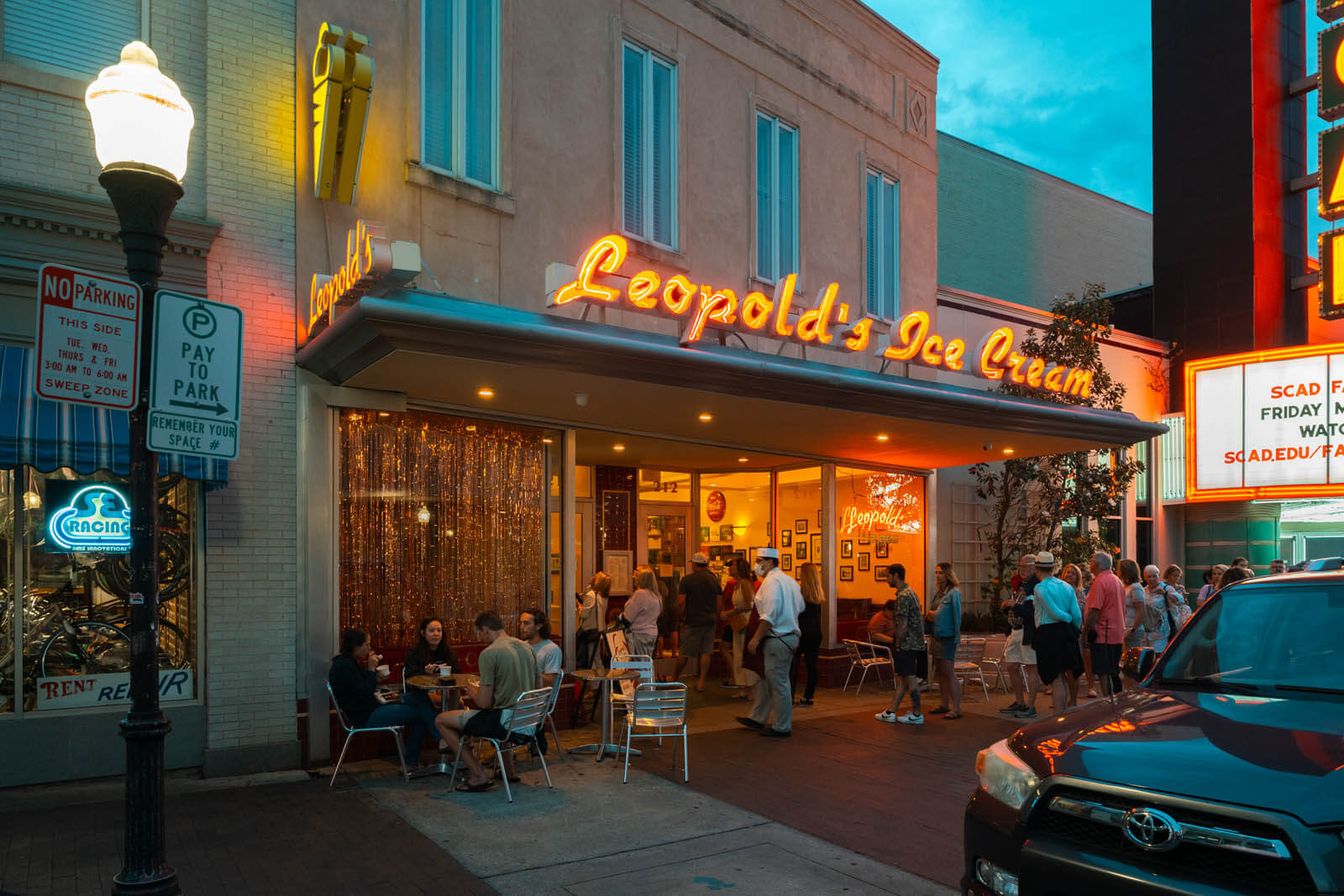 After dinner, head to another one of the most fun things to do in Savannah, get ICE CREAM! Leopold's Ice Cream is a must-do in Savannah if you've got a sweet tooth. Leopold's is family-owned has been serving residents for over 100 years. Locals love this ice cream joint and so do the tourists, and there will be a line, so make sure you have time!
The handmade ice cream is out of this world. Try flavors like lemon custard and pistachio, or their famous Tutti-Frutti flavor! It's an experience at this old-fashioned shop with a wooden bar and soda jerks.
Make sure to check out the Hollywood memorabilia posters all over the place. That's because the Stratton family who owns Leopold's lays claim to Stratton Leopold. Stratton worked in the family ice cream parlor only to go on to become a successful Hollywood producer! Today he's known for films like Mission Impossible 3 and The Big Chill.
11. River Street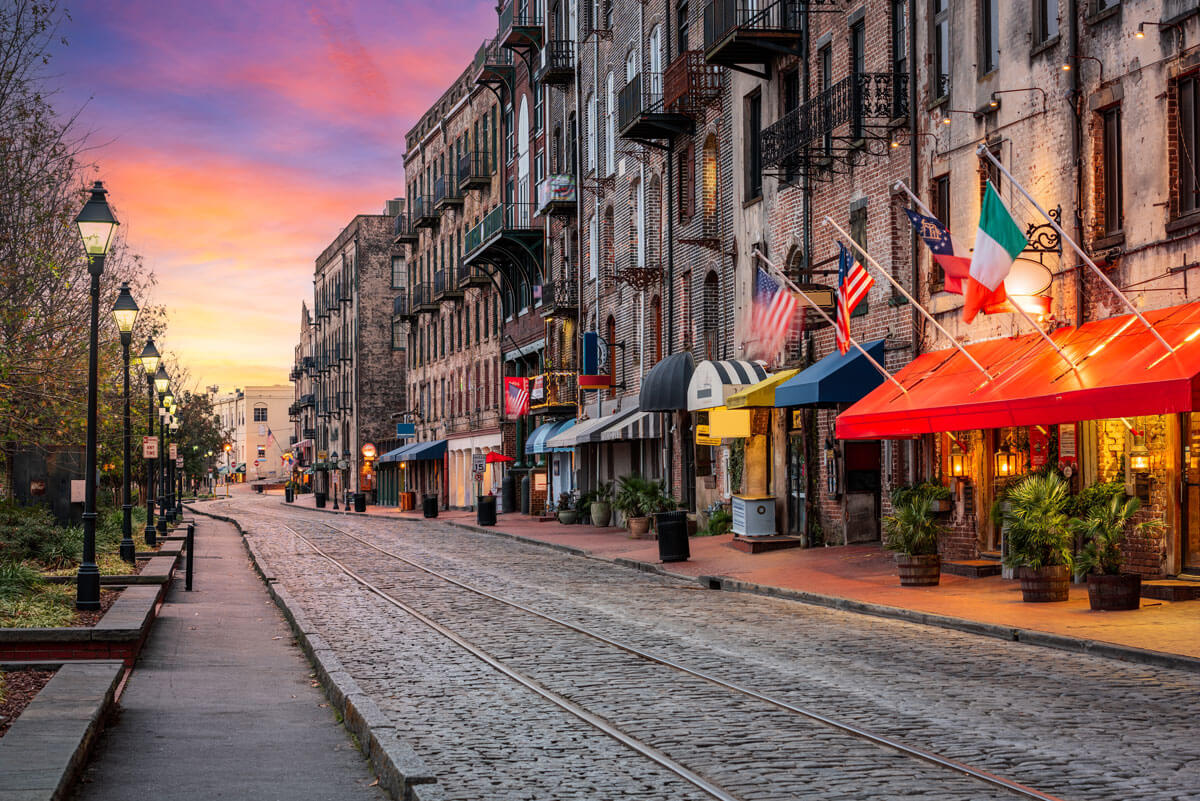 Another absolute must-do in Savannah and place to visit is the famous River Street along the historic waterfront. The century-old buildings that line the Savannah River waterfront used to be where you'd find cotton factories and warehouses, now you'll find these cobbled lanes to be bustling with live music, all kinds of shops, restaurants, places to grab a drink, and spots to satisfy that sweet tooth!
You can check out historic memorial statues and enjoy the view of the Savannah River, this is especially one of the most spectacular places to visit in Savannah around sunset and dusk.
The gorgeous, weathered buildings that house storefronts today were once warehouses and mills for the rice and cotton industry. They're also a part of Savannah's history as a slave trade port, and many warehouses were used to hold enslaved people coming through the port city. Today, in front of the Hyatt Regency Savannah you can see the monument that was built to commemorate the history of Black enslaved people and their contribution to Savannah.
Or you can check out several access points to River Street from the downtown area that are actually historic staircases. They're an interesting bit of history but be careful if you have accessibility issues because they're really steep! They've even been nicknamed the Stone Stairs of Death! One is at 398 W River Street and the other is at 207b E River Street.
One of our favorite shops was Byrd's Cookies! They started in Savannah almost a century ago and they sell the cutest bite-size cookies. You can stop in and try samples, they are very generous with theses, but you won't be able to walk out without buying something!
And another must-do in Savannah on River Street is Savannah's Candy Kitchen, a family-owned business with the most delicious pecan pralines. Or if you're feeling a drink and a view, you can find bars along the waterfront.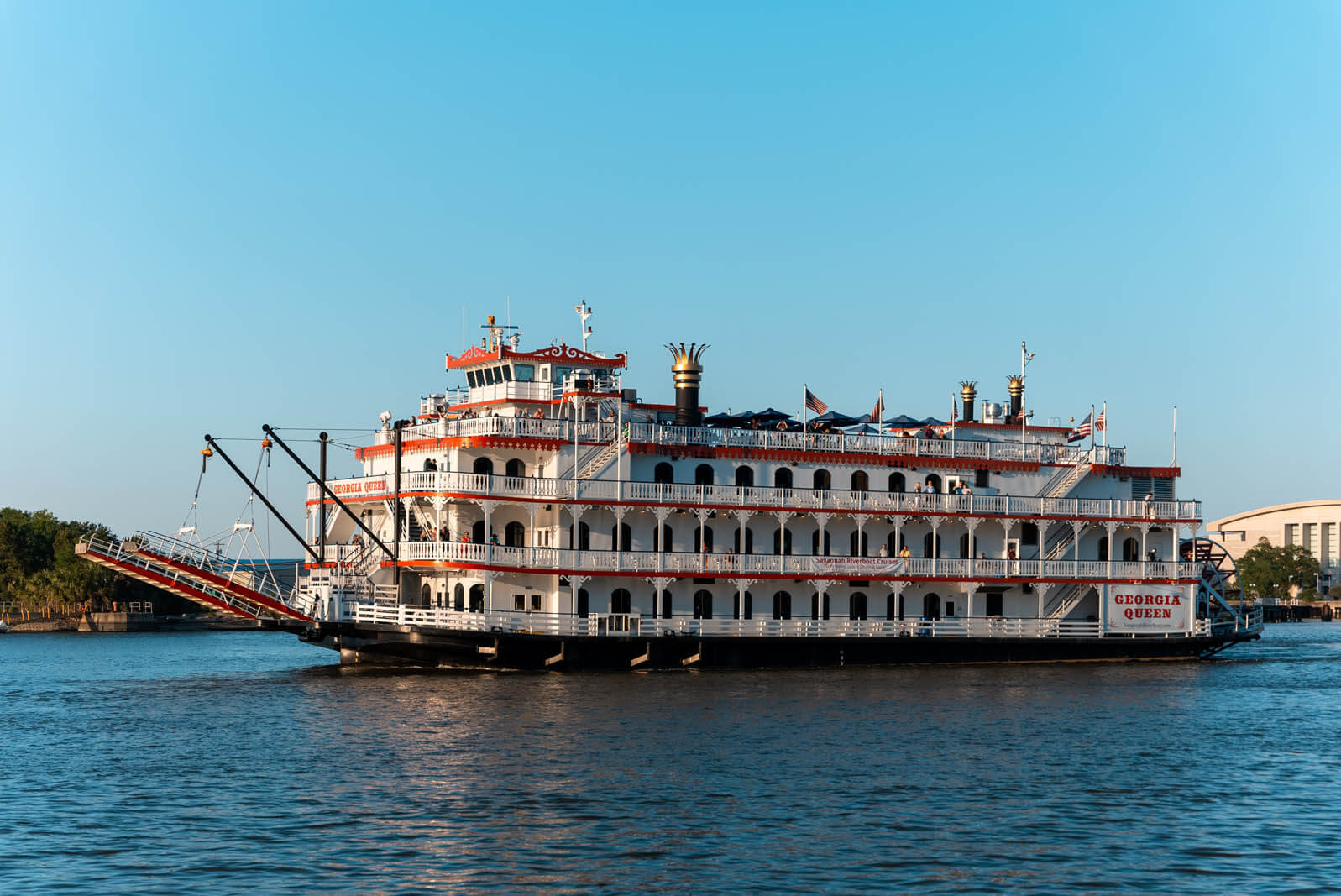 River Street is also where you can do a Savannah Riverboat Tour. Board a gorgeous classic steamboat at the River Street dock for a 90-minute tour of the river! You'll pass by Old Fort Jackson as your boat captain tells you stories about the sights. It's a great way to get a different perspective of Savannah with views of the city skyline.
12. City Market Savannah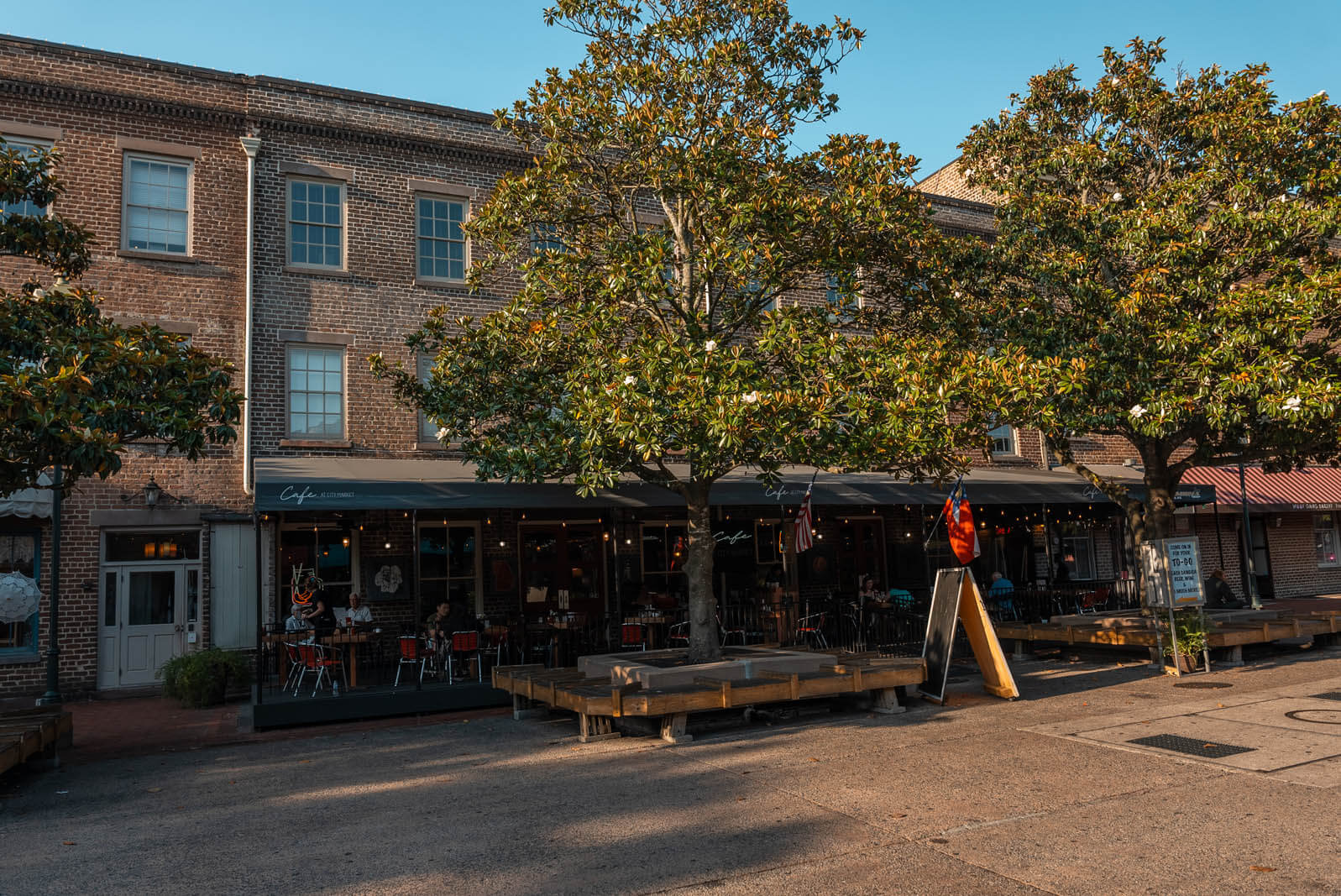 For more historic places to visit in Savannah, head to the City Market. This is a great open-air market that's been open since the 1700s! You'll find it on the pedestrians-only St. Julian Street. It's between Ellis Square and Franklin Square to the east and west, and W Bryan Street and W Congress Street to the north and south.
The whole place was overhauled several years ago with underground parking and new storefronts. Now you can shop at fashionable boutiques, jewelry stores, art galleries, and gift shops. There are some great bars and eateries too. And another Byrd's Cookies location is here, too! Grab some food and drinks and head to the outdoor dining to enjoy the relaxed atmosphere in the market.
13. Food, Food, & More Food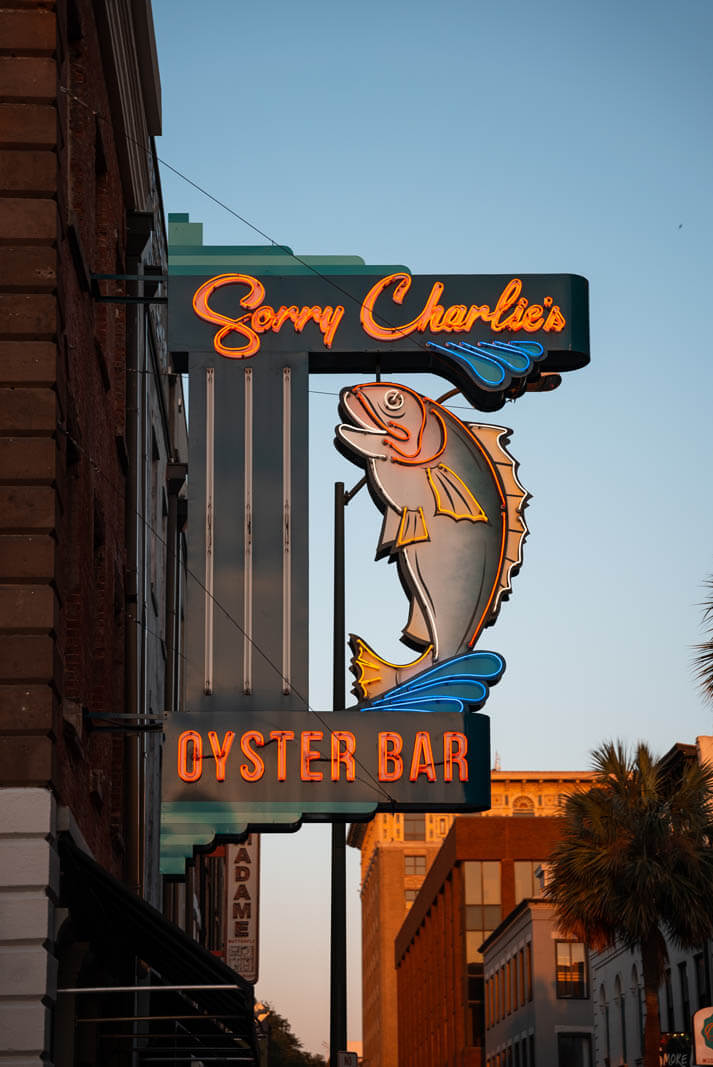 Next on our list of the best things to do in Savannah are all the amazing places to eat. Savannah is definitely a foodie destination! Below you'll find just a few of our favorite stops, but there are so many more.
And don't miss the Olde Pink House or Pirate's House, which were already mentioned as their own 'thing to do in Savannah' as they are that famous and local institutions!
Mrs. Wilkes Dining Room
The Dining Room is part of the Mrs. Wilkes's House where you can stay the night. The dining room, open 11 AM to 2 PM, serves up southern classics that'll remind you of home! You can eat family-style at long communal tables for a cool experience and it's located on the beautiful and famous must see in Savannah – Jones Street!
Alligator Soul
Located in the basement of a former grain storehouse, Alligator Soul creates elevated southern dishes. Everything is made with local organic ingredients and are special exotic dishes daily! The alligator mac 'n' cheese is a must!
This is one of the most popular places to eat in Savannah, so be sure to snag a reservation for this one! And come hungry!
Treylor Park
You can find not one but three different Treylor Park locations across the city and they're all amazing! The atmosphere is great with really good music and fun takes on American classics. You have to try their creative dishes, like the PB&J wings or the chicken pancake tacos. Also, their fried green tomatoes and chicken on a biscuit were heavenly!
Clary's Café
If you're looking for a classic diner experience, visit Clary's Café which has been a beloved local spot since 1903. They have an exhaustive menu with all the breakfast, lunch, and brunch items you love. Don't skip on the pastries and desserts either!
This has become one of the most popular Savannah attractions because there were scenes filmed in here for Midnight in the Garden of Good and Evil here, not to mention it was also featured in the novel too.
The Grey
The Grey is a Black woman-owned restaurant set in a refurbished art-deco-style Greyhound bus station from the 1930s! Come enjoy southern fine dining and amazing drinks. The Grey has become super popular and you cannot get in without a reservation, which can be tough to come by as this is one of the most sought after food destinations and places to visit in Savannah.
Franklin's
We suggest planning on having breakfast at the stylish cafe, Franklin's. Coming here is as much about the food as the coffee shop's interior design! Try their artisanal lattes and their Croque Monsieur is not to be missed. We especially loved the setting here, the hand-painted walls were swoon worthy!
The Public Kitchen + Bar
Our first taste of Southern hospitality was meeting random strangers, who happened to be locals at happy hour. As we were taking a post-happy hour walk to find dinner, we bumped into them again and said we must try The Public Kitchen + Bar. This spot is all about the atmosphere and amazing cocktails. You'll love the minimalist, midcentury modern-style dining room of this casual restaurant. The shrimp 'n' grits are a must here and their most famous dish.
Sorry Charlie's
You know that happy hour I told you about? This is another must-do in Savannah. Head over to Sorry Charlie's, you can't miss their amazing retro-neon sign on Congress Street. This spot is famous for its oysters, which they have insane $1 oysters and happy hour specials on Monday through Thursdays from 4 to 6 PM!
Don't miss their rooftop either. Beyond their raw bar, they have seafood and casual dining!
14. Visit the Rainbow Row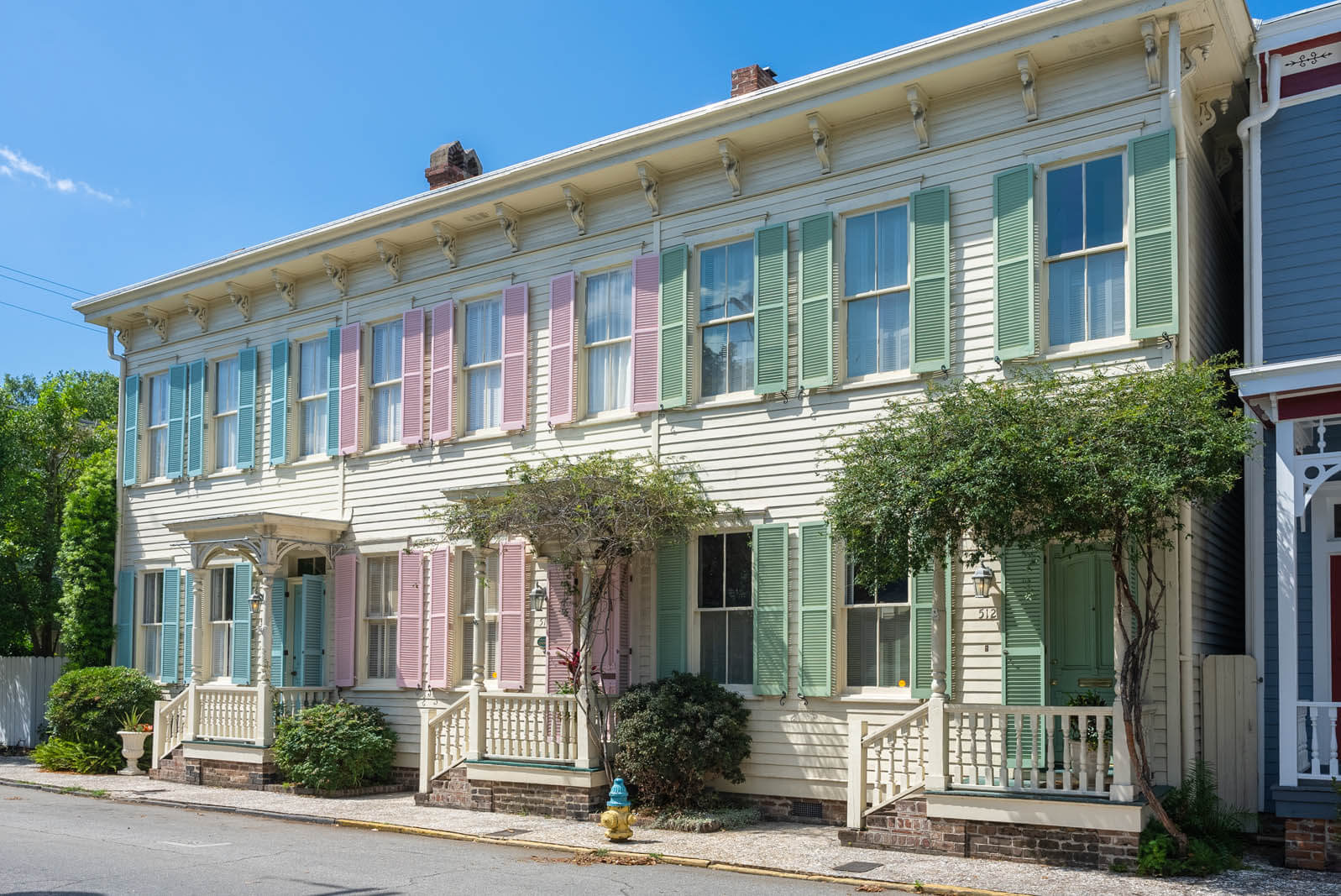 Are you in love with the pretty architecture here yet? For unique things to do in Savannah, visit Rainbow Row. While there are row houses to be found all over the city, the Rainbow Row is a special Savannah attraction. You can find it on E Bryan Street between Price Street and Houston Street.
You can't miss the Victorian-style set of row houses on the northeast side of Washington Square. Each home has a distinct set of pastel shutters in shades of pink, blue, and green!
And if you're looking for a place to stay in downtown Savannah, 508 E Bryan Street is actually a vacation rental. Inside, the blue color scheme continues in classically styled interiors. You and up to 3 guests can stay there and enjoy the lush courtyard in the back.
15. Rooftop Bars & Restaurants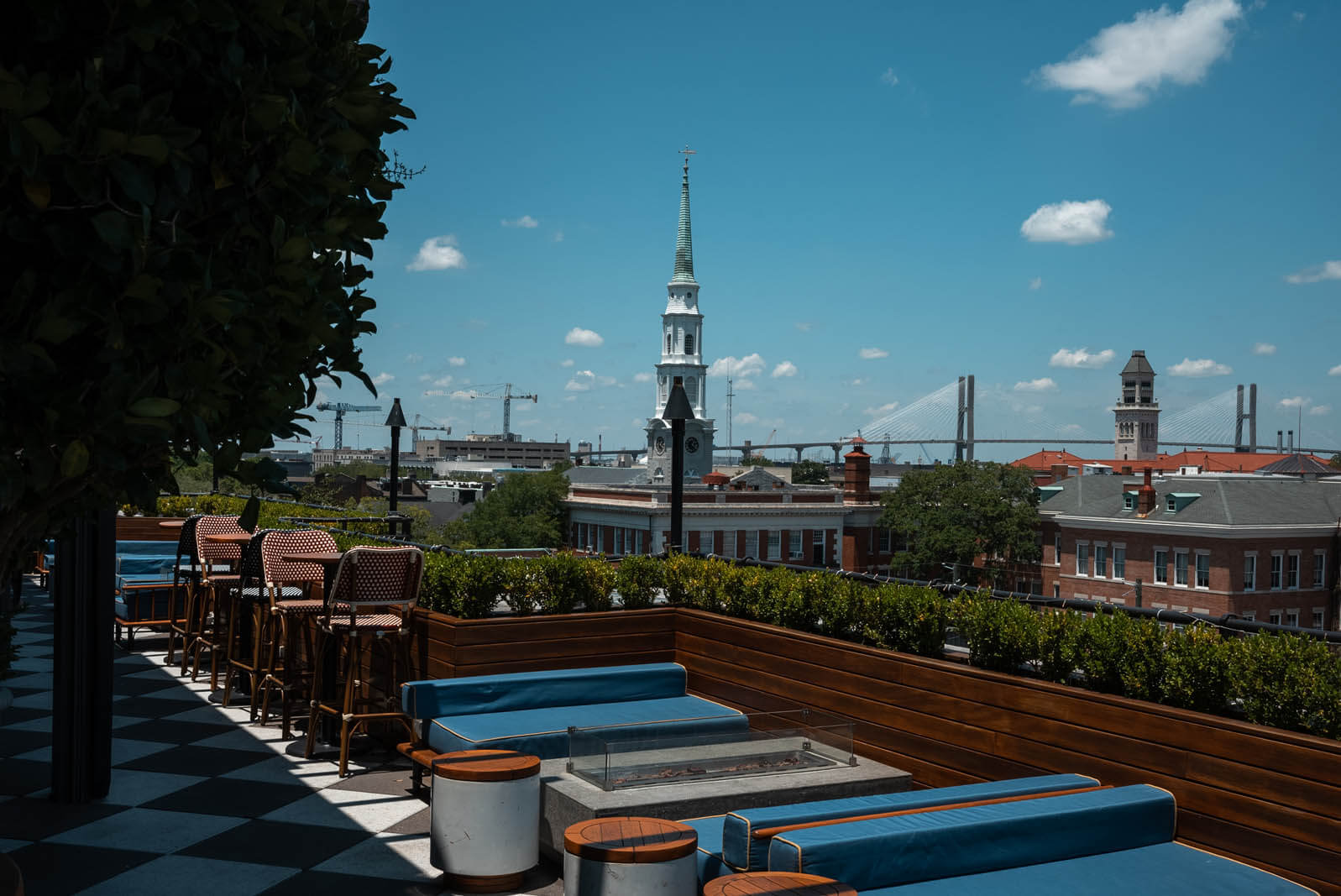 For more fun things to do in Savannah, enjoy all the rooftop bars & restaurants, there are a TON. The city actually has an open container law and often the party continues from bar to bar!
The Peregrin at the Perry Lane Hotel has a sophisticated feel with bamboo lawn furniture and a great view of the Savannah skyline. Or head to the aforementioned Sorry Charlie's for their rooftop oyster bar. There's a cool vibe and lots of comfortable outdoor lounge seating.
For a touch of southern charm with modern touches, check out Myrtle & Rose inside the J&W Marriott. It's a rooftop garden overlooking the Savannah River that makes great espresso martinis!
And The Rooftop at the Drayton Hotel is the perfect getaway from the hustle and bustle on River Street. Enjoy your favorite drink while you watch the sunset beyond City Hall.
16. JW Marriott Savannah Plant Riverside District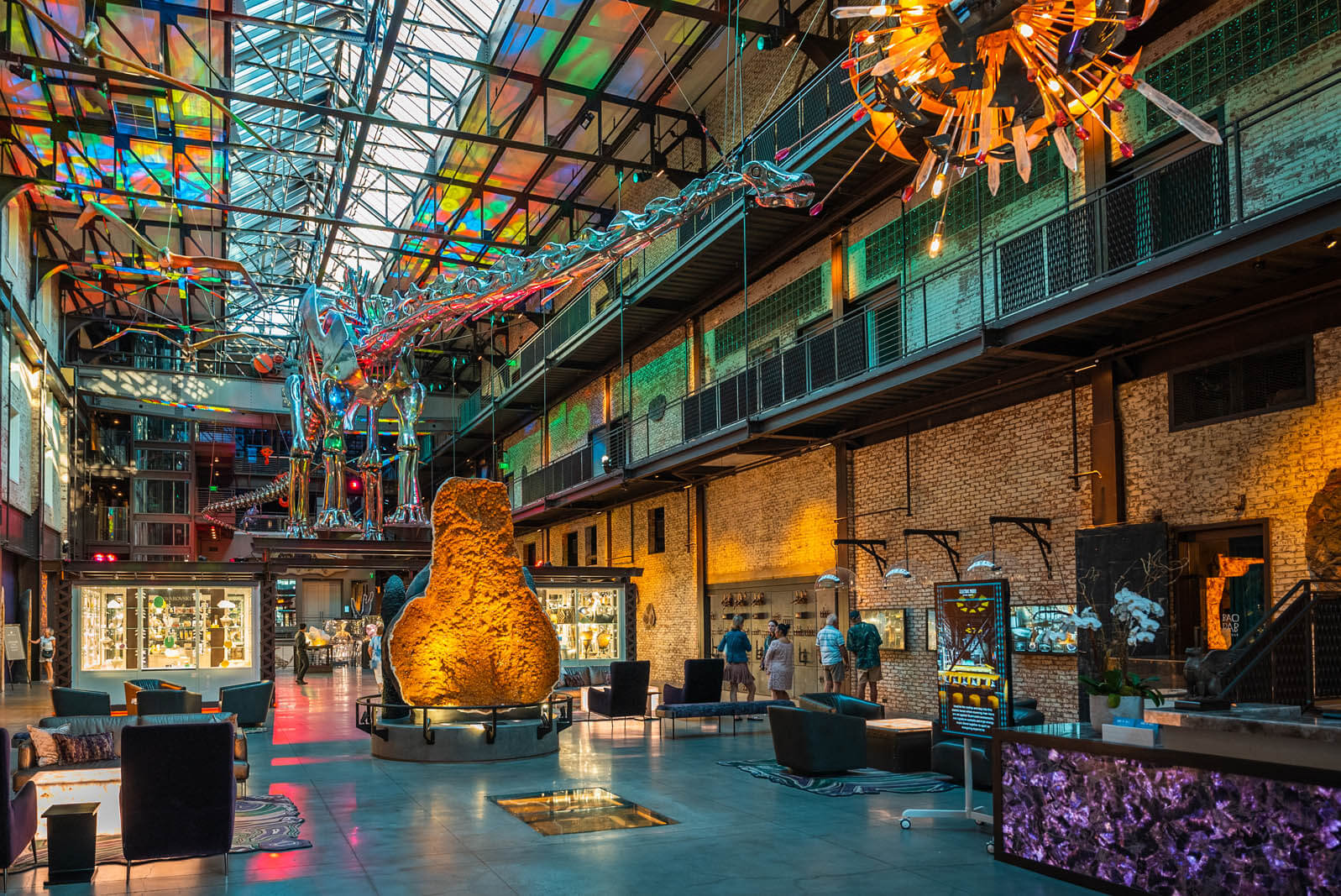 Hands down, one of our favorite places to visit in Savannah was a hotel. Hear me out. The JW Marriot Savannah River Plant Riverside is more than a hotel, it's basically a FREE natural history museum!
And if you do stay at the JW Marriott, you won't run out of things to do in Savannah. Consider it a win, win. It's tucked right against the banks of the Savannah River on River Street. You can enjoy the close by dockside shops or walk a few blocks to the historic district. But here you don't have to leave your hotel to have a blast!
The city's former power plant was recently turned into a one-of-a-kind hotel, the J&W Marriott Savannah Riverside District. Outside, you can admire the dramatic architecture of the building with features maintained from its industrial days. Inside, the space has been gutted and appreciated for its rawness.
The entire cavernous lobby doubles as a natural history exhibit that you can appreciate as part of the interior design! Notice the vast collection of backlight geodes and amethyst gems that line the concierge desks and grace the lobby. There's a 135-foot chrome dinosaur skeleton hanging from exposed beams from the original power plant building!
But that's not all. Guests of all ages will love the fossil collection and a real chunk of meteorite! Get up close with artifacts like real mammoth tusks and prehistoric bear skeletons. We loved the towering gem stones! It was crazy how tall they were!
Better yet, it's all free to visit and one of the most fun things to do in Savannah with kids (or those who are just into cool things!!).
And besides all of this, the J&W Marriott also has an art gallery and a multi-use event space that hosts regular live concerts. Or between venturing out into Savannah, you can enjoy a steak and seafood restaurant, a pizzeria with really cool pop art covering the walls, and a cozy café. Plus, you have their rooftop garden, Myrtle & Rose, and a rooftop dance lounge as well!
17. Watch a Savannah Banana's Game
Sadly, we learned about the Savannah Bananas after our trip, but it's worth mentioning! When you first see them, you immediately think of the Harlem Globetrotters, but for baseball. The Savannah minor league baseball team is made up of college students that compete in the Coastal Plain League.
If you're a sports fan or have kiddos in tow looking for fun things to do in Savannah, this might be a refreshing experience. The Savannah Banana's entire goal is to have fun and provide wholesome entertainment while playing baseball.
You can see them play traditional 9-inning games during the regular baseball season. Or see them play what they call Banana Ball in the spring when they go on tour!
They add theatrics to the game of baseball, think flips, dances, and other crazy stunts while nailing plays in the game! Plus they have goofy stunts for entertainment in between innings and plays.
18. First African Baptist Church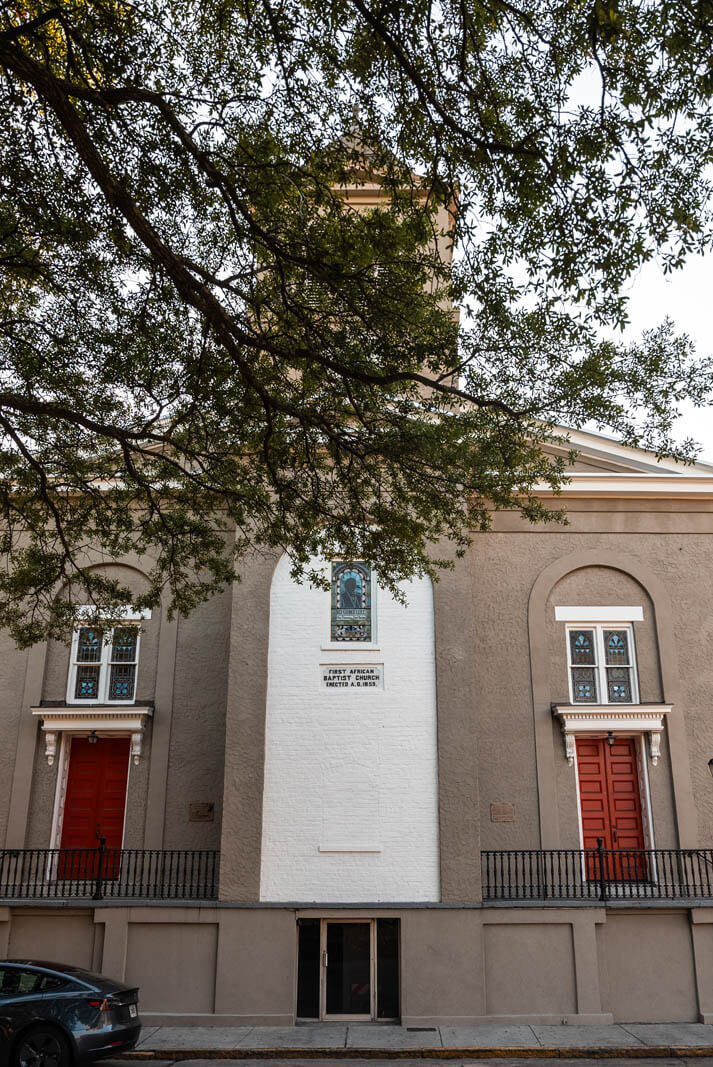 If you're looking for historic Savannah places to visit, put the First African Baptist Church at the top of your list! Established in 1773, this active congregation is the oldest Black church in the US. Over time the church grew and the current location was built in 1794. At the time, the land had been owned by the church's recently deceased pastor, a Black man named Andrew Bryan.
After the Revolutionary War, many Black people in Savannah were taken away by the British or escaped to places like Jamaica. Bryan felt the call to stay in Savannah and pastor the church when others left. After his death, Bryan's legacy lived on when the church was built on his land.
Every step of the way, the history of the First African Baptist Church was shaped by history makers. For a more elaborate history, you can visit Wednesday through Saturday at 1 PM with the ticket you purchased on their website.
Inside the church, you can read educational exhibits and see artifacts reaching back to the beginning days of the church. A sobering part of the tour will show you holes in the floorboards of the church. These holes were air vents used when the church was used as part of the Underground Railroad during the Civil War. Runaway enslaved people would be hidden under the floorboards of the church.
19. The Paris Market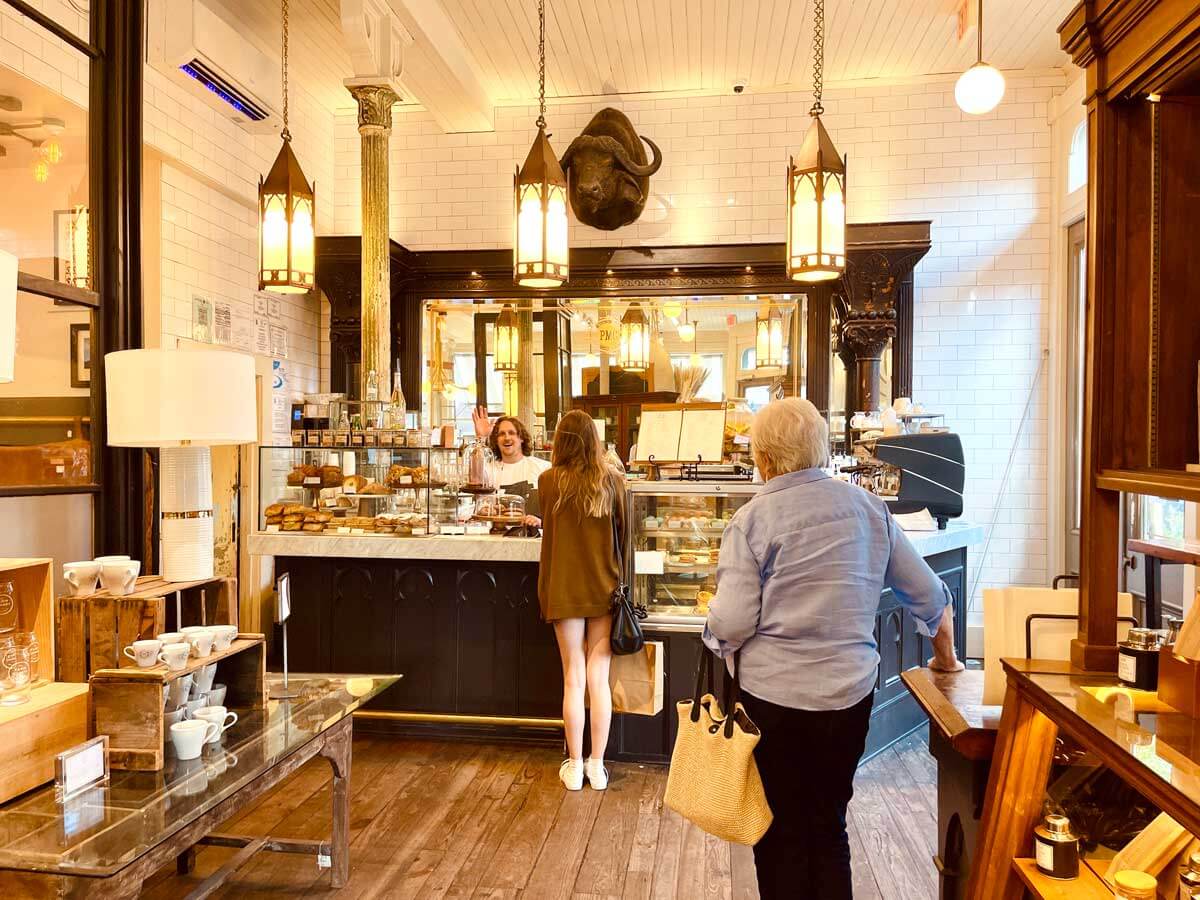 Paula and Taras Danyluk opened The Paris Market in 2001 in a 150-year-old building in historic Savannah. The once grocery store made the perfect setting for their home goods boutique and French café.
Today you can visit and peruse the spectacularly curated mix of shabby chic, one-of-a-kind homeware, antiques, jewelry, handbags, and more. Their Savannah location is multi-level, spread between the street-level shop and the basement. And make sure to try their macarons or grab a tea and pastry!
This entire store is an 'experience' if you like shopping, add this to your list of things to see in Savannah.
20. Crystal Beer Parlor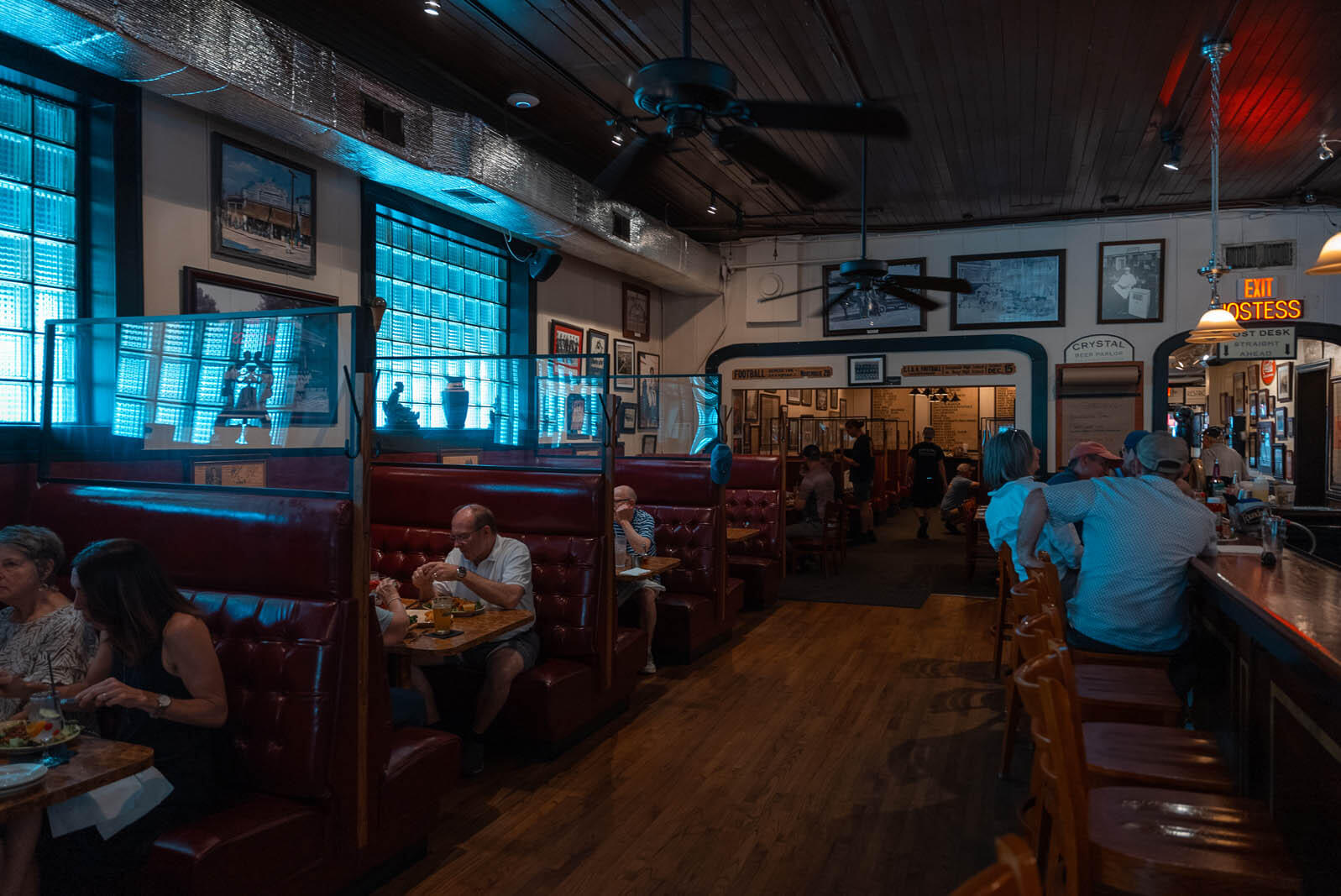 For more historic things to do in Savannah, the Crystal Beer Parlor was suggested to us by locals! And when I say locals, I mean SEVERAL locals we talked to. It's been a Savannah mainstay since the early 20th century. Then, it opened as a family grocery store near Pulaski Square.
In the 1930s it was sold to the Manning family, who reopened it as a diner-type restaurant. It's thought to be one of the first places to serve alcohol after Prohibition was repealed. That's probably part of the reason it was immediately a popular spot to hang out in Savannah!
Today, the Crystal Beer Parlor continues the tradition of serving up the draftiest beer and the best food. Walk in and you feel like you stepped back in time. It has an old-timey feel to it for sure. If you're looking for Savannah places to visit on a hot day for a break from the heat, this is the perfect place to cool off with a cold drink or dine (or share a snack like we did).
21. Telfair Museums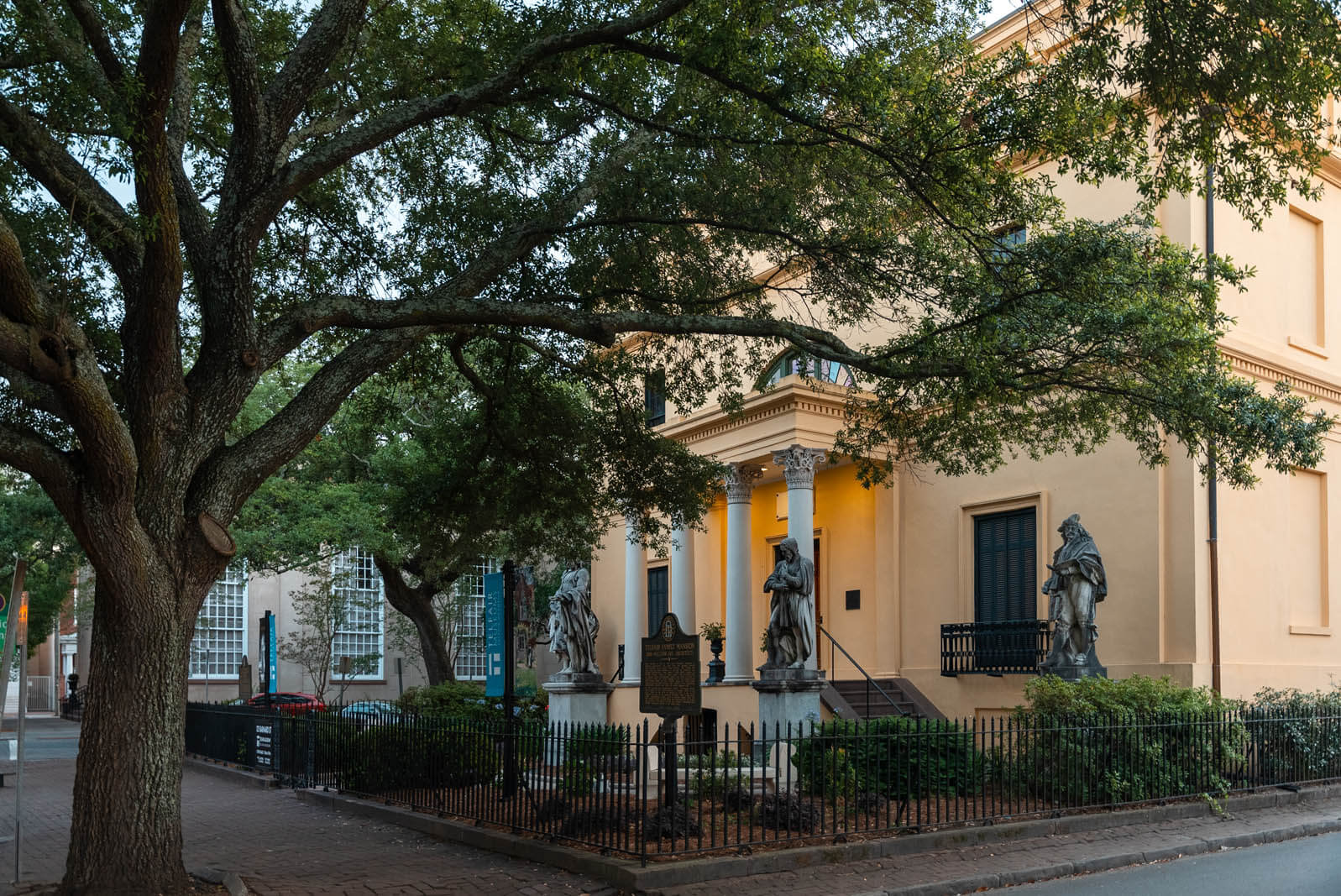 Some of the best things to do in Savannah ar visit the Telfair Museums. The Telfair Museums are art museums founded in 1883 and are run by the Savannah Historical Society. Their goal is to convey the connection between art and history in the region.
It's an interesting concept, dividing eras into separate buildings that operate as their own art museums. So, each museum focuses on the art of a certain period.
The Owens-Thomas House & Slave Quarters is the oldest of the museums. The house the museum is inside of is the beginning of the exhibit itself! The Regency-era home was built in 1819 and includes the slave quarters and carriage house along with the luxurious gardens and the mansion itself. You get to see the architecture of the home and the stark contrast between the worlds of the free and enslaved.
Next, there's the Telfair Academy. This museum is actually housed in the home of the Telfair family who funded the creation of the museums. It's also a Regency-era home. Besides displaying detailed accounts of the life and world of the 19th-century Telfairs, you can walk through exhibits in different rooms of the house. These exhibits cover American and European art over the 19th and 20th centuries.
Finally, there's the contemporary Jepson Center. It's a 3-level building envisioned by the Savannah historic society. The idea was to create a bold, modern building with windows looking out over the historic Telfair Square. It suggests the continuous connection between the past and present. And inside the building, you can see several different kinds of contemporary art exhibits.
22. Visit the Legendary Waving Girl Statue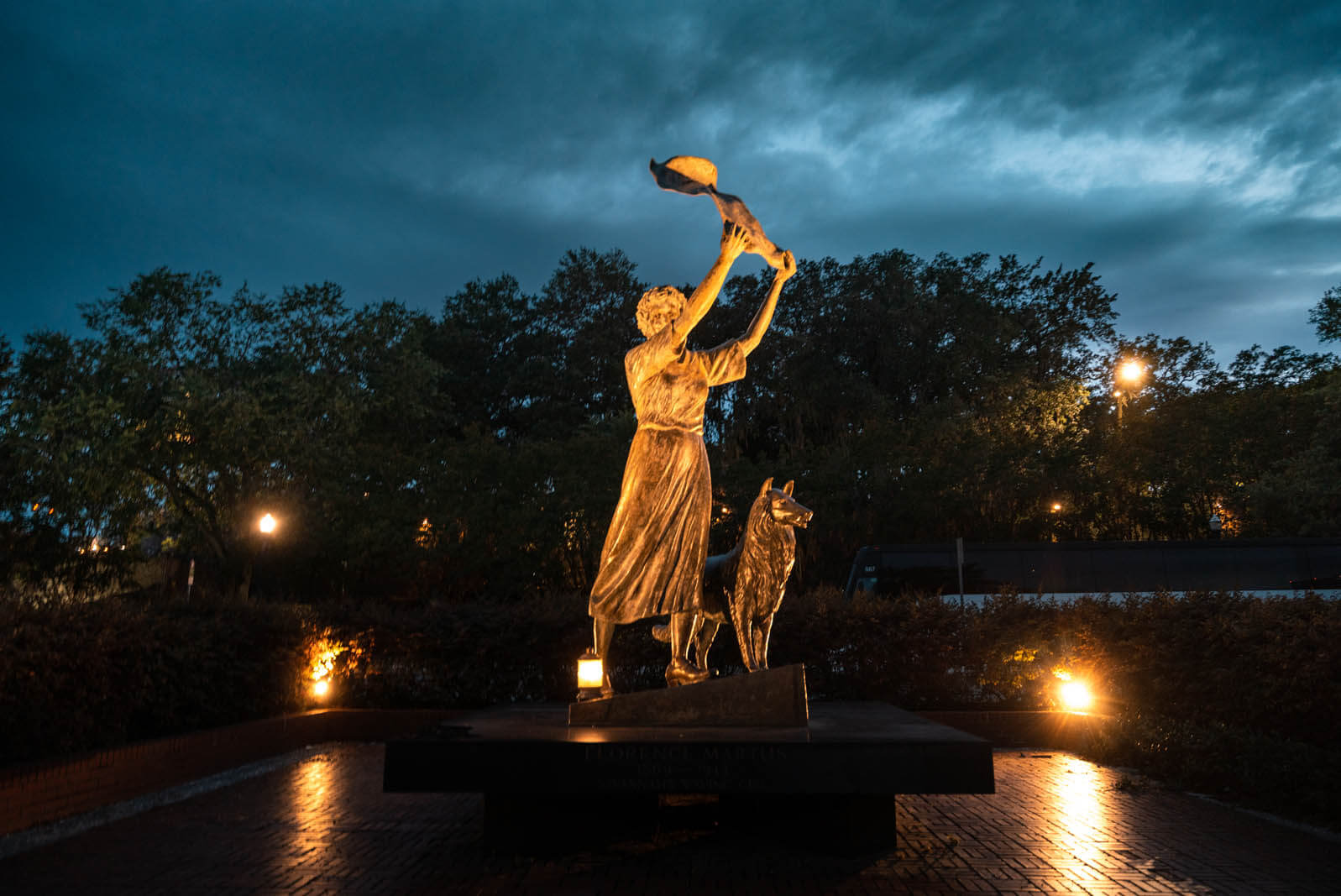 For uniquely Savannah places to visit, head to the eastern end of River Street where you can see the statue of the Waving Girl. There's a sweet story from the early 20th century about a local girl named Florence Martus, the sister of a lighthouse attendant. She would spend her days waving a scarf at ships as they passed in the harbor. She did this every day for 40 years!
People had their ideas as to why Florence waved at passing ships. It was thought she had a long-lost lover who was a sailor lost at sea. But when asked, Florence just said she was lonely! The statue was erected in the 1960s to honor Florence and the southern hospitality she represents to Savannah locals as the unofficial greeter of the Port of Savannah.
23. Explore the Starland District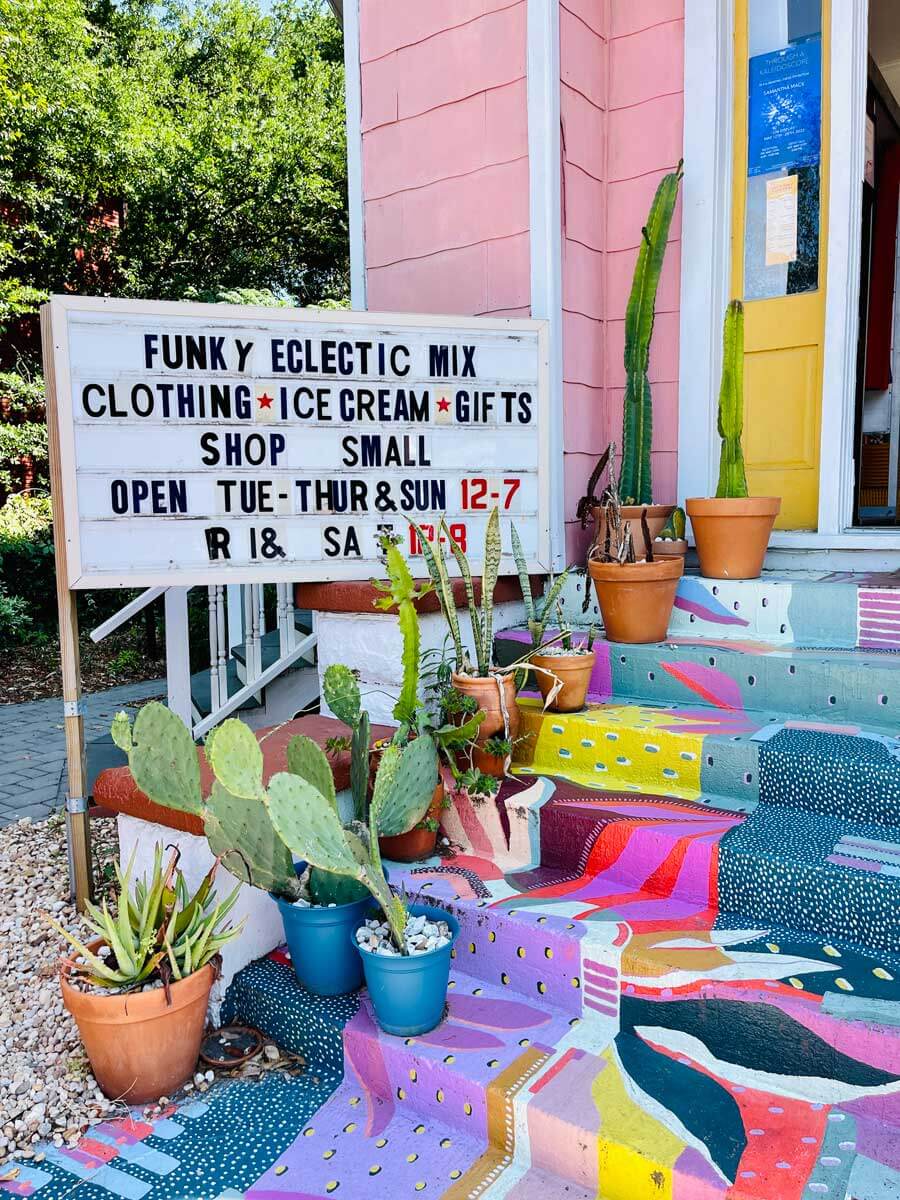 The Starland District is Savannah's art district at the southern end of downtown. It is a bit of a sleepier neighborhood for tourists, but it's a cool area, especially to bike through, to find unique boutiques and colorful homes. It's definitely one of the best things to see in Savannah if you want to get off the typical touristy spots.
It was actually dreamed up in the 90s by 2 graduates of Savannah College of Art & Design who saw the potential of the declining neighborhood. You can definitely see art school influence today! The district is full of murals, reclaimed buildings, and all kinds of art supply stores and textile stores.
As a matter of fact, SCAD has played a huge role in Savannah's success and revitalization of the city. By the 1950s, many of the city's historic buildings were deteriorating and in dire need of some TLC if they were going to survive for future generations. SCAD purchased and saved dozens of buildings in Savannah and throughout our time in Savannah, any tours or Uber drivers explained to us the crucial role SCAD had in making Savannah what it is today.
Rent a bike (some hotels have complimentary loaner bikes) and bike around some of the beautiful architecture here in this creative neighborhood.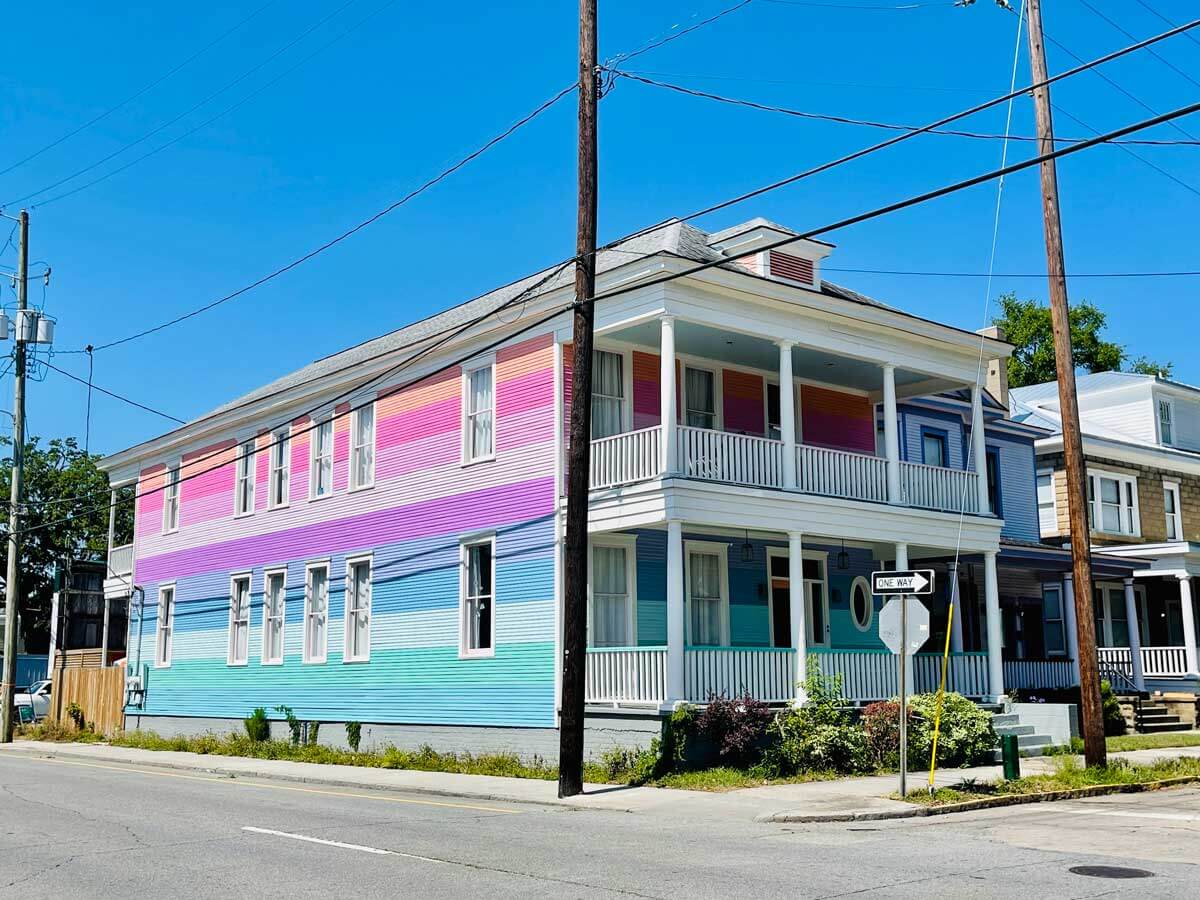 Stop at Starland Strange. This shop is a fun, funky, eclectic merch store with frozen treats. On the corner of Drayton Street and 40th Street you'll spot one of my favorite colorful homes in the city! It has a colorful colorblocking pastel paint job!
And you have to find the Gingerbread House on Bull Street and W 36th Street! It's a beautiful old Victorian home that's used as a wedding venue and arguably one of the prettiest houses and things to see in Savannah!
24. Day Trip to Tybee Island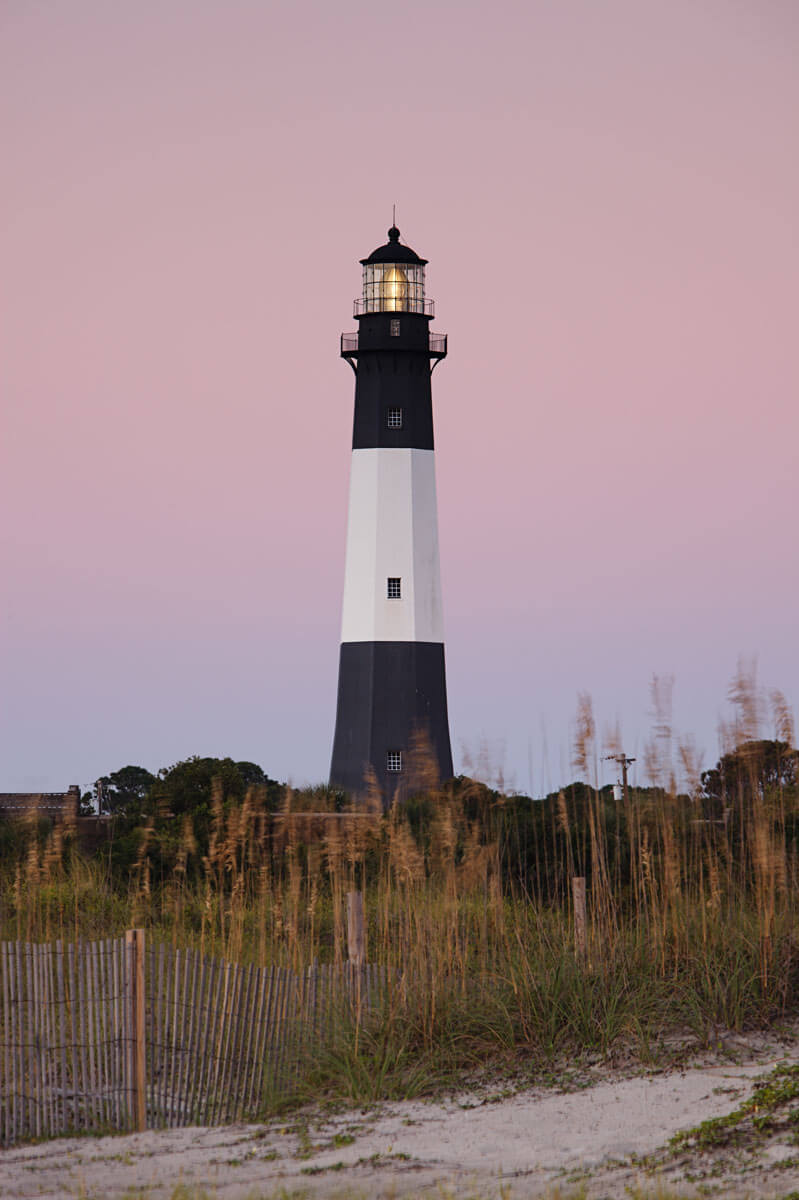 Take a day away from the city and visit Tybee Island. It's only about 20-30 minutes out from Savannah, at the mouth of the Savannah River. This barrier island, Tybee Island, is also the name of the beach town there. It's been a popular vacation destination for Georgians for over a century and is home to one of the most beautiful East Coast lighthouses!
You can visit the Fort Screven Historic District and learn about how the Union Army trained there. There's a historic lighthouse there, and Tybee Island is known for being one of the few places that the US has dropped an atomic bomb onto! Though it was an accident, the bomb didn't explode.
And there are a bunch of great seafood spots here, like The Deck Beach Bar and Kitchen. Or just enjoy the miles of expansive sandy swimming beaches with unobstructed views of the Atlantic Ocean.
Keep in mind if you're driving that you'll want to have an offline map available! There are service issues in the area and it can be confusing when trying to navigate and drive if you don't have an offline map available.
25. Wormsloe Historic Site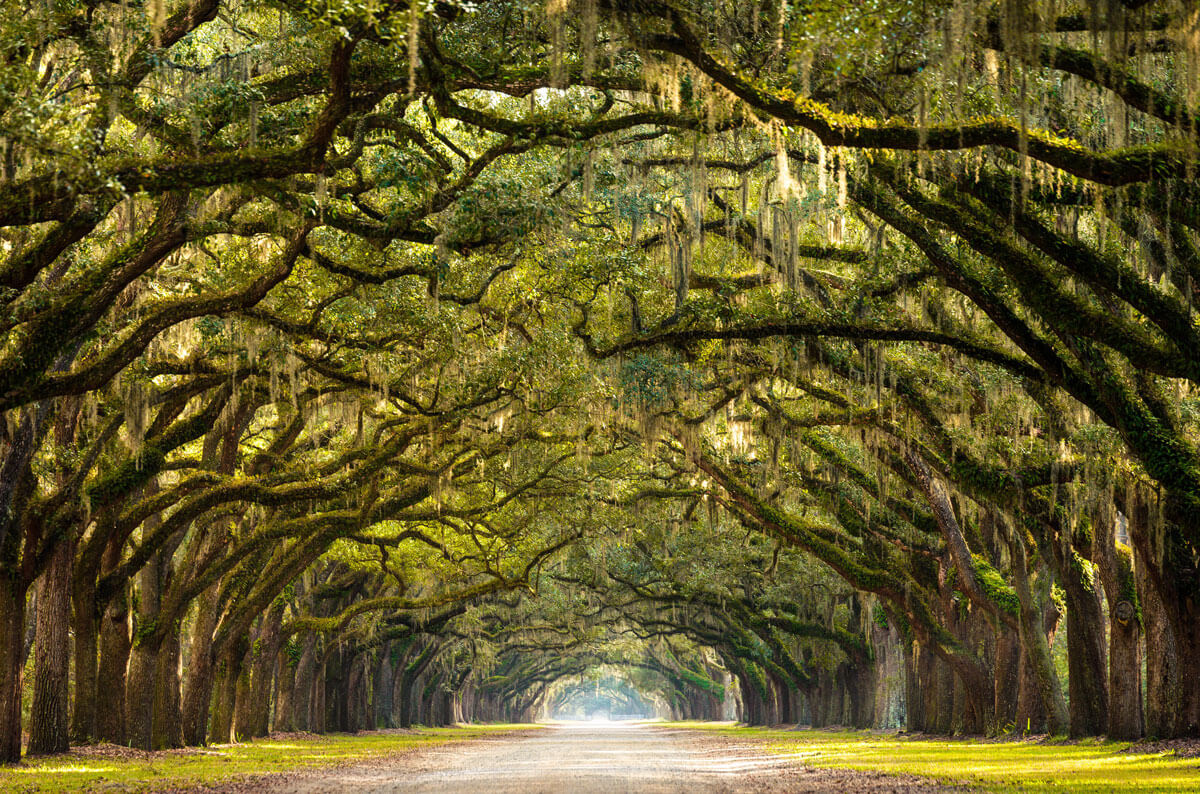 Without a doubt, visiting the Wormsloe Historic Site is considered a must-do in Savannah for many people who come to the area. We didn't visit, but it's worth mentioning as if you're coming to the area, you've probably seen photos of the famous tree-lined road and we'd like to share some context so you can make an informed visit. This is because, just like many places in Savannah, it's a breathtakingly beautiful place to experience however, there are often 2 sides to many of these historic sites.
The story of the family who owned the land is a dramatic one, but it's not the only story to be told about Wormsloe. There were enslaved men and women on the plantation for over 100 years, which is barely discussed at this site and an ethical dilemma as it glorifies the opulent lifestyles of the slave owners erasing the atrocities that took place here.
Wormsloe Historic Site is known as one of the most popular Savannah attractions, and many people come for a glimpse at the famous long tree-lined road crowned with a canopy of live oak and Spanish moss. (we used a stock image for this as we didn't visit).
The role of Wormsloe as a plantation and the stories of the enslaved people who lived there aren't being told. This is a form of erasure, and it's done to Black people all the time. Some groups think that the enslavement of Black people is uncomfortable to talk about and that it should be excluded from tourism experiences.
But would you still visit the site if you thought of these enslaved men and women as being silenced? We wanted to address the problematic nature of places like Wormsloe because we always encourage readers to do a bit of research before visiting any place.
Our friend Amanda who runs the travel blog, A Dangerous Business, said something that resonated with me, "I think it's possible to recognize the current beauty of a place while also acknowledging the ugliness of its past." I also found this read on how pretty photos we see on social media of plantations have a role in desensitizing the horrific atrocities that took place at these sites.
Recognizing the significance of a dark past also recognizes the people that came from and overcame those hardships that were put on them. We aren't saying you shouldn't visit, but we urge you to do your research before and also be aware and supportive of the unaddressed issues with the site.
Where to Stay in Savannah
Mansion on Forsyth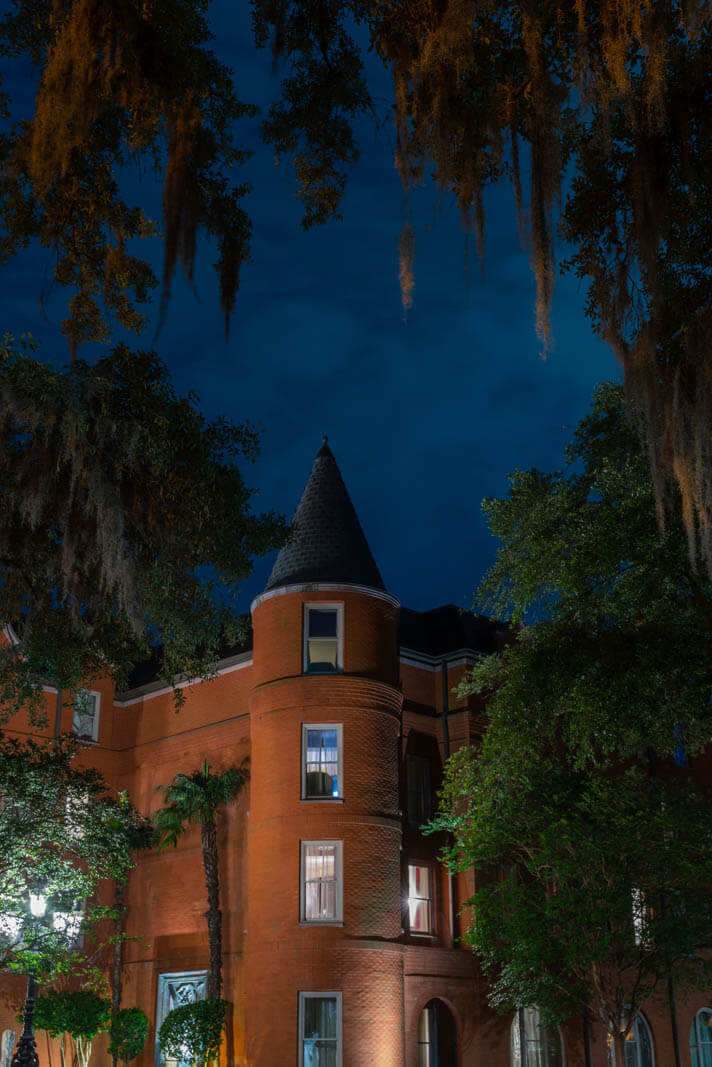 The Mansion on Forsyth is a gorgeous hotel and property is where we stayed during our trip and we would 100% absolutely stay here again in a heartbeat. Located overlooking the picturesque Forsyth Park, this Victorian-Romanesque mansion has been converted into one of the best hotels in the city.
The location is perfect and it's only a 10-15 minute walk to the heart of historic Savannah. Each of the rooms at the Mansion on Forsyth are outfitted with original artwork, marble bathrooms, and plush pillowtop beds. There's an art gallery on site, a beautiful collection of women's hats from the past century, a beautiful pool and courtyard, and loaner bikes for guests.
Our room was incredibly spacious and comfortable. The large soaking bathtub was just one of the many things we loved about our room and staying here. Book the Mansion on Forsyth here.
Hamilton-Turner Inn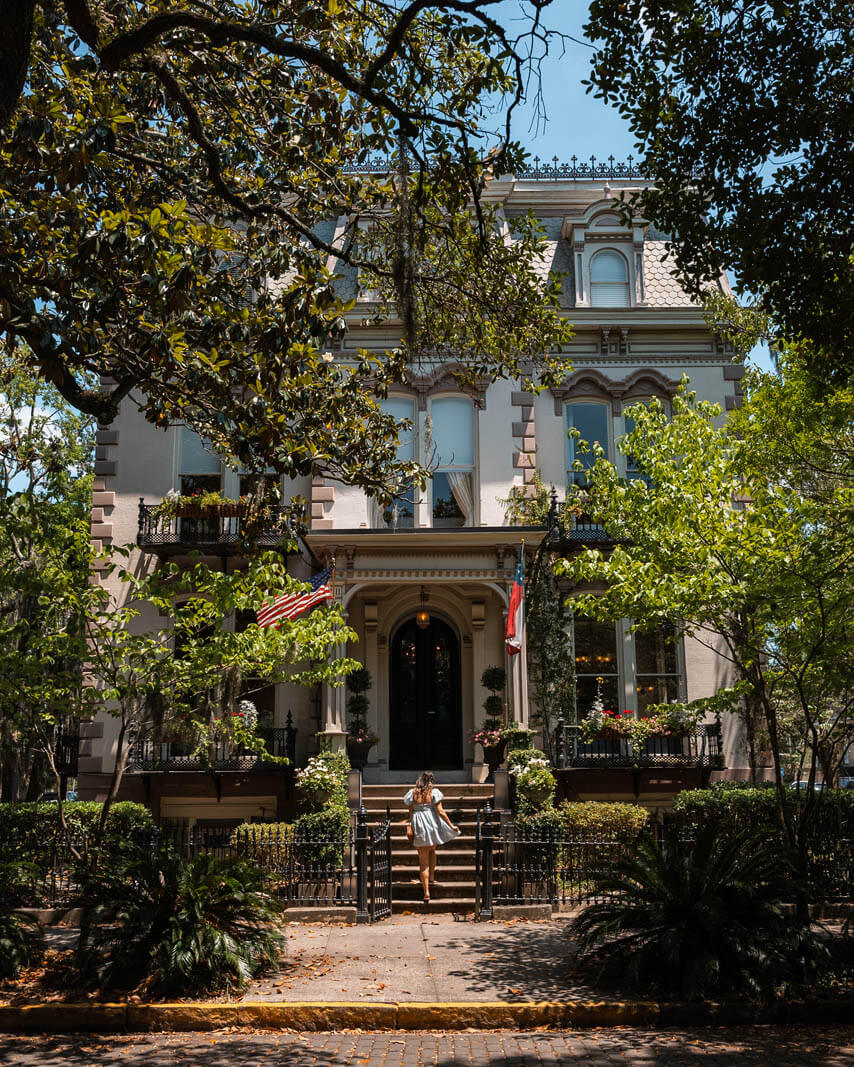 If you're looking to stay in one of the most historic homes in Savannah, look no further than the Hamilton-Turner Inn. This gorgeous home and is one of the best Bed and Breakfasts in the country located on the picturesque Lafayette Square.
The house is riddled with history, like many of the historic sites here and some of the most fascinating facts is that it was the first house in Savannah to have electricity, it's rumored to be the inspiration for Disneyland's Haunted Mansion, and it's a rumored to have residents of the paranormal kind here too. It even had a special appearance in the story and movie, Midnight in the Garden of Good and Evil.
The Hamilton-Turner Inn is considered one of the most romantic stays in the city and its furnishings and interiors are a great example of the grandeur of the social class that lived in these mansions. The rooms are beautifully decorated and you're entire stay will truly be unique, plus you can't beat the location. Book the Hamilton-Turner Inn here.
JW Marriot Savannah River Plant Riverside
As mentioned earlier as one of the must-do in Savannah places to visit, this is also one of the best places to stay in the city. The JW Marriot Savannah River Plant Riverside is more than a hotel! Besides the great riverfront location, you're riddled with options to dine, shop, and drink along River Street.
The hotel itself has one of the most impressive lobbies for any hotel in the world boasting a full Natural History museum inside with an impressive collection of fossils, dinosaur bones, giant crystals and gemstones, chunks of a meteorite, prehistoric bones, and a giant chrome dinosaur floating from the ceiling!
The rooms are also at the JW Marriot are also luxurious and modern, which is a great alternative if you're not into staying at the historic properties. You can also choose rooms that overlook the giant chrome dinosaur and pre-historic collections or pick a room with a view of the Savannah River! There are over 400 rooms as this entire hotel is basically its own neighborhood in the city, each of them offering something different. Book the JW Marriot Savannah Plant Riverside here.
---
What is Savannah best known for?
Savannah is known for its historic landmarks and squares, warm weather, oak trees draped in Spanish moss, beautifully preserved architecture, Southern cuisine, and coastal landscape. It's also famous for being featured in popular films like Forrest Gump.
How much time do I need for Savannah?
You can easily see the best of Savannah in a weekend or long weekend. If you want to explore some of the best things to do near Savannah too or take a trip to Tybee Island, we recommend spending 4-5 days.
Are 2 days enough for Savannah?
You can absolutely see some of the best things to do in Savannah in 2 days, although you'd have a more comfortable and leisurely visit if you gave yourself 3 days in Savannah.
---
BEST THINGS TO DO IN SAVANNAH (Post Summary)
Forsyth Park
Take a Ghost Tour
Visit the Historic Squares of Savannah
Colonial Park Cemetery
Savannah Trolley Tour
Bonaventure Cemetery
Jones Street
Olde Pink House
The Pirates' House
Leopold's Ice Cream
River Street
City Market Savannah
Eat all the Food!
Visit the Rainbow Row
Rooftop Bars & Restaurants
JW Marriott Savannah Plant Riverside District
Watch a Savannah Banana's Game
First African Baptist Church
The Paris Market
Crystal Beer Parlor
Telfair Museums
Visit the Legendary Waving Girl Statue
Explore the Starland District
Day trip to Tybee Island
Wormsloe Historic Site
---
Enjoyed this guide to all the best things to do in Savannah and the most popular Savannah attractions? Bookmark for later or share the love below on Pinterest.