Calling all fellow lighthouse lovers! Did you know there are several stunning Portland, Maine lighthouses to check out? Whether you're spending a weekend in Portland or just passing through on a coastal Maine road trip, we recommend hitting up these gorgeous Cape Elizabeth lighthouses all just a short distance away from all the fun and action in Portland.
We discovered we are lighthouse super fans after our Nova Scotia road trip where we hit up one lighthouse after another and again after visiting Montauk Lighthouse in Long Island, New York. So, when we went to Portland, we made an effort to make sure that we hit up as many lighthouses as we could! Not to mention, some of the best lighthouses on the East Coast can be found in Maine.
In this guide to Portland, Maine lighthouses we will cover the history and interesting facts about each of these lighthouses plus tips for visiting. Be sure to bookmark for your trip and enjoy your Cape Elizabeth lighthouse crawl all of which are within 20 minutes drive of Portland!
Incredible Lighthouses in Portland
Portland Head Light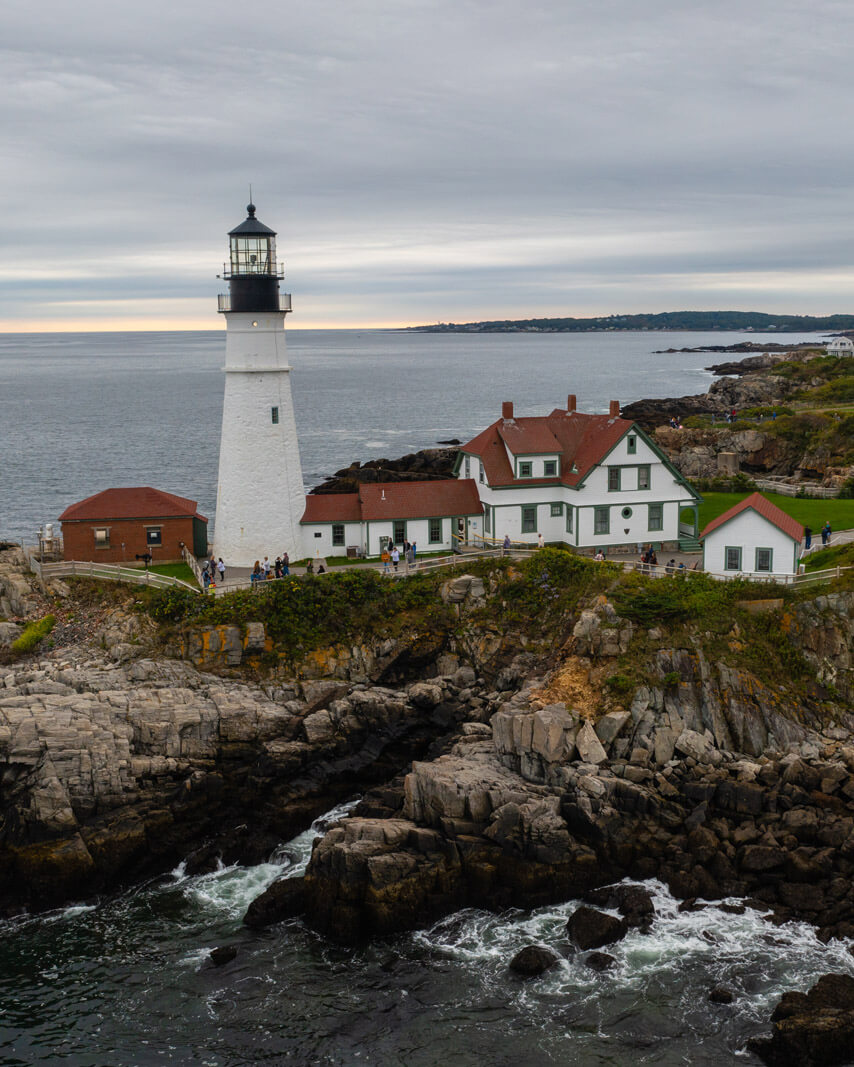 12 Captain Strout Cir, Cape Elizabeth, ME 04107
The Portland Head Light is the most famous Cape Elizabeth lighthouse as well as one of the most popular in all of New England. Portland Head Lighthouse also is the oldest lighthouse in Maine and the most photographed lighthouse in the United States! WOW!
This extremely beautiful Cape Elizabeth lighthouse has protected Portland for centuries and was constructed in 1787 under the directives of the first President of the United States, George Washington.
While there were lighthouses constructed before the United States was considered a nation, Geroge Washington enacted management of protecting the new nation's shores by passing the Lighthouse Act in 1789, Portland Head Light was the first lighthouse to be built.
This landmark was 72 feet high when it was first built and originally went into service in 1791. However, since then, it has gone under many revisions and been made over 20 feet taller!
This Portland, Maine lighthouse is the most popular to visit as its surrounded by the beautiful, coastal Fort Williams Park that has many seaside trails, food stalls including Bite into Maine which serves up what many food publications say is the best lobster roll in America, and there are incredible views of Casco Bay and even other Cape Elizabeth lighthouses in the distance.
You can visit Fort Williams Park and the exterior of Portland Head Light for free. There are also a few other great things to do nearby like visit the beach, hike, picnic, and visit the museum located in the former keeper's house that contains many artifacts, photographs, and documents that will help you understand the timeline of this famous landmark.
By going to this museum, you'll learn more about the origin of the Portland Head Light, the lives of the keepers, and how the technology within the Portland Head Lighthouse has changed over the course of its history. Entering the museum is only $2 for adults, $1 for children, and free for children under six.
Bug Light aka Portland Breakwater Light
S Portland Greenbelt Pathway, South Portland, ME 04106, USA
One of the best Cape Elizabeth lighthouses is the small cutie, Bug Light. Also known as The Portland Breakwater Light, this is a small lighthouse that was built in 1875.
This lighthouse is located in South Portland at Bug Light Park, which is also home to Liberty Ship Memorial. From here, you can see Portland Harbor and the beautiful skyline.
Bug Light Park is a popular destination for kite flying, salt-water fishing, boating around, and of course taking in the gorgeous New England coastal views.
The 26-foot-tall lighthouse designates the eastern end of the Greenbelt Walkway along Casco Bay and was designed after the Greek monuments. Whether you want to take a walk along the water or launch a boat, the lighthouse is a great place to start!
This park is located at the end of Madison Avenue in South Portland. This park has free parking and admission is free! Whether you want to walk, drive, or visit on a boat, it won't be hard to reach.
Also, while you're here you can visit the South Portland Historical Society Museum if you want to learn more about the history of the area. It's located at the entrance of Bug Light Park and if you happen to be visiting in May you might have a chance to witness the annual Bug Light Kite Festival.
Two Lights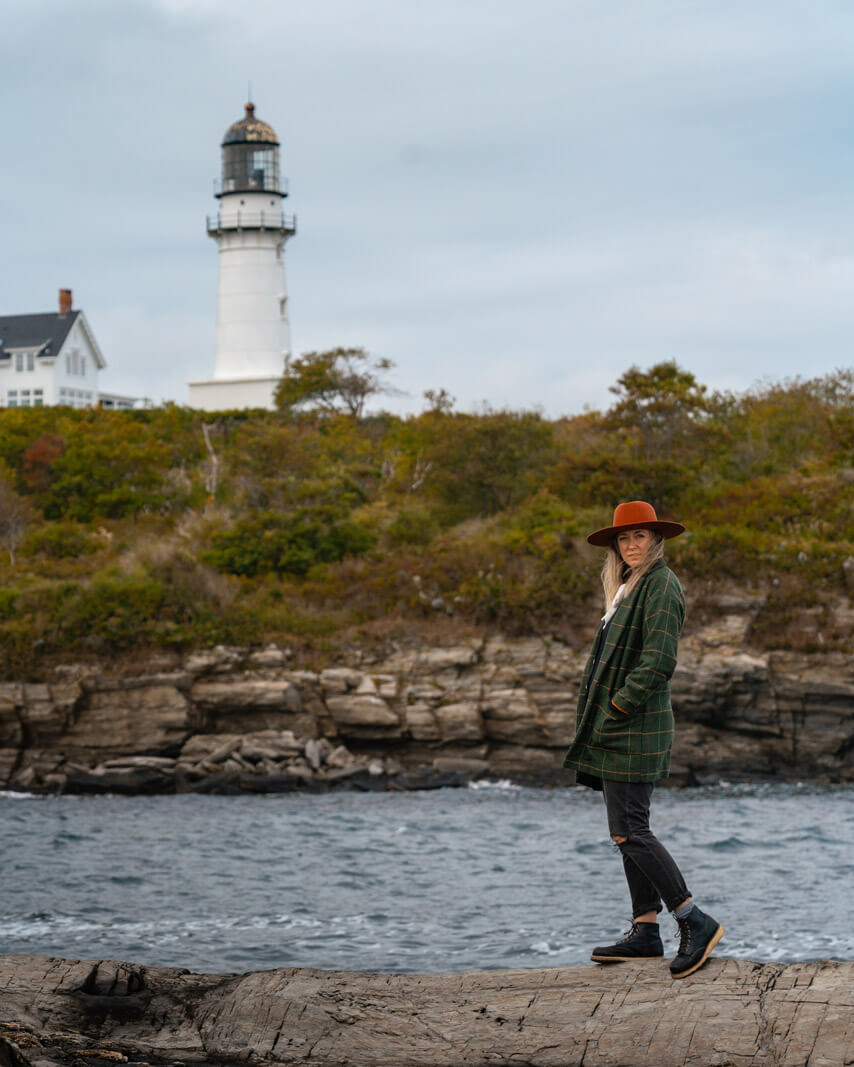 7 Tower Dr, Cape Elizabeth, ME 04107-9503
Two for the price of one! Well sort of. One of my personal favorite Portland, Maine lighthouses is Two Lights, which was named after the twin lighthouses here, one of which is still active (Two Lights, and the other is not and not really on the coast anymore but a few hundred feet away from Two Lights).
These twin lighthouses were built in 1828 to help mariners establish their positions. At this time, one lighthouse was flashing and the other one had a fixed beam.
Both of these are on private property, so you can't actually visit this Cape Elizabeth lighthouse duo but you can catch a pretty spectacular view of them from Two Lights State Park, where there are 41 acres of gorgeous land and trails, or you can drive to the end of Two Lights Road and take a walk along the rocks next to The Lobster Shack.
The one lighthouse is actually a unique, private home now, how cool is that? And the other is still active and has a beautiful house attached to it perched on a cliff.
If this scene and Cape Elizabeth lighthouses look familiar to you, that's probably because this awe-inspiring lighthouse was a subject in the painting Lighthouse at Two Lights by famed American artist Edward Hopper.
If you're visiting off-season, it's easy to park by the Lobster Shack for free and roam along the rocks of Dyer Point to get a better view of Two Lights. This area is known as On the Rocks at Two Lights.
If you're visiting during the peak summer season then you can grab a bite here at the Lobster Shack!
If you plan on entering Two Lights State Park, be aware that there is an entrance fee that starts at $3 for residents and $5 for non-residents. Once you enter the park, you'll find many great spots to see the houses and have a picnic!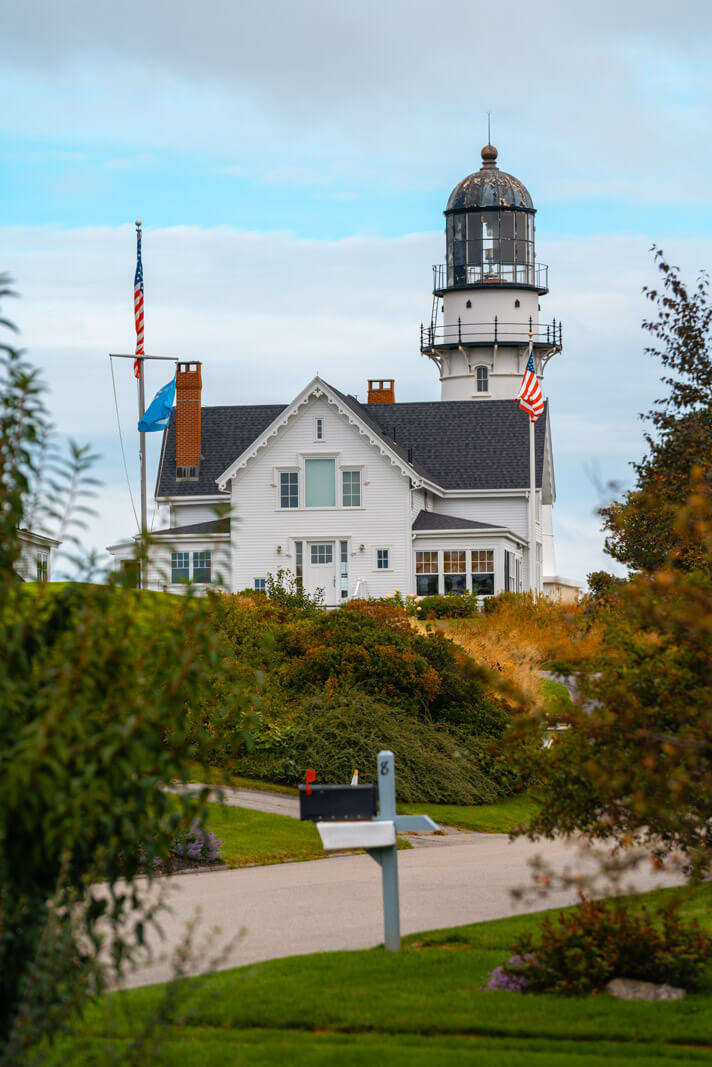 As long as you're respectful, you can quickly drive down Two Lights Road to see both lighthouses quickly before turning around and leaving since this is private property, we only recommend doing this if you're visiting off-season though to not disturb local residents.
Something to keep in mind, if you're visiting Two Lights State Park you will be further away from the lighthouse than if you visit Dyer Point and On the Rocks at Two Lights. We visited the rocks and parked at the Lobster Shack since we visited off-season in early October.
Ram Island Ledge Light Station
One of the best Portland, Maine lighthouses is the one at the Ram Island Ledge Light Station. Located in Casco Bay, this lighthouse marks the northern end of the main channel that leads into the harbor of Portland, Maine.
This lighthouse is nearby the Portland Head Light. In fact, you can get a view of it from there since it's only just over a mile away. (That's where our image is taken from).
Originally built as a navigational aid, this lighthouse has been up since 1905 and is 77-feet tall, although since you're unable to visit in person and only view from the distance or by boat, it looks much smaller from afar.
Made entirely of granite, this lighthouse is not open to the public. In fact, the only ways to see the Ram Island Ledge Light Station are from a boat, from the Portland Head Light, from Peaks Island, or from Long Island.
This Portland lighthouse is still in use and is located on a tiny stretch of stone hedges. If you plan to see this lighthouse by boat, you can get out of the water at low tide and climb on the rocky shore. When the weather is more dramatic, you can expect to see high tide, large waves, and lots of fog that add to the overall ambiance, but is quite dangerous so we don't recommend visiting.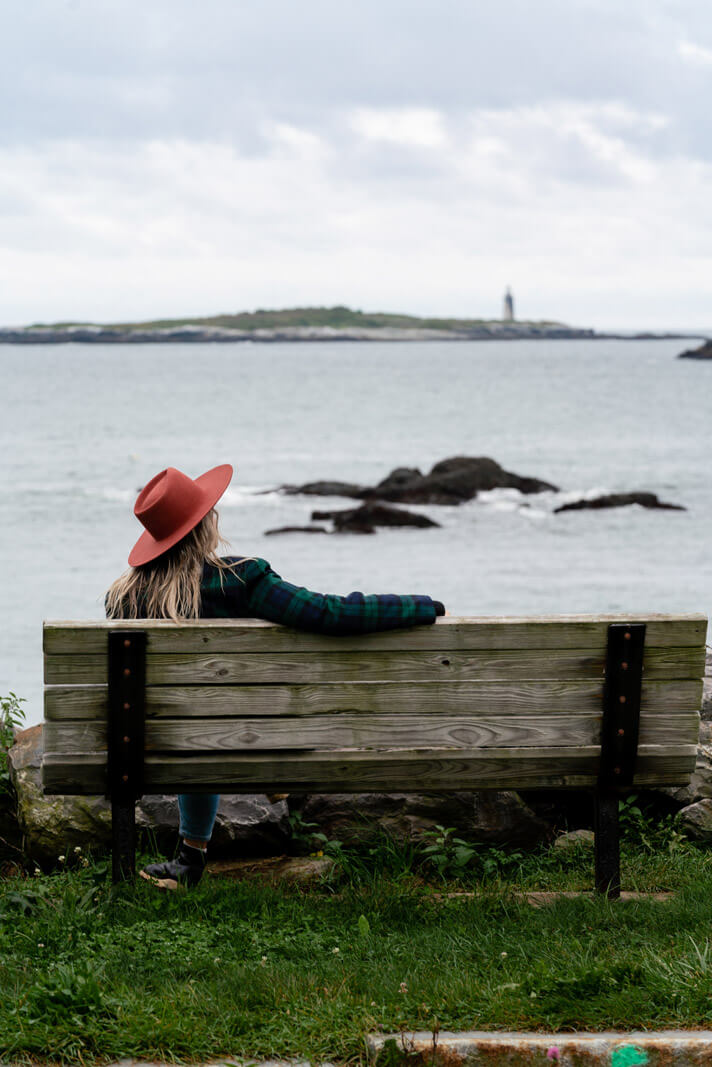 You can also see Ram Island Ledge Light Station from the distance at Peaks Island as photographed above!
Spring Point Ledge Lighthouse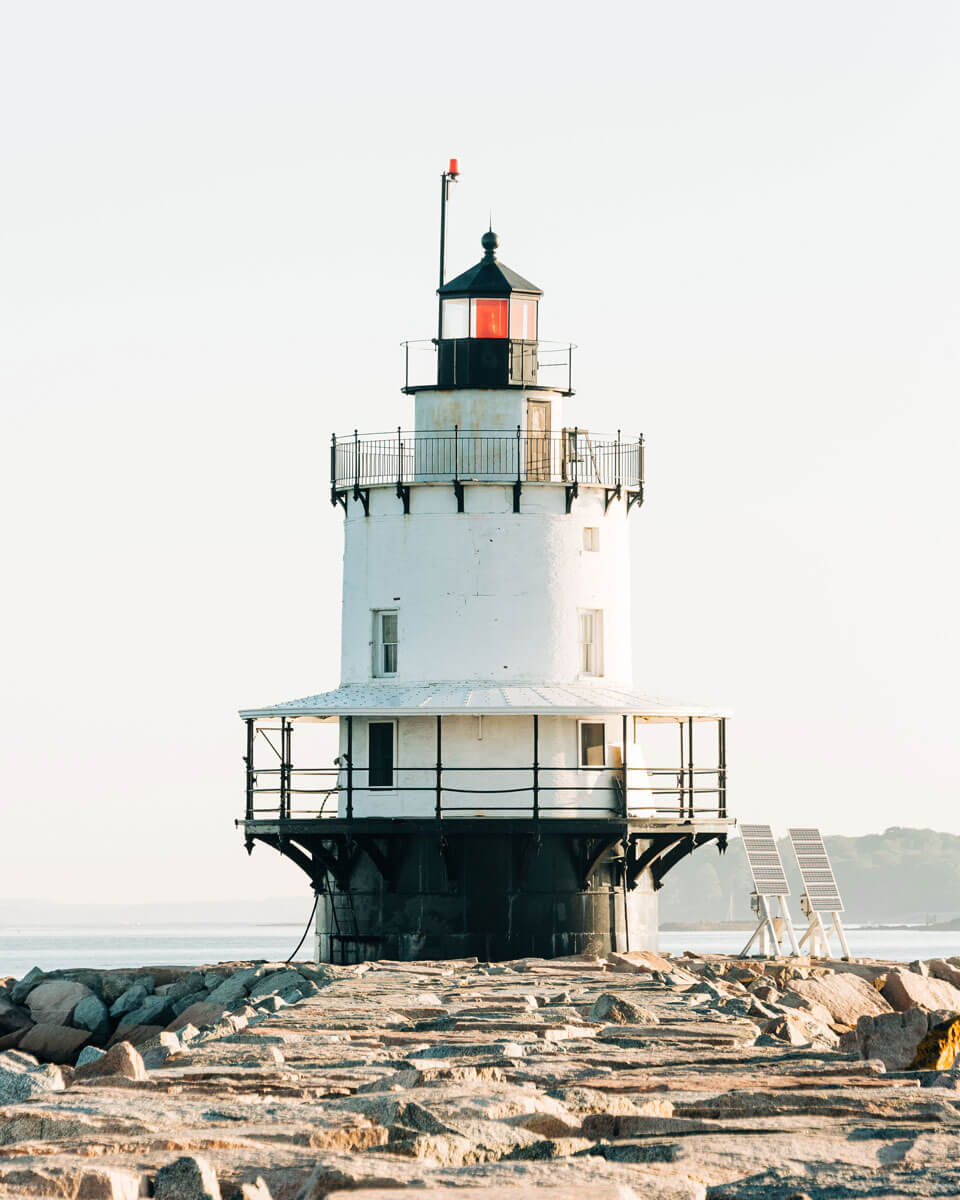 2 Fort Rd, South Portland, ME 04106
The Spring Point Ledge Lighthouse is another Portland, Maine lighthouse to check out. This sparkplug lighthouse marks the west side of the main shipping channel that leads into the Portland Harbor.
Known as the only caisson-style light station in all of America that you can walk to (of over 50!) because it's connected to land from a breakwater.
If you want to tour a working lighthouse, this is the perfect pick for you! This lighthouse offers many tours all year long and is very easy to walk to.
Owned by a non-profit organization on the Southern Maine Community College Campus, the Spring Point Ledge Lighthouse is open to the public, intending to educate people about the purpose of lighthouses. This lighthouse has also been listed under the Save America's Treasures program written by the National Trust for Historic Preservation.
You can join a volunteer-led tour of this lighthouse, along the way you'll learn more about the history of the keepers, the history of Casco Bay.
Although the tours of this lighthouse are fun and educational, many visitors love going on their own. The wide, stone pathway that leads up to this lighthouse makes it a great spot to sit by the water and get pictures.
While you're here, you can check out the Fort Preble ruins, a former military fort active from 1808 to 1950 as well as Willard Beach, a pebble and sandy beach between the Southern Maine Community College Campus and Fisherman's Point in South Portland.
Halfway Rock Light Station
View this post on Instagram
The Halfway Rock Light Station has a lighthouse perched on a granite ledge 10 miles off the coast of Portland, Maine in Casco Bay. This lighthouse, which rests on the mouth of Casco Bay, is completely exposed and can be seen from Land's End at Bailey's Island or on a boat in Casco Bay.
Unfortunately, unless you're on a boat or Bailey's Island, you won't be able to see this incredible Portland Maine lighthouse. The only way you used to be able to actually visit this lighthouse is by taking a private helicopter tour that lands on the barren island (weather permitting) and tours the lighthouse! Unfortunately, this is no longer an option, womp womp.
The other way to see this lighthouse is by its live webcam!
The Halfway Rock Light Station got its name because it marks the halfway mark in the middle of Casco Bay. More specifically, this lighthouse is halfway between Cape Elizabeth and Cape Small.
This Portland, Maine lighthouse has a rich and fascinating history. This offshore lighthouse is known as one of the most dangerous places on earth since it is exposed to the whims of nature. During its heydey, it was considered a 'stag' lighthouse because it was too dangerous for women or children to live at, therefore the lightkeeper was on his own.
In 2012, when the staff was removed, the lighthouse became abandoned and was known as the most endangered lighthouse in America and has lost many of its original features in perilous storms.
---
Enjoyed this guide to the best Portland, Maine lighthouses to visit and Cape Elizabeth lighthouses? Bookmark for later and enjoy your lighthouse chasing!