Okay, so one of the most amazing parts of visiting Palm Springs is all of the mid-century modern architecture! Easily one of the best things to do (and one of my personal favorites) is hopping in a car (or a bicycle for those a little more ambitious) and doing a DIY mid-century modern Palm Springs tour oohing and ahhing at all the different neighborhoods full of gorgeous mid-century homes, colorful doors, and a healthy dose of celebrity homes from the Golden Age of Hollywood!
Whether the architecture here was high on your radar for your Palm Springs itinerary or an afterthought, I am hoping with this guide to mid-century modern homes in Palm Springs helps inspire you to enjoy a scenic drive through some of the most coveted neighborhoods of Greater Palm Springs and you enjoy hunting down these drool-worthy homes as much as we did!
Also, if it's a really hot day, driving around in your air-conditioned car and doing a mid-century modern Palm Springs tour is a really great choice (and a quick break from one of the amazing hotels in Palm Springs pools!).
Oh, and if you end up loving MCM so much, you may want to consider coming during Modernism Week, an annual event celebrating mid-century modern architecture, design, and culture that gives visitors a chance to tour famous homes, attend parties, and exhibitions!
Disclaimer: This post contains affiliate links
Why are there so many Mid-Century Modern homes in Palm Springs?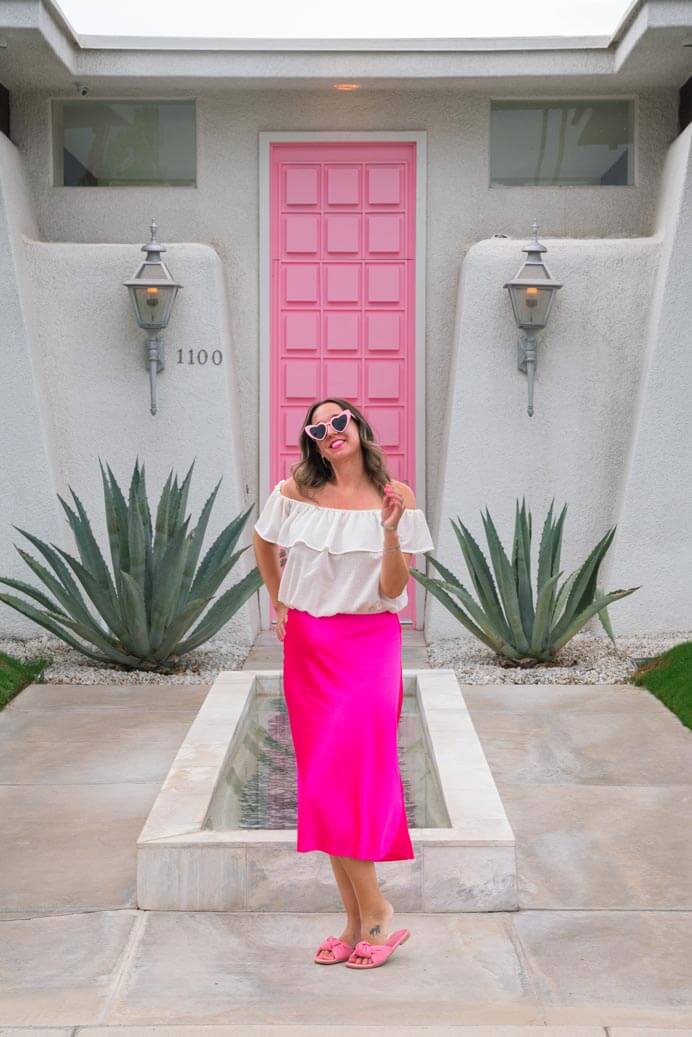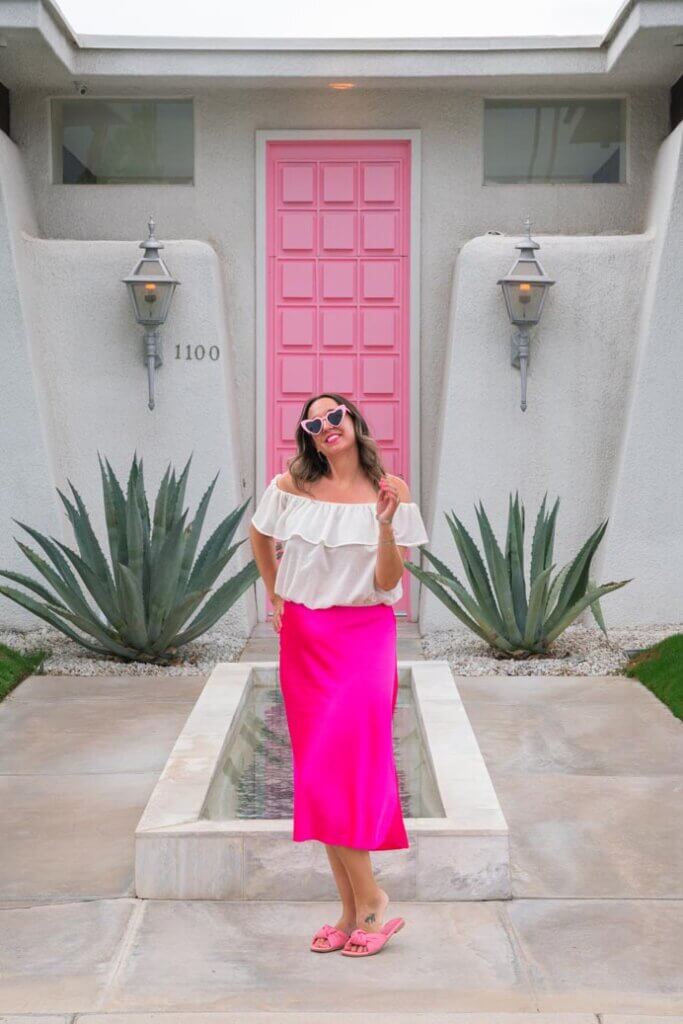 Palm Springs boasts the largest and best-preserved concentration of mid-century modern architecture and homes, making it the perfect destination for a mid-century modern Palm Springs tour. But why are there so many iconic homes, including celebrity homes, in Palm Springs?
In the mid-20th century, Palm Springs became a magnet for celebrities seeking an escape from the hustle and bustle of Los Angeles. This desert oasis, with its warm climate and stunning landscapes, drew stars like Frank Sinatra, Marilyn Monroe, and Elvis Presley. These celebrities not only frequented Palm Springs but also made their home here.
To match their glamorous lifestyles, architects embraced the mid-century modern aesthetic, characterized by clean lines, open spaces, and a connection with nature that blended perfectly with the desert surroundings. Sometimes, the style is also called Desert Modernism. It became popular post-World War II with access to inventive materials and construction techniques.
The desert attracted renowned architects like Richard Neutra, Donald Wexler, and E. Stewart Williams designed homes in the area.
Today, these famous residents and their exquisite homes attract lovers of mid-century modern architecture and those interested in what celebrities live in Palm Springs. Because when you embark on your mid-century modern Palm Springs tour, you're not just seeing historic architecture. You're also stepping into the glamorous world of Hollywood's Golden Age celebrities!
Best Neighborhoods in Palm Springs for Mid-Century Modern Homes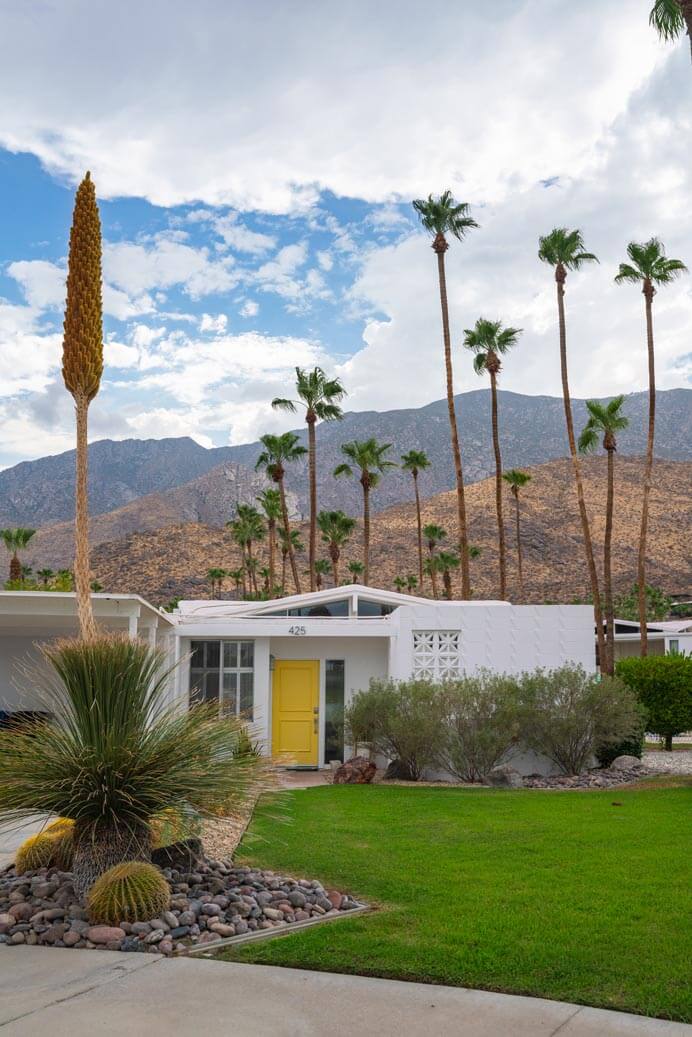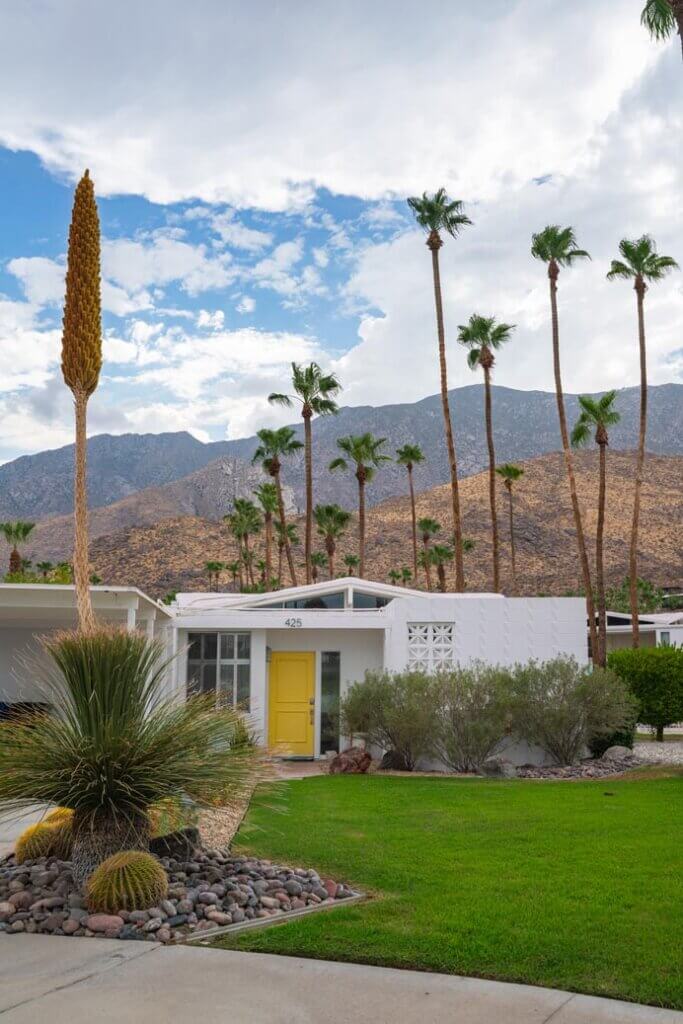 There are really two ways to go on your own mid-century modern Palm Springs tour. You can aimlessly drive or bike around these neighborhoods to peek at the homes and famous Palm Springs doors. Or you can plug in addresses (like for That Pink Door or specific celebrity doors in Palm Springs) and head straight there!
We don't suggest walking around neighborhoods because it would just take too long. And depending on the time of year, you might be in the scorching heat!
But it's easy to drive between neighborhoods. And if you're a guest at a Palm Springs hotel, many of them offer complimentary bike rentals that you can take advantage of. So, let's first look at neighborhoods you can drive through.
Twin Palms
A great place to start your mid-century modern Palm Springs tour is in the historic neighborhood of Twin Palms. You'll find it south of downtown Palm Springs, between E Palm Canyon Drive and E La Verne Way.
Developed by renowned architect William Krisel in the 50s, this neighborhood was Palm Springs' first planned neighborhood.
Twin Palms is filled with many mid-century modern gems, each with Krisel's recognizable butterfly roof designs and floor-to-ceiling windows that define the most classic mid-century modern aesthetic! You'll also find a veritable rainbow of Palm Springs doors. But what makes Twin Palms truly iconic are the signature twin California palm trees that were included with each lot.
Racquet Club Estates
For those with an appreciation for architectural history, Racquet Club Estates is a must-visit destination in Palm Springs. It's located north of E Vista Chino Avenue, between Indian Canyon Drive and Avenida Caballeros.
The area was developed in the 60s as a destination for those who frequented the historic Palm Springs Racquet Club Resort.
Racquet Club Estates showcases the innovative designs of iconic architects like William Krisel and Donald Wexler (famous for the Wexler Steel Houses). Though you'll find a variety of homes as you wander the neighborhood, they all feature elements of the mid-century modern style.
In fact, the Raquet Club Estates is credited with making the architectural style synonymous with Palm Springs! To see the modern beam-and-post homes, weave along the side streets between the three main streets: E Via Escuela, E Racquet Club Road, and E Francis Drive.
Vista Las Palmas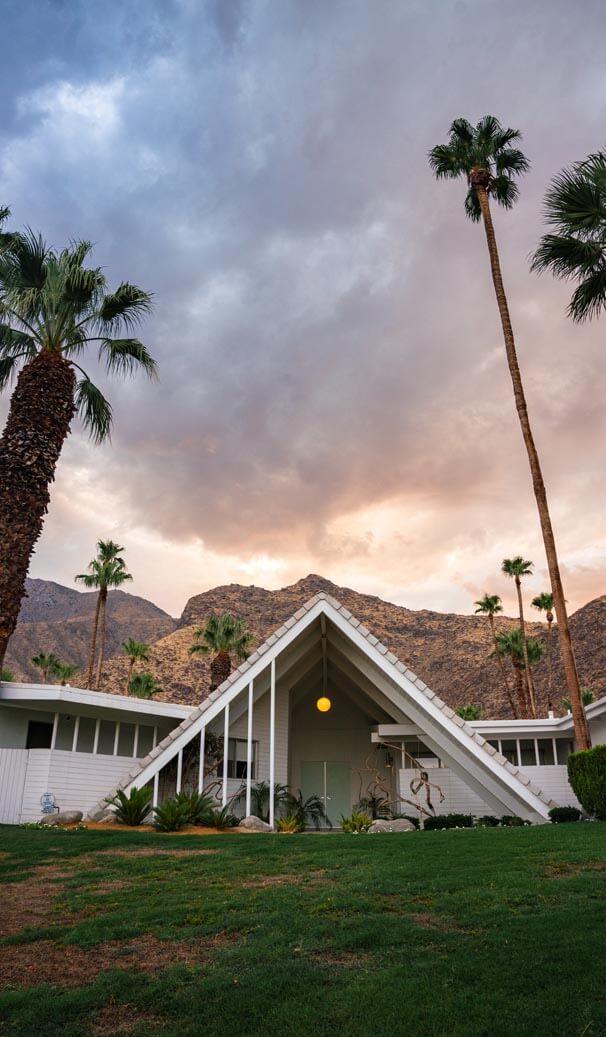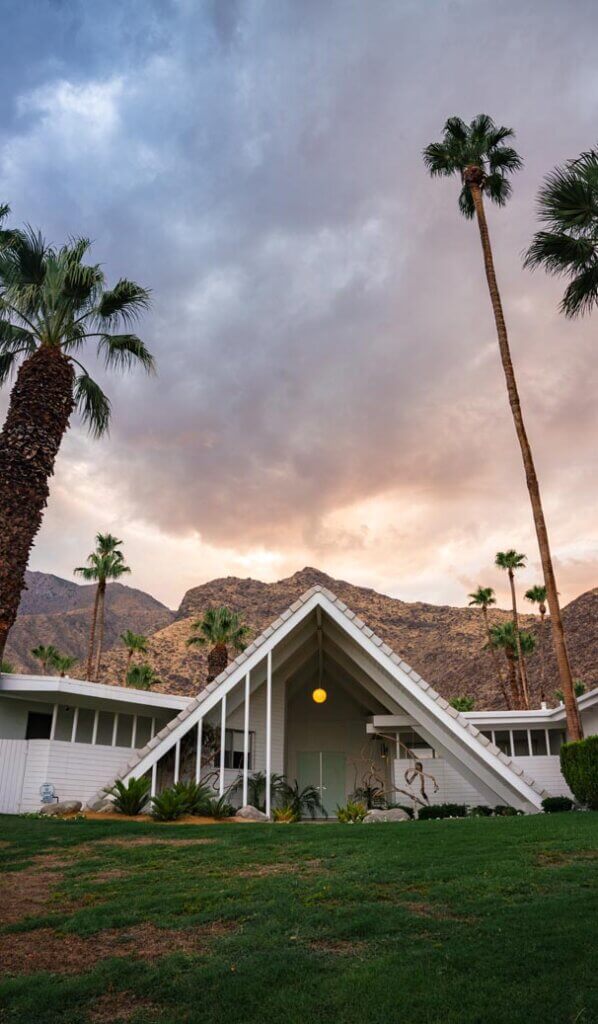 Once called the Beverly Hills of Palm Springs, Vista Las Palmas boasts several classic mid-century homes, including famous former residences of Dean Martin and George Hamilton. You can also see the house where Elvis and Priscilla spent their honeymoon!
Vista Las Palmas is also known for its stunning desert mountain views and beautiful Mid-Century Modern homes. Developed in the 1950s, you'll find the iconic butterfly roof designs and bold desert landscaping that capture the essence of the mid-century modern era.
This neighborhood is considered roughly by Stevens Road to the east, Monte Vista Drive to the west, and Via Colusa to the south. The northern boundary of Vista Las Palmas is typically considered to be West El Chorro Way.
Indian Canyons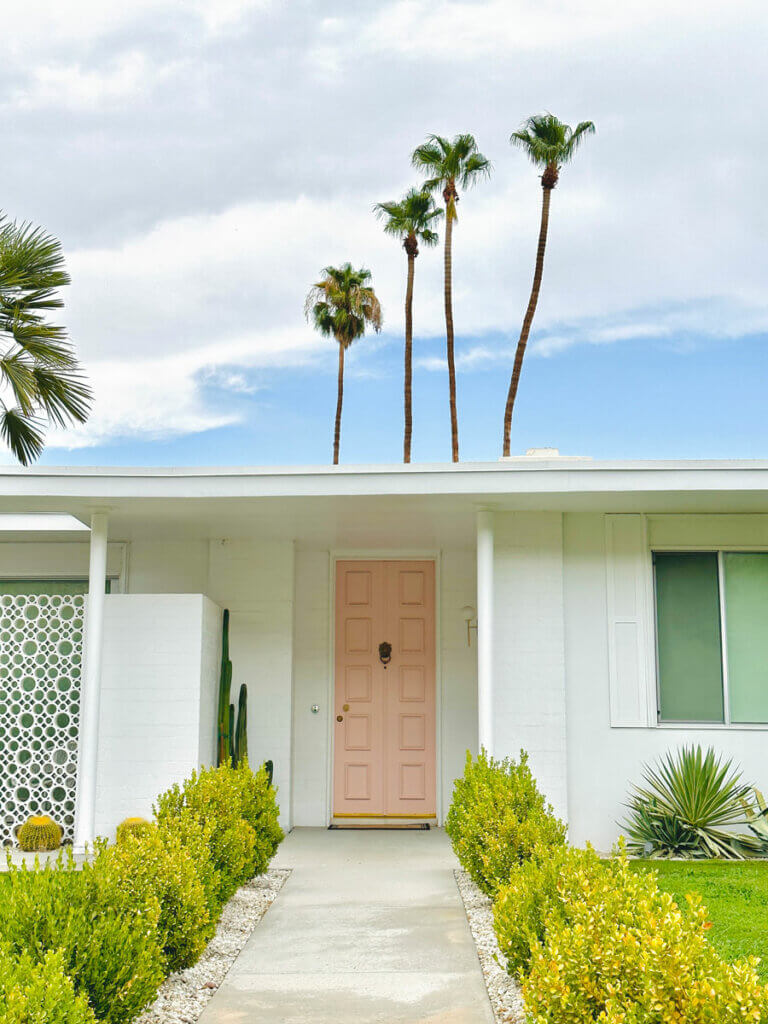 An essential neighborhood to visit on any mid-century modern Palm Springs tour is the Indian Canyons neighborhood. Not to be confused with Indian Canyons (which is an excellent nearby preserve for hiking and one of the best things to do in Palm Springs outdoors), the prestigious neighborhood is part of the Indian Canyons Golf Resort.
The area was a favorite among Hollywood celebrities in the mid-20th century because of its breathtaking location nestled in a valley among the towering San Jacinto Mountains. There are several architecturally significant homes here, including an array of some of the best Palm Springs doors!
Indian Canyons is where you'll find the infamous That Pink Door in Palm Springs. That one is at 1100 E Sierra Way, but along the same stretch of road, there are several more doors you'll want to check out. Some good ones include a stunning turquoise door at 2244 S Yosemite, and a few blocks away, 2063 Madrona Drive features an incredibly unique palm leaf-style door.
Deepwell Estates
The history of Deepwell Estates goes all the way back to the 1920s when it was an apricot farm in Coachella Valley. Named for the well that kept the farm flourishing, the owner sold it off as a subdivision in the 1950s, when it became a luxurious neighborhood and home to some big names in Hollywood, like Eva Gabor, Jerry Lewis, and even Oscar Mayer.
Today, you can find a mix of modern and traditional designs throughout the neighborhood. Palm-lined streets feature California Ranch-style homes and charming mid-century modern homes. For some of the best examples, drive down Calle Marcus and Calle de Maria, though you'll find gorgeous homes throughout Deepwell Estates!
Old Las Palmas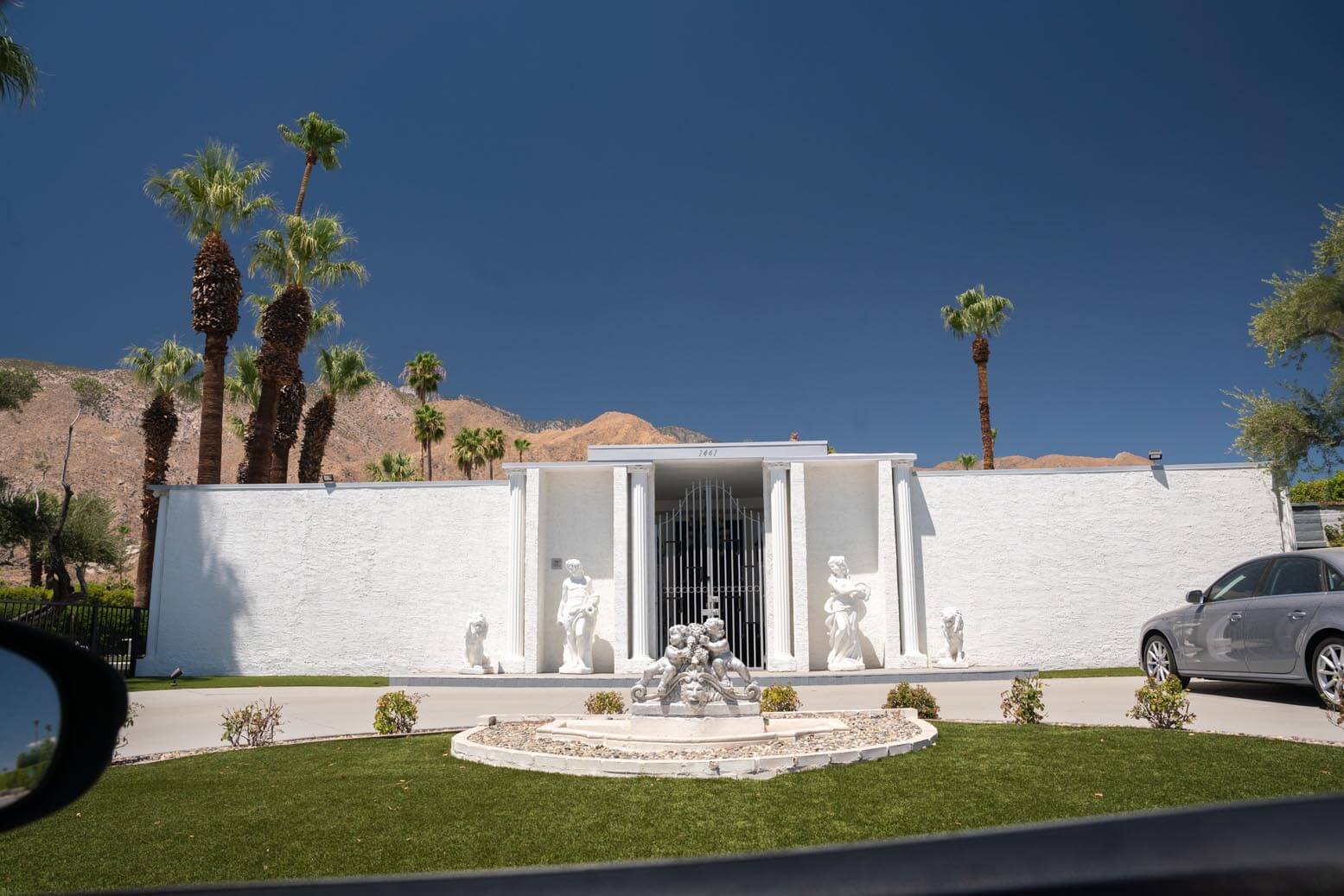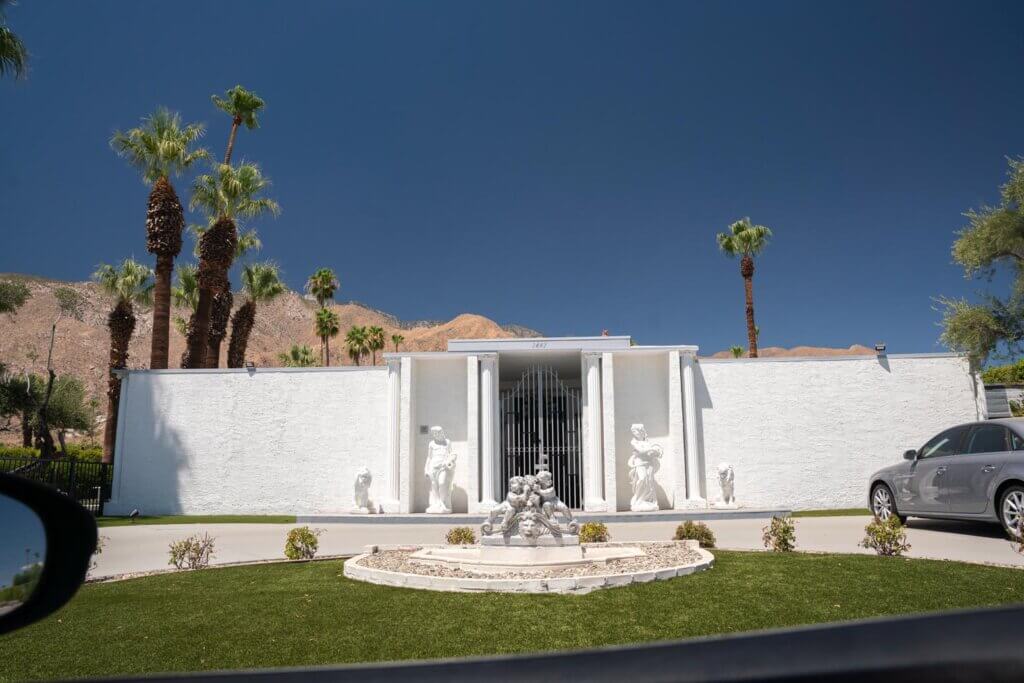 Home to some of the most beautiful and famous houses in Palm Springs, the neighborhood of Old Las Palmas should be at the top of the list of any mid-century modern Palm Springs tour.
As early as the 1930s, many celebrities called this exclusive neighborhood home, including Lucille Ball, Donna Reed, the Douglas family, and Liberace. You'll find these names and more on our list below of celebrity homes in Palm Springs to visit!
Today, Old Las Palmas is a frequent stop for those interested in checking out the most famous homes in Palm Springs to visit! For architecture lovers, pay attention to the mix of Spanish-Colonial Revival and Mid-Century Modern, which creates a unique blend of styles.
Little Tuscany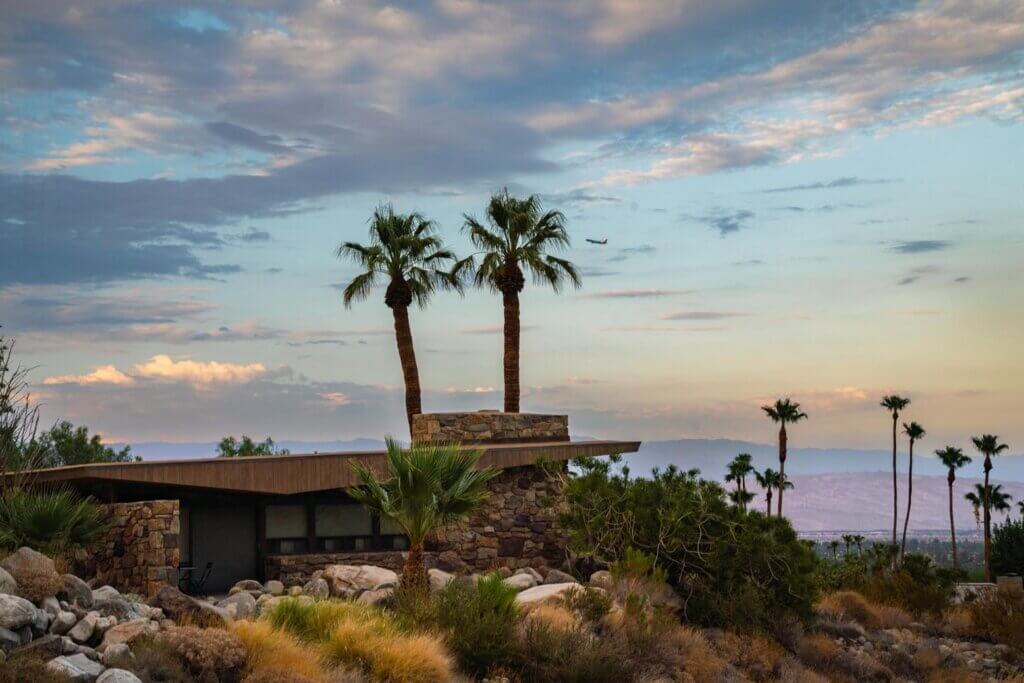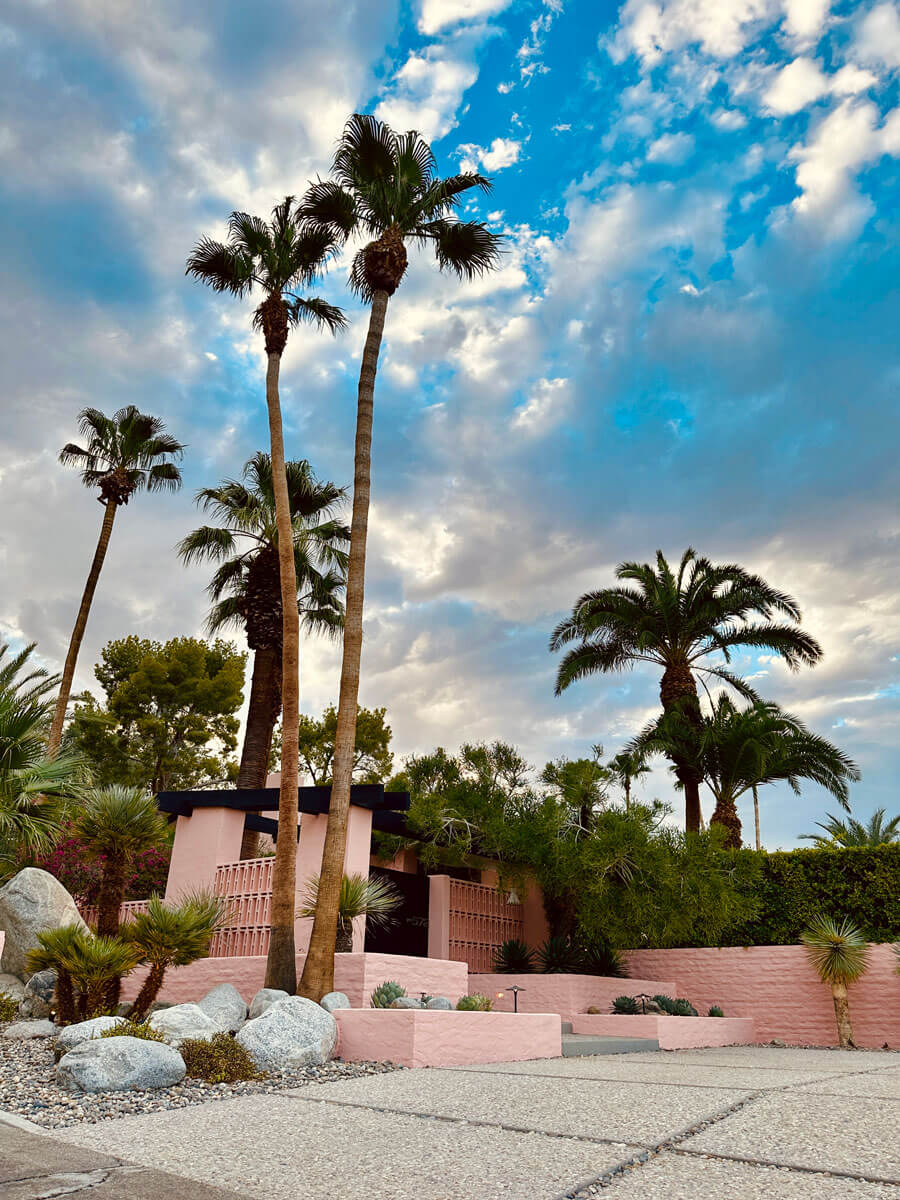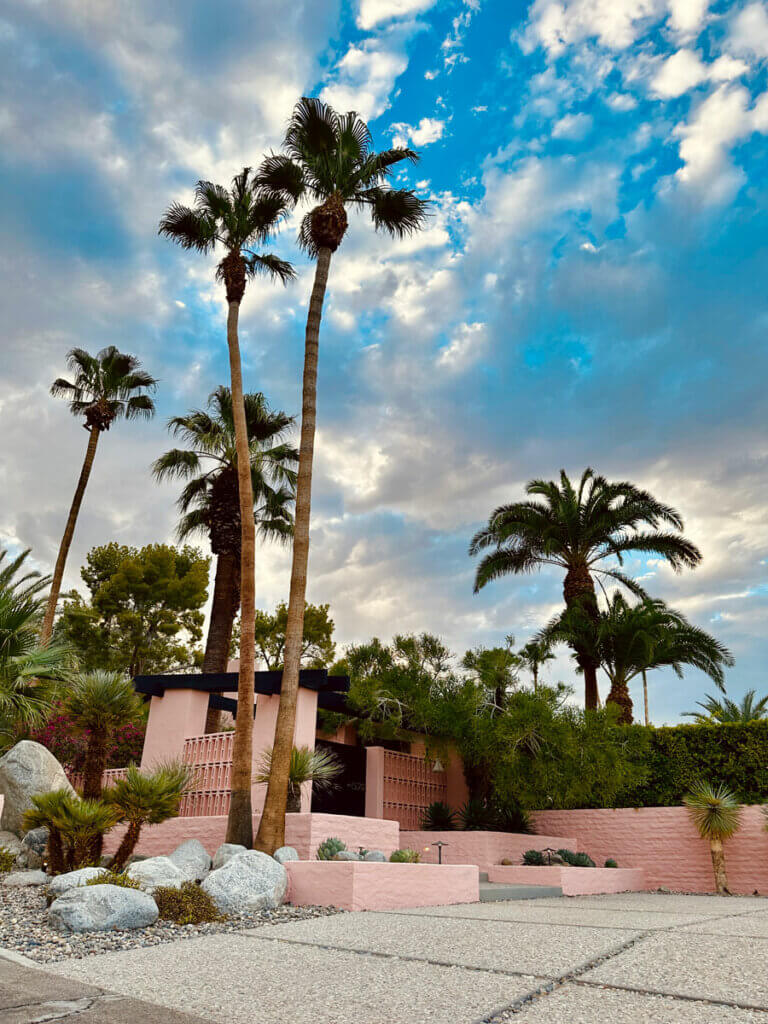 Probably the most exclusive and unique neighborhood in town, Little Tuscany is tucked away between Old Las Palmas and Chino Canyon in North Palm Springs. Situated in the foothills of the San Jacinto Mountains, it's known for its scenic beauty and celebrity allure.
You'll understand when you drive through the hilly roads that make up this tiny neighborhood! Little Tuscany gets its name for its blend of Mediterranean-inspired homes, desert landscapes, and breathtaking mountain views. Many homes feature terra-cotta roofs and stucco exteriors, while others are mysteriously hidden behind tall gates and lush privacy hedges.
The neighborhood has been home to a diverse range of notable residents over the years, including Zsa Zsa Gabor and Austrian composer Ernst Krenek. And at the entrance of the neighborhood (at 700 W Panorama Rd) you'll find one of the most striking Palm Spring doors!
Movie Colony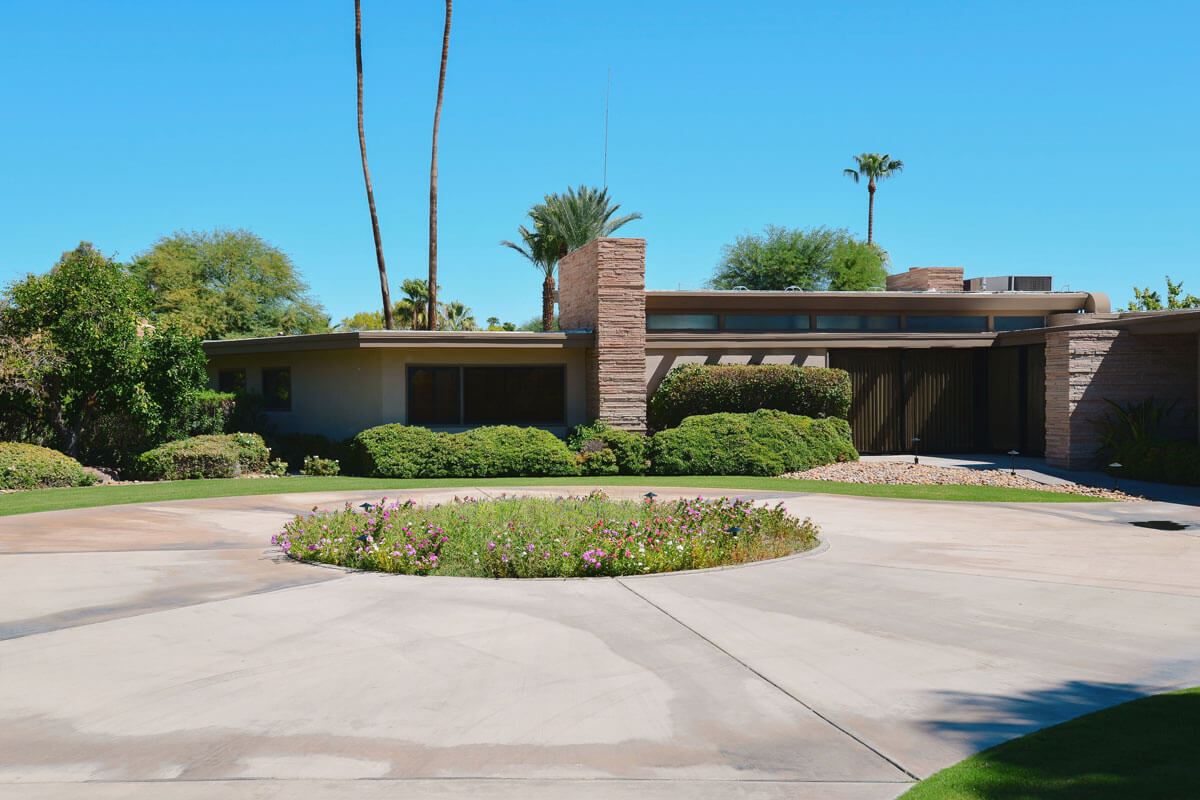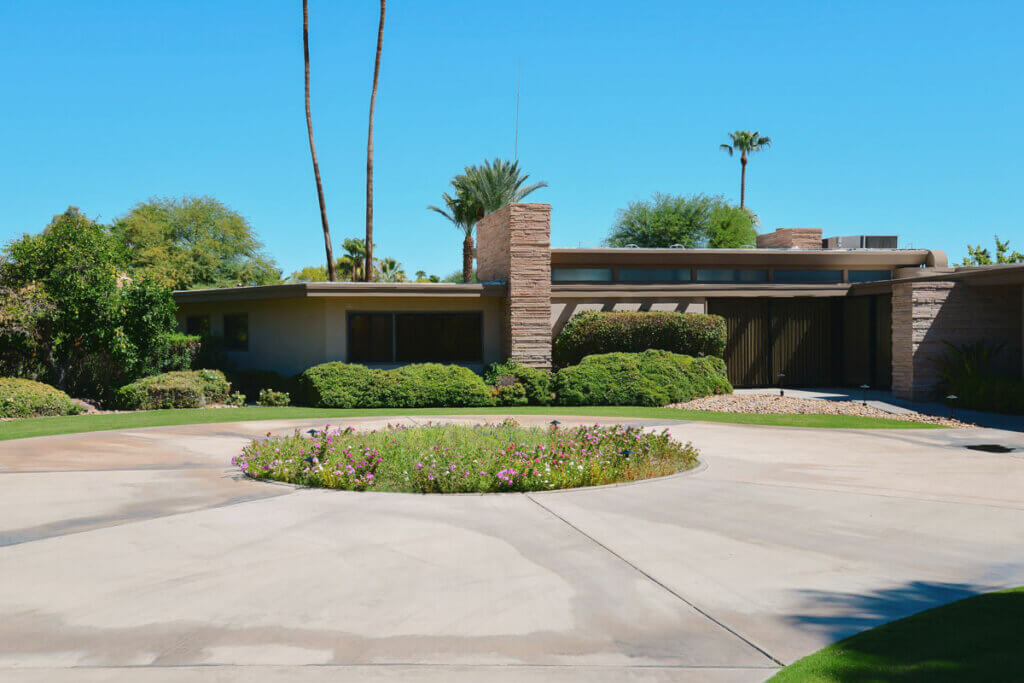 Movie Colony is where some of the biggest names from the golden age of Hollywood made their homes. It's an essential stop for any mid-century modern Palm Springs tour! In fact, this neighborhood gained its name because it was such a favored residence for many Hollywood stars.
Notable former residents of the Movie Colony include legendary stars like Frank Sinatra, Cary Grant, Estée Lauder, and Marilyn Monroe. Today, the neighborhood's legacy has also drawn a handful of boutique hotels to the area.
The Movie Colony features a variety of architectural styles, but it is particularly famous for its well-preserved Mid-Century Modern homes. Prominent architects like William Cody and Albert Frey have left their mark on this neighborhood, contributing to its architectural significance.
Famous Homes to See on Your Mid-Century Modern Palm Springs Tour
Now, you may want to see specific Palm Springs doors or hunt down the home of your favorite celebrity. There are so many it would be impossible to list them all, but here are are few of our favorites that we spotted while driving around and exploring the homes of Palm Springs!
Marilyn Monroe House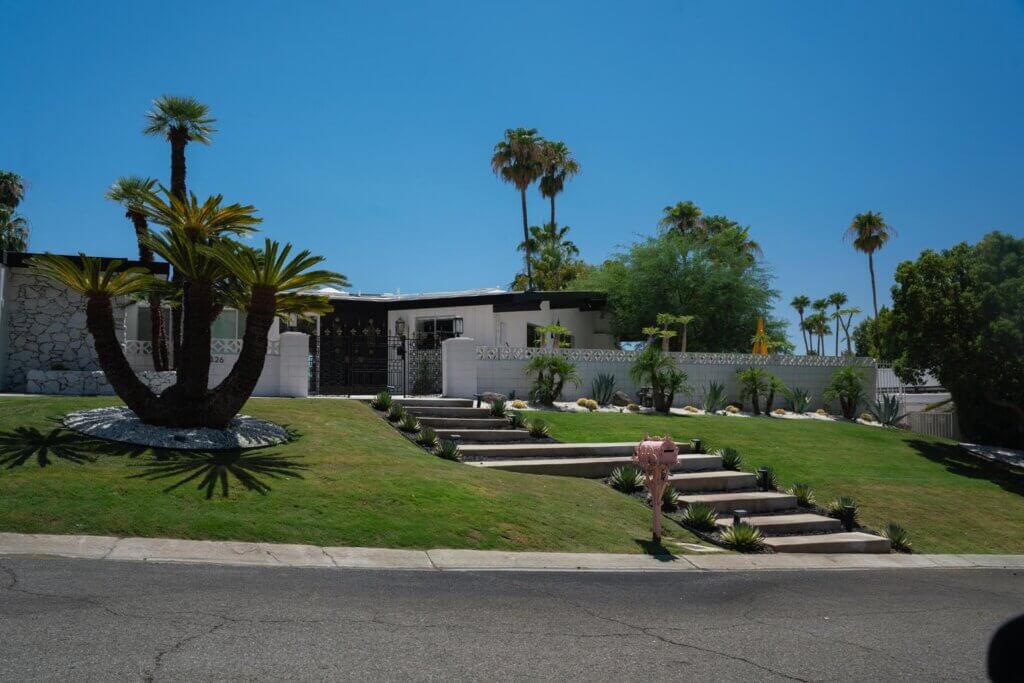 Address: 953 Avenida Palmas & 1326 N Rose Ave
One of the most famous celebrity homes in Palm Springs is the sprawling Sand Acres Estate in Movie Colony. This stunning Spanish-style home is rumored to be where Marilyn Monroe and Joe DiMaggio spent time together!
Today, it's a coveted vacation rental you can book a stay at this stunning estate! It comes complete with a private tennis court, an inground pool, and 4 bedrooms, including a king-sized main bedroom. You can book Sand Acres Estate here.
Another property associated with Ms Monroe is located in Vista Las Palmas (near many other celebrity homes in Palm Springs) that is easy to identify by the road from the gorgeous pink mailbox. This home is a masterpiece by Charles DuBois and built-in 1961. However, due to the year being built, many speculate that this home being tied to Monroe is a rumor only.
After peeking at both homes associated with Marilyn Monroe in Palm Springs, be sure to visit the giant 26-foot statue in front of the Palm Springs Art Museum.
Elizabeth Taylor's House
Address: 901 N Prescott Dr
One of the most stunning modern structures in Palm Springs stands out in the Los Palmas neighborhood. It was owned by Hollywood royalty, Elizabeth Taylor.
The stark white color and sharp corners of the minimalist home are quite a sight among the mountains and palm trees that surround it! And while it's not open to the public, the home has recently come on the market for a mere 4 million dollars.
Dinah Shore Estate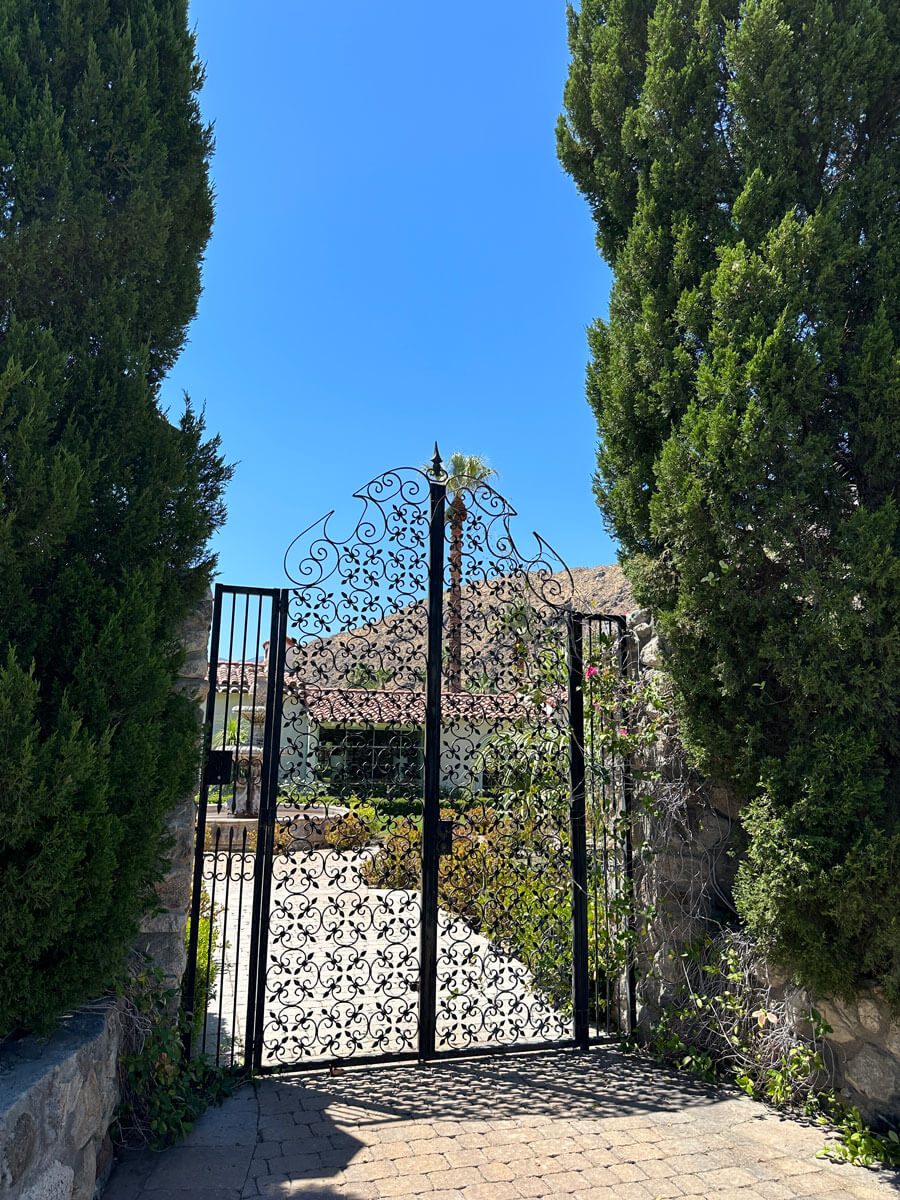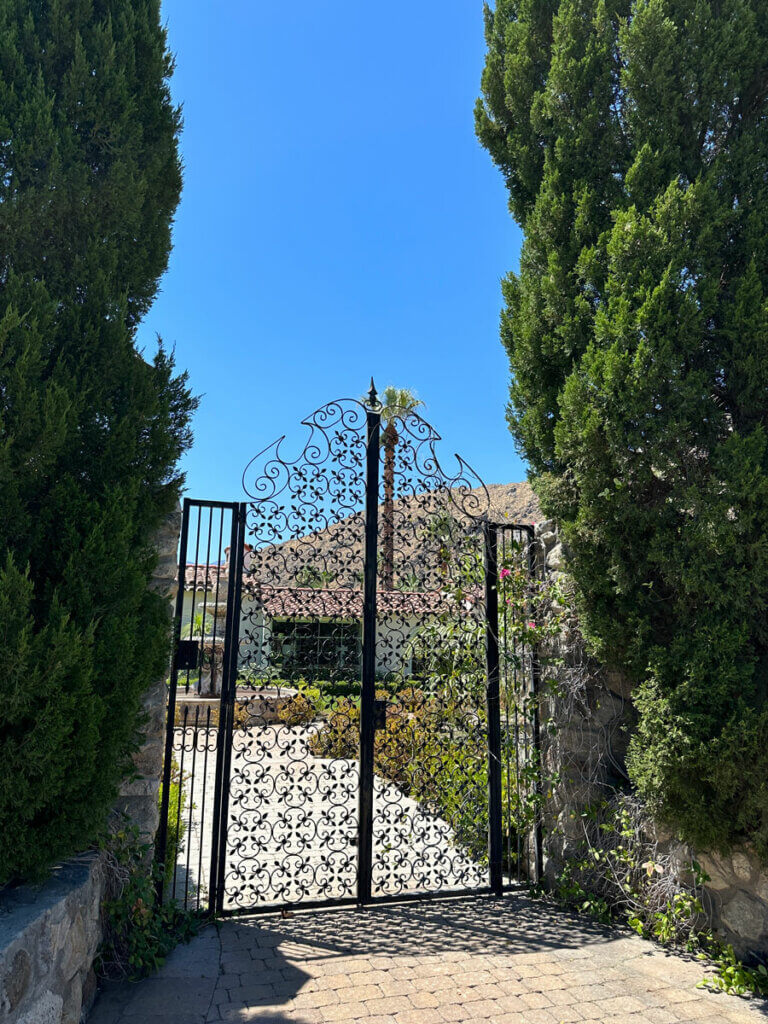 Address: 432 Hermosa Place
You'd never know it, but the Dinah Shore Estate in Las Palmas is owned by Leonardo DiCaprio. When he's not staying there, he rents it out and also offers tours through the home's website.
This famous home is a favorite for fans of modern architecture, being one of the few Wexler Steel homes designed by Donald Wexler in the 1950s. Today, it's a stunning example of the innovative mid-century modern design.
This home is said to be owned by Leonardo DiCaprio now making this celebrity home in Palm Springs tied to big names in different eras of showbiz!
Frank Sintara's Twin Palm Estate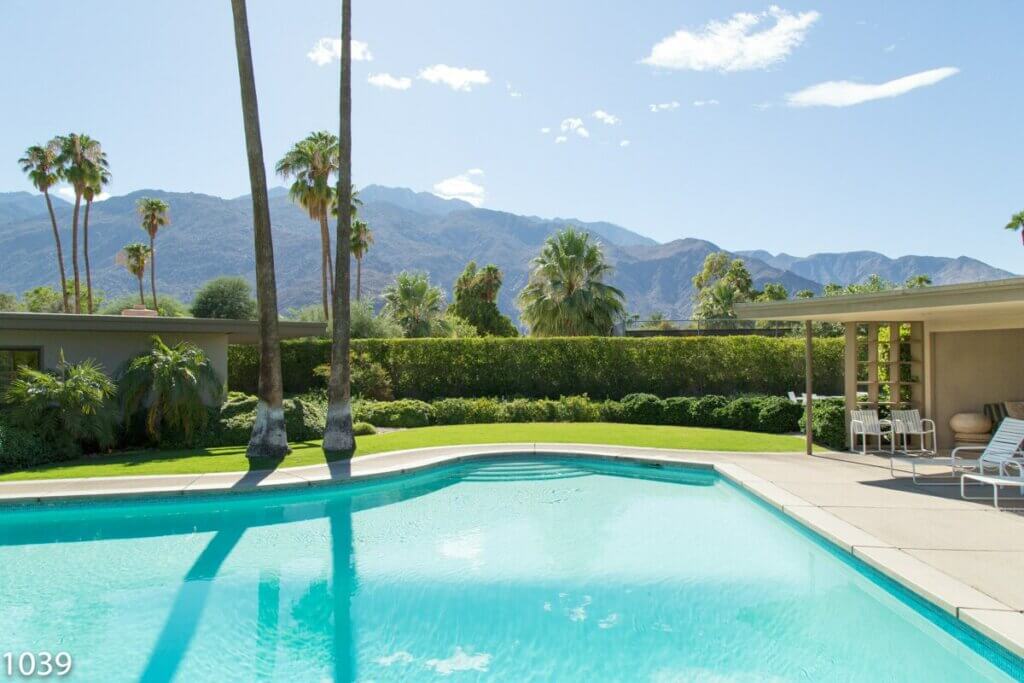 Address: 1145 E Vía Colusa
A favorite stop on a Mid-Century Modern Palm Springs tour is Frank Sinatra's Twin Palms Estate in Movie Colony. Designed by E. Stewart Williams, this estate was Frank Sinatra's Palm Springs residence and is known for its piano-shaped swimming pool.
These days, Twin Palms is a vacation rental offering guests a chance to live like Ol' Blue Eyes himself! The home retains its Old Hollywood charm while also offering guests the best of modern amenities, including 4 luxurious bedrooms, a state-of-the-art kitchen, and a heated pool. You can book a stay at Twin Palm Estate here.
Walt Disney's House
Address: 2688 S Camino Real
Walt Disney owned a few homes in Palm Springs over the years and was often at the Indian Canyons Golf Resort. So, it was no surprise when he purchased a home in the heart of Indian Canyons, right off the 2nd hole!
Today, the home is a private residence, but you can see the classic California Ranch home from the street in all its retro glory.
Zsa Zsa Gabor's House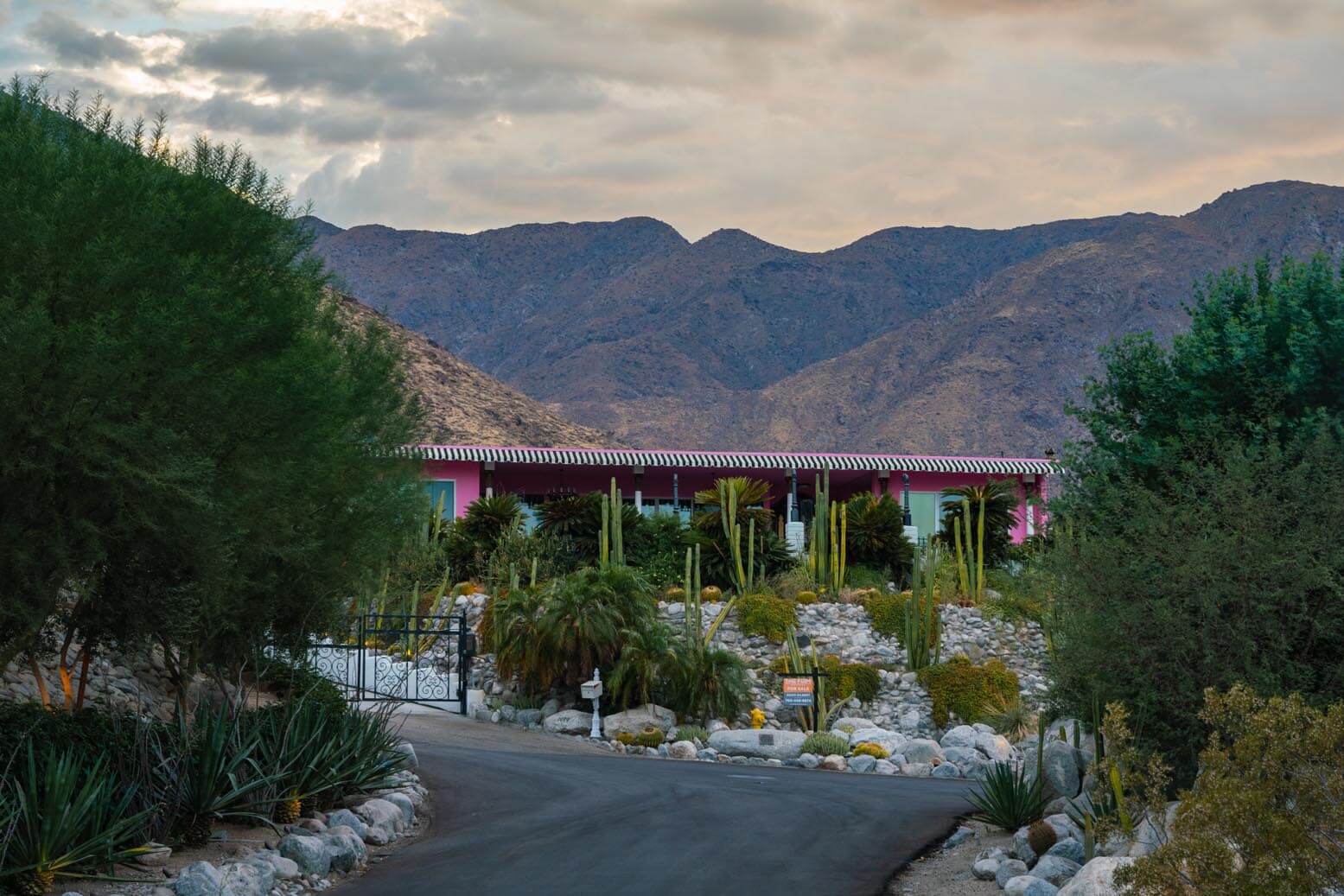 Address: 595 W Chino Canyon Drive
Another one-of-a-kind home in Palm Springs is The Arches, built by architect James McNaughton in 1969. Some call it the Gabor House, since the actress was rumored to have lived here (and in several other homes in Palm Springs!).
Located at the end of W Chino Canyon Drive at the entrance of the Little Tuscany neighborhood, the dramatic archways of the unique estate can't be missed. Inside, the home is the epitome of desert living, with sky-high ceilings, terrazzo floors, and floor-to-ceiling windows that open up to the most majestic Greek-style pool you've ever seen.
Barry Manilow's House aka Kauffman House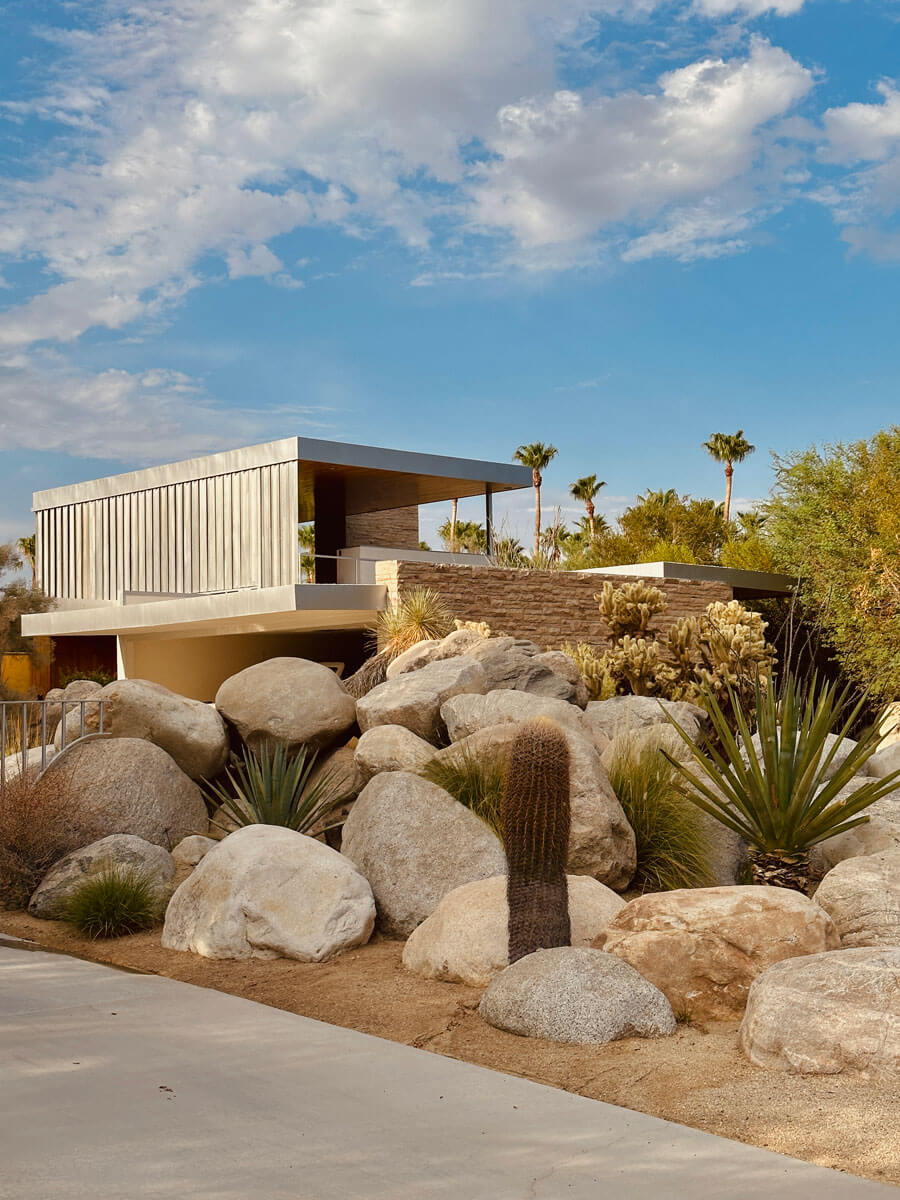 Address: 470 W Vista Chino
One of the most famous houses in Palm Springs, the Kaufmann house has a long history. It was originally designed by Richard Neutra in 1946 for Pittsburgh department store magnate, Edgar J. Kaufmann Sr., who previously had Frank Lloyd Wright design his home in Pennsylvania! The home was later owned by Barry Manilow, as well.
The modern steel, glass, and stone style of the Kauffman House is considered architecturally significant and was the subject of many photographers. It was actually the location of Poolside Gossip (a famous photograph) and was used as a filming location in the 2022 film, Don't Worry Darling as Frank's (Chris Pine's character) home.
Liberace House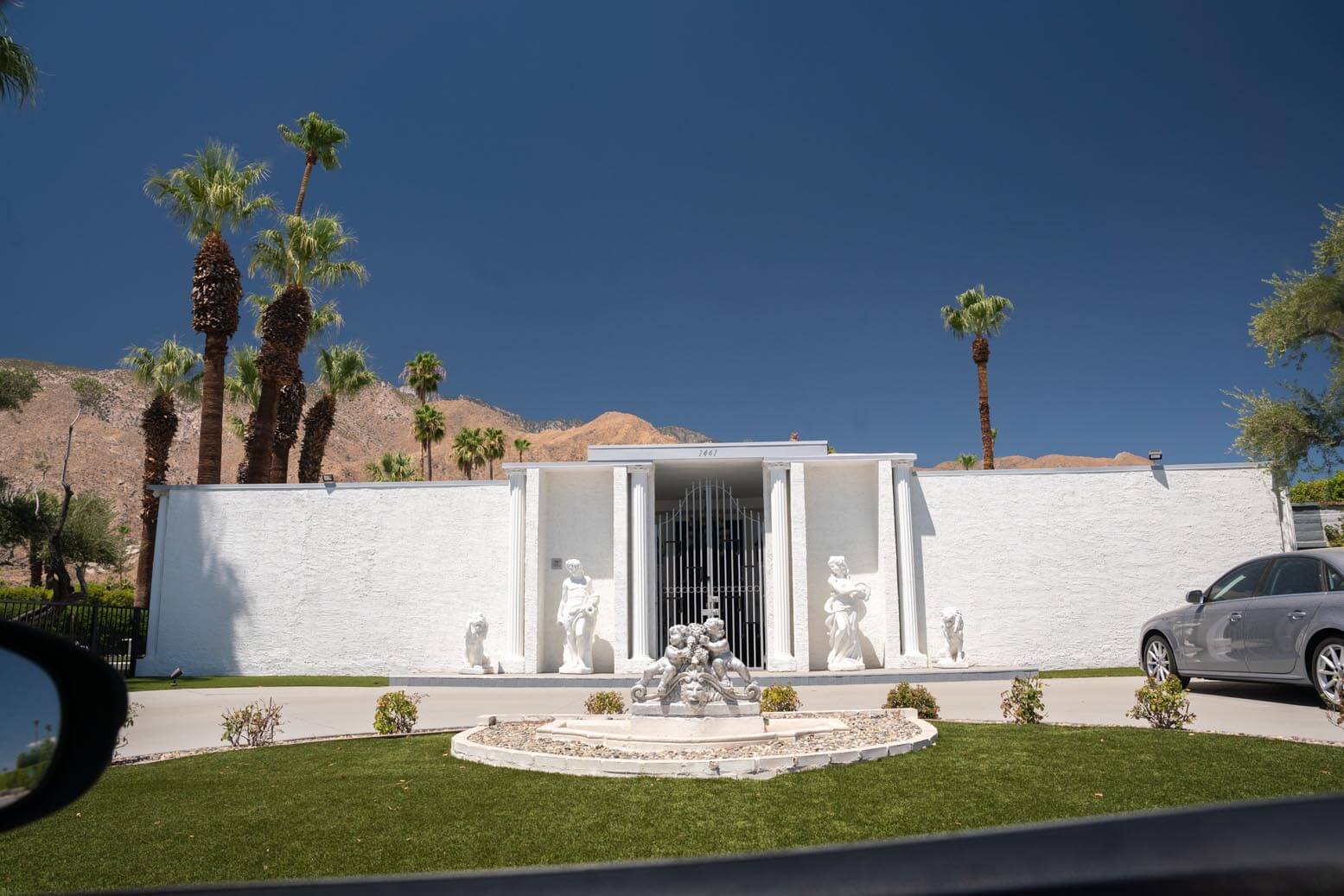 Address: 1441 N Kaweah Road & 501 N Belardo Road
The famous pianist Liberace lived well and was known to own many homes in California and beyond. He owned two different homes in Palm Springs, both in Old Las Palmas.
The Piazza de Liberace can be found on N Kaweah Road and was most recently purchased by diehard fans of the musician. The huge Spanish-style boutique turned home on Belardo Road, called The Cloisters, was the last place that Liberace called home.
Kirk Douglas House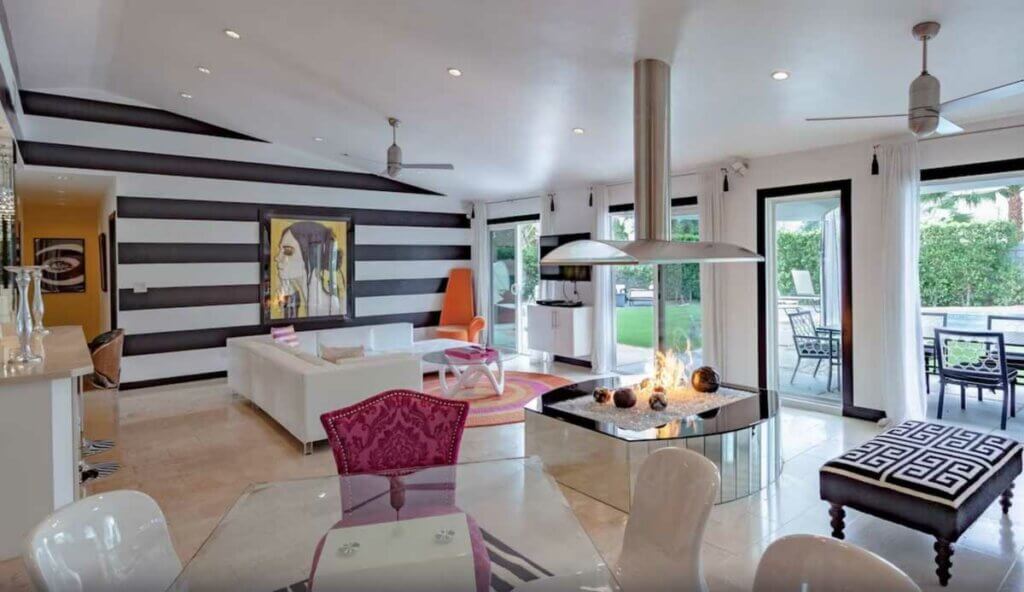 Address: 515 W Via Lola & 1069 E Marshall Way
Another stunning Wexler Steel house is the Douglas family estate on W Via Lola in Old Las Palmas. This site was home to Kirk Douglas and clan for 40 years, from the 50s through the 90s. Today it's a private residence, but it's definitely worth a stop if you're a fan of the actor.
But that's not the only home Douglas lived in with his family in Palm Springs. Their first house on E Marshall Way is today a popular Ranch-style vacation rental. You can find it in the Ruth Hardy Park neighborhood, adjacent to Movie Colony. The 4-bedroom home features modern amenities, including a wine cellar, an exposed fireplace, a fire table, and more.
Elvis Presley Honeymoon Hideaway
The Vista Las Palmas residence known as the Elvis Presley Honeymoon Hideaway originally claimed fame as the House of the Future before the Presleys ever stayed there. It was created by architect William Krisel in1960, who decked it out in all the latest technology, as well as George Jetson-style furniture!
Elvis and Pricilla purchased the home in 1967 to stay in during their extended honeymoon and continued to use it as a weekend house for another year after that. Today, the home is still eye-catching with its unique polygon-shaped bay window. This is a home that regularly offers tours during Modernism Week too!
Nat King Cole House
Address: 1258 N Rose Avenue
Today it's a private residence, but if you're exploring the mid-century modern beauties to be found in Vista Las Palmas, here's another one. While it's a private residence today, 1258 N Rose Avenue was the home of Nat King Cole for a short time in the 1960s. Perhaps you can snap a picture on a bicycle built for 2 in his honor (if you can find one in Palm Springs)!
Dean Martin House
Address: 1123 N Via Monte Vista
Palm Springs was known to be a favorite getaway for all the original members of the Rat Pack, including Dean Martin. He bought his classic butterfly-roof house in Vista Las Palmas with his wife, model Jeanne Martin. You can see the monochromatic white Mid-Century Modern home with its sweeping lines framed by towering California palms on N Via Monte Vista.
The Lucy House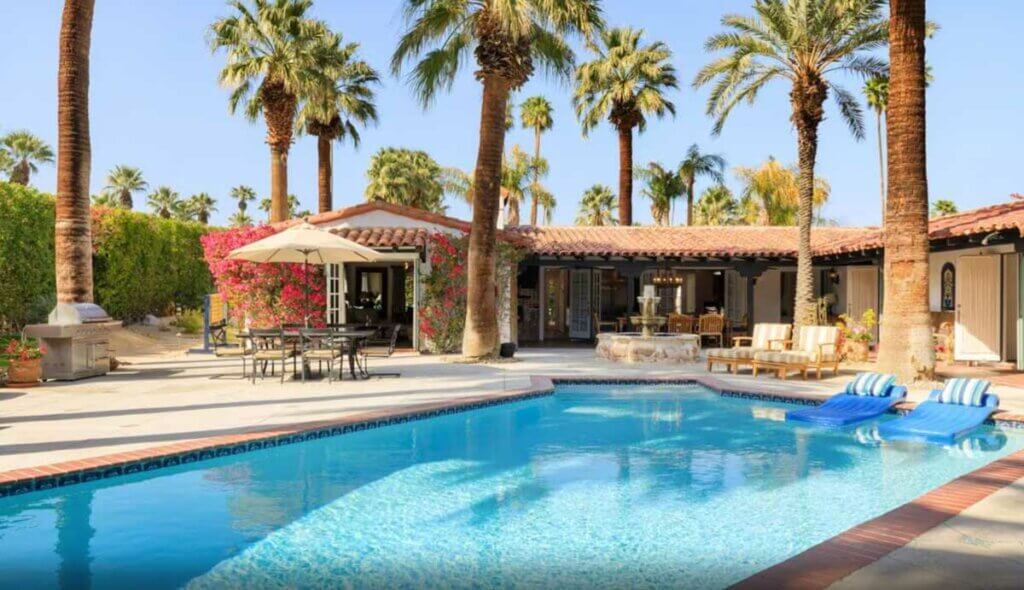 Address: 1194 N Via Miraleste
Whether you're mapping out your mid-century modern Palm Springs tour or want to live like the Hollywood elite in the heart of Palm Springs, this next home is an essential stop! The Lucy House was once owned by Lucille Ball & Desi Arnaz, this luxurious Spanish-style estate in Movie Colony is a cozy stay for a large group of up to 10 people.
Enjoy indoor and outdoor dining, a 35-foot pool, outdoor spa, BBQ grills, chaise lounges, a fire pit, and more! Each bedroom has French doors that open up onto the backyard. And the entire property is surrounded by 12-foot-tall privacy hedges for your comfort. You can book the Lucy House here.
Sonny & Cher House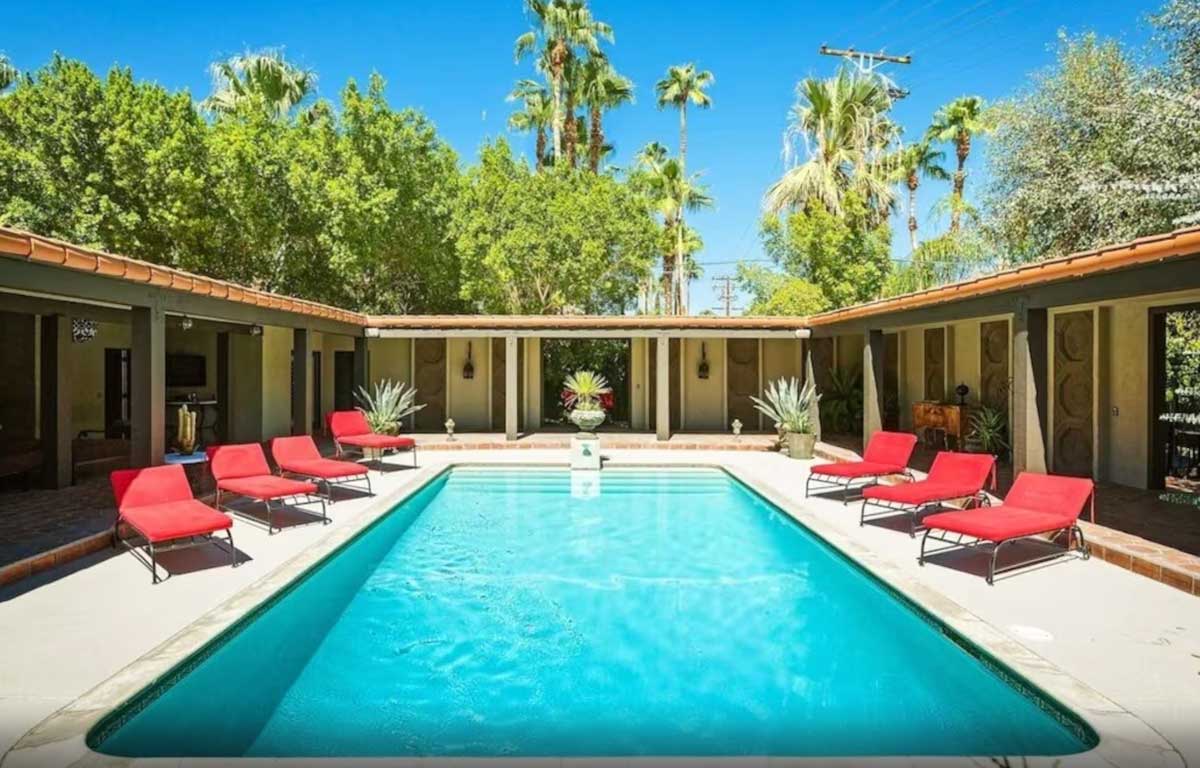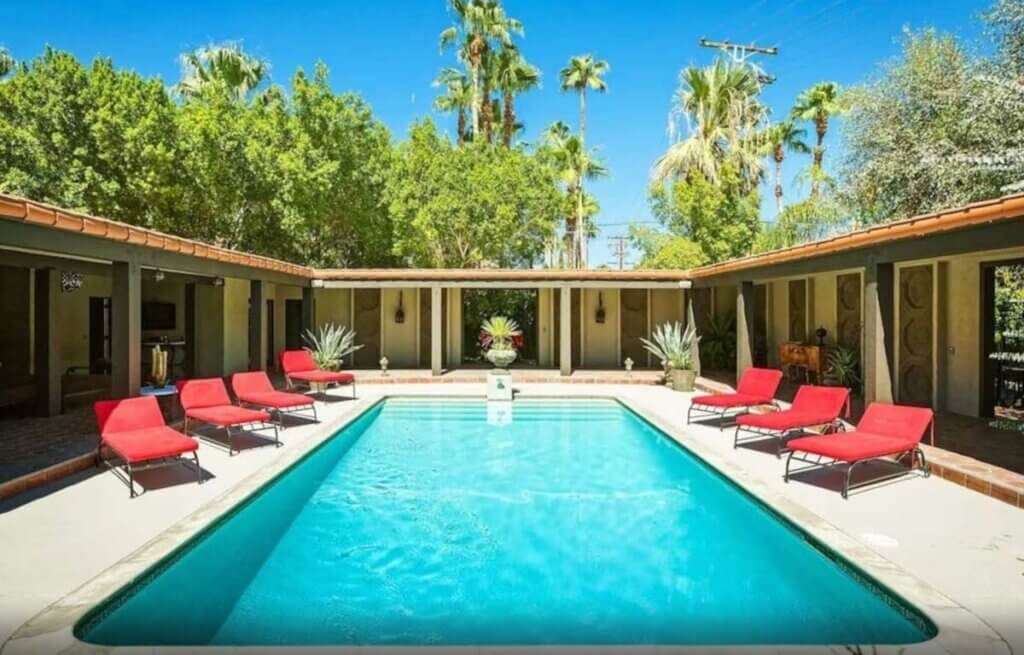 Address: 210 W Camino Carmelita
While Villa Carmelita is best known for once being the home of Sonny Bono and Cher, it was originally built for Citizen Kane actor Joseph Cotton. The sprawling Spanish villa was renovated in recent years and turned into a vacation rental.
Now, you can stay in the lap of luxury in this home boasting dramatic details, 5 chic bedrooms, and cozy gathering spaces. Outdoors, you can enjoy gardens, fire pits, a heated pool, and more. You can book the Sonny & Cher house here.
That Pink Door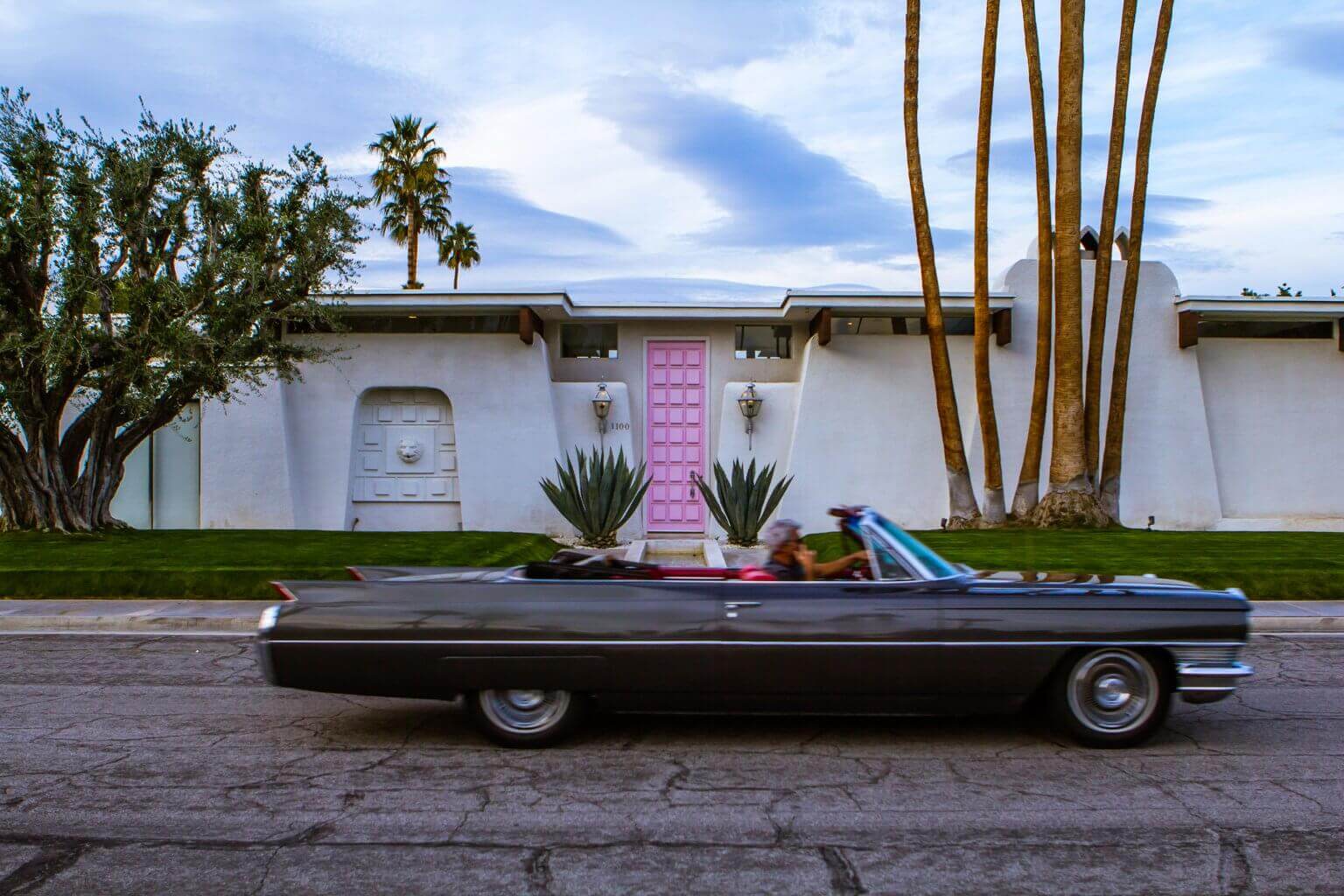 Address: 1100 E Sierra Way
Possibly the most famous of all the Palm Springs doors, That Pink Door at 1100 E Sierra Way is a popular stop on any Palm Springs tour. Its actual name is Villa Sierra, and it's now a vacation rental you can stay in! Stay in the beautiful Indian Canyons neighborhood in southern Palm Springs and enjoy all the chic comforts this stunning mid-century modern villa has to offer.
Don't Worry Darling Cul-de-Sac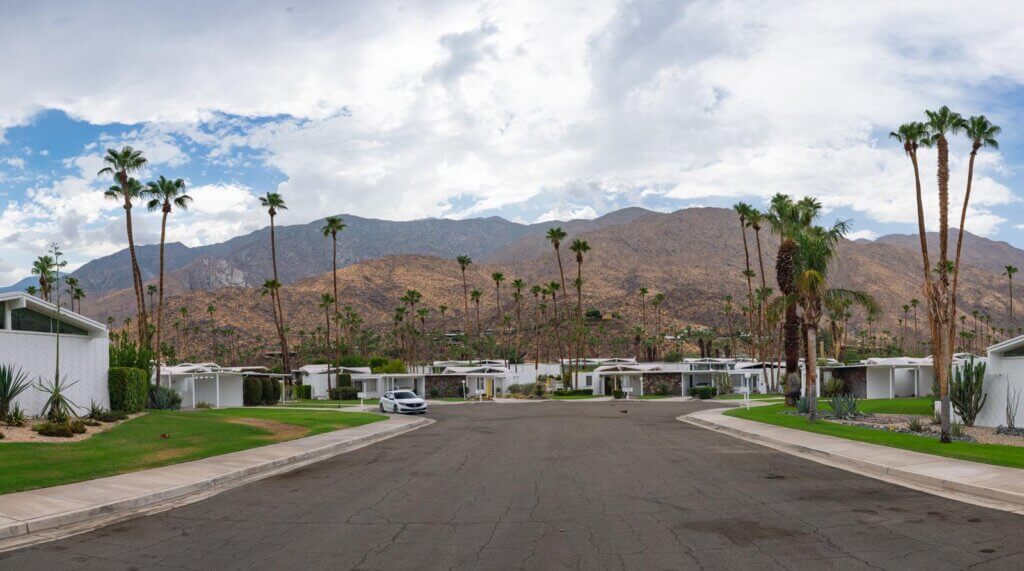 Address: 566 E Flor Circle
I know, this movie was a hot topic but we loved it, and seeking out the Don't Worry Darling filming locations was really fun while we were driving around on our DIY mid-century modern Palm Springs tour.
We already mentioned the infamous Kauffman Estate, but another iconic film location from the film, Don't Worry Darling (2022) is the main cul-de-sac where Alice and Jack lived. In real life, it's located in Canyon View Estates, next to Indian Canyons. The entire cul-de-sac was another endeavor of Palm Springs architects, Dan Palmer and William Krisel.
When you turn onto E Flor Circle, the effect is a bit eerie! Each of the charming duplex condominiums lining the street features a beam-and-post construction, geometric facades, attached carports, and manicured lawns. All around, you'll see the green palm trees native to Palm Springs, as well as the mountains in the distance, making you feel like you're back in Victory.
Howard Hughes Mini Estate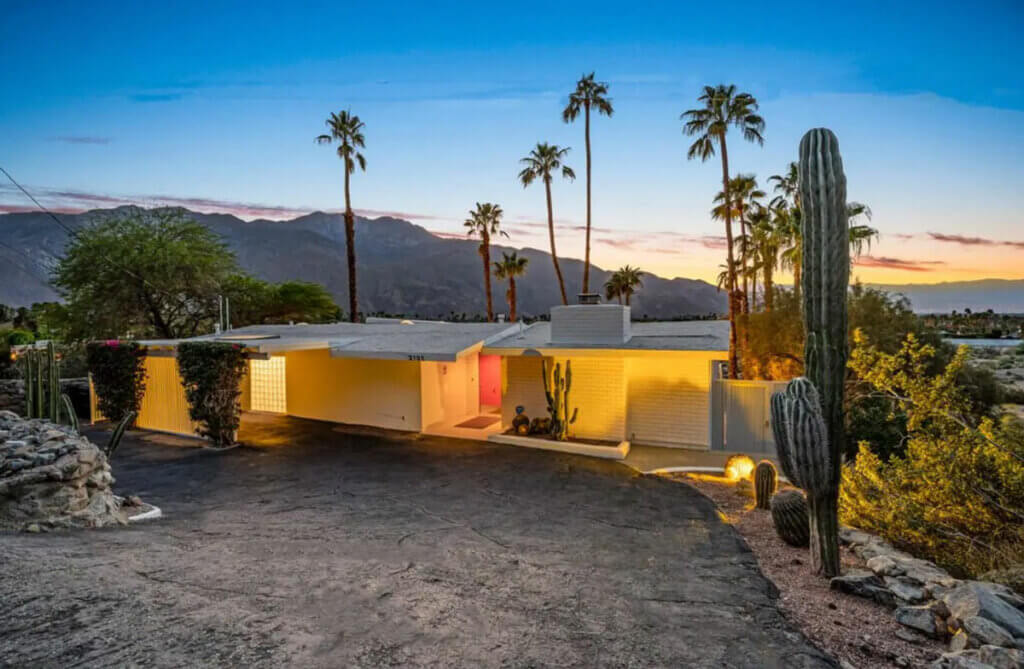 Address: 2195 Rim Road
If you want to see the former home of American aviator and businessman Howard Hughes, go for a scenic drive a short way south of Palm Springs. Along a long stretch of Rim Road, you'll see what looks like a small mid-century modern oasis, and that's the Howard Hughes Mini Estate.
Hughes was known to relish luxury, as well as his privacy, so fans of the mogul will not be surprised at how isolated this property is! While it's not much to look at from the road, the home is impressive, featuring 2 levels.
The open-concept home then extends another level down to the kidney-shaped pool below. Set on a hillside, the estate was designed to take in the breathtaking views of the surrounding valley, with viewing porches and floor-to-ceiling windows.
Better yet, you can stay here! See the gorgeous property and book a stay here.
The Hope Residence
Address: 2466 Southridge Drive
Not far from the Howard Hughes Mini Estate is another stunner, Bob Hope's House on the winding Southridge Drive. Designed by the famous modern architect, John Lautner, the house has been described as a giant mushroom or even a flying saucer. But the structure was actually inspired by a volcano and features a crater-like sky roof in the middle! The house was also created to take in amazing views of Coachella Valley.
Lautner was commissioned by Hope in the 1970s to build the house. At over 23,000 square feet, it was the architect's largest creation! It's quite beautiful, surrounded by grassy lawns and stone waterfalls. And while the road to the estate is private, avid hikers can get a good view of the house from the Araby Trail.
Elrod House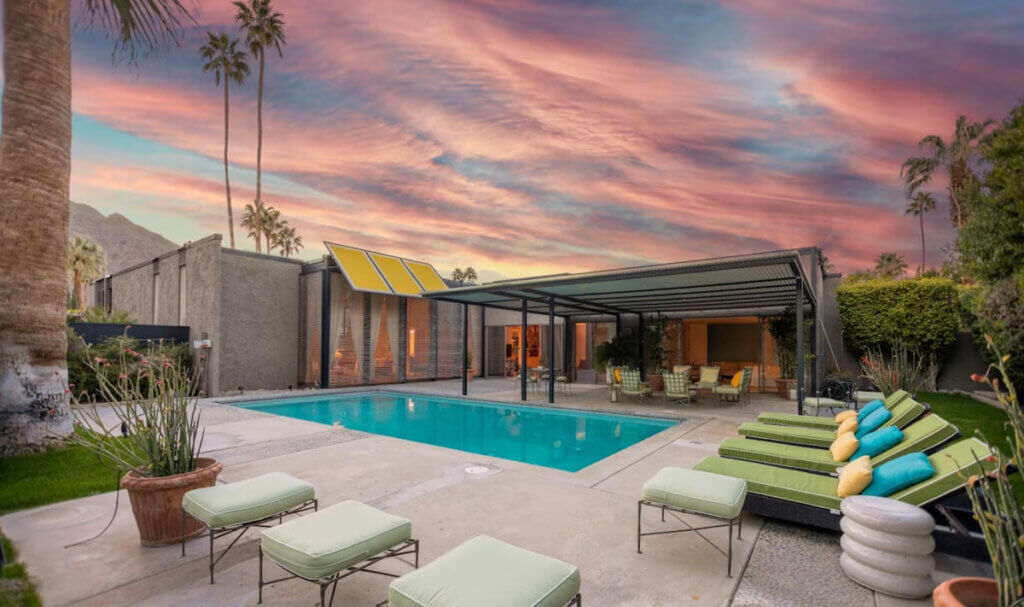 Address: 2175 Southridge Drive
John Lautner was also the designer of another infamous structure along Southridge Drive in Araby Cove. At the very front of the private road is the Elrod House, which was immortalized in the James Bond film Diamonds Are Forever (1971). It was also featured in The Big Lebowski (1998) before being donated to the Los Angeles County Museum of Art in 2016. Today, the house is only viewable during Modernism Week.
The modernist home is best known for its intense concrete dome fan that makes up most of the main interior. Inspired by his former master, Frank Lloyd Wright, Lautner designed the Elrod house using natural rock surfaces on the hillside. It's considered an example of organic architecture, a branch of modernism that was made popular during the mid-20th century.
You can actually stay here too! Check out the Elrod House listing to make a reservation.
Bing Crosby Estate
Address: 70375 Calico Road
Located in Rancho Mirage, about 25 minutes from Palm Springs, you'll find the 1957 Bing Crosby Estate. If you can get access to the super exclusive and gated Thunderbird Heights where it's located, the low-slung mid-century modern home is a sight to behold! It features larger-than-life details, like walk-in closets, a massive stone fireplace, recess glass doors, and more.
If the walls of this retro home could talk, they would tell of the fabulous parties Bing Crosby was known to hold here! Guests of the sprawling estate included Marilyn Monroe and JFK. It recently went on the market for a cool $ 4.5 million, one of the highest rates around, even for the exclusive neighborhood.
---
Enjoyed this guide to buidling your very own mid-century modern Palm Springs tour? Bookmark for later or share the love below on Pinterest!