Looking for the best things to at Seneca Lake? We got you covered! Nestled in the heart of New York's Finger Lakes region, Seneca Lake is a true gem that has captured the hearts of visitors from all over the country.
With sprawling vineyards, picturesque waterfalls, and charming small towns, it's no wonder that this stunning lake has become one of the most popular tourist destinations and lake vacation spots in New York State.
But what exactly is Seneca Lake known for? From wine tasting to outdoor adventures to historical landmarks, there's something for everyone on this beautiful body of water.
So pack your bags and get ready to discover why Seneca Lake should be at the top of your travel bucket list in our guide to all the incredible activities that can be found here. In fact, some of the best things to do in the Finger Lakes can be found at Seneca Lake.
What to do Around Seneca Lake
Visit Watkins Glen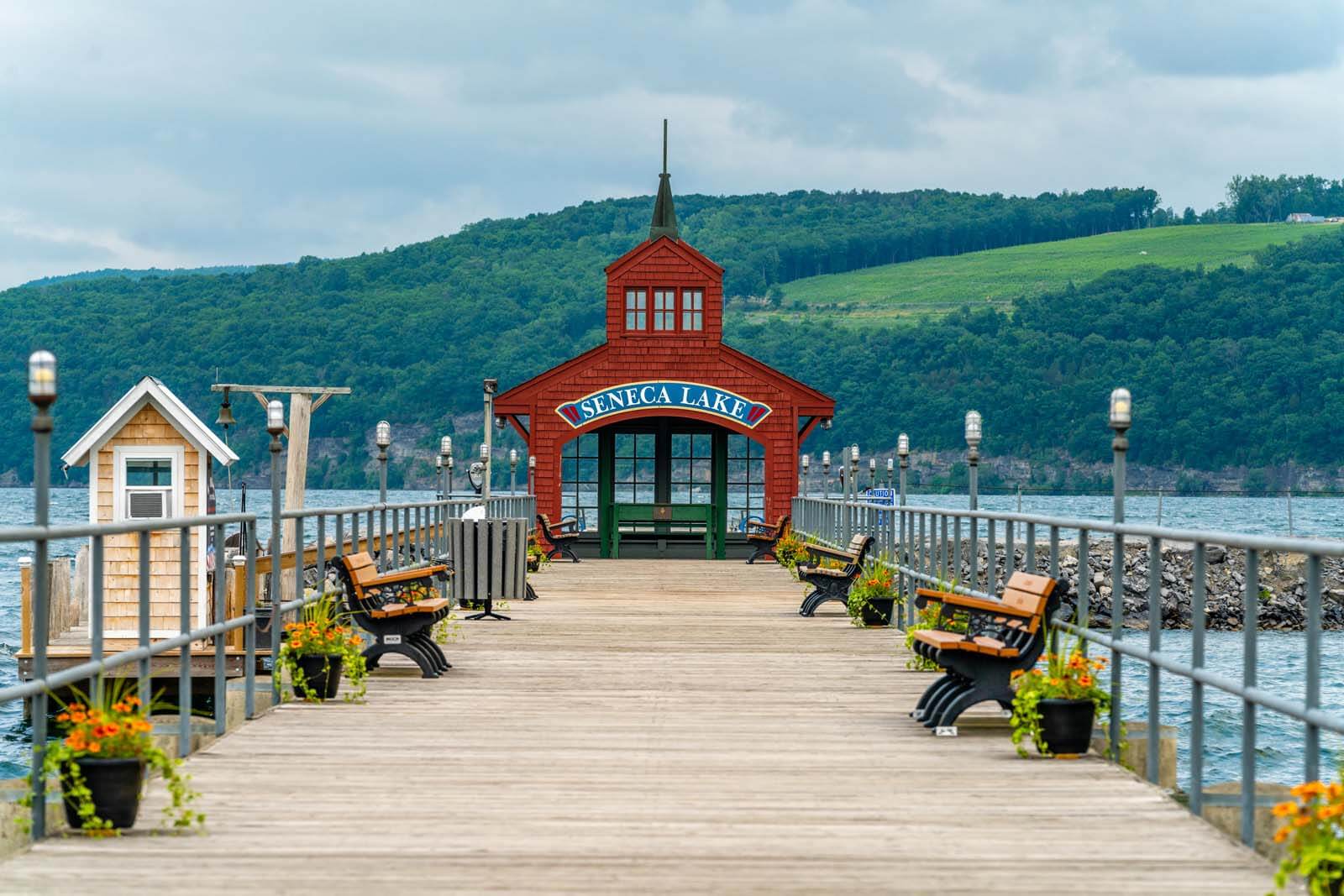 At the southern tip of Seneca Lake is Watkins Glen. This is one of the most darling small towns in the Finger Lakes and it's just begging for visitors, with tons of things to do at Seneca Lake. Watkins Glen has a few claims to fame, including being home to the Watkins Glen International Racetrack.
And it's a popular place to start the Seneca Lake Wine Trail and wine tasting around the region because several wineries are located close to town.
But we love it best for the amazing outdoor opportunities and the tiny, timeless downtown area! The main street in Watkins Glen is N Franklin Street, and we had easy access to it when we stayed at the Watkins Glen Harbor Hotel. This is a great place to stay any time of year for fabulous views of the lake!
Or head to the lakeside Clute Park, which is a great place to spend a day by the water. In the summer they host 2 different summer concert series, and in the winter there's an outdoor ice rink right next to the lake.
At the park, you can swim, picnic, or check out the brand-new events center. And there's a fantastic tent campground with all kinds of facilities, but it's super popular, so book your reservations well in advance.
Watkins Glen State Park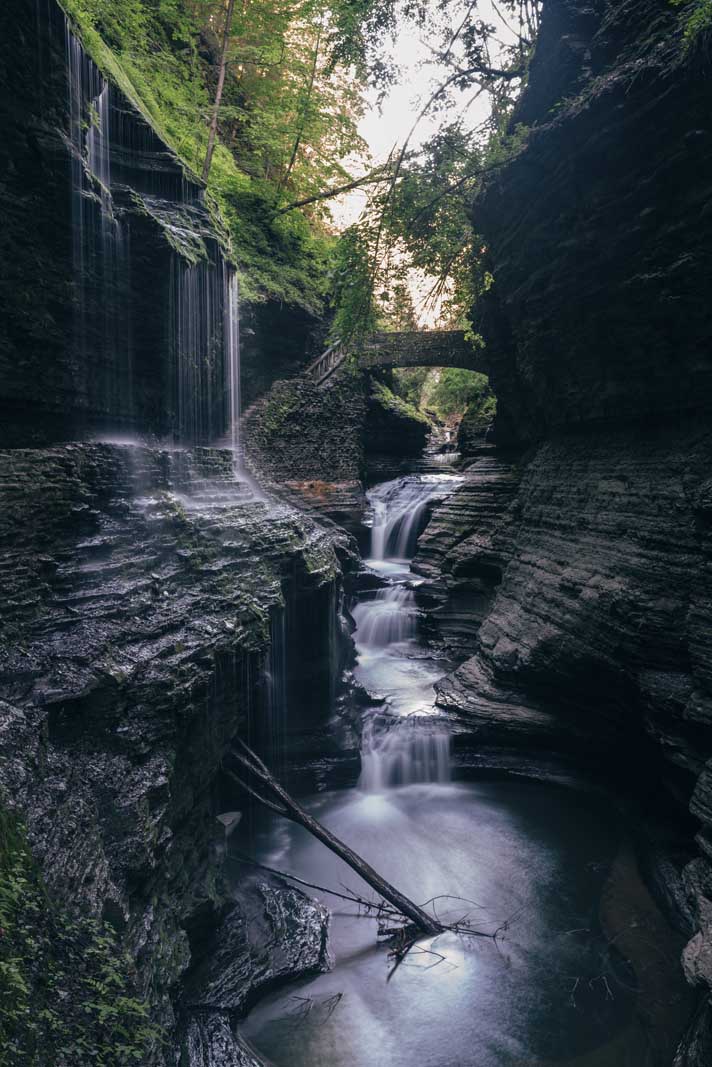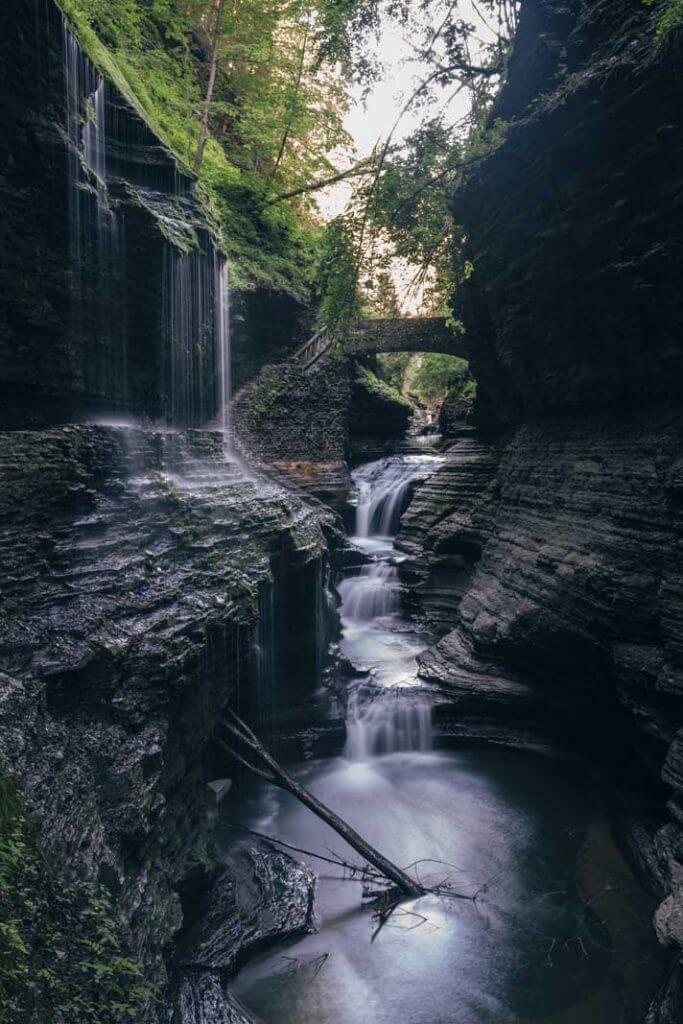 A big draw to Watkins Glen and one of the most popular Seneca Lake attractions is Watkins Glen State Park. If you're looking for the best waterfalls in New York, this is a good place to start! The park boasts 19 different cascading falls among shale rock walls, stone bridges, and lush greenery.
The first time we went through the park, it reminded me of the movie, Fern Gully! It's just that magical.
There's an upper and lower entrance to the park, one on each side of Glen Creek. From downtown, it's about a 5-minute drive and both entrances have parking lots. This park is popular with visitors, so it's best to get there early. There's a parking fee unless you have the Empire Pass.
Keep in mind that the park is open year-round, but a lot of services and trails, like the scenic Gorge Trail, are open seasonally from late May through early November. For example, you can hike the rim trails all year (and a snowy waterfall hike is just magical!). But camping services and rim trail hikes are seasonal.
Gorge tours are offered by park rangers seasonally and run 90 minutes in length. Or if you just want to walk the trails yourself, this is a great activity for all skill levels. The longest trail is 1.8 miles, and they're all clearly defined. Some are gravel and some are paved. And you have to be okay with heights and stairs if you do the gorge trails!
Hector Falls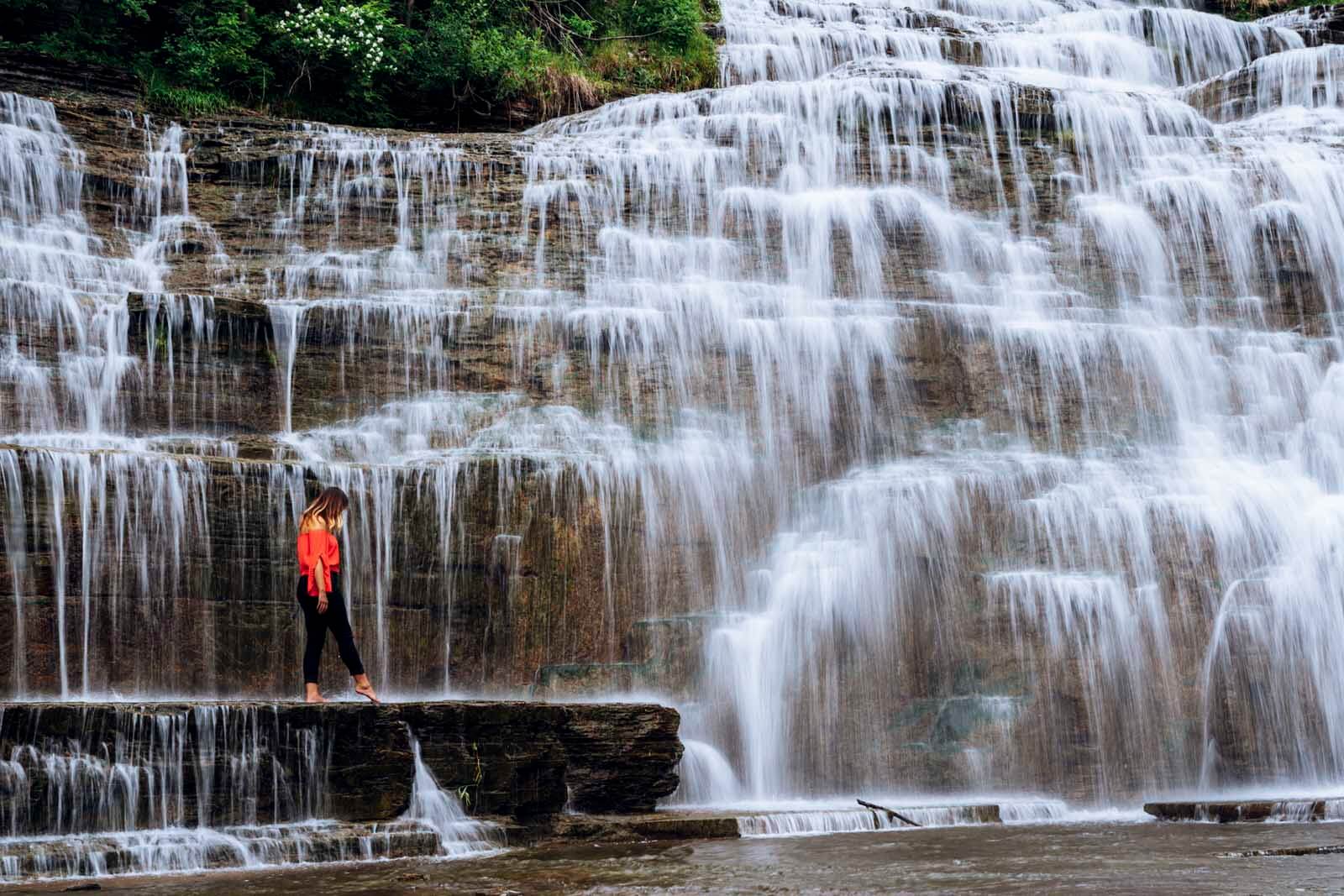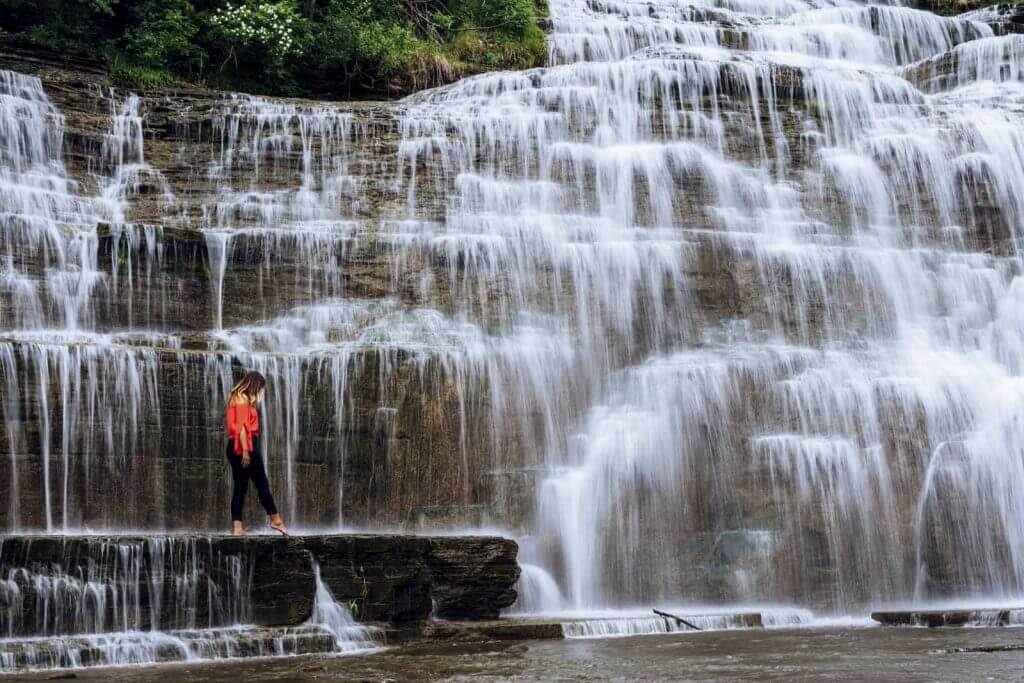 One of our favorite things to do at Seneca Lake is go hunting for all of the waterfalls! A waterfall hike is rewarding and there is no shortage of spectacular New York waterfalls right around Seneca Lake, but for something a bit more low-key, you can find several roadside waterfalls, including the 250-foot-tall Hector Falls. Make it a part of your Seneca Lake itinerary, whether you're going on a wine tour or just taking a few hours to sightsee around the lake.
The scenic drive is worth it, with the lake on one side and the massive waterfall on the other! Just head north from Watkins Glen on NY-414 for 5 minutes and you'll see it on your right-hand side. There's a bridge right where the waterfall is and you'll probably see a few cars pulled over. A lot of people get out to see the cascading waterfall.
Some try to hike down below the bridge. Yes! You can't even see the entire waterfall from the bridge! But we don't recommend hiking down, because all around is private property. If you want to see the falls from the water, the best way is on a boat tour. Falling Waters Boat Tours offers a few different private and small group tours of the lake that highlights this waterfall.
Drive Along the Seneca Lake Scenic Byway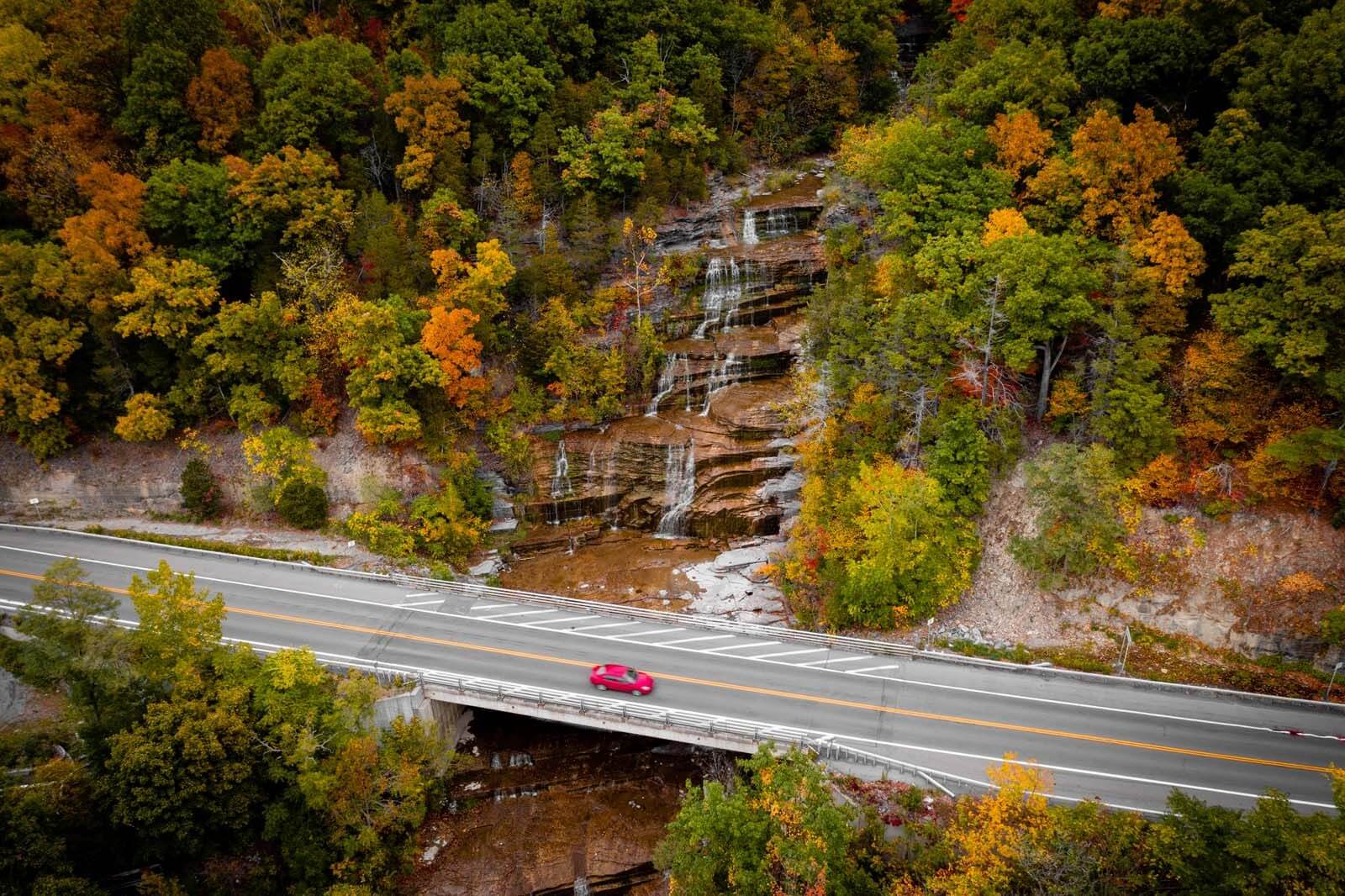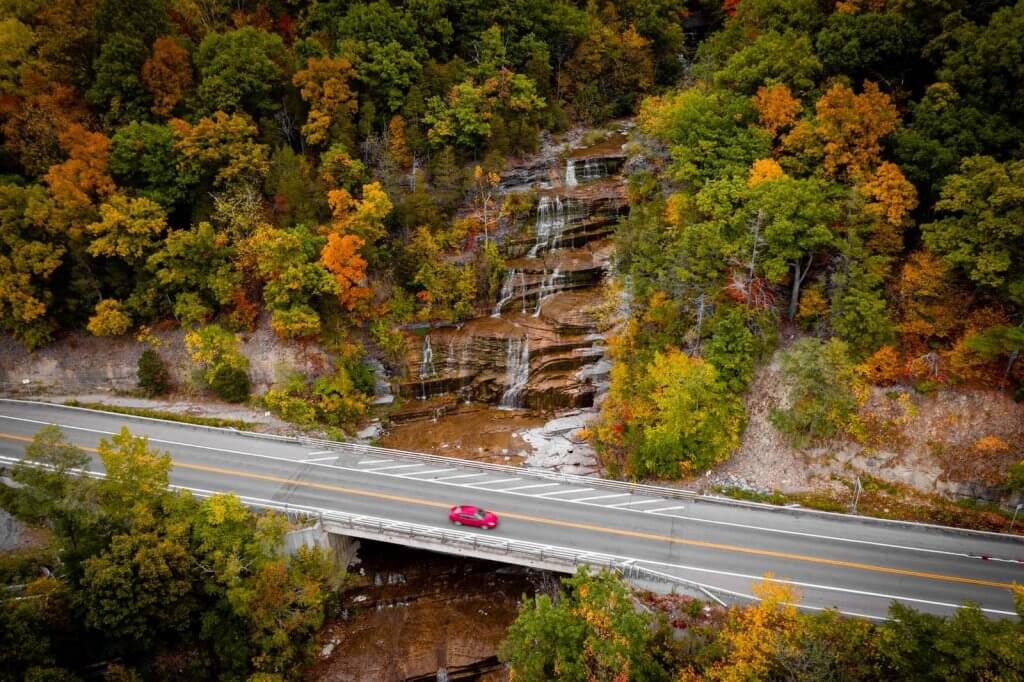 Without a doubt one of the most beautiful drives in the region and best things to do at Seneca Lake is drive along the Seneca Lake Scenic Byway. The scenic byway starts on the southeastern tip of Seneca Lake at NY-414 up to Lodi Point State Marine Park.
Along the Seneca Lake Scenic Byway you'll be rewarded with jaw-dropping views of Seneca Lake, vineyards, and farms – all the views that make the Finger Lakes so beautiful!
You can also make stops along the drive at many wineries, breweries, distilleries, farm stands, and waterfalls. This drive is especially magical during fall foliage too!
Take A Scenic Cruise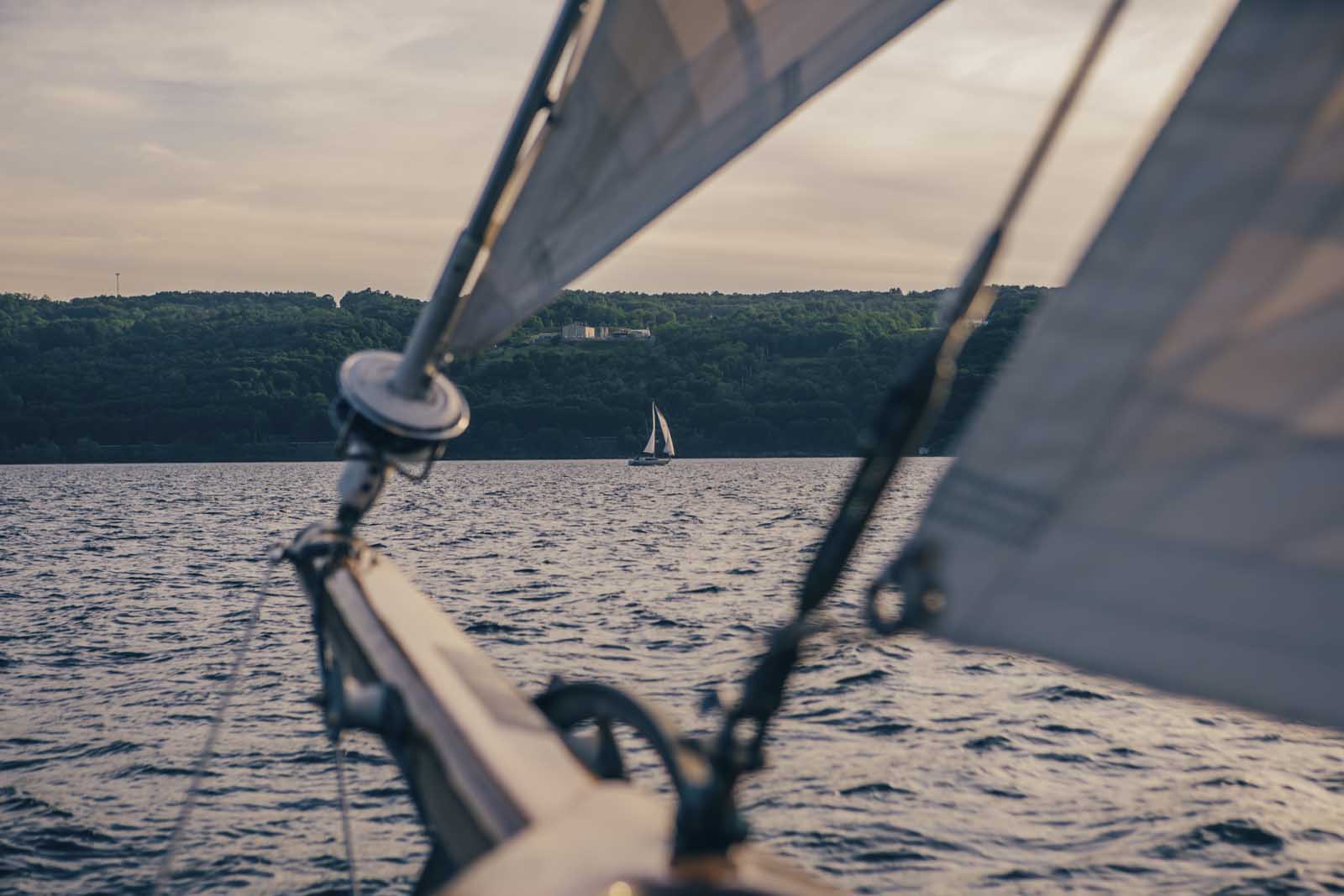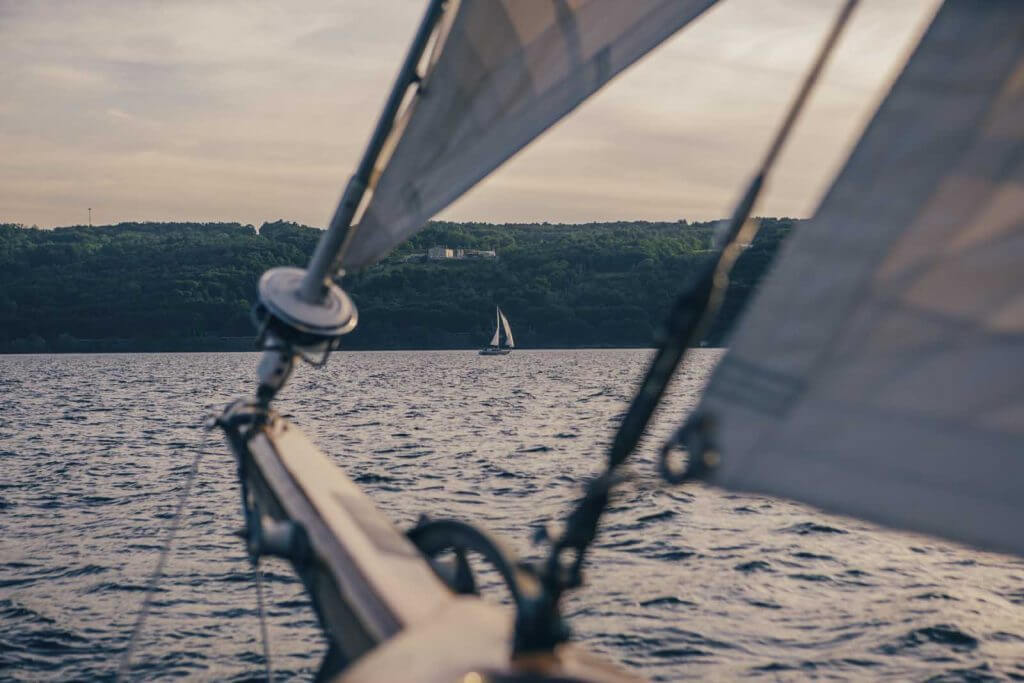 One way to see Seneca Lake and Hector Falls is on a scenic boat cruise from Watkins Glen. From the end of May through the end of October, head to Seneca Harbor Station. Here, you have a few options.
If you're interested in a dinner cruise, Captain Bill's Cruises offers a 2.5-hour cruise aboard The Legacy. You leave at 7 PM and dock at 9:30 PM. The dinner cruise is held Tuesday through Saturday and includes a 3-course meal and live music.
After dinner, take your drink of choice to the upper deck for the best views of the lake at sunset! Captain Bill's also offers a 90-minute sightseeing cruise aboard The Seneca Spirit several times a day at the height of the season.
For those who prefer the experience aboard a vintage schooner, try out the True Love Schooner! The historic vessel was built in 1926 and has a long history that ends with its restoration in the 2000s.
Today, you can take a cruise of Seneca Lake with Seneca Sailing Adventures aboard a wooden sailboat that Bing Crosby once boarded! They offer 4 public 2-hour cruises daily, including a sunset cruise. Or for more room, book one of their half-day or full-day private sails.
Visit the Village of Montour Falls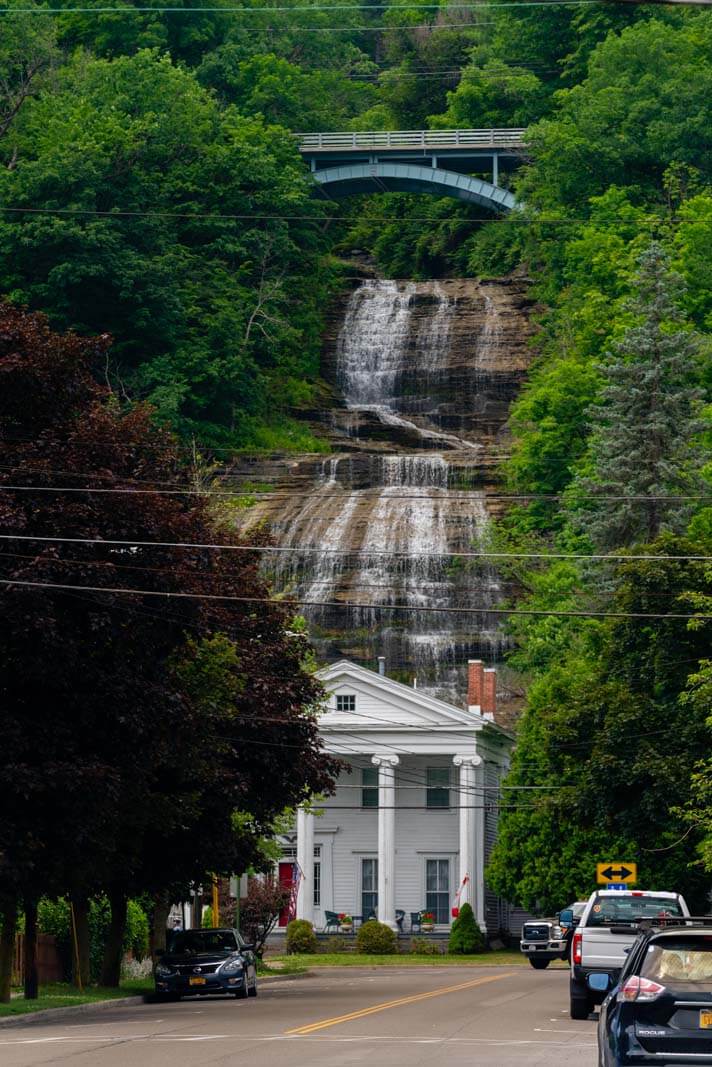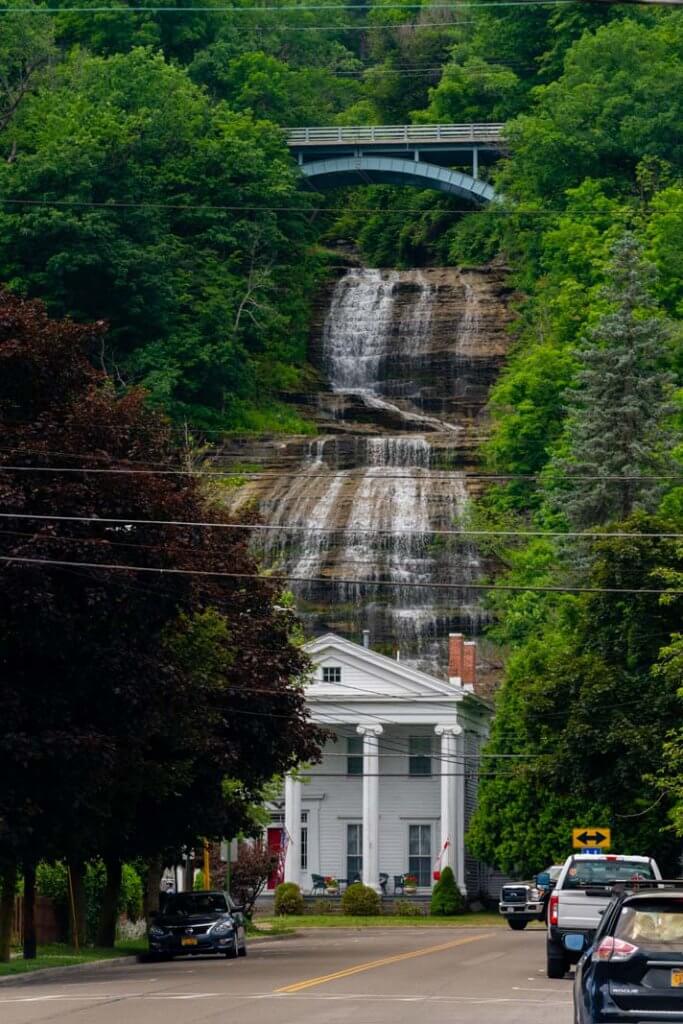 For more roadside waterfalls, take S Franklin Street (NY-14) south out of Watkins Glen just a few minutes into the charming village of Montour Falls where you can find a few of the most beautiful waterfalls in the Finger Lakes. The road turns into N Catherine Street in town, but just before it does, you'll see your first of many roadside falls!
Aunt Sarah's Falls is a massive cascading fall on a shale cliffside to the right. There's a viewing area where you can pull off to get a closer look at the falls if you wish.
Continue on N Catherine Street to Montour Falls quaint historic district on S Genesee Street for another (technically) roadside waterfall, She-Qua-Ga Falls. The multi-tiered fall is pretty, set just behind a white chapel. If you want, you can park and walk in the small park that goes right up to the base of the falls.
Around the rest of Montour Falls, you'll find easy forest hikes to even more beautiful waterfalls. You'll find Eagle Cliff Falls on the other side of a 5-minute forest hike in Havana Glen Park.
And Deckertown Falls is a beautiful gorge waterfall in a residential area on the southern end of Montour Falls. Just make sure to follow the trail and not go onto private property.
Check Out Geneva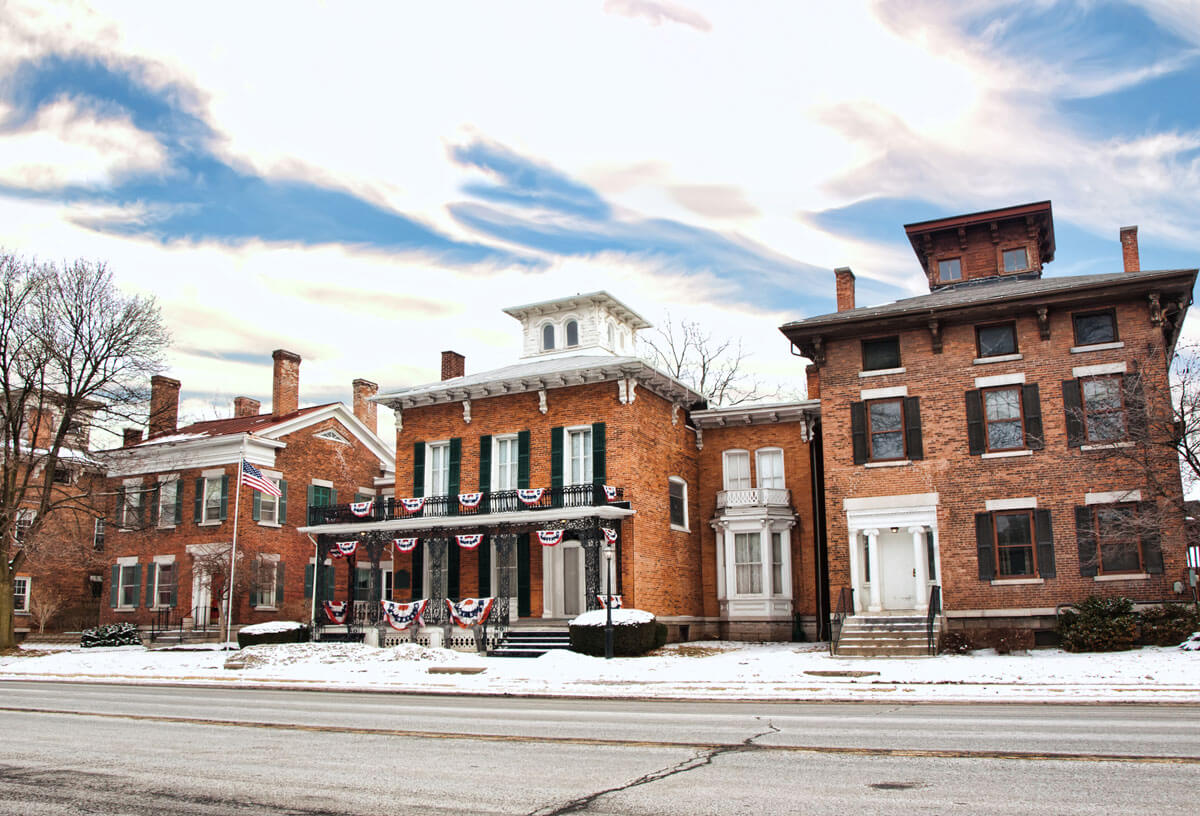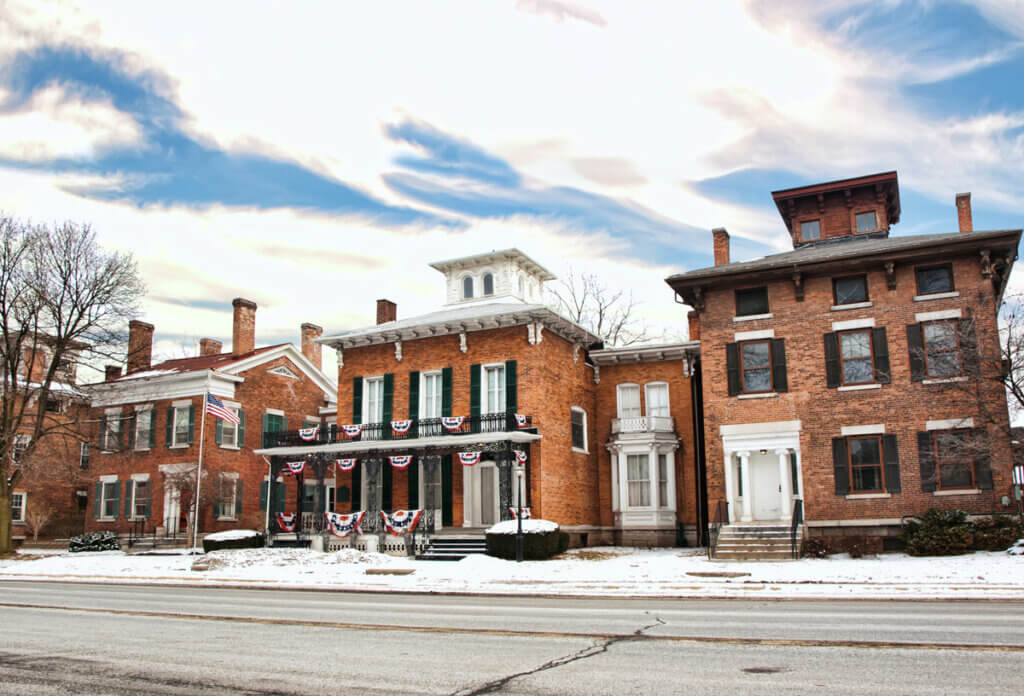 Geneva is the other major town that pulls in tourists to Seneca Lake. Set on the shores of the northern tip of the lake, Geneva calls itself the "Lake Trout Capital of the World." This is where to come for prime fishing, but also to enjoy an idyllic Americana town set in the region and is one of the most charming towns in the Finger Lakes.
Geneva has over 200 years of history with roots as a farming community, but also as a private college town. Perhaps this is why the town is known for its arts and culture, but also its many wineries and breweries.
Take a walk downtown, especially along Seneca Street, and you'll see a handful of art galleries, music venues, bars, and tasting rooms.
Venture out a bit and history lovers will appreciate the well-preserved historical buildings in the area. There's the expansive Belhurst Castle, a 19th-century estate that actually features a few different structures, including a hotel & spa, a winery, a restaurant, and an inn!
Or if you're in Geneva between May and October, plan a visit to Rose Hill Mansion. You can tour the well-preserved Victorian-era home set on the banks of Seneca Lake.
Seneca Lake State Park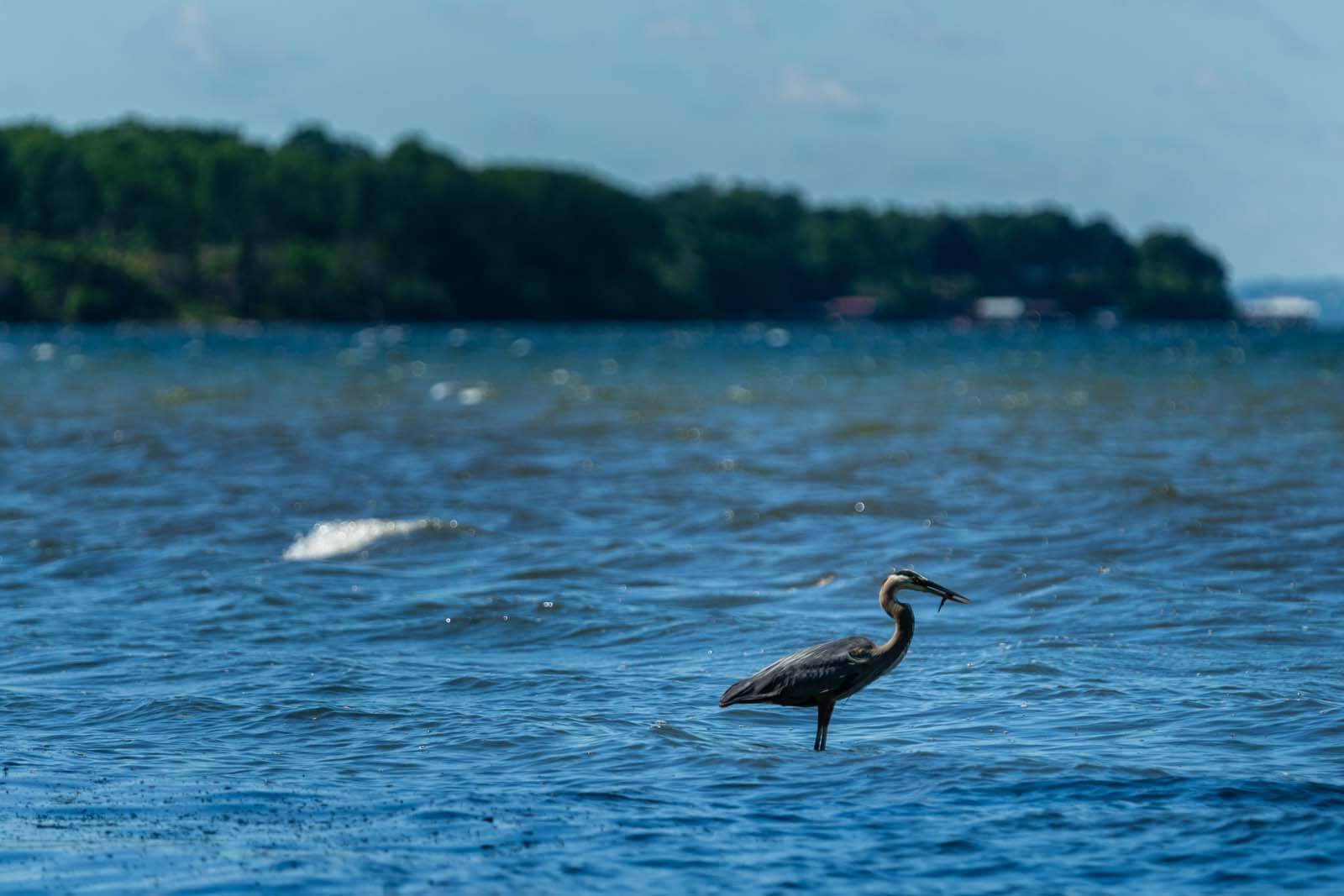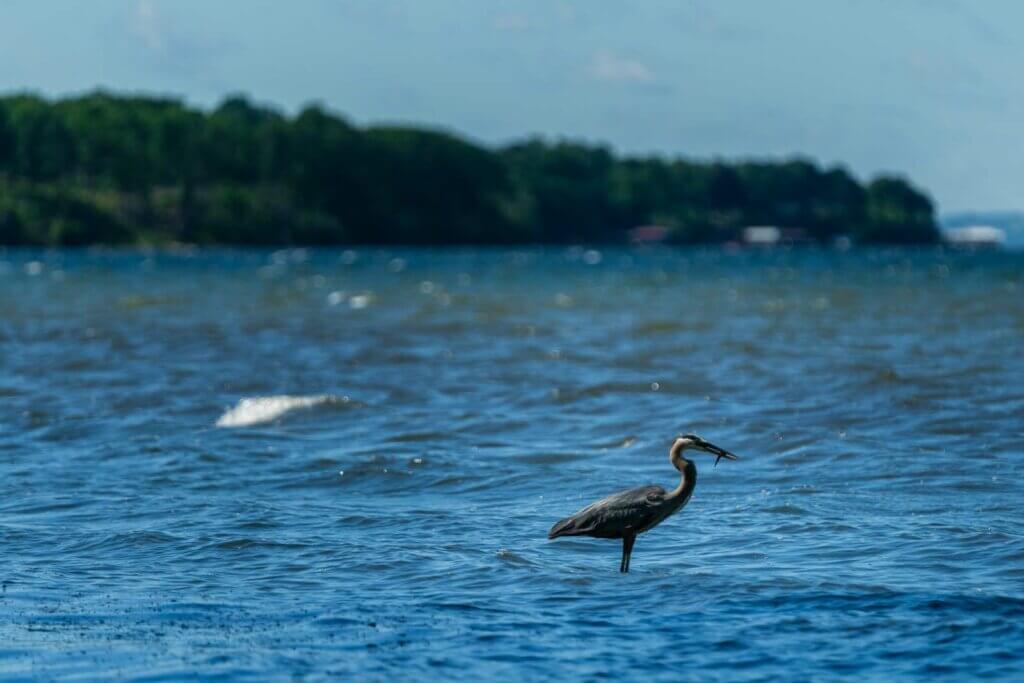 On the northernmost shore of Seneca Lake, on the western side of Geneva, is the town's own Lakefront Park. Adjacent to this is Seneca Lake State Park. If you get a chance to spend an afternoon here, do it! It's stunning in the winter when it's covered in snow, and the rest of the year you'll enjoy the local flora and fauna.
The 141-acre park features paved walking paths along manicured lawns lined with trees with great views of the lake. There are hiking trails and picnic pavilions with grills. In the summer there's a small beach that's popular with kayakers and swimmers. Plus, there are shower facilities close by. If you have kids, the Sprayground splash pad and playground are always popular.
Guests will love the weeping willows and red maple trees in and out of every season. Trails take you along the marina where you'll see ducks and beavers or head all the way out to the pier there to fish. If you're staying in Geneva, it's just a wonderful way to spend a half day!
Visit Seneca Falls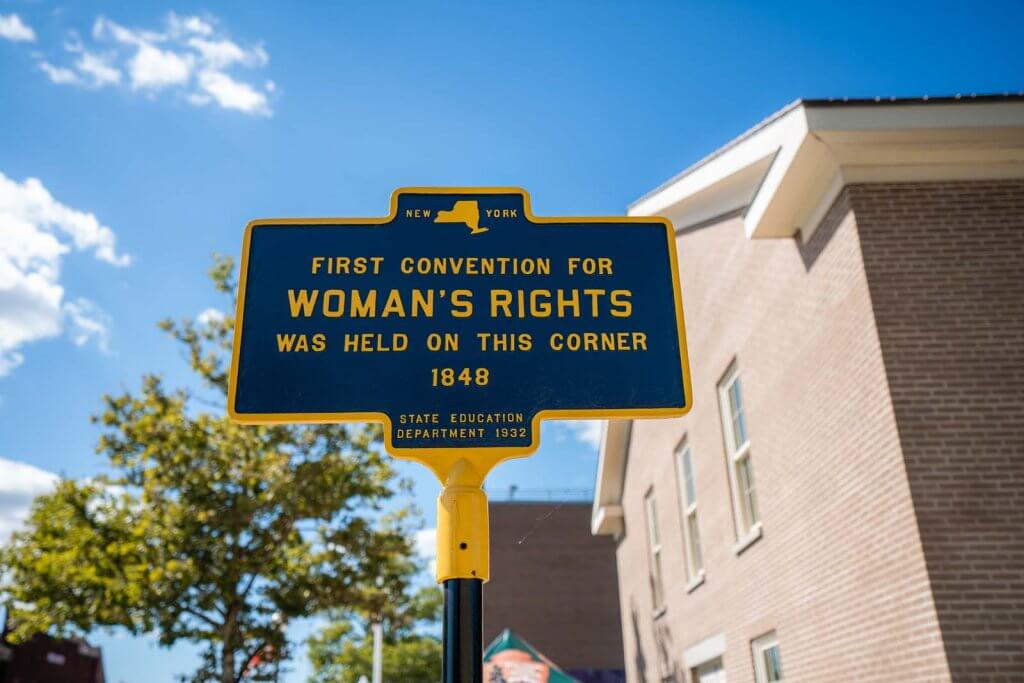 From Geneva, we always love to visit the beautiful hamlet of Seneca Falls. This fascinating town is just 20 minutes east of Geneva. It's nestled along the Seneca Falls Canal that runs through the middle of town and connects Seneca Lake in the Finger Lakes to Cayuga Lake.
Seneca Falls looks like the perfect American town with white picket fences and steeples, and it was actually the inspiration for "Bedford Falls" in Frank Capra's movie, It's a Wonderful Life! In fact, you can visit the It's A Wonderful Life Museum here, as well as the infamous bridge from the movie.
But Seneca Falls is best known for being the birthplace of the Women's Rights Movement and modern feminism. On the southern side of the canal, there's the National Women's Hall of Fame. And on the northern side, you can tour the Wesleyan Chapel in the Women's Rights National Historic Park, which functions as a museum. This is a moving monument to the first women's convention held here all the way back in 1848.
Rent a Boat or Kayak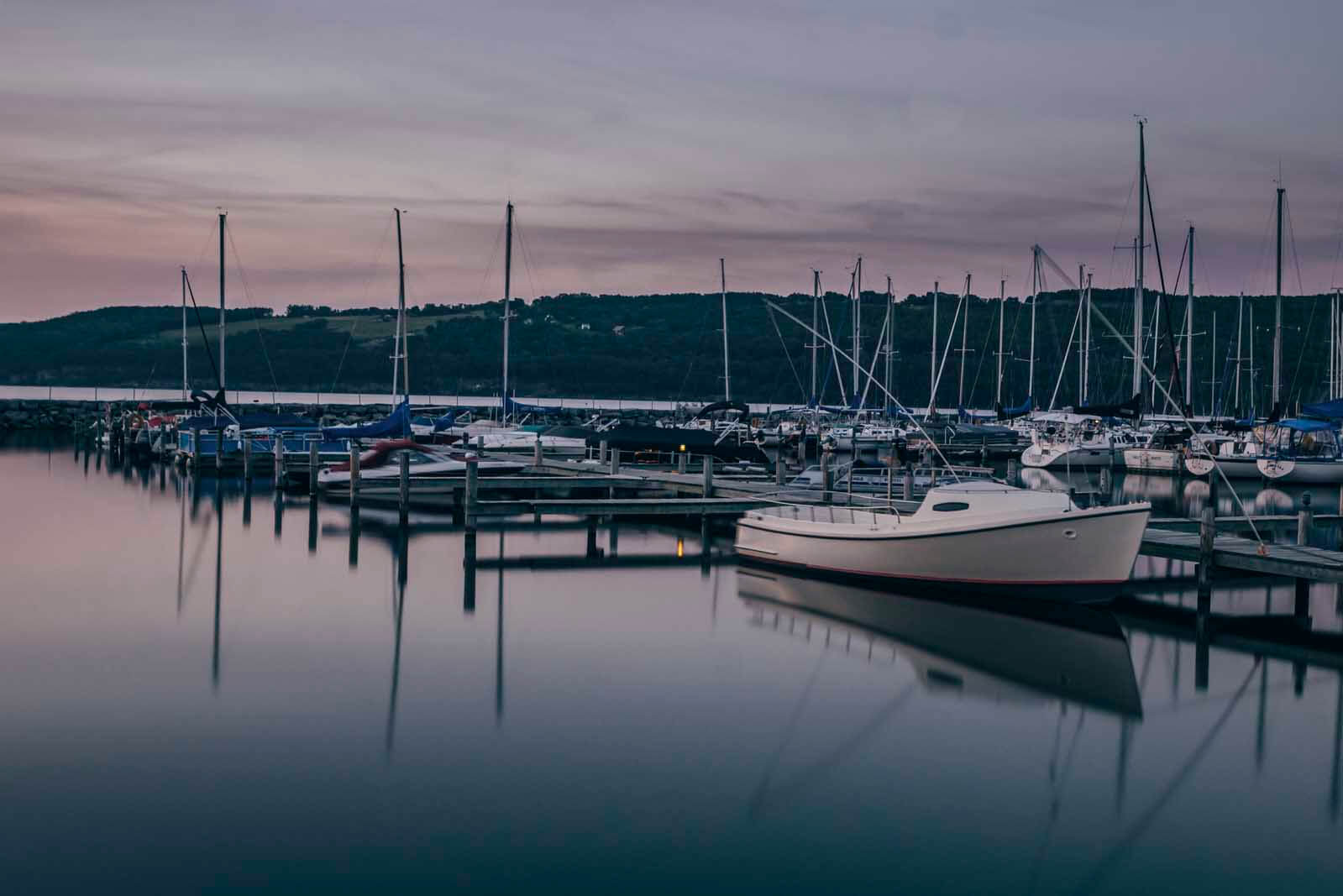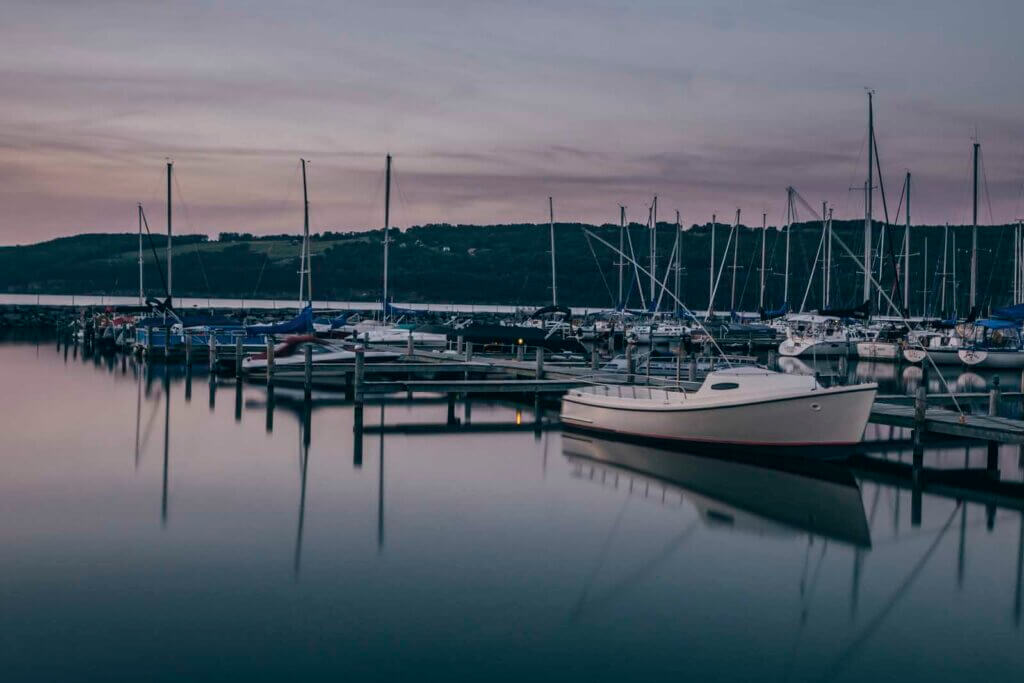 You can find great places across Seneca Lake to rent boats, kayaks, and other water vehicles. The best options are at either Geneva or Watkins Glen.
Paddle sports are some of the most popular things to do at Seneca Lake in the summer. Head to Summit To Stream Adventures in Watkins Glen to rent single or double kayaks or paddle boards. They also offer different fishing lessons and fishing charters, as well as kayak tours and sales.
Across the street from Clute Park in Watkins Glen is the Glen Harbor Marina along the mouth of the Barge Canal. They rent jet skis, kayaks, canoes, and fishing boats. You'll love the service here too! The staff at Glen Harbor Marina are super helpful with everything, they're dog-friendly, and the price includes a full tank of gas. You can rent by the hour or the day.
From Geneva, Seneca Lake Resorts is a short drive south on the east side of the lake, off NY-96A. At the resort's marina inside Sampson State Park, you can rent pontoons for half a day or a full day. They don't do overnight rentals and don't allow pets. Your boat will include everything you need, including gas and safety vests.
Seneca Lake Wineries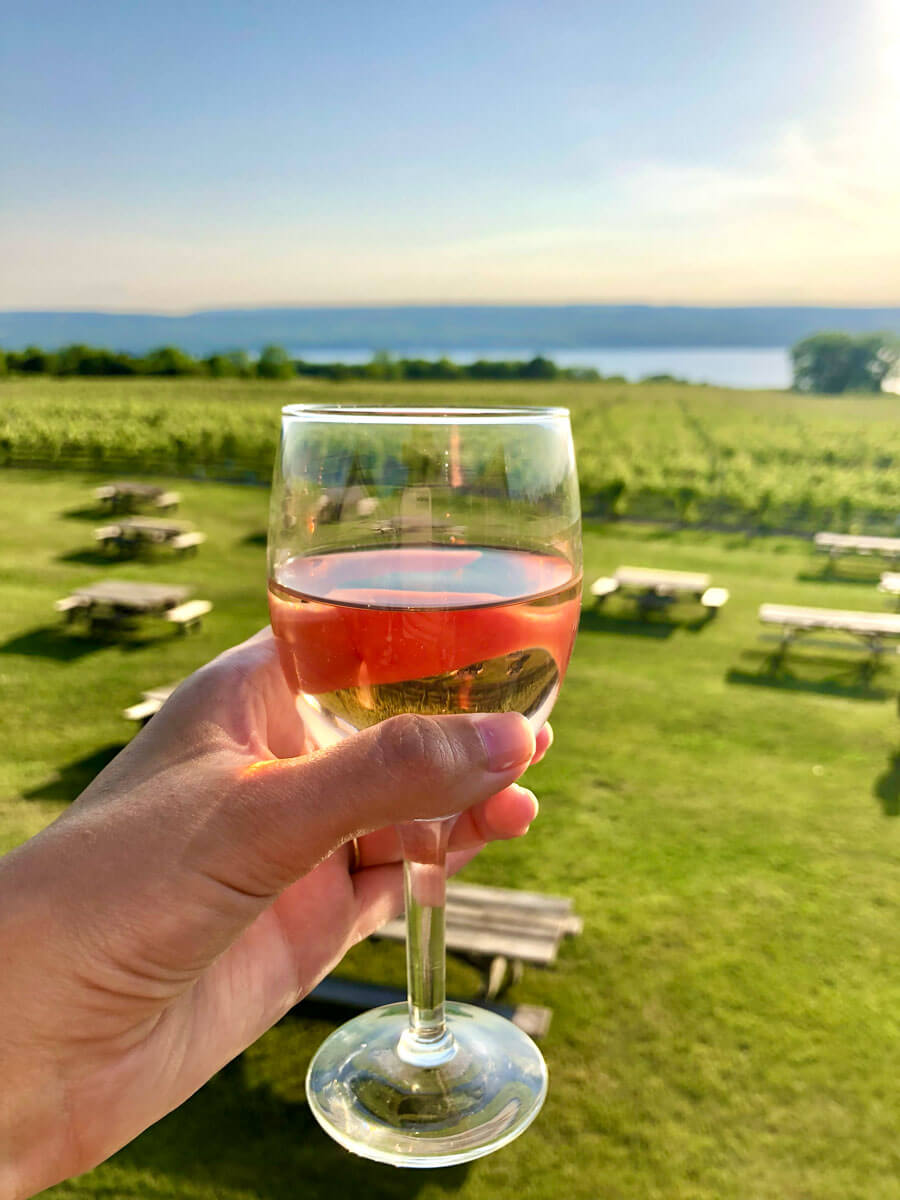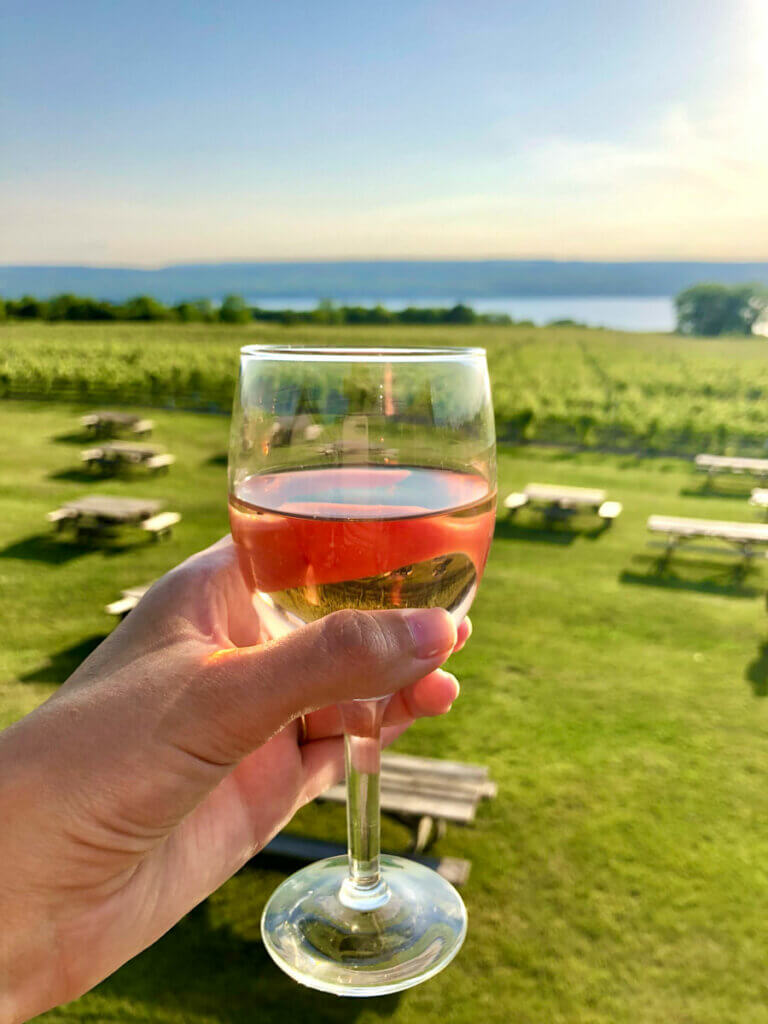 Some of the top Seneca Lake attractions are the large number of Finger Lake wineries you'll find there. Much of the region has just-right conditions for grape growing, but it's agreed upon that some of the very best wineries are around Seneca Lake. As one of North America's deepest glacial lakes, you'll find the perfect macroclimate here for producing top-notch varietals.
The Seneca Lake Wine Trail features close to 40 wineries, from large-production vineyards to small, family-owned farms and even more wineries that aren't officially a part of the wine trail.
From Geneva to Watkins Glen, you'll find historic mansions housing tasting rooms and wine cellars that offer tours.
Wagner Vineyards south of Lodi along the Seneca Lake Scenic Byway is one of our all-time favorites for the experience and taste. And they have a brewery too!
Another fantastic winery is Lakewood Vineyards in Watkins Glen. This 3rd-generation vineyard is known for its savory varieties and excellent price point.
Catharine Valley Winery near Burdett isn't your typical winery, with a friendly, laid-back vibe and funny names for just-as-unique wines and ciders too.
And not far from there is Hector Wine Company, one of the first Finger Lake vineyards, dating back 170 years! They have a great little market inside where you can buy snacks.
The farmhouse at Hermann J Weimer Vineyard is elegant and the service is world-class. Make sure to try their popular Rieslings.
If you're in Geneva, check out Ravines Wine Cellars. Owned by a Danish couple, they focus on Old World wine practices and offer meat and cheese boards that complement their flights.
And Glenora Wine Cellars on NY-14 has great views of the lake from their tasting room. You can even make it an overnight trip and stay at the Inn at Glenora Wine Cellars.
Seneca Lake Breweries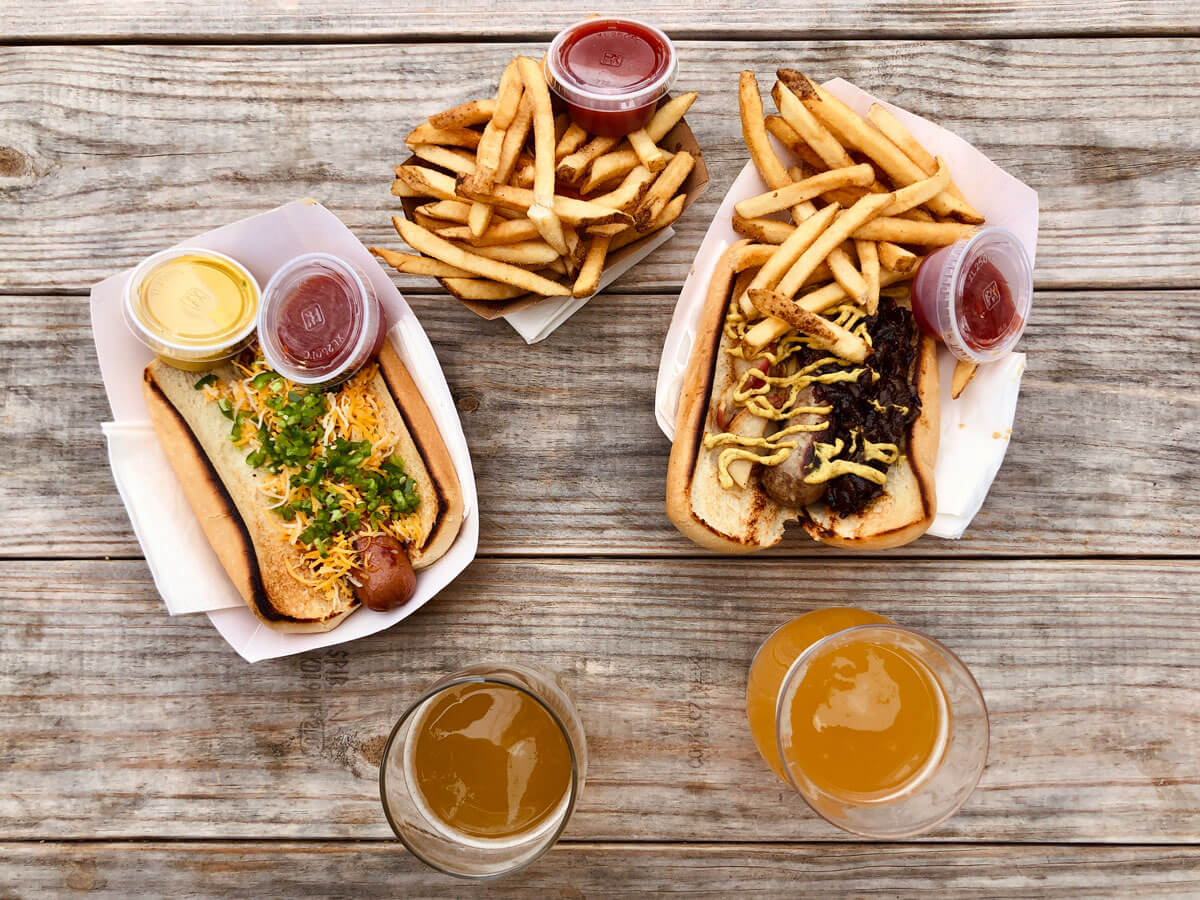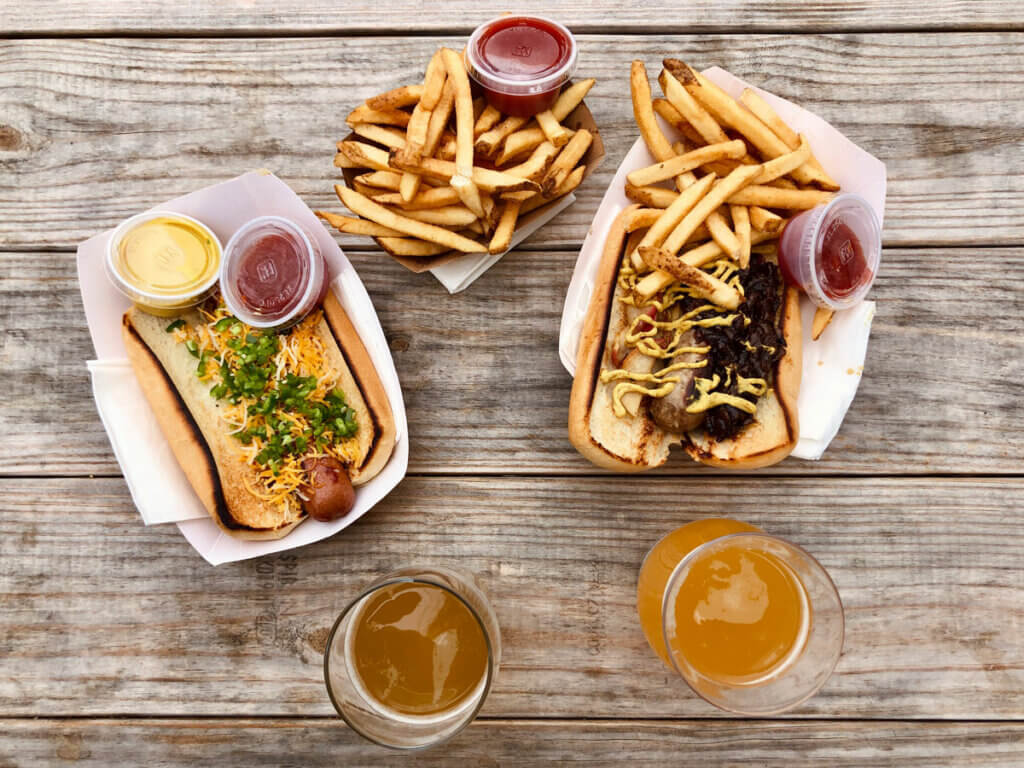 Just as popular as the area's wineries are the craft breweries all around Seneca Lake. Get a true taste of the Finger Lakes when you head to one of our favorites, all close to Watkins Glen! Lucky Hare Brewing Company in Hector is definitely one of the must-tries. It's a great intimate place to hang out and enjoy a beer and a burger.
Another Hector favorite, Scale House Brewery offers a wide variety of craft beers on tap. Try one with an order of their delicious pizza! Come Thursday through Sunday for live music, too.
And down the road, Two Goats Brewing offers a lively atmosphere and a great list of classic beers and seltzers. But what we especially love about this hidden gem is the unbelievable sunset views overlooking the vineyard and the lake beyond!
Grist Iron Brewing offers a variety of ales, IPAs, and sours, as well as a great pub-style menu. They have a busy calendar throughout the year with free events every season, and you can book a room at the Grist Iron Lodge.
We also love driving a bit further along NY-14 for the ale at Climbing Bines! This hop farm and brewery offers the perfect rustic setting with an airy tasting room. Come in the evening when a local food truck is available to guests.
Finger Lakes Distilling
Fans of craft whiskey will want to stop by Finger Lakes Distilling on NY-414. Sunday through Thursday from 11 AM to 5 PM and Friday and Saturday to 6 PM, you can visit the tasting room to try their gin, brandy, vodka, whiskey, liqueurs, or even grappa. They offer flights and cocktails, as well as small plates.
But their fascinating distillery tours and tasting experiences are why we consider a visit to Finger Lakes Distilling one of the best things to do in Seneca Lake. Every Saturday they offer tours of the distillery, at 11 AM and at 1 PM. It's about an hour long and takes you through the entire distilling process from beginning to end! The tour ends with a tasting experience where you choose between a flight or a cocktail.
Best Places to Eat Around Seneca Lake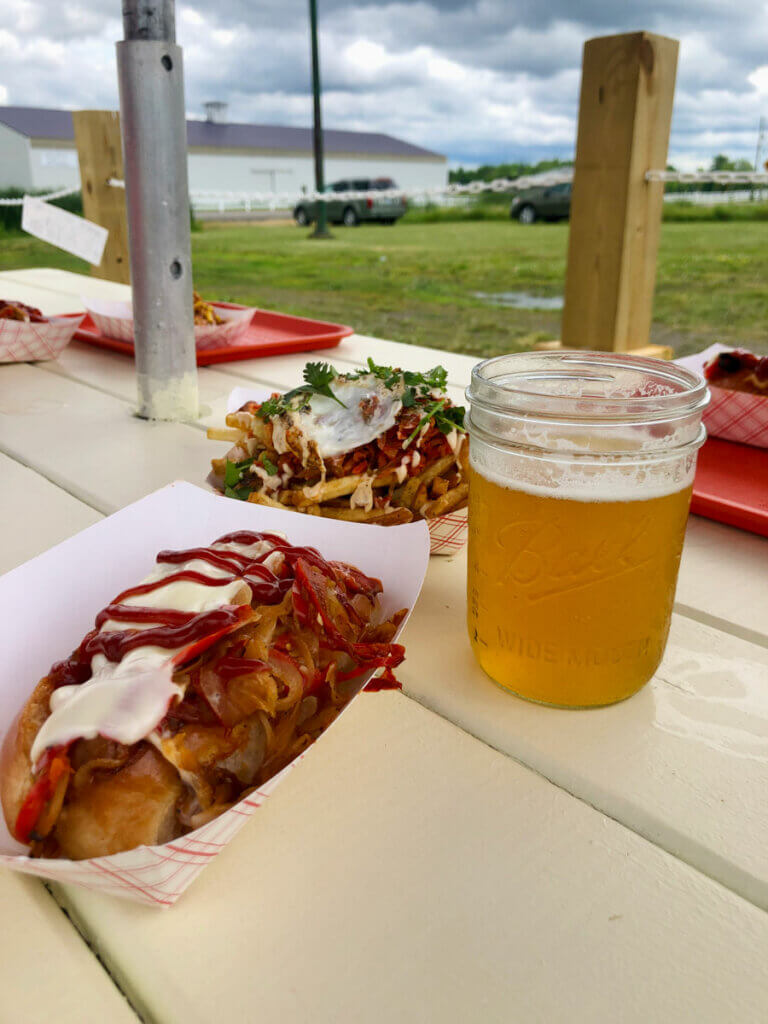 We haven't forgotten about the foodies, being 2 ourselves! One of our favorite things to do at Seneca Lake is enjoy all the great eateries. You'll find everything from pizzerias, bakeries, and classic delis, to upscale restaurants inside luxury resorts. These are just a few of our top picks.
F.L.X. Wienery
The tongue-in-cheek name refers to the long list of bratwursts and gourmet hot dogs on the menu. They even have vegan hotdogs. Come here for American classics, but with a decadent twist! Like brioche burgers, foie gras fries, and handmade marshmallows.
F.L.X. Wienery also has a massive canned and bottled beer fridge and a wine closet! (Apparently, the owner is a certified sommelier) Open 5 days a week for lunch and dinner, the restaurant keeps seasonal hours from April through September.
The Elf In The Oak
The Elf In the Oak is perfect if you want a really good meal in a peaceful outdoor spot. Open from mid-March through the end of August, the small sandwich shop offers only outdoor seating. However, there's lots of it! Choose between a big, covered porch and a lakefront lawn with picnic tables and umbrellas. From the walk-up window, you can order things like hot or cold sandwiches, local sodas, and fresh baked goods. And keep an eye out for the fairy houses!
Stonecat
For a more elevated experience, make reservations at Stonecat. They also open seasonally and have lots of indoor and outdoor seating. Come for brunch on the weekends (we suggest making reservations in advance) to enjoy live jazz music, too!
You'll enjoy a menu with tons of variety, like great vegan options, as well as local seafood. Stonecat is a farm-to-table restaurant that focuses on ethical practices and local cuisine.
Spotted Duck Creamery
You have to plan on stopping for dessert at Spotted Duck Creamery! Another seasonal eatery on Seneca Lake, it's a walk-up window at the Spotted Duck Farm near Penn Yann.
All their frozen custards and ice creams are handmade with local ingredients. That includes duck eggs from the farm! Try gourmet small-batch flavors like Cinnamon Stick, Blueberry Streusel, and Lemon Basil. You can order scoops, flights, sundaes, or other frozen treats.
Veraisons
Veraisons is our pick for a dinner at Seneca Lake. It's a New American restaurant at Glenora Wine Cellars that focuses on sustainable sources for their local cuisine. This means a new menu is created every season!
Come for their popular Pasta Nights or Prime Rib Saturdays. Wednesday through Sunday, lunch is from 12:30 to 3 PM and then they open again for dinner from 5 to 8 PM. They require reservations in advance.
Sampson State Park
At about the halfway point of the lake, along NY-96A on the eastern shore is Sampson State Park. The 2000-acre park is an old stripped-down military base, so there's lots of clear, open land with paved roads running throughout. There are tent and RV campsites, or you can get a waterfront cabin rental through Seneca Lake Resorts There are also a variety of amenities for campers and day visitors alike.
The park is open year-round, from sunrise to sunset. The campgrounds are seasonal, opening from the first week of May through the first week of October. RV and tent sites have little tree cover and are away from the water, but it's just a few minutes' walk to the shore. The cabins are right on the water, as is a community center with games and lounge areas. All campsites are electric but plots share outlets, so bring an extension cord.
Besides camping, there's a playground near the water, sand volleyball, tennis courts, pontoon rentals, and a beach for swimming. In the summer there's a pool, live musical performances, and outdoor movies every night. You can hike or ride bikes, and make sure to visit the military museum. In the winter, this is a popular spot for ice fishing and snowshoeing.
Finger Lakes National Forest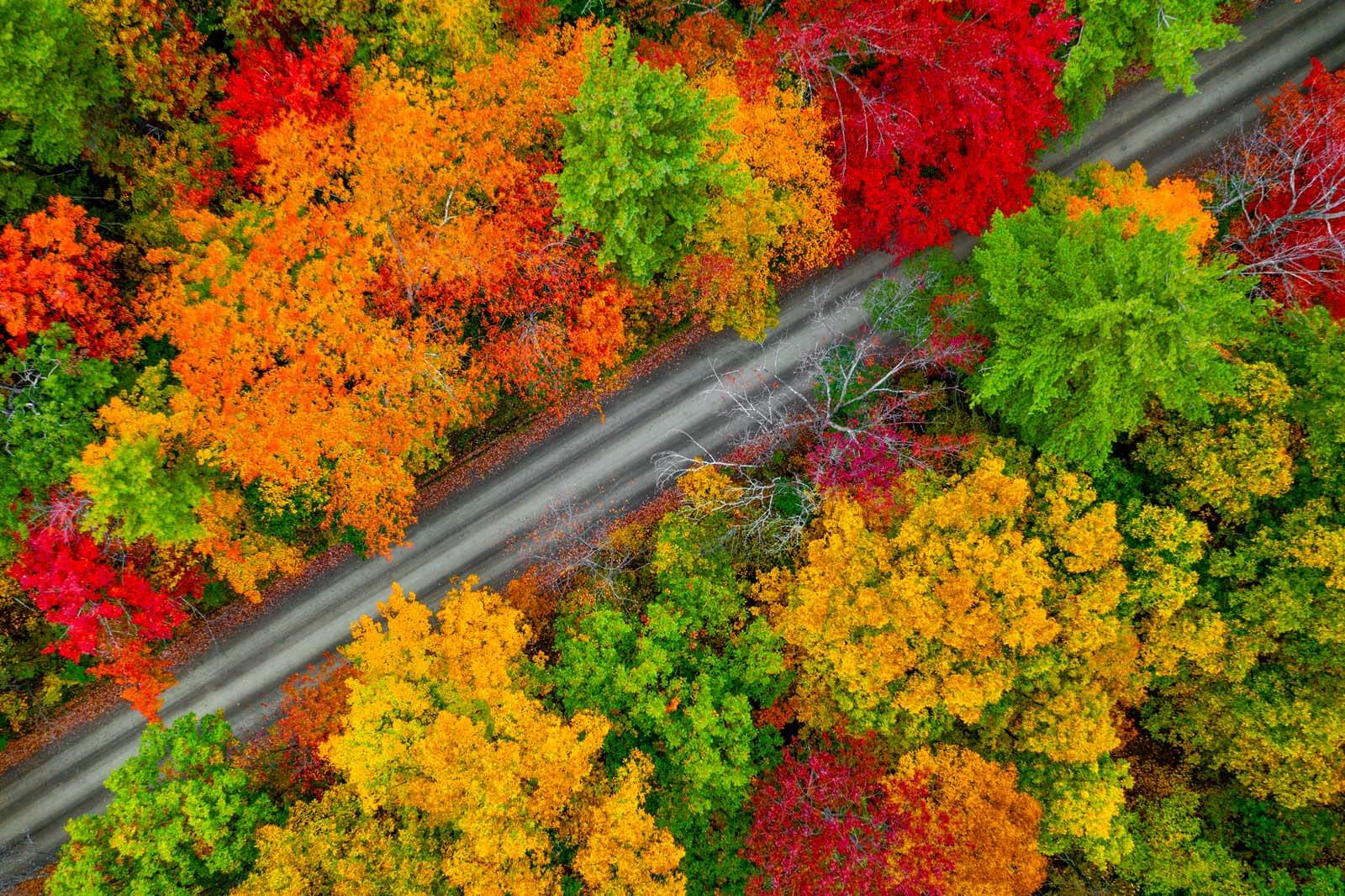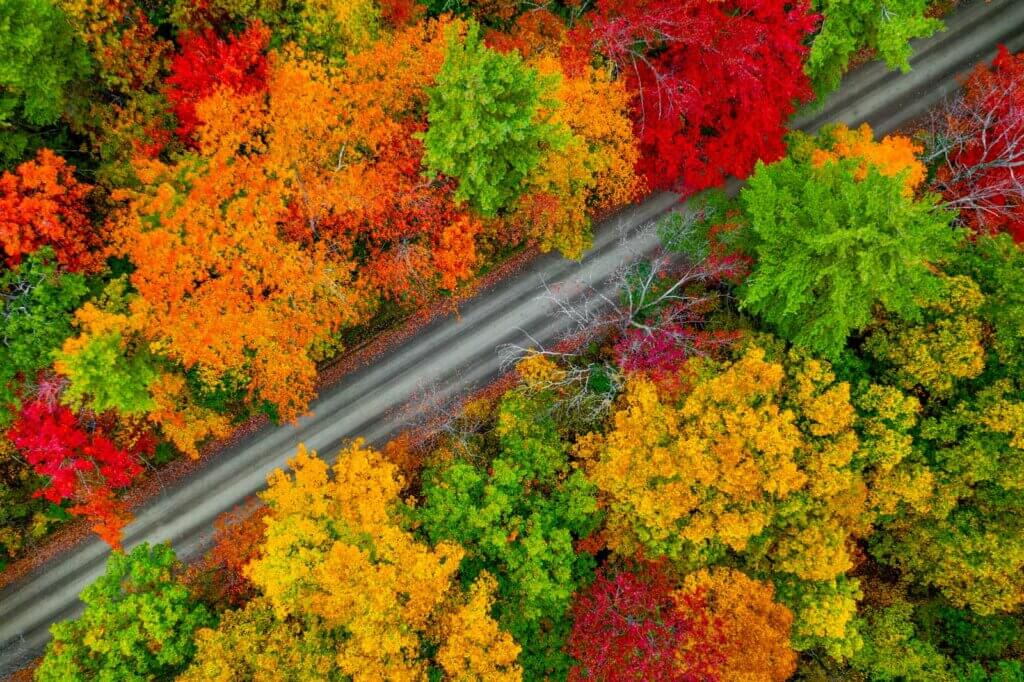 The Finger Lakes National Forest is another great outdoor park to visit, being so close to Hector and Watkins Glen. It's over 16,000 acres of mountainous forest reserve between Cayuga Lake and Seneca Lake in the Finger Lakes. There's no admission fee, and the park is open every day of the year for all kinds of seasonal activities.
This is a great place for hiking all year long with over 30 miles of trails! There are expansive prairies, gorge hikes with waterfalls, forest trails, and more. You can find shorter day hikes and overnight hikes. Most inland hikes have easy access to public roads, and there are even great trails along the eastern shore of Seneca Point.
And for great views of the lake, take Fessenvue Trail to Caywood Point. All the trails are interconnected with easy-to-follow signage along the way.
During the summer there are tent camping sites and primitive camping, as well as horseback riding. There's a fee for tent camping, but primitive camping is free. You can hike all year round or try snowmobiling and cross-country skiing in the winter.
Excelsior Glen Falls Hike
There's another wonderful waterfall hike just north of Watkins Glen. We find ourselves returning to the Finger Lakes regularly, and one of our favorite things to do at Seneca Lake is hunt for the best waterfalls! The great thing about Excelsior Glen Falls is that it's only half a mile to the falls and clearly marked.
From Jolly Road off the Byway, follow the trail through private land, taking care to stay on the trail! It's usually pretty clear with just some uphill climbs before you reach the waterfall. When you get to the creek, you can climb up above the falls or walk along the creek to get a closer look. When you're ready, just turn around and head back for a half mile.
Some people consider this a moderate hike because it can be slick after the rain. Excelsior Glen Falls gives the best show after a good rainfall and can be sparse if it's dry! So, wear good shoes and bring hiking sticks. We also recommend this hike between April and September, because it's usually closed during hunting season.
Visit Farms & Farm Stands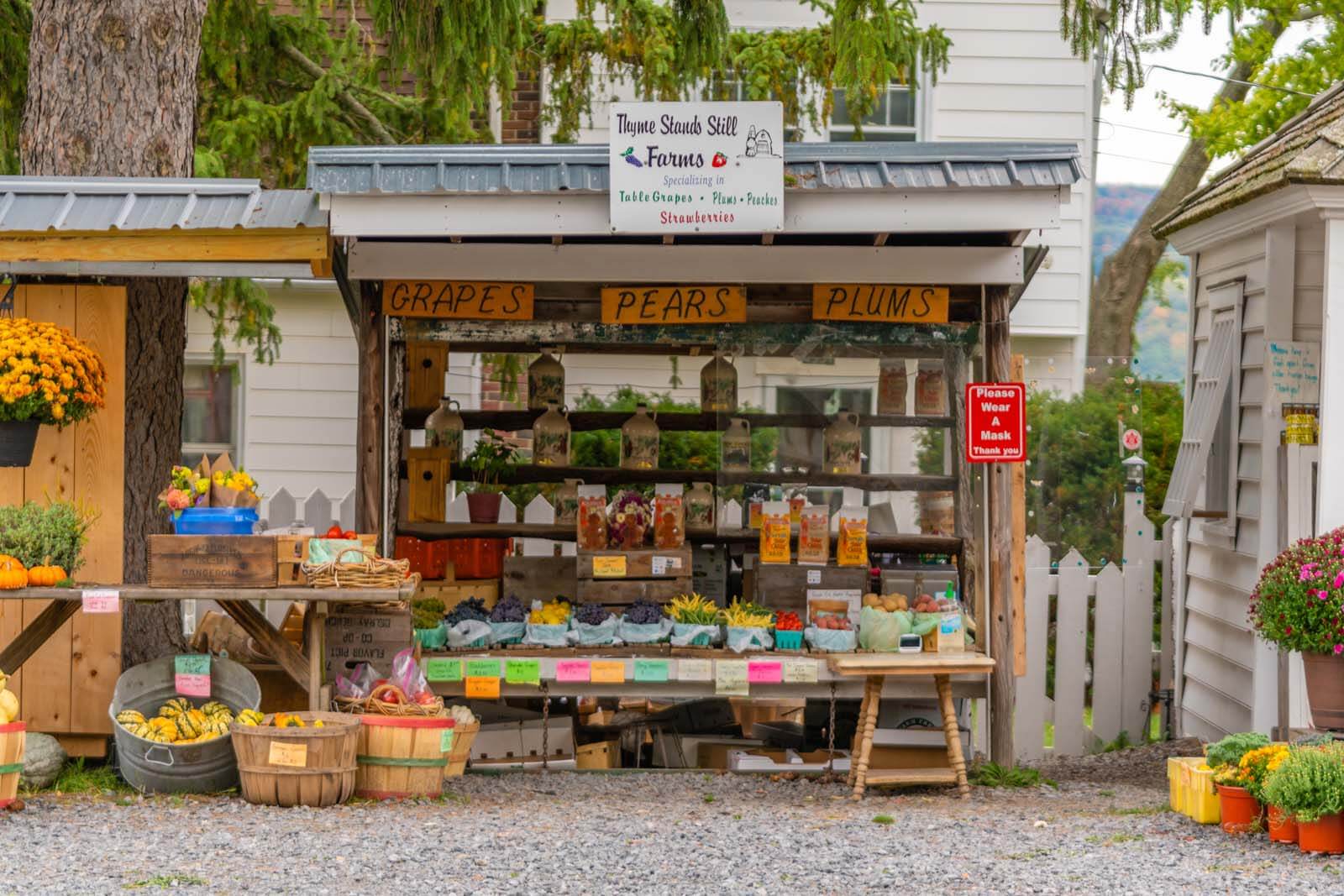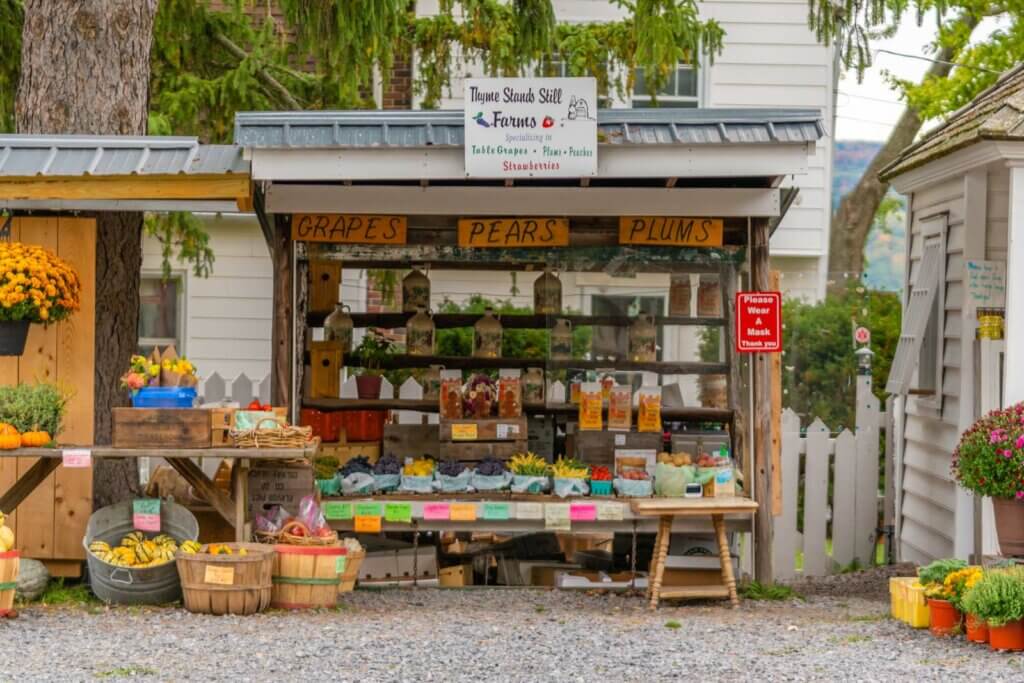 The Finger Lake Region is a great place to try out local produce, honey, baked goods, and more. Along the Seneca Wine Trail, you'll pass several makeshift farm stands selling the freshest fruits and vegetables just out of the fields!
Or head down a side road to a local farm, where you can check out well-stocked farm stores and find out about local events. These were just a few that we'll keep going back to at Seneca Lake!
Mount View Farms is halfway between Ovid and Lodi on NY-96A. The farm is down a country road, but you'll definitely want to stop at The Pumpkin Stand! This roadside farm stand is a great place to pick up local baked goods, and in the fall it's all about the U-Pick pumpkin patch! Check their website, because they always have something going on at the stand and at the farm.
Red Roof Farm Market is just south of Geneva on NY-14A, look for the farm stand with a long list of seasonal produce! A popular market with locals, they're known for their heritage pumpkins. But they offer a surprising variety of produce all season long.
Thyme Stands Still Farm Stand is one of our all-time favorites. Don't blink or you might miss this darling little stand set in front of a picket fence on NY-414. It's on the eastern side of NY-414 between Masternardi Road and Cartmell Road. In the summer and fall, you can come here for a healthy serving of local goods. There are usually flowers, stone fruit, and tomatoes in the summer, as well as local milk and cheese.
Reisinger's Apple Country has a great farm store, check out Apples and Moore just west of Watkins Glen. This large country store always has great seasonal items. Come for flowers, peaches, and berries in the summer, and apples, pumpkins, and cider donuts in the fall.
Hector Handmade Gifts & Gallery
While you're driving around to all the big Seneca Lake attractions, a must-see is Hector Handmade Gifts & Gallery. It's a little whitewashed storefront just off NY-414 in front of the Lilly Farm. There's a covered porch with a preview of what's inside, with handmade wall art, maybe some leather goods, or wood carvings displayed on a table.
Inside, you have your pick of handmade artisan treasures. There are one-of-a-kind clothing pieces and jewelry by local artists. Pick up soaps and oils made with ingredients from the Finger Lakes. In the studio, you can join a craft workshop or you might see the owner making watercolor jewelry. And kids and adults alike love to make their own necklaces with trays of glass beads made available to them at the Bead Bar!
The store sells absolutely beautiful pieces that run the gamut from local creators, and it's definitely worth a visit. Hector Handmade Gifts & Gallery is seasonal, open May through September each year.
Where to Stay Around Seneca Lake in the Finger Lakes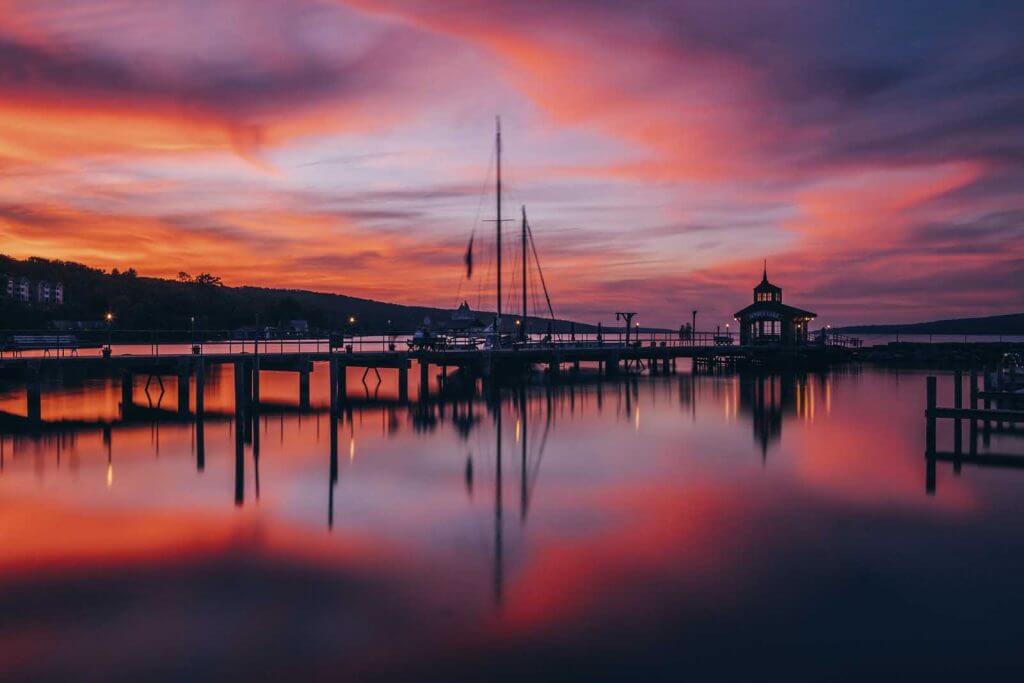 There are so many great places to stay in the Finger Lakes including around Seneca Lake. Here are a few fantastic options.
The Watkins Glen Harbor Hotel is located at the picturesque Seneca Lake harbor in the town of Watkins Glen. This upscale waterfront hotel offers gorgeous views of the lake, lakeside firepits and lounges, and you're walking distance to all the great restaurants and activities in Watkins Glen.
The Idlewild Inn is one of the charming bed-and-breakfast style options of accommodations around Seneca Lake located in Watkins Glen set in a 15-bedroom Victorian mansion. This is a perfect romantic getaway and stay for those looking for accommodation with a little character and charm.
The Inn at Glenora Wine Cellars combines the best of Seneca Lake since you're located at one of the best wineries of the area (and just a short drive away from many other incredible Seneca Lake wineries) as well as being home to Verasions restaurant. Oh, and don't miss the views from Starkey Lookout either!
For a luxury stay, check out Geneva on the Lake located at the northern end of Seneca Lake near Geneva. This boutique resort offers guests of the Finger Lakes a one-of-a-kind experience in their stately Italianate villa with beautifully kept gardens. There are food options on site along with a beautiful pool not to mention you're close to all the other great Seneca Lake attractions and Geneva.
---
Is Seneca Lake okay to swim in?
Seneca Lake has multiple options for swimming whether you're renting a boat or enjoying one of the swimming beaches at Seneca Lake State Park, Sampson State Park, or Clute Park in Watkins Glen.
What is Seneca Lake known for?
Seneca Lake is known for being the heart of Finger Lakes Wine Country in New York. It's the deepest of the Finger Lakes which give it its own micro-climate that's ideal for grape growing in the region. There are also an ample amount of outdoor activities from waterfalls and hikes in places like Finger Lakes National Forest as well as charming towns like Watkins Glen that surround Seneca Lake too.
What is the nicest lake in the Finger Lakes?
All of the Finger Lakes offer something special, but one of the nicest lakes to visit in the Finger Lakes is Seneca Lake as it's home to the heart of the region's wine country, gorgeous waterfalls, charming small towns, and great outdoor activities like hiking, kayaking, and horseback riding to enjoy.
When is the best time of year to visit Seneca Lake?
The best time of year to visit Seneca Lake is the summer when everything is in full swing in the Finger Lakes from outdoor activities, lake fun, seasonal events, farm visits, and gorgeous waterfalls! The fall is also a beautiful time to visit Seneca Lake with fall foliage and wine tasting and the winter offers a unique time to visit and is off-peak season so you may find more deals.
---
What to do at Seneca Lake in the Finger Lakes Summary:
Visit Watkins Glen
Watkins Glen State Park
Hector Falls
Drive Along the Seneca Lake Scenic Byway
Take a Scenic Cruise
Visit Montour Falls
Check out Geneva
Seneca Lake State Park
Visit Seneca Falls
Rent a Boat or Kayak
Seneca Lake Wineries
Seneca Lake Breweries
Finger Lakes Distilling
Eat Your Way Around Seneca Lake
Sampson State Park
Finger Lakes National Forest
Excelsior Glen Falls Hike
Visit Farms & Farm Stands
Hector Handmade Gifts & Gallery
---
Enjoyed this guide to all the best things to do at Seneca Lake in the Finger Lakes, New York? Bookmark this guide for later or share the love below on Pinterest!