Looking for the perfect winter getaway? Look no further, visiting Mont Tremblant in winter where you can find one of the best winter wonderlands in not only North America but the world in this charming snow globe winter village.
Check out our guide to all the best Mont Tremblant winter activities at one of the best destinations in the world for skiing and snowboarding.
National Geographic named Mont Tremblant one of the top 25 ski villages in the world and Ski Magazine named Mont Tremblant the number one ski resort in Eastern North America!
Besides being a great ski destination, you'll find that there is no shortage of Mont Tremblant attractions and activities to enjoy in the cold from outdoor activities, luxurious hotels, Scandinavian spas, and more.
Get swept away in the beauty and charm of this adorable ski village set in the Laurentian mountains in Quebec. If you're anything like us you won't want to leave and you'll be itching to come back and enjoy all the other Mont Tremblant attractions and outdoor activities in the summer too.
See why Mont Tremblant is Quebec's winter wonderland and the perfect escape for your next winter trip.
Disclaimer: This guide to Mont Tremblant in winter was done in collaboration with Quebec Original. However, all opinions from these experiences are our own! Happy travels!
Also, see our full 3 days in Montreal itinerary to help you plan a trip to the city as well!
Table of Contents
About Mont Tremblant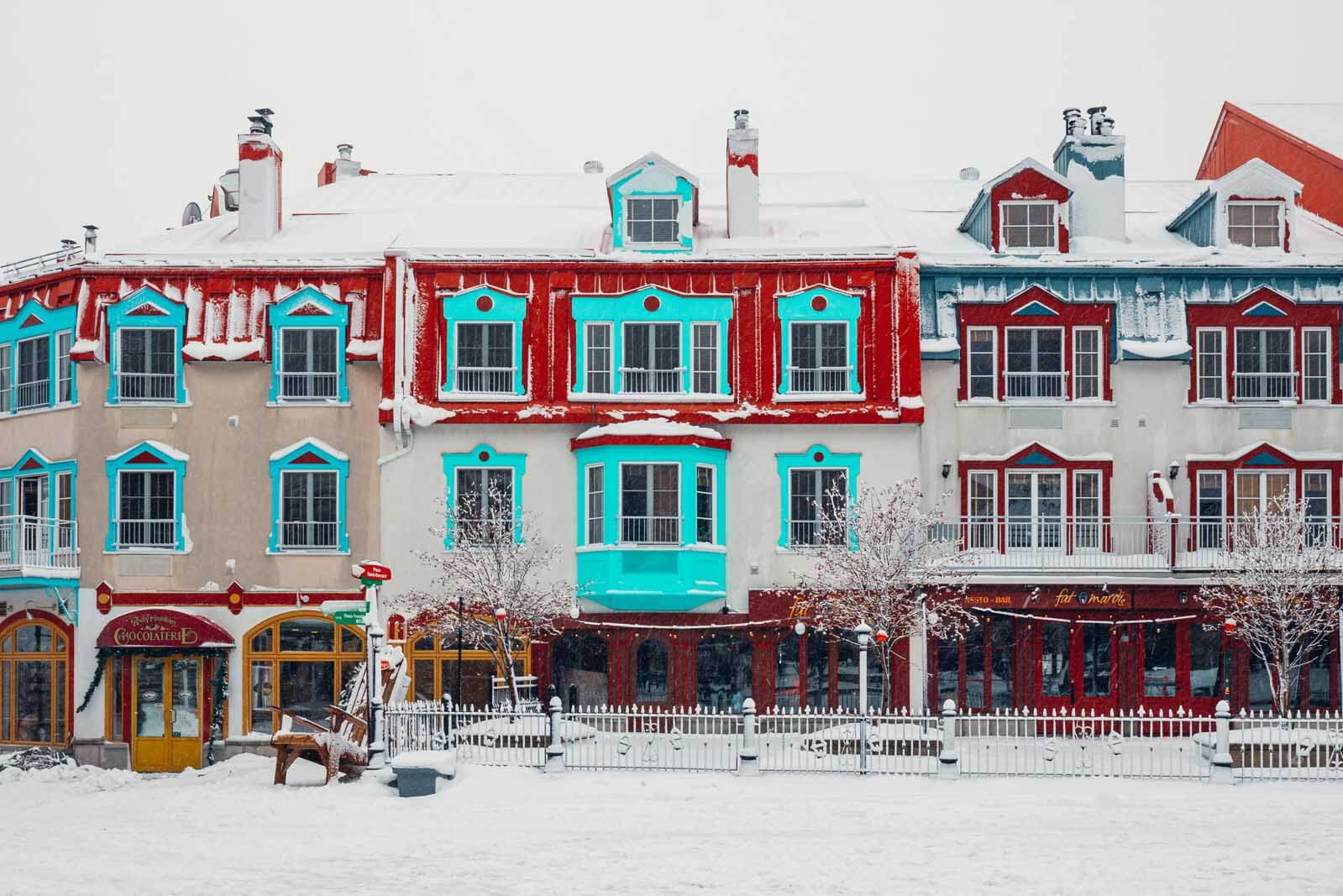 First and foremost, it's best to understand the area of Mont Tremblant as its not just one village or one place that takes this name. There are different zones that make up Mont Tremblant including downtown, the Village, Domaine Saint-Bernard, Mont Tremblant National Park, and Tremblant Resort.
Some would say there are actually 3 different villages. The most well known is what visitors refer to as the "Village" which is actually the pedestrian village and resort area where you will ski, stay in your hotel, and you can find shops and restaurants in this charming little area.
The next areas that you might explore are the old village of Mont Tremblant which is only a few miles away and where there are a few more restaurants, shops, and even hotels – but this area is a little more residential and spread out.
There's also St. Jovite which is where you can find most locals living with one main street with more restaurants.
Domaine Saint-Bernard is also closeby and considered a part of the surrounding Mont Tremblant area. This is also a great place for eco-tourism and outdoor activities. You can find accommodation in this area as well.
There's also Mont Tremblant National Park which is the provincial park and protected natural area surrounding the village and ski resort in the Laurentian mountains.
Skiing in Mont Tremblant became popular after the Ryan's, an American family from Pennsylvania, was in the area prospecting for gold in the 1930s. After climbing the mountain with their companions, Harry Wheeler and Lowell Thomas they thought that this would be a great place for a ski resort/alpine village.
Just one year later, Mary and Joesph Ryan opened Mont Tremblant Lodge in 1939 which was made more popularized by their friend and companion on their trip a year earlier, Lowell Thomas, a famous American journalist.
The biggest transformation and what you see today when you visit the pedestrian village of Mont Tremblant happened in the 1990s. This is when the development expanded and the building of the colorful and traditional Quebec structures were built that also have a very European feel to them.
While exploring the pedestrian village you can actually tell which buildings were from the newer development in the 90s vs the original 'village' by the shape of the roof. If you see a triangle roof shape with curled up ends those are the original resort and pedestrian village buildings dating back to the 1930s.
Mont Tremblant in Winter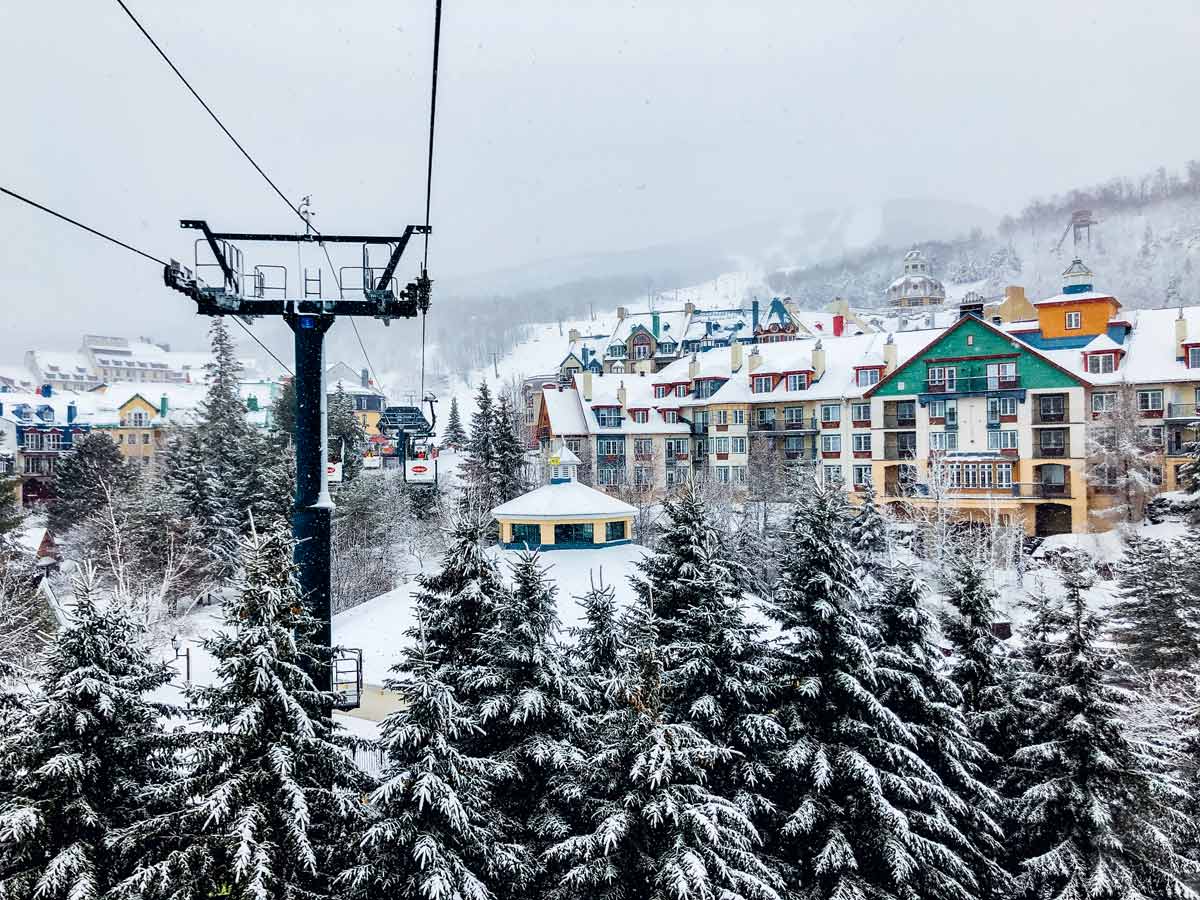 Visiting Mont Tremblant in winter is a popular time to visit, but so is summer! So if you fall in love like we did enjoying all the Mont Tremblant winter activities you might want to see what it's like another season like summer.
Winter in Mont Tremblant averages 10°F and are often snowy and cloudy. Winters can be windy and you can expect the wind chill factor to make the temperatures feel cooler than what the temperatures read, so you will want to be prepared for that with how you dress.
The winter and cold season last for approximately 3 months from the beginning of December to early March with the coldest month is January with average temperatures being between 5 °F and 19 °F.
However, snow does have a bit longer season starting typically in late November through the end of March with an average of 4 months of the year with heavy snowfall making it a great, long season for snow and Mont Tremblant winter activities.
Mont Tremblant Winter Activities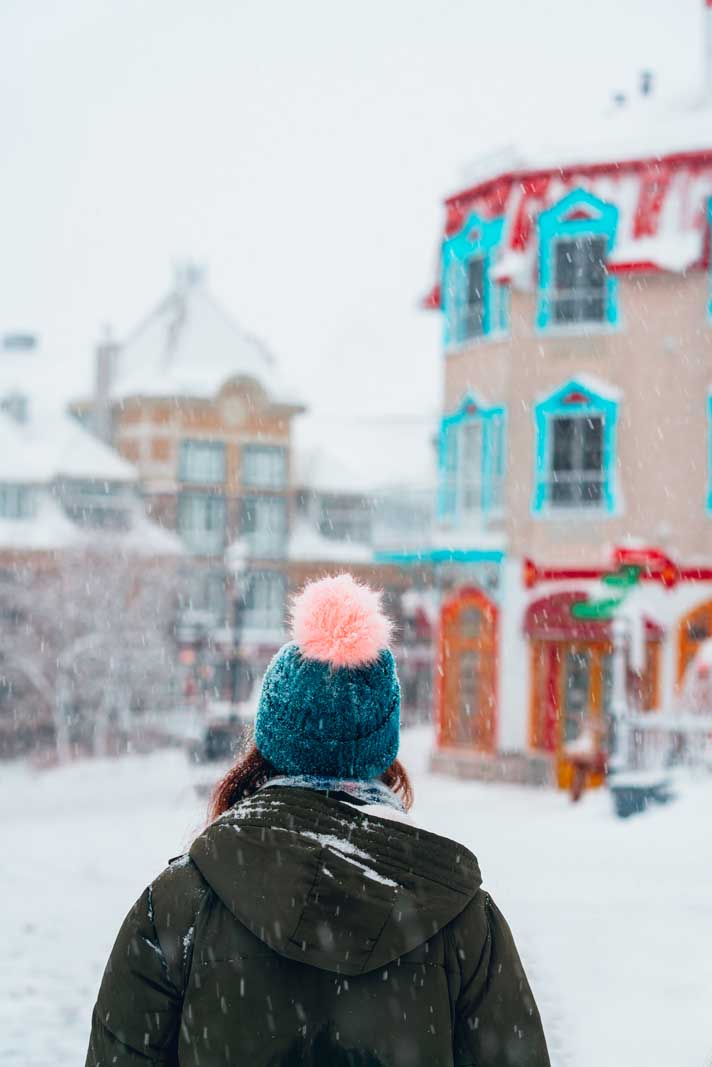 There are so many incredible Mont Tremblant winter activities to enjoy that make traveling to Mont Tremblant in winter one of the best holidays or vacations during their winter months between the end of November – March. Here are some of the most popular Mont Tremblant attractions to check out during your winter wonderland getaway!
Hit the Slopes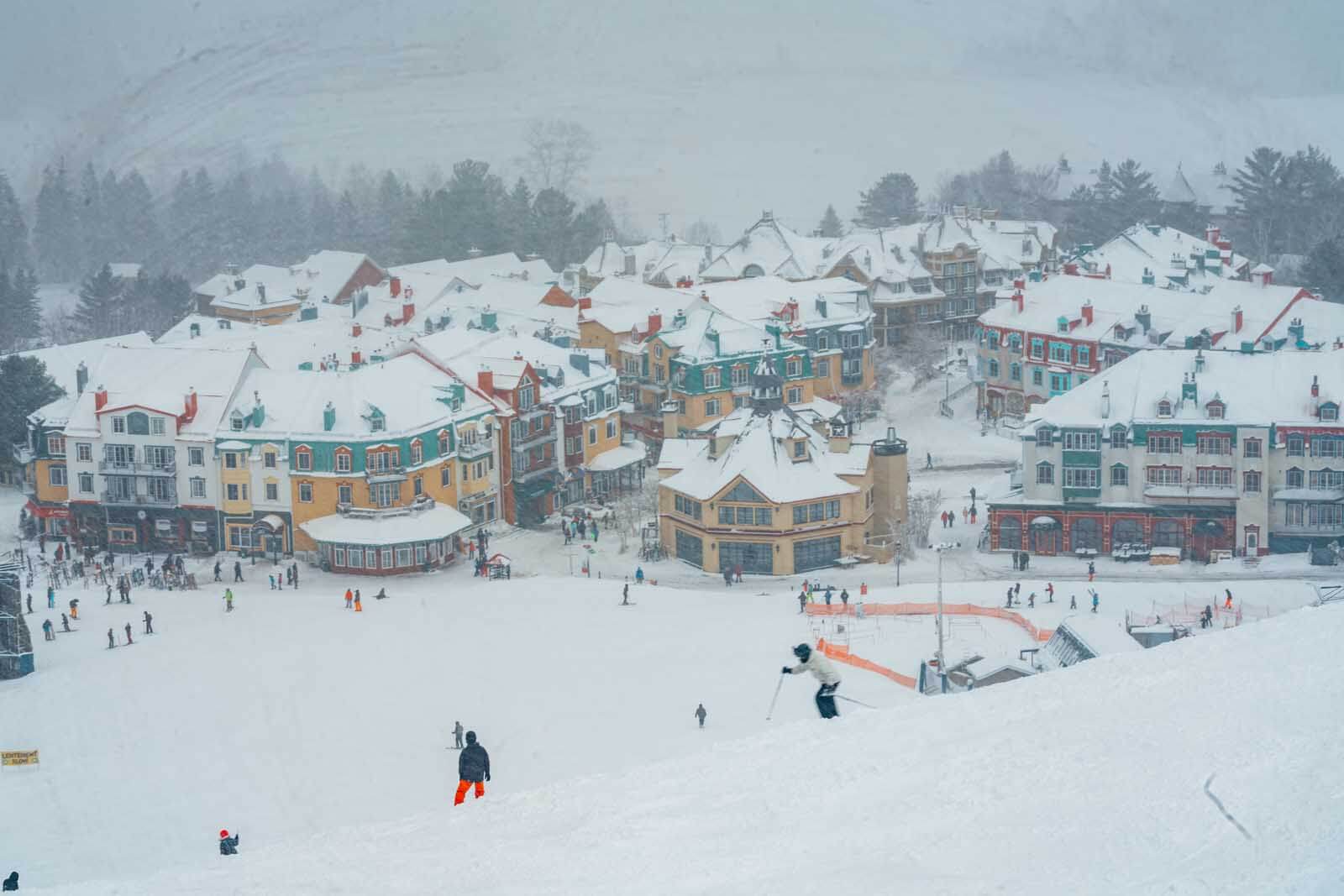 Easily one of the most popular Mont Tremblant attractions and one of the best reasons to visit Mont Tremblant in winter is the world-famous ski resort and supreme skiing conditions and terrain for all levels of skiers and snowboarders.
With over 102 trails, 3 different snow parks, a state of the art ski station and facility with restaurants at the top of the mountain, and some of the best snowmaking systems in the world you are bound to have endless fun on the slopes at Mont Tremblant.
What we particularly loved were how long the runs actually were. Their longest run or trail is actually 3.7 miles (6 km) long!
The mountain is well equipped with gondolas, chairlifts, and magic carpets making getting to your run/trail easy.
While we only allowed for one day of snowboarding during our visit, we would love to come back and spend more time, we really found this ski resort to be truly unique and unlike any other we have ever been to. While I am more of a beginner, Scott is much more advanced and well-traveled and experienced in visiting ski resorts.
We both found the trails to be suited for both our levels and just jaw-dropping beautiful!
We recommend trying to get access to first track which allows you first access to the mountain starting at 7:45 am on the north side runs. We were a bit unlucky on our day on the slopes though as our one day on the slopes happened to be on the day there was a snowstorm, so the conditions were a bit challenging first thing in the morning with strong winds.
As a beginner, I sat out the first round and enjoyed a hot coffee in the ski station at the top of the mountain and waited for the conditions to get a little less wild. However, Scott continued.
What's great is that once you take the gondola up to the top of the mountain you have many different trails and routes to choose from and if you need a break you can eat, drink, and rest all in the ski station.
Then on your way down the south side of the mountain, you're rewarded with the view of the magical and picturesque pedestrian village on your way down! It feels as though the buildings are kissing the mountains and is truly beautiful especially with all the snow it makes it feel like you're experiencing a real snow globe scene in Mont Tremblant in winter!
Enjoy a day at the Spa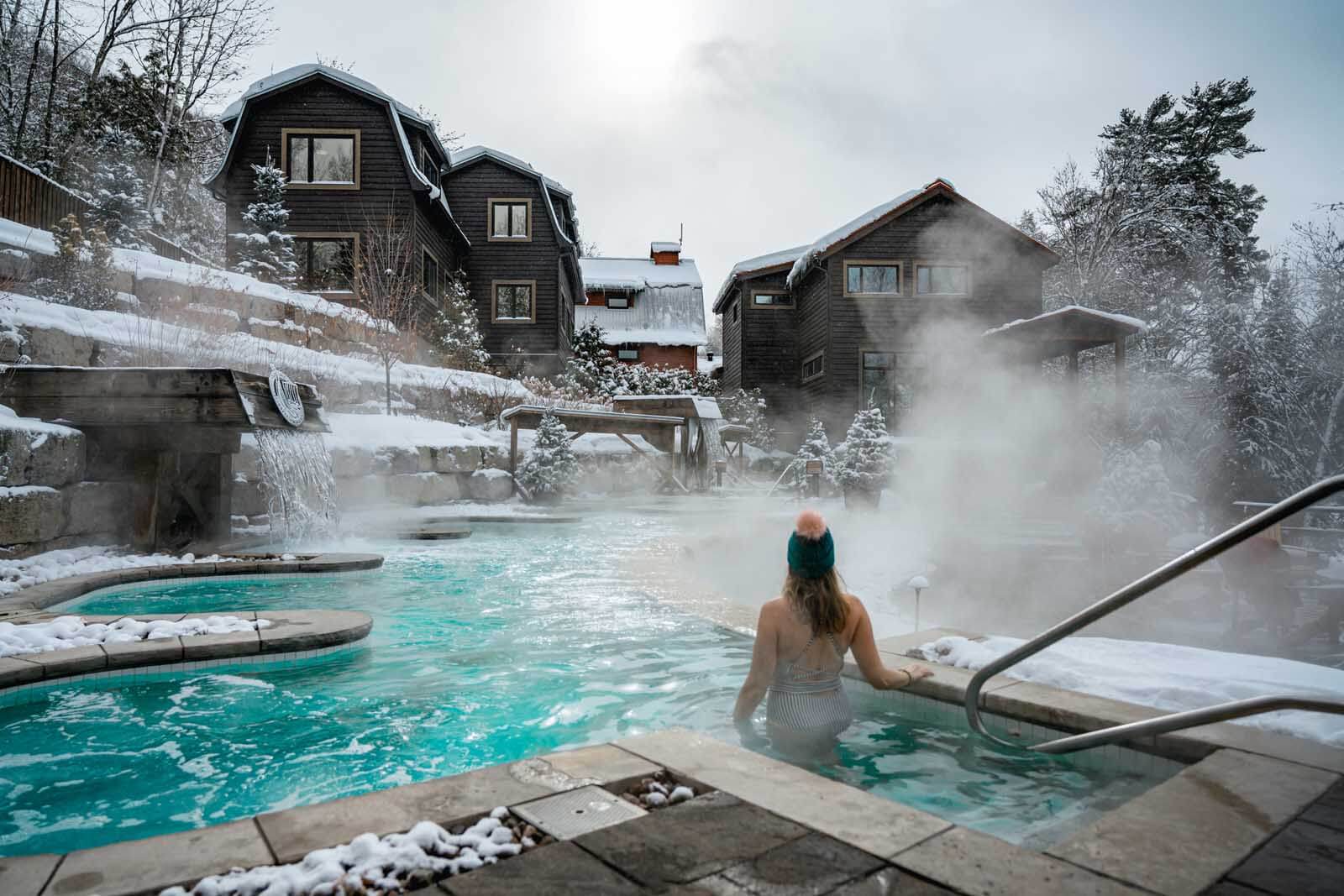 One of the absolute best Mont Tremblant winter activities to enjoy is enjoying a day at Scandinave Spa Mont Tremblant in winter.
Imagine a peaceful, screen-free day surrounded by a snowy alpine setting soaking in a hot pool or resting your eyes in a steam room with a relaxing scent.
Scandinave Spa prohibits the use of phones or digital devices so that you can truly unplug and enjoy a rejuvenating experience. You'll also find the entire property to be the most serene setting, not only because of the magical winter wonderland setting but because the entire property exercises complete silence.
Take a break from the pools or steam rooms and snuggle up in a giant cozy blanket fireside or relax in one of their heated rooms with incredible views of the property.
Guests who present their lift passes get 10% off their visit too!
If you ask us, this is the perfect activity to have in Mont Tremblant in winter the day after hitting the slopes to ease and soothe any muscle aches.
Full disclaimer: we were given special access as we were guests of Quebec Original before the opening of the spa to capture photographs for Mont Tremblant in winter marketing purposes. Normally you are not allowed to have your phones outside of the lockers to use or take photos during your time at Scandinave.
Explore the Village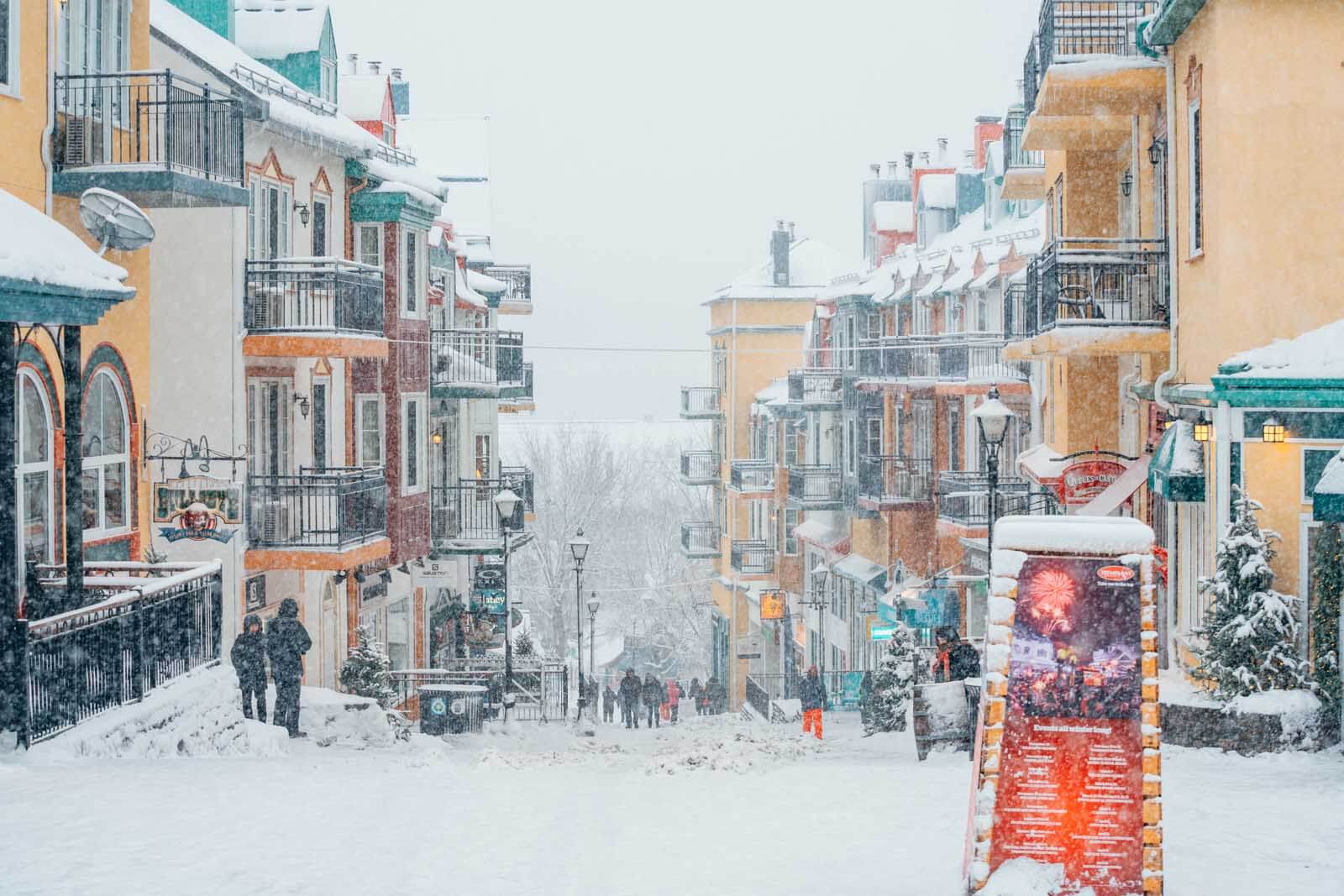 The pedestrian village of Mont Tremblant in winter is one of the most magical places ever. It truly looks and feels like you're in a snow globe village.
Whether you need a break in between runs on the slopes, a break from the Mont Tremblant winter activities, or you simply just want to shop, eat, and explore this is the place to do it.
There are tons of shops and boutiques to check out as well as places to dine and grab a drink!
For shopping, we recommend checking out Roots, a Canadian active and lifestyle brand selling clothing and other accessories. You'll also find more shops selling outdoor and cold weather gear for all those Mont Tremblant winter activities if you didn't pack enough as well as outdoor and lifestyle supplies.
We also recommend having at least one meal in the Tremblant Resort area and pedestrian village. One great place to eat right at the end of the slopes is Le Shack. This unique restaurant gives you the outdoorsy feel right inside the restaurant! There are trees right in the smack dab center of the restaurant making you feel as though you're dining in the great outdoors.
However, be prepared for long waits during the busiest time of Mont Tremblant in winter as this is a popular spot. Don't worry though, the line moves quickly and the service is speedy for a sit-down establishment.
Save room for dessert and get a famous Canadian sweet treat known as beavertails at Queues de Castor. They make hot and fresh ready to made hand-stretched doughy pastries in the shape of a beaver tail topped with a variety of toppings of your choosing!
Stop by Au Grain de Café for a quick pick me up and hot drink, they will even spike your coffee with Bailey's or other alcohols to warm you up even quicker!
And there's no better way to end a day full of Mont Tremblant winter activities than an après-ski drink at the local hangout spot at Le P'tit Caribou.
Helicopter Tour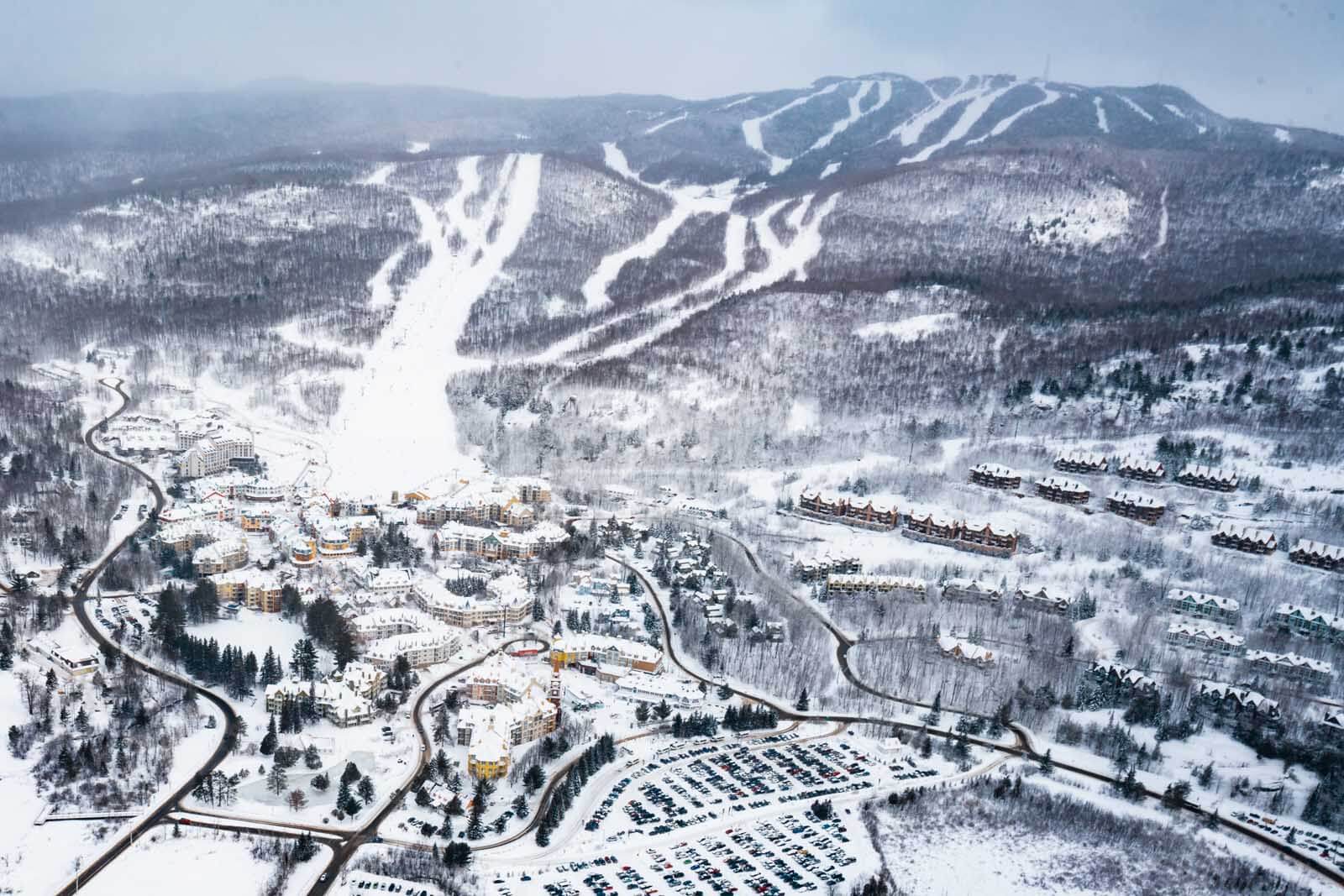 One of the best activities and Mont Tremblant attractions to enjoy during your visit, no matter the season, is see what Mont Tremblant looks like from a bird's eye view in a helicopter tour of the area.
Héli-Tremblant offers aerial tours of Mont Tremblant. These are short rides lasting around 10-15 minutes in the air, but you'll be surprised at how much you see in this amount of time.
Witness the runs on the mountain from above, we were impressed to see how long the trails actually were that we completed the day before as well as the village of Mont Tremblant in winter all dusted with snow.
You'll also pass over the forest, giant mountain mansions, and see other gorgeous scenery that makes up the area.
Ice Skating
Another whimsical Mont Tremblant attraction in the winter is the ice skating at the rink next to the quaint Saint Bernard Chapel at the base of the pedestrian village.
Sadly, during our visit it had warmed up just before getting cold again and the ice wasn't thick enough for skaters anymore. You'll be able to check with your hotel whether or not the conditions are good for you to enjoy this Mont Tremblant winter activity.
Most lodges and hotels include free skate loans for a few hours with your stay! So be sure to check with your hotel.
Alpine Touring
We had never heard about Alpine Touring prior to our visit, but apparently this has become one of the most popular and up and coming Mont Tremblant winter activities to enjoy in Mont Tremblant in winter.
But first, what is Alpine Touring? This is a type of skiing done on special shorter skis that give you the ability to not only travel downhill but also climb and go in whatever direction in snow you come across on trails and is considered a style of backcountry skiing.
Get ready for one heck of a work out as you'll be climbing the mountain or traversing steady inclines on the trails before coming back down. It's important to dress properly for this as you will get hot and sweaty on the way up and need to get bundled back up for when you're not working as hard in the snow.
There are designated trails on the Nansen, Algonquin, and Beauchemin runs and you can rent equipment. If this is your first time, we recommend hiring a local guide who knows the trails to take you out for your first time during your Mont Tremblant in winter vacation!
Snowshoeing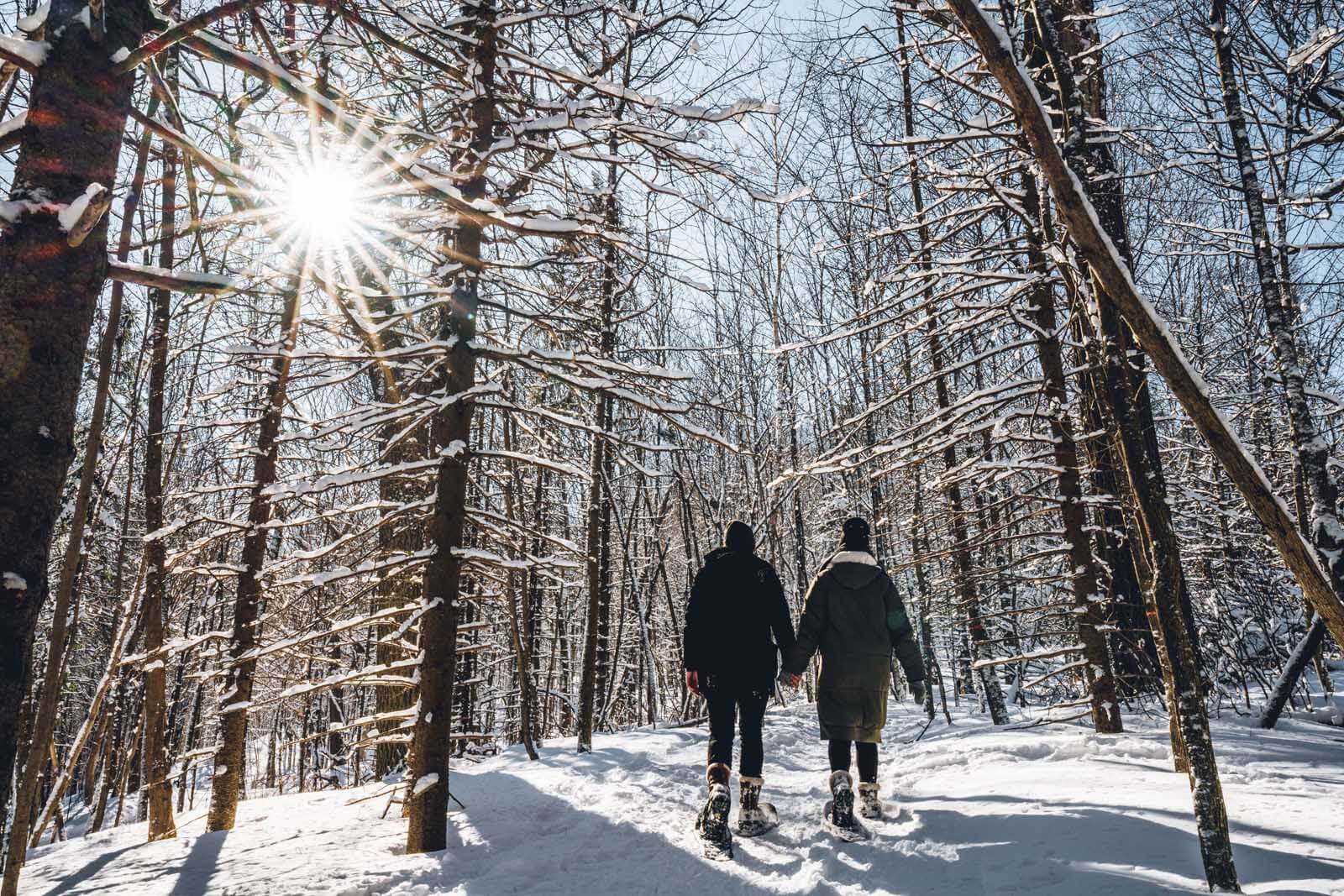 Another popular and great Mont Tremblant winter activity is snowshoeing! What's great about snowshoeing is that you don't need to be experienced to enjoy this sport, it's great for beginners and first-timers as it's very easy to learn.
There are several snowshoeing trails to choose from throughout Mont Tremblant, Domaine Saint Bernard, and Mont Tremblant National Park.
You can rent gear and go independently or join a guided day excursion and tour to enjoy this fun activity in Mont Tremblant in winter!
Snow Tubing
Another one of the most fun Mont Tremblant winter activities is snow tubing or snow sliding as some call it!
At Mont Tremblant Resort you can go snow tubing après-ski in the evenings as there is no night skiing here. The slopes close to skiers around 4 pm and the snow tubing hills open up! There are a total of 8 runs and 2 rope tows to enjoy. However, be aware that you need to check to see which days allow for snow tubing as they are not always open daily and often only open on the weekends.
Outside of Tremblant Resort, you can find other places that also offer snow tubing as well.
Cross Country Skiing
Mont Tremblant in winter is a wonderland of all things to do in the snow! From traditional downhill skiing, snowshoeing, alpine touring, and tubing to cross country skiing.
There are 75 miles (120 km) of groomed cross country trails to enjoy for all levels of cross country skiers from beginners to experts to enjoy around Mont Tremblant, Mont Tremblant National Park, and Domaine Saint Bernard.
Stay in the resort area or venture out to the other gorgeous areas to enjoy Mont Tremblant winter activities and see more of the beautiful wooded areas and terrain by cross country skiing.
Snowmobiling
One of the most thrilling Mont Tremblant attractions in the winter is snowmobiling! Rent your own snowmobile or join a snowmobile tour with a guide from anywhere from one hour to three hours traversing the snowy trails through the forest of the Laurentians.
Dress warm and be ready for a fun way to experience this gorgeous area on this thrill-seeking Mont Tremblant winter activity.
Enjoy all the delicious food!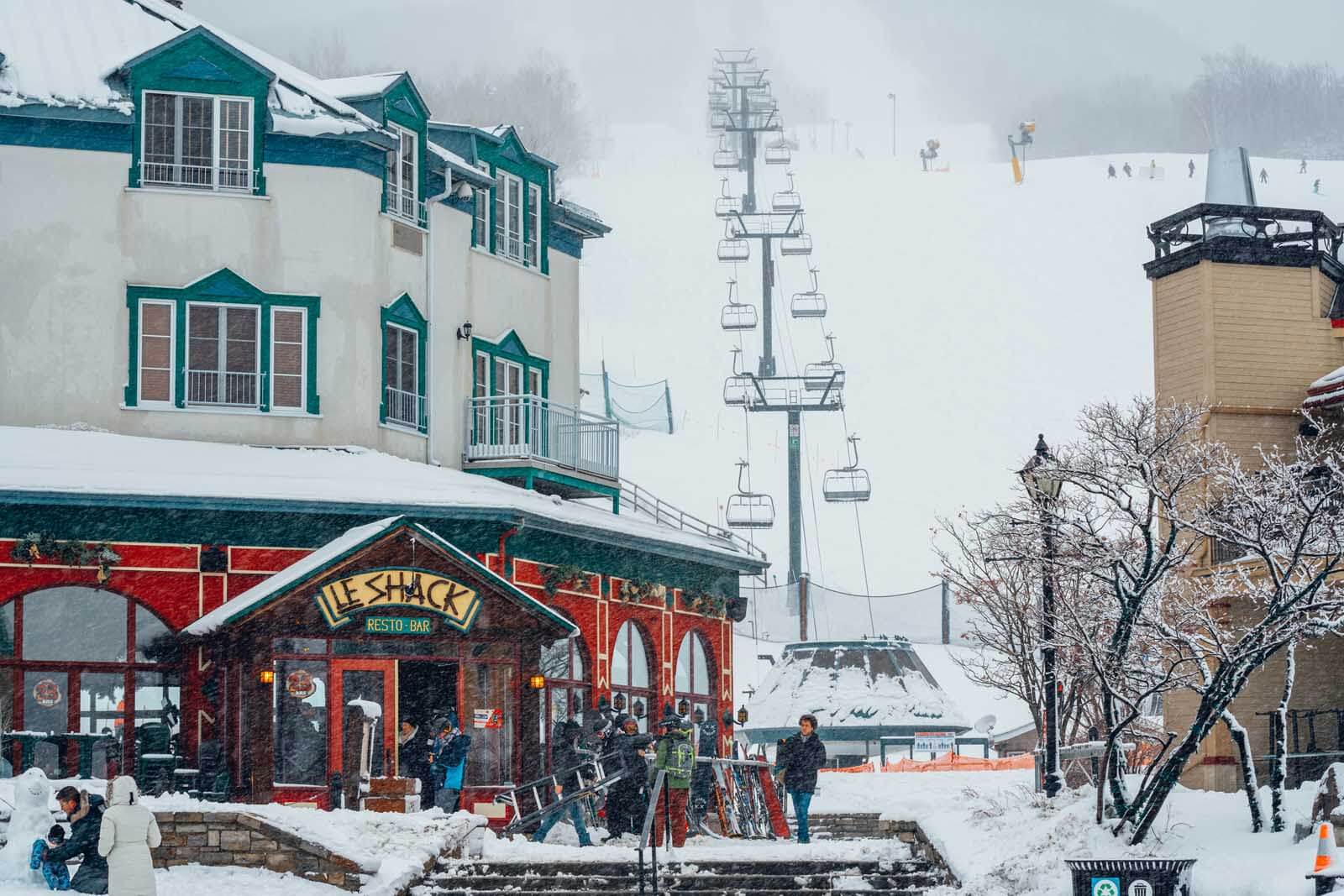 There's no better way to warm up during a visit to Mont Tremblant in winter than a delicious, hot meal. Lucky for you Quebec and Mont Tremblant have tons of great options for dining.
As mentioned earlier, Le Shack in the pedestrian village is a great lunch or even an après-ski dinner spot at the base of the mountain and ski runs.
Another great option just a short drive away from the Tremblant Resort and pedestrian village at Hotel Mont Tremblant is the cozy Resto Pub Au Coin in the old village of Mont Tremblant serving up locally sourced meals from the pub menu at lunch or Table d'Hôte menu in the evenings. We highly recommend the warm brie appetizer!
For a romantic and cozy dining experience, we recommend eating at Restaurant La Quintessence in Hôtel Quintessence offering a delicious menu blending Laurentian flavors and French cuisine.
Ride the Le Cabriolet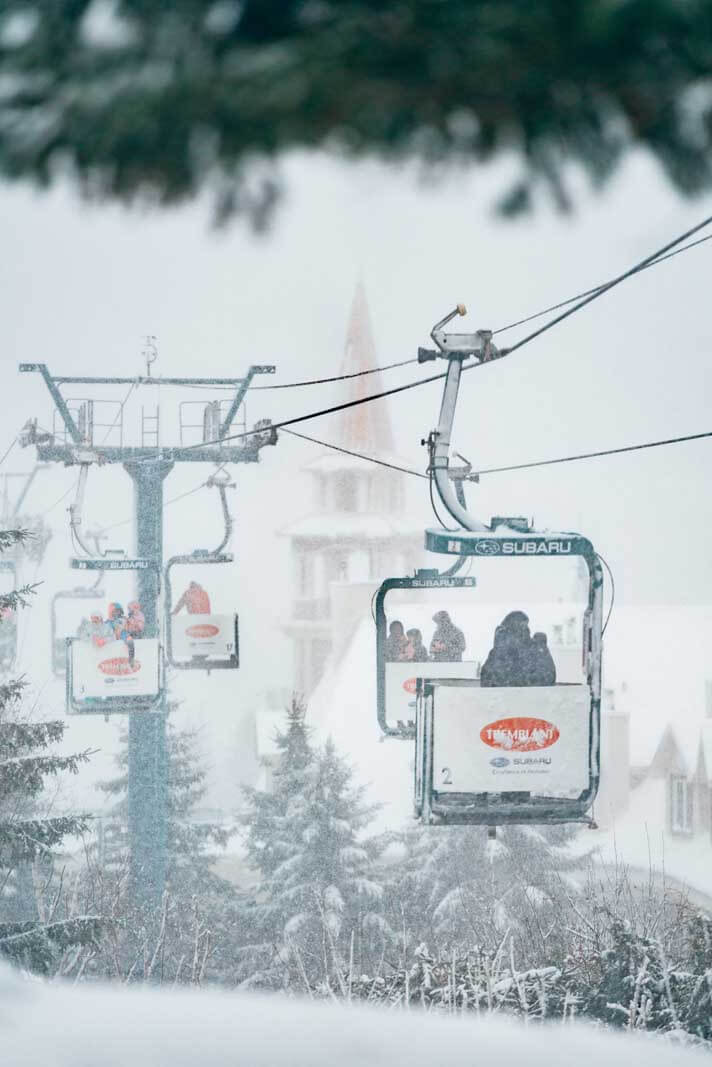 One of my favorite ways to see Mont Tremblant in winter is from the Le Cabriolet, the circulating open air standing gondola that takes you from the top of the village to parking and shuttles at the bottom of the village.
This fun Mont Tremblant attraction is not only practical but offers some amazing views of Mont Tremblant and the village on the southside of the mountain.
You'll want to give it a ride even if you don't need to go to the parking lot as the entire ride is around 2 minutes long.
Mont Tremblant Casino
Sick of the cold weather? One fun way to warm up in Mont Tremblant in winter is try your luck at Casino de Mont Tremblant.
Don't worry if you're not into gambling you can still enjoy the entertainment options at the casino for a fun night out apès-ski. You can hang out and have a drink at the bar and enjoy free shows and live music.
Things to do Nearby Mont Tremblant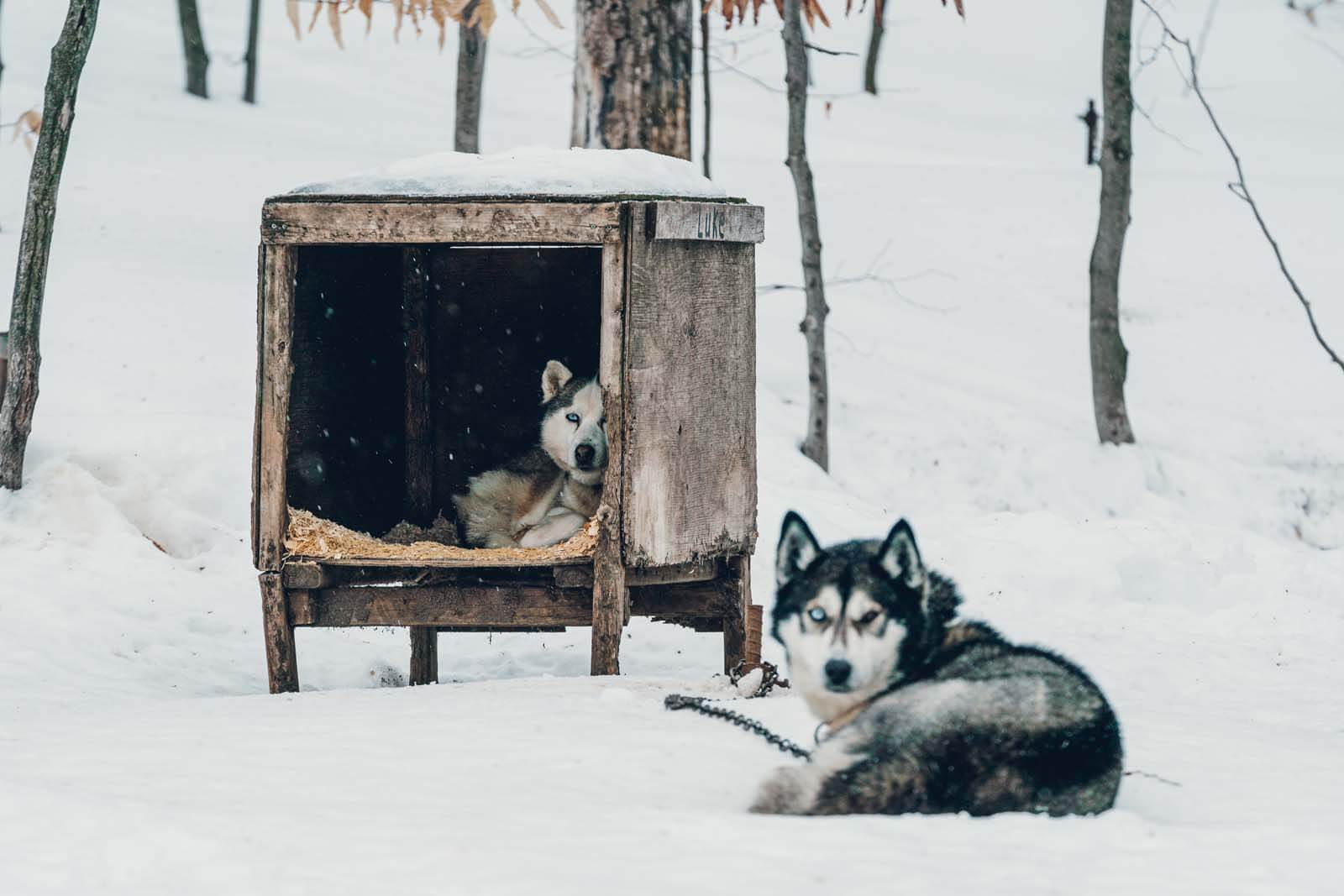 Dog Sledding at Saint-Hippolyte
If you're looking to enjoy things to do beyond Mont Tremblant winter activities you're in luck. The Laurentians are full of other outdoor and winter excursions to enjoy including the tradition of dog sledding with Aventures Plein Air in Saint-Hippolyte.
Continue to explore the Laurentians by trying your hand at the traditional mode of transportation in the Great White North on a dog sledding excursion.
Experience first-hand the relationship between a musher and their dogs, and for a moment experience this 9,000-year-old tradition yourself with these dogs with their thick fur and padded paws who have been born to thrive in the cold and are enthusiastic to run in their element.
Even in a short time you'll experience the unique and special bond between you as the driver and the dogs. And after you get to thank your dogs by spending time with them petting and relaxing with them before they go back to their houses.
See the village where the mushers and dogs live atop the mountain and enjoy an authentic homemade Quebec meal at Manon's Shack.
If you're unsure about this activity, please read this great post about dog sledding by our friends Alesha & Jarryd of Nomadasaurus.
If you're not into dog sledding, they do offer snowmobiling excursions as well to experience a different area of the Laurentian mountains and the winter landscape and beauty this area has to offer.
Try a Sugar Shack meal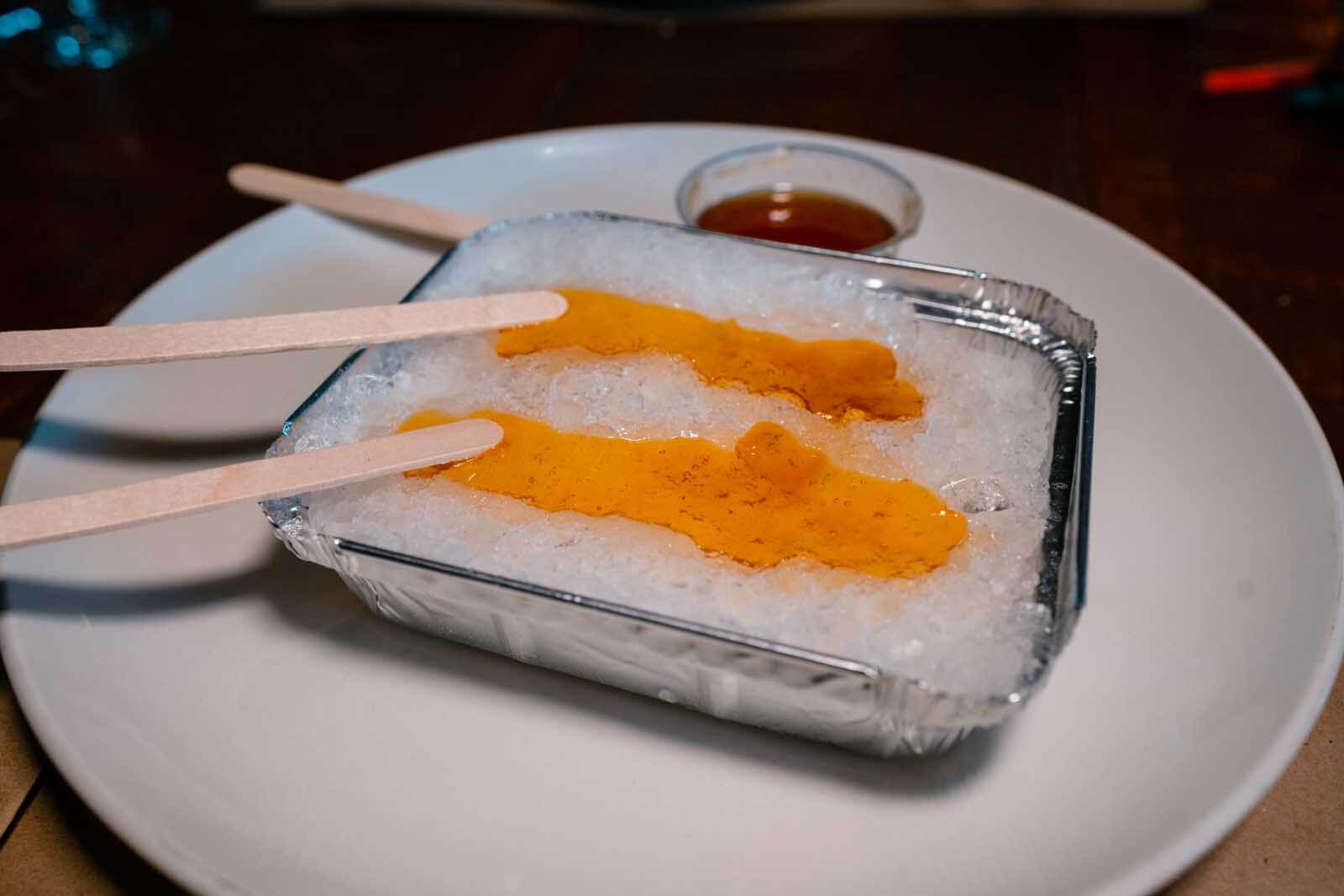 Another awesome experience and not too far of a drive from Mont Tremblant is Restaurant Au Petit Poucet who prepares authentic "Sugar Shack," meals Quebec style!
Sugar season has a pretty small window annually, so by stopping at this restaurant you get an authentic sugar shack meal any time of the year.
This is a great stop if you find yourself visiting Montreal in winter as well before/after Mont Tremblant and is a great stop about halfway between the two destinations.
A traditional sugar shack meal features eggs, baked beans, ham, and crispy deep-fried pork jowls served with a drizzle of fresh maple syrup.
Before you fill up you'll want to save room for the sugar on snow dessert or maple syrup inspired desserts including their mouthwatering and unique maple cream pie.
What makes this experience even better, even though the food is already phenomenal, is the setting. On a chilly day after enjoying all those Mont Tremblant winter activities, you can warm up fireside by the giant fireplace in the center of the restaurant and rustic interior.
We didn't want to leave!
Where to stay in Mont Tremblant
Our pick for where to stay during your visit to Mont Tremblant in winter is the fabulous boutique and 5-star Hôtel Quintessence.
This world-class hotel is located right at the base of the pedestrian village and Mont Tremblant Resort meaning you're just walking distance away from some of the best Mont Tremblant attractions.
They have 30 luxurious suites that are just heaven to stay in, especially after a long day out enjoying all the different Mont Tremblant winter activities.
Our suite had a spacious jacuzzi bathtub, cozy fireplace, a balcony with a gorgeous view, and soft jazz music greeting us every time we came in our room. Whether you need a good soak, a romantic glass of wine next to the fireplace, or just the most comfortable and luxurious place to rest after an action-packed day, this is the best way to treat yourself on your winter getaway to Mont Tremblant.
Not to mention, Hôtel Quintessence as won several awards as well as the Best Small Hotel in North America.
What to Pack for Mont Tremblant in Winter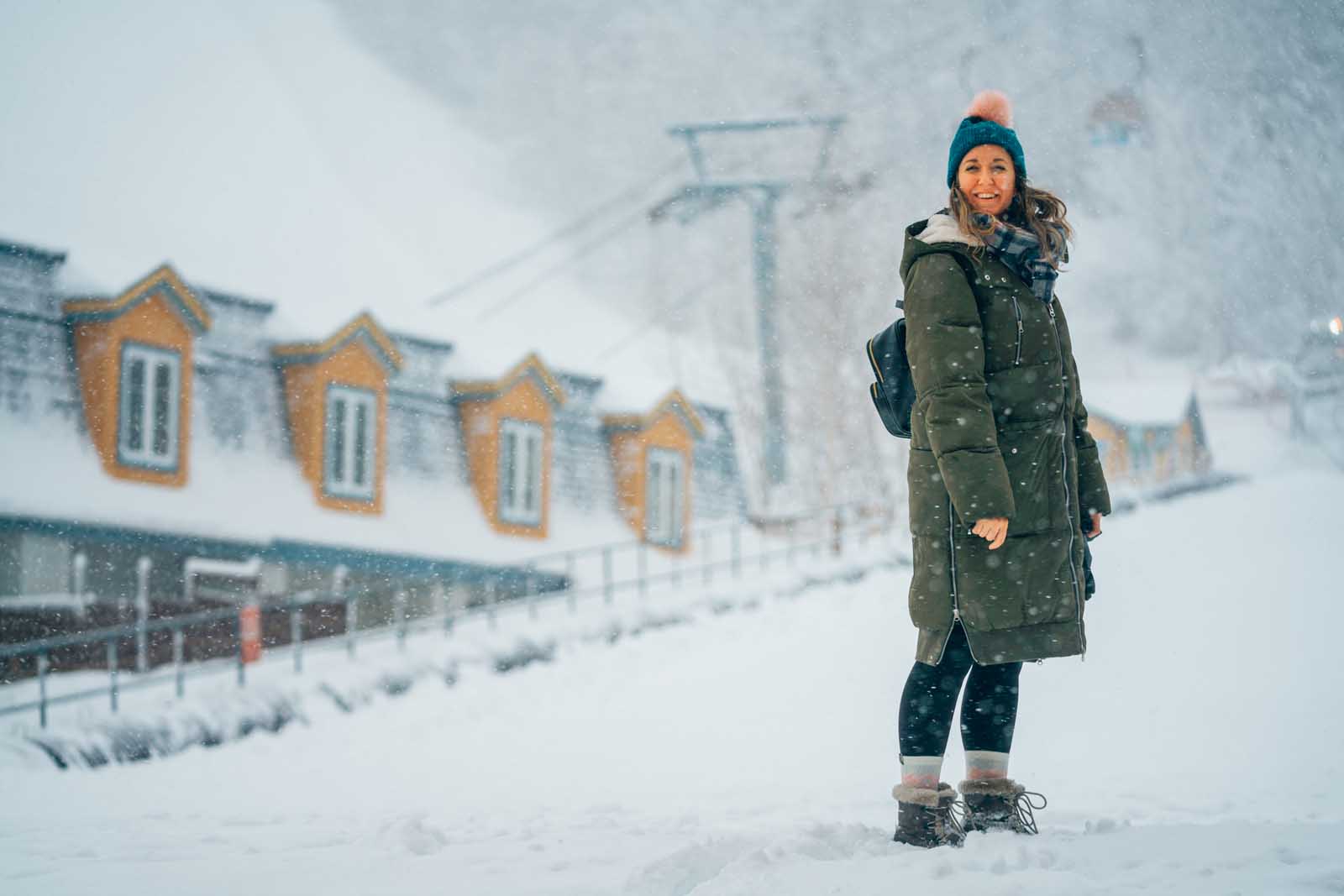 Packing for a vacation is the worst as if you haven't been there before its hard to determine what to bring. Enjoy our checklist of what to pack for your holiday to Mont Tremblant in winter to help planning for your trip be easy peasy.
For snow gear/ski gear, if you don't already own your own we recommend renting your ski apparel at Tremblant Resort as you have to travel with less and don't have to worry about packing it or fitting it in your suitcase.
Bring a warm winter jacket for obvious reasons, Quebec has very cold weather in the winter you will undoubtedly need a very warm winter jacket even when you're off the slopes enjoying other Mont Tremblant winter activities.
We love the famous 'Amazon Jacket' for women that will keep you warm and stylish as well as this great down winter jacket for men that's long to keep that cool air off your body.
Another essential you need for other fun winter Mont Tremblant attractions are thermal layers. Layering is essential as depending on the weather or Mont Tremblant winter activities you can stay warm.
What we love about having layers is if we get too warm we can always take one layer off, it's easier to take layers off than it is to warm up if you're underdressed. We love this thermal set for ladies and this thermal set for men.
You'll want to make sure you pack warm socks. There's nothing worse than having cold feet when you're trying to enjoy the great outdoors. Layer your feet up properly with these merino wool socks for men and merino wool socks for women. These are also very important to wear when you're skiing or snowboarding!
Weatherproof and waterproof boots are also essential if you're planning on exploring in cold or wet weather along with good socks. We love Sorel boots because they are waterproof to keep your feet dry in wet weather or snow, keep your feet warm in cold weather, and are stylish!
We love the classic Men's Caribou Boot with wool lining and Women's Caribou Boot with a wool lining. These will keep your feet warm and dry during all your fun Mont Tremblant winter activities.
Read Next: Stylish & Comfortable Travel Shoes for Women and The Best Travel Shoes for Men
Don't get caught on a cold day without warm gloves to keep your hands warm! We recommend these wool knitted Thinsulate gloves for men and this gorgeous Chenille cable knit touch screen gloves for women.
Or if dexterity isn't an issue and you want to be sure your hands stay completely dry we recommend getting a good pair of snow gloves.
However, we want to stress that you have proper waterproof ski gloves on for your day at the slopes!
You'll also want to pack a warm winter hat or beanie to keep your head warm. We love these Carhart winter hats as they come in a variety of colors and are unisex. Also, keep in mind to bring a winter hat that doesn't have a pom at the end of it for the day on the slopes so it will fit under your helmet!
You will also want to protect your eyes with polarized sunglasses! The sun reflecting off the snow is not only bright but the rays of sun are also damaging to your vision. Protect your eyes with the classic Rayban Wayfarers that are polarized and a timeless classic that look amazing on both men and women! One of our all time favorite looks.
You'll also want to make sure you have goggles for skiing or snowboarding at Mont Tremblant in winter! When its snowing or windy you will want to make sure your eyes are protected and you can see. This pair of goggles has rave reviews for a great value.
Another few great items to bring are hand warmers for those especially chilly days you just can't get warm. We actually like to keep one or two in our pockets with our iPhone as the battery tends to die quickly in cold weather. This keeps it warm so that we don't lose battery while enjoying all those fun Mont Tremblant winter activities.
Speaking of phone batteries dying quickly in the cold, we like to also keep a power bank for charging your electronics via a USB cable to make sure we always have battery when we are in the cold.
---
If you're looking for more Quebec province travel check out our guide to the best things to do in Quebec City in winter (& the holiday season) and the gorgeous region of Saguenay-lac-Saint-Jean.
Read Next: Best Day Trips from Montreal
Enjoyed this guide to all the best Mont Tremblant winter activities and how to enjoy Mont Tremblant in winter? Bookmark for later or share the love below on Pinterest!