Looking for the best towns in the Hudson Valley to visit? You're in luck and have come to the right place as we use any excuse we can get to leave New York City and meander around the incredibly scenic Hudson Valley.
With so many cool things to do in the Hudson Valley, choosing where to go and what to see can be tricky. That's why we made this guide to make it easier for you to choose which Hudson Valley cities and towns to visit or base yourself at during your trip.
The Hudson Valley in New York is celebrated for its charming, picturesque, and historic towns that collectively offer a captivating journey through American history and culture. Each Hudson Valley town holds its own unique charm and appeal, making this region an exceptional destination for exploring small towns, shopping (especially antique shopping), and enjoying everything each of these towns has to offer.
Hudson Valley towns are known for their well-preserved architecture dating back to the colonial era, Victorian homes, and historic landmarks.
The region's scenic beauty, with the Hudson River winding through, adds to its allure and you'll begin to realize why so many prominent families in history from New York City had their countryside estates and homes here.
Many towns have thriving arts scenes, boasting galleries, theaters, and music festivals, while others are renowned for their culinary delights, featuring farm-to-table dining and even local wineries and breweries.
Exploring these small towns offers a glimpse into the past while celebrating the present. You can visit Sleepy Hollow for its ties to Washington Irving's legend (which is especially fun during the fall), Hudson for its vibrant arts community, and Rhinebeck for its charming streets and the famous Rhinebeck Aerodrome to give you an idea about what kind of exciting towns you have to visit here.
Additionally, the region's stunning natural landscapes, from the Catskill Mountains to rolling vineyards, provide outdoor enthusiasts with plenty of opportunities from hiking, to leisurely scenic walks, to riverboat cruises.
So without further ado, here are what we consider the most charming and best Hudson Valley towns to visit!
Charming Hudson Valley Towns to Visit
Kingston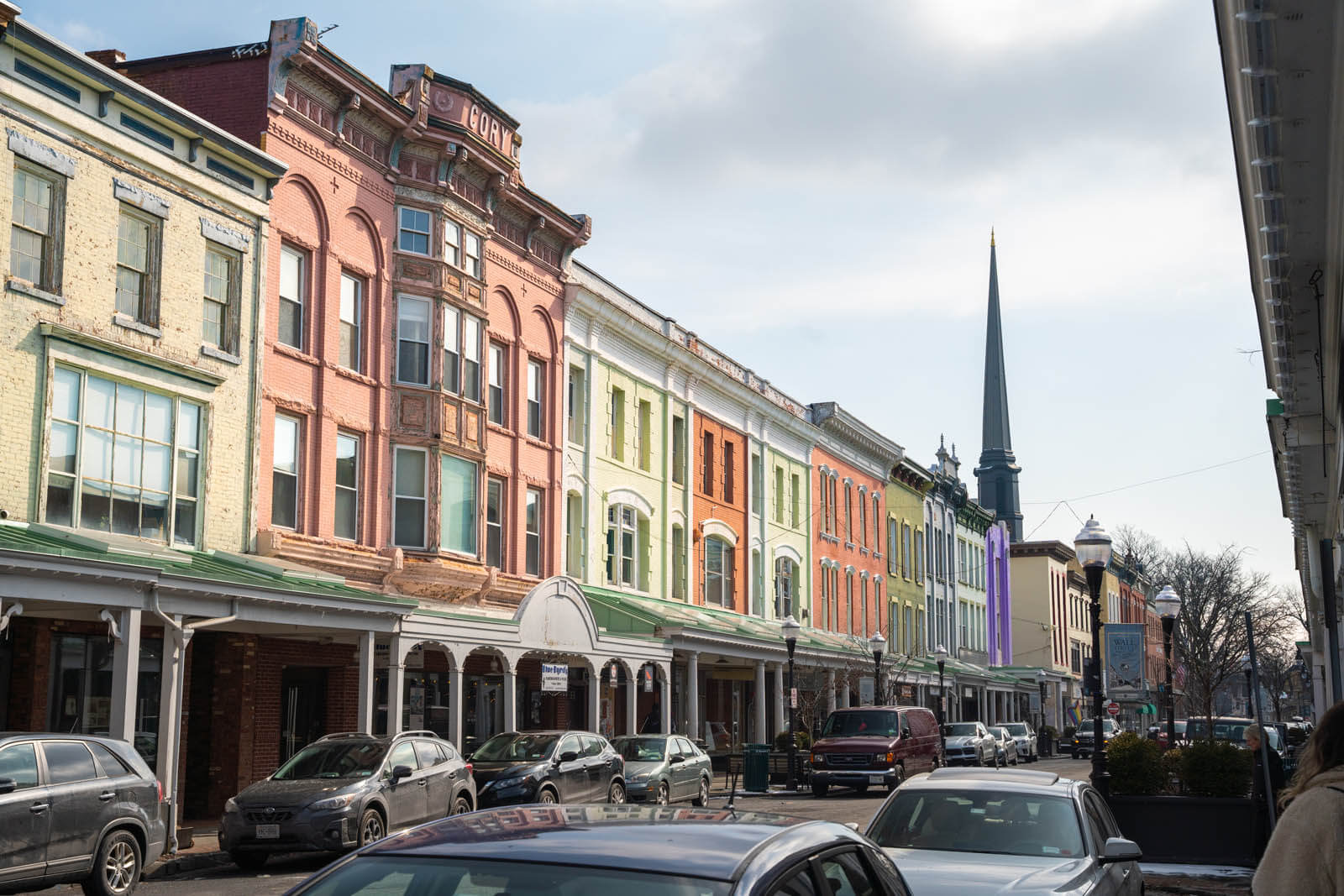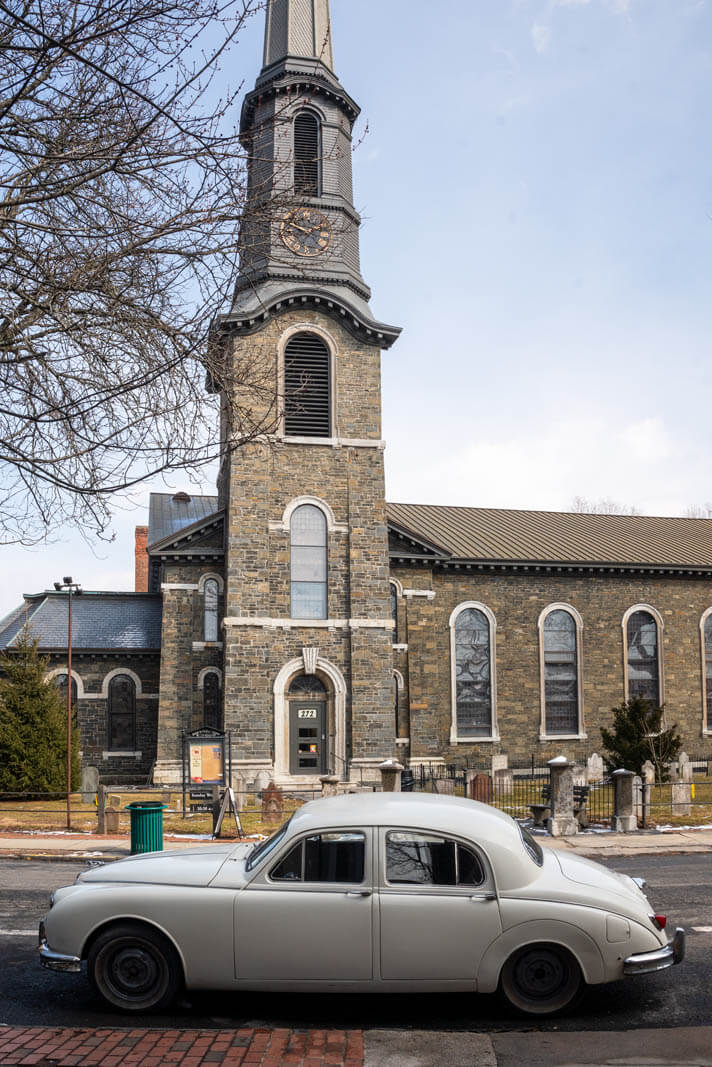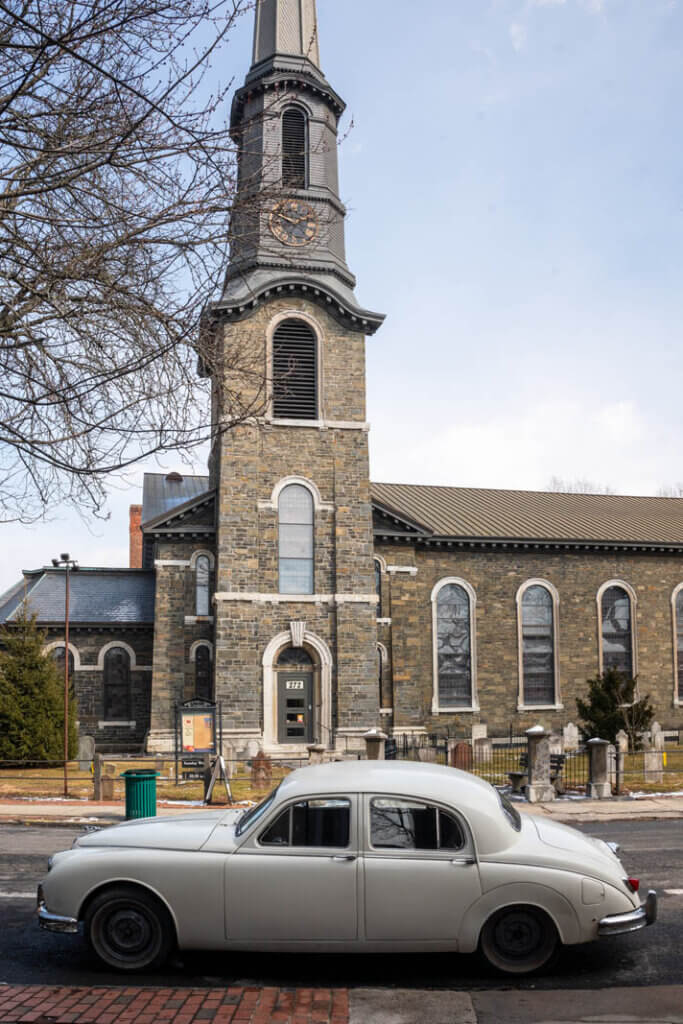 If you love American history, charming towns in the Hudson Valley, or shopping for vintage treasures, you'll love Kingston, New York! Set on the banks of the Hudson River, it's probably most popular for its role in the American Revolutionary War.
Kingston has 3 different historic districts, with the Stockade District being the most popular. It features major landmarks like Old Dutch Church, Four Corners, and the Catskill Mountain Railroad. It's also where you'll find the Ulster County Courthouse, which is connected to Sojourner Truth!
There's the waterfront Roundout District, which is home to the Hudson River Maritime Museum, the Roundout Lighthouse, and the Trolley Museum of New York. Or for more maritime history, take a narrated tour with Hudson River Cruises to see even more Hudson River landmarks.
Kingston is also one of the best towns in the Hudson Valley if you love antique and vintage shopping! You could spend an entire day in the historic Midtown District, popping in and out of shops and boutiques (and enjoying stunning street art)! During your shopping trip, we recommend checking out Rosie General or Sweet Maresa's for some quality bites made with regional ingredients.
How to Get to Kingston
If you're looking for a nice day trip from NYC, just take Amtrak from Penn Station to Rhinecliff-Kingston Station. It takes about 3 hours and you'll need to grab a cab from the train station. But once you're in Kingston, it's super walkable! Or if you have your own car, it's an easy 2 hours from NYC.
New Paltz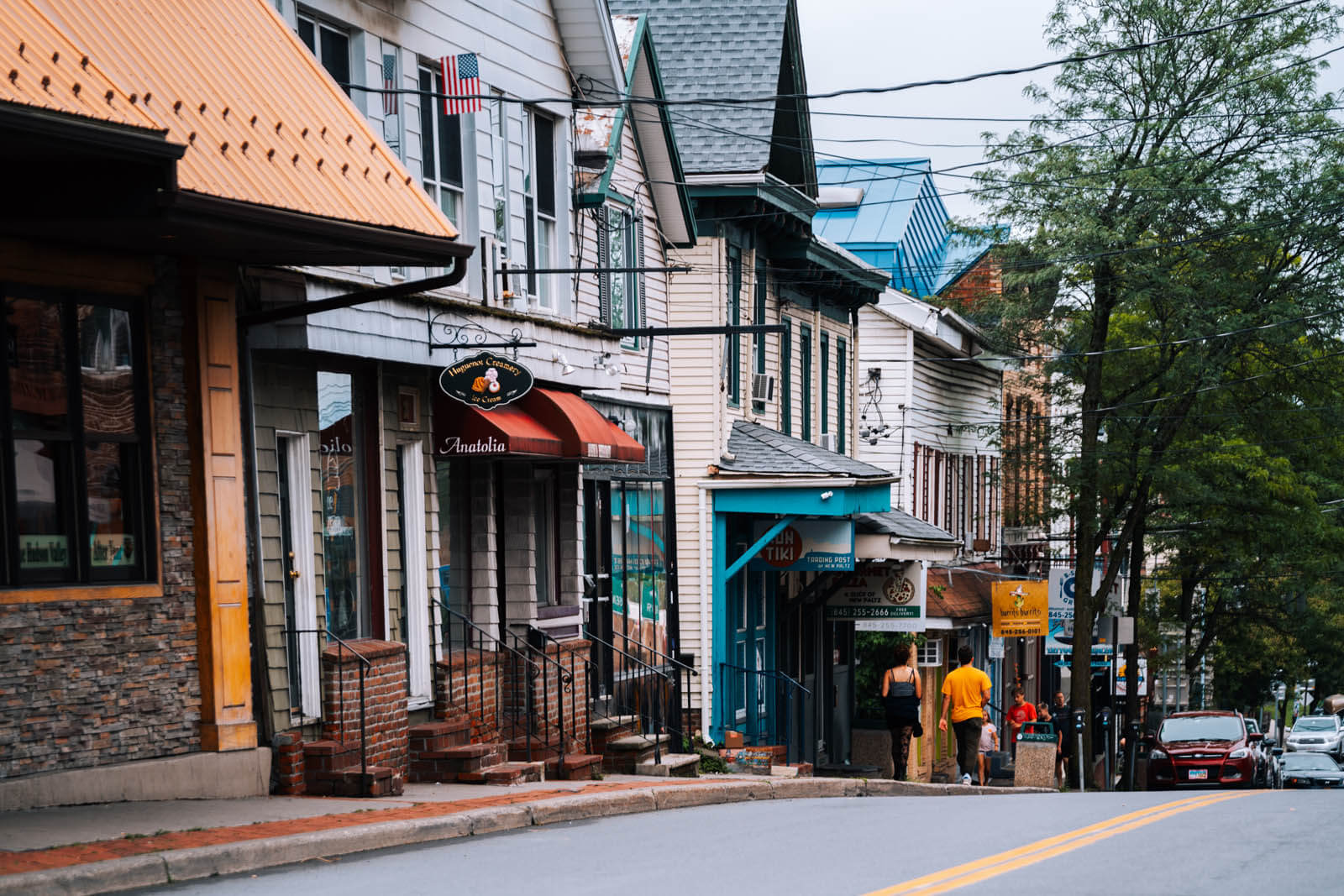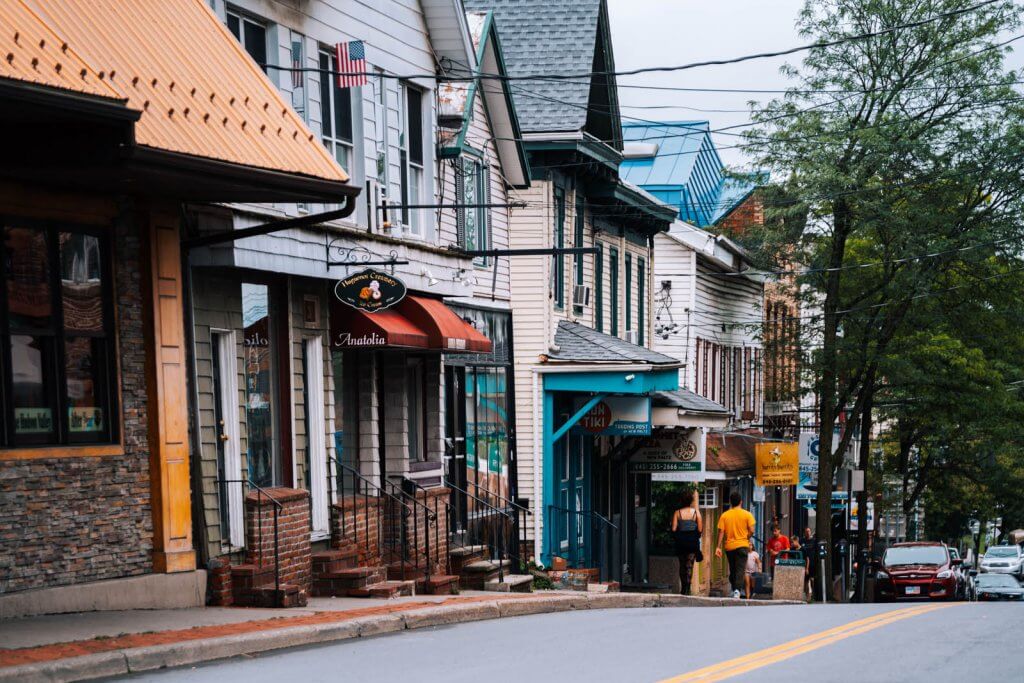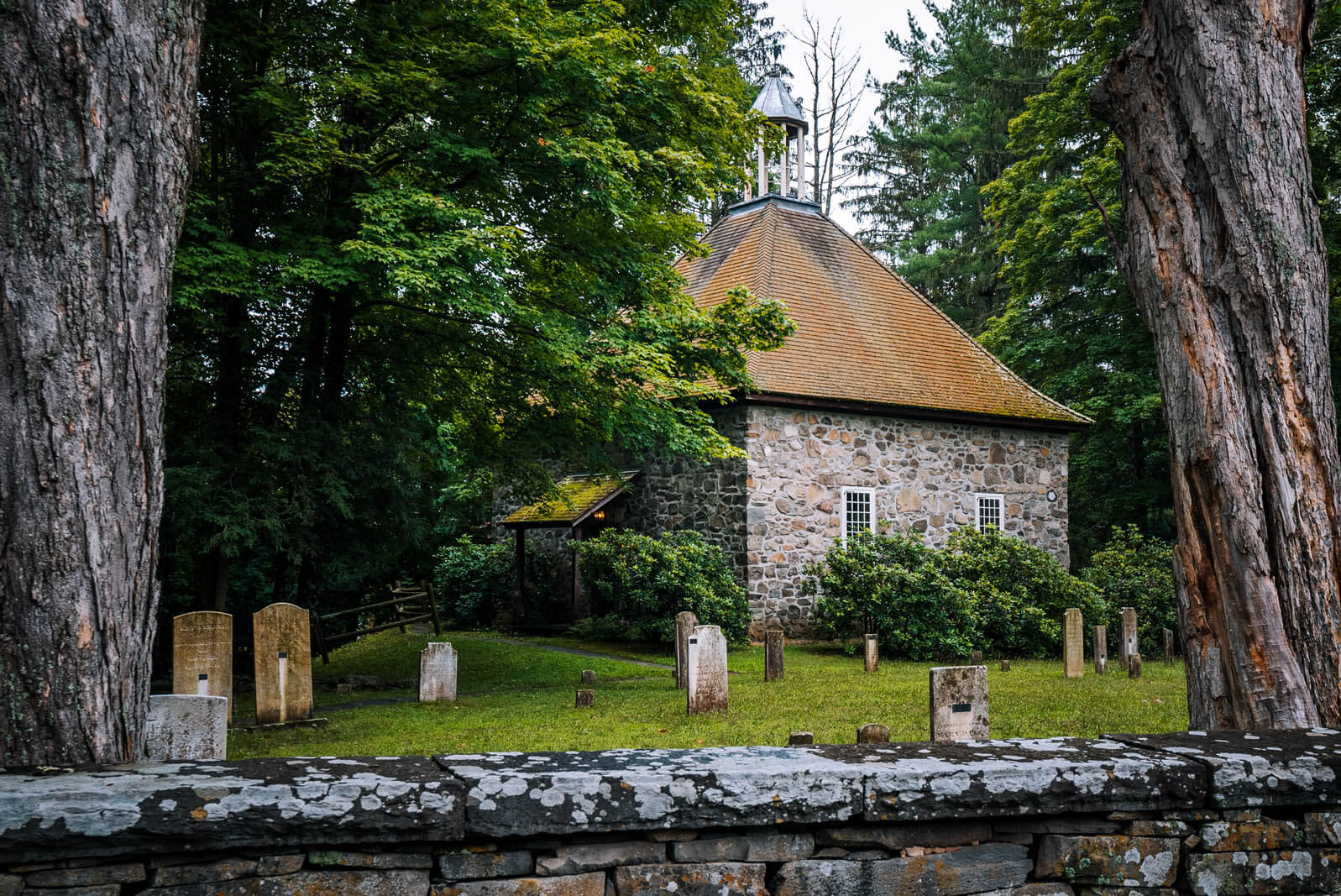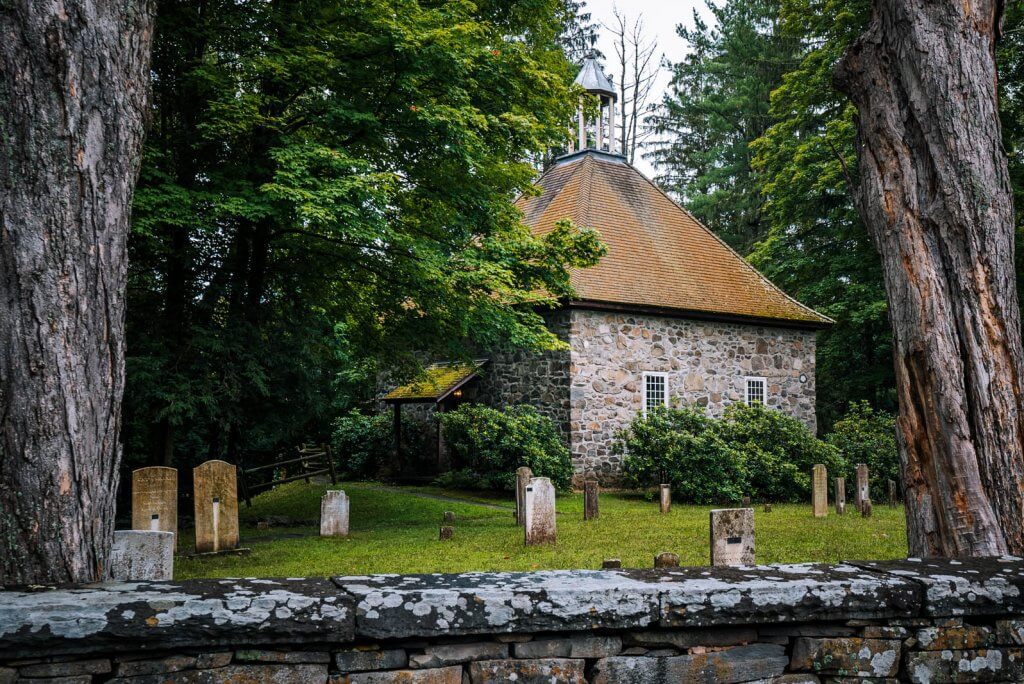 Set along a curve of Wallkill River, is the incredibly historic town of New Paltz, New York. This is another destination packed with history, dating back over 300 years! New Paltz is also considered one of the best Hudson Valley towns because of its access to outdoor recreational activities, as well as its pedestrian-friendly Main Street, and its historic neighborhood.
A main attraction in New Paltz is the Historic Huguenot Street, a National Historic Landmark District dating back to the 1600s. You can take guided tours to learn about the cultural significance and history of the area. Tours feature 7 well-preserved stone houses, a church and graveyard, as well as the Esopus Munsee Wigwam. Some of the homes function as museums, and you can stop by a visitor center for more exhibits.
Besides Historic Huguenot Street, there's the John H. Kirk Planetarium and the Samuel Dorsky Museum of Art, both on the SUNY New Paltz campus. And check out Dressel Farm, where you can shop for fresh produce and local goods at their Farmstand.
New Paltz is home to top-notch wineries, breweries, cideries, and distilleries. Or take advantage of all the accessible hiking, starting with the Wallkill Valley Rail Trail. Nearby, there's also the massive Mohonk Preserve (which you'll need to secure a permit). You could also book a stay at the luxurious Mohonk Mountain House here to enjoy the views. Or explore the wide range of trails at Minnewaska State Park.
How to Get to New Paltz
The town of New Paltz is less than 2 hours from NYC by car, making it a popular weekend trip from the city. You could take a bus or Metro-North train, but you'd have to make connections along the way. This is a better car destination, especially if you plan on hiking or exploring outside of downtown New Paltz.
Hudson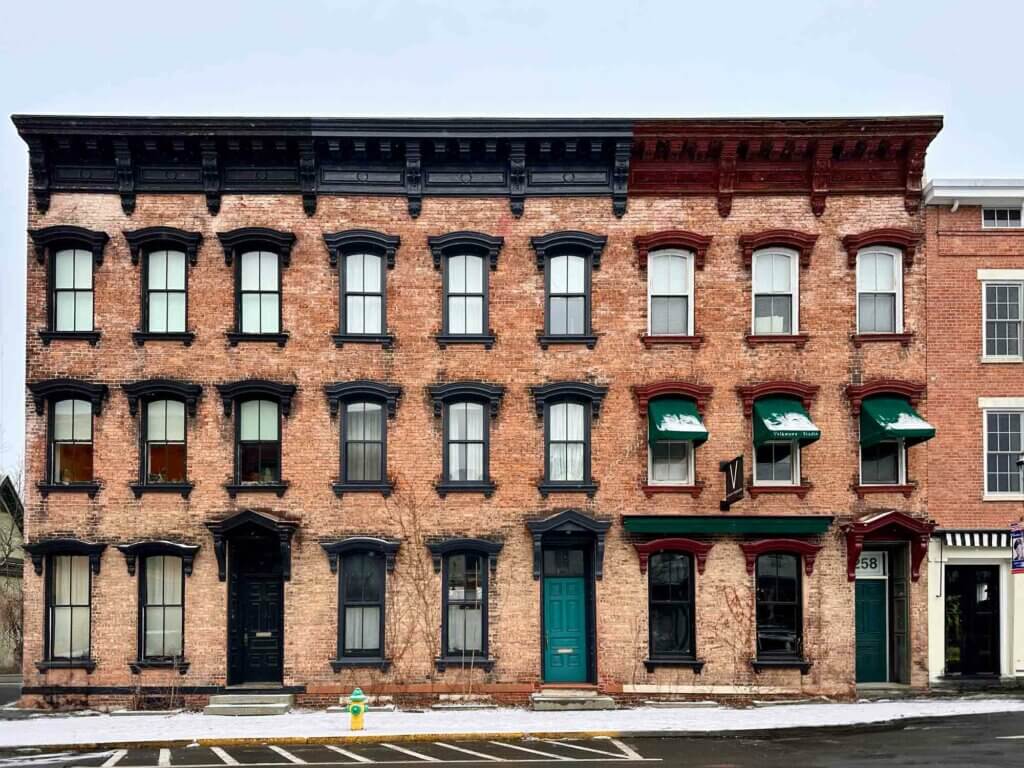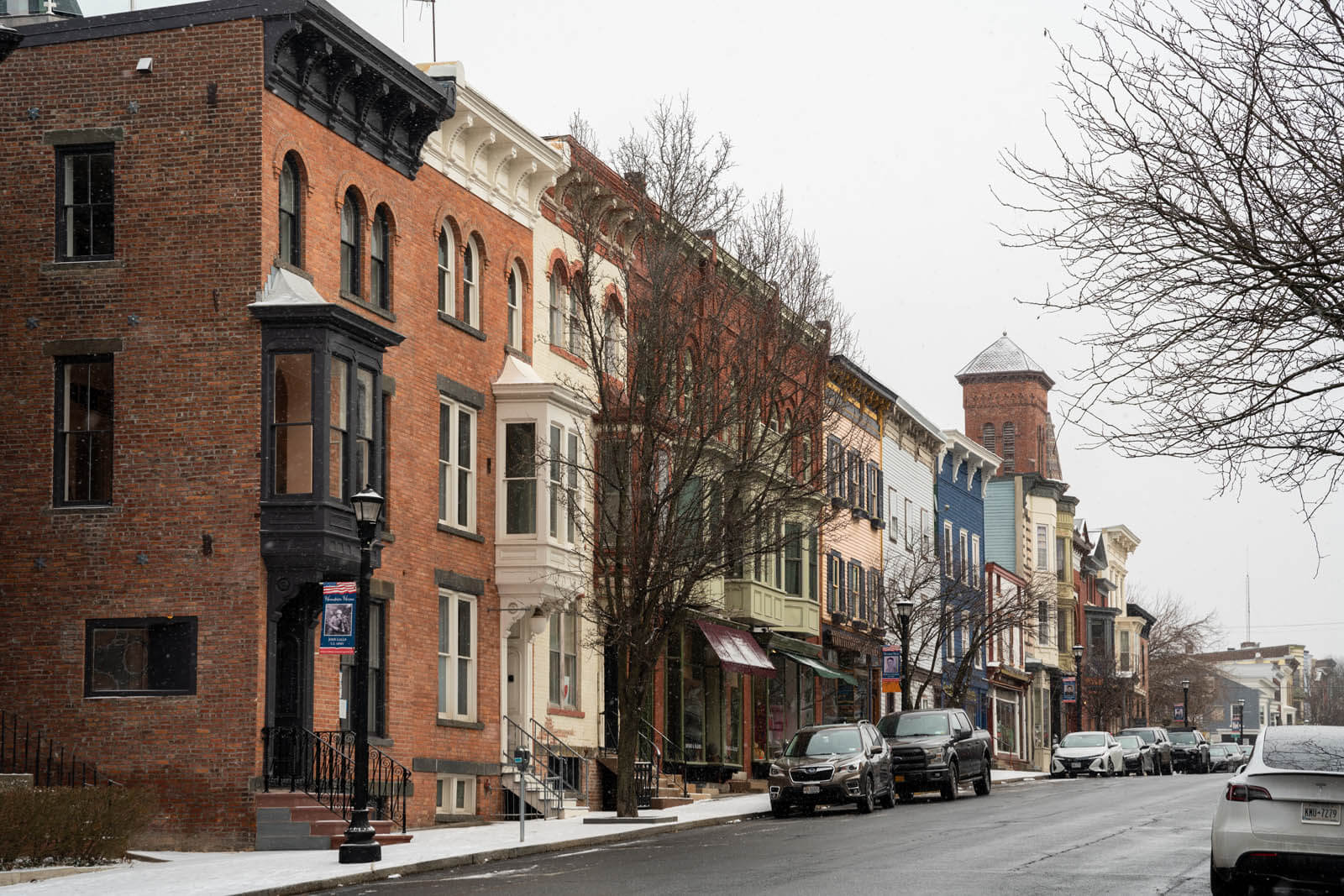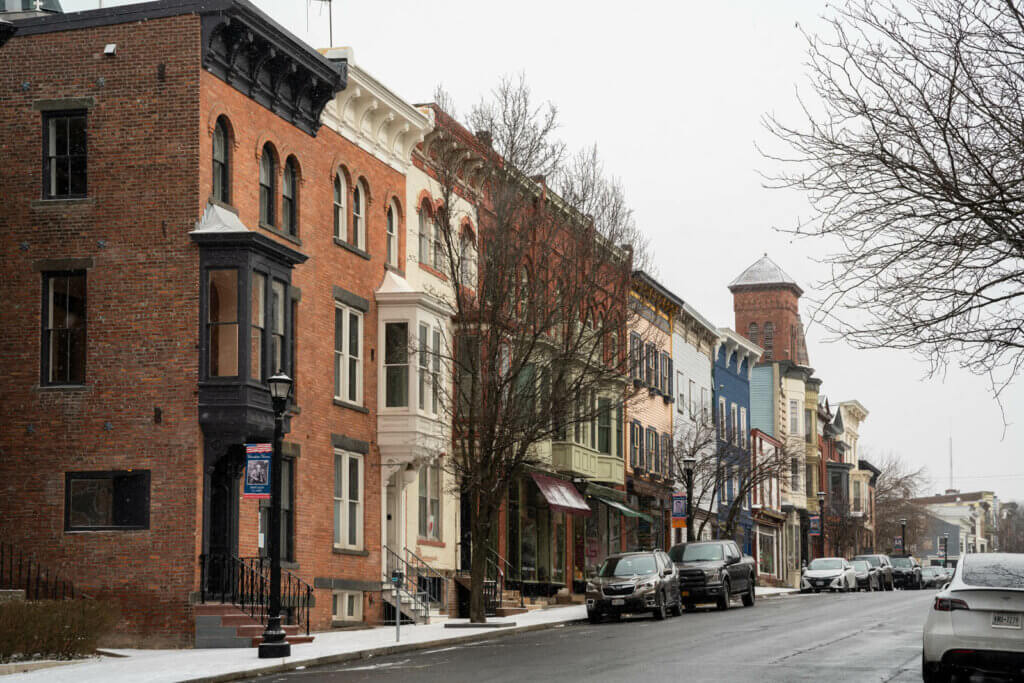 Hudson, New York is the perfect Hudson Valley city for an epic weekend retreat from NYC or anyone looking for a variety of things to do in the Catskills too! You can stay at the gorgeous The Maker Hotel (or enjoy a winter digital detox cabin stay nearby at Gather Greene). And in town, you have iconic Hudson Valley attractions, eateries, and shopping!
Of all the New York lighthouses, this is where my favorite one is located! During the warmer months, you can take a ferry tour of the Hudson Athens Lighthouse and climb the tower. Or simply enjoy views of the lighthouse and the Catskill Mountains from Hudson Riverfront Park.
Are you a fan of antique malls? The Antique Warehouse is a must-visit. Then round out your trip with a stop at the Hudson Brewing Company next door! Along Warren Street, you'll find even more antique shopping, with a variety of unique stores and boutiques.
But perhaps one of our favorite reasons to come to Hudson is the amazing restaurant scene! Kitty's Diner has the BEST brunch in town, and for a one-of-a-kind experience, Lil Deb's Oasis can't be missed. We also adore the history behind Spotty Dog Books & Ale and being able to grab a drink while we browse book titles!
How to Get to Hudson
If you want to take Amtrak to Hudson from NYC, you're in luck. The Empire Service Line has a stop at the station in downtown Hudson and it only takes 2 hours to get there (and only an hour from Albany). Plus, the town is very easy to walk, with most of the top things to do in town being around Warren Street. However, if you plan on exploring nearby and finding more things to do in the Catskills, you'll need a car.
Woodstock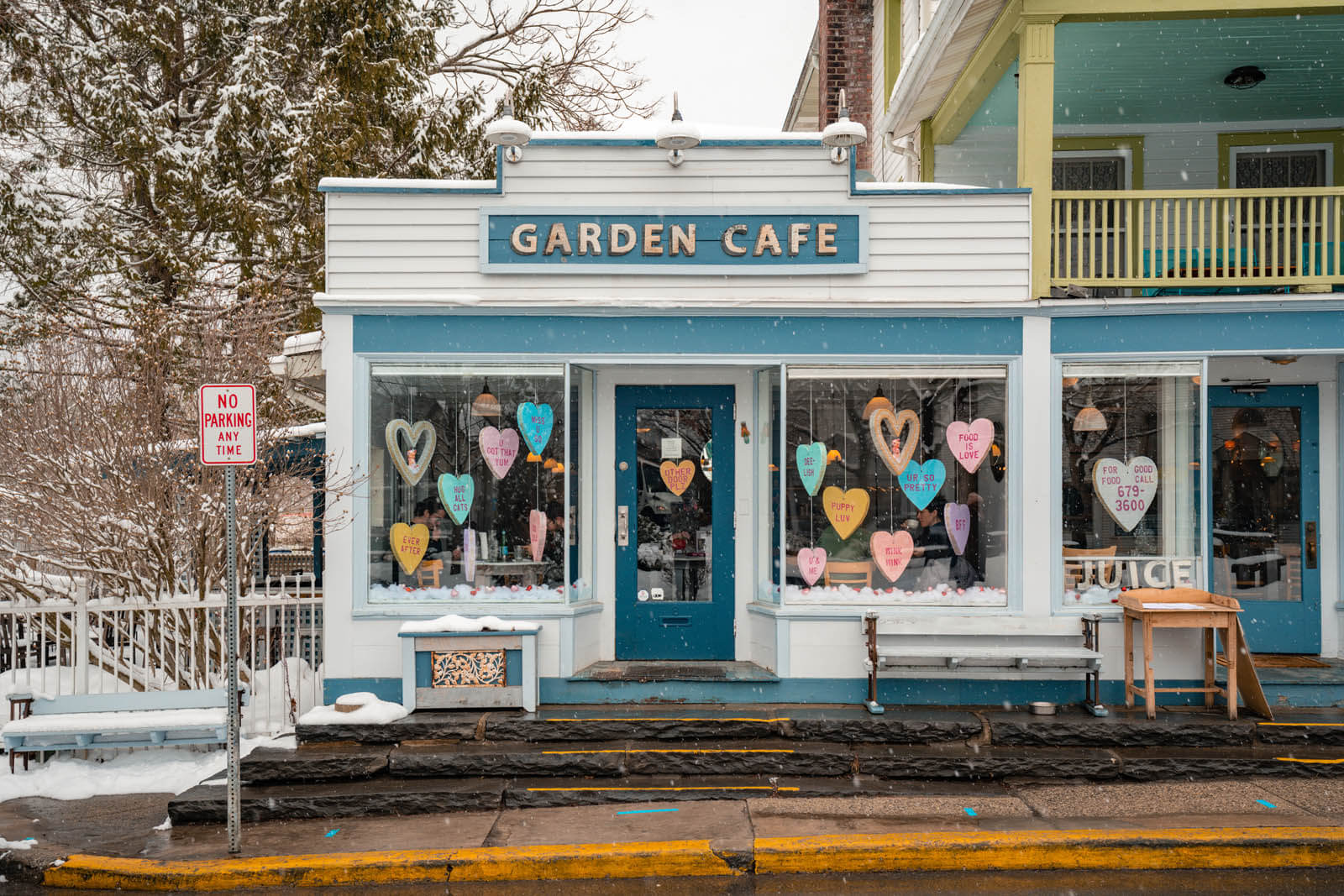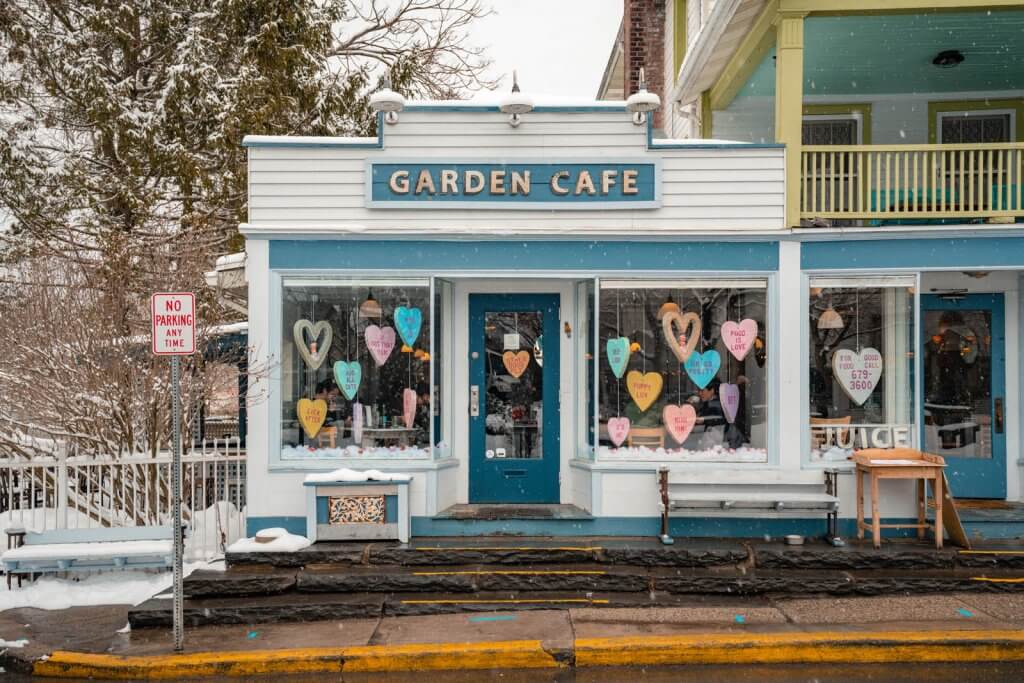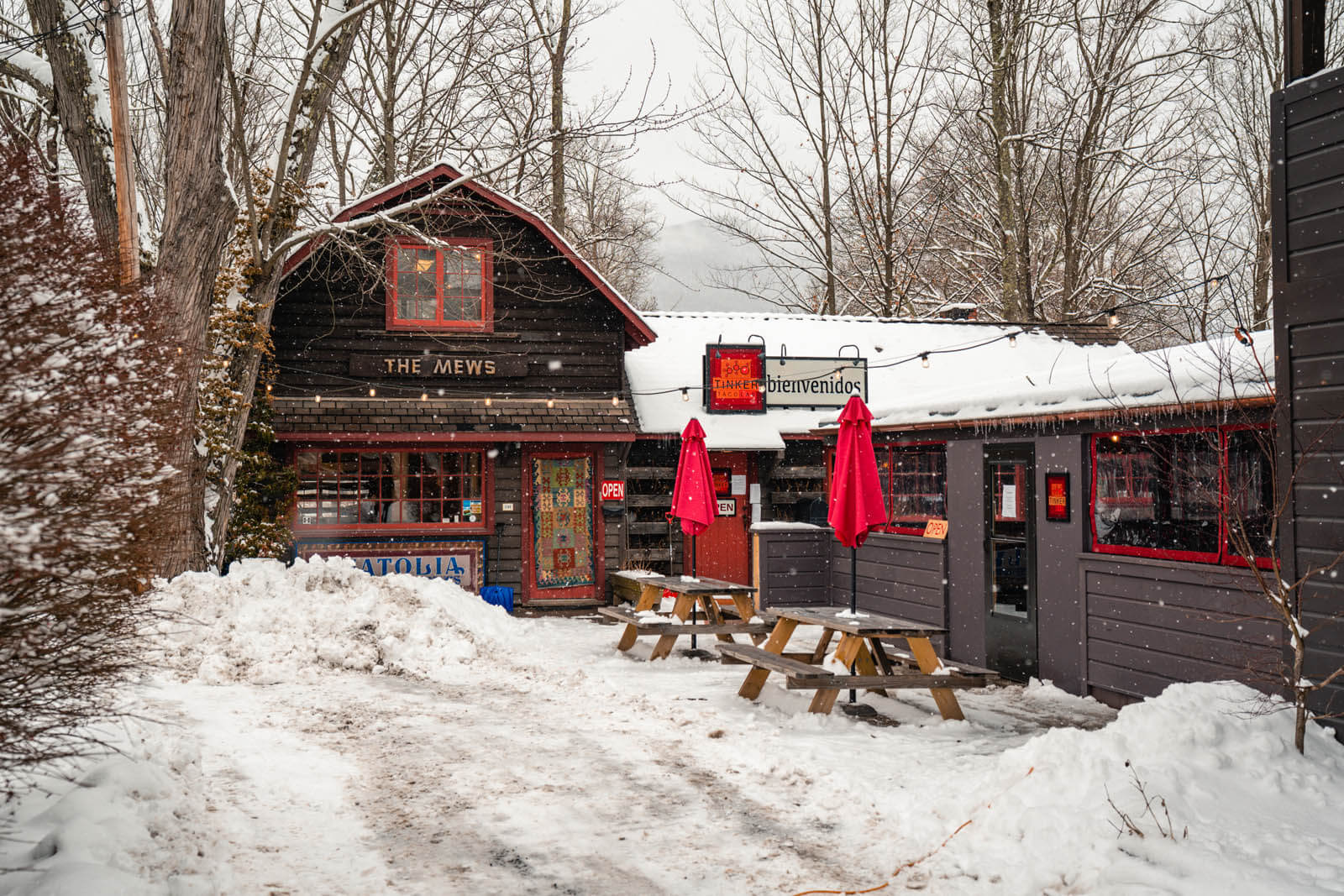 One of the most famous small towns in the Hudson Valley and Catskills towns to check out is Woodstock. This darling town is known for sharing a name with the notorious music festival that was famously NOT held here. But you can visit that historic site about 90 minutes away in Bethel.
Woodstock has a thriving art scene, with galleries, a popular playhouse, an opera house, and a variety of studios and artisan shops. You'll find them all along Tinker Street, which is perfect for a stroll, with its colorful storefronts. The shopping is excellent, and the food scene is especially impressive. Two of our favorite stops are Yum Yum Noodle Bar and Station Bar & Curio.
Just off Tinker Street, make sure to stop at Woodstock Waterfall Park and enjoy the falls! Or to truly immerse yourself in nature, head to Overlook Mountain Wild Forest, where you can hike along the carriage roads and explore the hotel ruins. And you'll find breathtaking waterfront hikes along Ashokan Reservoir to the south.
For unique things to do nearby, you can visit the Karma Tryana Dharmachakra, a Tibetan Buddhist Monastery. There's also the fascinating Opus 40 on your way out of town.
How to Get to Woodstock
Woodstock is often included on a tour of the many nearby Hudson Valley towns, including Kingston, Saugerties, Livingston Manor, and Roscoe. It's about 2 hours by car from NYC and 1 from Albany. And while the town itself is walkable, this stop is best experienced by car. Or you can take a local bus from Kingston that drops you off at the Village Green.
Tarrytown & Sleepy Hollow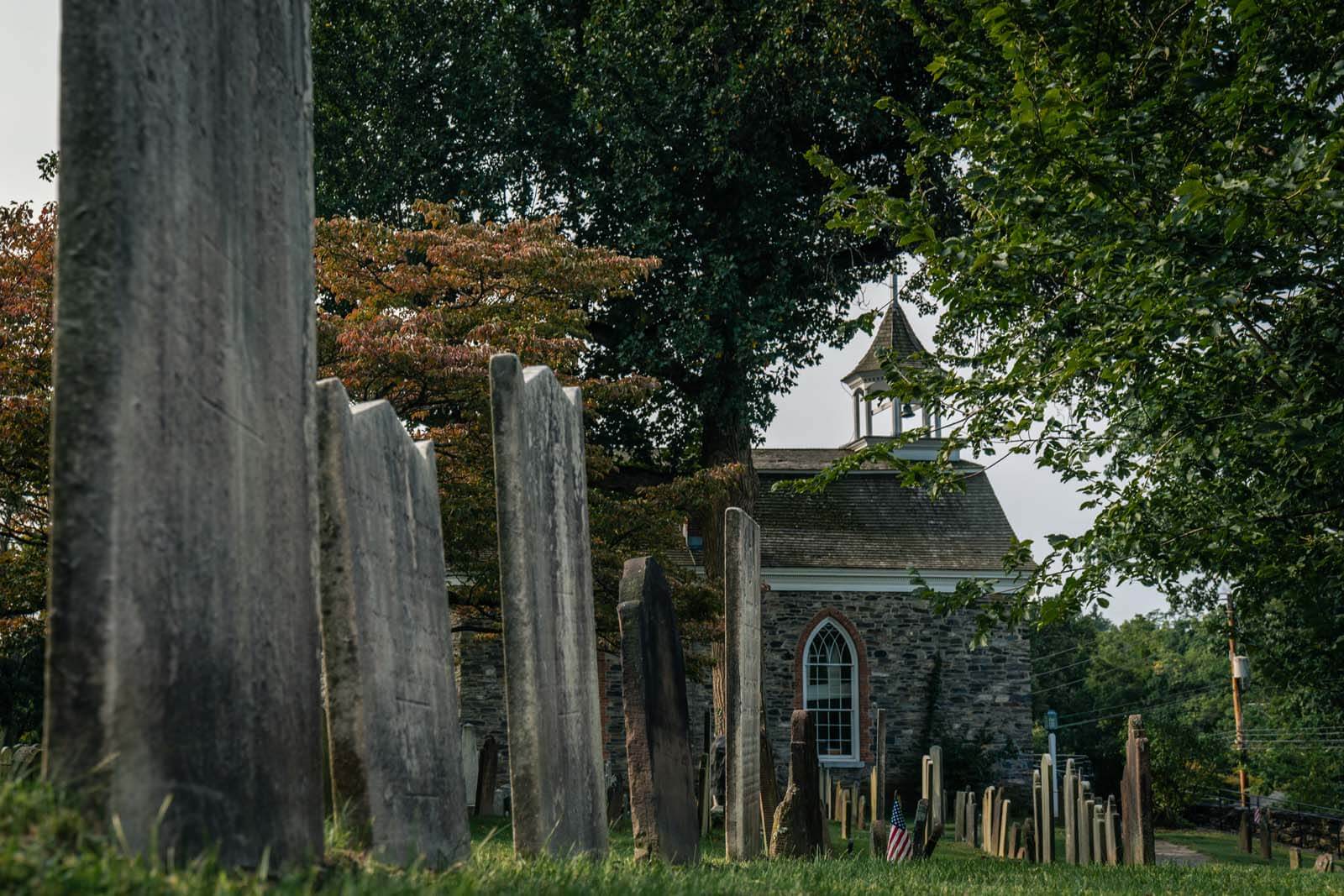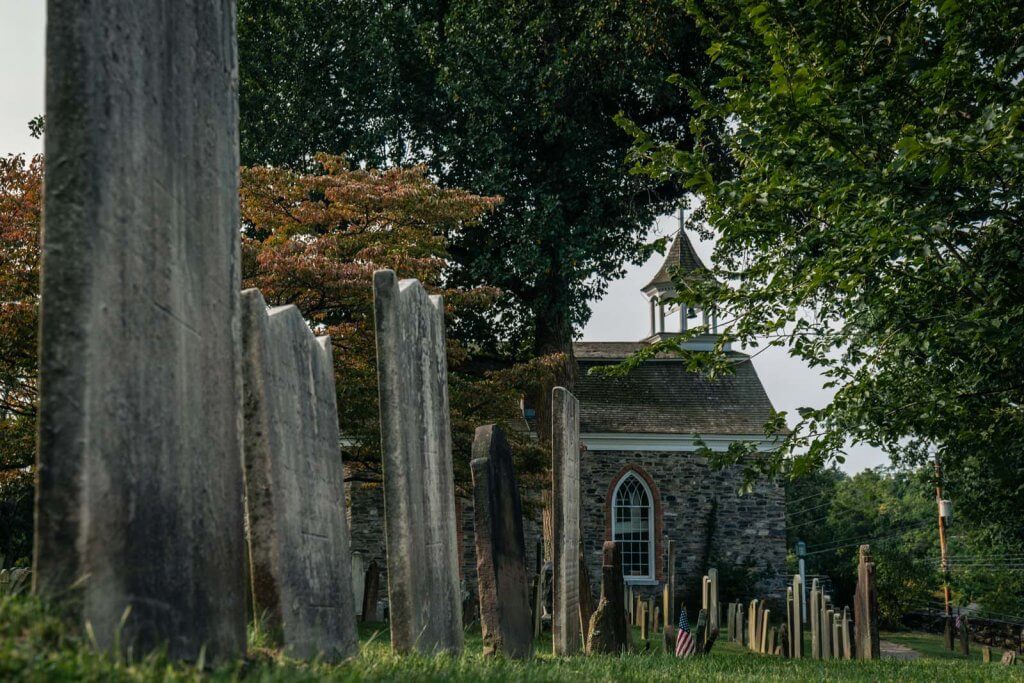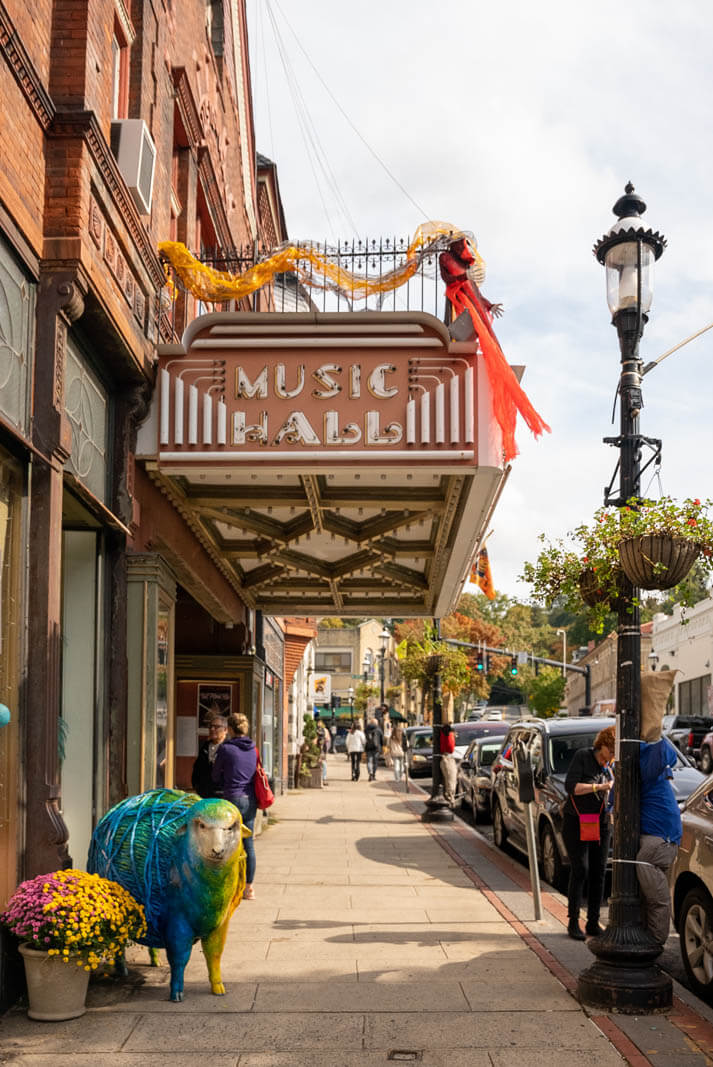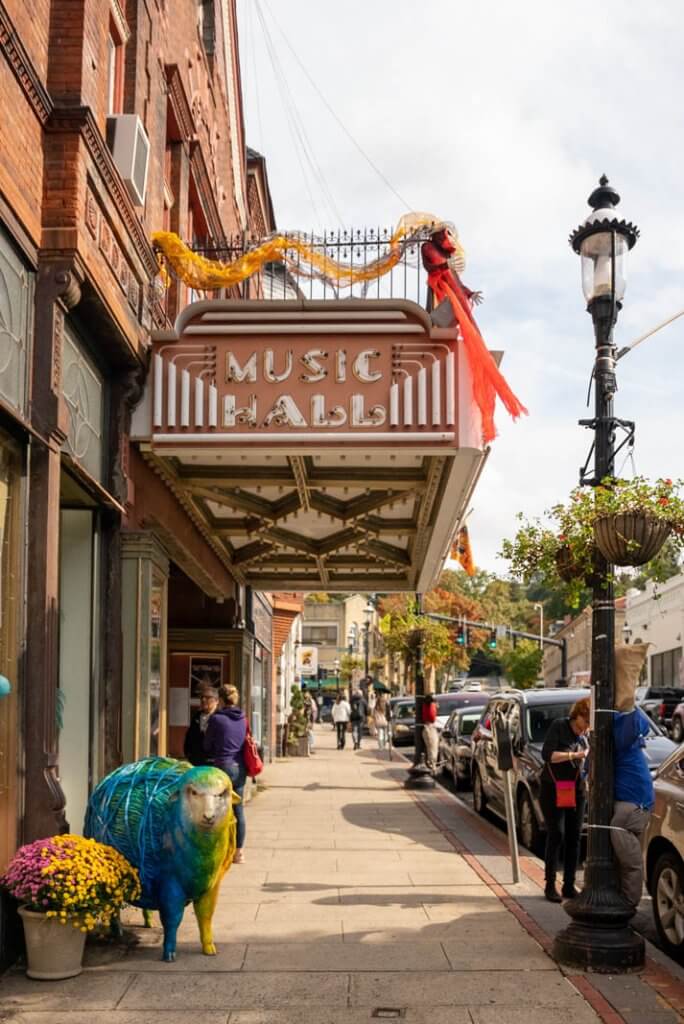 Together, Tarrytown and Sleepy Hollow are the best towns in the Hudson Valley to visit, especially in the fall season as Sleepy Hollow at Halloween is one of the best places to visit in the country during spooky season (except for maybe Salem, Massachusetts)! Famous for being the setting of Washington Irving's story, "The Legend of Sleepy Hollow," this was actually where author Irving lived and is buried at the Sleepy Hollow Cemetery.
The towns are right next to each other and small enough to combine in one visit. Today, they make up the perfect day trip from NYC as there are some really cool things to do in Sleepy Hollow and Tarrytown with historic sites, themed attractions, and outdoor activities.
Starting in Tarrytown, it has the prettiest Main Street! Charming storefronts hold fun gift stores, vintage shops, and cafes. Around Halloween, head to the restaurant, Horsefeathers, for themed drinks and festive décor! And if you love old theaters, there's the historic Tarrytown Music Hall.
One of our favorite things to do in Tarrytown is walk the Hudson Riverwalk. This is where you can see Governor Mario Cuomo Bridge and the adorable Sleepy Hollow Lighthouse. Just south of here, you can visit Kykuit, a Rockefeller summer estate that offers tours.
Or for even more historic mansions, there's the Glided Age era Lyndhurst Mansion and Washington Irving's Sunnyside. Near the Rockefeller estate, you can also see the gorgeous stained-glass windows of Union Church of Pocantico Hills that were by Picasso!
Heading to Sleepy Hollow, this is one of the most popular towns in the Hudson Valley around Halloween! Especially in the fall, it's fun to see the Headless Horseman Sculpture and the Sleepy Hollow Cemetery, which is featured in Irving's famous story.
For more Hudson Valley history, we also recommend touring the historic Philipsburg Manor. Or explore the carriage trails, ruins, and Hudson River views at the MASSIVE Rockefeller State Park Preserve.
How to Get to Tarrytown and Sleepy Hollow
By train or car, Tarrytown and Sleepy Hollow are roughly an hour from NYC through Metro-North. Just jump on the Hudson Line from either Grand Central or Penn Station. You can easily walk from the train station. However, if you plan on exploring some of the historical sites or parks, you might want to bring a car.
Catskill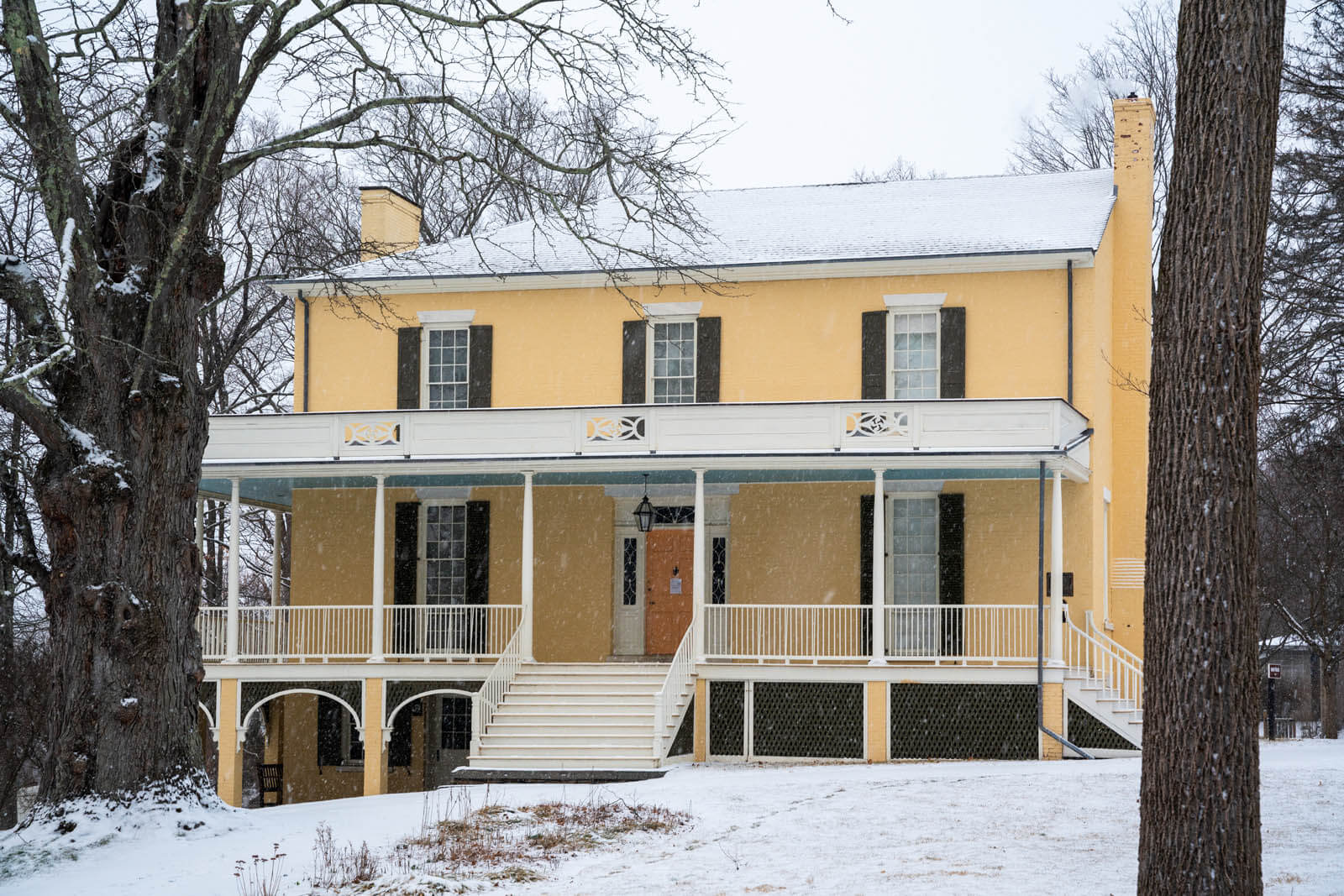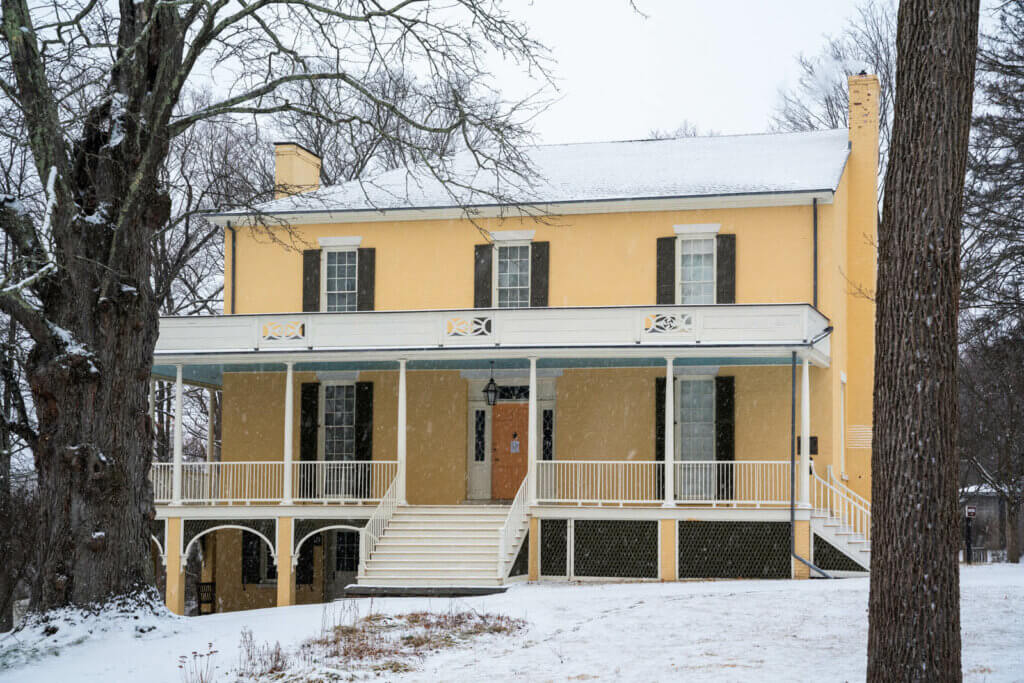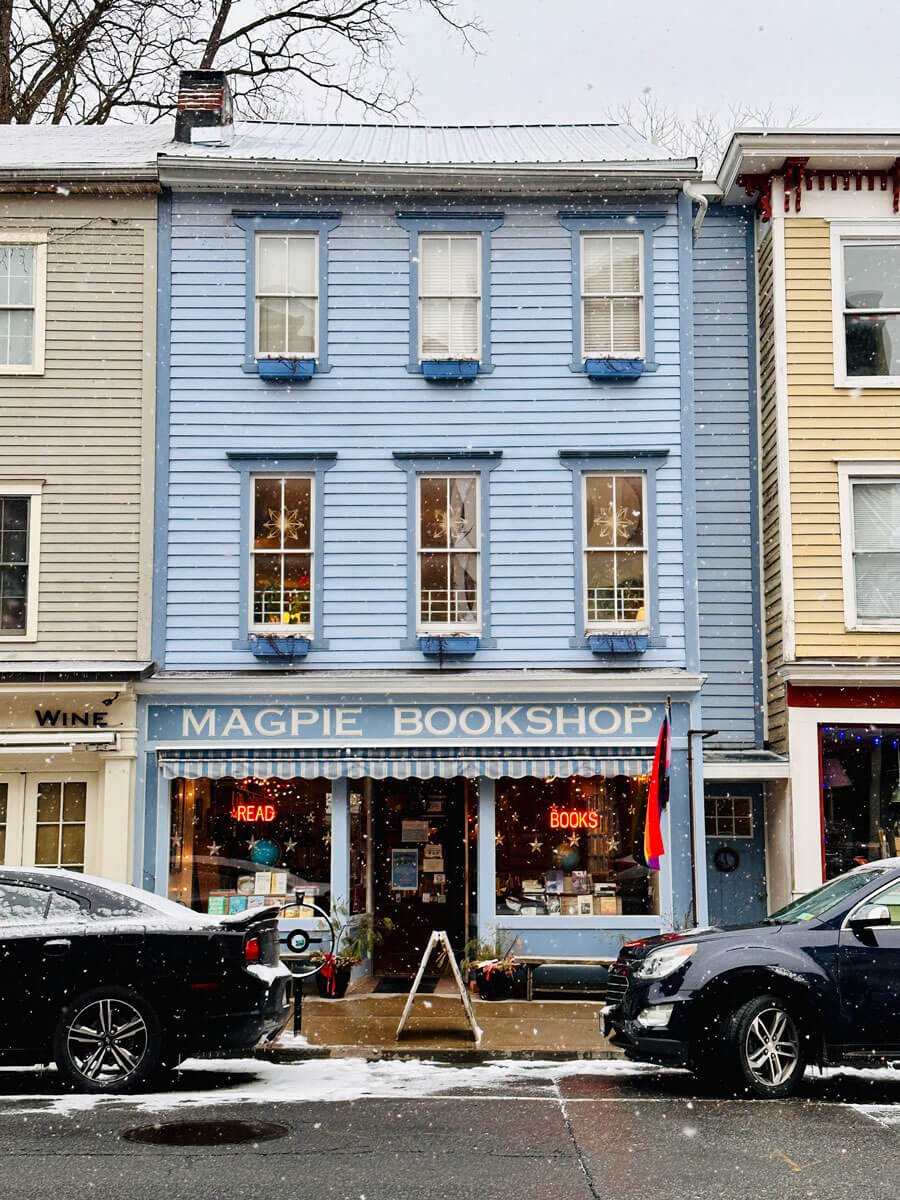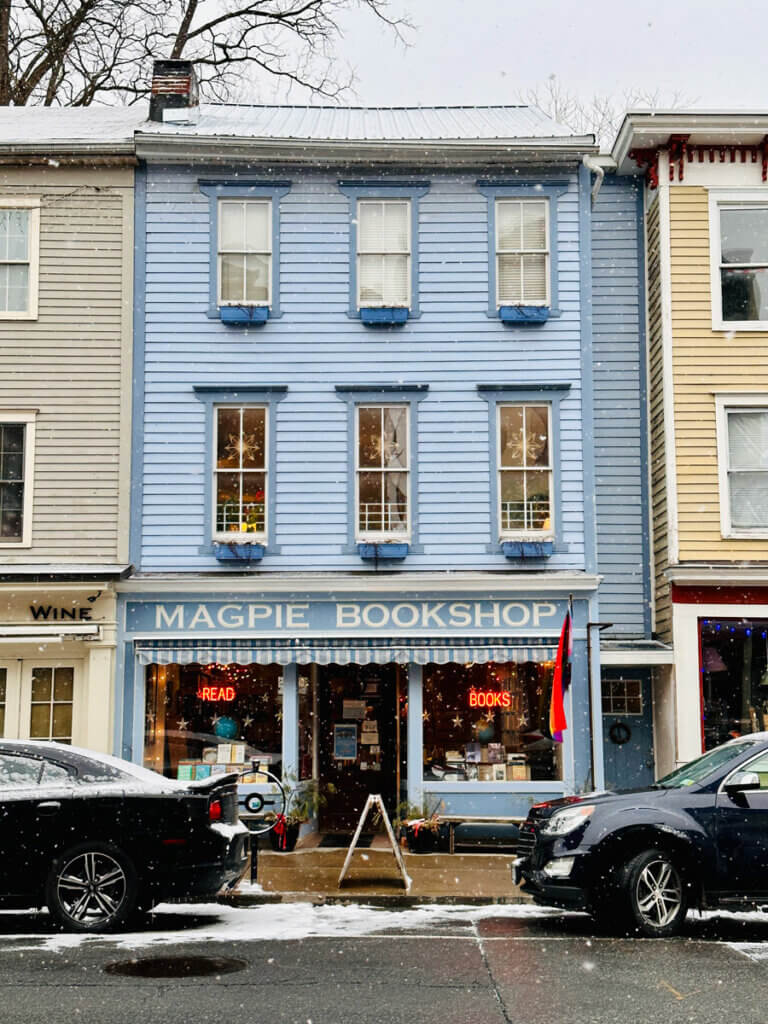 Overlooking the west bank of the Hudson River is the town of Catskill, one of the best Hudson Valley towns for those interested in American art and architecture. This small town is known for being the birthplace of American landscape art and was home to many Hudson River School painters.
A major landmark is the Thomas Cole National Historic Site, the founder of the Hudson River School. Make a day of your trip to Catskill, NY when you visit the museum house. Nearby, you can hike the Hudson River Skywalk across the Rip Van Winkle Bridge to another showstopping estate connected to the art school, Olana State Historic Site.
While you're in Catskill, we suggest exploring the cute shops lining Main Street, including Spike's Record Rack and Cat on the Corner! And for fans of the Hudson Valley beverage scene, you'll want to check out Subversive Malt + Brewing or Left Bank Ciders.
How to Get to the town of Catskill
You can take Amtrak from Penn Station to Hudson. From Hudson, you can arrange for a taxi or rideshare service to take you the rest of the way to Catskill, just 15 minutes away. It's easy to walk around Catskill, New York, but if you want to hike the falls or venture out of town, you'll need a car. From NYC, it's a 2- to 2.5-hour drive up I-87.
Millbrook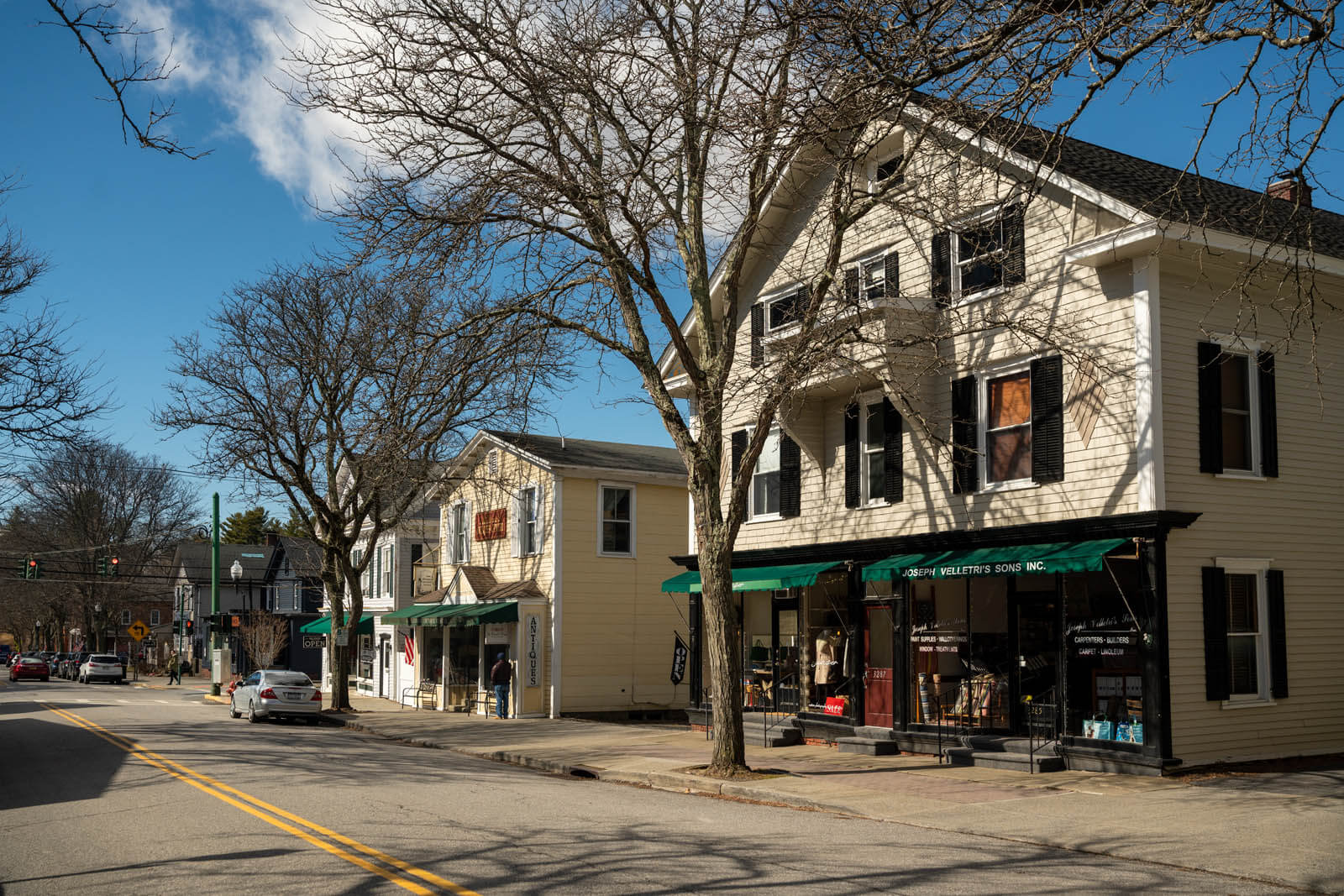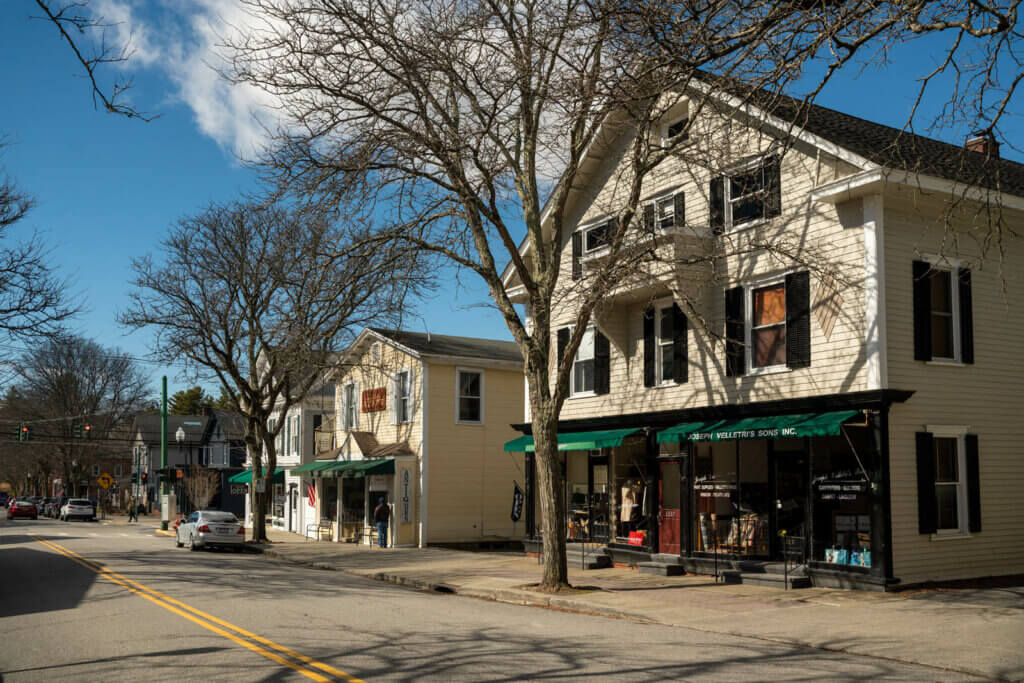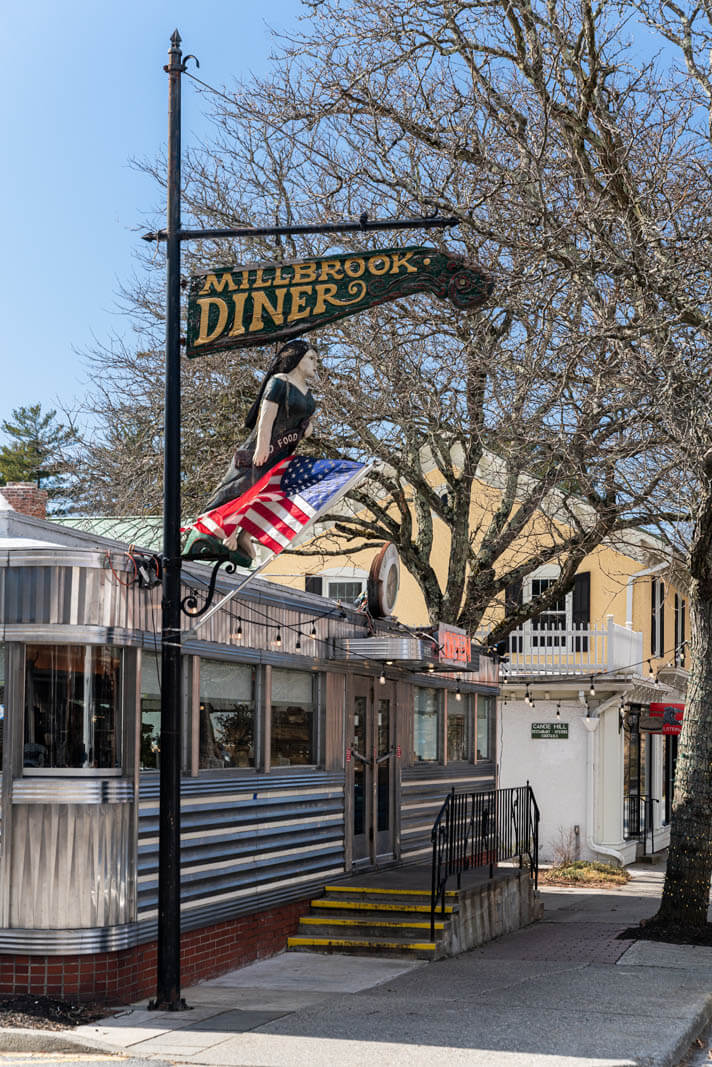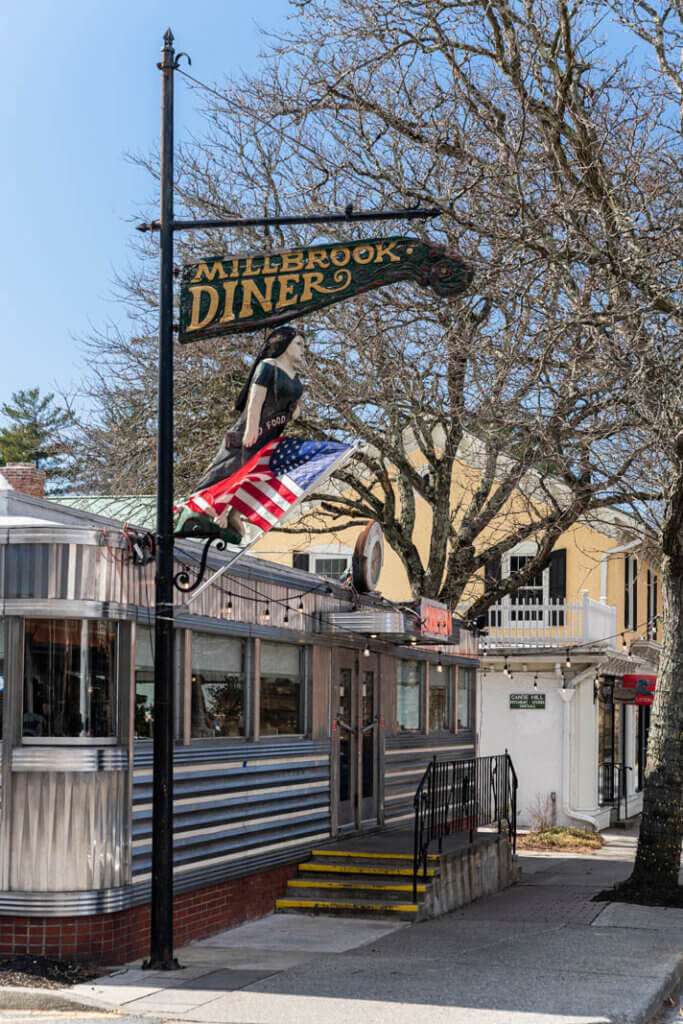 Millbrook is a hidden gem among the towns in the Hudson Valley and deserves its own day trip! This sleepy community is home to many wealthy and famous New Yorkers but also boasts unique and quality attractions for visitors.
Visit Millbrook, start by taking a walk through town and admiring the architecture and beautiful public gardens. Along Franklin Avenue, you'll find the best shops, like the Millbrook Antique Mall. There's also a diverse range of excellent eateries, including Millbrook Diner and Babette's Kitchen. A bit further out, you'll find another essential stop, the unique Orangerie.
As you explore the outskirts of town, you'll find more treasures, like the Millbrook Vineyards and Winery and the Hoofprint Cheese Company. More attractions unique to Millbrook include the Trevor Zoo and Wing's Castle (where you can book a stay).
This town is also where you'll find the infamous Hitchcock Estate, where Timothy Leary experimented with psychedelics in the 1960s!
How to Get to Millbrook
If you plan on staying overnight, you could take the Metro-North Hudson Line from NYC to Poughkeepsie and then take a local bus 30 minutes to Franklin Street in Millbrook. But if you prefer a day trip and don't want to worry about missing the bus back, we suggest taking a car to Millbrook. This would take around 2 hours along the scenic Taconic State Parkway.
Millerton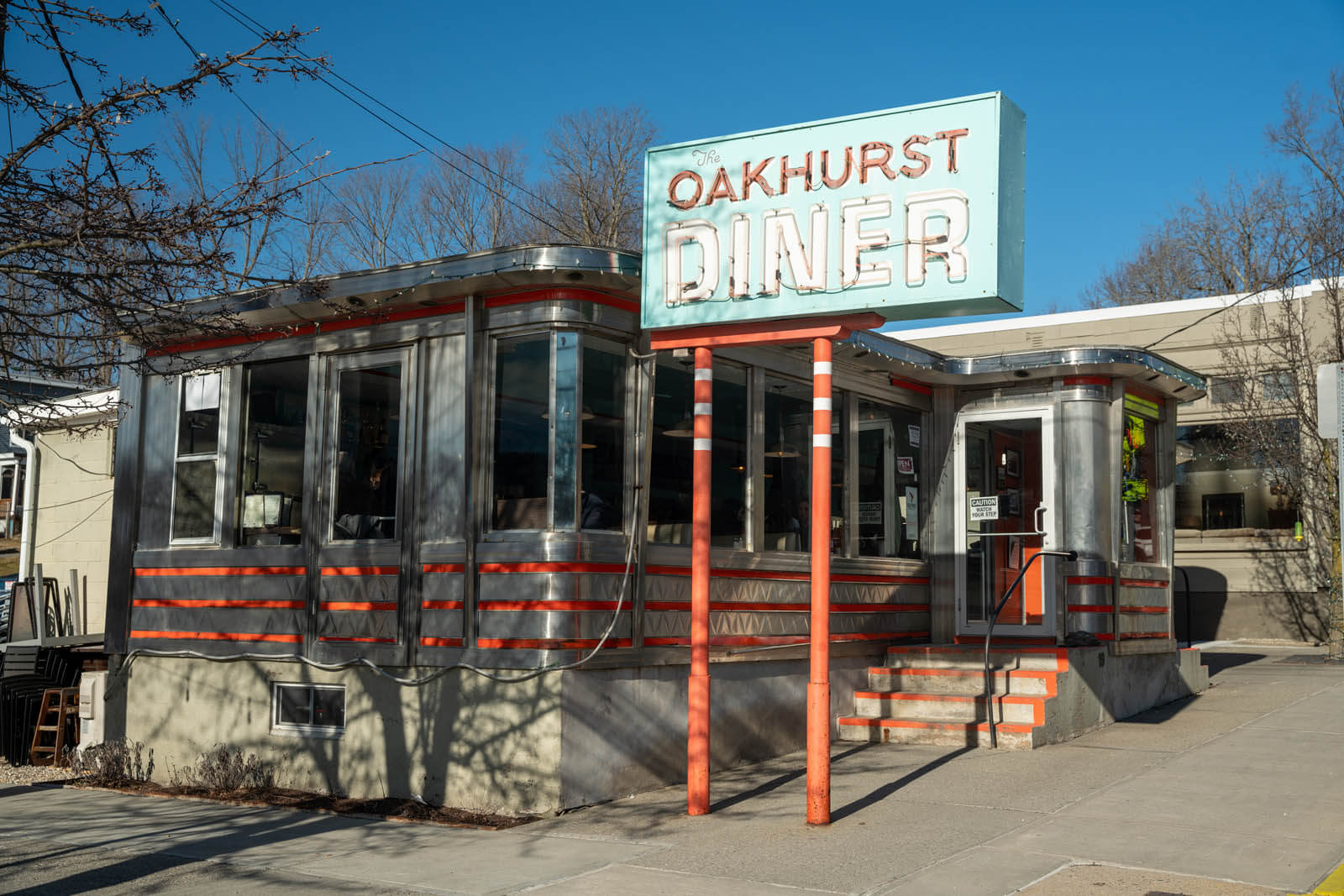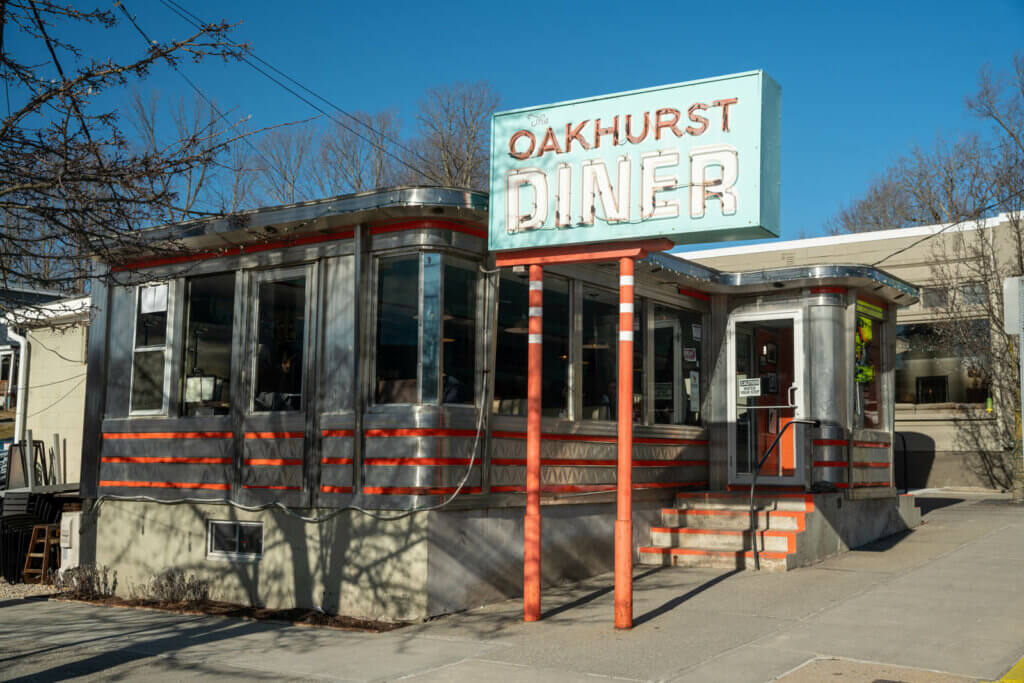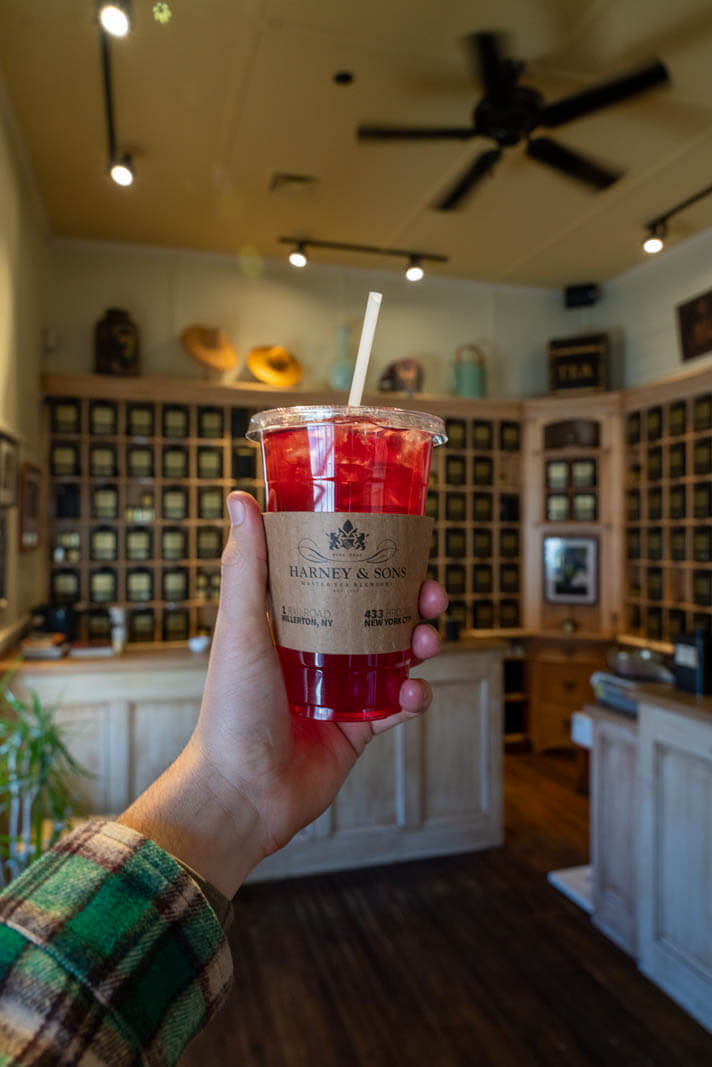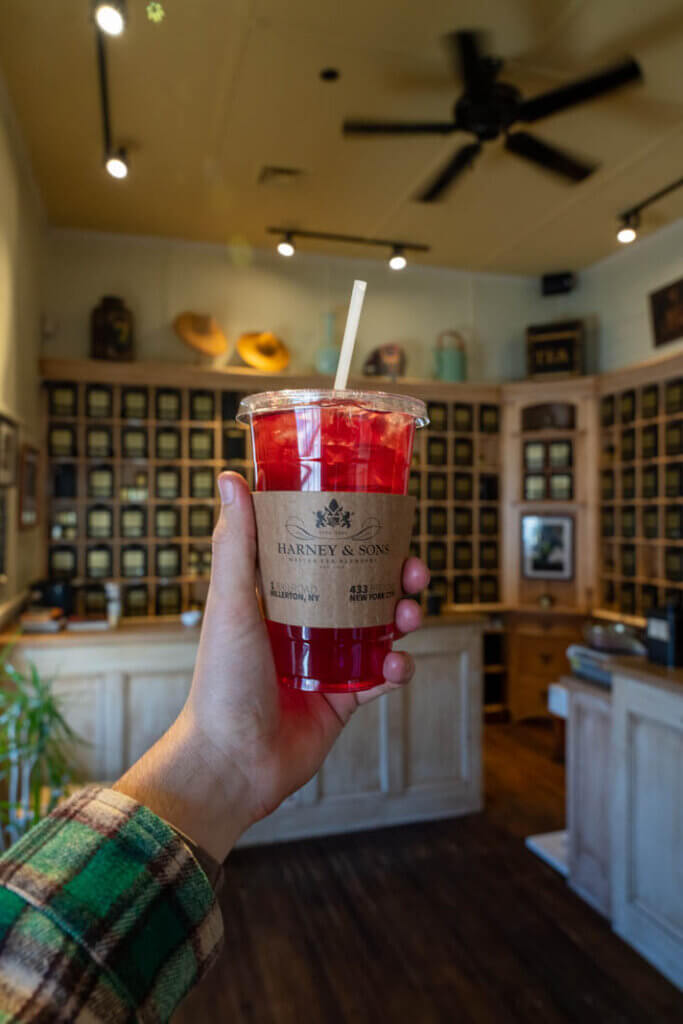 If you're planning a day of outdoor adventures, Millerton is a great base. One of the most charming Hudson Valley towns, you'll want to take some time to explore the idyllic Main Street during your visit!
Cradled in the rolling Taconic Mountains along the New York/Vermont border, most people come to this quaint town to explore the Harlem Valley Trail located just off Main Street. One of the best things to do in Millerton is visit the headquarters of Harney & Sons Tea, where you can sample teas and enjoy a meal in the tearoom.
Walking along Main Street, you'll love the charming old buildings and fun stores. You can shop for antiques at Hunter Hunter Bee and the Millerton Antique Center. Make sure to stop into Oblong Books or enjoy the classic Oakhurst Diner. And if you love old theaters, a visit to The Moviehouse is a must!
How to Get to Millerton
From NYC, Millerton is roughly a 2.5-hour drive, and you'll need to own or rent a car. Only 30 minutes north of Millbrook, Millerton is another town along the Taconic State Parkway.
Poughkeepsie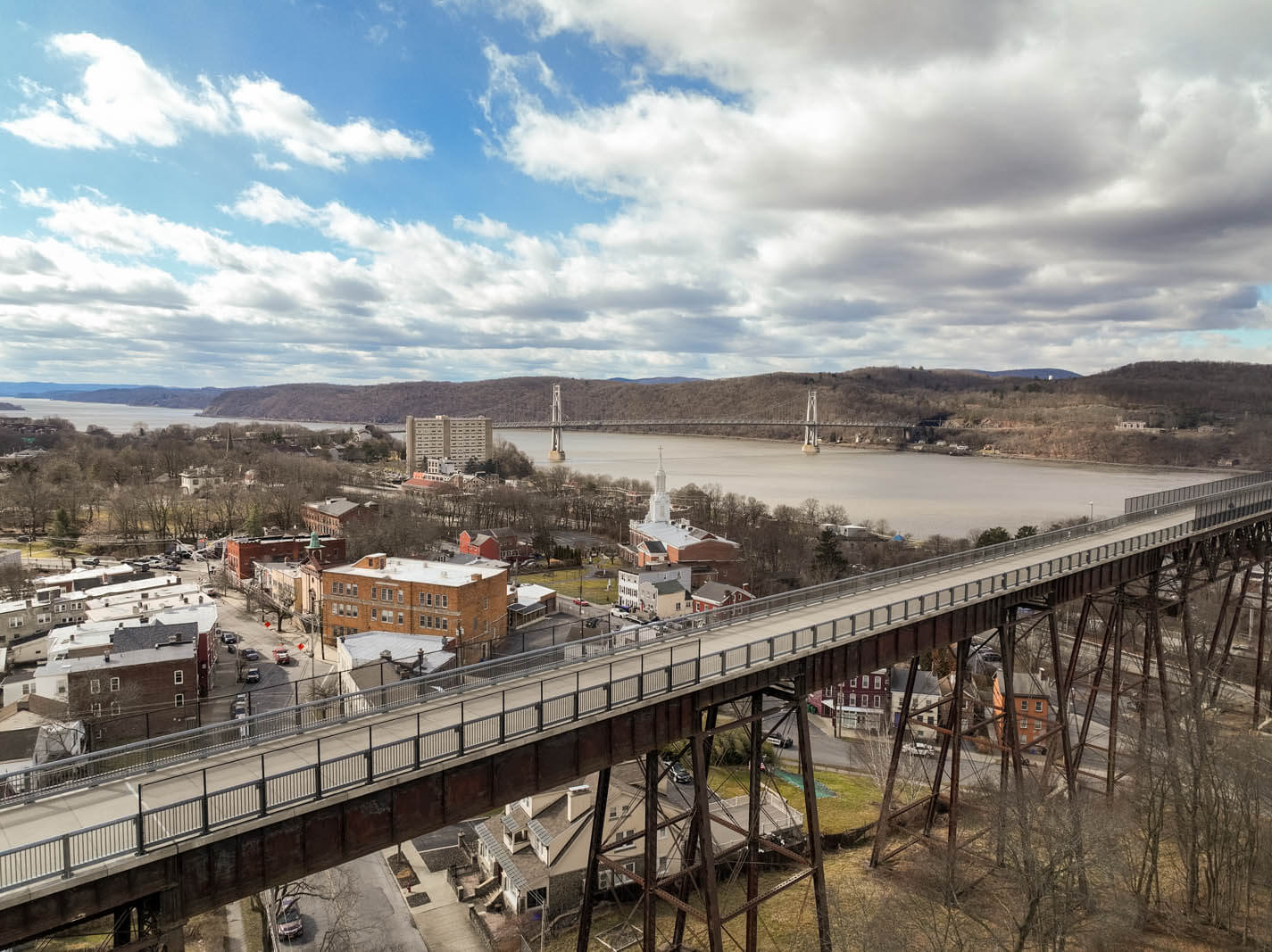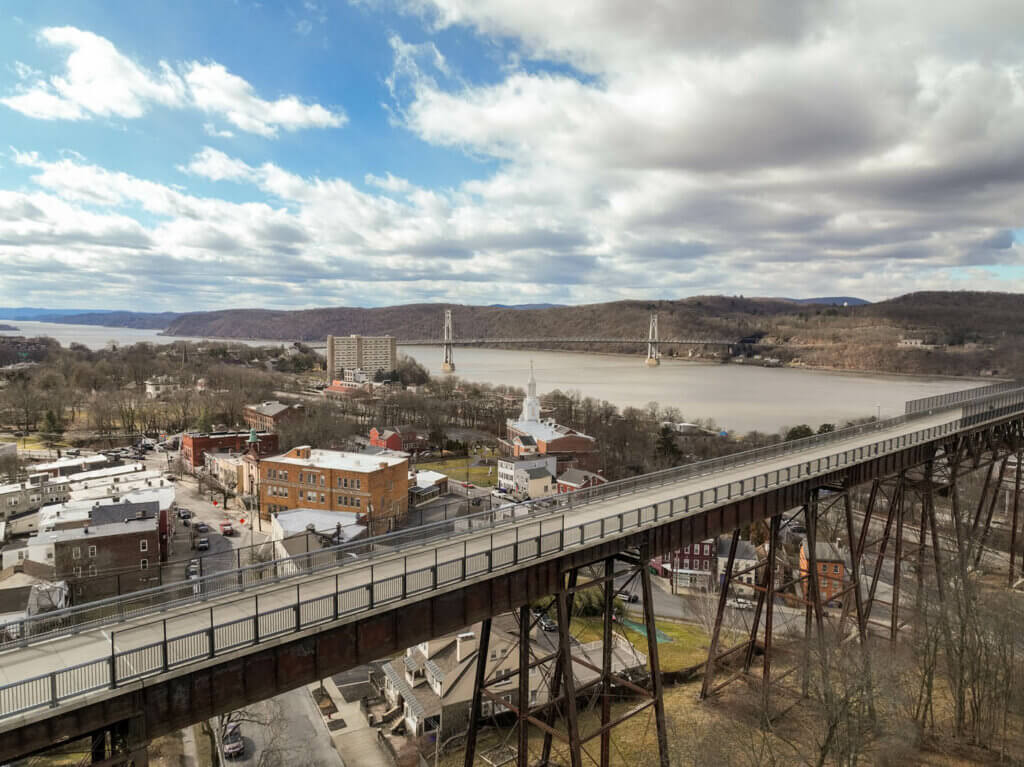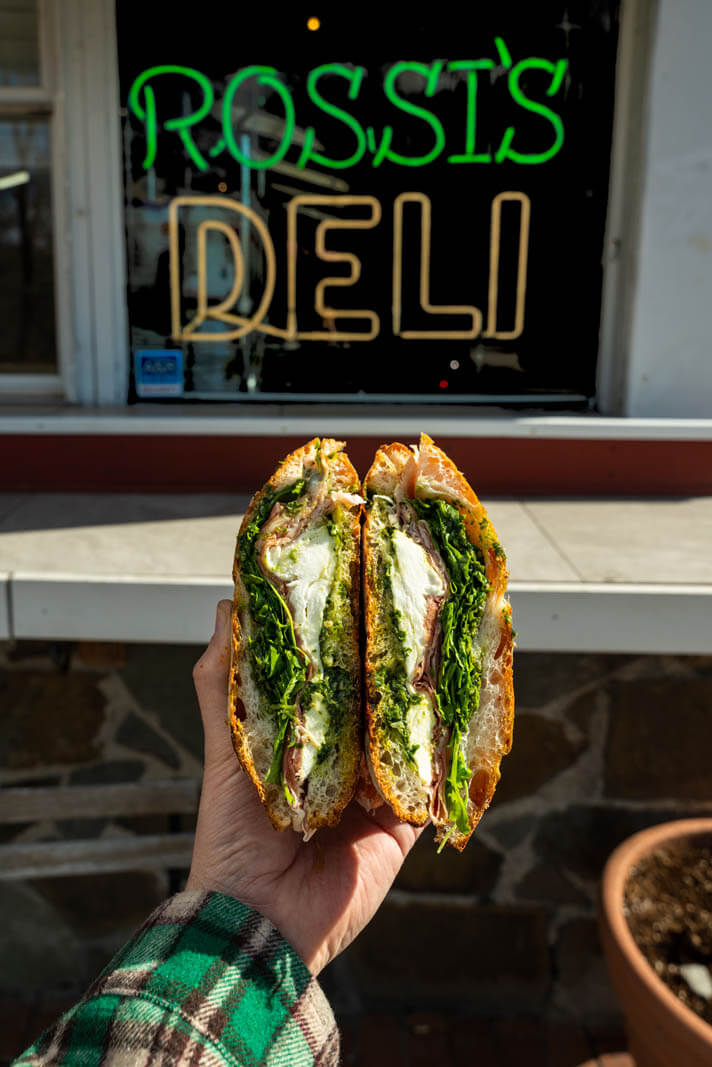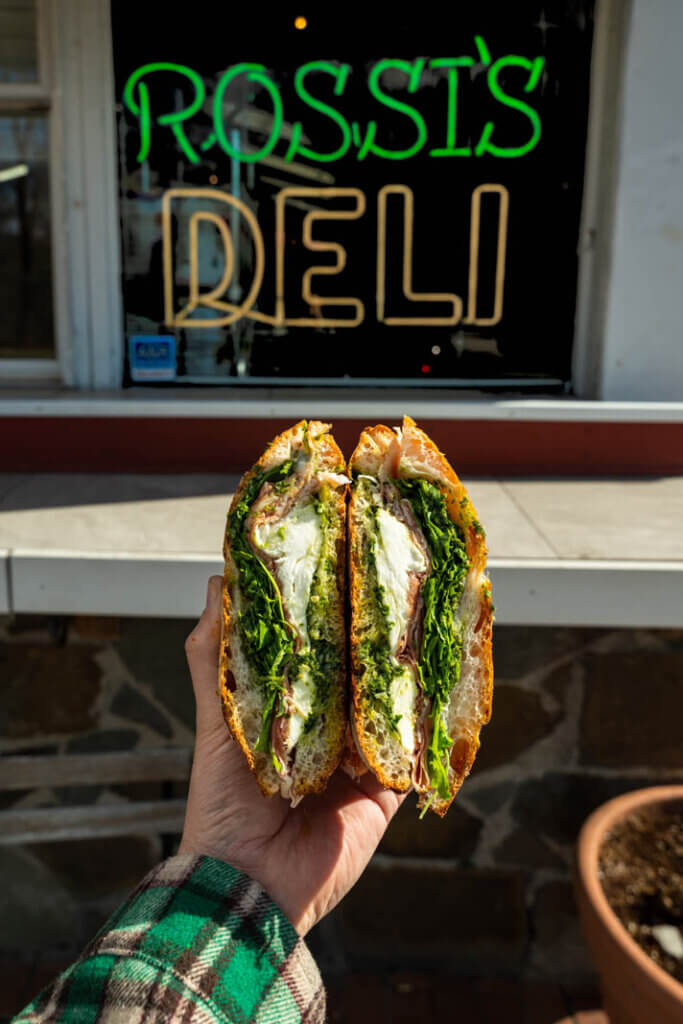 For iconic Hudson Valley landmarks, you can't go wrong with a visit to Poughkeepsie, New York. Visitors come here to take on the Walkway Over the Hudson, the longest elevated pedestrian bridge in the world. Enjoy stunning views of the Hudson River on a 2-mile hike. You could also take the bridge along the longer Walkway Loop Trail and listen to the unique Bridge Music installation along Mid-Hudson Bridge.
After a scenic morning hike, we suggest visiting Rossi's Deli for lunch! Or support the amazing efforts at the Poughkeepsie Underwear Factory. You can also enjoy a cold one at one of the many fabulous breweries around town.
Then, take advantage of all the stunning architecture and historic landmarks around town. A spotlight of Poughkeepsie is the historic Bardavon Theater, the oldest continuously operating theater in New York at more than 150 years old!
There's also Locust Grove Estate that belonged to Samuel Morse, who invented Morse Code. S scenic tour of Vassar College will not disappoint, and you can see local art at Barrett Art Center.
Poughkeepsie also is the site of the founding of Vassar College, one of the first women's colleges in the United States (which has an impressive list of celebrity alumni) and one of the prettiest campuses you'll find in the North East.
Near Poughkeepsie, history enthusiasts can drive to the Franklin D. Roosevelt Presidential Library and Museum. In Hyde Park, there's also the Eleanor Roosevelt National Historic Site and the Vanderbilt Mansion National Historic Site.
How to Get to Poughkeepsie
You can easily enjoy a car-free trip to Poughkeepsie! Metro-North's Hudson Line from Grand Central takes you directly into downtown Poughkeepsie any day of the week. Then you're just a short walk away from all the main attractions in this Hudson Valley city.
Cold Spring
Cold Spring, New York, is one of the best Hudson Valley towns for an easy day trip from NYC. This town is full of scenic beauty, historic landmarks, and a charming downtown area! Lined with trees, Main Street has tons of character with 19th-century storefronts housing unique clothing boutiques and cozy cafes. You'll also find an impressive range of dining options, from classic diners to farm-to-table restaurants.
If you're craving the great outdoors, Cold Spring offers picturesque views of the Hudson River Head to Riverfront Park to relax and take in the scenery. Or venture to Hudson Highlands State Park for hiking trails and stunning vistas.
There's also Boscobel House and Gardens, where you can tour a Gilded Age-era mansion and walk the beautiful grounds.
From the Boscobel Estate, you could also visit the Constitution Marsh Audubon Center and Sanctuary and walk the boardwalk through the marsh. Just south of town, you can visit the United States Military Academy at West Point showcases its historic campus and offers guided tours.
How to Get to Cold Spring
Located just north of West Point along the Hudson River, Cold Spring is a popular day trip from NYC! The Hudson Line of Metro North stops at the Cold Spring train station. From here, you're a short stroll from Main Street. In less than 90 minutes, you can explore this charming Hudson Valley town!
Beacon
Once called the "Hat Making Capital of the US," today Beacon has kept its creative roots and historic character. It's one of the best towns in the Hudson Valley for artistic attractions and historic outings.
One of Beacon's standout attractions is Dia:Beacon. Housed in a massive, converted factory, this contemporary art museum features multiple levels of interactive installations and thought-provoking artwork.
Main Street in Beacon boasts numerous art galleries, boutique shops, and antique stores. And food lovers, we've got you! Beacon has a delightful dining scene. There are brunch spots, fusion restaurants, cute cafes, and more.
For nature enthusiasts, Mount Beacon Park is a must-visit. Check out the park's hiking trails that lead to panoramic views of the Hudson Valley. Or if you prefer historic landmarks, there's the popular Bannerman Castle on Pollepel Island. Accessible by boat tours from Beacon, the striking castle ruins on the Hudson River are fun to explore.
How to Get to Beacon
This walkable city is easy to explore sans cars. Located just north of Cold Spring, the Metro-North Hudson Line also has a stop in Beacon. Then you just have a half-mile walk to Main Street. This makes it a no-stress day trip from NYC!
Saugerties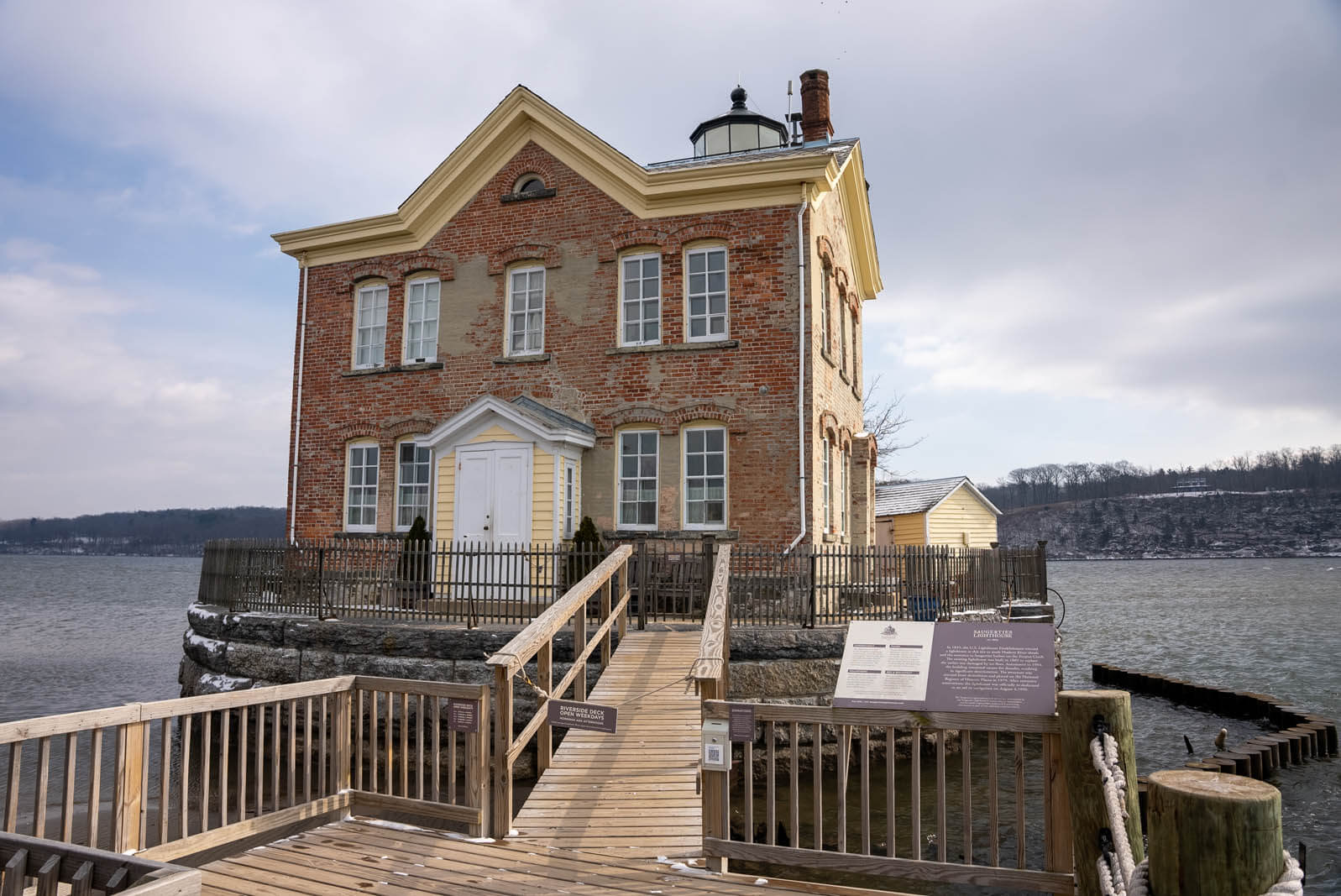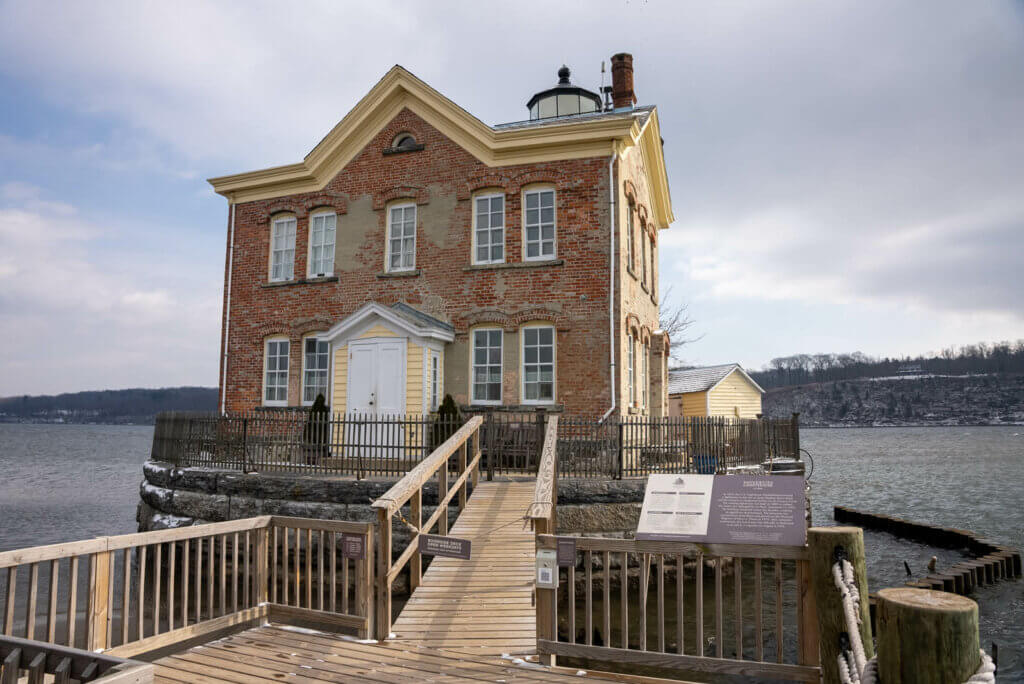 Among the Hudson Valley cities on our list, it's impressive how many cool things there are to do in Saugerties for visitors. Saugerties is the home of the renowned Hudson Valley Garlic Festival and the actual Big Pink House where Bob Dylan recorded "The Basement Tapes!" Besides these unique attractions, you can find a colorful range of activities for every interest.
One of the main attractions is the Saugerties Lighthouse, located at the mouth of Esopus Creek. Take a short walk out to this historic landmark or book a stay at the bed and breakfast inside for a unique overnight stay!
A little further down Esopus Creek is the luxury hotel, Diamond Mills. Here, you can enjoy a full spa and state-of-the-art rooms with fabulous views of the falls on Esopus Creek. Taking a day trip to Saugerties, you can also make reservations at the farm-to-table restaurant overlooking the waterfalls.
Nature lovers can explore the Esopus Bend Nature Preserve with carriage trails that wind through forests and meadows. Or for a rewarding (and easy) waterfalls hike, Falling Waters Preserve is stunning all year round!
If you love antique shopping, head to Partition Street, the town's main street. It's lined with unique shops, boutiques, and antique stores. And after you work up an appetite, you'll love all the fun eateries there are to choose from!
One of the most memorable stops for us in Saugerties was the Catskill Animal Sanctuary, a rehabilitation center for abused and neglected farm animals. You can take different tours where you'll learn about the work being done and get a chance to love on the animals.
And just a short drive away from Saugerties is Opus 40, a unique park that you can't miss! This magnificent outdoor sculpture park and museum is definitely worth a visit for its stunning stone structures and tranquil atmosphere.
How to Get to Saugerties
There's no direct train to Saugerties from NYC and many of the things to do in Saugerties are outside of walking distance. So, it's best to take this 2-hour trip by car.
Hyde Park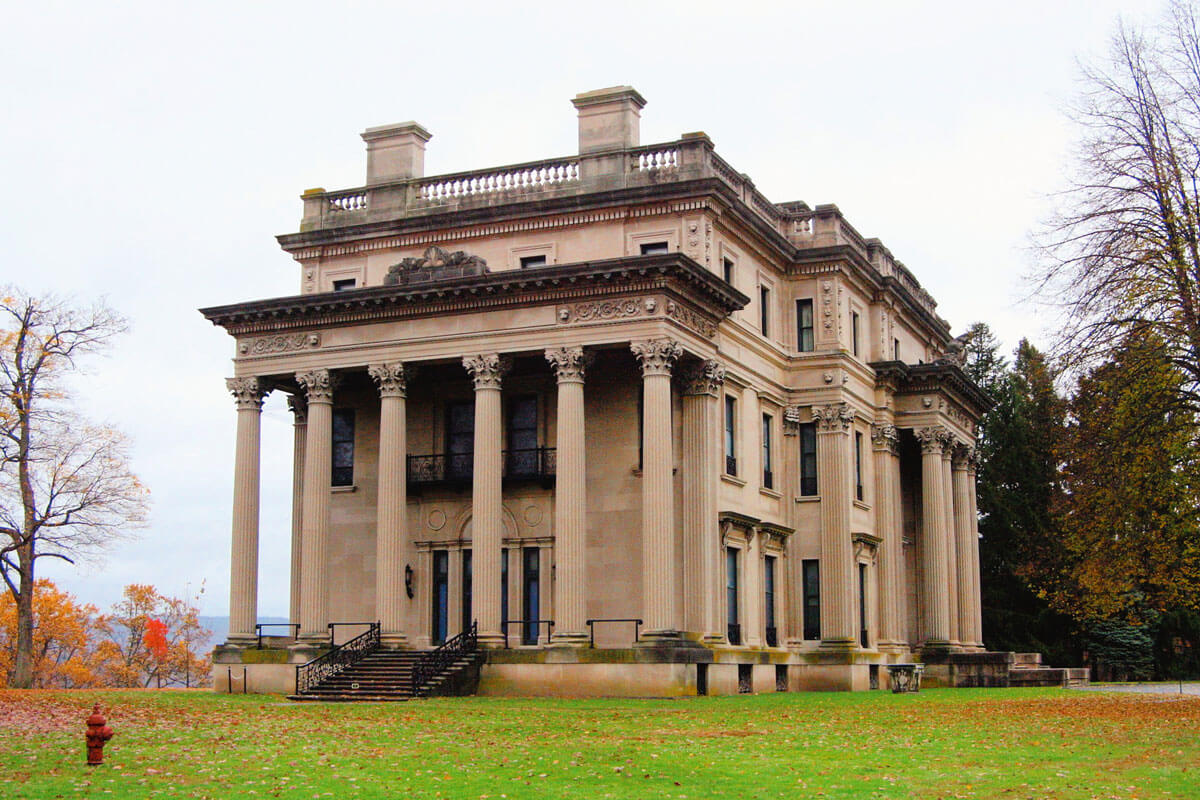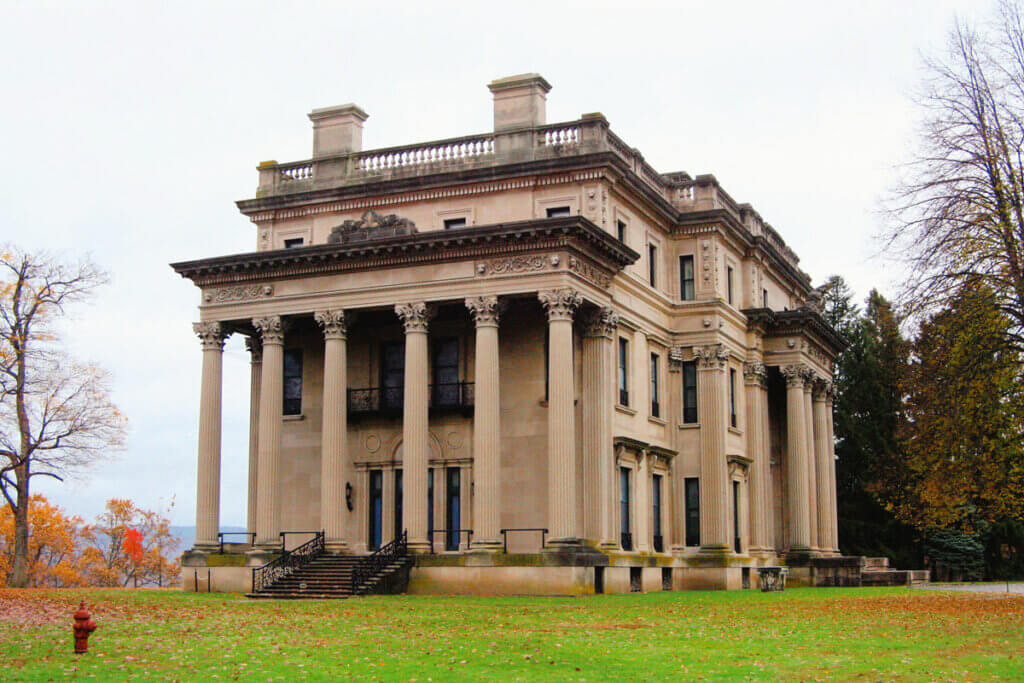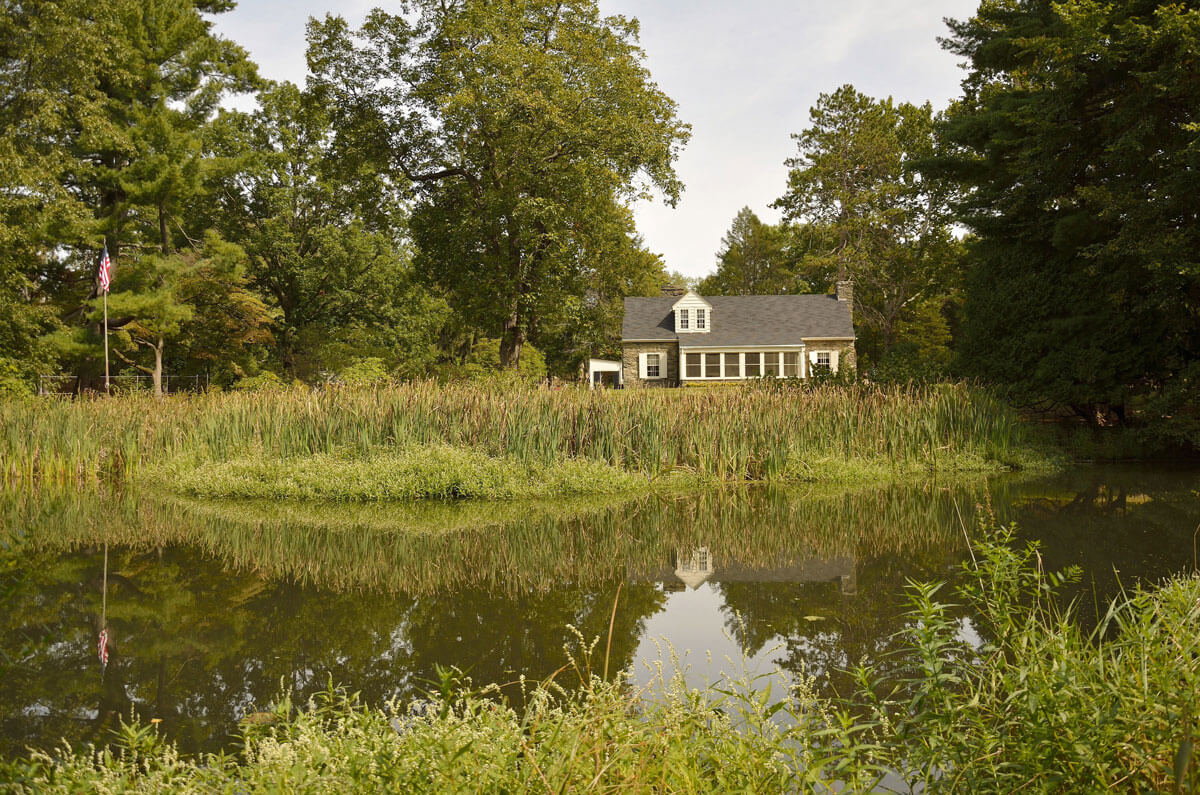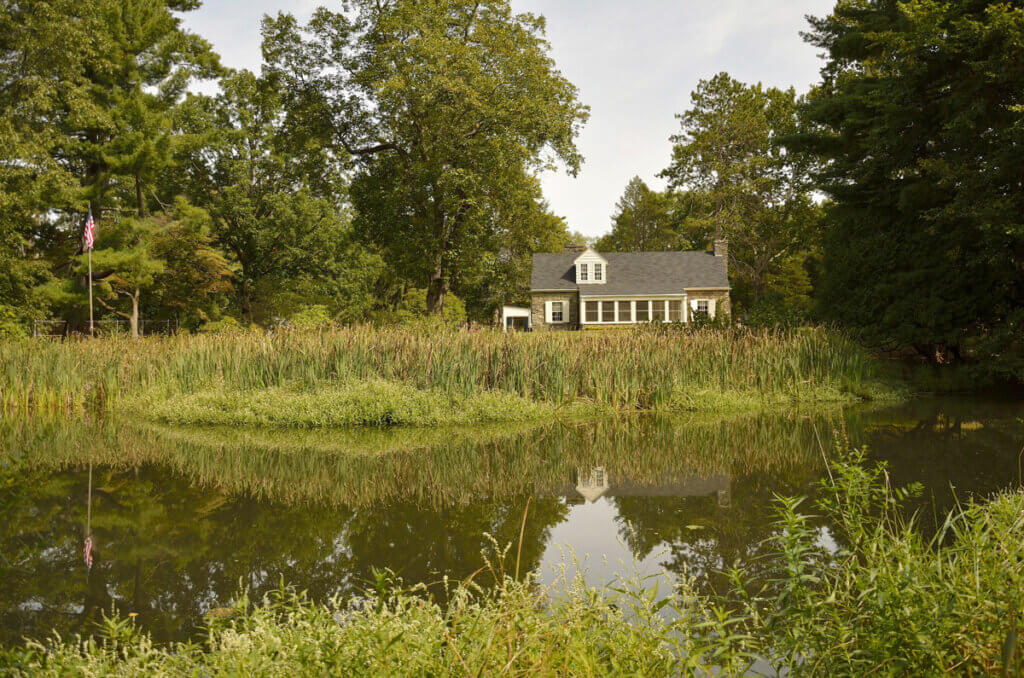 While you're exploring the best towns in the Hudson Valley, don't overlook Hyde Park. There are several fascinating attractions all around this town! Most notably, Hyde Park is home to the Culinary Institute of America (CIA). You can enjoy different gourmet dining experiences at the CIA's award-winning restaurants and cafes, where future chefs practice their culinary skills!
Another main attraction is the Franklin D. Roosevelt National Historic Site, which includes the Roosevelt Home, Presidential Library and Museum, and Val-Kill Cottage. Take different guided tours to learn about the life and legacy of President Franklin D. Roosevelt.
History lovers will also want to visit the Eleanor Roosevelt National Historic Site, where you can see what the first lady's private home looked like when she lived there. Or stop by the Vanderbilt Mansion National Historic Site in Hyde Park for a tour. You'll have access to this grand Gilded Age mansion and its beautiful gardens.
How to Get to Hyde Park
While you could take a bus from a variety of other Hudson Valley towns to Hyde Park that have a Metro-North stop, you'll still need to drive to all the landmark attractions. This is a better car destination.
Hastings-On-Hudson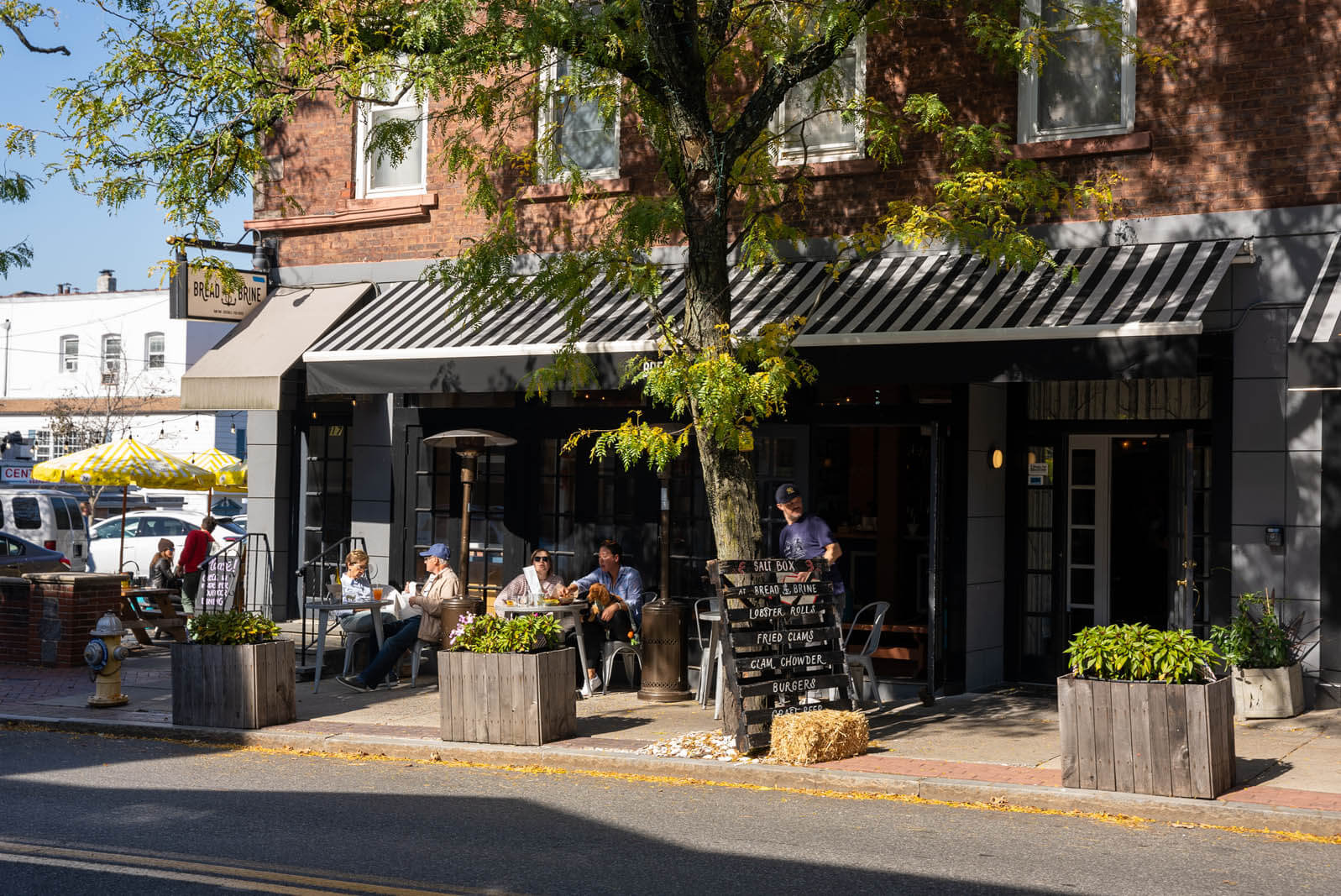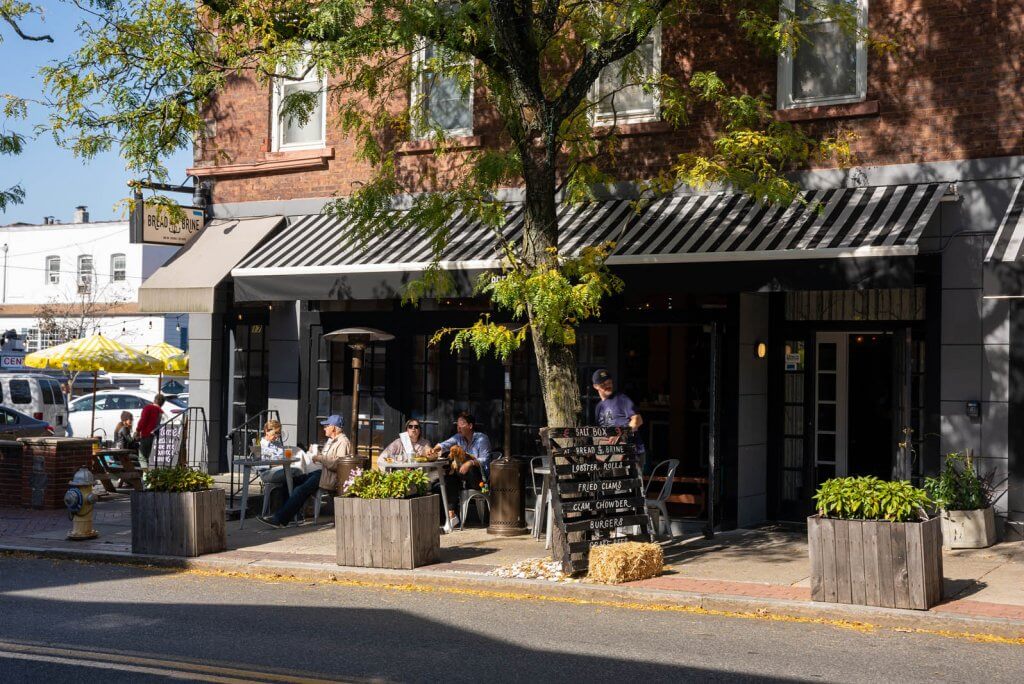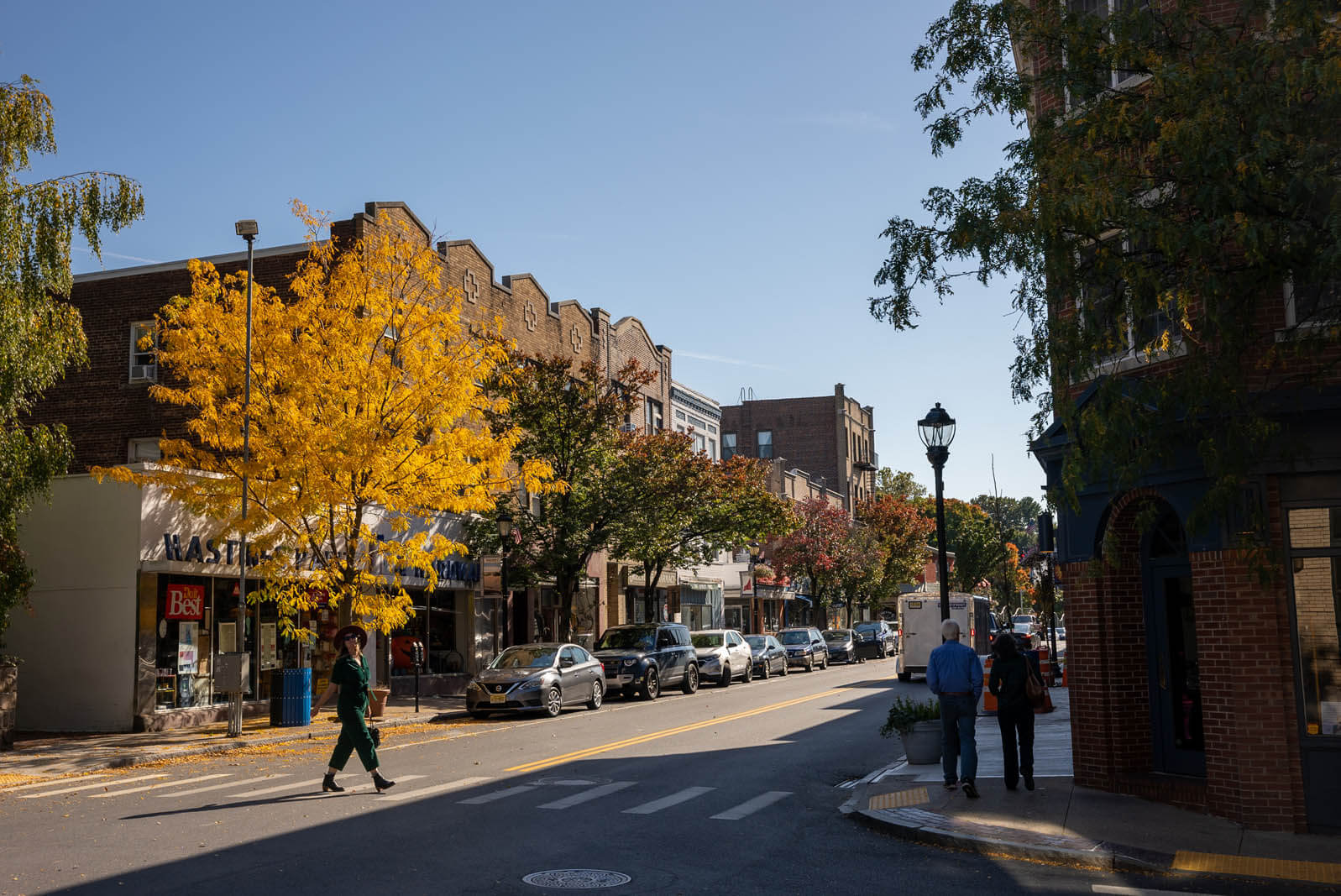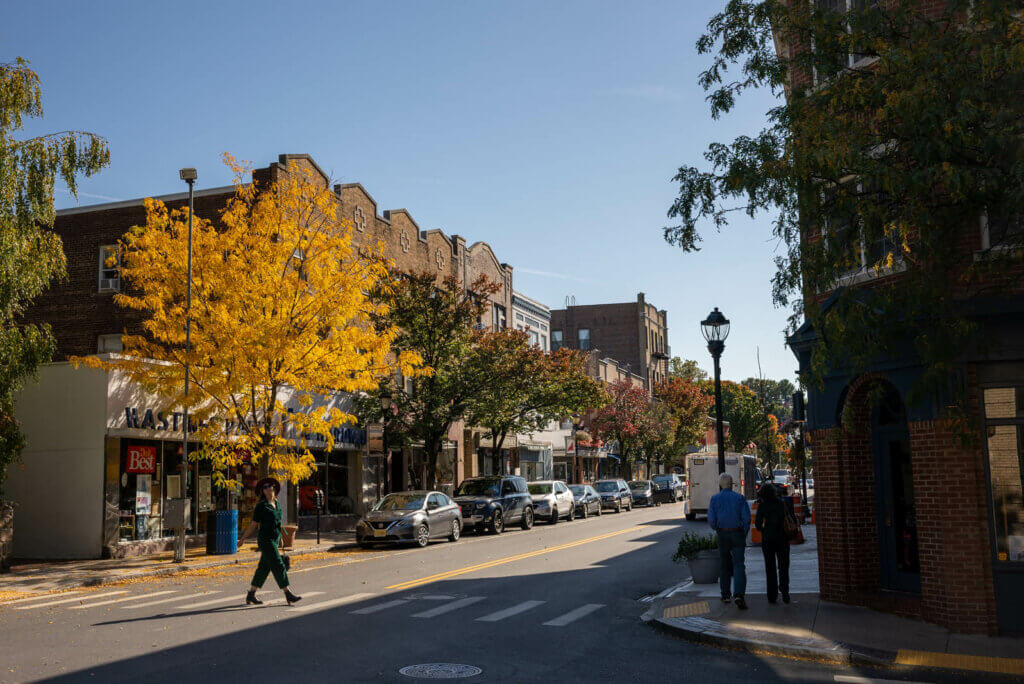 If you're looking for towns in the Hudson Valley that make easy day trips from NYC, consider Hastings-On-Hudson. This charming riverside village has a variety of attractions and activities for visitors to enjoy.
One of the most popular is the Old Croton Aqueduct Trail, a historic pathway that stretches for miles and provides scenic views of the Hudson River. This trail is perfect for walking, biking, and enjoying nature.
Foodies will appreciate the diverse culinary scene in Hastings-on-Hudson. The village boasts a range of restaurants, bistros, and cafes along Main Street. We suggest Bread & Brine or reserving a table at Harvest on Hudson.
There are also cute shops downtown that you'll love, like Clockwork Records. And Hastings-On-Hudson is also home to the Hastings Flea, a popular outdoor market that showcases local artisans, vintage treasures, and delicious food.
Additionally, Hastings-on-Hudson is an excellent weekend base for exploring nearby Hudson Valley towns and attractions. Just a short drive away, visitors can explore the adorable town of Dobbs Ferry too.
How to Get to Hastings-On-Hudson
Just north of Yonkers, Hastings-On-Hudson is a scenic 30-minute train ride from Grand Central. The Hudson Line stops at the station one block from Main Street.
Croton-on-Hudson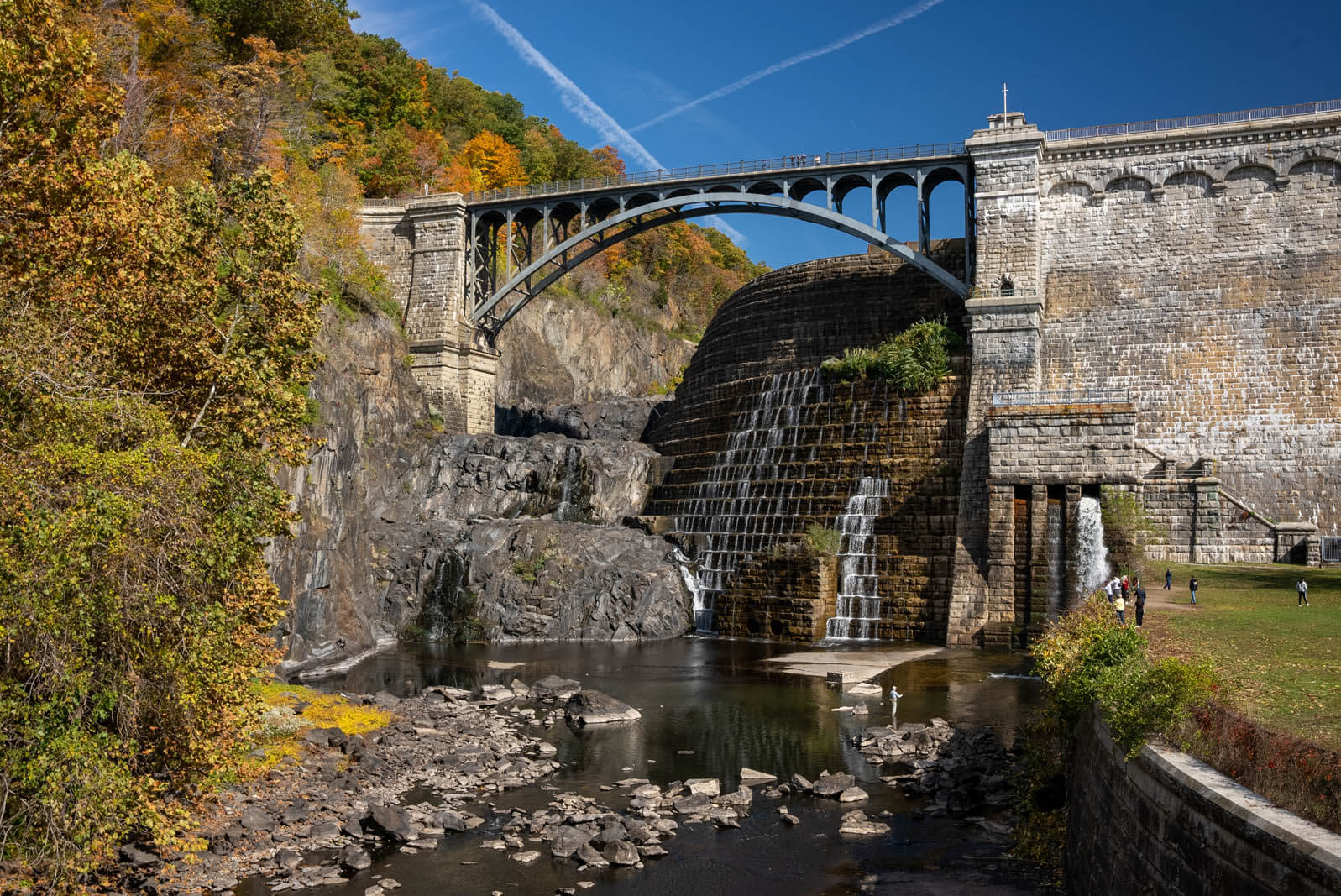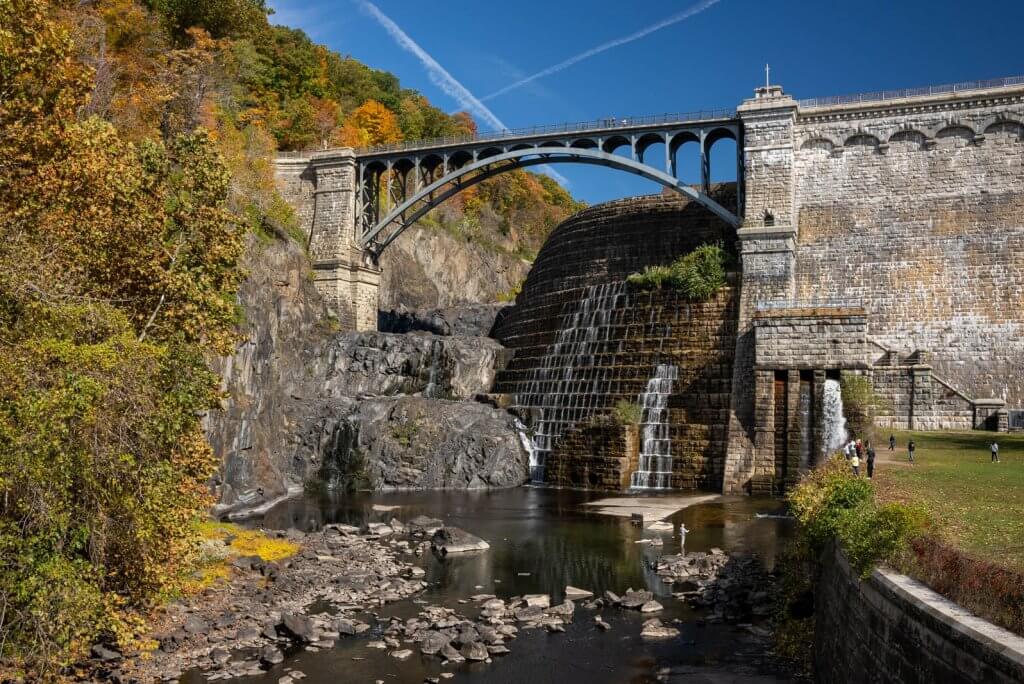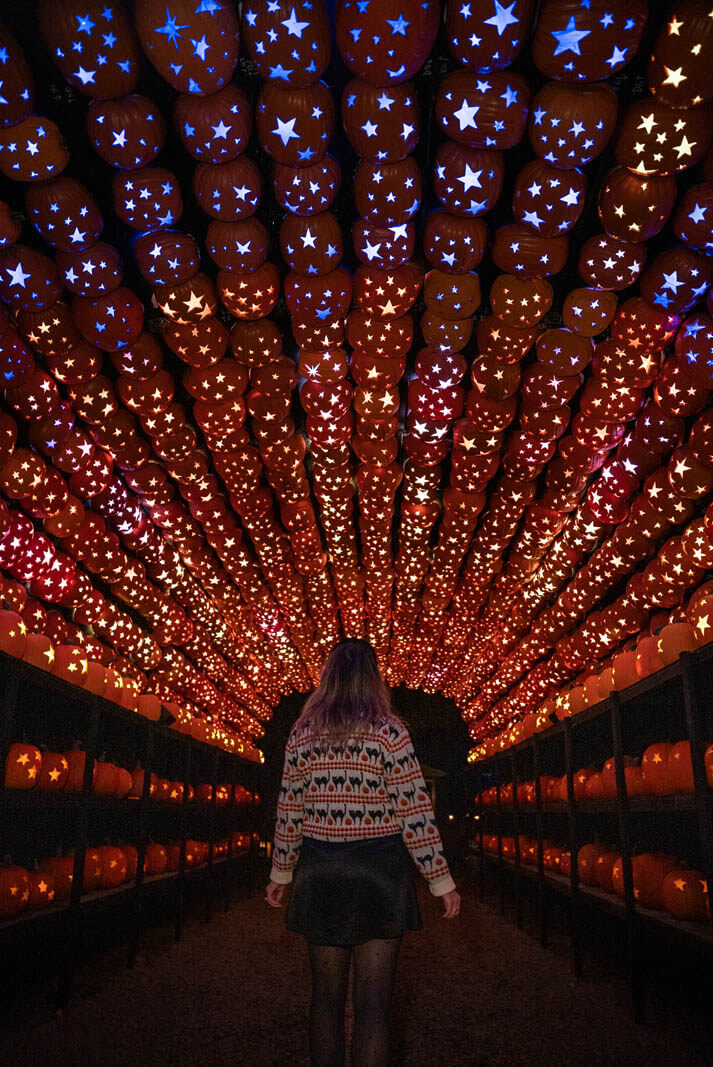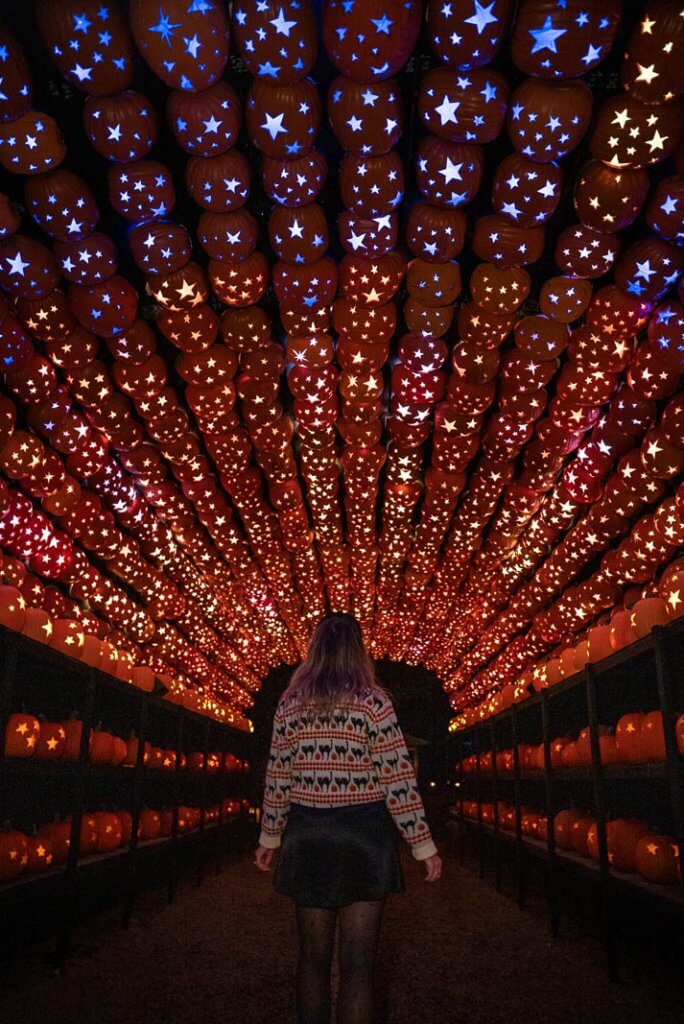 We think Croton-On-Hudson is one of the best towns in the Hudson Valley to visit in the fall! That's because this is the location of the popular Great Jack O'Lantern Blaze at Van Cortlandt Manor! But this pretty Hudson Valley town is worth visiting beyond fall too.
Outside of the Halloween season, Van Cortlandt Manor is a choice spot to learn about the area's colonial past. You can take tours of the beautiful mansion and walk the grounds. 
If you want to get outdoors, one of the main attractions in Croton-on-Hudson is Croton Point Park. This expansive park offers stunning views of the Hudson River, with opportunities for picnicking, hiking, birdwatching, and camping. It also hosts festivals throughout the year.
Further out, Croton Reservoir is a big reason Croton-On-Hudson makes the list of best Hudson Valley towns! This scenic park is known for its stunning views of the historic Croton Dam and the gorge it creates. You can enjoy picnicking and strolling in the park's serene surroundings.
How to Get to Croton-on-Hudson
Both Amtrak and Metro-North can take you to Croton-On-Hudson from Penn Station or Grand Central in less than an hour. However, if you want to explore attractions like Croton Gorge Park, you'll need a car.
---
Charming Hudson Valley Towns (Post Summary):
Kingston
New Paltz
Hudson
Woodstock
Tarrytown & Sleepy Hollow
Catskill
Millbrook
Millerton
Poughkeepsie
Cold Spring
Beacon
Saugerties
Hyde Park
Hastings-On-Hudson
Croton-on-Hudson
---
Enjoyed this guide to the best towns in the Hudson Valley to visit? Bookmark for later or share the love below on Pinterest.