Planning a Nova Scotia road trip anytime soon and looking for the perfect itinerary? We've got you covered for your Nova Scotia travels picking out some of the finest destinations to explore on our 7-day Nova Scotia road trip itinerary starting and ending in Halifax.
Covering charming seaside villages, unique experiences, and some of the most famous Nova Scotia destinations including the Bay of Fundy, Peggy's Cove, UNESCO World Heritage Sites, and more as we take you on a journey through Nova Scotia's mainland along the south and Acadian shores up through the west and the Bay of Fundy before returning in a perfect loop back to Halifax where you'll have a day to explore the capital maritime city.
We loved the stops we made on this Nova Scotia itinerary so much that we even came back a few months after our first trip and again! (One of these days we will make it to the Cabot Trail, I promise!).
Disclaimer: This post contains commisionable links!
Nova Scotia Travel Tips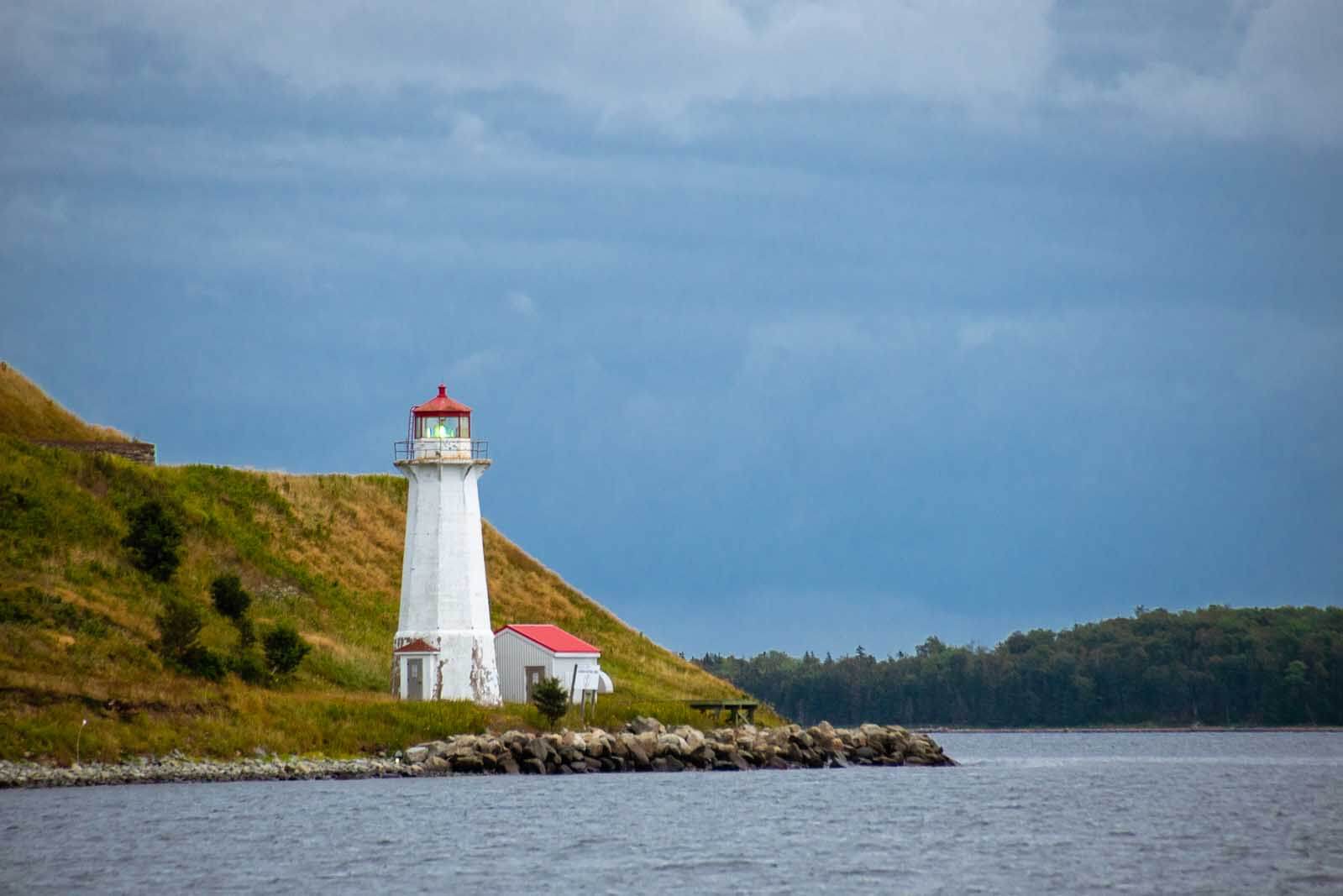 Our Nova Scotia road trip itinerary focuses on the mainland heading through the south shores and the west. We recommend taking your time and adjusting our suggested Nova Scotia destinations mentioned on this itinerary to your specific interests if needed.
Renting a Car & Driving Tips
The best way to explore the different Nova Scotia destinations on this Nova Scotia itinerary road trip we recommend renting a car in advance. We personally recommend renting your car with Expedia, you can check rates here.
One thing that's really nice about Nova Scotia is that gas prices are generally the same at every gas station, no one is really surging prices not even near the airport which makes filling the car back up before returning it as easy and convenient as ever.
There are a few tolls in Nova Scotia including the Halifax Harbour Bridges. Unlike the US where you can pay some steep fees to use a toll, they are only $1 CAD here! You will need to have cash though, so be sure to have some change on you.
The $1 coins are also known as 'loonies' because they have a loon on them. The $2 coin is a 'toonie'. You will want to keep a few loonies or toonies on you for tolls at all times.
When going through tolls be sure to go into the lane that accepts cash! If you don't have the perfect amount, the teller can break change for you.
For the route we have you on for this Nova Scotia road trip we recommend driving along the Lighthouse Route. This route is from Halifax to Yarmouth. After that, you are no longer on the Lighthouse Route. We recommend following the routes that stay on the Lighthouse Route because these routes are more scenic.
When is the Best Time To Visit Nova Scotia?
The best time to enjoy your Nova Scotia road trip itinerary is arguably between the months of May through October. This is when the weather is considered the most pleasant and mild. That being said, this is also the peak season to enjoy Nova Scotia destinations.
However, Nova Scotia travel can be enjoyed any season. If you plan on coming on shoulder or off-season in the winter be sure to check the weather and come with appropriate layers and outdoor apparel. You'll enjoy having many of the Nova Scotia destinations to yourself as a tourist without the crowds.
Also, keep in mind some of the Nova Scotia destinations we mention on this itinerary do offer certain activities seasonally and if you come in the winter you may find some of the businesses close for the winter. It's best to check ahead to ensure that you don't run into any issues on your Nova Scotia road trip if you're planning to come off season.
Also, not that Nova Scotia is mostly made up of coastline and you can have weather patterns that change rapidly and don't always follow the weather forecast. You will want to come mentally prepared that it could be raining or foggy one minute and 15 minutes later the sun is out with big puffy white clouds.
Nova Scotia is known for its microclimates so there's also a chance somewhere 5 minutes away is experiencing different weather than you! This was actually very interesting to witness in person and you'll surely experience this on your Nova Scotia itinerary.
What to Bring to Nova Scotia
Some essentials to pack on your Nova Scotia road trip, no matter what season, are the following. However, no matter when you plan to visit be sure to check the weather and dress accordingly.
As mentioned before, the weather can change within 15 minutes, the forecast could be wrong, and you could also just drive 5 minutes away and experience a different climate altogether. 
It's best to have these Nova Scotia travel essentials with you and available most times.
Rain jacket or poncho – One of the best items you can bring on your Nova Scotia road trip is a small packable rain poncho or raincoat. I personally love my rain jacket because it also works well as a windbreaker on those windy days along the seashore.
Umbrella – Another fail-proof item to carry around at all times on your Nova Scotia travels is an umbrella for the same reasons above. You never know when you might get some spots of rain so this can come in really handy along your road trip.
Extra layers – Even though we visited in the summer we were really happy we had some extra layers ready for when the weather took a change or for when the weather was cooler in the mornings and evenings. We recommend bringing a nice thick sweater or sweatshirt to have in addition to your rain gear even if you're visiting in the summer. For all other seasons, packing and wearing layers is also very smart.
Alternatively, thermals are super easy to pack and can help you out if it's extra chilly one day too! Especially if you're visiting on a shoulder season.
Waterproof shoes – We highly recommend bringing waterproof shoes with you on your Nova Scotia road trip because our itinerary has you going to places where you'll need them including the Bay of Fundy. When the tides are low you can walk on the ocean floor and you'll want waterproof shoes or water shoes so that you don't get your regular footwear wet. These are also ideal for the wet and rainy weather conditions you'll likely encounter at some point during your Nova Scotia travels, we prefer a nice rainboot.
Bug spray in summer – The biggest mistake we made during our Nova Scotia itinerary was not bringing bug spray. The mosquitos get particularly active in the mornings and evenings along the coastline.
Sunscreen – It's always a good idea to have sunscreen handy when you're spending time outside. Especially if you're planning any water activities. Even on an overcast day you can get a sunburn. Come prepared!
---
Nova Scotia Road Trip Itinerary
Day 1 of 7 Days Nova Scotia Itinerary: Peggy's Cove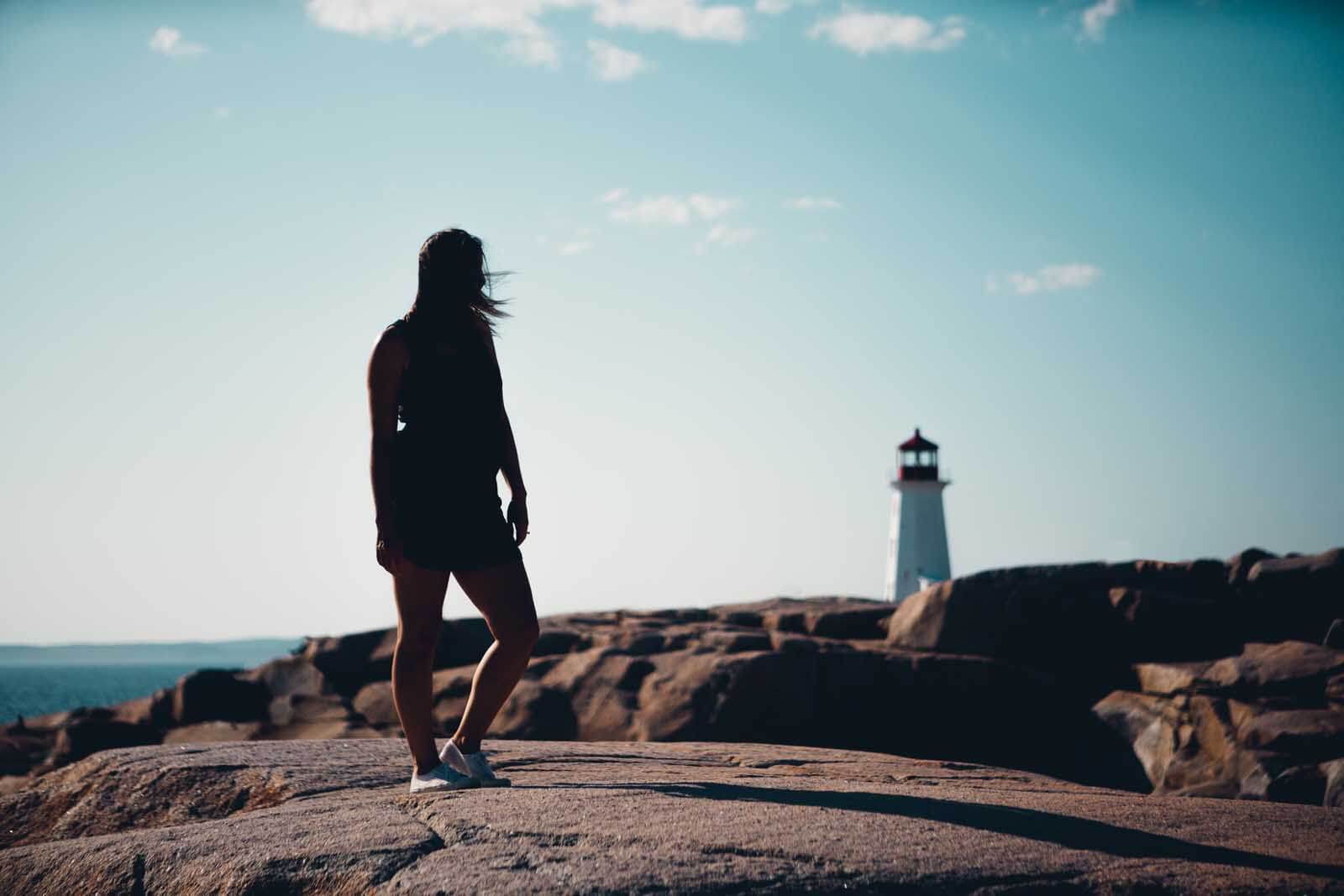 Halifax to Peggy's Cove along route 333: 41 km or 26 miles driving time ~1 hour
Start your itinerary with one of the most famous of Nova Scotia destinations at Peggy's Cove. This small fishing community is one of the most popular photographed locations in all of Canada.
The lighthouse here draws thousands of visitors a day and once you see it for yourself its no wonder why. Nestled on top of granite rocks along the sea, Peggy's Point Lighthouse is one of the most scenic and beautiful along the Lighthouse Route.
The fishing village in Peggy's Cove also makes this a worthwhile and must-see Nova Scotia destination. Dotted with colorful shops, restaurants, homes, and even cottage rentals there's no shortage of charm here.
We recommend having dinner at Rhubarb Restaurant just a few miles away or enjoy the Lobster Feast Experience with Oceanstone Seaside Resort where you get to spend time learning about the local lobster at Ryer's Pound, have a glass of local wine or beer at a locals-only spot in Peggy's Cove, enjoy a fresh oyster and craft beer pairing, and ending with a private sunset lobster dinner along the ocean.
(The Lobster Feast is a summer program running from July to September, reservations in advance are necessary)
Important Safety Tip: Peggy's Cove claims victims every year to those that don't follow the warning signs to stay off the black rocks. Even if the sea looks innocent during your visit there's a chance a rogue wave could come even on the calmest of days. Stay off the wet/black rocks and do not swim here. The undertow and current are very dangerous as well as the random rogue waves.
Overnight in Peggy's Cove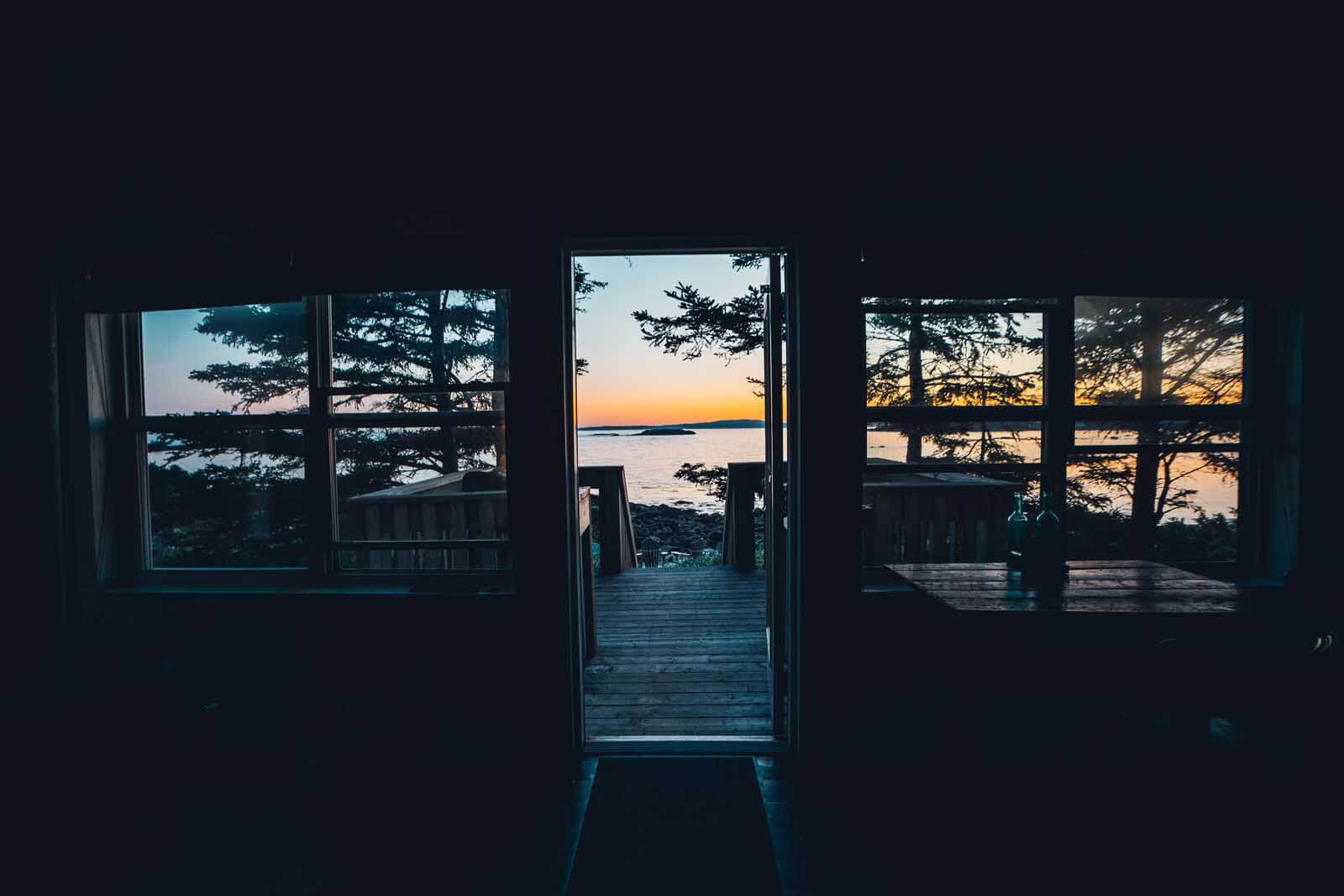 On the first night of your Nova Scotia road trip itinerary, we highly recommend staying at Oceanstone Seaside Resort. Located just a 7-minute drive from Peggy's Cove, this resort offers amazing oceanside rooms and private cottages with incredible views and a private beach and lighthouse view.
We had the most romantic cottage with an amazing view right from our bed. We loved the private beach where we could have a campfire and watch the stars.
Right on the property is also Rhubarb Restaurant, an incredible local spot offering up great seafood and dishes.
Book Now on Booking.com | Compare Prices for Later on Hotels.com | View Rates on Expedia.com
Day 2 of 7 Days Nova Scotia Itinerary: Coastal Town Hopping & Lunenburg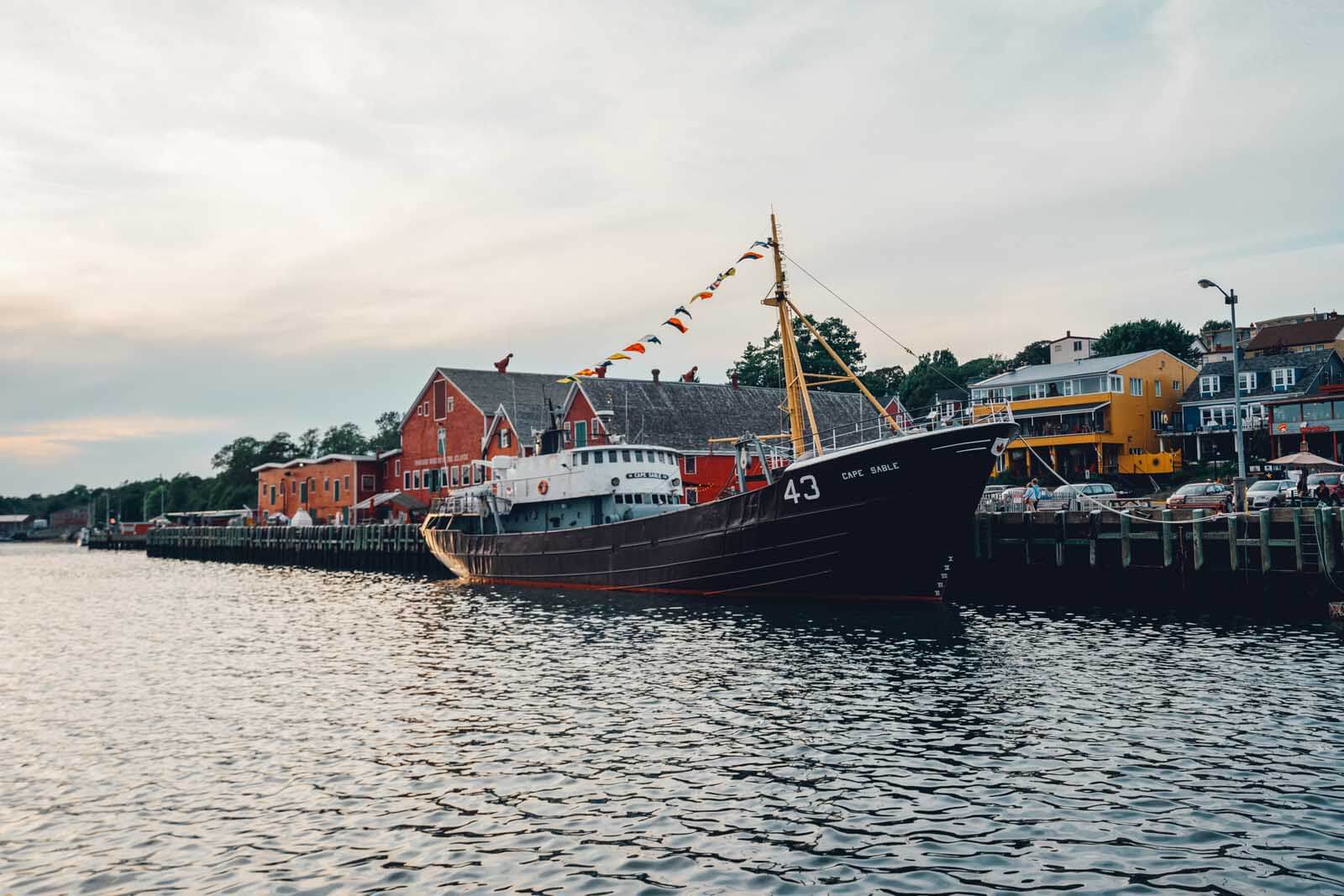 Peggy's Cove to Lunenburg along route 333: 128 km or 80 miles driving time ~1.5 hours
On your way to the next stop on our Nova Scotia road trip itinerary, you have some great options to stop along coastal seaside villages along the south shores before getting to our final destination for the day in Lunenburg.
On your way from Peggy's Cove to Lunenburg, there are some great Nova Scotia destinations to consider stopping at. Hubbards and Chester are both great quick stops for photos and witnessing quiet seaside towns and finally Mahone Bay is a great stop for a meal, shopping, and enjoying the picturesque scene here.
We recommend leaving in the morning and having lunch in Mahone Bay before heading to Lunenburg for the rest of the afternoon! You'll want the time here, trust us!
Stop in Hubbards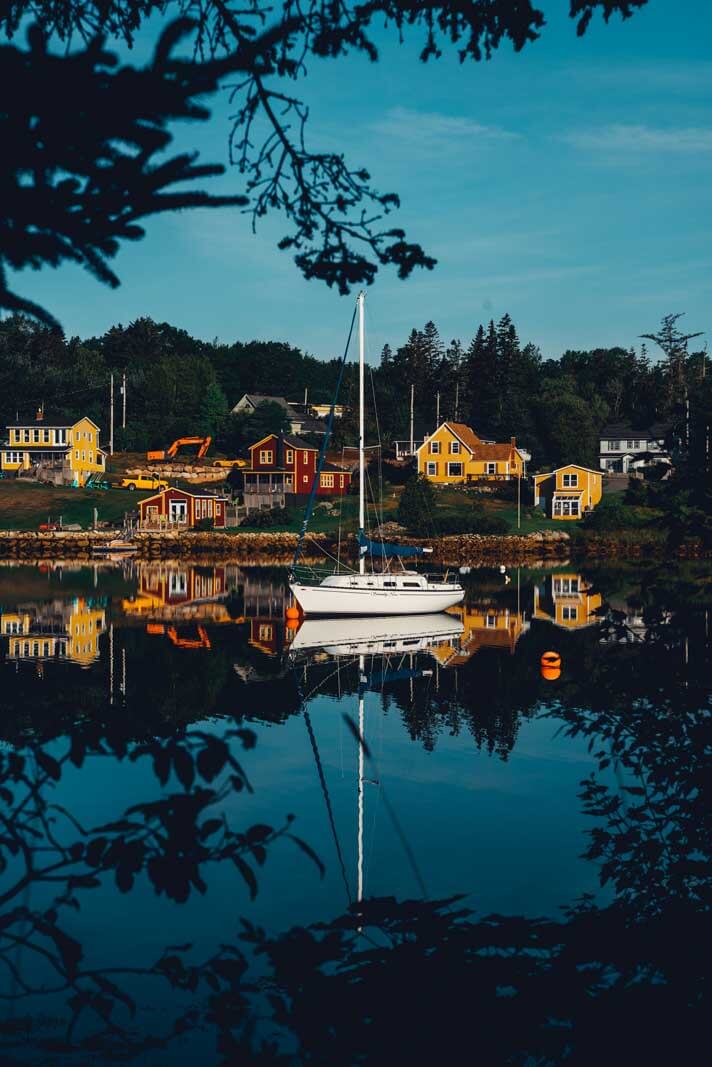 We recommend spending the least amount of time here if you're trying to stop at all three Nova Scotia destinations we recommend on your way to Lunenburg. This is more of a residential seaside town that doesn't have many places for you to actually stop at other than pulling over and enjoying the quiet morning view of boats floating and reflecting off the shores.
There is a picturesque church and park here which has a small parking area which is a great place to park while you check out this tranquil scene. There's also a chance you won't see another tourist here as this is a bit off the radar for most visitors and you'll likely encounter locals who are getting their morning walk or jog in around the water.
Tip: Drive down Shore Club Road to get to the spots mentioned above.
Make a Visit to Chester
Chester is an interesting stop during your Nova Scotia travels, a bit like Hubbards in the sense that you probably won't encounter too many tourists here but worth stopping to see the charming downtown area where you can find cafes and shops to explore.
There's a memorial park with a statue of a soldier and even a public saltwater pool that fills at high tide located right on the shores of the harbor that's free to jump in for a swim.
Again, you don't need much time here but this beautiful town is worth making a stop at even to recharge and get a coffee.
Tip: Drive down Queen Street to the waterfront and drive along South Street.
Visit Mahone Bay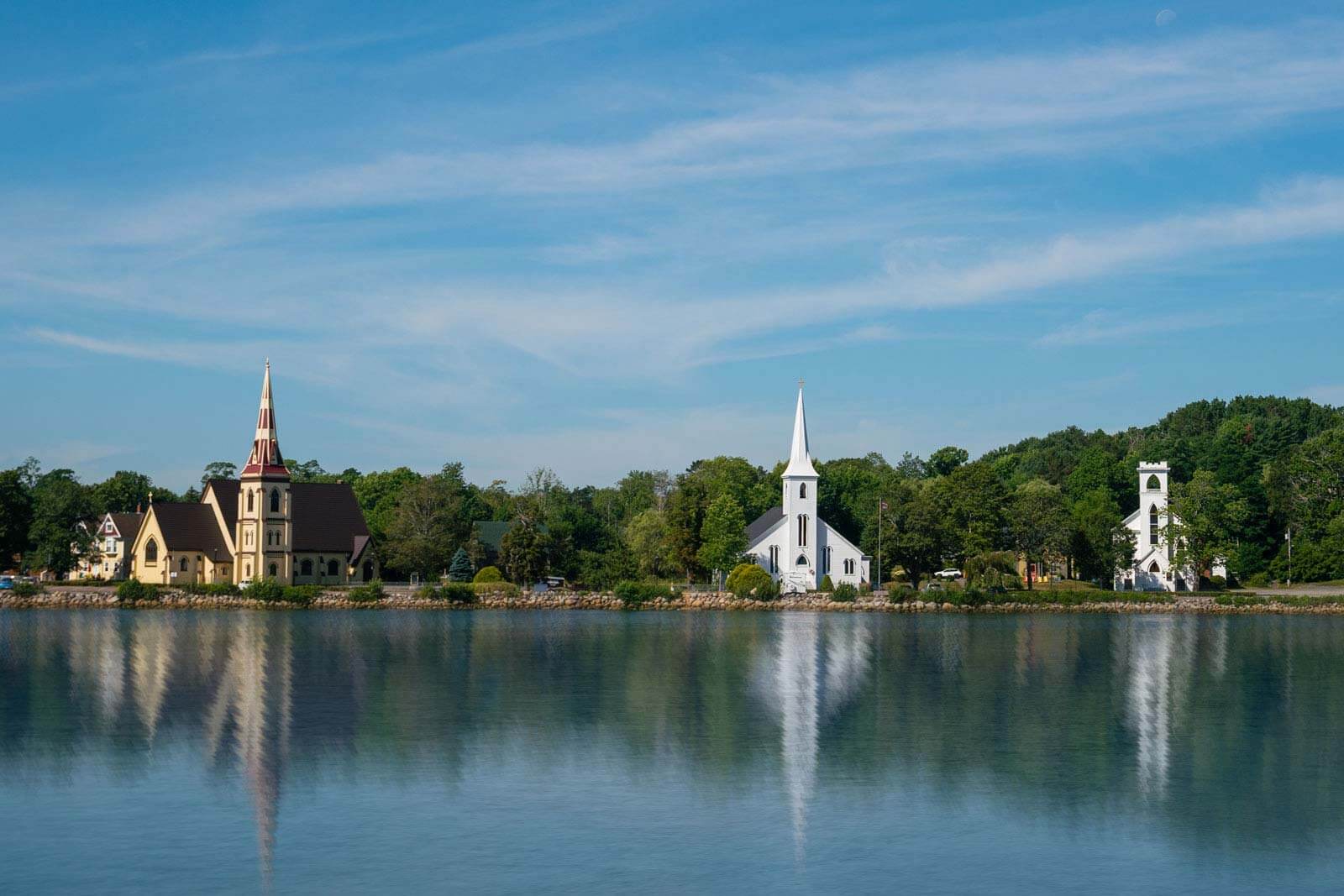 Next, on our Nova Scotia itinerary on your way to Lunenburg if you're only going to stop at one seaside village on the way this is it. The most famous views and photo spots here is across from the bay looking into town at the three churches lined up next to each other right along the water.
The New York Times even described this town and scene as "pretty as a picture" which makes sense because it is often photographed and you can easily see why.
Besides a few adorable churches, Mahone Bay also boasts great shopping along its independently owned stores, cafes, restaurants, and walk along the water. This is a great stop for lunch or a snack if you're holding out until Lunenburg for a full meal.
Enjoy the Beauty of Lunenburg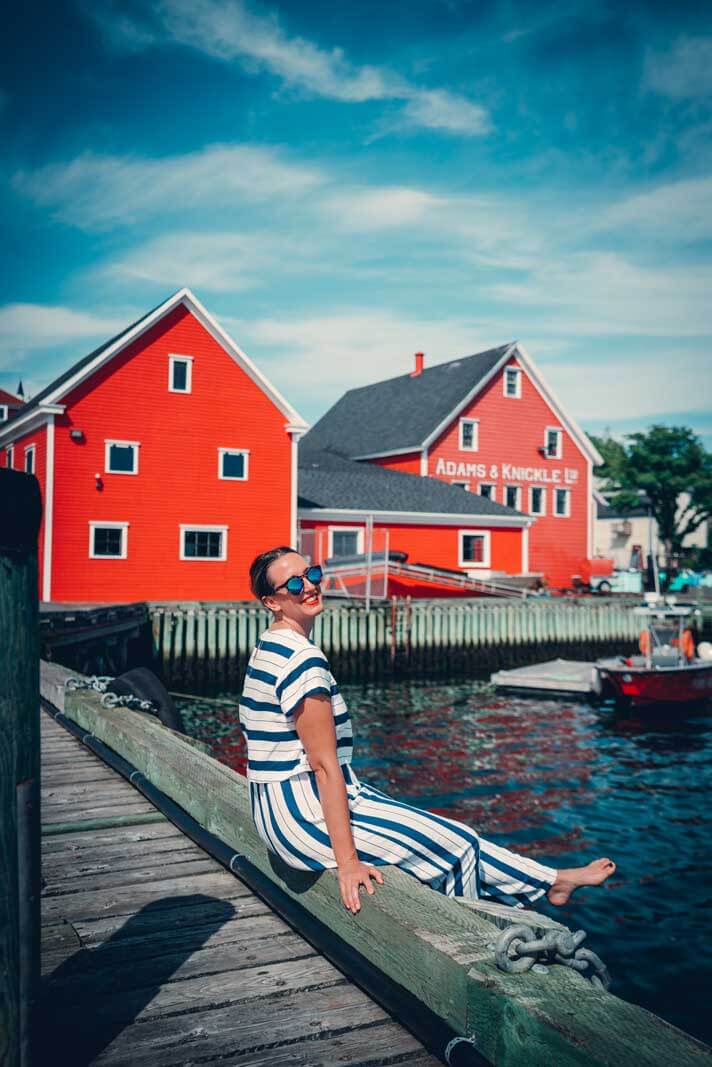 One of our favorite Nova Scotia destinations we enjoyed on our entire trip was in Lunenburg. This UNESCO World Heritage Site town is a famous fishing village and one of the most picturesque and colorful towns we went to during our Nova Scotia travels.
You'll want to make sure you have an ample amount of time here to enjoy weaving your way up and down the streets stopping in the different shops and even cafes. There are plenty of great options for where to eat here as well if you've built up an appetite hopping from one seaside village to another to get here.
We ate at the South Shore Fish Shack which has an incredible selection of seafood dishes and if the weather is nice you'll enjoy the view from their outdoor deck and patio to eat.
Some other noteworthy spots not to miss and best things to do in Lunenburg include:
St. Johns Anglican Church – This church is unmissable and one of the more interesting architectural buildings in the city. This is also considered the 2nd oldest remaining Protestant church in Canada.
Bluenose II –This racing schooner is one of the most famous in Canada, you might even recognize it yourself because it's actually featured on the 10 cent piece. The Bluenose II is a replica of the original Bluenose racing schooner. Sadly, the Bluenose wasn't in Lunenburg during our visit but it is usually docked right at the waterfront most of the year.
Bluenose Golf Club – Rather than golf here this is where you can find the best view of Lunenburg from across the water. Be sure to stop by so you can see the whole seaside town from across the way.
Fisheries Museum of the Atlantic – A great museum and exhibition with a collection that commemorates the fishing heritage and culture for Atlantic Canada.
Ironworks Distillery – One of the unmissable Nova Scotia destinations to enjoy in Lunenburg is this distillery, also a stop on the Good Cheer Trail for those who are trying to fill up their passports. This distillery is run by a local couple who have specialty rums including the Rum Boat Rum where the barrels of rum age on a boat with the rocking of the ocean and currently they have some barrels of rum aging on a boat that's making a trip around the world which will be bottled and sold as Around the World Rum when it returns. The distillery is gorgeous and worth a stop in itself for a tasting and this is a great option for a souvenir.
Lunenburg Walking Tours – Check out this company for some of their great tour options from daily walking tours to spooky ghost tours in the evenings. Be sure to see if they are running their new special tour called Lunenburg Distilled (see below).
Lunenburg Distilled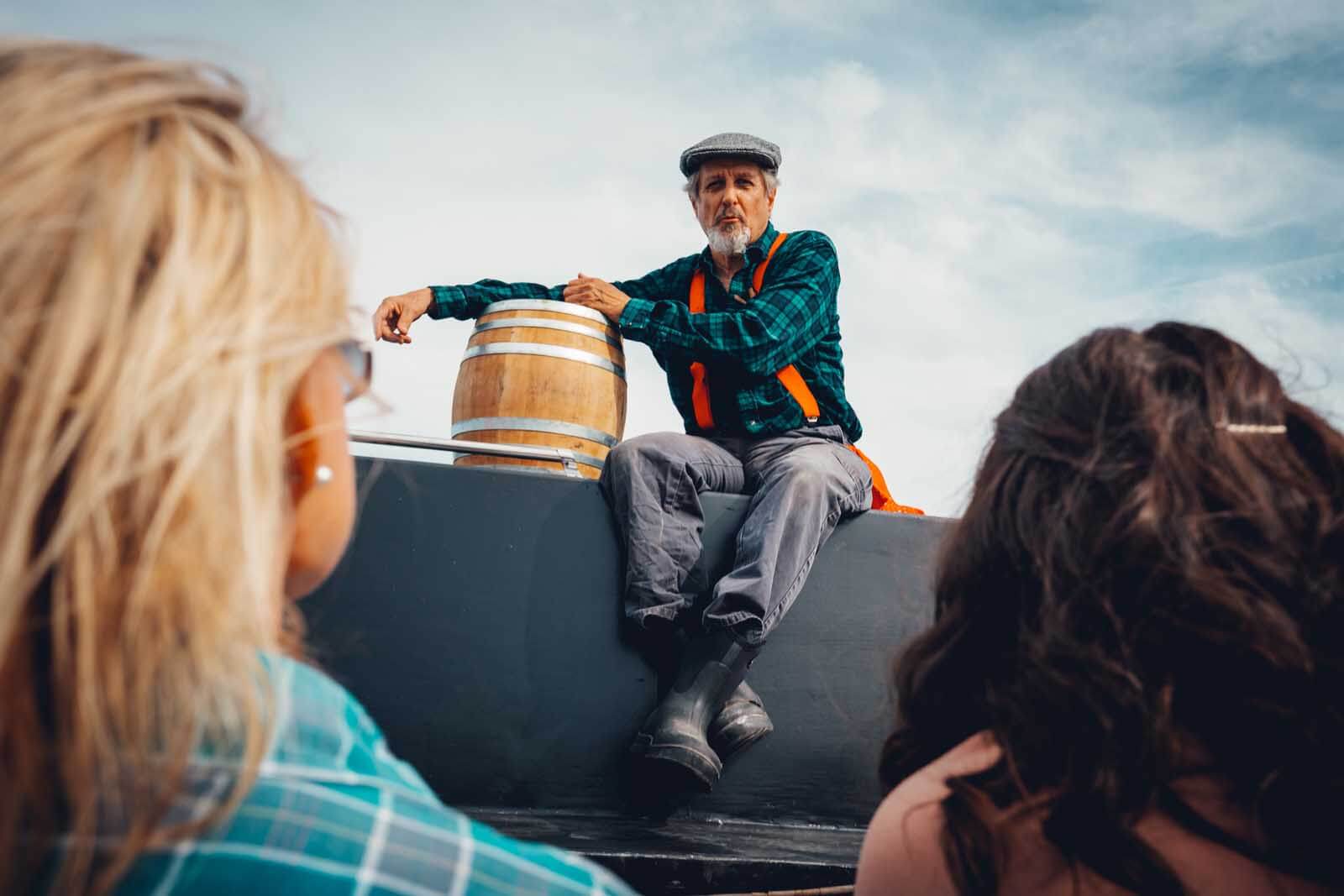 One of the most unforgettable experiences we enjoyed during our Nova Scotia travels and road trip was the Lunenburg Distilled experience. Learn about the rum-running history of Lunenburg during the prohibition period in this immersive culinary experience. Visit the floating rum distillery on the water, sample local delicacies, enjoy a private tasting at Ironworks Distillery and relax while dining a multi-course meal on the Theresa E. Connor schooner.
All of this takes place while learning the history, understanding the local culture, and eating an extraordinary meal.
The Lunenburg Distilled Culinary Adventure is a must add item to your Nova Scotia road trip itinerary if you're visiting from July – October. Be sure to check their program dates, if it doesn't line up with your itinerary be sure to try another one of Lunenburg Walking Tours experiences.
Note: As of 2023, it seems as though this tour has been modified! It could change again, regardless the company that runs it is an excellent tour operator and it still is a similar tour that we'd do ourselves given the opportunity again!
Overnight in Lunenburg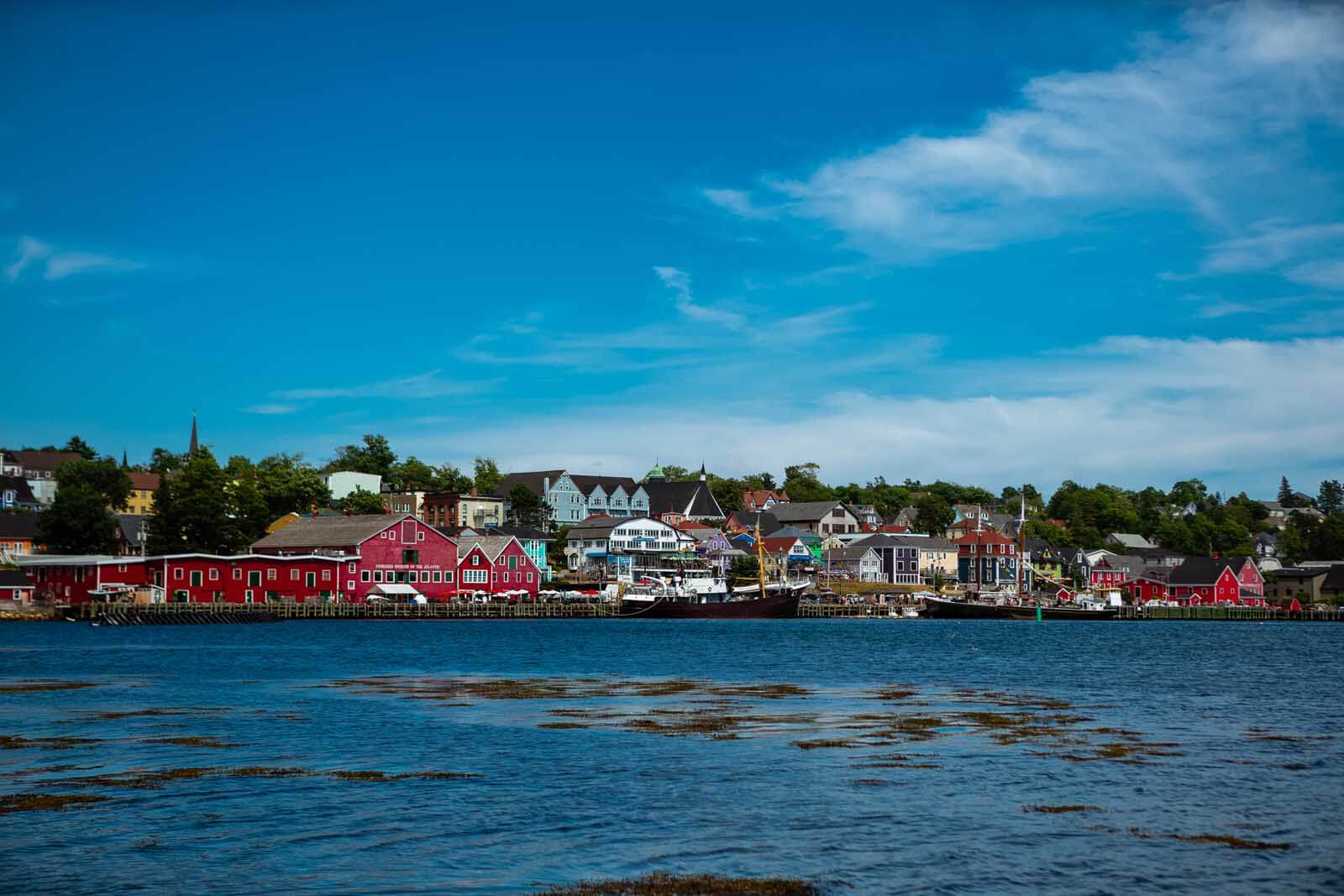 We recommend staying the night in Lunenburg as there are so many things to do and see here on your Nova Scotia itinerary that you'll have an action-packed day. A great option is the Lunenburg Arms Hotel which is where we stayed.
This vintage hotel has a great location right in the center of town and is easy to access wherever you need to go by foot plus many rooms have a harbor front view!
Book Now on Booking.com | View Rates on Expedia.com
Day 3 of 7 Days Nova Scotia Itinerary: Blue Rocks & Along the South Shores to Summerville Centre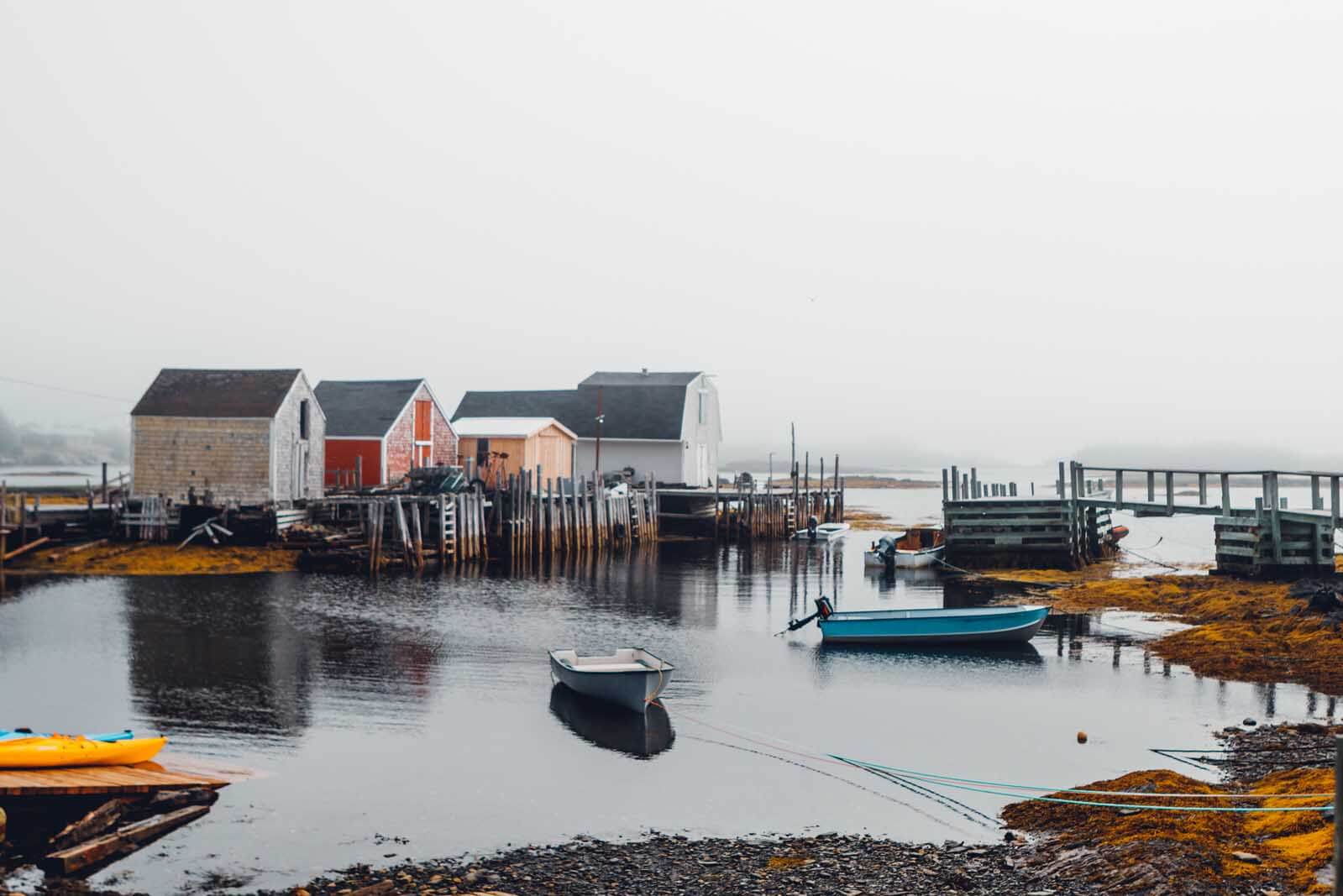 Blue Rocks to LaHave: 20 km or 13 miles driving time ~20 minutes | LaHave to Summerville Centre: 73 km or 45 miles driving time ~50 min
On day 3 of our Nova Scotia road trip itinerary, we have you leaving Lunenburg for nearby Blue Rocks, a quaint and picturesque fishing village. After, continue on to LaHave Ferry Terminal where you can ride one of the oldest cable river ferries in Canada!
This is a leisurely day and since you're along the south shores, if you're visiting during comfortable weather, we recommend enjoying a kayak excursion on this day either from Blue Rocks or LaHave to experience the views of the Nova Scotia coastline from the water. Both suggestions will be below.
Blue Rocks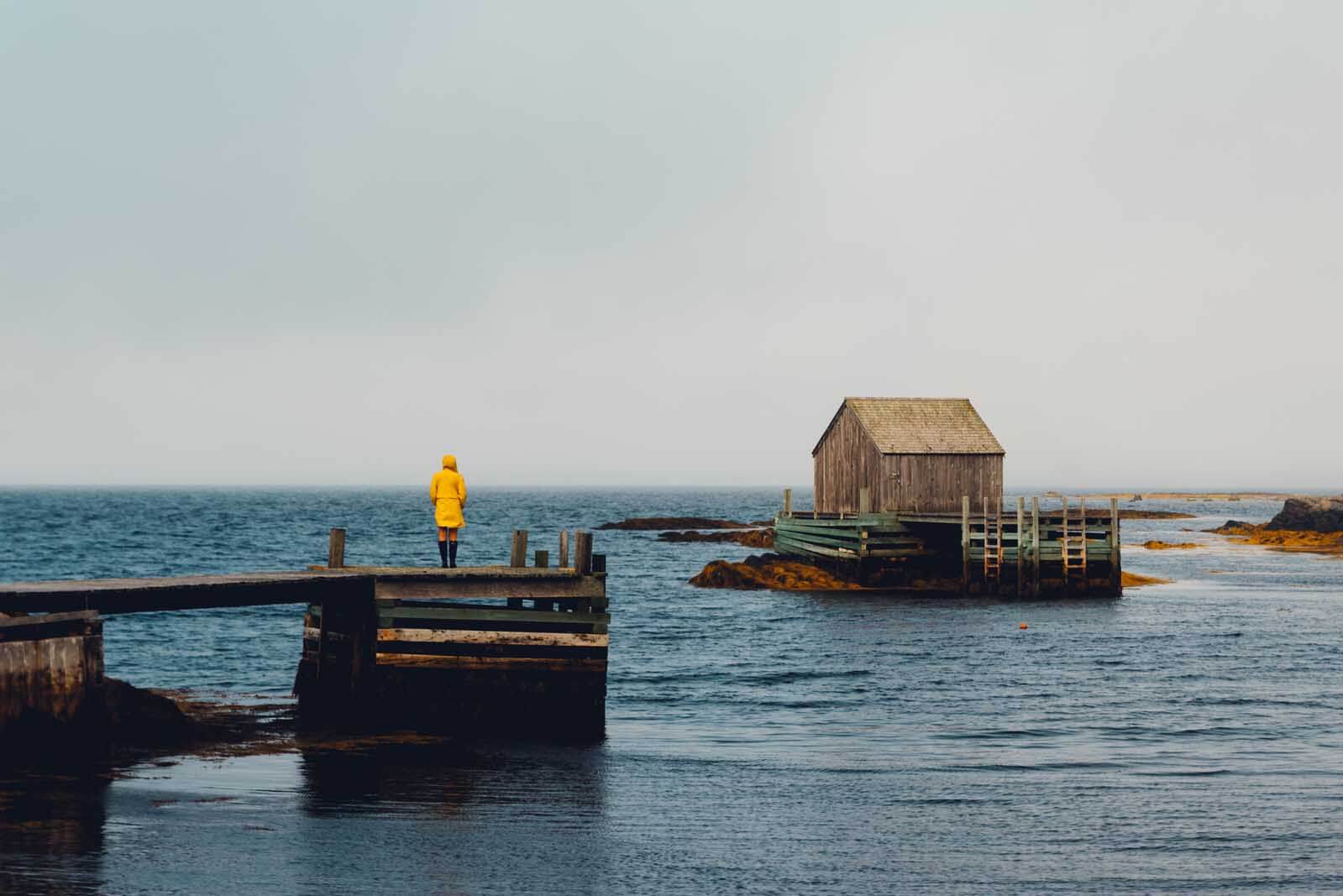 Just a few miles away from Lunenburg is another charming, small fishing community worth visiting. Blue Rocks is a Nova Scotia destination to miss on your Nova Scotia road trip itinerary.
This is another one of those photogenic fishing communities that you'll be thankful you have a camera on hand for. Blue Rocks is actually a very popular photography location and has inspired artists and photographers dating back to the 1940s and feels like it's kept away modernization in the best way possible.
Spend some time checking out the tide pools at low tide and admiring the beautiful seaside fishing homes and facilities along the water.
This is a great place to do a kayaking excursion from and is considered one of the most desirable places to kayak. You can kayak to the islands off of Blue Rocks with Pleasant Paddling. Be sure to book in advance.
Enjoy LaHave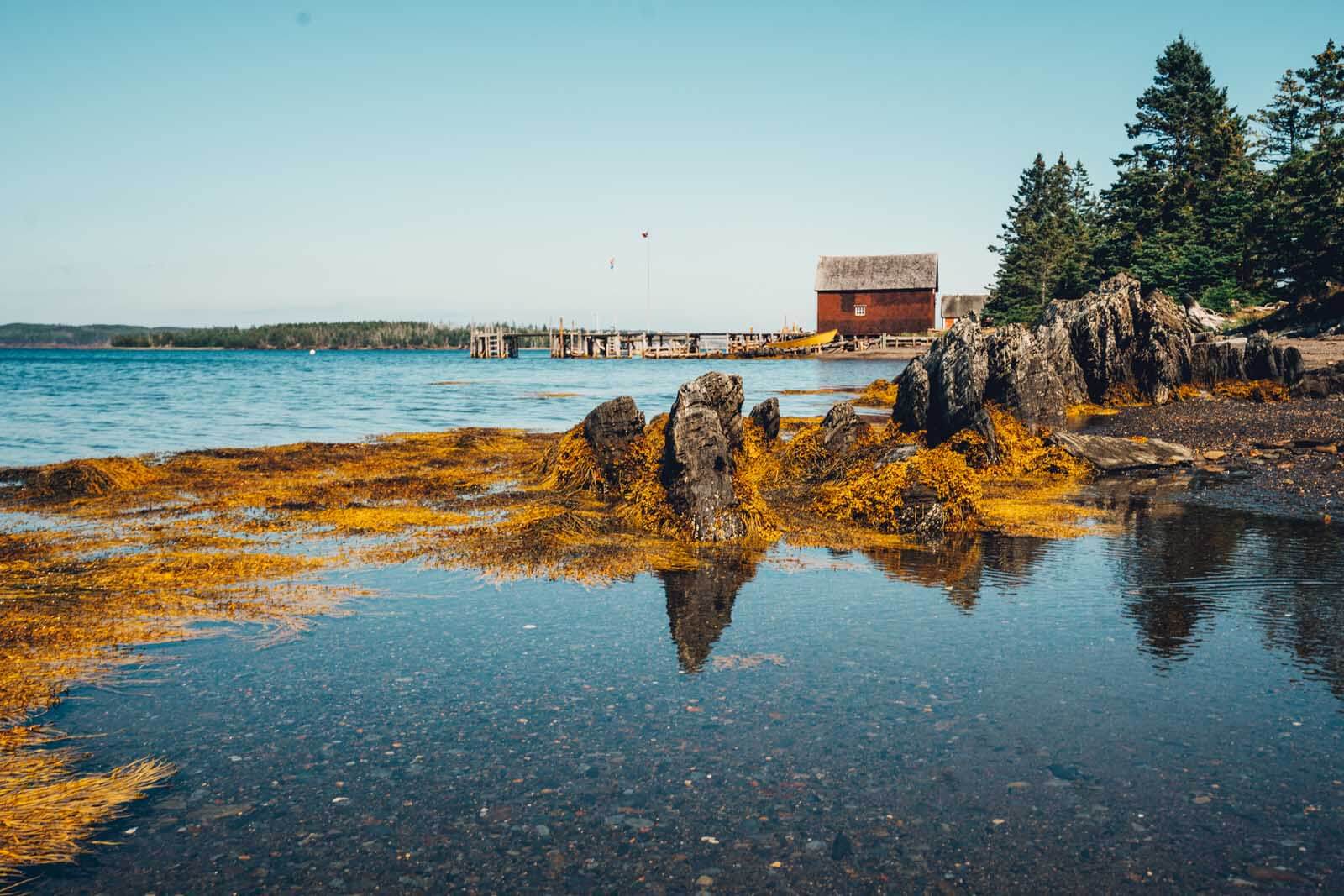 After checking out Blue Rocks on your day 3 of Nova Scotia travels head to the LaHave Ferry Terminal. Just a warning, this is easy to miss, the only indication of this ferry terminal is a sign along the road. We actually passed it and had to turn around, look for other cars who are pulled off to the side of the road waiting for the ferry.
This ferry is one of the oldest cable river ferries in Canada and you can take your car on it to get you across the water to the otherside where LaHave is. There are ferries every 15-30 minutes and you'll need $7 in cash to pay your way.
Once you're in LaHave be sure to stop at LaHave Bakery where you'll find an old fashioned bakery located in this historic LaHave Outfitting company building. This is a great stop for lunch and a coffee.
While you're here be sure to check out the bookstore, local artisan shop, and skate shop in the same building. We showed up on a gorgeous day so sitting on the dock in one of the Adirondack chairs was a great way to enjoy our cup of coffee. There are also a few other shops dotted along the road selling local art and trinkets.
LaHave is also another excellent choice for kayaking as there are several islands and channels to explore. We did a half-day kayaking adventure with Cape LaHave Adventures who set us up with a knowledgable local guide with snacks and water for a four-hour journey hopping islands and paddling along seals. (They also have multi-day kayak tours available too)
Be sure to book your tour in advance.
Drive on Crescent Beach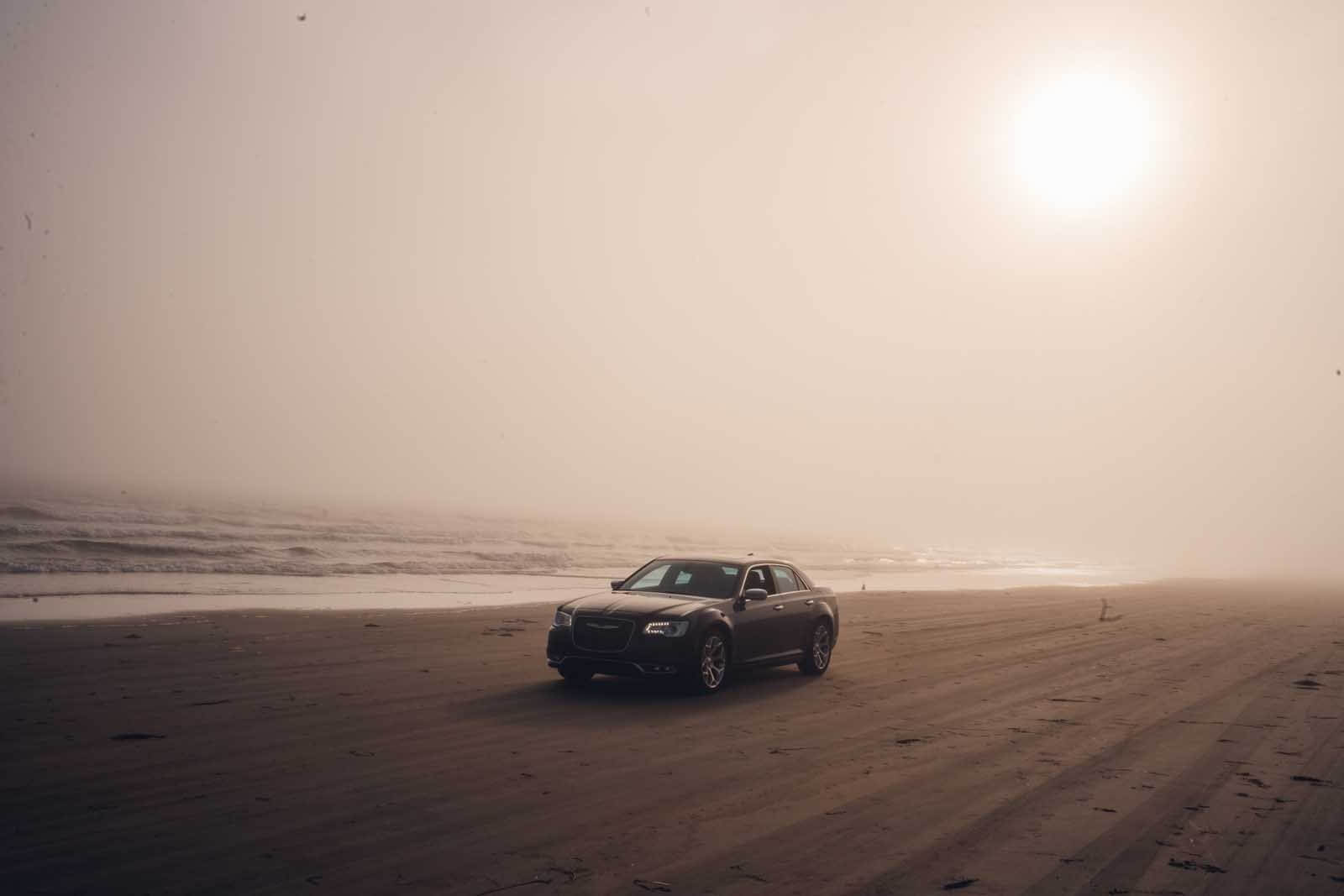 Be sure to also check out Crescent Beach on your Nova Scotia itinerary, a crescent-shaped beach that stretches 2 kilometers that you can drive your car on!
This is one of the only beaches in Canada where you can drive on the shores of the beach. Even if you don't have alot of time, this is worth doing even if you only make it halfway and need to turn around.
Visit Liverpool, the Port of Privateers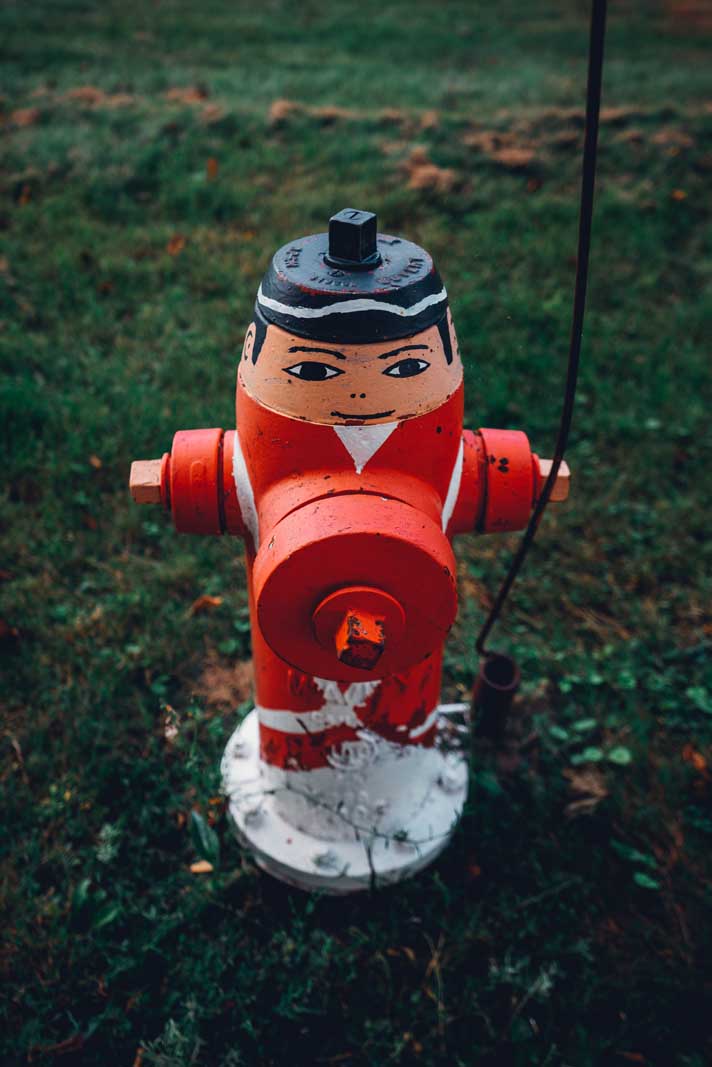 Before making your way to Summerville Centre for the night you may want to break up your drive and stop at the historic town of Liverpool on your Nova Scotia road trip itinerary.
Liverpool is most famous for its role in rum-running during the prohibition and is also known as the "Port of Privateers," because of their role in history as one of British North America's leading privateer ports. This was pretty much legal piracy at the time since it was authorized by the government.
Besides having a fascinating history, this is a great place to take a nice waterfront walk and visit another lighthouse along the Lighthouse Route at the Fort Point Lighthouse.
You may also notice that the fire hydrants in town are also painted like privateers!
Overnight in Summerville Centre
Continue to your next Nova Scotia destination for dinner and your overnight stay at Quarterdeck Beachside Villas & Grill. Located on a gorgeous white sandy beach you can enjoy a sunset on one of the prettiest beaches in Nova Scotia.
We recommend staying and dining at Quarterdeck. Their restaurant serves up delicious local seafood and other dishes as well as great cocktails and local wines with views of the white sand beach.
There are different room types at Quarterdeck from the beachside villas to the apartment like style accommodation across the street. We stayed in one of the apartment like rooms and loved how spacious they were, it felt more like a home than a hotel.
This is a very comfortable option for where to stay along your Nova Scotia road trip.
Book Now on Booking.com | Compare Prices for Later on Hotels.com | View Rates on Expedia.com
Day 4 of 7 Days Nova Scotia Itinerary: Shelburne, The Lobster Capital, & Argyle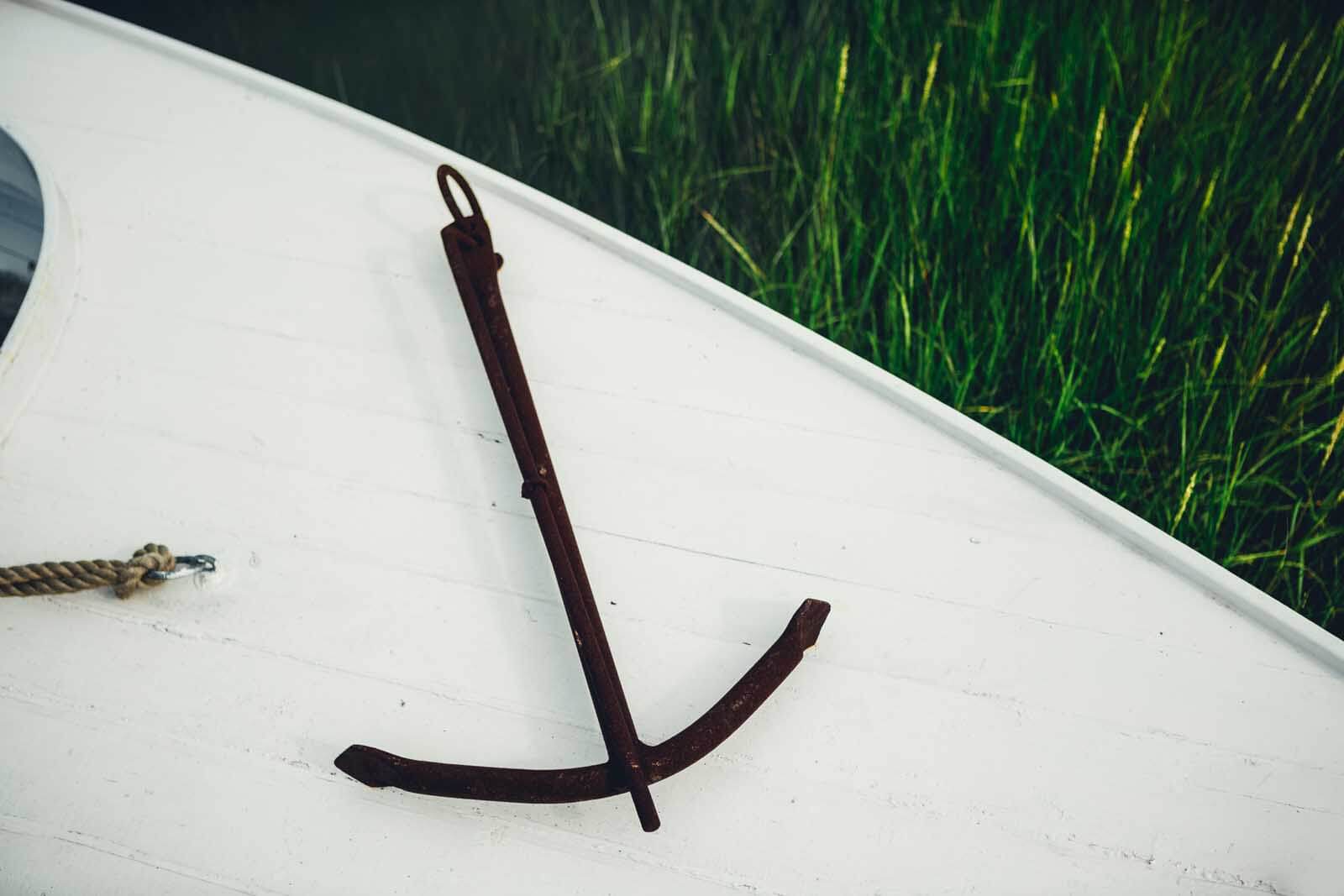 Summerville Centre to Argyle: 120 km or 75 miles driving time ~1 hour 15 min
Next up on your Nova Scotia road trip itinerary are more historic fishing villages including the lobster capital of Canada and an area rich with Acadian history.
We recommend planning lunch in Barrington, the lobster capital of Canada, then making your way down Cape Sable Island if the weather is clear and you have an ample amount of time before heading to the historic Acadian village and eventually to Argyle where you will spend the evening.
Stop by Shelburne, a Loyalist Colony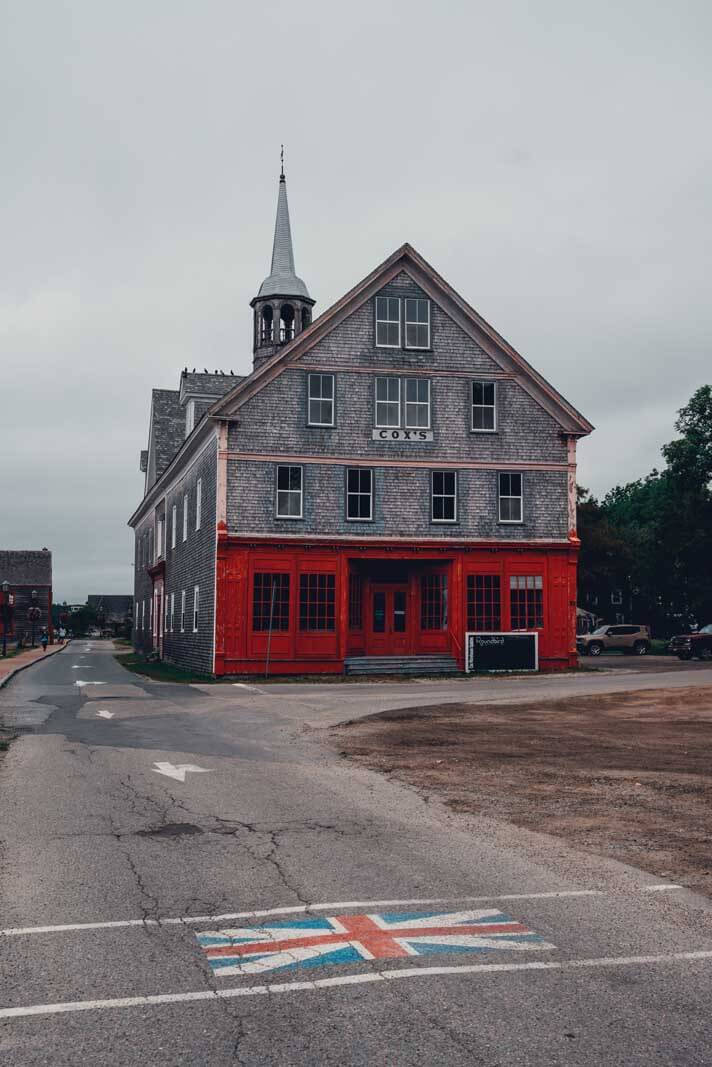 Shelburne is one of the more unique Nova Scotia destinations on our road trip itinerary. This town is famous for being a loyalist colony to the British crown during the American Revolution.
This seemingly small fishing village had up to 10,000 British loyalists during the American Revolution and then after the war within 20 years the population here decreased dramatically as many of the loyalists moved away. However, the town still has descendants of the first generation loyalists who reside here today.
You'll see traces of that history while you explore the waterfront along Dock Street including the British flag painted on the crosswalks.
Be sure to explore the different museums and shops along Dock Street including the Dory Shop Museum where the famous Shelburne Dory boats are made.
Eat Lobster at the Lobster Capital of Canada in Barrington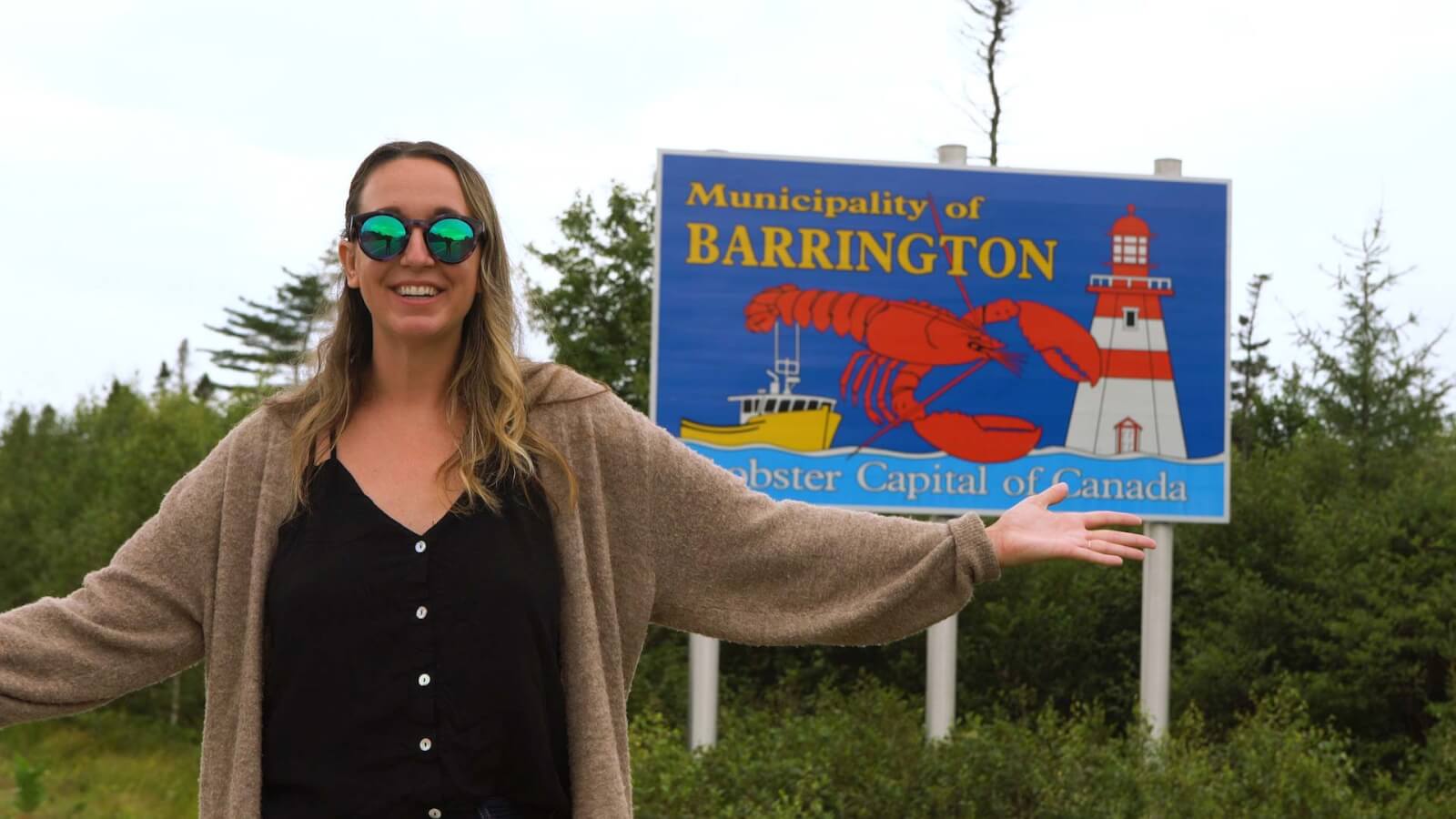 The next stop on our Nova Scotia road trip itinerary is the town of Barrington, or also known as the lobster capital of Canada! You'll want to take full advantage of being in the lobster capital by enjoying a lobster feast here! We recommend trying Captain Kat's Lobster Shack.
After you've had your fill on a delicious local lobster you can take a scenic drive on Cape Sable Island. If you are doing great on time be sure to go all the way to the Cape Sable Lighthouse. There are also some great beaches to stop along the way including Hawk Beach.
On your drive towards our next stop on our Nova Scotia road trip itinerary, there's another mysterious Nova Scotia destination to check out, the Shag Harbour UFO sighting location that took place on October 4, 1967.
As you're driving you can't miss the giant sign indicating where the UFO sighting took place that shook everyone and even people to this day. We were told there are still surviving witnesses by the woman at the Barrington visitors center who still share their story about the sighting.
This is a fun or curious spot to add to your Nova Scotia travel stories from your trip!
Historical Acadian Village of Nova Scotia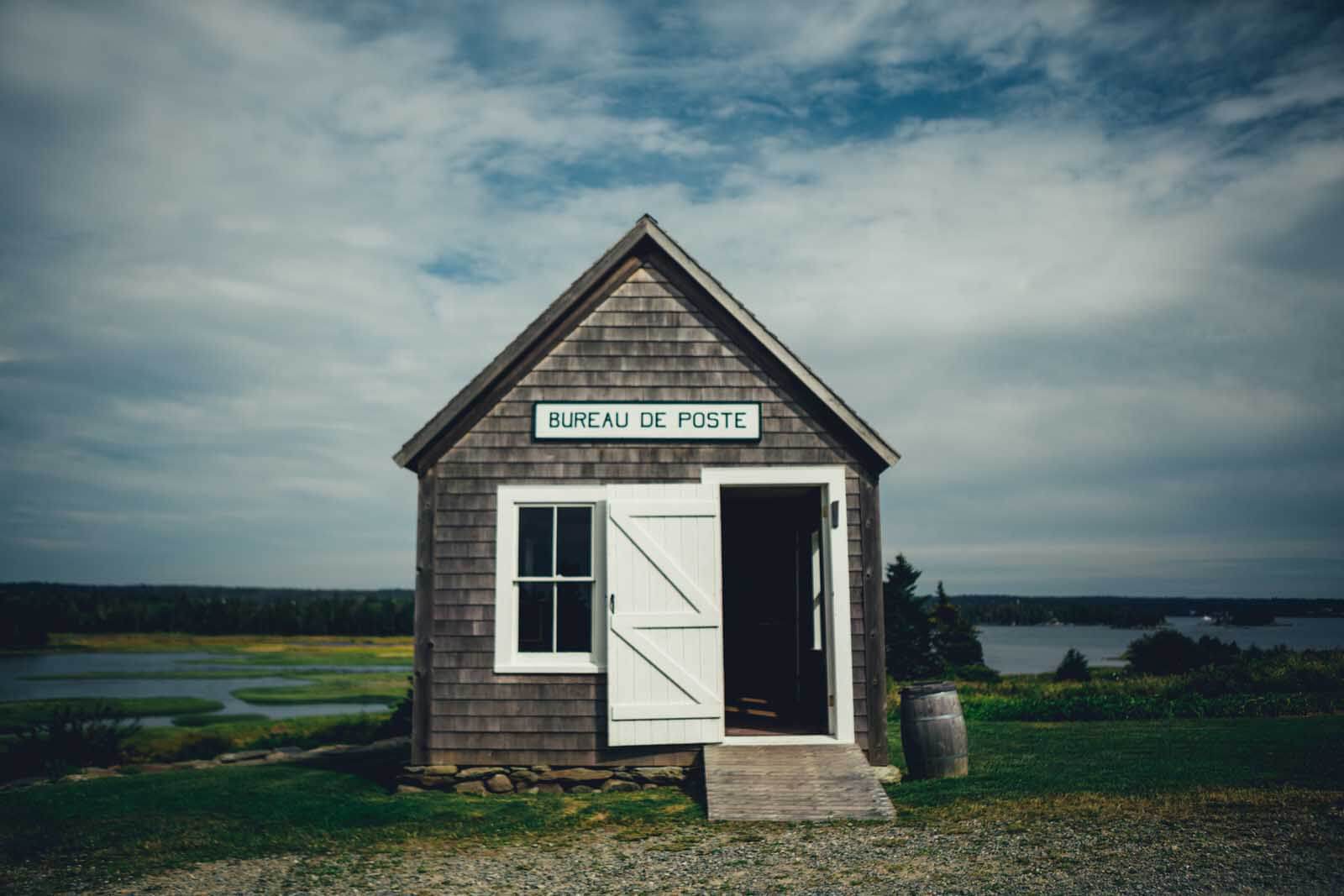 Our next suggestion for where to go on your Nova Scotia road trip is the Historical Acadian Village of Nova Scotia or Le Village Historique acadein dela Nouvelle Ecosse on Pubnico Harbour.
This is where you can go back in history to the early 20th century and see what an Acadian village and daily life looked like.
Acadians are descendants of the French colonists in Atlantic Canada and the Northeast US who colonized this area between the 17th and 18th centuries. Between 1755–1764, the British colonists forcibly deported over 11,000 Acadians, one-third of which died from disease or drowning while others were deported to American colonies, France, and the Caribbean.
Many the Acadians were invited by the Spanish to migrate into Louisiana and the Acadians that are there to present day are originally from the Atlantic coast of Canada and Maine.
This town depicts life in the early 1900s and offers hands on exhibits you can participate in or watch actors in period costumes perform daily tasks from boat building to the blacksmith shop.
Overnight in Argyle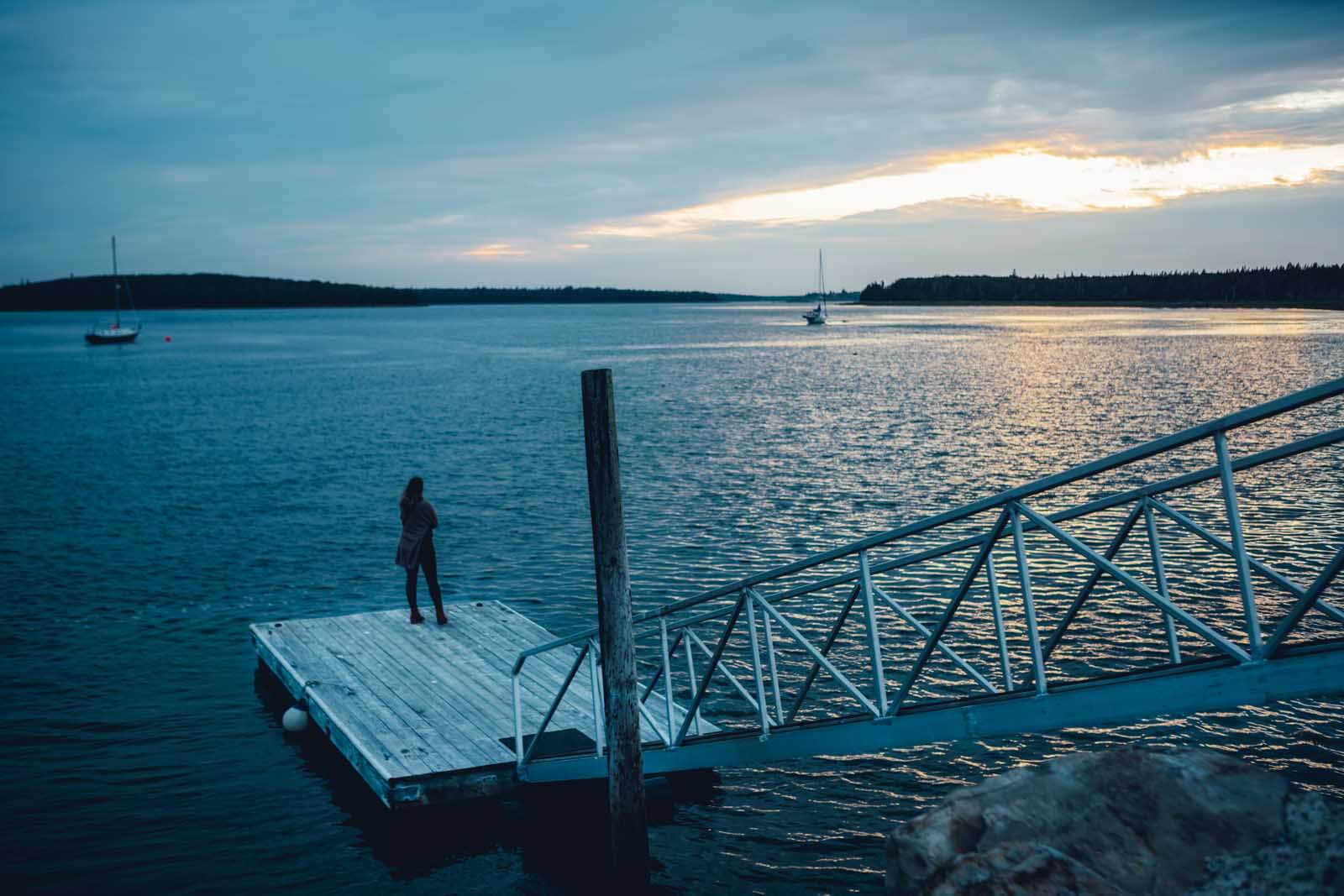 After getting a dose of what Acadian life was like we recommend heading to Argyle for your overnight stay and dinner at the Argyler Lodge & Restaurant.
Situated on the coastline with a gorgeous waterfront view of the nearby islands is where you can find a cozy, feel at home kind of accommodation.
Spend the evening listening to live Acadian inspired music with specialty local dishes and cajun-inspired seafood. We recommend doing the 4-course meal set that comes with a bottle of perfectly paired local wine.
Enjoy a slow, romantic evening near the waterfront with a bonfire and B&B style room that makes you feel right at home. In the morning, don't miss out on the lobster omelet either, it's fantastic.
Book Now on Booking.com | Compare Prices for Later on Hotels.com | View Rates on Expedia.com
Day 5 of 7 Days Nova Scotia Itinerary: Yarmouth, Digby, & Wolfville
Argyle to Cape Forchu: 44 km or 27 miles driving time ~40 min | Cape Forchu to Wolfville: 246 km or 153 miles driving time total ~2.5 hours
Congratulations, you've just finished the Lighthouse Route on your Nova Scotia road trip! Once you've made it to Yarmouth, you're no longer on the famous Lighthouse Route.
During this day on your Nova Scotia itinerary, you'll covering alot of ground and be passing through the scallop capital of the world, visit Canadian National Historic Sites, drive along the famous Bay of Fundy where the world's highest tides are, and end in the Annapolis Valley, home to the province's wine region.
We recommend getting an early start and if you plan on whale watching in Digby you may have to cut out some stops. Keep in mind that most wineries in the Annapolis Valley close between 5-6 pm and only one stays open until 7 pm. If wine tasting is a part of your Nova Scotia travel plan then you'll want to skip some of the earlier stops so you have enough time for wine tasting on your Nova Scotia road trip.
See Cape Forchu Lightstaiton in Yarmouth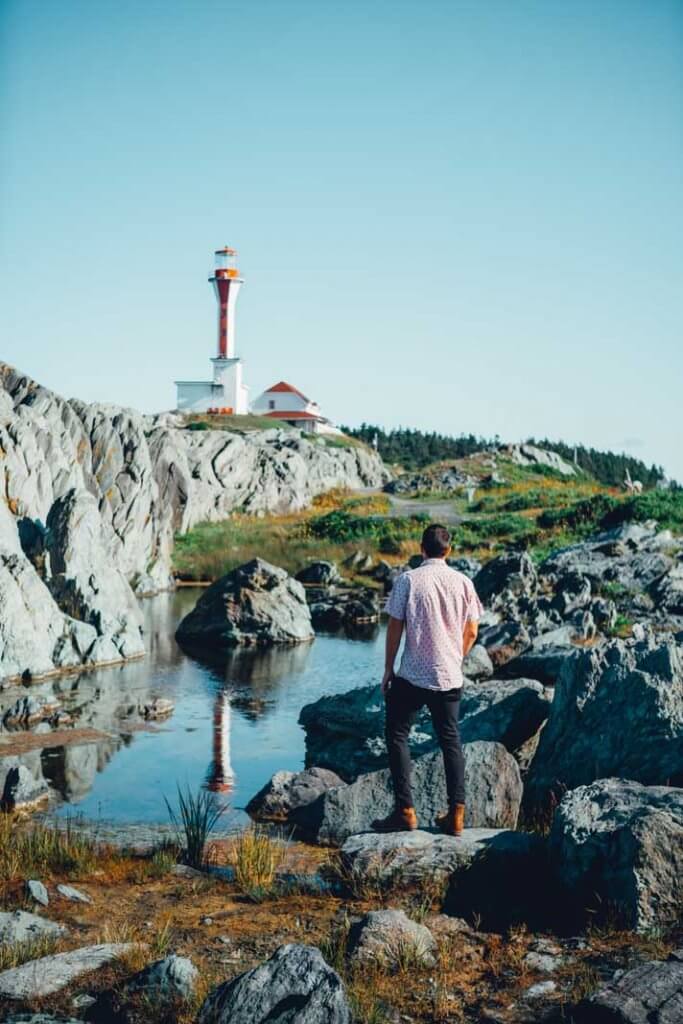 Enjoy your morning at the last of the Nova Scotia destinations on the Lighthouse Route with a lighthouse! We recommend driving down to Cape Forchu Lightstation where you can visit what is considered an applecore lighthouse because of its shape.
You can visit the Lightkeeper's house here, take a guided tour, visit the fog alarm building, and even eat at the restaurant here called the Keeper's Kitchen.
If your Nova Scotia travel day doesn't allow for much time, like ours, then we recommend just walking along the Leif Ericson trail for pretty views of the light station along the rocky coastal path.
We learned that the movie "The Lighthouse" was filmed here starring William Defoe and Robert Pattinson, which is a cinematic masterpiece. In the movie, however, they didn't use the Cape Forchu Lightstation you'll see on your visit. They built a prop lighthouse and removed it after the movie was finished filming, but you can recognize the landscape as it was filmed right here in Cape Forchu next to the light station.
Dig into Scallops in Digby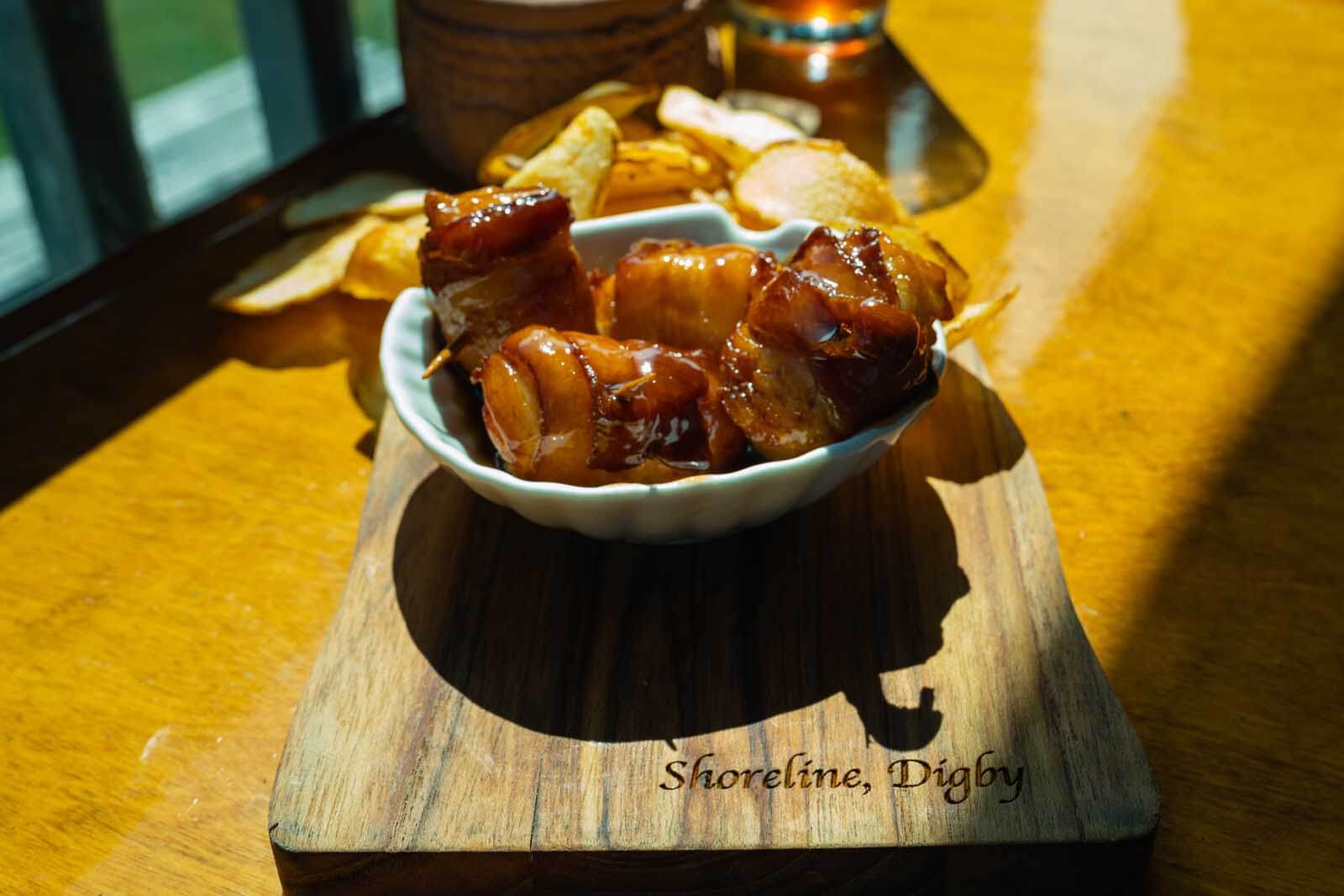 Next up on your Nova Scotia itinerary is the scallop capital of the world in Digby! This is also home to some of the best whale watching tours in Nova Scotia.
We recommend trying the world-famous Digby scallops in one of the restaurants on Water Street in downtown Digby. We tried the whiskey maple bacon-wrapped scallops from Shoreline Restaurant and they were heavenly. Nova Scotia successfully turned Scott from thinking he hated scallops to loving scallops on this trip.
After eating a feast, be sure to walk along the Admirals Walk along the waterfront where you can see the scallop fishing fleet.
If you're a fan of folk art, you can drive to see the Maud Lewis replica home just outside of Digby. The replica house was built as a shrine to honor the local folk artist's legacy within 6-8km of the original home she painted and what was considered her greatest work of art.
The actual home however is on display inside the Nova Scotia Art Gallery in Halifax.
Visit the Historic Annapolis Royal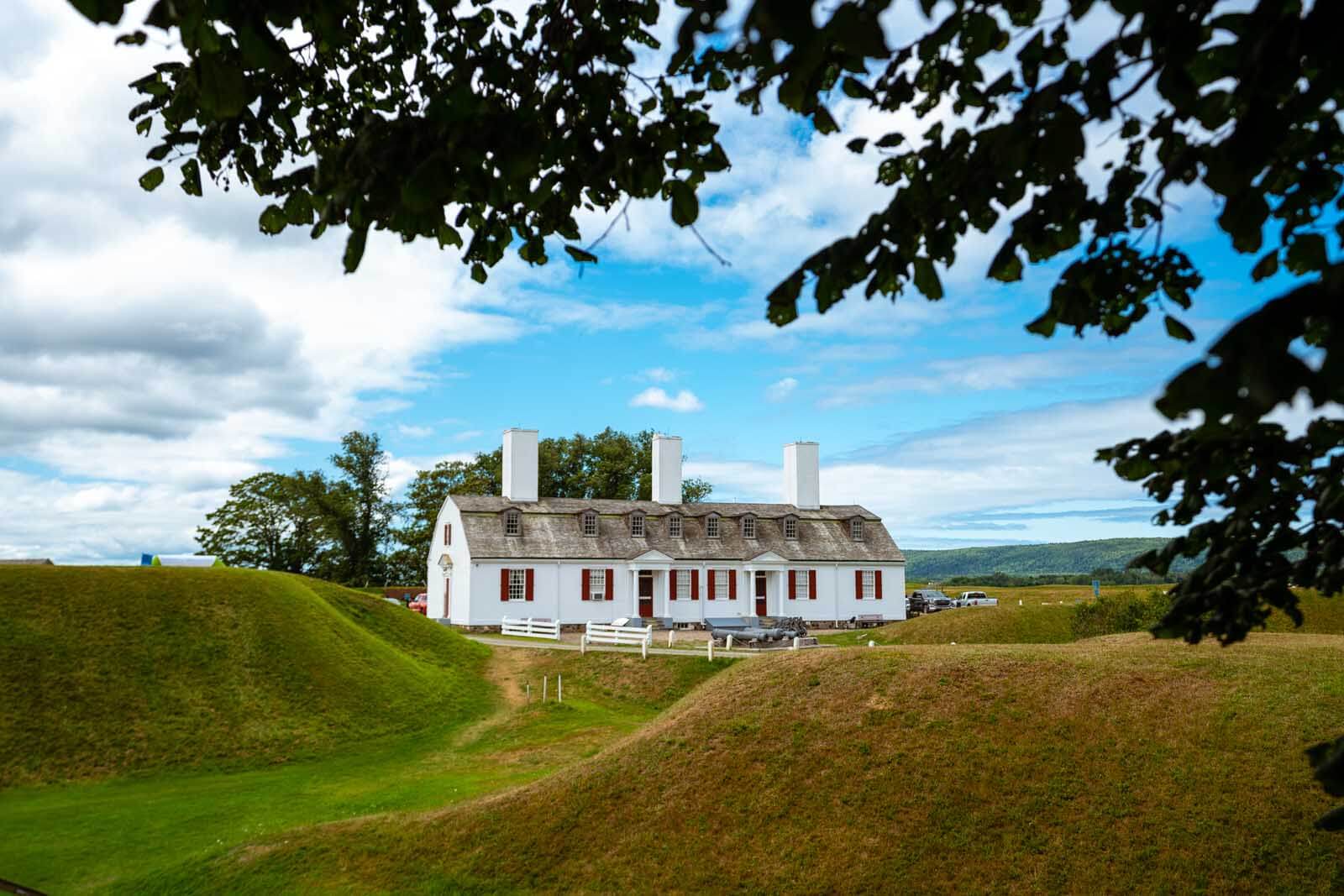 Before making your way all the way to Wolfville on your Nova Scotia road trip where you can explore the wineries of the Annapolis Valley you'll want to make a stop in Annapolis Royal where you can find Canada's oldest National Historic Site at Fort Anne and visit the Annapolis Royal historic gardens.
When arriving to Annapolis Royal be sure to take a walk down St. George Street. This street is considered one of the oldest streets in North America, as a matter of fact, Annapolis Royal is the oldest permanent European settlement north of Florida in North America.
Be sure to visit the Annapolis Royal Historic Gardens if you're visiting in the warmer months where you can find an impressive rose collection and other gardens.
Afterward, you can visit one of the most fought over lands in North America at Fort Anne National Historic Site. This military fortress has been fought for and taken control over back and forth by the French and British for centuries. Fort Anne is also considered the oldest National Historic Site in Canada!
Check out the Cool Town of Wolfville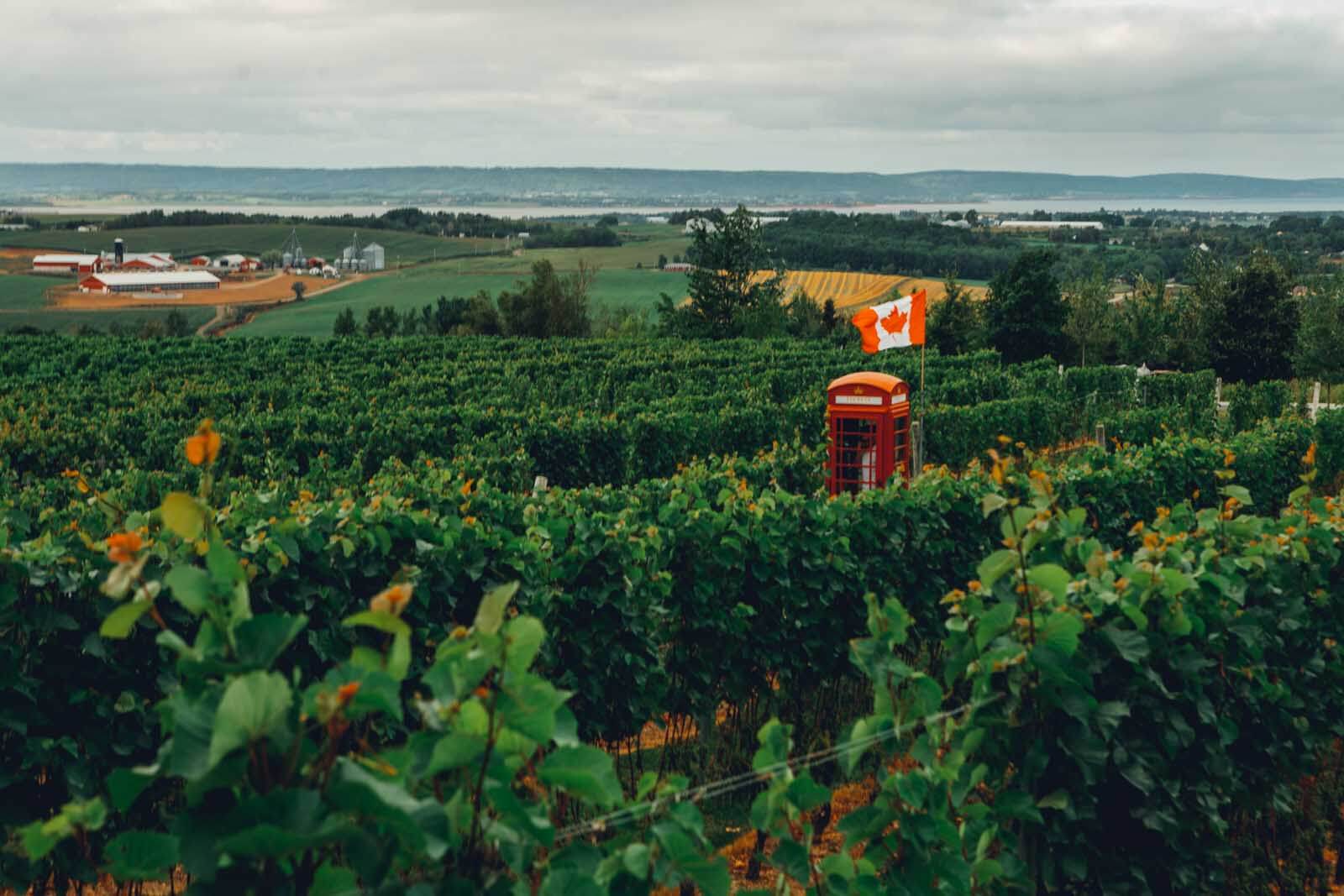 Our next featured Nova Scotia destination is in the Annapolis Valley, home to the province's wine country and where you can check out different wineries.
There are around a dozen different wineries in the Annapolis Valley. Because we were trying to squeeze in just about everything on this long haul day of our Nova Scotia itinerary we only managed to visit two, Luckett Vineyards and Domaine de Grand Pre Winery. Both wineries mentioned also have restaurants if you're ready for dinner after you do a tasting as well.
There are also wine tasting tours in the area, or you can do some self-guided tastings, many of the wineries are just a short drive from one another.
Did you know that Nova Scotia has its own appellation wine? Be sure to try the Tidal Bay wine which is made only in Nova Scotia strictly from local grapes and has to pair perfectly with seafood to be considered a Tidal Bay wine. Just like champagne can only come from Champagne, France, Tidal Bay can only come from Nova Scotia.
Some are sweeter than others, most were pretty dry and amazing. During our Nova Scotia road trip we were told there were 12 different Tidal Bay wines, we tried around 5-6 and didn't taste one we didn't love!
Don't fancy wine tasting? Don't worry, this Nova Scotia destination has way more to offer than wine.
Grand Pre National Historic Site – Another UNESCO World Heritage Site and a beautiful place to visit in the Annapolis Valley. This site and center are dedicated to the Acadian history as it was an Acadian settlement in the late 1600s to mid-1700s. This is also the location of the Deportation of the Acadians. Walk around the interpretive center or enjoy the incredible view from the lookout point.
Tangled Garden – Located at the Grand Pre National Historic Site are the therapeutic gardens and shop where you can buy herbs, jams, jellies, and other products sourced from the gardens.
Downtown Wolfville – Downtown Wolfville also has a fun scene going on with different places to grab a drink or eat dinner.
Farmer's Markets – Be sure to stop and pop in one of the farmer's markets en route to Wolfville coming from Digby on Trunk 1. There are several back to back where you can check out the local produce, we were impressed by the size of some of the zucchini here or buy local baked goods, these are a fun stop along your Nova Scotia road trip.
Get more ideas of what to do and things to do in Annapolis Valley in our guide!
Overnight in Wolfville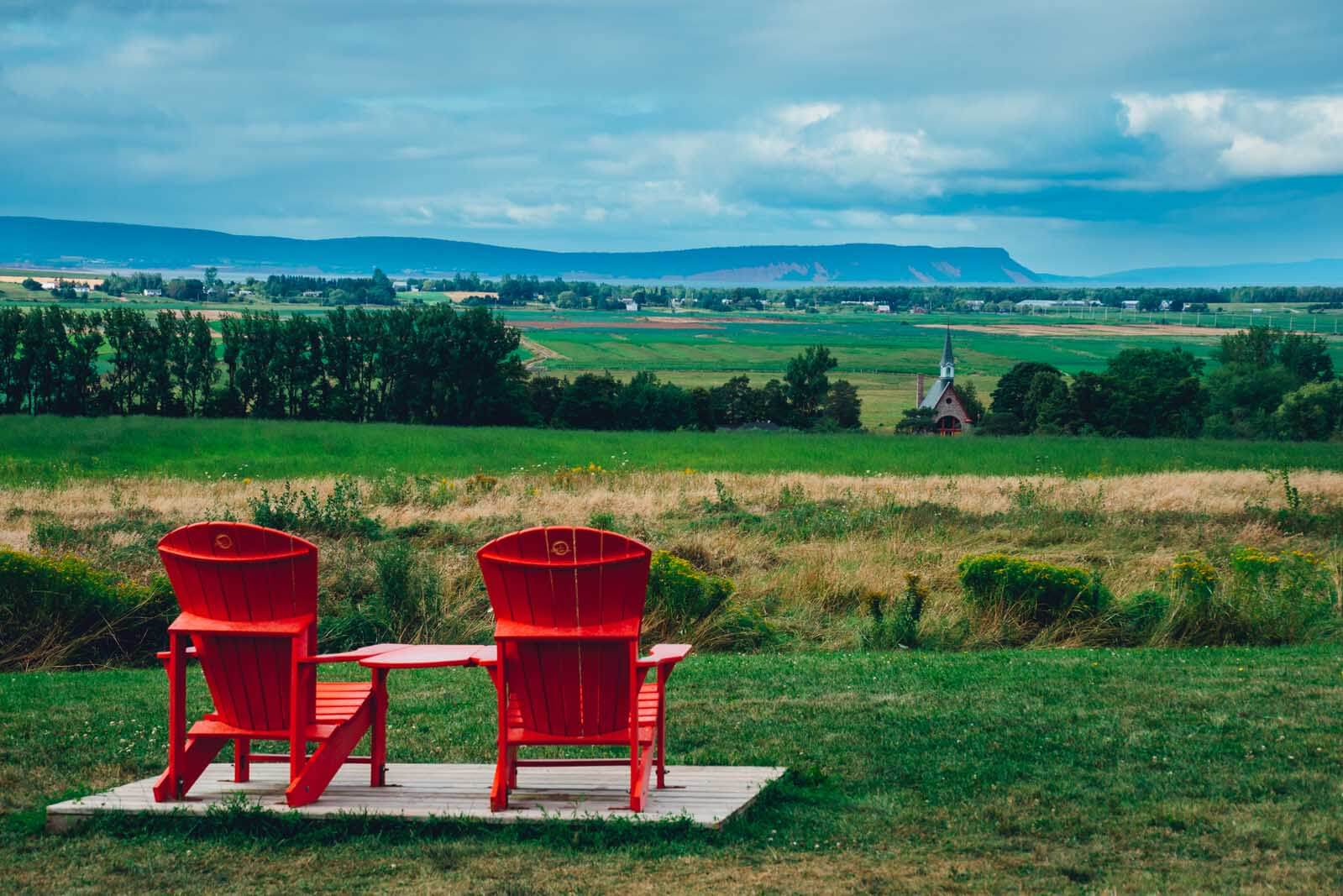 We recommend picking one of the beautiful Inns or B&Bs available in Wolfville during your Nova Scotia itinerary. There are several along the main road in Wolfville that are huge historic homes with rooms for guests.
We didn't get to stay in one during our visit but we would be choosing to do this on our next Nova Scotia road trip. We recommend trying the Blomidon Inn, a beautiful and huge Victorian-style home.
Day 6 of 7 Days Nova Scotia Itinerary: Wine Tasting in the Annapolis Valley & Bay of Fundy
Wolfville to Burntcoat Head Park: 89 km or 55 miles driving time total ~1.2 hours | Burntcoat Head Park to Halifax: 95 km or 59 miles driving time total ~1.25 hours
On one of your final days of your Nova Scotia travels we recommend spending the morning slowly enjoying what you missed the day before near Wolfville around the Annapolis Valley. The previous day was a huge driving day compared to the others on your Nova Scotia road trip and trying to pack alot in.
This day gives you a chance to enjoy the Annapolis Valley before heading over to where the world's highest tides were recorded at the Bay of Fundy in Burntcoat Head Park and finally ending your Nova Scotia itinerary day in Halifax for the evening.
Morning in Annapolis Valley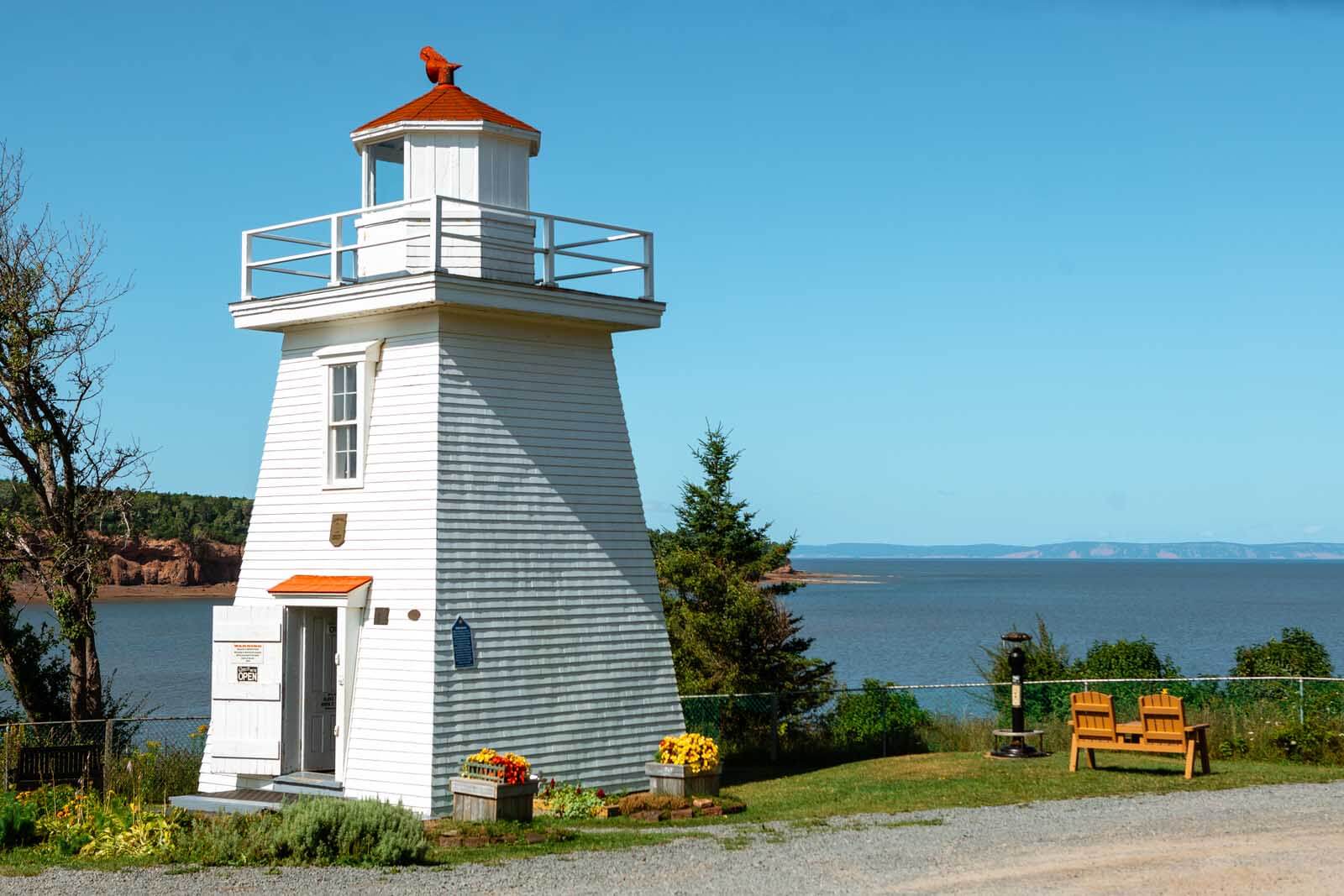 Start your morning in Annapolis Valley or Wolfville checking off or visiting any of the things you may have missed the previous day.
Some of the wineries even open their doors for tastings as early as 10 am. This is a great chance to taste around more at some of the local wineries you may have missed the previous day.
This is also a great chance to visit the Farmer's Markets if you missed out those on the day earlier too.
On the way to your next Nova Scotia road trip stop be sure to check out the Old Walton Lighthouse. It's located in the town of Walton just 15 minutes before Burntcoat Head Park where you'll be visiting the Bay of Fundy.
See the Dramatic Tides at the Bay of Fundy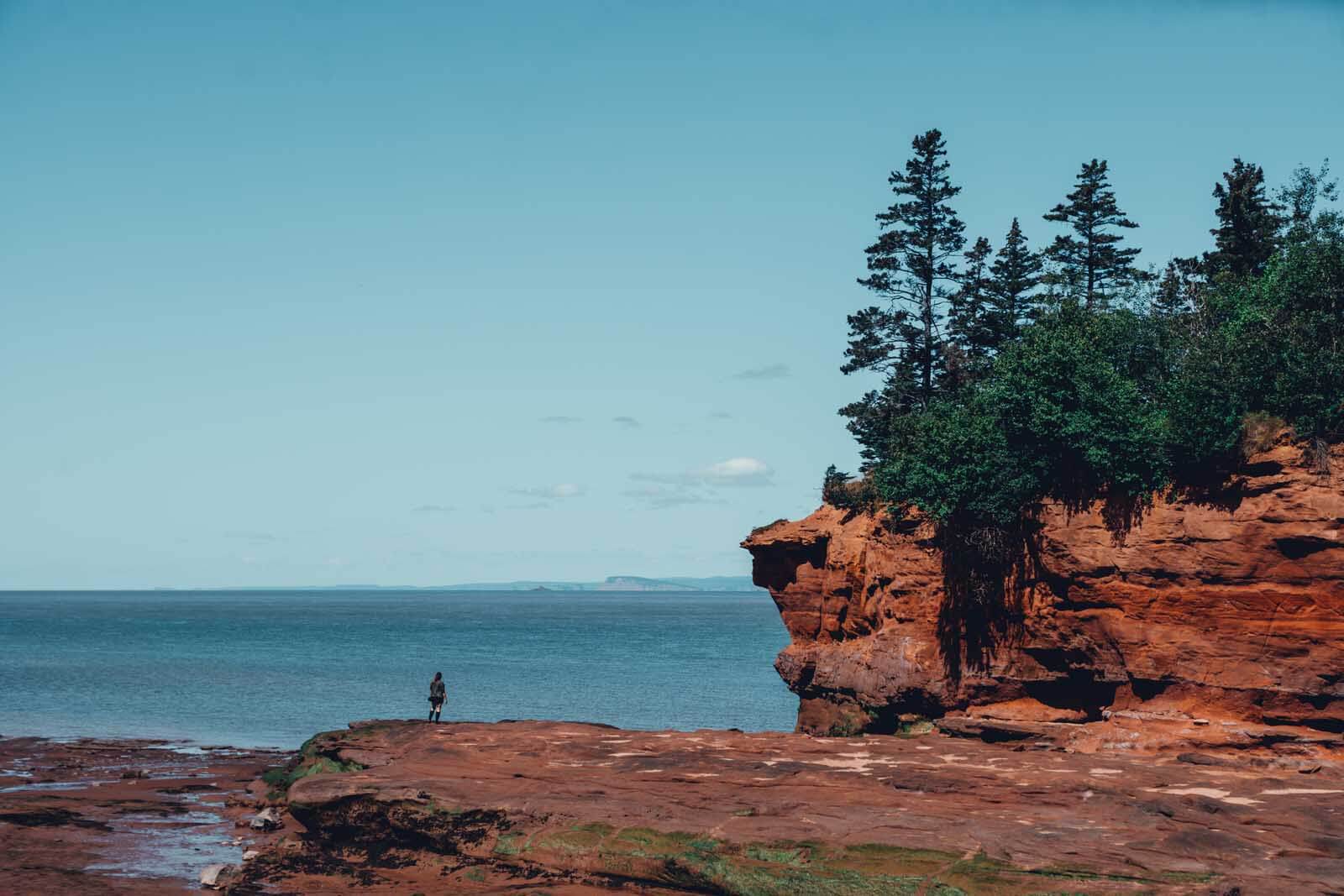 Your next Nova Scotia destination on your itinerary is one of the most famous. The Bay of Fundy is home to the world's highest tides located between both Nova Scotia and New Brunswick. The highest tides ever recorded here at Burntcoat Head Park at 56.7 feet!
While you'll need to stay a half of a day to actually see the full swing of the tides you can visit during low tide and walk on the ocean floor. Every 13 hours 160 billion tons of water flow daily in and out of the bay. During low tide, you can carefully walk on the ocean floor and witness different marine life in the tidepools.
Note that you won't be permitted to walk on the ocean floor anytime outside the summer months as its too dangerous. However, even if you do visit in the off-season months you can enjoy the old lighthouse on the property and view the Bay of Fundy from above.
You can easily enjoy some time here, just be aware that in order to see a dramatic change in the tides you'll have to stay for hours.
Dining on the Ocean Floor at the Bay of Fundy
If you're planning your Nova Scotia itinerary well in advance for the summer months we consider trying to reserve a spot on the Dining on the Ocean Floor Experience put on by the Flying Apron Inn & Cookery.
This once in a lifetime experience is in popular demand and there are very limited spots every summer to score one of the few spots in this culinary experience at one of the seven natural wonders of North America.
The experience is 6 hours long and has 4 courses including a lunch. You'll be introduced to the area and learn about edible plants from a local before foraging around the property where you'll spot some edible plants from the knowledge you just learned.
After you'll enjoy a seafood boil lunch paired with local wine before wandering around the low tide and tide pools with local guides.
After, you'll enjoy a once in a lifetime experience 3-course dinner prepared on the ocean floor where you'll eat and watch the tide slowly roll in before having tea and coffee around a fire on the ocean floor.
This is one of those bucket list items and a really unique experience! They try to make the ticket process as fair as possible so anyone can enjoy this experience. That requires planning as far in advance as February. You can subscribe to the Flying Apron Inn & Cookery's newsletter to get updates about the next season's ticket reservation.
I'll warn you, it's highly competitive so when they give you the date that reservations are open you will want to be prepared and ready to call the number the moment it opens, leave a short message on their answering machine, and hope that you were one of the lucky ones who got to leave a message first and score a seat! Good luck to all of those who try!
Overnight in Halifax
After witnessing one of the seven natural wonders of North America you'll want to head back to Halifax where you'll be spending your last day on your Nova Scotia road trip exploring this incredible maritime capital city of the province.
We have two hotels we recommend as we stayed in both. They both have great locations that are walkable to most of the things you'd want to do in Halifax.
Lord Nelson Hotel & Suites is a great option for exploring Halifax. The historic hotel is in a landmark building from 1928 with a gorgeous vintage lobby and reception area. The rooms are spacious and comfortable. You're located directly across the Halifax Public Gardens and just a 10 minute walk to the waterfront.
Book Now on Booking.com | Compare Prices for Later on Hotels.com | View Rates on Expedia.com
Westin Nova Scotian is another fantastic option for where to stay in Halifax. Located right along the waterfront and close walking distance to everything downtown in Halifax. The rooms are spacious and refined. There's also a restaurant on-site and you're right across from the Halifax Farmer's Market.
Book Now on Booking.com | Compare Prices for Later on Hotels.com | View Rates on Expedia.com
Day 7 on Nova Scotia Itinerary: Explore Halifax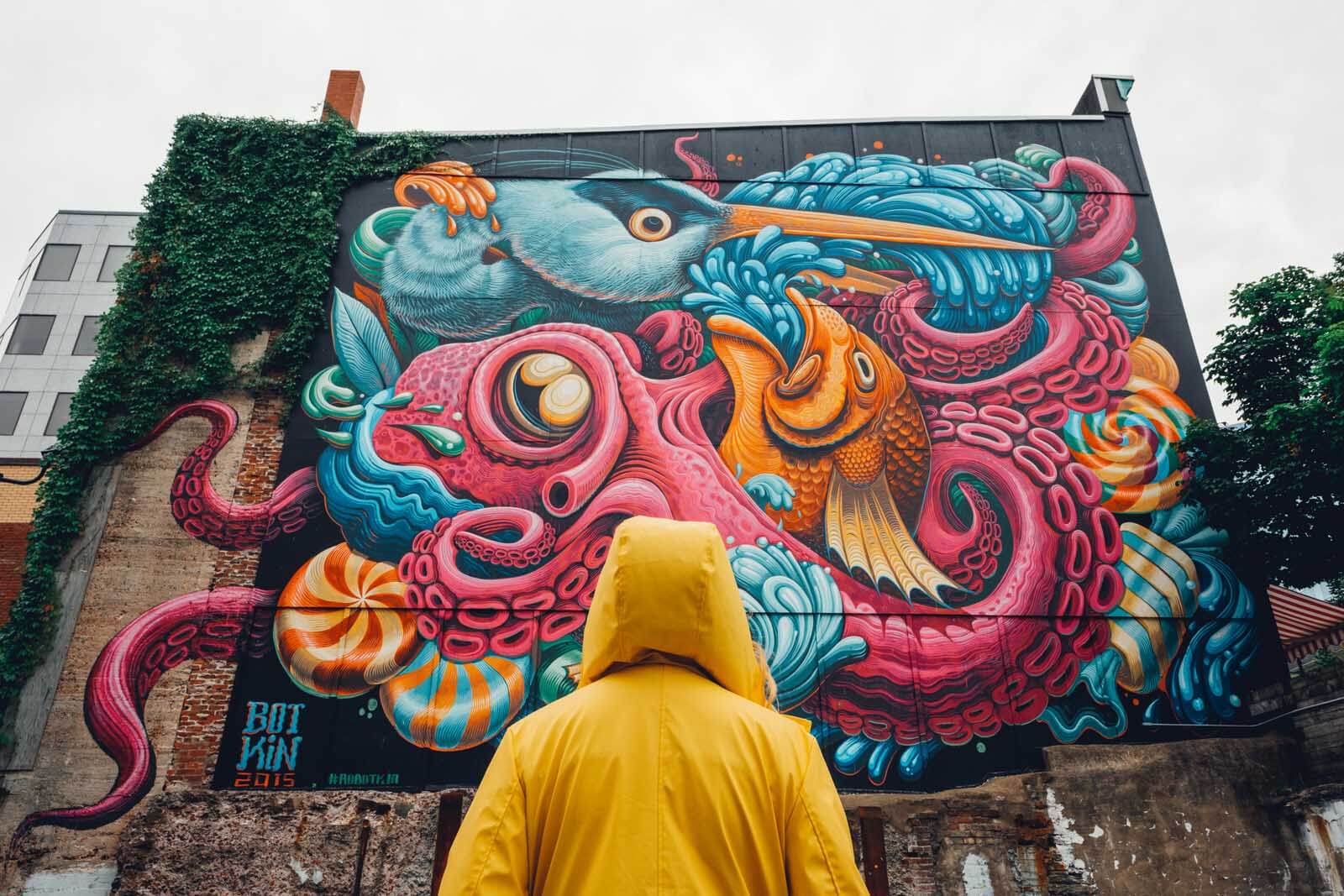 On the final day of your Nova Scotia itinerary, we recommend getting to know the amazing city of Halifax. There are so many opportunities for things to do and see here. We have highlighted some of our favorites. Be sure to check out our full guide to things to do in Halifax to plan your sightseeing day in the city more extensively.
Harbour Hopper Tour – Hop aboard an amphibious retired US Navy vehicle where you'll cover all of Halifax by land and sea with a cheeky guide and captain who will tell you the history and overview of the city on this hour-long tour. This is fun for anyone and they even have wheelchair friendly spots on their tours.
Halifax Waterfront – Walk along North America's longest wooden waterfront boardwalk right here in Halifax! There's 4 km of boardwalk total and tons to do along it from shopping, eating, drinking, and museums!
Sip Your Way Along the Good Cheer Trail – This is technically something you can do along your entire Nova Scotia road trip itinerary but you can find alot of the stops here in Halifax! The Good Cheer Trail is a passport with partnering distilleries, wineries, breweries, and cider spots that a participating in this fun, engaging way to explore the drinking scene of Nova Scotia. Grab a passport at any of the participating stops and collect stamps as you sip your way through the province! There are 19 in Halifax alone!
Halifax Harbour Ferry – This is the cheapest way to see Halifax by water! Take the Halifax Harbour transit ferry from the waterfront to Dartmouth where you can explore by foot and try some of the different beers and ciders at the different stops on the Good Cheer Trail all for $2.50 CAD for a round trip ticket!
Halifax Citadel National Historic Site – A National Historic Site in Canada and old fortification is a great place to visit during your time in Halifax. Plan your visit around 12 noon to see the daily canon go off!
---
---
We also recommend checking out some more great road trip ideas including these Canada road trips in the fall including the scenic Cabot Trail here in Nova Scotia!
Liked this post or found our 7 day Nova Scotia road trip itinerary helpful? We aim to make your Nova Scotia travels as easy as possible including some of the best Nova Scotia destinations from our visit! If you liked the post we encourage you to share on Pinterest below! Happy Travels!