Planning a trip to Canada's Ocean Playground anytime soon? We've got you covered in our one stop guide to all the best things to do in Halifax, Nova Scotia. This beautiful maritime city is chocked full of fun things to do revolving around its deep relationship and history with the Atlantic.
We've suggested the best Halifax attractions to check out on your next trip whether you're a first time visitor or a return visitor our guide will help you pick what to do in Halifax.
Also, be sure to check out our Nova Scotia road trip itinerary guide to help you plan your amazing trip.
---
A special thanks to our good friend and local Haligonian Cailin of Travel Yourself for being our personal Halifax tour guide! Be sure to check out her blog and Youtube channel for all her amazing content on the area.
Disclaimer: This post was made in partnership with Visit Nova Scotia. However, as always all experiences and opinions are our own!
Table of Contents
Background of Halifax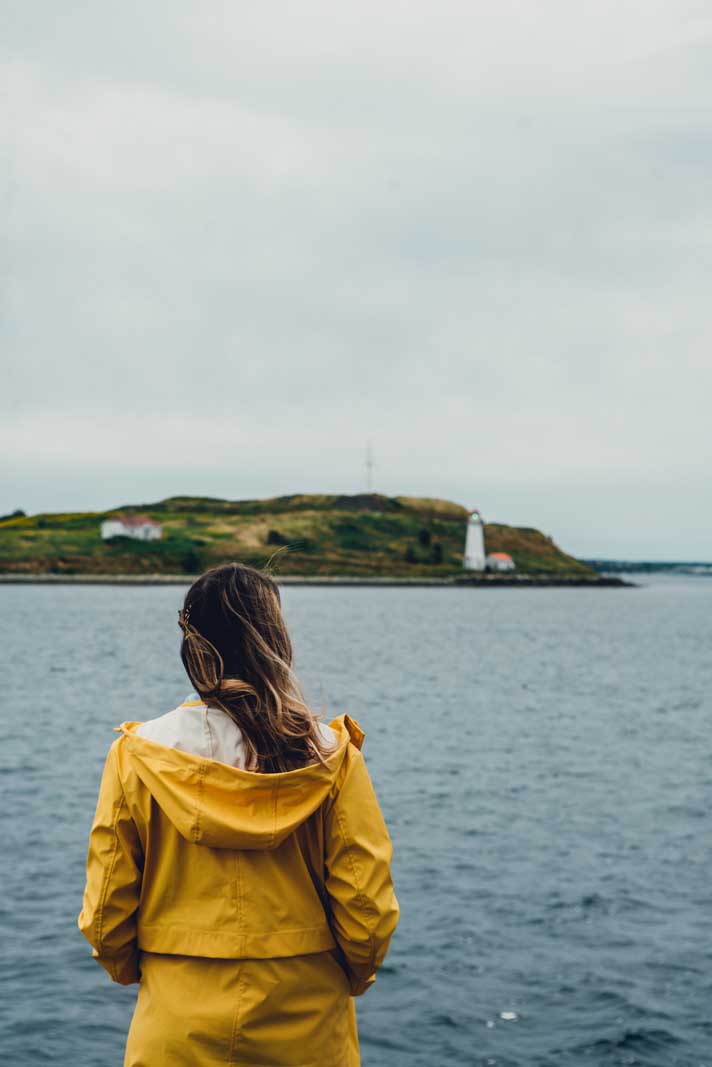 Before your trip and exploring all the best Halifax attractions we recommend brushing up on some history and fun facts about the city and its history.
Halifax Explosion
Did you know the world's largest man-made explosion before the atom bomb happened right here in Halifax's harbor? The famous Halifax explosion happened on December 6, 1917 when the Norweigian vessel SS Imo and the French cargo ship carrying explosives, SS Mont-Blanc collided in the harbor.
The impact caused a huge explosion that took the lives of over 2,000 people and injured over 9,000 people while completely destroying the city of Halifax.
If that wasn't devastating enough, the blast caused a chain reaction of events including a tsunami wave that wiped out a community of Mi'kmaq who were indigenous to Nova Scotia and part of the First Nations.
If you look closely you can still see the scars of this tragic event that took place. Be sure to see one of our best things to do in Halifax below for one of the most well-known legends tied to the explosion at St. John's Church.
Titanic
Halifax has a connection to one of the deadliest and worst maritime disasters in history. When the Titanic sunk off the coast of Newfoundland on April 14, 1912, Halifax was the closest major port to the incident. Relatives and immigration officials of the victims on Titanic came from New York City to Halifax where the city was commissioned to send ships to recover bodies.
There were 209 bodies brought back to Halifax and 150 are still present as their final resting place throughout three different cemeteries including Fairview Lawn Cemetery who has the most Titanic victims, Mount Olivet Cemetery, and Baron de Hirsch Cemetery.
The Maritime Museum of the Atlantic, one of our picks for top things to do in Halifax, is also home to the largest collection of wooden artifacts recovered from the Titanic.
History in the Name
Did you know Nova Scotia means New Scotland? Early Scottish settlers in 1621, under Sir William Alexander, convinced the King of Scotland that they needed a New Scotland, which in Latin is Nova Scotia.
Things to do in Halifax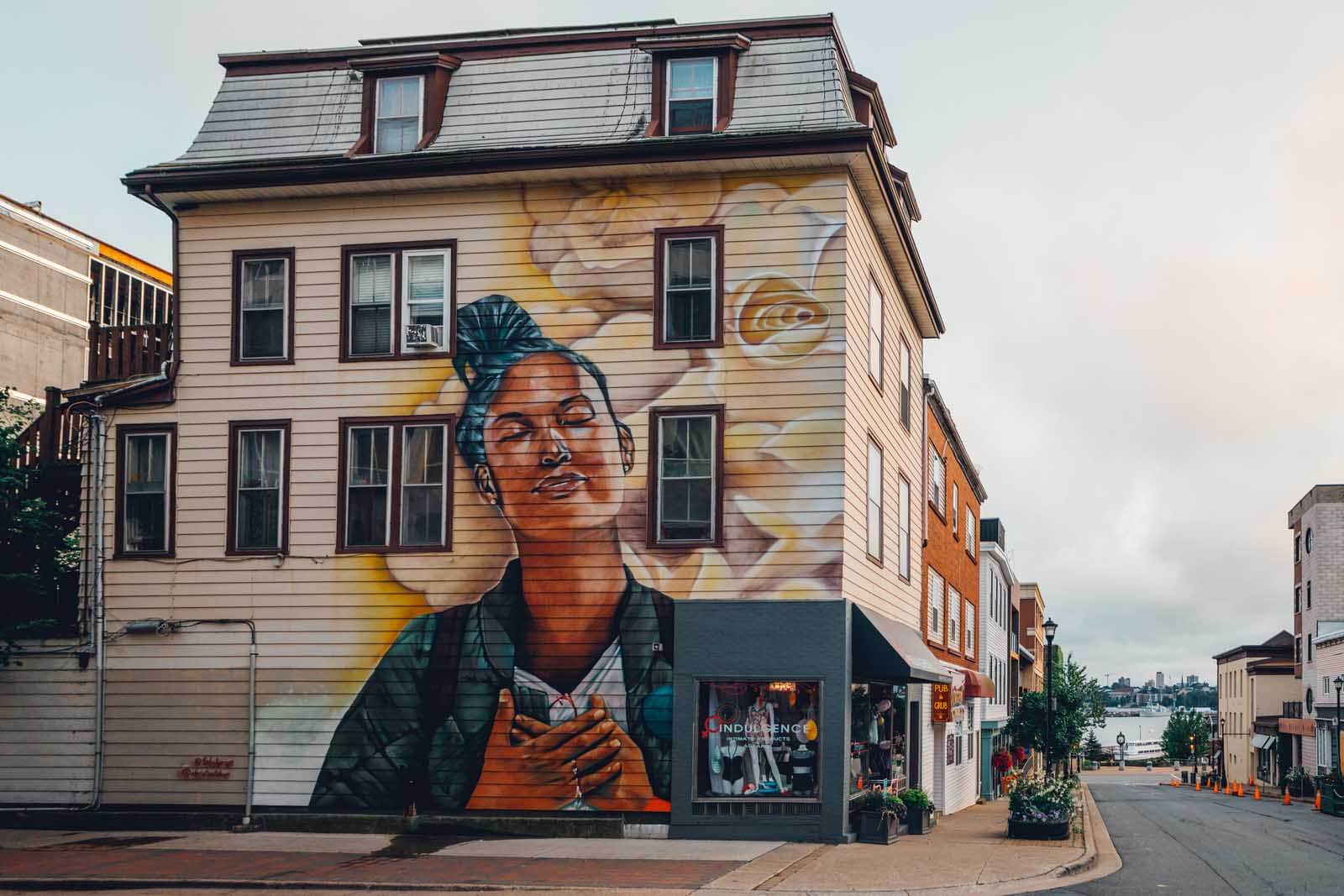 Halifax Waterfront Boardwalk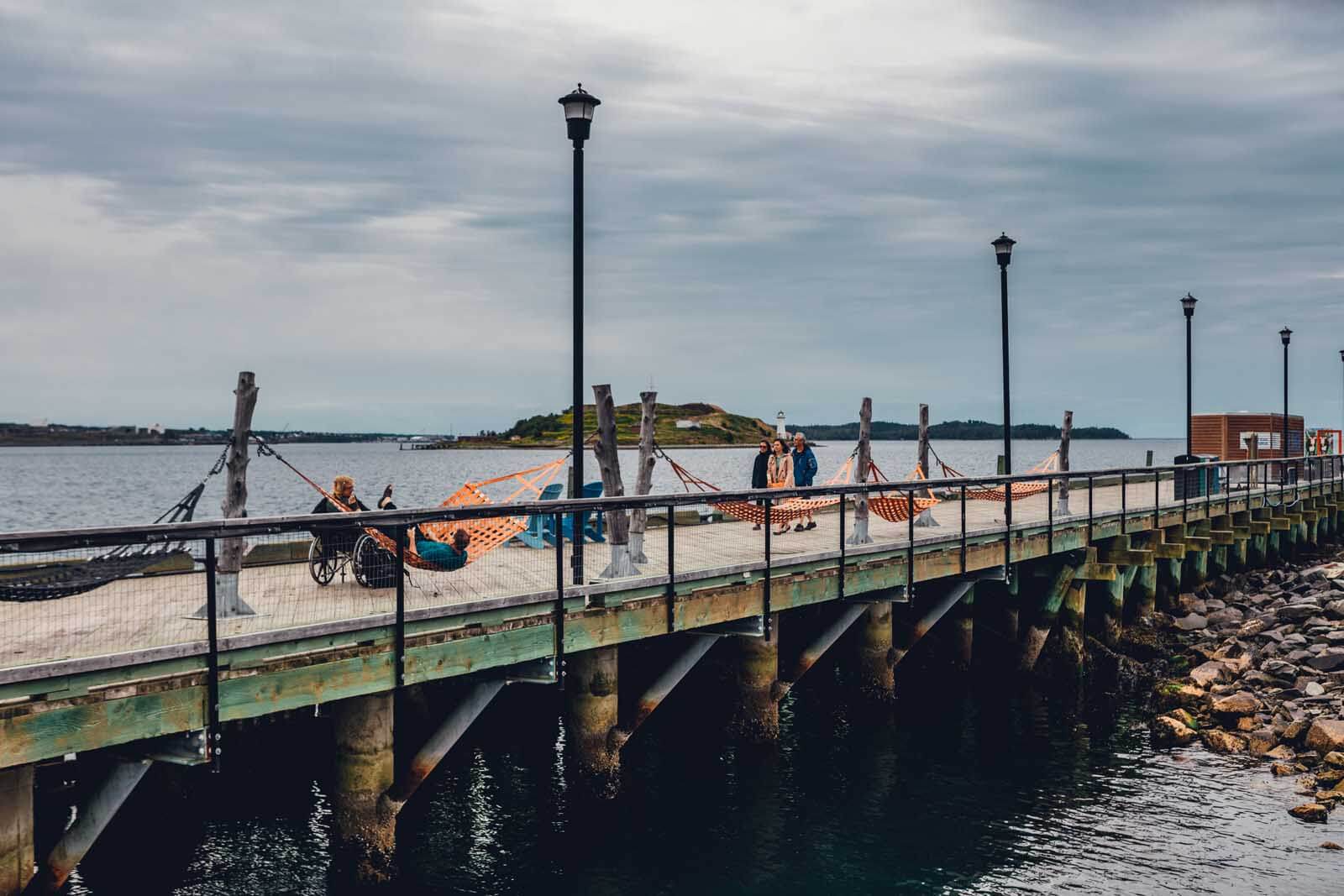 Easily one of the best things do to in Halifax during your trip is walk along North America's longest wooden boardwalk at Halifax waterfront! Plenty of what to do in Halifax is actually located on the boardwalk or just steps away.
Plenty of our top picks for fun things to do in Halifax are actually right here on the waterfront. From shops, restaurants, bars, and other Halifax attractions you can find them along the boardwalk.
During our visit a section of the boardwalk was actually removed and replaced with a floating boardwalk because of construction. This was actually quite interested to walk on because you're walking on water and you'll need to bust out our sea walking legs for this portion.
Besides having a great selection of eateries, places to grab a drink, and shop you can also just come down to the waterfront and enjoy the view. There are hammocks and Adirondack chairs where you'll find locals and visitors relaxing by the water.
Citadel Hill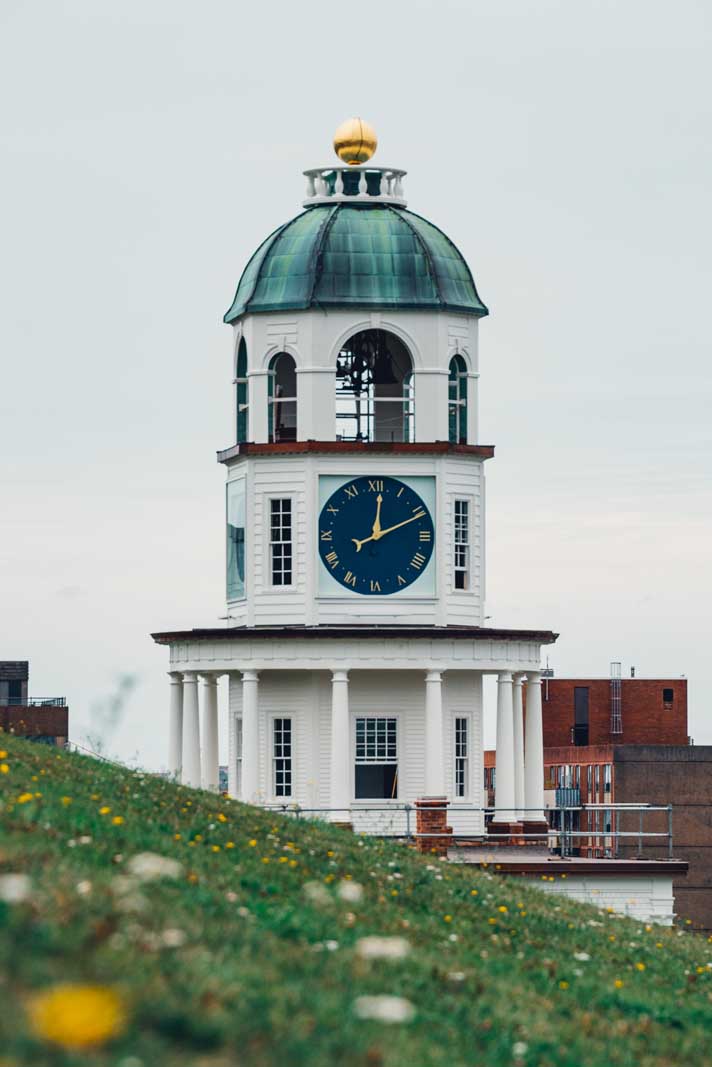 Another great Halifax attraction to visit just a few steps up a steep incline is Citadel Hill, or Fort George. This National Historic Site is where four fortifications called home in this location.
The fortress was built here in 1749 by the British when they colonized Halifax to defend the city from enemies located perfectly perched on this hill so it was easy to spot and defend from any potential threats.
The citadel never was attacked in its history and is open for visitors. You can visit the Halifax Citadel Army Museum inside the citadel entrance or if you want a free fun thing to do in Halifax you can come at 12 noon when they shoot the daily canon off the top of the citadel to signal its midday.
This Halifax attraction is a great spot to visit to also get a view of the harbor and city from a higher point!
Maritime Museum of the Atlantic
One of the best things to do in Halifax if you want to learn more about Nova Scotia's maritime history is visit the Maritime Museum of the Atlantic. This museum houses a collection of over 30,000 artifacts including the world's largest collection of wooden artifacts recovered from the Titanic, exhibits on the Halifax explosion, and multiple buildings along the waterfront housing collections as well as a rotational exhibit.
The Titanic section was particularly interesting because the rescue and first responders to the Titanic were from Nova Scotia. They were able to recover and collect a perfectly intact wooden deck chair from the Titanic as well as other wooden objects that were floating after the sinking.
During our visit there was an excellent temporary exhibit on Nova Scotian women and their relationship with the sea called, "The Sea in Her Blood."
Another Halifax attraction not to be missed at the museum is the restored 19th century Robertson Store, a former ship supply store that feels like it was frozen in time.
Another exhibit includes the HMCS Sackville, a WWII warship on the waterfront.
Art Gallery of Nova Scotia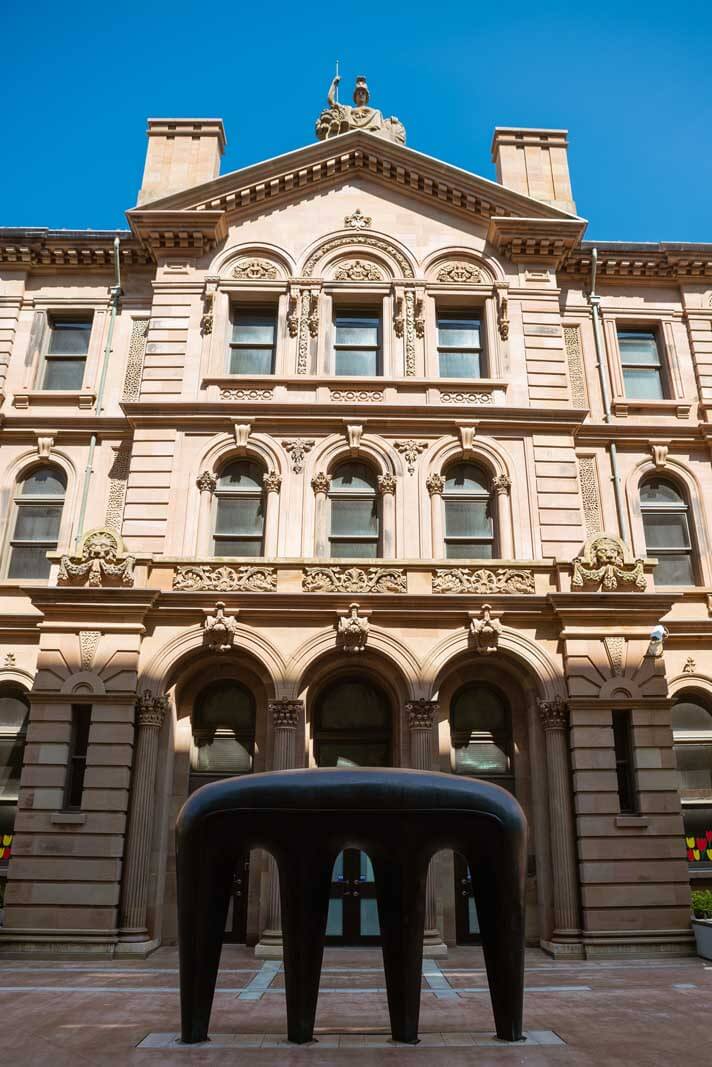 One of our favorite museums and things to do in Halifax was visit the Art Gallery of Nova Scotia. Their collection features over 17,000 works that have strong ties to Nova Scotia housed in two different buildings with many different exhibits featuring many historical and modern Canadian artists among other international artists.
What made this Halifax attraction extra special to us would be the Maud Lewis exhibit here. Lewis was a local folk artist who passed away in 1970. She received most of her recognition in the 1960s for her folk art and work.
Critics argue that while she was famously known for her paintings, her home was actually her best piece of work. Her tiny home that she shared with her husband in Marshalltown, Nova Scotia was a living piece of art. Lewis painted the interior and exterior of the home.
Today, you can find the original home on display here in the art museum as well as several pieces of her work which I had a strong personal connection with. Her work included much of the local culture and heritage from sap collecting for maple syrup to the adorable cats.
Don't miss a visit to the gift shop either where they have some Maud Lewis souvenirs you can buy to take home a little piece of Nova Scotia folk art home with you. If you want to learn more about Maud's life be sure to check out the 2016 film, "Maudie," starring Ethan Hawke and Sally Hawkins.
This is definitely a top pick for what to do in Halifax for art and museum lovers.
Halifax Seaport Farmers Market
Our next pick for what to do in Halifax is visit North America's oldest continuously operating farmer's market! Operating since 1750, the Halifax Seaport Farmers Market is a great place to go if you're looking for some fresh local produce, food, and other local goodies from maple syrup to local rum.
The farmer's market has actually moved to various locations throughout the city in its lifetime including being hosed in Alexander's Keiths Brewery building before making its way to its modern and permanent location on the waterfront boardwalk.
Visiting the Halifax Seaport Farmers Market is one of the most fun things to do in Halifax on the weekends when it's most lively, but you can visit on week days too. We missed visiting on the weekend and it was pretty dead on a Monday morning, but if you happen to be in the area it's worth stopping in to get a look at this famous Halifax attraction and the great view of George's Island and lighthouse.
Halifax Harbour Ferry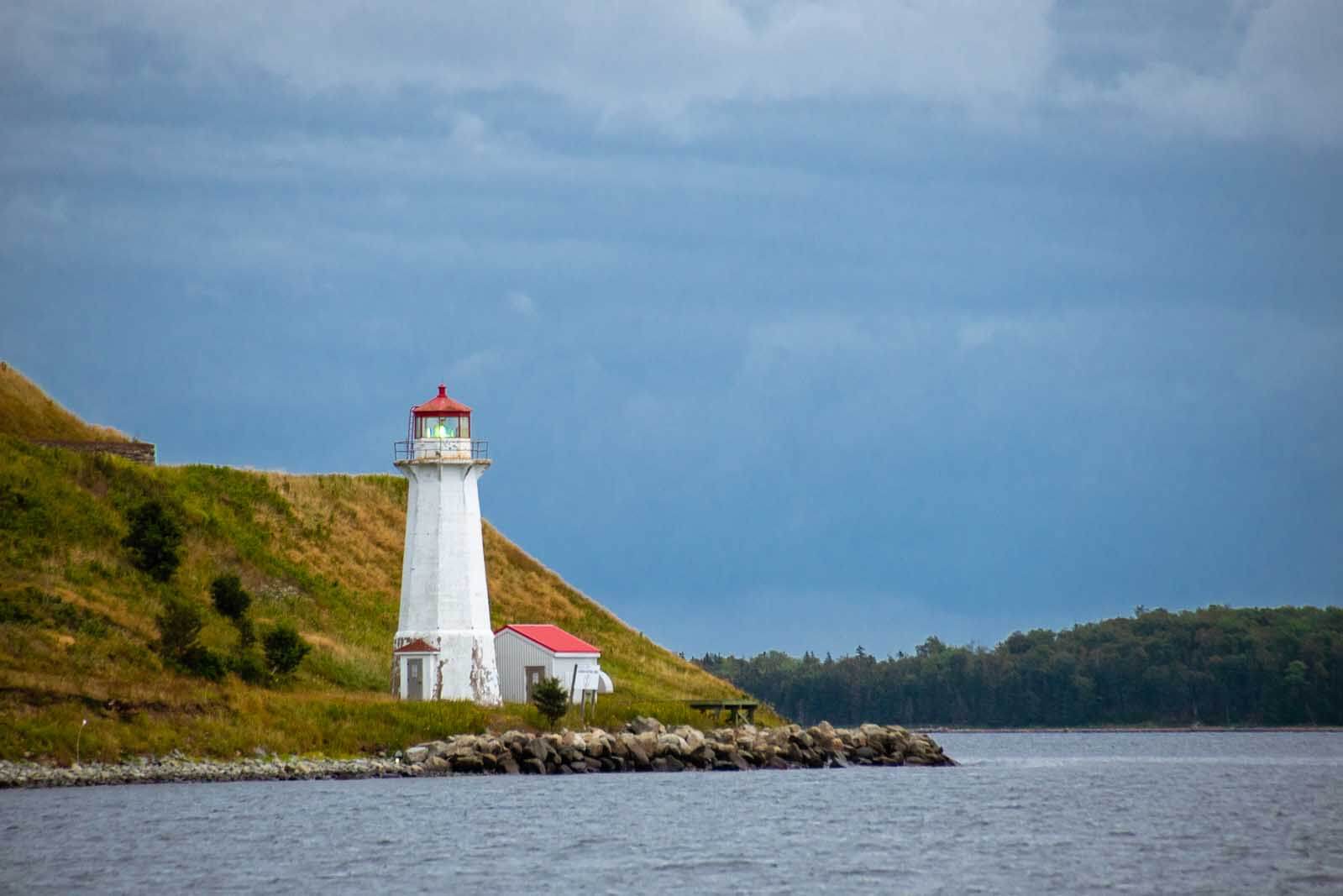 Our next pick for one of the best things to do in Halifax, Nova Scotia is also one of the least expensive ways to get a great view of the city from the water! Hop on the Halifax Transit Harbour Ferry for just $2.50 CAD on the waterfront to Dartmouth for an incredible view of the city from the water and to take you to a new area to explore!
The ferry schedule runs around every 15-30 minutes, so this can be a quick and fun thing to do in Halifax to see beyond the historical city center and waterfront boardwalk.
Once you get to Dartmouth you can walk up to a few of the local breweries including a craft cider spot. Walking distance from the ferry are New Scotland Brewing Co., Lake City Cider, and Brightwood Brewery.
Theodore Too Tugboat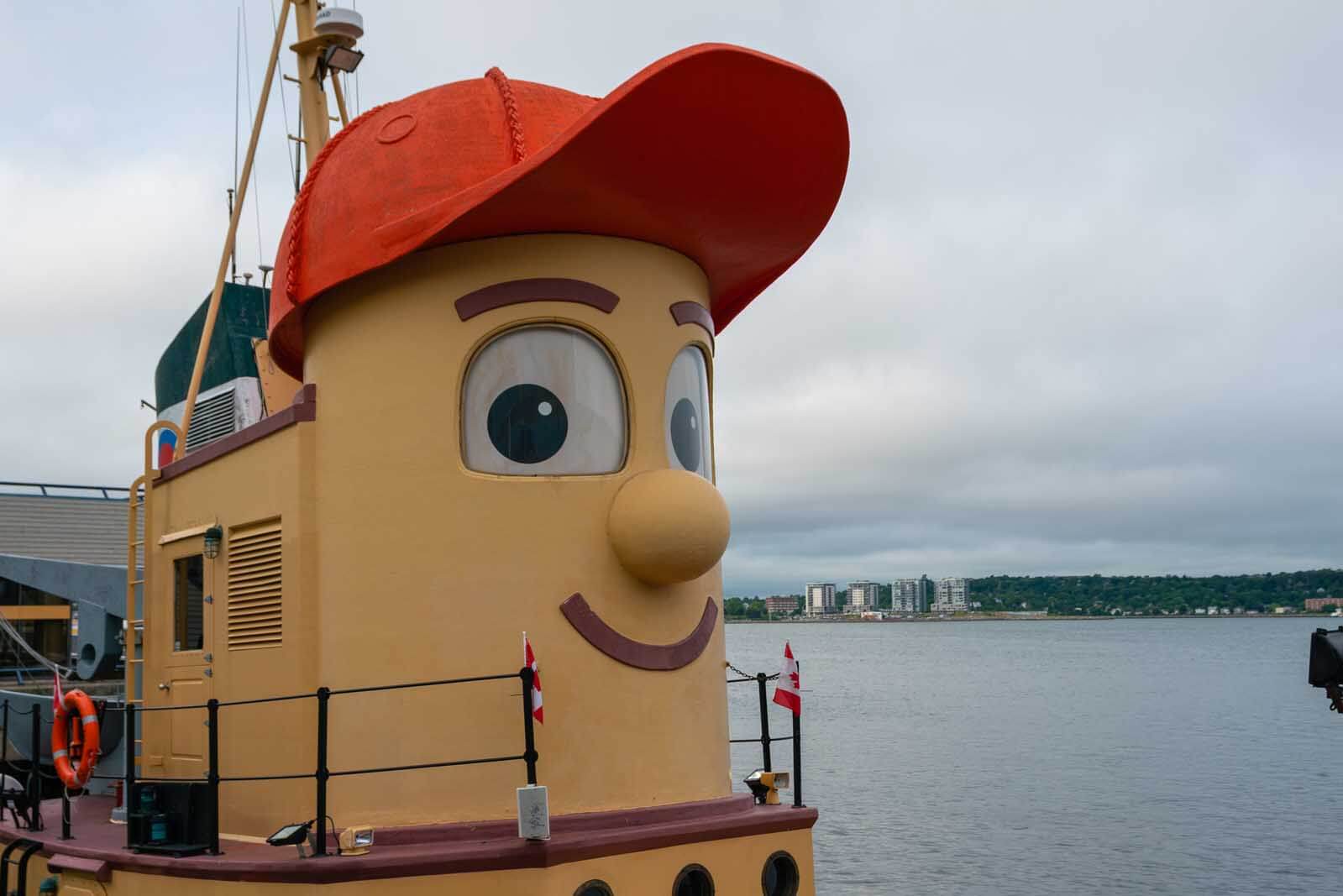 Easily one of the top fun things to do in Halifax is check out Theodore Too Tugboat on the waterfront. You literally can't miss him, he's the yellow tugboat with a happy face with moving eyes and a giant orange hat.
This is probably the cutest Halifax attraction and you can actually go on a ride with Theodore Too!
Built after the local kid's show classic, Theodore Tugboat you can now ride the life size Theodore on one of their daily tours. Both Scott and Cailin told me I was too old to ride Theodore Too but this is a perfect idea for what to do in Halifax if you have some young ones – or are young at heart like me!
Street Art Scene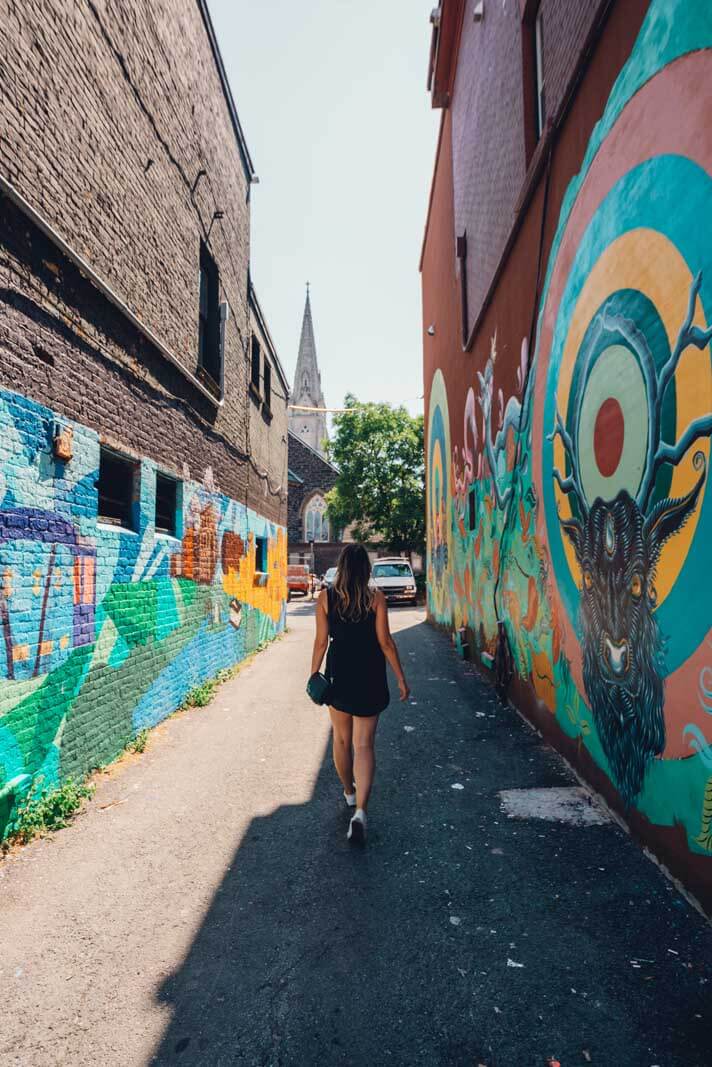 Another fun thing to do in Halifax, Nova Scotia is check out the colorful murals and street art scene around the city. There are plenty of different murals scattered throughout the city that you'll most likely encounter some by happen chance while wandering around different Halifax attractions by foot.
Others are located a bit out of the walkable city center that you might see while driving by.
A few of our noteworthy favorites include Freak Lunch Box by Jason Botkin and the Lemur Mural by Alex Thuku.
Freak Lunch Box is a massive mural is a hard one to miss, with colorful sea creatures and candy covering the entire side of a building, there's nothing around that's more eye-grabbing. The candy in the mural is a nod to the Barrington Street Candy Shop located in the building who commissioned this work by Jason Botkin. Visiting at day and at night are two different experiences. In the evenings this beautiful mural is illuminated with color-changing lights.
Another favorite mural in Halifax is done by artist Alex Thuku featuring psychedelic lemurs down this colorful alley on Blowers Street.
Don't miss out on all the new murals that are constantly popping up, this Instagram account does a good job sharing fresh graffiti and street art with location tags.
Colorful Agricola Street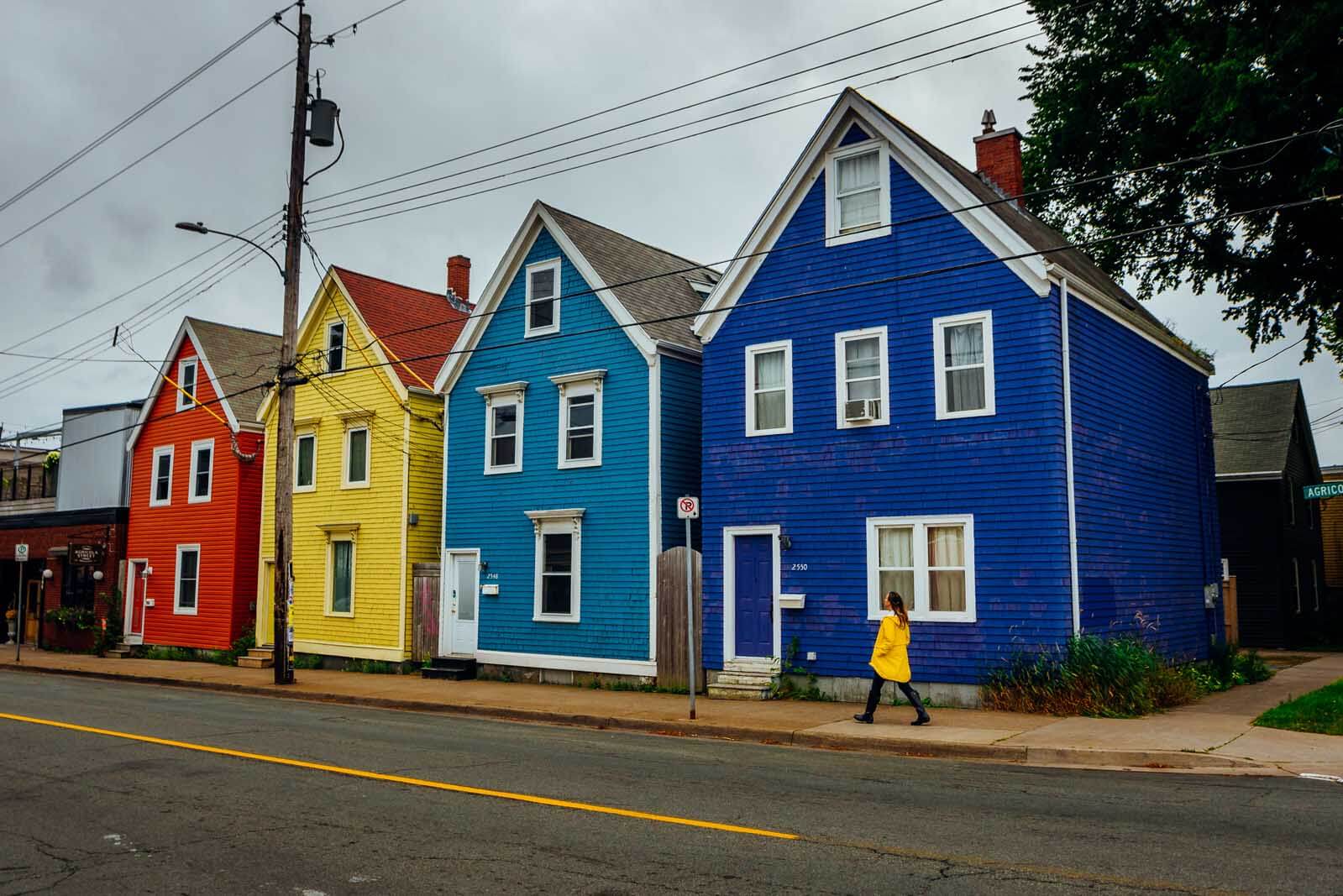 Another colorful and fun thing to do in Halifax is check out the brightly colored homes at Agricola Street. There are actually quite a few things to do on this street, or you can stop and admire the brightly colored row of homes as you pass by.
This is less of a thing to do and more of what to do in Halifax if you're chasing fun photo locations!
Halifax Central Library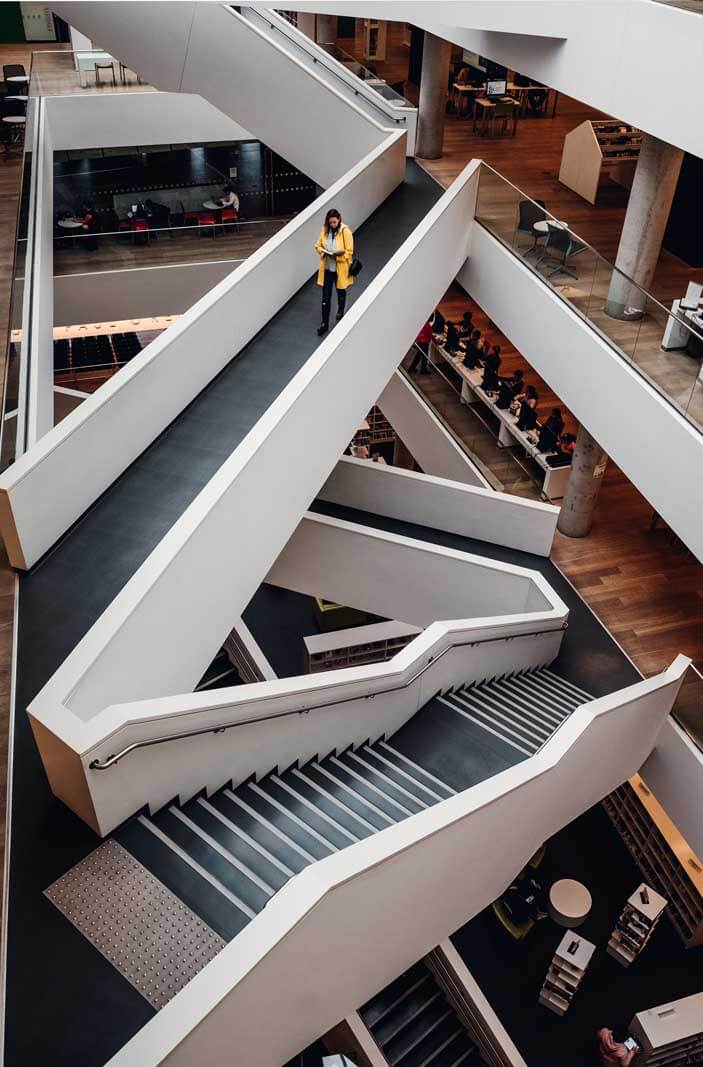 Our next pick for what to do in Halifax and Halifax attraction is the gorgeous central library. Recognized worldwide and critically acclaimed for its architectural features and design, this isn't your average library.
The modern exterior design of the library resembles a stack of books while the interior is made up of beautiful minimal clean lines and staircases. We aren't going to lie, the interior of the library reminded us a bit of the gorgeous design inside the Canadian Museum of Human Rights in Winnipeg.
Besides being home to a huge collection of books and being one of the coolest hangout spots to get work done the library also houses a rooftop terrace with a gorgeous view of the city, two cafes, and artwork on display.
It's no wonder why Halifax Central Library was named one of the most beautiful libraries in the world.
The best part? Maybe that this thing to do in Halifax costs absolutely nothing as its free to the public!
See the Head in the Window at St. Paul's Church
This is one of the more quirky and unique things to do in Halifax that I found on Atlas Obscura tied to the history of the famous and devastating 1917 explosion. There are several legends and stories that go along with what happened to people on this ill fated day long ago.
This particular legend takes place in the oldest building in Halifax, St. Paul's Church. If you wander around the church you might notice one of the windows has a strange effect on it and if you examine closely you'll notice it looks to be a side silhouette of a man permanently marked in the window.
During the explosion, the windows of the church were blown out. You can actually go inside the church and see a framed piece of the original piece of the window from the day of the explosion on the wall.
The legend of the mysterious face in the window is said to be one of a deacon who happened to be standing sideways by the window when the explosion took place. The heat and blast of the explosion left that mark on the glass for the rest of time.
Our local friend Cailin told us that apparently they have tried to replace or fix this strange marking on the window but it keeps coming back! This is one of those fun things to do in Halifax if you like spooky legends or mysteries!
History at Five Fishermen Restaurant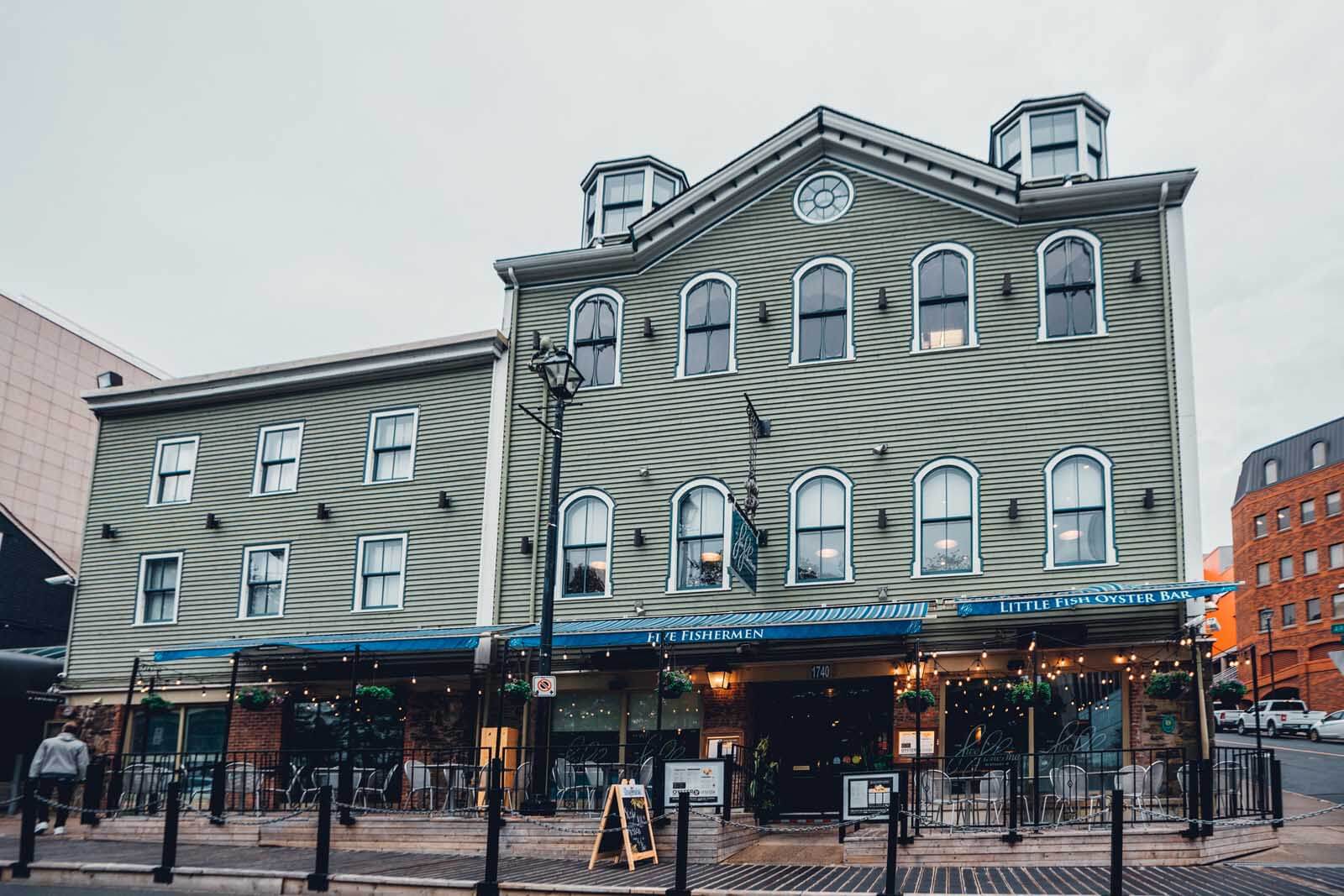 If you're a historian or love all things related to the Titanic this next thing for what to do in Halifax is for you! The Five Fishermen Restaurant not only has history tied to the Titanic but also all the tragedies that took place here in Halifax.
What seems like an upscale seafood dining establishment today has so much more to the history of what took place between these walls. First, the building served as a schoolhouse before becoming a mortuary called John Snow & Co. Funeral Home before becoming the restaurant we see today.
When the Titanic sank off the coast of Newfoundland, Halifax boats were the first responders. However, because where the Titanic tragedy took place was so far away, there were casualties than survivors as we all know. Many of the wealthier of the casualties were brought to this location where the funeral home was to have arrangements made for their bodies.
The next big moment in history for this funeral home was during the Halifax Explosion that killed over 2,000 people. As you can imagine, a facility of this size couldn't handle that many people. What they were forced to do was line up rows of coffins outside on the street to deal with such a massacre. There's actually a famous photo of this.
Because of the devastating historical catastrophes that took place here, it's no surprise that many believe that this restaurant is haunted to this day. Dine here if you dare!
J Dawson Grave at Fairview Lawn Cemetery
We didn't actually go see this next thing to do in Halifax, but many others have thanks to the 1997 blockbuster hit, Titanic based on the infamous fate and tragedy that took place in 1912 off the coast of Newfoundland when the Titanic sank after striking an iceberg.
Fairview Lawn Cemetery in Halifax is home to the most victims final resting place from the Titanic. One of the victims of that has a headstone that reads J Dawson, for Joesph Dawson.
While this is not Jack Dawson, Leonardo Dicaprio's character in the movie Titanic, people didn't care or didn't know any better and flocked to this gravesite to give their condolences to their favorite beloved fictional character played by DiCaprio.
It is said that Director, James Cameron did come to Halifax for some research before the movie but producers and representatives of the movie claim they had no idea there was a gravesite with J Dawson on it.
It wasn't until a historian revealed that this was a completely different person that people slowly stopped coming to J Dawson's gravesite. However, even to today people do still come here because of the connection to one of the biggest movies and tragedies in history of all time.
Halifax Public Gardens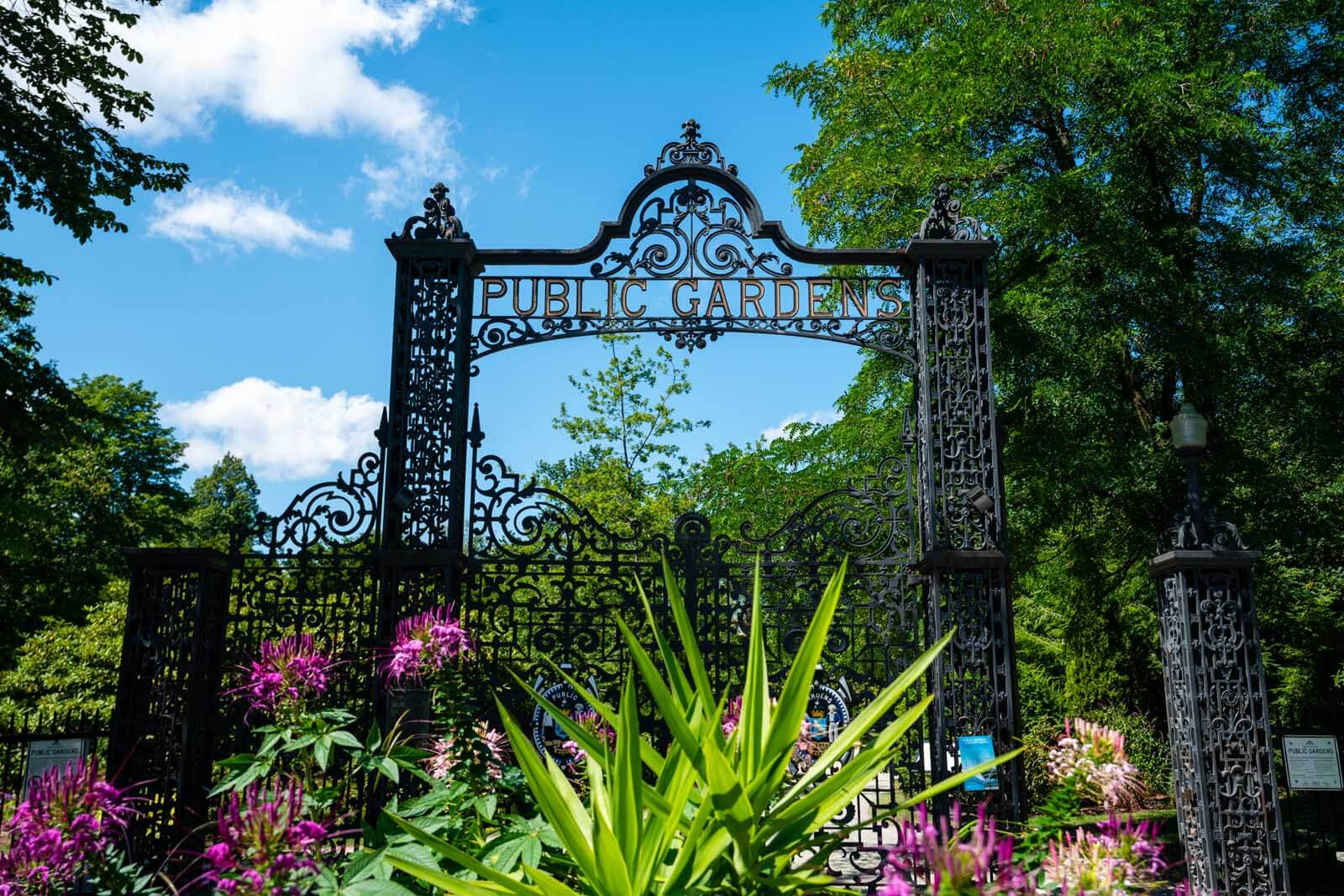 A great idea for what to do in Halifax on a beautiful day is visit the beautiful Public Gardens. This is a great place to take a walk, have a picnic, find a quiet place to relax, or even read a book. These Victorian gardens are also a National Historic Site of Canada and designed by local architect Henry Busch.
Don't miss the beautiful bandstand and the adorable cafe housed in the small building near the bandstand for another great place to relax with a cup of tea or coffee.
Harbour Hopper Tour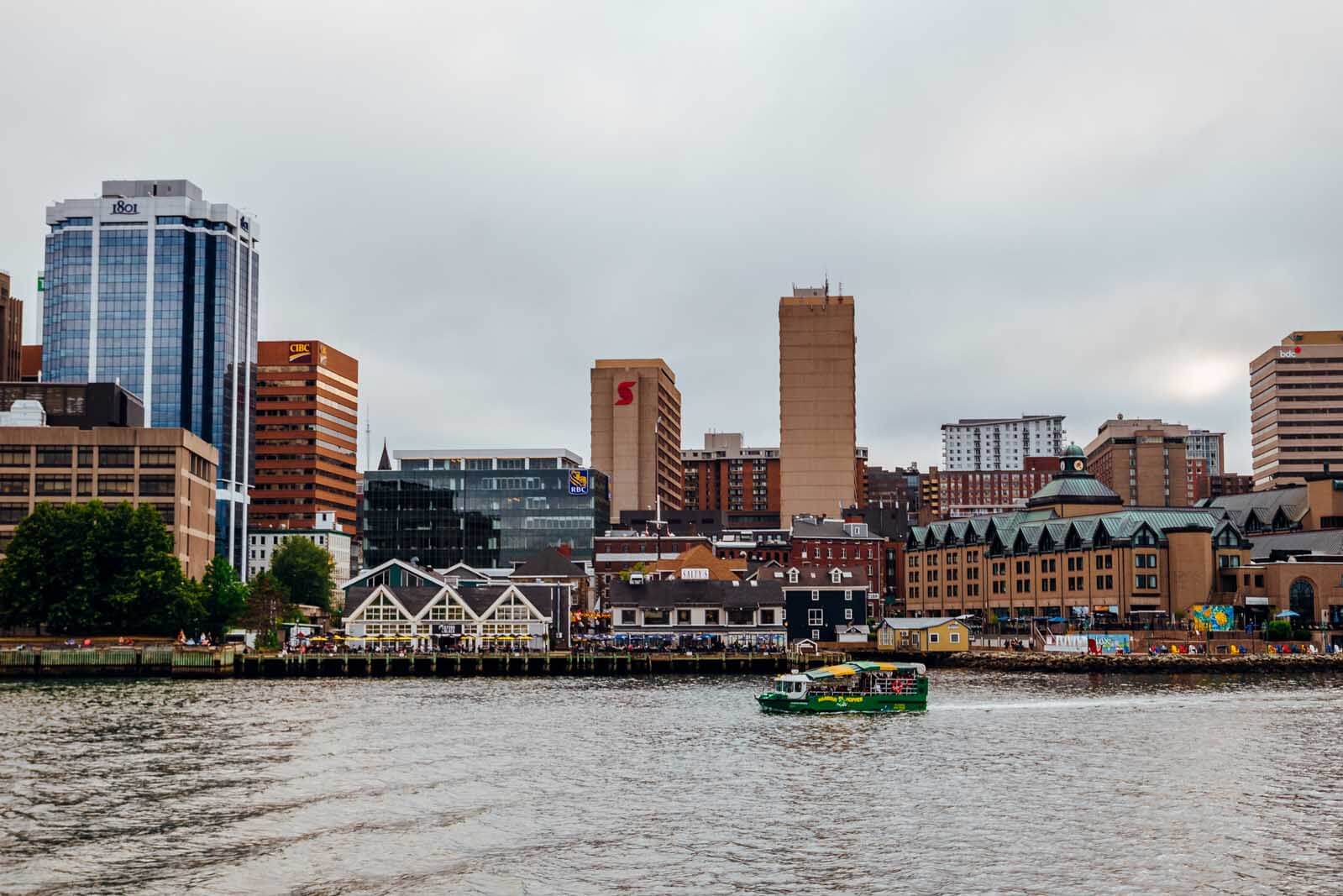 One of the best ways to quickly see all the fun things to do in Halifax by land and water is join one of the several daily Harbour Hopper Tours. Hop aboard a restored WWII amphibious vehicle with a cheeky local guide who will crack jokes and give you a brief summary of history and point out the best Halifax attractions on your one hour journey.
Halfway through the tour you drive directly into the water where your vehicle magically works as a boat before returning to land.
What's great is this tour starts and finishes right at the Halifax waterfront boardwalk so you can easily move on to the rest of your day of sightseeing around Halifax's best attractions.
Halifax Drinking Scene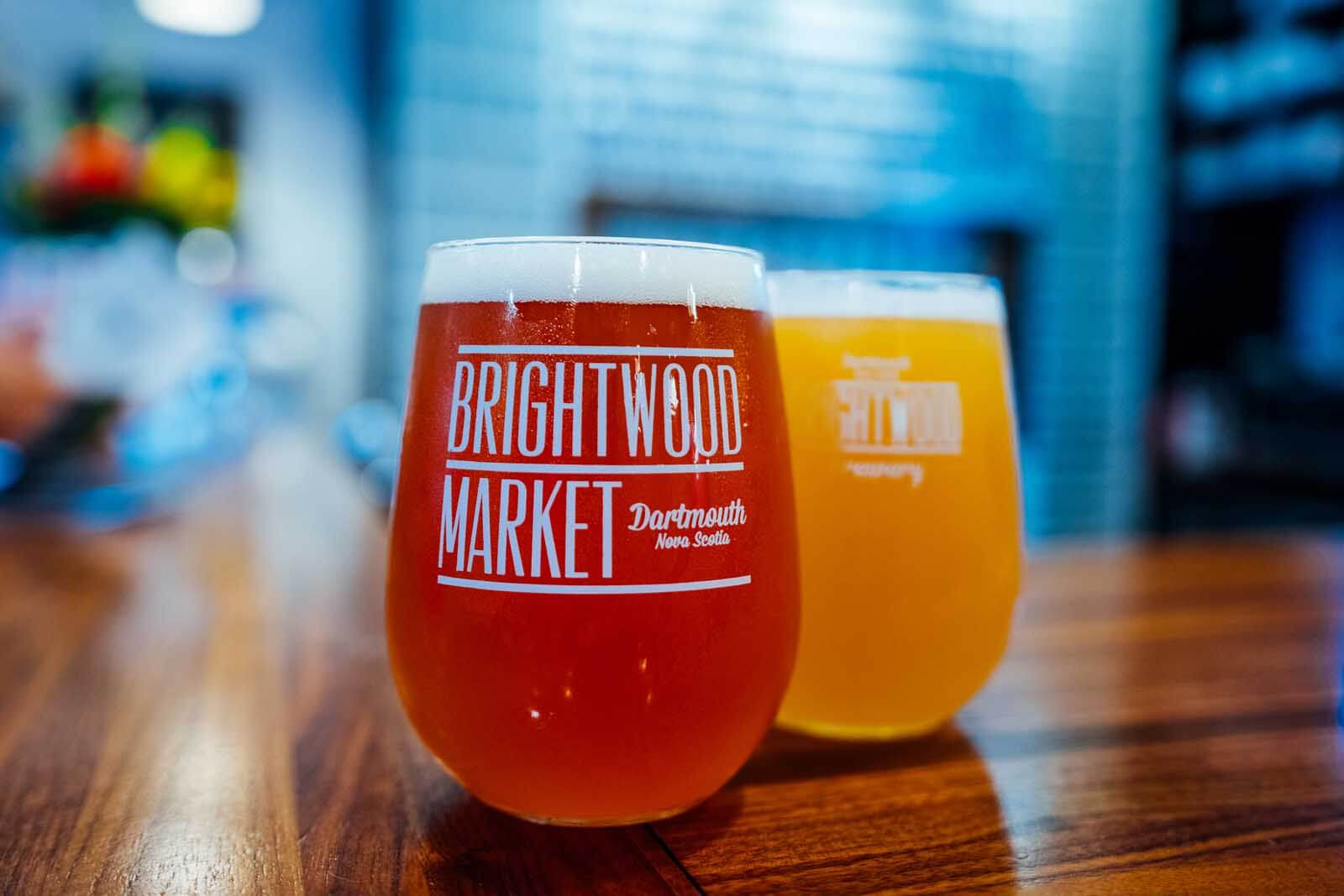 Easily one of the best things to do in Halifax is enjoy their phenomenal drinking scene. From distilleries to breweries Halifax has no shortage of places to grab a great drink or sample flights of different local brews and spirits.
The drinking scene is expanding so much that they even came out with the Good Cheer Trail with a passport to collect stamps as you visit each one of the participating breweries, wineries, cideries, and distilleries. If you get enough stamps you can win prizes which we thought was such a fun idea!
You can pick up one of the Good Cheer Trail passports at any of the participating locations, just don't forget to ask for a stamp!
Given the amount of time we spent exploring what to do in Halifax, we did visit a decent number of local watering holes. These were some of our favorites.
Alexander Keith's Brewery – Easily the most famous and popular beers in Nova Scotia, Alexander Keith's IPA is one of the most famous beers in Canada and one of the oldest breweries in Nova Scotia founded by this Scottish immigrant in 1820. If you have time, be sure to enjoy one of the hourly tours of their amazing facility which gives you the history of the brewery and Alexander Keith. If you don't have time then head on over to the Red Stag Tavern next door to do a flight sampling of all of the best Keith brews. The brewery tour itself is one of the most popular things to do in Halifax, don't miss it!
Stubborn Goat Beer Garden – Another great place to grab a drink is at the outdoor Stubborn Goat Beer Garden along the waterfront next to the Salt Yard. You can grab drinks on the lower deck or sit at the higher level and order bar snacks and food. This is more of a weather permitting place to enjoy a drink if the weather is terrible consider just heading to the Stubborn Goat brewery instead.
Garrison Brewing Co. – Located next to the Halifax Seaport Farmers Market this is another popular local brewery to check out and do a nice flight tasting at.
New Scotland Brewing Company – Located in Dartmouth, this is the perfect thing to do in Halifax if you took the harbor ferry over from the waterfront to Dartmouth. Plus you're just walking distance away from Lake City Cider & Brightwood Brewery.
Sourwood Cider – This fun stop is one of the newest in town during our visit and a great thing to do in Halifax if you love trying hard cider. The funky bar has a fun vibe and this is the perfect place for a hangout, date, or walking break.
Brightwood Brewery – Another great brewery with really interesting beer flavors located in Dartmouth just steps away from the harbor ferry terminal. This brewery shares the same space as Lake City Cider so beer lovers and cider lovers can drink together in their open space establishment.
Lake City Cider –Located in the same space as Brightwood Brewery serving delicious cider flavors in a fun hang out space in Dartmouth steps away from the harbor ferry terminal.
Halifax Distillery – Learn the history of rum-running during the prohibition while sipping on a delicious flight of different local rums. The sweet one was probably our favorite and a perfect boozy treat for the holidays. We are still kicking ourselves for not grabbing a bottle to take home. There are also tours of the distillery here and its conveniently located across the street from the Maritime Museum of the Atlantic.
Halifax Dining Scene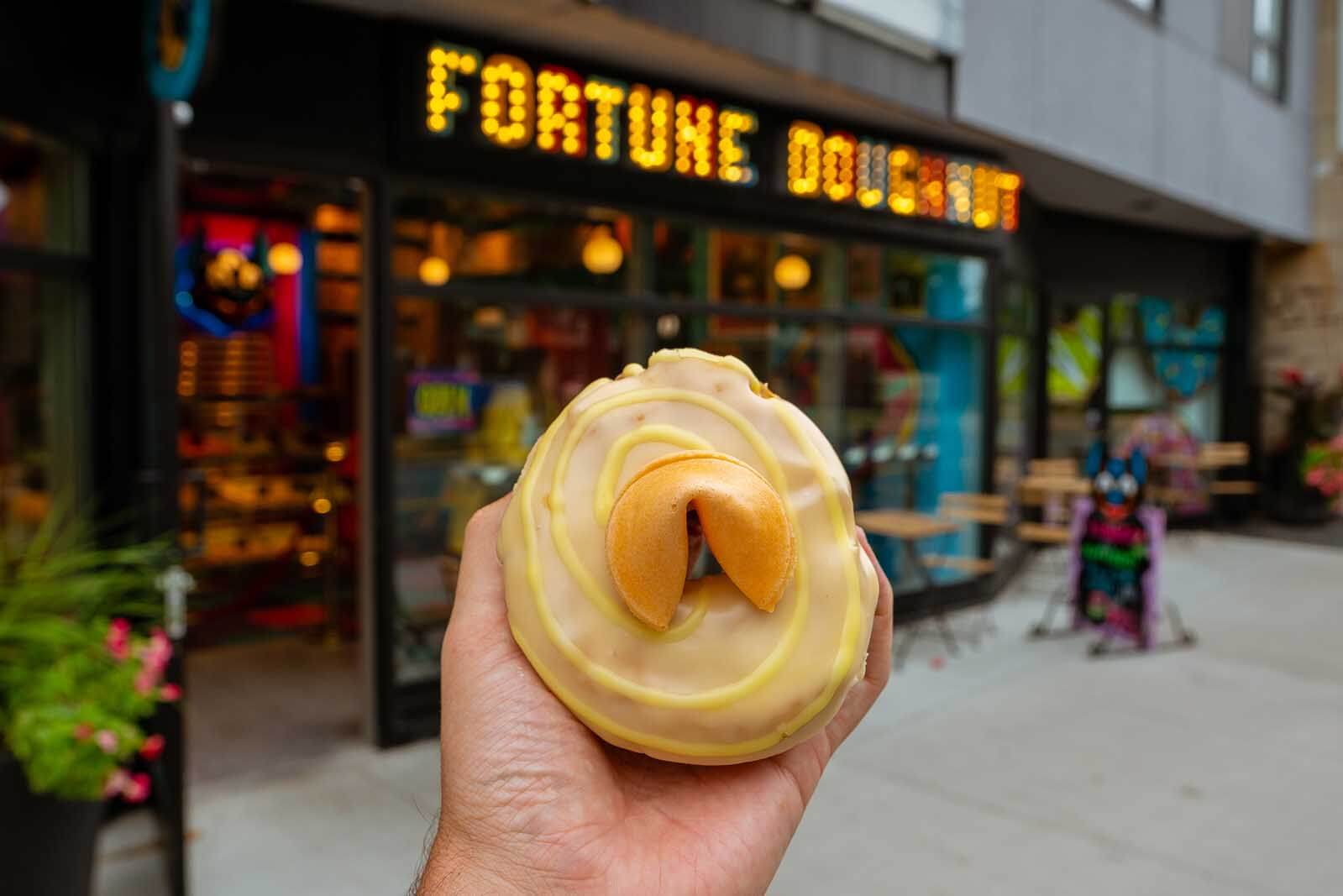 Just like the drinking scene, one of the best things to do in Halifax is enjoy the foodie scene! While we only had a few meals in Halifax we can attest that the food scene here is no joke, we ate back to back delicious food and we highly encourage everyone to take full advantage of the fresh seafood caught off the shores of Nova Scotia.
Just like the Good Cheer Trail has a passport for different places to grab a drink, there are actually two more food-oriented trails in Nova Scotia, The Lobster Trail and The Chowder Trail. Be sure not to miss grabbing a passport and try to collect stamps during your visit.
Here were some of our favorite food experiences in Halifax.
King of Donair – Don't miss out on trying a local delicacy, the Donair! Similar to a doner kebab, but different enough to be its own foodie experience. Donair was brought to Halifax by Lebanese immigrants with a twist. There is special seasoning in the meat and a special secret sweet sauce that accompanies your meat-filled pita. This is also one of the least expensive delicious meals you can enjoy on your trip. Be sure to check out our good friend Cailin's video on donair in Halifax!
SaltYard – The SaltYard is another fantastic place to enjoy a meal and one of the best things to do in Halifax no matter what time of day. This outdoor plaza located on the waterfront has tons of small independently run eateries from poutine to beaver tail desserts. Our favorite was the fish n chips at Katch Seafood.
Fortune Doughnut – Looking for one of the most instagrammable things to do in Halifax while you're hungry? Check out Fortune Doughnut for their daily fresh donuts and surprising flavors in their fun funky establishment perfect for donut selfies.
Willmans Fish and Chips – Another great spot for Fish and Chips in Halifax located a bit away from the waterfront. This is a more local spot that we were introduced to by our friend Cailin! The fish and chips here are to die for.
Tours & Day Trips Near Halifax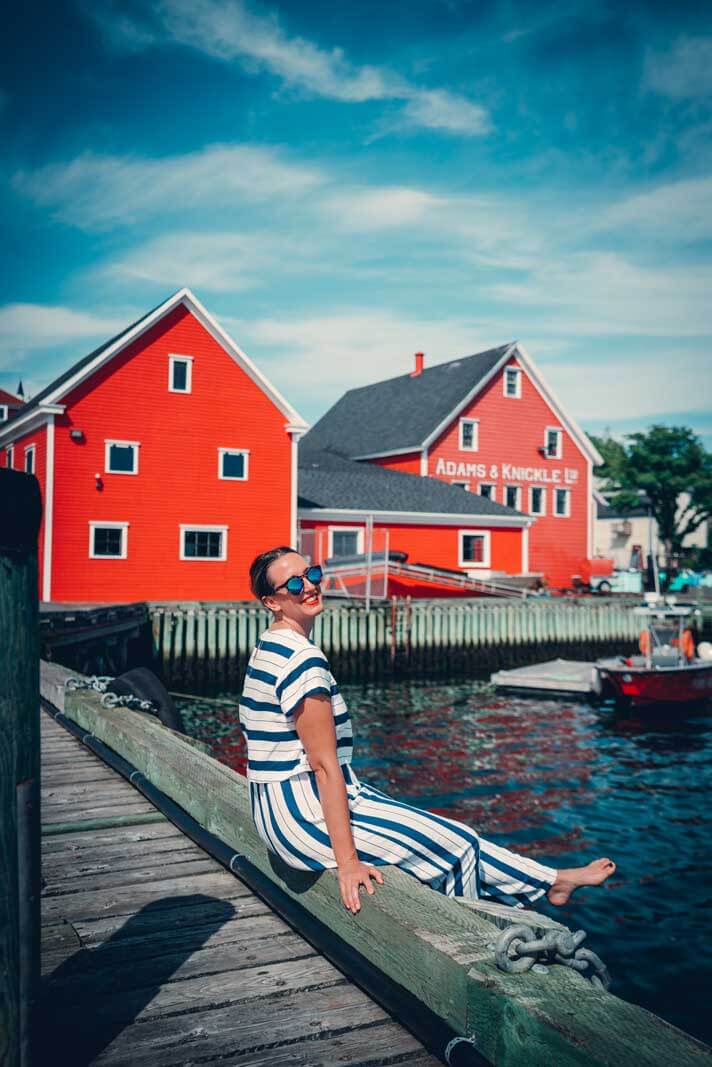 One of the best ways to do all the great things to do in Halifax is by tour. Another is to is actually get in a car and explore more of Nova Scotia! There are some incredible tours of Halifax and day trips from Halifax from fishing villages to lighthouses to the home of the highest tides in the world!
Tours in Halifax
Halifax Like a Local Private Tour: Create a customized experience based on your favorite things to do with a local! Your tour is fully customizable based on your likes or the guide can give you their recommendations on this walking tour. The best way to have an authentic experience is through a local. This is also a great way to get your bearings of the city if you do it right at the beginning of your trip. See more information or book here.
Halifax Bucketlist Pass: This is your all in one stop for seeing and doing all the best things to do in Halifax. Save yourself HOURS OF TIME by skipping lines by purchasing this pass that includes priority entrance to all of the best museums, exhibits, and things to do in Halifax. Save yourself that valuable time by getting this pass. See more information or book here.
Best of Halifax Tour: This is an awesome experience and tour that not only takes you to the best things to do in Halifax but also takes you to the iconic and famous Peggy's Cove where you can see the famous Peggy's Point Lighthouse with pick up and drop off at your hotel! Your guide will give you all the information, history, and details to know while you explore the historic downtown of Halifax as well as Peggy's Cove. This tour also includes all entrance fees and transportation too! It doesn't get much more convenient than this. See more information or book here.
Bay of Fundy
The Bay of Fundy is home to the world's highest tides located between both Nova Scotia and New Brunswick and just over an hour drive from Halifax making it a perfect day trip. The Bay of Fundy is also one of the seven natural wonders of North America and a popular bucketlist item for many people.
We recommend checking out Burntcoat Head Park where the highest tides in the world ever recorded was from here at 56.7 feet.
While you'll need to stay a half of a day to actually see the full swing of the tides you can visit during low tide and walk on the ocean floor. Every 13 hours 160 billion tons of water flow daily in and out of the bay.
Be aware that you won't be permitted to walk on the ocean floor anytime outside the summer months as it's too dangerous. However, even if you do visit in the off-season months you can enjoy the old lighthouse on the property and view the Bay of Fundy from above.
You can easily enjoy some time here, just be aware that in order to see a dramatic change in the tides you'll have to stay for hours.
If you're considering visiting be sure to check out all the other wonderful things to do in Annapolis Valley.
Lunenburg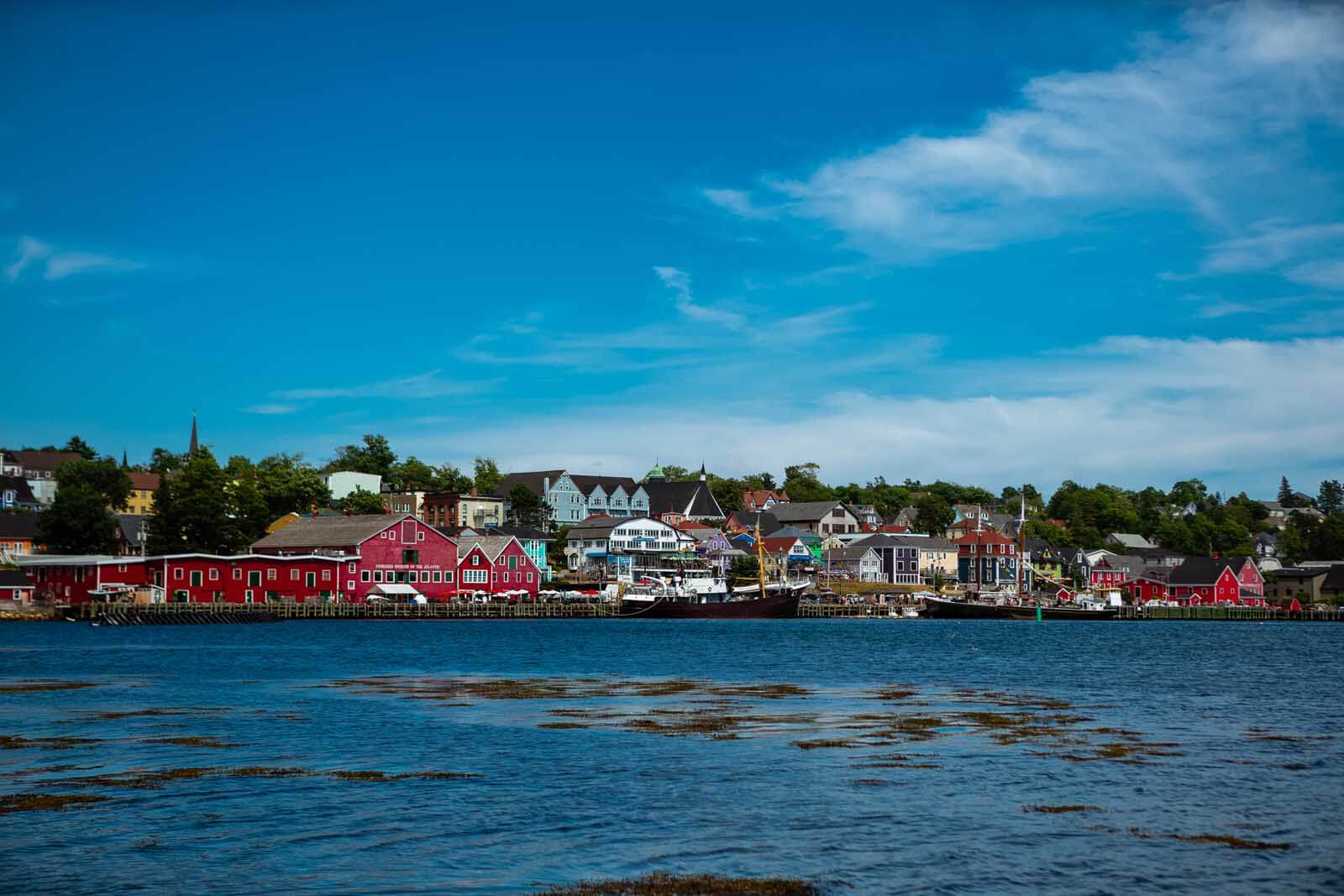 Lunenburg is just a one hour drive from the city and what to do in Halifax if you want to see a beautiful fishing town straight out of a postcard and UNESCO World Heritage Site.
Lunenburg is one of the most colorful cities in all of Nova Scotia and close enough to Halifax to make an easy day trip. Trust us though, its going to be hard to leave because this place is so beautiful and there are so many amazing things to do in Lunenburg.
Walk along the waterfront and see the famous Bluenose II schooner that you might recognize from the 10 cent piece. There are many museums, restaurants, cafes, and amazing shops to explore the streets.
If you want an incredible view we recommend heading over to the golf course where you can see the town of Lunenburg and its reflection in the water from afar. Or, hop on a boat tour.
Be sure to stop at Ironworks Distillery where you can sample and buy some of the best rum in Nova Scotia including rum thats been aged in barrels on a boat and other unique types of rum.
We also recommend checking with Lunenburg Walking Tours, they host daily tours through Lunenburg and also offer unique tours in the evenings like ghost tours and a culinary and rum themed tour called Lunenburg Distilled that's out of this world.
Check out this: Tour and day trip from Halifax to Mahone Bay and Lunenburg that starts and ends in Halifax this tour of Lunenburg, Peggy's Cove, & Mahone Bay.
Peggy's Cove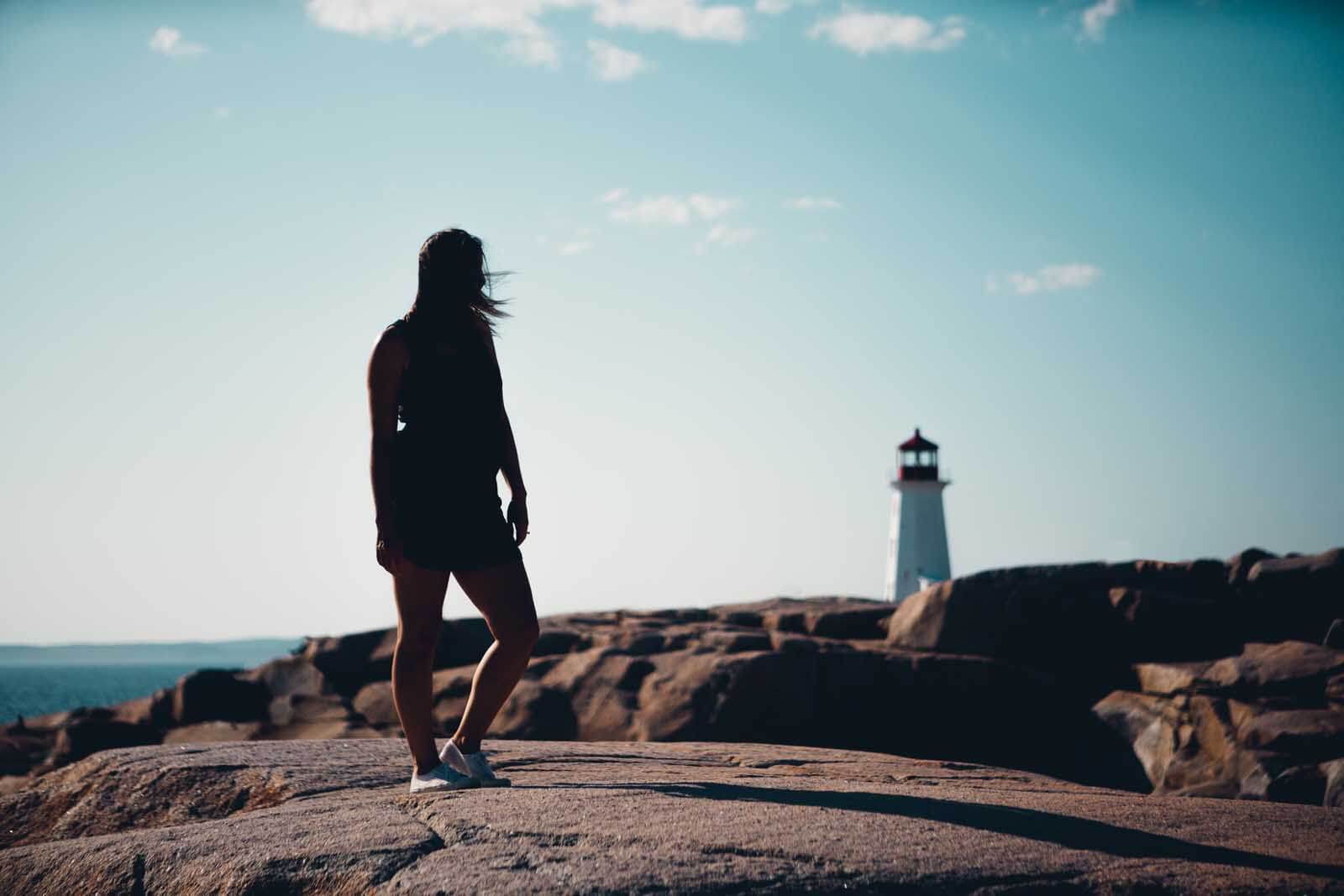 Another one of the most popular things to do in Halifax is drive to the infamous Peggy's Cove, one of the most photographed and recognizable locations in all of Canada. This picturesque fishing village is quaint and offers a range of different shops and restaurants you can relax at among the colorful homes in this fishing village.
What's most popular though would be the Peggy's Point Lighthouse atop the granite stones overlooking the water. You can walk around the lighthouse on the rocks and enjoy this majestic view from different vantage points.
Be very careful not to go on the black rocks. There are signs but people seem to ignore them, especially when you see other people walking on them or close to the water. This is EXTREMELY DANGEROUS and Peggy's Cove has claimed many lives over the years from tourists who don't listen.
There are rogue waves here so while the sea may seem very calm it still is very dangerous. Once you're in the water it is almost impossible to get out because of the rocks and undertow. Please enjoy this beautiful place but use caution and follow the rules during your visit.
Take a tour!
Don't want to rent a car and drive yourself? Check out this tour which picks you up and drops you off at your hotel in Halifax with a guide plus you get special access to some of the great historic sites in Halifax too! See more information or book here.
Getting Around Halifax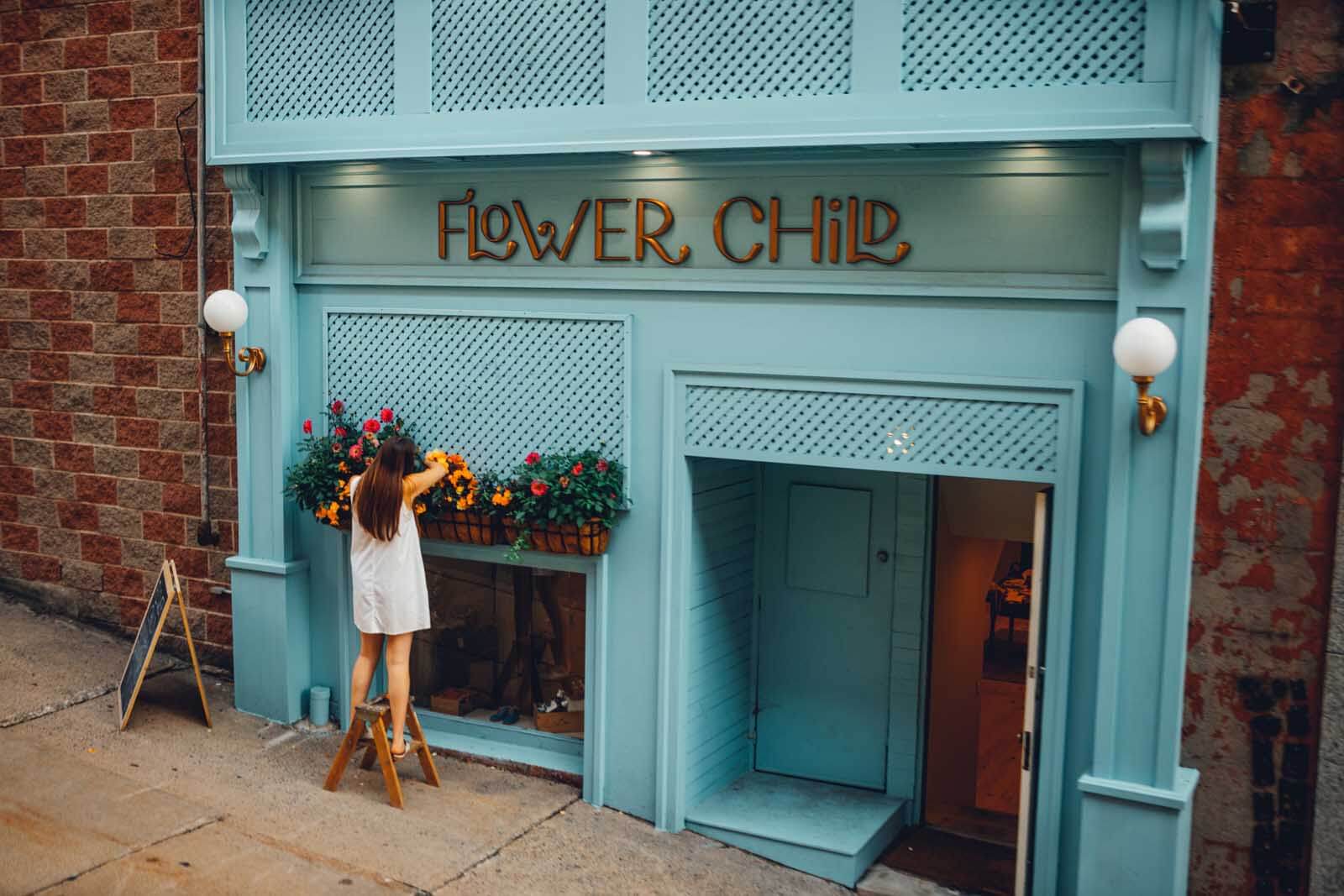 Getting around to enjoy all the awesome things to do in Halifax has never been easier. Most of the best Halifax attractions are in walking distance and easy to see by foot.
If you need to get around you can use public transportation including the bus system and ferries. You can find the fares and time tables here.
As of our visit in August 2019, there were no rideshare apps available in Halifax.
If you plan on doing any day trips or a road trip we recommend renting a car in advance from the Halifax International Airport. Check out rates on Expedia here.
Where to Stay in Halifax
Lord Nelson Hotel & Suites is a great option to stay while exploring what to do in Halifax during your trip. The historic hotel is in a landmark building from 1928 with a gorgeous vintage lobby and reception area. The rooms are spacious and comfortable. You're located directly across the Halifax Public Gardens and just a 10 minute walk to the waterfront.
Book Now on Booking.com | Compare Prices for Later on Hotels.com | View Rates on Expedia.com
Westin Nova Scotian is another fantastic option for where to stay while exploring all the best and fun things to do in Halifax. Located right along the waterfront and close walking distance to everything downtown in Halifax. The rooms are spacious and refined. There's also a restaurant on-site and you're right across from the Halifax Farmer's Market.
Book Now on Booking.com | Compare Prices for Later on Hotels.com | View Rates on Expedia.com
---
Liked this post on the best things to do in Halifax, Nova Scotia or found it helpful? Use this Halifax attractions guide to help you plan your trip by bookmarking for later or sharing the love below on Pinterest. Happy Travels!