Looking to explore Nova Scotia? Have you ever heard of all the wonderful things to do in Annapolis Valley? Known for its fruit growing, Tidal Bay appellation wine, and unrivaled views of the Bay of Fundy, there are many amazing things to do in the Annapolis Valley in Canada's maritime Atlantic province that make it a must-visit destination on your radar for your next Nova Scotia road trip or holiday!
Disclaimer: This post was done in collaboration with Nova Scotia Tourism, however all opinions and experiences here are our honest opinion as always!
Where is the Annapolis Valley?
Annapolis Valley is located along the western side of the Nova Scotia peninsula and province nestled between two mountain ranges and the along the coast of the Bay of Fundy.
The Annapolis Valley is 78 miles in length along the western coast of the peninsula and spans from the cities of Digby to Wolfville roughly.
Digby to Halifax: ~ 142 miles, 2.5 hour drive
Wolfville to Halifax: ~ 56 miles, 1 hour drive
Things to do in Annapolis Valley
Wine Tasting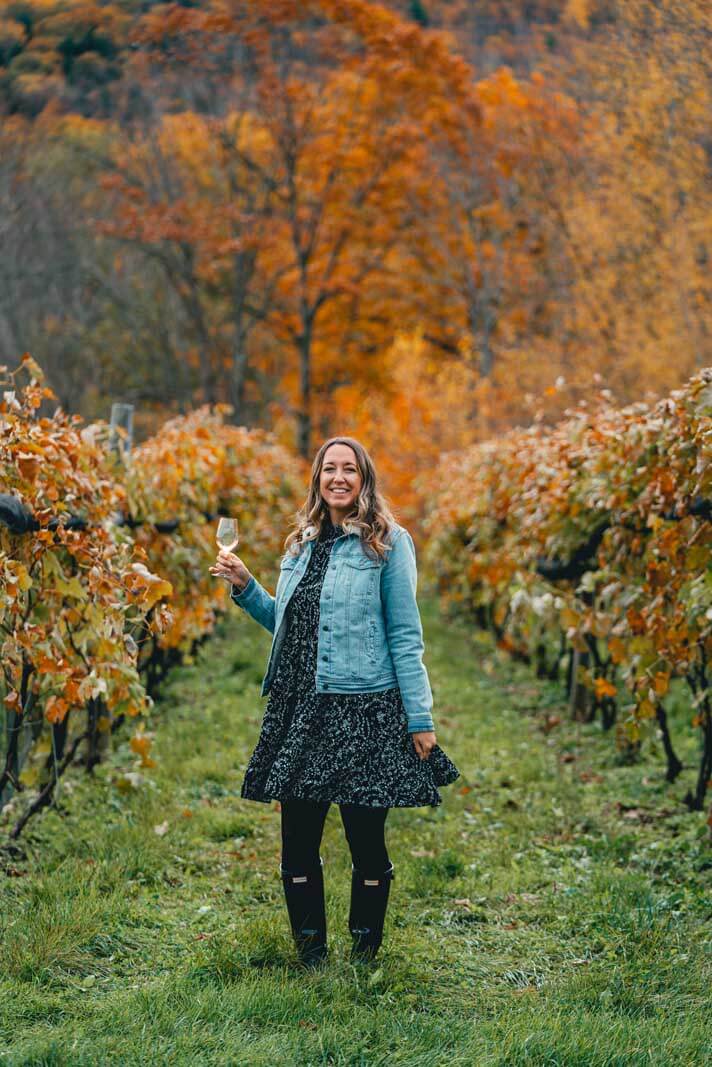 One of the best things to do in the Annapolis Valley is to explore the emerging wine scene here that has been gaining worldwide recognition and of course, their very own and the province's only appellation wine known as Tidal Bay.
Due to the climate and location, Annapolis Valley is an ideal place for grape growing and wine production and mirrors similar conditions to those in Champagne, France. With seafood being abundant and a rich part of the diet in Nova Scotia thanks to its coastal Atlantic location, it's only fitting that the province's only appellation wine pairs perfectly with seafood.
Tidal Bay is the name of the wine you can only get from Nova Scotia's Annapolis Valley. The aromatic, crisp white wine showcases the unique characteristics of the region's terroir and cooler climate while perfectly pairing with local dishes, aka seafood.
In order to qualify to be an official Tidal Bay wine, wineries have to follow a certain set of standards and flavor guidelines including using only grapes that were grown in Nova Scotia as well as pass various blind tasting tests starting in 2012.
The Annapolis Valley has nearly two dozen wineries of which you can taste the region's wines as well as try Tidal Bay at the wineries that have this unique wine to the region.
Here are a few of the wineries we highly recommend adding to your radar of stops and things to do in the Annapolis Valley during your trip.
L'Acadie Winery – Named after the grape variety that grows and thrives in the region known for its sparkling wines as well as being Nova Scotia's first certified organic winery
Benjamin Bridge – An internationally known winery that helped put Nova Scotia winemaking on the global radar that also has a Tidal Bay
Gaspereau Vineyards – One of the best wineries in all of Canada that started as an apple orchard with a fantastic Tidal Bay
Luckett Vineyards – Winery offering the region's terroir in its selection of wines to try including Tidal Bay and wines around the theme of their UK telephone booth in their vineyards
Domaine de Grand Pré – Atlantic Canada's oldest farm winery offering award-winning wines using only ingredients grown in Nova Scotia
Blomidon Winery – award-winning, boutique winery using only Nova Scotia ingredients
Sip Your Way Through The Good Cheer Trail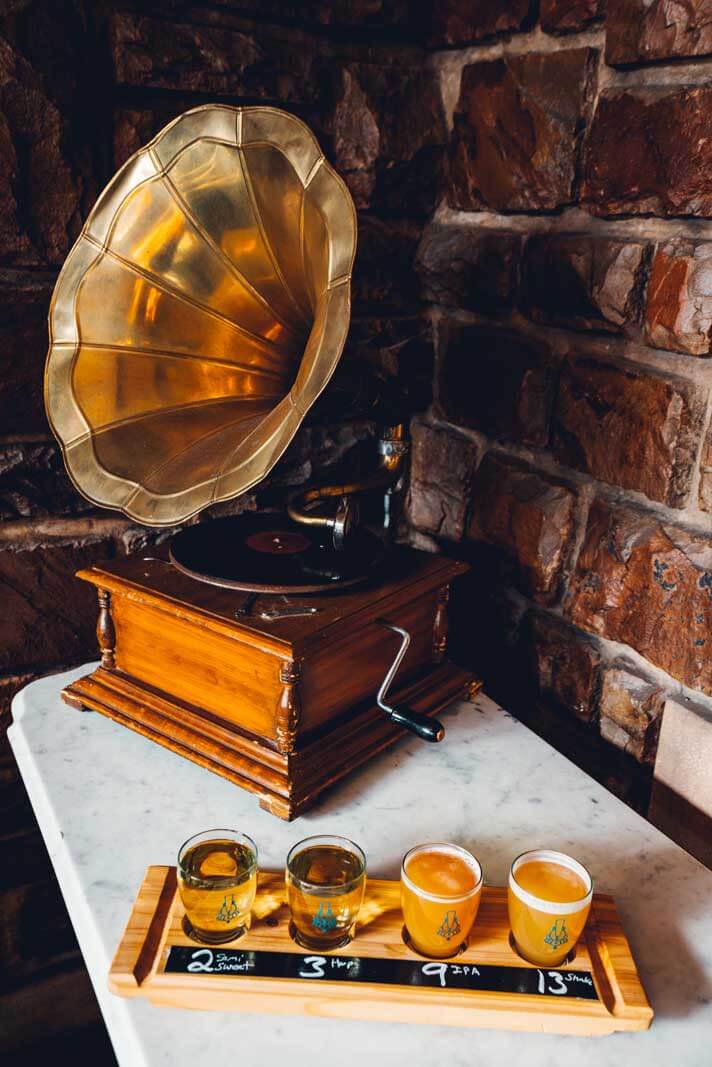 In addition to having incredible wine, one of the best things to do in the Annapolis Valley is hunt down all the cideries, breweries, and distilleries on the Good Cheer Trail!
You can enjoy this with or without the Good Cheer Trail passport which is a booklet with participating wineries, cideries, meaderies, and breweries where you get a stamp for each one you visit with a chance to win some great prizes.
While we didn't end up submitting our stamped passports, it was a fun way for us to taste the flavors of the region and have a fun hunt while doing so tracking down the participating stops! The Good Cheer Trail covers the entire province of Nova Scotia, but there are a handful of stops right here in the Annapolis Valley, here were a few of our favorites.
Annapolis Brewing Company – located in Annapolis serving up craft beers next to Fort Anne National Historic Site
Annapolis Cider Company – located in Wolfville offering a selection of their craft cider made from nearby Annapolis Valley apples
Barrelling Tide Distillery – Award-winning small-batch craft distillery offering a variety of spirits and liqueurs featuring local flavors
Maritime Express Cider Co. – The cidery that changed our entire opinion on ciders and won us over located in a former landmark railway hotel in Kentville
The Church Brewing Company – One of the more unique breweries located in a former church in Wolfville with a full-service restaurant which is a big crowd pleaser to devoted beer fans
Raging Crow Distillery – A small-batch, artisanal distillery that uses local ingredients in their craft award-winning spirits.
Check Out Wolfville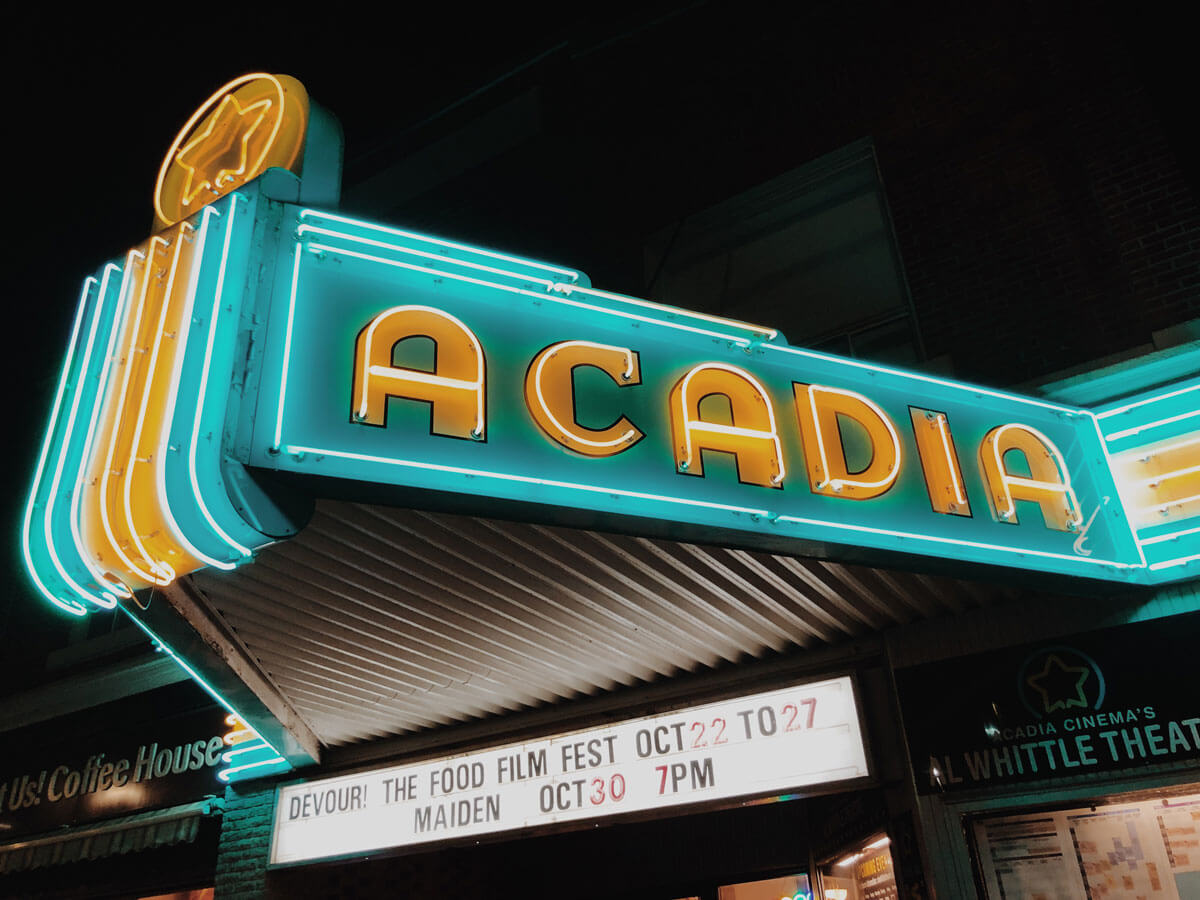 There are so many cool things to do in Wolfville that made it one of our favorite unassuming stops on our Nova Scotia road trip as well as our return visit a few months later. Wolfville is also a great place to base yourself when exploring all the best things to do in the Annapolis Valley and the Bay of Fundy as well as having a really charming downtown with shops, bars, restaurants, and even some of the places we already mentioned on the Good Cheer Trail.
This is a great spot to end your day after wine tasting as many of the wineries are just a short drive from Wolfville and there are plenty of dining options from the unique Church Brewing Company to the mouth-watering flavors and Mediterranean menu from Troy Restaurant.
You also have the option of joining the Magic Bus Wine Tours from Wolfville so you can taste with ease of mind with a designated driver.
The charming downtown along Main Street offers a pretty vintage movie theater marquee that reads "Acadia," and some great shops like The Market General Store where we walked away with quite a few items including a cool graphic Wolfville t-shirt Scott wears just about every week.
Wolfville is also home to Acadia University, one of the smallest in Canada and the top undergraduate university in Nova Scotia.
BONUS! Driving on Highway 1 from Lower Wolfville towards Grand Pre watch out on the side of the road for Scottish Highland cows!
Farmer Markets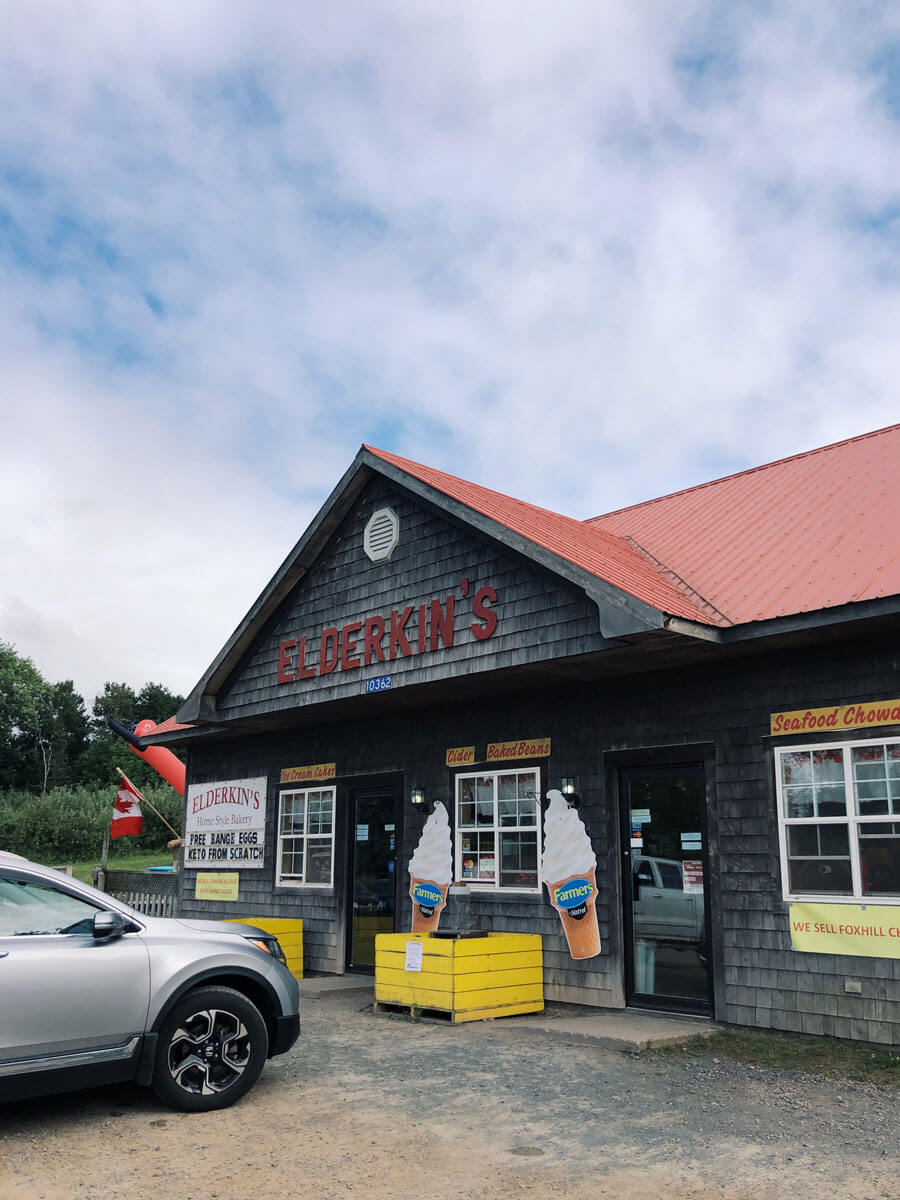 Another one of the best things to do in Wolfville and the Annapolis Valley are enjoy the nearby farm stands, farmers markets, and U-pick stops whether you're wanting to try and sample their offerings, grab some goodies to have a picnic with, or sample some of the best of local flavors from produce,
Here are a few of the best farmers markets and roadside farm stands to check out:
Elderkin's Farmers Market & Bakery – This traditional farm stand also offers fresh baked goods and desserts from their bakery as well as craft cider for tasting or takeaway which also happens to be a participating cidery on the Good Cheer Trail
Stirling Farmer's Market – A popular fruit stand with multiple locations around the province including their location just outside of Wolfville offering locally grown produce including fruits and vegetables as well as apples and gifts
Hennigar's Farm Market – Another roadside farmers market and produce stand offering a variety of baked goods made on-site in their bakery and gifts as well as ice cream and fudge and a family fun area with farm animals
Noggins Corner Farm Market – The smaller of the farm stands in Annapolis Valley and Wolfville offering fresh produce, groceries, and seasonal u-pick offerings as well as seasonal family activities like a corn maze
Fort Anne National Historic Site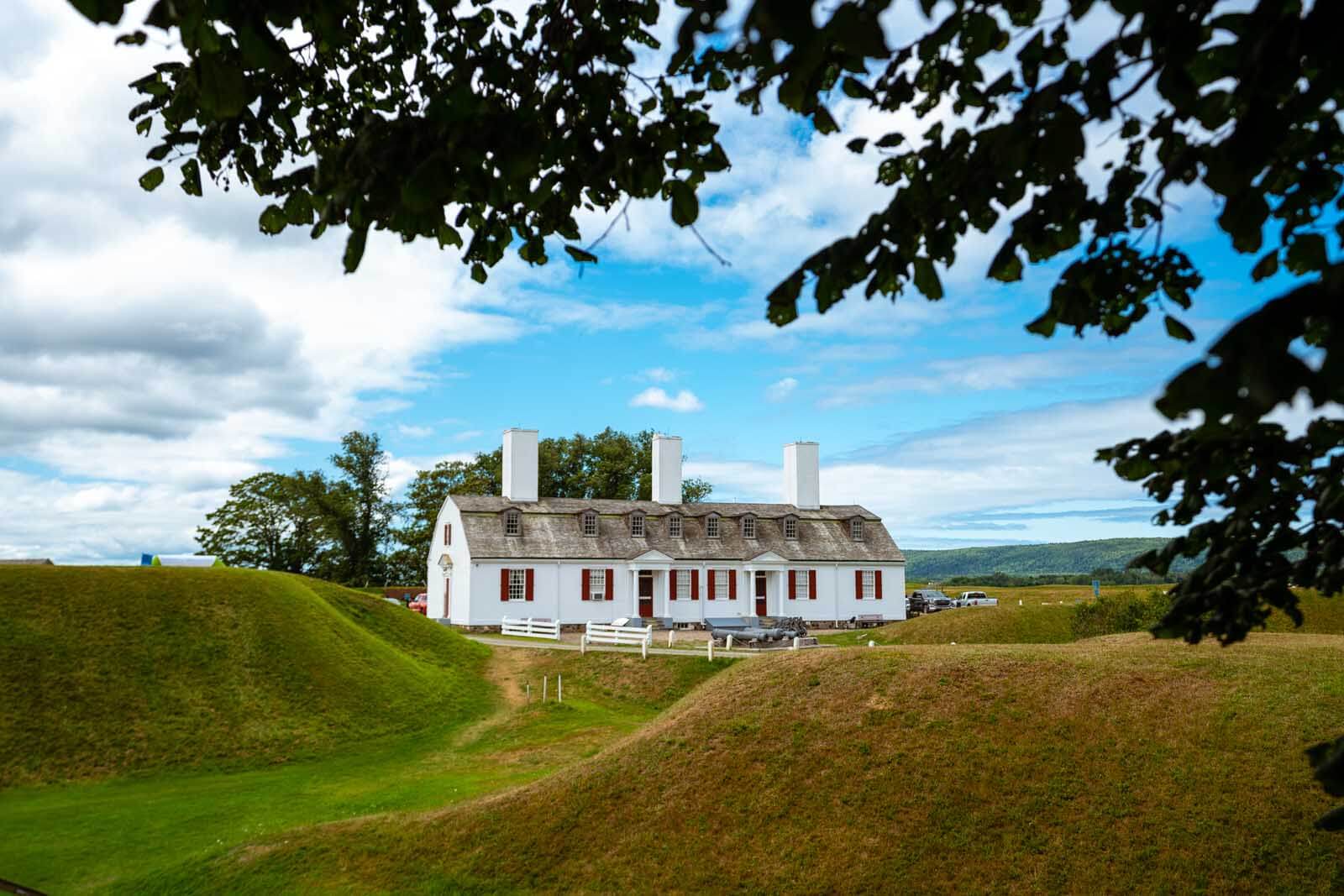 An amazing designated National Historic Site and thing to do in Annapolis Valley in Annapolis Royal is visit Fort Anne. Fort Anne National Historic Site and military fortress claims to be one of the most fought over areas of land in North America having been the site of 13 attacks, 7 changes of hand/occupation between the Scots, French, and British, as well as the ratification of the Treaty of Boston.
This is also the oldest National Historic Site in all of Canada as well as home to one of the oldest graveyards in Canada.
Before the first colonial occupation of the Scottish, the area belonged to the Mi'kmaq first nations and was known for being bountiful for fish. By the 17th & 18th centuries, European colonizers would arrive, settle, and begin the fight over this strategically placed military fortress on the harbor.
You can tour the Fort Anne's 1708 stone powder magazine in Bourgogne Bastion and the 1797 Officer's Quarters that houses a museum chronicling the history that took place here as these are the two remaining buildings intact as well as the sweeping views from its hilltop location overlooking the confluence of Allains Creek and the Annapolis River.
What's great is that after exploring Canada's past, you can walk across to downtown Annapolis Royal for a drink or a meal as its just steps away from a handful of cafes, restaurants, and even a brewery!
Annapolis Royal Historic Gardens
Another great thing to do in the Annapolis Valley tied into your visit to Annapolis Royal and Fort Anne National Historic Site are the public Annapolis Royal Historic Gardens.
Overlooking Atlantic Canada's tidal river valley, the historic gardens offer 17-acres of manicured gardens including the largest rose garden in Eastern Canada and Acadian heritage and historic learning.
Among the gorgeous gardens is a reconstructed traditional Acadian home from 1671 that represented and reflects 17th-century pre-deportation Acadian life, the French-speaking colonizers who existed alongside the First Nations and Indigenous peoples.
From early spring blooms to late blooms in the end of summer and early fall, this garden is a photographers dream and your experience will be different depending on what is blooming!
Grand-Pré National Historic Site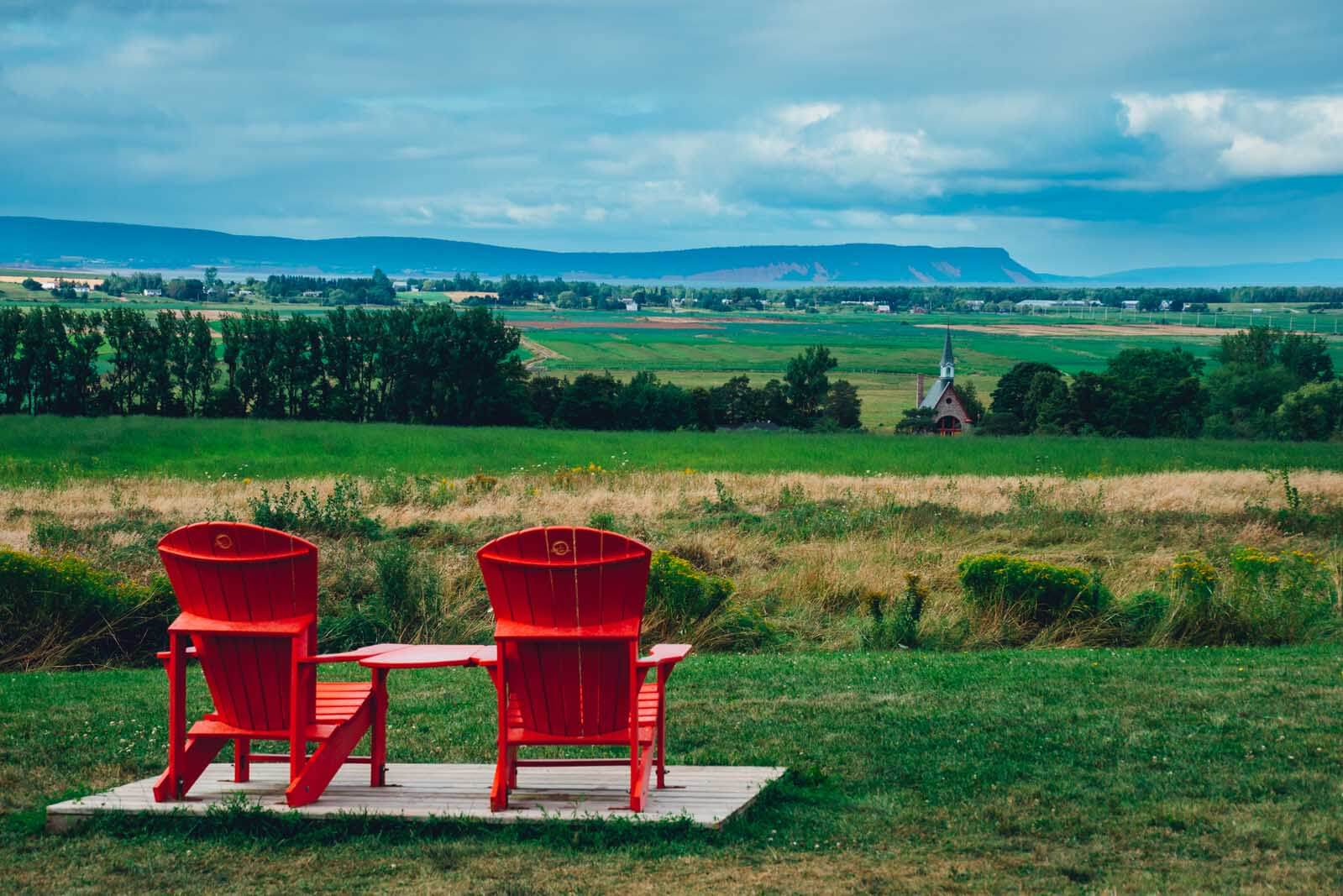 Another gorgeous place to visit and thing to do in the Annapolis Valley is visit the Grand-Pré National Historic Site which is not only a UNESCO World Heritage Site but also an educational visit documenting the French Acadian history of the region.
Be sure to explore the interpretive center where you can learn about the history and culture of the l'Acadie people who at this site had a settlement from 1682 to 1755 before the forced mass Deportation of the Acadians, aka Le Grand Dérangement from 1755 to 1762 by the British during the French and Indian War. This site and location remains a symbol as the heart and ancestral homeland to Acadians throughout the world.
You can also enjoy the beautiful gardens by foot and make your way to the Memorial Church and the statue of Evangeline who is from a Longfellow poem that tells the story of a woman by the name of Evangeline, an Acadian girl who is looking for her love, Gabriel during the Expulsion of the Acadians that was published in 1847.
At the end or beginning, be sure to walk uphill or drive to the scenic lookout point which offers sweeping views of the Annapolis Valley landscape and the Minas Basin.
Don't miss a visit to Tangled Garden the therapeutic gardens and store where you can buy herbs, natural remedies, jams, jellies, and other products sourced from the gardens.
The Faucet Fountain
One of the more unique things to do in the Annapolis Valley while you're exploring around Port Williams is the interesting and eclectic Faucet Fountain made from 113 antique faucets and scrap metal by local farmer and metalworker Kevin Wood on his private property.
Next to a big red barn that sells seasonal produce you'll find the intriguing homemade fountain along the roadside that has no official sign. As a matter of fact, we wouldn't have known about this if we hadn't been with our local friend who happened to be "in the know," and when we stopped there were others also admiring the attention to detail and handiwork of Mr. Wood.
To find the Faucet Fountain you will want to drive along Highway 358, it's located on the stretch of Highway 358 between Church Street and where Highway 358 intersects with Chase Lane and Sutton Rd. Look for a big red barn with produce/vegetables outside.
Park by the barn and walk between the red barn and the shed and you will see the Faucet Fountain.
Nearby you can find Barrelling Tide Distillery, one of our picks along the Good Cheer Trail above, and fresh-made pasta The Noodle Guy or fresh artisanal cheese from Fox Hill in Port Williams.
Where to Stay in Annapolis Valley
There are many choices for where to stay during your trip exploring the best things to do in Annapolis Valley. We highly recommend staying and exploring the best things to do in Wolfville as this is a great base to cover all the beauty of this area.
We also have options below where you can search hotels and Airbnb listings in the region.
Search hotels around Annapolis Valley using the Booking map below!
Or search homes you can rent and stay in during your trip.
NEARBY Annapolis Valley & Wolfville
Digby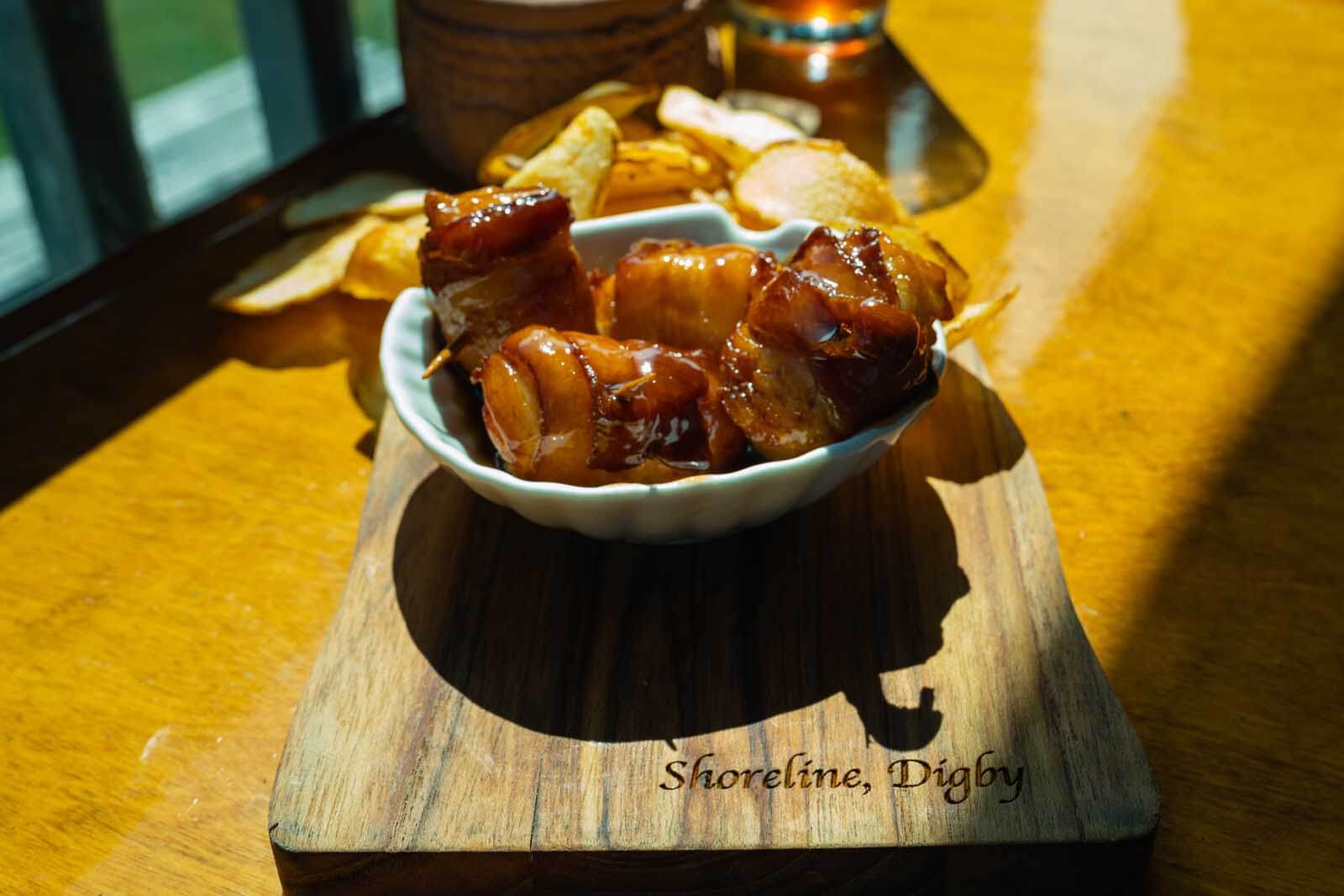 One of the best additions to exploring the best things to do in Annapolis Valley is stopping at the scallop capital of the world in Digby! This, along with the Annapolis Valley coastline is also home to some of the best whale watching tours in Nova Scotia.
We recommend trying the world-famous Digby scallops in one of the restaurants on Water Street in downtown Digby. We tried the whiskey maple bacon-wrapped scallops from Shoreline Restaurant and they were heavenly.
After eating a feast, be sure to walk along the Admirals Walk along the waterfront where you can see the scallop fishing fleet.
If you're a fan of folk art like we are, you can drive to see the Maud Lewis replica home just outside of Digby. The replica house was built as a shrine to honor the local folk artist's legacy within a few short miles of the original home she painted and what was considered her greatest work of art.
The actual home however is on display inside the Nova Scotia Art Gallery in Halifax, which we also recommend checking out our guide to the best things to do in Halifax so you don't miss anything in this cool Maritime city!
Bay of Fundy
Witness the world's highest and most dramatic tides right here in Nova Scotia! The Bay of Fundy is not to be missed on your trip and better yet, its really easy to access from exploring the Annapolis Valley! We highly recommend heading to Burntcoat Head Park where you can witness one of the majestic 7 wonders of North America!
This is where the highest tides in the world ever recorded at 56.7 feet happened!
On the way be sure to check out the Old Walton Lighthouse. It's located in the town of Walton just 15 minutes before Burntcoat Head Park where you'll be visiting the Bay of Fundy.
While you'll need to stay a half of a day to actually see the full swing of the tides at Burntcoat Head, you can visit during low tide and walk on the ocean floor. Every 13 hours 160 billion tons of water flow daily in and out of the bay. During low tide, you can carefully walk on the ocean floor and witness different marine life in the tidepools.
Be sure to plan accordingly if you want to see the tides change! Also, note that you won't be permitted to walk on the ocean floor anytime outside the summer months as it's too dangerous. However, even if you do visit in the off-season months you can enjoy the old lighthouse on the property and view the Bay of Fundy from above.
You can easily enjoy some time here, just be aware that in order to see a dramatic change in the tides you'll have to stay for hours.
If you're planning your Annapolis Valley and Nova Scotia vacation well in advance for the summer months we consider trying to reserve a spot on the Dining on the Ocean Floor Experience put on by the Flying Apron Inn & Cookery, a once in a lifetime experience in popular demand where you enjoy a 3-course meal and a lunch right here on the ocean floor!
They try to make the ticket process as fair as possible so anyone can enjoy this experience. That requires planning as far in advance as February. You can subscribe to the Flying Apron Inn & Cookery's newsletter to get updates about the next season's ticket reservation.
It's highly competitive, you've been warned, so when they give you the date that reservations are open you will want to be prepared and ready to call the number the moment it opens, leave a short message on their answering machine, and hope that you were one of the lucky ones who got to leave a message first and score a seat! Good luck to all of those who try!
Nova Scotia Travel Tips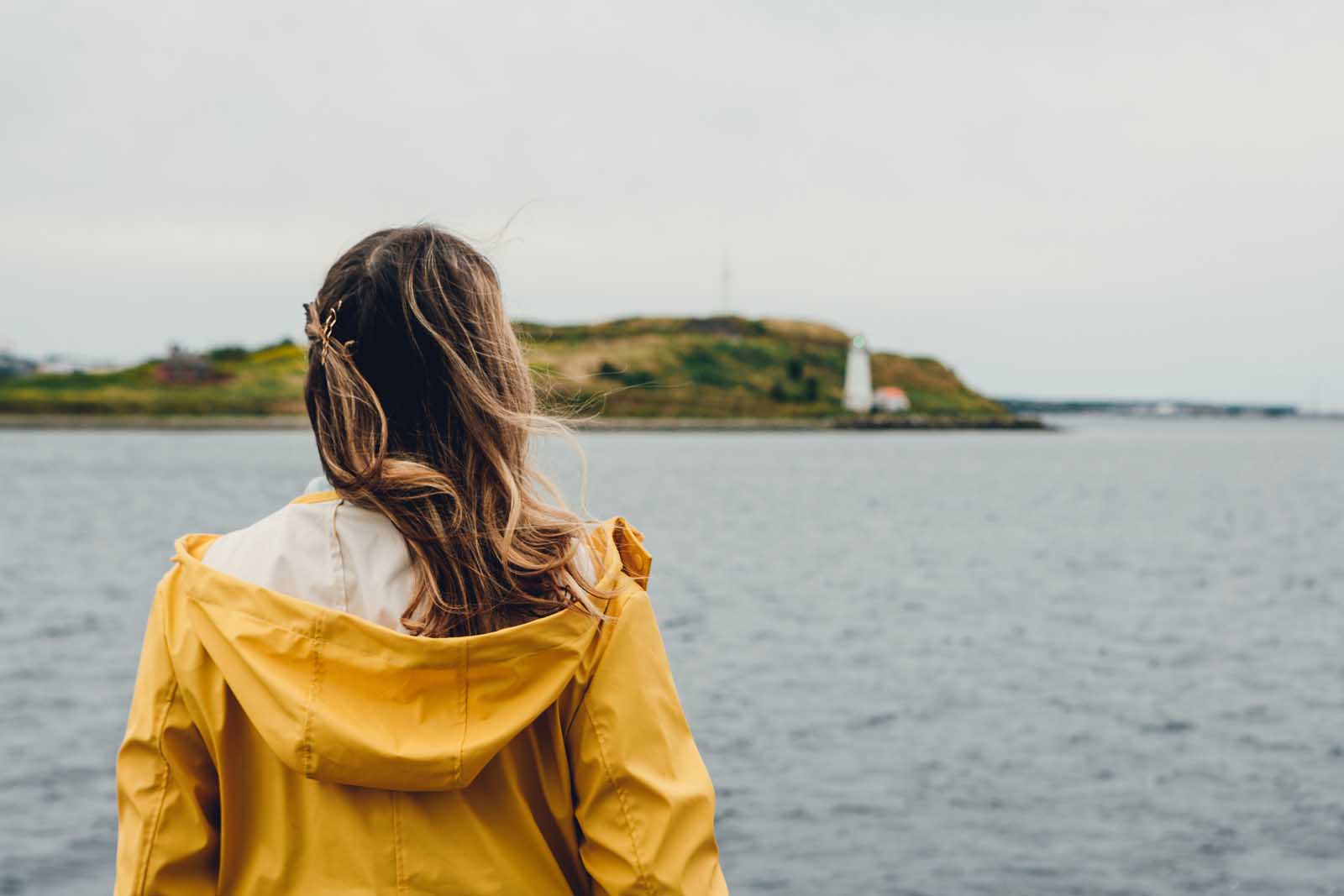 Renting a Car & Driving Tips
The best way to explore the different Nova Scotia destinations including Annapolis Valley, we recommend renting a car in advance. We personally recommend renting your car with Expedia, you can check rates here.
One thing that's really nice about Nova Scotia is that gas prices are generally the same at every gas station, no one is really surging prices not even near the airport which makes filling the car back up before returning it as easy and convenient as ever.
There are a few tolls in Nova Scotia including the Halifax Harbour Bridges. Unlike the US where you can pay some steep fees to use a toll, they are only $1 CAD here! You will need to have cash though, so be sure to have some change on you. The $1 coins are also known as 'loonies' because they have a loon on them. The $2 coin is a 'toonie'. You will want to keep a few loonies or toonies on you for tolls at all times.
When going through tolls be sure to go into the lane that accepts cash as well! If you don't have the perfect amount, the teller can break change for you.
Also, be sure to check out some charming towns to visit in Nova Scotia as well as our guide to Lunenburg for any additional add ons to your trip!
The Best Time To Visit Nova Scotia
The best time to enjoy trip exploring all the best things to do in Annapolis Valley and the best things to do in Wolfville is arguably between the months of May through October. This is when the weather is considered the most pleasant and mild. That being said, this is also the peak season.
However, Annapolis Valley can be enjoyed any season, just be sure to check ahead to make sure all the wineries and other stops you plan on visiting are open, some are seasonal.
If you plan on coming on shoulder or offseason in the winter be sure to check the weather and come with appropriate layers and outdoor apparel.
Also, not that Nova Scotia is mostly made up of coastline and you can have weather patterns that change rapidly and don't always follow the weather forecast. You will want to come mentally prepared that it could be raining or foggy one minute and 15 minutes later the sun is out with big puffy white clouds.
Nova Scotia is known for its microclimates so there's also a chance somewhere 5 minutes away is experiencing different weather than you! This was actually very interesting to witness in person and you'll surely experience this on your Nova Scotia trip.
What to Bring to Nova Scotia
Some essentials to pack no matter what season, are the following. However, no matter when you plan to visit be sure to check the weather and dress accordingly. As mentioned before, the weather can change within 15 minutes, the forecast could be wrong, and you could also just drive 5 minutes away and experience a different climate altogether.
It's best to have these Nova Scotia travel essentials with you and available most times.
Rain jacket or poncho – One of the best items you can bring on your Nova Scotia road trip is a small packable rain poncho or raincoat. I personally love my rain jacket because it also works well as a windbreaker on those windy days along the seashore.
Umbrella – Another fail-proof item to carry around at all times on your Nova Scotia travels is an umbrella for the same reasons above. You never know when you might get some spots of rain so this can come in really handy along your road trip.
Extra layers – Even though we visited in the summer we were really happy we had some extra layers ready for when the weather took a change or for when the weather was cooler in the mornings and evenings. We recommend bringing a nice thick sweater or sweatshirt to have in addition to your rain gear even if you're visiting in the summer. For all other seasons, packing and wearing layers is also very smart.
Waterproof shoes – We highly recommend bringing waterproof shoes with you on your Nova Scotia road trip because our itinerary has you going to places where you'll need them including the Bay of Fundy. When the tides are low you can walk on the ocean floor and you'll want waterproof shoes or water shoes so that you don't get your regular footwear wet. These are also ideal for the wet and rainy weather conditions you'll likely encounter at some point during your Nova Scotia travels.
Bug spray in summer – The biggest mistake we made during our Nova Scotia itinerary was not bringing bug spray. The mosquitos get particularly active in the mornings and evenings along the coastline.
Sunscreen – It's always a good idea to have sunscreen handy when you're spending time outside. Especially if you're planning any water activities. Even on an overcast day you can get a sunburn. Come prepared!
---
Enjoyed this guide to the best things to do in Annapolis Valley and the best things to do in Wolfville, Nova Scotia? Bookmark for later or share the love below on Pinterest!