There are many amazing stops along the Montreal to Washington DC drive or DC to Montreal drive that make taking this route by car a great alternative to flying.
Not only does driving give you the convenience flying doesn't offer, but you can also discover amazing stops during your Montreal to Washington DC drive.
To inspire you for your next road trip, here are 10 of the best scenic stops, along with activities to enjoy on your DC to Montreal drive or Montreal to Washington DC drive.
Most of these spots are mountains and lakes, which we typically find breath-taking because of the grandeur or because of the reflection. However, to spice things up, at the very end of this post, you will find a bonus spot, flat like a pool table.
Also, be sure to check out our guide on how to spend 3 days in Montreal and 3 days in Washington DC before/after your road trip!
Napierville's Gardens
30 miles from Montreal – 561 miles from Washington DC
One stop early on in your Montreal to Washington DC drive or the last stop on your DC to Montreal drive is Napierville's Gardens.
Agricultural land makes up to 97% of this territory, and the views are absolutely spectacular once the crops start to grow, or a the beginning of the fall when they harvest.
I encourage you to take the road 217, also known as Boulevard St-Edouard, which is parallel to the direct route but will allow you to see some of the most fertile lands in Quebec, who knew flat land could be so beautiful!
If you are an early bird, you are in luck. Early morning is, in my opinion, the best time to appreciate the view, as there is a light fog over the land, making the landscape whimsical.
If you are more of a late afternoon type of person, don't get disappointed, romance is in the air when the sun sets on the fields.
Take note though that there finding a restaurant in this area will be tricky, plan ahead if you're visiting around a meal. Gas is widely available though.
You can find food prior to leaving Montreal or in Plattsburg after customs and crossing the Canadian and US borders.
Ausable Chasm, NY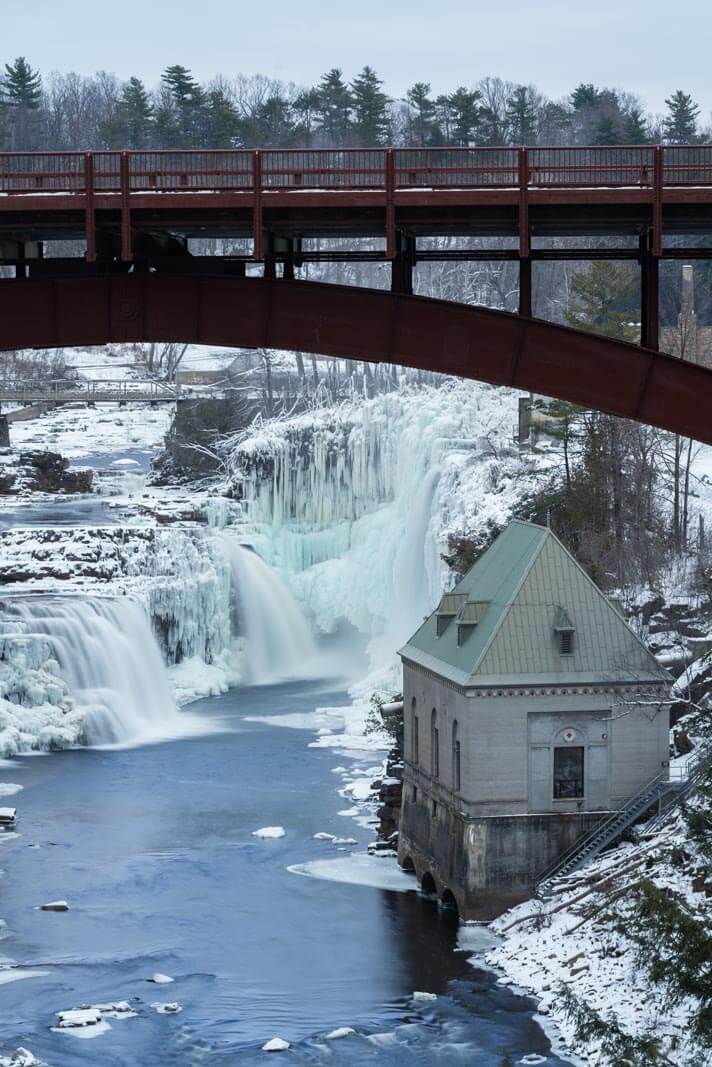 78 miles from Montréal – 511 miles from Washington DC
The first stop along Montreal to Washington DC drive is Ausable Chasm, also a popular day trip from Montreal.
Known as the Grand Canyon of the Adirondacks, Ausable Chasm is an attractive scenic location where people can walk along the river using boardwalks passing some of the best waterfalls in New York.
It's a very accessible "hike" for pretty much any physical fitness levels. There are multiple activities available, depending on how much time people are willing to spend. From exploring the surroundings to rafting trips on the river, every family will find an exciting sport to bring back memories.
For the most adventurous (read: other people than me), it is possible to rock climb here. The most experienced climbers will be allowed to climb the wall right over the river, a vertical climb offering a breath-taking view. There are more accessible routes available also, for people who are just getting into rock climbing.
If you happen to be there at night, there is a lantern tour you can take to add a spooky feeling to the trip. The lantern tour takes place at dusk; as such, you might want to plan a stay in the vicinity to avoid driving far distances in the Adirondack mountains at night.
Take note that you need to book a reservation for the rock climbing activity and/or the lantern tour.
This is also a great stop during the colder months and often way less crowded if you're driving through in the winter. Be sure to see our guide to Adirondacks in winter if you plan on making a mini stay out of it!
Lake George, NY
162 miles from Montréal – 425 miles from Washington DC
Whether you have performed a highly thrilling activity or a more relaxed walk, the following suggested stop on your Montréal to Washington DC drive awaits.
The journey across this region is, in my opinion, absolutely beautiful thanks to all the mountain scenery and cool Adirondack towns to visit. Although there are some villages here and there in the mountains, help might be rare.There are no gas stations announced on the highway, and the cellphone signal is weak to non-existent.
Therefore, I can't stress this enough; it is best to have your car checked beforehand, and have at least 150 miles of gas autonomy. (I am a "better be on the safe side" type of person)
Moving forward with this advice, Lake George is the end of the Adirondacks park and nicely sits at the bottom of the mountains.
Widely known as a holiday destination, many people have their second home over there. Like most holiday destinations, there are many amazing things to do in Lake George with a plethora of restaurants and activities in the vicinity. As a matter of fact, younger people will enjoy the Great Escape amusement park, while fashionistas can find deals at the various outlets nearby.
Walk on the boardwalk around the lake to get to the traditional steamboat on which you can cruise the Lake. On the return, the entire family will appreciate visiting the Fort William Henry right in front of the boarding station.
Unless you plan to spend a lot of time in the outlets, a few hours is plenty to appreciate the beauty of Lake George, and if you stop by, I highly recommend getting ribs at the Barn Sider, located on the main street.
Catskills in NY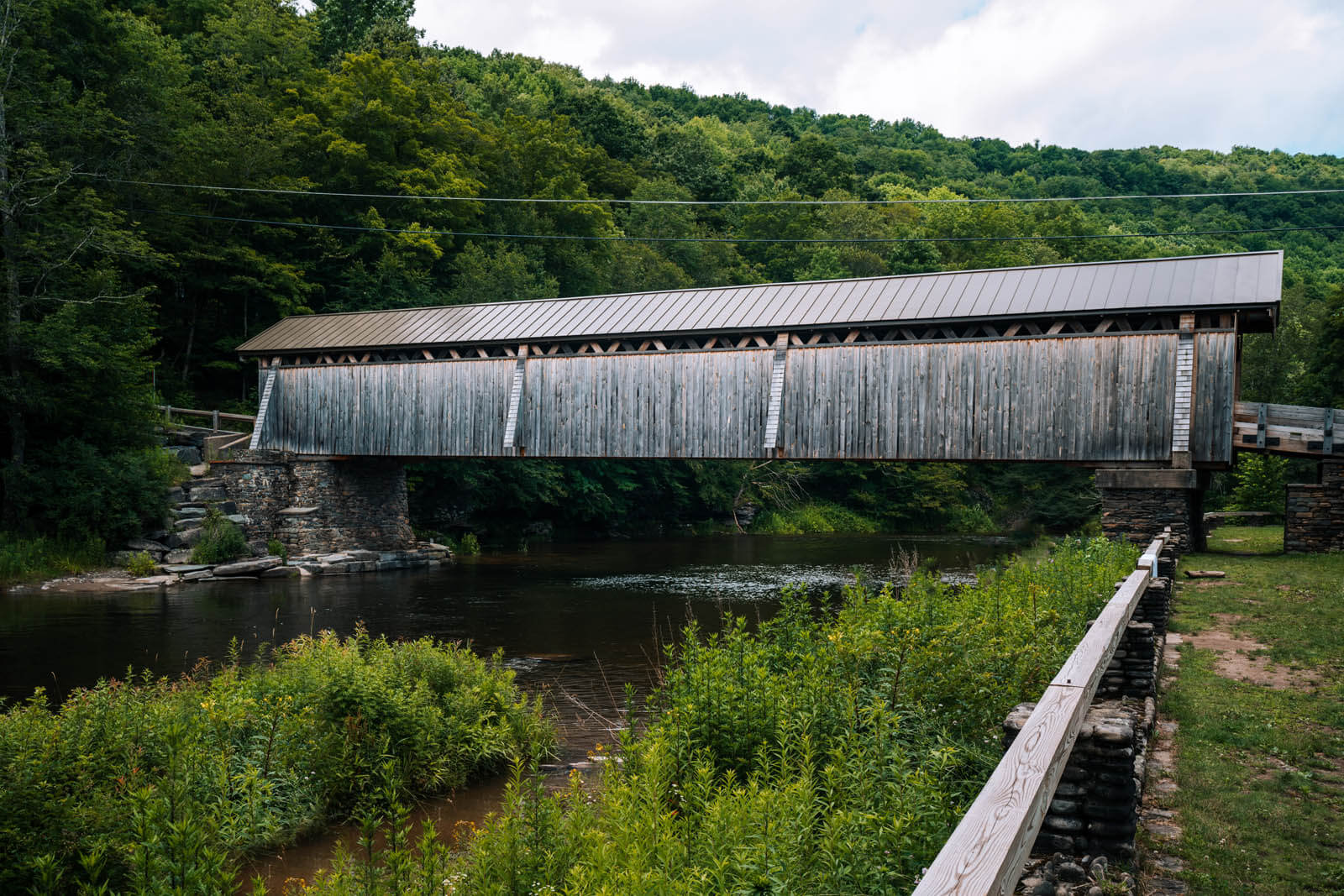 259 miles from Montreal – 333 miles from Washington DC
At this point, you are more or less half-way on your Montréal to Washington DC drive and the drive within the Catskills is generally gorgeous.
If you want to benefit from a scenic drive, but are not too fond of losing any time, take the 32, which is parallel to the highway, but offers a much more rewarding view!
The detour won't take much time, and you can pursue this path until Perrine's Bridge Park, where you will have the chance to cross one of the many beautiful covered bridges in New York before getting back on the highway.
If, on the other hand, you are seeking thrill adventures, the Catskills are a paradise for rock climbing, mountain biking and horseback riding. There are multiple ranches where you can experiment horseback riding, available for all levels, even for the kids.
We recommend spending some time here, see our guide for where to stay in the Catskills for everything from cabins to tiny houses and cottages to glamping yurts! Also, check out our guide to the best things to do in the Catskills in winter and things to do in the Catskills in summer for more ideas!
Milford, PA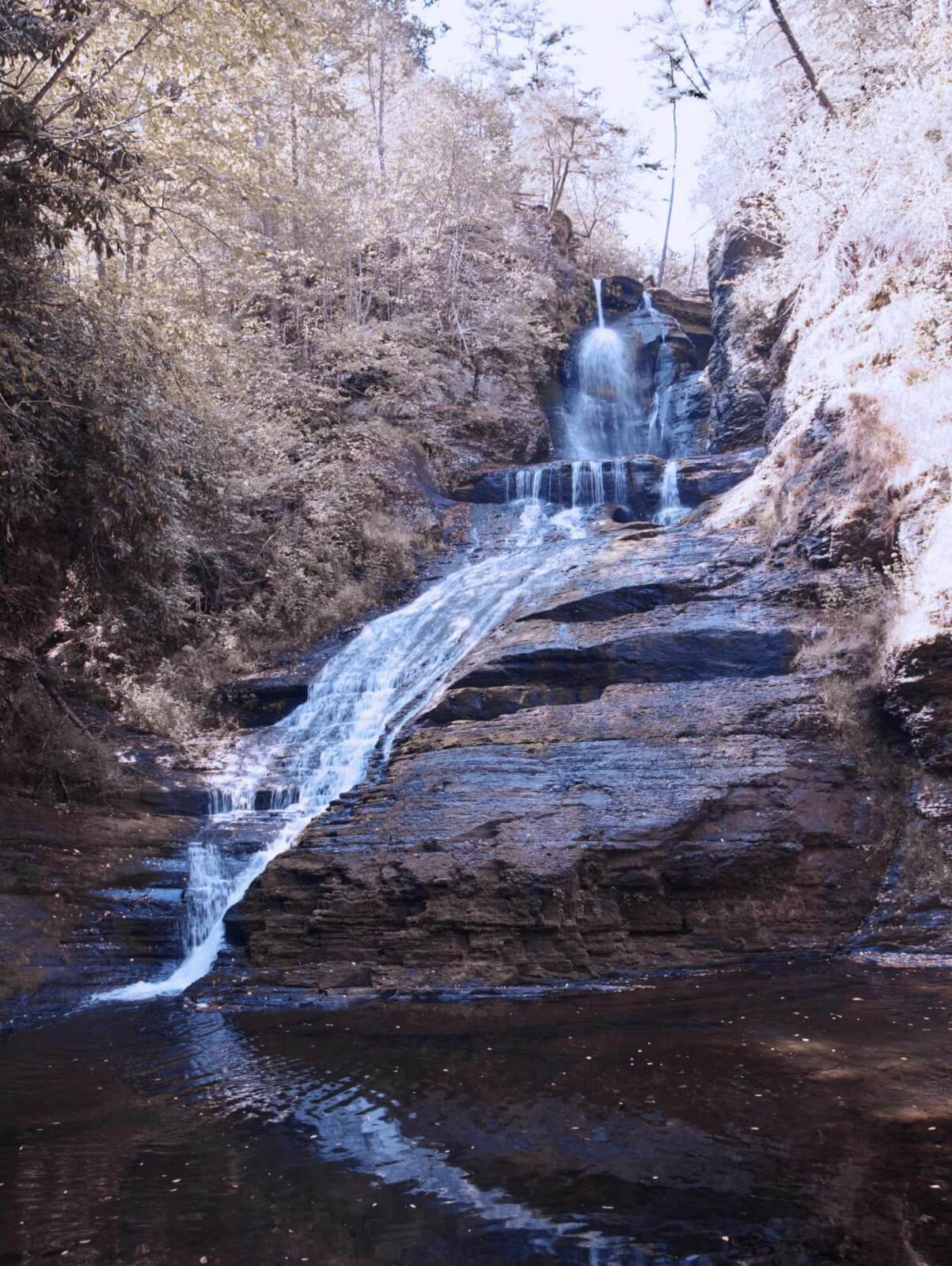 349 miles from Montreal – 258 miles from Washington DC
On your Montreal to Washington DC drive or DC to Montreal drive, just before entering (or exiting depending on your direction) the Delaware Water Gap (next), you have the opportunity to stop in Milford.
The stop won't take you long, but it's worth it. Not very far from the main street; you can access the national historic site of the Grey Towers.
Don't let the name fool you; it's much more than a tower! It's a real-life castle, perfect for channeling your inner royal!
The ideal time to visit would be around Halloween as they decorate accordingly, however, the gardens in summer are absolutely stunning!
Delaware Gap on the border of NY & NJ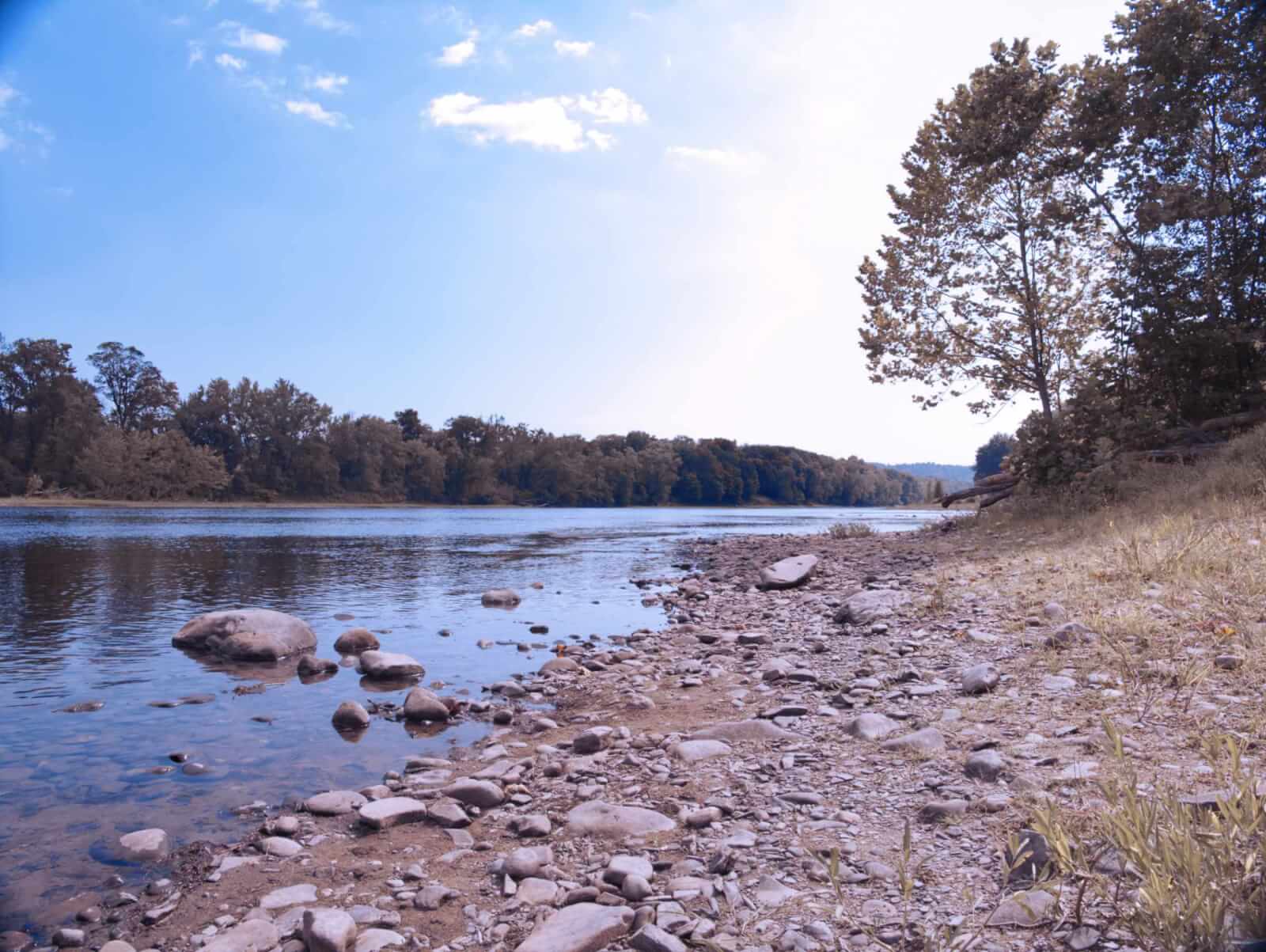 349 miles from Montréal – 258 miles from Washington DC
While the Montréal to Washington DC drive or the DC to Montreal can be achieved on boring highways, let's get wild and route along the famous scenic Delaware Water Gap, which is, as opposed to what the name hints, not located in Delaware but on the border of the states of New York and New Jersey.
It instead takes his name after the Delaware River running through the gap which has been depicted many times in famous pieces of American art and paintings by artists like George Inness and Thomas Doughty.
Although you can just enjoy the scenic drive, you can also take this opportunity to experience various hikes, ranging in length and difficulties.
For an easy walk, accessible to all fitness levels, aim for the Dingman's and Silverthread waterfalls, both are located on the same boardwalk of approximately half a mile in length.
For fit folks, the Buttermilk Waterfall is impressively high with 1104 feet, but the walk is more on the tough side, even though it's only a mile and a half long.
In addition, to walk and hike, there are plenty of rock climbing spots throughout the national park, and you can also easily picture yourself kayaking along the river.
Easton, PA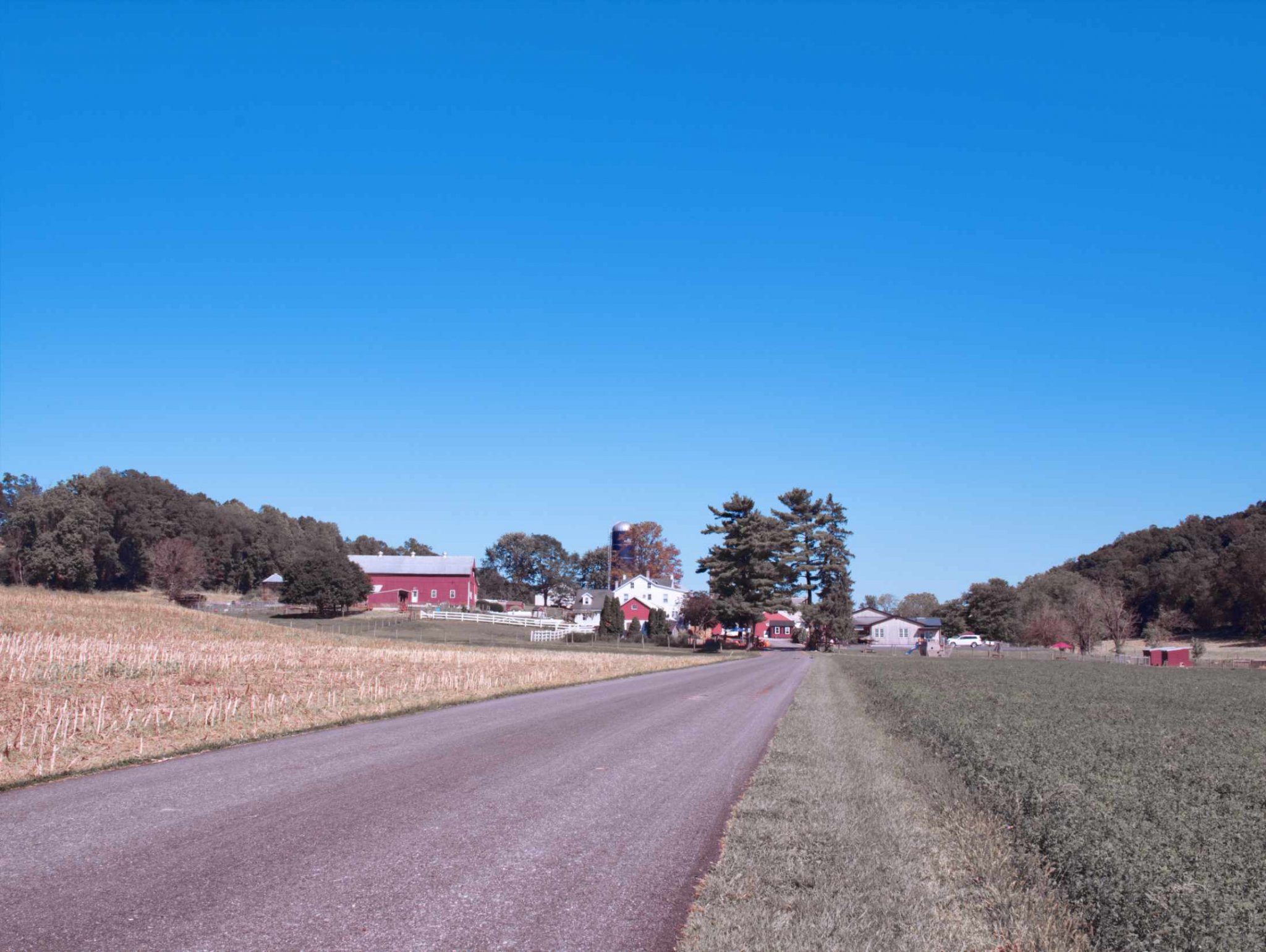 413 miles from Montreal – 203 miles from Washington DC
Now, after being amazed by nature's beauty, you are surely inspired to become the next artist to capture its beauty?
This next stop on your Montreal to Washington DC drive or DC to Montreal drive has everything you need to keep inspiring your creative momentum!
Did you know that the famous Crayola crayons were manufactured in Pennsylvania?
The factory is indeed in Easton, PA, best of all; you can visit the plant, and they have special activities for kids.
If you are more of a gourmet then an artist, there is the Klein Farms Dairy and Creamery you can visit, and maybe enjoy an ice-cream cone made of homemade local ice cream.
They have special events every season you can know about on their website. It is free to visit the farm, and typically, little chicks are such crowd-pleasers, the required 10 minutes detour is well worth it.
Allentown, PA
435 miles from Montreal – 189 miles from Washington DC
The next leg of our Montreal and Washington DC drive offers another amazing town to stop in.
Not so far from Easton, is a medium-size town, Allentown which will offer activities for all types of people. My personal favorite is the Da Vinci Science Center that is oriented more towards a younger crowd, the center is a fun stop to learn even for adults.
People who are more into wheels and machine will appreciate the Mack Trucks Historical Museum, there are old and recent trucks to admire, and the more recent often feature amazing paintings.
To continue learning about the history of transportation, you can stop at the America on Wheels museum.
Allentown is a great stop if you're interested in science or vehicle history as well as a break on your drive from Montreal to Washington DC or DC to Montreal.
Lancaster (Ronks), PA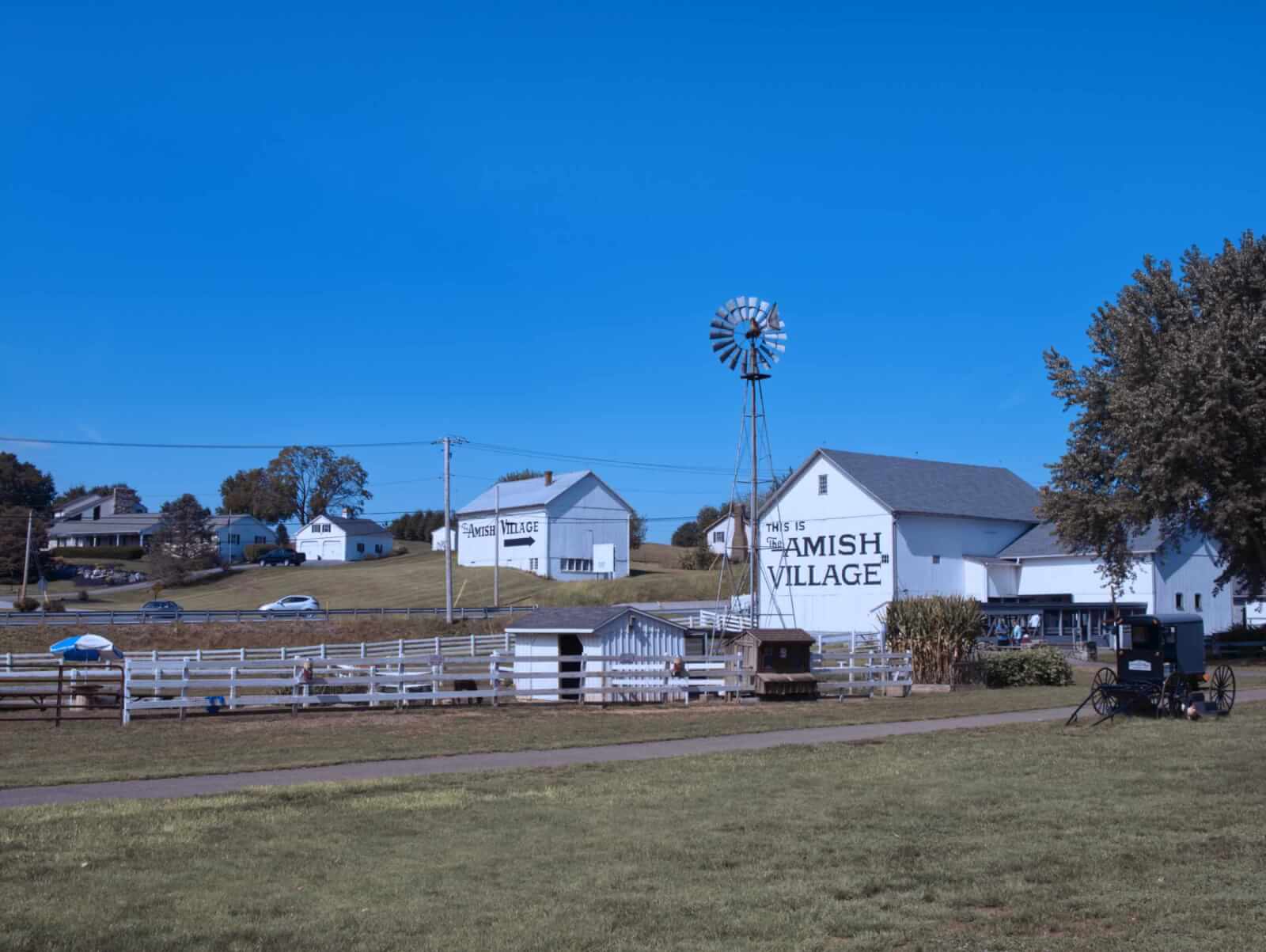 498 miles from Montreal – 125 from Washington DC
Getting back behind the wheel on your Montreal and Washington DC drive, our next stop will immerse you in a completely different world.
If you don't want to stop for a guided tour of the Amish Village and community, at least, explore the area. Ronks is a cute community near the well-known Lancaster.
The Amish community tackles any work manually. As such, forget cars, washing machine or a computer for that matter, everything is homemade. Clothes are sewn by hand; they harvest the grains with horses, it's absolutely amazing how they work like "we" used to.
In my opinion, the best time to visit this village is at the end of summer or beginning of fall because of the harvests. However, not matter when you visit, you will surely have a terrific time.
The guided tour is really worth it, though and will highlight the many differences between our ways of living.
Even more, you will likely get to the most interesting vantage points for photography that you might have missed on your own.
While you can take images in Amish Country – please do not photograph Amish people. This is against their beliefs and religion and is very disrespectful to them and their beliefs. Please respect this.
While you are in the area, jump on the opportunity to stop at one of the numerous Amish restaurants to enjoy a truly homemade meal.
Additionally, if you feel decadent, don't hesitate to treat yourself with homemade ice cream which is pure heaven.
Some of the dairy farms offer ice cream directly to their installation; it doesn't get fresher than this! (Even if you had ice-cream in Easton, indulge in another one here, for comparative purposes, after all, calories don't count on vacation).
Baltimore, MD
546 miles from Montreal – 38 miles from Washington DC
At this point, you have almost completed your Montreal to Washington DC drive or just started your DC to Montreal drive.
But another great stop is Baltimore, Maryland. Jewel of the American Revolution War as it held a strategic position and location.
I wouldn't plan an entire vacation in Baltimore; however, as a stop during a road trip journey is perfect.
One of the most majestic vantage point you can have from the bridge is from the Fort McHenry gardens. Fort McHenry is quite small to visit; as a matter of fact, I found it was fairly expensive for what it was, but you get to learn a lot about the history of the United States as well as the National Anthem.
(Disclaimer here, I am French Canadian, US history is not taught)
If you get the opportunity to shop for groceries on the way in, organize a picnic in Fort McHenry's gardens. There are multiple benches along the boardwalk facing the port, the view is stunning, and the breeze makes any hot summer days more bearable.
If you find yourself in the area around dinner, I highly suggest that you drive slightly out of Baltimore to get to Linthicum Height. We had a terrific experience at G &M restaurant, from the outside it doesn't look much, but I swear if you like seafood, it's truly worth a stop.
Annapolis, MD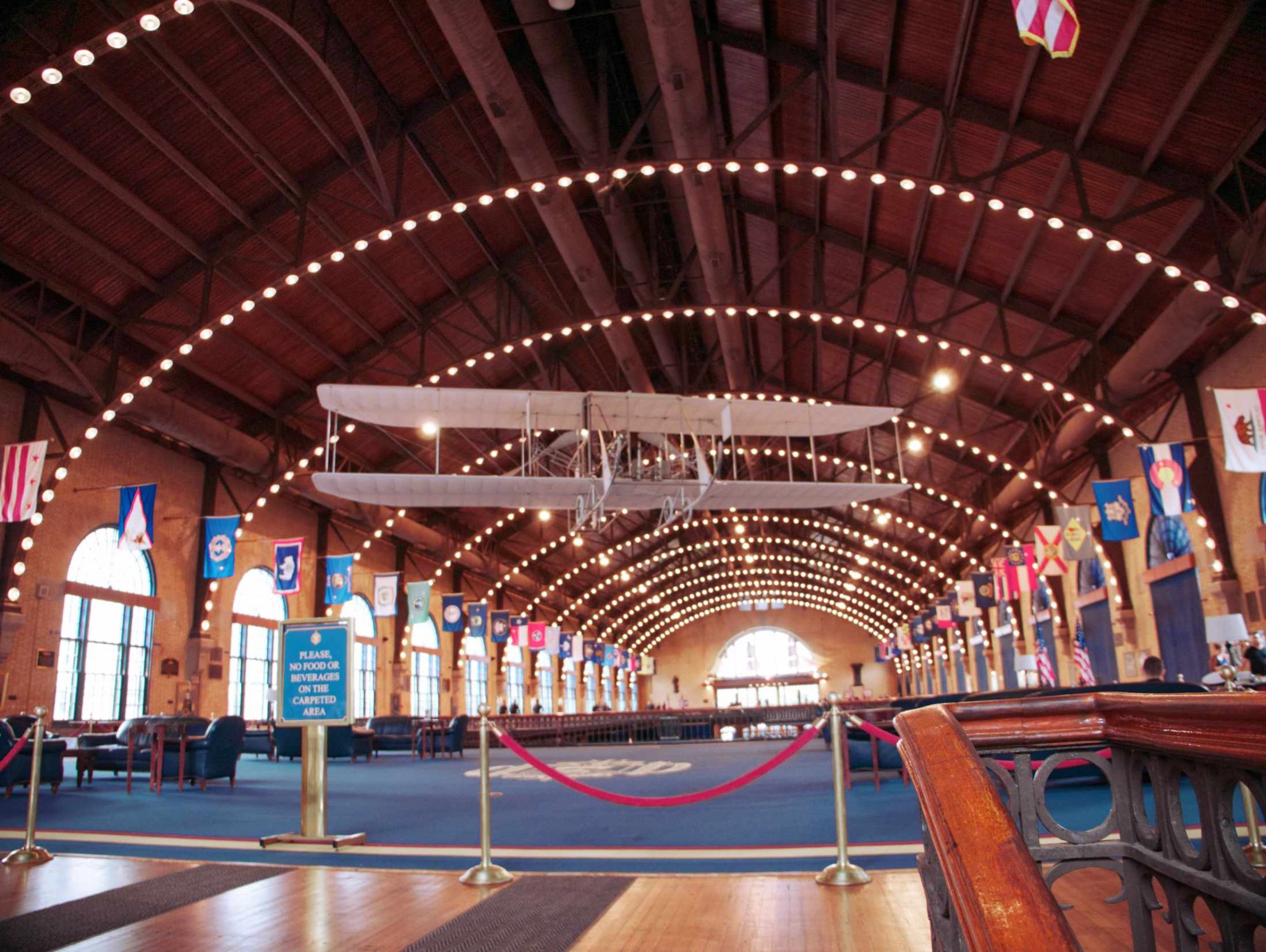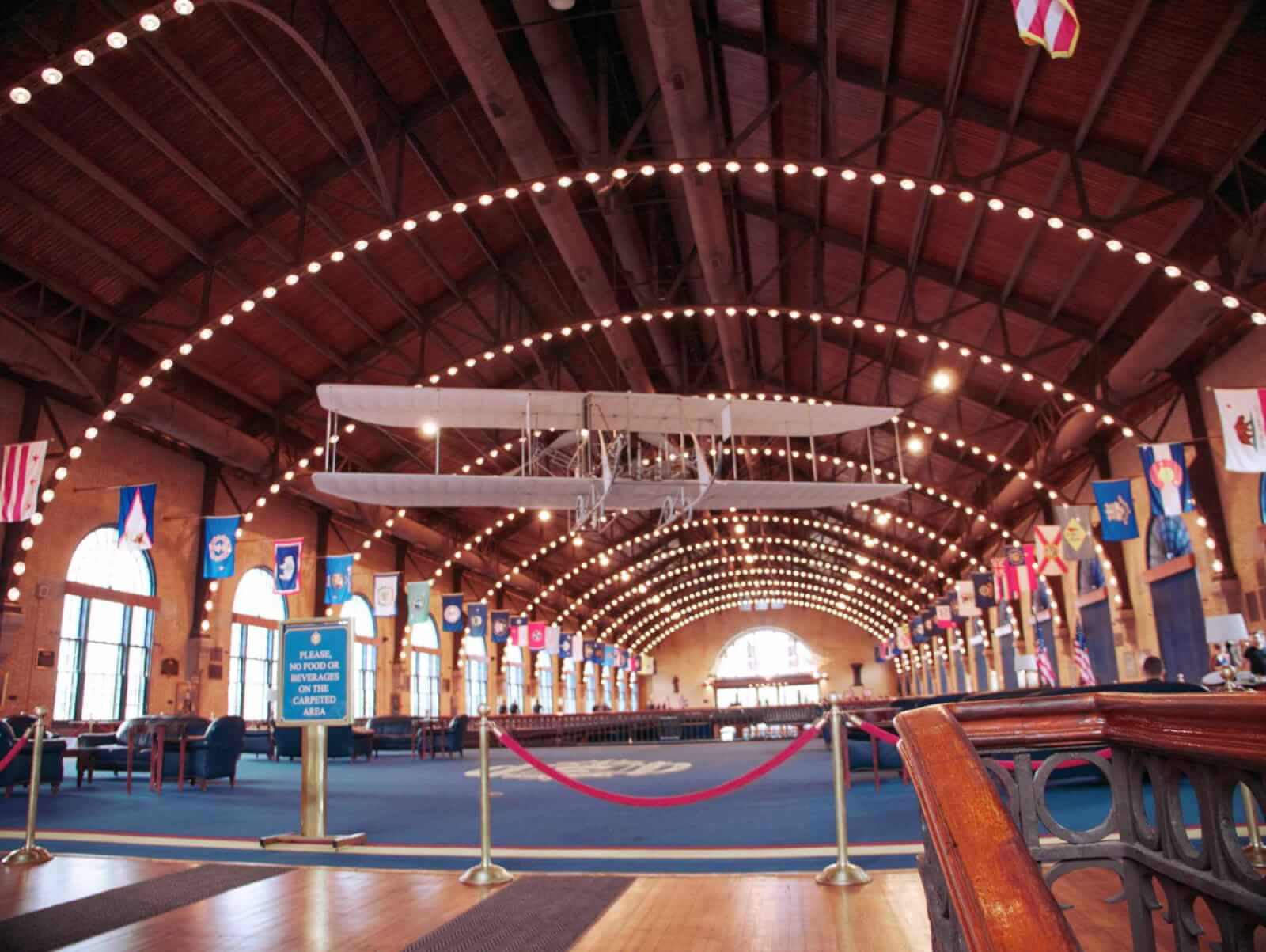 569 miles from Montreal – 32 miles from Washington DC
Finally, we are literally minutes from your final point on your Montreal to Washington DC drive or the very beginning on your DC to Montreal drive.
Annapolis, Maryland is one of the cutest port cities ever. Annapolis is also home to the Naval Academy; you can stroll along the campus for free, or take the guided tour for a small fee.
The guided tour is enjoyable; alumni offer the tour, they are very knowledgeable about the academy, and most of them have juicy stories from the time they were students.
Pretty much everything in Annapolis revolves around boats and sea. The city hosts a competition of sailboats every year at the beginning of October.
I haven't had a chance to attend one of these competitions, but seeing the sailboats anchored in the port, the competition must be glorious to watch!
United States capital during one year in 1783, the city kept the spectacular architecture from 1700-1800, giving the streets a European cachet.
As a matter of fact, "Downtown" Annapolis displays a cute central market, reminding what you can find in Paris or Italy, the city vibe itself is quite different from what we are used to.
From Annapolis, the drive to get to Washington DC is straightforward, and you will get the opportunity to see red bricks and mortar viaducts, instead of the typical cement ones.
Tips for your Montréal to Washington DC drive (or DC to Montreal)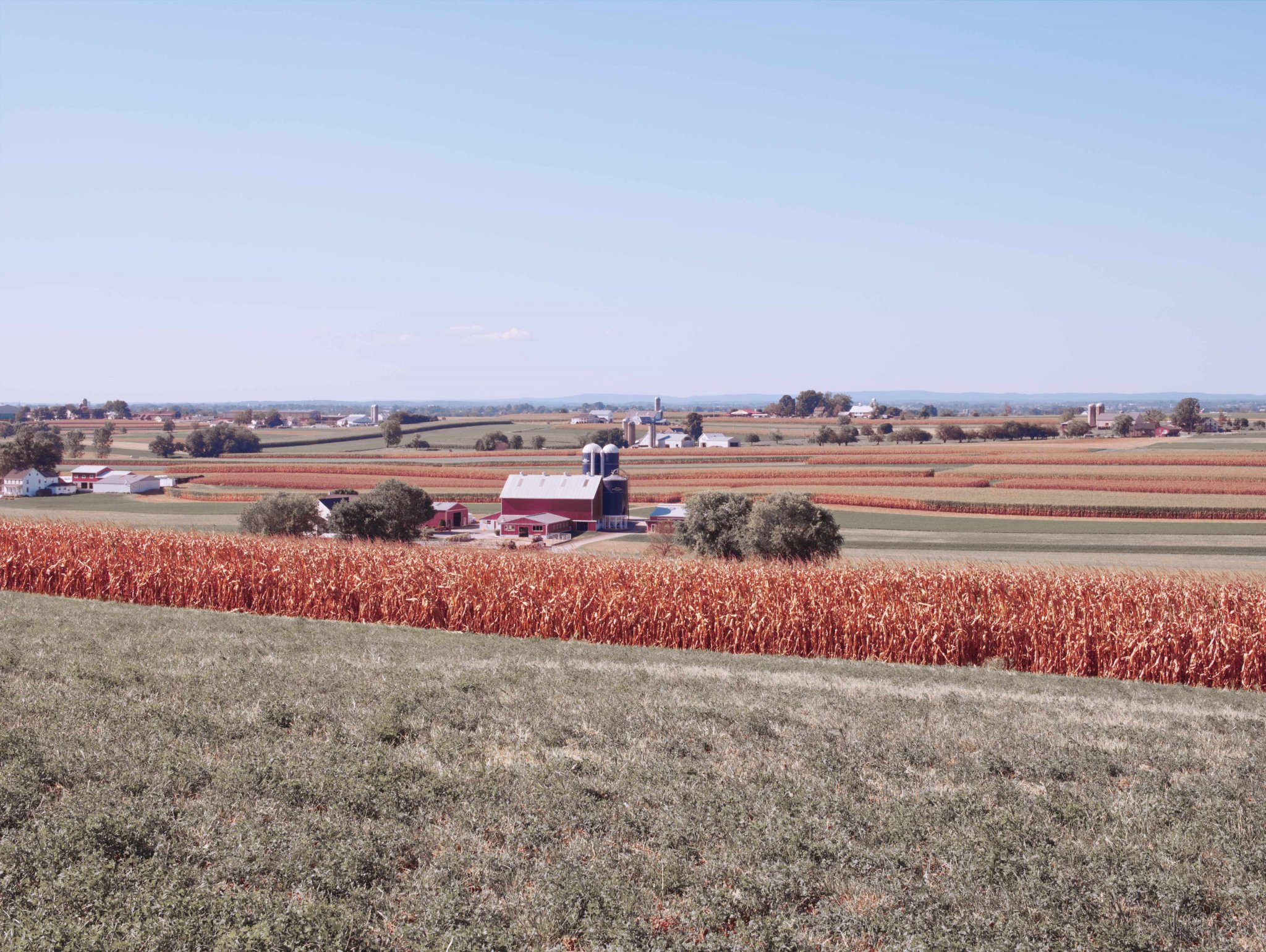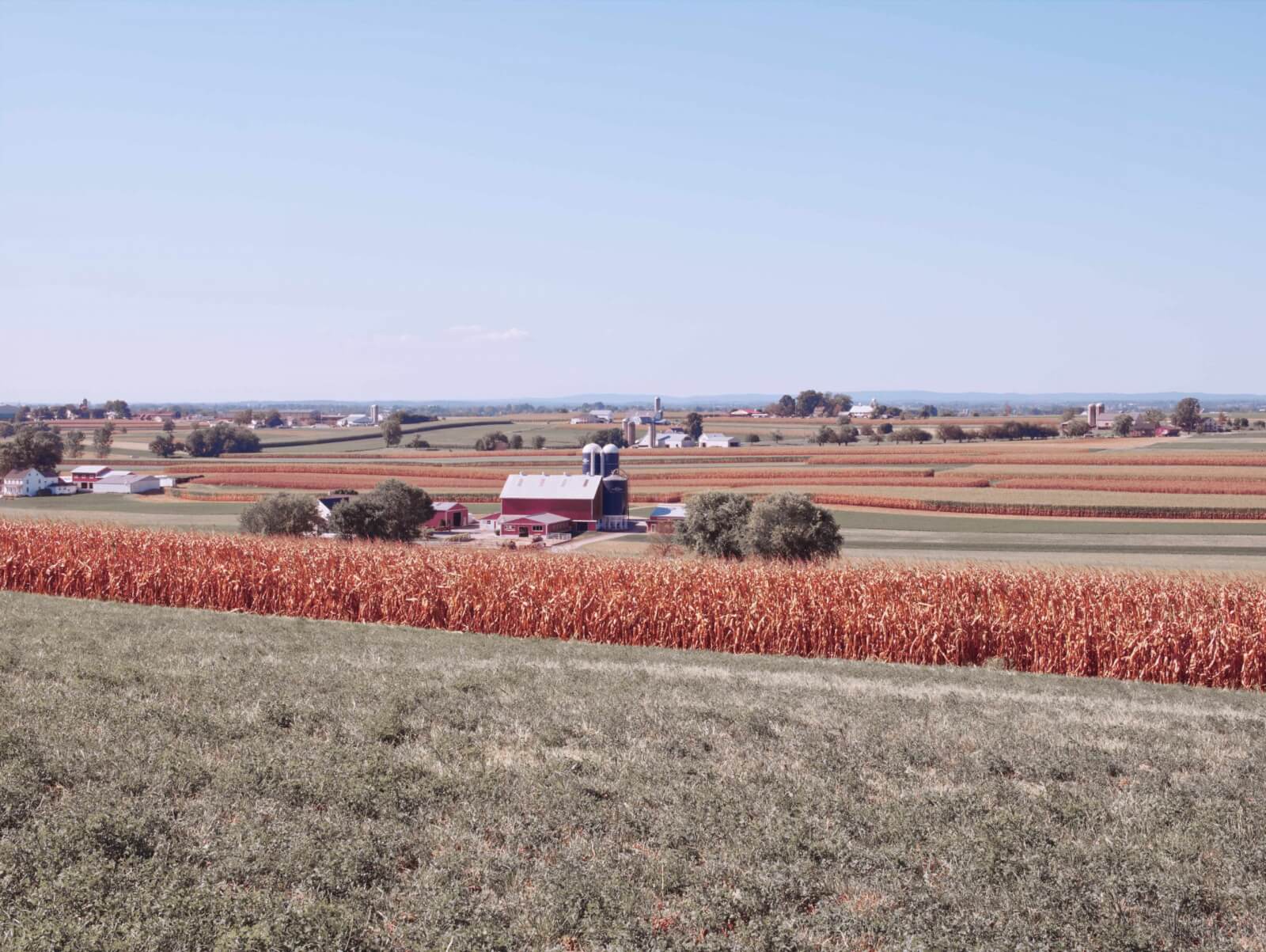 If you plan on stopping along the Delaware Water Gap or in Pennsylvania for that matter, make sure you bring insect repellent with DEET especially in the warmer months.
As a matter of fact, Pennsylvania is known to be the tick kingdom, which carries the Lyme disease.
Therefore, spray any exposed skin with bug repellent that has more than 20% DEET before your hike, and if possible, inspect your skin once you get back to make sure to catch any of these suckers before it's too late.
If you travel during a warmer season, I suggest you bring a picnic blanket in the different spots you have seen here.
It can also be advised to bring a reusable set of utensils if you plan on repeating the experience.
Also, we recommend reading our road trip essentials guide for more fun ideas for what to bring on a road trip!
Please be sure to also map out your estimated refueling stops as if you plan on heading to the more remote areas and mountains, gas stations will be sparse, and having no cell phone service can wind you up in a bad situation.
We also recommend purchasing travel insurance before any trip in case something happens along the way, not familiar with travel insurance? No worries, we have a guide on the best types of travel insurance for you to help you pick, and better yet these are really affordable options that come in handy in unexpected situations.
Don't miss all the amazing Washington DC neighborhoods to explore while you're here too! There are tons of attractions, museums, places to eat, and things to do to fill an entire vacation!
---
About the Author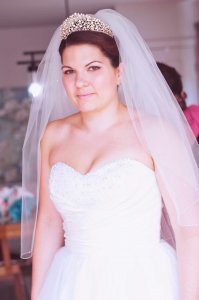 Audrey is the sweet gal behind The Cheeky Knot Lady. Likely a princess in another life, she is now a scientist who makes the most of every minute and shares her travel tips with others. Working full-time, she understands that vacation is limited, and we all want to make the most without breaking the bank. Glass half-full type of girl, moreover when the glass is filled with wine, she always finds positive in every situation. Audrey is known for her sarcasm, her dark humor, and her love for the color pink.
Follow her along on social @cheekyknotlady or read up on her guides like this amazing best couples staycation ideas guide.
---
Liked this post on the 10 most amazing stops on the Montreal to Washington DC drive or DC to Montreal drive? Bookmark for later or share the love below on Pinterest!