Looking for the best restaurants in the North End of Boston? Let's do one better, are you looking for the best Italian restaurants in Boston's North End aka Little Italy? Well, look no further, we've got you covered from all the best North End restaurants, cafes, Italian bakeries, and of course everything in between like salumerias.
When you think of Boston, there are a few things that immediately come to mind — clam chowder, Sam Adams (the beer and the man), Boston Cream Pie, lobster rolls… and Italian food which you can find a plenty in this Italian enclave of the city.
While Boston is primarily known for its seafood thanks to being a New England coastal city, one of the coolest places to eat in Boston is in the North End where you can find the vibrant, dynamic, and long-standing Italian community that resides here – which also happens to be the city's oldest residential community filled with historic landmarks.
But this guide is all about the FOOD and where to eat in Boston's North End. If you want to learn more about the neighborhood, hit up our guide to the best things to do in the North End to help fill up your Boston itinerary with some of the city's best sightseeing, landmarks, shopping, and of course eating.
Given its relatively small square footage, it's an easy Boston neighborhood to spend a day strolling among the historic buildings, stopping for traditionally made cappuccinos for breakfast, Italian sandwiches for lunch, a life-changing Chicken Parmigiana for dinner, and cannolis for dessert.
So without further ado, what you've all bee waiting for – what to eat in Boston's North End aka the Italian district. The truth is, there are so many fantastic markets, cafes, bakeries, pizzerias, and of course, sit-down restaurants in the North End that it's hard to find a bad meal. But we can start you on your way with a few of our favorite spots in the neighborhood!
Best North End Restaurants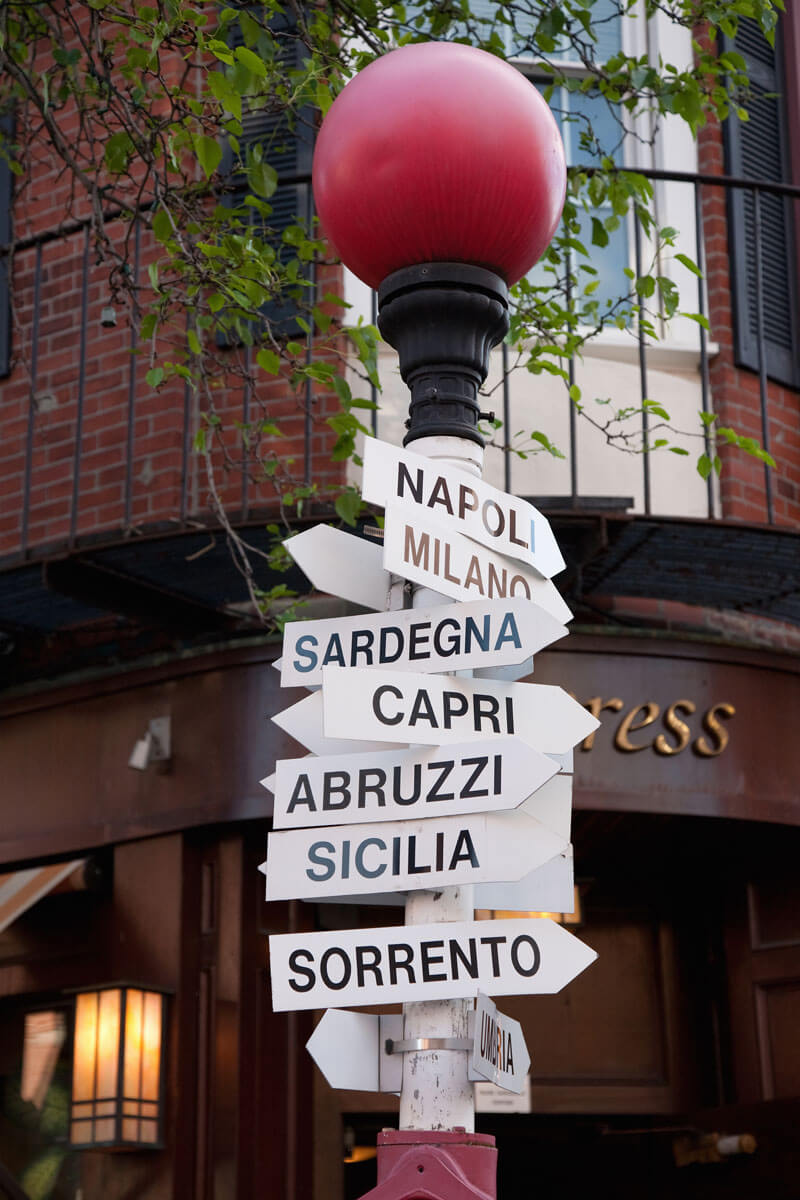 Bricco Salumeria & Pasta Shop
11 Board Alley, Boston, MA
Right around the corner from the historic Paul Revere House on the Freedom Trail is one of top places for where to eat in Boston's North End. Bricco Salumeria & Pasta Shop, a must-visit among visiting the North End.
A loving tribute to the Sunday suppers of founder Frank DePasquale's youth, Bricco Salumeria & Pasta Shop has everything you need to make a Sunday gravy of your own.
Fresh, handmade pasta and breads, imported meats, sauces, and cheeses are all available to take home in preparation for your own feast-making. If cooking isn't your thing, pick up one of the shop's incredible deli sandwiches — we recommend the Panino Lady (Fresh Homemade Mozzarella, Tomato, Basil, and Olive Oil) or the Panino (Prosciutto, Fresh Mozzarella, Tomato, Basil, and Olive Oil).
Bricco
241 Hanover Street, Boston, MA
Can't get enough of Bricco Salumeria? Lucky for you, DePasquale is at the helm of several restaurants in the North End, Boston, including the fantastic sit-down enoteca Bricco.
Try Bricco's signature Negroni (Hendrick's, Campari, Antica Carpana, Prosecco, orange bitters) followed by the Farfalle Tartufate (lobster meat, fava beans, pancetta, black truffle, lobster fumé) or one of Bricco's certified Angus Beef chops.
Top off your meal with a Deconstructed Tiramisú (homemade ricotta pie, mixed berry limoncello reduction) or one of Bricco's Famous Espresso Martinis (Absolut Vodka, Bailey's Kahlua, Frangelico, Disarrono espresso, raw sugar, and cocoa rim).
Salumeria Italiana
151 Richmond Street, Boston, MA
Family-owned and operated since 1962, Salumeria Italiana is a go-to for imported goods for locals, visitors, and even area chefs. The staff at Salumeria is knowledgeable and well-versed in their recommendations for the best olive oil, cheese, sauce, and of course, salumi.
If you visit Salumeria and can't get enough, the good news is that they also have a robust online ordering platform with nationwide shipping to bring the flavors of one of the best North End Italian spots in Boston home to you. But first, stock up in-person on a selection of some of the best Mediterranean ingredients for Italian cooking!
Boston Public Market
100 Hanover Street, Boston, MA
Located at the start of Hanover Street is the Boston Public Market, an extensive, year-round indoor produce and specialty food market featuring all locally-sourced seasonal products.
This is where you can purchase some of the freshest caught seafood in town, as well as abundant produce, specialty prepared foods, and craft brews.
Local vendors include the Boston Honey Company, Boston Smoked Fish Company, Crescent Ridge Dairy, Jennifer Lee's Allergen Friendly & Vegan Shoppe, and Mother Juice. Support local farmers, fishmongers, bakers, and chefs while picking up tasty treats to take home with you.
This is where to eat in Boston's North End if you want to sample different things and/or bring things home with you!
Table
445 Hanover Street, Boston, MA
Hands down, one of the best restaurants in the North End of Boston is the award-winning Table. Table comes with many accolades — voted Boston Magazine's Top 50 Restaurant, a Best of Boston North End Restaurant, and an Eater Best North End Restaurant, Table is a spot that lives up to the hype.
Structured exclusively as a tasting menu experience by chef Jen Royle, Table offers rotating, highly curated, seasonal Italian dishes.
Past menu items have included Polpo Scottato (Seared octopus, parmesan polenta, charred fennel, mini potatoes, micro celery), Triangoli alla Bolognese a Costine Corte (Homemade short rib ravioli, red wine-tomato reduction, mascarpone, ricotta salata), and Budino di Pane alla Nutella (Espresso and Nutella bread pudding, crushed hazelnuts, sea salt, vanilla creme anglais).
Please note, there are no substitutions to the menu so it's best to check their current offerings to make sure you can enjoy yourself to the fullest at this popular Italian restaurant in Boston's North End.
Table Mercato
445 Hanover Street, Boston, MA
Adjacent to Table's sit-down space is Table Mercato, a well-stocked specialty shop that stands up to even the most well-regarded in the North End.
In addition to an impressive selection of imported goods, Table Mercato serves other-wordly focaccia sandwiches (try the chicken cutlet, mozzarella, pesto, pancetta, tomato, arugula) and melt-in-your-mouth arancini (one example from Mercato is filled with arborio rice, peas, ground beef, and mozzarella).
Table Mercato also offers excellently curated gift baskets perfect for taking home to family and friends (or just taking home!). So, don't miss this cool place to eat in Boston!
La Famiglia Giorgio's
112 Salem Street, Boston, MA
Ok, we know that The Olive Garden claims that when you're there, you're family, but at La Famiglia Giorgio's, it's actually true which is why this is absolutely one of the best Italian restaurants in Boston's North End.
This family-run restaurant has been delighting Bostonians for over three decades with time-honored recipes. Try the lasagna of the day, Big Al's Arrabiata (chicken in a spicy marinara sauce with onions and rigatoni), or Fruitti Di Mare (Clams, mussels, and calamari in a choice of garlic and oil, marinara, fresh tomato or fra diavolo sauce), and try one of their over 3000 wines (frequently recognized by Wine Spectator in their Awards of Excellence).
Giacomo's
355 Hanover Street, Boston, MA
Another family-run favorite and one of the best North End Italian restaurants in Boston is Giacomo's. Giacomo's is widely known for their freshly made, perfectly seasoned, and extremely generous portions of pasta (and life-changing Chicken Parmigiana).
Come here as a large group of hungry, broke, friends, split a few entrees and eat like royalty. You've never eaten so much fettuccine for $18! Do note that Giacomo's is cash only, but again, you'll be saving plenty of it while enjoying the incredible fare.
Strega
379 Hanover Street, Boston, MA
A legend of the neighborhood and one of the top North End restaurants, Strega is also known as one of the toughest tables to secure in town.
An extremely loyal customer base from their inception in 2003, a slew of regular celebrity clientele (thank you, Boston film credit!!), and genuinely enthusiastic word-of-mouth reviews have created a perfect storm of interest in dining at the venerable Italian spot.
But fear not! As long as you plan ahead it is certainly possible to get a reservation, and once you do — order the "That's Amore", Strega's signature, spicy pasta alla vodka prepared tableside in a large pasta wheel. The dish alone is worthy of a little future planning at this North End restaurant.
The Daily Catch
323 Hanover Street, Boston, MA
Some of the best restaurants in the North End of Boston include seafood-focused restaurants — one of the best is The Daily Catch, a top-notch spot dedicated to sourcing the freshest local fish for their Sicilian-style dishes.
In addition to offering up fantastic entrees like squid ink Aglio Olio (served with Sauté ground calamari, olive oil, fresh garlic & parsley) and a perfect Scallops platter, The Daily Catch distinguishes themselves with the delightful quirk of serving their pasta in the pan it was cooked — as owner Paul Freddura explained, it was initially a money-saving move (no budget for dishes!) that turned into the restaurant's signature style and why this is a favorite and top pick for best Italian restaurants in Boston's North End.
Neptune Oyster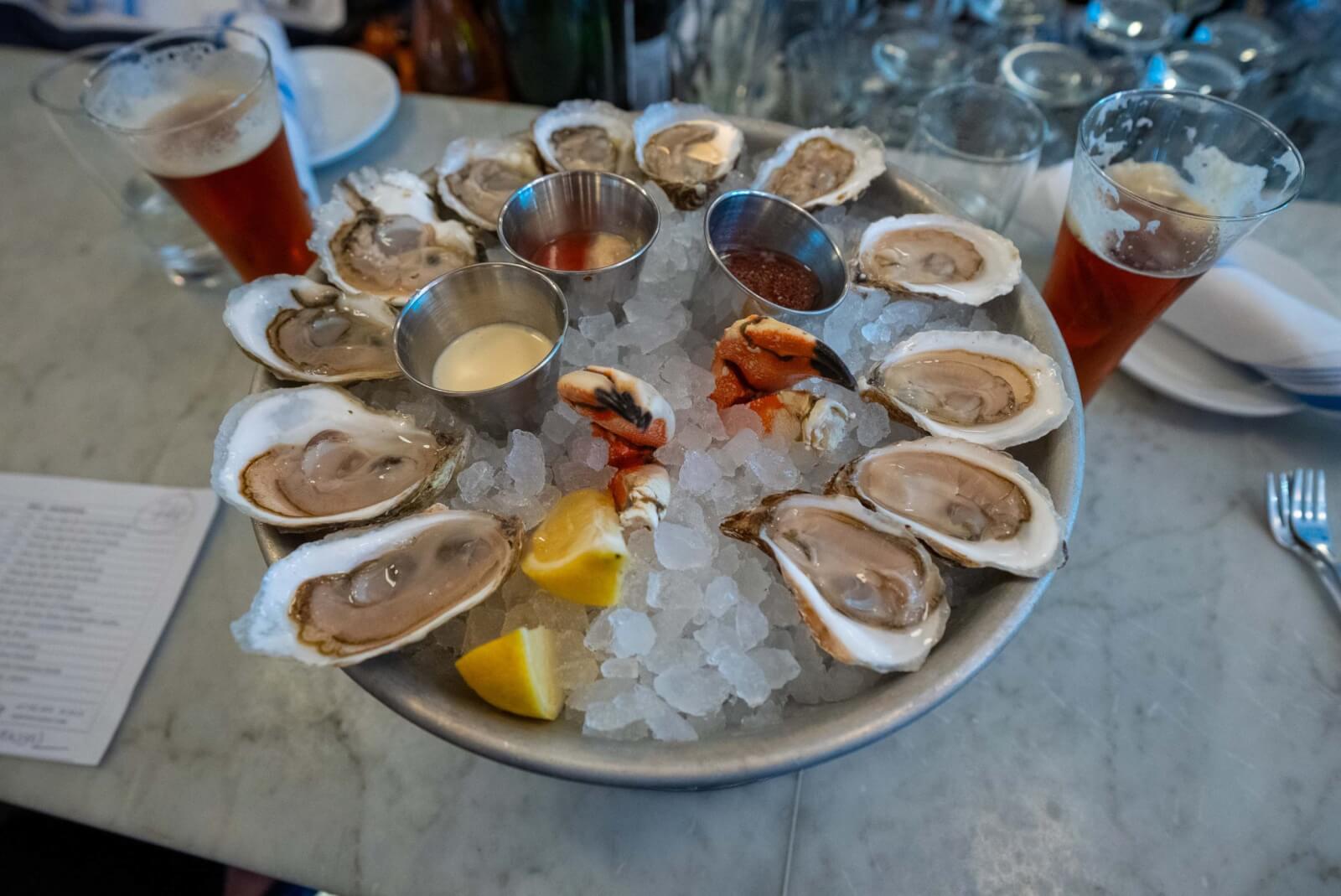 63 Salem Street #1, Boston, MA
Neptune Oyster is obsessively dedicated to the art of seafood — the freshest oysters, the most perfectly steamed Chatham Blue Mussels, exquisitely cooked whole Rockport Mackerel — it's the place to go when you want to experience the best advantages of dining in a waterfront town and one of the best North End restaurants to check out.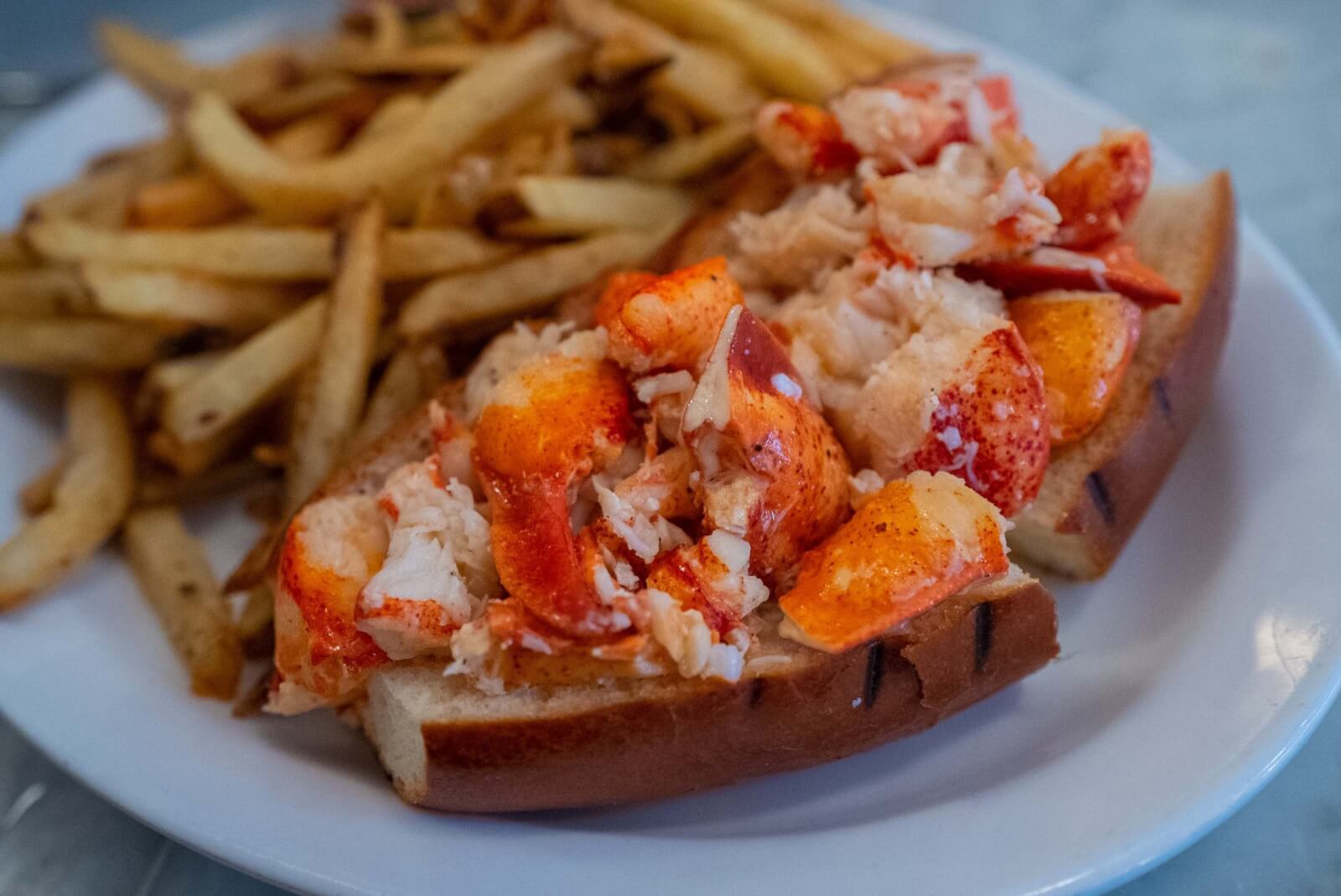 Make sure if nothing else that you order the Neptune Oyster Johnnycake — made of honey butter, Boston smoked bluefish, and sturgeon caviar. But pretty much anything on the menu is sure to be a home run, including their lobster rolls and be sure to try as many oysters that you can while you're at it.
We also recommend that you plan ahead and swing by before they open to put your name in — diners frequently line up before the restaurant opens to secure a table. But regardless of whether there's a wait, it's worth it as this is no doubt one of the most popular and best picks for where to eat in Boston's North End.
Boston Sail Loft
80 Atlantic Avenue, Boston, MA
If you found yourself checking out the Harborwalk – one of the best things to do in Boston, you may have spotted the Boston Sail Loft on the boardwalk — it's an ideal place for a classic, seafood-by-the-water experience and another one of the best North End restaurants.
Start with a cup of their signature clam chowder (so well-regarded that they ship it nationwide!), then try a basket of fried, whole belly clams served with crispy fries. Enjoy the view of the harbor's sailboats while you're at it.
Crudo
78 Salem Street, Boston, MA
While the neighborhood is definitively known as the Italian district, we'd be remiss not to mention one of the city's best Japanese-fusion spots, Crudo, a thoughtful blend of the city's seafood culture, the neighborhood's Italian roots, and omakase making it one of the most interesting and best North End Italian restaurants in Boston.
Crudo even has a "lasagna" inspired sushi roll (a baked California roll with cream cheese, scallops, mayo, and eel sauce). Other standouts include the M-80 (baked spicy salmon, avocado, cucumber, lettuce, sesame oil) and the Surf and Turf Shumai (steamed pork and shrimp dumplings).
Don't forget to sample one of Crudo's signature cocktails like the Celtic Warrior (Bacardi pineapple rum, Midori, Banana Liqueur, pineapple juice) or the Salem Street Negroni (gin, red vermouth, Campari, fresh lemon juice).
Galleria Umberto
289 Hanover Street, Boston, MA
Are you on a pizza-specific mission? Run (and we do mean run, they sell out!!) to Galleria Umberto, a cash-only iconic pizzeria and one of the best North End Italian restaurants in Boston open since 1974.
Their pillowy, cheesy, crispy Sicilian slices and just-as-popular arancini draw hordes of hungry Bostonians to their counters time and time again, with a menu so successful that owner Paul Deuterio has largely maintained the same items since the 70s, citing that they know what sells — and believe us, this pizza sells.
Galleria Umberto is open every day except Sunday until they sell out of pies. Galleria Umberto is so successful that they do take a month-long break in July, so be sure to plan your visit around it if you're set on trying the famous slice.
Ernesto
69 Salem Street, Boston, MA
Another fantastic option for old-school, Neapolitan pies and slices is Ernesto, a frequent favorite of the Zagat guide and Boston Magazine.
Ernesto is known for their generously sized pies with perfectly seasoned toppings like the Zaza (White Pizza with fresh Tomato, Garlic, and topped with Cheese) or the Chicken Roni Ricotta (Chicken, Pepperoni, Seasoned Ricotta and Mozzarella Cheese).
And despite the old-school vibes, Ernesto is distinctly new-school in that they offer a wide variety of gluten-free options making it a celiac-friendly and best restaurants in the North End of Boston for those who have an allergy!
Pizzeria Regina
11 1/2 Thacher Street, Boston, MA
Nearly one hundred years in business, Pizzeria Regina's North End restaurant location is the one that started a citywide pie phenomenon.
Pizzeria Regina's signature pies are still cooked in the same oven (built in 1888) from their first years, and while their menu has retained some changes over the decades, their classic options still remain the most popular on the menu — so much so that the Boston Red Sox have anointed them the official pizza of the team!
Mike's Pastry & Modern Pastry
300 Hanover Street & 257 Hanover Street
The Yankees v. Red Sox. East Coast v. West Coast. The Marvel Universe v. DC Comics. In the grand tradition of epic rivalries, let us introduce you to the North End's most competitive industry war — the battle of cannoli giants Mike's Pastry and Modern Pastry.
Located on Hanover Street just steps from each other, both Mike's and Modern claim to serve the definitive cannoli in town. Still family owned and operated, Mike's is named after founder Michael Mercogliano, the self-taught baker and immigrant from Italy who would grow his business from a small pastry shop in 1946 into today's nationwide phenomenon (Mike's has expanded to ship their cannolis cross-country and have even recently collaborated with Harpoon Brewery to formulate their own "Mike's Stout" flavor).
Not to be outdone, Modern Pastry has been in operation for over 90 years and through three generations of the Picariello family, boasting a combined 150 years of baking experience and recipe development.
So, who does make the best cannoli in town? That's a secret we'll never tell. But we suggest that you visit both shops (frequently drawing large crowds daily) and see for yourself!
While at Mike's, be sure to try the chocolate chip ricotta and amaretto ricotta varieties, while at Modern we recommend the classic vanilla.
Parziale's Bakery
80 Prince Street, Boston, MA
This one goes out to all of our savory-then-sweet fans, who want the best of savory pizzas and breads followed by the best biscotti, anise cookies, and pizzelle?
Come on down to Parziale's Bakery, a family-run pizzeria and bakery delighting Little Italy, Boston since 1907. Enjoy their perfectly crispy/chewy bakery tray pizza slices, or go big and order a full tray (we promise, it will go quickly!).
Add a box of biscotti for the road and picnic by the waterfront after stopping by this not to be missed spot for where to eat in Boston's North End!
Bova's Bakery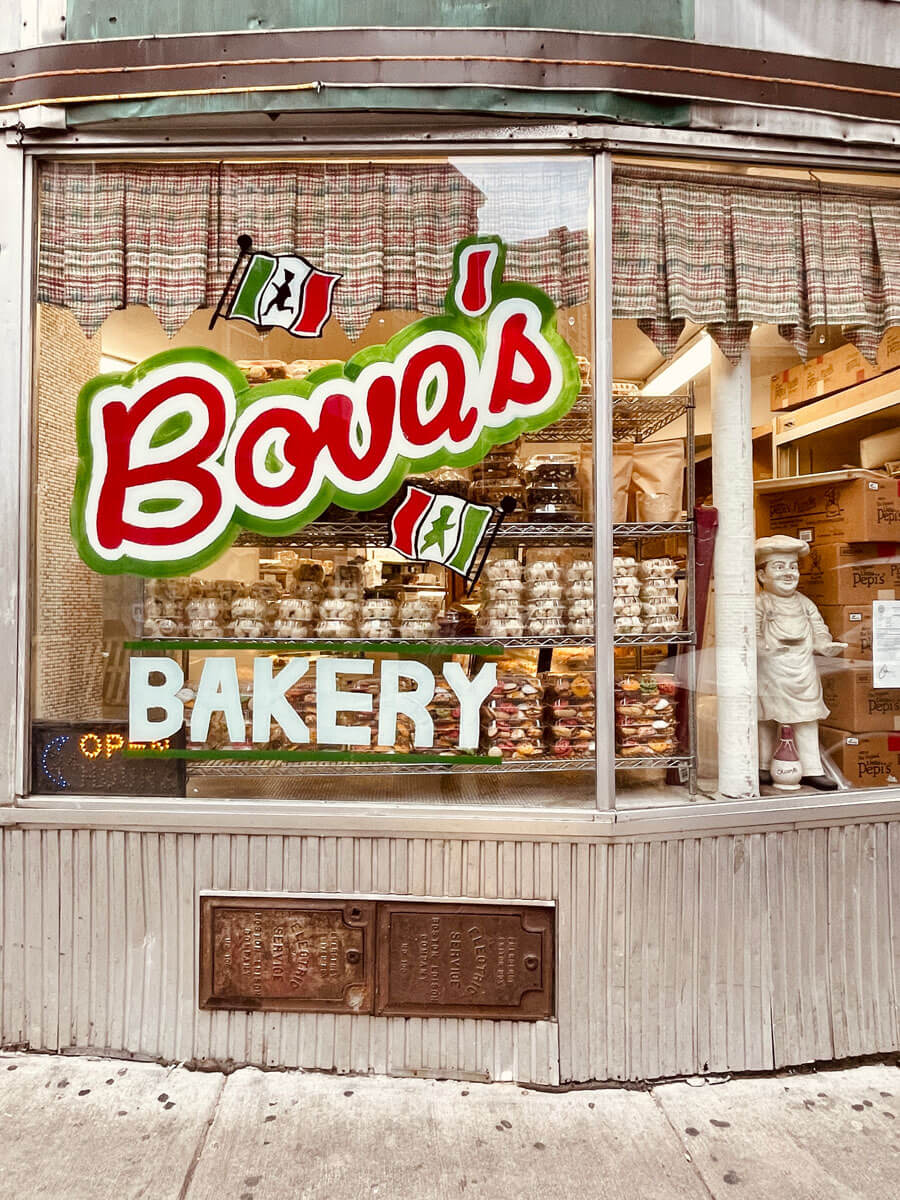 134 Salem Street, Boston, MA
Bova's has been a North End mainstay since 1926 and boasts the distinction of being open 24 hours a day. Rest assured that any time you're craving rainbow cookies, lobster tails (please note, no lobsters were harmed in the making of this pastry, it's composed of puff pastry and cream filling!), and tiramisu, Bova's is there for you.
And…we may be starting a little bit of a fight here, but we think that Bova's signature cannoli holds up just as well against Mike's and Modern. And besides, what pastry doesn't taste great at 2 a.m.? Not that we speak from experience… this is another spot for where to eat in Boston's North End if you're looking for an Italian sweet treat!
Caffé Vittoria
290-296 Hanover Street, Boston, MA
One of the most delightful neighborhood features in the North End's is the abundance of traditional Italian cafés to enjoy a cappuccino, macchiato, or latte — the oldest of which is Caffé Vittoria, the first traditional Italian café opened in Boston in 1929.
Try one of their perfectly-made cappuccinos, or if you're looking for something a bit stronger, try a signature cocktail like the Caffé Vittoria (Coffee with Kahlua, Brandy & Tiramisu Liqueur) or the Nutty Irishman (Coffee, Baileys & Frangelico).
Cafe Amalfi
5 Battery Wharf, Boston, MA
Can't get enough of the seaside vibes on the North End's waterfront district? Stop by Cafe Amalfi, a boutique coffee shop with a lovely patio serving locally roasted Barrington Coffee, all-day breakfast sandwiches, and pastries.
We recommend their signature breakfast sandwich (chive & cheddar biscuit, bacon, Vermont cheddar, fried egg, spinach, light breakfast mayo), or the Cubano Torta (sliced pork, black forest ham, Monterey cheese, scallion, dill pickles, chipotle aioli).
Caffe Lil Italy
178 Salem Street, Boston, MA
Another charming spot for a traditional Italian beverage is Caffe Lil Italy, specializing in espresso, cappuccino, and a rotating cast of snacks and pastries to snack on! Try their Chai Latte, or an Iced Americano on a hot summer's day.
Polcari's Coffee
105 Salem Street, Boston, MA
Polcari's is a veritable institution in the North End. Polcari's was established in 1932 by Anthony Polcari, an Italian immigrant who worked in a tailor shop to save the funds needed to open the business that still proudly serves the community today (the shop is now run by a family friend of Anthony's son Ralph, Bobby Eustace).
The modern-day Polcari's offers their very own brand of coffee, featuring flavors like chocolate raspberry, Coconut, Hazelnut, and Irish Creme, as well as an impressive array of teas and imported Italian spices (be sure to try their famous dipping oil mix!).
This is an especially great spot for a pick me up after hitting up any of the best restaurants in the North End of Boston mentioned in this guide!
Try a Tour!
Cocktails and Cannoli Tour
Can't decide which of these picks for where to eat in Boston's North End for sweets? We don't blame you, that's why there's a tour you can check out to sample some of the best.
Would you like to follow a knowledgeable guide around town while eating cannolis and drinking cocktails? Who wouldn't??? Check out this North End-specific dessert tour dedicated to hitting up many of the neighborhood's famous bakeries and cafés (including some of the aforementioned hits!) along with further historical context on each shop.
They even promise a blind cannoli taste test of samples from our favorite rival bakeries. Book here.
North End Food Tour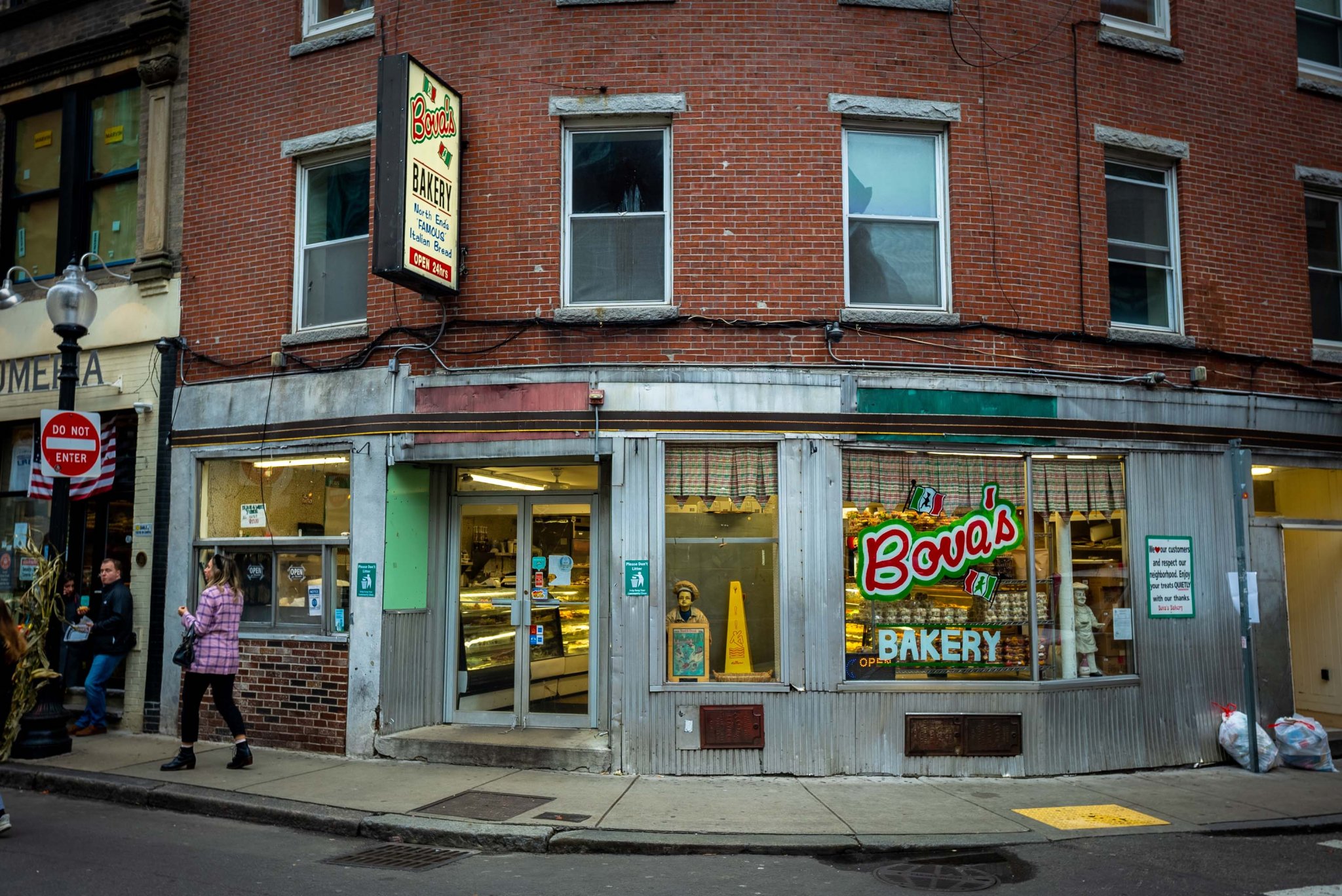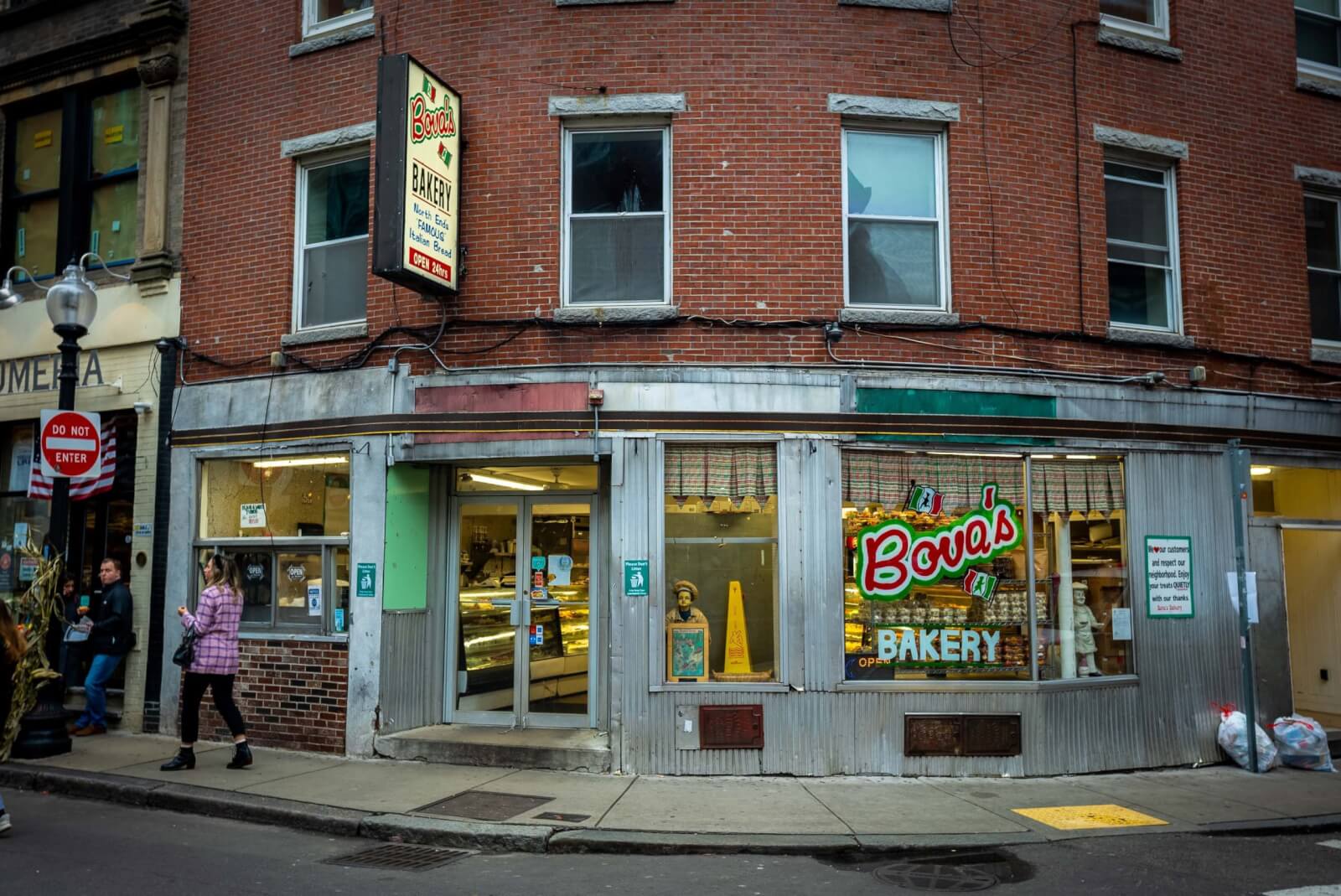 If you're interested in a culinary tour but would like to branch out beyond dessert, check out this neighborhood Italian food tour that takes you from Atlantic Ave. and the Boston Harbor into the North End's best shops to sample all of the imported cheese, delectable pizzas, and handmade bread you can handle.
The tour also covers several of the area's Revolutionary historic sites for an added dose of education with your feasting. Book here.
North End Pizza Tour
This North End Pizza Tour is one you will want to come hungry for. You will sample and feast at some of the best Italian restaurants in Boston's North End neighborhood known for their pizza over two hours with an experienced local guide.
You'll stop at three famous pizzerias as well as five different historic stops on the Freedom Trail combining the perfect balance of delicious food and history in this unforgettable experience. Book here.
North End & Freedom Trail Food & History Tour
Speaking of combining the rich, local history and the perfect balance of food and some of the top picks for where to eat in Boston's North End – you won't want to miss this North End and Freedom Trail Food & History Tour.
Come hungry and wear comfortable shoes as this walking tour takes course over five hours including historic highlights and stops along the Freedom Trail and food stops at some of the best places to eat in the North End including salumerias, bakeries, and pizza shops in Little Italy with an experienced and knowledgable guide. Book here.
Annual Feasts
So not a tour, but worth mentioning if you're looking for where to eat in the North End of Boston around a special, local event and while speaking of feasting — we must mention the regular feast schedule, in which local Catholic church St. Leonards honors various saints with a celebratory procession and outdoor community meal (and party!).
There are also more secularly focused feasts such as the Fisherman's Feast, a Sicilian seafarer tradition held every summer since 1910. Most feasts are held in the warmer months — for a full calendar check out the yearly listings here.
---
About the Guest Author
Sarah Beling is a playwright and foodie originally hailing from the Greater Boston area. While she currently resides in New York, she makes sure to visit Beantown as much as possible and proudly reps her Red Sox gear in enemy territory.