Looking for the best Boston neighborhoods to visit on your next trip? We've got you covered! Even if you've never been to Boston, you probably have some sort of vision of it in your head.
A city with instant brand recognition, Boston's strong (!!) personality inspires deeply passionate love/hate feelings (just ask New York and the Yankees).
It's not a place that you visit and say, "Meh". But why is this? It's because Boston is everything you've seen in the movies, and none of it at all, all at once. It's the oft-imitated Boston accent, it's the sun shining on the Charles River, it's the rabidity of its sports fans, it's the many Boston movies depicting people who like to fight, it's the powerhouse collegiate hub, it's the world-class hospitals and research centers, it's the historically significant portion of US History, it's the first-rate museums, it's the love of prolific swearing, it's the gorgeous architecture, it's the maddeningly interwoven one-way roads, it's the chowder, it's the Marathon, it's the intense and unabiding pride that Boston has for its denizens past, present, and future.
It's for all these reasons that you should visit Boston yourself. I guarantee that you'll walk away with a deeper understanding of it than a few SNL skits and movies.
We've highlighted a few Boston neighborhoods to check out while you're here, and some bonus areas which, while technically outside of city limits, are adjacent and part of the infamous Greater Boston Area (which, depending on who you ask, stretches anywhere from the city limits to Maine). So let's explore Boston, where nothing is ever that fah away!
If you're looking for more planning tips for your trip check out our 3 days in Boston itinerary and weekend getaway guide plus all the best things to do in Boston whether you're a first-timer or a seasoned visitor – we have some great suggestions for you!
About the Guest Author
Sarah Beling is a playwright and foodie originally hailing from the Greater Boston area. While she currently resides in New York, she makes sure to visit Beantown as much as possible and proudly reps her Red Sox gear in enemy territory.
Neighborhoods and Areas of Boston To Check Out
Downtown/Financial District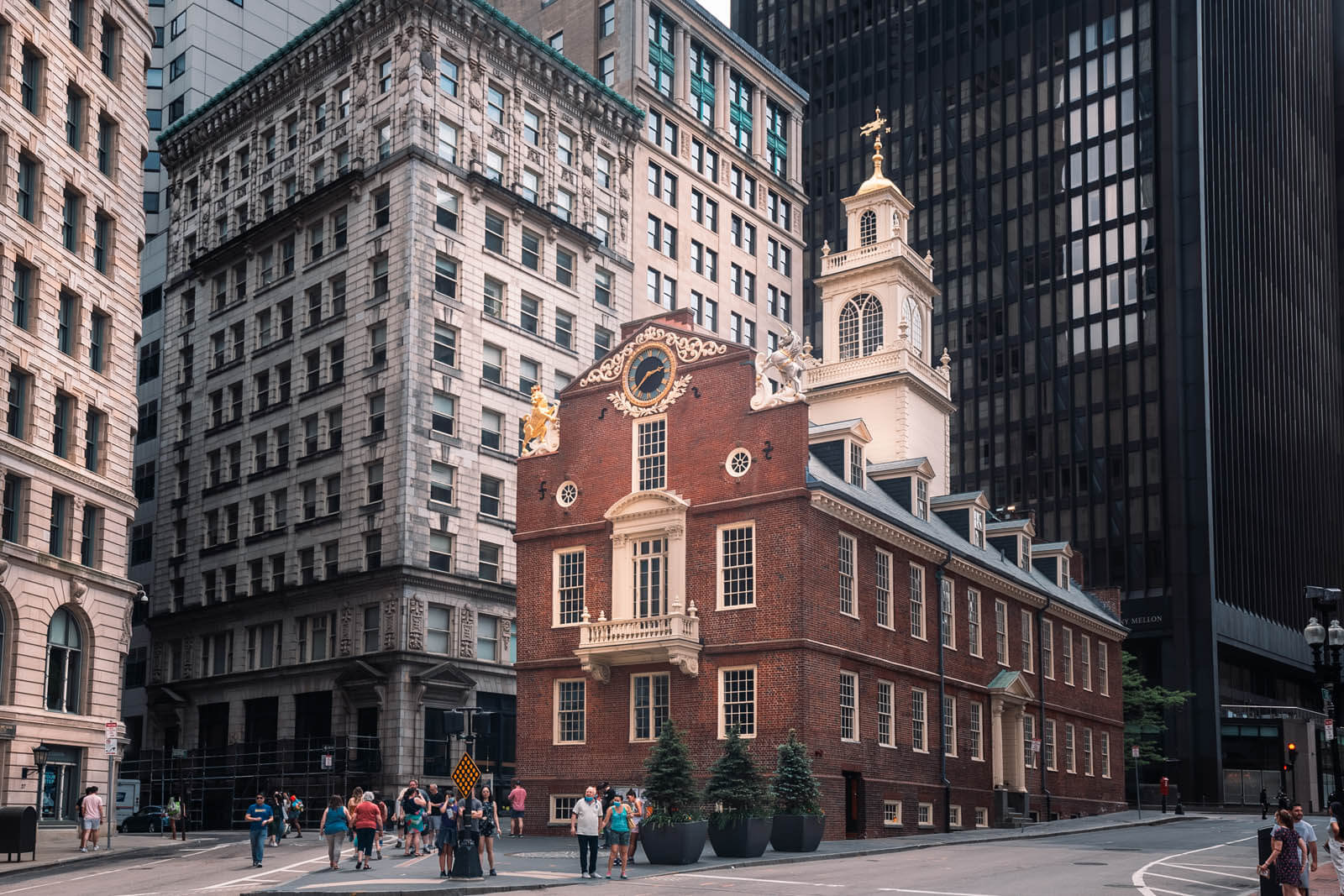 Let's say you're only in Boston for a layover or a short period of time and want to make sure you see something other than the airport or bus station – head over to the Financial District for a few key historic Boston neighborhood landmarks.
Home to the Old Statehouse (the site of the Boston Massacre in the Revolutionary War, 206 Washington St), as well as the Old City Hall (45 School St) and Old South Meeting House (the organizing site of the Boston Tea Party, 310 Washington St), Downtown Boston is a great place to check out both some of Boston (and the United States') oldest buildings and take in historical tours.
An efficient way to tour the neighborhood is the Freedom Trail Walking Tour. When you're finished strolling, check out Faneuil Hall's thoroughfare of shops and restaurants (4 S Market St) – a highlight is the Quincy Food Hall which has something for everyone to enjoy, including quintessential Boston food items like clam chowder and Boston Cream Pie.
If you have a bit more time to spare, head to the New England Aquarium (1 Central Wharf) and check out the mesmerizing center tank, a stories-high menagerie of aquatic life (including sharks, up close!! Shouts to my fellow Shark Week fans!!). And if you have even more time to spare, check out a Boston Harbor cruise for waterfront views of the city.
Try a Tour:
Boston Freedom Trail Tour – this tour offers a 2 hour guided tour with a knowledgeable guide in costume stopping at various historic points of interest and Freedom Trail stops to learn more about the history of our nation as well as the founding fathers! Or if you prefer to DIY it, you can do this self-guided Freedom Trail Tour on your phone.
Boston Harbor Sunset Cruise – enjoy the beauty of a New England sunset on this scenic 90-minute sunset harbor cruise.
Afternoon Sail Around Boston Harbor – enjoy a 2-hour afternoon sail around the Boston Harbor on this 125-foot schooner, Liberty Clipper and buy a beverage of your choice on board.
The North End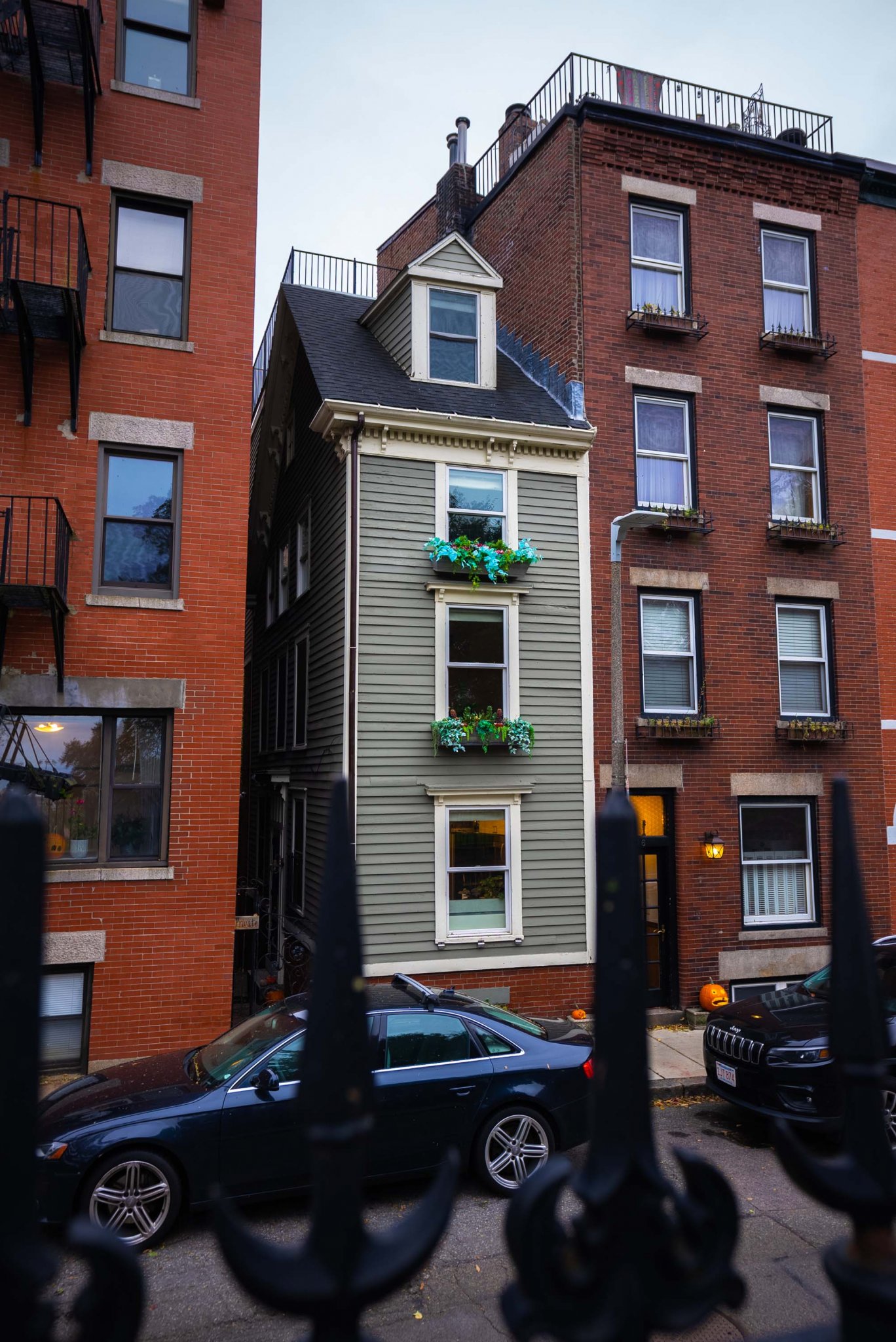 Known as the city's oldest residential community, this historic Boston neighborhood boasts twelve sites on the National Register of Historic Places. One of these sites honors famous North End resident Paul Revere (Paul Revere House, 19 N Square) and is also a working museum.
But perhaps the most well-known aspect of the North End is its vibrant Italian community, which has produced a plethora of fine restaurants and specialty shops. Be sure to stop by Bricco Salumeria & Pasta Shop (11 Board Alley) for hand-made pasta, sandwiches, olive oil, breads, and catering or Salumeria Italiana (151 Richmond St) for fine meats and cheeses.
If you're looking for a sit-down meal, check out classic red-sauce joint La Famiglia Giorgio's (112 Salem St), which has been family-run for over three decades and serves up classics like Bolognese Manicotti and Chicken Saltimbocca.
Other worthwhile stops include Giacomo's (355 Hanover St.) for massive plates of pasta and affordable wine, The Daily Catch (323 Hanover St) for Sicilian-style seafood and pasta, and of course the original Pizzeria Regina (11 1/2 Thacher St) – open since 1926, this legendary Boston pizza joint serves up a nearly century-old secret recipe pie that is also the official pizza of the Boston Red Sox.
And of course, we'd be remiss not to mention one of the best things to do in the North End – Italian pastries – specifically cannolis, which are served up at rival bakeries Mike's Pastry (300 Hanover St) and Modern Pastry (300 Hanover St).
In true Boston fashion, locals feel very strongly about which bakery serves up the best cannoli, but in the spirit of diplomacy, we won't reveal our favorite (and in the spirit of honesty, you really can't go wrong with either one!).
Try a Tour:
North End and Freedom Trail Food & History Tour – this 5-hour walking tour includes historic highlights as well as food stops in some of the best salumerias, bakeries, and pizza shops in the North End Boston neighborhood with an experienced guide.
North End Pizza Tour – Come hungry! This 2-hour pizza tour through the North End stops at 3 famous pizzerias and 5 Freedom Trail sites!
The South End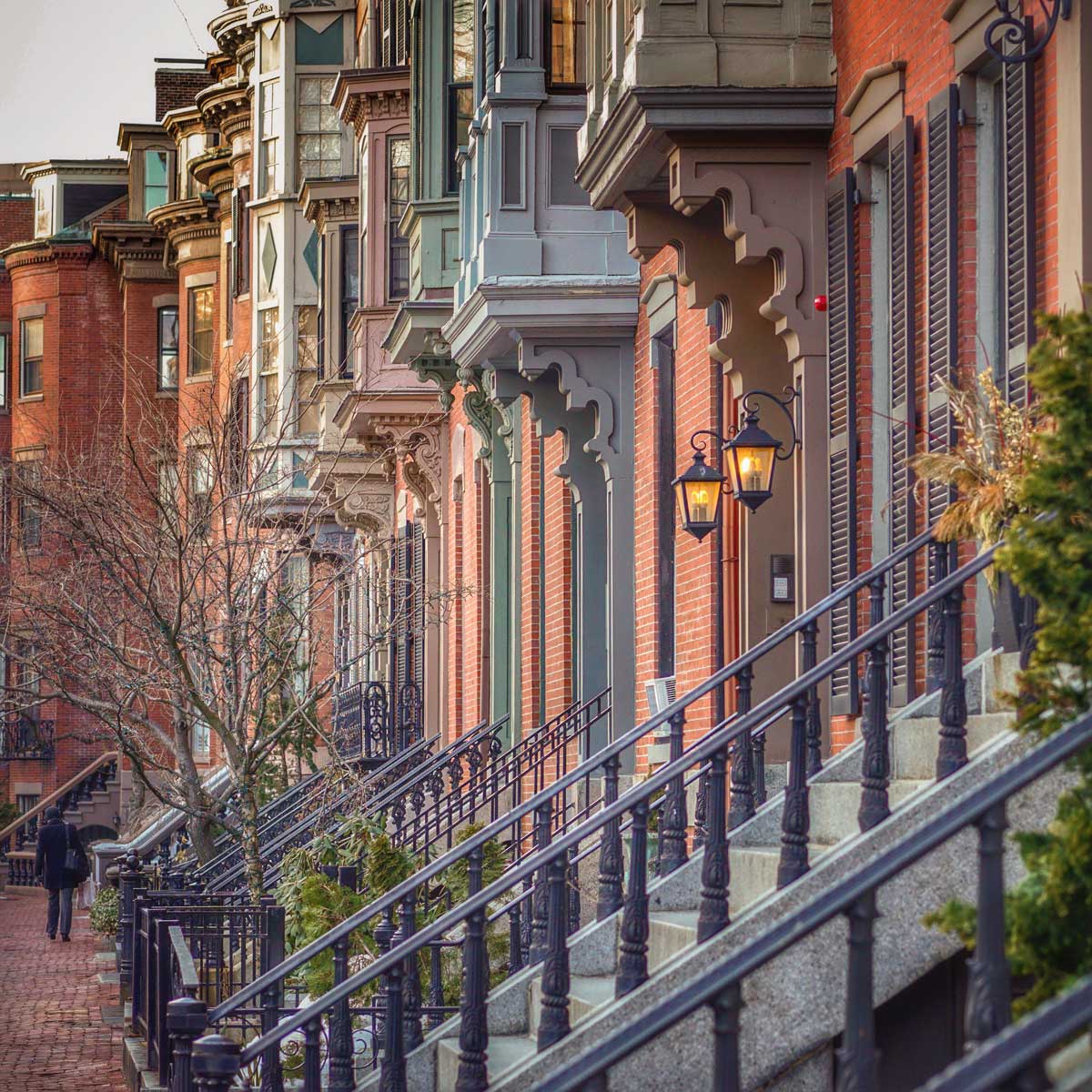 Among the best Boston neighborhoods for intricate architecture and leafy green spaces, The South End is the largest Victorian row house distinct in the US, with lines of gorgeous brownstones, eleven residential parks (one particular highlight is Blackstone/Franklin Square), and sixteen community gardens.
One of several multi-cultural and artistic areas of Boston, the South End is known for its strong LGBTQIA community and a vibrant religious and ethnic diversity amongst its residents.
Also home to the SoWa (South of Washington) Design District, the South End is the perfect place to check out some of the city's best contemporary art galleries, design showrooms, and artisan markets.
There are frequent farmer's markets, art walks, and design showcases – one of the best ways to check all of these out is the SoWa Open Market (500 Harrison Ave), which is open every Sunday from May to October. There you can find food trucks, beer gardens, and hand-made goods from local artisans for sale.
When you get hungry, head on over to Beehive (541 Tremont St) for craft cocktails (try the appropriately named Queen Bee), New American fare and live music or the South End Buttery (314 Shawmut Ave) for sandwiches and well-made baked goods (try the Salted Chocolate Cupcake or the Sticky Bun!).
Also nearby and definitely worth a visit is the Calderwood Pavilion at the Boston Center for the Arts (527 Tremont St), which houses a wide variety of theatrical and musical performances, including some from the venerable Huntington Theatre Company which mounts frequently awarded world-premiere plays and musicals.
Back Bay
As you explore neighborhoods in Boston, it's likely you'll find yourself in Back Bay. Centrally located and adjacent to Beacon Hill, Fenway, Chinatown, and Boston Commons/The Public Gardens, Back Bay is a shopping destination with flagship boutiques lined up along the tony brownstones of Newbury Street.
A few locally focused highlights are the Johnny Cupcakes store (Boston-based, jaunty, pop-art cupcake-themed clothes sold out of pastry cases, 279 Newbury St) and Trident Booksellers and Cafe (independent, family-run bookshop and cafe, 338 Newbury St) as well as many global brand high-end boutiques.
If you'd rather splurge on a meal, head to Boston classic Stephanie's on Newbury (190 Newbury St) for upscale, New American fare – try the Everything Salmon or go all-out and order their very popular Prime Beef Tenderloin with cacio e pepe butter.
Another excellent option is seafood bar Saltie Girl (279 Dartmouth St), known for their sustainably sourced fare and truly transcendent potato chips.
If you're looking for a more budget-friendly way to spend your time, check out the landmark Boston Public Library (700 Boylston St), the third-largest library in the U.S., one of Boston's most beautiful buildings as well as one of the most beautiful libraries in the world. It's also a popular wedding venue (though that's slightly less free!) so you may catch a bridal party taking photos on the steps of the McKim building.
Beacon Hill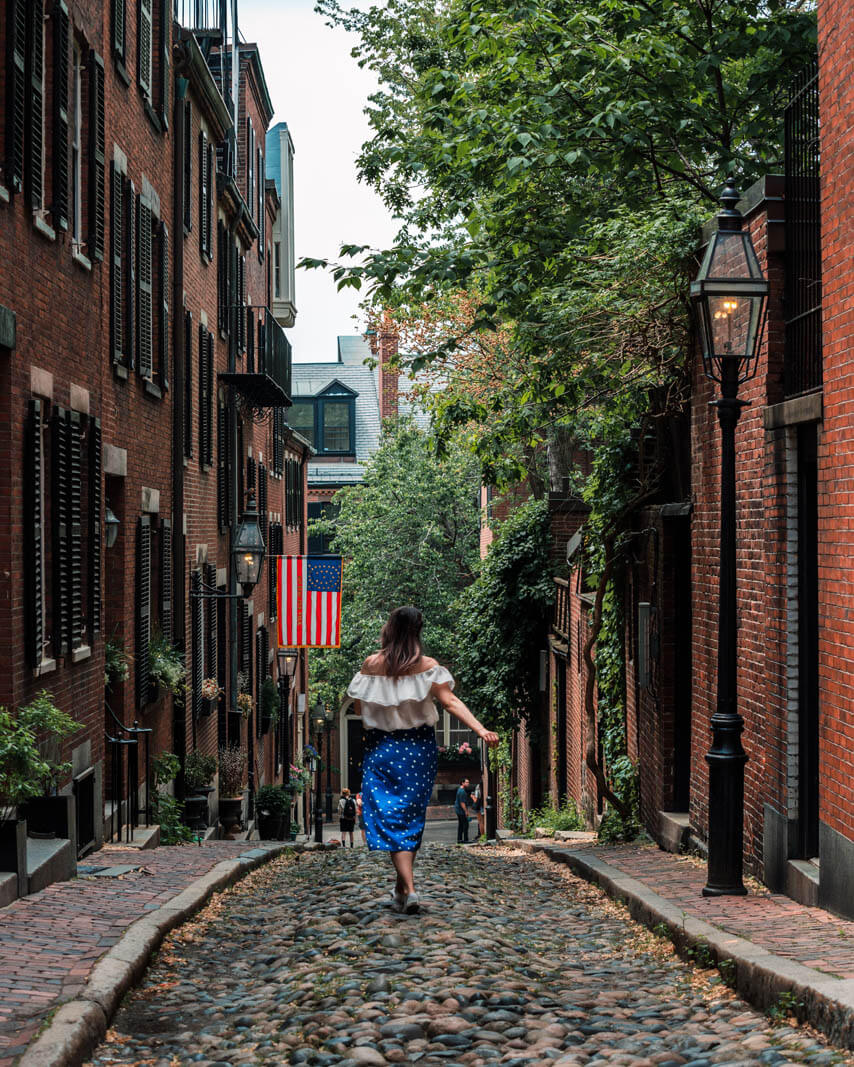 The first piece of advice I'll give you about this area of Boston is that in Beacon Hill you shouldn't try to drive through it. Marked by exceedingly narrow, often one-way, steep, brick-lined streets, Beacon Hill is much more pleasantly enjoyed on foot.
One of Boston's oldest neighborhoods and landmarked by the gold-domed Massachusetts State House (available to tour, 24 Beacon St), Beacon Hill is home to Federal-style rowhouses lived in by such notables as Daniel Webster and Henry Thoreau.
In addition to its picturesque (and luxurious) real estate, Beacon Hill is one of many areas of Boston with several important historical museums and cultural centers such as the Museum of African American History (46 Joy St) and The Vilna Shul (the oldest and last immigrant-era synagogue, 8 Phillips St).
After a day exploring Beacon Hill's renowned historical landmarks and gaslit-streets, grab a pizza at The Upper Crust (20 Charles St) and walk over to Boston Common park for dinner al fresco – or catch a free performance from the Commonwealth Shakespeare Company.
Adjacent to Boston Common is the magnificent Public Garden, known as the first public botanical garden in America and of course, the site of the renowned children's book Make Way For Ducklings. Visit the bronze duck statues for a photo-op and take a ride on the Swan Boats as you take in the lush florals. Finish your day with beers and arcade games at the Beacon Hill Pub (149 Charles St) or a glass of wine at Enoteca (26 Charles St).
And if you really want to go where everybody knows your name…head to Cheers (4 Beacon St).
Also, don't miss a stroll down Acorn Street, one of the prettiest streets in America!
Seaport District/ South Boston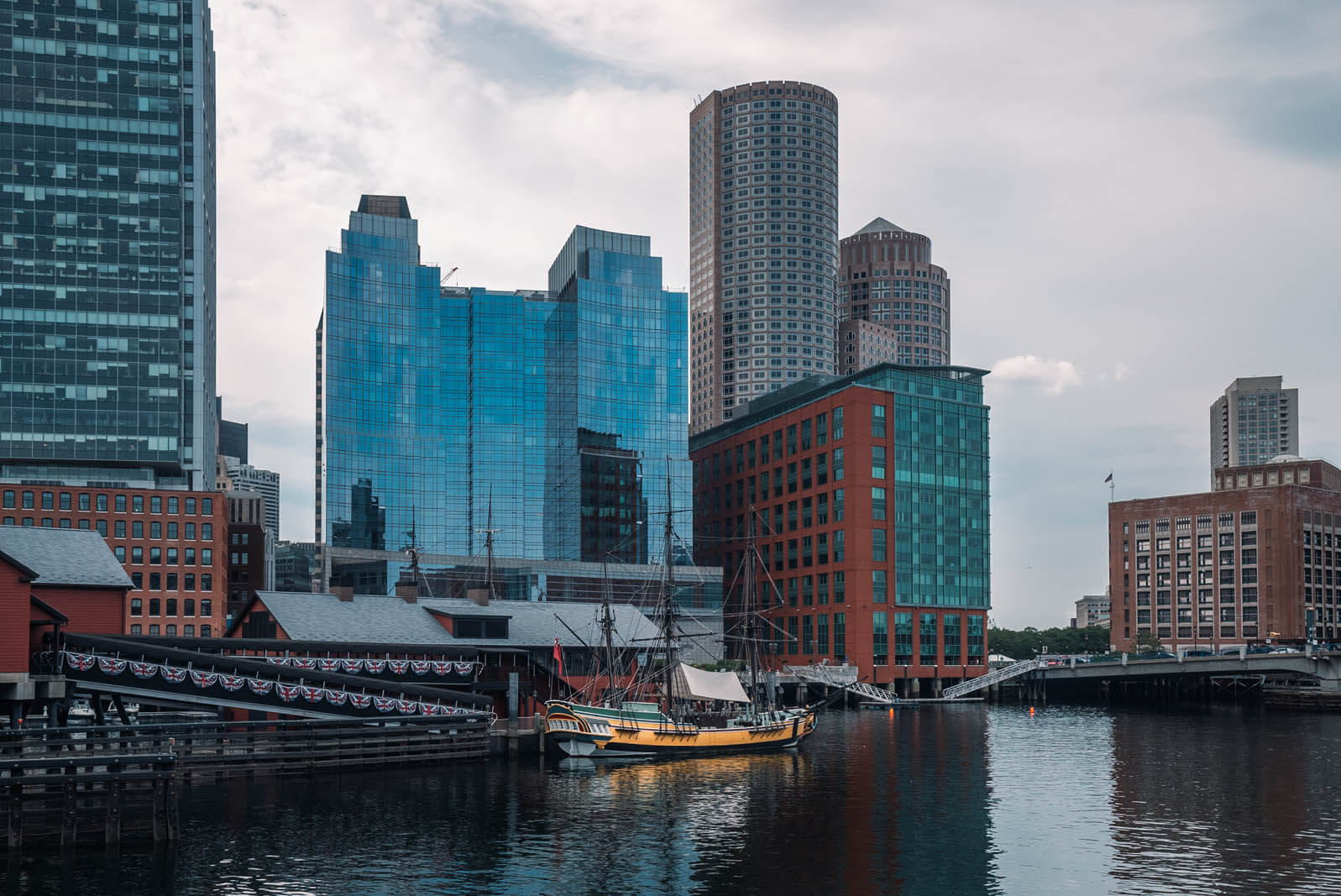 South Boston and The Seaport District are Boston neighborhoods with a vibrant mix of museums, restaurants, bakeries, convention centers, and businesses, all bordered by beautiful views of the harbor/hahbah (had to!).
On the museum front, head to the Boston Tea Party Ships and Museum site (306 Congress St) for a multimedia exhibition on the historic moment in US history, check out the Boston Children's Museum (308 Congress St) for a wonderfully interactive, family-friendly exploration of science and global culture, and be sure to visit the Institute of Contemporary Art (25 Harbor Shore Dr) for cutting-edge contemporary visual art and frequent live dance and music performances in a gorgeously designed glass building on the waterfront.
After you check out the ICA, stop by Tatte Bakery (200 Pier 4 Blvd) for first-rate coffee and pastries (try the Roasted Peach and Ricotta Tartine on Homemade Sourdough) or head over to longtime local favorite Flour (12 Farnsworth St) for their legendary sticky buns (they sell out, so go early if you can!).
On the seafood front, be sure to try The Barking Crab (88 Sleeper St) for excellent clams, lobster rolls, and of course, crab in a lively, picnic table setting with marina views.
Top off the night with a cocktail at nearby Lookout Hotel rooftop bar (70 Sleeper St) for fantastic nighttime city skyline views or head to the L Street Tavern (658 E 8th St), and pretend you're Ben and Matt in "Good Will Hunting".
Dorchester
Much like Brooklyn is to New York, Dorchester was once its own city and is now a historic Boston neighborhood. Known as one of the city's most diverse areas, Dorchester was originally home to the Indigenous Massachuett peoples and is currently home to a dynamic variety of cultures, including strong Black and Afro-Caribbean communities.
Dorchester is also home to the UMass Boston campus (100 William T Morrissey Blvd) and the John F. Kennedy Presidential Library and Museum (Columbia Point), which is available for tours of exhibitions on the life and legacy of the 35th president.
After checking out the museums and walking through Dorchester's many architecturally stunning enclaves (many of the city's largest standalone 19th-century triple-decker houses still remain in areas like Ashmont Hill), stop for delicious Caribbean fare at Oasis Restaurant (33 Hancock St), a locally-brewed craft beer, tasty BBQ, and rooftop patio views in one of the best Boston neighborhoods at Dorchester Brewing (1250 Massachusetts Ave), or New American cuisine served in a cozy, neighborhood setting at 224 (224 Boston St).
Charlestown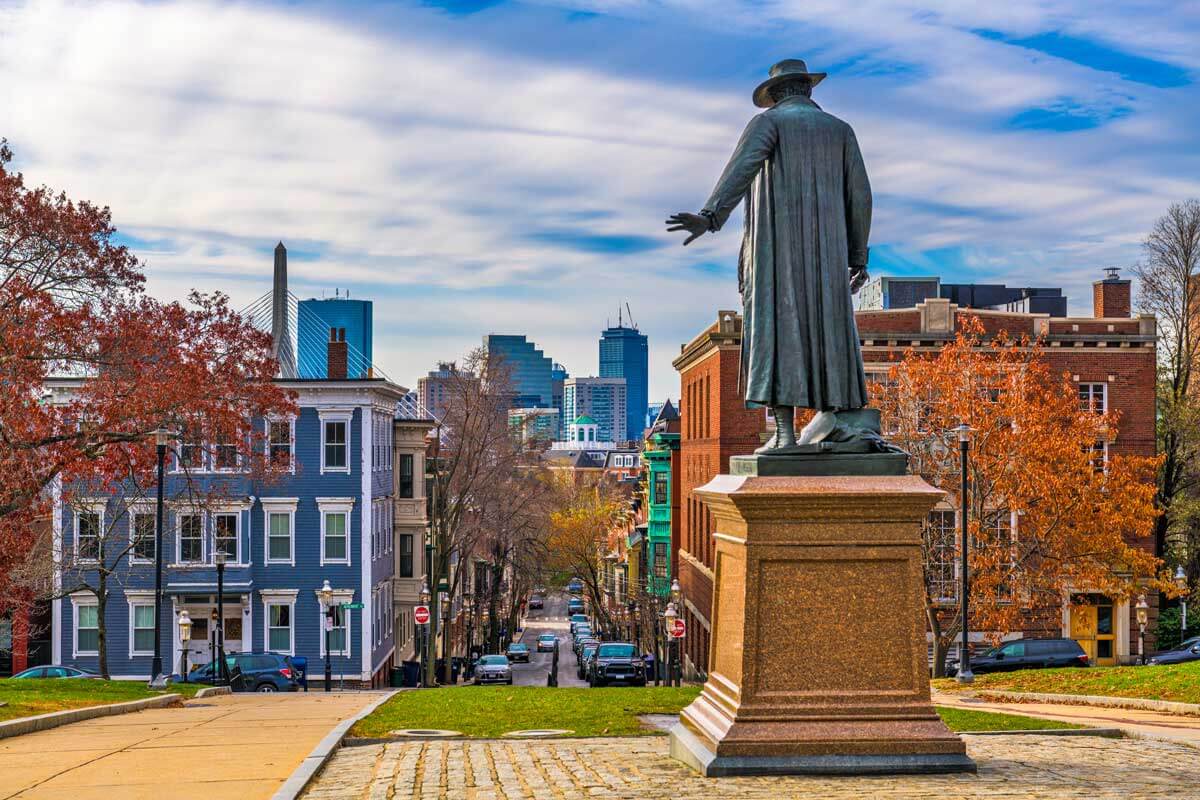 Charlestown is a peninsula adjoining the Mystic River and Boston Harbor, landmarked by the Bunker Hill Monument and Museum (Monument Square).
And yes, Charlestown has been memorialized by the films "Mystic River" and "The Town", but there is quite a bit more to this historic Boston neighborhood and it's unlikely that you will see Ben Affleck dressed as a bank-robbing nun.
Take a walk along the wood-lined colonial row houses of the Town Hill District, another one of many areas of Boston on the National Register of Historic Places, and the starting point of Paul Revere's famous 1775 Revolutionary ride.
Stop into the Warren Tavern (2 Pleasant St) – established in 1780 and remaining one of the country's oldest bars, it's named after Doctor Joseph Warren, who sent Paul Revere on the aforementioned Revolutionary ride.
Head to the Harbor and check out the U.S.S. Constitution Museum (Building 22, Charlestown Navy Yard) for tours of the ship as well as nearby famed boat "Old Ironsides" and the Navy Yard.
Break for a drink at Brewer's Fork (7 Moulton St), a delightful beer garden serving up craft brews, oysters, wood-fired pizzas, and cocktails in a friendly, lively patio setting.
For a more formal meal, visit Figs by Todd English (67 Main St) for tasty Italian fare from the famous chef. And for the fitness inclined, a trusted local gave me the insider's tip that Turnstyle Cycle (24 Cambridge St) has one of the best views of the Mystic River!
Jamaica Plain
The perfect combination of community-oriented, independent shops and sprawling greenspaces, Jamaica Plain is one of the most verdant, vibrant neighborhoods in Boston.
Home to the Arnold Arboretum (125 Arborway), Jamaica Plain (or "JP" as it is more frequently known) is an ideal place to stroll, bike, and picnic amongst 281 acres of temperate woody plants and flowers, with guided tours also available.
For a slightly tipsier tour, check out the Sam Adams Brewery (30 Germania St) for an expedition through the famous brewery and a chance to try new and freshly crafted beer flavors in their garden.
For the literary-minded, visit woman-owned, independent bookstore Papercuts (60 South St, Jamaica Plain) for new releases and well-curated stacks.
On the food front, this neighborhood in Boston is a treasure trove of fantastic bars and cafes – for top-notch Jamaican cuisine, turn to Chef Ernie Campbell's Jamaica Mi Hungry (225 Centre St) for sweet and savory jerk chicken, Evergreen Cafe (154 Green St) for fresh-brewed drip coffee and a highly-recommended breakfast burrito, or head to local hangout The Dogwood (3712 Washington St) for craft beers and brick-oven pizzas served up along with live music every Friday and Saturday.
Finish out your day in this Boston neighborhood with a trip to FoMu (617 Centre St) for truly next-level vegan ice cream – I highly recommend trying the Sweet Lavender flavor.
Fenway-Kenmore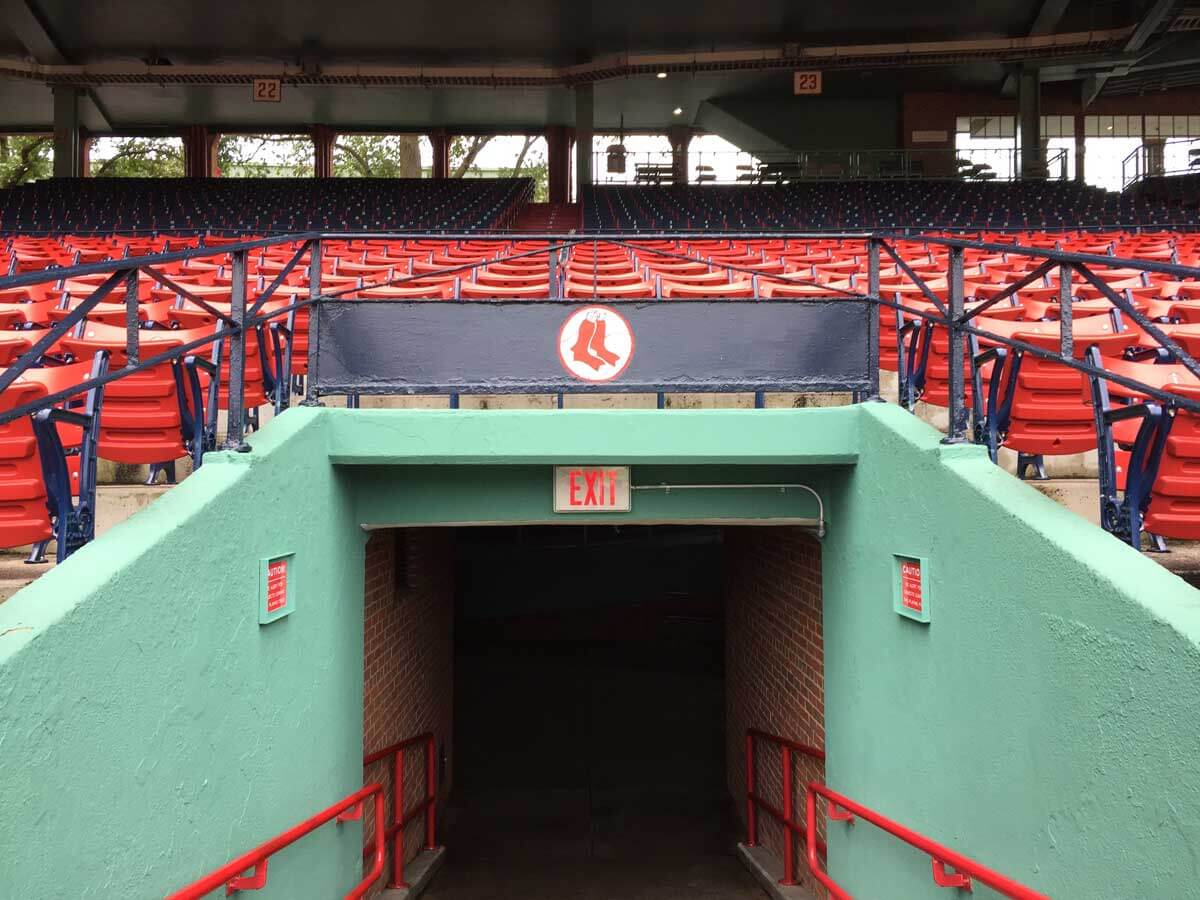 Remember when we talked about the "strong feelings" that Boston elicits? Ask any baseball fan about The Red Sox and you will likely get a passionate reaction (especially from Yankees fans).
But regardless of whether you support the team, it's worth your while to visit Fenway Park (4 Jersey St). Originally built in 1912 and rebuilt in 1934, Fenway Park is America's oldest active MLB baseball stadium in one of the most well-known and visited Boston neighborhoods.
Tours are available if you visit in the off-season, and of course, if you find yourself in town from April to October, check out a game while sitting in the Green Monster section (otherwise known as the left-field wall) – just don't wear any Yankees memorabilia or risk engaging in Boston's reputation for er, fighting.
After the game, enjoy a beer at Bleacher Bar (82A Lansdowne St) – one of the walls of the bar is the outfield wall of the park, or Cask 'N Flagon (62 Brookline Ave).
Another restaurant of note is Audubon Bar (838 Beacon St), a lively joint where you can mix and match their mac n' cheese with fun toppings (Doritos!) or enjoy an Anchorita (acho-infused tequila, lime, agave) with friends or a date! If they also order Dorito-covered mac n' cheese you'll know it's meant to be.
Head to the Museum of Fine Arts Boston (465 Huntington Ave) for classic works or The Isabella Stewart Gardner Museum ( 25 Evans Way) for Renaissance -era art housed in a Venetian-esque building (and also the site of a truly bonkers arts heist!!).
Like many neighborhoods in Boston, Fenway is home to world-class universities including the famed Berklee College of Music (921 Boylston St) the training ground for such notable performers as Quincy Jones, Melissa Etheridge, Charlie Puth, John Mayer, and MJ Rodriguez. Be sure to check their calendar of events for a chance to catch one of tomorrow's stars.
And while you're in Fenway, don't miss a chance to walk the beautiful gardens of The Fens and Fenway Garden Society (1200 Boylston St), a World War II Victory garden turned 7.5 acres of greenery tended to by community members who keep Fewnway one of the best Boston neighborhoods.
Try a Tour:
Fenway Park Tour – This 1 hour guided tour takes guests on a historic journey of the stadium, iconic players, collections and artifacts perfect for any baseball fan.
Theatre District /Chinatown
The Theatre District and Chinatown are two must-visit, culturally significant Boston neighborhoods. Known historically as the heart of the Asian-American community in Boston and greater New England, Boston's Chinatown is home to a rich variety of incredible cuisines – check out Shojo (9 Tyler St) for intricately crafted cocktails and fusion favorites like the Shojonator (smoked patty, Kimcheese, bacon, house sesame bao) and Wu-Tang Tiger Style ribs (Hoisin BBQ, Thai BBQ, peanuts, lime), or head to Great Taste Bakery & Restaurant (63 Beach St.) for divine shrimp dumplings, beef brisket with noodle rolls, milk teas, and custard and tapioca rolls.
After you've dined, head to a show at one of the nearby Theatre District's historic houses, like The Emerson Colonial Theatre (106 Boylston St, now in partnership with the top-notch performing arts program at Emerson College), the Boston Opera House (539 Washington St), and the Boch – Wang Center for the Performing Arts (270 Tremont St).
In addition to the first-run national tours of Broadway shows, these theaters often also enjoy the premiere out-of-town-tryouts where you can check out a new show before it hits the Great White Way.
If you're looking for a place to stay in this historic Boston neighborhood, check out the Boston Park Plaza (50 Park Plaza), a beautifully restored and luxurious 1927 hotel that is a frequent favorite for weddings.
Roxbury
Roxbury is one of the oldest established areas of Boston and the heart of Boston's Black cultural community. Founded in 1630 and originally its own municipality, Roxbury is now a part of the larger city and home to Franklin Park (1 Franklin Park Rd), Boston's largest open space.
Franklin Park is large enough that it contains sports playing fields, a fully operational zoo (open year-round!), a well-known cross country racecourse, the William Devine golf course, and Scarboro Pond.
Take a walk over to the William Lloyd Garrison House (25 Highland St), home of the famed abolitionist and newspaper editor, or head over to Malcolm X and Ella Little-Collins House (72 Dale St), home for some time to the famous activist and his sister and referenced in his autobiography.
Be sure to visit the Museum of the National Center of African American Artists (300 Walnut Ave) for a celebration of the art of the African diaspora.
For incredibly tasty West African cuisine, make a stop at Suya Joint (185 Dudley St) for fufu, taushe soup, and sweet fried plantains.
Finish your day by picking out a good read at community bookshop Frugal Bookstore (57 Warren St) before relaxing over micro-brew coffee and small-plate Indian fare at Dudley Cafe (15 Warren St) in one of the best Boston neighborhoods.
Allston/Brighton
Let me tell you about a little local holiday known as "Allston Christmas". Every September first, thousands of college students move into their school-year apartments (often concentrated in Allston and Brighton), the detritus of which leads to mountains of rejected furniture and home goods placed on the curb for anyone to claim.
Chaotic for sure, but great for those who love furniture thrifting!
Now that you know about Allston Christmas, you're a true local (and maybe you have a new couch that you picked up??). In addition to being known for their own holiday, Allston and Brighton are neighborhoods in Boston known as residential hubs for many of the city's students as well as the home to hyper-local food gems.
nsiders know and love Brighton Bodega (328 Washington St) for their friendly bartenders and seasonal, constantly updated menu of small plates.
Another standout in these lively Boston neighborhoods is the Hopewell Bar and Kitchen (1277 Commonwealth Avenue) a friendly hangout spot with well-crafted cocktails (try the Lounge Act Glendalough Rosé gin, St Germain, Aperol, peach purée, grapefruit juice, Brut Rosé), food and shuffleboard!
Make sure to visit Coreanos Allston (172 Brighton Ave) for innovative Korean-Mexican fusion fare, and before your next Allston Christmas, caffeinate with small-batch coffee at Kohi Coffee Company (130 Guest St).
Cambridge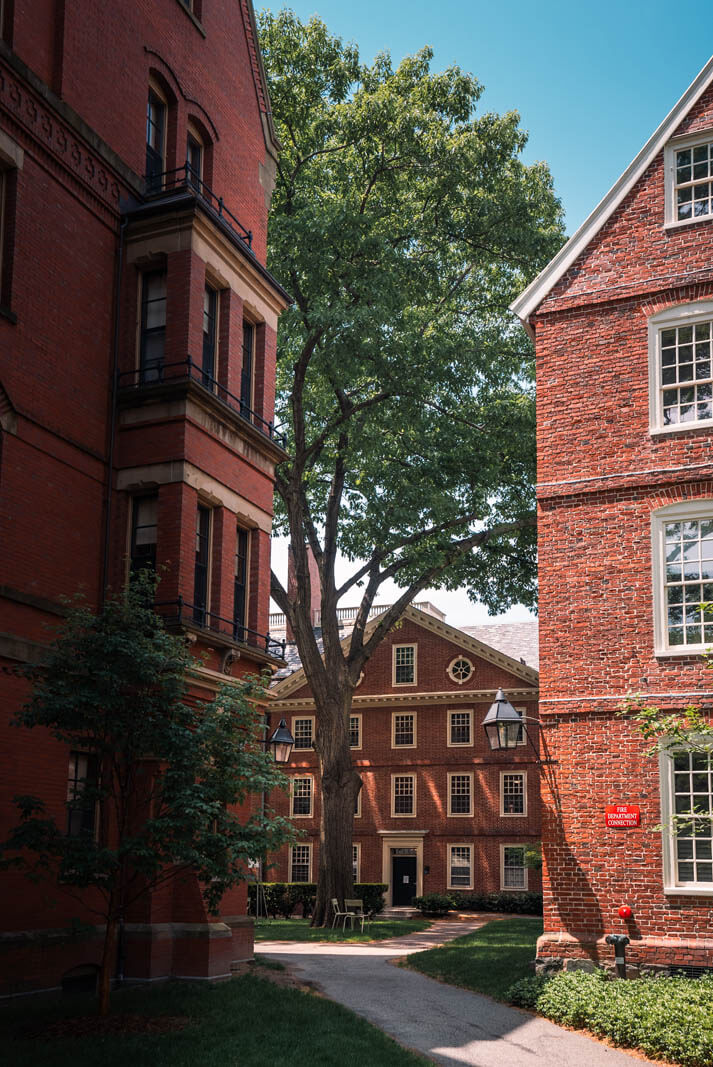 Cambridge is the most historic Boston neighborhood that isn't technically part of Boston. Home to both Harvard University and MIT, Cambridge is a fantastic city to stroll through and enjoy some of the area's oldest academic architecture.
While you're there, check out the MIT Museum (265 Massachusetts Ave Building N51) for exhibitions on innovations in technology and technology-related artworks, and the Harvard Semitic Museum (6 Divinity Ave) for exhibitions on Middle Eastern culture and history.
In addition to its academic pedigree, Cambridge is a significant theatrical cultural center, home to the famed American Repertory Theater (Loeb Drama Center, 64 Brattle St), where some of the country's most exciting theater is developed.
After the show, head for cocktails and bites at The Longfellow Bar (40 Brattle St #3), a venture from renowned chef Michael Scelfo (try the Crab rangoon nachos and the Surfer Rosa cocktail!).
If coffee shops are more your thing, you're in luck, as Cambridge is chock-full of great ones: Curio (441 Cambridge St, try the waffles!), 1369 Coffee House (757 Massachusetts Ave), and Black Sheep Bagel Cafe (56 John F. Kennedy St) are standouts.
Feeling inspired by all of the learning that surrounds you? Hit up Porter Square Books (25 White St) which frequently hosts authors for book signings and speaking events or the Harvard Bookstore (1256 Massachusetts Ave nearby the university but independently owned!).
And I'd be remiss not to mention one of my absolute favorite areas of Boston – the meeting of Boston and Cambridge at the Charles River, where you can find the legendary Museum of Science (1 Museum Of Science Driveway). The Museum of Science hosts a variety of innovative, family-friendly, and interactive exhibitions in addition to an excellent planetarium and IMAX theatre, all overlooking The Charles River, Cambridge, and Boston.
Try a Tour:
Harvard Student-Led Walking Tour – Check out the highlights and landmarks at one of the most prestigious higher educational institutions in the world led by a current student!
Somerville
Another one of the areas of Boston that is adjacent and technically its own city, Somerville has in recent years become a Brooklyn-esque hotspot for innovative food and drink. If you want to step-up your cocktail hour, run don't walk to Backbar, where all of the cocktails are named after different bears(!) (7 Sanborn Ct) or sip a drink in a funky art gallery at CREATE Cocktail Lounge (1 Bow Market Way).
Once you've worked up an appetite, check out Fat Hen for trendy takes on Italian cuisine (126 Broadway), or head to Bronwyn for an Oktoberfest-meets-hipster beer hall experience (255 Washington St).
Chow down on upgraded diner food at Rosebud (381 Summer St) or on modern Middle Eastern bites at standout Sarma (249 Pearl St, try the Hanger Steak Gyro, the Crab Moussaka, and the Almond Baklava Bark).
For live music and trivia, head to Aeronaut Brewing Company (14 Tyler St), a taproom with locally brewed drafts and Venezuelan treats from local food vendor Carolicious.
Brookline
Brookline is a tree-lined, picturesque town on the border of Boston neighborhoods Jamaica Plain, Mission Hill, Allston, and Roslindale.
It's the birthplace of John F. Kennedy (83 Beals St, also a museum), the former home of Tom Brady (though we no longer speak of him), and the most densely populated town in Massachusetts.
Be sure to check out The Coolidge Corner Theatre (290 Harvard St), an independent movie theater opened in 1933, then dine on famously tasty burritos at Anna's Taqueria (446 Harvard St).
Just across the street, Brookline's strong Jewish community contributes to some of its tastiest offerings with Zaftigs Delicatessen (335 Harvard St) and Kupel's Bakery (421 Harvard St) delighting locals for decades.
Craving sandwiches? Try the Brookline Spa (75 Harvard St) for gigantic subs that will fuel you before you stroll through the Brookline Reservoir Park and Frederick Law Olmsted Historic Site (99 Warren St), honoring the famed urban landscape architect who designed the stunning "Emerald Necklace" of parks along several adjoining neighborhoods in Boston.
---
A city (and surrounding area) whose fabric seamlessly weaves old and new, historic and innovative, traditional and cutting-edge, the best Boston neighborhoods to visit are…all of them!
If you're wanting to do a little more exploring beyond Boston, check out all the amazing things to do in Salem located just a 30-minute train ride from North Station, and if you're a fan of the Halloween cult classic, you can hunt down the famous Hocus Pocus filming locations while you're there!
Also, consider spending the night, check out some of the area's most beautiful hotels (including some allegedly haunted ones) in our full guide for the best places to stay in Salem.
---
Enjoyed this guide to Boston neighborhoods and areas of Boston to visit? Bookmark for later or share the love below on Pinterest!