Looking for the best things to do in North End, Boston? This guide to Boston's Little Italy has got you covered!
When you think of Boston, there are a few things that immediately come to mind — clam chowder, Sam Adams (the beer and the man), Boston Cream Pie, lobster rolls… you may not, however, think of Italian food. While Boston is primarily known for its seafood (and Fluffernutters??? But that's a story for another day), there is a vibrant, dynamic, and long-standing Italian community (and food scene!) present in the city's North End neighborhood.
And what's more — the North End, Boston is also home to some of the city's oldest historical landmarks and is its oldest residential community.
Given its relatively small square footage, it's an easy neighborhood to spend a day strolling among the historic buildings, stopping for traditionally made cappuccinos for breakfast, Italian sandwiches for lunch, a life-changing Chicken Parmigiana for dinner, and cannolis for dessert.
We've accumulated a list of things to do in North End, Boston to make this exact itinerary possible — from the best pastry shops and cafés to the can't-miss historic landmarks to the ideal spots to split a bottle of wine and family-style pasta.
And as a bonus, we've thrown in a few nearby attractions should you want to wander outside the bounds of Boston's Italian district — for a full guide to the town, check out our list of the best Boston neighborhoods to visit!
So let's get to it and cahpe (sorry, had to!) diem!
Brief History of the North End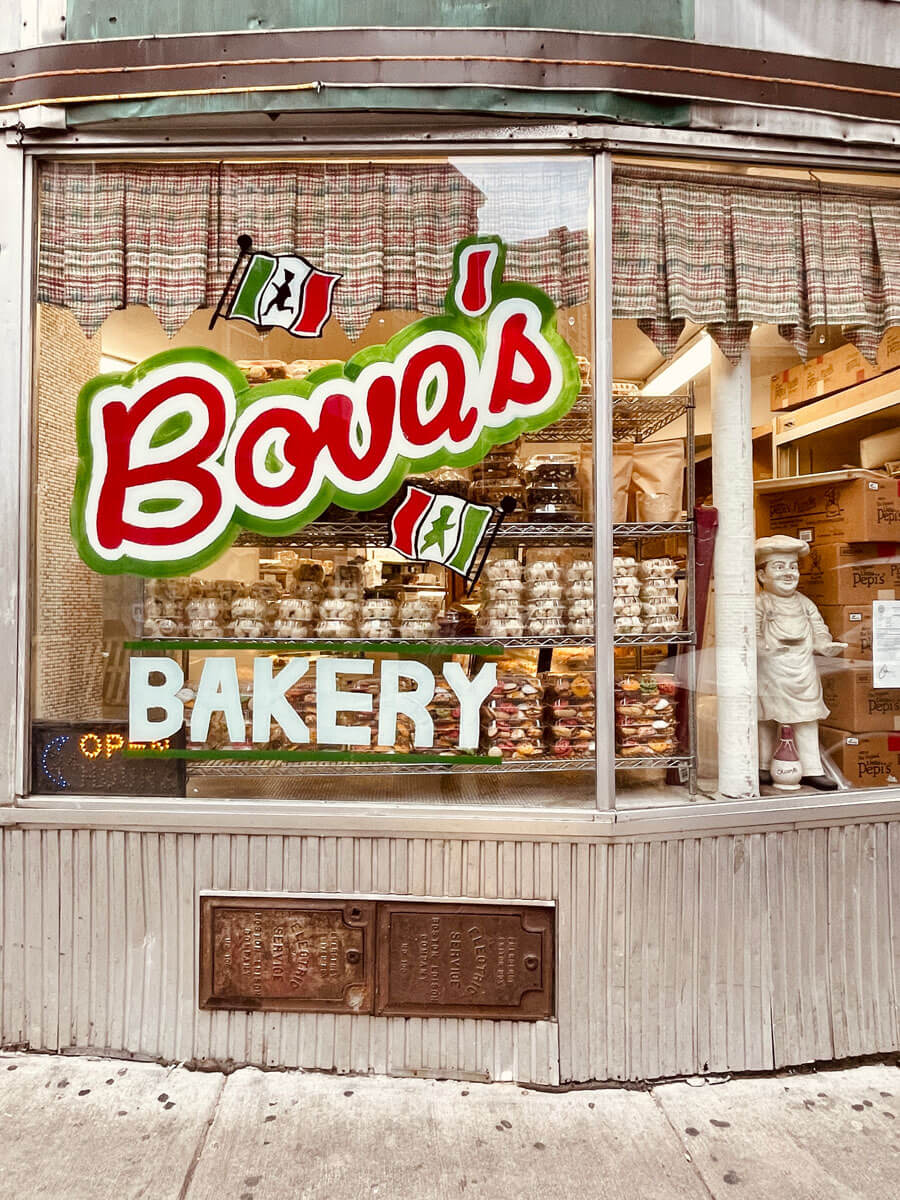 The North End, Boston, was originally home to the Pawtucket and Massachuset Peoples before it was colonized in the 1630s. As the settler community grew, the area became a conglomeration of a few different residential estates surrounding the North Meeting House church (one of the oldest churches in colonial America) and North Square, the community and commercial center of the neighborhood found at the intersection of Moon, Prince, North, Garden Court, and Sun Court Streets.
The neighborhood went on to be a touchpoint in the lead-up to the Revolutionary War — in 1765, anti-Stamp Act protesters converged on the North End's Hutchinson Mansion in North Square, causing Lieutenant Governor Thomas Hutchinson to flee the area.
During the war, notable patriot Paul Revere lived in North Square and the nearby North Meeting House would eventually fall to the British in the Siege of Boston.
After the war and into the early 19th century the North End, Boston experienced a commercial and residential boom due to the wide wave of immigration of Eastern European Jewish, Irish, and Italian people settling in the area.
This expansion of small businesses and cultural enclaves continued well into the early 20th century (including the development of the famous Prince Pasta Company in 1912 on Prince Street).
The North End was met with a series of devastating setbacks in the 1918 Flu (in which so many residents perished that the city created a Home for Italian Children to care for those orphaned) and in the Great Molasses Flood of 1919 — in which a 2.3 million gallon storage tank of molasses burst at the North End's Purity Distilling Company, creating a massive flood that swept the neighborhood — with a fatal ending for 21 people, ripping buildings off of their foundations and sending trucks careening into Boston Harbor. Locals swear that on summer days you can still smell molasses in the neighborhood.
The latter half of the 20th century proved less calamitous for Little Italy, Boston and more defined by the many eras of tunnel and highway construction.
The Sumner Tunnel, the Central Artery, and the Callahan Tunnel (which would eventually be disassembled and replaced by the decades-long Big Dig project) routinely connected and disconnected the neighborhood from its adjoining communities.
Today, Boston's Italian district has maintained much of its historic character and culturally vital businesses, serving as a popular source of the city's tourism income and a tightly-knit residential community alike.
Ok, But Where is the North End?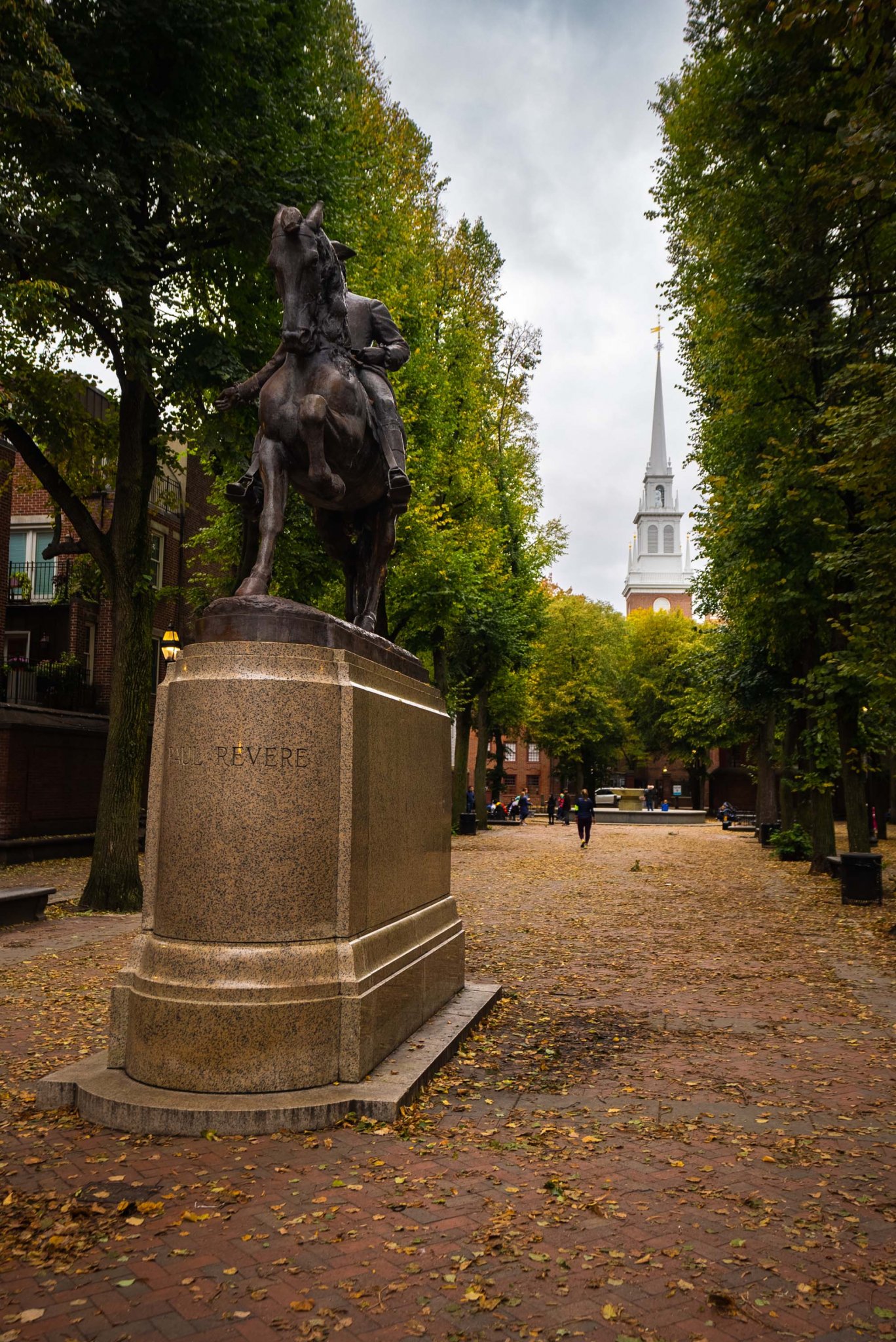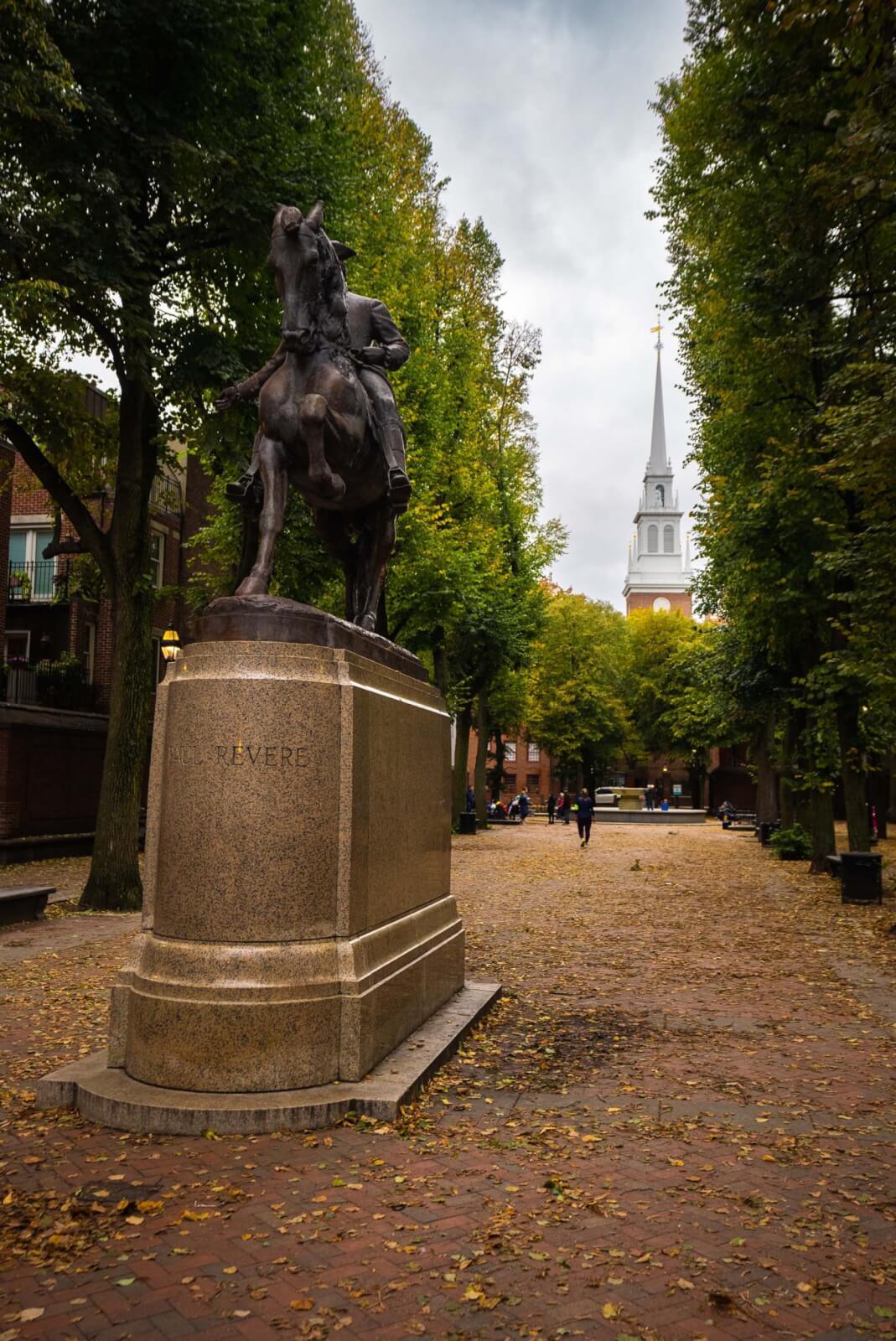 The North End, Boston is a very small neighborhood within the also geographically small city of Boston, covering only 0.36 square miles of the city limits.
The area is bordered by the meeting of the Charles River, Mystic River, and the Boston Harbor, and while once known as the "Island of North Boston", it is, however, connected to the rest of the city and not an island.
At its southern end lies Government Center, (predictably) the city's municipal center, and also the site of Faneuil Hall and Quincy Market.
So how do you get there? While there isn't an MBTA stop within the exact bounds of the neighborhood, the North End's closest train stop is nearby North Station, home to the Orange Line (which runs North-South), Green Line (which runs East-West), and Commuter Rails (running in several directions from the Greater Boston area towns including Salem).
Other stops that will get you close to the area are the Haymarket stop (Orange and Green Lines) and the Aquarium stop (Blue line, which runs North/east to neighboring Revere).
The North End is accessible by car, but be warned — as in the rest of Boston, there is very little legal street parking (and many spots that look legal, but are not! Never change, Boston).
There are several nearby garages — the Haymarket Garage (136 Blackstone St, next to the "T" station), the Government Center Garage at SP+ Parking (50 Sudbury Street), the North Station Garage (286 Causeway St), the Battery Wharf parking garage (2 Battery Wharf), and a variety of smaller garages along Hanover and Commercial streets — be aware that smaller garages may fill up quickly!
What to see in Little Italy, Boston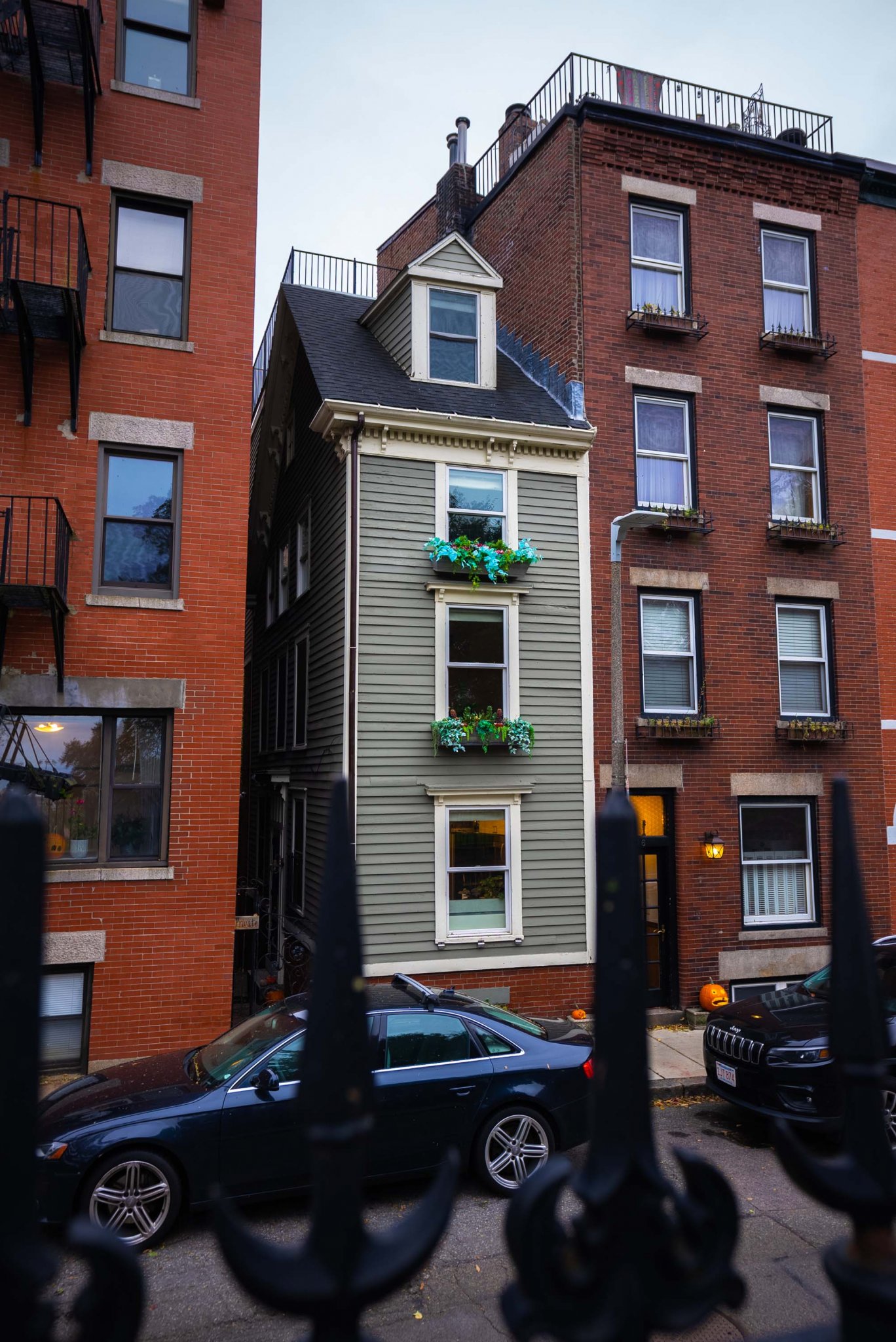 Packed into the small square footage that is the North End, Boston is many historic landmarks key to the city and the country's beginnings.
While you can certainly create an itinerary on your own, it's also helpful to gain the context and guidance of where to go with one of the neighborhood's self-guided and supervised walking tours.
Boston by Foot
Boston By Foot offers both public and private walking tours throughout the entire city, including a specific tour highlighting the neighborhood in "The North End: Boston's Immigrant Gateway".
This tour highlights the area's rise to prominence through Boston's maritime trading industry and the many contributions of the North End's immigrant populations to both the neighborhood and the city at large.
The Freedom Trail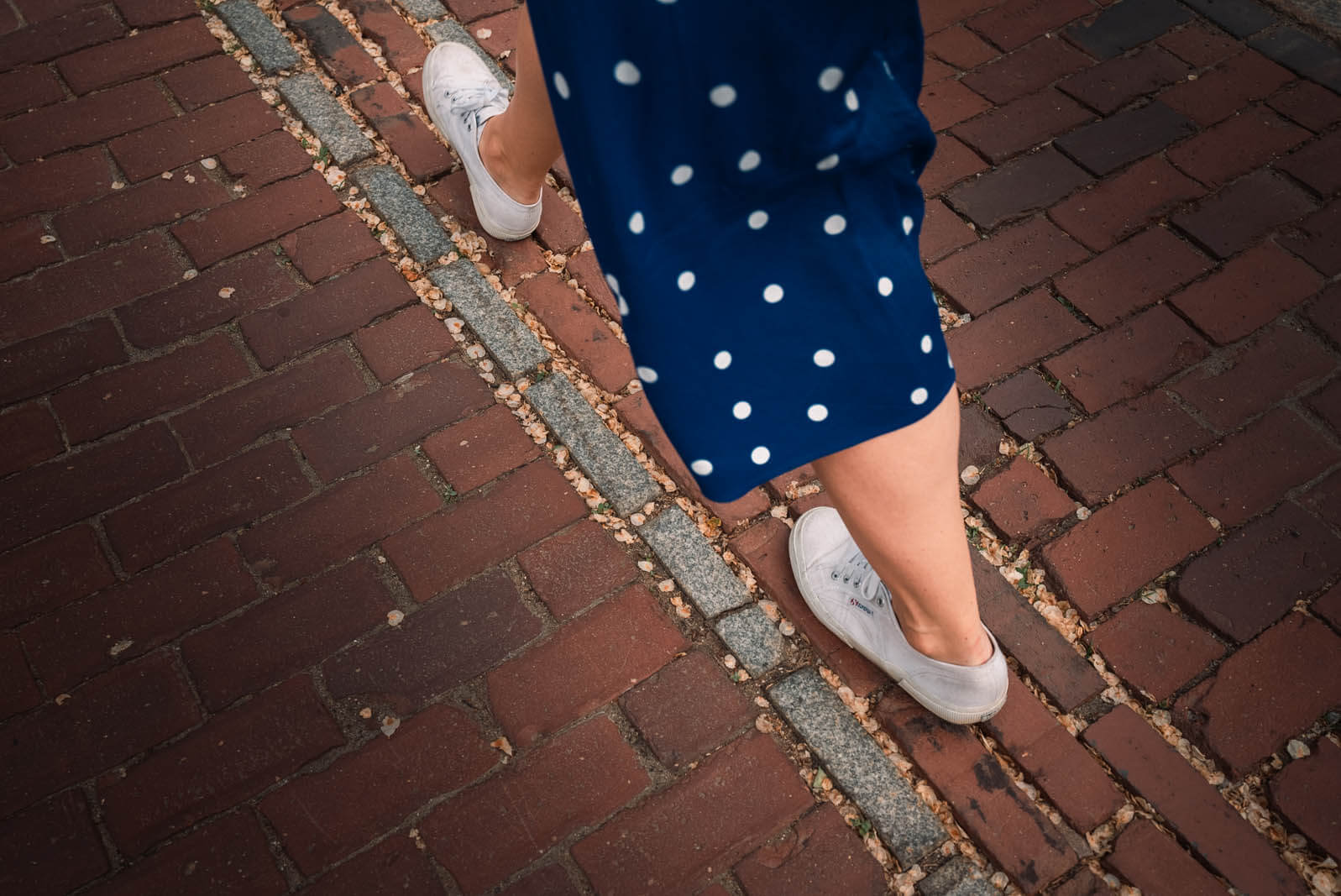 The Freedom Trail is an excellent way to see many of the historic landmarks throughout the city, many of which are concentrated in the North End. This GPS self-guided tour featuring the highlights of the Freedom Trail has a strong section focused on the North End, including stops at Paul Revere's House, the Paul Revere Statue, Old North Church, and Copp's Hill Burying Ground.
We'll go through each of these landmarks and their history below.
Paul Revere House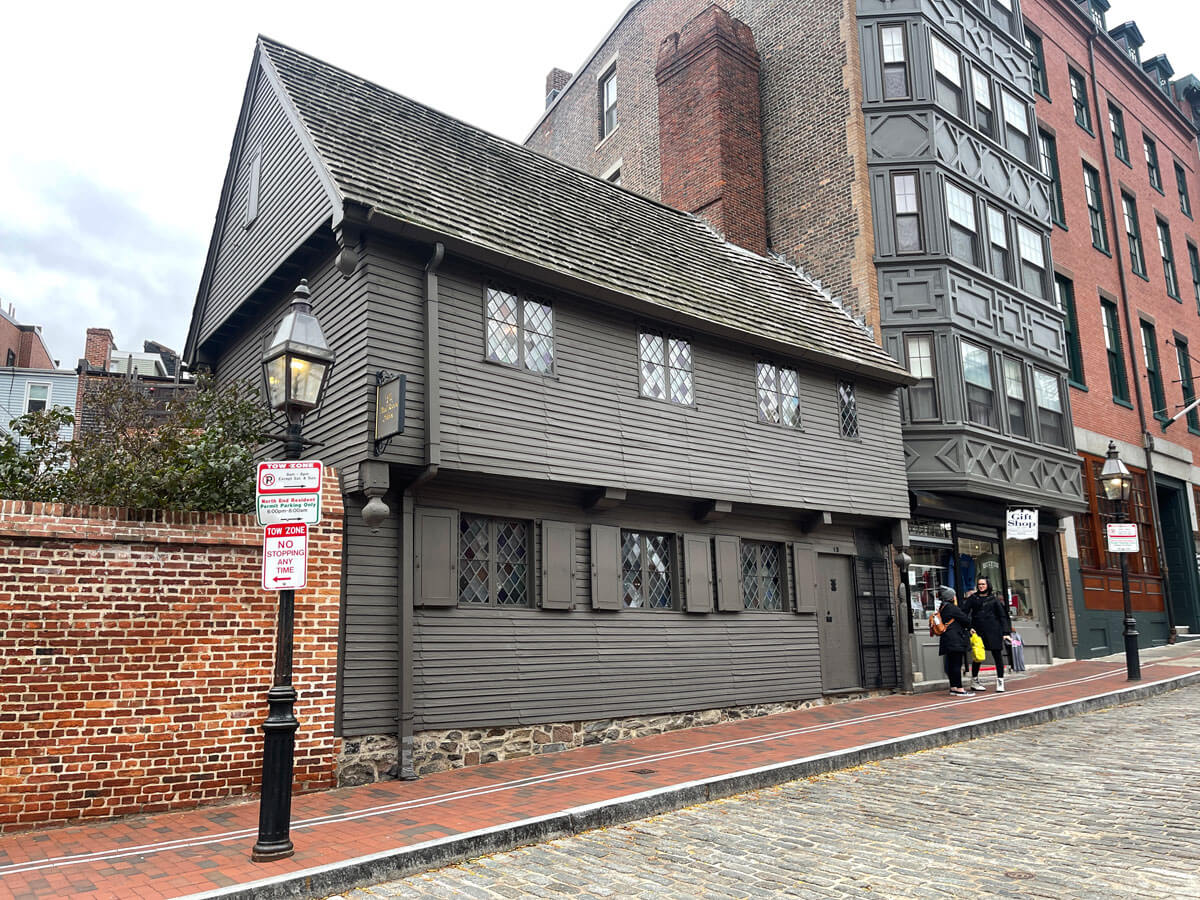 19 North Square, Boston, MA
The neighborhood's most well-known resident, Paul Revere, is most widely known as the patriot who took a "Midnight Ride" on April 18th, 1775, warning John Hancock and Samuel Adams of the British army's impending advance.
This act would have remained largely within local lore had it not been forever memorialized in Henry Wadsworth Longfellow's 1860 poem "Paul Revere's Ride", transforming him from a regional notable to a nationwide folk hero.
But how did Revere become politically active enough to become a key player in the Revolution? What was his life like before, and after his midnight ride? Why was he eventually court-marshaled by the government of which he had a direct hand in helping to exist? Learn about the very real person who inhabited the folklore by visiting Revere's homestead, now a fully-functioning museum open to the public since 1908.
Tickets are available for highly-affordable $6.00 ($5.50 for students and seniors and $1.00 for children) and in addition to the general tour of the museum, there are options to tailor a tour for special groups (family reunions, school groups, corporate retreats) as well as regular events and collaborations with other museums and historical groups in town.
Paul Revere Monument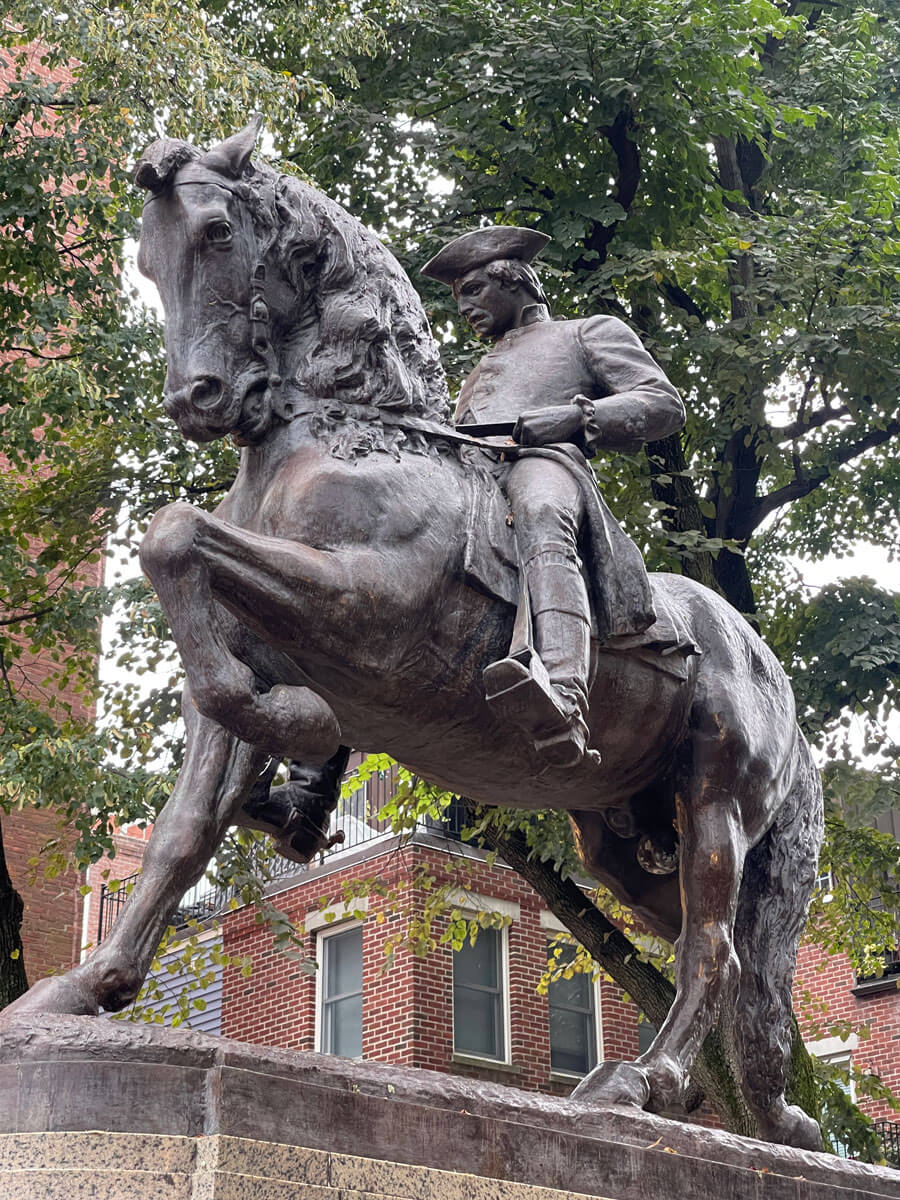 Paul Revere Square (Hanover Street between Clark and Harris Street), Boston, MA
A 3-minute walk from the Paul Revere House, this long-standing statue is one of the most photographed sites in town, easily recognizable as Revere on horseback during his midnight ride. Originally cast in bronze in 1883 by sculptor Cyrus Edwin Dallin, the monument would be redesigned over a period of over 60 years before it opened to the public in 1940 (Dallin would die just four years later).
With the Old North Church looming in the background, the statue makes for a distinctly Revolutionary-themed photo-op.
Old North Church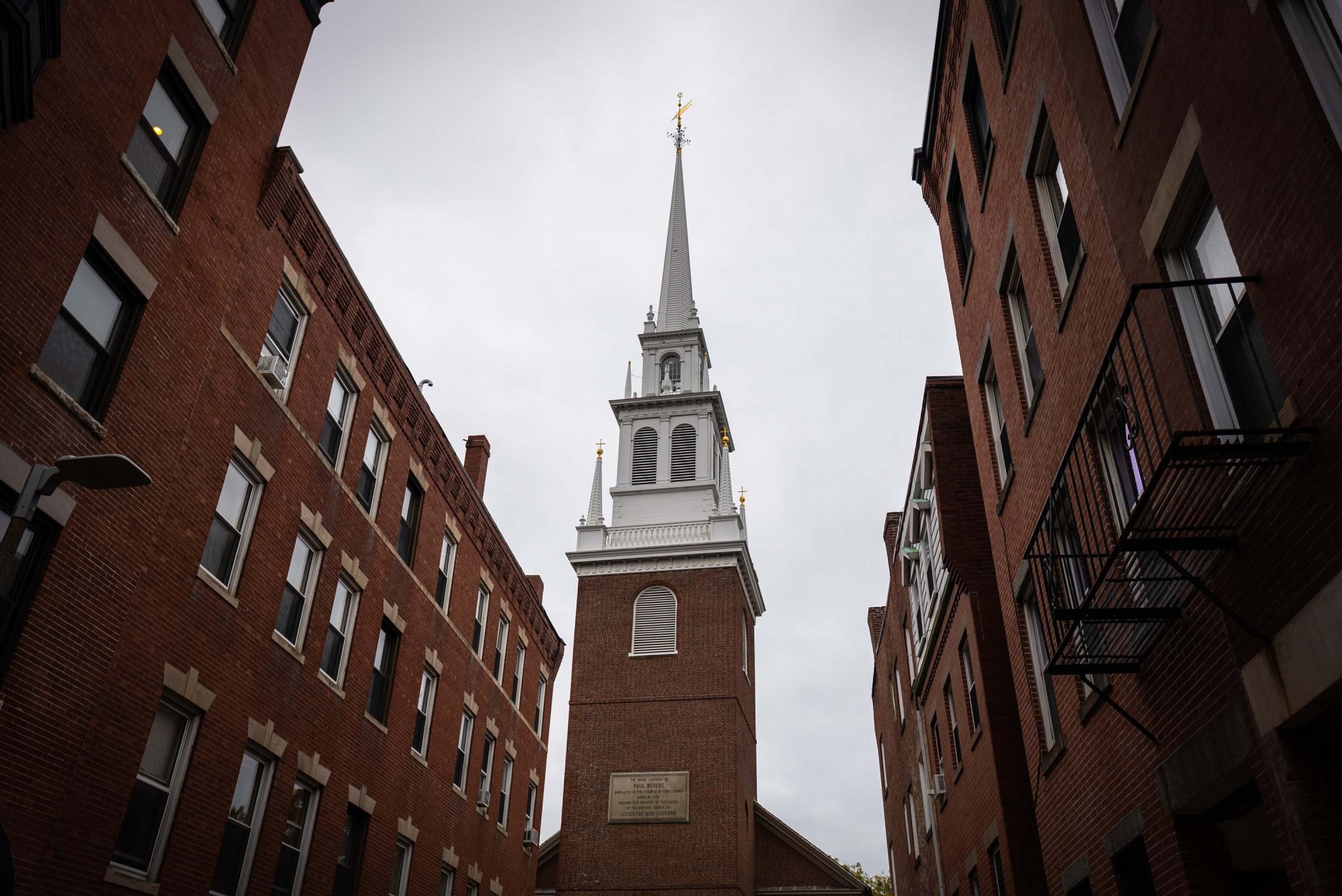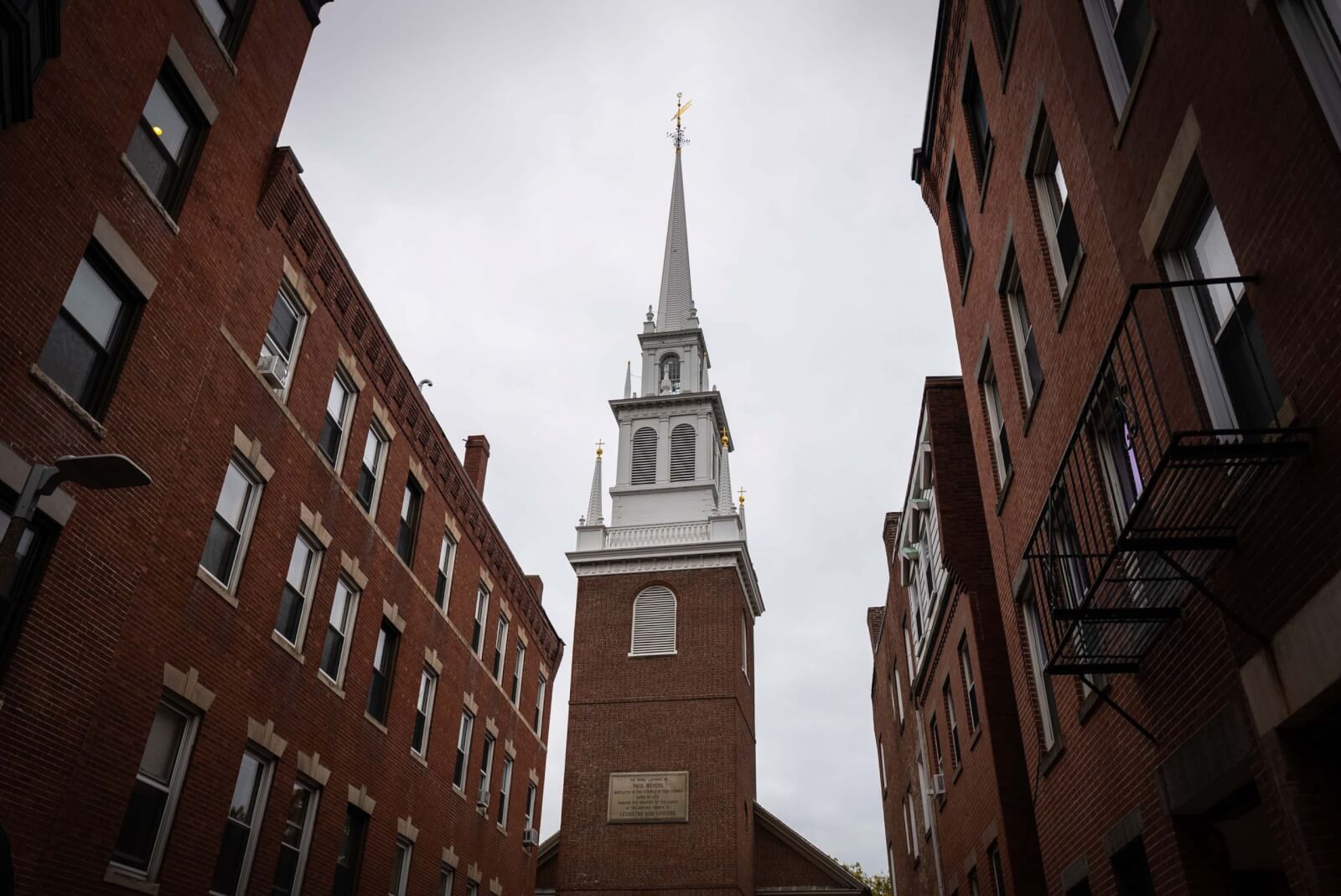 193 Salem Street, Boston, MA
Built in 1723, the Old North Church was originally known as Christ Church — it would later become widely known as the site of the wartime lantern signal in Paul Revere's famous midnight ride.
At Revere's request, church Sexton Robert Newman and Captain John Pulling hung two lanterns from the building's steeple, illuminating both lamps to warn patriots in Charlestown that the British were approaching by sea across the Charles River.
The phrase "one if by land, two if by sea" was made famous in the 1860 Longfellow poem and would make the Old North Church a permanent icon in the country's history.
The building itself has been meticulously maintained for nearly 300 years, including the church's ringing bells, which are the oldest in the nation. They are regularly maintained and rung by the Massachusetts Institute of Technology Guild of Bellringers.
The church's steeple, damaged in the New England Hurricane of 1804, was redesigned by famous Boston architect Charles Bullfinch (also responsible for the design of the Massachusetts State House, Boston Common, and even the U.S. Capitol!).
Unfortunately, it was re-destroyed in another hurricane (Hurricane Carol in 1954) but rebuilt using pieces of the original as well as the Bullfinch model.
The Old North Church is also home to a large crypt, where over a thousand bodies of congregants were buried between 1732 and 1860. Try not to think about it while you tour the church!
Both the Old North Church and its crypt are available for tours (check the website for seasonal availability and tour times) and the church itself is still a functioning congregation, inviting worshippers to join them every Sunday.
Clough House
21 Unity Street, Boston, MA
Built in 1715 as a private residence, the Clough House remains one of the city's oldest buildings and standing example of the row house architecture prevalent in colonial Boston.
Originally constructed and inhabited by North End resident and master bricklayer Ebenezer Clough and his family, the building remained a residence (both as a single-family home and as apartments) until 1959, when the Old North Foundation purchased the house.
The space is now a multi-use community space that includes galleries, a coffee shop, and rotating exhibits and events.
Copp's Hill Burying Ground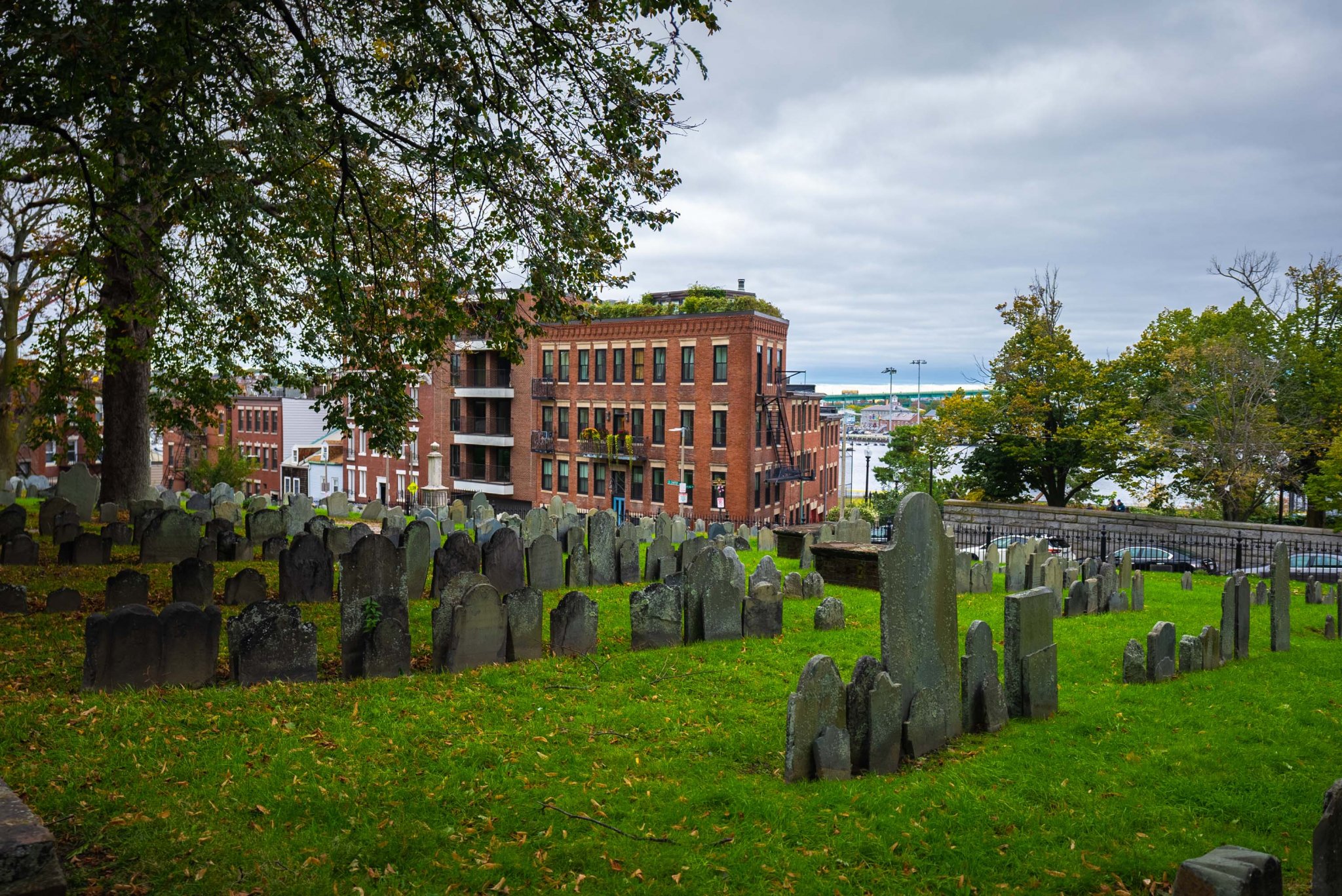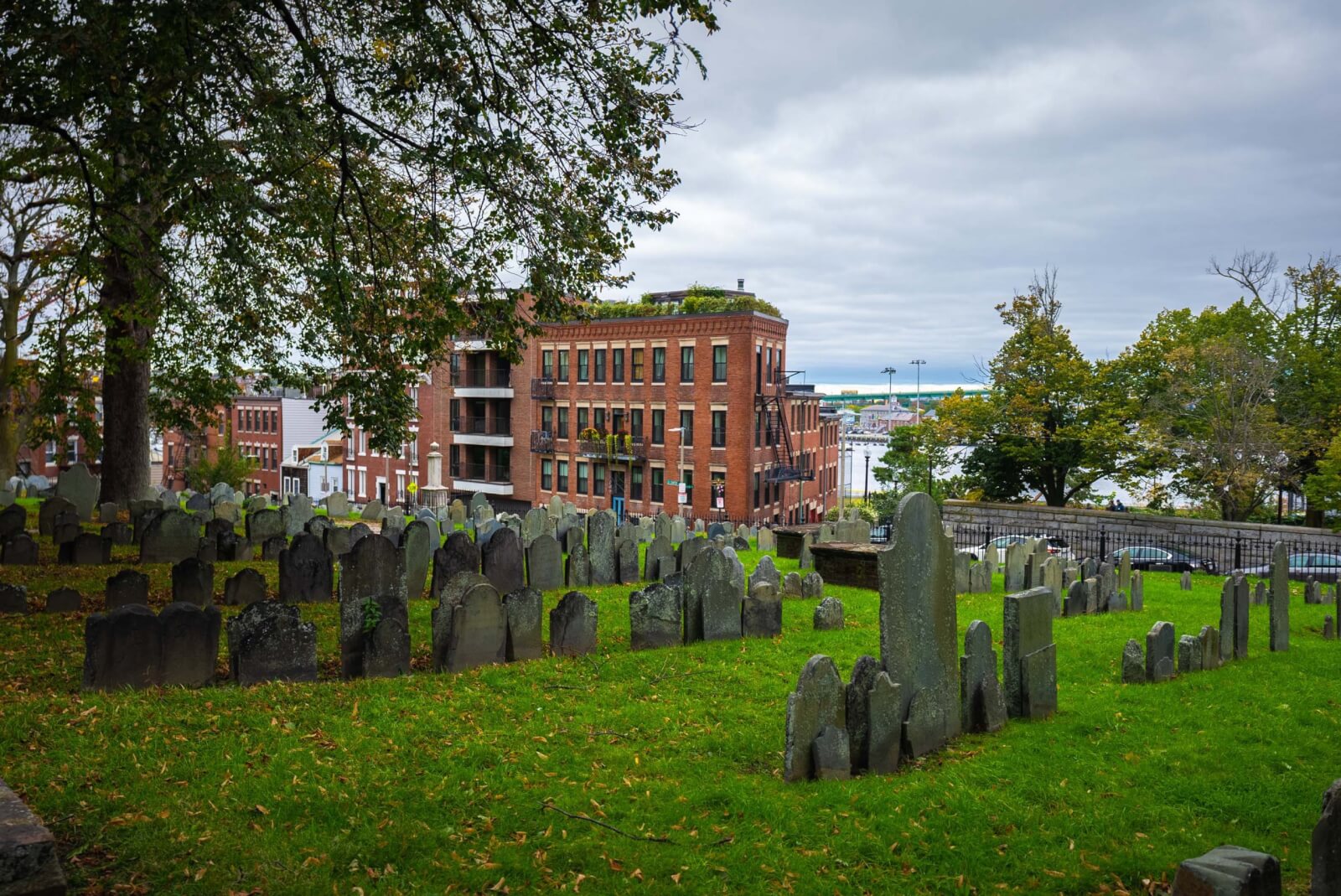 45 Hull Street, Boston, MA
Established in 1659 and named after local shoemaker William Copp, Copp's Burying Ground is the North End's largest burial ground and the final resting place of many famous Boston residents.
Some of the Bostonians buried there include Robert Newman (of Old North Church lantern fame), Puritan ministers Cotton and Increase Mather (largely associated with the Salem Witch Trials), Prince Hall (early abolitionist and founder of the Black Freemasonry), and Phyllis Wheatley (notable poet and first published African American woman).
The elevated ground also served as a visual aid for the British during the Revolutionary War, when troops used the burial ground as a landmark when training their cannons on nearby Charlestown during the Battle of Bunker Hill.
While you're nearby Copp's Hill, be sure to check out The Skinny House (44 Hull Street, Boston, MA), a 10.4 foot-wide house that, according to local legend, was built in the late 1870s out of spite by a brother who was left an inordinately small piece of property by his square-foot hogging sibling.
Mariners House
11 North Square, Boston, MA
Now a fully functioning hotel, the Mariners House was originally built in 1847 as a boarding house for working sailors. The beautiful Greek-revival style building (and landmark on the National Register of Historic Places) remains dedicated to its original mission, offering affordable rooms for as low as $65 a night for active or retired professional sailors (including merchant marines, professional seafarers, and military personnel).
Harborwalk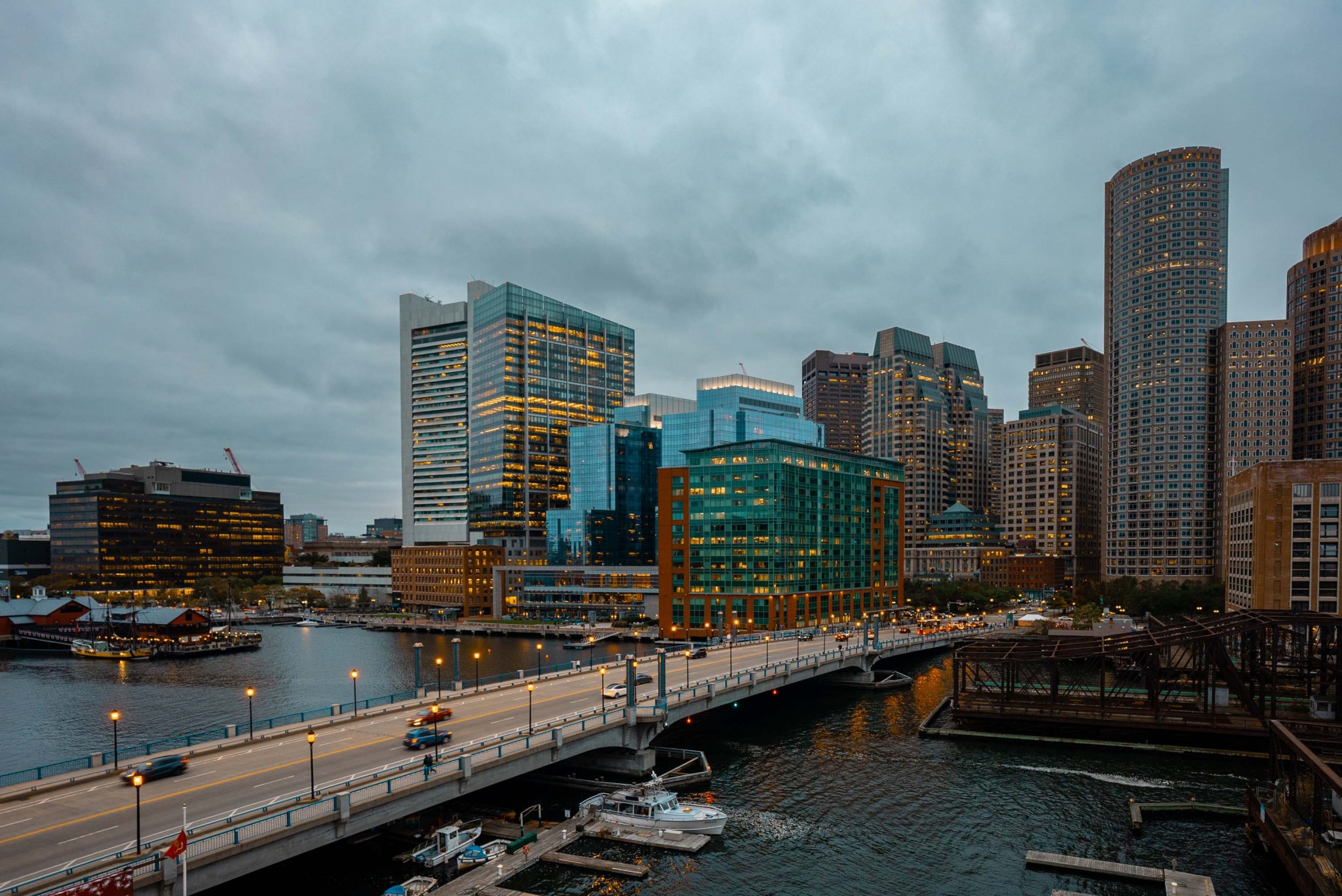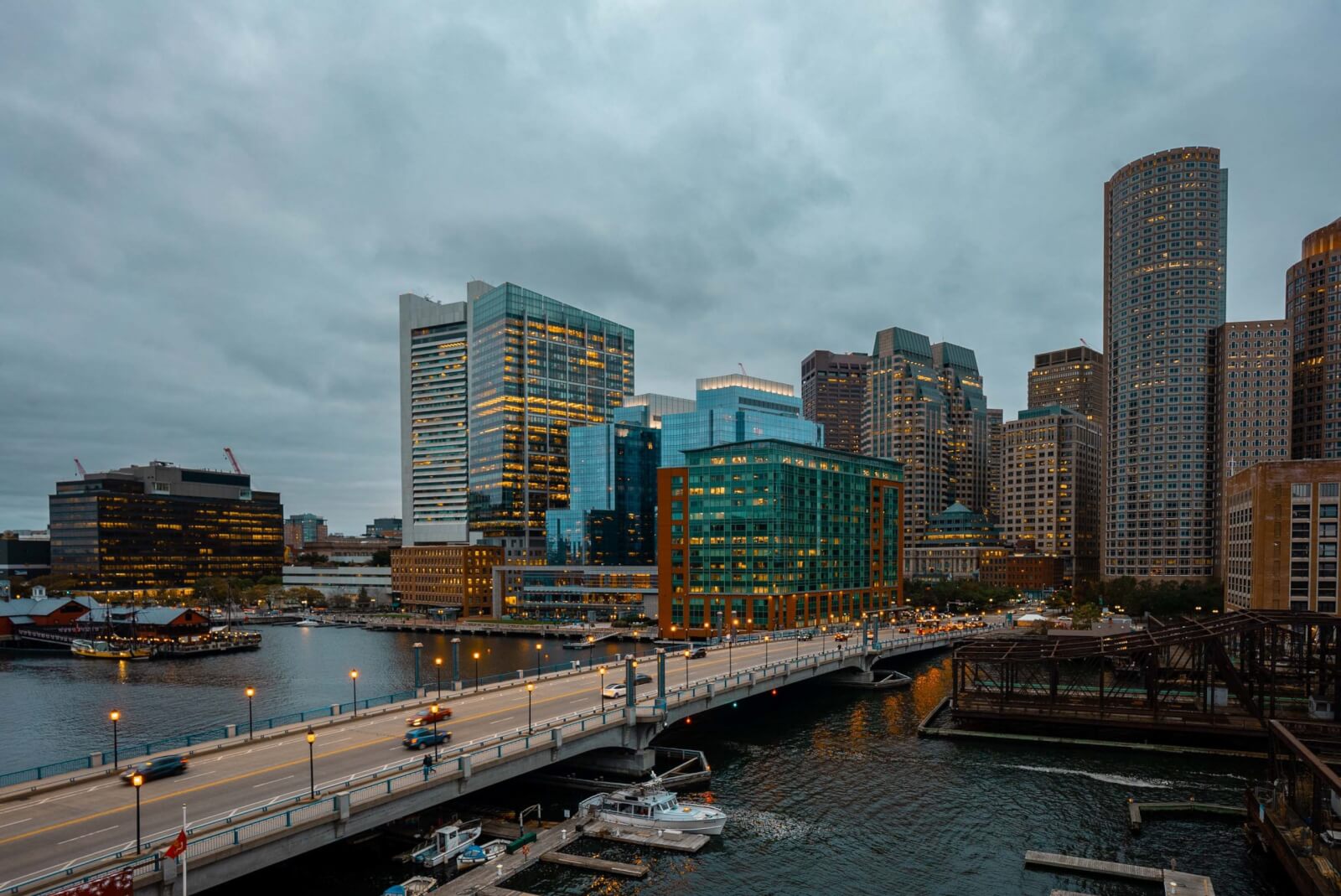 North End Waterfront (various locations)
One of the most scenic areas of Boston's Italian district is its generous waterfront walkways, provided by the city's Harborwalk program. Stretching 43 miles across Boston's shoreline from the Neponset River to East Boston, a good portion of the Harborwalk can be found in the North End.
A well-maintained and fully pedestrian boardwalk, Harborwalk is an excellent choice of things to do in North End, Boston — walk by the United States Coast Guard outpost (at the intersection of Commercial and Hanover Street), check out the Battery Wharf Hotel — a luxurious waterfront hotel with well-liked restaurants Battery Wharf Grille and Amalfi Cafe (3 Battery Wharf), or the Boston Sailing Center (54 Lewis Wharf). For a full map of the Harborwalk, check out their amenity guide here.
Hanover Street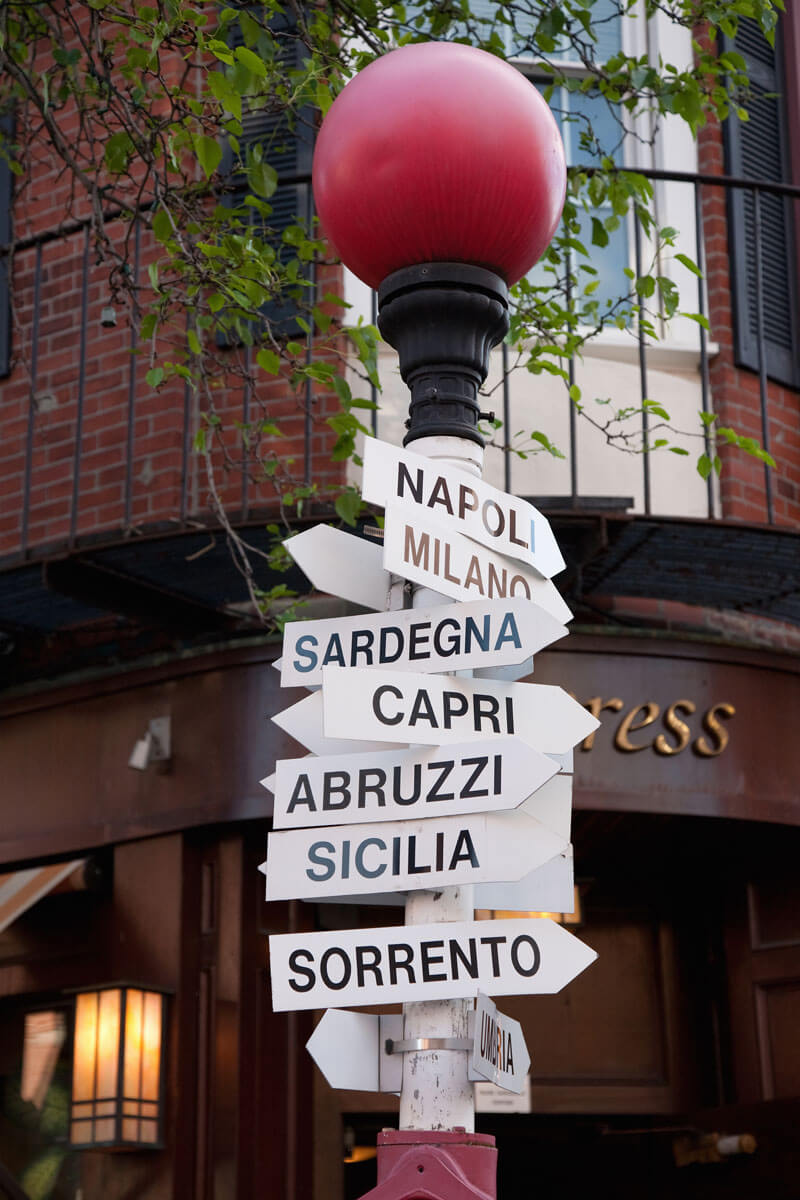 Hanover Street is one of the main thoroughfares in the North End, and a great place to start if you're looking for great shops and restaurants (more on restaurants later!).
Known originally as a path to the waterfront for the indigenous Pawtucket and Massachusett People, after the area was colonized the street was known as Orange Tree Lane until it was renamed after the British House of Hanover in 1708.
Over the years, Hanover Street experienced a series of block closures throughout the construction of the Central Artery and the Big Dig, but today stands tall as the neighborhood's foremost commercial center.
The Connah Store
270 Hanover Street, Boston, MA
While yes, technically this is just a regular convenience store, it's so much more of a cultural and neighborhood touchstone (with a name in reference to the very Bostonian pronunciation of the ubiquitous corner store), and very worth visiting on your trip to the North End.
Open until 2 A.M. (a rarity in Boston!!) The Connah Store is your classic spot for lottery tickets, beer, candy, snacks, and of course a little bit of saucy merch (yes, there are "Yankees Suck" t-shirts available for purchase). Grab one (if you dare!) and take a photo in front of the prominently branded storefront sign.
Heart and Sole Boston
354 Hanover Street, Boston, MA
Opened in 2011 by local mother-daughter duo Elaine and Gina DiGangi, Heart and Sole aims to bring stylish, affordable fashions to the neighborhood.
Collections are handpicked and frequently feature exclusive designs from North End merchants. Stop here to snag an outfit before your dinner in the neighborhood!
LIT Boutique
236 Hanover Street, Boston, MA
Another fine shopping option on Hanover Street is LIT Boutique, a Boston-based shop specializing in fashions for the "modern urban woman". LIT frequently stocks their store with the newest designer duds, and features curated collections for every occasion, ranging from "date night" to "après ski" to "best-dressed guest".
Check out their thoughtfully styled selections for every fashion personality!
Improv Asylum Theater
216 Hanover Street, Boston, MA
Looking for entertainment so unique you can only catch it once? Check out a show at Improv Asylum, Boston's foremost improv and sketch comedy theater venue located right on Hanover Street.
Opened in 1998, Improv Asylum was formed when founders and improv partners Paul D'Amato, Chet Harding, and Norm Laviolette took a chance on an SBA loan and a dream, renting out what was a closed European restaurant space on Hanover and performing their first live show.
Nearly twenty-five years later, Improv Asylum performs shows 7 nights a week, has a full program of acting classes and corporate workshops, and maintains their original mission — "Never the Same Show Twice". Be sure to stop by for a distinctively original evening of comedy!
NEMPAC – North End Music & Performing Arts Center
50 Tileston St
Not far from Hanover Street is another top-notch performance venue — the North End Music & Performing Arts Center, a community center and music school located nearby North Square.
NEMPAC not only features educational programming and instruction for musicians of all ages, but also frequent performances from local groups, open mic nights, and student concerts.
Some highlights include the summer Jazz in the Park concert series, held at the nearby Rose Kennedy Greenway, the winter Chinese New Year Celebration, and the NEMPAC Opera Project, a collaboration with the Boston Festival Orchestra.
Check their event calendar and see what's showing during your trip — it's an excellent choice of things to do in North End, Boston!
More Shopping in the North End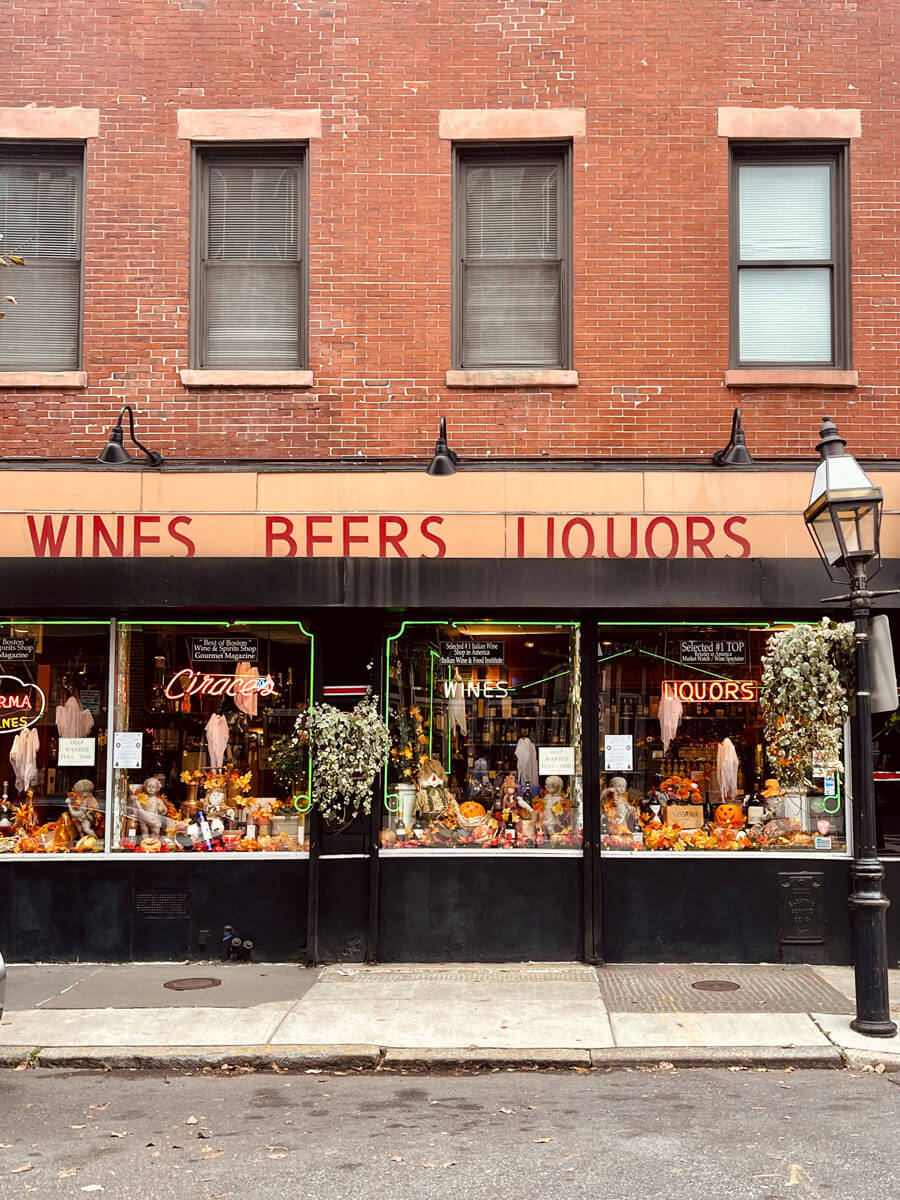 Loft & Vine
120 Salem Street, Boston, MA
Opened in 2017 by North End residents Mike and Sarah Garabedian, Loft & Vine is the perfect spot to pick up some "joyful gifts" (for your loved ones, or yourself!). Snag some elevated Boston and North End merch, hand-crafted jewelry, charming glassware and home decor, and sunny succulents while you browse the well-designed displays.
Rinaldi Dog Boutique
189 North Street, Boston, MA
Feeling guilty that you left your four-legged friend with a dog sitter? Pick up a gift for your favorite pet at the neighborhood Rinaldi Dog Boutique, a jaunty independent shop featuring the best in four-legged fashion, toys, treats, and even gear for humans. It's never too early to plan your dog's Halloween costume!!
Shake The Tree
67 Salem Street, Boston, MA
Another wonderful indie shop is Shake The Tree, a delightful boutique full of staff-curated gifts and clothing. Pick up unique stationery, beautiful ceramic wares and hand-dipped candles, colorful pillows and ornaments, and a bespoke collection of clothing and accessories.
Salmagundi Boston
61 Salem Street, Boston, MA
If you are an avid hat wearer, then Salmagundi is a must-visit among things to do in the North End, Boston. This independent hat shop features styles across decades and incredibly well-crafted pieces. From bowler hats to fedoras to sun hats, Salmagundi is the place to go for the best in all things millinery.
Eat & Drink in the North End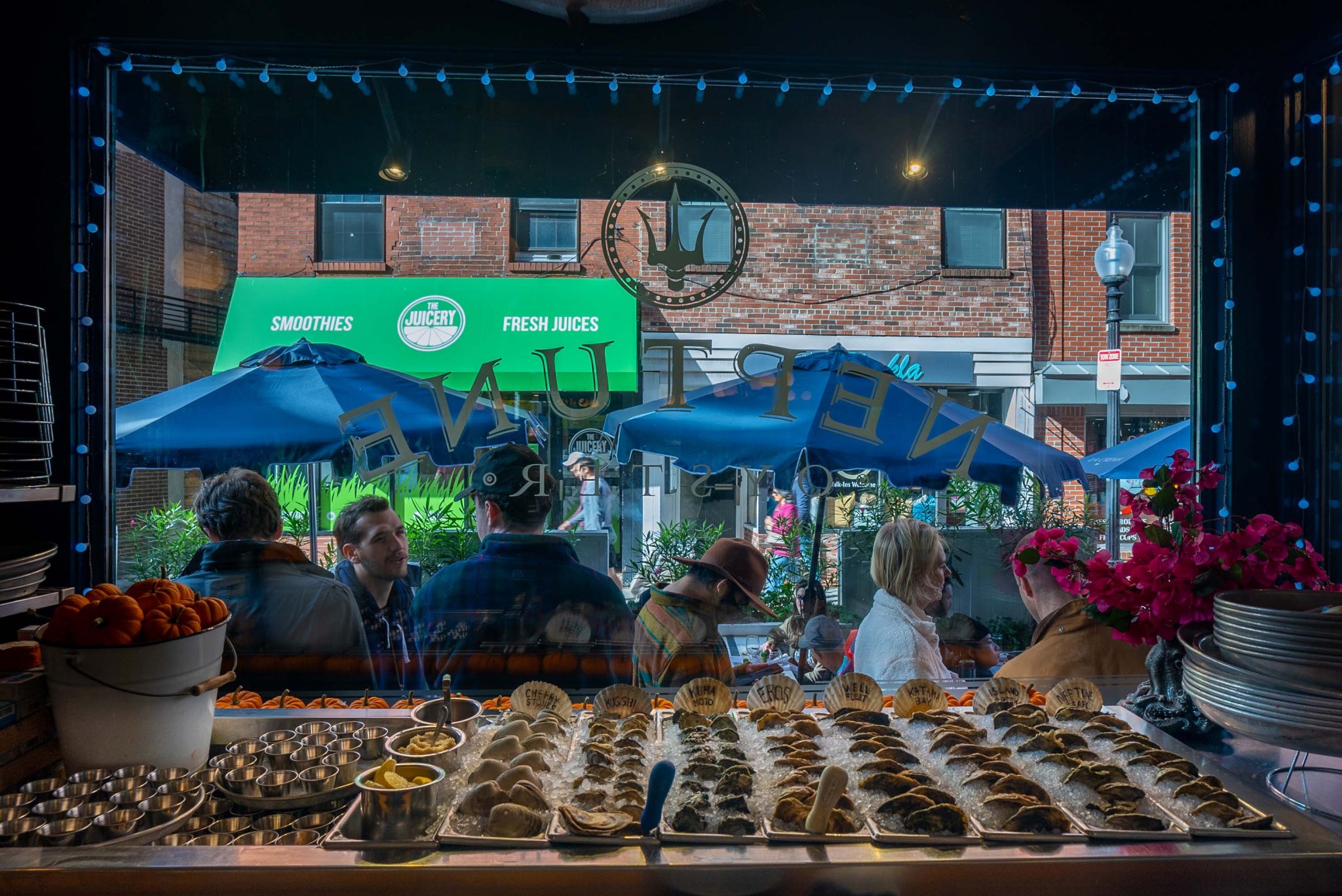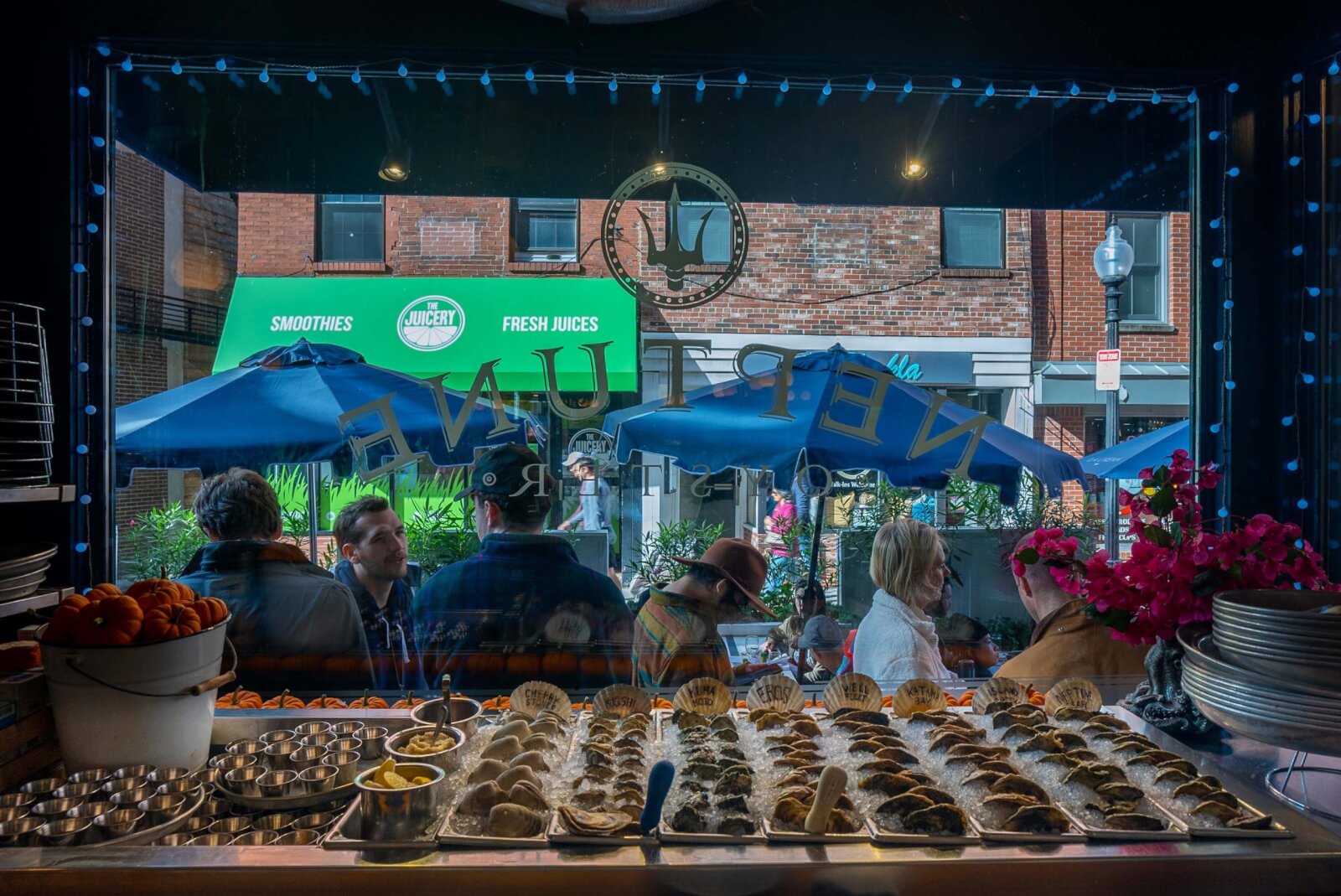 It's here. The section you've been waiting for. What to eat in Boston's Italian district. The truth is, there are so many fantastic markets, cafes, bakeries, pizzerias, and of course, sit-down restaurants in the North End that it's hard to find a bad meal. But we can start you on your way with a few of our favorite spots in the neighborhood, but for all the juicy details be sure to head to our guide for the best restaurants in the North End.
Bricco Salumeria & Pasta Shop – A must-visit among things to do in North End, Boston. Fresh, handmade pasta and breads, imported meats, sauces, and cheeses are all available to take home in preparation for your own feast-making. If cooking isn't your thing, pick up one of the shop's incredible deli sandwiches.
Bricco – Try Bricco's signature Negroni followed by the Farfalle Tartufate or one of Bricco's certified Angus Beef chops. Top off your meal with a Deconstructed Tiramisú or one of Bricco's Famous Espresso Martinis.
Salumeria Italiana – A go-to for imported goods for locals, visitors, and even area chefs at this North End institution that's been around since 1962. The staff at Salumeria is knowledgeable and well-versed in their recommendations for the best olive oil, cheese, sauce, and of course, salumi.
Boston Public Market – An extensive, year-round indoor produce and specialty food market featuring all locally-sourced seasonal products. Purchase some of the freshest caught seafood in town, as well as abundant produce, specialty prepared foods, and craft brews.
Table – Award-winning restaurant that lives up to the hype. Structured exclusively as a tasting menu experience by chef Jen Royle, Table offers rotating, highly curated, seasonal Italian dishes with no substitutions!
Table Mercato – A well-stocked specialty shop that stands up to even the most well-regarded in Little Italy, Boston. Featuring an impressive selection of imported goods, Table Mercato serves other-worldly focaccia sandwiches and melt-in-your-mouth arancini.
La Famiglia Giorgio's – This family-run restaurant has been delighting Bostonians for over three decades with time-honored recipes. Try the lasagna of the day, Big Al's Arrabiata, or Fruitti Di Mare, and try one of their over 3000 wines (frequently recognized by Wine Spectator in their Awards of Excellence).
Giacomo's – Another family-run favorite in Boston's Italian district, Giacomo's is widely known for their freshly made, perfectly seasoned, and extremely generous portions of pasta (and life-changing Chicken Parmigiana). Come here as a large group of hungry, broke, friends, split a few entrees, and eat like royalty.
Strega – A legend of the North End, Strega is also known as one of the toughest tables to secure in town. An extremely loyal customer base, a slew of regular celebrity clientele, and genuinely enthusiastic word-of-mouth reviews have created a perfect storm of interest in dining at the venerable Italian spot.
The Daily Catch – Boston's Italian district is unsurprisingly home to a rich variety of seafood-focused restaurants — one of the best is The Daily Catch, a top-notch spot dedicated to sourcing the freshest local fish for their Sicilian-style dishes. In addition to offering up fantastic entrees like squid ink Aglio Olio and a perfect Scallops platter, The Daily Catch distinguishes itself with the delightful quirk of serving their pasta in the pan it was cooked.
Neptune Oyster – Dedicated to the art of seafood — the freshest oysters, the most perfectly steamed Chatham Blue Mussels, exquisitely cooked whole Rockport Mackerel. Make sure if nothing else that you order the Neptune Oyster Johnnycake — made of honey butter, Boston smoked bluefish, and sturgeon caviar. Don't miss out on the oysters. Be sure to get in line for this oh so popular Little Italy, Boston seafood spot!
Boston Sail Loft – An ideal place for a classic, seafood-by-the-water experience. Start with a cup of their signature clam chowder, then try a basket of fried, whole belly clams served with crispy fries. Enjoy the view of the harbor's sailboats and one of the best things to do in North End, Boston.
Crudo – While the neighborhood is definitively known as Little Italy, Boston, we'd be remiss not to mention one of the city's best Japanese-fusion spots with a thoughtful blend of the city's seafood culture, the neighborhood's Italian roots, and omakase. Crudo even has a "lasagna" inspired sushi roll. Don't forget to sample one of Crudo's signature cocktails too.
Galleria Umberto – A cash-only iconic pizzeria of the North End open since 1974. Their pillowy, cheesy, crispy Sicilian slices and just-as-popular arancini draw hordes of hungry Bostonians. Open every day except Sunday until they sell out of pies.
Ernesto – Another fantastic option for old-school, Neapolitan pies and slices. Known for their generously sized pies with perfectly seasoned toppings and despite the old-school vibes, Ernesto is distinctly new-school in that they offer a wide variety of gluten-free options!
Pizzeria Regina – Their signature pies are still cooked in the same oven (built in 1888) from their first years, and while their menu has retained some changes over the decades, their classic options still remain the most popular on the menu — so much so that the Boston Red Sox have anointed them the official pizza of the team!
Mike's Pastry & Modern Pastry – Let us introduce you to the North End's most competitive industry war — the battle of cannoli giants Mike's Pastry and Modern Pastry. Located on Hanover Street just steps from each other, both Mike's and Modern claim to serve the definitive cannoli in town. But we suggest that you visit both shops.
Parziale's Bakery – This one goes out to all of our savory-then-sweet fans, who want the best of savory pizzas and breads followed by the best biscotti, anise cookies, and pizzelle. This family-run pizzeria and bakery delighting Little Italy, Boston since 1907.
Bova's Bakery – A North End mainstay since 1926, and boasts the distinction of being open 24 hours a day. Rest assured that any time you're craving rainbow cookies, lobster tails (please note, no lobsters were harmed in the making of this pastry, it's composed of puff pastry and cream filling!), tiramisu, and cannoli.
Caffé Vittoria – A traditional Italian cafés to enjoy a cappuccino, macchiato, or latte — the oldest of which is Caffé Vittoria, the first traditional Italian café opened in Boston in 1929. Try one of their perfectly-made cappuccinos, or if you're looking for something a bit stronger, try a signature cocktail like the Caffé Vittoria (Coffee with Kahlua, Brandy & Tiramisu Liqueur) or the Nutty Irishman (Coffee, Baileys & Frangelico).
Cafe Amalfi – A boutique coffee shop with a lovely patio serving locally roasted Barrington Coffee, all-day breakfast sandwiches, and pastries. Try their signature breakfast sandwich (chive & cheddar biscuit, bacon, vermont cheddar, fried egg, spinach, light breakfast mayo), or the Cubano Torta (sliced pork, black forest ham, monterey cheese, scallion, dill pickles, chipotle aioli) for a real treat.
Caffe Lil Italy – Another charming spot for a traditional Italian beverage is Caffe Lil Italy, specializing in espresso, cappuccino, and a rotating cast of snacks and pastries to snack on! Try their Chai Latte, or an Iced Americano on a hot summer's day.
Polcari's Coffee –A North End institution offering their very own brand of coffee, featuring flavors like chocolate raspberry, Coconut, Hazelnut, and Irish Creme, as well as an impressive array of teas and imported Italian spices (be sure to try their famous dipping oil mix!).
Cocktails and Cannoli Tour
Would you like to follow a knowledgeable guide around town while eating cannolis and drinking cocktails? Who wouldn't??? Check out this North End-specific dessert tour dedicated to hitting up many of the neighborhood's famous bakeries and cafés (including some of the aforementioned hits!) along with further historical context on each shop. They even promise a blind cannoli taste test of samples from our favorite rival bakeries. Book here.
North End Food Tour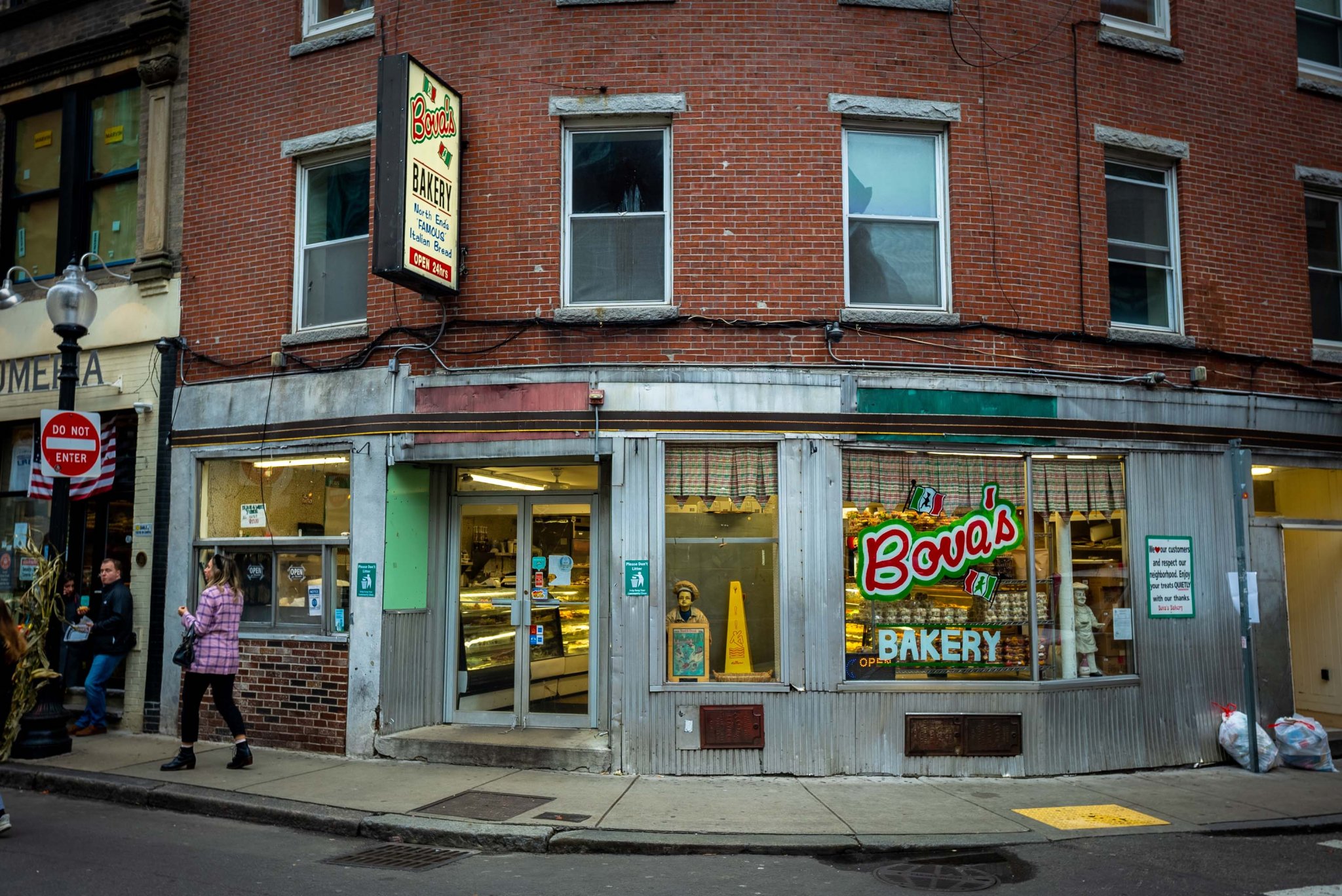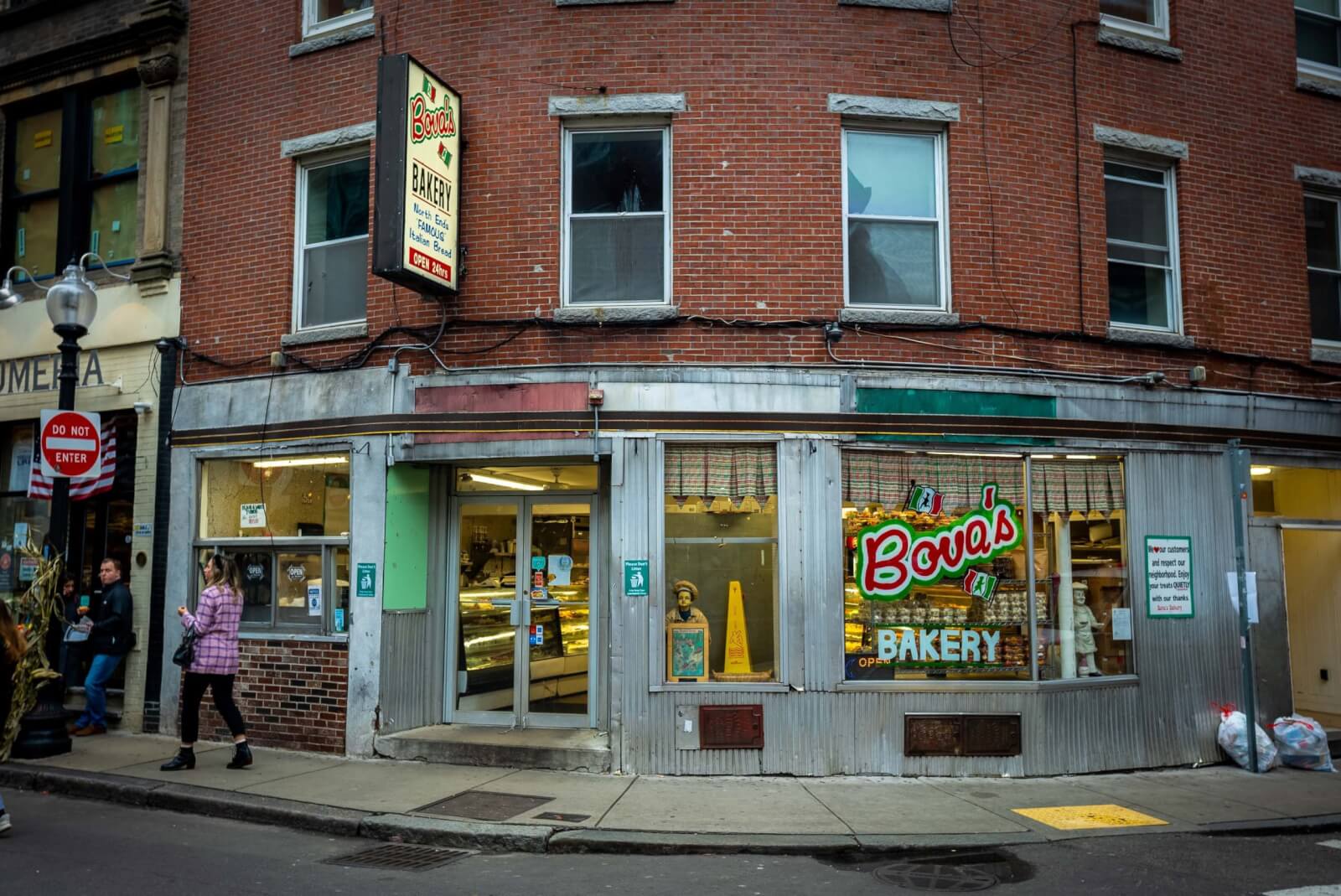 If you're interested in a culinary tour but would like to branch out beyond dessert, check out this neighborhood Italian food tour that takes you from Atlantic Ave. and the Boston Harbor into the North End's best shops to sample all of the imported cheese, delectable pizzas, and handmade bread you can handle.
The tour also covers several of the area's Revolutionary historic sites for an added dose of education with your feasting. Book here.
Annual Feasts
Speaking of feasting — we must mention the North End's regular feast schedule, in which local Catholic church St. Leonards honors various saints with a celebratory procession and outdoor community meal (and party!).
There are also more secularly focused feasts such as the Fisherman's Feast, a Sicilian seafarer tradition held every summer since 1910. Most feasts are held in the warmer months — for a full calendar check out the yearly listings here.
Things to do Nearby Boston's Italian District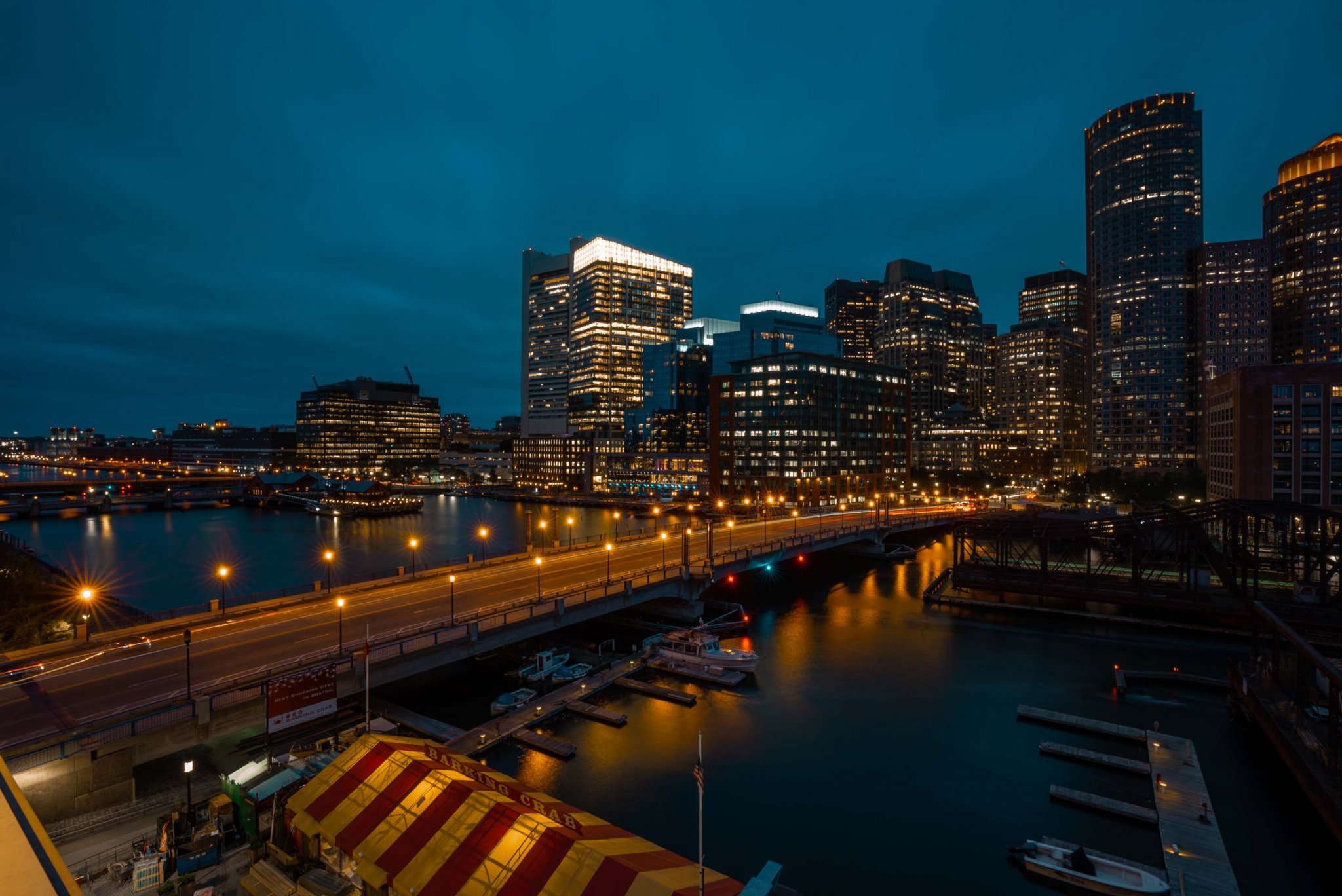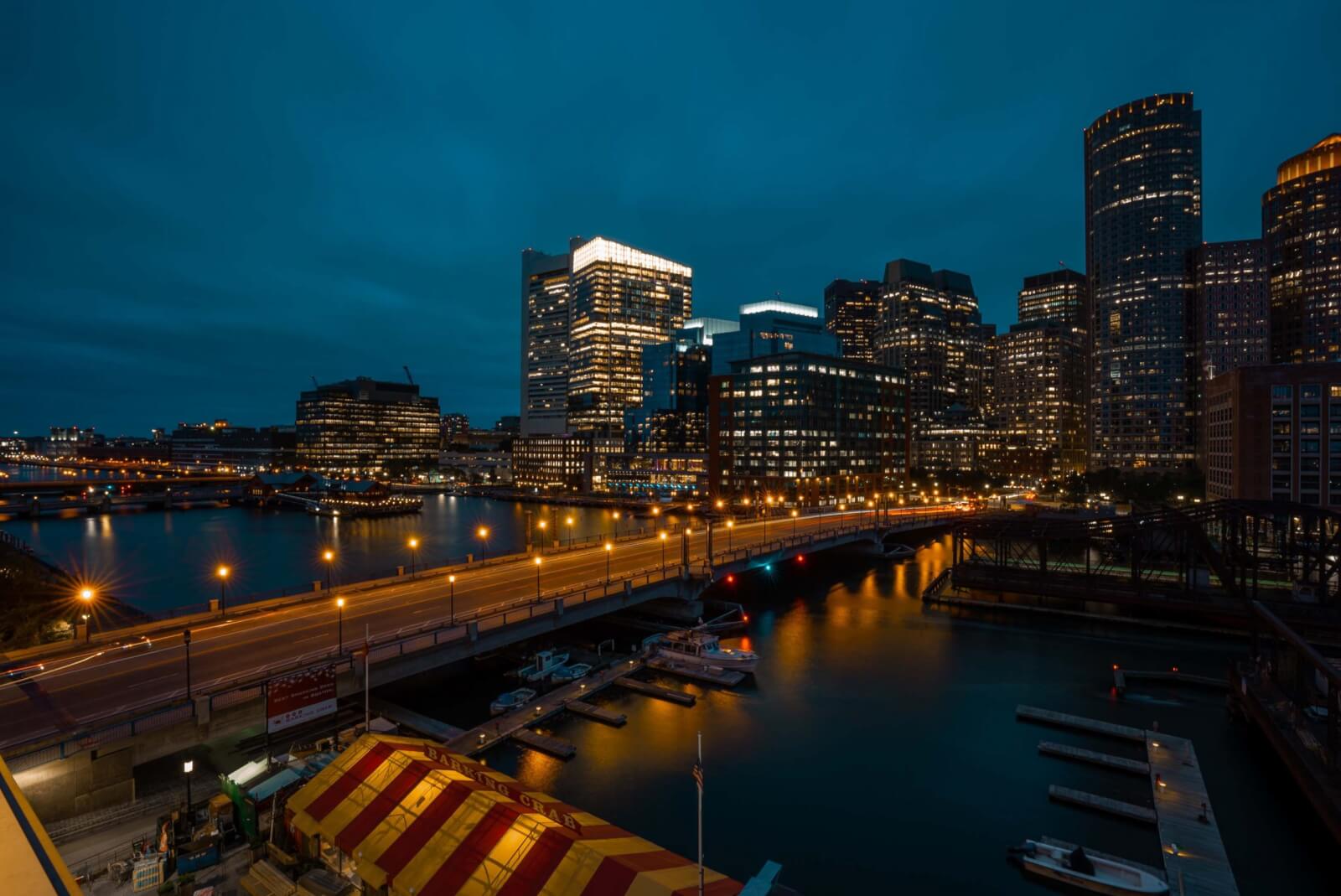 While you can certainly explore the North End alone over the course of several visits (and meals!), if you're looking to branch out to nearby attractions and some of the other best things to do in Boston – we have a few easy-to-get-to spots from the neighborhood!
Union Oyster House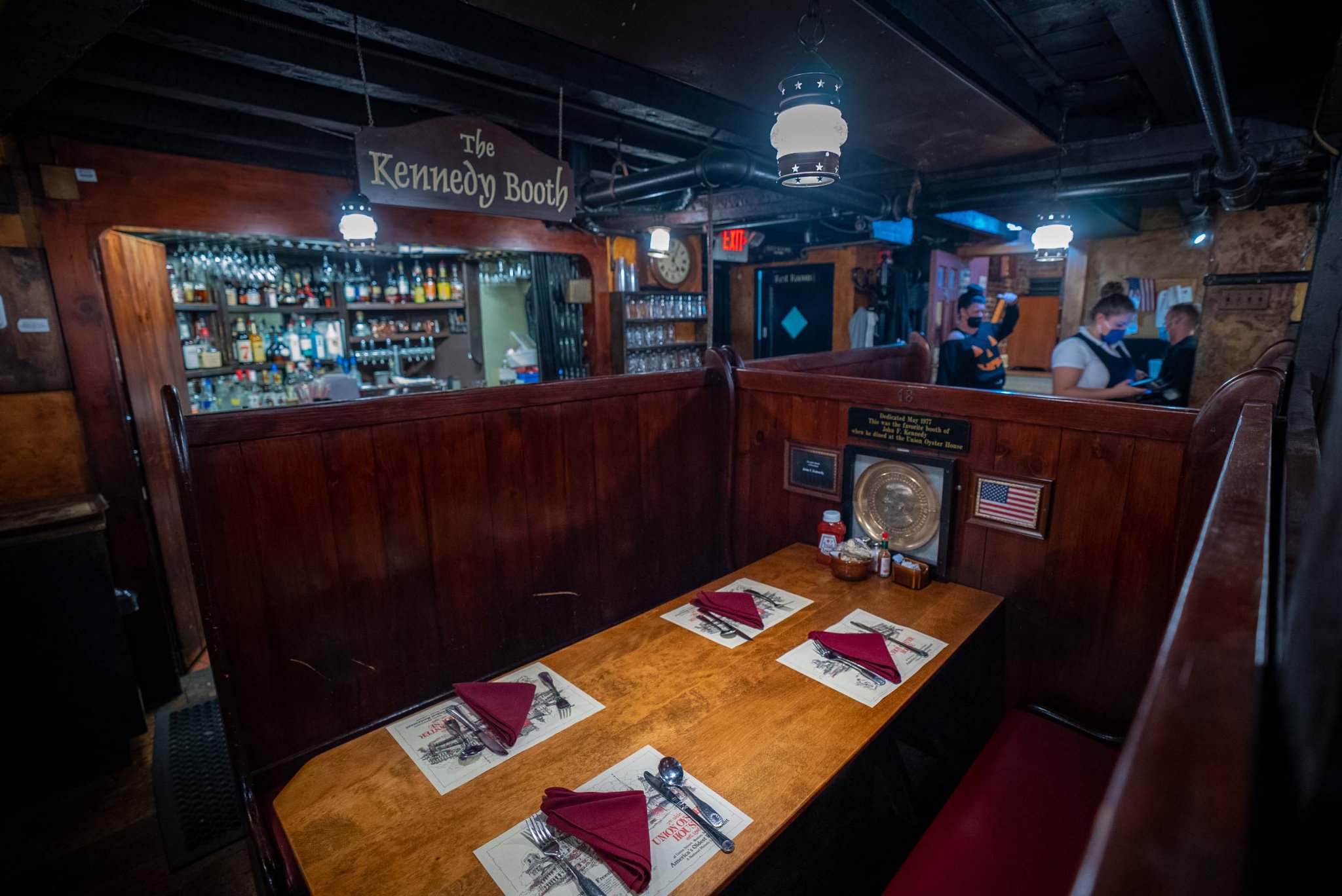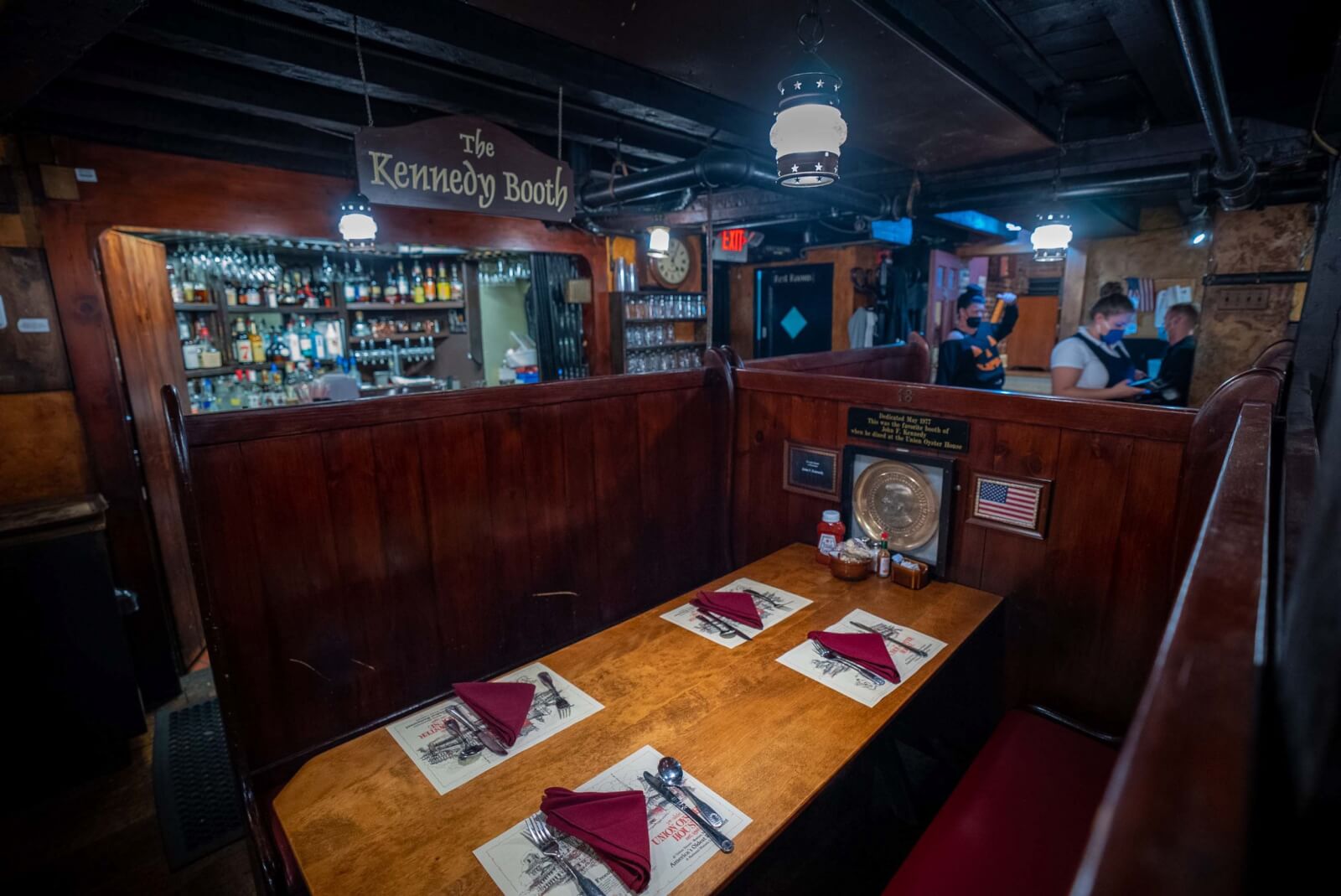 41 Union Street, Boston, MA
Just south of the neighborhood proper (and around the corner from the Boston Public Market) is Union Oyster House, Boston's oldest operating restaurant established in 1826.
Enjoy a fresh plate of oysters and well-seasoned chowder in a building that predates the Revolutionary War. The restaurant also features an ode to former U.S. President John F. Kennedy Jr. at their "Kennedy Booth", known as the favorite table of the 35th President.
Bell in Hand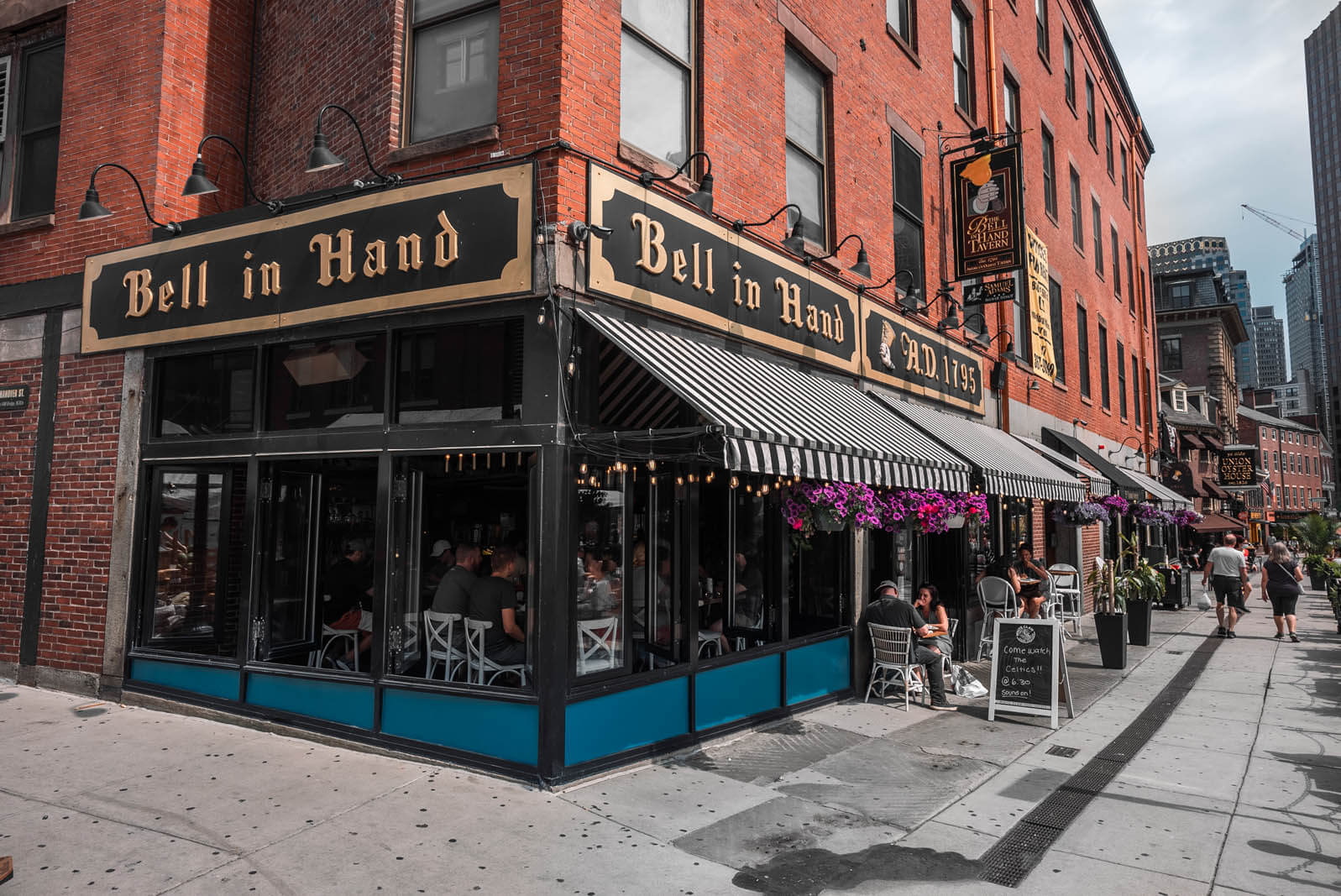 45 Union Street, Boston, MA
Right next to Union Oyster House is Bell in Hand, the oldest tavern in the country and established in 1795. Known for over two hundred years for their signature ales, the tavern has since expanded to serve high-quality pub food.
We recommend the Sam Adams burger (served with crisp bacon, swiss, bbq sauce)!
Faneuil Hall and Quincy Market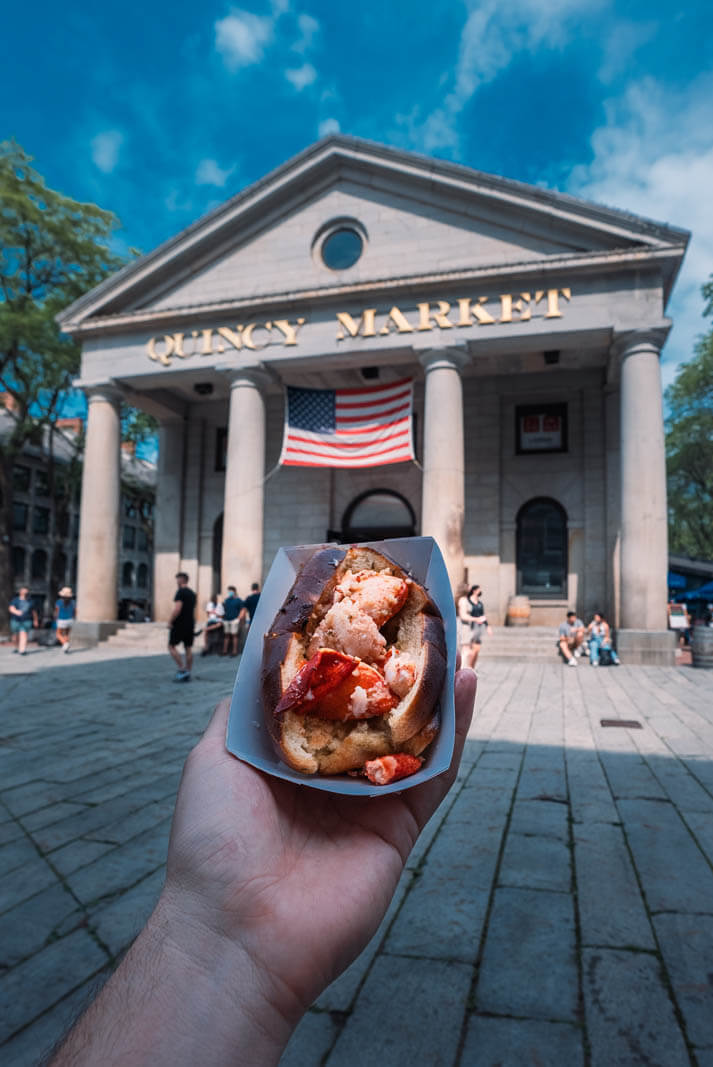 4 South Market Street, Boston, MA
In addition to the recognizable national chains, a wide variety of local independent brands are housed in these 18th century-era buildings. It's the perfect place to pick up a unique illustration of the city or some classic Boston merch.
There's also a vibrant food market with kiosks selling everything from ice cream to you guessed it…more chowder!
Old State House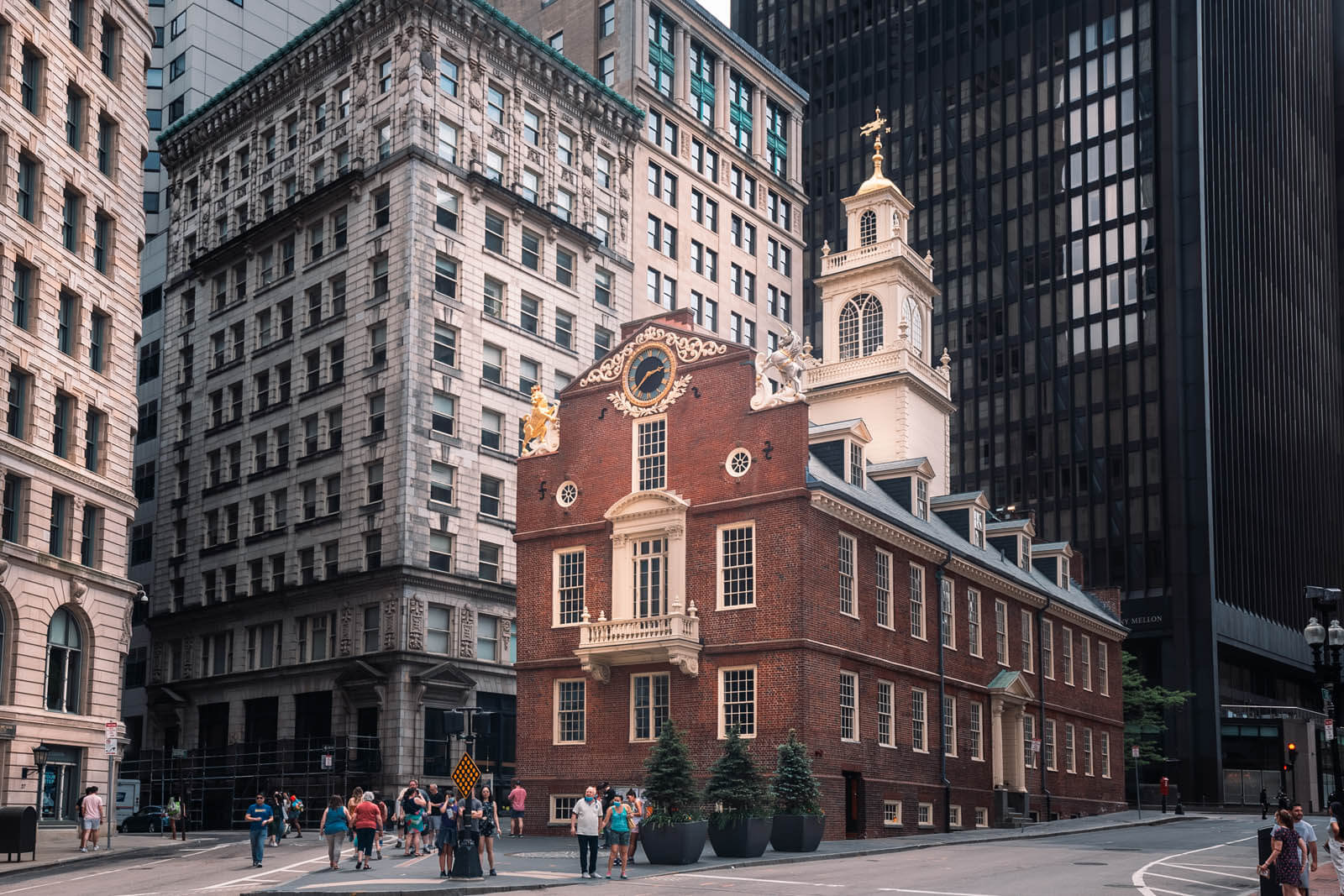 206 Washington St, Boston, MA
On a history kick after visiting the North End? Stop by the Old State House, another stop on the Freedom Trail. The Old State House served as the first organizing point for the Massachusetts legislature and later would be the site of the Boston Massacre on March 5th, 1770. The Old State House is now a historic landmark operated by the National Parks Service and is available to tour.
TD Garden
100 Legends Way, Boston, MA
Home to the Boston Celtics and Boston Bruins, TD Garden is conveniently located adjacent to the North Station MBTA stop. Catch a game or tour the Sports Museum on your way in or out of the North End!
Night Shift Brewing at LoveJoy Wharf
1 Lovejoy Wharf #101, Boston, MA
If you'd rather sit out the Celtics game, spend a happy hour at Night Shift Brewing at LoveJoy Wharf, a waterfront bar adjacent to the sports arena. Try one of their signature, seasonal flavors (we like Stratasaurus!) and a Farmer's Market Pizza in a friendly, lively space.
New England Aquarium
1 Central Wharf, Boston, MA
Just South of the North End's waterfront (and near the aptly named Aquarium MBTA stop) is New England's foremost center for aquatic life. Short on time? Visit the seal habitat nestled outside at the entrance to the aquarium, or if you'd like to spend an afternoon learning about Boston (and the world's) marine life, purchase a ticket and check out the aquarium's 200,000-gallon mega-tank in the center of the space!
---
About the Guest Author
Sarah Beling is a playwright and foodie originally hailing from the Greater Boston area. While she currently resides in New York, she makes sure to visit Beantown as much as possible and proudly reps her Red Sox gear in enemy territory.
---
We hope you've enjoyed our tour of Boston's North End — enjoy a visit full of rich history, rich pasta, and rich desserts! Use this guide to help you plan your ultimate Boston itinerary and if you found this guide helpful, bookmark this guide for later on Pinterest below!