Looking for how to spend 3 days in Boston? This guide will give you the perfect Boston itinerary for your stay plus tips of how to spend any extra time you have if you are spending more than 3 days in Boston including great tours, ideas, food recommendations, and more by a local!
Boston is one of my favorite cities in the US, which is why I've called it home for over 10 years. Boston has a very European vibe as this was one of the first settlements when Europeans were coming to the Americas with some modern touches mixed in.
While Boston is probably best known as the USA's most sports-obsessed city, it has a little of something for everyone including being a destination steeped in history around the first European settlers and the American Revolution.
Here are my top tips and ideas for what to do during your 3 days in Boston as well as recommendations of which Boston neighborhoods to explore during your getaway.
Also, here are some tips on visiting Boston on a budget since this can be a more pricey destination when it comes to certain things along with all the best things to do in Boston whether you're a first-timer or a seasoned visitor!
Day 1 of 3 Days in Boston Itinerary
Tour the City of Boston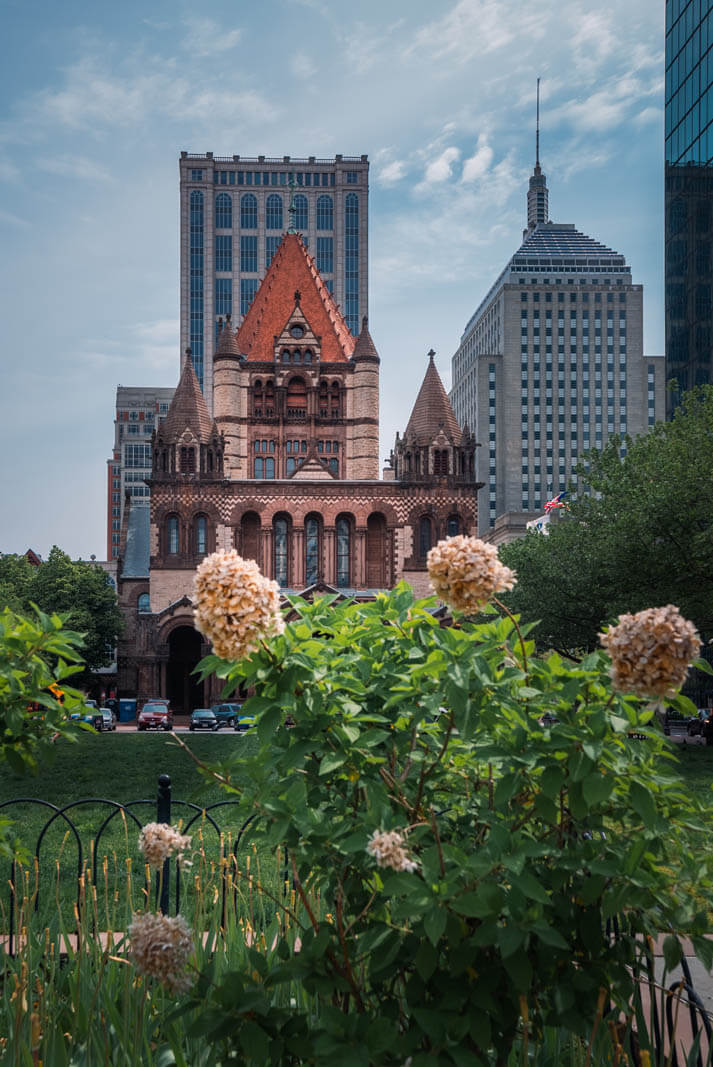 Start off your 3 days in Boston itinerary by exploring Copley Square. Copley Square is home to the Boston Public Library (one of the world's most beautiful libraries), a stellar farmer's market, a bit of shopping, and lots of restaurants.
It's also the site of the finish line of Boston's most famous event, the Boston Marathon, so you can do a fun photo op here pretending to cross the finish line!
You also don't want to miss Trinity Church and Old South Church while you're here, these are of the most beautiful churches in the United States.
If you have time, be sure to walk through the neighborhood of Back Bay where you can find gorgeous homes up and down Commonwealth Avenue and Marlborough Street.
After doing a bit of exploring on foot, head off on a tour of the city. The two best city tours available in Boston are Boston Duck Tours and the Old Town Trolley Tours of Boston.
Have a picnic at the Boston Public Garden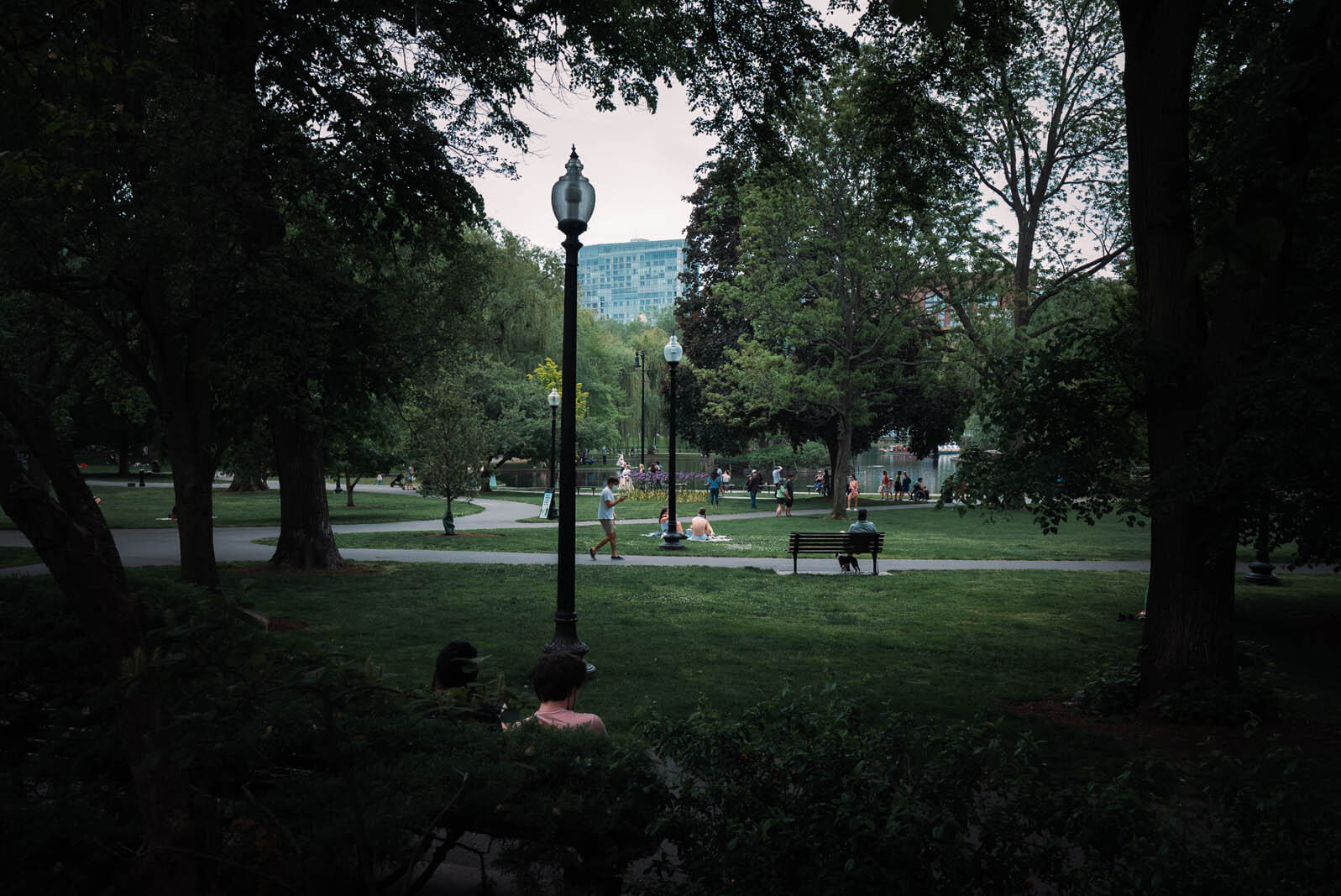 After a fun tour, grab some food to go from one of the restaurants or cafes in Copley Square and head to my favorite spot in the city, the Boston Public Garden, for a picnic. Sit by the pond to watch Romeo and Juliet, 2 female swans who've "summered" at the Boston Public Garden for the past 15 years, play in the water.
You can also visit Boston Common, the park right next to it as well!
Thinking Cup is one of my favorite cafes near the Boston Public Garden. I usually get the Jittery Hen sandwich with a sea salt chocolate chip cookie and their latte special.
If you'd rather eat indoors, head to Cheers Beacon Hill, right outside the perimeter of the Boston Public Garden, for classic pub food and the famous facade for the popular 1980s television series Cheers!
Before you head back to your hotel to freshen up for dinner, stop by the Make Way for Ducklings statue for a silly selfie.
Dinner at the waterfront or South End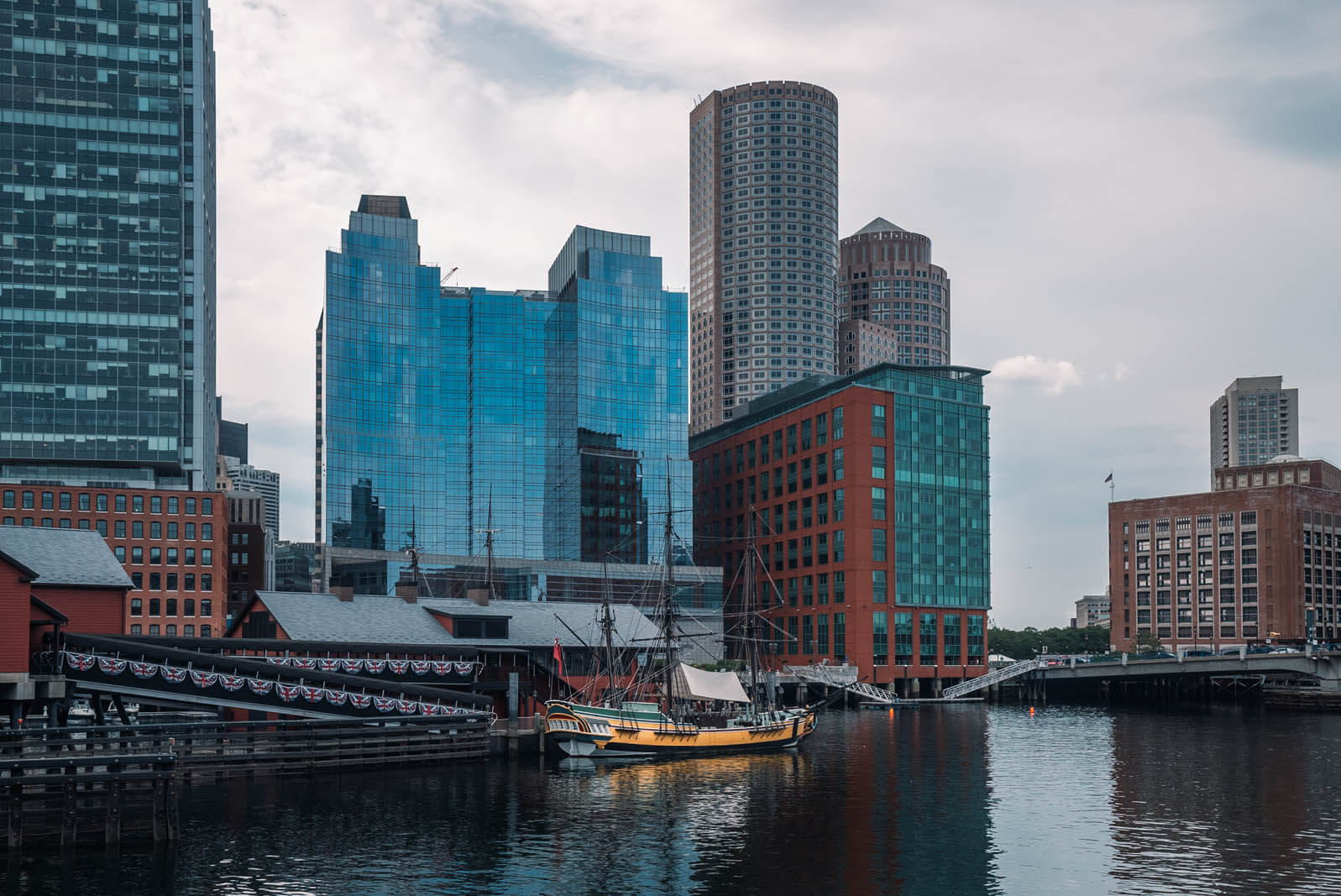 Head to Boston's waterfront for some of the best seafood at Barking Crab. I recommend getting the Traditional New England Clambake, which comes in a bucket and includes lobster, mussels, steamers, and veggies.
After dinner, head to Drink, where the bartenders will make you a surprise cocktail based on a few things you like.
If seafood isn't your thing, I recommend heading over to the South End (not to be confused with South Boston or Southie) for dinner and drinks. A few of my favorite South End restaurants include The Beehive, Myers + Chang, and The Gallows.
Day 2 of 3 Days in Boston Itinerary
Donuts near Fenway
Start your day right with a delicious donut or breakfast sandwich from Blackbird Doughnuts' Fenway location. I highly recommend the Everything donut, which is a donut version of an Everything bagel, complete with a cream cheese-like filling.
But there are tons of donuts to choose from to help fuel you through your second day on your Boston itinerary!
And if you want to learn more about Fenway Park, be sure to book this one-hour guided tour through Fenway Park where you can learn all about this famous playing field where the Boston Red Sox have played since 1912.
Browse the Museum of Fine Arts
After filling up and possibly learning all about Fenway Park, onward to your next stop on your Boston itinerary, the Museum of Fine Arts the 14th largest art museum in the world!
The Museum of Fine Arts has a massive collection of nearly half a million pieces of art from around the world and within many different fine art genres, so chances are high you'll find something to suit your tastes. They also have rotating exhibits in addition to their permanent collection that keep the museum fresh and interesting.
Lunch and souvenir shopping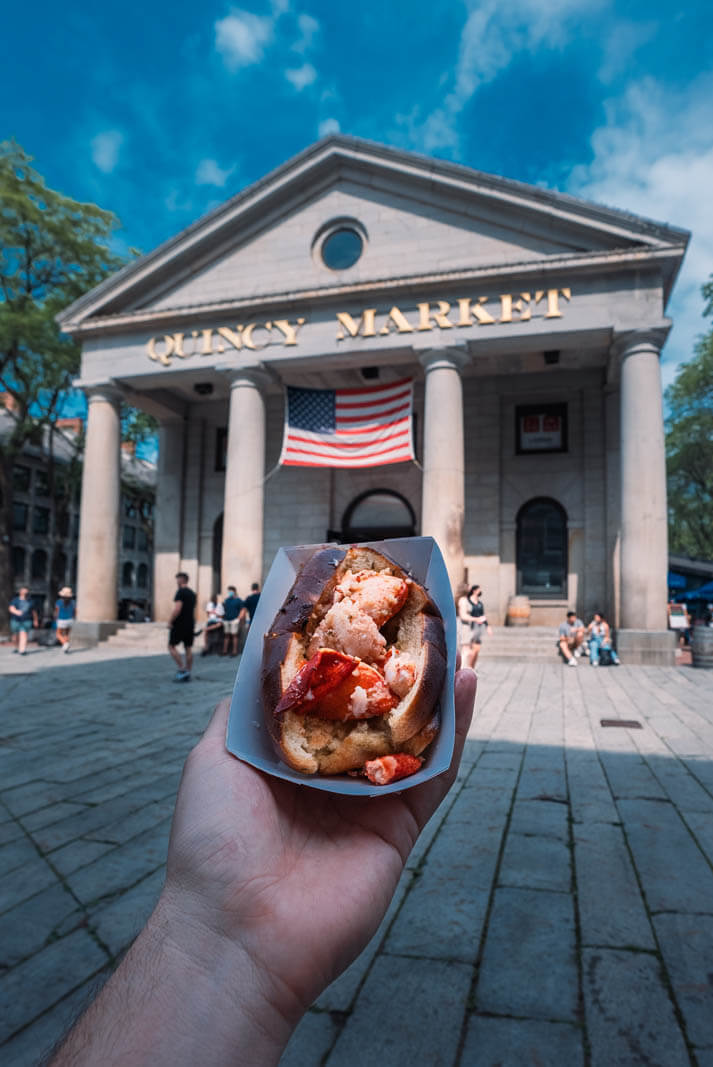 After the museum, my next recommendation for how to spend your day 2 of 3 days in Boston itinerary is to take the T, Boston's version of a subway, or a Lyft down to Faneuil Hall Marketplace for lunch and shopping.
Faneuil Hall dates back to 1743 and is a historic landmark that was the site of several speeches by prominent leaders of the American Revolution including Samuel Adams, which speaking of has their brewery and tap room right here too if you need a nice beer break!
If you want something quick to eat, head to Quincy Market, which has a variety of quick food options, such as the Boston Chowda Co., MMMac n. Cheese, and Regina Pizzeria. The Boston & Maine Fish Co., has a great lobster roll!
For a more leisurely meal, I highly recommend the Union Oyster House. The Union Oyster House has excellent clam chowder and other seafood and comfort food options. It also happens to be a National Historic Landmark, as it claims it is the oldest continuous restaurant in the United States on the Freedom Trail dating back to 1826.
Across the way is the Bell in Hand Tavern, which claims its America's Oldest Tavern dating back to 1795 if you want to grab a drink from this historic watering hole!
After lunch, browse the shops in Faneuil Hall Marketplace for souvenirs to bring home after your 3 days in Boston. A few shops to look out for are The Black Dog for preppy, New England style clothing, Lucy's League for unique women's sports gear, and Newbury Comics for autographed CDs, vinyl, and pop-culture gifts.
Explore More of the Freedom Trail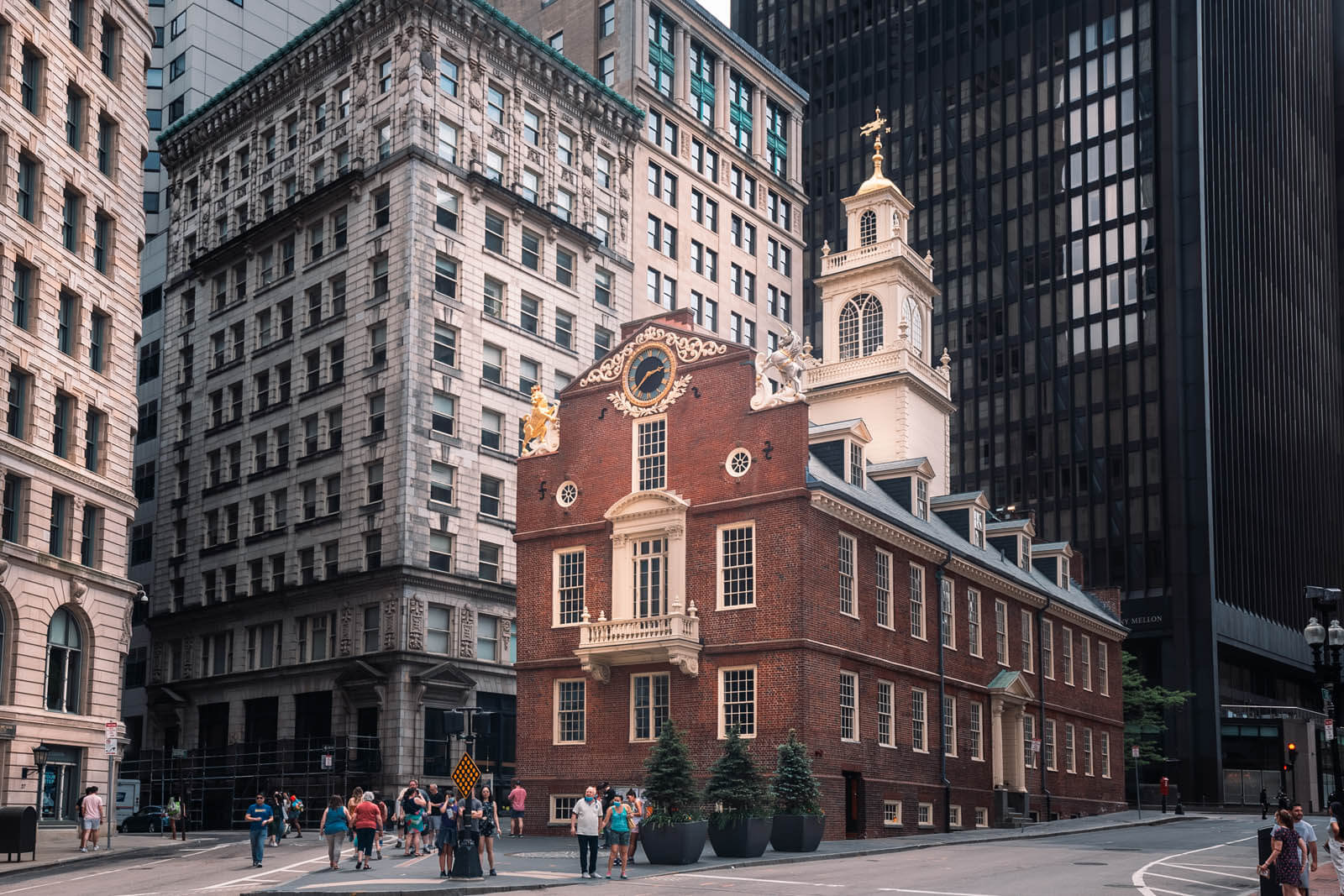 After you've replenished yourself after lunch and browsing the souvenir shops, I recommend you explore the historic sites around the city that are tied to the American Revolution and Independence from Great Britain along the Freedom Trail.
No Boston itinerary is complete without at least visiting some of the stops along this 2.5 mile brick trail, which at this point in your 3 days in Boston you have actually been to a few. You can spot the brick lane that will take you starting at Boston Common all the way to Bunker Hill, the site of the famous Battle of Bunker Hill.
There are 16 official stops along the Freedom Trail, most of which are free or just ask for suggested donations. Stops along the way have markers with explanations of what took place, but if you want to make sure you don't miss anything you can book a self-guided Freedom Trail tour that you load on your smartphone or join a small guided walking tour of the Freedom Trail.
Photographed above is the Old State House and the site of the Boston Massacre as well as where the Declaration of Independence was first read along the Freedom Trail! Each year on the 4th of July, it's tradition to have a ceremony of the Declaration of Independence off that balcony.
Evening in Cambridge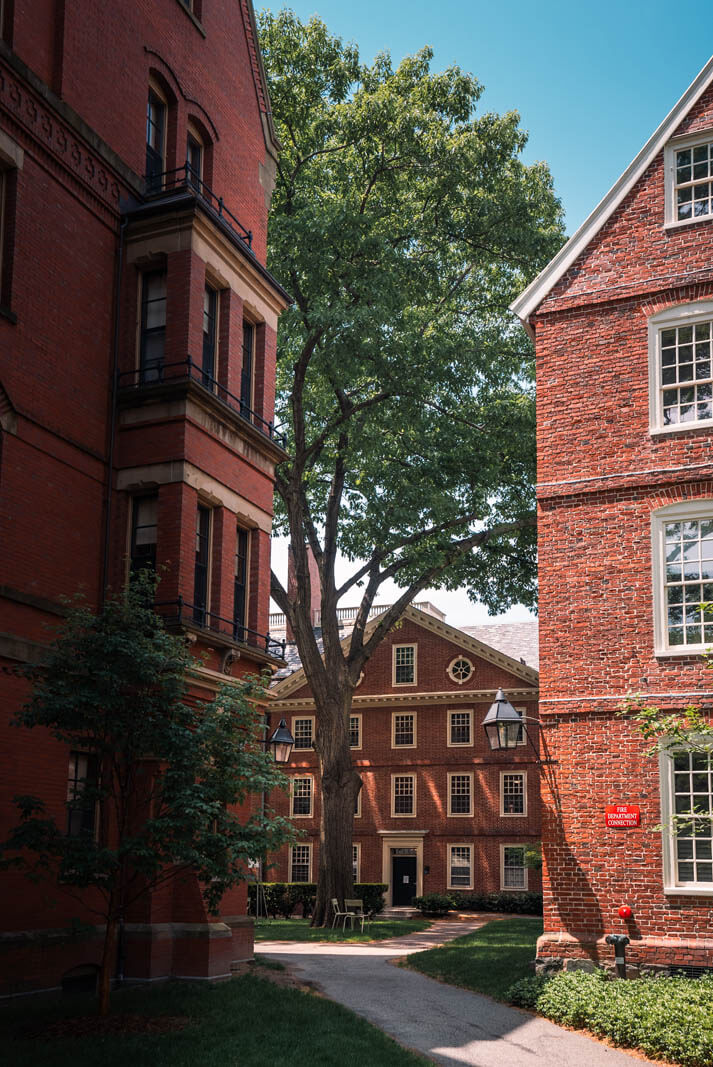 Rest up for a bit, then get decked out in your flashiest disco-like getup to head across the Charles River to Cambridge for a fun night. Cambridge is where you can find some fun nightlife because Cambridge is where many of Boston's young crowd are thanks to being home to both Harvard University and MIT (Massachusetts Institute of Technology) campuses.
If you have time, walk through Harvard Yard and get a glimpse of this beautiful Ivy League school's campus.
My favorite recommendation for dinner is Harvest in Harvard Square, which features a seasonal menu based on New England-local ingredients.
After a delicious dinner, head down the street to OBERON, the American Repertory Theater for nightlife! Check their programming before your visit but one of the most unique experiences you can have during your 3 days in Boston, and my favorite show is The Donkey Show.
Put on by the American Repertory Theatre, The Donkey Show is part theater and part nightclub. The premise is a remake of Shakespeare's Midsummer Night's Dream in a 1970s disco club, a la Studio 54. The show happens around you while you're enjoying a cocktail or two – and hopefully dancing your heart out!
Day 3 of 3 Days in Boston Itinerary
Brunch & a Walk in Beacon Hill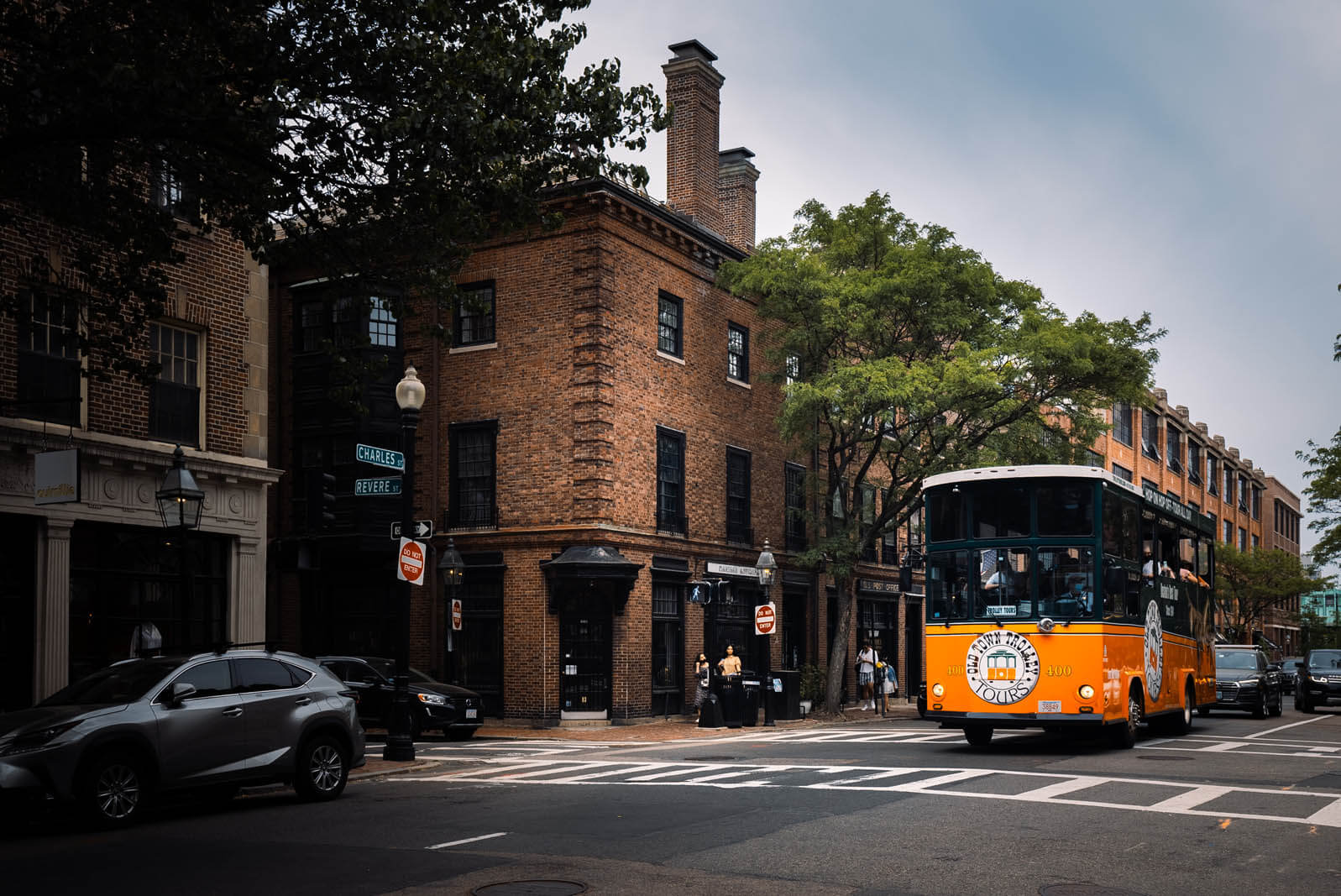 Start your last day on your 3 days in Boston itinerary with a delicious brunch and walk through one of the most beautiful historic neighborhoods in Boston, Beacon Hill known for its Victorian and Federal-style rowhouses, flickering street lanterns, and more historic landmarks.
Try 75 Chestnut, a cozy bistro tucked away on a cobbled lane in Beacon Hill that has a great brunch selection or The Paramount for a classic comfort food breakfast to start your final day on your Boston itinerary!
After you eat and have had a cup of coffee, explore the best of Beacon Hill including a stroll down the hidden cobbled alleys, like Acorn Street which is one of the most popular photography spots in the city (often said to be the most photographed street in America) due to its charming narrow lane of homes tucked away hidden on this little hill alley.
Take a stroll down the shops along Charles Street who is dotted with those flickering lanterns and where Paul Revere took his famous midnight ride to warn everyone that, "The British Are Coming!."
Boston Whale Watching Tour
After your post-brunch walk through Beacon Hill, head towards the Boston Harbor Cruises dock, which organizes whale watching tours in conjunction with the New England Aquarium for your next stop on your Boston itinerary.
Boston is a great spot for whale-watching, on a Boston whale watching tour, you might encounter Finback, Humpback, and Minke whales.
Tours include a guide that not only helps you spot the whales, they'll also tell you all about that type of whale and each whale individually. They do a great job of tracking the whales over the years and even give them names, like Etch a Sketch!
Lunch by the Harbor
If you decided to do an early breakfast and whale watching tour, stop to grab lunch before your next stop. The Chart House is located nearby the Boston Harbor Cruises dock and has excellent steaks, seafood, and sandwiches. Depending on what time your tour is, you may have to adjust your Boston itinerary to do lunch before whale watching if you get hangry!
Or grab snacks so that you can hold yourself over until after the tour.
Check out the Aquarium
After lunch, check out the New England Aquarium where you can learn about a variety of fish, penguins, seals, sharks, sea dragons, sting rays, and all kinds of exciting marine life! They even rehabilitate marine life and release back into the wild!
In addition to the aquatic animal exhibits, the New England Aquarium has an IMAX theater. The IMAX theater regularly screens 3D documentaries on animals and nature – though occasionally you might be able to catch the latest 3D children's movie.
I recommend booking your New England Aquarium tickets in advance so you're ready to go and you don't have to worry about ticket lines when you're trying to enjoy your Boston itinerary!
Enjoy a delicious Italian Dinner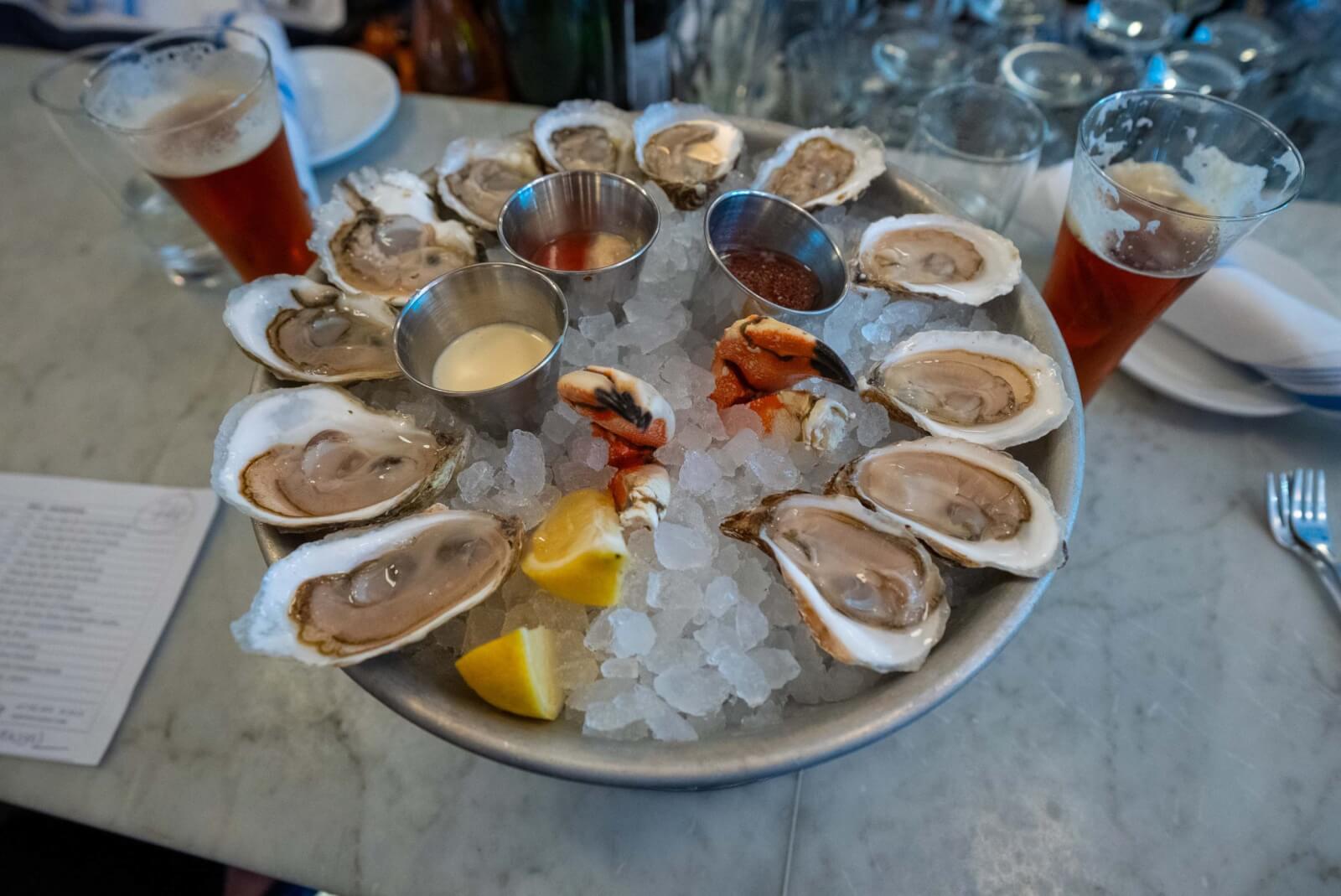 Head to Boston's Little Italy, aka the North End, for one of the best Italian meals you'll ever have. If you pick only one thing from this itinerary to fill your 3 days in Boston, make it this one!
You can't go wrong with pretty much any restaurant on Salem St or Hanover St, but 2 of my favorites are Neptune Oyster and Lucca. Many of the restaurants in the North End are family-owned and operated, so eating in the North End is like visiting your favorite Italian grandma for Sunday family dinner!
After dinner, pop by Mike's Pastry for a cannoli. If you need to pep up, grab an espresso at Caffe Vittoria, instead which is Boston's first Italian cafe!
Check out the Improv Theater
Your 3 days in Boston have come to an end – but don't be sad, because it's time to laugh the night away at Improv Asylum. I've always had a good night when attending the shows put on by Improv Asylum.
The cast is absolutely hilarious and they do an excellent job at interacting with the audience. If you're lucky, you might get picked to participate in a sketch or two!
Extra time: more than 3 days Boston itinerary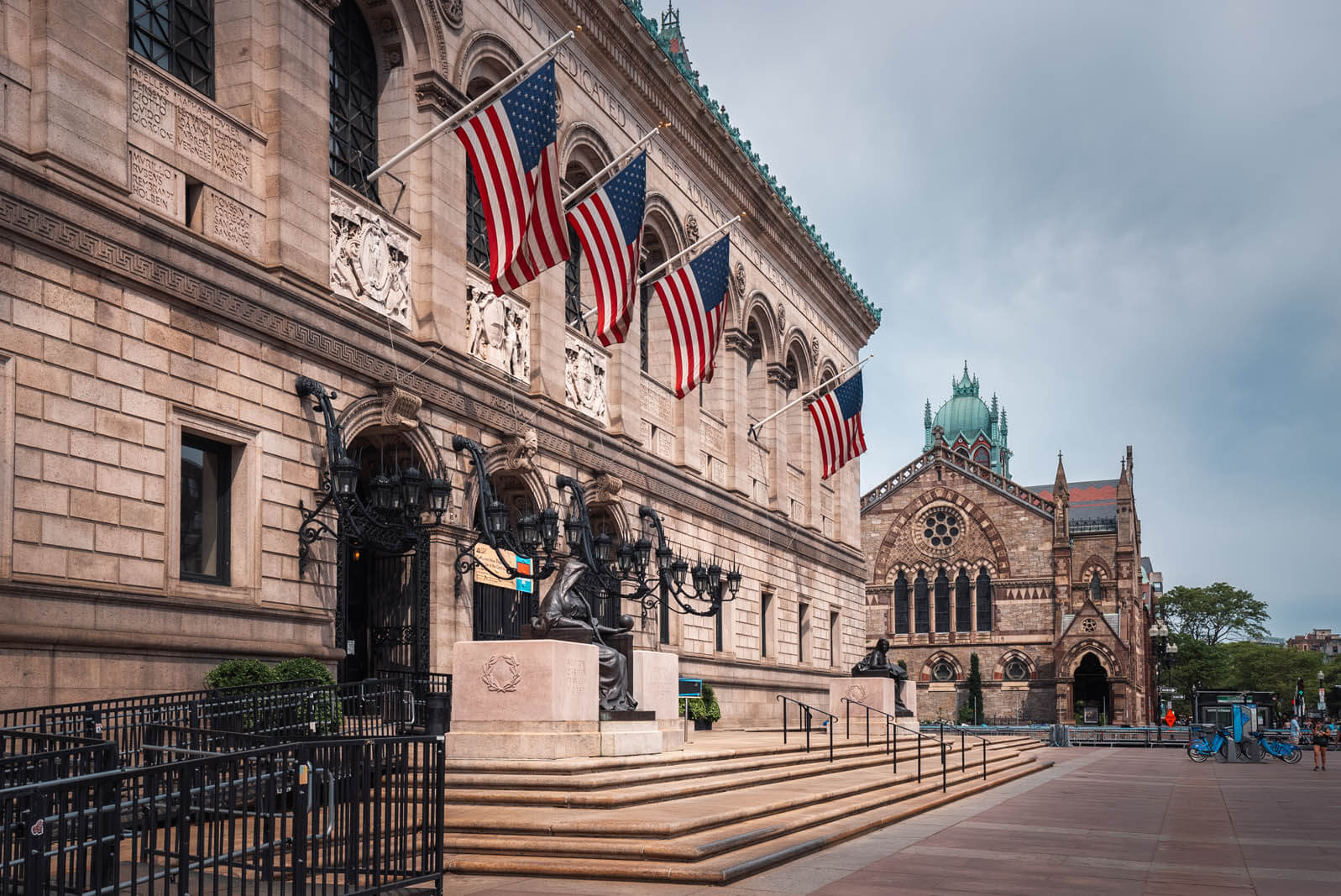 If you have extra time in Boston or not keen on everything in the itinerary above, here are a few more ideas on what to do during your 3 days in Boston itinerary.
If you didn't have time earlier in your Boston itinerary, check out this one-hour guided tour through Fenway Park to learn about the famous ballpark where the Boston Red Sox play, or if you're visiting during the right time of year, catch a game!
If you enjoy live music, the House of Blues in the Fenway neighborhood or Middle East in Cambridge are the best small live music venues in the area.
Harvard Square is actually the first House of Blues location started by Dan Akroyd, a Bostonian who starred in the 1980s film The Blues Brothers along with the founder of Hard Rock Cafe, Isaac Tigrett.
If you didn't get enough time to enjoy Harvard earlier in your 3 days in Boston itinerary, you should schedule more time to walk around Harvard Square and Harvard Park. Harvard Square also has a lot of great restaurants and cafes, as well as shopping.
Stop for pretty views at MIT Sailing Pavillion and might catch some people enjoying a day on the water.
Be a kid for a day at the Museum of Science, my absolute favorite museum in the Boston area. Learn about dinosaurs, experience what it feels like without gravity, freeze your shadow, watch an IMAX film, and more.
Last but not least, if you have extra time I can't recommend enough to take a day trip to Martha's Vineyard where you can visit some of the most scenic trips to Cape Cod with a guided tour showing you some of the best highlights like the cute shops of Edgartown, breathtaking views at Gay Head Cliffs, and the adorable cottages at Oak Bluffs.
Another unbelievable addition to your Boston itinerary if you have extra time is taking the Newburyport/Rockport Line at North Station 30 minutes up to the historic town of Salem, which is incredibly popular around Halloween time due to its history with the infamous Salem Witch Trials of the 17th-century.
And for those who are big fans of Halloween, you can also hunt down all the famous Hocus Pocus filming locations too!
Be sure to check out our full guide for the best things to do in Salem, an absolutely incredible destination to visit year-round but if you happen to be visiting during fall you don't want to miss this spot and consider spending the night, check out some of the area's most beautiful hotels (including some allegedly haunted ones) in our full guide for the best places to stay in Salem.
Where to stay in Boston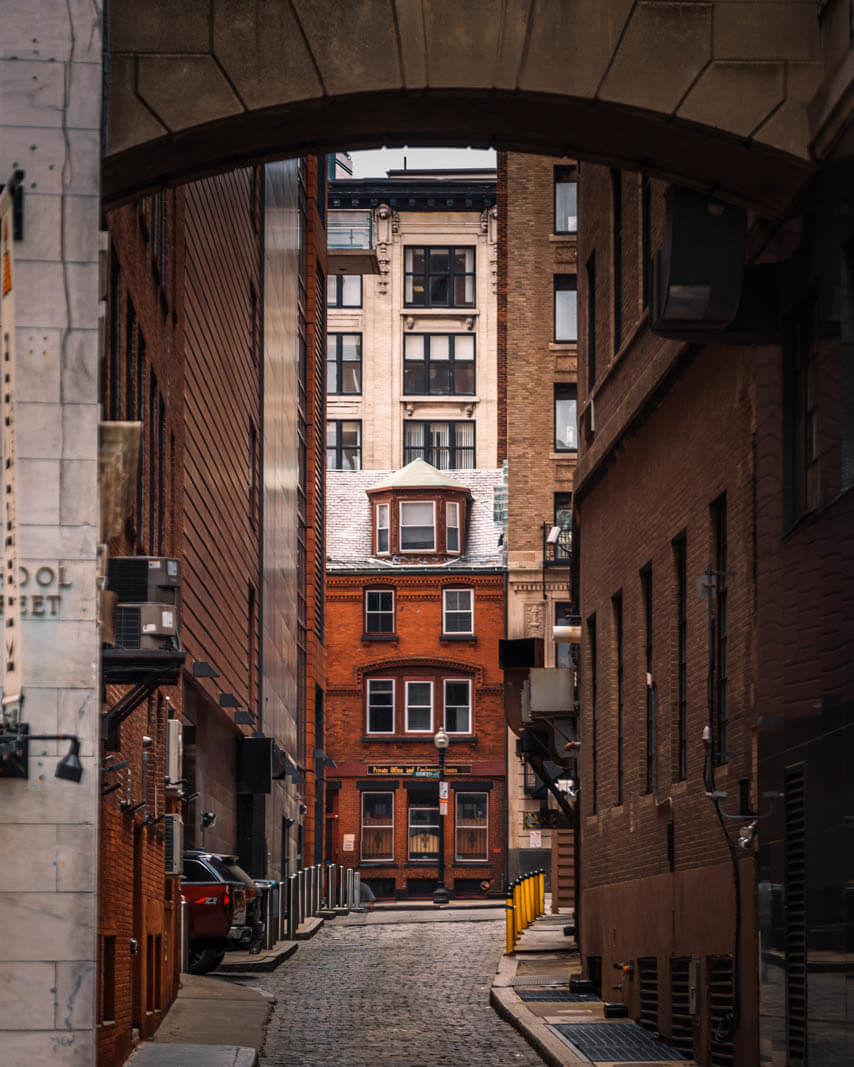 $$ The Boxer
The Boxer is the best value hotel in a city that has no budget-friendly options. This 4-star boutique hotel is in a historic building dating back to 1904 with a great location near Haymarket. The sophisticated rooms are decked out with industrial-chic interior decor and suites include city views and marble bathrooms. There's also a 24-hour fitness center and a restaurant and bar on site.
Book Now | Compare Prices for Later
$$$ Colonnade Boston Hotel
The Colonnade Boston Hotel is a great place to stay in the city located directly across from the Prudential Center skyscraper in Back Bay. The sophisticated and modern rooms offer floor-to-ceiling windows and cushy pillow-top mattresses for a great night of sleep. There's a great French restaurant on site as well as a killer rooftop pool, deck bar, and a fitness center all with amazing city views. There's also a business center on site.
Book Now | Compare Prices for Later
$$$$ Four Seasons Boston
The Four Seasons Boston is where to stay in the city if you're looking to treat yourself to the ultimate luxury experience. Located in Back Bay, the Four Seasons Boston is only a 5-minute walk to China Town and the subway stop. The rooms are elegant and suites have spacious rooms with separate living rooms and private balconies, some with garden views, and kitchenettes. Don't miss out on the gourmet restaurant and cocktail bar on site as well as spa, indoor pool, sauna, fitness center, business center, and hot tub.
Book Now | Compare Prices for Later
---
Author's Bio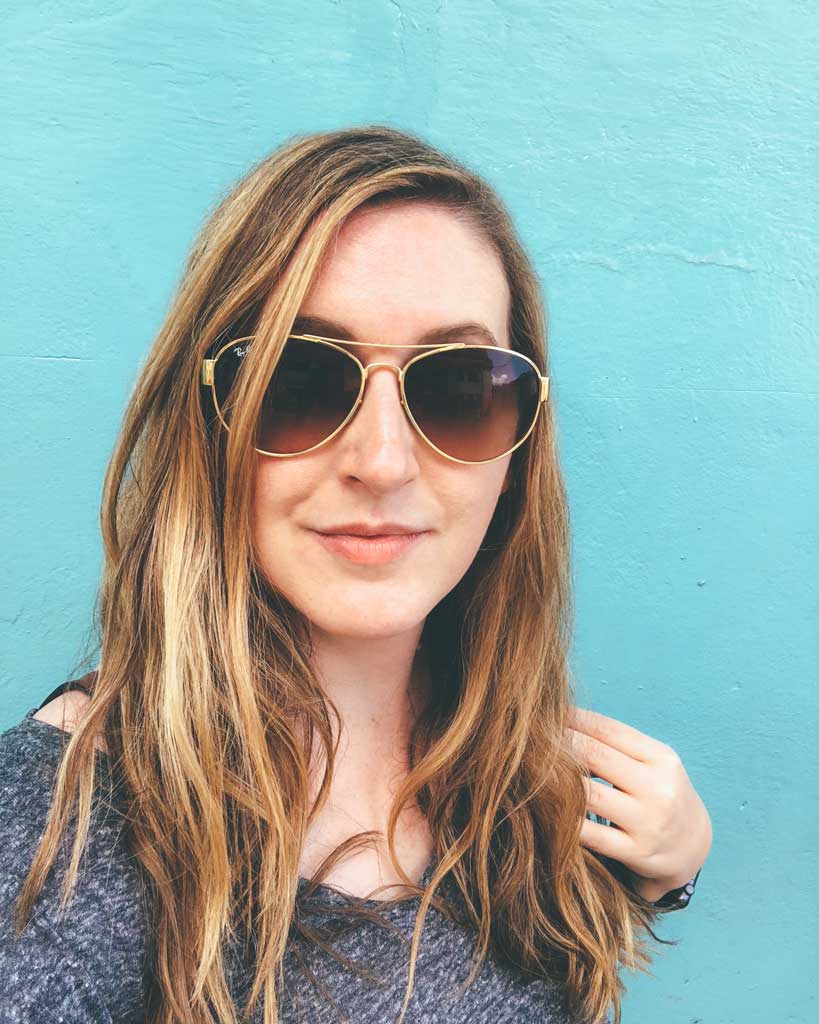 This was a guest post with Meg Frost with edits and updates from us! Meg Frost is a Boston-based tech nerd who escapes her day job by writing about travel at Frost + Sun. She likes sunny adventures, testing the latest travel tech and gadgets, spoiling her niece, and the cool blue.
Like Megan and Scott, she also enjoys naming random animals that she comes across on her travels.
Follow along on her latest adventures on Facebook, Instagram and Twitter.
---
Disclaimer: This post contains affiliate links. By booking a hotel through our site we receive a small commission at no extra cost to you.
Looking for more East Coast travel? Check out our best ideas for stops along the drive from NYC to Washington DC for more great places to check out.
Found this post on how to spend 3 days in Boston itinerary helpful? Bookmark this post for later or share the love on Pinterest below.