Looking for a Saskatchewan road trip itinerary to help you plan an epic visit to this highly underrated Canadian province? We got you. After spending a week exploring the cities of Regina, Saskatoon, the gorgeous Grasslands National Park, and stops along the way we came back from our trip in awe at the beauty and unspoiled landscapes.
Scenic drives in Saskatchewan include traversing across its stunning prairies and grasslands. Grasslands happen to be one of the most endangered ecosystems on the planet and are home to one of the largest dark sky preserves in the world for those interested in star gazing.
In this Saskatchewan road trip itinerary, we are going to cover Grasslands National Park, which should absolutely be included on your visit and does require a little extra planning as you will be in the more remote areas of the province and will need to bring some of your own meals (more on that later) and potentially camping gear.
In addition, we are including stops in the cities of Regina and Saskatoon along with a few interesting Saskatchewan landmarks and stops along the way including unforgettable and unique stays.
Disclaimer: This post was done in collaboration with Tourism Saskatchewan, as always all opinions expressed are our own. This post also contains affiliate links.
Saskatchewan Road Trip Tips: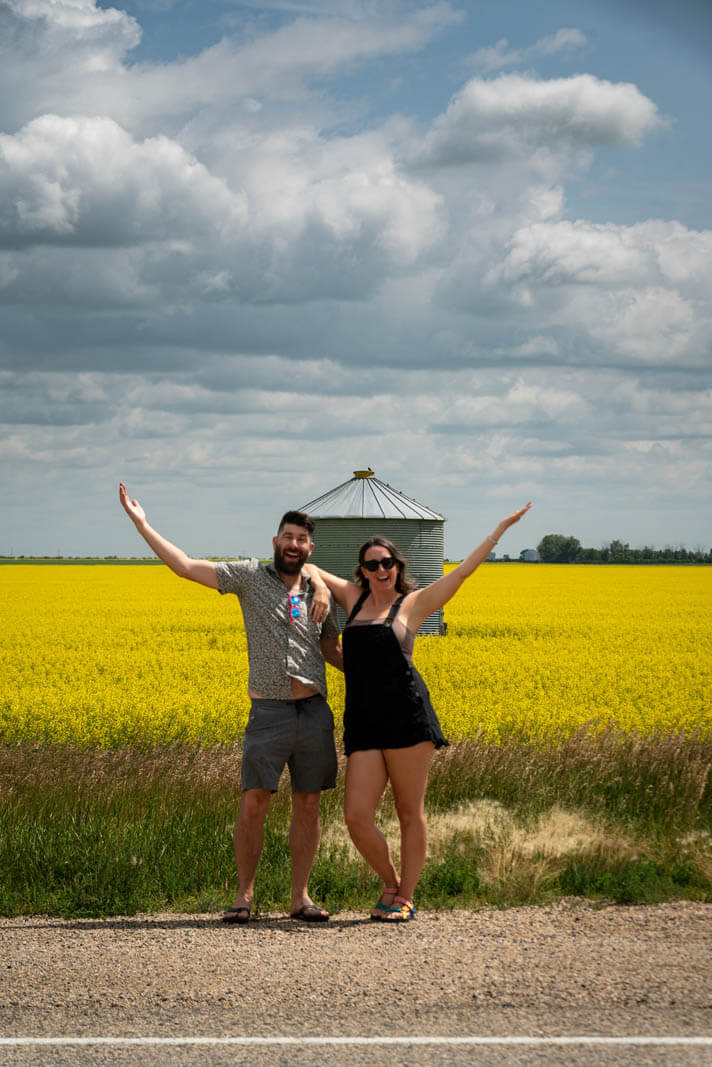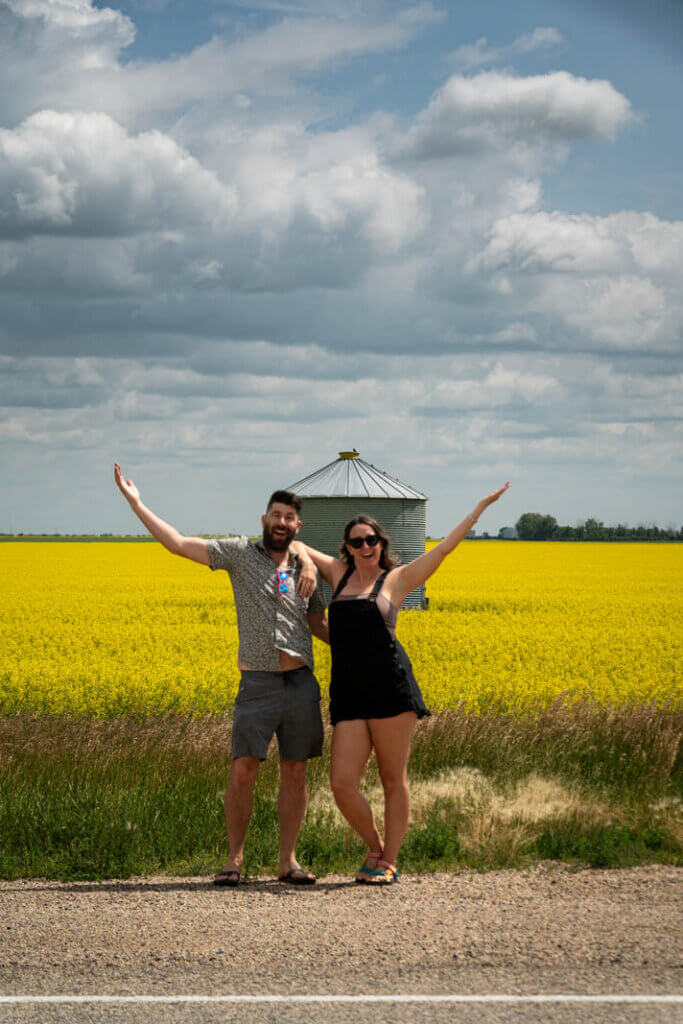 Some of the most scenic drives in Saskatchewan and cool places to visit in Saskatchewan are in remote areas, which require a little planning in advance to ensure you have a great visit (that's where our guide comes in handy!).
While you may pass through towns, not all have restaurants, grocery stores, or even gas stations. So it's wise to do a little extra planning ahead to make sure you have the supplies and fuel you need! Also, you will encounter spots with no cell phone service, although depending on your provider you will cross pockets of service frequently on the Saskatchewan road trip we suggest.
If you plan on staying in the oTENTik accommodation option in Grasslands National Park, you'll want to check availability and book these first and plan your Saskatchewan road trip around that availability. Also, be sure to plan for what to bring if you do this option as they do have beds, a grill, fire pit, table, and other amenities but you'll need to bring your own bedding. We used a sleeping bag.
Based on our guide and places to visit in Saskatchewan, here are our top travel tips to be aware of:
When driving through Saskatchewan always have at least a half tank of gas and fill it up every opportunity you have. Gas stations are few and far between AND some are a bit tricky to get fuel if you're not used to driving here.
Many gas stations are not full service, so someone will assist you in filling up your gas. There are gas stations in remote towns that don't have an attendant on site and require you to call someone who will come and fill you up. We avoided this as we stopped in gas the next town, but you'll want to check on your Google Maps to see where the next gas station is. This is why you always want to have over a half tank of gas to avoid any emergencies!
Be sure to preload your Google Maps with the locations you want to visit saved so it's easy to navigate when there's no service. We didn't have any issues getting directions with TMobile as we always were driving in and out of service pockets.
Invest and pack a travel cooler. You'll need one for when you are visiting Grasslands National Park whether you are camping in your own tent, staying in an oTENTik, or staying at a hotel. There aren't food options in or around the park and you will need to bring food for this portion of the trip including breakfast, lunch, and dinner.
Get your groceries in the city before taking off to Grasslands National Park. We planned our meals and got all of our groceries in Regina including any adult beverages we wanted as well as large gallons of water (there are water filling stations at the park).
If you're staying at the campgrounds in Grasslands National Park, be sure to plan your arrival before the offices close at the campsites in both the East Block and West Block! During our visit, they were open until 7 PM. However, when you make your reservation you will want to check and confirm the time for the date of your visit. (PS these offices sell ice if you need to refill your coolers).
Bring bug spray with DEET and if you want to hike through the prairies and trails, you'll want long pants as there are ticks here that hang out in the tall grass, we didn't encounter any but they are common.
If you do plan on stopping at a restaurant outside of the cities, be sure to double-check the restaurants are open the day you are visiting as many are closed on Sundays or only open on certain days of the week! This happened to us and thankfully we packed enough food to cover this meal.
7 Day Saskatchewan Road Trip Itinerary
Saskatchewan Road Trip Day 1: Arrive & Explore Regina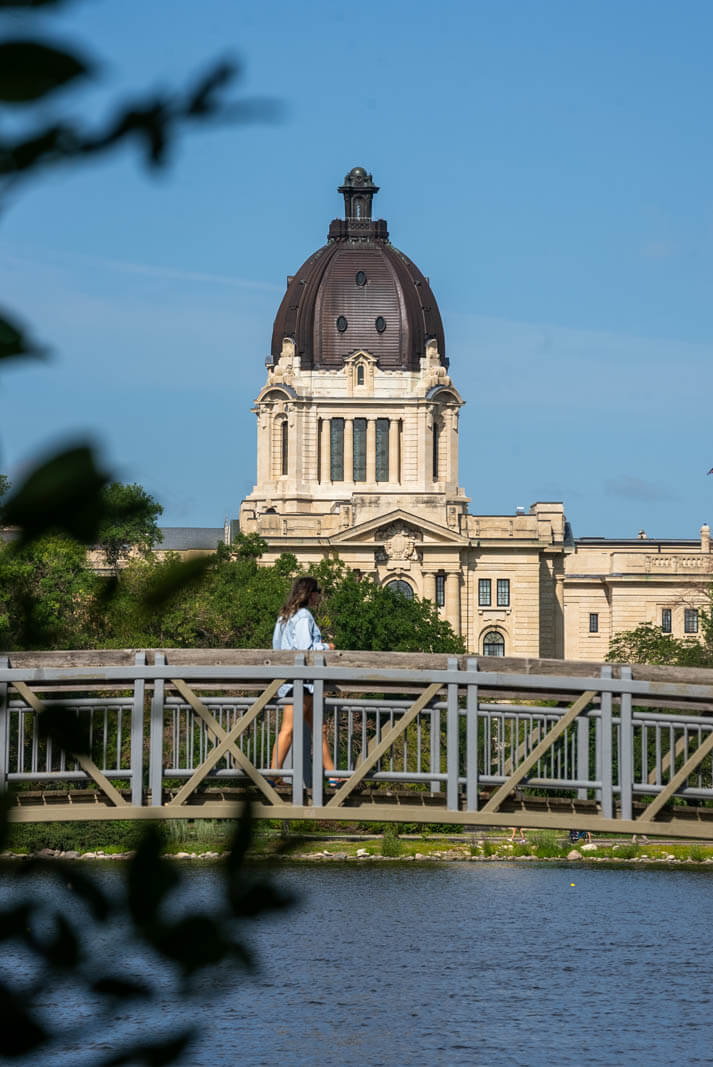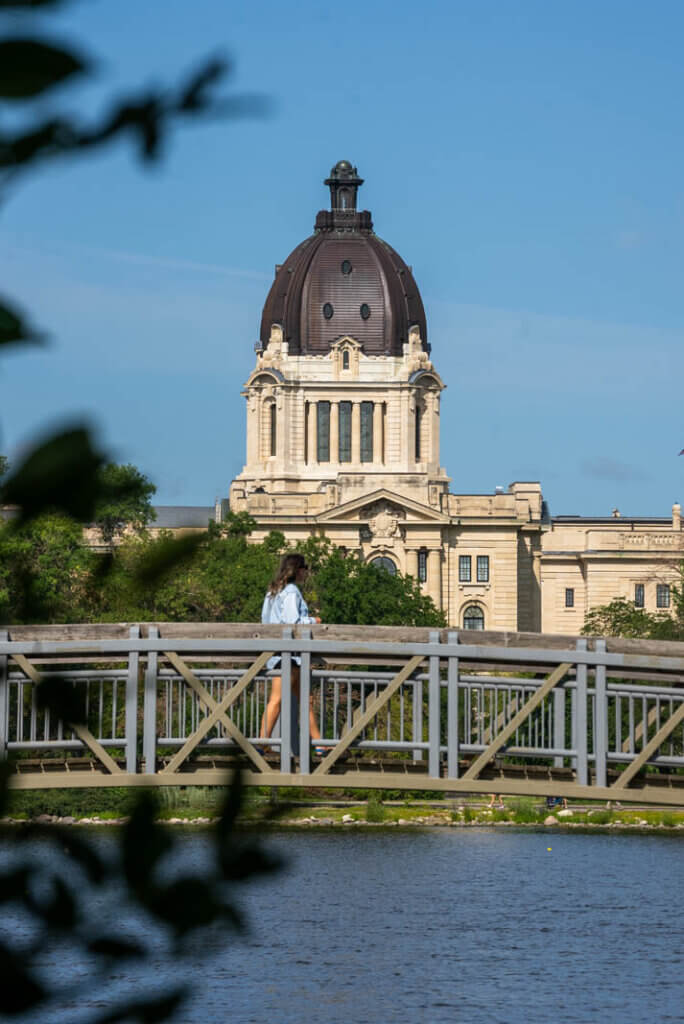 Before we started our scenic drive in Saskatchewan, we spent a day in Regina, the capital city of the province.
We arrived in the afternoon and only had a little time for exploring. We recommend taking a scenic walk around Wascana Park which surrounds Wascana Lake and offers great views of the Saskatchewan Legislative Building, one of the most famous Saskatchewan landmarks here in Regina.
Our two favorite spots for views were the Wascana Observation Deck that overlooks Willow Island and Trafalgar Overlook Fountain.
This was an easy 10-15 minute walk from our hotel at Hotel Saskatchewan. On your way to or from Wascana Park, be sure to stop in Central Park. This small, manicured park has a cool tribute to Mary Baker, a local who played professional baseball in the All-American Girls Professional Baseball League during World War II.
I am personally a fan of the film A League of Their Own, so this was a fun little gem to stumble upon while exploring Regina.
Be sure to plan a dinner at Avenue Restaurant and Bar downtown. This is one of the best restaurants in Regina and offers a menu with a French and global influence using local ingredients. They also have excellent cocktails like their tableside martinis.
Since we arrived in the afternoon, this was all we had time for on our visit. However, if you have more time to explore Regina we encourage you to check out MacKenzie Art Gallery, Saskatchewan's oldest art gallery that features modern and abstract artworks from local and international artists.
Another great museum includes the Royal Saskatchewan Museum featuring collections that showcase the natural and cultural heritage of the province including the world's largest T Rex that was found in the province named Scotty! Be sure to also check out the First Nations Gallery featuring a display of artwork that highlights the history and traditions of Indigenous societies that live in Saskatchewan.
*You also have the option in the evening to get your supplies for the next leg of your Saskatchewan itinerary.
Where to Stay in Regina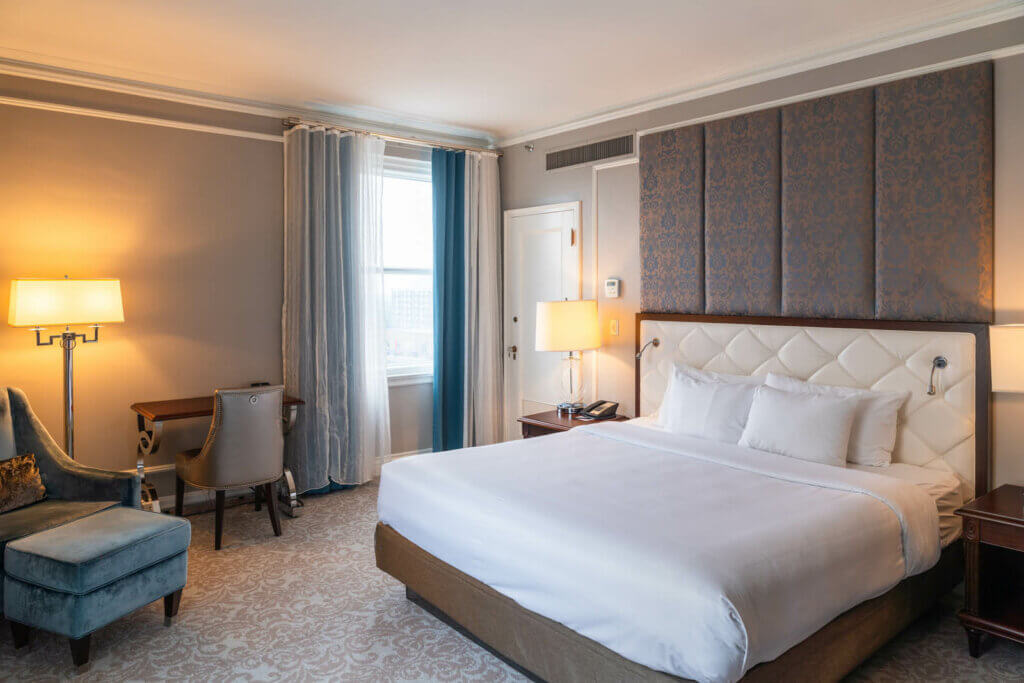 We stayed in the beautiful Hotel Saskatchewan, an Autograph Collection property in the heart of downtown. This luxury hotel is one of Canada's historic grand railway hotels built by the Canadian Pacific Railway in 1926, the same project that built the famous Château Frontenac in Quebec City.
The hotel offers elegant rooms and has a beautiful lobby and bar area. Grab breakfast and coffee in the morning from Cafe Royale in the morning. There's also a parking lot here for guests to use for a small fee. Book here.
Saskatchewan Road Trip Day 2: Fun Stops on the Way to Grasslands National Park East Block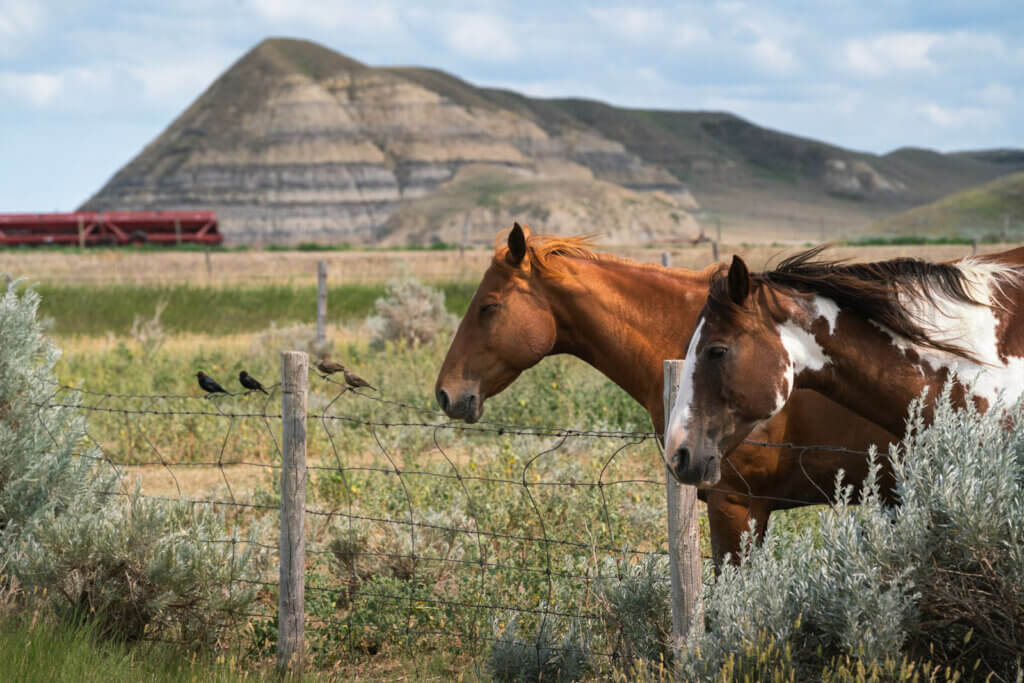 Get ready for one of the most scenic drives in Saskatchewan! We loved the route from Regina toward Grasslands National Park's East Block. Along the way, you'll pass Saskatchewan landmarks like endless scenes of yellow canola fields, gorgeous barns, silos, and sprawling farmland.
We recommend getting an early start as during our visit we needed to get checked in to our campsite before 7 PM and there are a few cool places in Saskatchewan to visit along the way including the town of Ogema, natural wonders like Castle Butte, and the small community of Willow Bunch.
If you didn't get your groceries and provisions for this portion of the trip in advance, you'll want to do this first thing in the morning at hit the road.
Stop in Ogema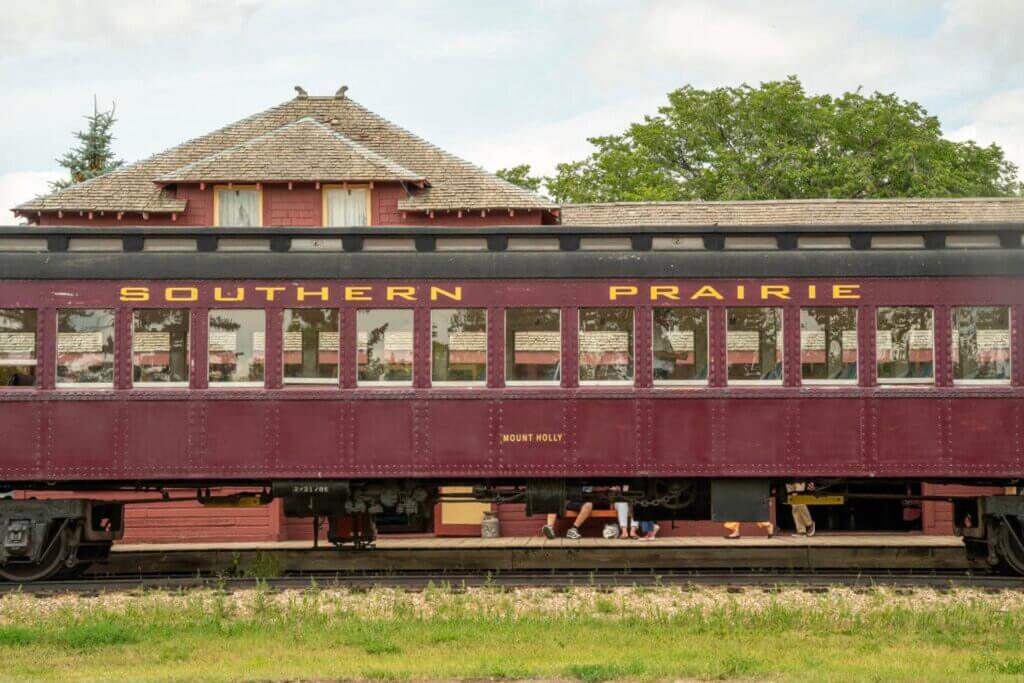 About an hour into your Saskatchewan road trip is the charming and quaint prairie town of Ogema. If you like historic and scenic train rides, you may want to plan a visit to Southern Prairie Railway which offers 2.5-hour train rides on select weekends.
We didn't end up doing this as we wanted to make other stops and make it to our campsite in time. If you do plan on doing one of their train rides, you may want to skip the other stops included on this guide. They offer heritage train rides as well as specialty-themed train rides including a craft beer train ride!
We were able to take a look at the historic prairie locomotive before it took off on one of its journeys during our quick stop in Ogema.
Another great reason to stop in Ogema is that this can be one of your last hot meals before camping or staying in Grasslands National Park! Solo Italia Fine Pasta (open Wednesdays through Saturdays only) offers their famous wood-fired pizzas along a menu of other Italian dishes.
If barbecue is more your style, you can also dine at Bud's Barbecue (open Tuesdays through Saturdays).
Check out Castle Butte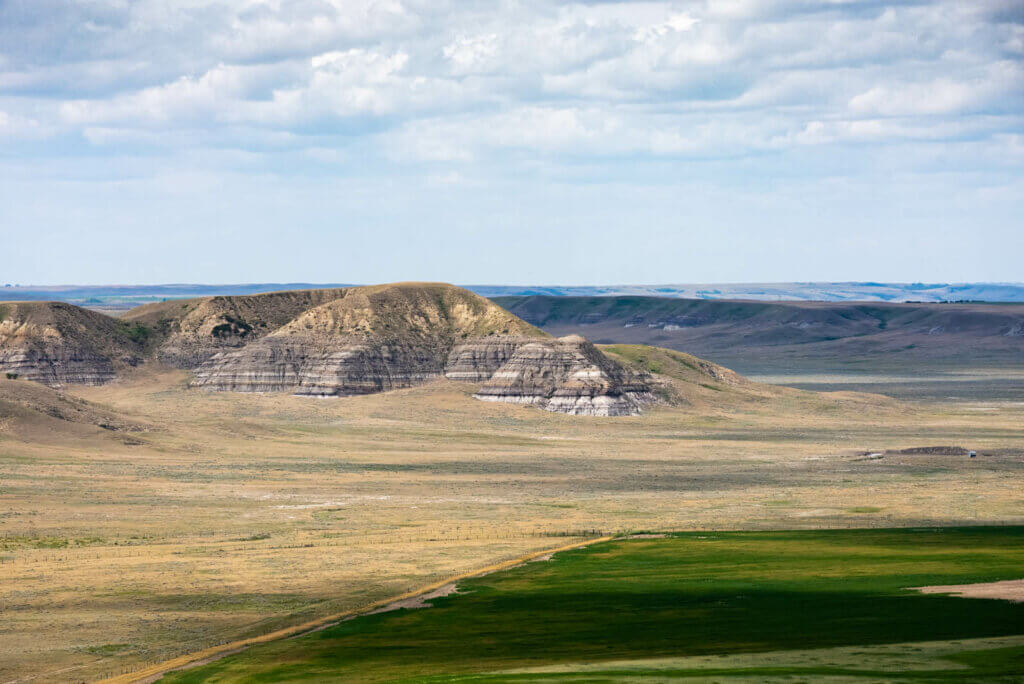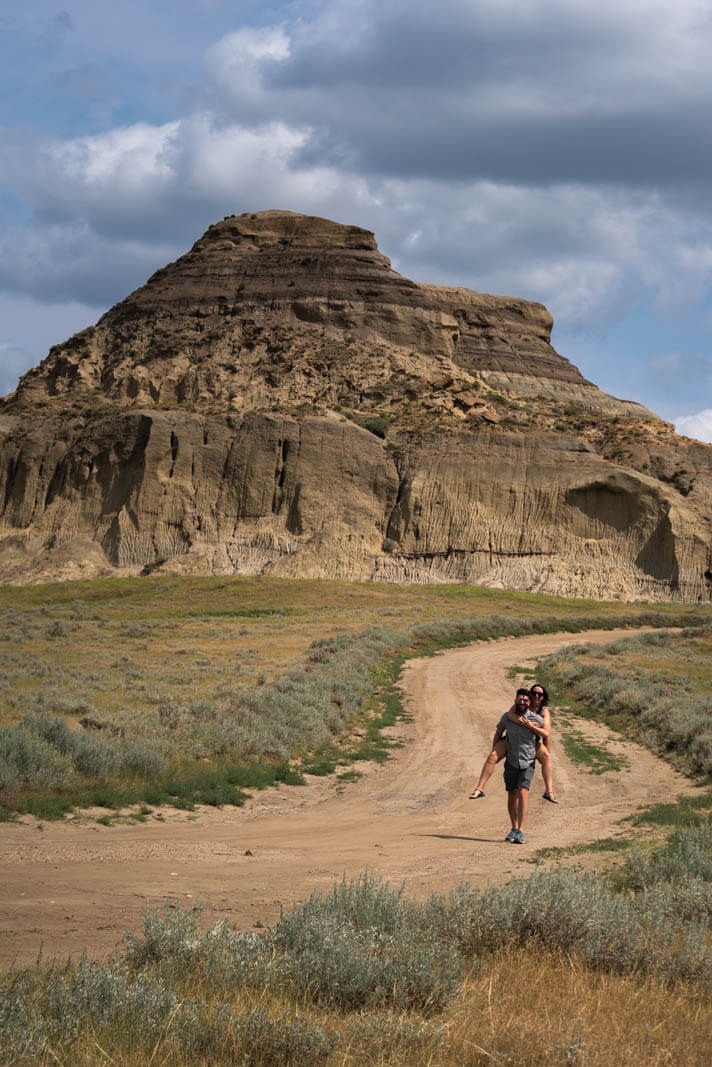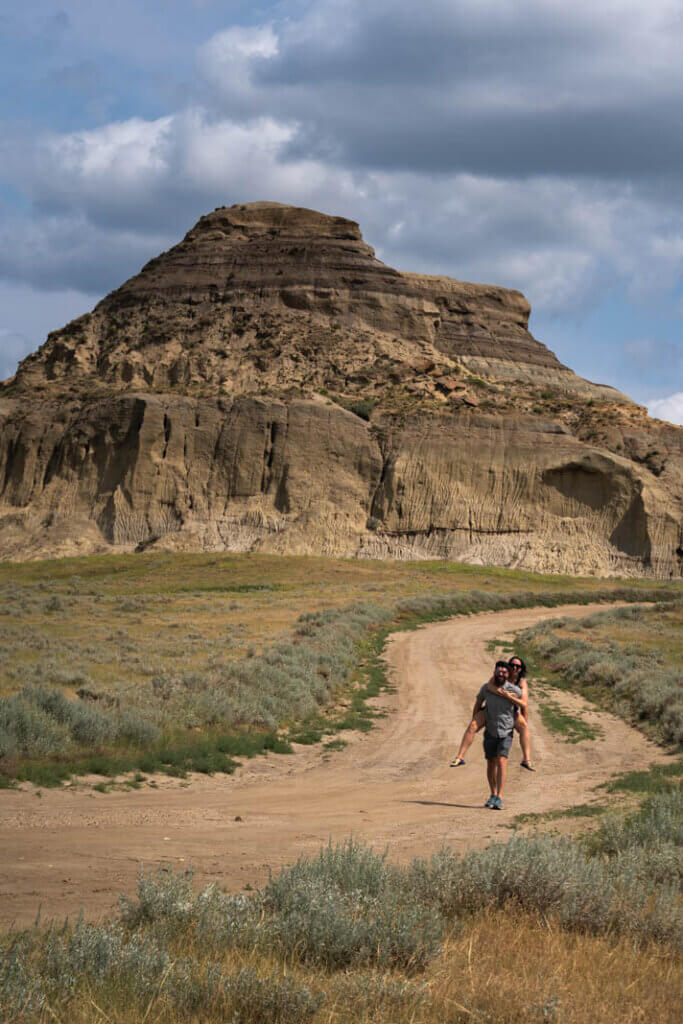 Around a 45-minute drive away from Ogema continuing on your Saskatchewan road trip itinerary is the unique formation of Castle Butte in the Big Muddy Badlands. This striking geological wonder is a massive sandstone butte that rises dramatically from the surrounding prairie landscape.
This Saskatchewan landmark is a testament to the millions of years of erosion that sculpted this castle-like natural wonder.
Visitors are welcome to climb Castle Butte, although if you're not a confident climber you may have to scoot down on your bottom on the way back down. From the top you get sweeping views of the nearby landscape.
Around the base of Castle Butte, you can explore the labyrinth of crevices and trail around the base of the butte which offers a glimpse at the years of erosion in interesting patterns. Plan at least an hour for this stop on your road trip, it's really one of the most unique places to visit in Saskatchewan!
See the Giant of Willow Bunch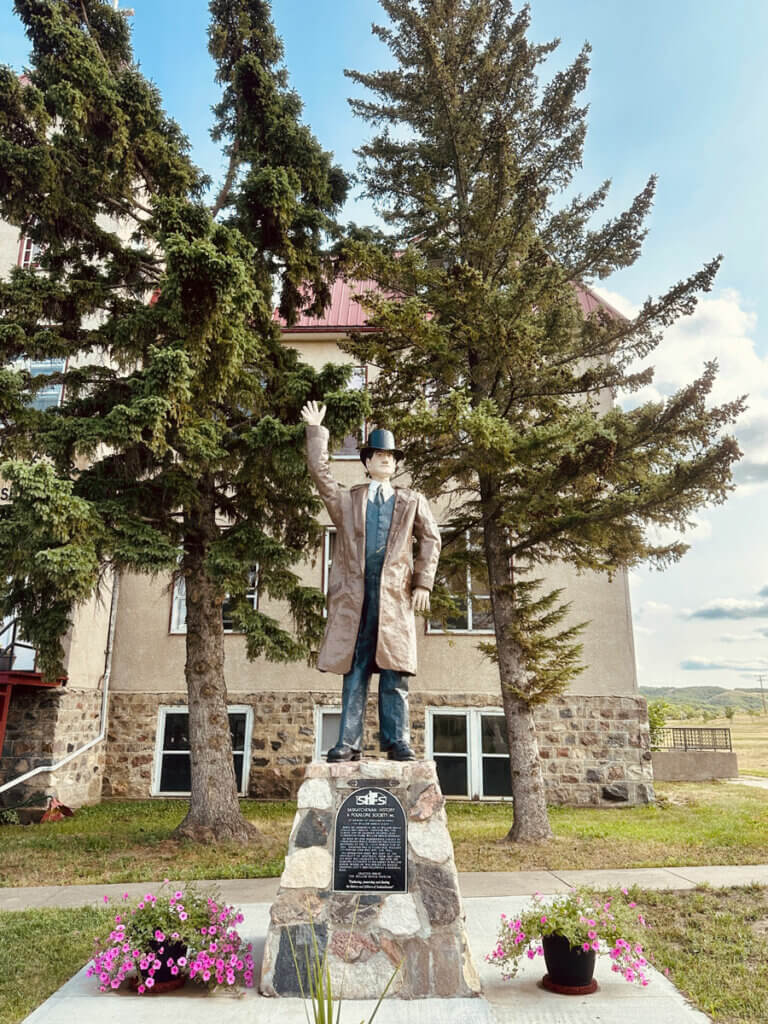 If time is still on your side, another one of the most interesting places in Saskatchewan to visit on a road trip is the town of Willow Bunch (~1 hour drive from Castle Butte & another ~1 hour to Rock Creek Campground in Grasslands National Park East Block).
This rural community is home to the legendary "Giant of Willow Bunch." The town celebrates the memory of Edouard Beaupré, who was a circus performer that traveled with Barnum and Bailey due to his exceptional height of 8'3″.
You can pay a visit to the Willow Bunch Museum & Heritage Society which is housed in a former convent to see exhibits that chronicle the history of this community as well as artifacts and belongings that were owned by Edouard Beaupré in his lifetime.
When you're walking up to the museum you'll spot a statue of Edouard Beaupré as well as his tombstone as his remains were returned to Willow Bunch and this is his final resting place. Even the local motel and pub named themselves after him at the Jolly Giant Pub & Motel. A local told us the stone erected outside the motel is said to be the same height as Edouard so you can get an idea of his height.
This is also a great place to fuel up before continuing on your Saskatchewan road trip to Grasslands National Park.
Just be careful, there are two pumps here and while one does say diesel fuel, it's not as obvious as other pumps (or so we thought) and we accidentally put diesel fuel in our car! OOPS! This was obviously a tragic mistake and we were lucky that a local went and found the local mechanic who was able to drain our tank and fuel lines for us. (We all make mistakes from time to time!) Learn from ours!
Most gas stations in Saskatchewan have someone pump the gas for you, but this one didn't and we just happened to make that mistake. Anyway, that likely won't happen to you! But a special thank you to the kind folks in Willow Bunch for helping us get back on the road!
Arrive to Grasslands National Park East Block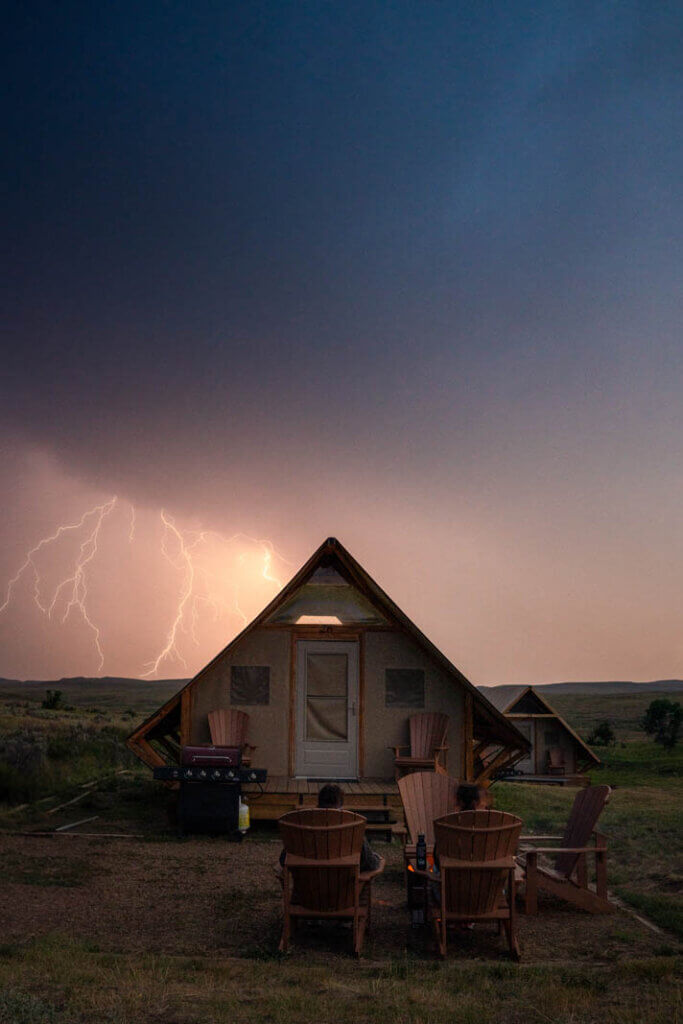 You will want to carefully plan out all of your activities for the day and journey to the Grasslands National Park East Block to arrive to Rock Creek Campground before 7 PM to check in to your campsite. And make sure to have a full tank of gas.
Rock Creek Campground has campsites for RVs, campers, and tents, along with 8 oTENTik sites which are basically a tent and an A-Frame cabin combined. We stayed in an oTENTik tent at both the East Block and West Block and recommend doing the same and planning your trip around their availability.
These structures are a step above camping and provide a shelter with beds with mattresses that can sleep up to 6 people (you need to bring your own pillow and sleeping bag), table and chairs, electricity, small heater & fan, a front deck with Adirondack chairs, picnic table, fire pit, and grill.
These were incredibly comfortable if you come prepared with food and sleeping supplies. There is no plumbing at these sites, but you can use the campground's restroom and water station.
If you plan on enjoying the firepit, you will need to secure a fire permit from the ranger station for a small fee. Pay attention to the wind as it typically dies down at night and is safe to have a fire. You can also buy ice here if you need more to keep your food cool.
When shopping for supplies, you may want to pick up a firestarter to help you get your fire going if you plan on using the fire pit along with matches or a lighter.
The Parks Canada ranger at the campsite check-in spot will be able to tell you if it is safe or not to have a fire or when the wind is scheduled to slow down.
During our visit, the ranger station was open 11 AM until 7 PM. However, when making a reservation please confirm when the window is you can check in to make sure you get there on time! If the ranger leaves for the day, you won't be able to get the key to your oTENTik.
Once you're settled in, you can enjoy the beauty of the prairies and pop out late at night to see the Milky Way and stars as you're in one of the largest dark sky preserves in the world! Also, this can be a great spot for Aurora Borealis too, if you're lucky you might get to see the Northern Lights!
If you're here early, consider doing the short and quick hikes around the ranger station, both the Rock Creek Trail (1km loop) and the Creek to Peak Trail (1.5 trail out and back) start right at the green gates at the visitor center. Both are relatively short hikes that offer sweeping views of the prairie landscapes.
Also, since Grasslands National Park is in two sections, the East Block and West Block, make sure you pay careful attention to arrive to the correct side for your reservation as they are about a +2 hour drive from one another!
Another tip: Grasslands National Park can get very windy! Bring a windbreaker and leave the hat at the campsite unless you have a way to secure it to your head. This is a place of extremes it also can get VERY hot, make sure to bring sunscreen and apply it generously and frequently. It also can get cold! Pack accordingly.
Saskatchewan Road Trip Day 3: Grasslands National Park East Block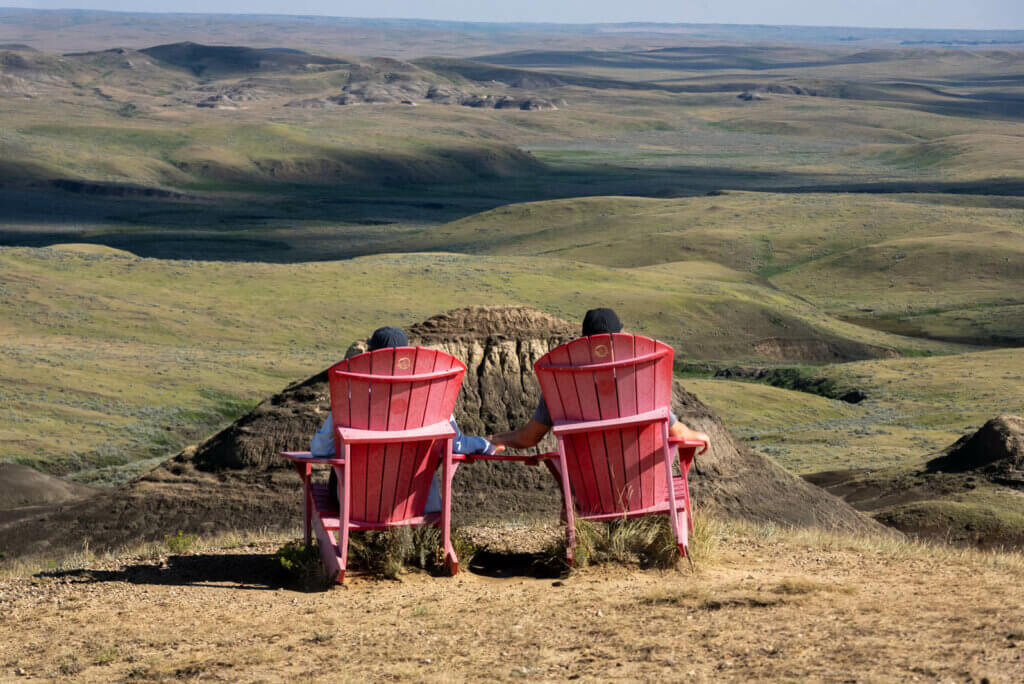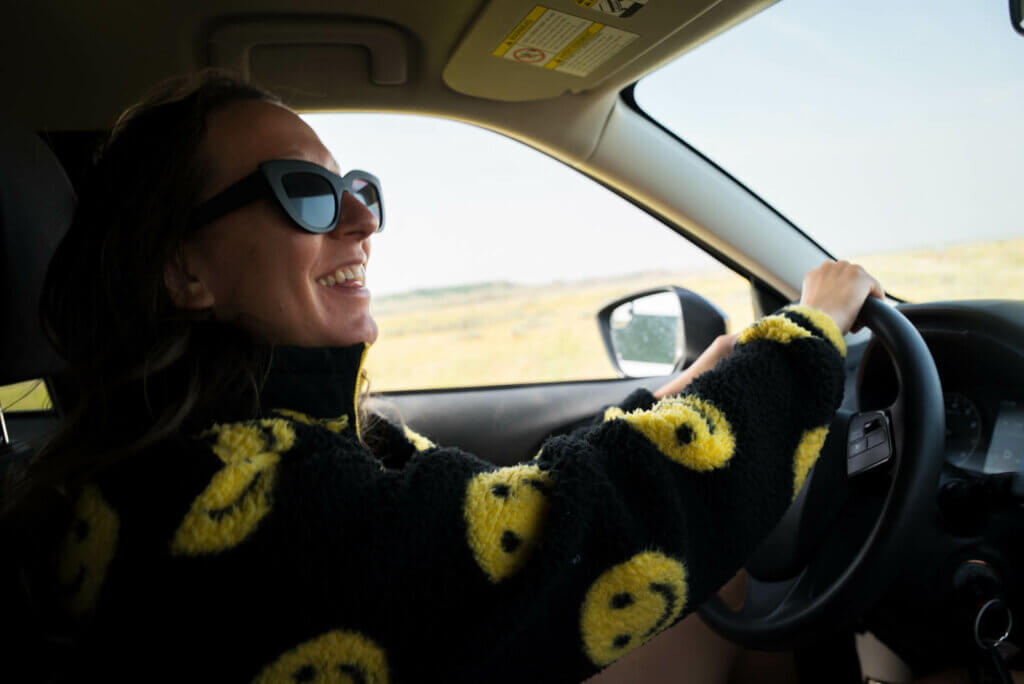 Enjoy waking up to the serenity of the prairies! If you stayed up late stargazing you may want to sleep in before embarking on the Badlands Parkway, a scenic 11 kilometers (~ 6.8 miles) of paved road that takes you to 6 scenic stops and overlooks the popular Valley of 1000 Devils hiking trail that takes you through the badlands and where many fossils and dinosaurs have been found!
The East Block is more known for its stunning landscapes and views, along with being one of the richest resources in Canada for finding dinosaur fossils. But you may also encounter some wildlife here.
If you want to do the Valley of 1000 Devils hike, plan for 3-4 hours and try to do this one earlier in the day as it can be 10 degrees hotter on this trail than other areas of Grasslands National Park. The entire trail is 10 kilometers and it passes through the dramatic views of the valley and grass prairies, which you'll see from above at the overlooks along the Badlands Parkway.
Along the Badlands Parkway, you also have more opportunities for leisurely walking along interpretive trails and enjoy stunning views from the vistas overlooking the valley as well as stops that have the famous red Adirondack chairs found across iconic scenes throughout all of the Parks Canada parks.
Each of the 6 stops offers a stunning vantage point of geological formations and the unique prairie landscape here. The landscape here does remind us of the American Southwest with the buttes and geological shapes, except that these formations and landscapes are covered in grass.
We recommend taking your time to slowly enjoy each of these stops and if you're wanting to freely roam and explore more, at stop #2 called Crackerjack, the Parks Canada ranger informed us of an interpretive trail here where you can explore the valley down a path (you'll spot it off the main path that leads to the lookout) and you can wander around looking for fossils (if you find one don't move it, get its location with GPS and report it to a ranger), quicksand, and see the badlands from another vantage point and perspective.
Each of the stops also has informational signs that teach you more about the grasslands and prairie landscapes of Saskatchewan.
Here are the highlights of each of the 6 stops:
Stop 1 – Gateway to the Grasslands: This is a short walk through swaying tall grass takes you to two red Parks Canada Adirondack chairs overlooking the rolling grassland and prairie landscape below. There are also two tower viewer binoculars here to get a closer look too and maybe spot wildlife!
Stop 2 – Crackerjack: Another short walk overlooking the badlands of the East Block. This is where you can find the trail that leads down to the valley and do some interpretive exploring looking for fossils, and quicksand, and take your time admiring all of the geological and archeological wonders of the Grasslands National Park.
Stop 3 – Zahursky Point: A brief walk will bring you to two more Parks Canada Adirondack chairs, there are more stunning views here as well as a sign explaining how the Zahursky family lived at this point for a period of time in these nearly uninhabitable conditions in 1912.
Stop 4 – Kapêsiwin: Another incredible vista and place to take in the view in prairie silence as you look out over the same views as the Indigenous peoples of the Astina, Nakoda, Nêhiyawak, Siksika, Dakota, and Lakota peoples had for centuries.
Stop 5 – Mauvais Terres: An incredible viewpoint of the grassy buttes below.
Stop 6 – Ta Sunka Watógla: Our favorite scenic vista on the Badlands Parkway and one of the most stunning places in Saskatchewan for views! You're actually incredibly close to the Western Montana border from here. There are two Parks Canada red Adirondack chairs here to take in the view and this is an excellent place to see the sunset.
Saskatchewan Road Trip Day 4: Grasslands National Park West Block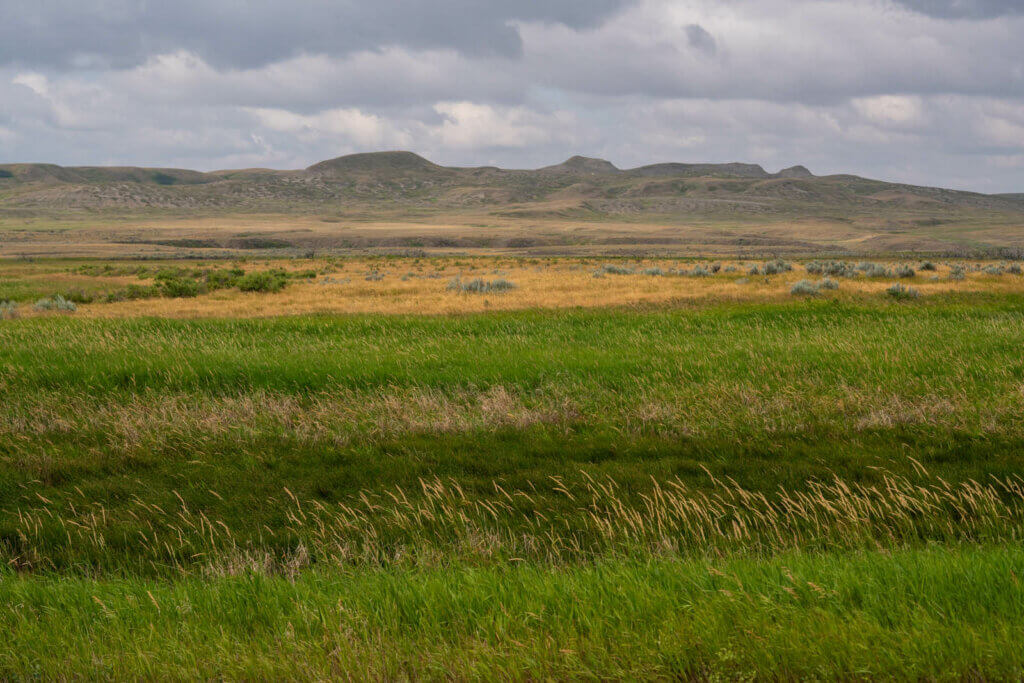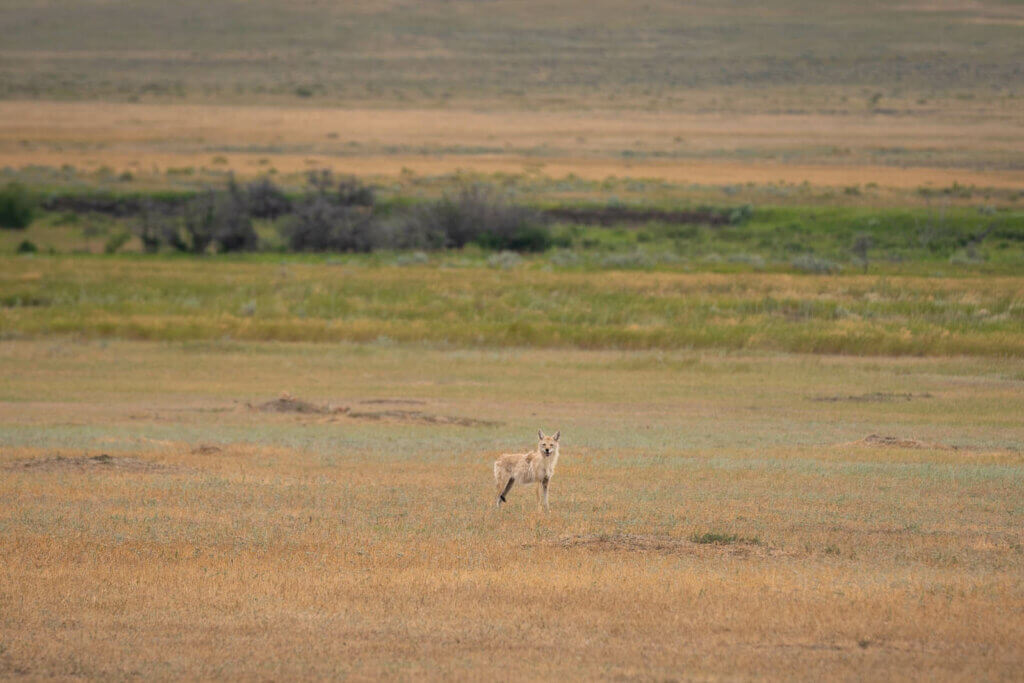 We recommend getting an early start to your day 4 on your Saskatchewan road trip itinerary so you have plenty of time to take in all there is to see and do at Grasslands National Park at the West Block. This is just over a 2-hour drive from Rock Creek Campground through farmland and prairie landscapes. Make sure to fill up your gas tank again!
The Grasslands National Park Visitor Centre in Val Marie is open from 9 AM to 5 PM and is a great place to stop if you want to pick up maps. From 11 AM to 7 PM at Frenchman Valley Campground you can check in to an oTENTik or campsite (although double check and confirm this before your visit).
If the East Block is known for the badlands and stunning vistas, the West Block of Grasslands National Park is better known for wildlife spotting. Another one of the most scenic drives in Saskatchewan can be found here as well along the Ecotour Scenic Drive. This is a 20-kilometer (~12.4 miles) paved road and driving tour through the Frenchman River Valley with 7 pull-offs and interpretive signs.
Not only will you find sprawling views of the grasslands and prairies, but you'll encounter the black-tailed prairie dog colonies known as dog towns, opportunities to spot wildlife like the burrowing owl, coyotes, and bison, but also archeological sites like ancient tipi rings which are evidence of life used by Indigenous peoples for shelter and cultural practices, just look for stones that are in a circular arrangement (some of these sites are marked).
The Ecotour Scenic Drive is a bit different than the Badlands Parkway in the East Block. Each stop has an interpretive sign and some stops require more time than others. A few of the stops also offer trailheads too. It takes the average visitor anywhere from 1-3 hours to do the drive, although we took much longer as we also decided to drive part of the Back Country Loop after the 7th stop on the Ecotour Scenic Drive (more on that later).
Here's a breakdown of the stops on the Ecotour Scenic Drive:
Stop 1 – Welcome to the Grasslands National Park: A brief stop at the beginning of the Ecotour Scenic Drive with an interpretive sign.
Stop 2 – Top Dogtown Trail: This short loop takes you through a trail in one of the black-tailed prairie dog colonies. We spent alot of time here observing the prairie dogs! During dawn and dusk look out for burrowing owls in some of the burrows too! We saw some across the road from here.
Stop 3 – Grasses Reign Supreme: This is where you can find the trailheads for the Bearpaw Sea Trail (10 km in-and-out) that traverses through the prairie landscape passing through more prairie dog colonies (*exercise caution as part of this trail passes through a rattlesnake hibernating spot) and the Timbergulch Trail (15 km loop) traverses through a gulch which a chance to encounter a bison. This is more of an advanced trail as bison do knock over the trail markers and it helps to be savvy with navigational equipment.
Stop 4- Coming Full Circle: You can read the interpretive sign here and look for historic tipi rings at this stop.
Stop 5 – Ranch Corrals: This is a cool stop, you can see a glimpse into Saskatchewan's wild west history here. Remnants from an old ranching corral from the 76 Ranch remain here.
Belza: This is a day-use picnic area that offers beautiful views of the valley and prairie below along with restrooms and two Parks Canada red Adirondack chairs.
Frenchman Valley Campground: Campsite and where the oTENTiks campsite is. There is a small trail here that leads to a tipi ring and a bench that offers views of the creek below.
Stop 6 – A Cowboy of Mystery: This stop gives visitors a glimpse into ranching life here as there are still buildings left behind where the Larson family lived as ranchers from the 1920s until 1984. You can walk around the buildings and see where he built shelter for his animals in the hill bank. There is a picnic table here and also the Larson Trail hike (1.5 km loop) starts here.
Stop 7 – A Prairie Hot Spot: Between stop 6 and 7 is when you'll start noticing a long stretch of black-tailed prairie dog burrows and colonies. This is where you might see alot of wildlife activity, we saw a coyote hunting for prairie dogs here.
Once you're done with the Ecotour Scenic Drive you have the option to also continue driving along the Back Country Loop, a dirt road that takes you through rolling pastures with ranching cattle through lands of transition.
The park ranger told us about the Borderlands Lookout point you can stop at that is very close to the US border of Montana. This is a more rugged area of the park and it's only open when the conditions are dry. You can also access the Otter Basin Trail hike (15 km loop) which is for more skilled wilderness explorers.
---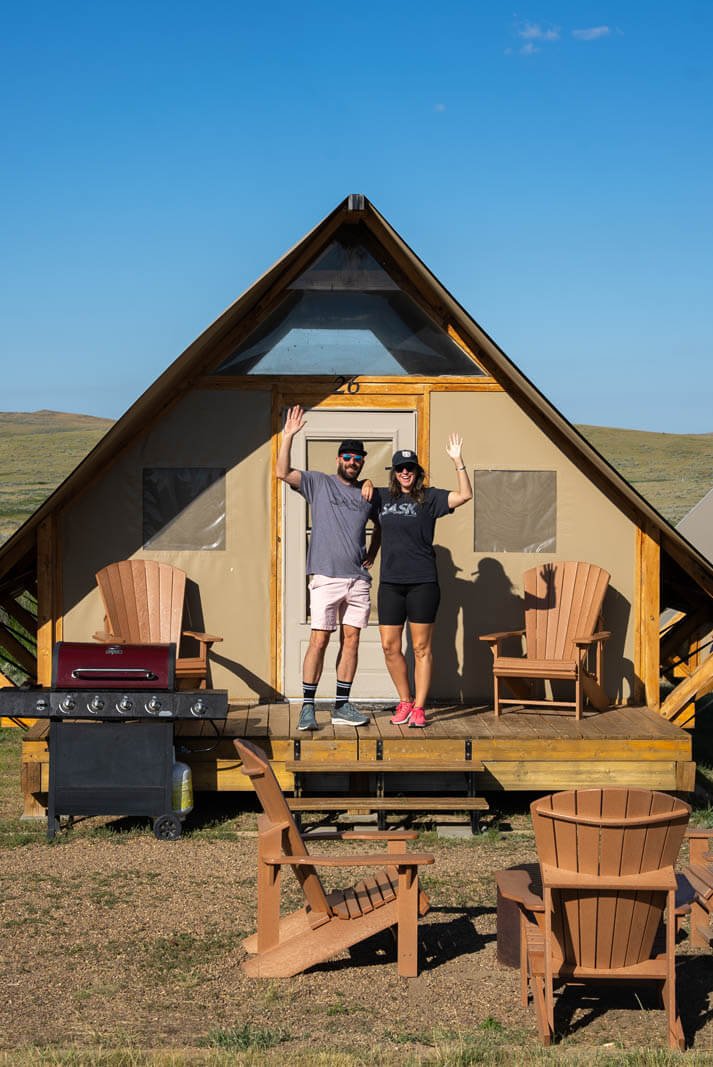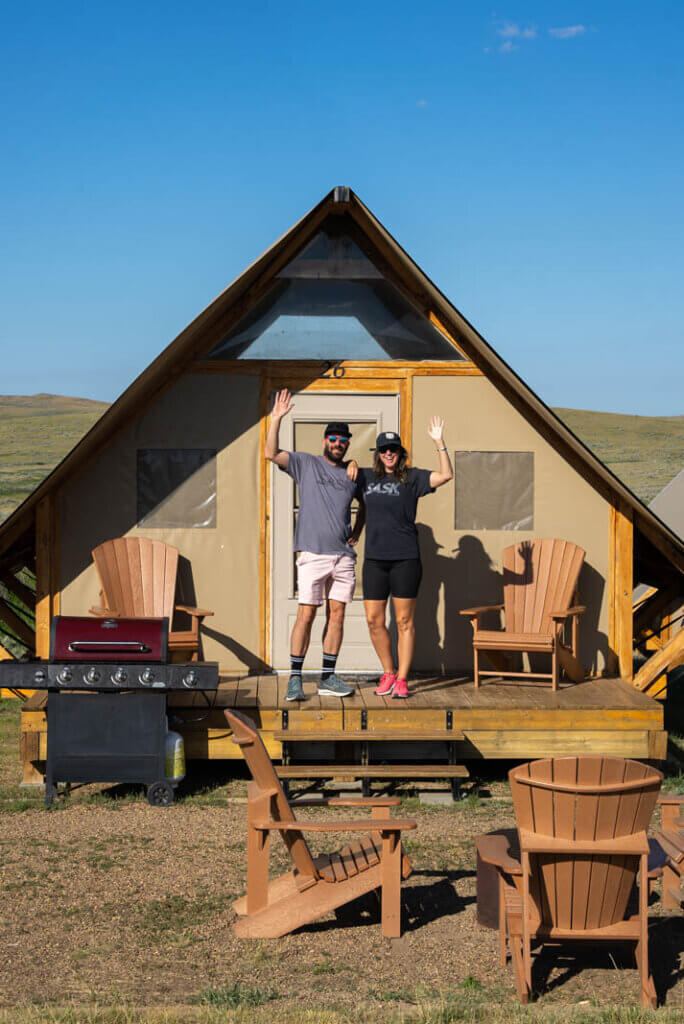 You have the option of reserving an oTENTik at Frenchman Valley Campground or you can stay in one of the few accommodation options in the town of Val Marie. Unlike the East Block, the town of Val Marie offers more options as it's around a 20-minute drive to the entrance of the West Block of Grasslands National Park.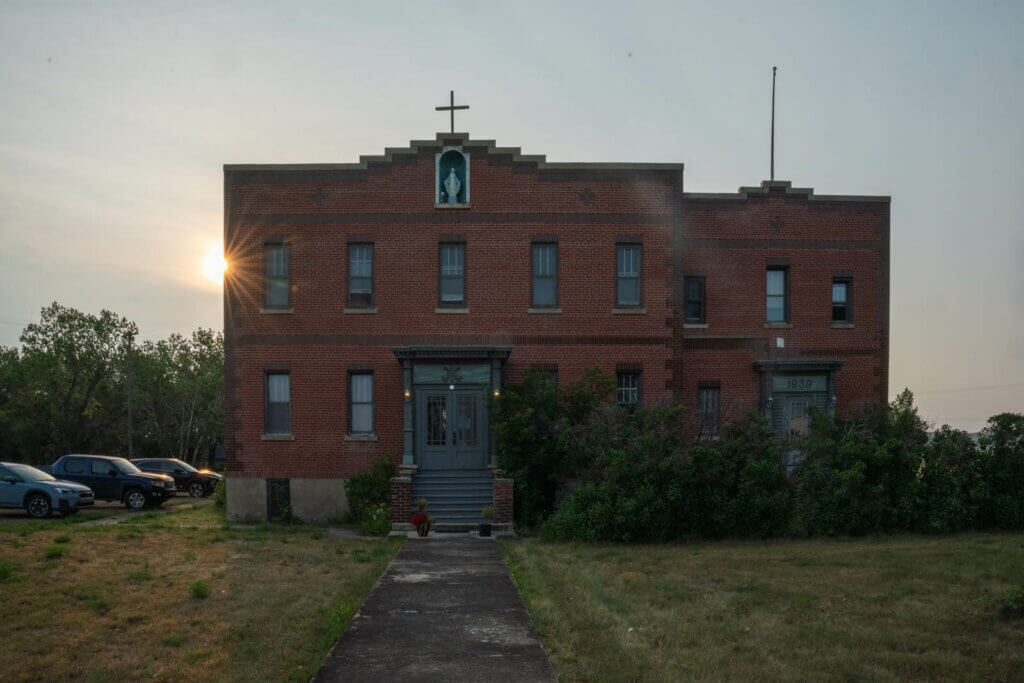 We also stayed at the Convent Inn one night during our Saskatchewan road trip, which is a really unique hotel set in a former convent. They have shared restrooms and serve breakfast in the morning. It's a great place to sleep if you need a break from camping.
Saskatchewan Road Trip Day 5: Swift Current & Overnight in a Luxury Grain Bin Stay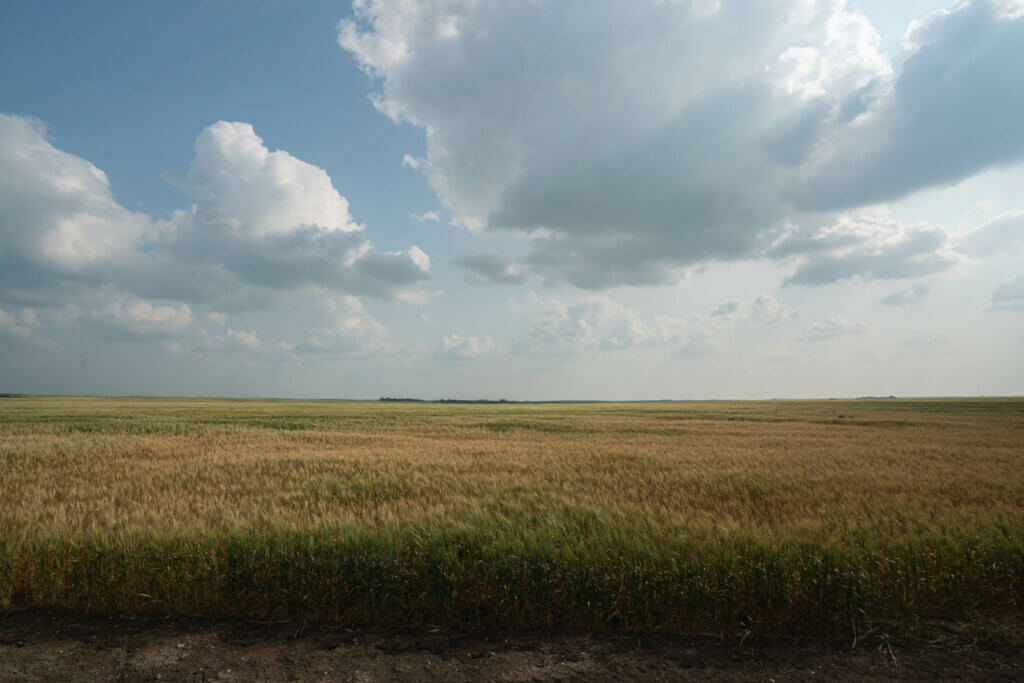 Continuing your road trip itinerary and cool places in Saskatchewan to visit, we will encounter a few more small towns and end the day pampering yourself in a grain bin on a farm that's been converted to a luxurious stay.
Take your time in the morning at Grasslands National Park at the West Block, whether you spent the night stargazing again or want to wake up early for another hike before hitting the road. There is no rush to leave in the morning.
We actually woke up early just to go see if we could spot more burrowing owls and wildlife since the wildlife is most active in the mornings and evenings in the prairie. We weren't disappointed as we saw a whole family of burrowing owls and the coyote hunting prairie dogs as we mentioned earlier.
It was fascinating watching the prairie dogs communicate to one another letting their colony know that there was a predator in the area.
Have Lunch & Explore in Swift Current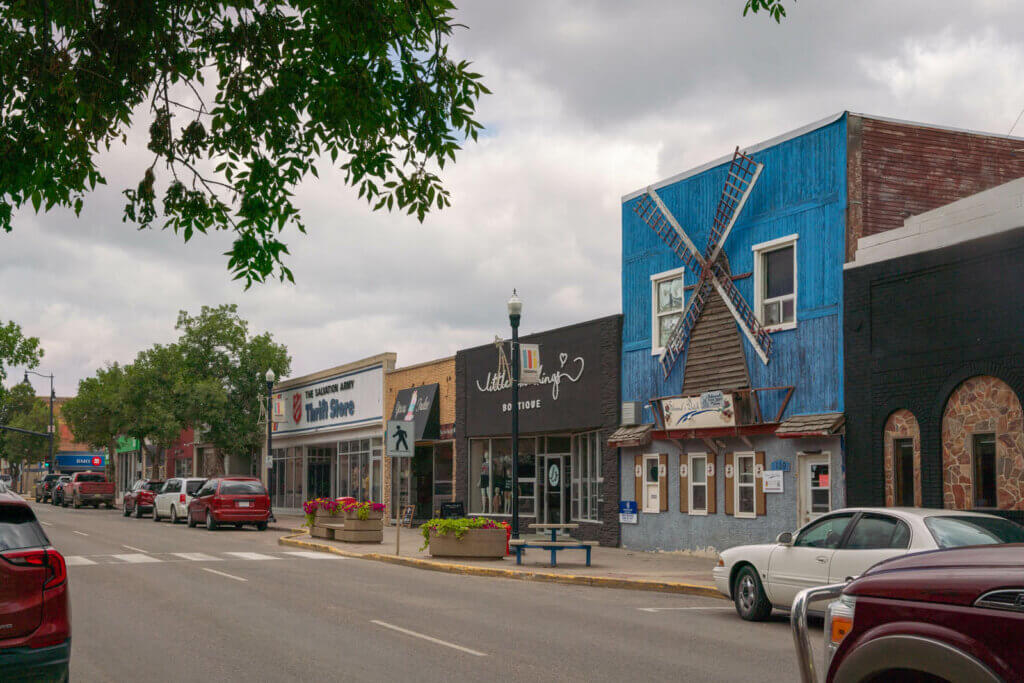 Enjoy more of the scenic drives in Saskatchewan on your way to Swift Current (~ 1.25 hours from Val Marie). This small southwestern city was one of our favorites as we were delightfully surprised to find cool shops and restaurants here.
We ate lunch at Nightjar Diner Co. which offers a farm-fresh, seasonal menu that's always changing along with a nice selection of craft beer. The food here was incredible and we highly recommend it!
Take some time to mosey down Central Avenue and explore the cool shops. A few that really caught our eye were The Fill, a sustainable goods and refill station for beauty and home products, Sunny Side Up, a cute stationary store, Fusion a boutique carrying higher-end clothing and beauty products, Farmer's Daughter Homestead carried a nice selection of home goods, and Bre's Boutique for more women's clothing.
And for hockey fans, did you know that Saskatchewan has the highest NHL hockey players per capita from here?! If that's your thing, you'll want to check out another cultural Saskatchewan landmark here in Swift Current, the Ted Knight Saskatchewan Hockey Hall of Fame.
Spend the Night at Alive Sky Lodge & BINcredible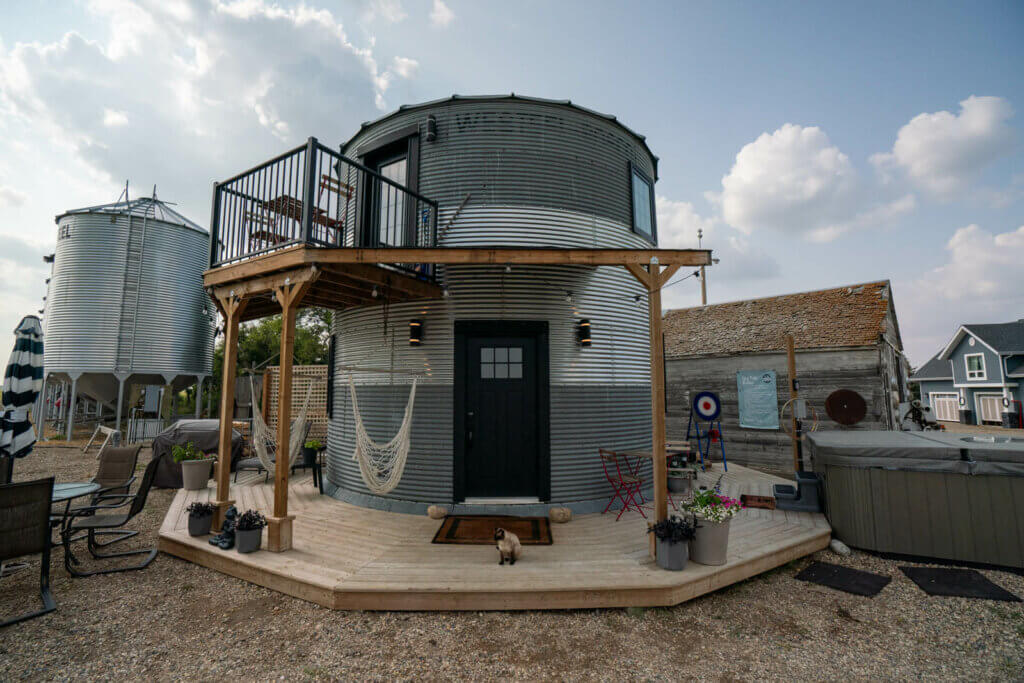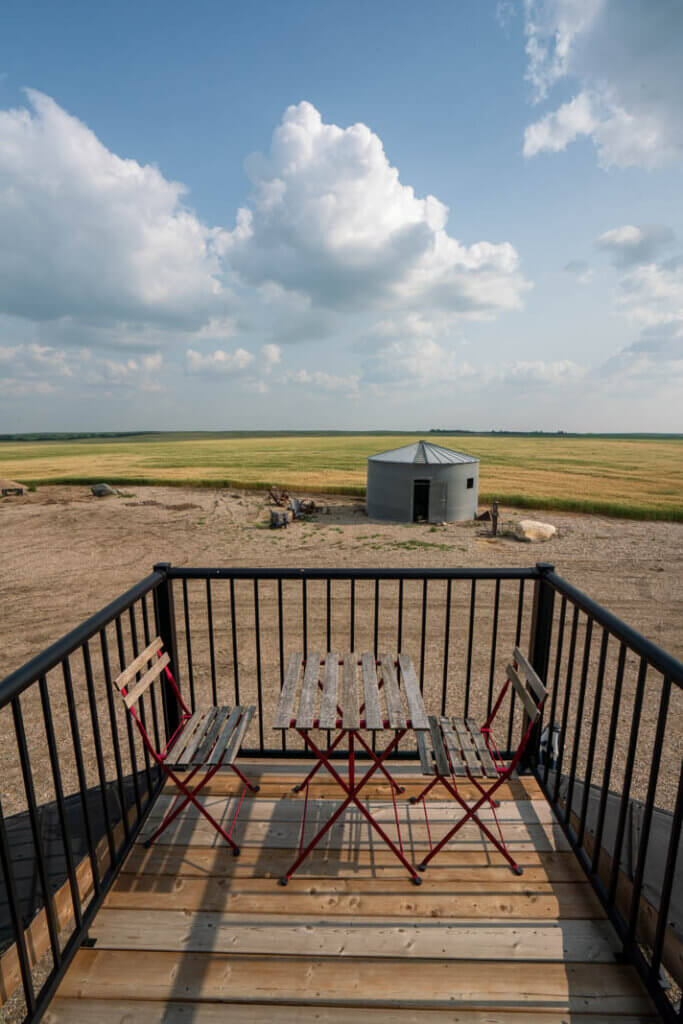 Scenic drives in Saskatchewan include miles and miles of driving past farmland, so what better way to spend a night during your Saskatchewan road trip than on a working farm in a grain bin that's been transformed into a luxe stay?!
Located outside of the town of Rosetown, Alive Sky Lodge & BINcredible offers guests a Bed and Breakfast experience in their main lodge or in one of their converted grain bins. We stayed in the Bohemian Grain Bin which has its own front porch, balcony with table and chairs overlooking the fields, and hot tub.
Inside you'll find a full kitchen, luxury bathroom with heated floors, living area with a small electric fireplace and tv, and then the ladder that goes up to the bedroom which has a queen size bed (that was REALLY comfortable) and a bunk bed if you're traveling with kids or a group of friends.
Not only do you get a really unique place to stay, but April, the owner goes above and beyond to make you feel at home. We had homemade dessert delivered to our grain bin and in the morning a homemade breakfast is delivered to your door.
There are also a few friendly farm critters too, we really loved Jinxie the cat who followed us around and joined us for a campfire at night.
Saskatchewan Road Trip Days 6 & 7
To end your Saskatchewan road trip itinerary, you will spend your last full day in Saskatoon (~1 hour drive from Rosetown) before leaving the following day. We returned the rental car that we picked up in Regina at Saskatoon Airport for an afternoon flight.
Check Out Riversdale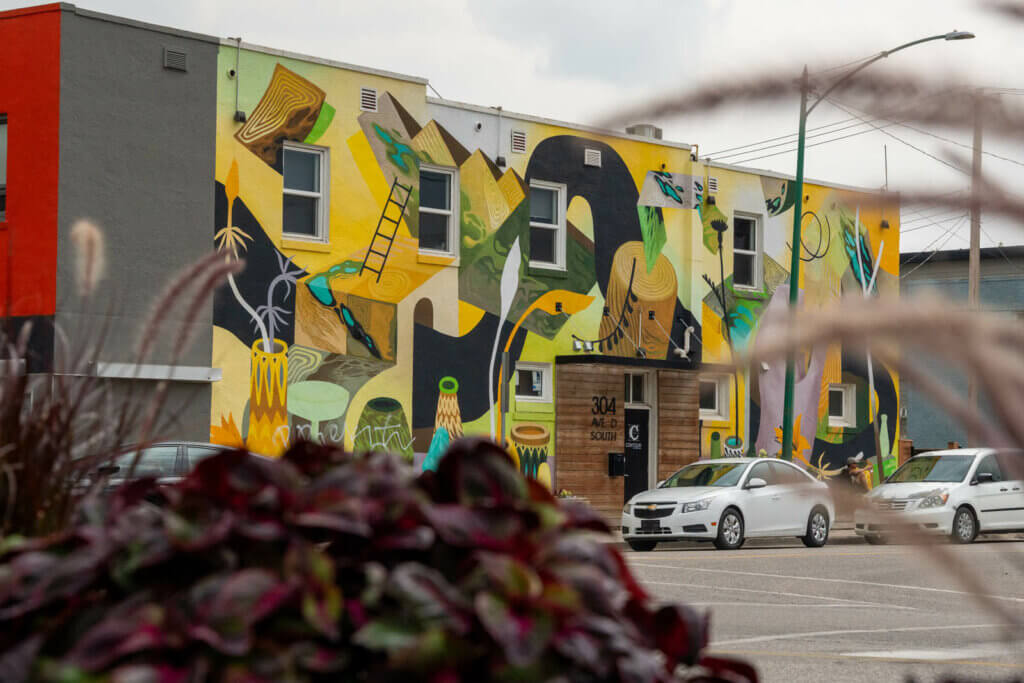 If you spent a leisurely morning getting to Saskatoon, the first stop you will want to make for lunch and wandering around is Riversdale. This artsy neighborhood is full of trendy restaurants, cool murals, and fun shops to check out that really showcase the city's creative spirit.
We actually came to Riversdale more than once and recommend having lunch at Odd Couple, an incredible Asian fusion restaurant that has a mix of Chinese and Vietnamese dishes. Then come back to Riversdale for the tasting menu for dinner at Primal, an Italian eatery sourced with local ingredients along with organic wines.
Beyond the incredible culinary scene here, there are tons of fun shops too. Nefelibata Arts & Crafts is a really fun shop to explore, they have vintage arts and crafts supplies plus other fun nostalgic finds. If you love stationery stores, check out Soul Paper for fun gifts and paper goods. If you love indie bookstores as much as we do, head to Peryton Books who have a great collection of used books. Hazelwood is another exceptional store to check out. They carry a nice curated selection of vintage clothing.
Don't leave Riversdale without stopping in Hardpressed Print Studio which carries the COOLEST clothing and accessories all themed around Saskatchewan that they make in-house. They definitely have a lot of talent here as I have never wanted to buy so many graphic tees, sweatshirts, and shorts in my life branded with a destination. We actually both walked out with a shirt and I also got a sweatshirt, so we both will be repping the "Land of Living Skies" everywhere.
Browse the Galleries at Remai Modern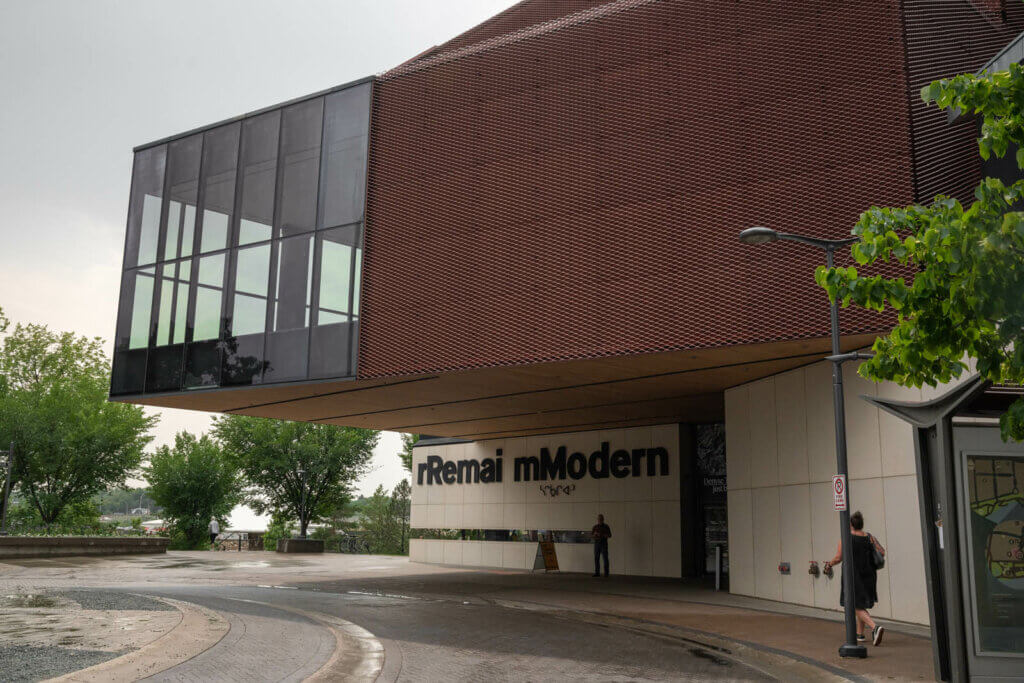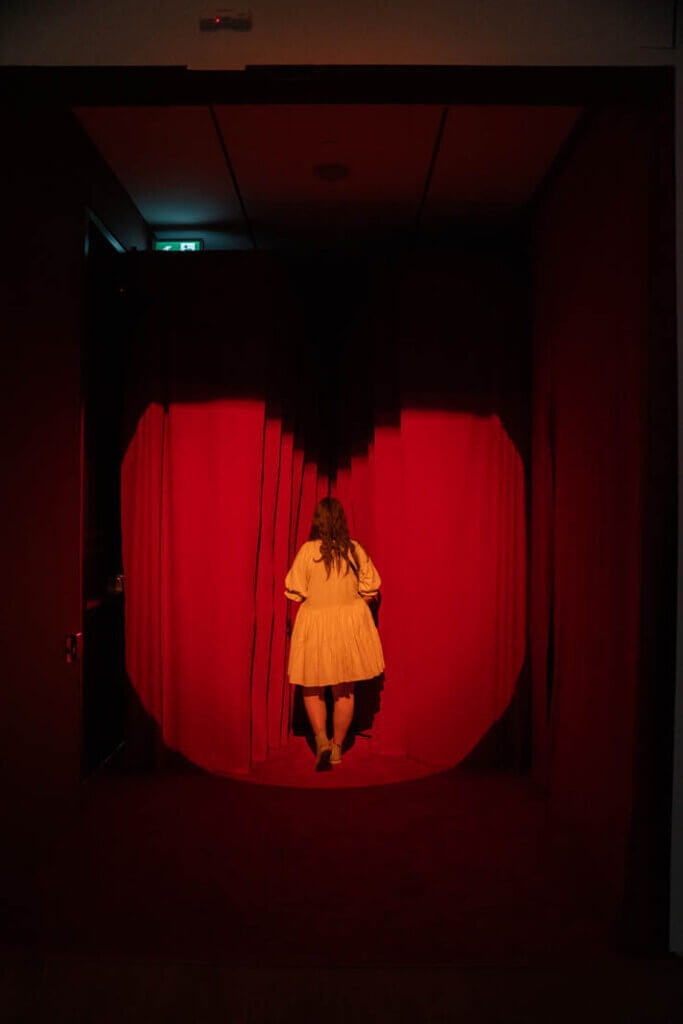 Another place in Saskatchewan you'll want to spend a few hours at during your time in Saskatoon is the Remai Modern Gallery. This renowned contemporary art gallery is known for its impressive collection of modern and indigenous artworks.
As a cultural hub, it showcases world-class exhibitions from artists, both Canadian and international, making it a must-visit destination for art enthusiasts. It's worth checking out what their current exhibits are during your visit and join one of their guided tours.
With its stunning architecture nestled along the South Saskatchewan River, the gallery offers breathtaking views of the city.
Its commitment to inclusivity, diverse programming, and innovative art experiences make it one of the best places to explore Saskatoon's dynamic art scene and embrace the spirit of creativity that defines the city.
Also, it's worth checking out their restaurant on site, Hearth which has won several accolades including being named one of Canada's top 100 restaurants, and has excellent cocktails.
If you're still thirsty, walk over to the Shelter Brewing Company nearby for some great local craft beer.
Remai Modern is closed on Mondays & Tuesdays.
Wander Around The Broadway District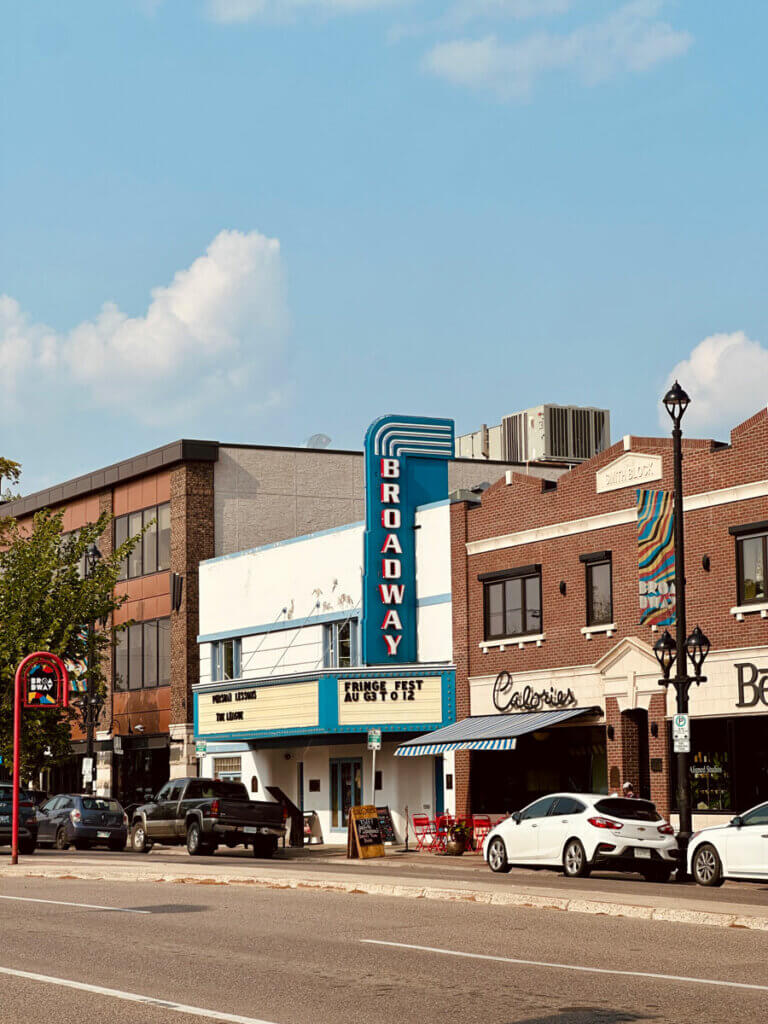 Exploring Saskatoon on your Saskatchewan road trip must include checking out the Broadway District. Not only are there great restaurants here but you'll also find nice shops and nightlife here as well.
This district is known for its bohemian and artistic vibe. This is actually where Joni Mitchell started her career in the 1960s, she did her first performance at what was once the Louis Riel Coffee House (where the restaurant Calories is today). You can stop by and see a plaque dedicated to her here as she was also from Saskatoon.
You'll want to plan a meal at Odla, an incredible farm-to-table restaurant that sources all of its food and ingredients from 50 farms within a 2-hour radius of Saskatoon.
Some of the cool shops in the area include The Better Good which sells sustainable products from home goods to beauty products, McQuarrie's Tea & Coffee Merchants is a haven for tea lovers, Outter Limits sells outdoor and adventure apparel and gear, and be sure to stop in Vinyl Diner CD's & Records to browse their collection and find that next vinyl you've been searching for.
Be sure to pay a visit to Wanuskewin Collective and Wanuskewin Gift Shop, both shops neighbor one another and carry products from the Northern Plains Indigenous peoples along with an art gallery. There were so many beautifully hand-crafted items from jewelry to clothing and artwork here along with product lines that are indigenous-owned.
And two hidden gems off of Broadway on Main Street are Turning the Tide Bookstore, an independent alternative bookstore and Alt Haus Interior Design which carries a mix of new and vintage interior decor and furniture plus really fun clothes! I found the most fun leopard jumpsuit here that I can't wait to wear.
Drive to Black Fox Farm & Distillery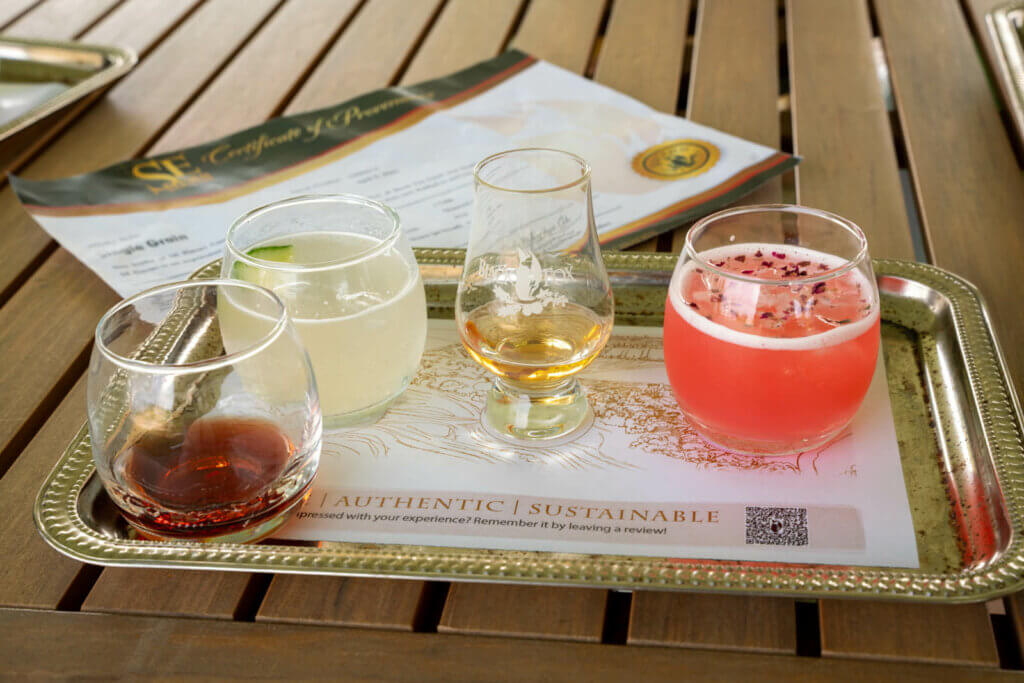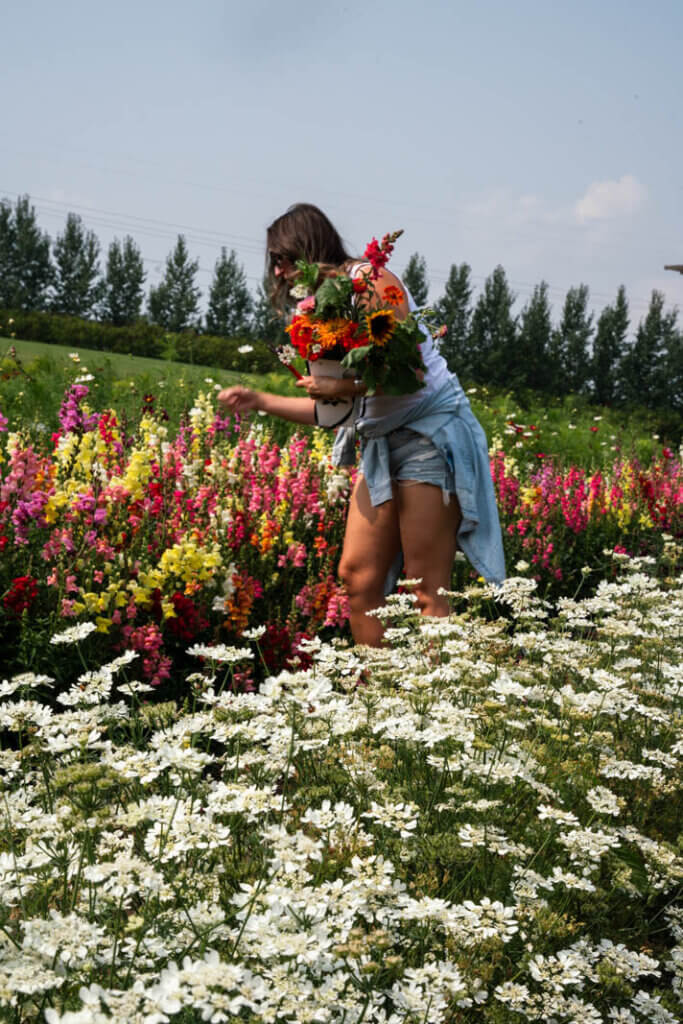 To do a little exploring beyond the heart of Saskatoon, drive to Black Fox Farm & Distillery for seasonal flower picking and tasting their premium award-winning Canadian gin and whiskey.
Founded by a renowned fifth-generation farmer Saskatchewan couple celebrated for their agricultural philosophy and practices, this distillery emerged from their transition from grain farming to crafting fine spirits. With the same unwavering passion that fueled their farming success, they now apply their expertise to produce exceptional spirits, embodying the essence of their heritage and dedication.
They offer great cocktail-tasting flights, which is something I've always said I've wanted to try when there's a good selection of cocktails at a place and you can't quite decide which one to order. Most bartenders would scoff at the idea of having to make tons of mini drinks for one customer, but this is something that Black Fox specializes in and each cocktail I tried on my seasonal flight was phenomenal.
Beyond the seasonal u-pick flowers, they do offer tours of the distillery and farm as well as the occasional cocktail making class.
Shop Around 33rd Street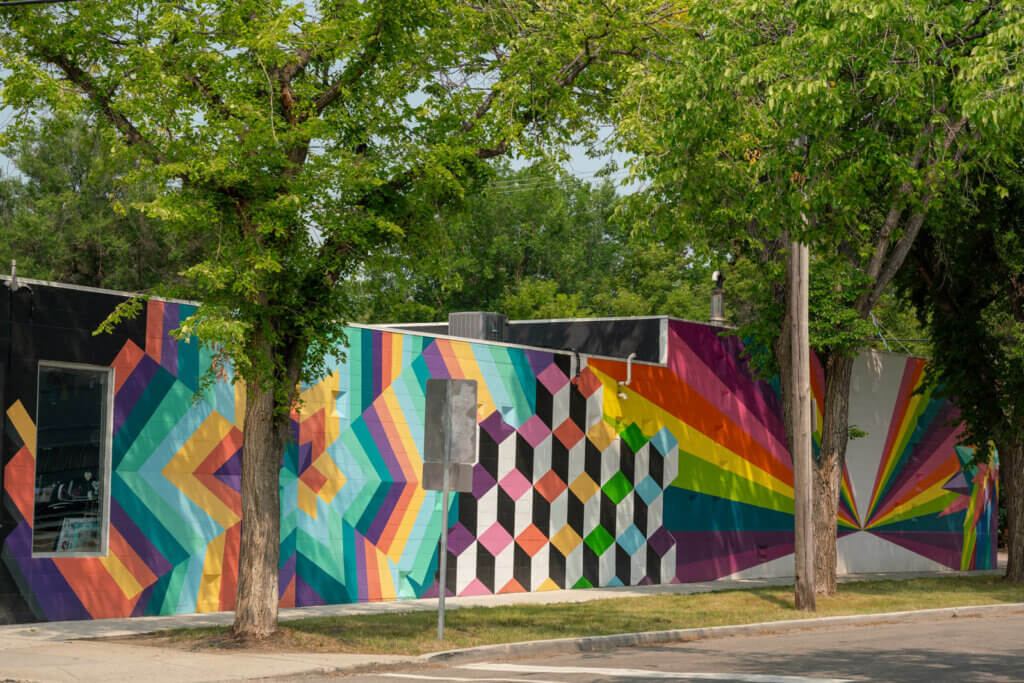 If you find that you still have more time in Saskatoon on your Saskatchewan itinerary, head over to 33rd Street for a few more interesting hidden gems!
Glitch Gifts & Novelties has a fun store full of novelty gifts and quirky items whether you're trying to find something unique for a friend or loved one or just love browsing random fun finds for yourself like we do. The real hidden treasure is in the back of the shop though where you can find Glitchy's Oddities, a small museum housing a collection of bizarre and random finds from a haunted doll to weird taxidermy (including a two-headed cow), and mummified mermaids?!
And if you like antique shopping as much as we do, it's worth doing a lap around Vintage Mall YXE here too!
Where to Stay in Saskatoon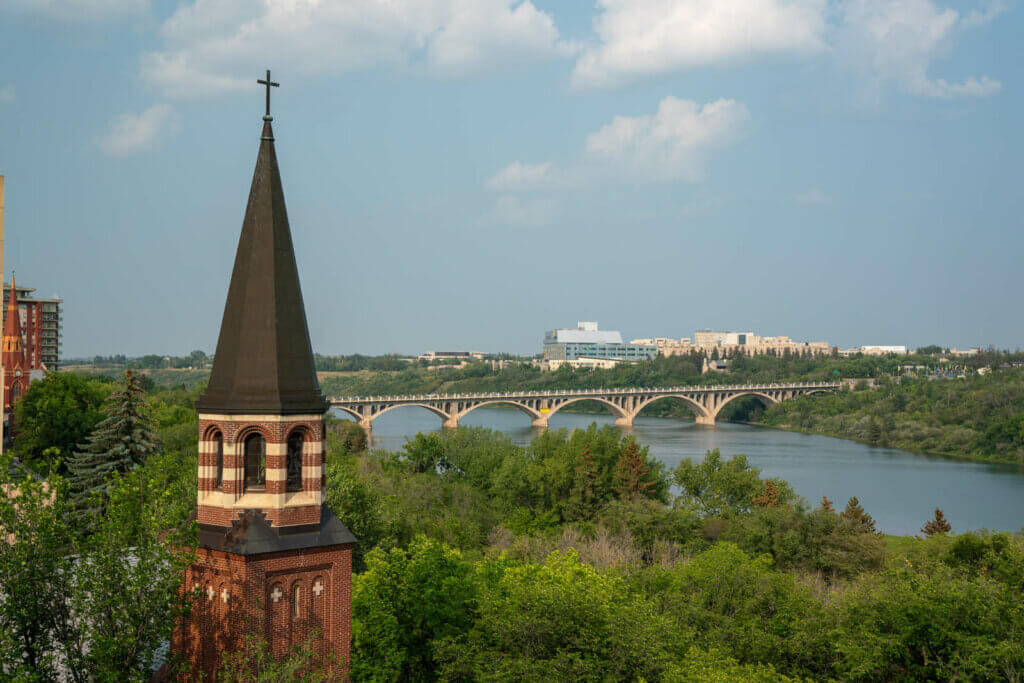 End your Saskatchewan itinerary with a bang by staying at The James Hotel in Saskatoon. This is one of the best hotels in the city located along the South Saskatchewan River and provides stunning views.
Not only are you within walking distance to all the Saskatchewan landmarks mentioned in the Saskatoon section of this itinerary, but the hotel offers modern and luxurious rooms. Before staying here everyone told us about how soft the sheets were, and they were not wrong. After a week with camping, it was really nice to have a more luxurious and comfortable stay. Book here.
We also spent the night in Alt Hotel Saskatoon, which is another excellent hotel option located directly across from Remai Modern and within walking distance to just about everything we mentioned in the Saskatoon portion of this guide.
The hotel pairs nicely with the Remai Modern as it's a contemporary space with a modern design throughout the property and rooms. We also had a cool view of the city from our room that I regrettably didn't capture. This is definitely another stylish option for where to stay to end off your Saskatchewan road trip itinerary. Book here.
---
What makes Saskatchewan so special?
Saskatchewan's special allure lies in its vast and untamed landscapes, showcasing the beauty of the Canadian prairies. From stunning national parks and dark sky preserves to warm hospitality it offers a captivating blend of nature, heritage, and a rich cultural scene.
What is Saskatchewan best known for?
Saskatchewan is best known for its expansive prairies, abundant natural beauty, friendly locals, and rich indigenous heritage.
When is the best time of year to visit Saskatchewan?
The best time of year to visit Saskatchewan for a road trip is during the summer months, from June to August, when the weather is generally pleasant, and the roads are clear for easy exploration of the province's stunning landscapes and attractions.
What's the most scenic drive in Saskatchewan?
The most scenic drive in Saskatchewan is the Grasslands National Park's Ecotour Road, offering breathtaking views of the prairies, wildlife, and unique geological formations.
---
Enjoyed this guide for an epic 7-day Saskatchewan road trip visiting the best places in Saskatchewan to visit from the prairies to natural landmarks, hidden gems, small towns, and cool cities? Bookmark for later and share the love below on Pinterest!