Looking for all the most amazing things to do in Palm Springs? We've got you covered to enjoy this perfect little oasis in the California desert. Palm Springs has made it a popular weekend getaway for Southern Californians and any out-of-town visitors not to mention attracting some of the biggest names in Hollywood!
Palm Springs not only has great weather (minus mid-summer which is great if you can tolerate the heat), it has a definitive mid-century style. When you show up, you'll feel like you've just dropped into the 1950s or 60s.
Famed for its luxury hotels and retro architecture, it's also played a part in celebrity lives like Marilyn Monroe, Dean Martin, Frank Sinatra, Liberace, Elvis Presley, and Sonny and Cher. In fact, the late Sonny Bono was the mayor of Palm Springs too, and a beloved local figure.
Whether you're visiting for a day or just passing through here are the top Palm Springs activities not to miss! Also, check out our guide to how to spend the perfect weekend in Palm Springs too.
Disclaimer: this post contains commissionable links.
What to do in Palm Springs
This guide for what to do in Palm Springs will cover what is known as Greater Palm Springs, which includes Downtown Palm Springs, Desert Hot Springs, Rancho Mirage, Cathedral City, Indian Wells, Indio, La Quinta, and Coachella.
Palm Springs Art Museum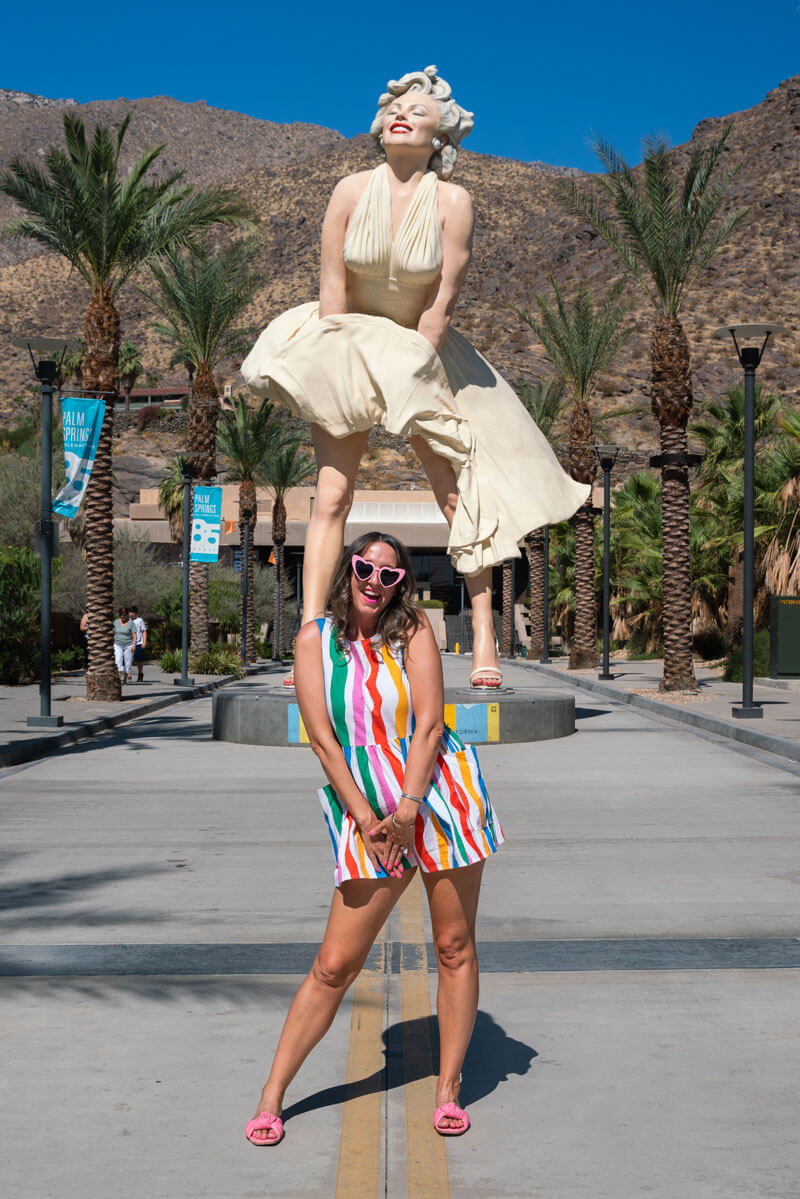 101 Museum Drive, Palm Springs, CA 92262, closed Mondays – Wednesdays
One of the best things to do in Palm Springs, California is check out the Palm Springs Art Museum. You can't miss the giant Marilyn Monroe statue of that iconic scene of her white dress flowing up in a gust from the Seven Year Itch. This iconic statue by Seward Johnson is right in front of the museum and an icon of Palm Springs, where Monroe did live for a while, more on that later though.
Palm Springs Art Museum is renowned for its diverse collection of modern and contemporary art, showcasing works by acclaimed artists from around the globe. Visitors can explore the collection of paintings, sculptures, photography, and decorative arts that span different artistic movements.
The museum's focus on modernism, Native American art, and regional history provides a unique cultural and local Palm Springs experience.
In addition to its permanent collection, the museum hosts temporary exhibitions too.
Faye Sarkowsky Sculpture Garden
72567 CA-111, Palm Desert, CA 92260
Nestled within the enchanting desert expanse of greater Palm Springs in Palm Desert, the Faye Sarkowsky Sculpture Garden stands as an artistic oasis, a testament to the seamless fusion of creativity and nature.
A symphony of sculptural marvels graces this outdoor sanctuary, inviting wanderers to traverse a curated tapestry of contemporary and modern artworks including sculptures that range from abstract to figurative. Each piece engages in a meaningful conversation with its environment of desert flora and fauna.
The gardens are open daily from sunrise to sunset.
Take a Bike Tour of the Palm Springs Citywide Bike Loop
Pick up a map at the visitor center 2901 N. Palm Canyon Drive
If you're looking for what to do in Palm Springs that gets you out and exploring in one of the best ways possible, then you'll want to take advantage of the Palm Springs Citywide Bike Loop that takes you to through palm-fringed avenues, iconic mid-century neighborhoods full of architectural wonders, Palm Canyon Drive where you can make stops for cool shops, cafes, and a break from biking, all while having a backdrop of the gorgeous mountains and desert landscape.
The city-wide loop is around 20 miles, if that seems like too much you can check out a few other bike loops around the Palm Springs area or just do a portion of it.
Depending on where you stay, some hotels offer free bicycles for their guests. You can also rent bicycles too. If you prefer to join a tour, you can book this guided bike tour through iconic neighborhoods. Just keep in mind they have you rent bicycles separately from Big Wheel Tours who has an assortment of bikes to choose from including e-bikes if you want to do the loop quickly on your own.
Follow the Walk of Stars Palm Springs
Along S Palm Canyon Dr, Palm Springs, CA 92262
Did you know that Palm Springs has its own version of Hollywood's celebrity stars? The Walk of Stars in Palm Springs honors famous celebrities who have once resided in the area. You'll find former presidents of the United States, Medal of Honor recipients, and famous entertainers as well as writers.
There are over 400 celebrity stars along Palm Canyon Drive and is what to do in Palm Springs if you're curious of the different notable people who have left their mark on Palm Springs, California mostly during the golden age of Hollywood.
Explore Around Palm Canyon Drive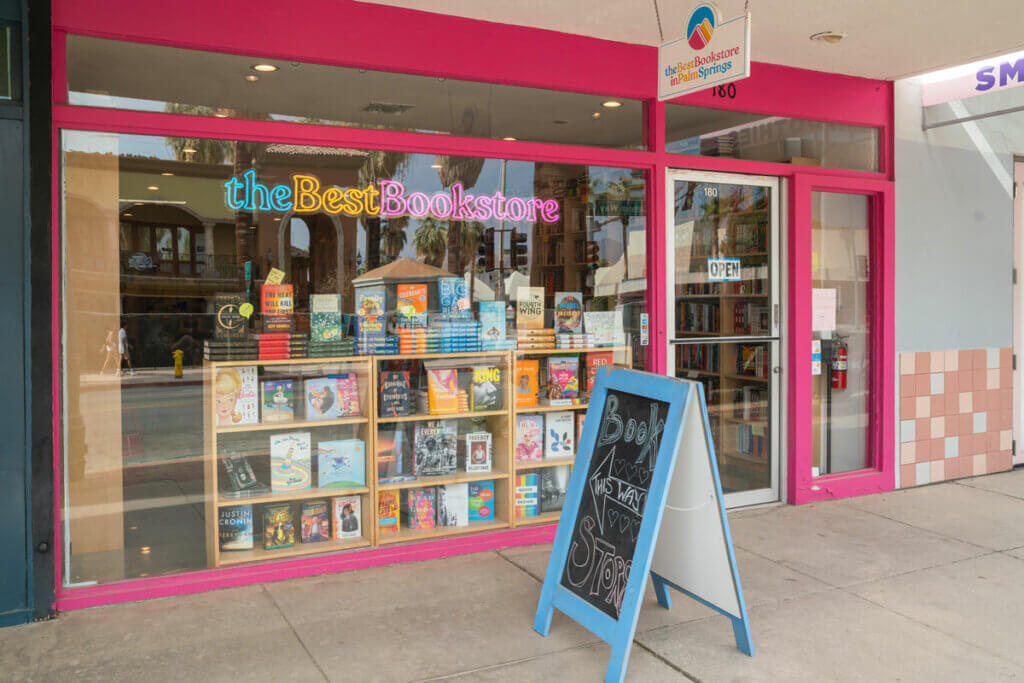 Along S Palm Canyon Dr, Palm Springs, CA 92262
One of the best things to do in Palm Springs is to check out all the places to eat, drink, shop, and more along Palm Canyon Drive in Downtown Palm Springs.
The shops and restaurants are walkable or you can ride a bike or drive a car and park on the street. You won't find many chain stores or restaurants here, you will be shopping and dining at independent retailers.
We found this area to be the perfect place to grab a bite to eat and enjoy the gorgeous view of the palms and mountains. Plus this is where you're going to find the Walk of Stars too along with a few of the notable statues like Lucille Ball and Sonny Bono.
Some of our favorite spots on Palm Canyon Drive (and around it) include:
Peepa's (120 N Palm Canyon Dr) – This shop sells all kinds of fun gifts and vintage-inspired men's and women's clothing. I especially loved the entire section dedicated to the Golden Girls.
Destination PSP (170 N Palm Canyon Dr) – Everything in this store has to do with Palm Springs, California from books to posters dedicated to the lifestyle, history, celebrities, and architecture here as well as clothing.
Mojave Flea Trading Post (175 N Palm Canyon Dr) – This might be my favorite store in Palm Springs, it's a giant space full of local independent artists as well as a selection of craft beverages and pantry items from local brands. We love finding independent artists to support and went a little crazy in here shopping wise, it's a good thing we didn't have more space in our luggage otherwise we would have came home with alot more!
PS Homeboys (108 S Indian Canyon Dr) just one block off of Palm Canyon is one of the coolest mid-century modern furniture stores with a welcoming pink entrance!
Jus Chillin (190 E Tahquitz Canyon Way) – if you need a sweet treat, this is the perfect spot! They have smoothies, shakes, ice cream, gelato, and frozen yogurt! Just follow the giant pink smiley face for a cool treat.
The Best Bookstore in Palm Springs (180 E Tahquitz Canyon Way) – We love an indie bookshop and this one really lives up to the name! We came home with a new cookbook from here.
Lulu California Bistro (200 S Palm Canyon Dr) – when you work up an appetite you'll want to stop here for a meal. They have some great poke nachos along with an extensive menu. Their cocktails are great and you'll want to make sure to get the cotton candy for dessert!
Outwest Trading Co. (100 N Palm Canyon Dr) – This is a great gift shop for souvenirs and well-designed Palm Springs merchandise!
Spot the Famous Statues of Palm Springs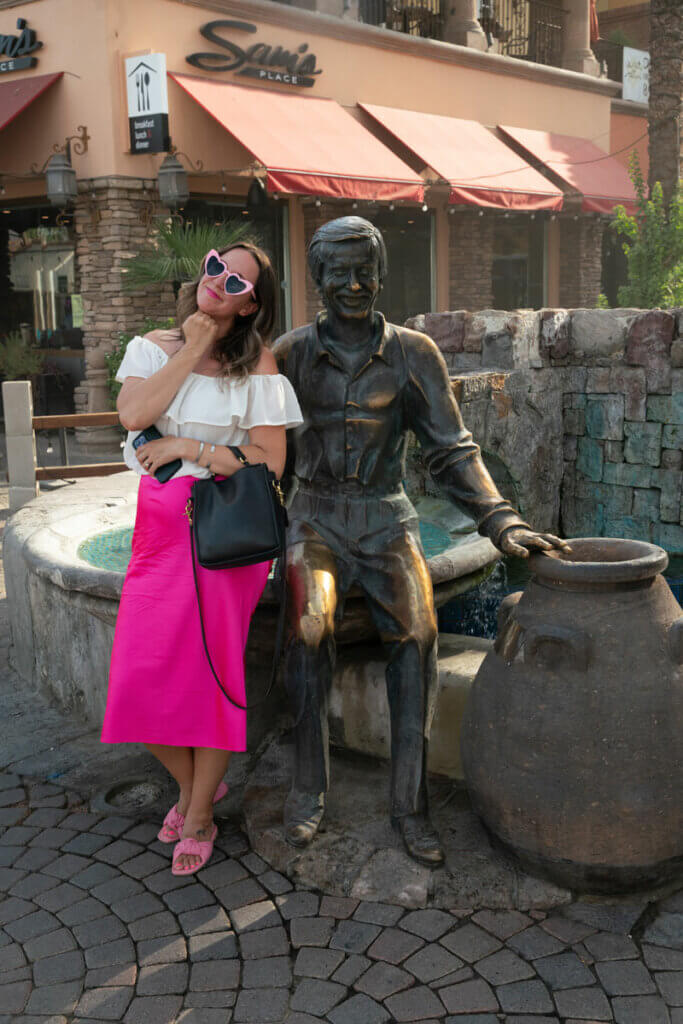 There are a few statues of notable people sprinkled throughout Palm Springs, California. Some of these were a part of the Walk of Stars Palm Springs project and serve as popular photo spots even to this day! A few of our favorites include the Sonny Bono and Lucille Ball statues found on Palm Canyon Drive as well as the Forever Marilyn statue that was erected on Museum Way.
The Lucille Ball Statue is located on the corner of Palm Canyon Drive and Tahquitz Canyon Way where you can find her sitting on a bench. If you couldn't tell from the statue, Lucille Ball had a strong connection to Palm Springs, California and her presence here contributed to the city's association with the entertainment industry. She and her husband, Desi Arnaz, owned a home in the city known as The Lucy House which is a vacation rental you can book and stay in to this day! You can book it here.
Another iconic statue that is a popular photo location is the Sonny Bono Statue at 155 S Palm Canyon Drive. He and his former wife and musical partner, Cher, were well-known figures in the entertainment industry and together they owned an estate in Palm Springs which was a symbol of their glamorous lifestyle during their heyday in the 1960s and 1970s.
Sonny Bono's ties to Palm Springs extended beyond his celebrity status though. After his entertainment career, he entered politics and eventually became the Mayor of Palm Springs in the late 1980s. He played a role in revitalizing the city and enhancing its appeal as a tourist destination and is well-loved even to this day.
One of my favorite things to do in Palm Springs is admire the outdoor sculptures and art including the Forever Marilyn statue on Museum Way in front of the Palm Springs Art Museum. Towering at 26 feet in height, this statue was sculpted by artist John Seward in 2011 and was inspired by the classic and timeless scene in The Seven Year Itch where Marilyn's white dress is flowing upward.
Initially, this statue was brought here on a temporary basis in 2012 for just over two years, then it was returned when PS Resorts bought it and this is now its permanent location.
The statue of Lalo Guerrero is located at 36700 Pickfair Street in Cathedral City, where he once lived. The statue pays tribute to his contributions to the music industry as well as being the father of Chicano music.
Take a Self-Guided Mid-Century Modern Home Tour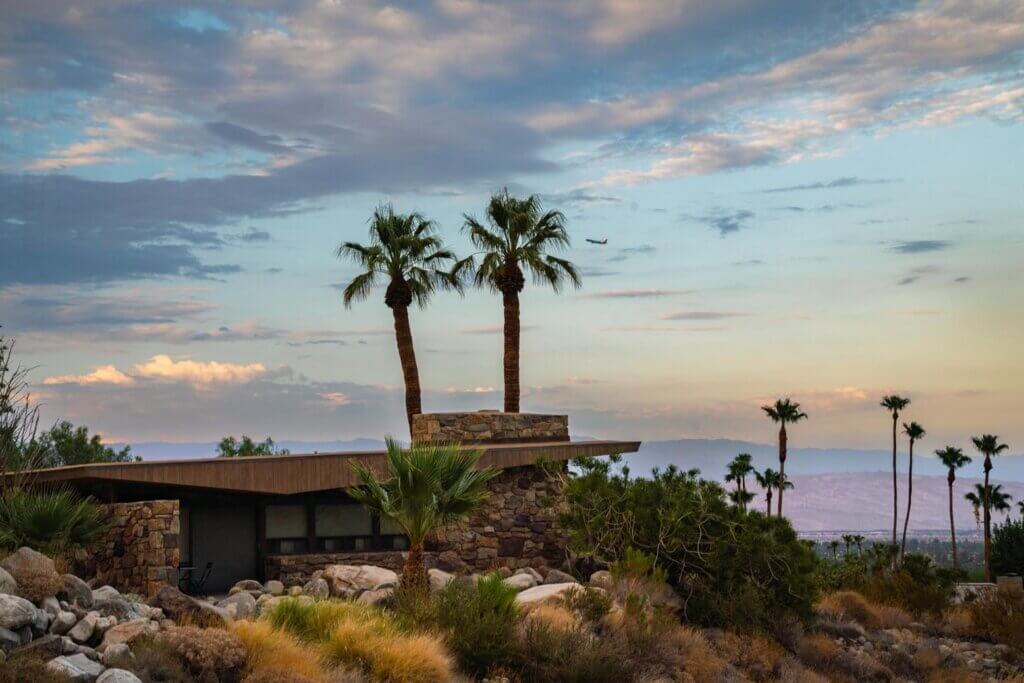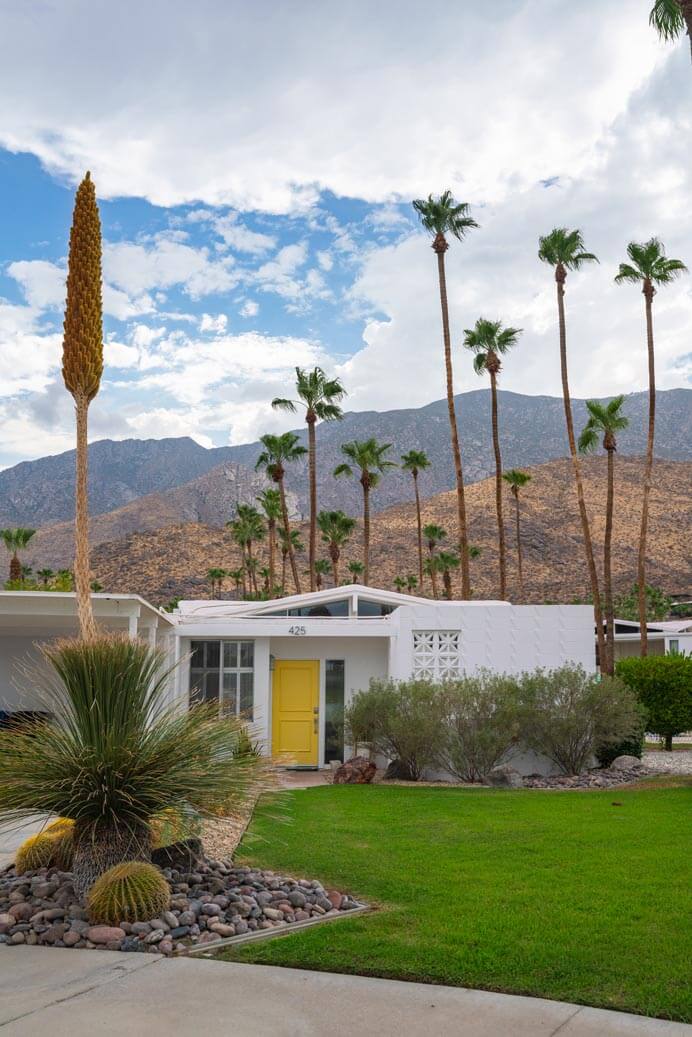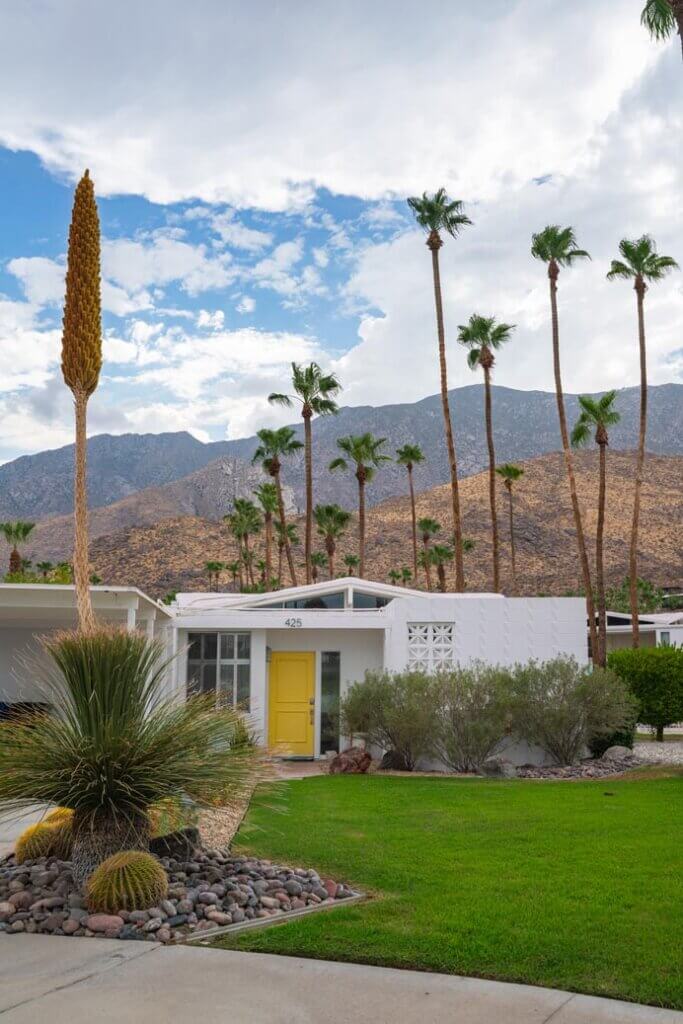 One of my absolute favorite things to do in Palm Springs is to drive around the residential neighborhoods and ooh and ahh at the different GORGEOUS mid-century homes. In fact, Palm Springs is a global center for its mid-century modern architecture and is rooted in its desert landscape and post-World War II boom.
Architects flocked to the area, creating innovative designs that blended indoor and outdoor living, marked by clean lines and functional simplicity.
We loved taking a scenic drive oohing and ahhing at the palm-lined and manicured streets and cul-de-sacs of homes.
If you watched the film Don't Worry Darling you can find the main cul-de-sac in Canyon View Estates (566 E Flor Circle) or check out the exterior of the Kauffman House (470 W Vista Chino) which served as the home for Frank, portrayed by Chris Pine. This is actually one of the most famous modern homes in Palm Springs and was the location of the famous photo "Poolside Gossip." Keep in mind this is a private residence (all of these are) so do not approach the homes, but drive-bys are welcome.
Another famous drive-by and photo location is "That Pink Door" (1100 E Sierra Way) which is now a vacation rental you can stay in. The pink door is really stunning and we drove up and down many streets in this area to see all the colorful doors and cool homes.
Another cool area to explore for mid-century modern home peeping, although just driving around you'll spot many, is around the Las Palmas and Little Tuscany neighborhoods too.
And if you LOVE pink like we do, we found many fun pink houses and doors in addition to the famous "That Pink Door" house spread out in all the neighborhoods mentioned above:
1090 W Cielo Drive
1415 N Camino Centro
572 W Santa Elena Rd
424 West Vista Chino
1326 Rose Avenue
1300 N Granito Circle
2622 S Calle Palo Fierro
Peep at Celebrity Homes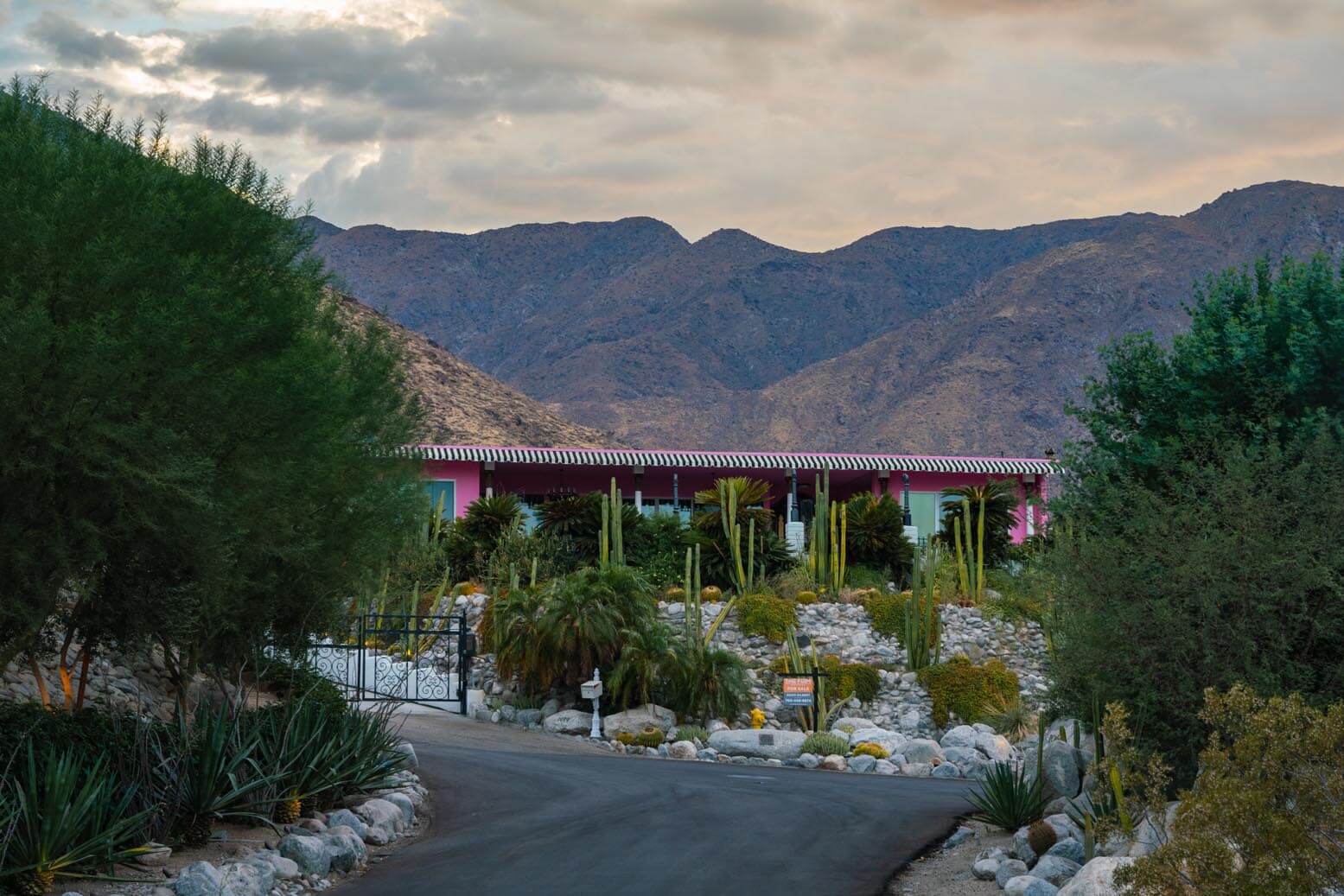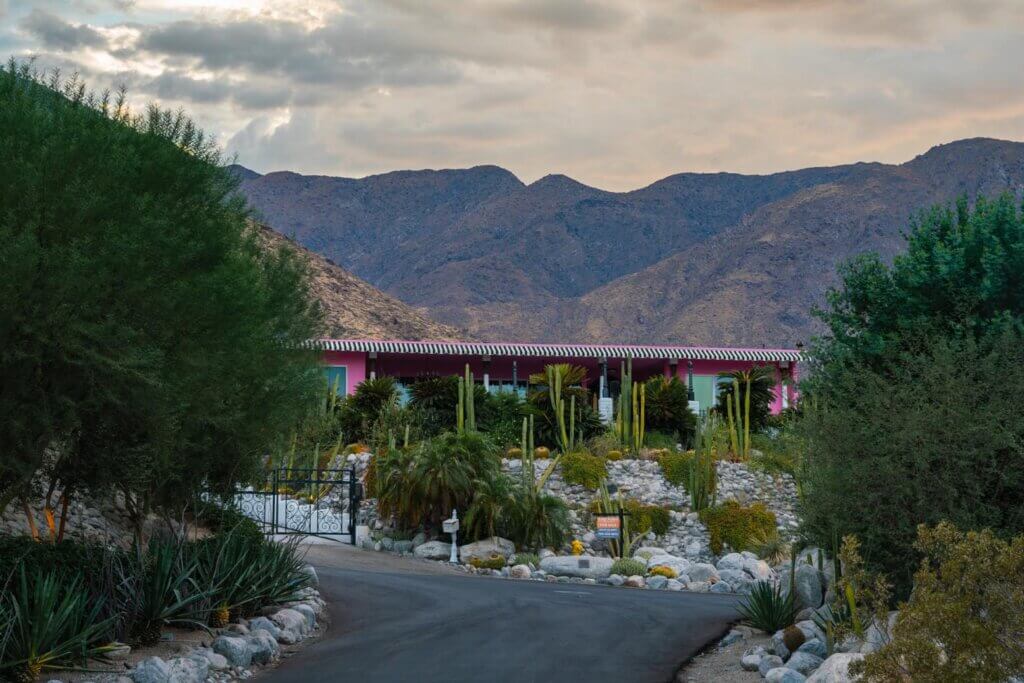 Ok, if you liked peeping at random mid-century modern homes then how about doing an easter egg-like hunt for former celebrity homes during the golden era of Hollywood and the city's strong connection to the largest names in entertainment? Another one of our favorite things to do in Palm Springs were to see the homes where the legends lived!
There were a few we sought out, many of which are found in the Movie Colony but some are found elsewhere. And if you can rent them out to stay in, we've included it below! Or if you don't want to find these on your own, join a bus tour of celebrities and icons that lived in Palm Springs!
Marilyn Monroe House (1326 Rose Avenue) Book a stay here.
Elizabeth Taylor's House (417 Hermosa Place)
Dinah Shore Estate (432 Hermosa Place) *more recently the home belongs to Leonardo DiCaprio
Frank Sinatara's Twin Palm Estate (1145 E Vía Colusa) Book a stay here.
Walt Disney's House (2688 S Camino Real)
Zsa Zsa Gabor's House (595 W Chino Canyon Drive)
Barry Manilow's House aka Kauffman House (470 W Vista Chino)
Liberace House (1441 N Kaweah Road) & (501 N Belardo Road)
Kirk Douglas House (515 W Via Lola) Book a stay here.
Elvis Presley Honeymoon Hideaway (1350 Ladera Circle) & another property (815 W Chino Canyon Road)
Nat King Cole House (1258 N Rose Avenue)
Dean Martin House (1123 N Via Monte Vista)
Lucille Ball & Desi Arnaz (1194 N Via Miraleste) Book a stay here.
Sonny & Cher House (69275 El Canto Road) Book a stay here.
Howard Hughes Mini Estate (2195 Rim Road)
Bing Crosby Estate (70375 Calico Road)
Palm Springs Air Museum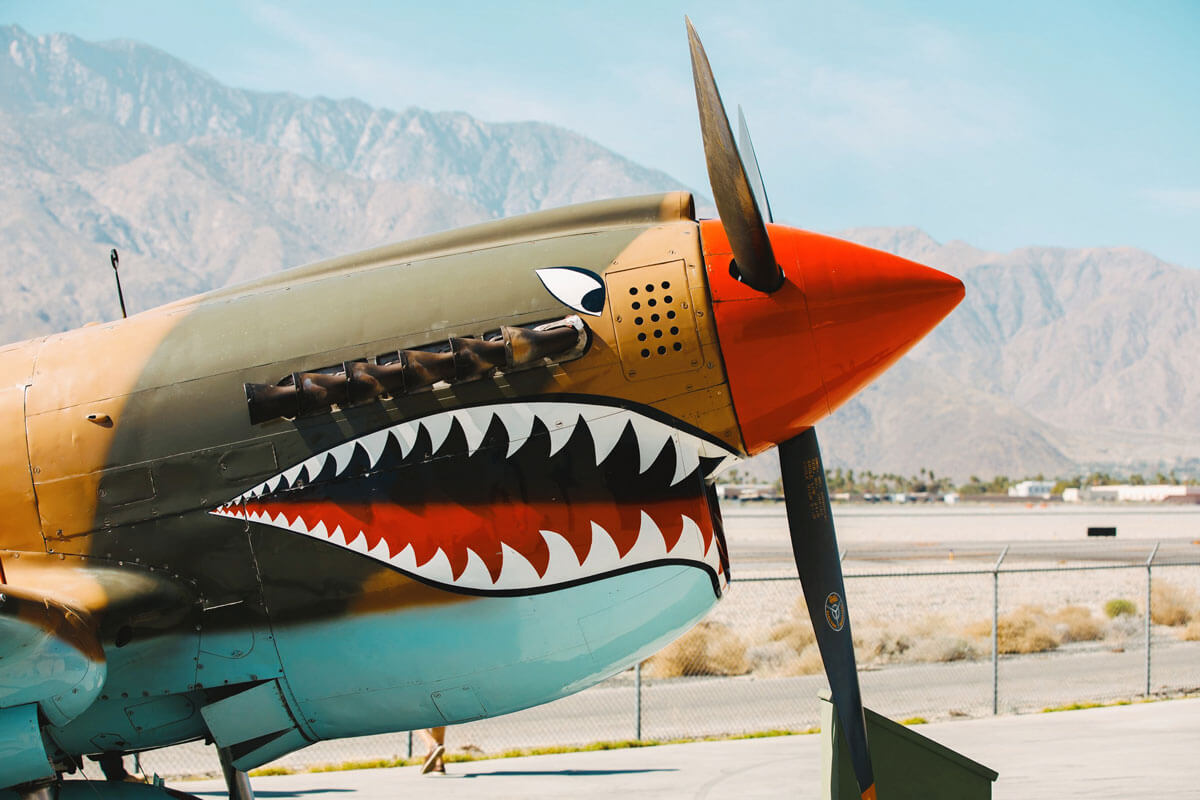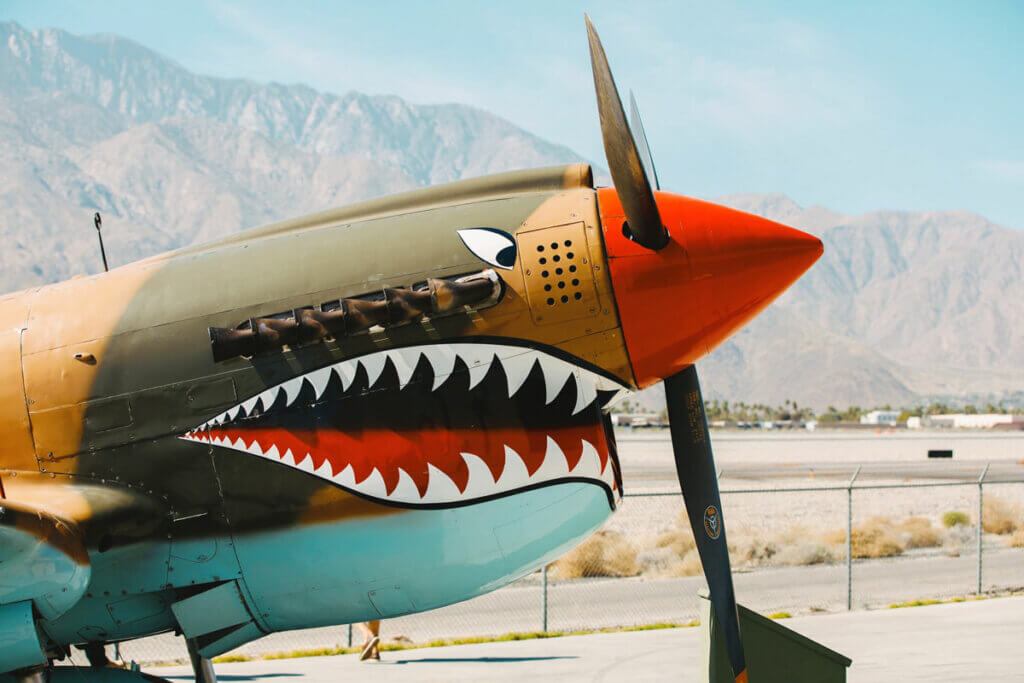 745 N Gene Autry Trail, Palm Springs, CA 92262, admission $15, 10 am- 5 pm
This is what to do in Palm Springs for history buffs, check out the collection of war planes at the Palm Springs Air Museum. Learn about the role these airplanes had during World War II, the Vietnam War, Korean War, and War on Terror.
Many of the planes in here have been used as props in movies set during WWII. There's also a theater and a gift shop to check out while you're visiting.
And for those who want to really experience one of these antique planes, you can book a flight over the Coachella Valley in an authentically restored WWII aircraft.
Tahquitz Canyon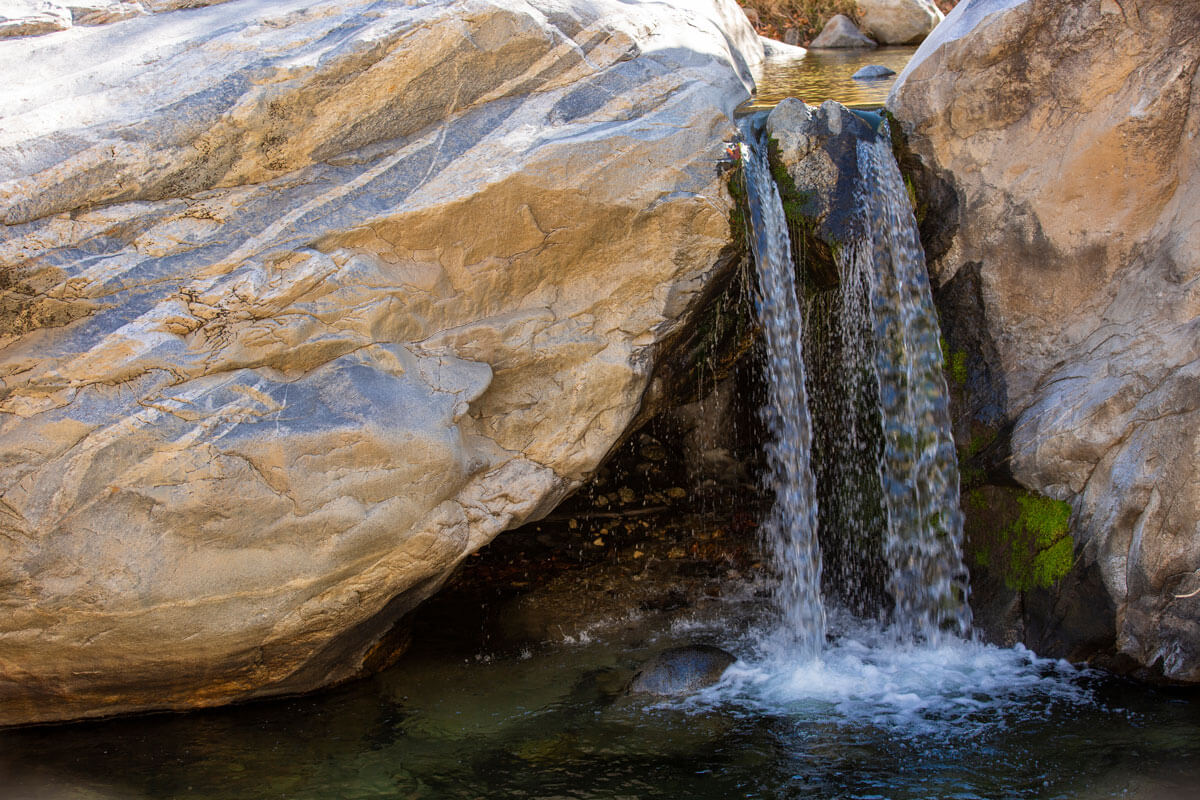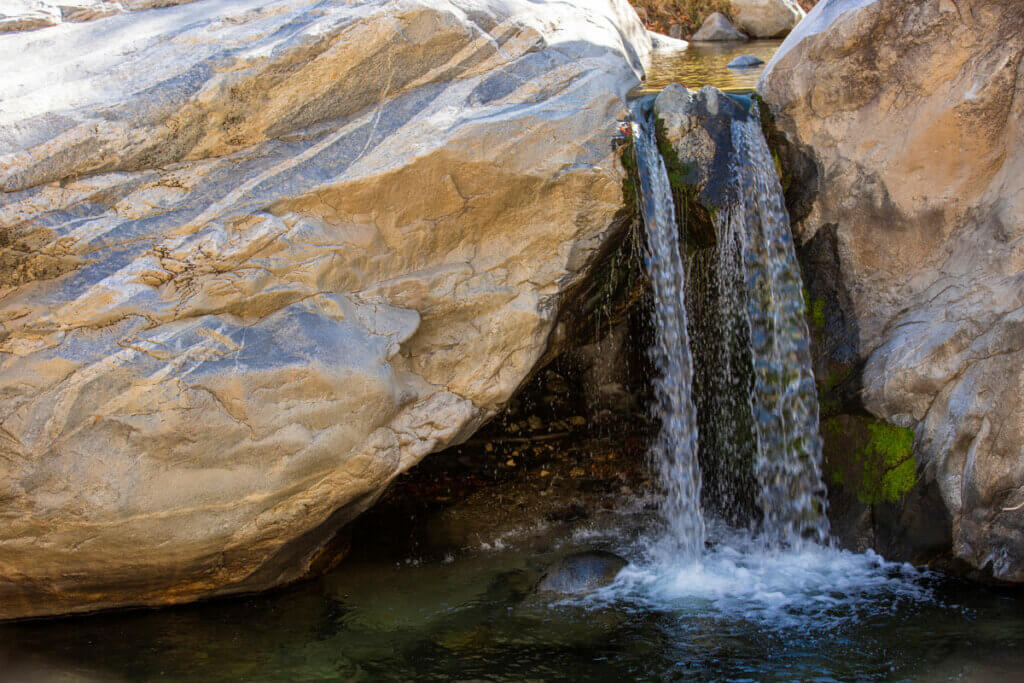 500 W Mesquite Ave, Palm Springs, CA 92264, 7:30 am – 4:30 pm
This land has been occupied by the Agua Caliente Cahuilla Native American people for thousands of years, visiting Tahquitz Canyon is one of my favorite things to do in Palm Springs and one of the most culturally rich natural areas you can visit.
Pay a small fee at the visitor center then make your way on a 20-minute walk through the desert terrain until you reach the refreshing Tahquitz Falls. Come during the warmer months and the cool water will feel amazing after walking in the hot heat. Although, sometimes it can be dried up so it's best to ask at the visitor center to be sure.
Be sure to carry plenty of water and bring sunscreen, the hike is a hot one! If you're sensitive to the sun be sure to wear a hat or bring an umbrella on this 2-mile loop hike. Depending on the time of year, this is best done early in the morning to avoid mid-day desert heat.
Go on a Hike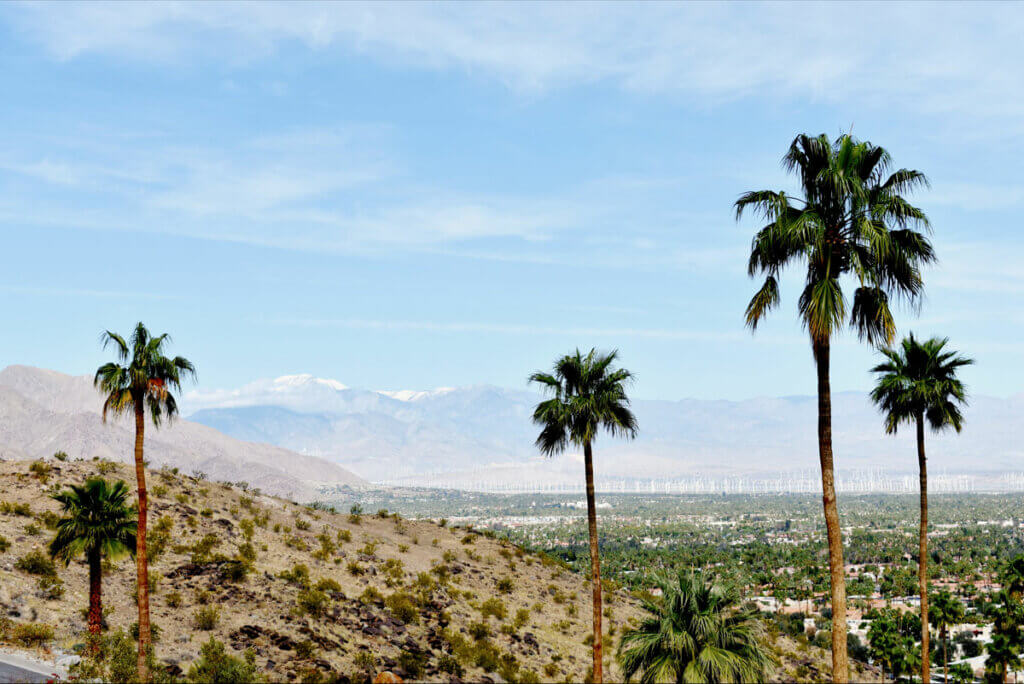 There are plenty of outdoorsy things to do in Palm Springs besides sipping on cocktails by the pool, not that there's anything wrong with that! There are several great hikes in the area, although you'll want to plan your hike wisely with the weather as depending on the time of year you'll want to do your hiking early in the morning to avoid the mid-day heat and make sure you have plenty of water and protection from the sun.
Andreas Canyon Loop Trail is located within the boundaries of the Agua Caliente Indian Reservation. This is an easy trail that's a 1-mile loop and can take anywhere from 30-50 minutes. This brief yet stunning hike meanders alongside a stream, guiding you through a majestic stand of towering California fan palms.
The Araby Trail is another popular hike and what to do in Palm Springs if you're looking to enjoy the great outdoors and desert landscape and Santa Rosa Mountains. The hike is 3.3 miles out and back and difficult as 1.7 miles is hiking uphill with no shade and should be attempted in the early mornings during the intense hot season. The average hiker takes about 2.5-3 hours to complete this trail.
The Cactus to Clouds Trail is one of the more famous and difficult trails as it's 21.2 miles point to point starting in Palm Springs and ascending to San Jacinto Peak. Boasting an impressive ascent of approximately 10,300 feet in net elevation, this trail ranks among the day-hike routes in the United States with the most significant elevation gains.
Visit Robolights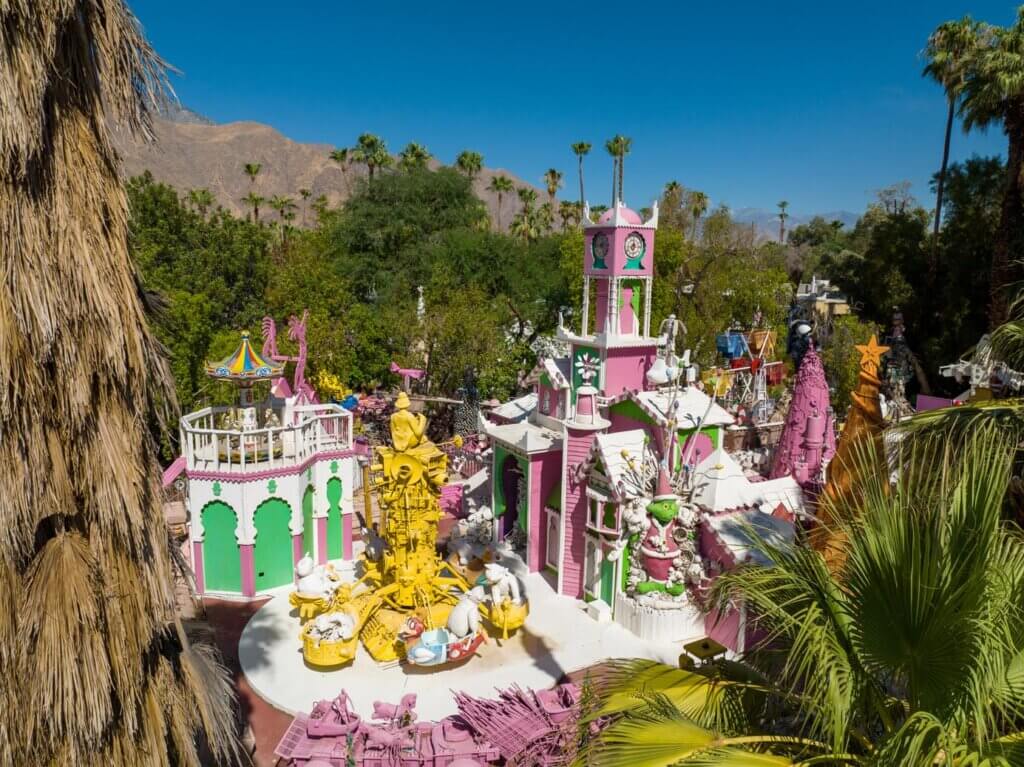 1077 E Granvia Valmonte, Palm Springs, CA 92262
One of the most unique things to do in Palm Springs is visit Robolights, an eclectic art installation that takes up an entire residence created by artist Kenny Irwin Jr.
Robolights is an ever-evolving, immersive art environment that features an array of colorfully wild sculptures, lights, and intricate designs made out of old appliances and items that look like they were found in a scrapyard.
Irwin gives these items a second life by making larger than life whimsical and weird installations blending elements of robotics, recycled materials, holiday decorations, and a touch of surrealism. And alot of paint!
You can spot everything from towering robots and futuristic creatures to vibrant mazes and illuminated pathways.
Robolights gained popularity for its extravagant holiday displays, with the installation often adorned with countless lights, creating a mesmerizing spectacle during the holiday season.
It's important to note that the nature of Robolights, including its location and displays, may change over time due to the artist's ongoing creative vision and local regulations. Before planning a visit, it's recommended to check for the latest information, opening times, and any updates related to Robolights in Palm Springs.
Palm Springs Aerial Tramway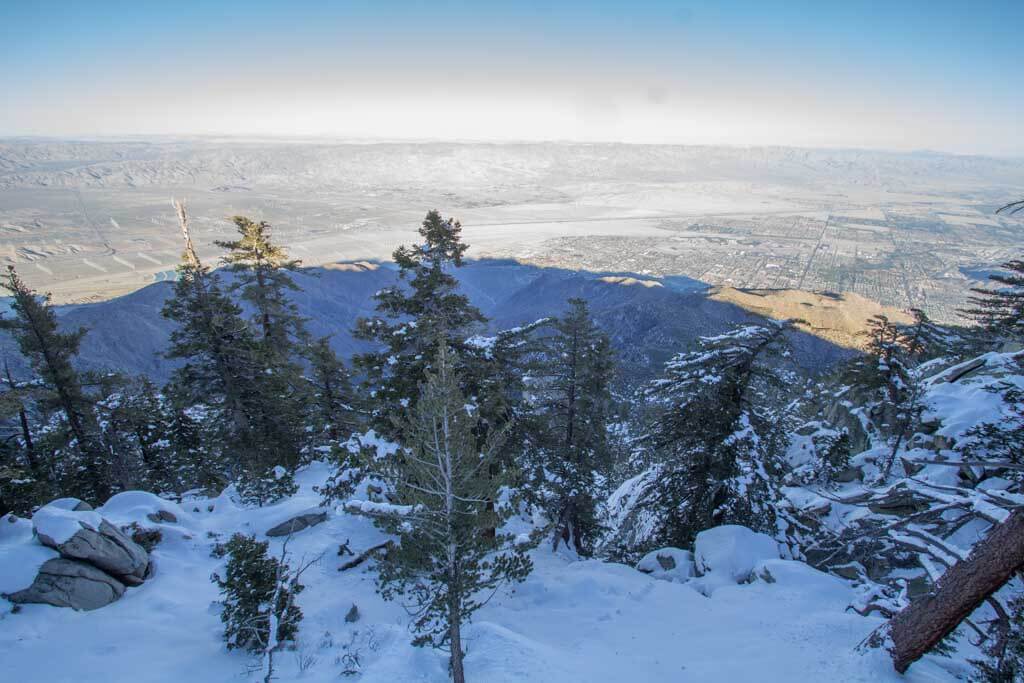 1 Tram Way, Palm Springs, CA 92262
This is one of the best things to do in Palm Springs and can be done even in the middle of summer. Ride up to 8,500 ft elevation to the top of a mountain in Mt. San Jacinto State Park on the world's largest 360 degrees rotating tramway at the Palm Springs Aerial Tramway!
The ride itself takes about 10 minutes up and another 10 minutes to come back down. Before you descend make sure you give yourself plenty of time to explore. Check out the walking trails behind the visitor center, drink a beer or a cocktail to get a little buzz at the higher elevation, and take in the gorgeous view of Palm Springs!
It's hard to believe you're in the middle of the desert when you're all the way to the top because the climate is completely different. In the summer the top is much cooler and gives you a great break from the summer heat. In the winter you will see snow and feel like you're in a winter wonderland.
Don't forget to bring a jacket, even in the summer!
Tip: On holidays and busy weekends purchase your ticket in advance to secure a spot without a long wait. Keep in mind that typically during the month of August they close temporarily for annual maintenance, check their availability before arriving.
Shop along El Paseo Shopping District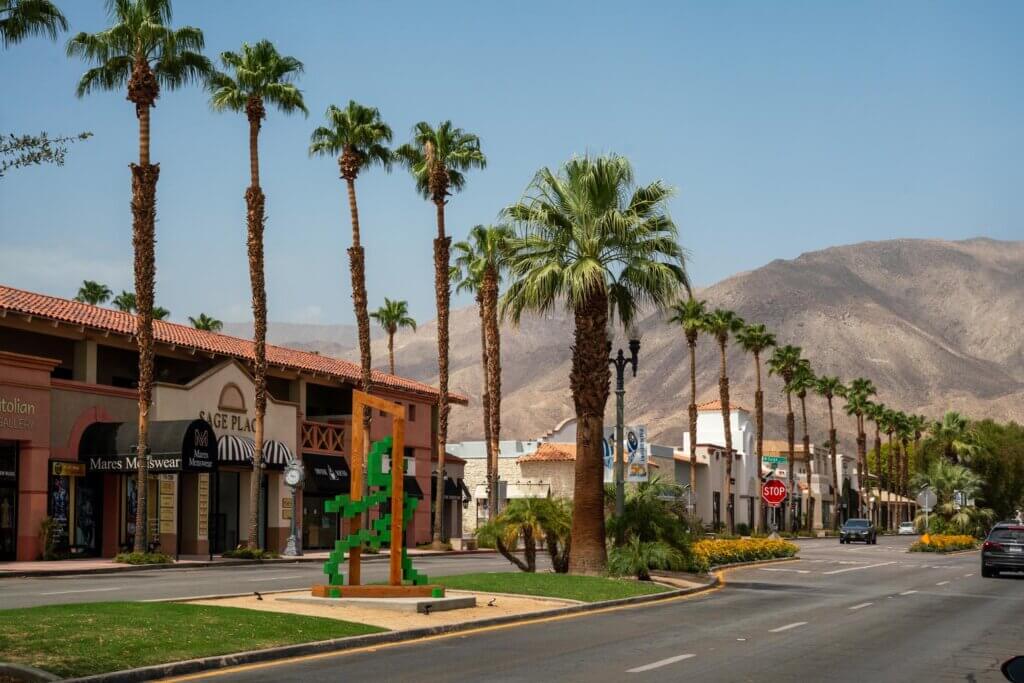 El Paseo, Palm Desert, CA 92260
If you're looking to do more shopping, then heading to El Paseo Shopping District is what to do in Palm Springs for you! All along this Palm Desert shopping boulevard, you'll find luxury retailers and high-end boutiques. There are also several art galleries here as well as outdoor art sculptures all along El Paseo and restaurants to check out.
The Shops at El Paseo are where you'll find designer labels, The Gardens on El Paseo is another section that has more shops including department stores and restaurants, as well as shops dotted all along El Paseo.
There are plenty of great dining options here, we recommend Porta Via (73100 El Paseo) which has a contemporary California-inspired menu featuring salads, sushi, wild-caught seafood dishes, pasta dishes, sandwiches, and house specialties all in a gorgeous setting.
See Flamingos!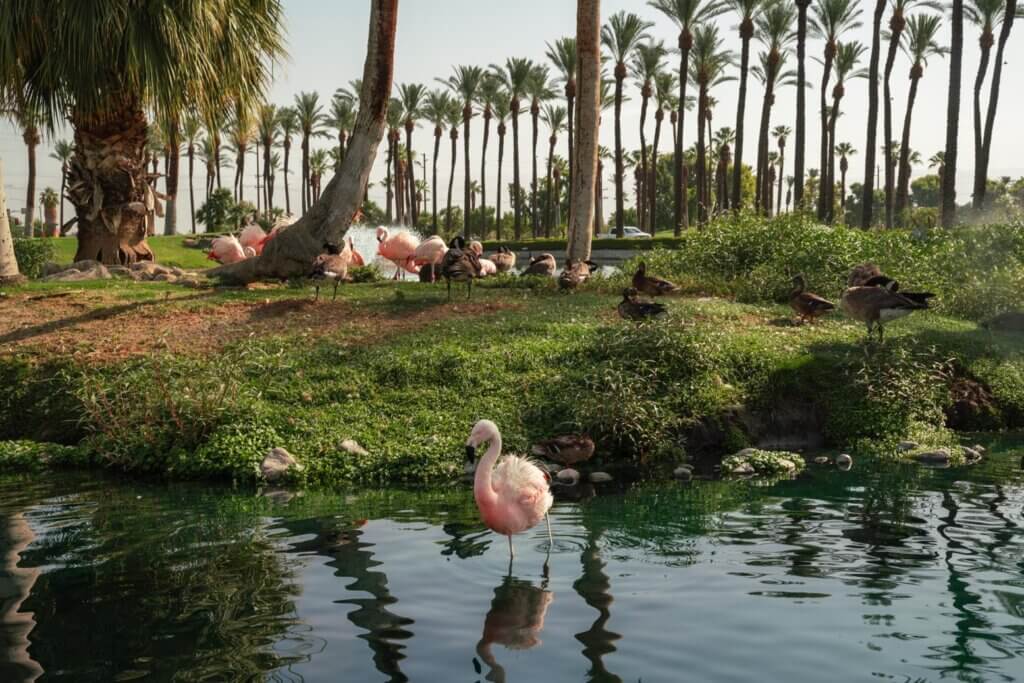 74-855 Country Club Dr, Palm Desert, CA 92260
Palm Springs is a desert oasis and you can find Chilean flamingos you can practically walk up to at one of those desert oases at the JW Marriot Desert Springs Resort & Spa. Even if you're not a guest of the hotel, one of the best things to do in Palm Springs is to see these gorgeous birds up close.
There's a flock of around 30 Chilean flamingos in the pond outside of the main entrance of the JW Marriot Desert Springs Resort along with a few other geese.
This is the largest resort in the Greater Palm Springs area and they also have a few resident swans on the property including black swans, which we saw when we were inside getting the Pink Flamingo Shake here!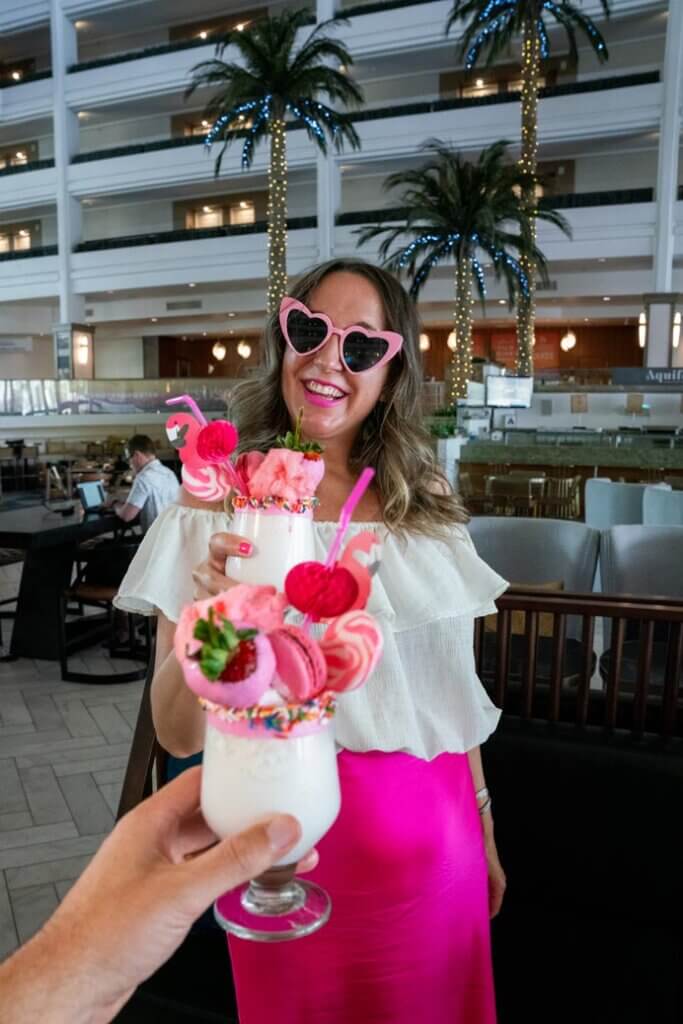 This brings me to my next pick for what to do in Palm Springs if you have a sweet tooth and just love those flamingos you just looked at. So what is in a Pink Flamingo Shake you might be wondering?
This extravagant milkshake is a feast for both the eyes and taste buds, featuring a pink chocolate-dipped rim adorned with rainbow sprinkles. Its luscious components include strawberry ice cream, whipped cream, cotton candy, a lollipop, pink French macaron, pink chocolate-dipped strawberry, and a touch of edible glitter. Complete with an adorable pink flamingo straw, this concoction is almost too beautiful to consume. For those seeking an extra kick, consider opting for a boozy twist by asking for it hard where they add strawberry vodka.
Coachella Valley Preserve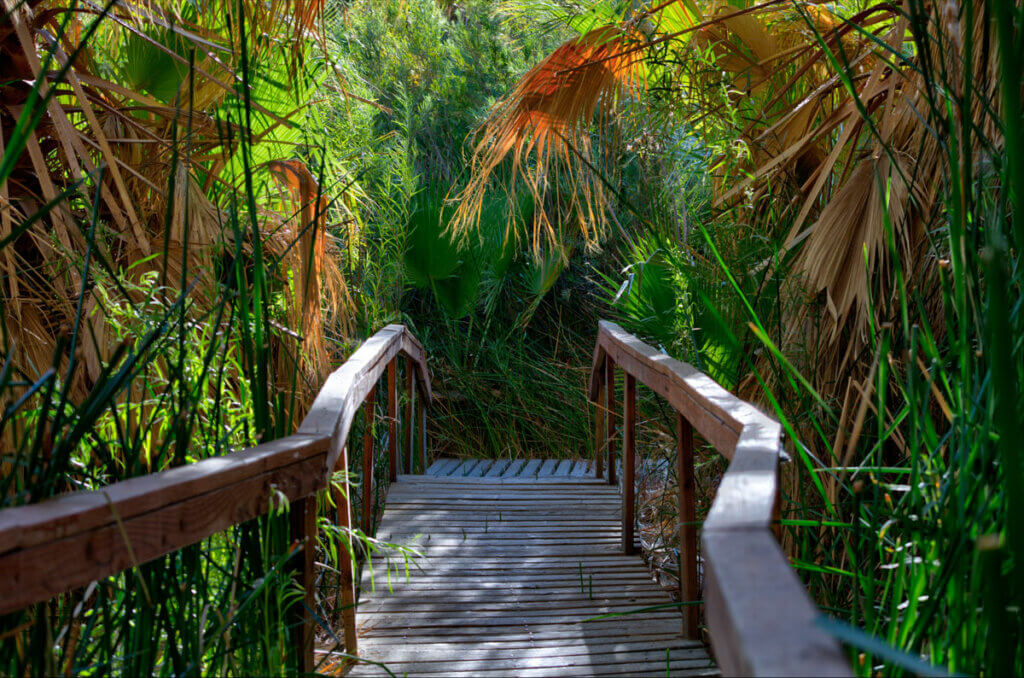 29200 Thousand Palms Canyon Rd, Thousand Palms, CA 92276, 8 am – 5 pm
Coachella Valley Preserve is a wildlife refuge in the desert where you can enjoy hiking, look for the local fringe-toed lizard, horseback ride, or take a guided tour. The best part is that it's free to enjoy! You can stop by the visitor center to get a map and make a donation if you wish!
When visiting this wildlife refuge be sure to follow all the rules like no dogs, staying on the path, and no flying drones.
Head to the Trixie Motel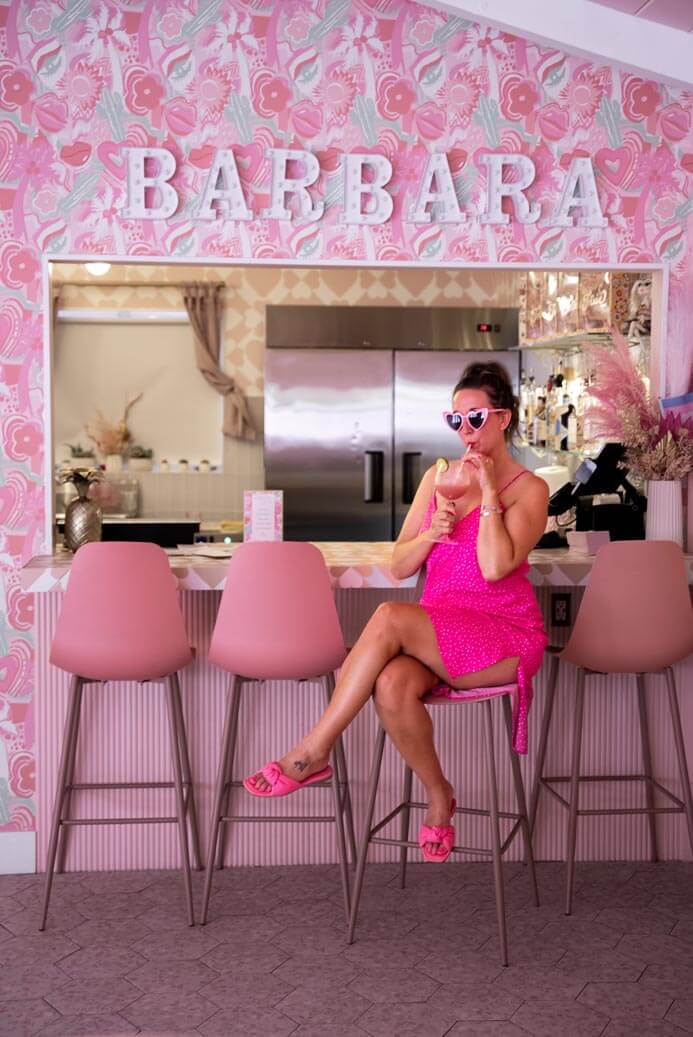 210 W Stevens Rd, Palm Springs, CA 92262
One of our favorite things to do in Palm Springs is visit the Trixie Motel! If you can't snag one of the 7 rooms here then be sure to stop by for the gift shop and grab a fun cocktail in the lounge! We went a little nuts here and bought a ton from the gift shop including a few lipsticks (Trixie's line has THE best colors!), heart sunglasses I wore the entire time we were in Palm Springs, and Scott got some cool shorts!
The Trixie Motel in Palm Springs offers a vibrant and retro-inspired escape by RuPaul's Drag Race All-Stars 3 winner Trixie Mattel. This playful and pretty pink maximalist boutique motel embodies the spirit of the desert oasis with its mid-century aesthetic, complete with pink poolside lounging and charming rooms.
Each room is designed uniquely with different decor, fostering a nostalgic atmosphere that captures the essence of Palm Springs's iconic retro culture. And perhaps you've seen the Discovery Plus, Trixie Motel reality tv series!
Moorten Botanical Garden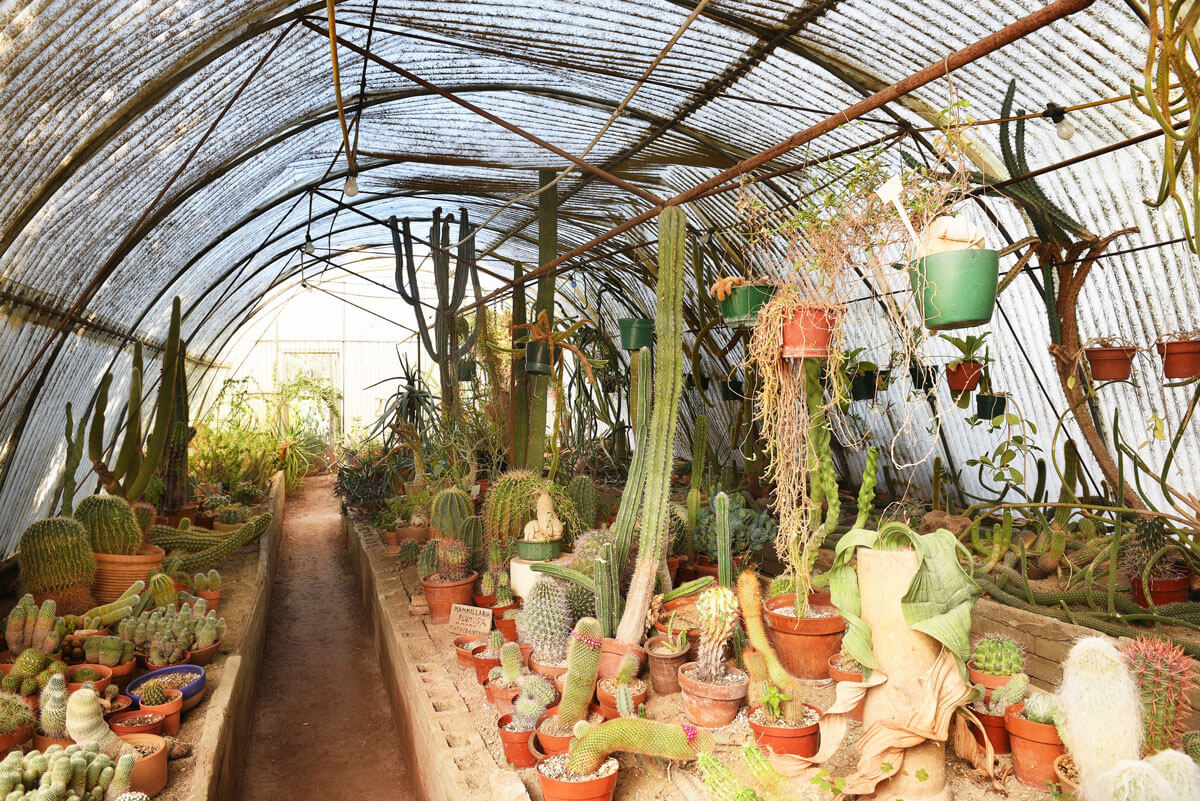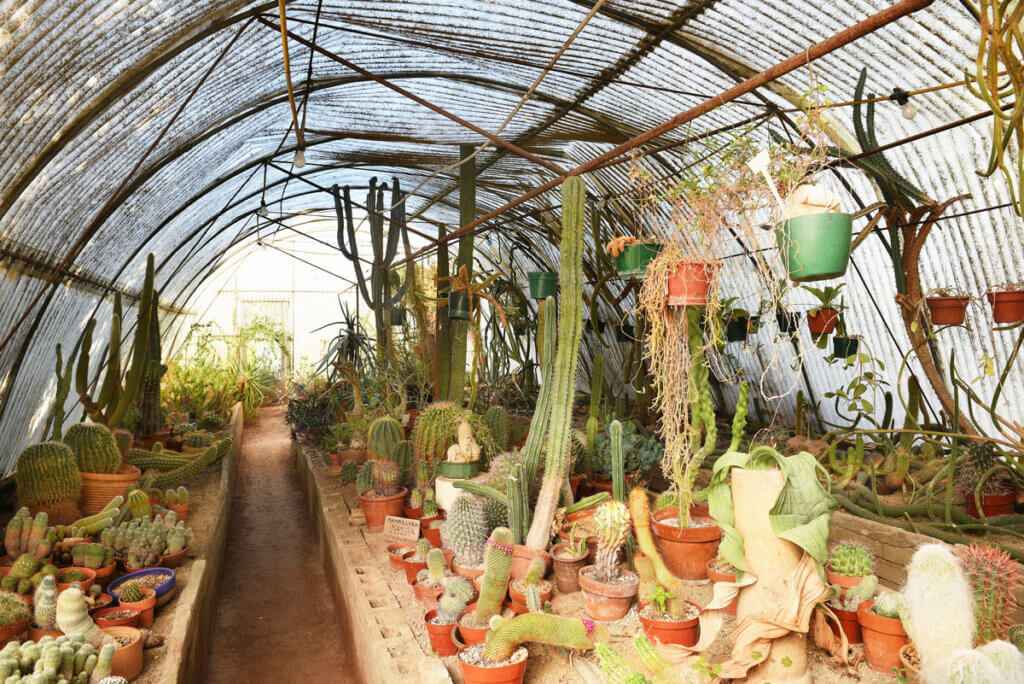 1701 S Palm Canyon Dr, Palm Springs, CA 92264
One place you can learn more about the desert climate and it's beautiful flora and fauna is a Morrten Botanical Garden. Nestled right here in the heart of Palm Springs, this desert oasis has an astonishing collection of over 3,000 desert plants, including the stars of the show: cacti and succulents in all their glory.
Wander through themed gardens like the Cactarium, where rare and unique specimens thrive, and explore the World's First Cactarium!
This definitely should be at the top of your list of things to do in Palm Springs if you have a green thumb.
Living Desert Zoo & Gardens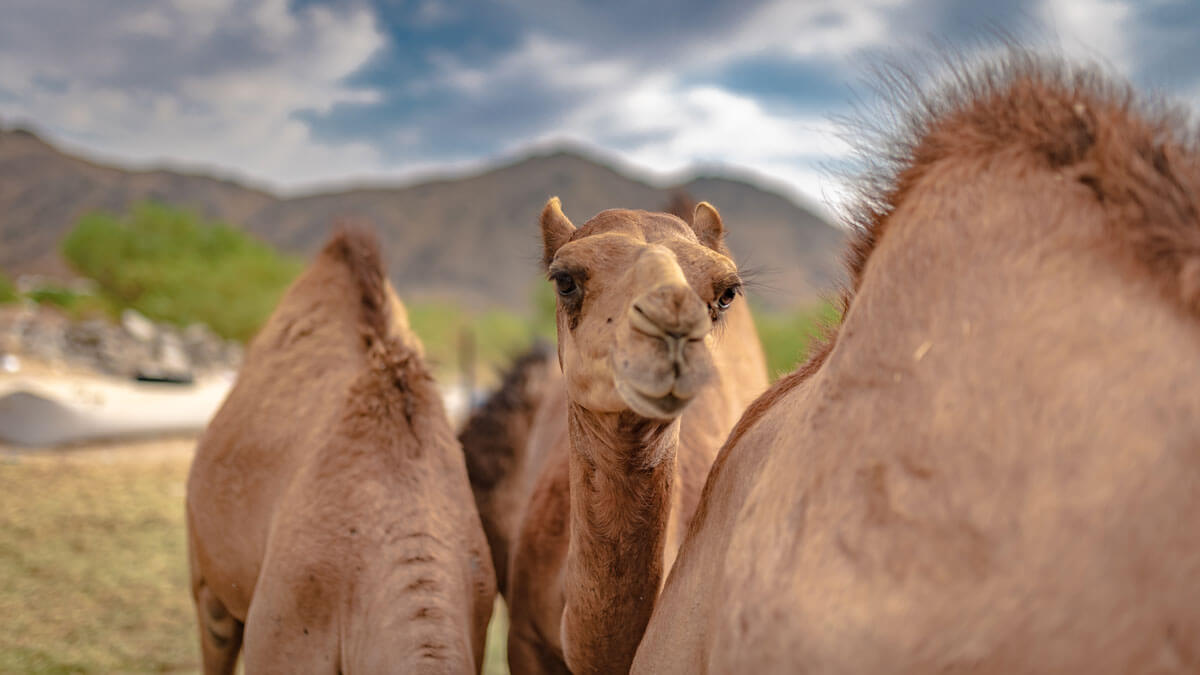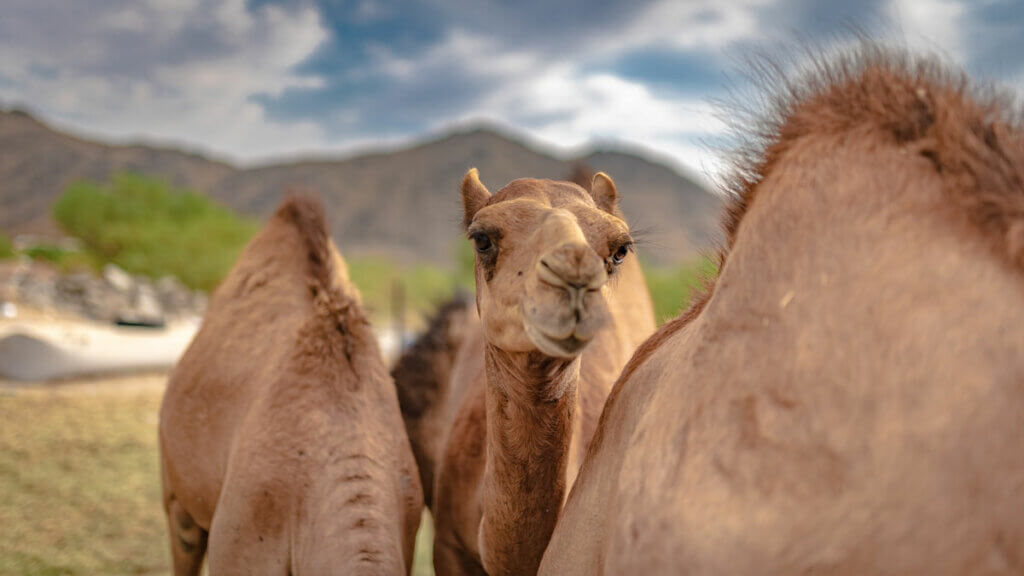 47900 Portola Ave, Palm Desert, CA 92260
Another Palm Springs gem is the Living Desert Zoo & Gardens. This place is all about getting up close and personal with the wild side of the desert. You'll witness incredible creatures, from majestic giraffes to playful meerkats.
But it's not just about the animals – the lush botanical gardens are a sight to behold too. Wander through desert landscapes and check out their hiking trails too. Explore winding paths that lead you through native vegetation, revealing breathtaking vistas and a chance to connect with the natural beauty of the region.
Note: During the summer the last entry is at 12:30 to avoid the summer heat. From October through May they are open 8 AM to 5 PM.
Attend Modernism Week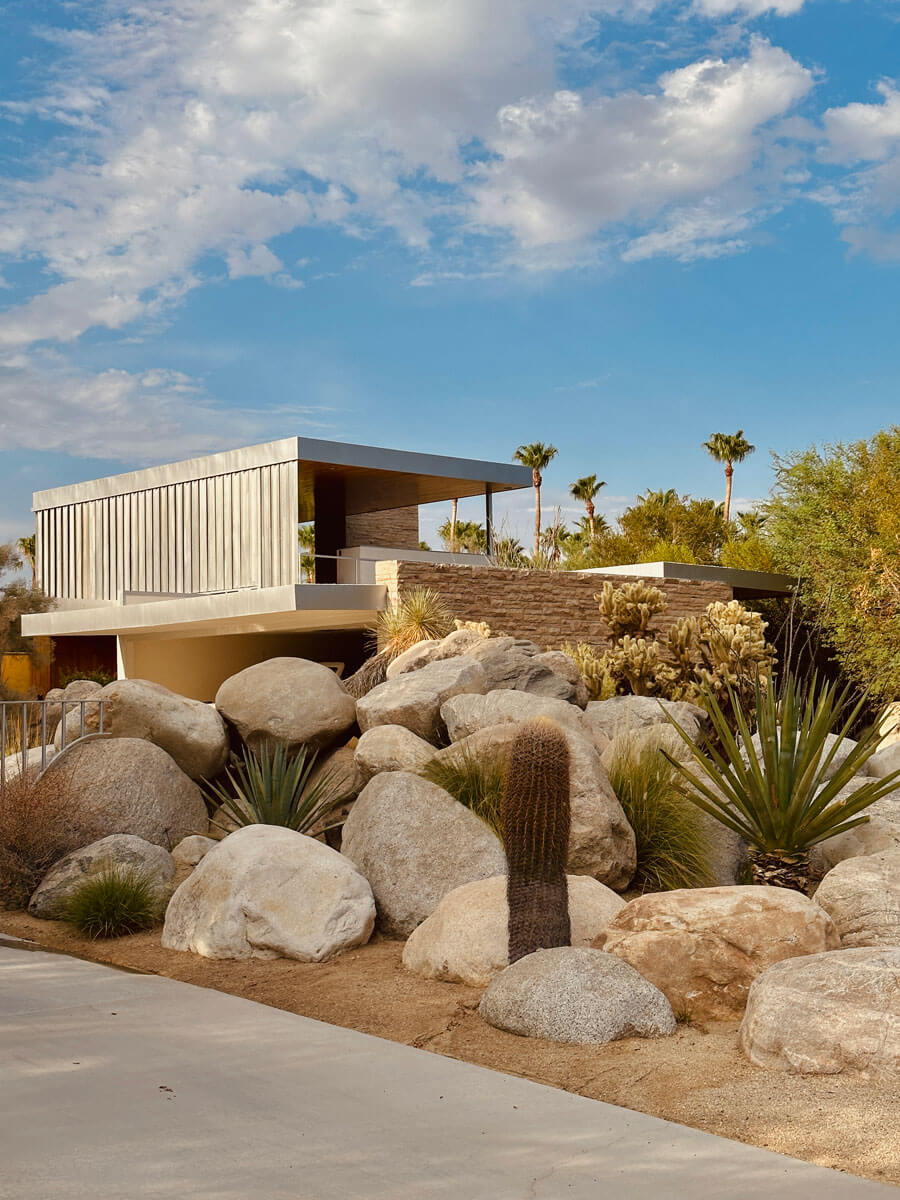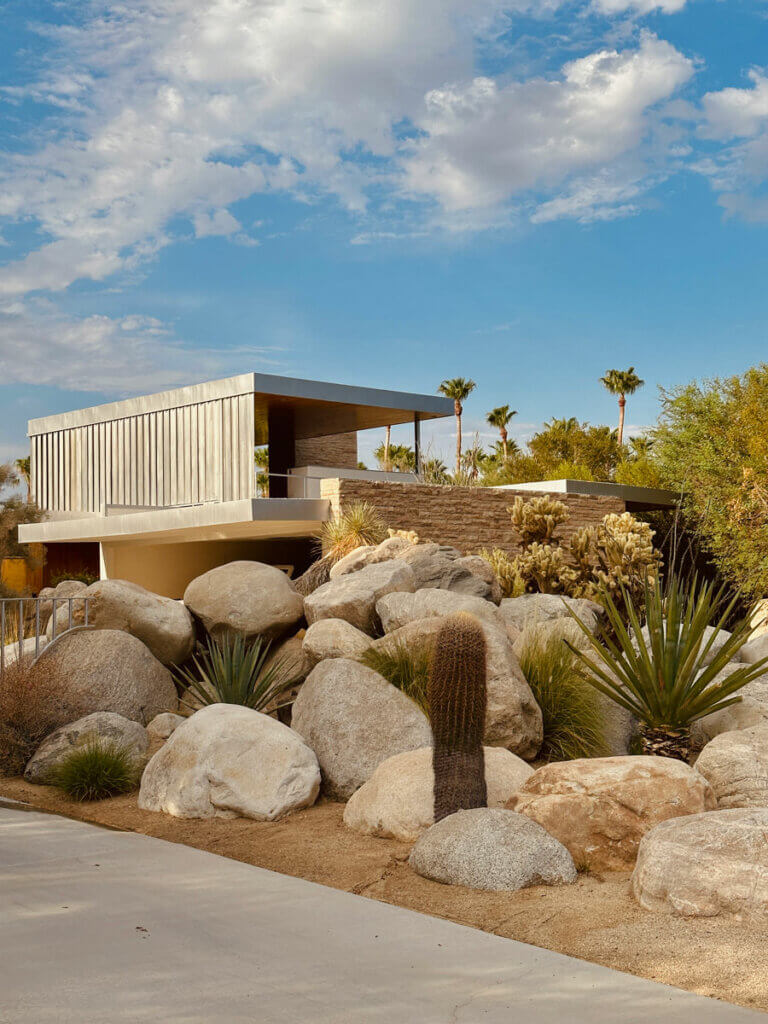 One of the best things to do in Palm Springs annually is to hop in a time machine during Modernism Week! This highly anticipated annual event spans 11 days and attendees feel like they are stepping into the 50s and 60s.
From mid-century home tours that'll make your design-loving heart swoon, to hip cocktail parties and architecture talks that'll transport you back to the golden age of style. You'll explore iconic neighborhoods, ogle at vintage rides, and even get tips from top designers.
Don't miss the epic Modernism Show & Sale – your chance to score retro treasures, our favorite!
Things to do Near Palm Springs
There are plenty of amazing things to do near Palm Springs, California that are worth adding on if you're able to! Whether you're driving from Los Angeles to Palm Springs and looking for stops or want to add on nearby attractions like Joshua Tree National Park, (in fact, Palm Springs is one of our favorite stops on the Los Angeles to Joshua Tree drive as well) here are a few of our favorite picks for what to check out nearby.
Joshua Tree National Park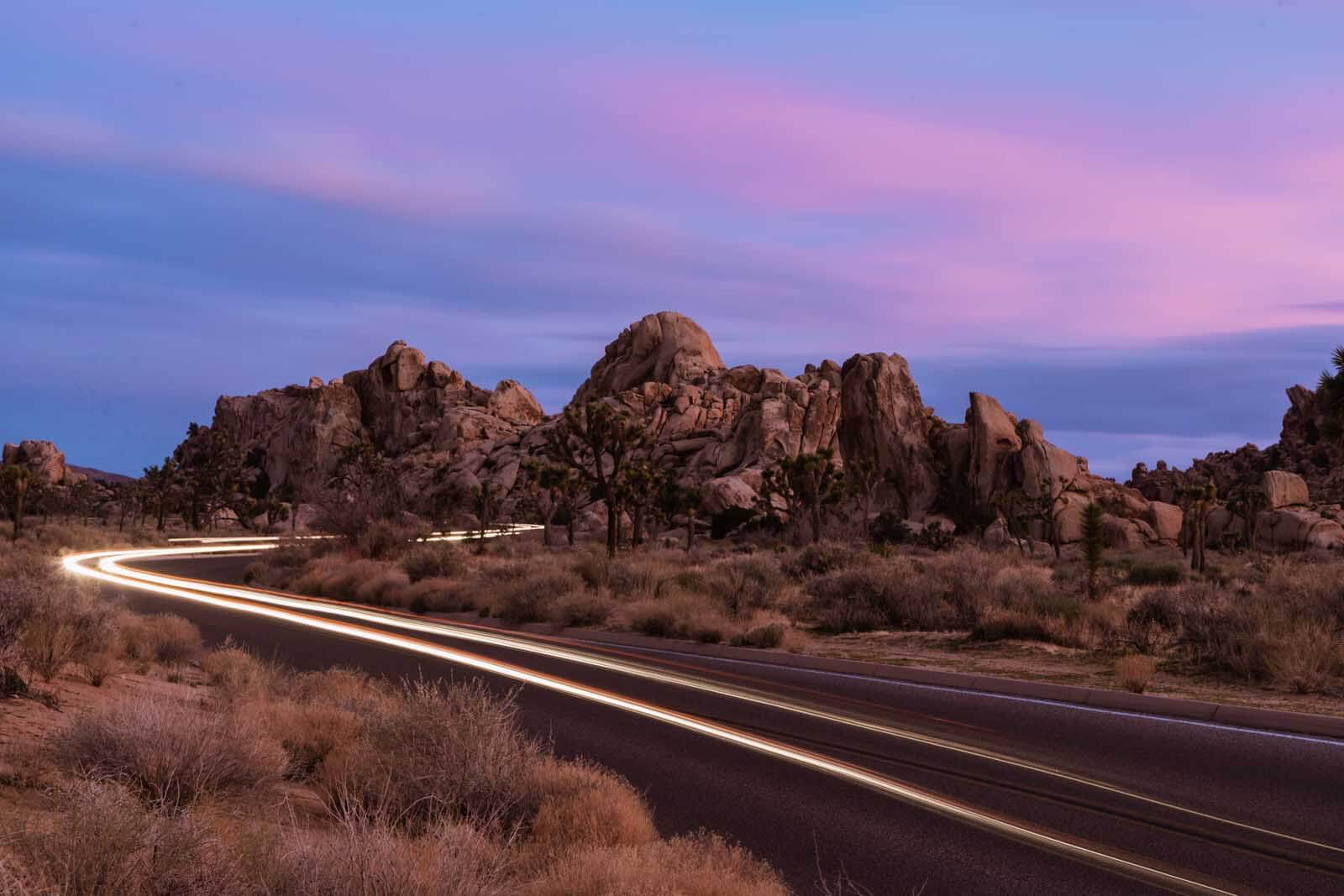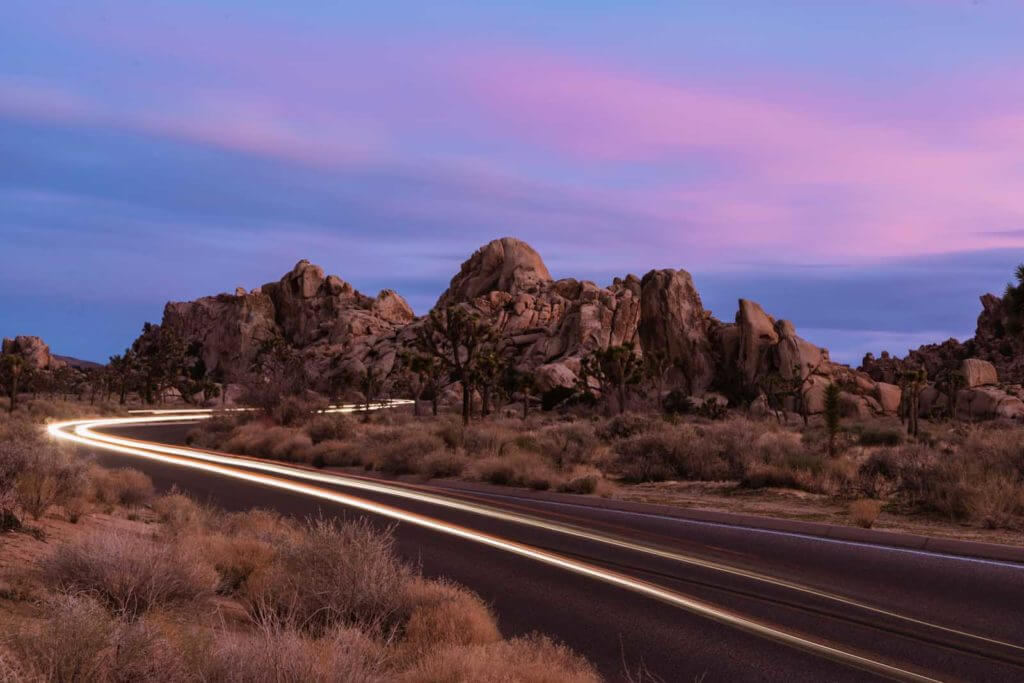 One of the absolute best things to do near Palm Springs is visit Joshua Tree National Park, which is less than an hour's drive from Downtown Palm Springs which is an easy add-on to your Palm Springs trip as a day trip or for another few nights.
Joshua Tree National Park is renowned for its stunning desert landscapes, unique geological features and rock formations, as well as the namesake Joshua Trees, the famous trees from the Mojave Desert.
There are endless hiking opportunities here that traverse this unique landscape where the Mojave and Colorado ecosystems collide. The desert flora and fauna are one of a kind, you can find mesmerizing vistas, scenic drives, and rock climbing opportunities for those skilled enough to attempt that here.
If you're only visiting for a day you'll want to visit Arch Rock, the panoramic views at Keys View, and the Cholla Cactus Garden where you can look at the pretty teddy bear cacti but don't touch, because that will hurt!
If you want to experience Joshua Tree National Park from Palm Springs with a tour guide that takes you off-road, check out this guided off-roading tour of Joshua Tree National Park that departs Palm Desert.
Cabazon Outlets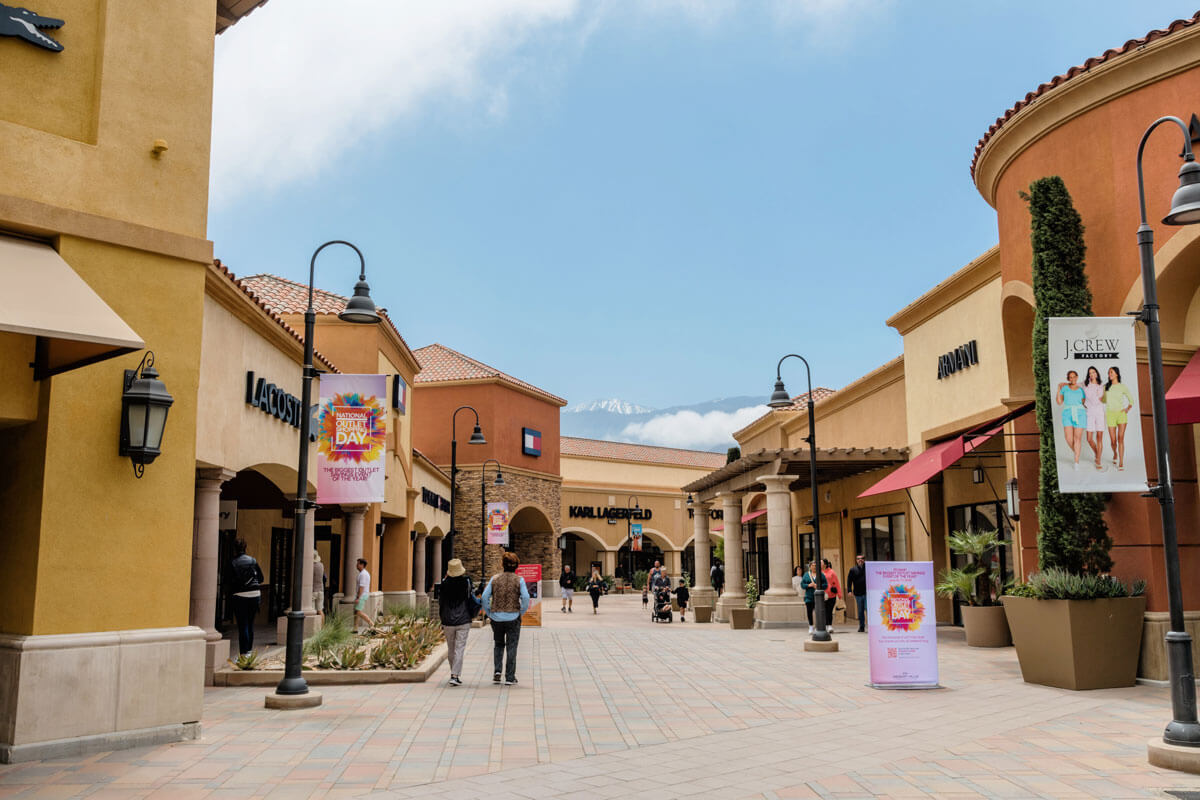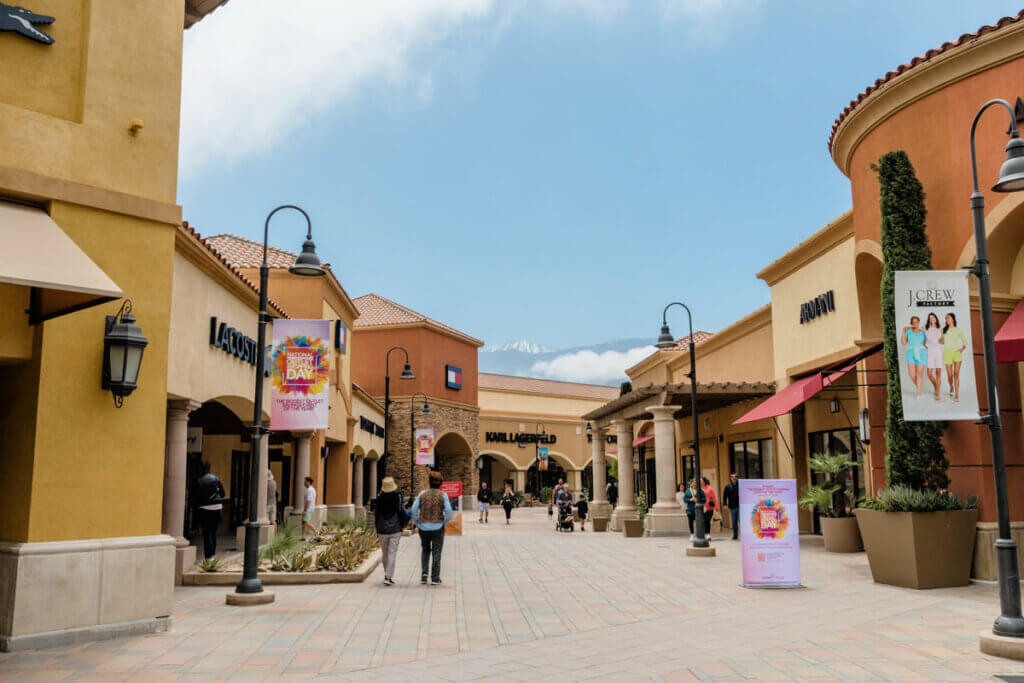 48750 Seminole Dr, Cabazon, CA 92230, open 10 AM – 8 PM
The Cabazon Outlets are one of the best things to do in Palm Springs because this outlet mall is considered one the finest outlets in all of California! With over 180 stores with luxury retailers like Saks Fifth Avenue, Barneys New York, Gucci, Dolce & Gabbana, and other high-end retailers.
You'll find deals for days! I went a few years ago and found tons of deals at All Saints. I ended up walking out of the store with two pairs of jeans for $30 that easily each retailed for well over $100. There's something about finding a bargain like that to make you feel like you're winning at life.
Cabazon Dinosaurs – The World's Biggest Dinosaurs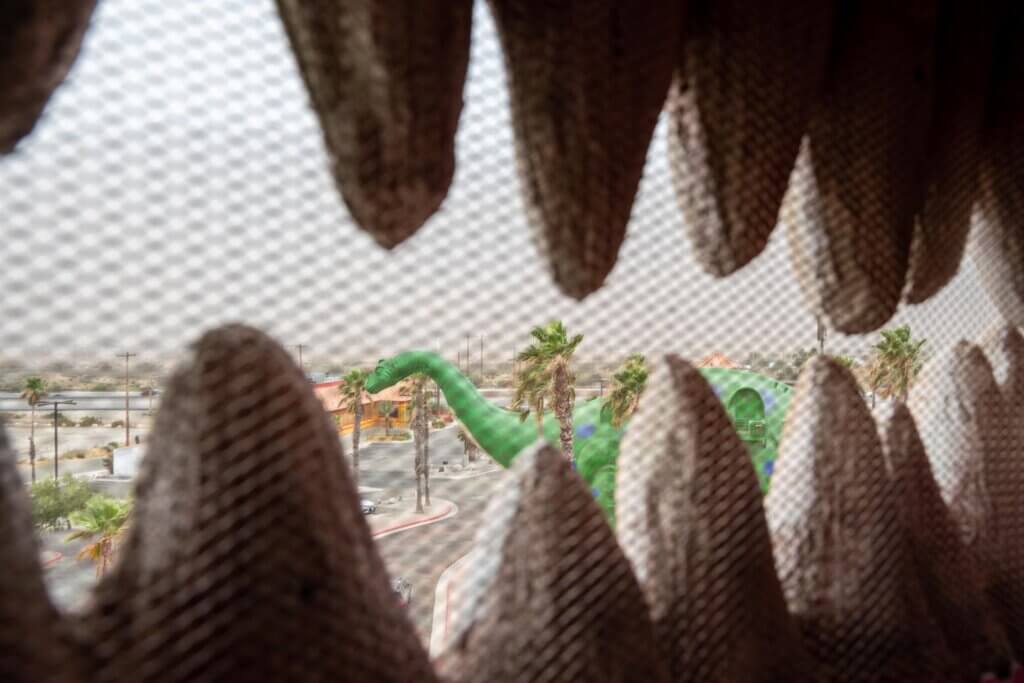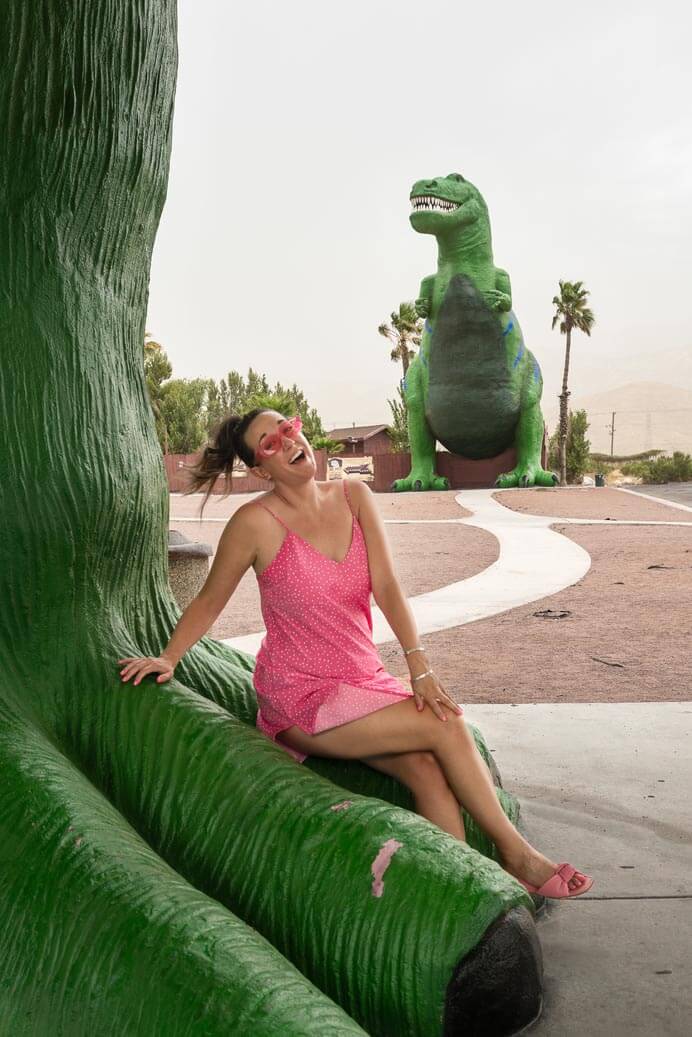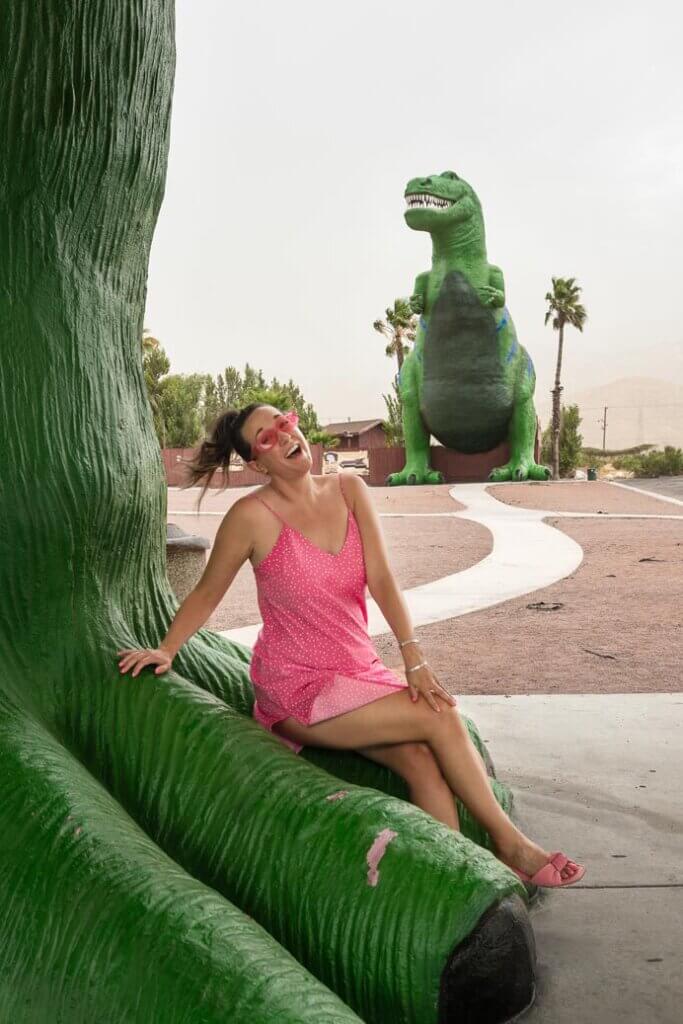 50770 Seminole Dr, Cabazon, CA 92230
The Cabazon dinosaurs, or the world's biggest dinosaurs, are a fun stop. They're just a short drive outside of Palm Springs and near the Cabazon Outlets.
If you were a kid from the 1980s, you may recognize these bad boys from Pee-Wee's Big Adventure! They have also starred in a few other videos including a music video Tears for Fears, "Everybody Wants to Rule the World." Nowadays they are just a popular stop for people wanting to get a photo of some giant dinosaurs.
You can go inside the T-Rex and walk through the animatronic dinosaur garden and other fun stops like a dino dig for a fee. This is really great for kids as there are a lot of hands-on activities and fun robotic dinosaurs to see along with a gift shop.
The belly of the Brontosaurus also has a gift shop that's worth checking out too!
What's interesting is that this popular road side attraction near Palm Springs used to be a creationist museum, which is ironic but has since been taken over and has attracted more attention since a few times of the year the owners repaint the giant dinosaurs for holidays and other fun occasions.
During our most recent visit to Palm Springs, we actually discovered the actor Paul Reubens passed away while we were there. Two days later when we were driving back they had already painted the large T-Rex with a Pee-wee suit to honor Reubens's beloved character.
Morongo Casino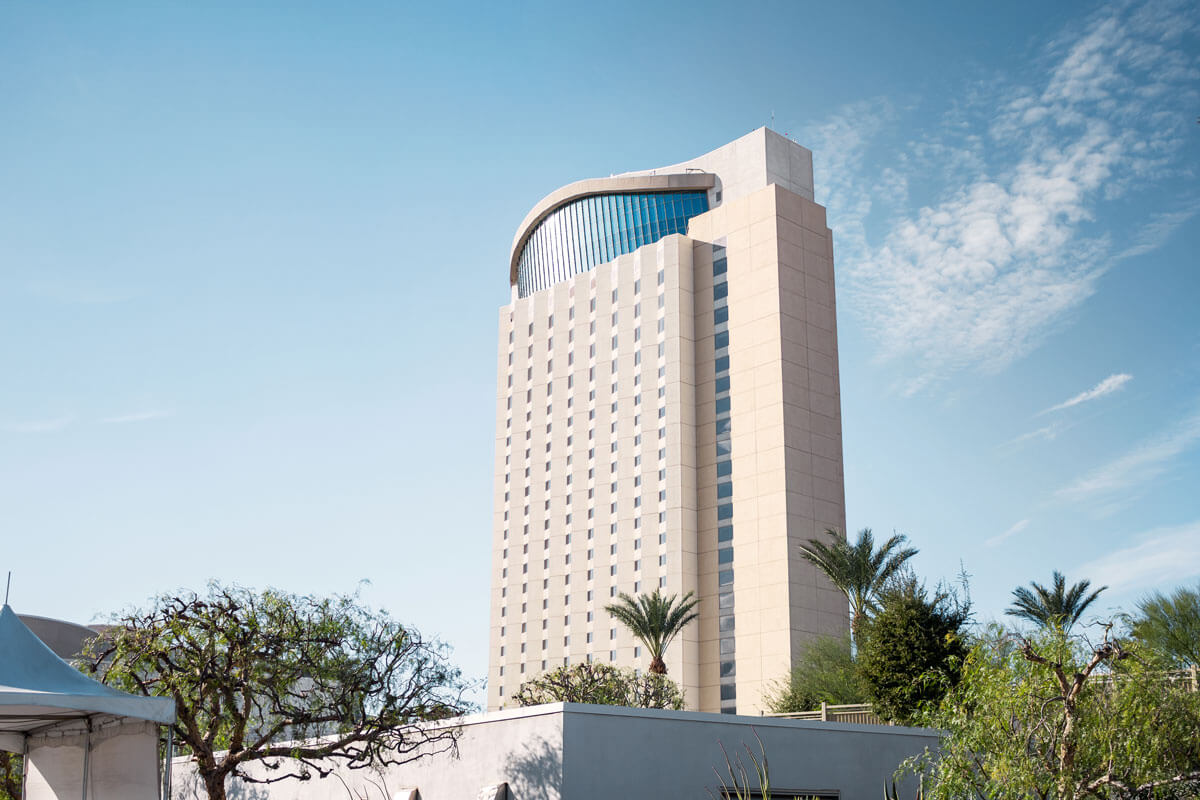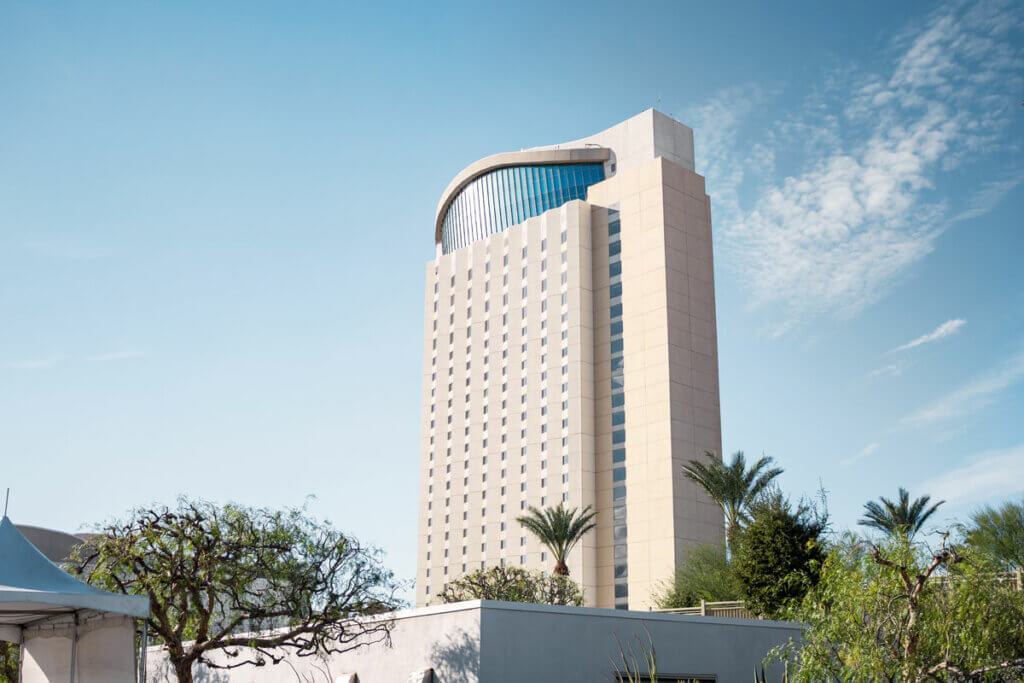 49500 Seminole Dr, Cabazon, CA 92230
If you're feeling lucky then why not try to win a few bucks at Morongo Casino? You'll have plenty of options and places to spend those winnings too whether it be at the outlets or dino gift shop next door or shopping and dining in Palm Springs!
We only stopped to play $20 for fun but could have easily spent more time and money if we didn't have other things to do in Palm Springs planned for the day.
If risking losing your money isn't your thing but pampering yourself is then you may want to stop at Morongo for their spa with 14 different treatment rooms, different massages, skin care treatments, and body wraps.
Palm Springs Windmills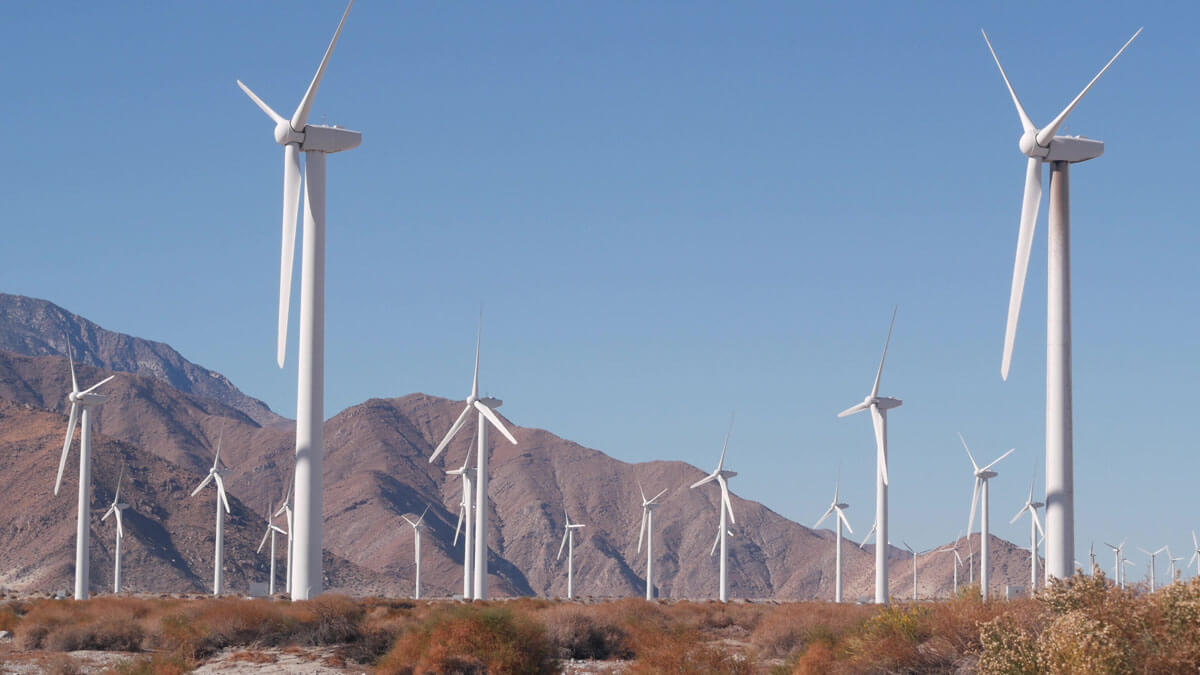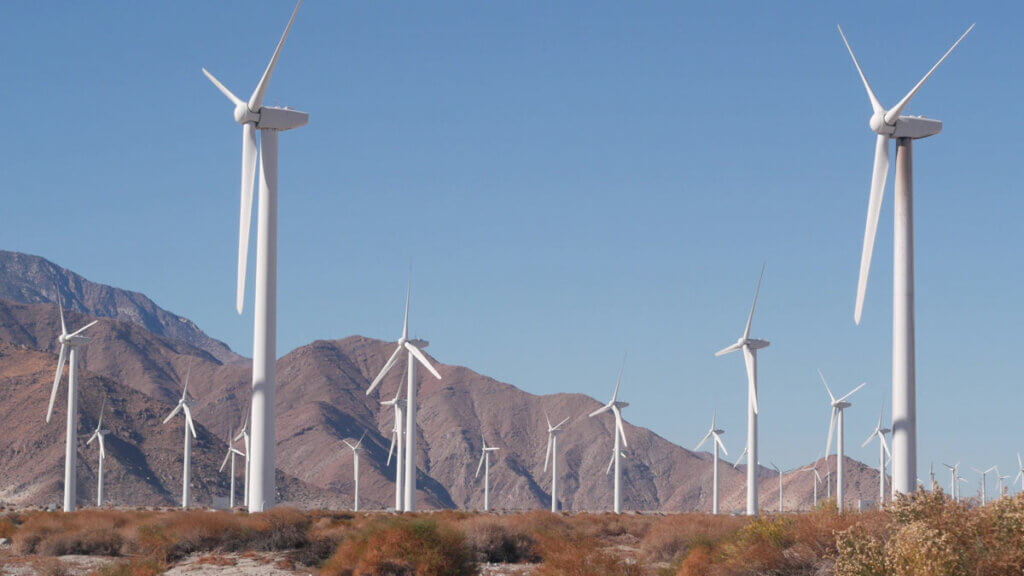 On your way to Palm Springs from Los Angeles, you know you're getting close when you start to see some of the 4,000 plus tall white windmills on either side of the highway.
Although there isn't much to actually do, the windmills make for a great backdrop for photos and are just fascinating to look at as you pass along I-10.
If you're really interested in learning about the windmill farms you can take a 2-hour behind the fence Palm Springs Windmill tour. Or you can check out this self-driving Windmill Tour.
Where to Stay in Palm Springs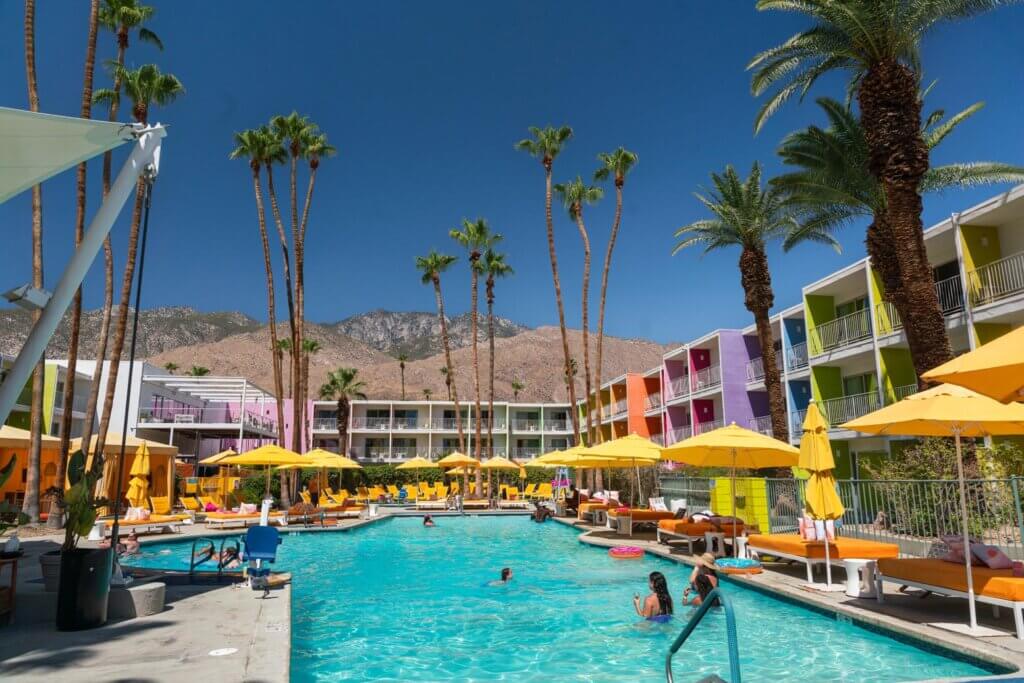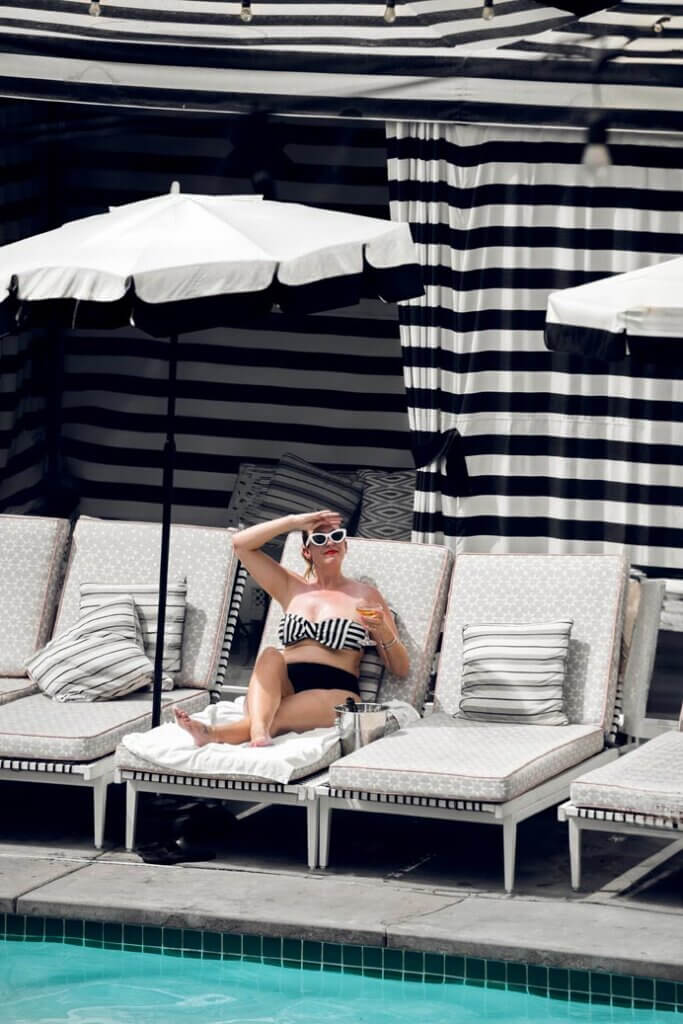 $ 7 Springs Inn & Suites – This hotel is the perfect base for trip to Palm Springs. Located in the Uptown Design District you are able to walk to some of the best shopping in Palm Springs. The rooms are stylish with fun pop art decorating the rooms plus there's a garden courtyard with a pool. Book here.
$$ Sands Hotel & Spa – This gorgeous pink Morrocan-inspired property is nothing short of beautiful. Lounge poolside sipping on cocktails and enjoy the beautifully appointed rooms here. There's an on-site restaurant, The Pink Cabana as well as a gorgeous spa. Book here.
$$ Fleur Noire Hotel – For an adults-only boutique hotel in Palm Springs, California look no further! There are 21 gorgeously designed casitas to be your stylish home away from home while you're here. The pool is gorgeous and the entire property is covered in floral murals by artist Louise Jones. Don't miss their speakeasy-style rosé bar here too. Book here.
$$ Saguaro Palm Springs – This is one of the most stylish and popular hotels to spend a getaway to Palm Springs. This rainbow-colored hotel is the ultimate base for exploring Palm Springs while also being steps away from one of the coolest places to be in the area. The rooms are as colorful and fun as the exterior and you won't want to miss one of the poolside cabanas for lounging! Book here.
$$ – $$$ La Quinta Resort & Club – This Curio Collection luxury property takes your Palm Springs weekend getaway to the next level. Choose between your own casita, private haciendas, and villa-style accommodation with a backdrop of the Santa Rosa Mountains and the 5 golf courses on the property. There are 41 pools on the property so it's easy to find a little spot all to yourself. The restaurants on site are also so good it makes it hard to leave the resort! Book here.
---
Top Things to do in Palm Springs (Post Summary):
Palm Springs Art Museum
Faye Sarkowsky Sculpture Garden
Take a Scenic Bike Ride
Follow the Walk of Stars Palm Springs
Explore Around Palm Canyon Drive
Spot the Famous Statues of Palm Springs
Take a Self-Guided Mid-Century Modern Home Tour
Peep at Celebrity Homes
Palm Springs Air Museum
Tahquitz Canyon
Go on a Hike
Visit Robolights
Palm Springs Aerial Tramway
Shop Along El Paseo Shopping District
See Flamingos!
Coachella Valley Preserve
Head to the Trixie Motel
Moorten Botanical Garden
Living Desert Zoo & Gardens
Attend Modernism Week
Joshua Tree National Park
Cabazon Outlets
Cabazon Dinosaurs – The World's Biggest Dinosaurs!
Morongo Casino
Palm Springs Windmills Tour
---
How many days should you spend in Palm Springs?
Spend 3 to 4 days in Palm Springs for a perfect blend of exploring mid-century charm, outdoor activities, art, and relaxation.
When is the best time to visit Palm Springs?
The best time to visit Palm Springs in fall and spring (October to April) for pleasant weather, fewer crowds, and vibrant events. Avoid scorching summer temperatures for a more comfortable experience unless you plan to be near a pool!
What is Palm Springs best known for?
Palm Springs is renowned for its mid-century modern architecture, year-round sunshine, and stunning desert landscapes. It's a haven for relaxation, outdoor activities, cultural events, and a playground for celebrities and travelers seeking an escape into California's desert paradise.
What's the nearest airport to Palm Springs?
Palm Springs International Airport (PSP) is the nearest airport, conveniently serving the city and the surrounding Coachella Valley, making it an easy gateway to this desert retreat.
How far of a drive is Los Angeles to Palm Springs?
The drive from Los Angeles to Palm Springs is approximately 100 to 120 miles, depending on the route taken, taking around 2 to 2.5 hours by car.
How far is Joshua Tree from Palm Springs?
Joshua Tree National Park is around 40-50 miles east of Palm Springs, a drive of about 1 hour.
What do you think are the best things to do in Palm Springs? Let us know in the comments below!
Found this guide on what to do in Palm Springs? Bookmark for later or share the love below on Pinterest!