Traveling extensively throughout the Czech Republic there was one figure we kept running into region after region with a halo of stars above his head.
On one of our very first visits to Prague, we joined a guided tour which took us across the Charles Bridge where we'd first see and learn about St John of Nepomuk, the statue with stars on the north end of the bridge that has a visibly smooth surface where visitors touch.
It is said if you touch the cross and stars with your left hand, you will have good luck. If you touch the surface under his statue you are said to return to Prague one day.
While King Wenceslaus, the Patron Saint of Bohemia is the Czech Republic's most famous saint (Wenceslaus I, not to be confused with Wenceslaus IV in this article), the story of St John of Nepomuk is the one that stuck with us the most and we found the most fascinating.
And, for a silly anecdote, during one of our trips, the song Star Boy by the Weeknd was a hit, so whenever we saw him we both couldn't help but get that tune stuck in our heads.
This article will break down the story of Czech Republic's legendary martyr and saint, John of Nepomuk plus a few sites where you can find him during your travels around the Czech Republic including Czech Republic UNESCO sites, bridges in towns in the Czech Republic, and sites you can find all across Central and Western Europe.
Disclaimer: This article was done in collaboration with Czech Tourism.
Who is St John of Nepomuk?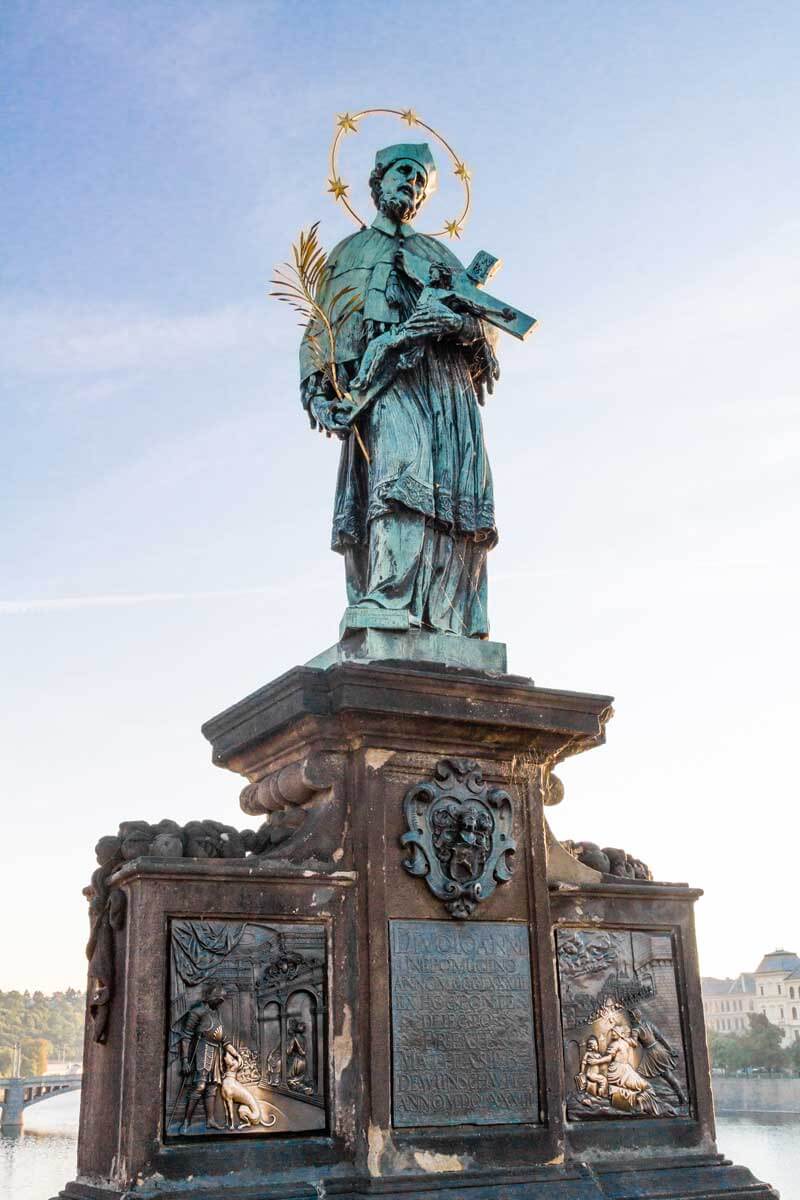 Before he was a saint, he was just Jan Velflín (John of Nepomuk or Jan Pomuk, Jan Nepomucky, John Nepomucene) who lived from 1345 to 1393. He was born in the small town of Pomuk, which was renamed in 1345 to Nepomuk.
During the reign of King Wenceslaus IV of Bohemia, son of Charles IV (the former King of Bohemia to become Holy Roman Emperor), John of Nepomuk was the deputy of Archbishop John of Jenštejn. (Archbishop of Prague from 1379 to 1396)
Unfortunately, for John of Nepomuk, he was on the bad side of King Wenceslas IV due to his association with the archbishop who was loyal to the Pope of Rome as the King Wenceslas was in support of the Pope of Avignon which was known as the Great Schism.
When the king punished and tortured any offenders of his plans for a new Bishop in West Bohemia, John of Nepomuk was one of the unlucky ones.
To add insult to injury, John of Nepomuk was also the confessor to the Queen of Bohemia during confessional. He was asked to divulge her secrets and refused, which was just another strike against John.
Ultimately, he was tortured by the King himself, chained with a piece of wood in his mouth, and tossed into the Vltava River from the Charles Bridge on March 20, 1393. Some believe that the religious connection and backing of Rome is what caused his death, while others believe it had to do with not divulging the Queen's confessions to the King.
Immediately after his murder, John of Jenštejn went to Rome and referred to John of Nepomuk as a martyr.
A year after his death there was a terrible drought and many believed that this was God's way of punishing them for John of Nepomuk's murder. This was when his body was recovered from the Vlatava River and he had a proper burial at St Vitus Cathedral in the Prague Castle Complex.
Some started attributing miracles to John of Nepomuk and word started spreading that he was murdered because he refused to disclose the Queen's secrets and confessions which made him the first martyr of the Seal of the Confessional, a patron against defamation or libel.
Because of the way he was murdered, he is considered the protector from water-related incidents like drowning or severe flooding.
Because of this, his statue is often found on bridges or waterways always adorned with a halo of five stars above his head which represents the stars that appeared in the sky upon his death.
His feast day is celebrated on May 16th.
St John of Nepomuk Sites around the Czech Republic
Charles Bridge & Sites in Prague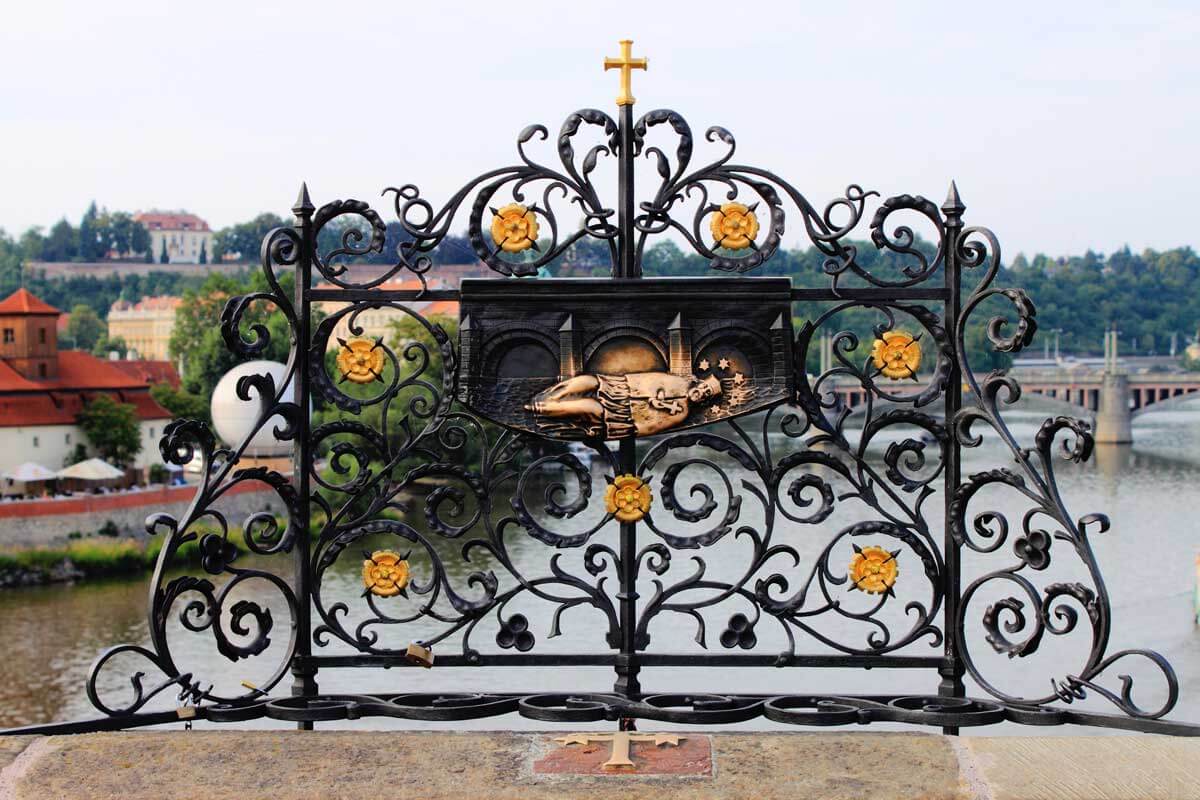 As mentioned earlier, the most famous of the St John of Nepomuk sites in the Czech Republic is his statue on the north end of the Charles Bridge in Prague, where the murder took place.
Before he was even canonized (officially considered a saint by the Roman Catholic Church) his statue was placed on the Charles Bridge in 1683 (he was officially canonized on March 19, 1729) and some even believe this statue contains his spirit.
Below his statue are two scenes telling the story of his unfortunate fate. The left scene depicts a scene from where the Queen was in confessional with St John of Nepomuk with a knight petting a dog to symbolize loyalty.
On the right side, you can find a scene where the Queen is forced to watch St John of Nepomuk be hurled into the Vltava River.
Continuing on the bridge from the statue of St John of Nepomuk, if you walk towards Old Town you'll spot a cross with five stars on the left parapet which represents the exact spot where he was thrown into the Vltava River on March 20, 1393.
This is the other site you are supposed to touch with your left hand, you'll see the smoothed worn-down surface for good luck.
If you touch the actual statue of St John of Nepomuk that is also said to bring luck and ensure you will return to Prague again one day.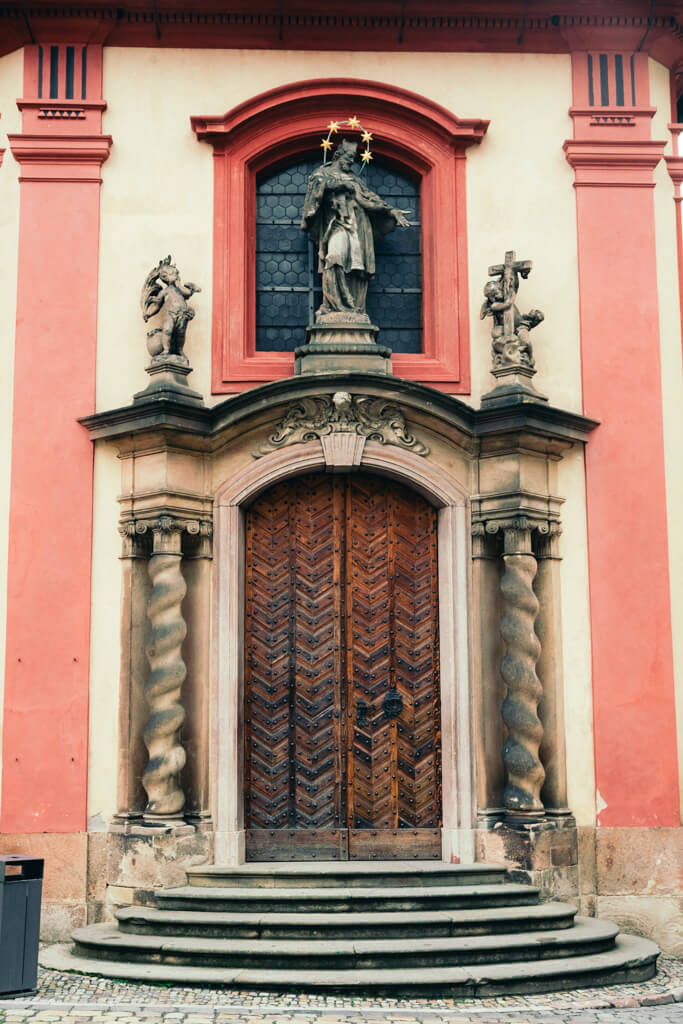 Another one of our favorite places to visit in Prague, Vyšehrad Castle also has a statue of St John of Nepomuk along with the chapel photographed above in the Prague Castle Complex.
St John of Nepomuk Around the Czech Republic
Because his sainthood is the protector of water-based disasters like floods and drowning, you often find St John of Nepomuk statues on just about every bridge in any town or village you visit across the Czech Republic.
There are even other churches and chapels dedicated to him including the Kostel sv. Jana Nepomuckého (Church of St John of Nepomuk) in Kutna Hora along with a statue along the row of saint statues at the Jesuit College leading to St. Barbara's Cathedral.
Another site we found dedicated to St John of Nepomuk during our travels was the statue in Telč with a backdrop of the historic town.
The Lazebnický Most (aka Barber's Bridge) in Český Krumlov is a small, wooden road bridge that has an impressive St John of Nepomuk statue along with a statue of Jesus.
Unfortunately, we didn't capture images of St John of Nepomuk every time we saw him because his statue was such a common thing to find in just about everywhere we went on our Czech Republic road trip across various regions and towns.
Pilgrimage Church of St John of Nepomuk at Zelená Hora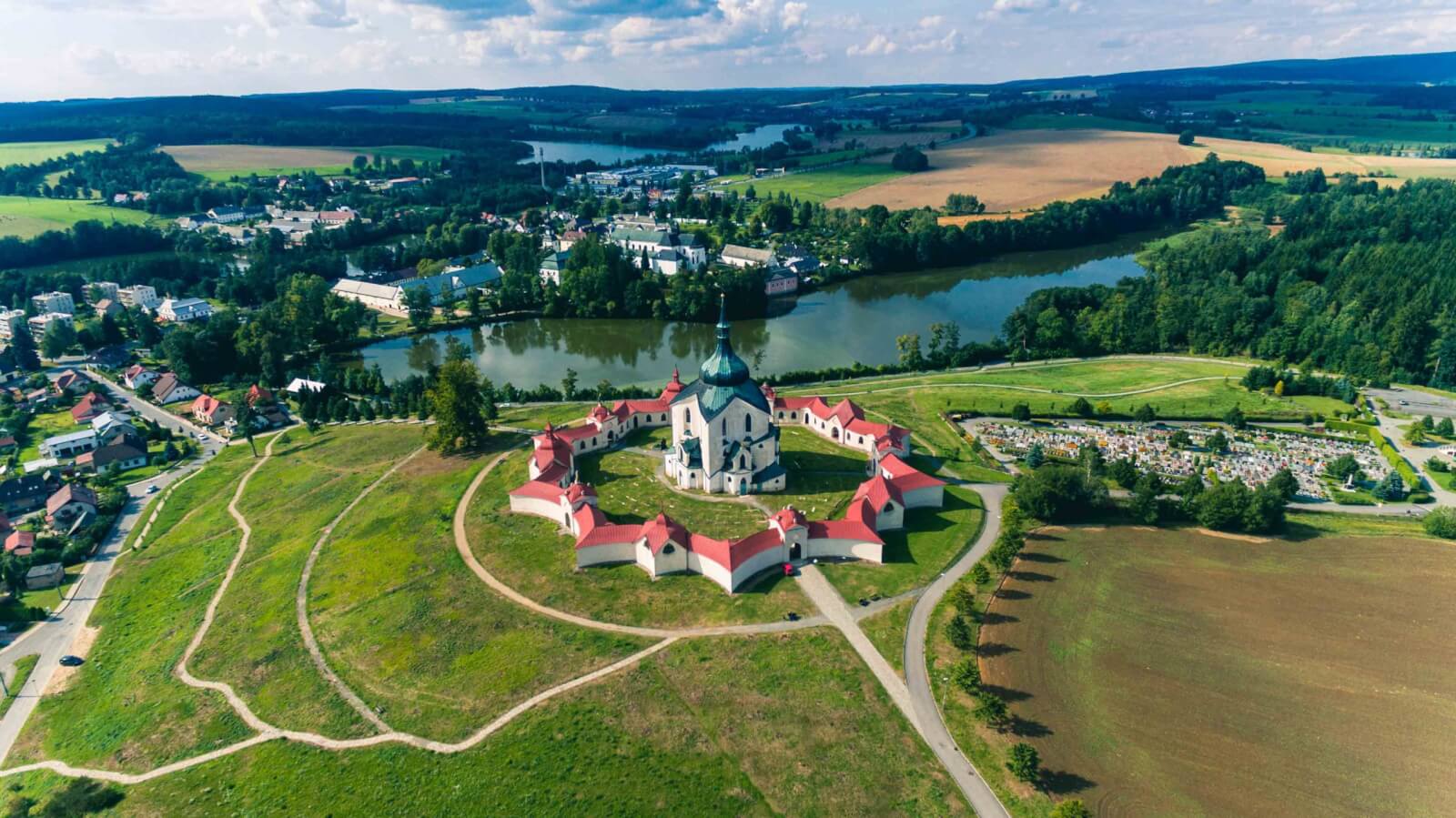 In the Vysočina Region of the Czech Republic is the Pilgrimage Church of St John of Nepomuk at Zelená Hora, a UNESCO World Heritage Site and Neo-Gothic/Baroque star-shaped complex in honor of the saint and martyr John of Nepomuk.
This complex was designed by architect Jan Balžej Santini Aichel, more commonly known as just Santini who was a Czech architect of Italian descent known for creating in the combination of Baroque and Gothic architecture styles.
His other work throughout the Czech Republic also includes UNESCO sites in Kutná Hora, The Church of the Assumption of Our Lady and Saint John the Baptist.
Bult in the early 18th-century as a pilgrimage church to honor St John of Nepomuk with details paying homage to the saint including the entire star shape structure with 5 points to represent the 5 stars on his halo seen depicted on every statue of him.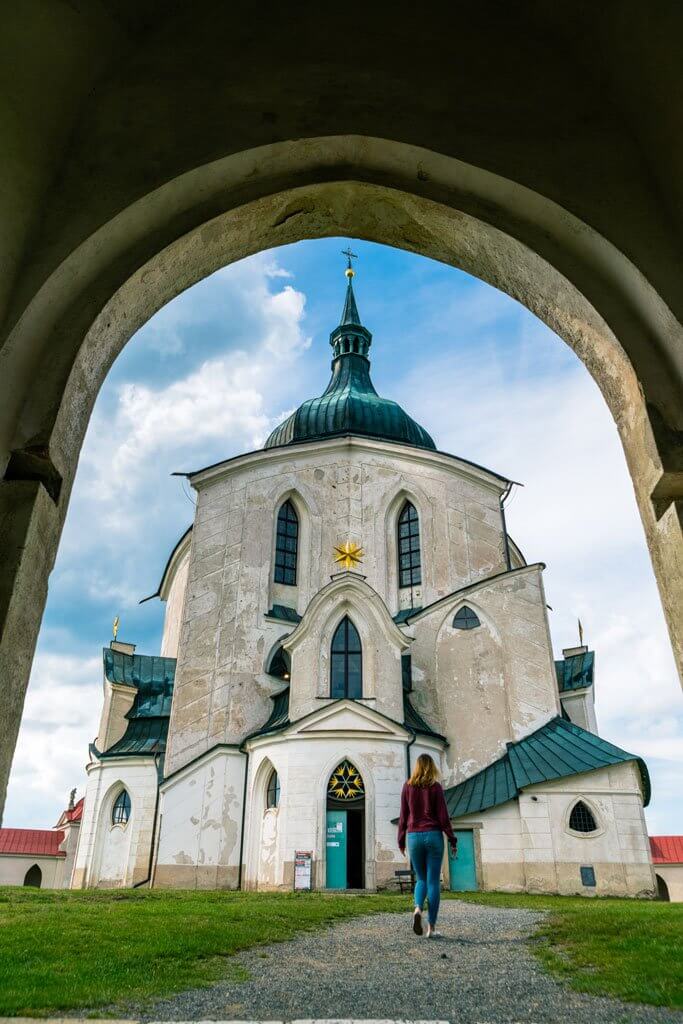 This site was built after St John of Nepomuk's body was exhumed from his silver tomb at St Vitus Cathedral in the Prague Castle Complex in the 17th century, three centuries after his murder.
Inside they found a small piece of reddish flesh which they believed at the time to be his tongue which proved his sainthood given he wouldn't dare share the Queen's secrets with King Wenceslaus.
This inspired the construction of his pilgrimage site and where they wanted to keep the remains of what they believed to be his tongue.
Although, in 1973 scientists discovered that this was actually a part of his brain matter swollen with congealed blood, not part of his tongue.
St John of Nepomuk: International Sites
Besides the Czech Republic, you can find St. John of Nepomuk worshiped and have chapels and churches named after him around Central and Western Europe including Spain, Slovenia, Austria, Serbia, Lithuania, Hungary, Slovakia, Poland, Germany, and Italy.
You can also spot a statue of St John of Nepomuk on the Ponte Milvio bridge in Rome, Italy. Another Italian site dedicated to the saint in the Italian Dolomites is the Church of St. John of Nepomuk in Ranui.
Other famous St John of Nepomuk sites include a statue in the small village of Divina, Slovakia and a plaque on a bridge in Obergurgl, Austria where the saint is seen protecting a secret with his finger to his lips.
---
It would be impossible to list all the St John of Nepomuk sites around Central and Western Europe or even in the Czech Republic, have you ever encountered his statue or one of the churches or chapels dedicated to him? If so, where?