Merida is easily one of the best up and coming destinations in the Yucatan, Mexico.With a great location full of history, beauty, and some of the most authentic and genuinely nice people you can't help but see why so many are falling in love. We are bringing you the best things to do in Merida, Mexico to help you plan your trip for the ultimate experience! This guide covers what to do in Merida, where to eat in Merida, where to shop in Merida, and what to see in Merida.
We recommend staying at least 3 days in Merida so you have time to explore the city and see even more beautiful things to do in the Yucatan Peninsula whether you're doing a Yucatan road trip or traveling by local transport, you don't want to miss this gorgeous city!
Best Things to Do in Merida
Cruise up and down Paseo Montejo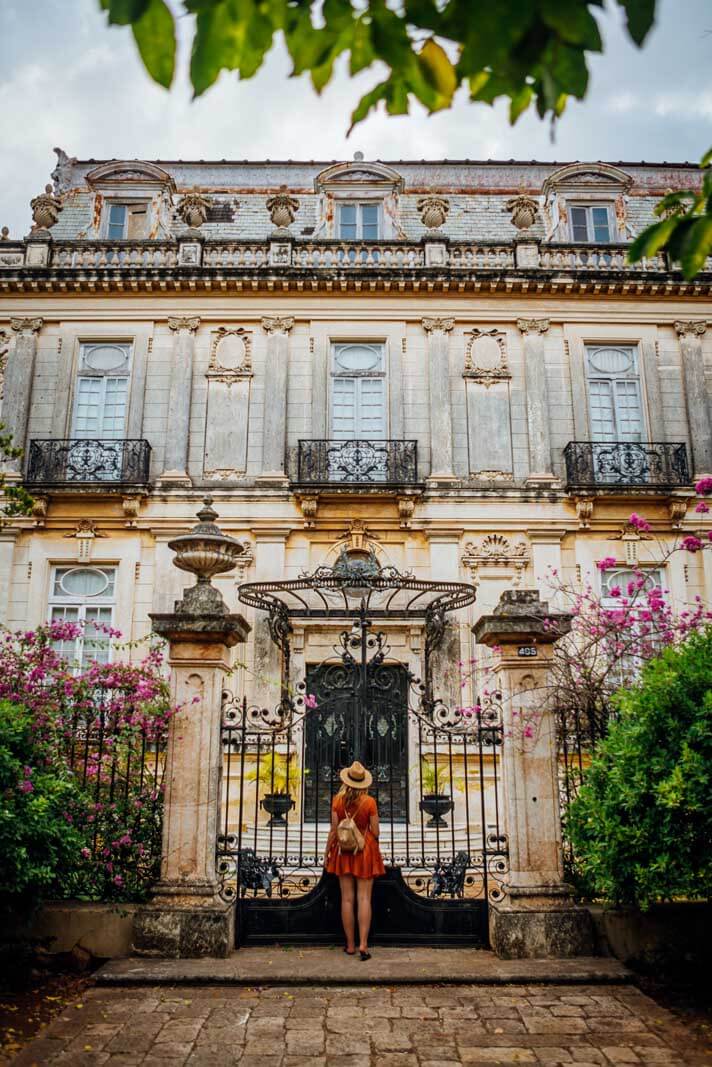 One of our favorite things to do in Merida, Mexico is to walk up and down and admire the giant mansions dotted along Paseo Montejo in Centro.
Paseo Montejo is a gorgeous tree-lined avenue stretching from the Santa Ana neighborhood ending with the grand and unmissable Monumento a la Patria.
The incredible mansions are a reminder of the wealth that was in the Yucatan during the 19th century. At one point Merida was home to the most millionaires in the world. Today, there are many abandoned mansions. Some have museums inside; some are still residential homes, and one is even an impressive branch of Santander bank.
Tip: On Sundays from 8 am – 12 pm half of Paseo Montejo is closed for bicyclists. You can rent a bike and ride up and down Paseo Montejo which is pretty neat!
Visit Plaza Grande and check out their events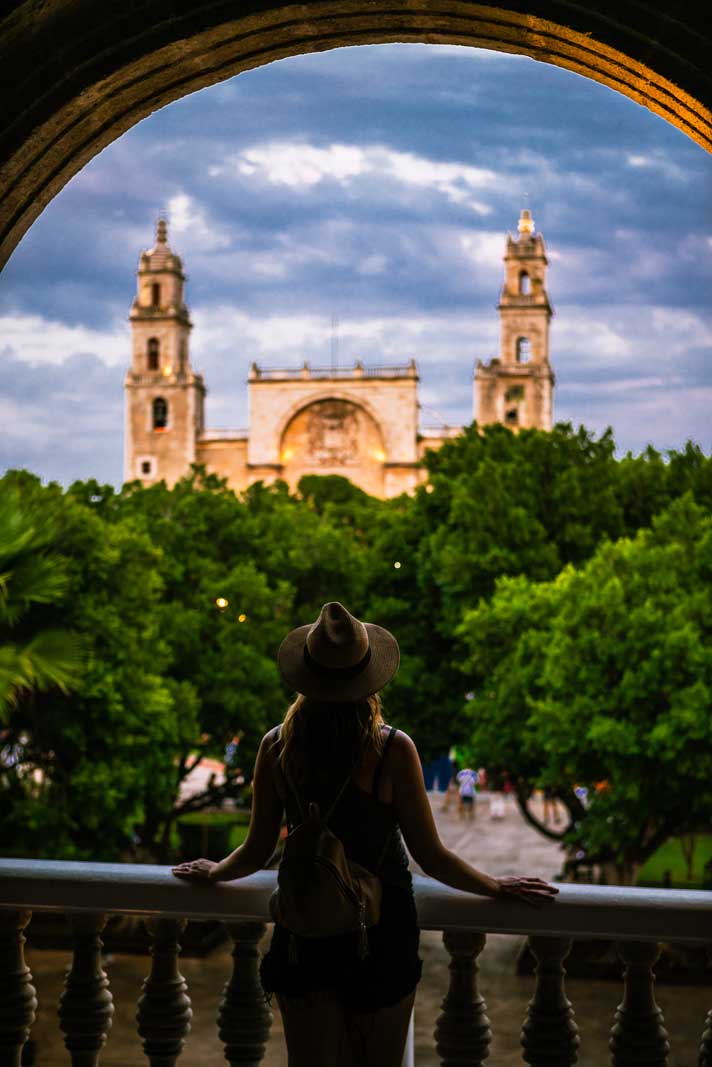 Plaza Grande is one of the best things to do in Merida, Mexico and cannot be missed. From the gorgeous 16th century Catedral de Merida with Renaissance architecture and also built with some stones from Mayan ruins, the fun and colorful Merida sign, and tons of daily cultural events.
There's basically something going on every evening in Plaza Grande whether it's a light projection show on the cathedral, pok ta pok Mayan football game, local dance performances, or the big Sunday Plaza Grande Market.
This is also where you can find some of the best museums including Casa Montejo Museum, a restored 16th-century house with exhibits and cultural events and Museum Fernando Garcia Ponce-Macay, a free museum in a former colonial palace with works by modern and contemporary local artists.
Also don't forget to check out the balcony at Palacio Municipal which overlooks Plaza Grande and is free as well as Palacio de Gobierno, or government Palace.
Check out the Panteon Florido Cemetery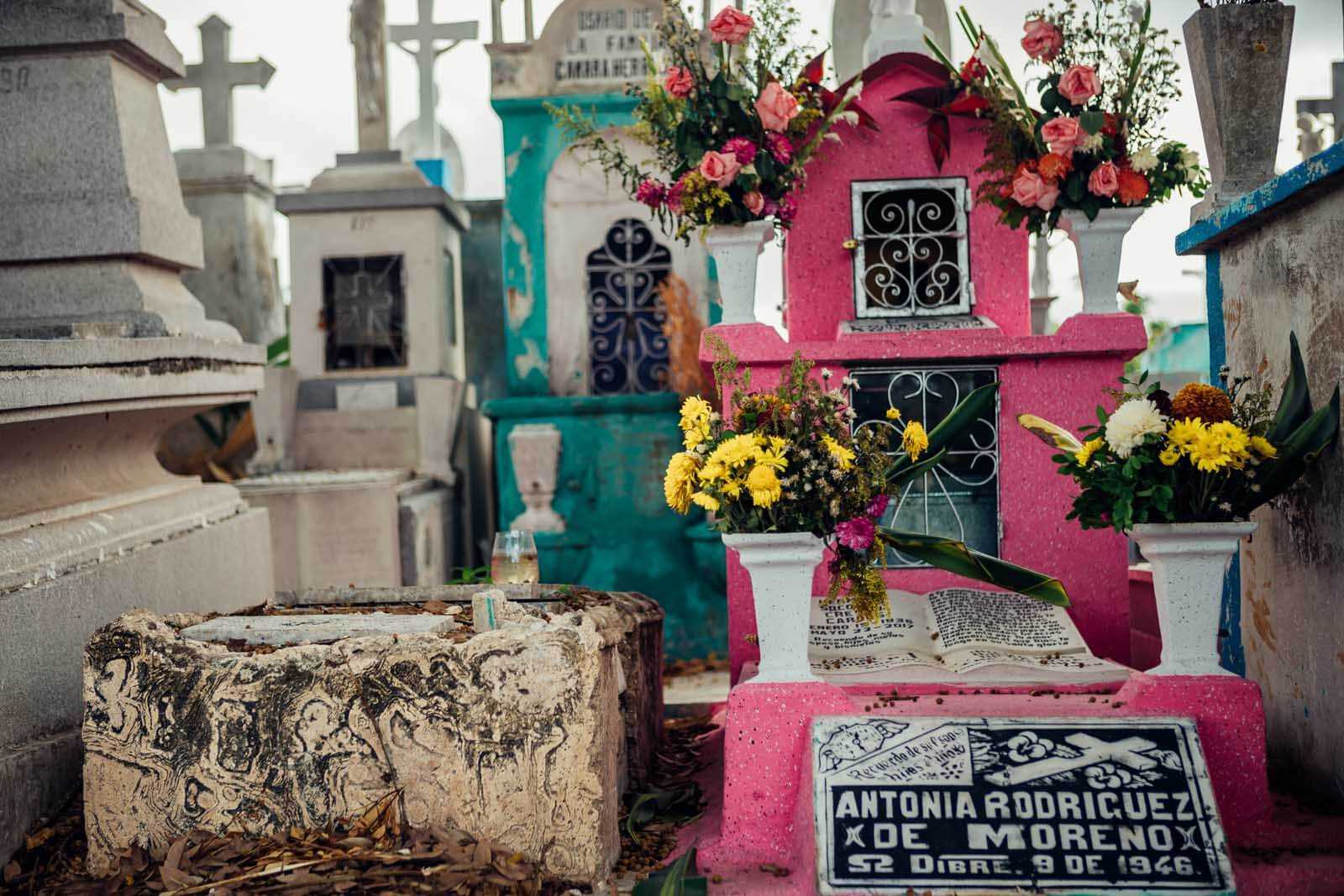 One of the best things to do in Merida, Mexico that most people miss because it's not directly in Centro, is the gorgeous Paneton Florido Cemetery. Located between Centro and Merida's airport, this cemetery is unbelievable and it would be a shame to miss.
With colorful and rustic mausoleums galore and trees and roots overtaking some of the tombs, you can't help but feel wowed here. The last time I felt this in a cemetery is when we visited New Orleans, yet this was somehow more exciting.
I know cemeteries seem like a strange place to visit, but this really is one of the coolest things to do in Merida, Mexico. Bring your camera because it's extremely photogenic and unique.
Closes at 5 pm, Calle 66 Diagonal, Centro, 97000 Mérida, Yuc
Visit all the churches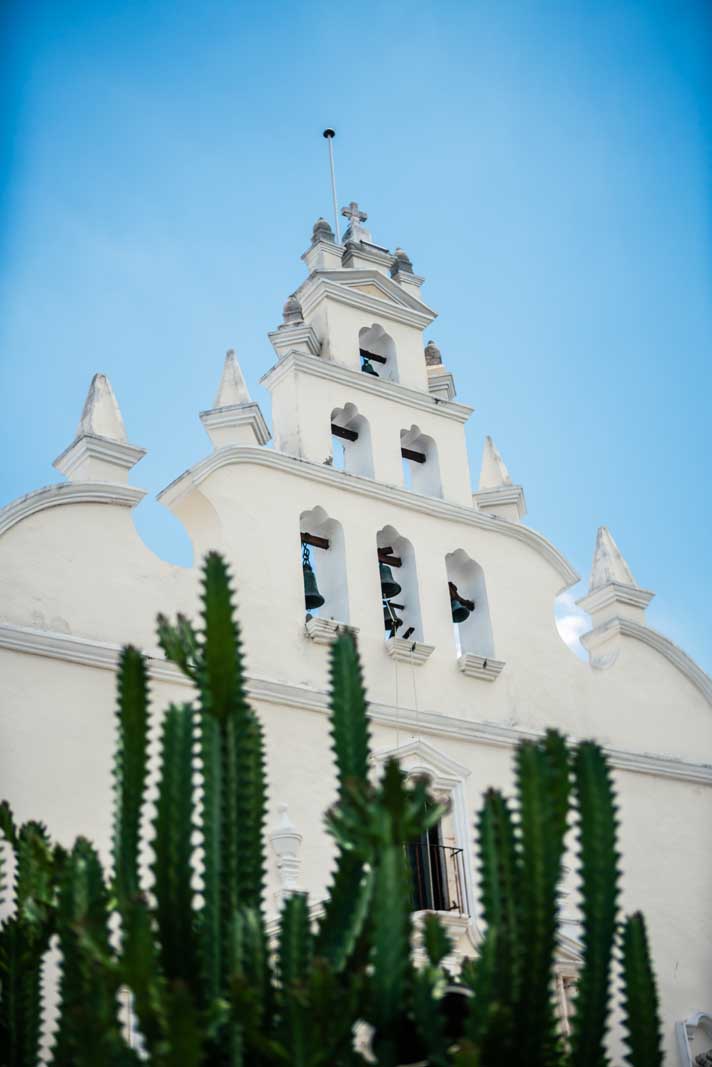 Besides visiting Catedral de Merida in Plaza Grande, one of the oldest churches in the Americas, there are tons of other impressive and beautiful places of worship to visit throughout the city of Merida.
There are several neighborhoods that make up Centro, and each have their own park and cathedral. One of the best things to do in Merida is go and visit some of the other churches as each one is unique and different as well as being accompanied by its own manicured park and typically a market full of food stalls serving up tasty Yucatecan meals in the mornings and evenings.
A few of our favorites are Parroquia Santa Ana in the Santa Ana neighborhood, Parroquia Santiago Apóstol a gorgeous white cathedral with bells in the Santiago neighborhood, Parroquia Nuestra Señora de Guadalupe in the San Cristobal neighborhood, and the cathedral of Saint John the Baptist in the San Juan neighborhood.
Eat, Eat, and Eat some more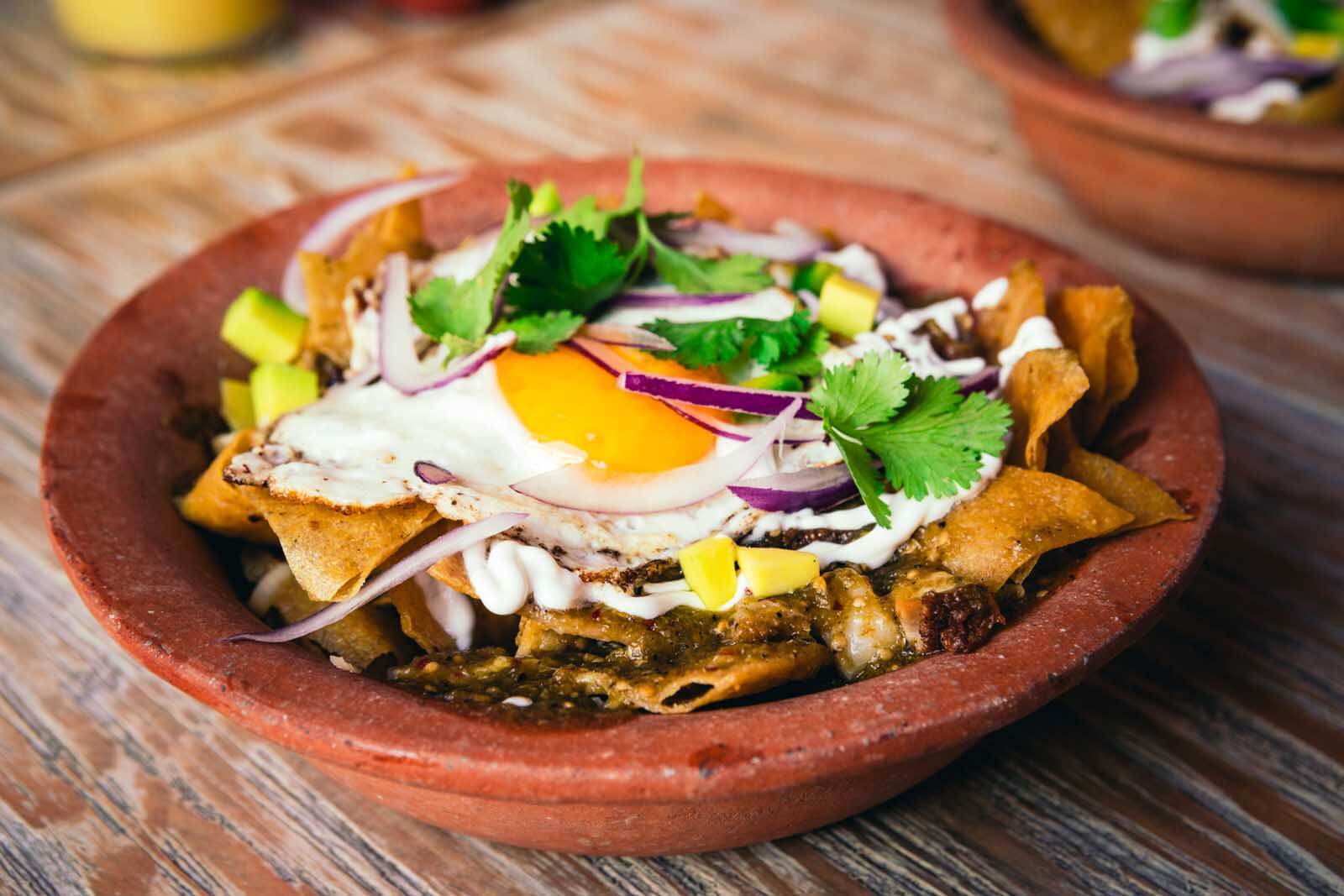 Easily one of the best things to do in Merida, Mexico is to eat. The Yucatan has it's own signature dishes that cannot be missed. We recommend checking out our recommendations for the top food experiences in Merida where we teamed up with food bloggers to pick out some of the best of Yucatan dishes to try. Besides the local fare, there are TONS of amazing dining options to choose from, here are some of our favorite picks for where to eat in Merida, Mexico.
ChilaKillers
Easily one of our top picks for where to eat in Merida and one of our favorite meals and things to do in Merida is eat at ChilaKillers. This breakfast and lunch spot sells chilaquiles which are essentially to die for breakfast nachos. Their style is build your own, choose your tortilla chips, meat, salsa, and other toppings like eggs to your liking and enjoy. They also have tasty fresh juices. Even though they are open for breakfast they open at 9 am, they are also cash only.
Mercado 60
Another awesome spot to grab a bite to eat in the evenings is Mercado 60. This spot has a fun vibe and is full of tons of outdoor food stalls. Sample a few dishes from each of the different stalls featuring everything from BBQ, local, and regional food of Mexico, there's even a pizza place. This is great if you're traveling with a group of people because everyone can pick and choose where and what they want to eat. You can also get buckets of beer here for a pretty reasonable price. We went to one of these style mercados in Mexico City and love them, anytime we see a place like this we will be sure to stop by.
Pastor Suizo
Located a bit removed from Centro, you'll need to take an Uber to get here, but totally worth it is some of the best pastor we've had outside of Mexico City. El Pastor Suizo is a Mexican chain restaurant that serves up some damn good pastor in the evenings with great portion sizes and great prices.
We made a weekly visit here, sometimes twice a week as this became our favorite place to eat in Merida. If you want to enjoy one of the best movie theaters we've ever been to you can walk across the street to the Cinemex Platino where you can see a movie in the Cadillac of movie theaters with reclining leather chairs and full menu service.
Hint: Wednesday nights are half off and you can get this experience for 70 pesos a person! This is one of our favorite things to do in Merida since this would cost us a small fortune back in the States!
Hermana Republica
Another place with a cool vibe and a mix of local and global cuisine is Hermana Republica. Besides serving up great food they also serve up craft beer here.
Catrin's
Another favorite for where to eat in Merida is Catrin's. Everything on the menu sounds amazing so it's always so hard to choose what to order, besides that they make great cocktails and have a nice atmosphere. Their prices are a bit higher than other restaurants but still affordable. We recommend sitting in the back patio by the cool mural and the outdoor bar.
Drink, Drink, and Drink some more!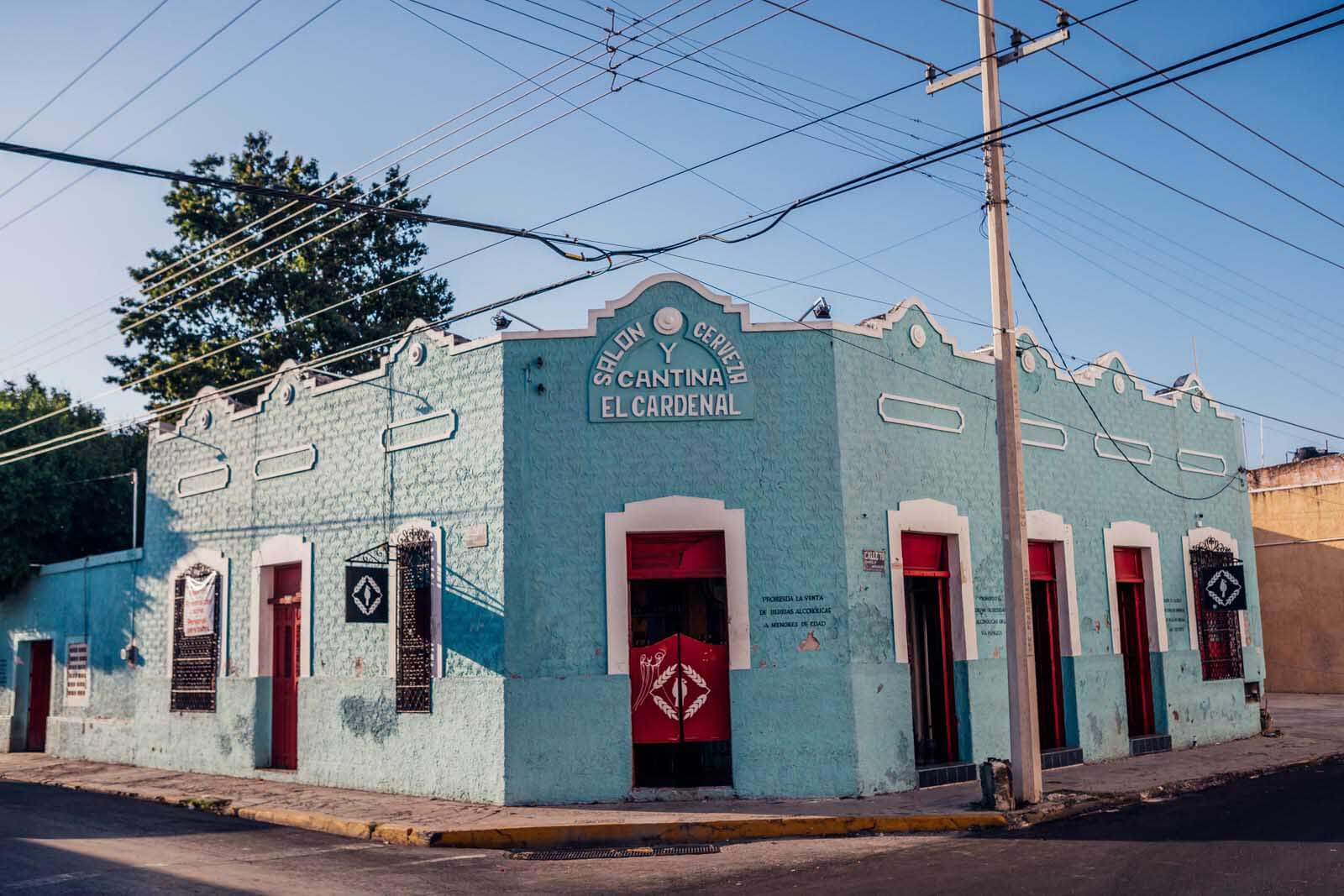 Our next pick for best things to do in Merida, Mexico piggybacks off of where to eat in Merida. During mid day it gets hot, hotter than Hades to be exact and there's nothing more refreshing than taking an ice cold beer break or ending the evening with a cocktail. Here are our picks for cool places to grab a drink.
Casa Chica
One of our favorite things to do in Merida is grab a cocktail at Casa Chica right along Paseo Montejo. This bar/lounge has a fun tropical vibe and serves up cheap and delicious cocktails as well as offers bites to eat and other drinks. Opens at 7 pm.
La Negrita
La Negrita is always one of everyone who visits favorite things to do in Merida, Mexico. Best visited in the afternoons for a beer or drink La Negrita has a fun, local atmosphere and is always buzzing with crowds on the weekends. When you order a drink here you get free snacks known as botanas that go well with your beer!
El Cardenal
Another awesome spot for an afternoon cold beer is El Cardenal cantina. This laid back cantina has indoor and outdoor seating, live music, and even a menu with snacks like pizza.
Malahat Speakeasy and Mixology
Another one of the coolest places to get a drink in Merida, if you can find it, is Malahat Speakeasy! Located in an unassuming parking lot in what looks like an entrance to a kitchen of a restaurant is the coolest spot to drink in town with AMAZING cocktails. Thanks to our friends Tom & Meg who showed us this gem. On Wednesday nights the drinks are 50% off from 8 pm – 10 pm, so don't miss it! Good luck finding it! Calle60 x 55 Local 508-511, Parque de Santa Lucía, 97000 Mérida, Yuc.
Check out the Markets
Another one of our favorite things to do in Merida is visit the markets of the city. There are a few to choose from like the daily markets of San Benito and Lucas de Galvez to specialty markets on Saturdays and Sundays.
For daily markets we recommend going in the morning to San Benito Market, here you will see the locals selling produce and food as well as tons of tasty and fresh food stands to choose from. We then recommend making your way to Mercado Lucas de Galvez for more food, we recommend getting the pastor here! There's something about these markets that is so fun to visit, it's a lively colorful place that gives you a real sense of being somewhere foreign.
Some other great markets to check out and some of the best things to do in Merida during your visit on the weekend is visit the Saturday Slow Market. This is where you want to come hungry on Saturday mornings! Be sure to walk around and sample some of the locally produced food stands selling specialties from local honey to various snacks. We also recommend if you're still hungry, splitting a meal at Dos Platos Rotos after!
Another famous weekend market to visit and one of the things to do in Merida you shouldn't miss on a Sunday is the Plaza Grande Market. The entire squire is lined up with tents of locals selling handicrafts and at 1 pm there are live performances and dances.
Saturday Slow Market: Esquina Calle 72, Av. Colon, Centro, 97000 Yuc.
Stroll the Streets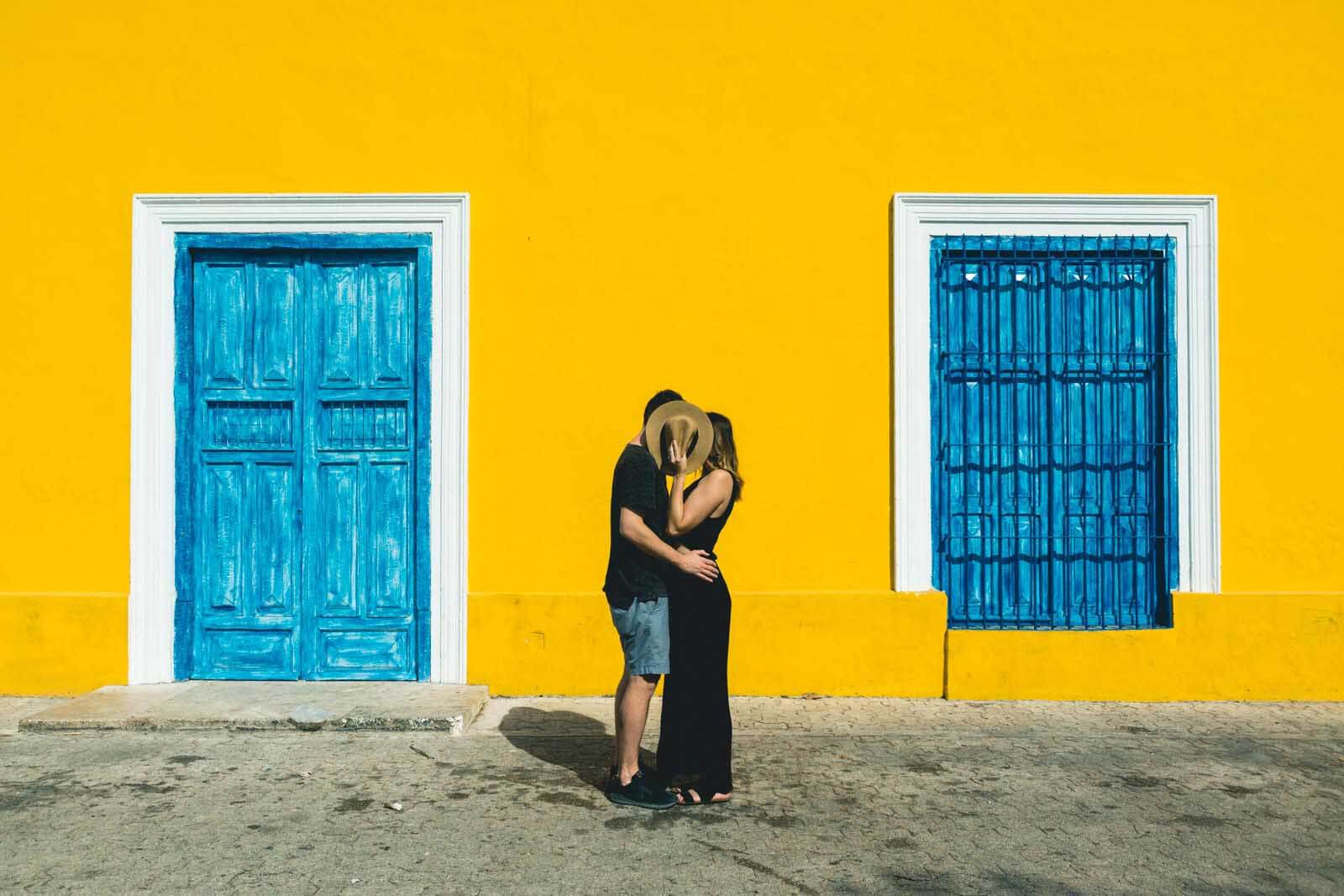 One of the absolute best things to do in Merida, Mexico is stroll the streets of colorful and beautiful colonial homes. This city is littered with charming, colorful homes that just make you wonder why there are places in the world without brightly covered buildings! Why have boring white/gray houses when you can have pink, turquoise, or any shade of any color!
We LOVED photographing the streets of Merida and by walking the streets full of colorful homes we got to see a good part of the city and easily made our way from neighborhood to neighborhood admiring every park, church, and gorgeous building in between. This is one seriously photogenic place.
Shop around Merida
There are tons of handicrafts and shops to enjoy in the city and shopping is one of the best things to do in Merida if you're looking to take home a keepsake to remember your trip by.
You can find tons of handicraft and local artisan stores near Plaza Grande and the streets around it including Calle 59. One of the coolest shops, if you're looking for local textiles or fabrics, is Galeria Tita on Calle 59.
Also, some of the best shopping is located around Paseo Montejo in the amazing boutiques at Casa T'hō. This is one of the gorgeous mansions along Paseo Montejo you can peek inside, shop, and eat at.
There are several luxury boutiques offering unique items from women's clothing and accessories to home goods. There's also a really nice restaurant in the back. The house is gorgeous and worth checking out even if you're just a window shopper.
Another awesome spot to shop for beautiful local home goods is at the two boutiques in Hotel Casa San Angel also along Paseo Montejo. The items in here are fine quality and cost a bit more, but just a great stop if you're looking for something special.
Where to Stay in Merida
When coming here you can't miss out on staying in one of the cool hotels here. The colonial style hotels are one of the unique things to do in Merida. There are dozens of hotels that look unassuming from the street view but once you go inside you're in a secret palace closed off to the rest of the city and world offering beautiful courtyards, pools, and hammocks. Merida gets hot, so don't you dare pick a hotel that doesn't have a pool!
By booking hotels through these links we receive a small commission at no extra cost to you! These small commissions add up and help us run our site!
$ HOTEL GRAN CENTENARIO
This budget-friendly option is in the perfect central location in Merida with only a 5-minute walk to Grand Plaza. Located in a colonial-style building the basic rooms offer TVs and balconies. There's also a pool in the courtyard for you to cool off in on a hot day which is key to have when staying in Merida.
Book Now | Compare Prices for Later | Read Trip Advisor Reviews
$$ Hotel Marionetas
This is a great mid-range option for where to stay in Merida. There's a great bar and restaurant on the property and its less than a 15-minute walk to Grand Plaza. The hotel is in a bright colonial style building with cozy rooms featuring bright accents and local touches. Some rooms come with a pool view and hammock and you can upgrade to a suite with a kitchenette and living room. Don't miss the beautiful garden, terrace, and pool to cool off in here either!
Book Now | Compare Prices for Later | Read Trip Advisor Reviews
$$$ Casa LeCanda
Our friend stayed here and it was so beautiful we had to add it to the list. With only 7 rooms you would never know this spot has a secret oasis inside from the street view of this gorgeous colonial building. Inside enjoy swaying in the hammocks by the pool or enjoying a glass of wine or tequila from their bar at one of the outdoor sofas. The rooms are luxurious with huge bathrooms making this an amazing choice in the heart of Merida at the end of Paseo Montejo.
Book Now | Compare Prices for Later | Read Trip Advisor Reviews
$$$ Rosas & Xocolate Boutique Hotel + SPA
This is where to stay in Merida if you're looking for the ultimate luxury experience. This boutique hotel is situated conveniently on Paseo Montejo and is a gorgeous pink color. The interior pool is something you'd see on Pinterest as travel inspiration and the lobby has two boutiques to shop from and a cool open air tequila bar. Some of the elegant rooms feature a balcony overlooking Paseo Montejo or an open-air bathtub for ultimate relaxation.
Book Now | Compare Prices for Later | Read Trip Advisor Reviews
For more places to stay in Merida, check the map below:
Merida Travel Tips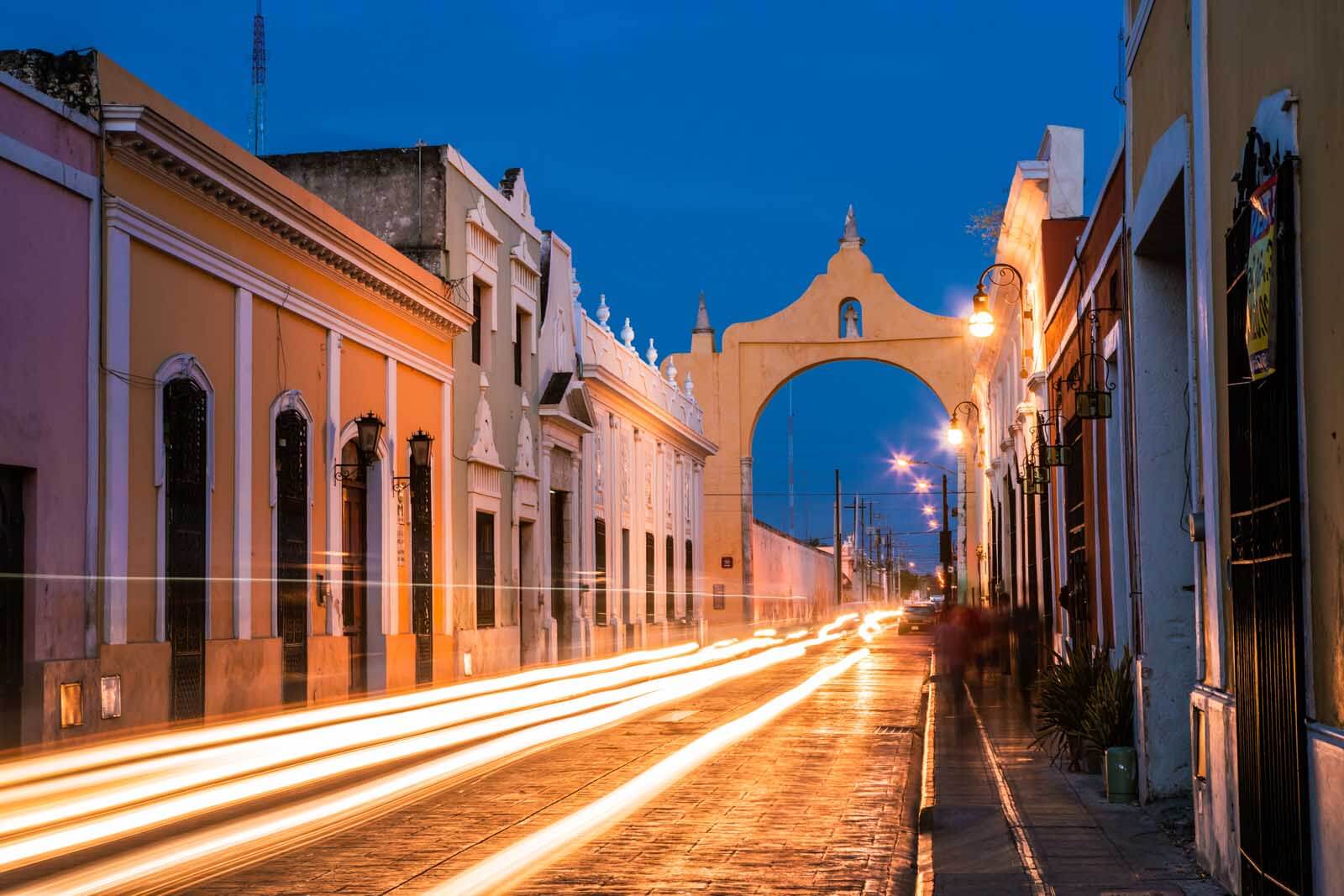 Transportation in Merida
Getting in and out of Merida is super convenient with Merida's own international airport within the city or just a 3 hours bus ride to Cancun International Airport.
If you want to get around the Yucatan Peninsula we recommend using ADO buses. They are REALLY nice and comfortable, these are not anything like Greyhound buses in the US and they are affordable. There are three main ADO bus terminals in Merida, ADO CAME in Centro, ADO Alta Brisa north of Centro, and ADO Fiesta Americana located off Paseo Montejo.
You can buy tickets at any of the ADO bus terminals for the city, note that the bus terminals have different routes sometimes and you may be required to go to a certain bus station in Merida. You can check the routes on ADO's website. We recommend going and buying your tickets in advance because they are at a cheaper rate than waiting until the day of.
Getting around while you're in Merida couldn't be easier because Uber is available and it's very fair prices. While you can walk around to pretty much everywhere in Centro easily it's nice to call an Uber when it's scorching hot temperatures or a downpour starts.
Money in Merida
Accessing money in Merida is easy and a bit tricky if you're traveling with US dollars. We recommend notifying your bank and using ATMs to withdraw pesos while you're here. We always use HSBC bank ATMs around the city.
If you need to exchange US dollars to pesos you cannot do this at a bank. You have to find a change house. The nicer hotels will exchange money for you or you can find one around the city, if you're completely lost go to Fiesta Plaza (right next to ADO Fiesta Americana bus station) there are a few changers there and where we got a good rate.
Best Day Trips from Merida
What if we told you one of the best things to do in Merida was to actually leave Merida? Sounds strange but there are actually TONS of amazing things to do near Merida that are worth taking day trips from the city for.
This is why we recommend spending at least a few days if not more so you can enjoy some of the amazing things to see and do nearby. Here are our picks for best day trips from Merida, some of which can be combined in the same day.
Izamal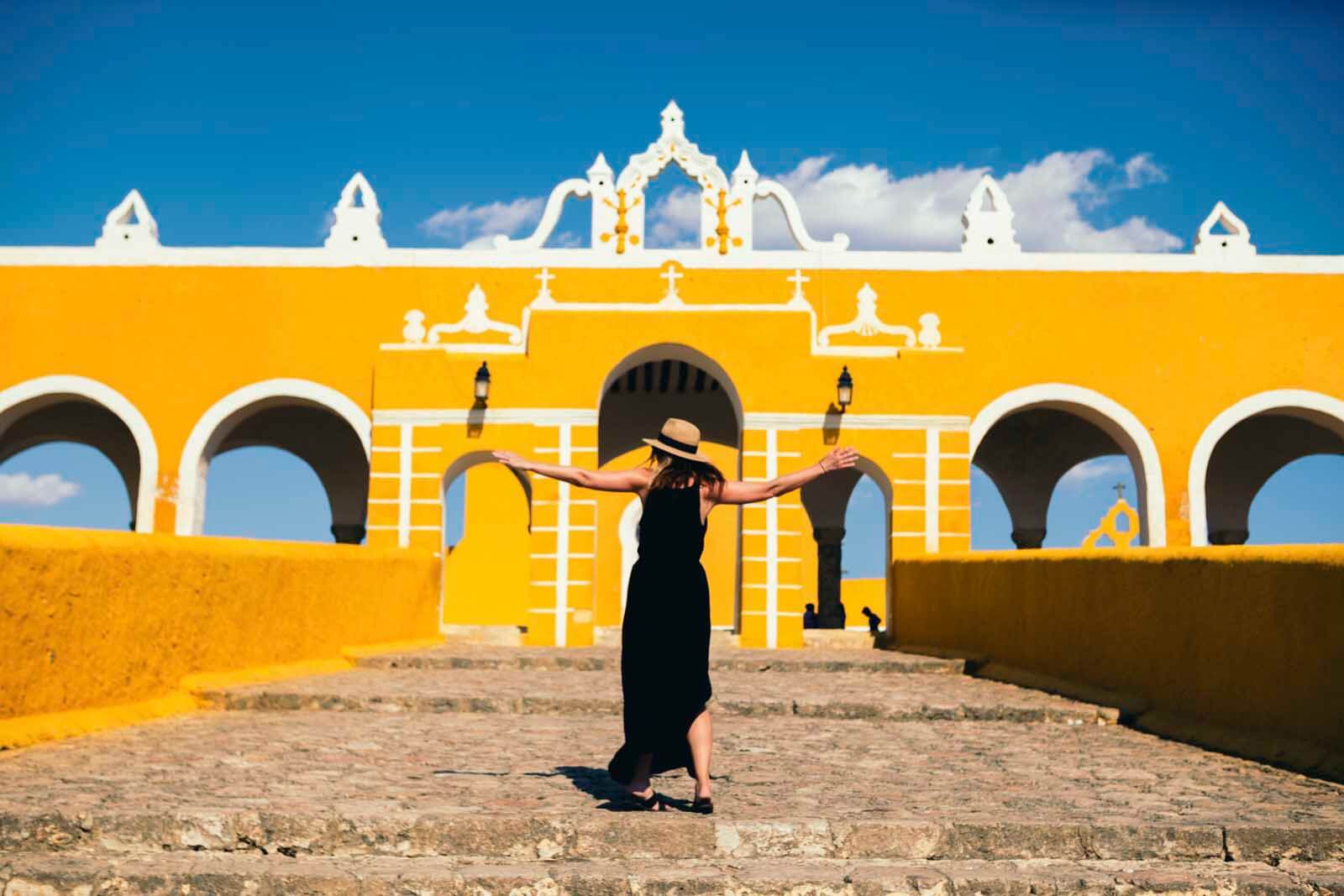 Izamal is a gorgeous city that is entirely yellow! This city is located just an hour outside of Merida and worth taking a day trip to. Besides being absolutely breathtaking you can enjoy the local Mayan ruins right smack dab in the city overlooking their town center and shop in all the tiny local boutiques.
Visit the Cenotes in Homun & Cuzamá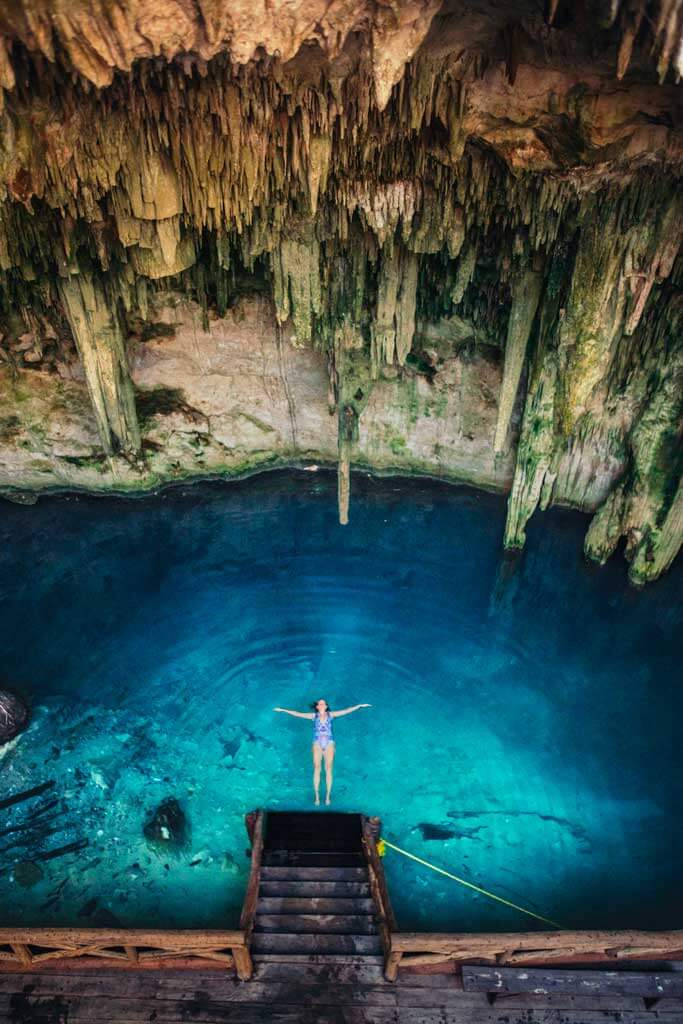 One of the best things to do in Merida is visit some of the best cenotes of the Yucatan Peninsula. There are over 300 cenotes to visit in the tiny towns of Homun and Cuzama located about 45 – 60 minutes drive away from Merida. This is where we found the least crowded cenotes in Mexico as well as some of the most impressive we've seen. Don't miss the opportunity while you're here!
Uxmal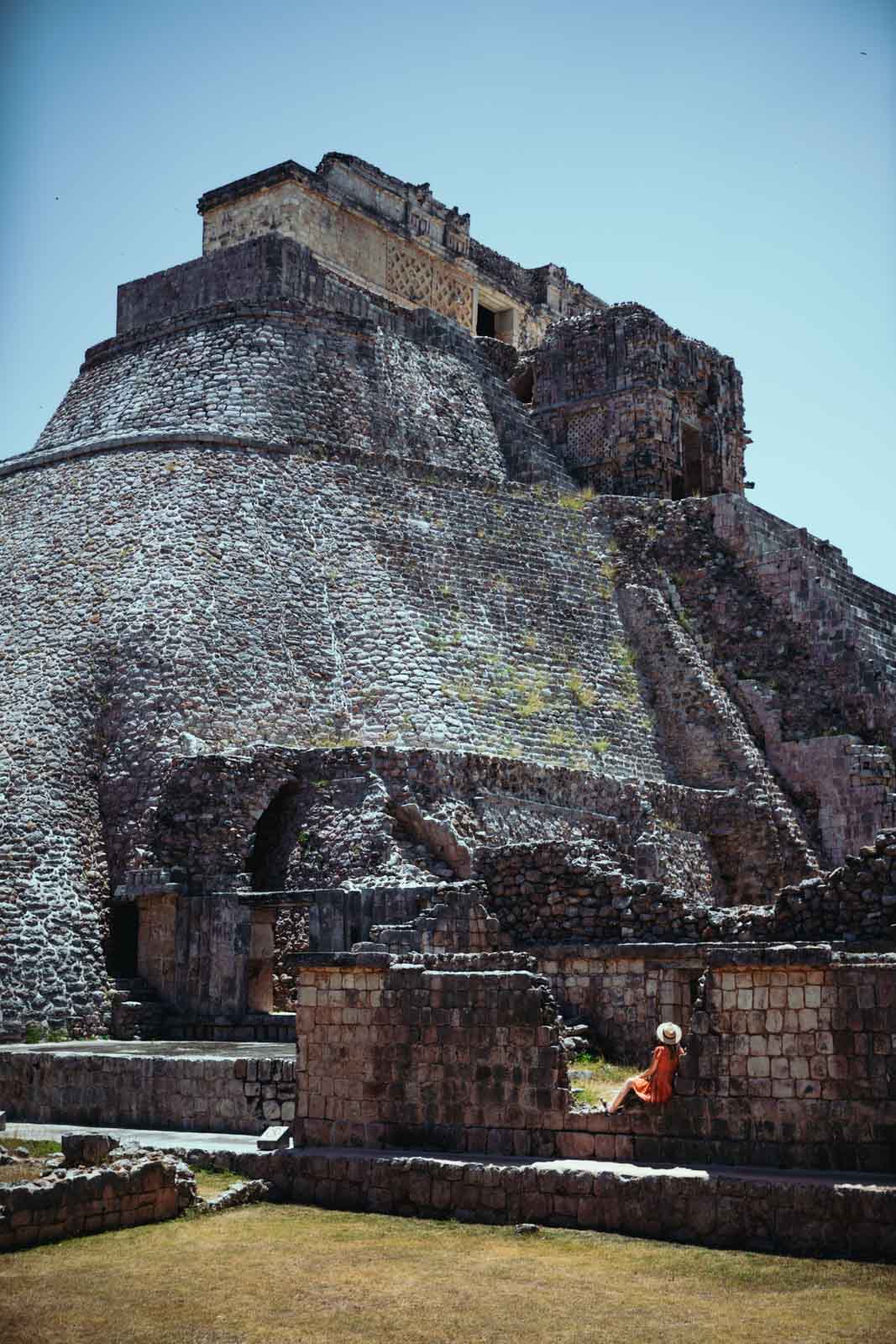 We visited a handful of Mayan ruins during our 2.5 months in the Yucatan Peninsula and these were our favorite. We think one of the best things to do in Merida is visit the Uxmal archeological site and ruins. These ruins are massive and are in great shape plus it isn't overcrowded with tourists like Chichen Itza! We were in awe here and impressed by the sheer size and beauty of the temples here. This is another must see attraction.
Celestun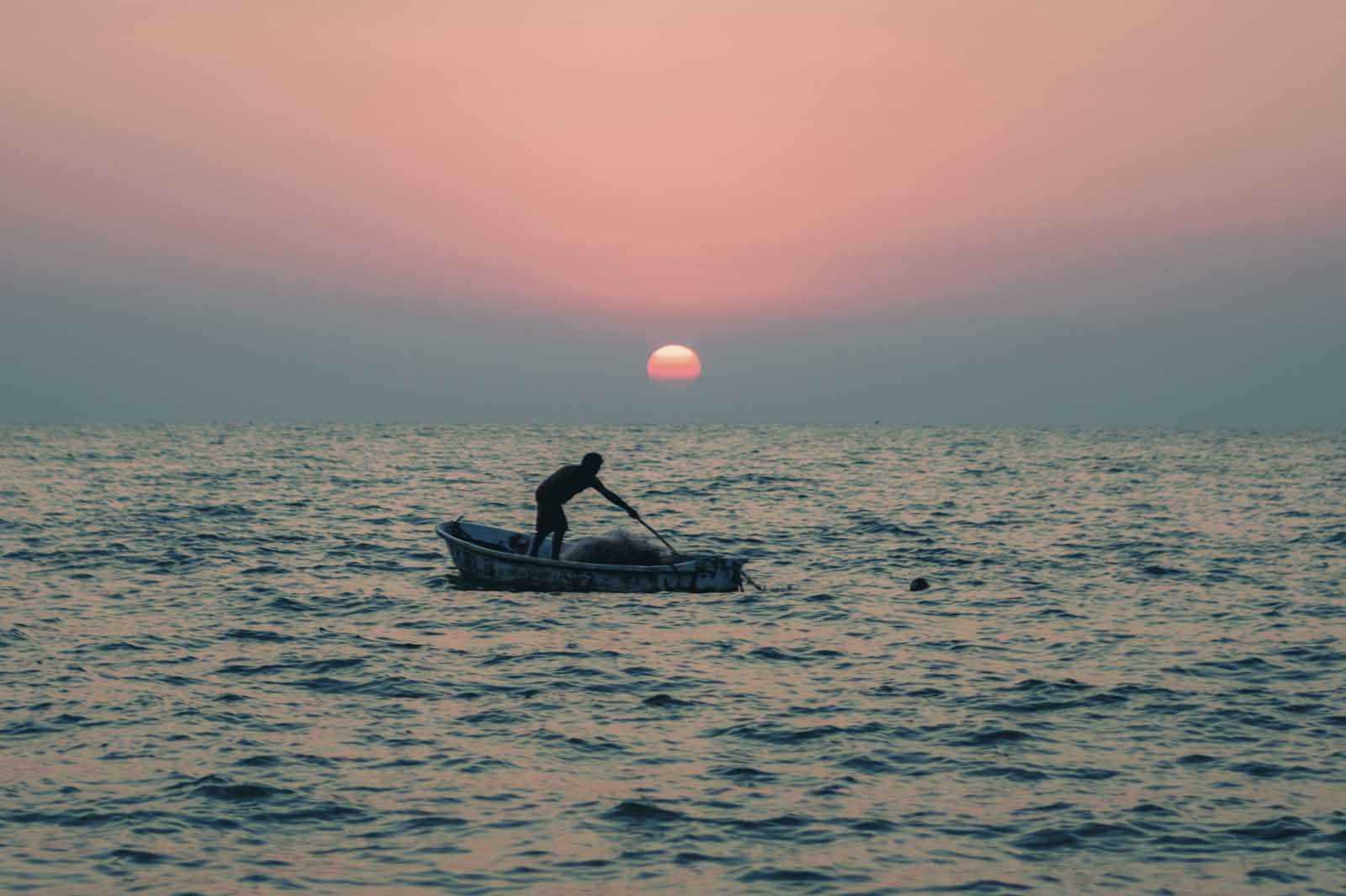 If you love flamingos then you will want to visit the beach town of Celestun during your visit to Merida. Located about an hour from Merida people flock here to see the flocks of flamingos! You can take a boat tour through the Celestun Biosphere Reserve where besides seeing flamingos you can see other wildlife such as birds and even crocodiles. However, don't bother going unless you're visiting between November through March as that is when you can see the pink flamingos.
San Crisanto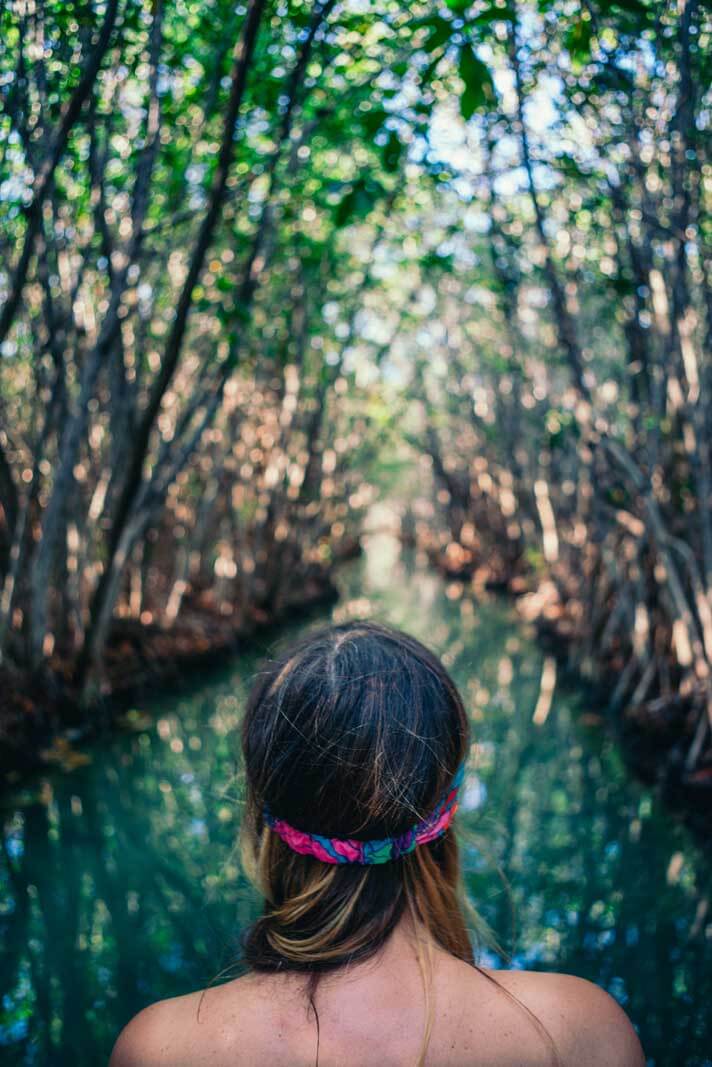 One of the lesser known things to do in Merida is take a boat tour through the mangroves of San Crisanto, a small fishing village about 40 minutes drive away from Merida. This is a unique experience and worth a visit, make sure you stop and have some of the local seafood after!
Visit the Haciendas
One of the best things to do in Merida is visit the amazing hacienda homes surrounding the city. We sadly only got to see a few but would love to come back and check out some more. We highly recommend Hacienda Teja located just outside the city limits of Merida and free to enter as well as Hacienda Tepich which is nearby.
Progresso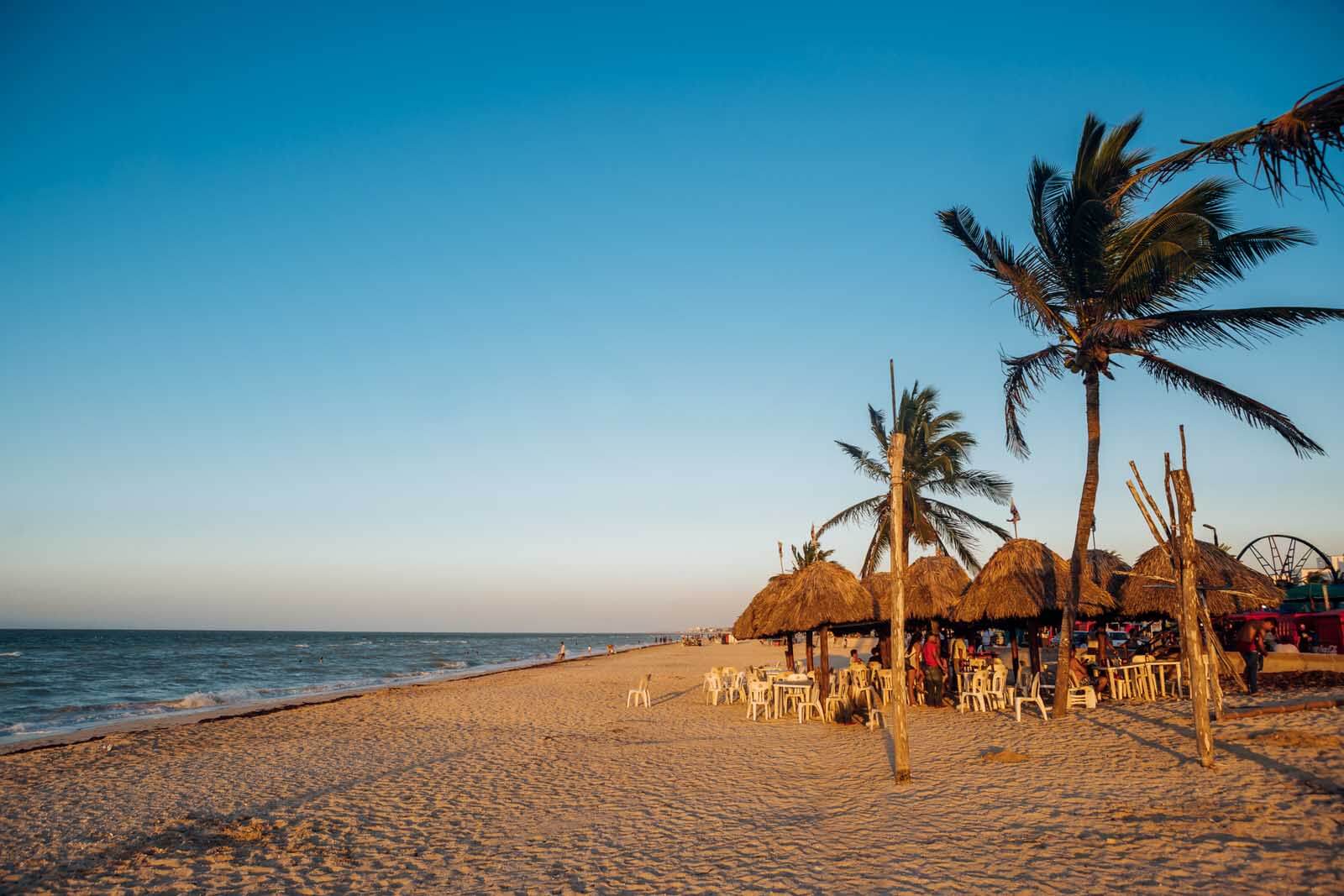 A list of the best things to do in Merida without a mention to Progresso beach would crazy! Progresso is a beach city located about a 40-minute drive north of Merida and is a popular local getaway. While the beach here isn't as impressive as you'd see in say Tulum, it's still the beach and there are tons of amazing seafood restaurants to enjoy. Better yet, you can take a local bus here for just a few dollars round trip.
Campeche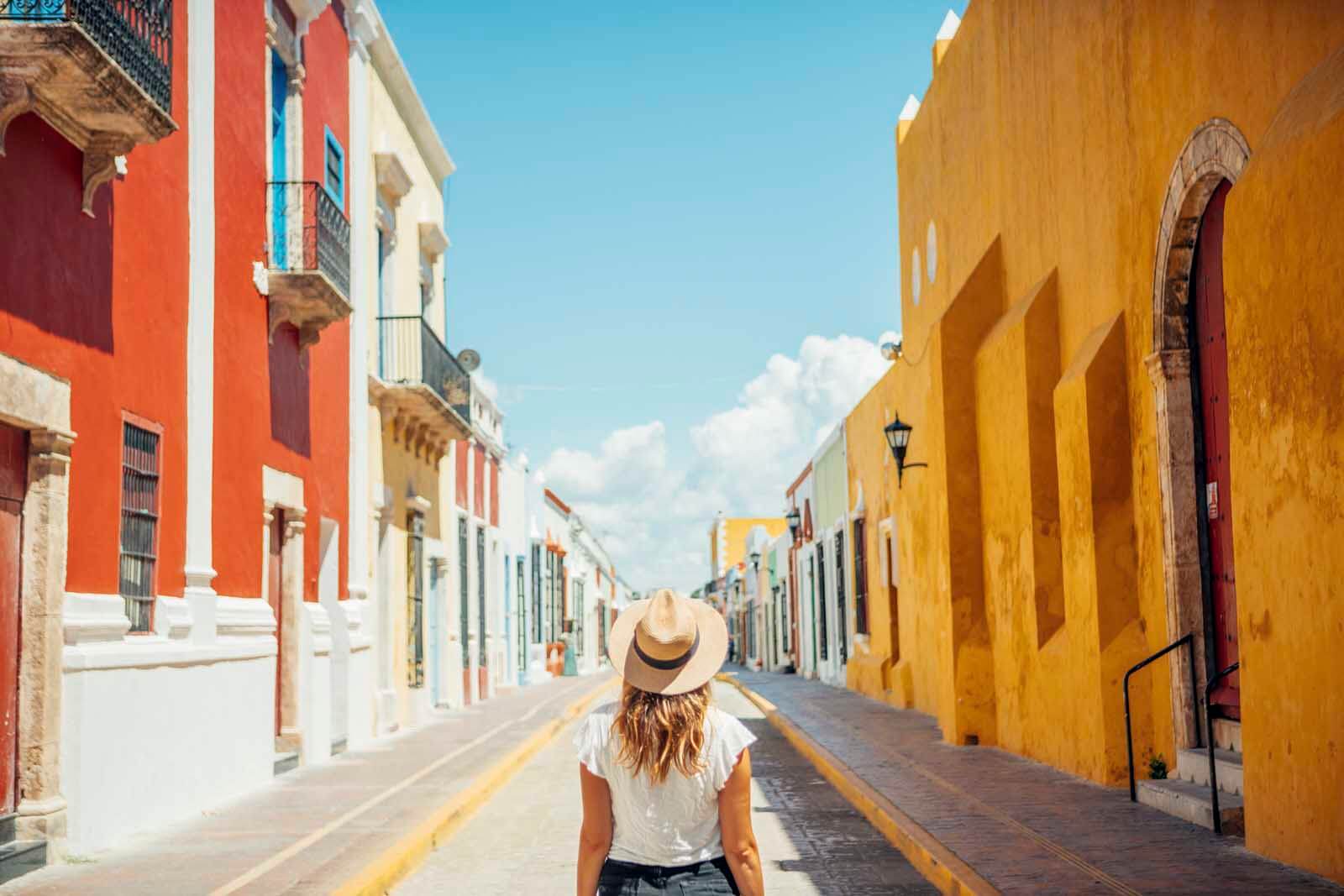 This one is a bit further than the rest and located in another state but worth a mention. Campeche city, located in the neighboring Campeche state, is about an hour and a half drive from Merida and worth taking a day trip to. This colorful city makes Merida look colorless which is hard to believe. This charming city is a must and situated right on the Gulf of Mexico with an interesting pirate and buccaneer history as well as a day's worth of activities to enjoy. Check out all the best things to do in Campeche.
---
There ya have it! This is the perfect guide to all the best things to do in Merida, Mexico! What are our tips on what to do in Merida?
If you enjoyed this post on the best things to do in Merida or found it helpful be sure to bookmark for later or share the love on Pinterest below.