There aren't many secret paradises left in the world, and if they are they've done a good job keeping them secret. Along Mexico's Yucatan coast you have popular tourist spots like Cancun, Playa del Carmen, Cozumel, and now the not so laid back Tulum. But further down the coast of Quintana Roo is still a secret paradise that's not over run with big resorts or tourists yet, Bacalar Lagoon.
With it's laid back, low key vibe and charm you can experience one of the most magical places left in Mexico before everyone else figures out this place is pure paradise. Bacalar Lagoon is known as the lagoon of 7 colors and those colors are all shades of blue. The water here is mesmerizing as it is tranquil which makes Bacalar Lagoon the perfect place to unwind and spend a few days.
We've put together our picks for best things to do at Bacalar Lagoon that will get you packing your bags and booking your next flight to Mexico and a great addition to your Yucatan road trip or travels!
Things to do at Bacalar Lagoon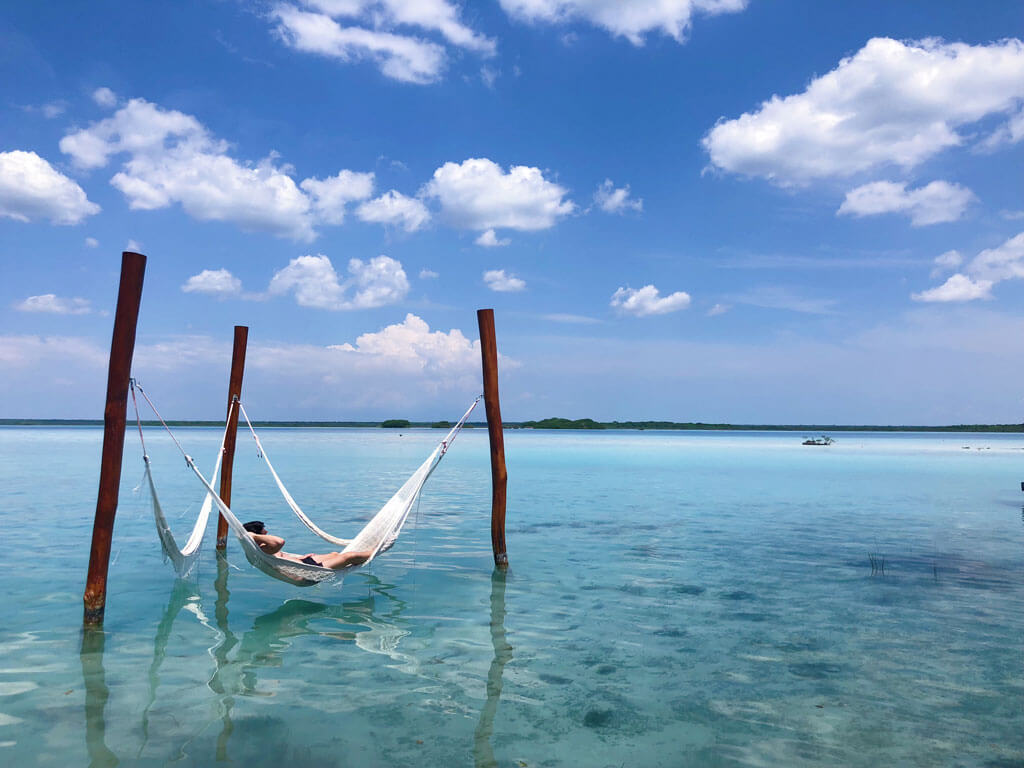 Relax at the Lagoon
One of the best things to do at Bacalar Lagoon is to just enjoy the slow life and relax right on the water. We stayed at Casa Bakal where there were hammocks right in the water which made for the perfect spot to just sway in the gentle breeze over Bacalar Lagoon and take in the gorgeous shades of blue. When you need to cool off the water is as refreshing as it looks.
Kayak or Stand Up Paddle Board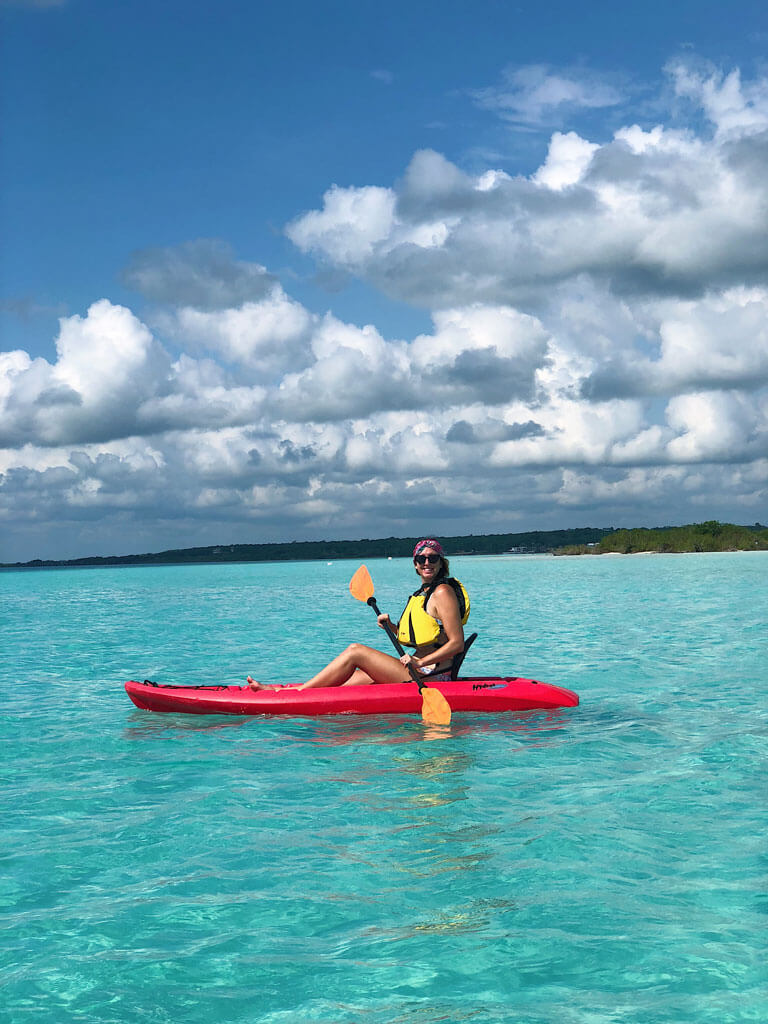 Most guesthouses or beaches offer complimentary or rental kayaks or stand up paddle boards to explore Bacalar Lagoon with. We took kayaks out and paddled to one of the islands to watch the birds nesting in the trees. It was so interesting to paddle along and watch the different shades of blue change beneath us. If you prepare you can pack a cooler of snacks and drinks and have a picnic, we saw a couple do this and were envious we didn't better prepare ourselves!
Go on a boat tour
Wind permitting of course, but one of the best things to do at Bacalar Lagoon is go sailing or if there's no wind you can take a pontoon boat tour. Tours are available all day and in some cases, you can just show up to one of the tour operators and they can take you right then and there.
Relax at Cocalitos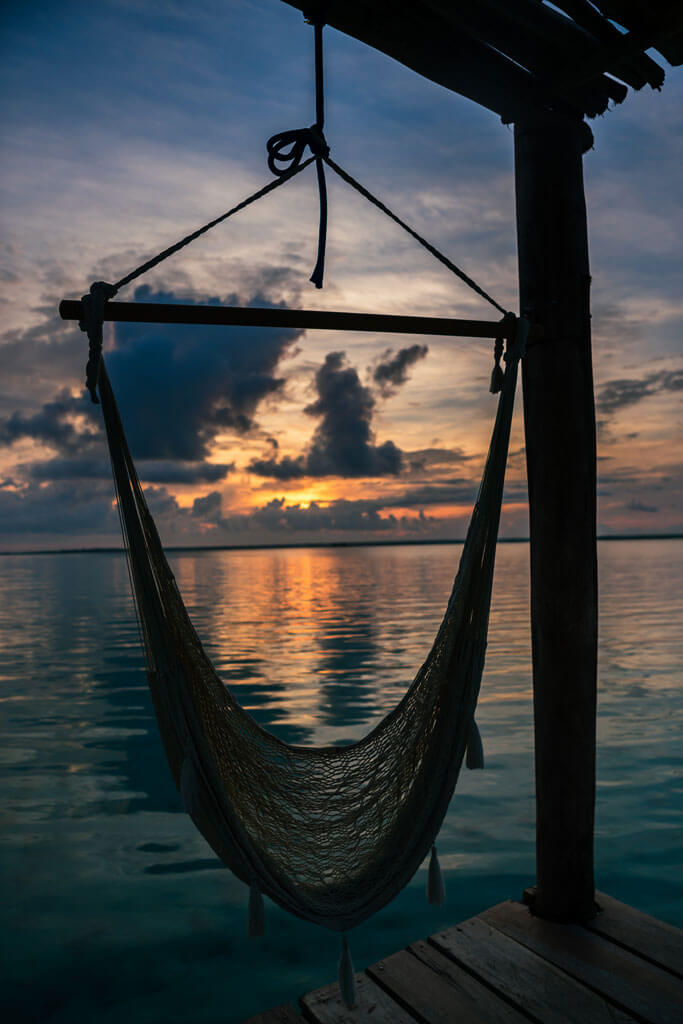 If you aren't staying at a place right on Bacalar Lagoon you'll have to go to one of the open beaches to enjoy the lagoon. Cocalitos is one of the best beaches you can visit for a small fee. There are swings and a great area for swimming here, plus you're right next to the cenotes. There's a restaurant here as well so if you build up an appetite you are at the best spot to eat and play.
Cenote Azul
Visiting Cenote Azul is another one of the best things to do at Bacalar Lagoon. This cenote is unlike others we've been to which are more cave like whereas Cenote Azul is like a giant open lake that's almost 300 ft deep! It's another fun spot to swim and relax while in Bacalar Lagoon.
Fort San Felipe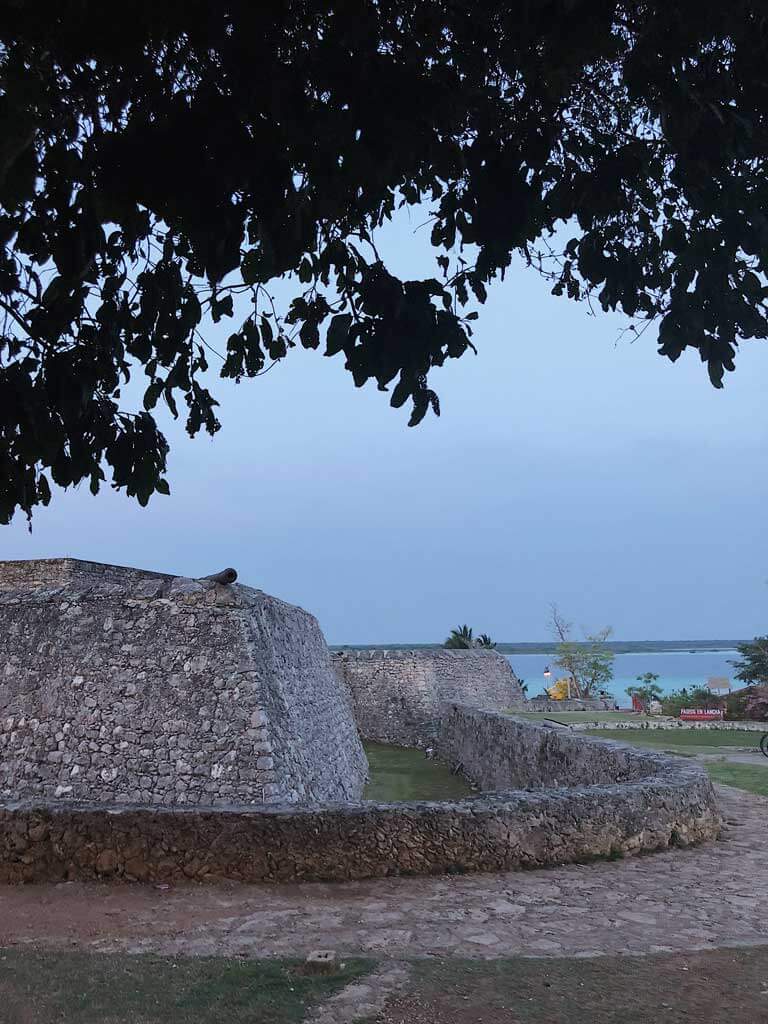 Located in the town square right next to Bacalar Lagoon is the giant stone fortress Fort San Felipe. You can't miss this historic structure when visiting Bacalar. The fort is surrounded by a deep moat and you can see canons and visit the museum to learn a bit about the local pirate history!
Shop around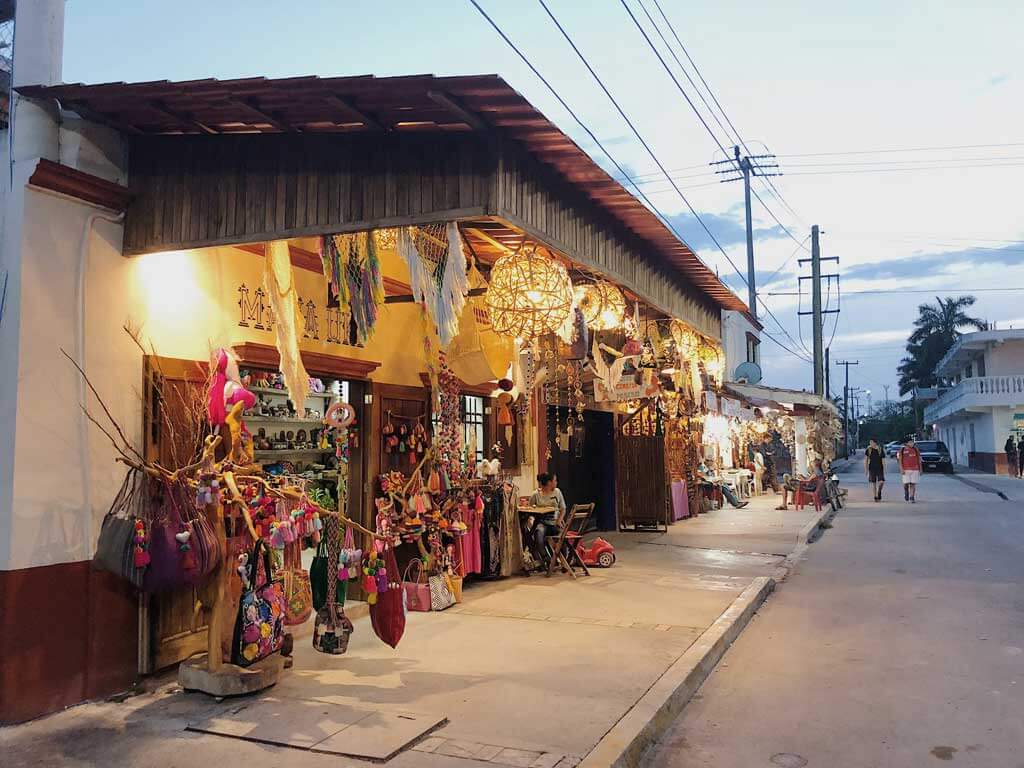 While there's not a ton of shopping options we recommend this thing to do in Bacalar if you're in town and looking around Fort San Felipe. There were a few adorable shops selling local handicrafts from gorgeous hand made hammocks, dream catchers, handicrafts from nearby state Chiapas, and other Yucatan treasures.
Float down Los Rapidos
Located on the southern end of Bacalar Lagoon in the narrow sliver is Los Rapidos, the streams feeding into the lagoon. There is a restaurant here and also the rapids you can float down through. Snorkel or walk your way up the river a bit then and let the rapids take you at ease through the blue waters. Be prepared and bring cash as they do not take card here and there are no nearby ATMs.
Where to eat at Bacalar Lagoon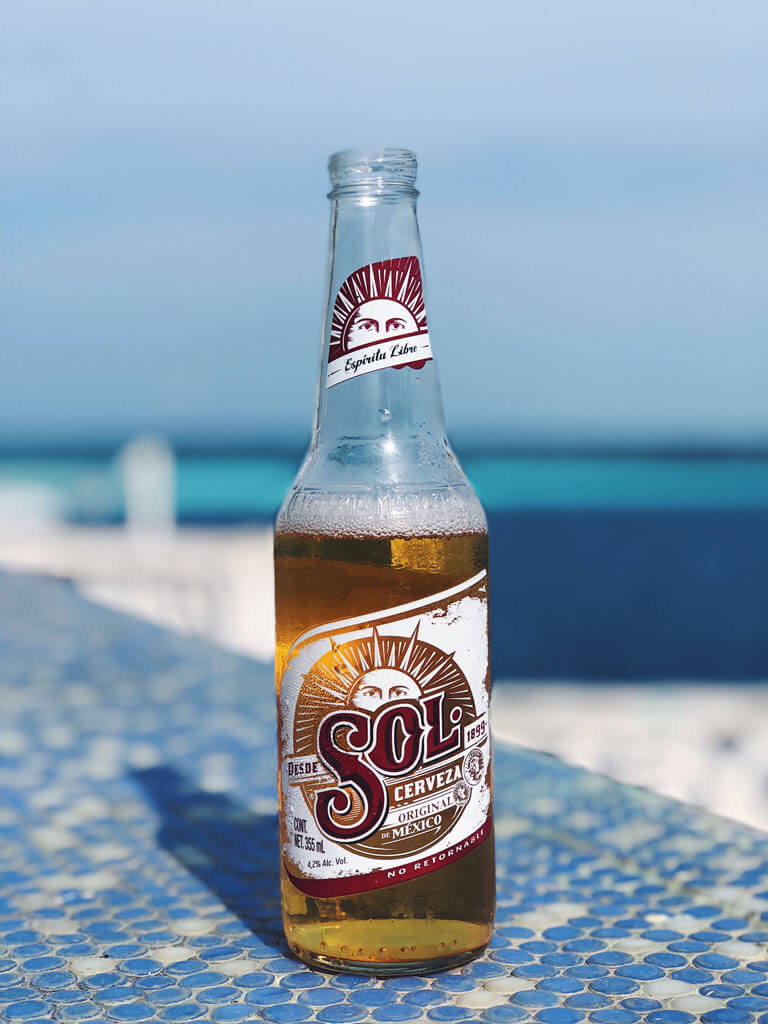 La Playita
We are only going to mention one restaurant for where to eat at Bacalar Lagoon because it was the best! La Playita is located right near the town center near Fort San Felipe along the lagoon. This restaurant is perfect for lunch or dinner as it has prime real estate right on the lagoon. We came for a romantic dinner and loved the candlelit dinner illuminated with strung lights in the jungle setting overlooking the water. It was hard to choose what to eat because everything on the menu from the cocktails to main courses sounded delicious. The tacos here are to die for and their array of salsas did not disappoint. This little spot gets an A+ from us for atmosphere and delicious food.
Getting around Bacalar Lagoon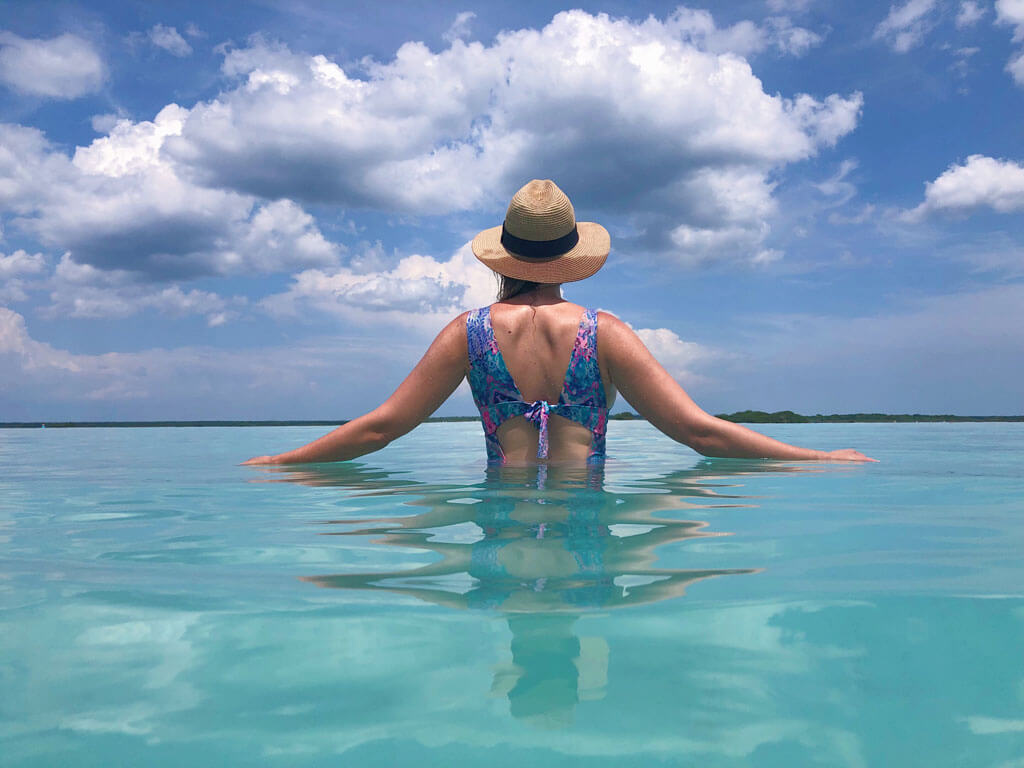 Getting around Bacalar Lagoon is pretty straight forward. The entire lagoon is actually 42 km long but most of the hotels and town area are in a 15 km stretch with just about most of it being in one concentrated area easily accessible by bicycle. Most guesthouses and hotels offer complimentary bicycles, if not you can have them call a local taxi who can take you around. Unfortunately, Uber doesn't work in Quintana Roo but unlike Tulum and Cancun the taxis here are still reasonably priced at around 50 pesos per ride.
We were able to bike everywhere we wanted to go within 15-20 minutes.
Where to stay at Bacalar Lagoon
$ The Yak Lake House
This is probably one of the coolest spots on Bacalar Lagoon to hang out and sadly we didn't book in advance and missed our chance to stay here. Besides being super budget-friendly, this hostel has shared dorm options as well as private room options right on the lagoon. With a cool communal hangout and amazing location, you can make some new friends here and easily get around to the town center by foot.
Book Now | Compare Prices for Later | Read Trip Advisor Reviews
$$ Casa Bakal
With dorm options, private rooms overlooking Bacalar Lagoon, and upgraded villas Casa Bakal is a great option for Bacalar Lagoon. This is where we stayed and while we were shocked that our private room didn't have its own bathroom we still felt ths location made up for it. The slice of lagoon this is located on is incredible and offers a pier leading out to the perfect swimming spot that goes out to a shallow part of Bacalar Lagoon where you can stand in 2 inches of water or lazy in the hammocks right on the water. We loved the adorable house as well and the complimentary bikes.
Book Now | Compare Prices for Later | Read Trip Advisor Reviews
$$$ Hotel Wayak Bacalar
This is the perfect slice of paradise on Bacalar Lagoon located north of town and more secluded than the rest of the hostels and hotels. With a private pier and swimming area complete with swings this is one of the most picture perfect places on Bacalar Lagoon. Some rooms even have their own kitchenettes if you want to pick up a few groceries and breakfast is included.
Book Now | Compare Prices for Later | Read Trip Advisor Reviews
How to get to Bacalar Lagoon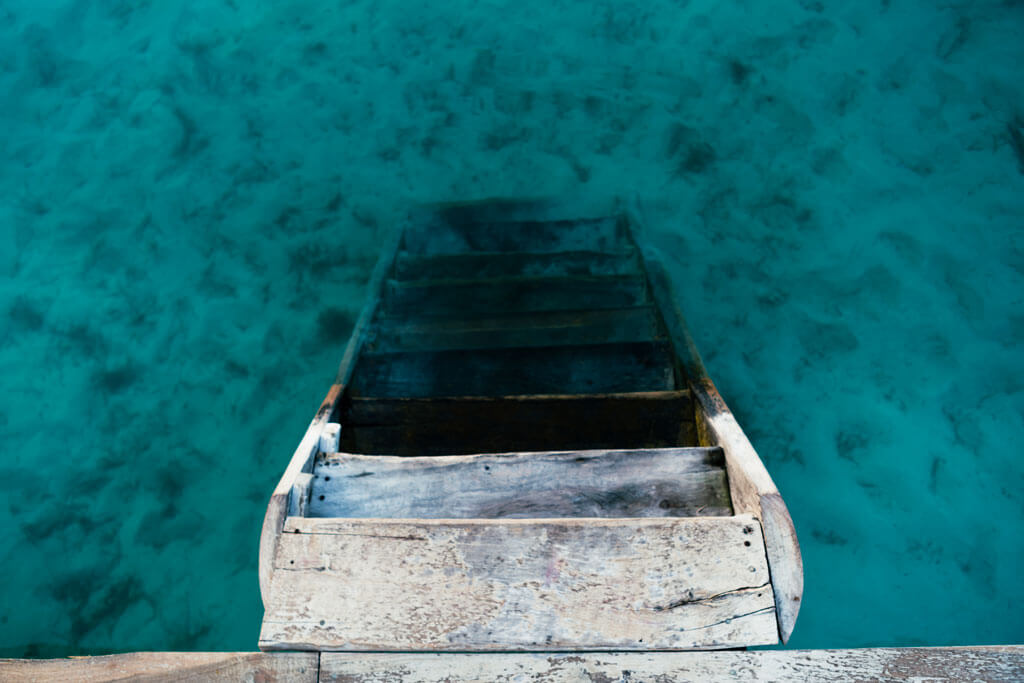 The best ways to get to Bacalar Lagoon is either to rent a car or take the local ADO buses from wherever you are. If you rent a car be sure to make sure you have a full tank of gas before taking off because there are no gas stations on the way from Cancun (past Tulum) going down to Bacalar. We almost ran out of gas once during our road trip to Valladolid and Chichen Itza and now we double check everywhere we go in Mexico.
ADO buses are extremely convenient. They are comfortable and cheap, you can show up to the ADO bus terminal at whichever city you are in and buy a ticket up until the moment you have to leave. The bus tickets are much cheaper if you buy in advance. To check routes check out the ADO bus website.
If you're coming from Chetumal you can either take a local collectivo (small local transport buses) or for about 300 pesos just get a taxi that takes you directly to Bacalar Lagoon.
What to bring to Bacalar Lagoon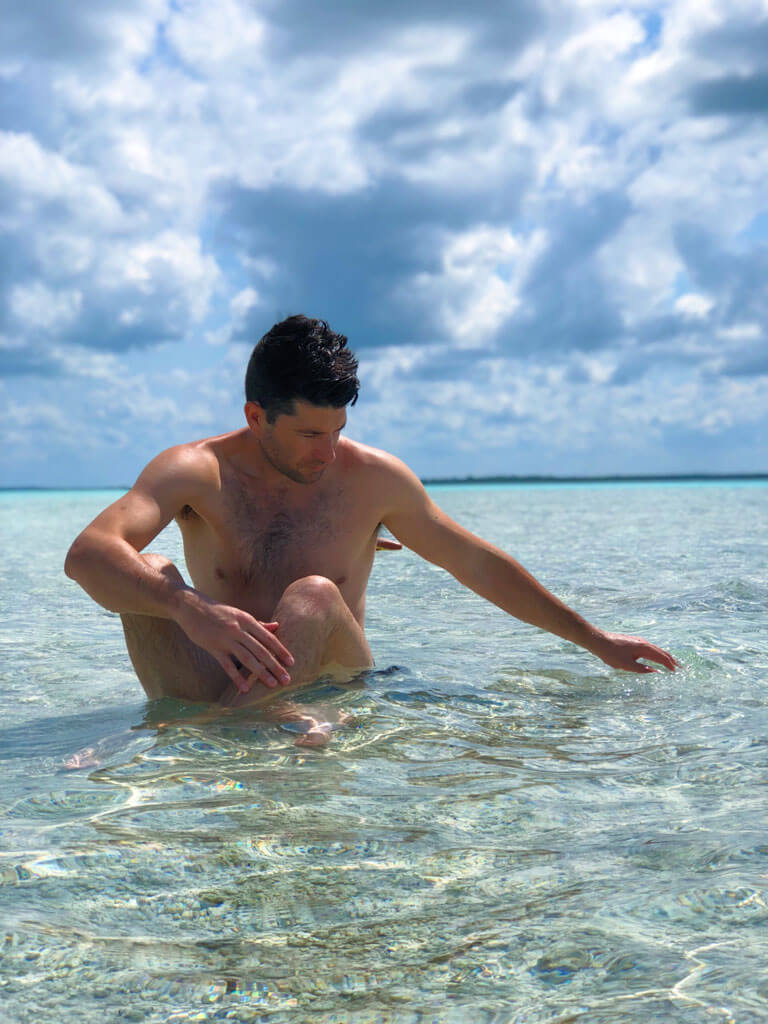 If you want to fully enjoy some of the best things to do at Bacalar Lagoon you will want to come prepared. Bring insect repellent for the evenings. Also, the sun is hot down here. Be prepared and bring sunscreen.
If you plan on going to Cenote Azul you will not be able to wear regular sunscreen as the chemicals harm the environment. You will need to wear biodegradable sunscreen which is very difficult to find once you are in Mexico so we highly recommend purchasing it in advance.
It's also recommended to wear biodegradable sunscreen in Bacalar Lagoon as it protects the environment from the harmful chemicals in regular sunscreen.
To see more, check out this packing list for Mexico so you don't forget anything you need!
Liked this post about the best things to do at Bacalar Lagoon? Then bookmark for later or share the love on Pinterest below!