When planning a trip to San Diego one place not to miss is Balboa Park. It's easy to spend a few days in Balboa Park alone with all the different gardens, museums, and even access to the San Diego Zoo, one of the most famous and well-known zoos in the world.
Without a doubt, Balboa Park checks off quite a few of the best things to do in San Diego whether you're a first-time visitor, passing through on a California coast road trip, or even a Southern California local like us.
Since there are so many great things to do in Balboa Park in San Diego we put together this guide for all of our top picks for what to check out and to help you plan your visit. Some of these Balboa Park attractions will require tickets and planning ahead, since there are so many museums and ticketed activities, we recommend deciding first which you want to go to before your visit.
Balboa Park Attractions
Fleet Science Center
One of our favorite things to do in Balboa Park is visit the Fleet Science Center. Besides being a really cool and hands-on science museum there's also a planetarium here that screens IMAX movies.
During our visit there was an epic IMAX film of the National Parks in the US. They have regular showings of whatever it is they are screening, it's always changing. And what's even better is after your film you're welcome to wander around the science museum without an additional admission.
The first Wednesday of every month there is a special exhibit in the planetarium with an astrologer who discusses current events in the space community and if you're lucky will take you on a tour around space, this is the best part to be honest. Afterward, you can go outside and look through the telescopes from the volunteers who set up outside the planetarium, it's a really special experience!
Natural History Museum
Another one of the best museums and things to do in Balboa Park is the San Diego Natural History Museum. The museum itself was founded in 1874 and is the oldest in California and on this side of the Mississippi River!
From interactive exhibits, an educational movie theater, to dinosaurs, fossils, and crazy bugs you can easily fill in an entire action-packed few hours in here.
Also, I LOVE their marketing! They had really clever/funny banners hanging outside the museum during our visit!
Be sure when you visit to check out the Moreton Bay Fig Tree, it might be the biggest tree I have ever witnessed in my life! It's absolutely incredible. I can definitely appreciate a good dinosaur pun.
San Diego Museum of Art
The San Diego Museum of Art is another one of the best things to do in Balboa Park if you're a lover of a greatly curated collection of fine art. The museum houses a rotating exhibition as well as collections including Spanish and Italian classics, South Asian paintings, Native American paintings, and 19th and 20th-century pieces of art.
All of the exhibits here are offered in both Spanish and English.
Spanish Village Art Center
One of our favorite things to do in Balboa Park is visit the colorful and vibrant Spanish Village Art Center. The entire ground of this area is filled with colorful tiles and shops selling local artists work.
Don't be surprised to see artists in action here either whether it be outside glassblowing or inside their studio's painting.
The history of the Spanish Village Art Center in Balboa Park dates back to the California Pacific International Exposition which took place in 1935. The village was inspired by a Spanish village and in 1937 artists moved back and opened it back up for dedicated artists.
This village was even used as army barracks temporarily in the 40s!
While you're here don't miss the San Diego Mineral and Gem Society! Here you can see their large collection of rare gems and minerals as well as fossils. You can even buy unique jewelry pieces here made out of the gems here!
Museum of Us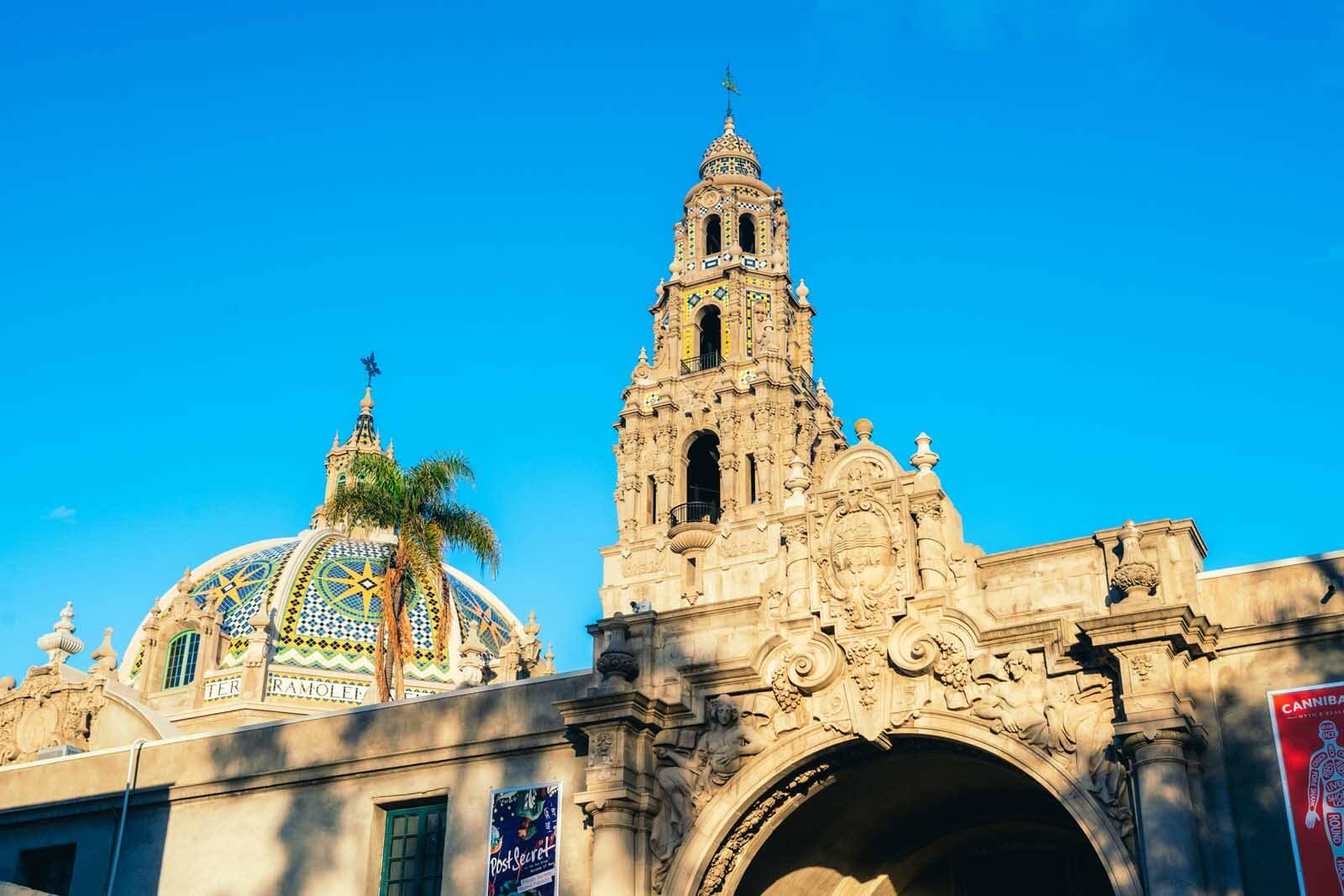 Located in one of the coolest buildings in San Diego is our next pick for best things to do in Balboa Park. The entire museum is focused around the human experience with a wide array of exhibits from graffiti, beer, and living with animals, to cannibalism! Formerly known as the Museum of Man, the museum was renamed to the Museum of Us.
Also, a little bonus treat at this Balboa Park attraction, if you want a stunning view you can also climb the tower and look down on San Diego from this elevated spot.
San Diego Model Railroad Museum
View this post on Instagram

Somehow we missed this next thing to do in Balboa Park on our visit but one of our local friends told about it afterward and said it was a must! Feel like a giant when admiring the miniature world at the San Diego Model Railroad Museum.
There are various model trains on display along with their small-scale world, a whole 27,000 square feet of it. The displays feature train lines that run through San Diego to trains that run through the Sierra Nevada mountains.
There is also always a rotating featured exhibition, during our visit it was a steam engine.
House of Pacific Relations Cottages

The House of Pacific Relations Cottages is one of the best things to do in Balboa Park if you're visiting on the weekends. Every Saturday and Sunday in the afternoons there are cultural performances ranging from dance to music taking place from cultures all over the world here.
Colorful performances, traditional clothing, arts, crafts, and even food from all over the world are on display here.
Botanical Building and Lily Pond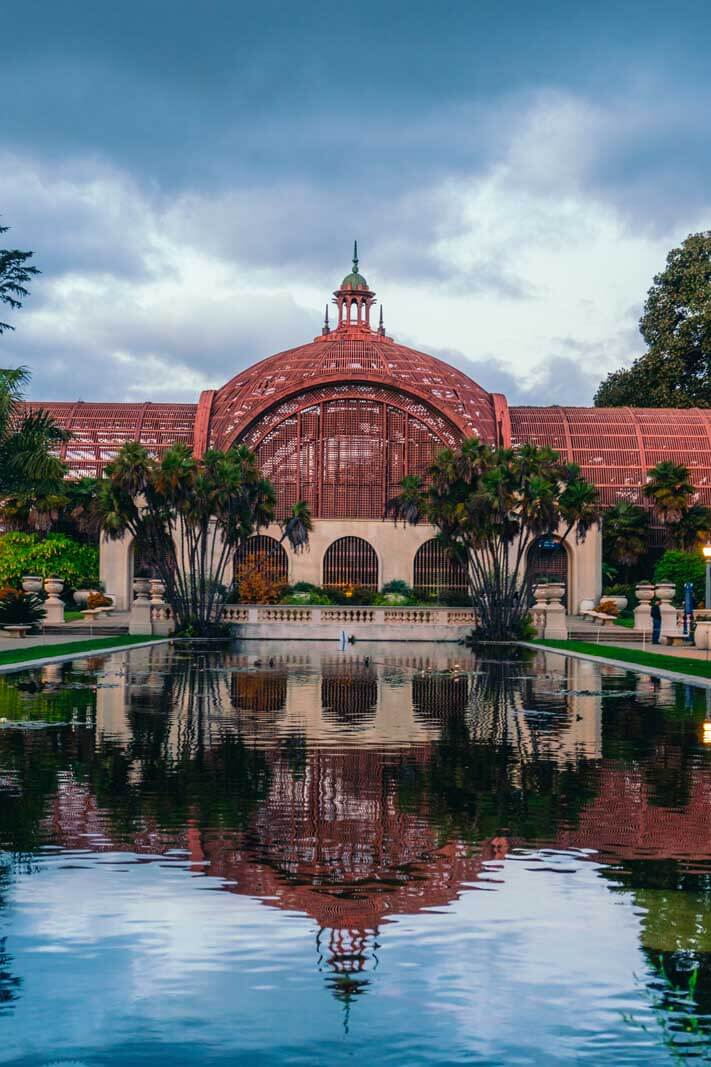 One of the most impressive buildings from the 1915 Panama-California Exposition that took place here in San Diego is also still one of the most popular photo spots and things to do in Balboa Park. The Botanical Building and Lily Pond is one of the largest structures of its kind in the world.
Admire the reflection of the Botanical Building in the Lily Pond then go inside to see the impressive collection of plants from all over the world including rare species of plants and flowers.
Old Globe Theater
No need to go all the way to London for Shakespeare and the famous Globe Theater. San Diego has their own right here in Balboa Park!
The Old Globe Theater puts on 15 performances a year typically plays and musicals in the summer and winter.
The theater was built for the California Pacific International Exposition in 1935 as a replica of the famous and historical Globe Theater in London. This is for sure one of the best things to do in Balboa Park for theater lovers.
Hiking Trails Around Balboa Park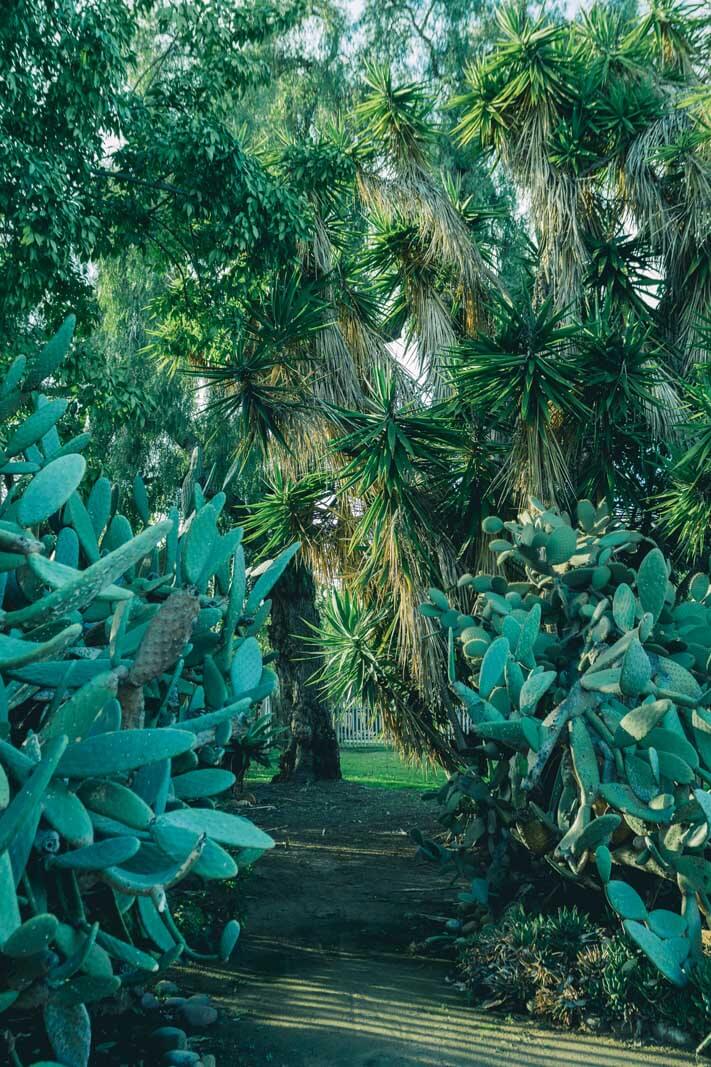 Believe it or not, there are actually hiking trails around Balboa Park. Some of the trails are as short as .5 mile to as long as almost 7 miles long passing through Florida Canyon.
Most trails are easy but a few are difficult, be sure to check before you start in case the level of difficulty is more than you're ready to tackle during your day in Balboa Park. There are 5 different trail gateways each having multiple trails to choose from. You can find more information here.
This is a great thing to do in Balboa Park for anyone looking to just get a little exercise in a really beautiful area in the heart of San Diego.
Japanese Friendship Garden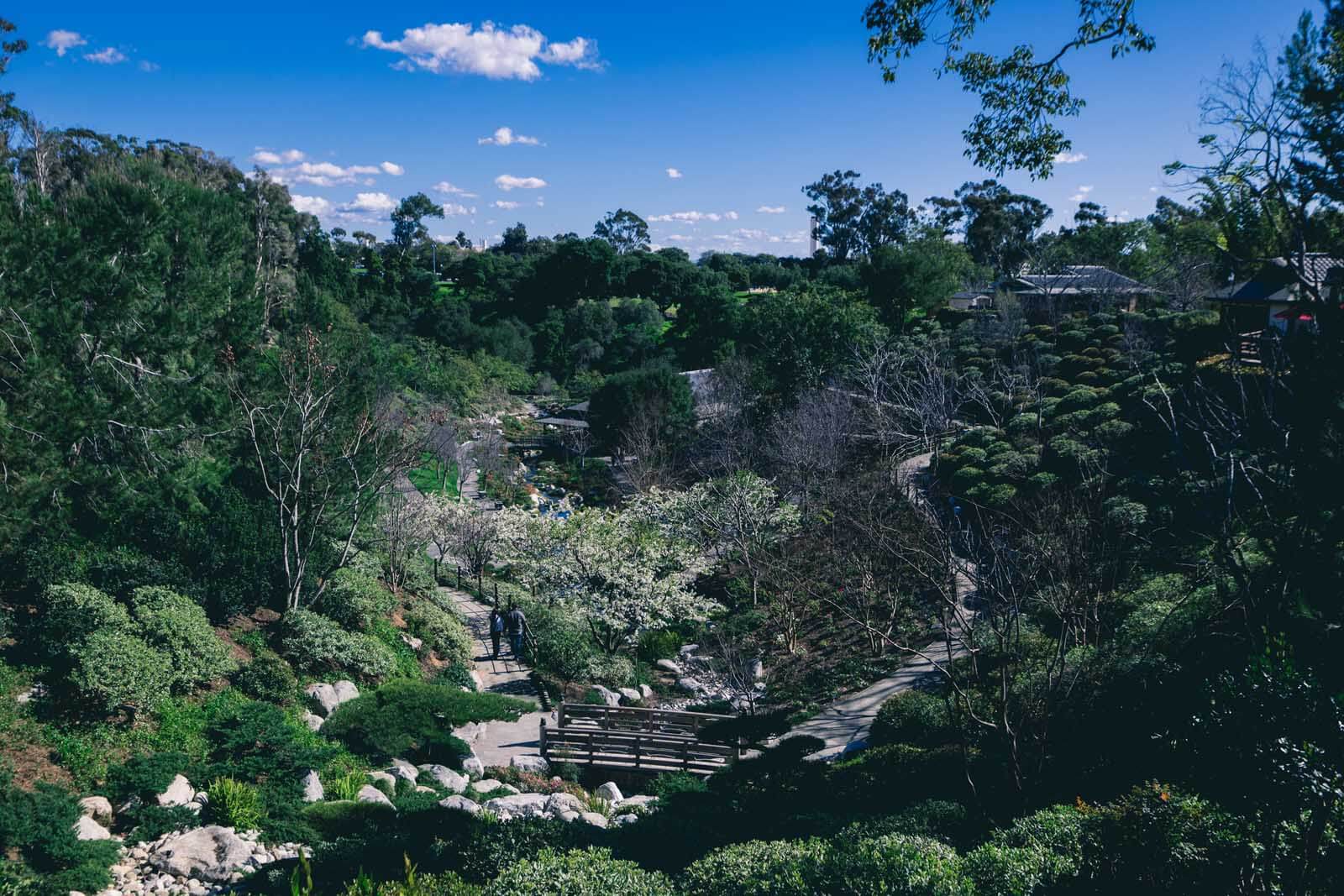 Did you know San Diego's sister city is Yokohama? To honor their sister city San Diego built the Japanese Friendship Garden in Balboa Park to educate and honor Japanese culture with visitors.
There are various Japanese plants here, a tea pavilion, rotating exhibits, and even cultural performances that take place here. Be sure to check to see their current events before your visit or just enjoy walking around the relaxing garden.
Also, be sure to check if you're coming in the winter to see if the Cherry Blossoms will be in bloom for an extra special treat!
San Diego Zoo
Easily one of the most famous things to do in Balboa Park is visit one of the world's best zoos! The San Diego Zoo is home to over 3,500 animals including every animal you can think of from orangutans to pandas!
There's even an area dedicated to Australian animals and another dedicated to animals from Africa.
The zoo started after the 1915 Exhibition, there was a wild animal collection that was pretty much abandoned until Zoological Society of San Diego was founded shortly after. From then on it became one of the world's most impressive zoos famous for their incredibly successful breeding programs for endangered species and other animals.
The San Diego Zoo was one of the first zoos to do a cageless animal enclosure that are open air for a more natural environment.
Spreckles Organ Pavilion
One of the most unique things to do in Balboa Park is visit the Spreckels Organ Pavilion. This is the largest pipe organ in the world and is fully outdoor!
The pipe organ was created for the 1915 Exhibition by one of the wealthiest men in San Diego and still has free live performances to this day every Sunday at 2 pm.
Even if you don't come on a Sunday its still pretty incredible to just admire the sheer size of the organ and the beautiful pavilion.
Archery in Balboa Park
One of the most fun things you can do in Balboa Park is enjoy some archery in one of the two different archery ranges on site. There's the Morley Field Archery Range and the Balboa Park Rube Powell Archery Range.
Both host tournaments throughout the year and have daily targets open for visitors for just a few bucks!
Where to Eat in Balboa Park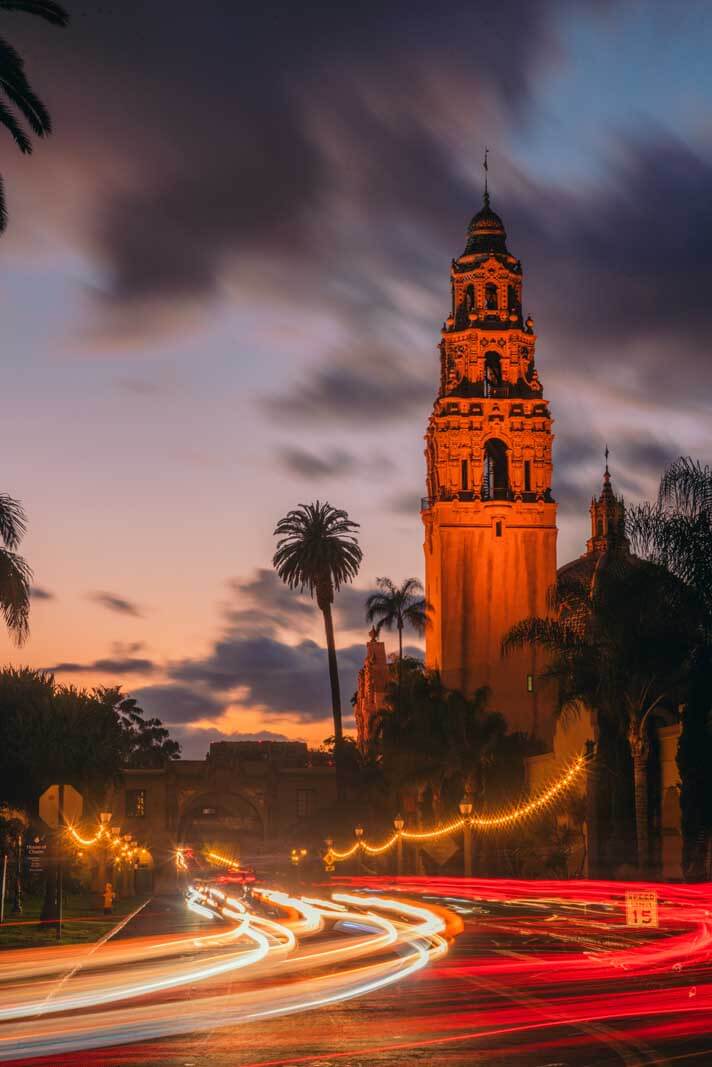 A day full of museums, hiking, and even archery is going to build up an appetite! There are random snack and coffee stands throughout Balboa Park in some of the museums and in the Spanish Village but there are two restaurants on site too in case you need a full meal or even fancy a drink.
Panama 66
This is our favorite option for a meal and a drink in Balboa Park. Panama 66 is technically a part of the San Diego Museum of Art. This outdoor restaurant and bar serves up tasty American fare and has craft brews on tap.
Sometimes there's live music and outdoor heaters in case you're cold. The coolest part is that Panama 66 opens up to an outdoor sculpture park that is part of the Museum of Art. The food is also pretty great!
Prado
Another restaurant inside Balboa Park and a little more formal than Panama 66. Prado is in a hacienda-style building serving up California cuisine. This is a better place if you're here for a family function or event and want something not as casual as Panama 66.
---
Be sure to also check out our guide for the best things to do in San Diego for a first time visitor and where to stay in San Diego by neighborhood and budget to help you plan your trip.
---
Liked this post about all the incredible things to do in Balboa Park in San Diego? Bookmark for later or share the love below on Pinterest!