Looking for the most charming and best beach towns in California to visit? From Northern California all the way down to Southern California, as locals, we picked out the best small beach towns in California to visit.
What you won't find on this guide are the large coastal cities in California like Los Angeles, San Diego, or San Francisco. While these are all incredible to enjoy on their own, the focus of this guide is to highlight the small coastal towns in California that should be added to your radar (if they aren't already). Many of these are nearby these large coastal cities in California and easy to combine on your next trip!
From hidden gems to well-known coastal towns, we will break down what is special and unique about each of these California beach towns and why they're worth a visit! From gorgeous coastal views, the beaches, charming downtowns, and outdoor adventures to enjoy – be sure to bookmark this guide for your next California vacation or California coast road trip.
From North to South, here are the best California beach towns – according to us, a lifelong resident + transplant to Southern California!
Charming California Beach Towns
Eureka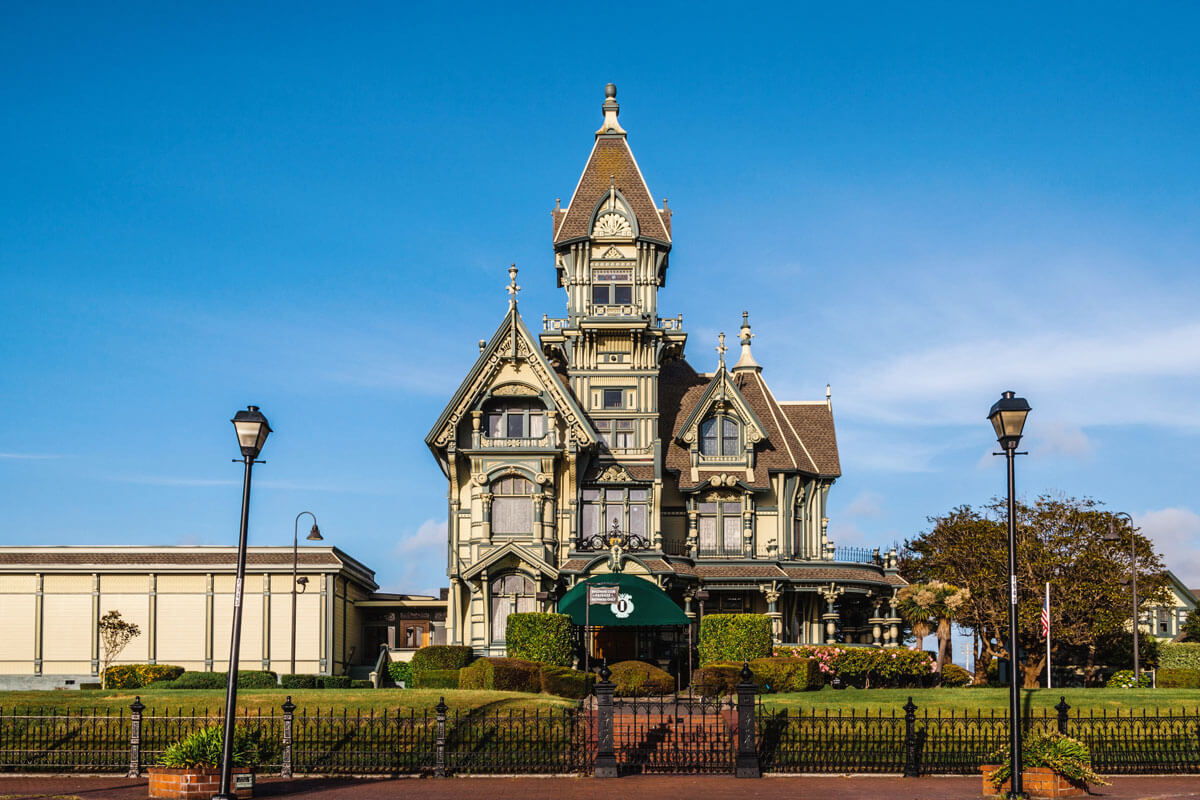 Victorian architecture may not be the first thing that comes to mind when you think of California coastal towns, but there is a city in the northern part of the state where you can find uniquely expressive, Victorian-style buildings. The architecture here is really interesting, and Eureka is known for having artistic influences ingrained in the city's culture.
One of the highlights here is the Old Town and Waterfront area, which is on the National Register of Historic Places. There are over 150 buildings showcasing original Victorian architecture.
Also in the Old Town and Waterfront area is the Eureka Boardwalk and Marina, which offers views of Humboldt Bay and Woodley Island, and the Eureka Waterfront Trail, which is a 6-mile path that hugs Humboldt Bay.
And while you're in this part of town, you must stop by the Carson Mansion. It's a very cool building, and it almost looks like it came out of a movie and was the inspiration behind the train station at Disneyland. It's a top-tier example of American Queen Anne-style Victorian architecture and the most photographed Victorian-style building in California and possibly the country! Its design also seems familiar as it's been widely used for inspiration for 'spooky' haunted houses too.
After you've marveled at this property, head across the street to check out another Queen Anne Victorian house, named the "Pink Lady" for its pink exterior. Not only is this another historic home behind the Carson family, but today it is also where you can stay while spending time in Eureka in one of their rooms or you can tour or dine in the historic home.
Old Town also offers haunted history tours and horse carriage rides. Art plays a major part in the city's culture, and there is everything from performing arts, to art galleries, and street art. The Morris Graves Museum of Art has local and international pieces, and they put on an array of fun events throughout the month. The event "Arts Alive!" happens the first Saturday of every month, and it's an art walk where many local businesses participate, and there's art in all kinds of forms to interact with.
A fun fact is that the term "eureka" originates from the Greek language, and it means "I have found it". And you will want to make sure you find and explore this small coastal town in California.
Another reason why this is one of the best beach towns in California is that it's also a great launching off point or base for visiting Redwood National and State Parks, home to some of the tallest trees on the planet and just a short drive north of Eureka.
For a unique place to stay in Eureka, consider booking a night in one fo the 19th-century rooms at the Pinc Lady Mansion.
Fort Bragg
The next destination is the largest city on the Mendocino Coast, and the entire city is a California Historic Landmark. Fort Bragg is known for its unique attractions, including the Skunk Train, Glass Beach, and the Mendocino Coast Botanical Gardens. Not to mention the most recognizable landmark, the Point Cabrillo Lighthouse.
When you visit a California beach town like Fort Bragg, you must hit up the beaches! First up is Glass Beach, but it is not your average beach but is famous for its large volumes of sea glass that can be found here. You might be wondering why there's so much 'sea glass' or trash here in the first place. This was actually a dumping site for debris and trash after the 1906 San Francisco earthquake and was an active dumpsite until 1967.
While the main beach has less glass these days, there are two more glass beach sites that are walking distance away and have more glass to view. Keep in mind, it's illegal to take any of the glass with you. So you're welcome to admire, just do not take anything home with you.
Continuing on exploring this coastal city in California beaches, at Noyo Harbor Beach, the number one activity to do is surf fishing. And there is plenty of driftwood that populates the shores here. Babcock Beach has great views, with rocks, cliffs, and dunes. After you park, there is an almost three-quarters-of-a-mile access trail to get to the beach, but it is definitely worth it.
At Jug Handle State Natural Reserve, the highlight is the hiking trail, called the Ecological Staircase Trail. You will be treated to various geological details on the hike, making for an interesting trek. The beach here has an extensive cove and high bluffs, anchored by the beautiful blue ocean.
Apart from the beaches, Fort Bragg has a lot of ways to enjoy the outdoors. The Fort Bragg Coastal Trail is a wide, paved path where you can walk or bike, and the trail takes you through coastal bluffs with terrific views. And, you can access Glass Beach from the Coastal Trail.
The Mendocino Coast Botanical Gardens is a lush, colorful garden that is situated by the Pacific Ocean. It's a calm retreat and a great place to explore.
Next up, the Skunk Train was composed of yellow, self-powered rail cars that came about in the 1920s. It got its name because locals claimed you could smell the train coming before you could see it. Today, you can purchase tickets to take a scenic ride on this historical landmark.
Pacific Star Winery is perched right on the coast, and you can sample wine on the ocean-side patio. Plus, if you visit when the whales are migrating, you may see them swim right by!
Switching gears, Fort Bragg has some great galleries around town, including the Northcoast Artists Gallery, the Mendocino Coast Photography Gallery, and the Edgewater Gallery. Fort Bragg is a lovely small beach town in California to visit and check off your list of places to see.
This is such a charming coastal town in California to spend the night at, we recommend taking advantage of the coastal location and staying right on the beach at the Surf and Sand Lodge during your visit.
Half Moon Bay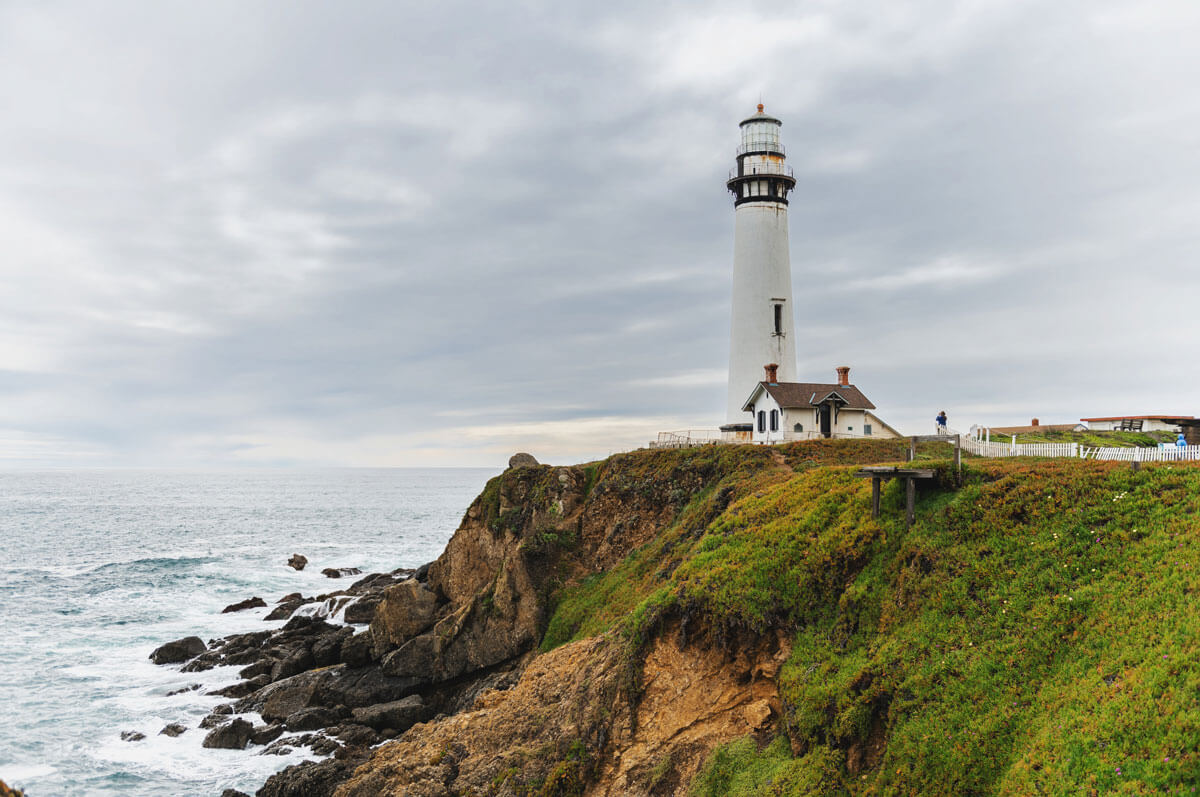 The next beach town in California gets its name from the crescent shape of the area where it is situated. It is known for Mavericks, which is an incredible surfing spot for major waves, and it draws surfers worldwide. The waves at Mavericks are so big, they are some of the largest waves in the world during storm swells.
Some of the other beaches to visit include the Half Moon Bay State Beaches, which include walking paths next to the ocean, and Poplar Beach, where you'll see dogs playing in the sand and people horseback riding on the shore.
Main Street is a great area to explore, with shops and restaurants, and some local historical destinations are here. You will see the old City Hall, and the general store and saloon that has been in business since 1873 currently housing Luz Luna Imports.
One of Half Moon Bay's highlights is Pillar Point Harbor, which resembles a picturesque New England town. This walkable area has a marina, waterfront shops to pop into, and eateries to enjoy delicious seafood.
Another interesting attraction is Pigeon Point Light Station State Historic Park, which has one of the tallest lighthouses in the country. The Pigeon Point Lighthouse remains active to this day, and you may be able to catch a tour, but if not, you can stroll the peaceful grounds. Stop by this small coastal town in California when cruising down Highway 1 and check out all there is to see and do!
And for those wanting to spend the night in this quiant, coastal town in California we highly recommend enjoying a stay at 1855 Zaballa House in the heart of Half Moon Bay on the historic Main Street. This charming stay is more B&B style in one of the oldest homes in town. Enjoy the historic character and charm of this historic property but with modern amenities all while being centrally located on Main Street to explore around!
Carmel-by-the-Sea
When visiting the best beach towns in California, make sure to stop by the visually stunning storybook town known to entice artists, Carmel-by-the-Sea, a charming area next to Monterey and one of the most enchanting places to visit in Northern California.
One of the best spots to check out is Carmel Beach and Scenic Road. The coastline is quiet but striking and is perfect for laying out by the ocean, taking a beach stroll, and unwinding as you breathe in the salty air and listen to the waves.
The Scenic Road that hugs the coastline is fantastic for a drive, and provides beautiful scenery. One thing you'll notice while venturing around since you're in California's wine country and all, is that there are a good amount of wine-tasting rooms and wine bars. If you like wine, make sure you stop by at least one of the places serving local wines.
And for food to go along with the wine, Carmel-by-the-Sea has excellent options, but you will notice that there are not any chain restaurants. That is not an accident, they are not allowed!
Going back to Carmel-by-the-Sea's artistic roots, the city has quite the art scene going on. Downtown, there are almost 100 art galleries to explore. Additionally, the Carmel Art Festival happens every year, and the Carmel Art Walk occurs monthly.
When you're ready to head outdoors, Carmel River State Beach is a fantastic place to check out. In particular, this is the place to come for diving, as well as bird watching. Point Lobo State Reserve is terrific for hikes and picnics. When you visit this small beach town in California, you can say you visited the city where Clint Eastwood was mayor for two years in the 1980s.
With all the coastal towns in California to check out, obviously, there are great beaches and scenic drives. What's awesome about Carmel-by-the-Sea is you're close to one of the most famous areas of the Pacific Coast Highway, be sure to pay a visit to the Bixby Bridge Vista Point while you're here.
And better yet, many of the lodging options are set in historic buildings that look straight out of a storybook like the Vagabond House Inn which is in the heart of Carmel-by-the-Sea and a great base during your stay.
San Simeon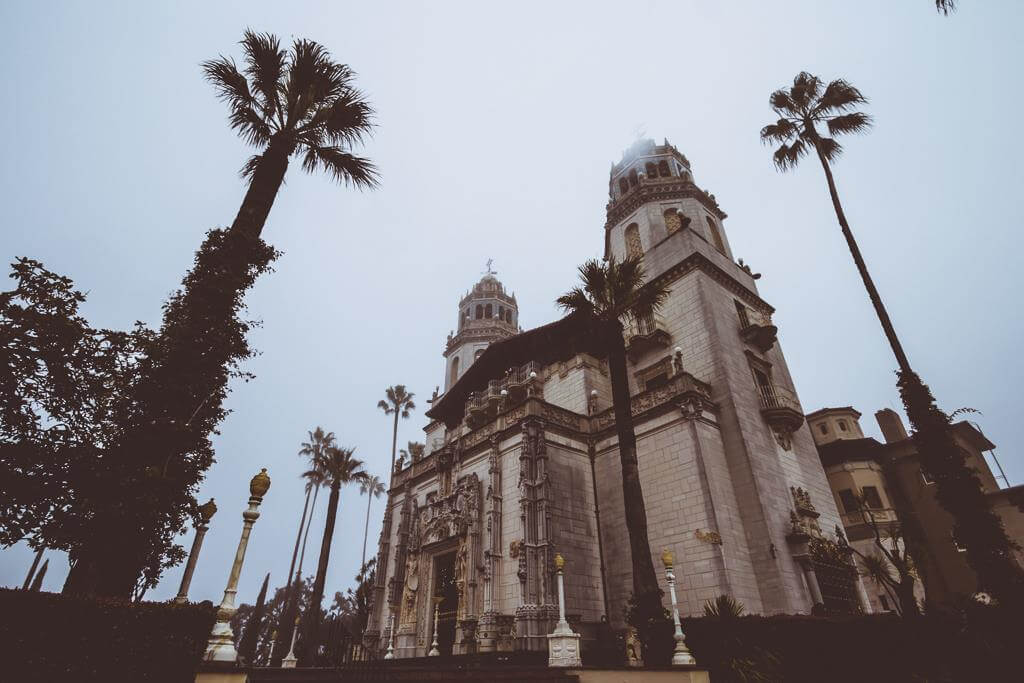 The enchanting California coastal town of San Simeon is known for being the home to one of my personal favorite historic sites in the state of California, Hearst Castle.
Publishing magnate William Randolph Hearst inherited a large amount of land in San Simeon from his parents, and he then purchased even more land, but nothing was built on it at the time. It was basically a camping destination for family and friends. He made the decision to construct a building, and enlisted well-known San Francisco architect Julia Morgan to help him with that task to transform the property into one of the most incredible mansions in the country that he'd also entertain his high profile friends at from politicians from all over the world to Hollywood's biggest stars.
That building became the magnificent Hearst Castle. When you visit this incredible landmark, you can go on a variety of tours of the property. There is a Grand Rooms Tour, Upstairs Suites Tour, Cottages and Kitchens Tour, the Julia Morgan Tour, and the Art of San Simeon Tour. Every tour I've done I've loved so you can't go wrong with any of them.
The Hearst Castle Evening Tour is offered in October and November, and you can experience the after-dark scene the way that Mr. Hearst and his high profile guests did. Volunteers are adorned in 1930s fashion, and they buzz about Hearst Castle to bring to life how the property looked back in the day. The tour's finale is watching a vintage newsreel in the private theater of Mr. Hearst.
After visiting Hearst Castle, you can head to the Hearst Ranch Winery, which is just across from the landmark. The winery overlooks the bay, and you can sip on wine while high up on the cliffside. Apart from Hearst Castle, San Simeon has several other attractions to visit.
Oh, and don't be surprised to see pastures with zebra freely roaming in them. This stopped us in our tracks when we drove by. It turns out, they are a part of the Hearst estate and they have a very large area to roam.
The Piedras Blancas Rookery is an elephant seal rookery, and what makes it special is that it is easy to access, there is no admission fee, and the public can visit year-round. Depending on when you visit, what you see will be different. In November, male elephant seals arrive to prepare for mating season. December through March is the birthing and breeding season, then April through August is molting season, followed by the fall haul-out in September and October.
San Simeon has great beaches to hit up during your visit. William R. Hearst Memorial Beach is popular with the city's residents, and it has lots of picnic areas with barbecue grills. Pico Creek is a great beach for beachcombing, and you will find tidepools, driftwood, and pebbles. It's a favorite of shortboarders, longboarders, and kite surfers. Ragged Point Beach is where to go if you are in the mood to work up a sweat and then take a dip in the ocean in the summer. To reach the beach, there is a half mile steep path to traverse before you arrive at the surf and sand.
Another spot to check out in San Simeon is the Piedras Blancas Light Station. It dates back to 1875, and it is located in the farthest southern area of the Monterey Bay National Marine Sanctuary. Tours are offered of the light station throughout the year.
San Simeon is close to the Big Sur National Scenic Byway. While visiting this coastal city in California, it's absolutely worth it to take a drive and travel the Byway to see the incredible scenery.
Also, this is a gorgeous area of the PCH and there are a few scenic pull-offs and vistas where you can overlook the ocean below from the bluffs. Take advantage of being on a California coastal road trip and make a few spontaneous stops for the views as you're driving between all the cool coastal towns in California!
This is also a great area to stay, we recommend exploring San Luis Obispo while you're here, taking advantage of wine tasting too and using this as an opportunity to stay at the one and only, Madonna Inn. This historic-themed hotel has unique rooms, some are covered ceiling to floor in pink, blue, or green to rooms that are built into rocks and look like caves! Plus you'll want to dine in their over the top pink dining room and save some room for one of their world-famous cakes!
Cayucos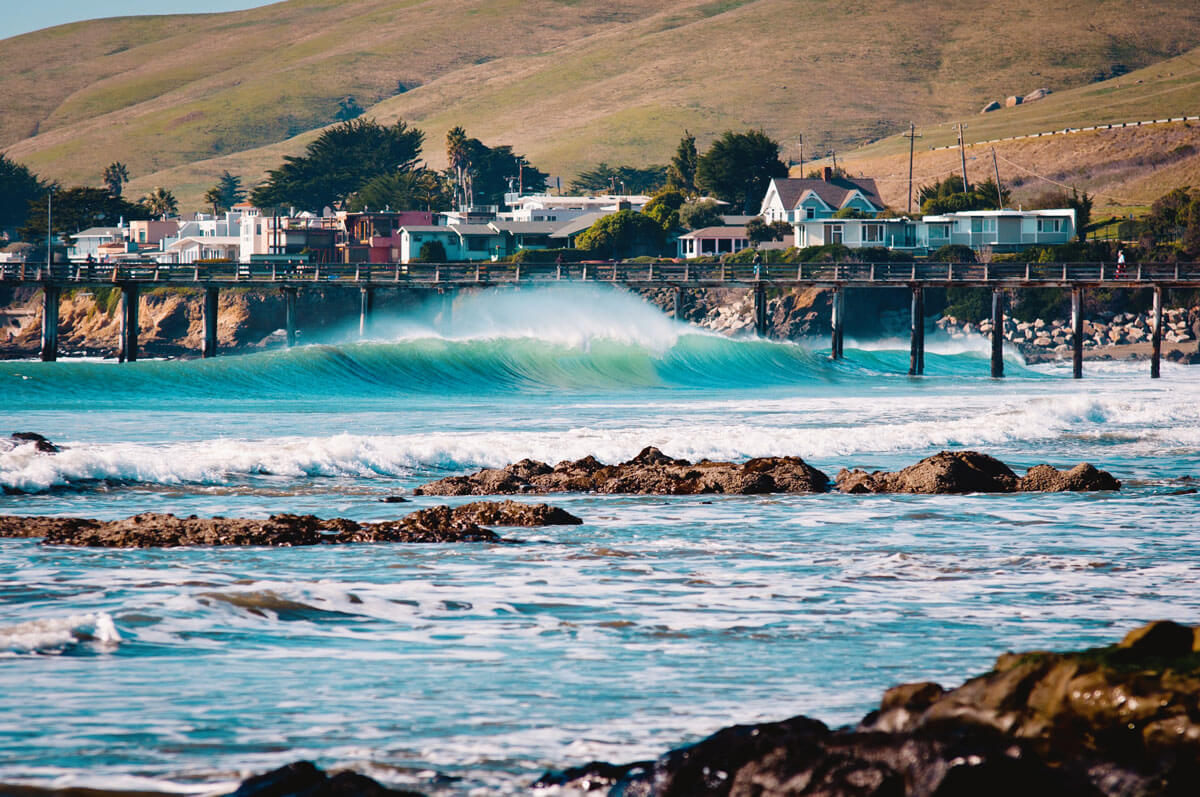 One of the small coastal towns in California that doesn't have as much name recognition as other places is Cayucos, which is a resort town nestled on Estero Bay on California's Central Coast. This lovely town has several things to do that make it a great place to stop and check out, not to mention a great place to stay the night since this is one of the more sleepy of the California beach towns on this guide.
The Cayucos Pier is over 950 feet long, and fishing is quite popular here. You have the possibility of catching halibut, sardines, mackerel, white croaker, and occasional starry flounder. The pier is even lit for night fishing.
Located adjacent to the pier is Cayucos State Beach, where activities include boating, fishing, swimming, surfing, and windsurfing. There are picnic areas here, so pack some food and drinks to enjoy by the water.
Estero Bluffs State Park covers a large piece of undeveloped land between Highway 1 and the Pacific Ocean, and provides views that overlook Estero Bay. Park in one of the parking lots along the highway, and you will find one or two trails that lead to the bluffs with incredible scenery.
When you're hungry, head to Italian restaurant Cafe Della Via for hearty fare and wine, or Ocean Front Pizza for a slice of pizza just a very short jaunt from the beach. Cayucos Cellars is a small winery situated in the hills above the city, and they have a tasting room in town that is well worth a stop if you enjoy wine.
This quaint destination is worthy of spending the night by the oceanside at one of the many charming B&Bs in Cayucos. We highly recommend Cayucos Sunset Inn B&B just steps away from the beach and a more intimate stay. Or you're just a few miles up from Morro Bay, so it's easy to combine both of these California towns on the same trip!
Morro Bay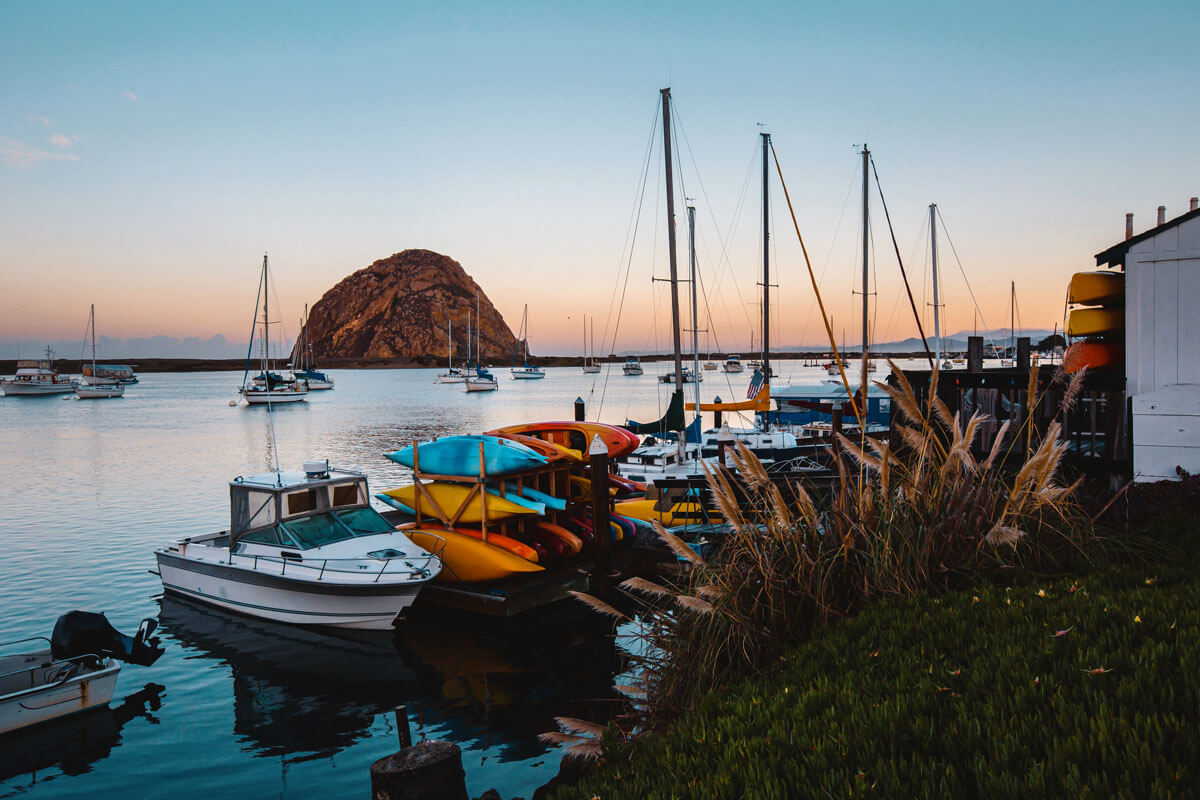 What sets the next coastal city in California apart from the rest is the hunk of volcanic rock that unexpectedly sits in the middle of the bay. The city of Morro Bay is most known for Morro Rock, the aforementioned volcanic rock that greets visitors at the mouth of the harbor. It is 576 feet high, and estimated to be 23 million years old!
Peregrine falcons take up residence on the rock, but other than that, not much activity is happening on the rock itself. Visitors can drive up to the base of the rock, but climbing on it is strictly prohibited.
Moving on to the beaches here, Morro Rock Beach offers the perfect view of Morro Rock. It has a lengthy coastline, with lots of space to enjoy the beach. Come here for the day for a generally fun, calm time. If you are looking to kayak or paddle board in the harbor, Coleman Park & Beach is the perfect place to get into the water. It's a terrific beach for a leisurely walk, as well as watching the local birds and marine animal activity.
Morro Bay has some excellent state parks to check out. Morro Bay State Park has a saltwater marsh and lagoon, and activities to do here include sailing, fishing, biking, and hiking. An array of birds live here, which makes it the perfect place for bird-watching.
Additionally, Morro Bay State Park is a fantastic camping area, and there is a public golf course and marina with a rental store for kayaks. Morro Strand State Beach fits under the category of a park and a beach. It's an awesome place to get out on the sand and wander through the area.
If you are interested in exploring Morro Bay by foot, there are some great hiking options. A fairly easy hike that takes just a couple of hours is Black Hill, which is close to Morro Bay State Park. It is believed that this hike was named after the tar seep on the north side of the hill.
Another hike near Morro Bay State Park is Cerro Cabrillo Peak, and the hiking trails here provide views of the Morro Bay Estuary, back bay, and sandpit.
This small beach town in California has an array of activities and things to do that make it well worth a visit and is easy to combine with Cayucos which is just a few minutes' drive north on the PCH. And this is hands down one of the most scenic spots on the Pacific Coast Highway drive between San Francisco and San Diego!
If you're looking for an incredible stay with a view of Morro Rock, check out the rooms at the Inn at Rose's Landing. This boutique hotel has several vantage points of the ocean and Morro Rock as well as one of the best spots to check out a sunset and views from your own private balcony.
Pismo Beach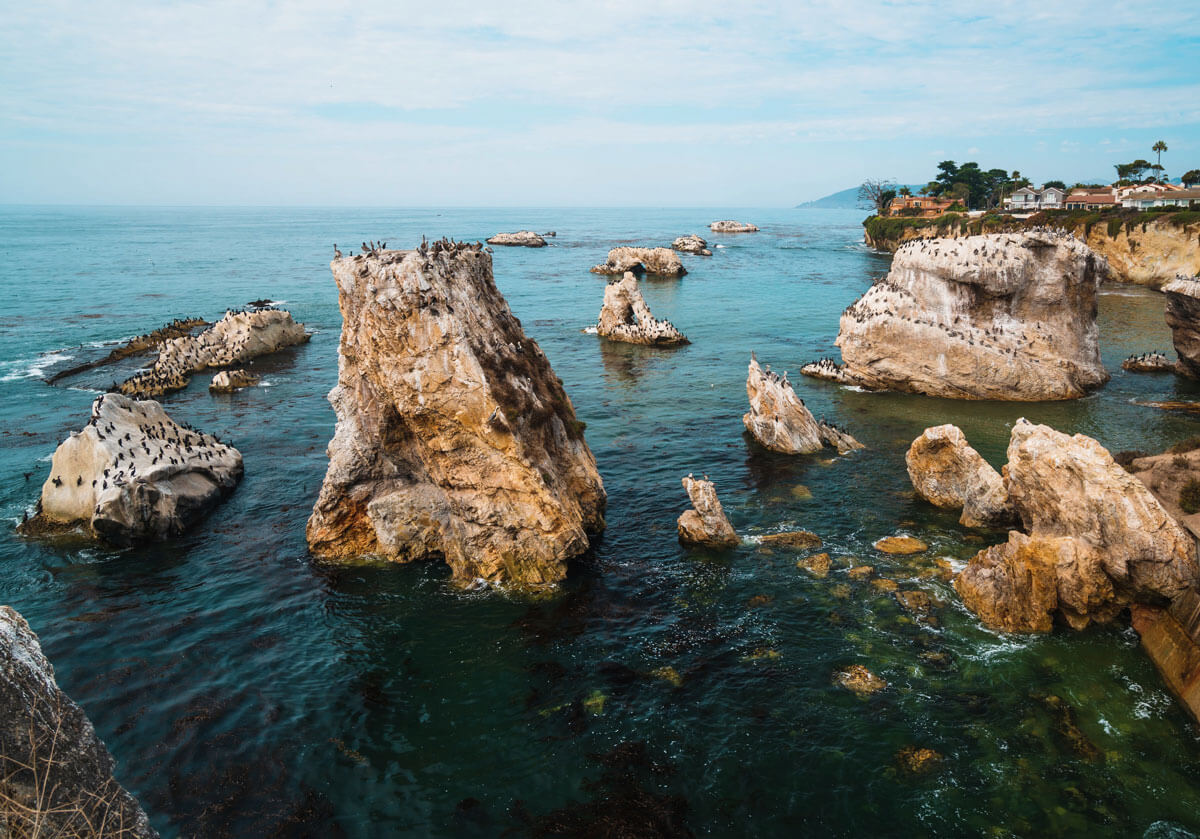 Did you know that you can watch the migration of the Monarch butterflies in one of the best small beach towns of California? In Pismo Beach, you can!
Known for wineries, beaches, and the aforementioned migration of the Monarch butterflies, Pismo Beach is a lovely place to visit. One of the highlights is the Monarch Butterfly Grove, where you can watch the migrating butterflies. Over 10,000 Monarchs flock to Pismo Beach each year.
One of the best ways to explore Pismo Beach is Dinosaur Caves Park, which has trails, overlooks of the ocean, and lush swaths of land. Take a stroll, snap a photo, and watch the wildlife here.
Pismo Preserve takes you through swaths of outdoor recreational areas in Pismo Beach, and you can go hiking, mountain biking, and horseback riding.
The city is close to the winemaking regions of Edna Valley, Arroyo Grande, and Avila Valley, and you can bet that Pismo Beach has great options for a day of wine tasting. You'll find many of the restaurants in this coastal city in California showcase wines from these nearby vineyards, so make sure to try a glass along with your meal. Also, Pismo Beach is the Clam Capital of the World! So if you're a seafood eater, try some of the local clams while you're dining out.
And for cool sand dunes, check out the Oceano Dunes Natural Preserve. There are 8 miles of drivable sand dunes and beach along Oceano and Pismo State Beach that you can drive your car on!
Better yet, spend the night in a hotel with ocean views at the Shore Cliff Hotel in Pismo Beach. This is a great base for wine tasting in one of the best wine regions in the world and be able to enjoy the unbeatable California coastline from your hotel. There's also a pool with ocean views too!
Carpinteria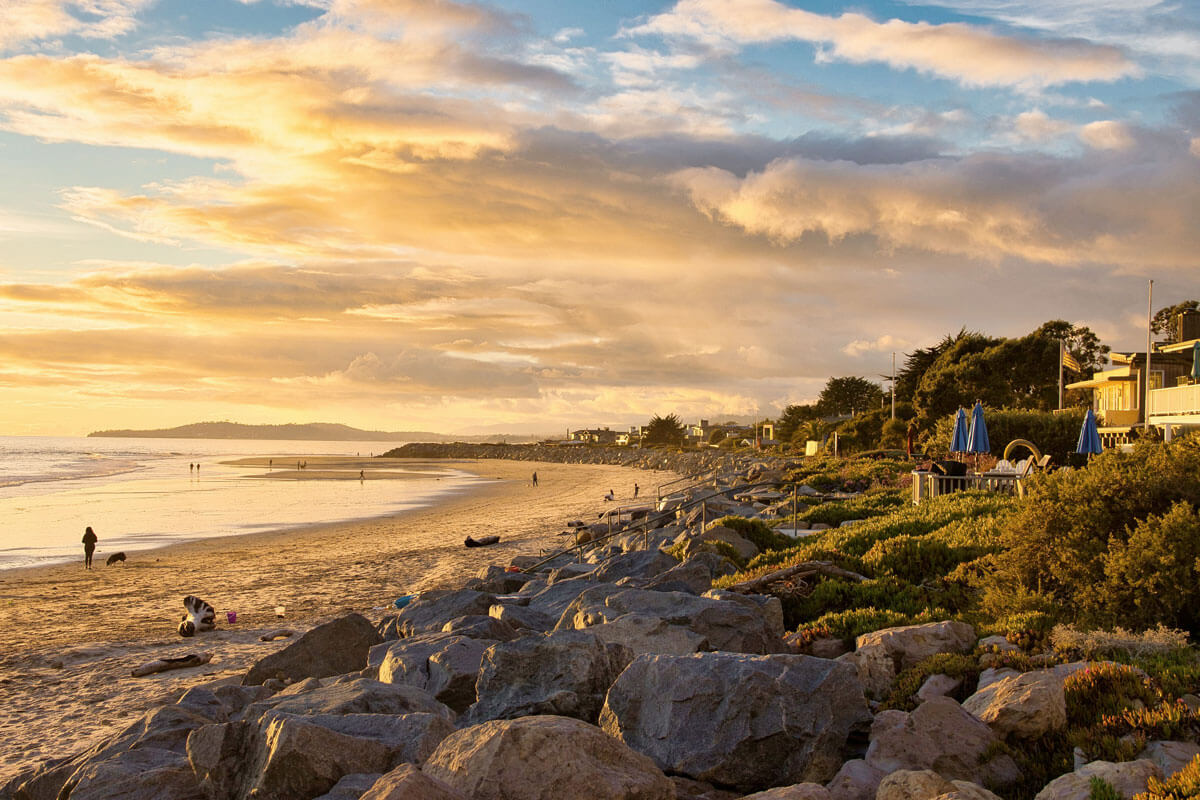 The next small beach town in California beckons to surfers, and it is known for being a well-liked surfing spot. Carpinteria is situated in Santa Barbara County, and it's 12 miles southeast of Santa Barbara, another absolute must-stop visit coastal city in California – that was just too well known to include on this list.
Since Carpinteria is known for attracting surfers, there are fantastic beaches here to check out. Rincon Beach Park is the surfing destination in the area, so you can catch waves or watch the surfers in the water. Carpinteria City Beach is a wide, sandy beach and it is perfect for getting in the water for a swim. There are also volleyball courts here, and it has close access to the Carpinteria Salt Marsh Nature Park. Carpinteria State Beach Park stretches a mile, and activities to do here include swimming, surf fishing, and checking out the tide pools.
A unique attraction in the city is the Carpinteria Harbor Seal Preserve and Rookery. It's a seal sanctuary of sorts, run by volunteers, and it is one of four rookeries on the Southern California coast. Visitors can view seals from the bluffs above the beach. Carpinteria has great options for outdoor activities.
The Carpinteria Bluffs Nature Preserve is an easy walk, with beautiful scenery that overlooks the ocean. At the Carpinteria Salt Marsh Nature Park, you can embark on a hike which takes you past observation areas of the surrounding wetlands.
After your outdoor adventures, if a beer is calling your name, a popular spot in the city is the Island Brewing Company. At this microbrewery, you can enjoy a beer while looking at scenery of the Pacific and Channel Islands National Park.
Carpinteria is a California beach town that is a must-visit if you love surfing, scenic views, and wine tasting! Take advantage of being so close to all the great wineries around Santa Barbara while you're here and spend an afternoon tasting.
La Casa del Sol is a really cool renovated, old-school motel with a prime location in Carpinteria and a great base during your visit. We are huge fans of their retro neon sign and the no-frills laidback rooms are the right amount of cozy.
Mussel Shoals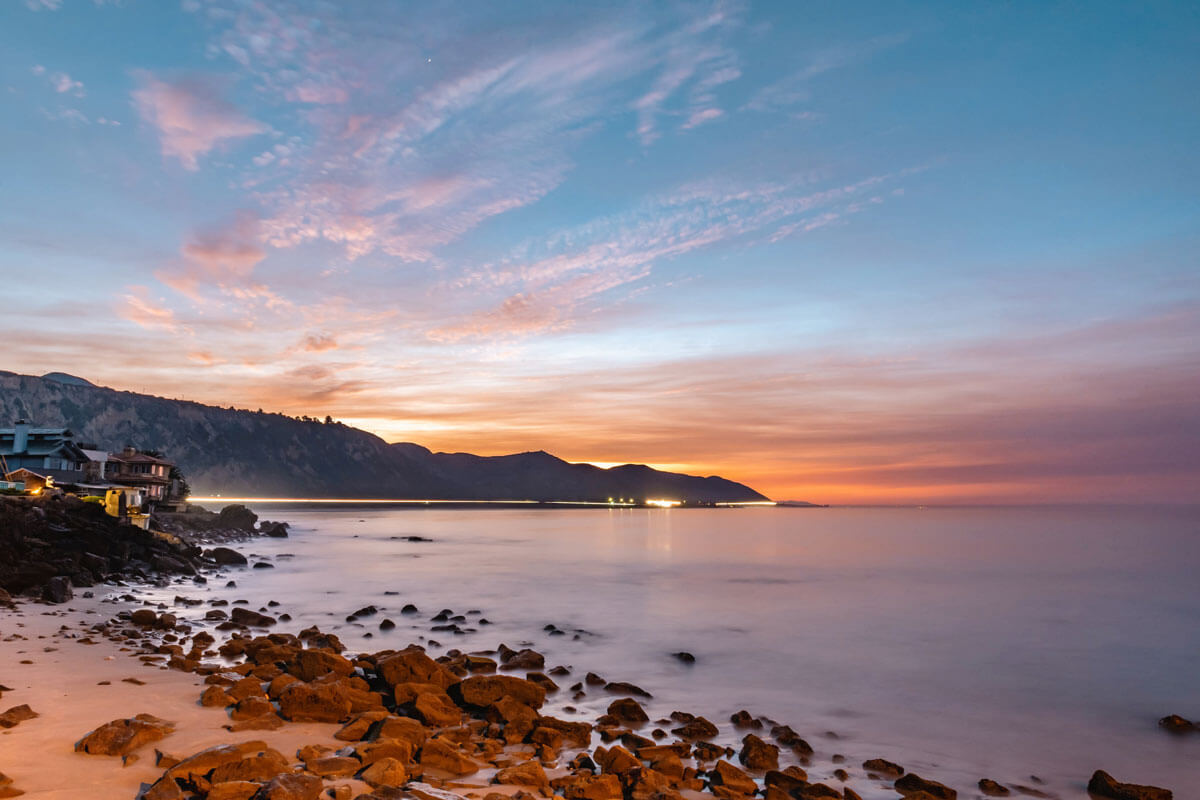 A "blink and you may miss it," a sleepy small California beach town that you actually don't want to miss is Mussel Shoals, which is kind of a hidden gem in the area. This community by the coast is close to Santa Barbara, and is pretty much composed of a beach, beachfront homes, and a hotel (with stellar views and proximity to great wineries).
One of the defining features in Mussel Shoals is the pier,  which extends all the way out to the middle of the body of water, and ends up at a man-made island. It is dotted with palm trees, and while the island may look unassuming, it is actually an oil platform. Mussel Shoals Beach is the beach here, and it's kind of divided into north and south portions, with the dividing point being the pier.
The part of the beach that is north of the pier continues to a beach access tunnel to La Conchita, and while you trek up the beach you can gently splash in the surf. The part of the beach that is south of the pier is known as Little Rincon, and surfers ride the waves here.
If you work up an appetite, the Shoals Restaurant at the Cliff House Inn offers brunch, lunch, and dinner. This restaurant, which is part of a hotel, looks out over the ocean, and being so close to the ocean, many of the dishes showcase fresh seafood. Mussel Shoals is a small coastal town in California that is perfect for a day stop while visiting other nearby cities.
If you're wanting to base part of your California Coast road trip here, we recommend staying a night at the Cliff House Inn for a prime location right on the ocean and gorgeous property.
Ventura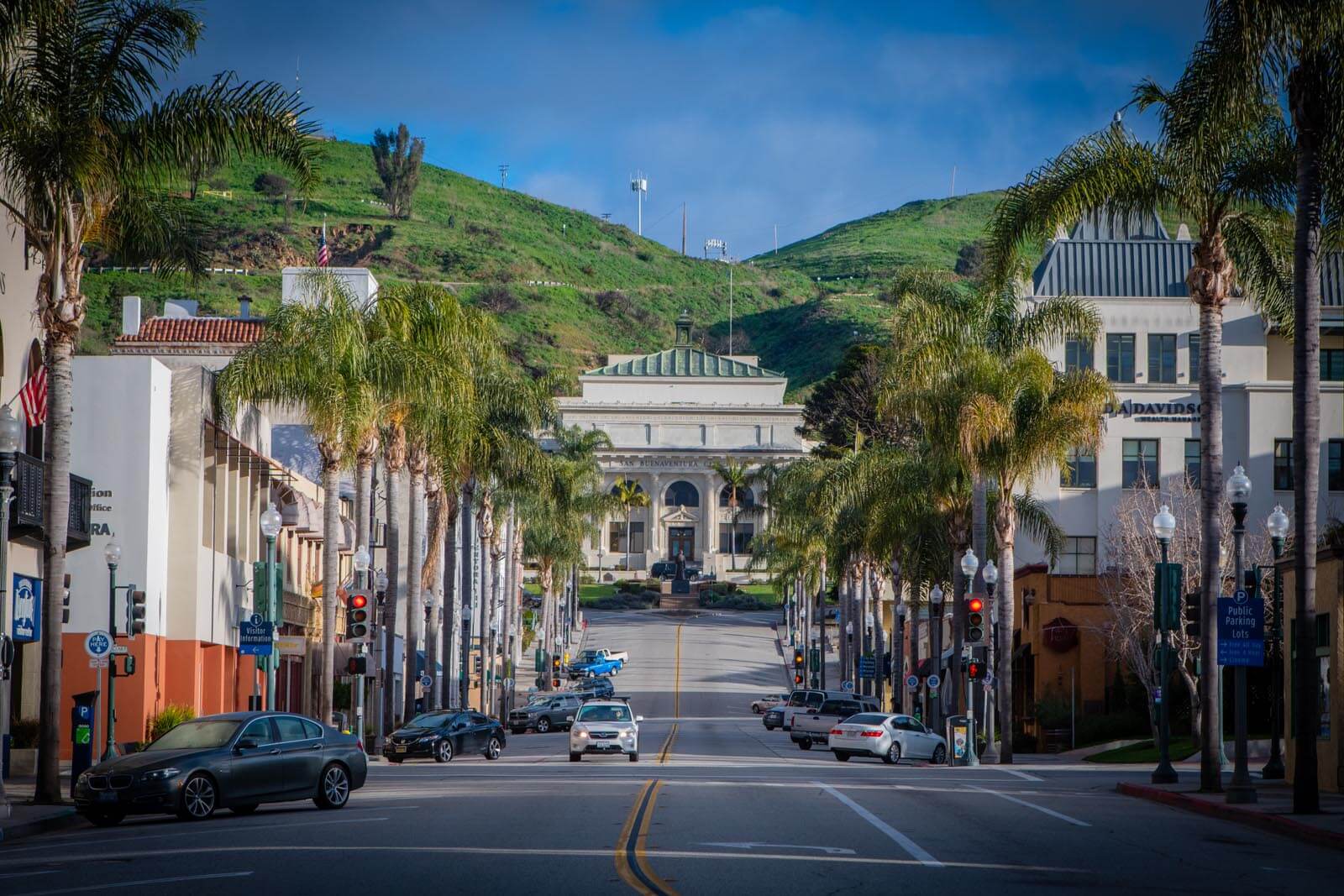 Continuing south, another one of the best coastal cities in California is Ventura. Also known as Buenaventura, the beaches are the highlight of this city, but the downtown is really cool too, in fact we flirted with the idea of moving here as we loved it so much!
Harbor Cove Beach, also known as Mother's Beach, is a calm spot to take a dip in the ocean or fly a kite. Surfer's Point is a top notch surfing and windsurfing destination. Marina Park is a large beachfront park, and a fantastic activity is to bring picnic supplies to use at the barbecue areas, and watch boats in the harbor.
The Ventura Beach Promenade is situated next to the ocean, and you can walk or bike down this strip and take in the views.
Ventura also has some excellent hiking trails. The Rincon Bike Trail is a 12 mile trail from Ventura to another spot on this list, Carpinteria. The Ojai Valley Trail will take you 19 miles and end at downtown Ojai.
There is also an array of local shops to check out, and a thriving music and nightlife scene for when the sun goes down. Head down Main Street for boutiques to check out, places to grab a drink, and food.
Hop in the car and go to Ventura Harbor Village for more shopping and dining. You don't want to miss the fish and chips at Andria's.
What's even better is that there are so many cool things to do in Ventura and nearby you can spend a few days here including visiting nearby sites in Camarillo and Oxnard and making a day trip to the Channel Islands National Park, which is unbelievable to see in person.
For a really unique stay, check out Waypoint Ventura, an entire 'hotel' made up of restored vintage campers! They have an entire fleet with a cliffside location complete with views of the ocean and Ventura Pier, firepits, corn hole, bikes, and BBQ areas! Each trailer is unique, so it will be tough to pick which one to stay in!
Malibu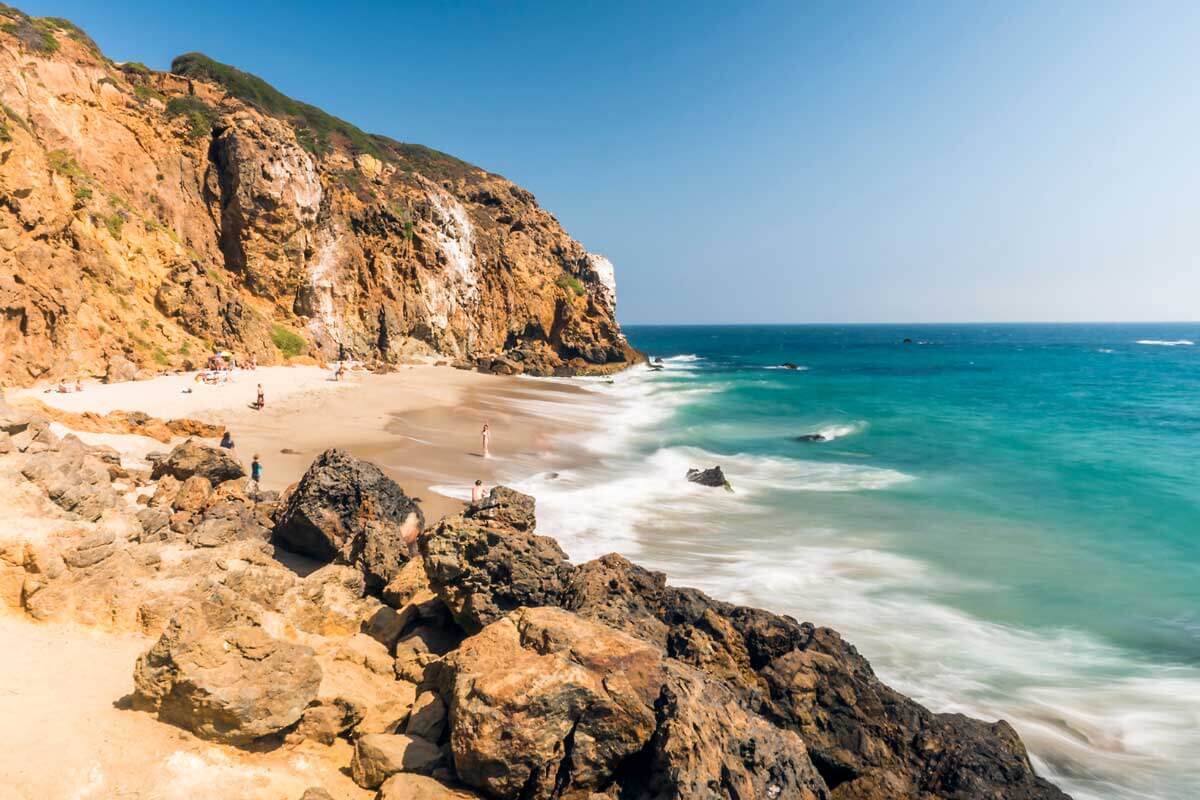 One of the best beach towns in California is the one, the only, Malibu, known for being a celebrity hotspot and having picture-perfect beaches with multi-million dollar mansions right on the waterfront.
For visitors, you can have picnics by the beach, watch surfers ride the waves, sunbathe, swim in the cool ocean, and go on a beach walk.
Some of the best beaches in Los Angeles can be found in Malibu. Malibu's beaches are a can't-miss activity! Some of our favorites include El Matador State Beach, Leo Carrillo State Beach, Malibu Surfrider Beach, Las Tunas Beach, and Zuma Beach & Point Dume.
The iconic Malibu Pier has dining (Malibu Farm is a must), shopping, fishing, and you can even play out on the water with a boat rental or if you have thousands to spend, you can charter your own private yacht for the day.
Moving away from the coast, Malibu has some fantastic attractions. The Getty Villa is inspired by a Roman country residence, and it holds a collection of Greek and Roman artwork, not to mention it's one of the best museums in Los Angeles.
Saddlerock Ranch is a winery that not only has vineyards, but also wine caves. To add to the experience here, you can go on a Malibu Wine Hike. To explore the sweeping views of the canyons and mountains of Malibu, go on a hike in Escondido Canyon Park. The Escondido Falls Hike takes you to a waterfall, and you can embark on a scenic hike or mountain biking adventure at Solstice Canyon within the park.
There are so many cool things to do in Malibu, especially if you're looking to get away from the chaos of Los Angeles and still be close enough to enjoy the city too. One of the most beautiful hotels to stay at in Malibu is the Surfrider Hotel located directly across from the Malibu Pier, so you can't beat the location or the views. Not to mention the rooms are absolutely stunning at this luxury stay.
Manhattan Beach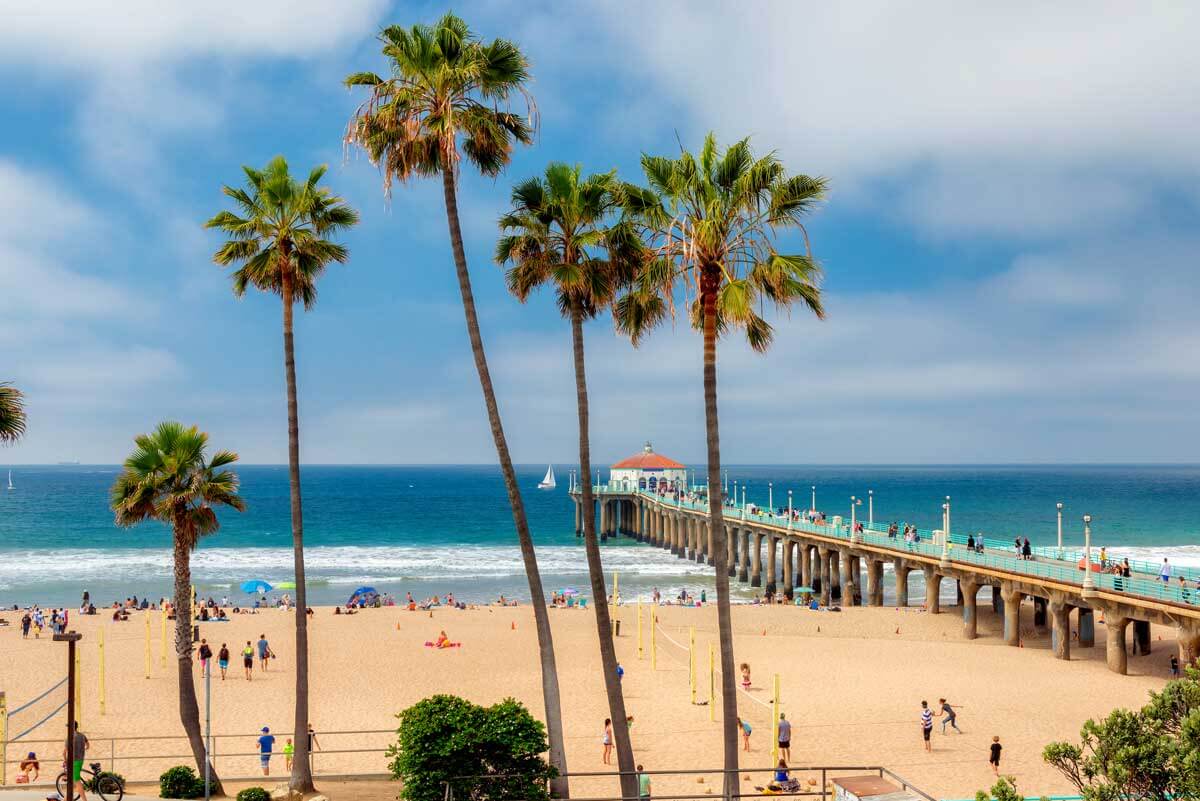 If you had to envision what a picture-perfect California beach town looks like, it would probably look a lot like Manhattan Beach. This relaxed, upscale coastal community is known for surfing, dining, and stunning beachfront residences.
North Manhattan Beach is where a lot of the activity in the city takes place. At El Porto Beach, you can rent an e-bike, which you can ride along the coast. Wander a few blocks away from the beach, and you will encounter Highland Avenue.
Pop into one of the local coffee shops, and grab a latte or a matcha. Stop in one of the cafes or pubs for some delicious fare. After a day of sun and sand, make your way to one of the bars or restaurants to wind down.
The Strand is part of North Manhattan Beach, and it is a walkable path that has views of the beach on one side, and absolutely incredible homes on the other side. Downtown Manhattan Beach is a hotspot that has dining establishments galore.
You will find restaurants that offer casual and fine dining, as well as sushi and dumplings. There are also coffee and juice shops, bakeries, and ice cream parlors. Apart from the food, downtown Manhattan Beach has shops where you can find apparel, jewelry, eyewear, books, magazines, home decor and gifts. There is also a great nightlife scene, with live music, trivia, and dancing. Another fantastic shopping and dining destination is Manhattan Village.
Not to mention, this is a great base for exploring around the best things to do in Los Angeles and really close to LAX if you're ending a Southern California road trip around here too.
Check out Shade Hotel Manhattan Beach for a great location steps away from many of the shops and dining options not to mention a short walk to the beach!
Corona Del Mar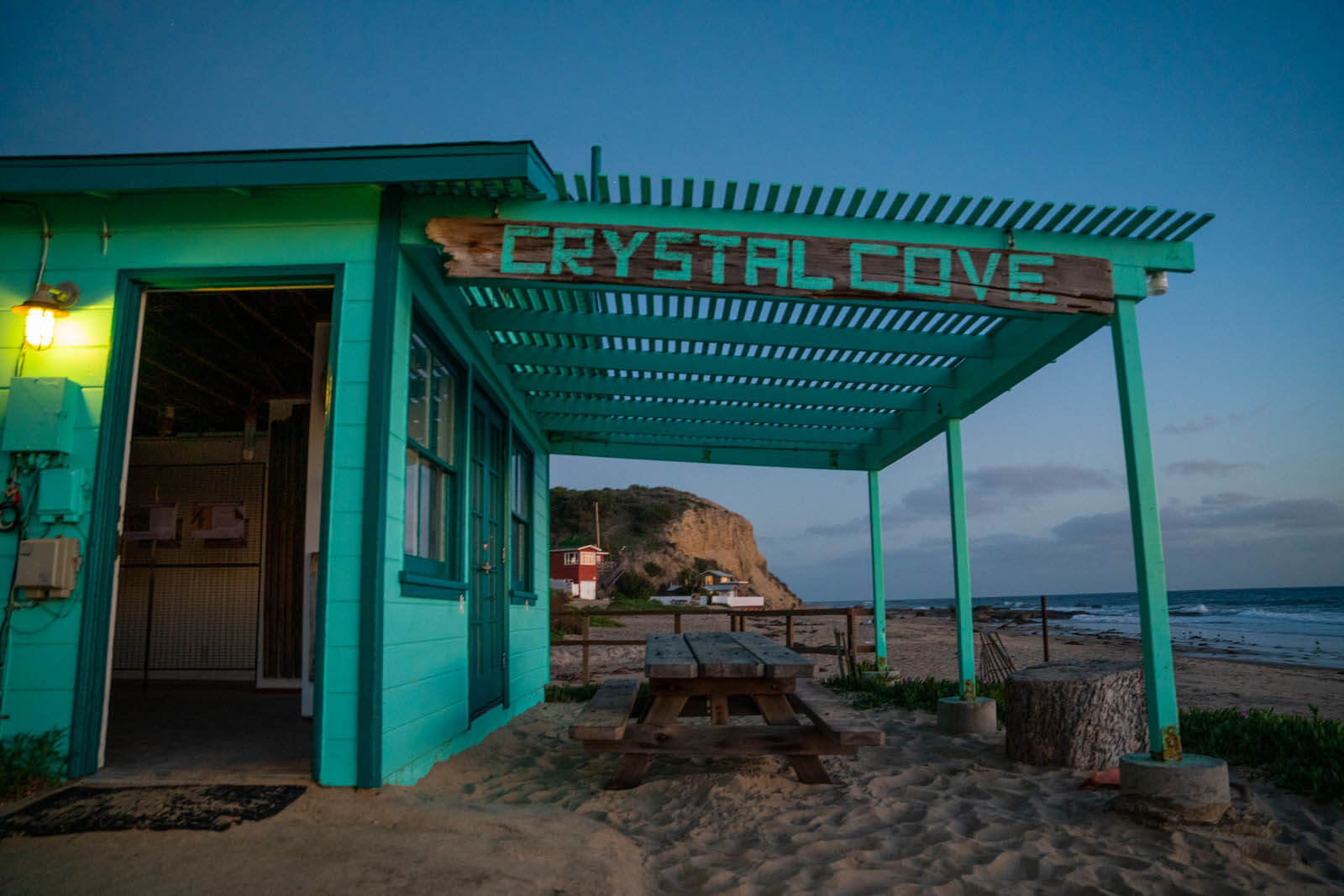 The California beach town of Corona Del Mar is part of Newport Beach, is a coastal neighborhood known for its beautiful beaches and scenery along the Orange County coastline.
Corona Del Mar State Beach is a fantastic all-around beach with lots of activities and amenities. Surfing, volleyball, scuba diving, swimming, snorkeling, sunbathing, and bonfires are the kinds of things you can expect to get into when you come here. Additionally, Corona Del Mar State Beach has picnic tables, BBQs, volleyball courts, and fire pits. While that is the main beach here, another spot called Little Corona del Mar Beach is perfect for diving, snorkeling, and having a picnic. Corona del Mar has spectacular florals and greenery to view, making it visually stunning.
Don't miss the views of the bluffy coastline here from Inspiration Point either!
The Sherman Library and Gardens are botanical gardens that you can peacefully wander around and take in the beauty and serenity. There is a restaurant on-site, the 608 Dahlia, where you can enjoy a garden-to-table meal.
Along the PCH in Corona Del Mar you can find restaurants. Hop in your car and you're just minutes away from all the fun things to do in Newport Beach including more of the best beaches in Orange County, Balboa Island, and one of our favorite places of all time – Crystal Cove State Park where you can dine at the Beachcomber restaurant right on the sand, walk around the beautifully restored beach cottages, hike, or enjoy a day on the beach.
We recommend basing in Newport Beach to explore this area, that way you can also hit up all the best small beach towns in California that are right along here. A luxurious option located on Balboa Island, is Lido House, an Autograph Collection property located at Lido Marina Village, which is surrounded by shops, restaurants, and gorgeous waterfront views.
Laguna Beach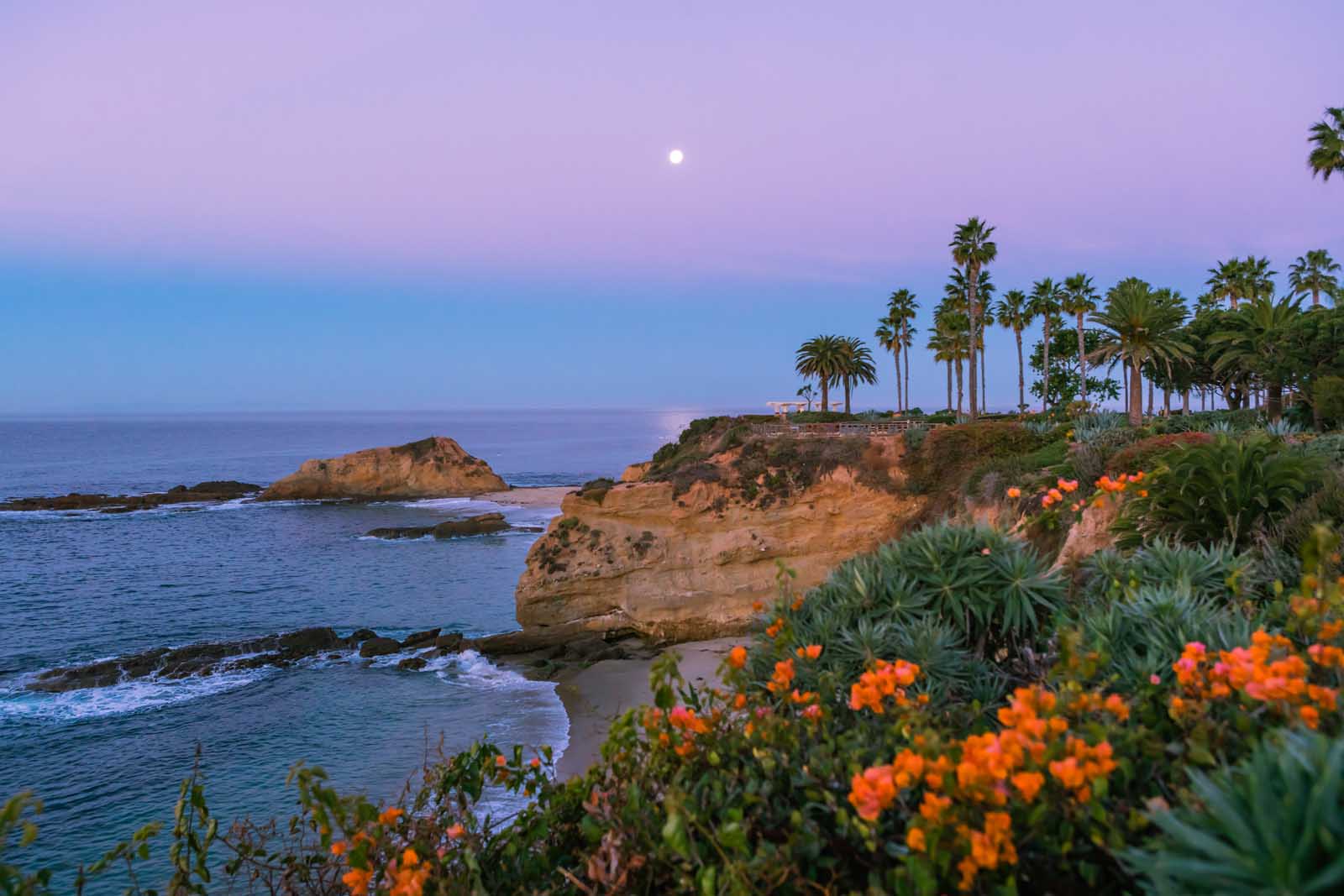 Ahh, my former home and a special place dear to my heart. The casual, relaxed, and very famous coastal community of Laguna Beach is one of the best beach towns in California, hands down not to mention one of the best places to visit in Southern California.
Laguna Beach is known for being a quintessential Southern California coastal town with vibrant beach culture, but the art scene is big here as well with tons of galleries, art-related events, and the annual Pageant of the Masters.
Starting off with the beaches, the city has 30 beaches and coves to hit up. Many of the best Laguna Beach beaches are great for swimming, surfing, and exploring tidepools. If snorkeling and diving are more your things, be sure to stop by Christmas Cove, Cleo Street Beach, and Treasure Island.
If stand up paddle boarding calls to you, check out Fisherman's Cove, Pearl Street Beach, and Thalia Street Beach. You can also take advantage of the free trolley shuttle that takes you up and down the PCH to different parts of Laguna Beach too to beach hop.
Switching over to the art scene, there are art classes, public art, galleries, and art festivals to check out. Laguna Beach has four annual art festivals, and a First Thursdays Art Walk, so make sure to see if any of these events are happening during your visit. There are over 100 art galleries and artist studios to peruse as well.
Make sure you take a walk downtown around Main Beach and head up to Heisler Park where the views of the coastline and tropical plants on the bluffs are postcard perfect. Check out all the awesome things to do in Laguna Beach including downtown too where you can find plenty of places to eat, drink, and shop too!
For a great place to stay check out La Casa del Camino is located right on the PCH and Cress Street. You not only have access to a small beach but you're easily able to walk downtown, to more beaches, and tons of restaurants and shops. Plus, this is a great base for exploring the Orange County beach towns too!
Dana Point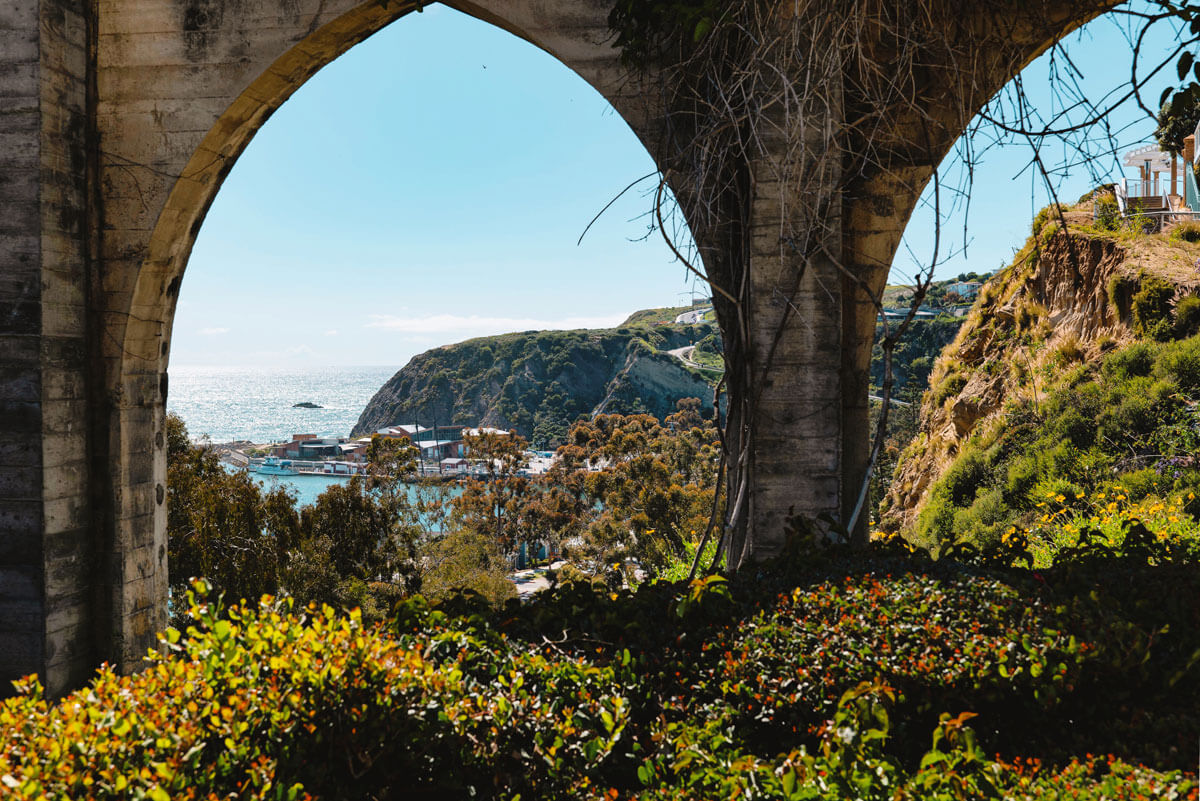 One of the more luxurious and resort-like California beach towns is Dana Point, which is the place to visit when you want to indulge and enjoy pampering time at a lavish spa. Some of the best ones to check out are The Spa at Laguna Cliffs Marriott, the Miraval Spa at the Waldorf Astoria Monarch Beach Resort, and the Ritz-Carlton Laguna Niguel Spa. Get a massage, or a facial, or just chill out in the sauna.
After the spa, head out to the beach, one of the best things to do in Dana Point. Doheny State Beach is ideal for watching surfers, and exploring the area on a beach cruiser. Salt Creek Beach is rockier than other beaches in the area, but that makes for amazing scenery while you swim in the ocean.
Dana Point is known to be a fishing destination, and sport fishing is rather popular. You can catch tuna or halibut close to shore, and farther out you can catch yellowtail or bluefin tuna. Book a fishing charter to embark on a sport fishing adventure.
Dana Point is the proclaimed "Dolphin and Whale Watching Capital of the World", and there are several whale-watching tours where you may see dolphins, whales, and even sea lions in their natural habitat.
Another way to enjoy the outdoors is checking out Dana Point Headlands Trail and Conservation Area, which is a path that goes for 3 miles and links multiple conservation parks closeby. With this hike, you will be treated to lookout points with gorgeous views of the sea.
This is just south of Laguna Beach, so you can easily combine both California beach towns on the same visit. If you're looking for a more luxurious stay, consider one of the incredible and world-renowned resorts in Dana Point including the Waldorf Astoria Monarch Beach Resort (AAA Five-Diamond status) and the Ritz-Carlton Laguna Niguel (5-star resort) both with cliffside locations overlooking the ocean with amazing spas.
San Clemente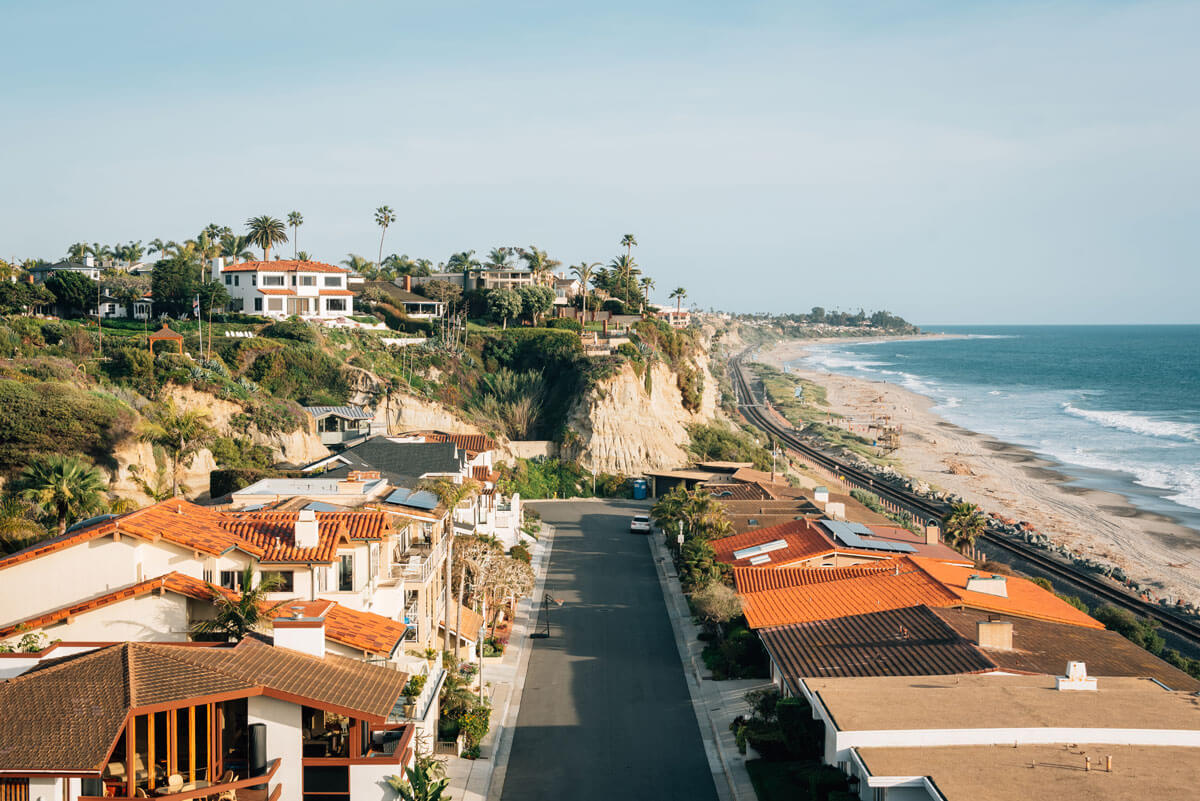 For beautiful Spanish colonial-style architecture in a relaxing California coastal town, head to the "Spanish Village by the Sea", otherwise known as San Clemente.
The beaches here are gorgeous, so make sure to stop by at least one. San Clemente State Beach is generally a good beach to spend the day on. Trestles Beach is known as the surfing beach around here, and it has multiple famous spots. San Clemente North Beach is great for sun and sand, and if you need a break, there are nearby shops to check out. T-Street Beach has BBQ and fire rings, perfect for a cookout by the ocean, and it is close to the San Clemente Pier.
And speaking of the pier, it's a fantastic place to stroll and check out the activity happening on the water and on the shore. Also, it has multiple restaurants by the water, so you can enjoy fresh food while looking out over the cresting waves.
The San Clemente Beach Trail alternates between natural settings and areas in town, and it's a great way to get fresh air and see the surroundings. If you get thirsty for an ice cold beer, San Clemente has you covered.
With its location being close to northern San Diego, which is known for being a craft brew hub, there are several great breweries to check out in San Clemente. Stop by Artifex Brewing Company, Lost Winds Brewing Company, and Left Coast Brewing Company, just to name a few.
Another place in town to check out is Avenida Del Mar, which is San Clemente's main street that is populated with local stores and bustling restaurants.
With so many great things to do in San Clemente, this is a great place to base in between Orange County and San Diego, we recommend checking out Sea Horse Resort which offers rooms with ocean views located right along the beach in San Clemente.
Carlsbad
The coastal city in California with activity and things to do is definitely Carlsbad. Known for family-friendly attractions, in addition to the beaches, is what draws tourists to the city.
The K1 Speed Go Kart Track is super entertaining, and a fun activity away from the shore. Legoland California has dozens upon dozens of rides, as well as a waterpark and aquarium connected to the resort.
The Flower Fields at Carlsbad Ranch has bright-colored ranunculus flowers covering an expansive 50 acre area. This is a super photogenic spot, and you can explore their themed gardens, greenhouses, and even a maze.
Other fun things to do around the city include stand up paddle boarding, surfing, golfing, and skating. The Carlsbad beaches include Tamarack State Beach, which is where to come after a day of exploring the city, and watch the sunset. This beach has established itself as a place where people come specifically to watch sunsets. Additionally, you can swim, surf, scuba dive, kayak, windsurf, fish, and go beachcombing. To get away from the energetic city for a bit, head to South Ponto Beach. This is a roomy beach, and it's situated in an undeveloped area, making for a more private feel.
And one of the best things to do in Carlsbad is spend a day at Carlsbad Mineral Water Spa! Fun fact, Carlsbad was named after the famous spa town of Karlsbad, Bohemia aka Karlovy Vary in the Czech Republic! It is said that Carlsbad, California has similar mineral content to this famous spa town in the Czech Republic – which we have been and LOVED. Since this coastal city in California has healing waters – you have to stop!
Consider using Carlsbad Inn Beach Resort located in Carlsbad Village as your base and only steps away from the beach!
Encinitas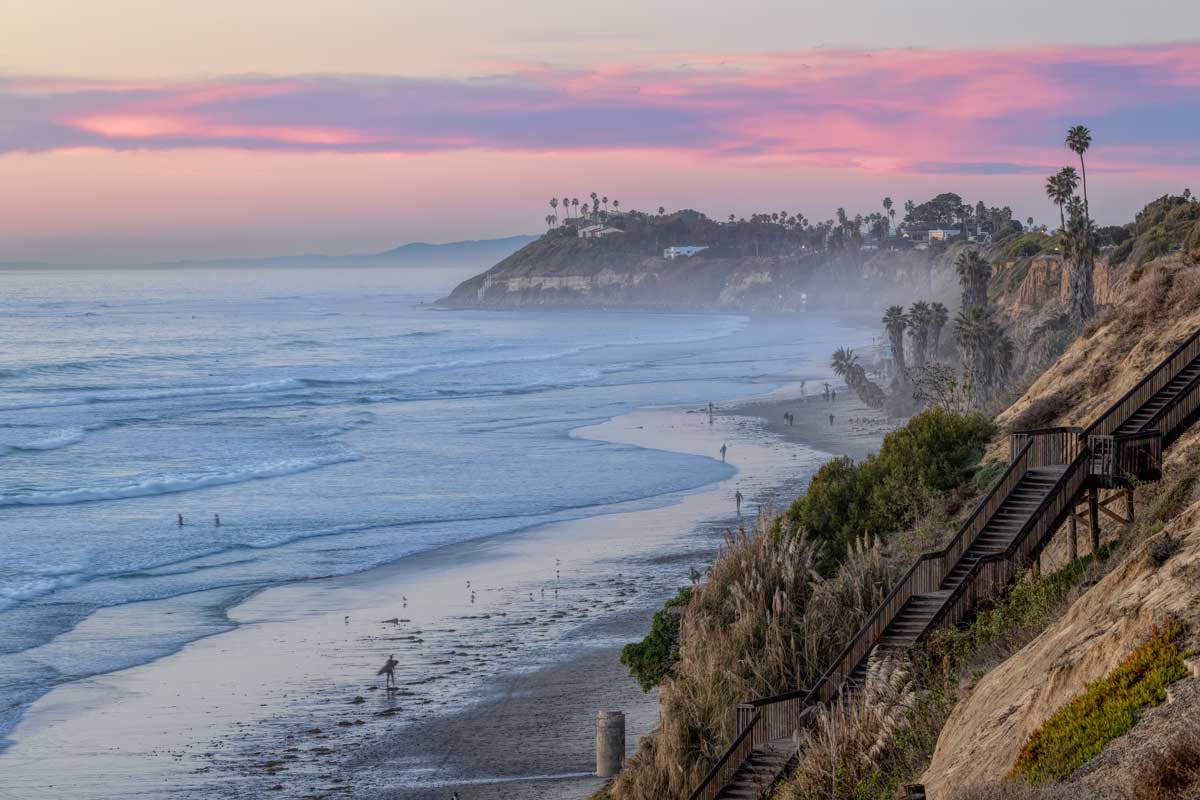 For soaking up the sun on the beaches, or surfing the waves, head to one of the best coastal cities in California, Encinitas. Located just north of San Diego, Encinitas is an incredibly beautiful California coastal destination to spend a few days at. Since beach life is at the forefront of the city's culture, you have to spend time by the ocean!
At Moonlight State Beach its name pays homage to a favorite activity of the locals back in the day, which was having a picnic at midnight. There are fire rings here, which is quite appropriate considering a great picnic includes some grilled food. Swami's is known around the globe for being a surfing destination. It received a mention in the iconic Beach Boys song "Surfin' USA".
At the San Diego Botanic Garden, you can see several thousand types of plants from across the globe. Exhibits include desert gardens, a tropical rainforest, a subtropical fruit garden, rare bamboo groves, and an undersea succulent garden.
Activities away from the beach include driving down Historic Highway 1 next to the coastline for dazzling scenery, and hitting up the downtown shopping district for independent shops and local eateries. Encinitas is one of the best beach towns in California to include on your itinerary.
Stay at Surfhouse Boutique Hotel,  a cute independent property, located steps away from Leucadia Beach in Encinitas as your base.
Solana Beach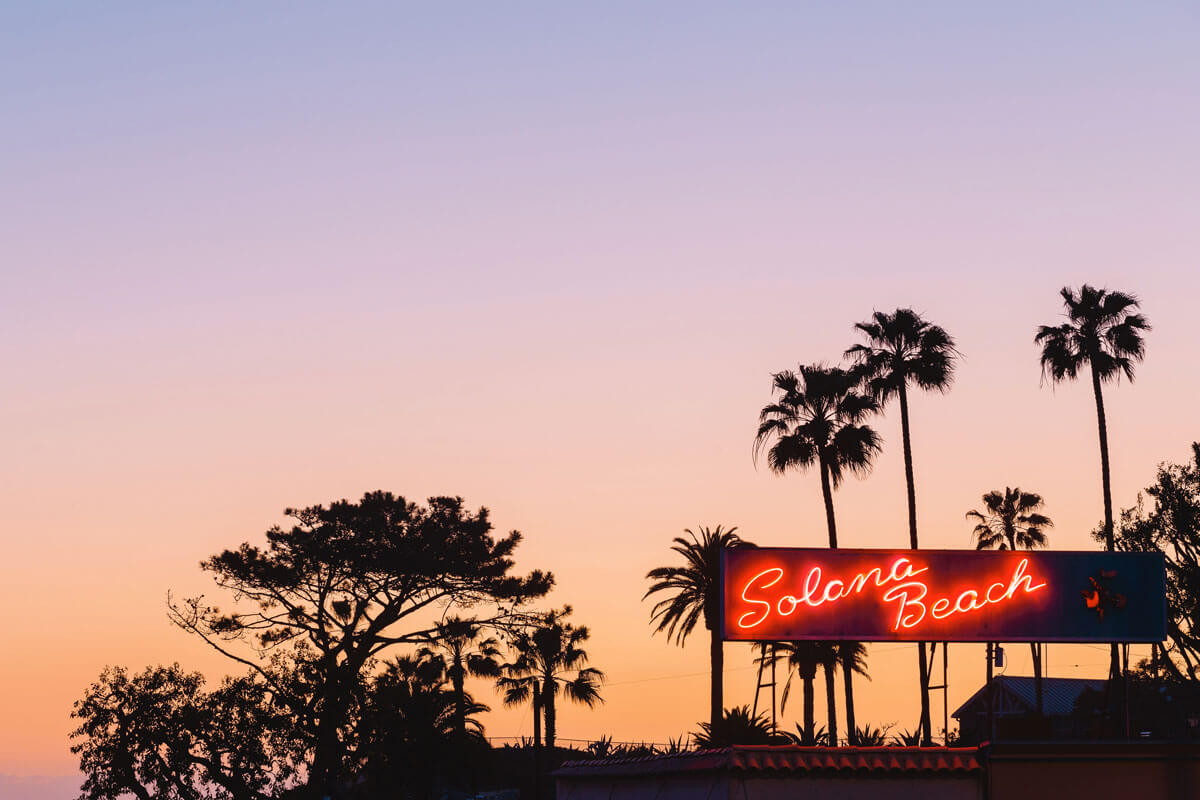 No car or bike is needed to enjoy this small coastal town in California, it's a pretty walkable destination and also, much like all of the small coastal towns in California, stunning!
Solana Beach is a quiet seaside community known primarily for surfing. One of the highlights here is Fletcher Cove, where you can jump in the water for a swim, get your surfboard to catch some waves, or grab your paddle and get out on the water on a kayak.
Most shopping and dining spots in Solana Beach are within a 30 minute walk of Fletcher Cove. At Tide Beach Park, you can go surf fishing, snorkeling, get a close look at the tide pools. Keeping up with being outdoors, Annie's Canyon Trail is part of San Elijo Lagoon Ecological Reserve, and is a great hike to work up a sweat and look out over the lagoon and ocean.
Cedros Design District is the shopping mecca to visit for inspiration, as well as pick up various wares. Taking up two and a half blocks, the Cedros Design District has art, fashion and accessories, gifts and specialty stores, and home decor.
Located just north of San Diego, this is a great base for exploring the area if you're looking to stay outside of the city. Plus you're close to the famous Del Mar racetrack. Del Mar Beach Hotel (actually in Del Mar) is a great option if you're wanting to stay right on the beach and close to dining!
La Jolla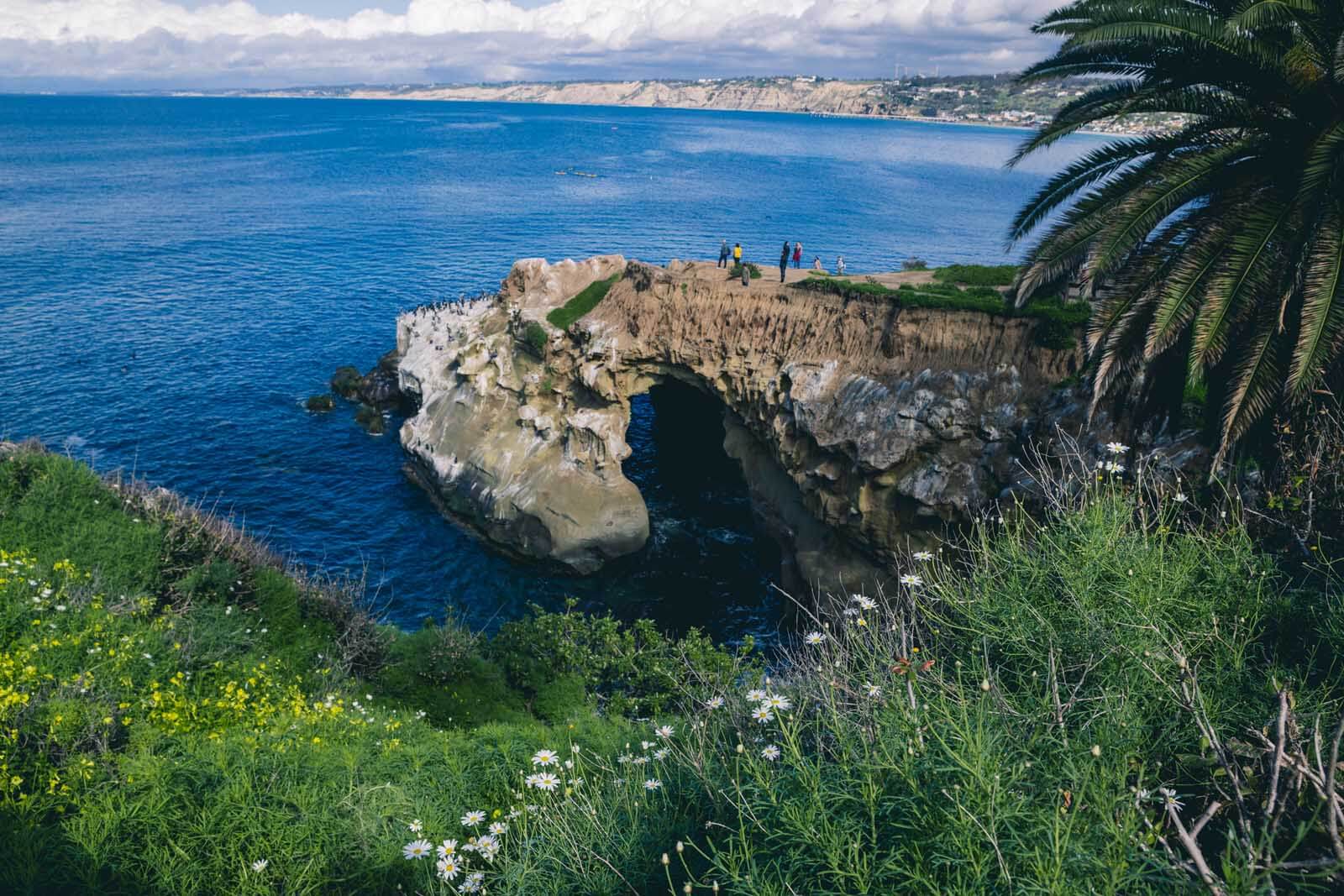 In the California coastal town of La Jolla, the views reign supreme, and just about everything here revolves around the the scenic vistas you can enjoy from atop the bluffs or from restaurants like George's at the Cove.
At La Jolla Cove, the waters are protected, and you will find vibrant marine life waiting for you beneath the blue surface. This is where you can spot a whole beach of sea lions basking in the sun which are great to observe from the walkway above on the La Jolla Walking Trail.
Don't miss taking a walk through Sunny Jim's Sea Cave too, rumored to have been used for bootlegging back in the days of prohibition.
Complimenting the beaches are parks and outdoor areas to enjoy. Ellen Browning Scripps Park is a beautiful grassy area by the ocean, and it is possibly San Diego's most photographed place. Cuvier Park is a more secluded spot to wander around, with views straight out to the ocean.
However, the highlight of the outdoor spaces is Torrey Pines State Natural Reserve. It contains Torrey Pine trees and other native wildlife, and there are a variety of trails to explore the area. One highlight is the beach trail, which is a short but somewhat difficult trail that leads to Torrey Pines State Beach.
Also, much like Laguna Beach, La Jolla has an incredible arts scene with tons of galleries to check out downtown among shops, dining, and drinking options.
Lastly, for a laugh, the Comedy Store has comedians performing every single day, including popular comedians from their Los Angeles location, and they even have open mics on Sundays.
One of the best hotels in Southern California and one of our favorite places we've ever stayed is the Pantai Inn located steps away from the views at Rocky Point and less than a 5-minute walk to many of the beaches and main attractions in La Jolla.
---
---
Enjoyed this guide to the best California coastal towns to check out? Bookmark for later or share the love below on Pinterest!