Looking to enjoy one of the most scenic drives in the world? A California coast road trip is without a doubt one of the most gorgeous places to take as little or as long of a road trip as you can! With a diverse and dramatic coastline, the stops we suggest fitting in your California coast road trip range from cool coastal cities, scenic parks, small beach towns, and incredible natural wonders of the Golden State, plus highlights at each of the stops!
And better yet, because California has such a comfortable climate, this road trip can be done any time of the year. Northern California, being a bit colder on average than Southern California, still be mild and temperate even in the winter.
The Pacific Coast Highway in California technically starts in Legget in Mendocino County and ends at Capistrano Beach in Dana Point in Orange County. This guide includes stops further south than Dana Point, making it more of an epic California coast drive vs only specifically the California Pacific Coast Highway drive stops, which is noted below.
For the purposes of this guide, we are going to organize these California coast drive and California Pacific Coast Highway drive stops from North to South. It would take a month to complete this California coast road trip if you were to make every stop suggested in this guide, so use this to either go all out and plan a month or use this for inspiration to customize your Highway 1 road trip!
Disclaimer: This post contains commissionable links.
Awesome California Pacific Coast Highway Drive Stops
Crescent City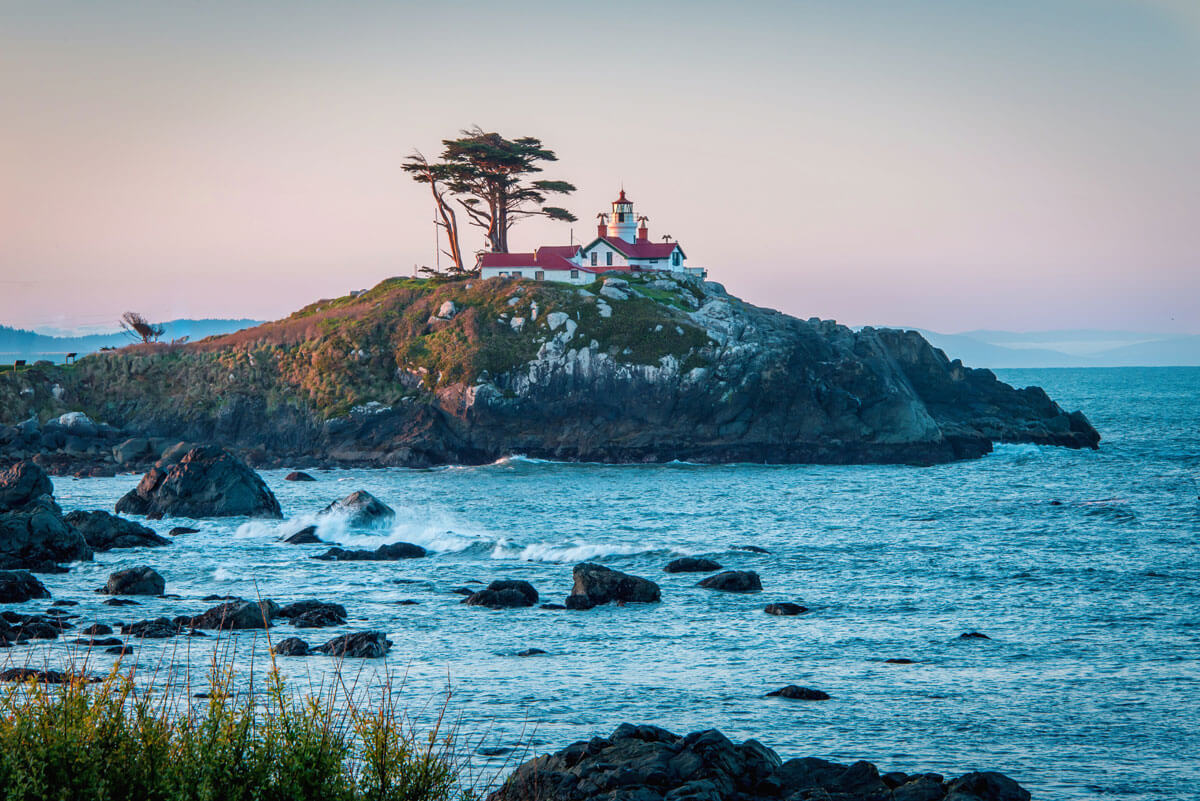 Starting off the California Pacific Coast Highway drive in the northern part of the state, Crescent City is known for being the place where the redwoods meet the Pacific Ocean. Rocky bluffs with softly crashing waves, traditional lighthouses, and dense forests are what you can expect to see when you stop here.
A few of the best spots to see the giant redwood trees include driving along Howland Hill Road, hike the Boy Scout Tree Trail, and Jedediah Smith Redwood State Park.
Lighthouses are a big attraction in this city, and one that you will want to make sure to visit is the Battery Point Lighthouse. This picturesque destination is perched on an island slightly offshore of Crescent City. Visitors can make their way over to the island during low tide, and if you happen to be visiting when tours are offered, you can get a guided journey through the lighthouse and up to the lamp room in the tower.
Another cool destination here is the Northcoast Marine Mammal Center, where you can see seals and sea lions that are being cared for by the staff before being released back into the ocean.
Hanging out in Crescent City for a little bit on your Highway 1 road trip is a great way to begin your adventure!
Where to Stay: One of the most iconic places to stay in Crescent City on your California coast road trip is Curly Redwood Lodge, which was constructed from one curly redwood tree! Plus you're less than a 5-minute drive from Redwood State and National Parks. Book here.
Redwood National Park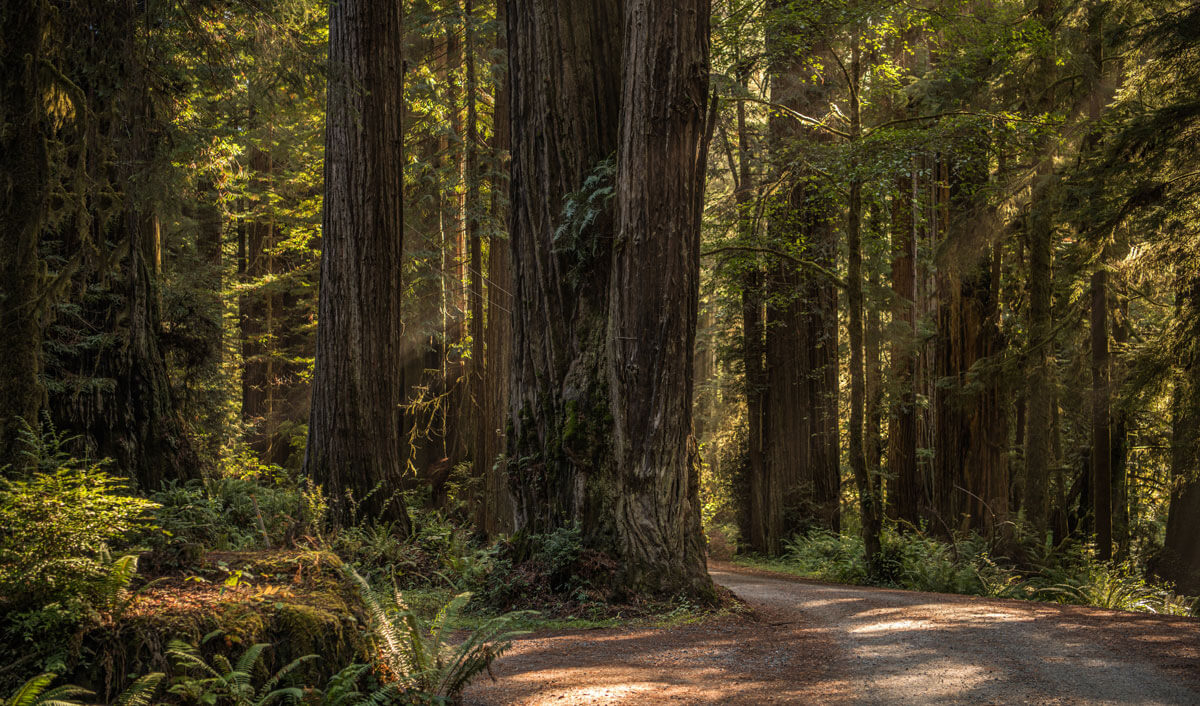 Among the top natural wonders in this part of the country are the enchanting redwood trees in the Redwood National Park. Redwoods are known to be some of the most mature and colossal trees in the world. They look almost…otherworldly.
Just about half of the redwood population in the world is located here which is why this is one of the best places to visit in Northern California. The park encompasses Jedediah Smith Redwoods State Park, Del Norte Coast Redwoods State Park, and Prairie Creek Redwoods State Park, meaning there are 200 miles of paths to explore.
So, what can you do at Redwood National Park? You can hike or bike on dozens of paths that will get you up close and personal with the natural beauty of Redwood National Park. You can take a scenic drive through the stunning landscape.
There are several roads, either paved or unpaved, that will give you incredible views of the forest and coastline. Redwood National Park is one of the California Pacific Coast Highway drive stops that you won't want to miss!
Where to Stay: One of the most iconic places to stay, mentioned above just a 5-minute drive from Redwood State and National Parks is is Curly Redwood Lodge, which was constructed from one curly redwood tree! Book here.
Mendocino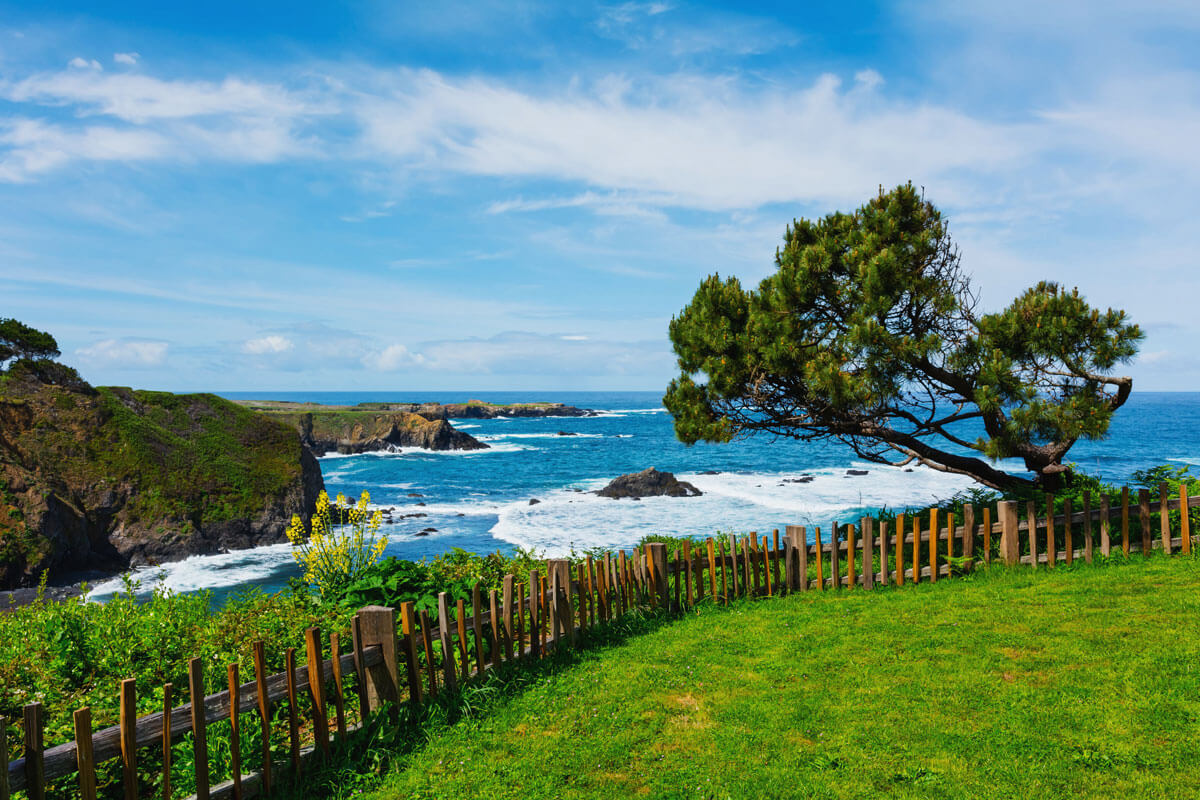 The charming community of Mendocino is known to attract artists and other creative people for its idyllic landscape and pleasant small-town vibe. It's the kind of place you would expect to see in a romantic comedy, with beautiful scenery, cute cottages, and a perfectly manicured downtown with shops and restaurants.
While you're here, be sure to traverse the trails, coast, and beaches at Mendocino Headlands State Park. Artists who work with photography or paint have been known to come here due to the beautiful features of the area.
A great place you won't want to miss is the Historic Ford House, which not only serves as the Visitor's Center for the park, but it is also a dedicated little museum about the history of the area.
The Mendocino Coast Botanical Gardens are nestled right by the ocean and offer a unique and stunning view for a botanical garden. The views of the bright, cheerful flowers are accompanied by the sound and views of the ocean in the background.
Additionally, there are great restaurants in Mendocino, including some wineries and breweries. Make sure to include this city on your list of California Pacific Coast Highway drive stops.
Where to Stay: A gorgeous, coastal stay on your Highway 1 road trip in Mendocino is Agate Cove Inn, a beautiful B&B perched on a botanical bluff above the Pacific Ocean with access to Agate Beach. Book here.
Point Reyes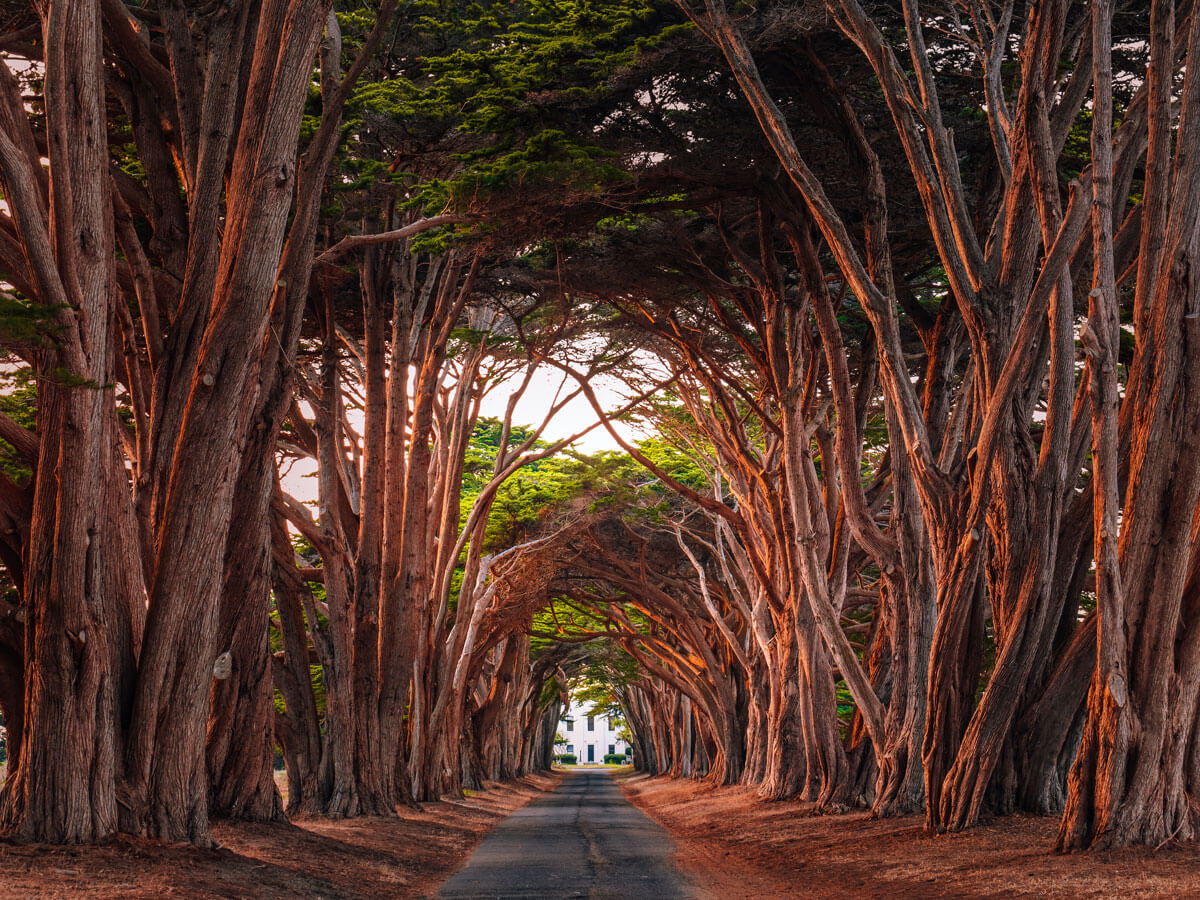 Continuing south on your PCH drive is Point Reyes, a stunning spot by the coast. Located in Marin County, a handful of towns comprise the area known as Point Reyes. This is a popular destination, especially for the nearby San Francisco Bay area.
People come here to hike and take in the gorgeous views, as well as kayak near Tomales Bay. One of the popular hiking trails is the Bear Valley Trail, which you can explore by hiking, biking, or horseback riding.
Additionally, Alamere Falls is a breathtaking waterfall right by the ocean, which is quite a sight. But, prepare for quite a trek to get to Alamere Falls, as it is a 13 mile round trip excursion.
With all that being said, the true gem here is the Point Reyes National Seashore. Spanning over 70,000 acres on the Point Reyes Peninsula, this park is a naturally beautiful landmark of the area. At Point Reyes National Seashore, you can go hiking, catch a glimpse of whales off the coast, watch the northern elephant seals during the cold months, and enjoy incredible birdwatching. And don't miss the insanely beautiful Cypress tree tunnel while you're here!
Where to Stay: A gorgeous stay on your PCH drive in Point Reyes is Olema House, a boutique property nestled in the gardens with pet-friendly options, charming cottages, and cozy stays that feel like home away from home with a historic tavern on site. Book here.
San Francisco
One of the most famous cities in California is San Francisco, and it's known for the Golden Gate Bridge, steep streets, and Alcatraz.
On your Highway 1 road trip, you'll cut right through the Golden Gate Bridge, arguably San Francisco's most iconic feature. Golden Gate Park is a great place to cruise around and explore the green surroundings, and visit attractions like the Japanese Tea Garden, the San Francisco Botanical Garden, and the California Academy of Sciences.
Lombard Street is a twisty, turny road that almost has to be seen to be believed, and always one of my personal favorite spots in San Francisco.
Alcatraz Island is a notable attraction, with this lighthouse site-turned-famous penitentiary offering tours to see where well-known criminals were once held, which is a popular place to take a tour.
And to explore the city's culturally rich environment, make a visit to the San Francisco Museum of Modern Art (SFMOMA) to see modern and contemporary art. This incredible city is among the best stops on the Pacific Coast Highway in California.
This is where many people kick off a California coast drive, often driving from San Francisco to San Diego, which is an option. With bigger cities like this though, you'll want more than just a quick stop, we recommend checking out our 3 days in San Francisco itinerary to plan a proper visit!
Where to Stay: With a city like San Francisco, there are endless options for where to stay. We recommend Omni San Francisco Hotel located in the Financial District, which is a great base for exploring the city and is pet-friendly if you're doing your California coast road trip with a furry friend in tow. Book here.
Half Moon Bay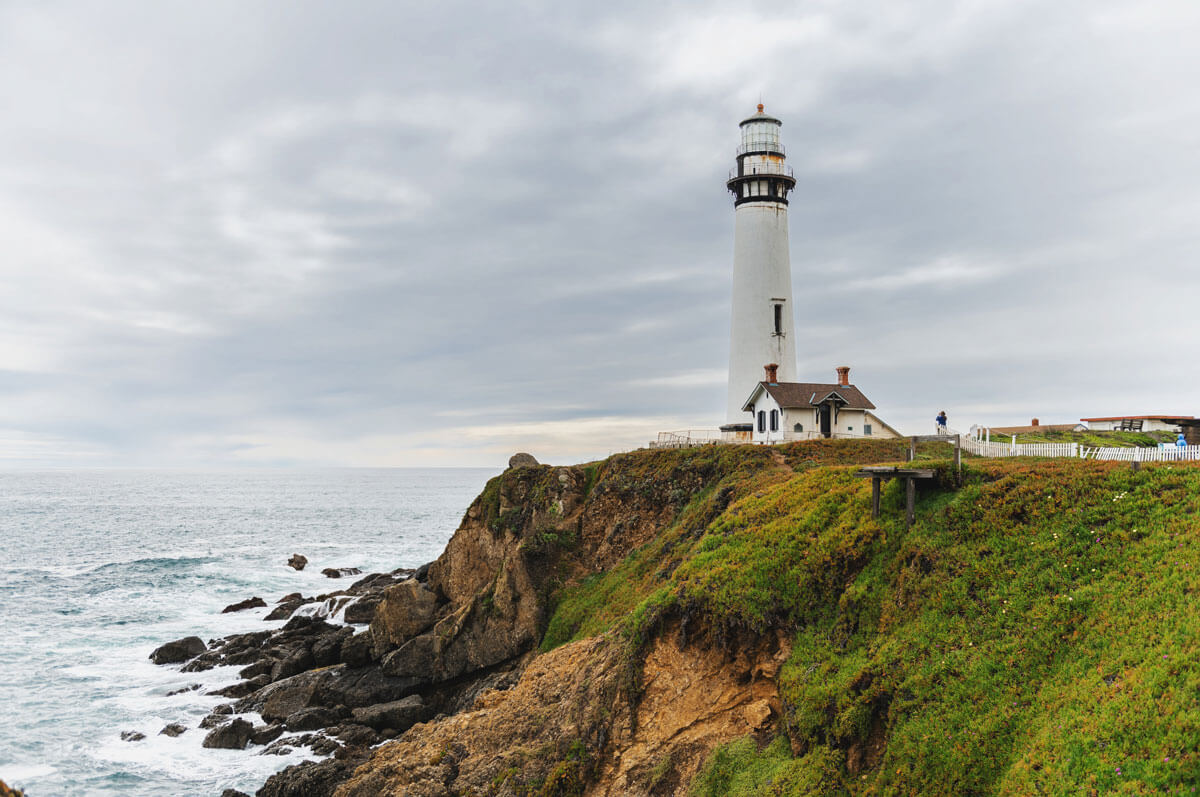 Next up on your California coast road trip is Half Moon Bay, a peaceful and stunning little city. The crescent shape of the area gives the city its name. It's known for Mavericks, a surfing destination that offers up big waves. In fact, surfers from across the world come here to catch towering waves.
One of the highlights here is Pillar Point Harbor, which looks a whole lot like a coastal New England town. There are restaurants and shops here, and it's a fun walkable area.
Half Moon Bay's Main Street has fantastic places to grab some food and do a little shopping, as well as explore some historical spots on the street.
A standout attraction is the Pigeon Point Light Station State Historic Park, which has one of the tallest lighthouses in the country. It's near Half Moon Bay, and the lighthouse is still active. Depending on when you visit, you may be able to catch a tour. The surrounding grounds are quietly beautiful, and you can enjoy a brisk breeze while watching seals and whales offshore.
Where to Stay: There are plenty of great hotels around Half Moon Bay including Beach House Hotel on the waterfront of El Granada in Half Moon Bay. The best part, most of the rooms have ocean views and it's easy to walk along the beach here. Book here.
Santa Cruz Beach & Boardwalk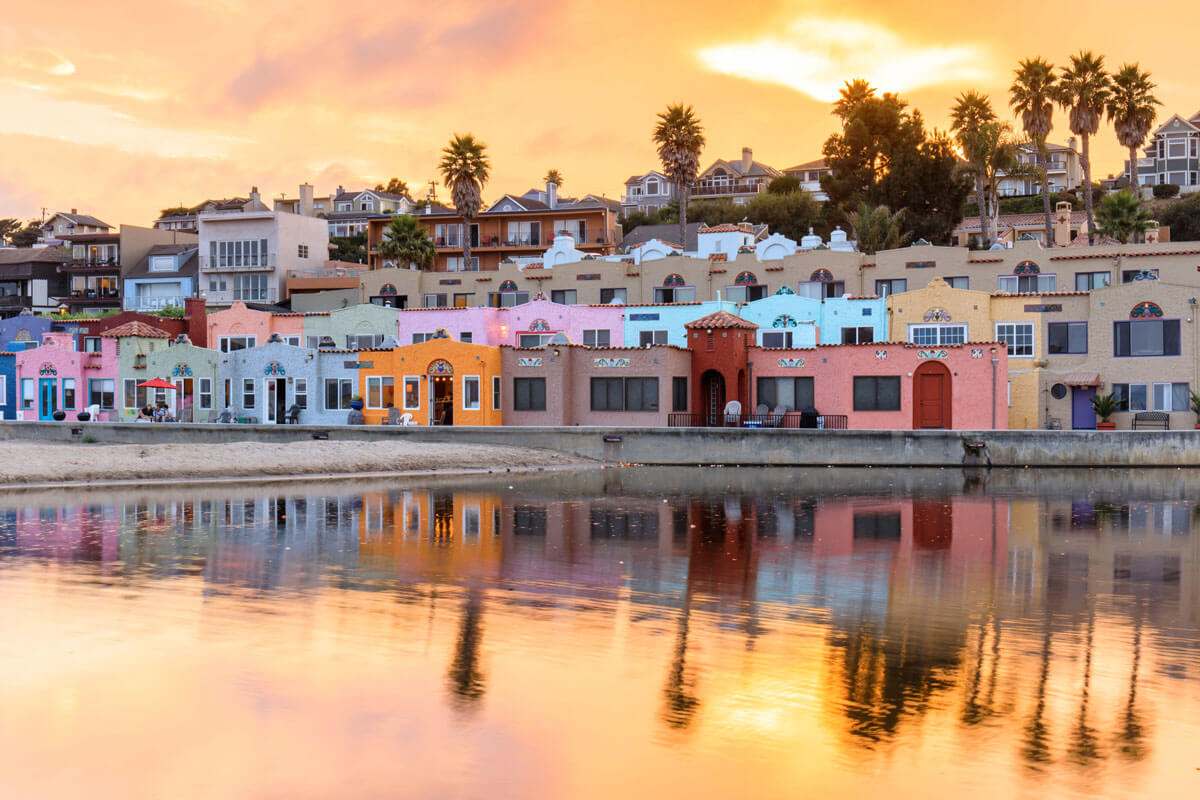 Keep heading south on your Highway 1 road trip, and you'll encounter the charming city of Santa Cruz. Dotted with colorful buildings and homes in Capitola Village and all the entertainment on the Santa Cruz Beach Boardwalk, a seaside park that dates back over 100 years.
The park itself is a State Historic Landmark, and it contains two National Historic Landmarks, the 1911 Looff Carousel and 1924 Giant Dipper wooden roller coaster. There are almost a dozen thrill rides that will get you up in the air for amazing views of the surrounding area, as well as mini golf, arcades, laser tag, and bowling.
The Santa Cruz Beach Boardwalk has free admission, but there is a fee for ride tickets. Additionally, this attraction has classic theme park food, so come prepared to chow down!
Other highlights include the Santa Cruz Wharf, which juts out into Monterey Bay, and the Monterey Bay National Marine Sanctuary, where you might see dolphins, otters, sea lions, and whales swimming off the coast. Not to mention the beautiful Walton Lighthouse.
Where to Stay: There are plenty of great options for where to stay overnight in Santa Cruz on your California coast road trip including Sea & Sand Inn which overlooks Monterey Bay Beach atop of a bluff. You're also just a short walk to the Santa Cruz Wharf here too. Book here.
Monterey & Carmel-by-the-Sea
Two incredible California beach towns that make for a couple of the best stops on the Pacific Coast Highway in California are Monterey and Carmel-by-the-Sea. They are very close together, and each is interesting in its own right.
Monterey is known for its fishing history, and has several attractions that pay homage to that pastime. Cannery Row used to be a hub for the sardine canning industry, and now it's a waterfront street where these canning factories used to be. Old buildings have been converted into shops, galleries, and restaurants.
Fisherman's Wharf used to be a wholesale fish market until the 1960s, and today there are eateries, stores, and there's still marine activity. As far as attractions go, the Monterey Bay Aquarium is a terrific spot to check out. It used to be a sardine cannery, and now it is home to more than 35,000 marine animals.
Carmel-by-the-Sea is known for attracting artists and other creatives for its aesthetic setting, but it may be more well known for having Clint Eastwood as mayor from 1986 to 1988. A bit of trivia about this city is that they have some interesting laws. There are no chain restaurants allowed, and a permit is required to wear high heels with a heel height of more than 2 inches.
Some of the highlights here include Carmel River State Beach, which is a popular place for divers and bird watchers, and Point Lobo State Reserve, which is a great scenic location for hiking and picnicking.
Where to Stay: Many of the lodging options in Carmel-by-the-Sea are set in historic buildings that look straight out of a storybook like the Vagabond House Inn which is in the heart of this seaside town and a great base during stop on your California PCH road trip. Book here.
Big Sur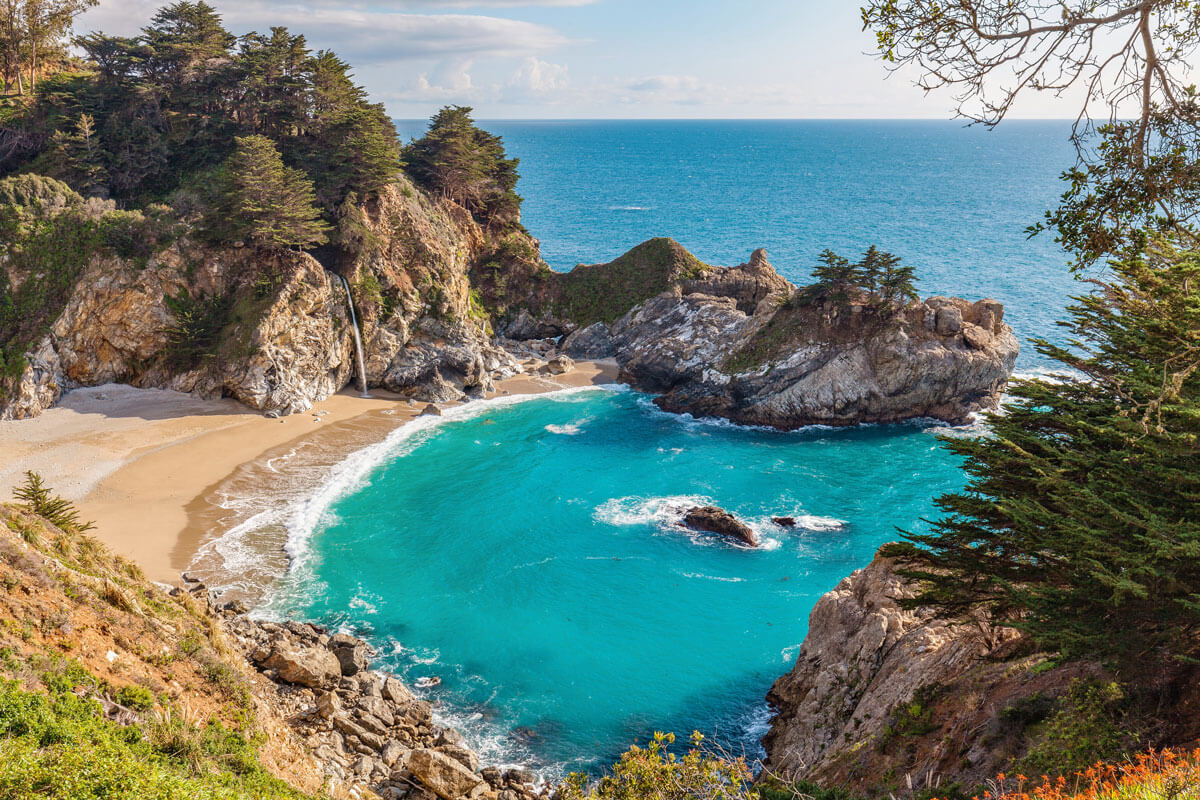 The next destination on your California coast drive is a well known treasure on the west coast. Big Sur is known for its breathtaking scenery, wildflowers, and exaggerated and staggeringly beautiful landscape. Highway 1 goes right through Big Sur, so as you're traveling on the Pacific Coast Highway, you will be led right to this attraction.
The Bixby Bridge is an iconic part of this area. It's over 260 feet high, and over 700 feet long, and construction on this bridge dates back to 1932. The Bixby Creek Bridge View Point gives you a straight-on view of Bixby Bridge, and you'll want to have your camera ready to snap some photos.
Julia Pfeiffer Burns State Park is another place to check out. It's a great place to get out and stretch your legs, as this is a great place to go hiking. In particular, the Overlook Trail is fantastic for exploring and getting great views of Big Sur. You won't want to miss McWay Falls while you're here, it's a dramatic 80-foot waterfall that flows into the ocean on the beach! This is one of the things to do on the Pacific Coast Highway in California that is a can't-miss destination.
Where to Stay: One of the coolest stays on this guide has to be Glen Oaks Lodge which is a converted mid-century motor lodge that's been modernized with amenities but still has all the charm and character of the original property. This rustic stay offers cozy cabins and cottage-style rooms with fireplaces and streamside seating. Book here.
Pfeiffer Beach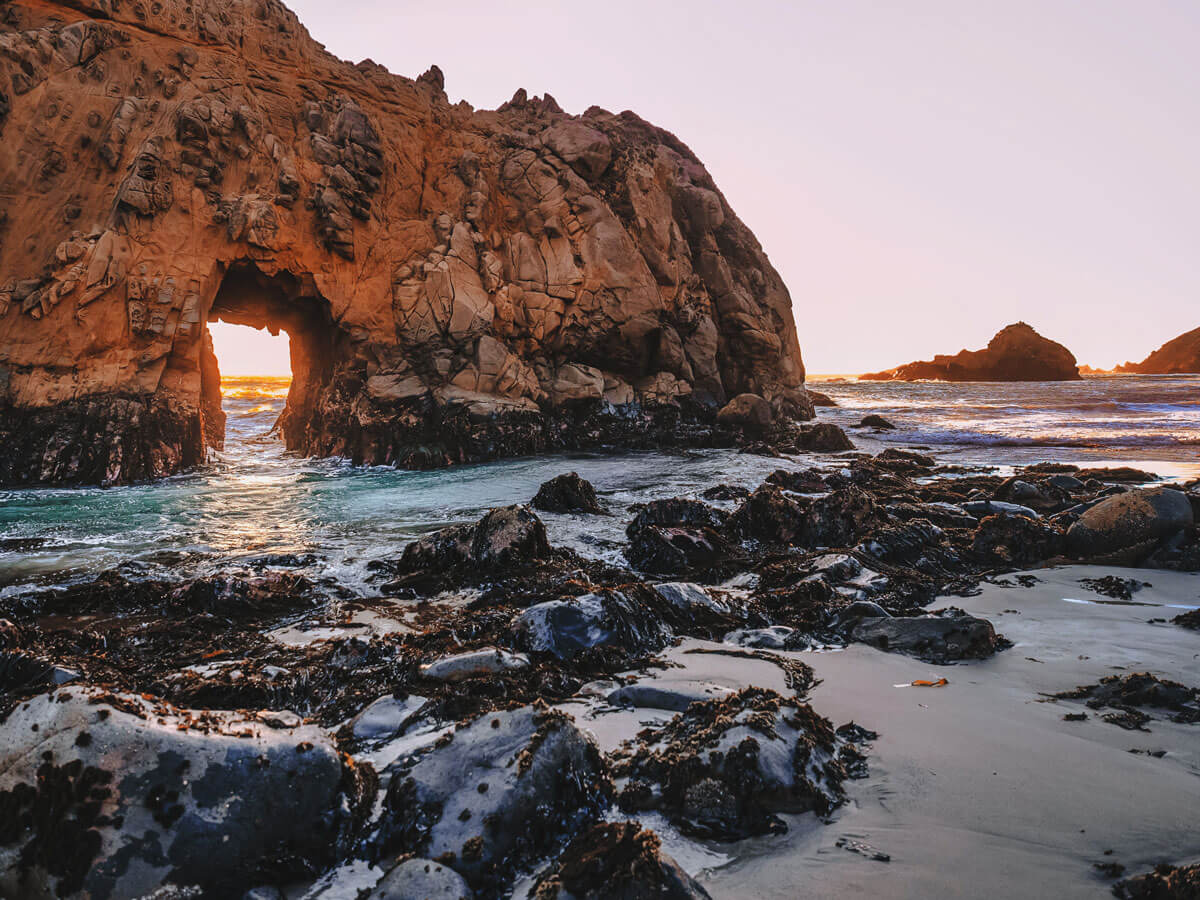 After exploring Big Sur, the next California Pacific Coast Highway drive stop is Pfeiffer Beach. It is actually situated in Big Sur, and reflects the beauty of its surroundings. Two prominent features that Pfeiffer Beach is known for is Keyhole Rock and purple sand.
Keyhole Rock has a "keyhole" arched opening that waves and rays of sunshine burst through, and it's a popular spot for photographers to shoot.
The purple sand found on certain parts of the beach is produced from manganese garnet rocks in the cliffs. Other activities you can partake in include photography, walking the beach, and exploring the tide pools and dunes.
Be sure to check out the sub-alpine forests, chaparral, desert badlands, and riparian areas in the Los Padres National Forest. Pfeiffer Beach is located within the forest, and it is the third largest national forest in the state.
You can go camping, hiking, take a scenic drive, go OHV riding and camping, do some horseback riding, go on a beach walk, see the wildflowers, and have a picnic.
Where to Stay: Since this is so close to Big Sur, we are still recommending Glen Oaks Lodge for exploring this part of your Highway 1 road trip in California. Book here.
San Luis Obispo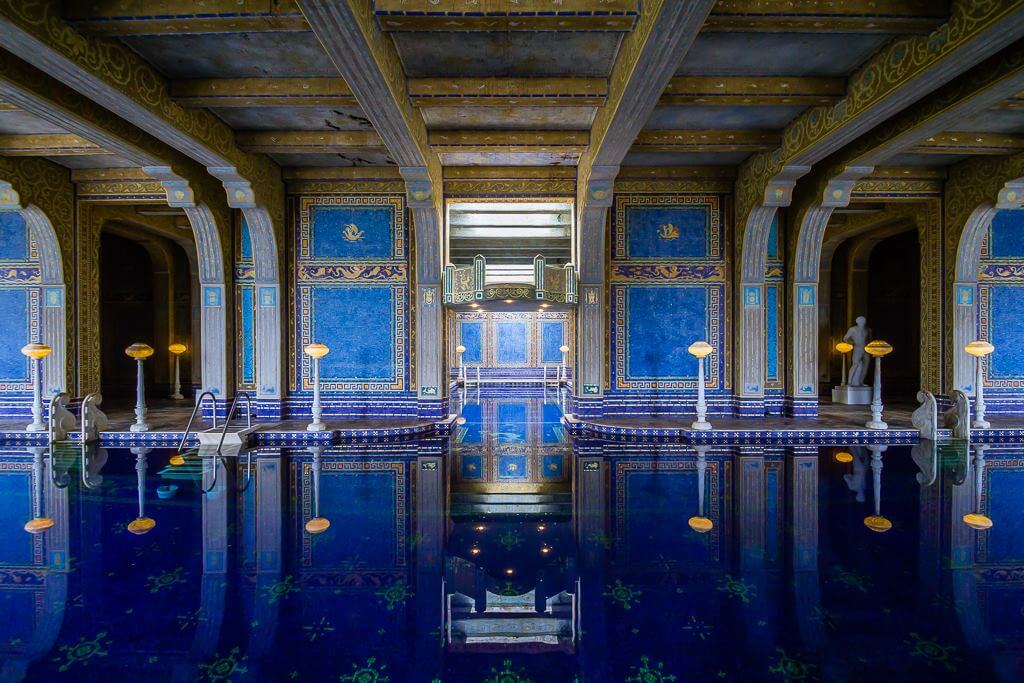 Continuing on your PCH drive, you'll come across the delightful community of San Luis Obispo. Known for historic architecture and vineyards, this tourist destination has great places to explore.
Bubblegum alley is a street in the downtown part of the city where people place their chewed gum on the walls. Dallidet Adobe & Gardens dates back to the mid-nineteenth century, and was constructed by the first commercial vintner in the county. It is a great place to walk the paths and enjoy the plants and greenery.
The San Luis Obispo Museum of Art displays pieces from California artists, and is a lovely way to immerse yourself in the city's culture. There are also a good selection of restaurants where you can enjoy a glass of local wine.
Make sure to check out Morro Bay, a city by the coast near San Luis Obispo. It's known for Morro Rock, an enormous old volcanic heap at the end of the beach.
Another cool attraction and one of the best things to do in San Luis Obispo is visit Hearst Castle at San Simeon. Publishing magnate William Randolph Hearst had a hand in designing the estate, and it dates back to the early to mid twentieth century.
Today, you can visit the castle and get tours of this magnificent property. San Luis Obispo is a great addition to the itinerary on your California coast drive!
Where to Stay: When you're on the central section of your California Pacific Coast Highway drive there is no way you can pass through this area without at least stopping, if not staying at the iconic and historic Madonna Inn. This historic-themed hotel has unique rooms, some are covered ceiling to floor in pink, blue, or green to rooms are built into rocks and look like caves! Plus you'll want to dine in their over-the-top pink dining room and save some room for one of their world-famous cakes! Book here.
Pismo Beach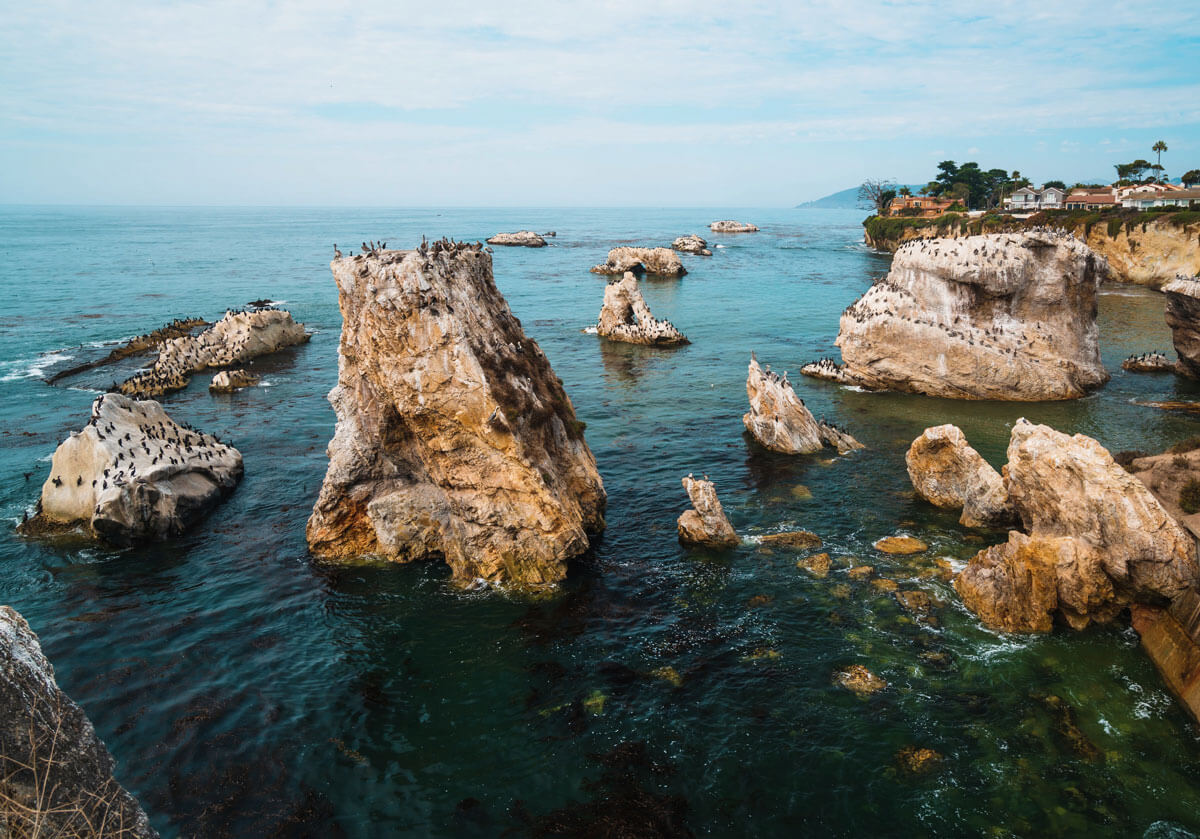 For unique things to do on the Pacific Coast Highway in California, head to Pismo Beach. Known for wineries, beaches, and the Monarch butterflies that migrate to Pismo Beach during the fall and winter, this is a mellow stop off the PCH where you can get into interesting activities.
There is Dinosaur Caves Park, which has trails, coastal overlooks, and open grassy areas. People come here to walk, take photos, or go fishing, and you can also watch birds, seals, and sea lions. There's the Monarch Butterfly Grove, where you can view the migrating Monarch butterflies, which is quite a sight.
And for the wine aficionados, there are regions just half an hour outside of Pismo Beach where wine is made, and restaurants in the city carry these local varieties. So, be sure to grab a glass or two of wine while you're here!
Where to Stay: Spending the night in a hotel with ocean views is a must during your Highway 1 road trip and a great spot to do that in Pismo Beach is at the Shore Cliff Hotel. This is a great base for wine tasting, relaxing in your room witih ocean views, and enjoying their beautiful pool with ocean views. Book here.
Solvang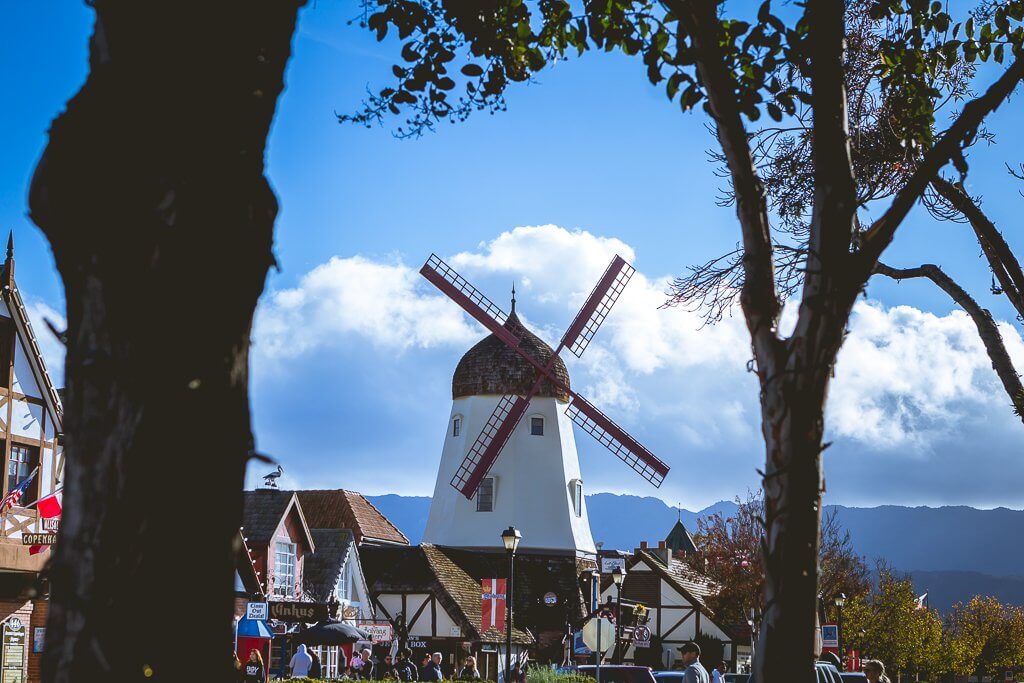 One of the more unique California Pacific Coast Highway drive stops is Solvang, otherwise known as "The Danish Capital of America". It's visually interesting, with Danish-style architecture, as well as a good number of wineries.
There are terrific eateries in the village, where you can indulge in some delicious Danish pastries and interesting shops that you can pop in and browse.
The Elverhoj Museum of History & Art showcases the history of the city, and contains national and international pieces of art. The Old Mission Santa Ines is aesthetically quite beautiful. And taking a ride on the trolley is a fun way to experience this city.
Solvang is on the more unique side of things to do on the Pacific Coast Highway in California, and certainly worth a visit! And if you happen to be here around the winter holidays you'll love how charming the town is this festive time of year. Just make sure you watch Sideways again before stopping on your PCH road trip!
Where to Stay: When stopping in Solvang on your Highway 1 road trip you'll want to stay in a hotel that fits the entire Danish town! The Mirabelle Inn is an elegant European-style stay (with a half-timbered style building) complete with its own private winery on site. Not to mention, it's in a great location in Solvang! Book here.
Santa Barbara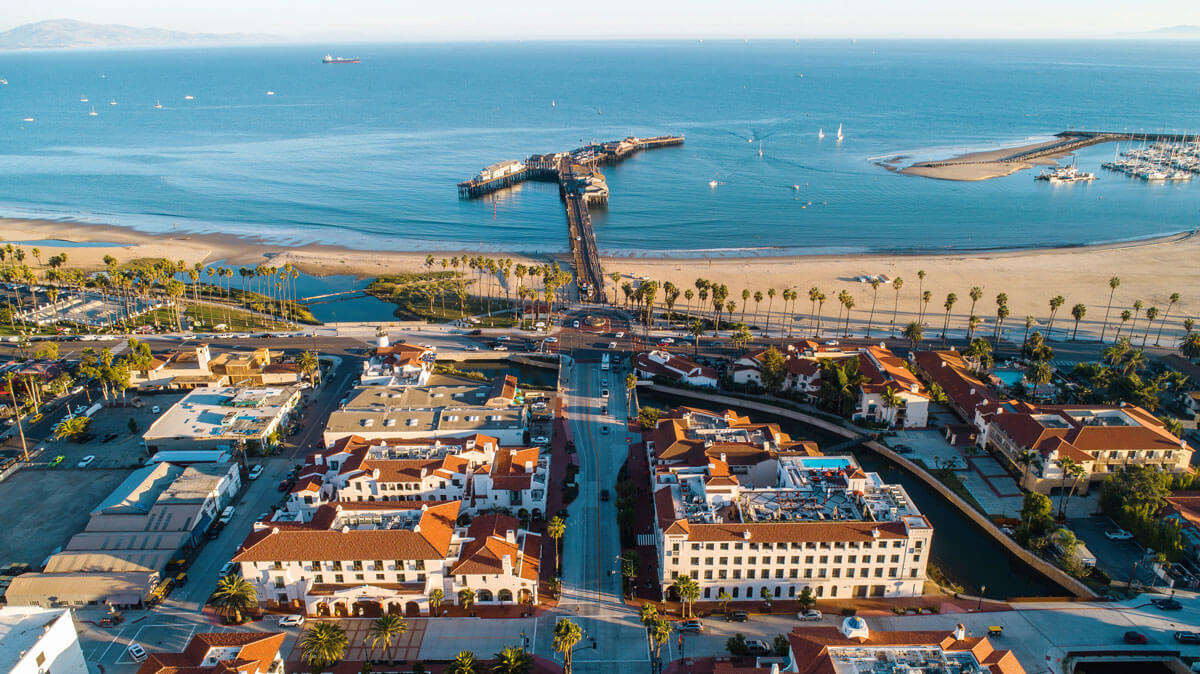 Some of the best things to do on the Pacific Coast Highway in California can be found in Santa Barbara. Known as "The American Riviera", this tourist and resort city features Mediterranean architecture and serene energy.
Casa Del Herrero is a National Historic Landmark and showcases Spanish Colonial Revival Style architecture and flourishing gardens. The Santa Barbara Museum of Natural History Sea Center is an interactive aquarium where you can explore multiple exhibits.
And to take advantage of Santa Barbara's gorgeous scenery, get outside! Popular outdoor activities at the city's beaches and parks include hiking, biking, kayaking, stand up paddleboarding, fishing, horseback riding, and sailing.
Oh, and don't forget the incredible wine-tasting scene around here whether you're visiting the tasting rooms in the Presidio District or the Funk Zone, or you can explore out and beyond the city center to wineries in the Santa Ynez Valley. Stop and explore Santa Barbara on your PCH drive!
Where to Stay: There are plenty of amazing hotels in Santa Barbara whether you stay for one night or use this as a base to explore Central California on your California Pacific Coast Highway road trip. For a more quaint stay, check out Hotel Milo Santa Barbara which has beach access, a pool, and a hot tub for guests! For a bit more of a splurge, check out the 5-star stay at Hotel Californian, a luxury stay with a rooftop terrace, a poolside bar, and gorgeous rooms.
Ventura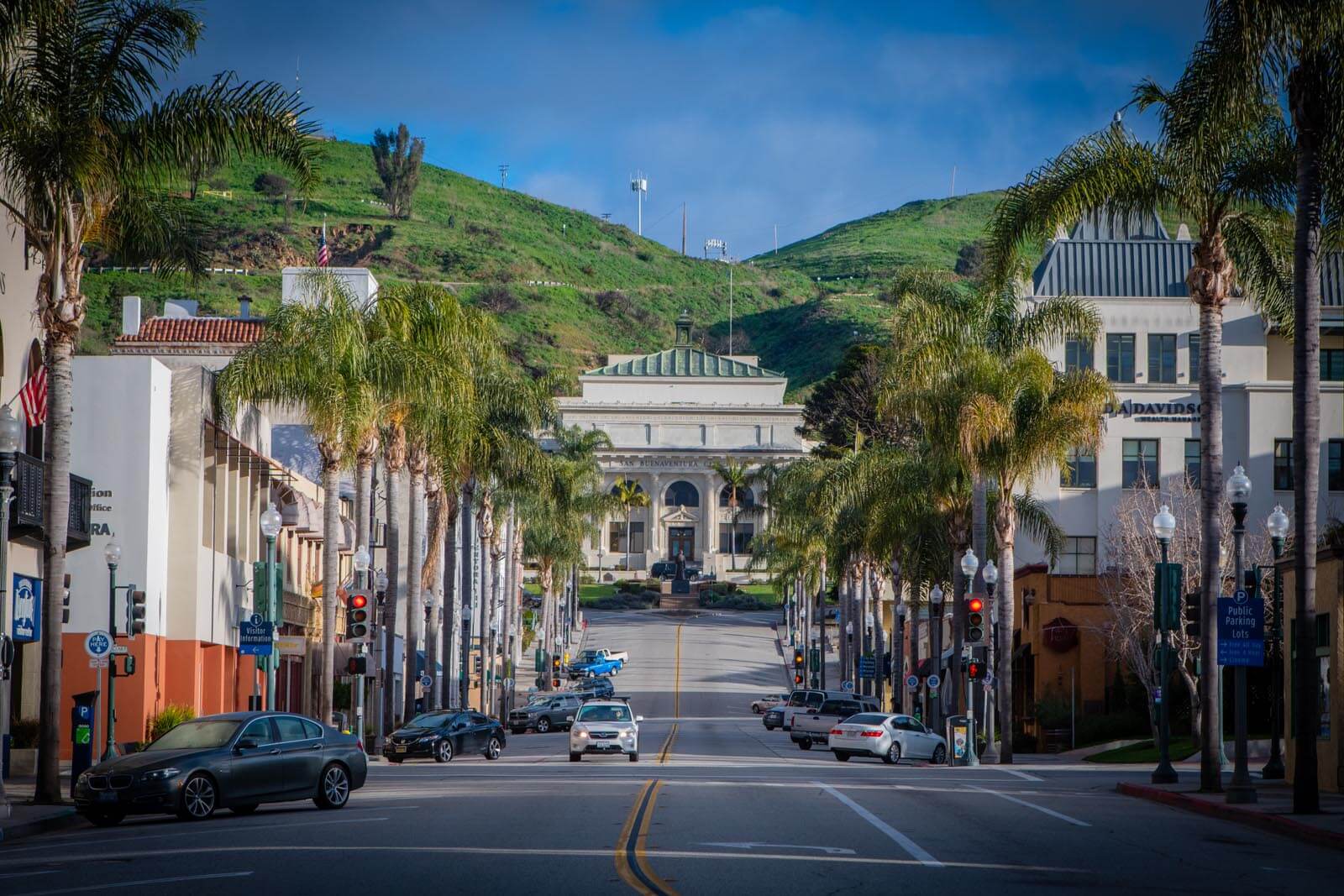 Cruising along on your Highway 1 road trip, a stop in Ventura is well worth your time. Known for its beaches, Ventura has several spots that are terrific for enjoying a little time by the ocean.
Ventura State Beach at Ventura Pier is appropriately nestled right by the pier and promenade. At Pierpoint Beach at South Seaward Avenue, it's close enough to restaurants that you can walk and grab a bite after being out in the sun. And saving the coolest for last, Marina Beach has a pirate ship!
There are plenty of incredible things to do in Ventura, you can easily spend a few nights here exploring the area and using it as a base to visit the Channel Islands National Park too.
There are also great hiking and biking trails. Rincon Bike Trail goes twelve miles from Ventura to Carpinteria, and the Ojai Valley Trail is 19 miles one way and leads to downtown Ojai.
Additionally, the Working Artists of Ventura (WAV) is a place where artists live and work, and is a cool place for the community to visit. Ventura is one of the coolest places to wander around on your California Pacific Coast Highway drive.
Where to Stay: For a really unique stay on your PCH road trip, check out Waypoint Ventura, an entire 'hotel' made up of restored vintage campers! They have an entire fleet with a cliffside location complete with views of the ocean and Ventura Pier, firepits, corn hole, bikes, and BBQ areas! Each trailer is unique, so it will be tough to pick which one to stay in! Book here.
Malibu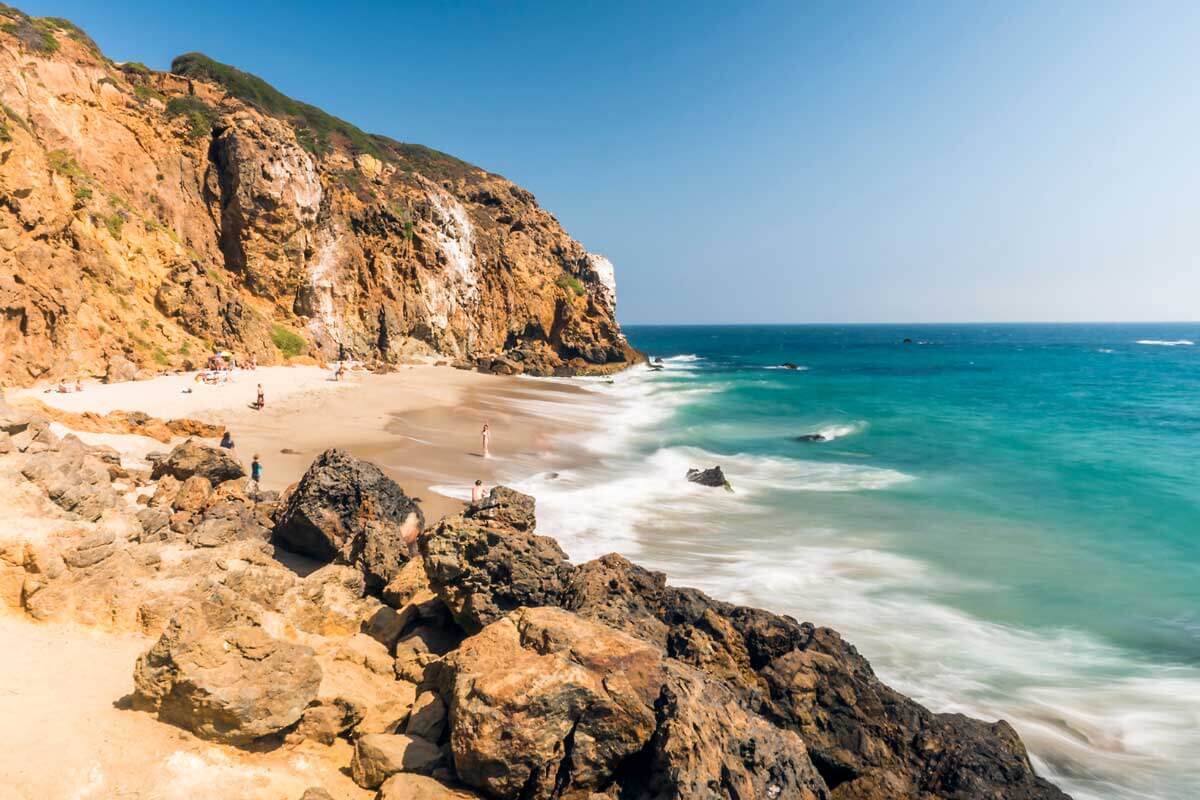 Often referenced in pop culture is Malibu, the coastal city known for celebrity homes and idyllic Los Angeles beaches. One of the highlights is the Getty Villa, one of the best museums in Los Angeles that resembles a Roman country home. It has Greek and Roman art, as well as stunning outdoor gardens.
A fun attraction for wine lovers is Saddlerock Ranch, which has vineyards with caves, and they offer Malibu Wine Hikes. Malibu Pier is the spot for restaurants, shops, fishing, and boat excursions.
And to get a beach fix and put your toes in the sand, hit up one of Malibu's several beaches. Some of the best ones include El Matador State Beach, Leo Carrillo State Beach, Malibu Surfrider Beach, Las Tunas Beach, and Zuma Beach & Point Dume.
Malibu has some great options for things to do on the Pacific Coast Highway in California, be sure to read our full guide to best things to do in Malibu for more ideas.
Where to Stay: One of the most beautiful hotels to stay at in Malibu is the Surfrider Hotel located directly across from the Malibu Pier, so you can't beat the location or the views. Not to mention the rooms are absolutely stunning at this luxury stay. Book here.
Santa Monica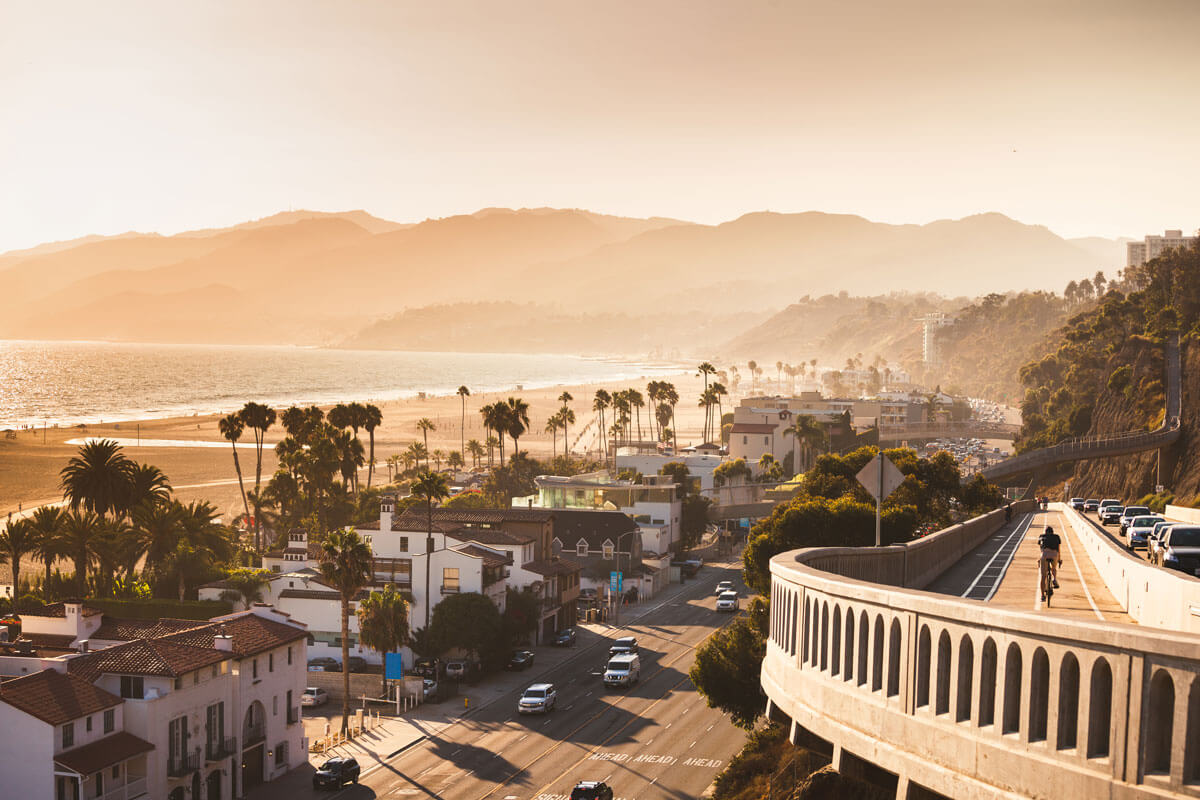 One of the more recognizable city names in SoCal, Santa Monica is one of the best stops on the Pacific Coast Highway in California. This beachy city has a lot going on! And the heart of the action is at the Santa Monica Pier, which is probably what the city is most known for. It has an amusement park with rides, an arcade, street performers, stores, and restaurants. There are always lots of people, lots of lights, and lots of activity.
The Santa Monica Pier also has the End of Route 66 sign, whose original purpose was to signal that Route 66 ended at that point, otherwise you would keep going into the Pacific Ocean.
Palisades Park is another one of the best things to do in Santa Monica and a fun place to go, with art installments to check out, views of the Santa Monica Bay, and the famous Camera Obscura attraction.
And the Original Muscle Beach is a unique attraction since onlookers look on as bodybuilders use the outdoor equipment and flex their athletic skills. Be sure to also take the beach bike and walking path down to Venice Beach while you're here too!
Where to Stay: The Georgian Hotel is one of the more charming accommodation options in the area, it's a historic 4-star beach hotel dates back to 1933 and was dubbed Santa Monica's First Lady built in a beautiful combination of Romanesque Revival and Art Deco aesthetics. Book here.
Long Beach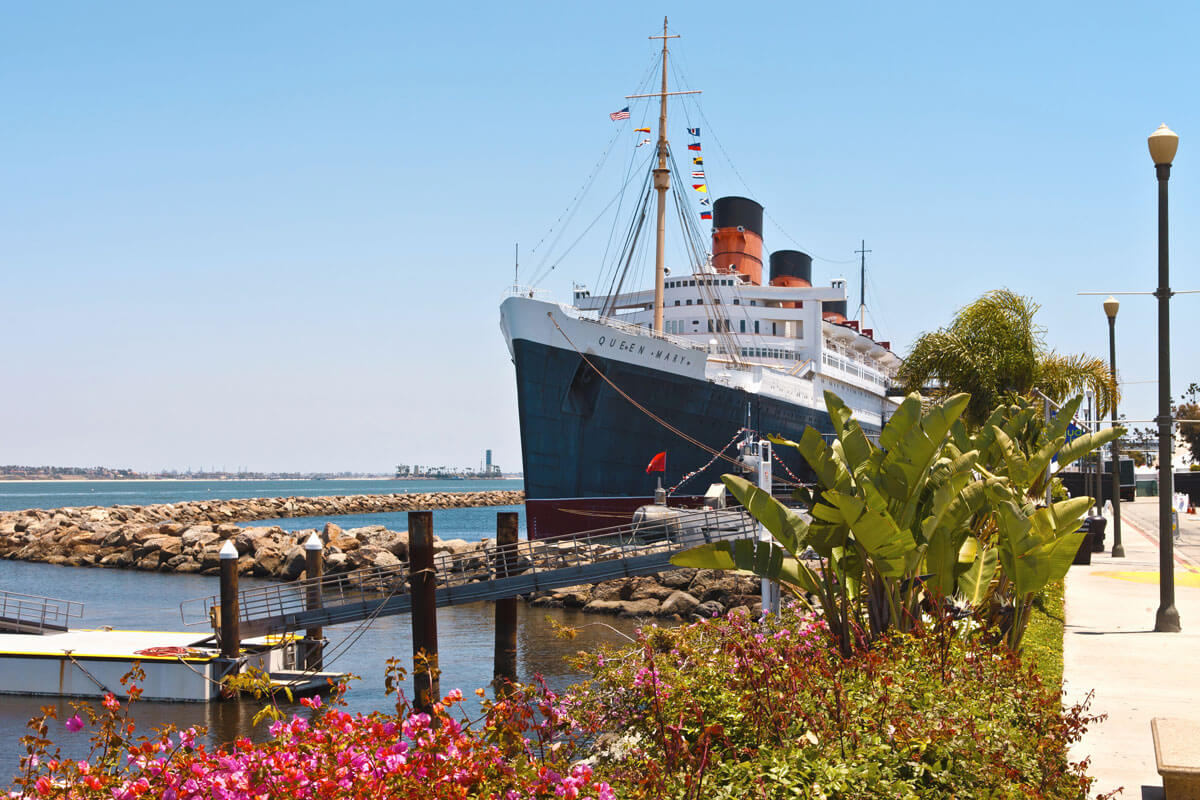 After leaving the Los Angeles area, continue on your PCH drive to the coastal city of Long Beach. Waterfront attractions reign supreme here, like the Queen Mary and the Aquarium of the Pacific, Long Beach is a fantastic destination to explore.
The Aquarium of the Pacific is the largest aquarium in southern California. It has more than 100 exhibits, and focuses on the Pacific Ocean, Northern Pacific, Southern California/Baja region, and Tropical Pacific.
The Queen Mary is a retired ocean liner and museum ship, and it's a super fun spot to check out. There are tours, including haunted excursions around the ship, and you can also enjoy a meal onboard.
The Long Beach Museum of art is another great place to check out. They have American and European Art, as well as permanent and rotating exhibits. The East Village Arts District in downtown Long Beach is a cool place to explore, with Art Deco architecture and an array of independent shops and restaurants. Your California Pacific Coast Highway drive should definitely include a tour of Long Beach!
Where to Stay: Speaking of the Queen Mary, you can actually stay aboard this historic vessel! We highly recommend booking a night here during your epic PCH drive! Book here.
Huntington Beach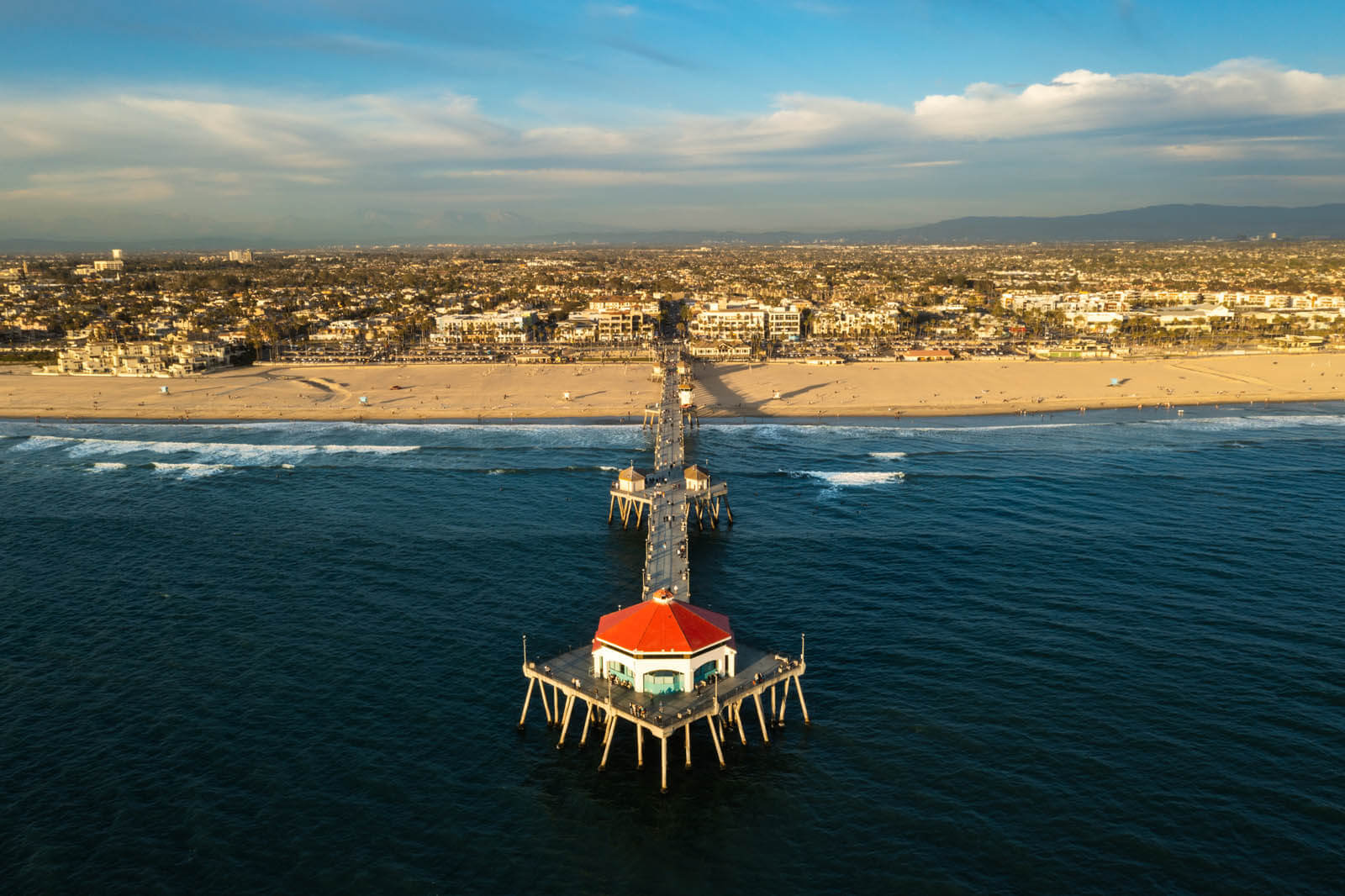 The next city on your Highway 1 road trip is known as "Surf City USA". Huntington Beach is the quintessential southern California community with aa famous surfing culture. It's also where Scott was born and raised (and we both lived here before moving to New York City).
At Huntington City Beach and Huntington State Beach, you can watch experienced surfers ride the waves. Huntington City Beach is where the annual US Open of Surfing is held. For a lazy beach day, pack your towels and sunscreen and head over to Huntington State Beach.
Huntington Beach Pier is one of the longest piers on the west coast. On a clear day, you can see Catalina Island, Newport Beach, Long Beach, and San Pedro from the pier, and you can even fish off the dock.
Another great spot is Bolsa Chica State Beach, which is near Huntington Beach and you can walk over to the preserve and bird watch. You can surf, play volleyball, get into watersports, surf fish, lay out in the sun, and watch the wildlife.
An 8.5 mile paved trail connects Bolsa Chica State Beach and Huntington State Beach, so you can easily get to two attractions in the area. This is one of the best California Pacific Coast Highway drive stops to explore SoCal's surfing culture, check out more of our picks for the best things to do in Huntington Beach to plan your stay.
Where to Stay: In the heart of Huntington Beach, The Kimpton Shorebreak Huntington Beach Resort is a great option for where to stay on this leg of your California Pacific Coast Highway road trip. With oceanview options and a daily complimentary wine happy hour, you can't beat this location. Plus they allow guests to use all their loaner beach gear! Book here.
Newport Beach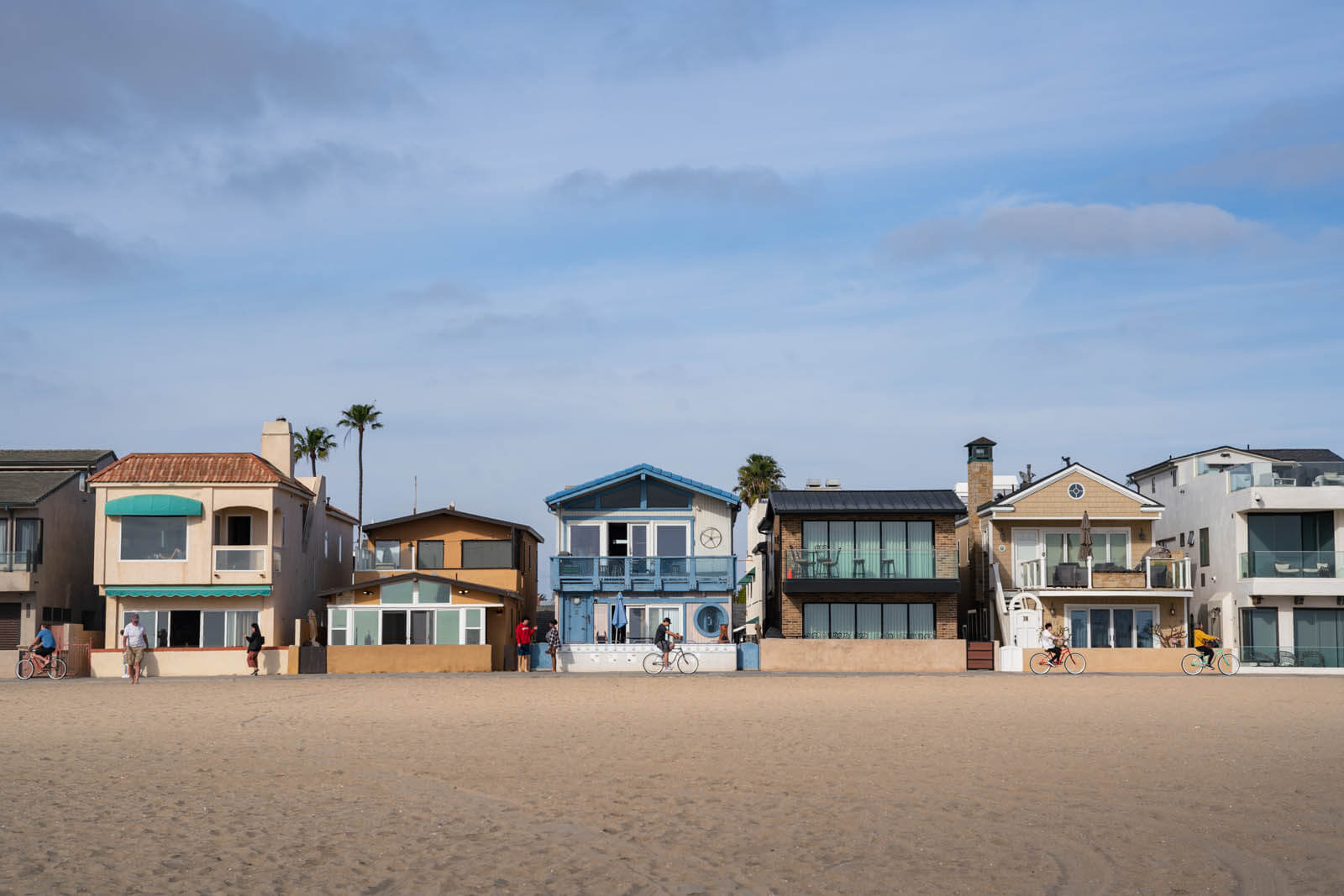 As you're cruising along on your PCH drive further south, make sure to peel off at picturesque Newport Beach. Known in particular for its idyllic harbor, where you can see rows of boats and sea lions frolicking, this community is perfect for a fun and relaxing time.
Aside from Newport Harbor, one of the best things to do in Newport Beach is make a visit to Balboa Island. It's a scenic community by the water, and you get there by riding the Balboa Island Ferry. If you're familiar with the television show Arrested Development and know its lore, the frozen bananas made famous by the show are sold at a shop on Balboa Island.
Then, wander around Marine Avenue, which is filled with cute shops and restaurants. Other Newport Beach highlights include whale-watching tours, where you have the possibility of seeing gray whales, humpback whales, finback whales, and giant blue whales.
Fashion Island is a well-known shopping destination in the region, and it has an assortment of shops, dining, and a movie theater. Newport Beach is a fabulous place to peel off for a bit on your California Pacific Coast Highway drive.
Be sure to hit up the beaches too, Newport Beach is home to some of the most beautiful beaches in Orange County along with gorgeous multi-million dollar homes right on the sand.
Where to Stay: Newport Beach Hotel is a great boutique hotel property located steps away from the sand and Newport Pier on Balboa Peninsula with complimentary bicycle use to cruise the beach bike path on for guests! Book here.
Crystal Cove State Park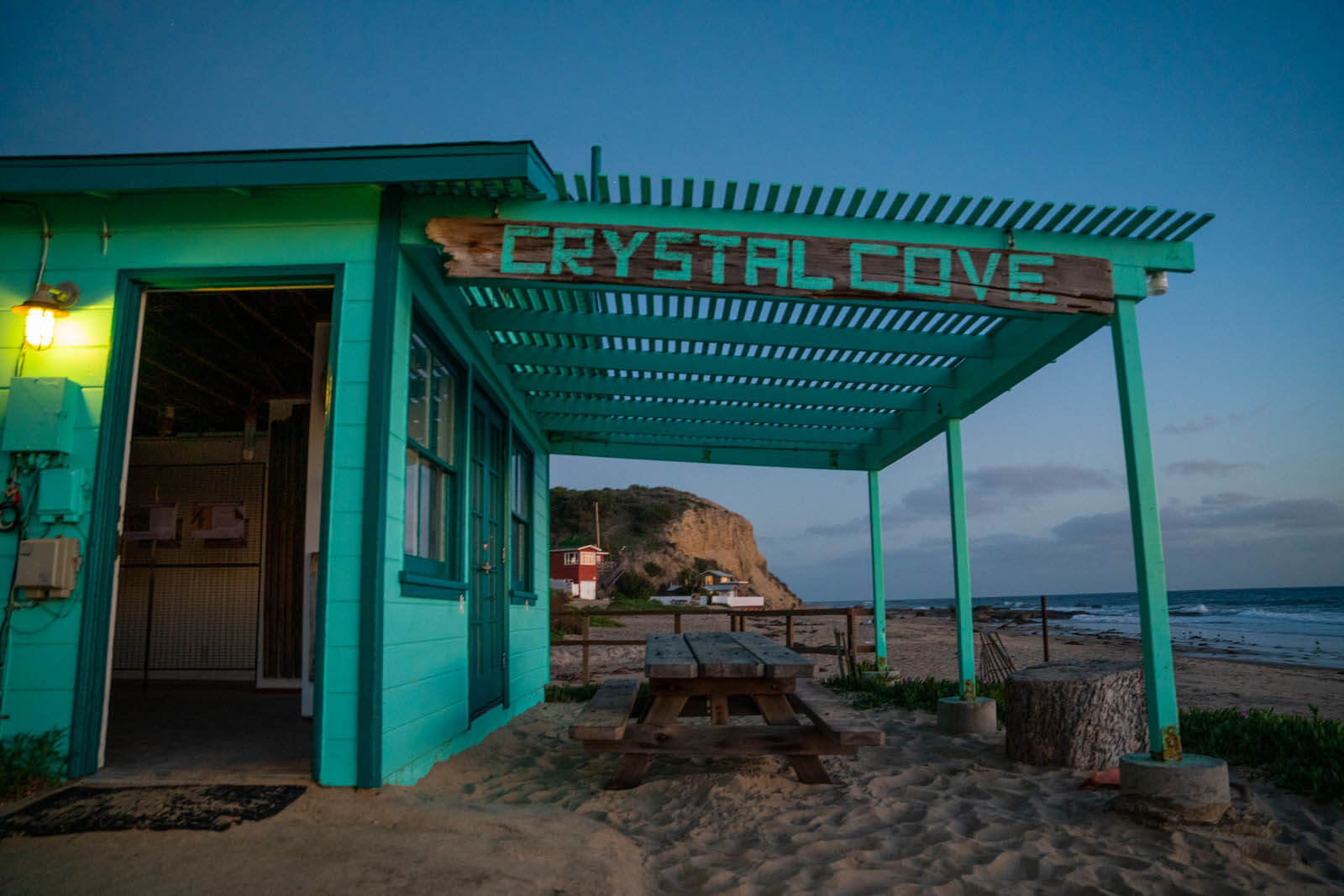 You won't have to travel too far to get to another one of the best stops on the Pacific Coast Highway in California, Crystal Cove State Park. Located in Newport Beach, this state park includes over 3 miles of coastline, canyons, and beach houses.
It's situated off the Pacific Coast Highway, between Corona Del Mar and Laguna Beach. So, what kinds of activities can you get into at Crystal Cove State Park? Hike the bluffs, enjoy a beach day, and check out tide pools. The inland portion of the park has 15 miles of trails, 2,400 undeveloped acres, and you can explore the area by hiking, biking, and horseback riding. The coastal portion has a 2.5 mile paved trail along the top of the bluffs where you can walk and bike.
At the beach here, you can go swimming and surfing, and enjoy the seclusion and peacefulness of the surroundings.
And don't miss dining at the Beachcomber restaurant right on the sand here. Come for lunch or enjoy a fancier dinner. There's also a bar here and if you eat at the restaurant you can validate your parking at the lot above.
Laguna Beach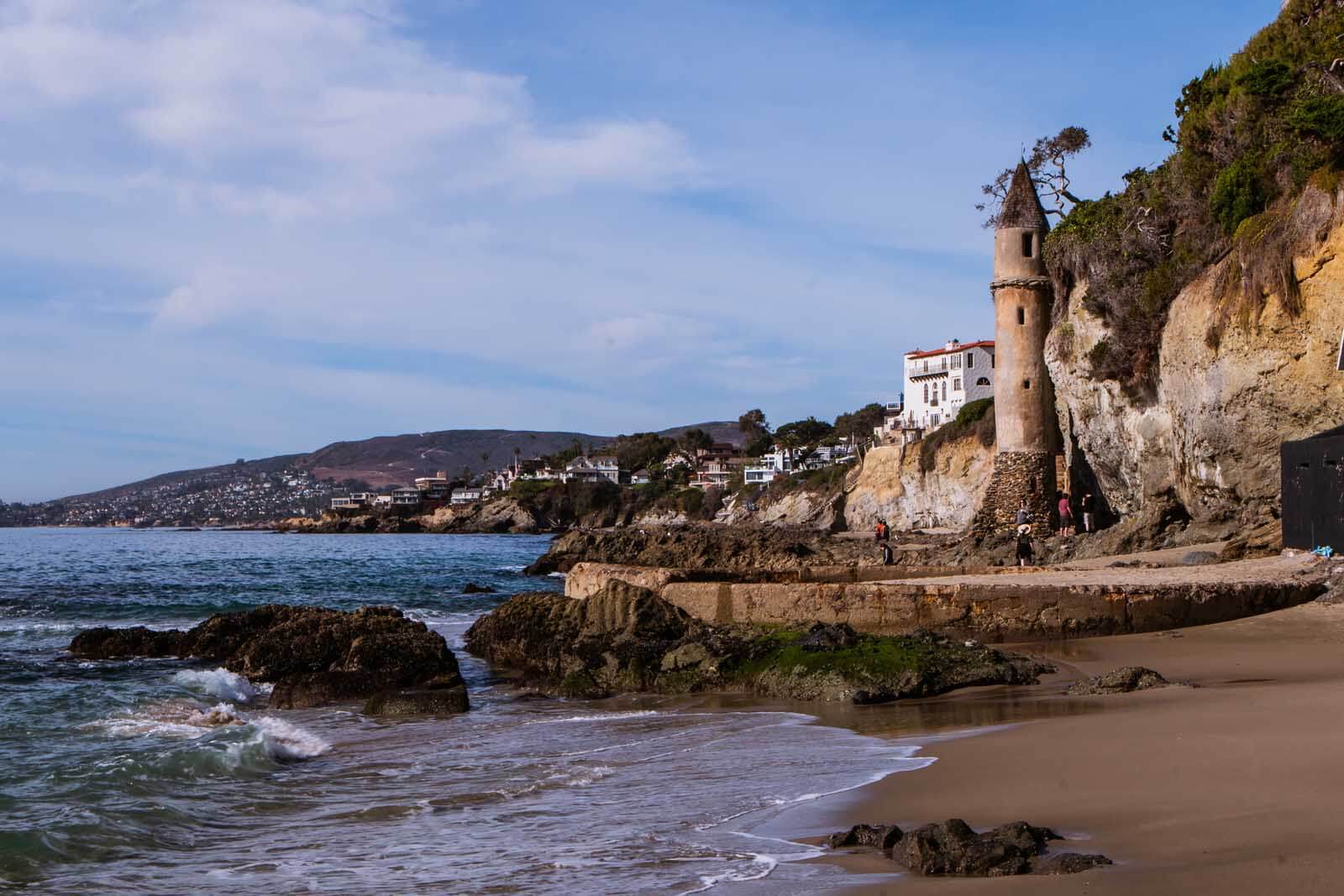 If Laguna Beach isn't best known for the early aughts show of the same name, it's known for being one of the most famous communities in Orange County. It's got all the quintessential SoCal features, like palm trees, constant sunshine, and social activities centered around the beach.
And, unlike larger cities in Orange County that have a lot of hustle and bustle, Laguna Beach just has a slower and calmer pace, which is why I loved living here so much when I did.
Other than being known for its namesake show, Laguna Beach has quite the art scene. Laguna Beach prides itself on being an artist colony, and you will find art classes, public art, galleries, and art festivals to dive into.
Additionally, outdoor adventures include hiking and biking the picturesque city, and exploring the coves and tidepools. Laguna Beach is the perfect spot to spend an ideal day in Southern California, so this should definitely be on your itinerary of best stops on the Pacific Coast Highway in California. Don't miss our picks for the best beaches in Laguna Beach either!
There are also some stunning beaches in Laguna Beach as well as tons of awesome things to do in Laguna Beach you'll want to read up on!
Where to Stay: For a great place to stay check out La Casa del Camino is located right on the PCH. You not only have access to a small beach but you're easily able to walk downtown, to more beaches, and tons of restaurants and shops. Book here.
Dana Point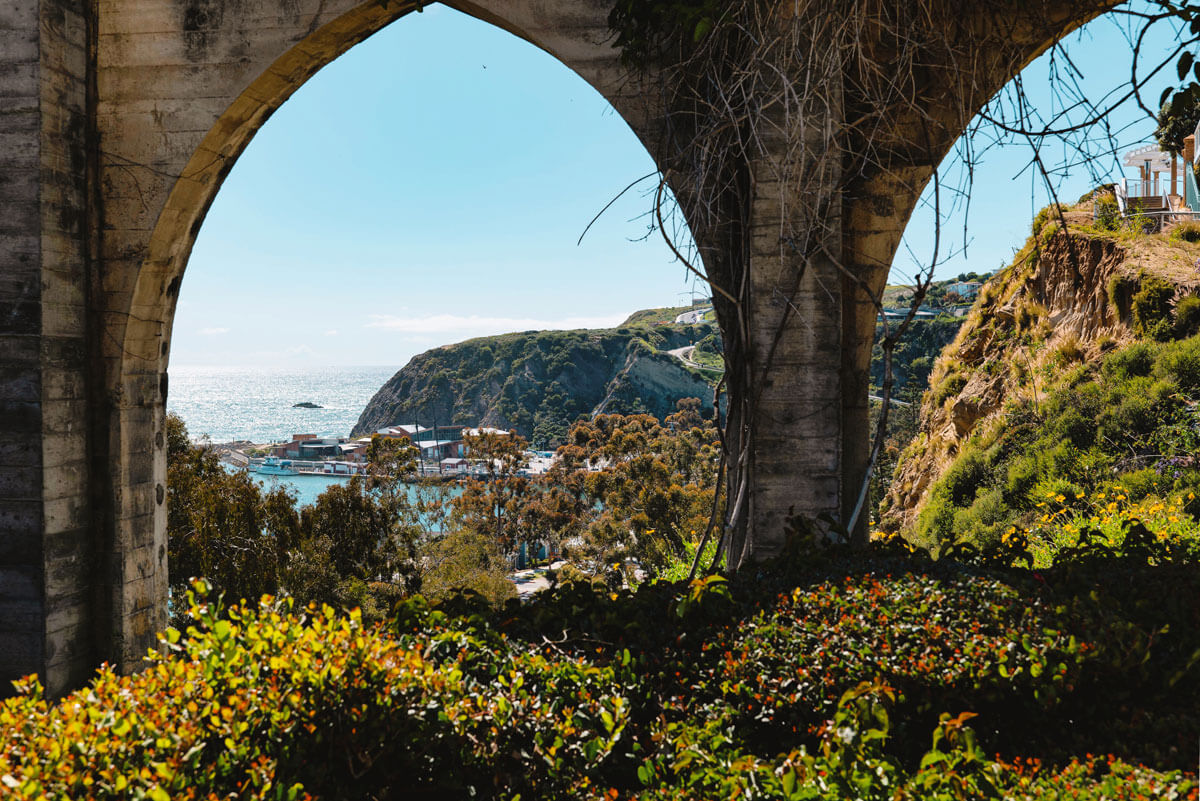 One of the more lavish beach towns you will encounter on your California Pacific Coast Highway drive is Dana Point. Known for luxury resorts and spas, fishing, and pristine beaches, this is the place to enjoy a lush experience.
Dana Point has the title of the Dolphin and Whale Watching Capital of the World, so it figures that whale-watching tours and this Whale Watching Excursion are a big deal here. Embarking on such an excursion means you may get to see dolphins, whales, and sea lions!
Another one of the most popular things to do in Dana Point and water activity is sportfishing, where you will have the opportunity to catch tuna, halibut, seabass, corbina, mackerel, and rockfish close to shore. Or, farther out from the shore, there is yellowtail, bluefin tuna, dorado, bonito, and sand bass. Fishing charters are the best way to go sportfishing.
To get out and enjoy the scenery, the Dana Point Headlands Trail and Conservation Area is a 3 mile path that connects several conservation parks in the area. Some of the best features here are the overlooks that have views of the Pacific Ocean. And lastly, since Dana Point is known for their luxury resorts, book a spa treatment to really pamper and treat yourself!
Where to Stay: Known for its luxury resorts, a great place to pamper yourself and get a bit of well-deserved R&R on your PCH road trip is by staying at the Waldorf Astoria Monarch Beach Resort, a AAA Five-Diamond status resort. Just about anything you could ask for in a luxury resort, you will find here; a deluxe spa, wellness activities like aerial yoga and floating meditation, a challenging golf course, picturesque pools, pristine tennis courts, and incredible restaurants. Book here.
---
Technically this is where the Pacific Coast Highway in California ends, at Interstate 5 in Dana Point. So beyond this stop heading south, these are just cool California coast road trip stops down to the last 65 or so miles to San Diego.
Additional Southern California Coast Drive Stops
San Clemente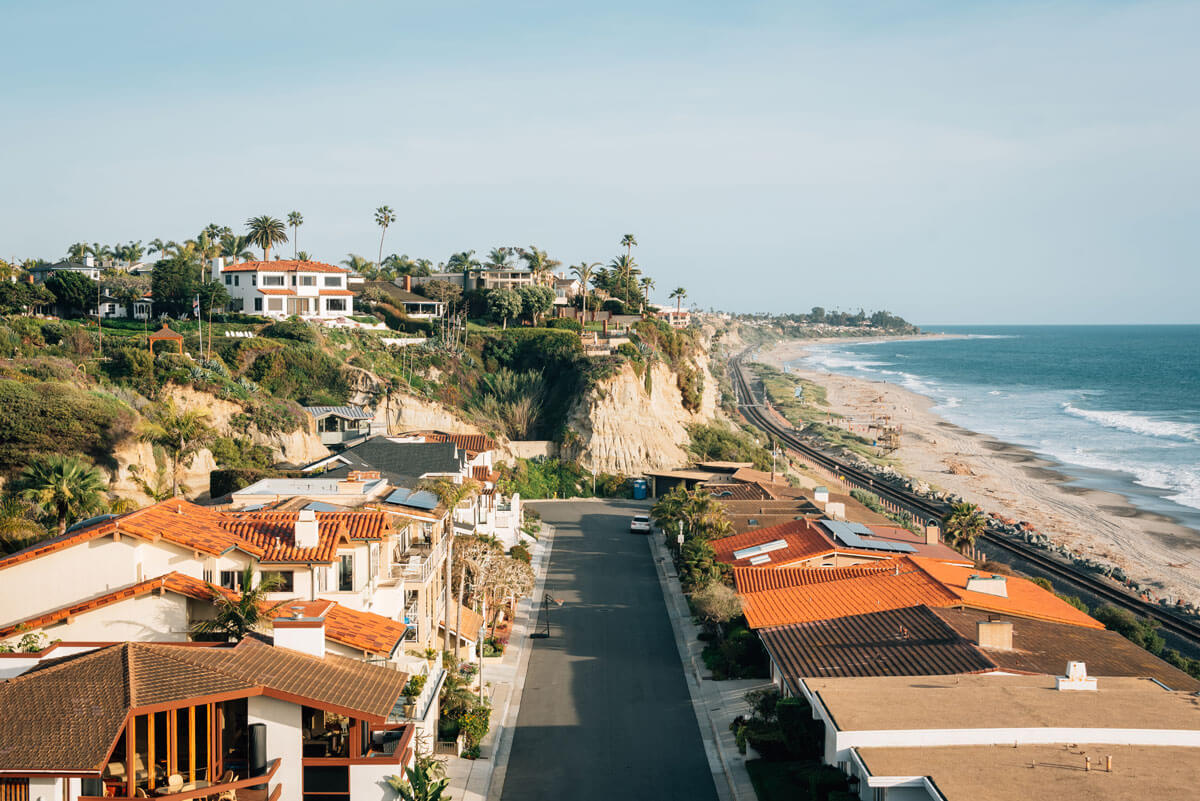 Heading southbound on your California coast road trip, you'll come across a welcoming coastal city with Spanish colonial-style architecture. San Clemente, known as the "Spanish Village by the Sea, has ocean and mountain views, and a pleasant climate.
It's a beautiful place to roam around and enjoy a peaceful day and there are quite a few cool things to do in San Clemente that make it worthy of an overnight stay. Especially if you're wanting to explore Orange County and don't want to stay at an $$$$ luxury hotel just a further north in Dana Point.
The San Clemente Pier is a great place near all the action. It's right by the entrance to San Clemente Pier Beach, so after you're done checking out the pier, you can head down to the sand. And there's several dining options on the San Clemente Pier, so if you get hungry, there are great restaurants to grab some fresh food.
The San Clemente Beach Trail takes you by beautiful natural landscapes, as well as populated areas with shops. Take in gorgeous views of the surroundings, feeling the ocean breeze, while walking on this path. And if you're in the mood to do check out some local stores, Avenida Del Mar is a shopping hotspot. Browse the various shops, and enjoy a drink and a meal at one of the local restaurants here.
Where to Stay: The Sea Horse Resort with an ocean-view room located right along the beach in San Clemente. What's nice about this stay is that you're walking distance to downtown and the beach and the rooms are incredibly spacious. Guests can enjoy the garden terrace that overlooks the ocean too. Book here.
Carlsbad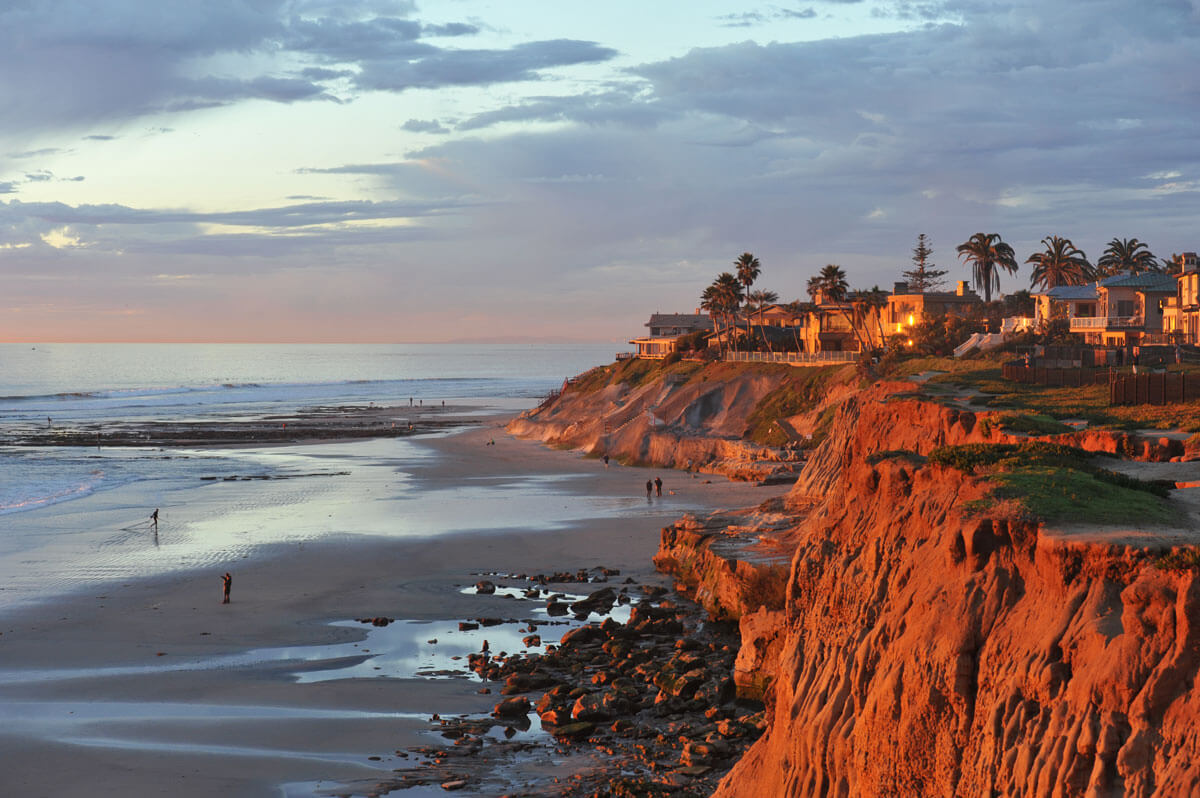 Continuing on your California coast drive, pull off at one of the most underrated places to go in Southern California in Carlsbad. Known for beaches and attractions, Carlsbad is the place to visit for fun and sun. In particular, it is a fantastic family-friendly city.
Legoland California Resort has over 60 rides, plus shows and other attractions. There is also an adjoining waterpark and aquarium. If you have kids traveling with you, this is a must-do activity. Be sure to book your Legoland California theme park tickets in advance!
Around the city, you'll find standup paddleboarding, surfing, golfing, go-karts, and skating. When you're ready to hit the sand, there are several beaches to choose from. Tamarack State Beach is great for swimming, surfing, scuba diving, kayaking, windsurfing, fishing, and beachcombing.
It's also known for incredible sunsets, and is known to draw crowds to watch the sunset. South Ponto Beach is one of the widest beaches in Carlsbad, and it's in an undeveloped area, making you feel like you're in a more secluded spot.
Colorful doesn't even begin to describe the Flower Fields at Carlsbad Ranch, another one of the best things to do in Carlsbad. Spanning 50 acres, you will see vibrant hues of ranunculus flowers, and get to partake in wagon rides, get lost in a maze, and explore the greenhouses and themed gardens.
Where to Stay: Cape Rey Carlsbad Beach is a gorgeous 4-star resort located right by the beach with rooms featuring a balcony overlooking the ocean, and enjoy their loaner bicycles, and beach accessories like chairs, umbrellas, and towels. Book here.
Encinitas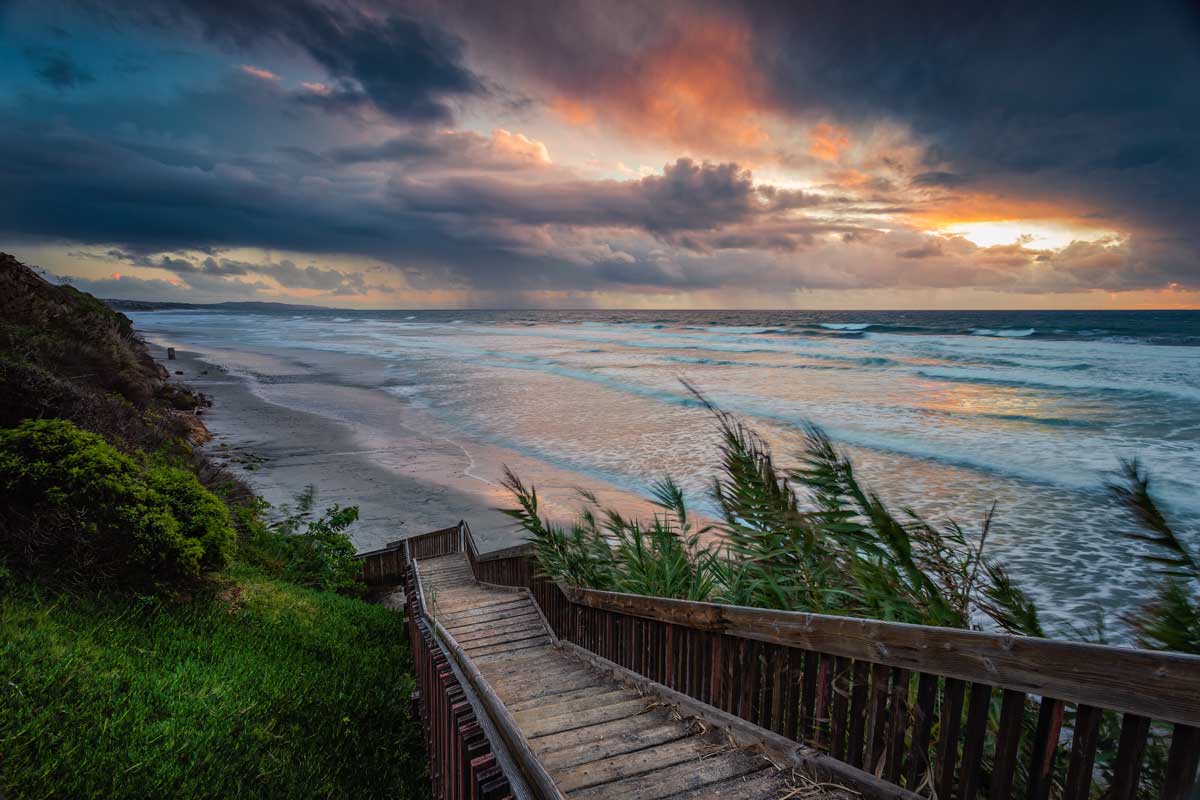 Getting deeper into southern California on your California coast road trip, the city of Encinitas really embodies the SoCal lifestyle. Beaches and surfing are what this community is known for. So of course, you have to hit up the beaches when you're here!
Moonlight State Beach is named after a local favorite activity of having midnight picnics in the early 1900s. This beach has fire rings, which is exactly what you would want to have to grill food for a barbecue and heat up some s'mores. Another great beach is Swami's, which is an internationally known surfing spot. And, it is ingrained in music history, as it was mentioned in "Surfin' USA" by the Beach Boys.
Switching from beach activity, the San Diego Botanic Garden has almost 4,000 types of plants. The exhibits you can explore include rare bamboo groves, an undersea succulent garden, and a subtropical fruit garden. And a bit of trivia about Encinitas is that they are the world's leading grower of the poinsettia! Be sure to check out all the amazing things to do in Encinitas.
Where to Stay:
The Surfhouse Boutique Hotel is a cute independent property that offers different sizes of rooms if you're traveling with family or a group located steps away from Leucadia Beach in Encinitas. This laid-back modern beachy hotel also lets guests borrow loaner beach cruiser bikes so getting around is a breeze! Book here.
Solana Beach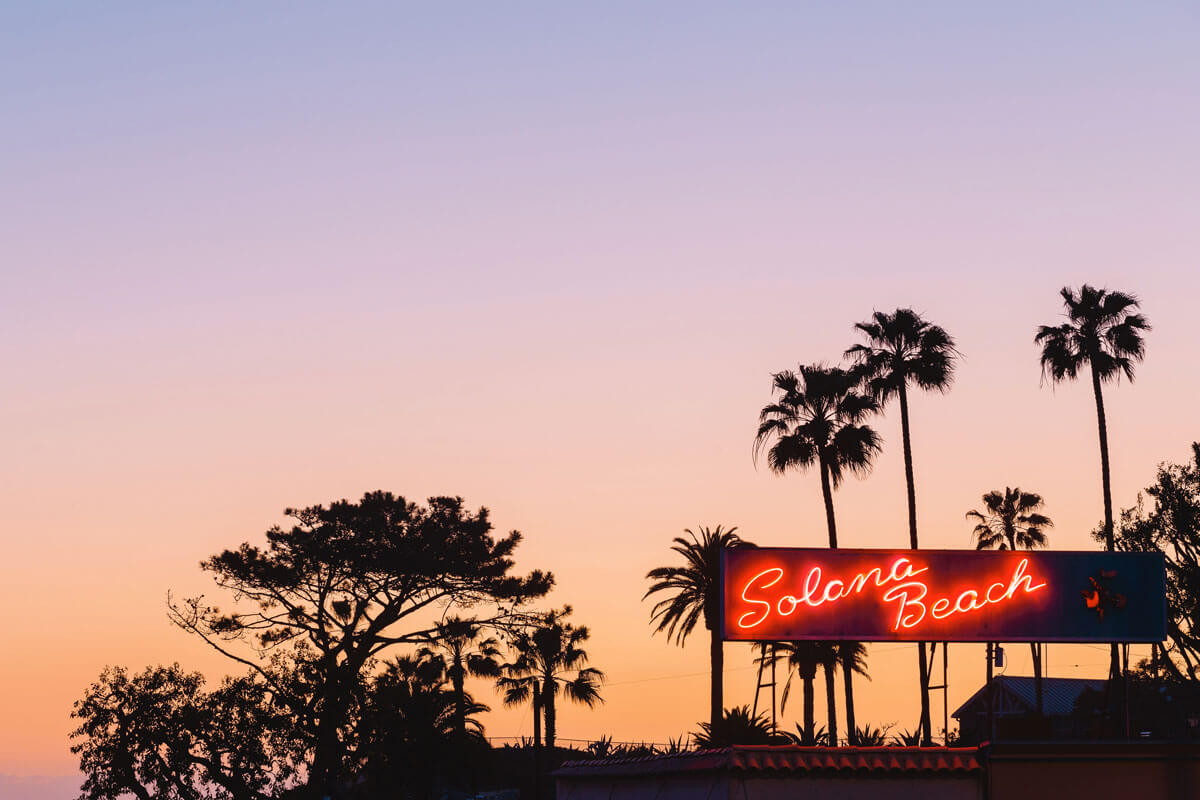 The beachy vibes should be getting really strong at this point in your California coast drive, and the perfect city to stop at is Solana Beach.
Sun, surf, and being a generally walkable coastal city are what Solana Beach is known for. Fletcher Cove is the main beach here, and it feels like a secluded getaway. This is a great beach for swimming, surfing, and kayaking, and there is also a park on site with lawn areas to sprawl out.
Pertaining to the walkability of the city, most shops and restaurants are within a 30-minute walk from Fletcher Cove Beach. Tide Beach Park is another fantastic spot to check out. Here, you can partake in surf fishing, go snorkeling over the reef, and explore the tide pools.
When you need a break from the sun, head over to the Cedros Design District. It's a shopping destination that features acclaimed designers, restaurants, and boutique agencies. From art and interior design to fashion and beauty, and specialty gifts, there are all kinds of stores to scope out.
Where to Stay: Technically located in Del Mar, near the famous racetrack, Del Mar Beach Hotel is a great option if you're wanting to stay right on the beach and close to dining! Book here.
La Jolla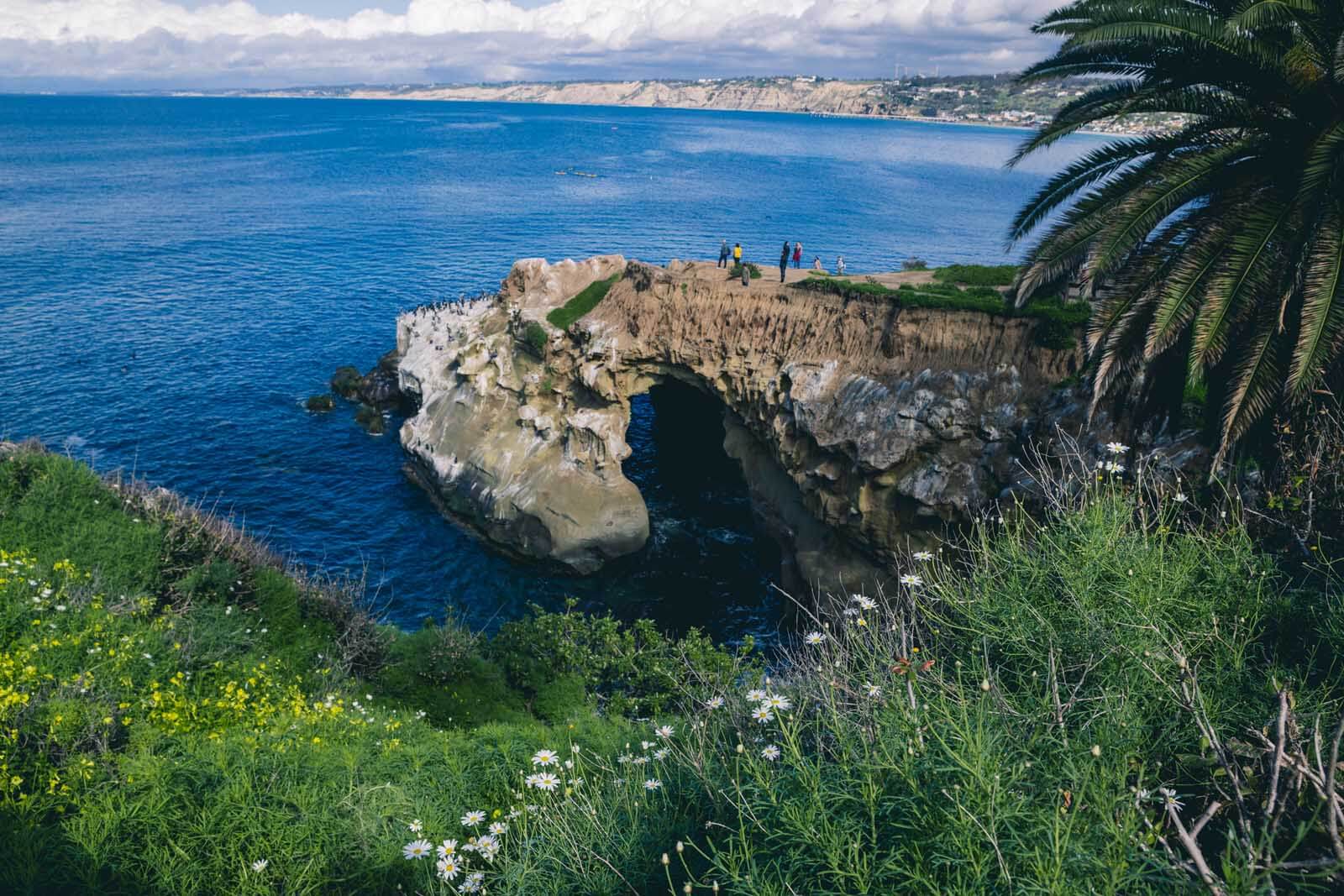 As you near the final stop on your California coast road trip, make sure to stop at the coastal city of La Jolla. Known for beaches, and beach-centered activities, this is the place to break out the swimsuit and sunscreen.
At La Jolla Cove, the waters are protected, and you will find vibrant garibaldi, yellowtail, rays, and leopard sharks underneath the surface. So, you can get in and swim with them, or grab your snorkeling gear and watch them swim by. Diving is also a popular activity here. La Jolla Shores is a calm, wide beach that is perfect for an easy day of enjoying the sun and sand.
Either beach is great to visit, but if you'd like to see both, you can take the La Jolla Walking Trail. It connects La Jolla Cove to La Jolla Shores, and makes for a pleasant and scenic walk.
Getting away from the beaches, Torrey Pines State Natural Reserve is a gorgeous swath of land that has incredible views of the Pacific Ocean. There are many easy walking paths, so you don't need to be an experienced hiker to enjoy this spot. You will be treated to views of sandstone, succulent plants, and wildflowers as you traverse the terrain. Torrey Pines is a great, scenic way to connect with the city.
Where to Stay: One of our favorite hotels we've ever stayed at in Southern California is in La Jolla! The Pantai Inn is located steps away from the views at Rocky Point and less than a 5-minute walk to many of the beaches and main attractions and things to do in La Jolla. Book here.
San Diego
The last stop on your California coast drive is the warm and welcoming city of San Diego. Fantastic weather, sunny beaches, and fun activities are what this city has in store for you.
San Diego's most famous beach, and perhaps one of the best beaches in the country, is Coronado. This sparkly, pristine beach is accompanied by charming shops and scenic restaurants. This is also where you can stay at the historic and iconic Hotel del Coronado.
Old Town San Diego is basically a one stop shop for dining, parks, historical attractions, and nightlife. You could easily spend hours here checking out everything Old Town has to offer.
The Gaslamp Quarter is the place to come for dinner and entertainment. Get some cocktails and appetizers, then walk to a nearby venue for live music or a comedy show.
Don't miss all the fun things to do at Balboa Park either including the world-famous San Diego Zoo, museums, shops, hiking trails, and more!
And with like any larger city, there's so much to do and see here, we recommend spending a few days around the city and using our 3 days in San Diego itinerary to help you plan your trip as well as our guide to the best things to do in San Diego. And now you've hit all the best stops on your California coast road trip!
Where to Stay: There are so many cool places to pick for where to stay in San Diego, but if you're looking for an iconic stay we still recommend the historic Hotel del Coronado.
---
Bookmark this guide to the California PCH and the best California coast drive stops for later or share below on Pinterest!