Visiting Los Angeles anytime soon? Be sure not to miss some of the best places and day trips from Los Angeles on your next Southern California getaway. From wine country to islands and adorable coastal beach towns we have you covered on our guide for best day trips from Los Angeles.
From beach towns to quirky spots to visit around Los Angeles, we have all the inspiration you need to plan your next adventure.
Why not make a road trip out of it? Check out this Southern California road trip guide or check out some unique boutique hotels to stay in Los Angeles as your base!
While you're here, check out the best things to do in Los Angeles too!
Perfect Day Trips from LA
Catalina Island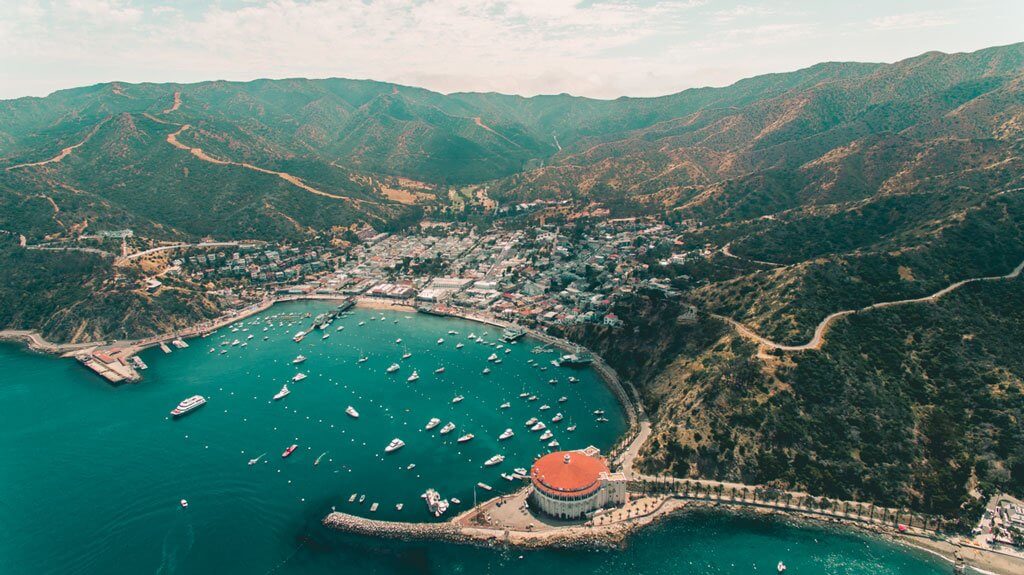 One of the most exotic feeling day trips from Los Angeles is located 46 miles of the coast in the Channel Islands is Catalina. This beautiful island has two different cities, Two Harbors and Avalon.
Two Harbors is more of a resort, yachters paradise, and Avalon is better suited for everyday visitors with activities, a charming town, hiking, Wrigley Botanical garden, and plenty of day excursions from tours inland to ziplining by the Pacific.
Catalina can easily be done as a day trip from Los Angeles but in our opinion, it is best done overnight so you can enjoy more than what you'd see on a Catalina day trip. The island has a completely different vibe once the day visitors and cruise ships leave and you get to experience the tranquility of island life with the locals by staying the night.
Read our full guide to Catalina Island.
Laguna Beach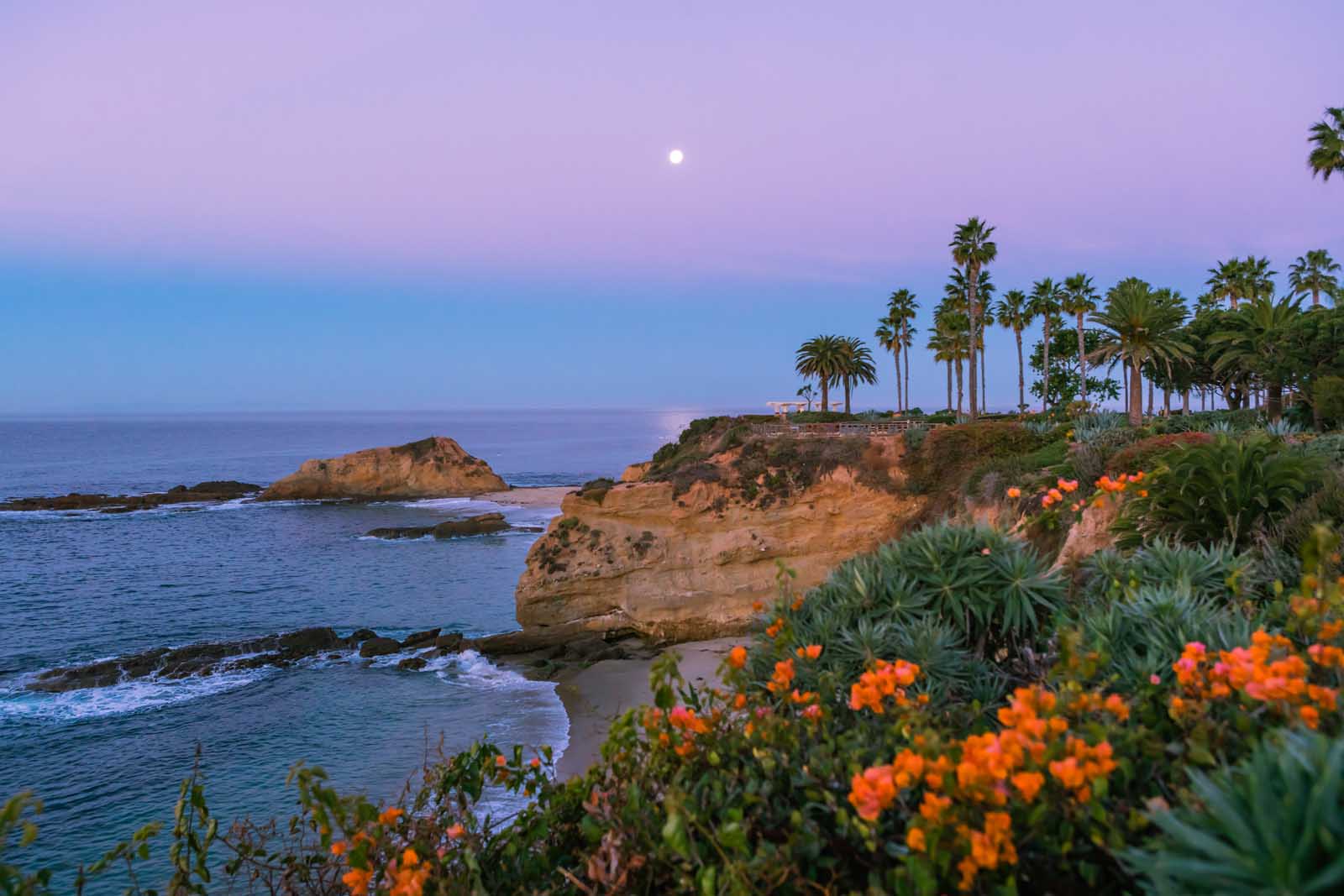 This next day trip from Los Angeles takes you down to Orange County to one of the cutest and most desired coastal towns on the West Coast.
This artsy town is littered with art galleries, gorgeous beaches with turquoise water, lavish homes, and amazing boutiques and restaurants all while maintaining this chill, laid-back vibe that you will fall head over heels in love with.
We may be partial to this one as we lived in Laguna Beach and it's probably one of our favorite places in the world.
Don't make the mistake of only spending time in the adorable downtown either, be sure to check out the beaches of North and South Laguna as well. There are several amazing beaches in Laguna Beach to hang out at as well as great walks with incredible vantage points.
Read our full guide to Laguna Beach
Salvation Mountain & the Salton Sea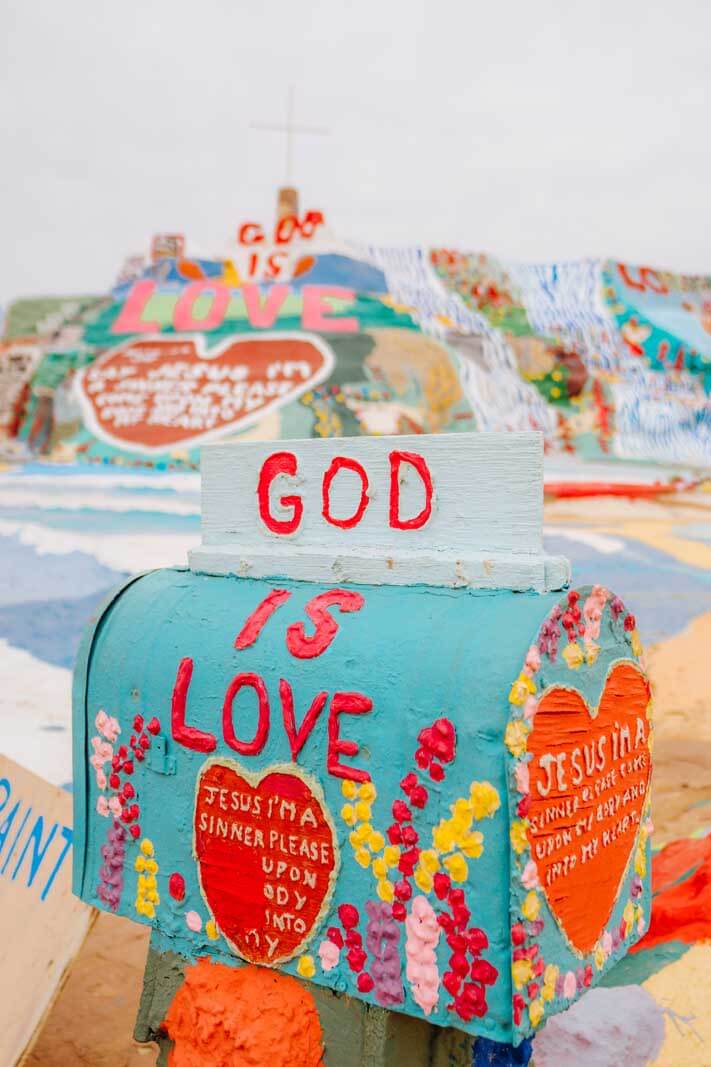 One of the more popular day trips from Los Angeles with Instagrammers is Salvation Mountain. This quirky monument in the middle of nowhere draws in visitors like there's no tomorrow to get a photo of this colorful mound in the desert devoted to God.
However, there's more to see in the area than Salvation Mountain, the entire Salton Sea area was once a resort paradise that was visited even more than Yosemite National Park then after years the full effect of the accident that created the Salton Sea in the first place took its toll over time in the area making it a toxic wasteland moving everyone out.
Today, you will find interesting stops like beach ruins where a resort town once was, Slab City which was coined as America's last free place, East Jesus outdoor sculpture museum, a banana museum, and even mud volcanoes.
Read our full guide to the Salton Sea.
Palm Springs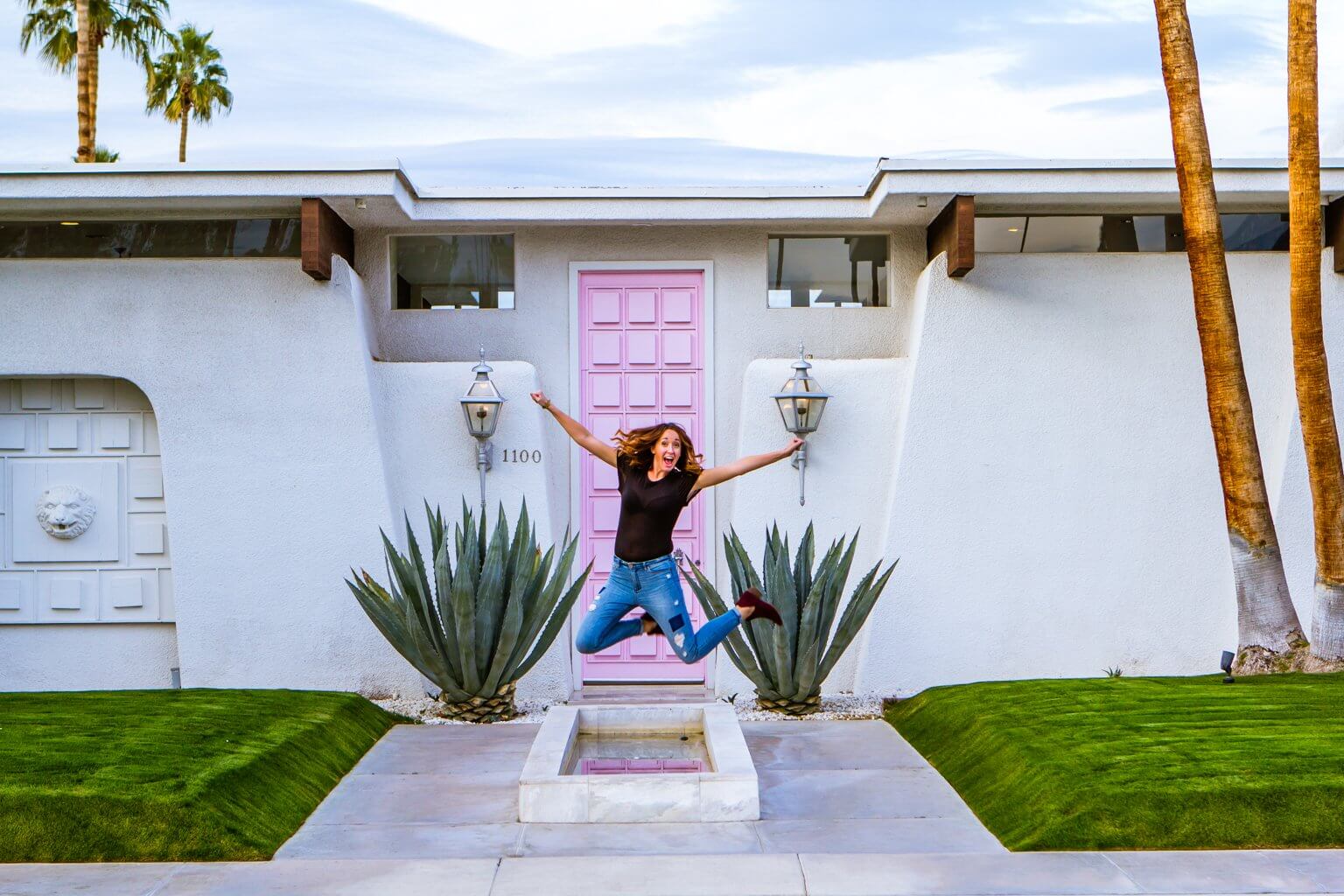 Another great day trip from Los Angeles is the desert paradise that makes you feel like you've gone back in time to the 1950s and 1960s with its retro architecture and streets named after the famous Hollywood celebrities who would retreat here in their heyday like Gene Autry, Bing Crosby, Dinah Shore, Bob Hope, and Frank Sinatra to name a few.
Besides being a haven for luxury resorts and retro vibes there's also plenty of awesome things to do here including plenty of activities for outdoor enthusiasts like the Tahquitz Canyon waterfall hike and the cable car ride up into the mountains overlooking the desert.
Read our full guide to Palm Springs as well as our 3 days in Palm Springs itinerary for those who want to plan more than a day trip!
Joshua Tree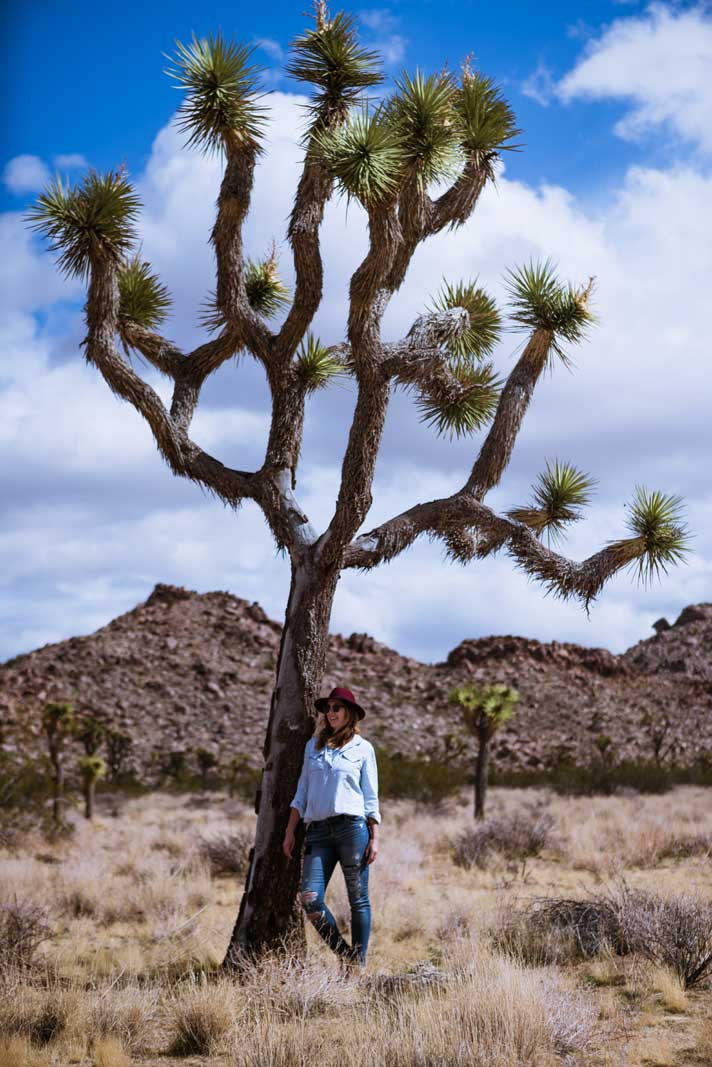 A day trip from Los Angeles that's been calling creatives, musicians, and nature lovers for decades is Joshua Tree National Park. This is where people go to get inspired and admire the unique landscape and flora and fauna of the desert unlike anywhere else.
From the National Park to great shopping and a killer music venue you won't want to only spend one day at Joshua Tree. Luckily there are plenty of overnight options including posh home rentals, camping, and even meditation centers to get the most out of your trip to the place in a desert wanderers love.
Read our full guide to Joshua Tree along with all the fun stops on a drive to Joshua Tree from Los Angeles!
Big Bear Mountain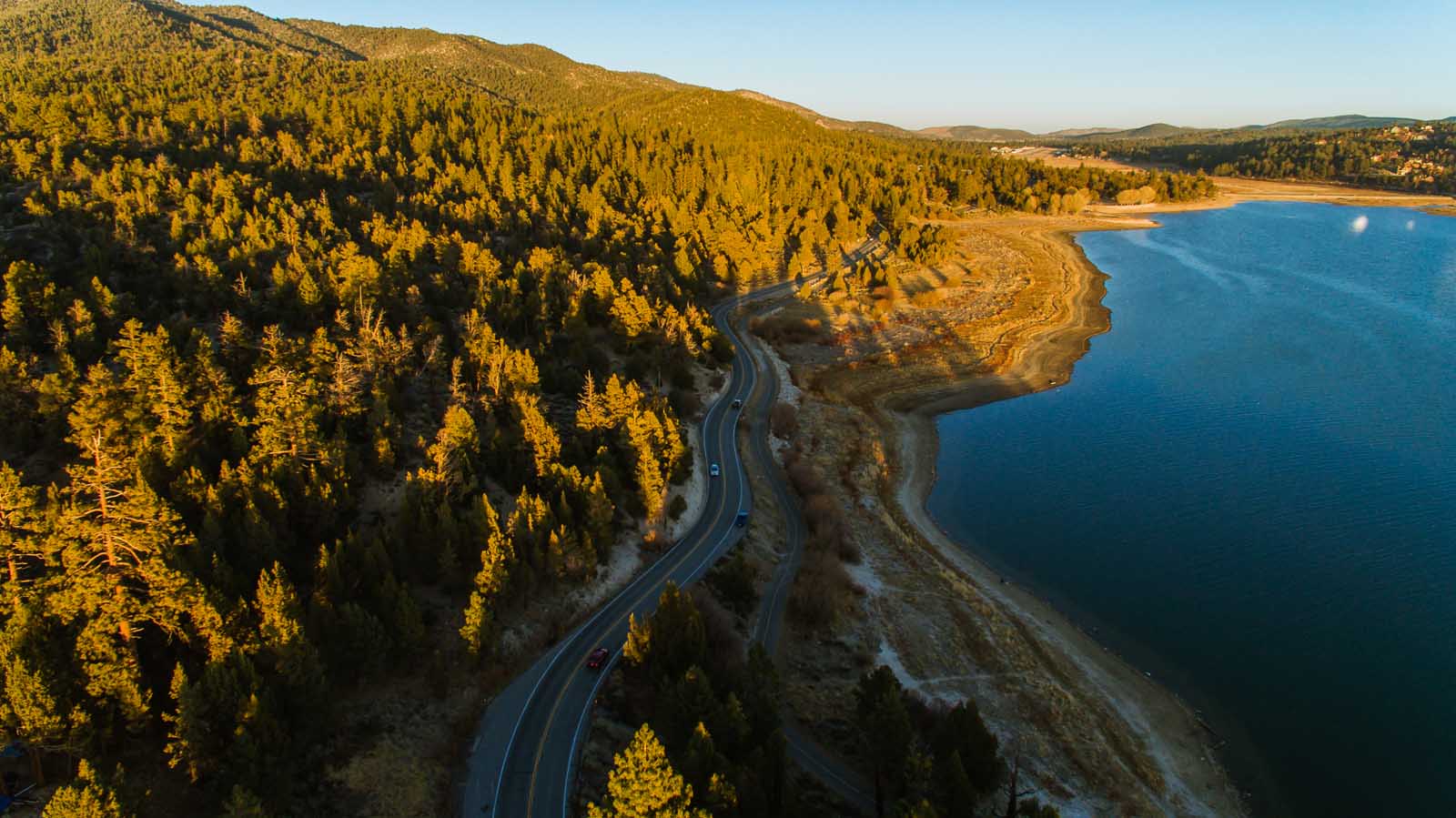 Summer or winter this day trip from Los Angeles is a nature lovers dream to get away from the hustle and bustle of the city.
Big Bear Mountain is a popular winter holiday retreat as it boasts some of the best snowboarding and skiing slopes in Southern California as well as a beautiful Alpine village town center with shops and restaurants and even an Alpine Zoo with rescue or rehabilitated animals.
However, Big Bear Mountain is not only a winter holiday spot, it's also a great day trip from Los Angeles any season. Big Bear Lake is where people gather to hike, fish, or boat along the lake. If you decide just a day trip from Los Angeles isn't enough to consider renting out one of the incredible homes on Big Bear Lake for an evening or two.
Read our guide to Big Bear.
Solvang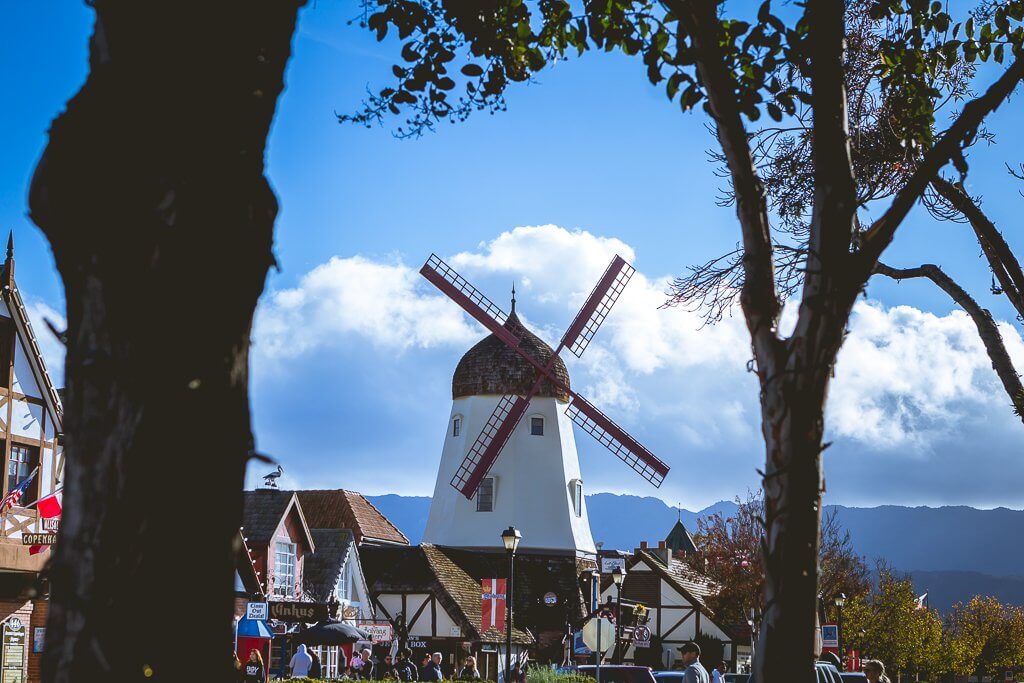 Located in the Santa Ynez Valley is our next charming day trip from Los Angeles. Known as, "little Denmark," Solvang is a fantastic place to visit if you want to feel like you've left the US and headed over to Europe with its quaint and beautiful Danish-style architecture and shops.
Besides being an adorable town, this day trip from Los Angeles is also perfect for wine lovers because you're in the heart of one of California's best wine regions. Perhaps you will recognize Solvang if you have seen the comedic film Sideways. Be sure to check out the best Solvang wineries before your visit to plan which ones to check out!
If you come during the holiday season be prepared to be swept off your feet with charming holiday displays as the entire village is transformed into a snow globe like a storybook village.
Read more about Solvang in our California Road Trip series.
San Luis Obispo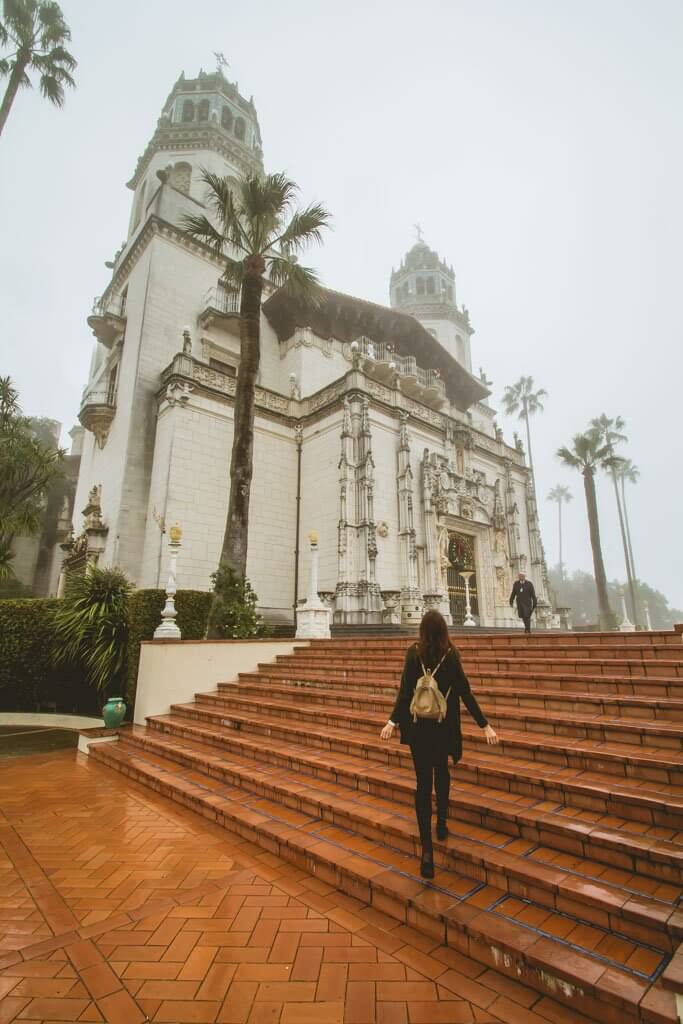 One of the most beautiful day trips from Los Angeles on the Central Coast of California is San Luis Obispo. With landmark sites like Hearst Castle and the famous Madonna Inn you have your fill of tourist sites to visit along with gorgeous coastline views.
Don't forget you're also in wine country, make sure to stop and do some wine tasting at any of the local wineries.
There are also great activities for those who love the outdoors like hiking, horseback riding, and even sand dunes where you can drive on the beach or rent ATVs.
Read our full guide to San Luis Obispo.
Costa Mesa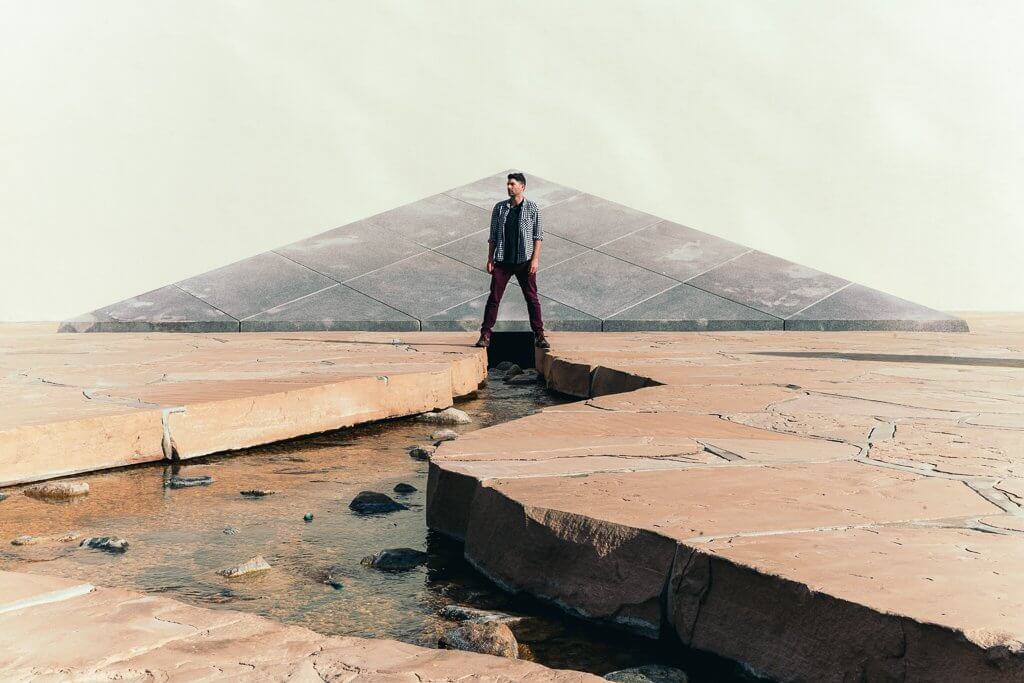 One of the most underrated day trips from Los Angeles in Orange County is the inland city of Costa Mesa. Costa Mesa has a ton of awesome things going on and is what we consider one of the last places in Orange County that locals in the know get to enjoy without the seasonal mass crowds that flock to nearby Newport Beach, Huntington Beach, and even Laguna Beach.
Costa Mesa also happens to be home to one of the best shopping malls in the world, South Coast Plaza. This high end mall is famous for international visitors.
There's also a great art and foodie scene in Costa Mesa worth exploring and checking out.
Read our full guide to Costa Mesa.
San Juan Capistrano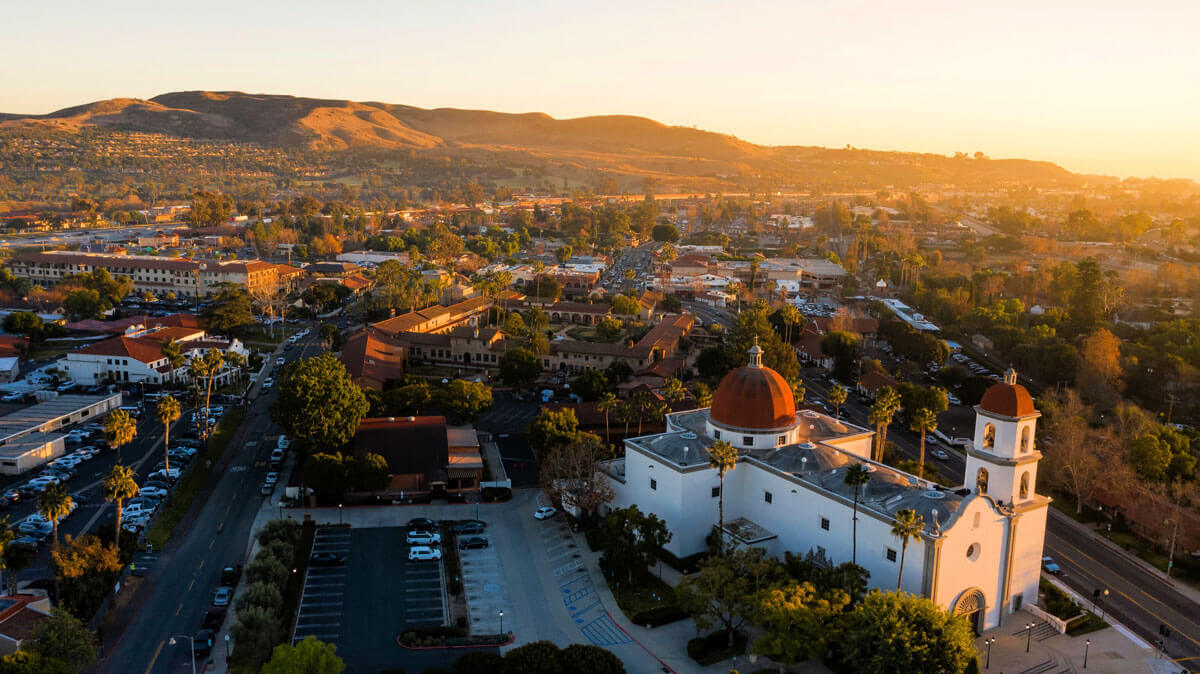 One of the more underrated historic day trips from Los Angeles is San Juan Capistrano in Orange County. Enjoy the adorable Spanish influenced town center with restaurants, bars, an adorable old-style movie theater with a marquee, and antique shops as well as the street lined with homes converted to boutiques and restaurants along the train tracks.
The city was built around the Mission San Juan Capistrano, a Catholic mission from 1776. The Serra Chapel in the Mission is the oldest building in the state of California. The Mission is absolutely gorgeous and a great place to learn about and photograph.
There is also the famous annual event held here for the swallows that migrate from Argentina to here, you can even visit a bar named after the event downtown called the Swallow's Inn.
Huntington Beach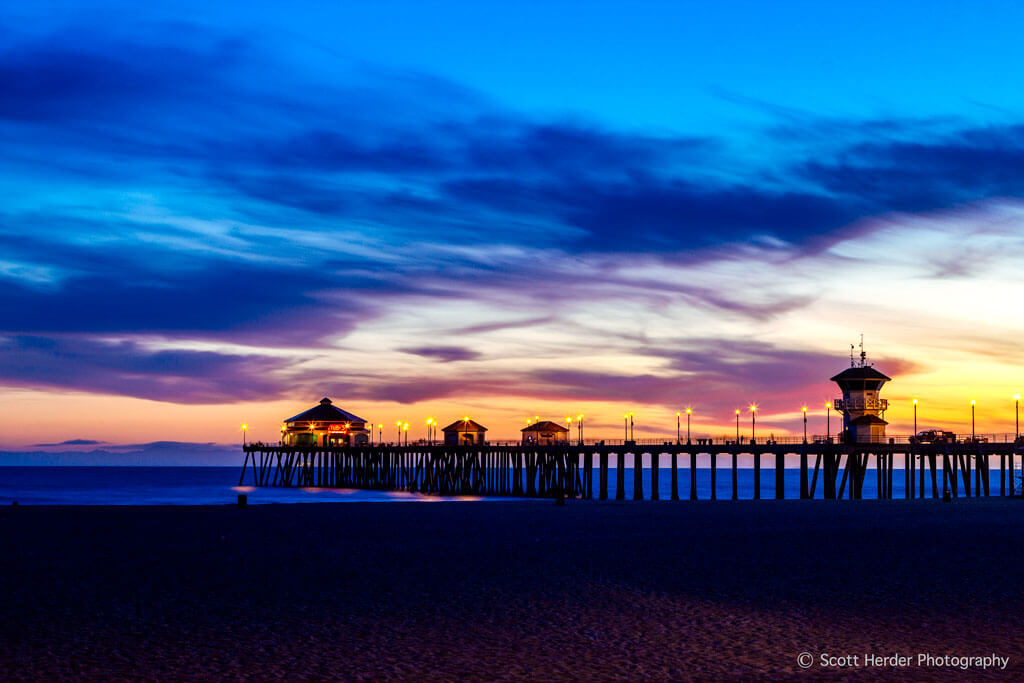 One of the increasingly popular day trips from Los Angeles is the original Surf City USA, Huntington Beach. Besides being a great place to surf everyday, Huntington Beach offers almost 10 miles of beach with all kinds of activities available right along the shores including camping, fire pits, volleyball, and even a dog beach.
There's also the vibrant scene downtown with great shopping, fantastic restaurants, and a good nightlife scene. Pacific City outdoor mall and lifestyle center right along the PCH and ocean also adds more amazing options for shopping, dining, and nightlife.
Newport Beach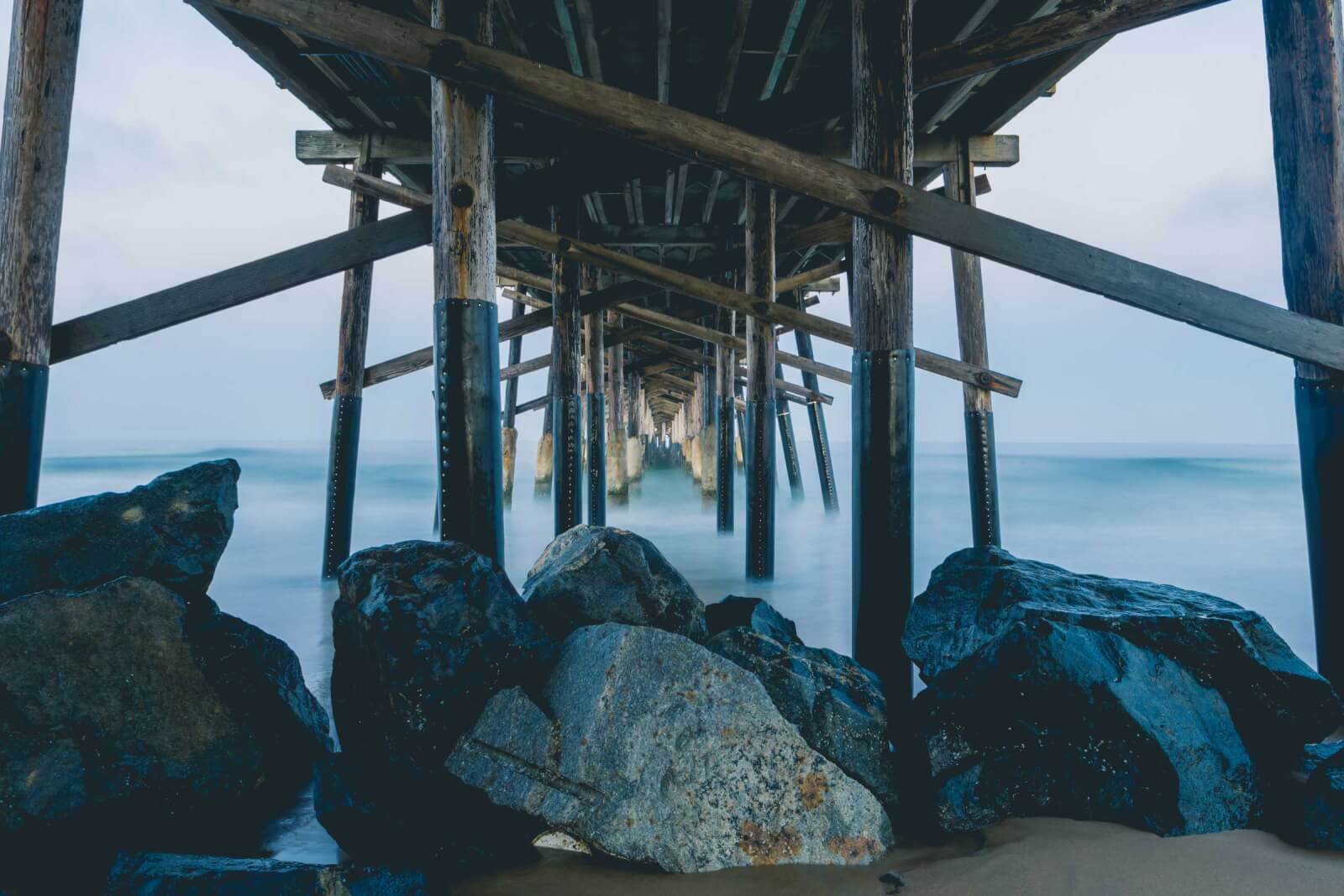 Newport Beach is easily one of the most popular places to visit in Orange County and is a great day trip from Los Angeles. Newport Beach offers many different areas to explore including Corona del Mar, Balboa Peninsula, Crystal Cove State Park, Balboa Island, Lido Peninsula, and the stretch of Newport that meets Costa Mesa.
Be sure to check out the bluffy shores of Corona del Mar without the crowds, the surfers at the "wedge"at the edge of Balboa Peninsula, the cute shops and frozen bananas on Balboa Island, shopping at Fashion Island outdoor lifestyle mall, and the gorgeous coastline, antique houses, and incredible restaurant at Crystal Cove State Park, which is by far one of our favorite hidden gems and things to do in Newport Beach.
This is also where you can find some of the most gorgeous stretches of coastline and best Orange County beaches!
Santa Barbara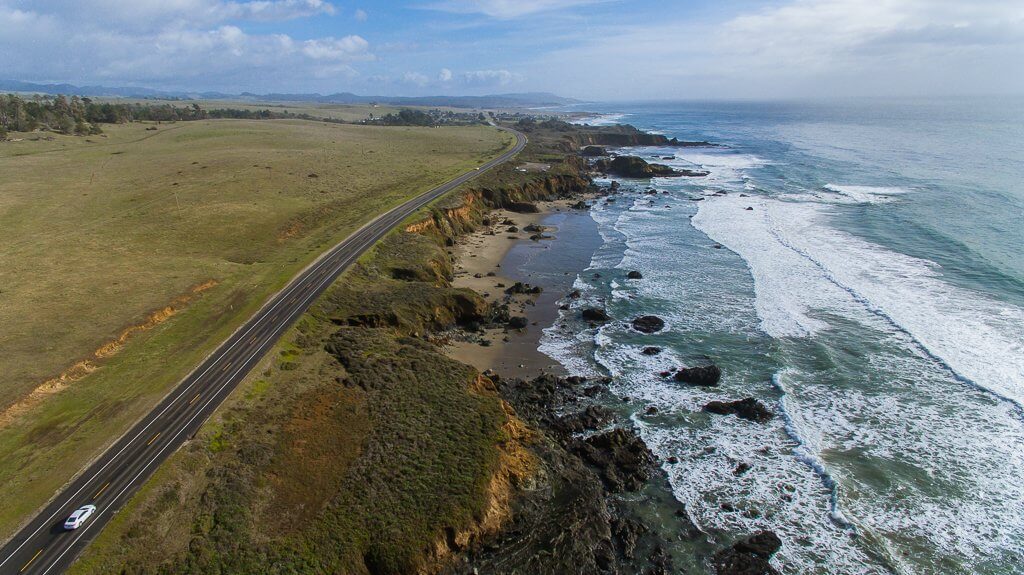 Santa Barbara is easily one of the most beautiful cities in Central California and an amazing day trip from Los Angeles.
Downtown Santa Barbara has great dining and shopping, you can visit the beautiful Mission Santa Barbara from the 18th century, and of course there's all the wine tasting in the Santa Ynez valley nearby which has some of our favorite wineries in Central California's wine country.
This is one of the best stops on the San Diego to San Francisco drive too!
La Jolla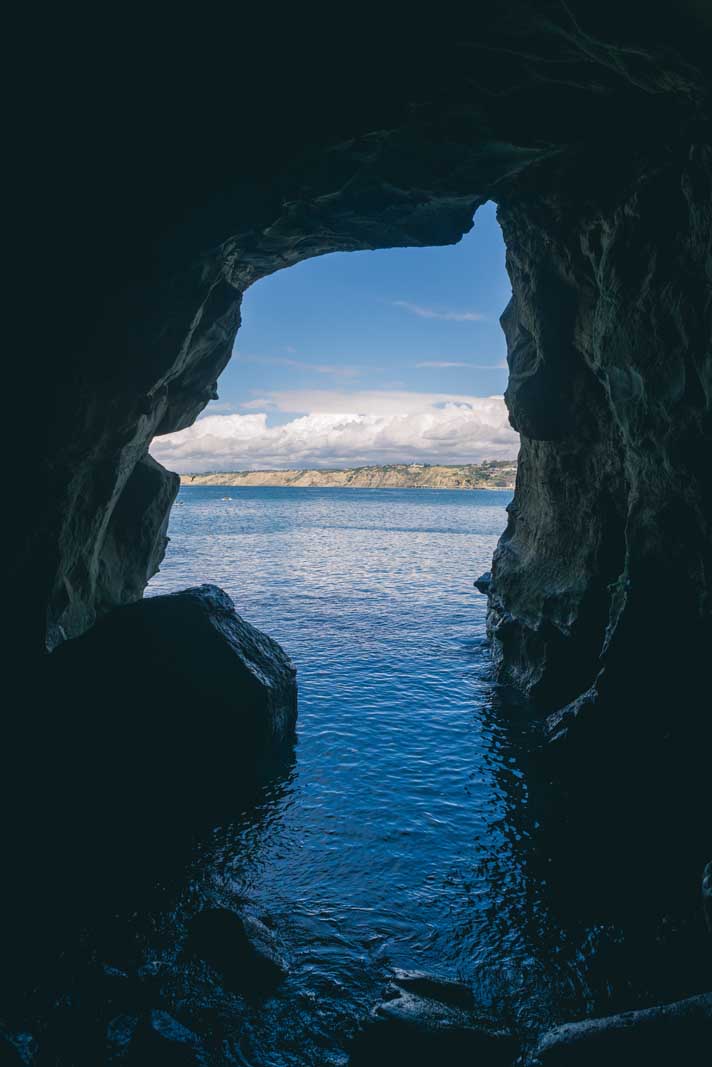 La Jolla is another awesome day trip from Los Angeles in North County San Diego. With an adorable artsy town filled with galleries, shops, and great dining as well as a dramatic coastline with fantastic ocean views you can easily fall in love with this place at first site.
Another draw to this area would be Torrey Pines State Reserve and golf course. If you're not a golfer, no worries you can hike in Torrey Pines for some incredible views and scenic hikes.
We personally love all the amazing things to do in La Jolla and when you're here you won't want to leave, maybe consider making this one an overnight trip. We particularly love the Pantai Inn just steps away from the oceanside cliff with a stellar view.
Check out our guide to San Diego to find out more about La Jolla.
Disneyland
Situated in Orange County near the border of Los Angeles County is one of the most famous theme parks of all time and one of the best day trips from Los Angeles. Disneyland is the oldest and original Disney theme park and a fantastic way to spend a day. Unlike the other Disney Resorts, like Disneyworld, Disneyland is actually manageable in a day, or two.
With two different theme parks, The Magic Kingdom and California Adventure you can easily do the best of in a day if you plan your fast passes correctly.
We are huge fans of the original park and used to be season pass holders. There are even a few rides at this park that aren't available in any other Disney park like the Matterhorn and Cars Land.
Old Towne Orange
View this post on Instagram
One of the more quaint day trips from Los Angeles in Old Towne Orange in Orange County. This is one of the most underrated places to go in Southern California as this city has a feel to it nowhere else in Southern California quite has and you sort of has a Mayberry feel to it.
This small town center has cafes, restaurants, bars, antique shops, and other boutiques that you can easily get lost in for a day.
One of our favorite stops in Old Towne Orange is the Watson's Soda Fountain & Café which happens to be the oldest soda fountain in California! The entire experience here makes you feel like you stepped back in time with comfort food and ice cream sundaes.
---
Since you're planning a trip to Los Angeles be sure to check out this Los Angeles itinerary to help you plan the perfect trip and check out some of our favorite viewpoints in Los Angeles for more unforgettable memories!
Found this guide to all the best day trips from Los Angeles helpful? Bookmark for later or share the love below on Pinterest!