Planning for an amazing 3 days in Montreal for your next getaway? We have you covered with our Montreal itinerary covering some of the best neighborhoods, attractions, bars, and restaurants in the city.
Montreal is home to some of the best cuisine and foodie scenes in Canada, amazing museums, incredible street art scene, history, beer scene, and more!
This Montreal itinerary and guide will help you plan the perfect trip with minimal to no planning as well as highlight our favorite spots in the city!
Visiting this city is amazing any season and while summer is always a popular time to travel, we highly urge you to even consider visiting Montreal in winter as there are amazing festivities and things to do around the city this time of year. While most people are hibernating in the winter, Montreal and Quebec actually celebrate winter!
Table of Contents
Day 1 of 3 Days in Montreal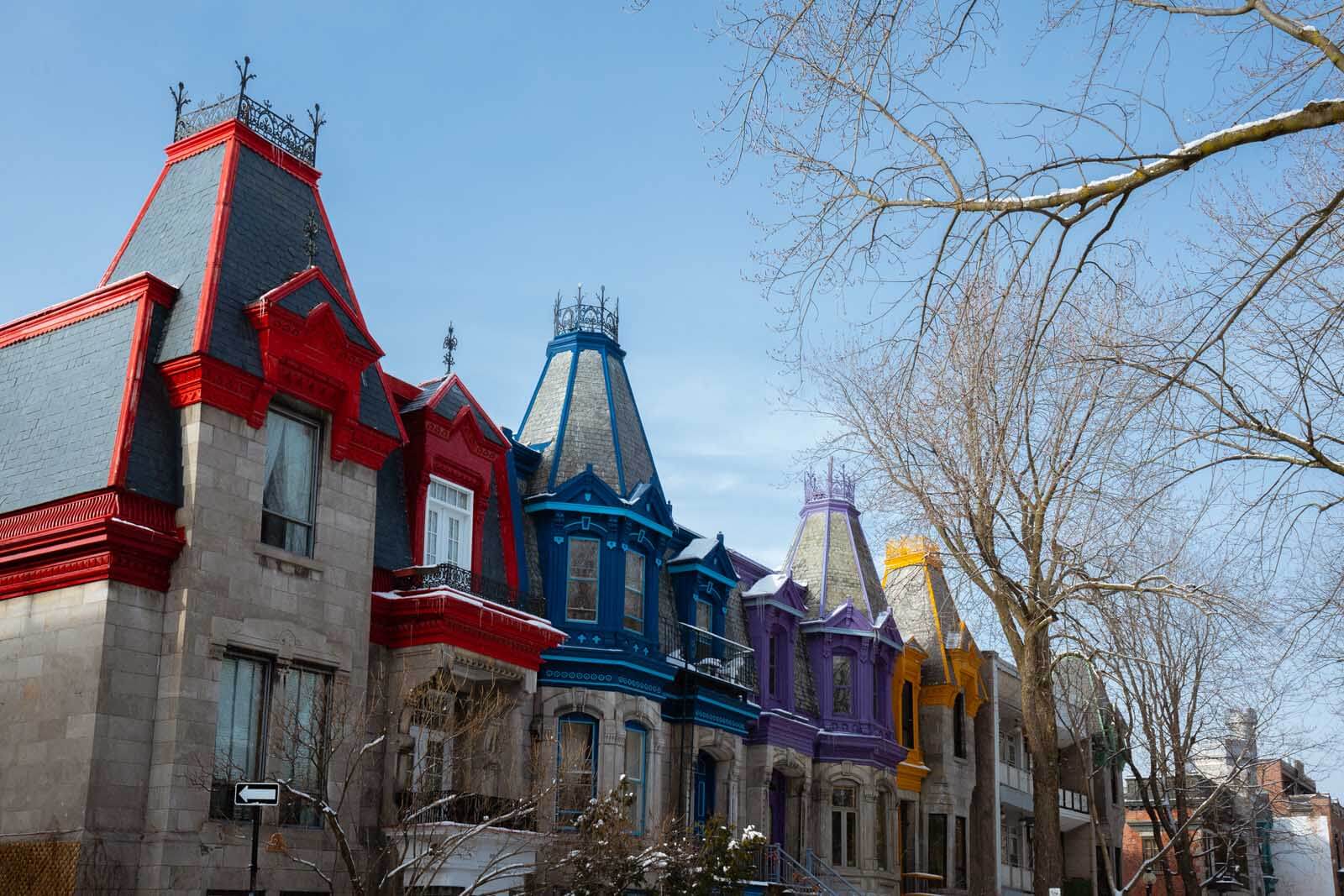 The first day of our 3 days in Montreal itinerary is going to give you a great feel for the city starting off with a tour, brunching like a local in one of the most beautiful spots in the city, checking out one of the most fun neighborhoods full of street art in the city, and ending the day with a great dinner option and after dinner show!
Join a City Tour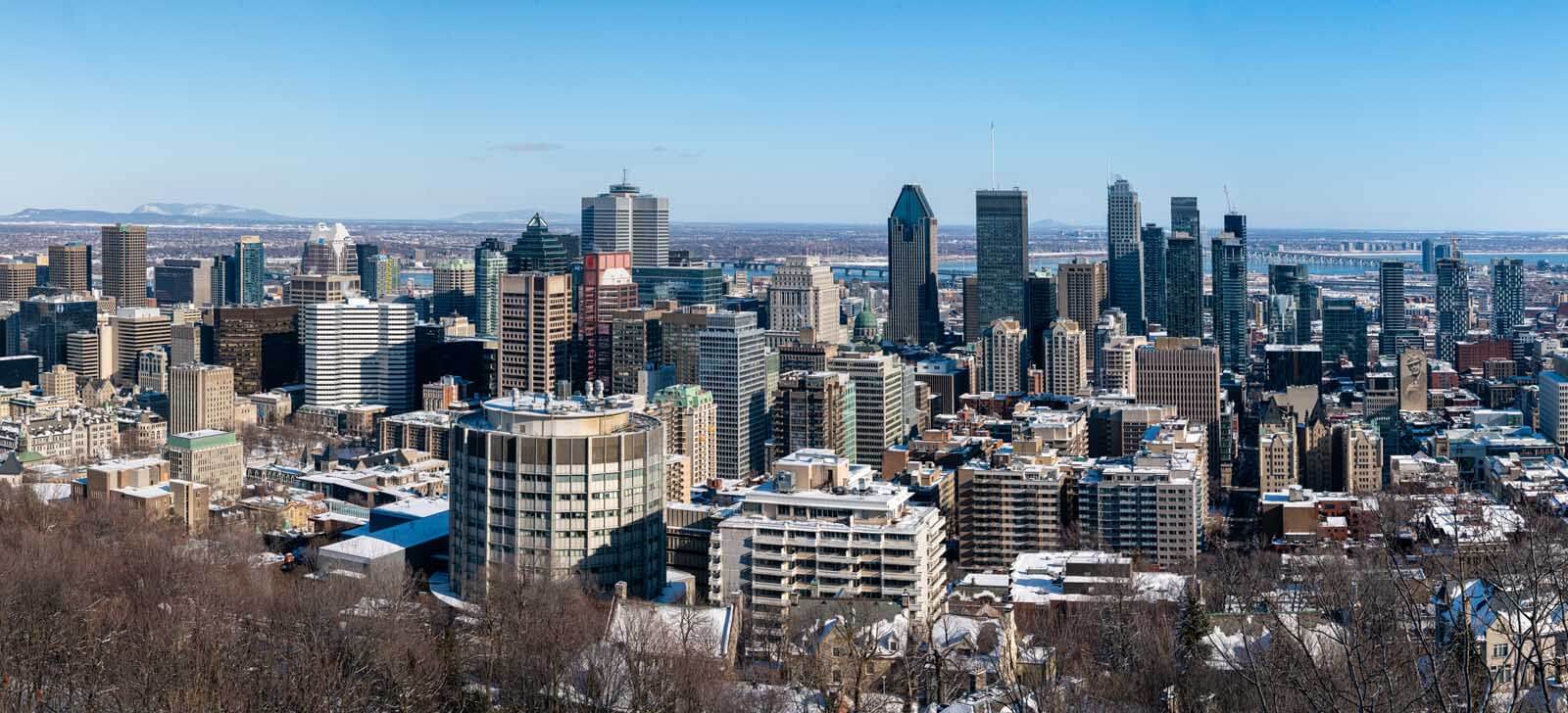 We recommend starting any new destination or trip off with a great tour! Why you ask? Because you will get to learn a bit about the destination with a local guide, find places you want to go, get local recommendations, try some of the best food in the city, and just get an overall feel for the destination before the rest of your trip!
We recommend starting your 3 days in Montreal itinerary with the same tour we did, Spade & Palacio Beyond the Basilica Tour.
This tour will give you a great feel for the city starting in Old Montreal and touring the famous Notre Dame Basilica, walking through the former Wall Street of Canada, a walk through the cultural Chinatown neighborhood, and making your way by foot to the popular and trendy neighborhood of Plateau.
What's great about this tour is its a well-rounded tour offering not only history and inside information on the city but local tips, sampling of food at different eateries in the city, learning about and seeing some of the best street art in the city, and more.
Afterward, you'll have a great scope of the city and the vibe here to continue your Montreal itinerary and trip!
Brunch like a local
When visiting you must check out the local brunching scene during your 3 days in Montreal! We are no strangers to a good brunch since we moved to Brooklyn, but Montreal also has an amazing brunch scene!
The foodie and culinary scene in Montreal is no joke either, what can you expect from a destination who has such strong French influences?
We recommend heading over to Bistrot La Fabrique after your city tour, this is about a 15-minute walking distance from where your city tour will end and one of our absolute favorite meals we had during our own 3 days in Montreal itinerary!
Enjoy the light and airy ambiance with some of the delectable dishes from savory muffin sandwiches to tartare and their unforgettable and mouthwatering french toast dessert (please make sure you save room for this! It's a must-try dish!).
They also make killer cocktails and freshly squeezed mocktails for those who don't drink or want to get so boozy early in the day.
When you're done you can walk across the street and enjoy the famous and beautiful colorful homes around Saint-Louis Square – one of the most popular photography spots in the city and a must add to your Montreal itinerary.
Check out the Vintage Finds at Eva-B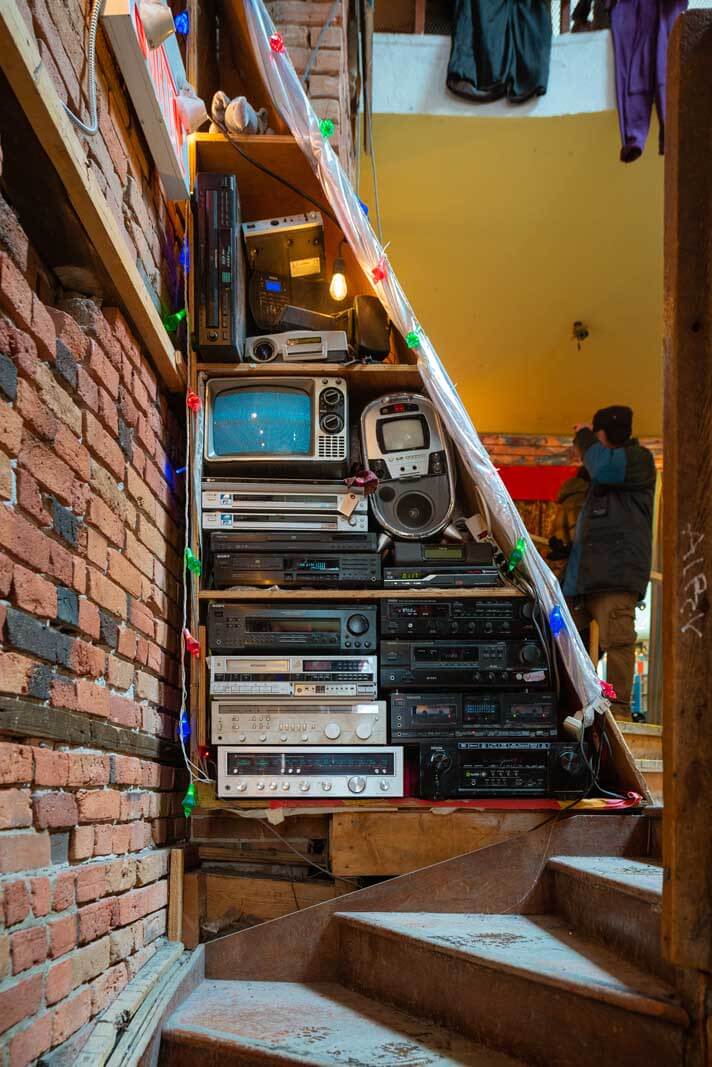 One of the coolest spots in the city to add to your 3 days in Montreal itinerary is Eva-B. This vintage shop/cafe/bar/costume rental is a one-stop-shop and a really unique place!
You won't miss the entrance as you'll find a Michael Jackson dummy holding a baby out the window (do you remember that famous moment?), a Santa, and other eclectic decor inviting you to come in this mega 3 storey vintage shop!
Thrift your way or browse quickly through Eva-B's different sections of their store. Youll find anything and everything here from old furniture, accessories, to vintage snowsuits from the 90s, cowboy boots, and anything you could possibly imagine.
You'll also find a cafe, bistro, and bar inside where you can take a break from shopping and get a little pick me up after your amazing brunch! Plus, this gives you an excuse to sit down and just look around all the crazy eclectic decor on the inside.
This is truly a fun spot and not to be missed during your 3 days in Montreal, even if you only take a quick lap around the store!
Explore Plateau Mont-Royal Neighborhood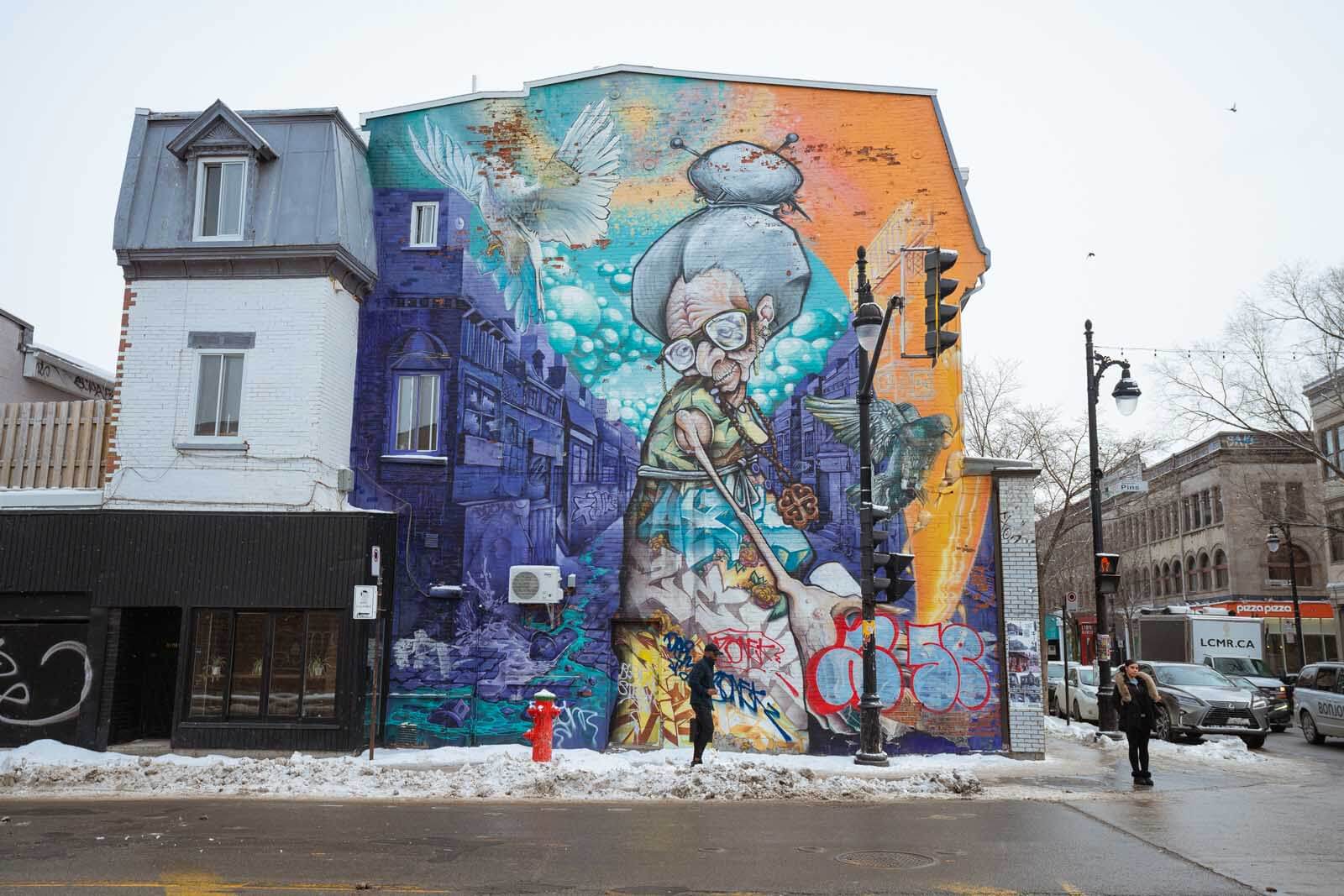 Depending on what your city tour covered, we recommend spending more time in the Plateau Mont-Royal neighborhood. Our tour did wind up in this area, but we continued to explore.
Make your way up Saint-Laurent Boulevard for all the best street art sighting in the city! There are dozens of murals dotted along this street that are worth checking out.
If you need any more caffeine head to Dispatch for some great fair trade coffee.
We also recommend going down the side streets and checking out Rue Roy and Duluth Avenue are two great streets to stroll down and check out on your first of 3 days in Montreal itinerary.
While you're on Duluth Avenue be sure to check out Café Chat L'Heureux, Montreal's cat cafe! This cat cafe also has a full sit down restaurant in it if you really love cats and want that experience too! Or you can just come in for a cup of coffee!
For extra cat-themed activities, you can check out the salon directly across the street, Salon Moov! Get your hair done and have a friendly feline sit on your lap and keep you company!
If you're a beer lover, stop by Reservoir for a craft brew on Duluth Avenue!
And if you're digging the street art scene here in the city, be sure to stop at Station 16 Gallery, Canada's first urban gallery started by artist @whatisadam featuring works for sale by many of the street artists featured in the city! Whether you're in the market for buying new art or not, this is a fun stop to add to your Montreal itinerary.
Dinner & Drinks
We recommend spending your first of 3 days in Montreal having dinner at Le Blumenthal, a modern brasserie serving French and North American inspired cuisine. This restaurant has a great location looking at Maison du Festival and the restaurant is also run as a non-profit with proceeds going towards financing the events on the square it overlooks!
Another option for dinner is Les Enfants Terribles on the 44th floor at 1 Place Ville Marie. Dine-in this stylish restaurant serving up French cuisine and comfort food overlooking all of Montreal!
If you have time on your Montreal itinerary, before dinner head up 2 more floors to the observatory for a 360 panoramic view of the city!
After dinner, head to the Entertainment District for designer and specialty cocktails at The Lab Cocktail Bar. The drinks served here are created by some of the city's best mixologists! They will also create a special cocktail based on things you like if there isn't anything on the menu that tickles your fancy!
After Dinner Show at Notre Dame Basilica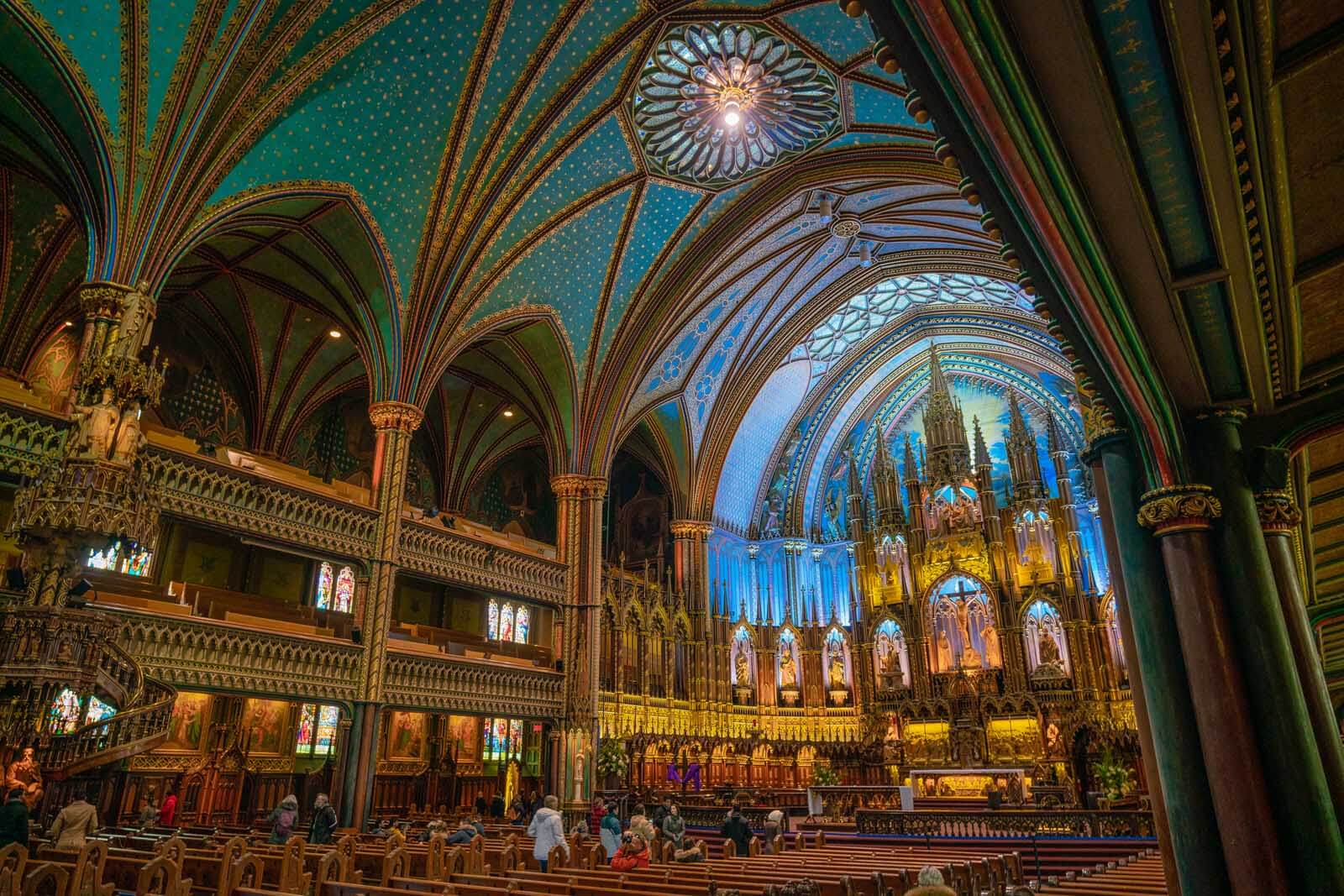 After dinner on your day 1 of 3 days in Montreal we recommend catching the light and sound visual production and show at Notre Dame Basilica called Aura.
This is a truly magical experience that feels straight out of something Disney Imagineers would make! This visual production shows off the beautiful interior architecture and artwork along with a synchronized light show and orchestra music.
They have shows most nights at 6:00 pm and 8:00 pm, be sure to check the schedule before your visit to Montreal in 3 days so you can see which night will work best for your Montreal itinerary.
Day 2 of 3 Days in Montreal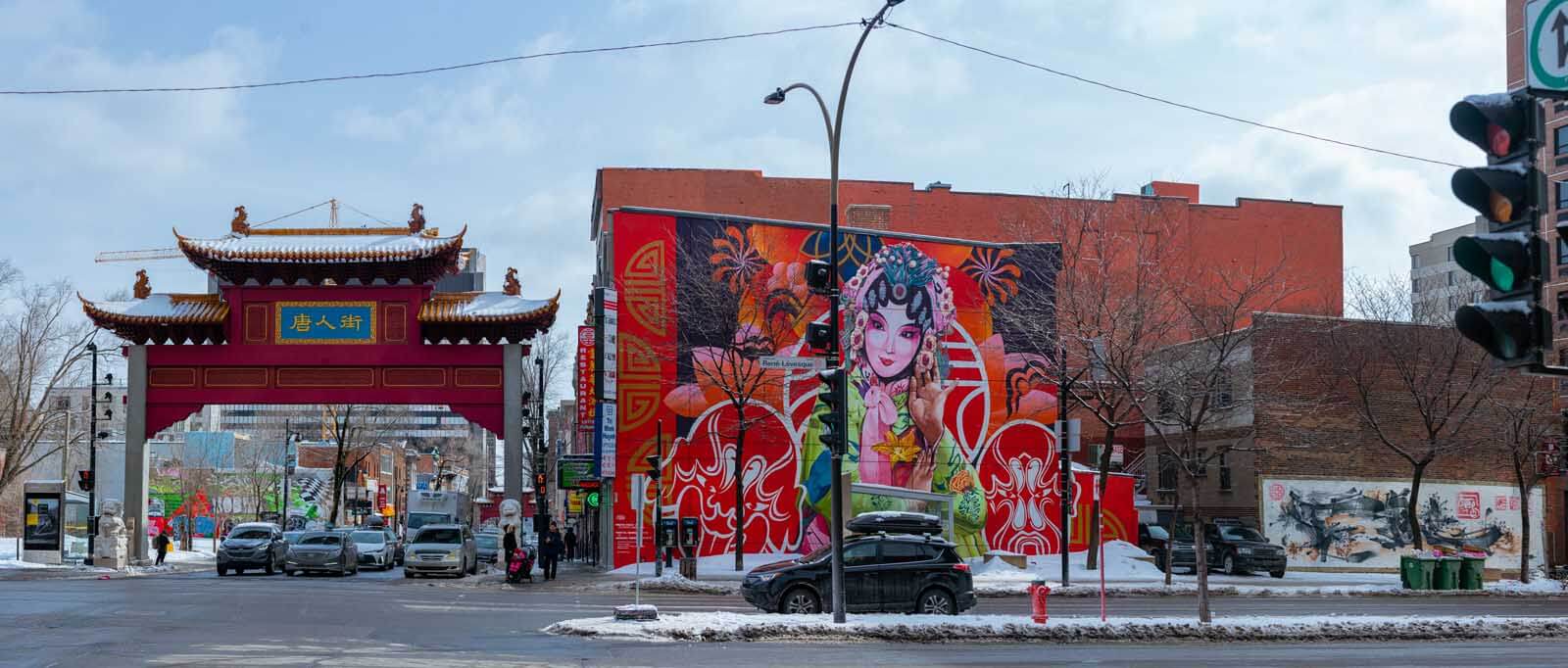 We have an action-packed day 2 of 3 days in Montreal starting with a light breakfast at the base of Mount Royal, outdoor activities and great views of the city at Mount Royal, a selection of the city's finest foods at one of Montreal's popular food halls, Chinatown, museums, and exploring Old Port Montreal by dinner in this day of our Montreal itinerary.
A Light Breakfast at St-Viateur Bagel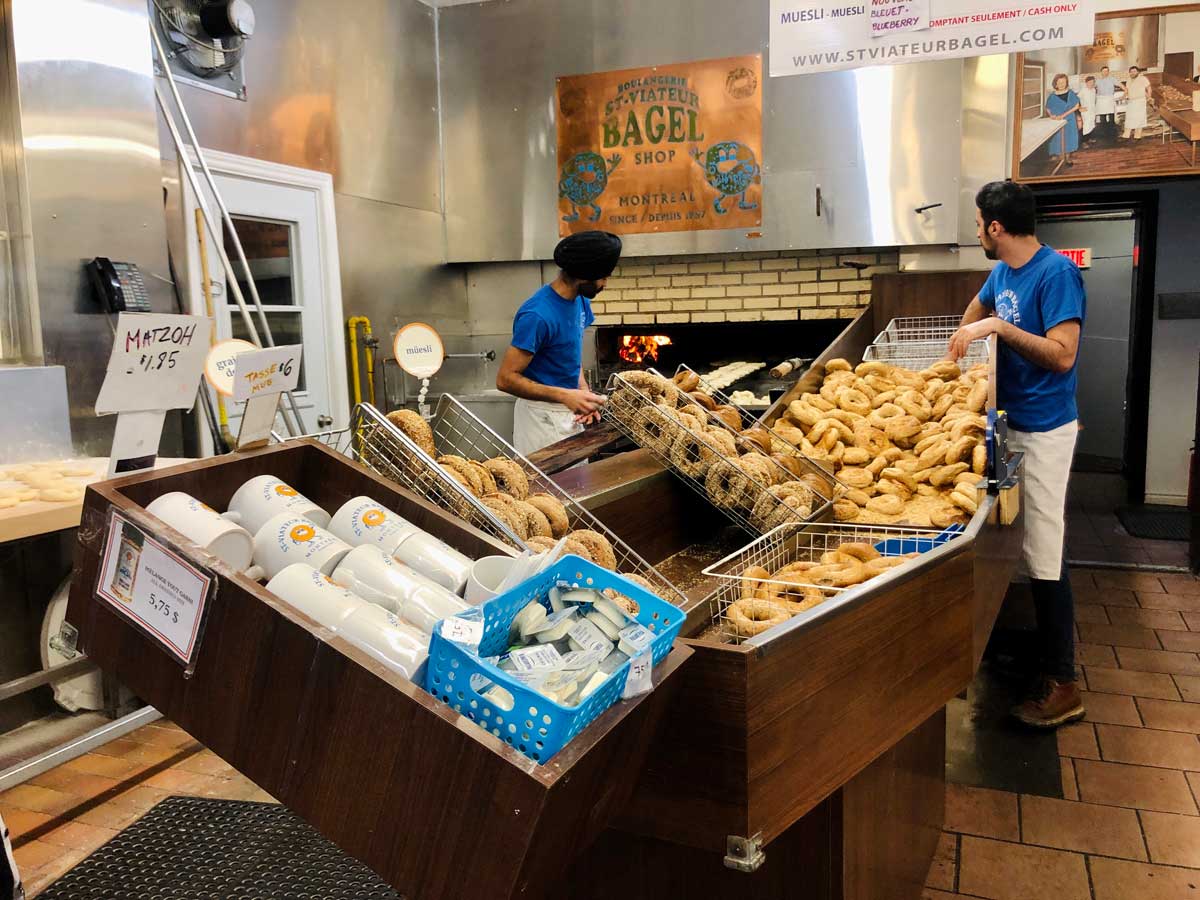 We are going to recommend starting off your day 2 of 3 days in Montreal itinerary and activities by trying one of the most famous and iconic dishes of Montreal! The Montreal bagel!
Unlike the New York bagel, the Montreal bagel is thinner, less doughy, and with a hint of more sweetness. The traditional way to eat bagels in this city is simply with butter or at *some* of the St-Viateur locations around the city you can try it with smoked meat.
St-Viateur has several locations around the city, the original being in the Mile-End neighborhood. We are going to recommend you go to the Mont-Royal location as this will be closer to your next stop on our Montreal itinerary.
1127 Mont-Royal Ave E
Explore Mount Royal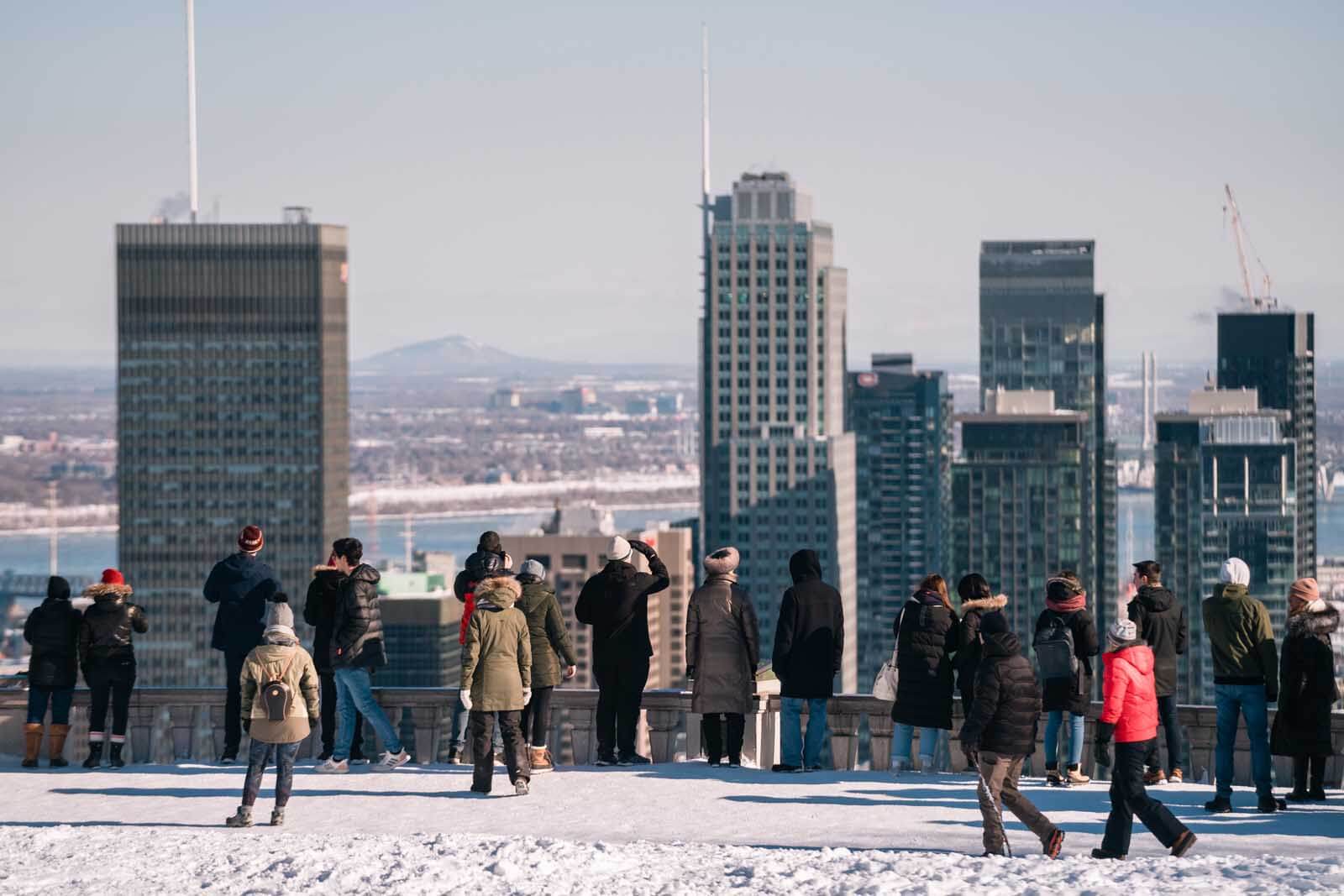 Next up on your 3 days in Montreal itinerary is the famous Mount Royal! This is one of the most iconic landmarks in the city and a must-see stop on your trip to Montreal in 3 days.
Situated in the center of the city you can find the best views of the city from atop Mount Royal as well as the best Montreal outdoor activities any season!
In the summer you can hike, picnic, play outdoor sports/games and in the winter you can snowshoe, ice skate, ski, and enjoy the winter wonderland in the center of the city!
Montreal actually takes its name from Mont Royal, and there is actually a law in place that no buildings in the city can be built taller than the mountain making the top of Mount Royal and its viewpoints the best place for a panoramic view the stunning city from above and mountains in the distance.
On a clear day you can actually see into the United States too! It as pointed out to us that some of the mountains in the distance were actually in Vermont.
Check out a Food Hall for Lunch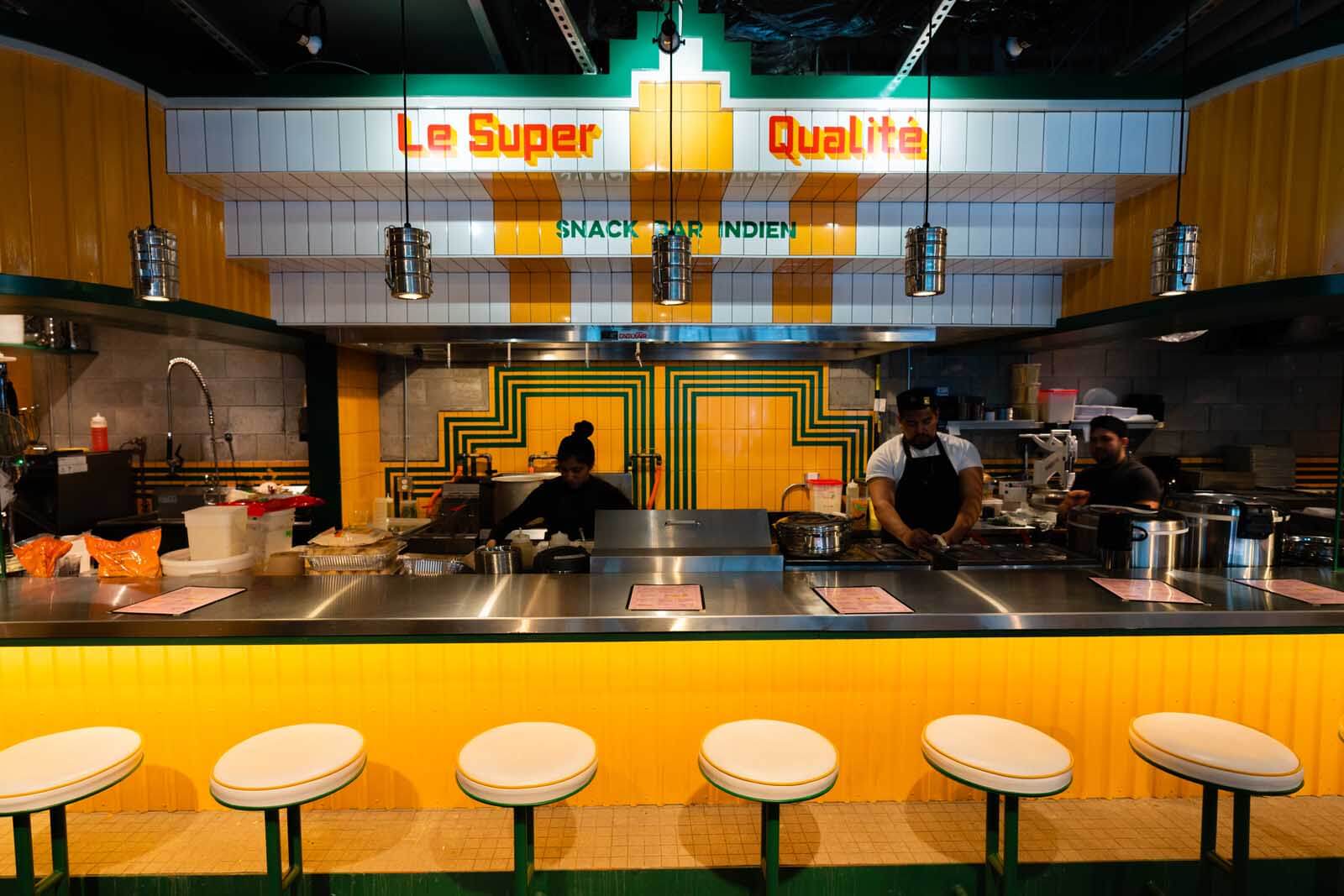 After you work up an appetite enjoying all the outdoor activities and viewpoints from Mount Royal on your Montreal itinerary, we are going to recommend a fun food hall stop for lunch!
There are a few new food halls introduced to the city of Montreal recently, one of them being Le Central in the Red Light District.
This food hall highlights some of the best eateries and chefs around the city that were handpicked by the food hall to showcase the best of the gastronomy scene all under one roof.
Better yet, if you're with more people you can all split and sample many dishes or everyone can order the type of cuisine they want and sit together in a common area!
Head to Chinatown
After lunch, we recommend taking a lap through Chinatown stopping at the little shops, boutiques, and enjoying this cultural neighborhood during your 3 days in Montreal.
Be sure to save some room for dessert at Bao, a traditional Chinese bun and dim sum eatery! They have sweet and savory buns, but we are going to recommend coming for the sweets!
If you have room in your stomach, try a savory bun too, they are heavenly!
Since there are so much food and so little meals during your Montreal in 3 days – we have to try our best to recommend sampling around as much as possible!
The sweet buns at Bao are available in adorable characters from Rilakuma, Doraemon, and other cartoon characters with sweet fillings like red bean paste (our favorite), chocolate sauce, custard, and more! These are almost too cute to eat!
Check out one of the Art Museums
One thing you'll notice about this city is its love for culture and arts. You'll find art installations all over the city, murals, and tons of museums!
We recommend checking out either the Montreal Museum of Fine Arts or the Montreal Museum of Contemporary Art during your 3 days in Montreal!
The Montreal Museum of Fine Arts is the most visited museum in Canada and is definitely one of the most massive. You could easily spend your entire 3 days in Montreal here, but we recommend exploring just part of the museum so that you can enjoy the rest of the activities we've picked for your Montreal in 3 days itinerary!
The Montreal Museum of Contemporary Art offers contemporary art. The Montreal Museum of Fine Arts also has a small collection of contemporary art, but if you're into modern art you probably just want to come to MAC's collection of over 8,000 pieces.
Evening at Old Port Montreal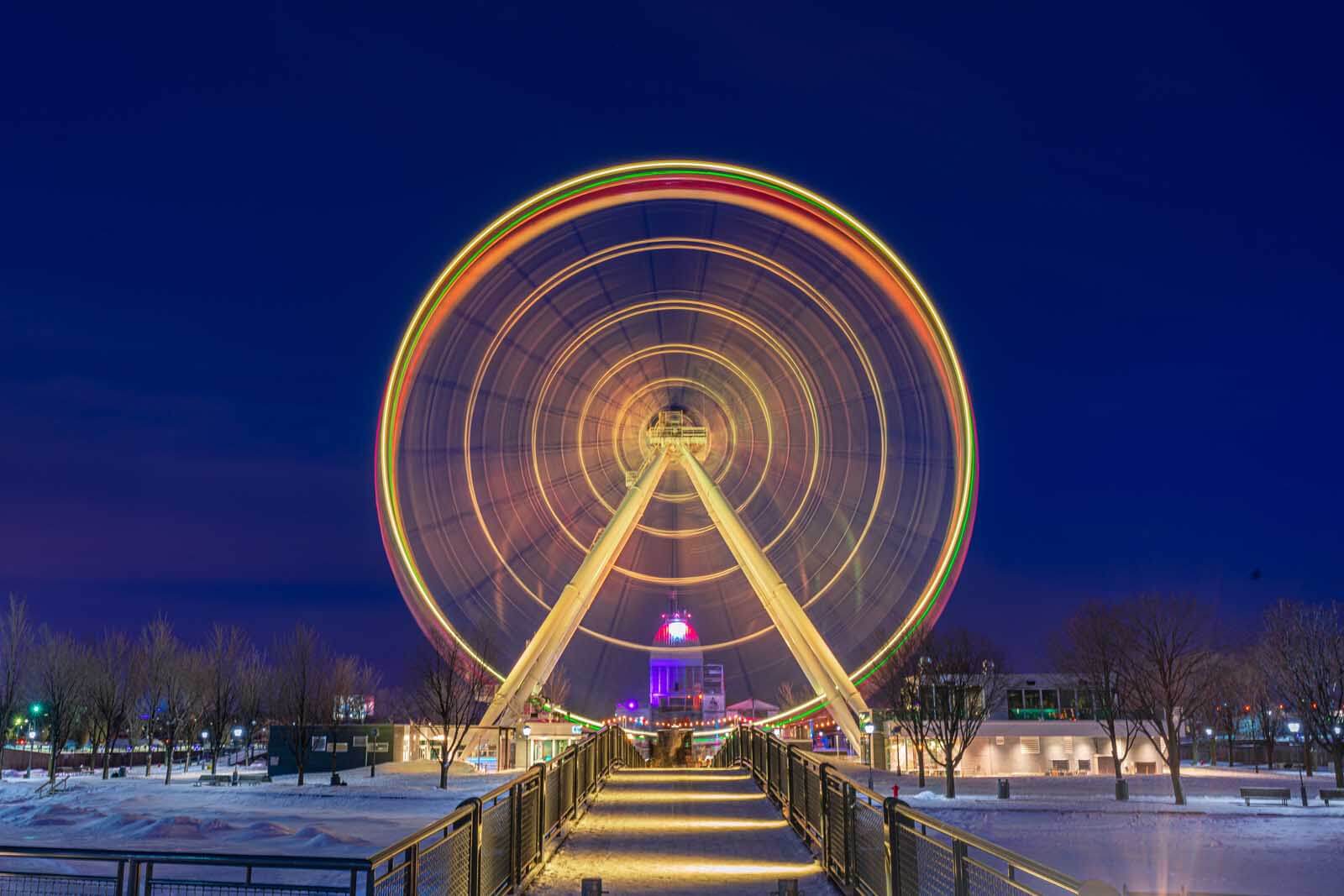 Spend the second evening of your 3 days in Montreal itinerary at Old Port right along the Saint Lawrence River. This is where you can find one of the coolest outdoor playgrounds we have ever seen as well as get one of the best views in the city from atop the La Grande Roue Montreal, the giant Ferris wheel.
This is a perfect place to enjoy a sunset and get a spectacular view of the city!
If you're visiting in the winter, you can also go ice skating right here too!
If you're looking for a pre-dinner drink head over to Pub BreWskey for one of their signature craft brews!
We then recommend going to Caffe Un Po' Di Piu for dinner. This gorgeous Italian bistro is a great place to share and try a bunch of plates by yourself or your travel companion/s during your 3 days in Montreal.
There's a cozy and romantic vibe going on inside and their menu and cocktails are amazing!
After Dinner Drink at Benelux
If you're still looking for some great nightlife on your second of 3 days in Montreal we recommend heading back towards your hotel (the one we recommend at least) and having a beer at the popular hangout and brewpub Benelux.
This cool hangout spot is a great place to try an amazing craft brew and nightcap after a fun day on your Montreal itinerary.
Day 3 of 3 Days in Montreal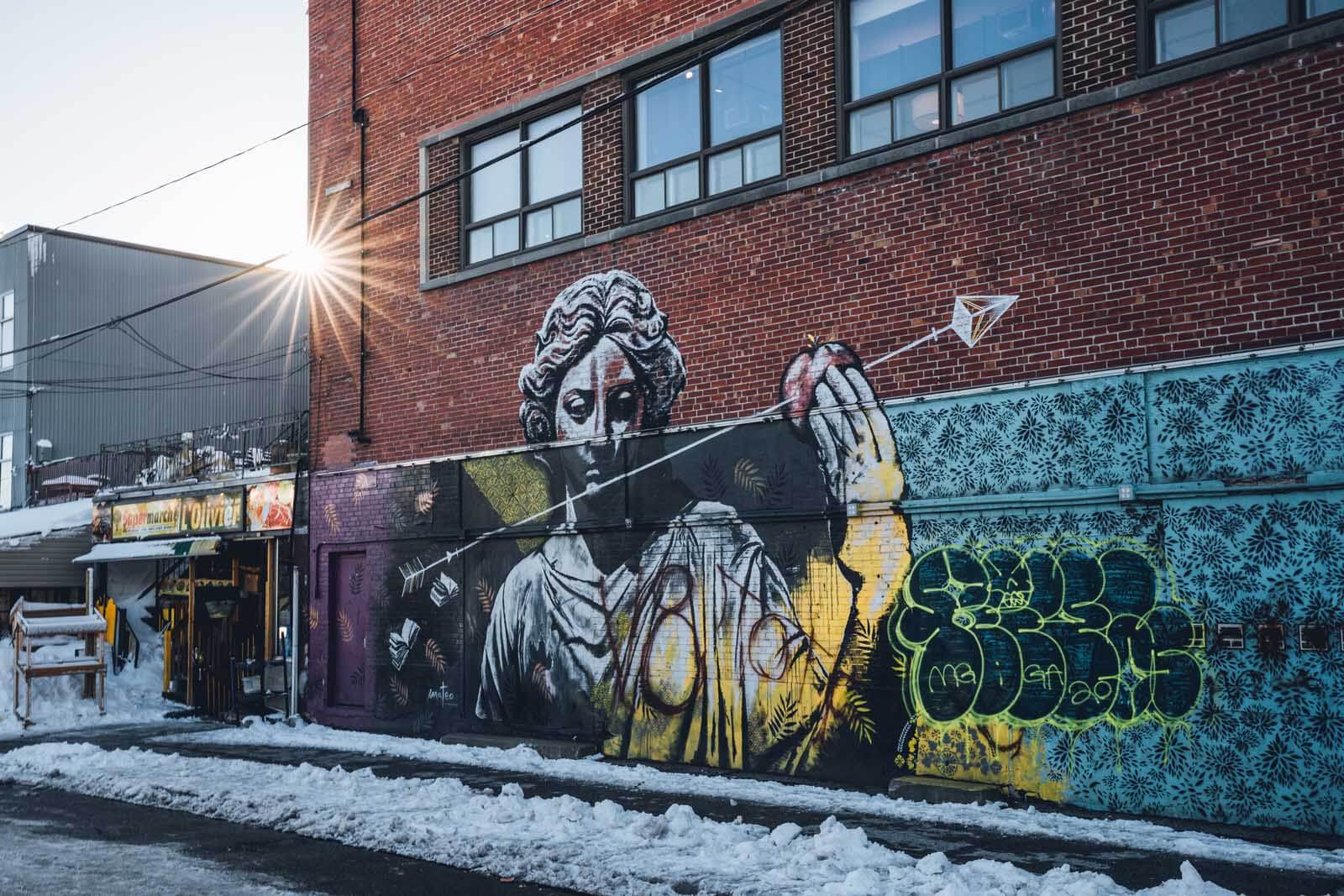 On your final day of 3 days in Montreal itinerary, we give you a more relaxed schedule so you can enjoy exploring a bit more and run into some spontaneous spots like cafes and shopping in the popular and trendy neighborhoods of Mile End, Little Italy, and the Gay Village.
Morning at the Mile End
Spend your final day of 3 days in Montreal itinerary in one of the coolest neighborhoods in the city! Mile End is a hip neighborhood where you can find all kinds of different cuisines, cafes, vintage shopping and all the things cool kids do in Montreal.
We recommend having breakfast at the other famous Montreal bagel stop, Fairmount Bagel. You need to compare both St-Viateur which you ate during day 2 of your Montreal itinerary to Fairmount Bagel, the other iconic spot in the city.
Some declare Fairmount is better while others are on St-Viateur's team. We will let you decide! Afterward, stop by Olimpico for a great cup of coffee to fuel your final day on your 3 day Montreal itinerary.
After breakfast, explore the Mile End neighborhood by stopping at more cafes or checking out the great vintage shops and boutiques this area has to offer!
Lunch and afternoon in Little Italy
Head over to the Jean-Talon Market in Little Italy for a great lunch grazing and snacking your way through this amazing public market.
This is a famous foodie spot in the city and the largest of the four public markets in the city where you can find fresh produce, Quebec cheese, local maple syrup, and more food at all the different stalls for all kinds of food from full meals to small bites and drinks!
Afterward, be sure to go out and walk around the neighborhood and have an afternoon beer at Harricana, our favorite of all the beer spots in the city and a must-add item to your Montreal in 3 days itinerary!
This gorgeous spot has the most beautiful interior that feels like something you'd see in a Wes Anderson movie. They also serve up some of the best beers in the city with really fun experimental flavors that go really well together – I normally don't like smoky drinks but they had the most amazing smoky sour beer on draft during our visit!
Harricana is the first beer bar in Canada! Any beer aficionado can nerd out over their special Flux Capacitor draft system that controls the temperatures and carbonation to serve each of their drafts in their perfect situation.
You can commit to a full pint or do sample size pours so you can try as many of their interesting brew combos on draft! This is also a fun spot to bring cards, have a beer, and hang out for a bit if you're wanting to take it a bit easy in the afternoon.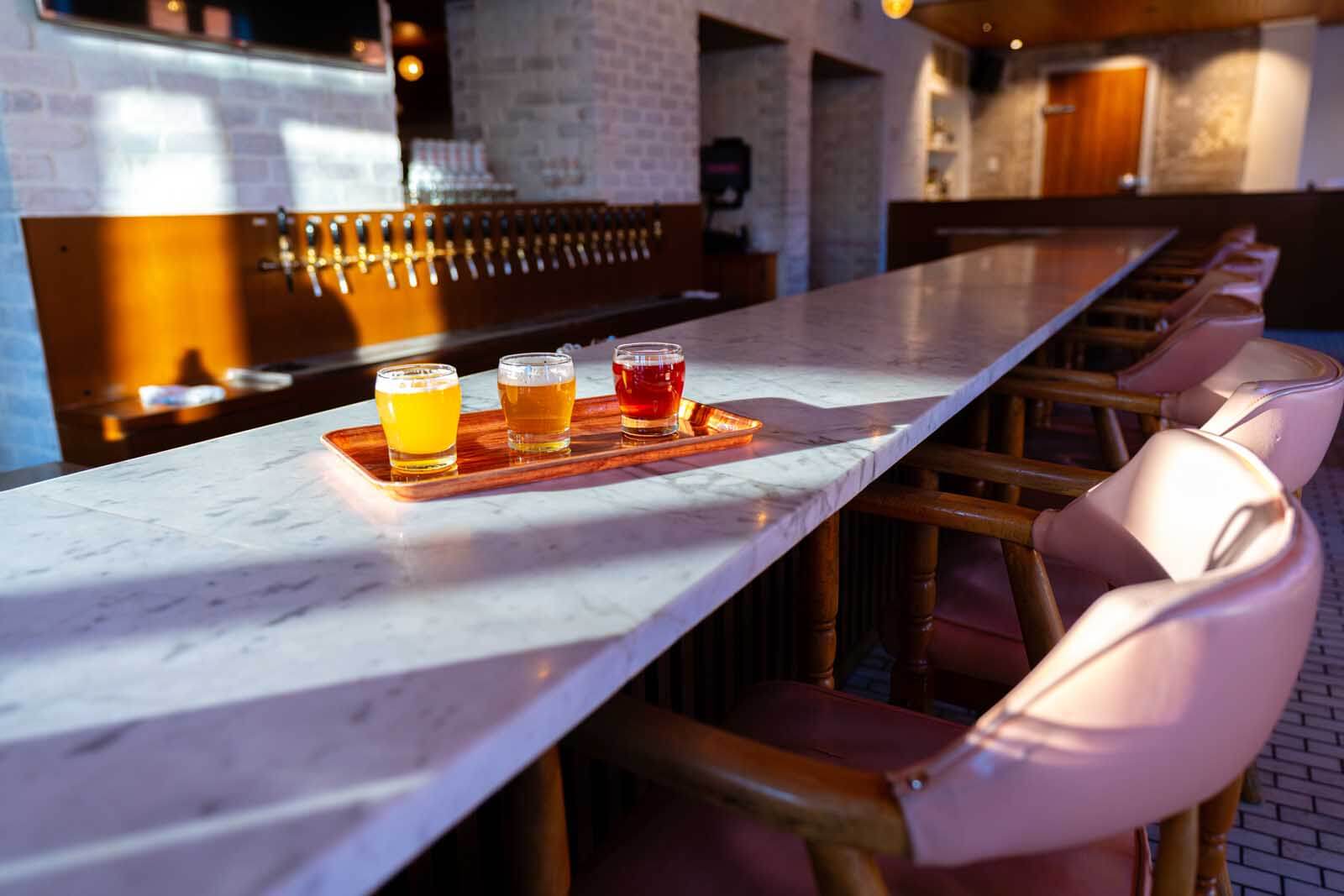 Also, if you're a beer lover download the Passport en Füt app on your phone and purchase a 'passport' if you want to sample more of the beer scene in the city during your Montreal itinerary. Several of the breweries we recommended are on it as well as others.
The benefit of using the app, if you use all your credits you'll be saving a lot of money and you can discover within the app which breweries are near where you are at in your current location! There are pretty much a few in every neighborhood!
Evening in the Gay Village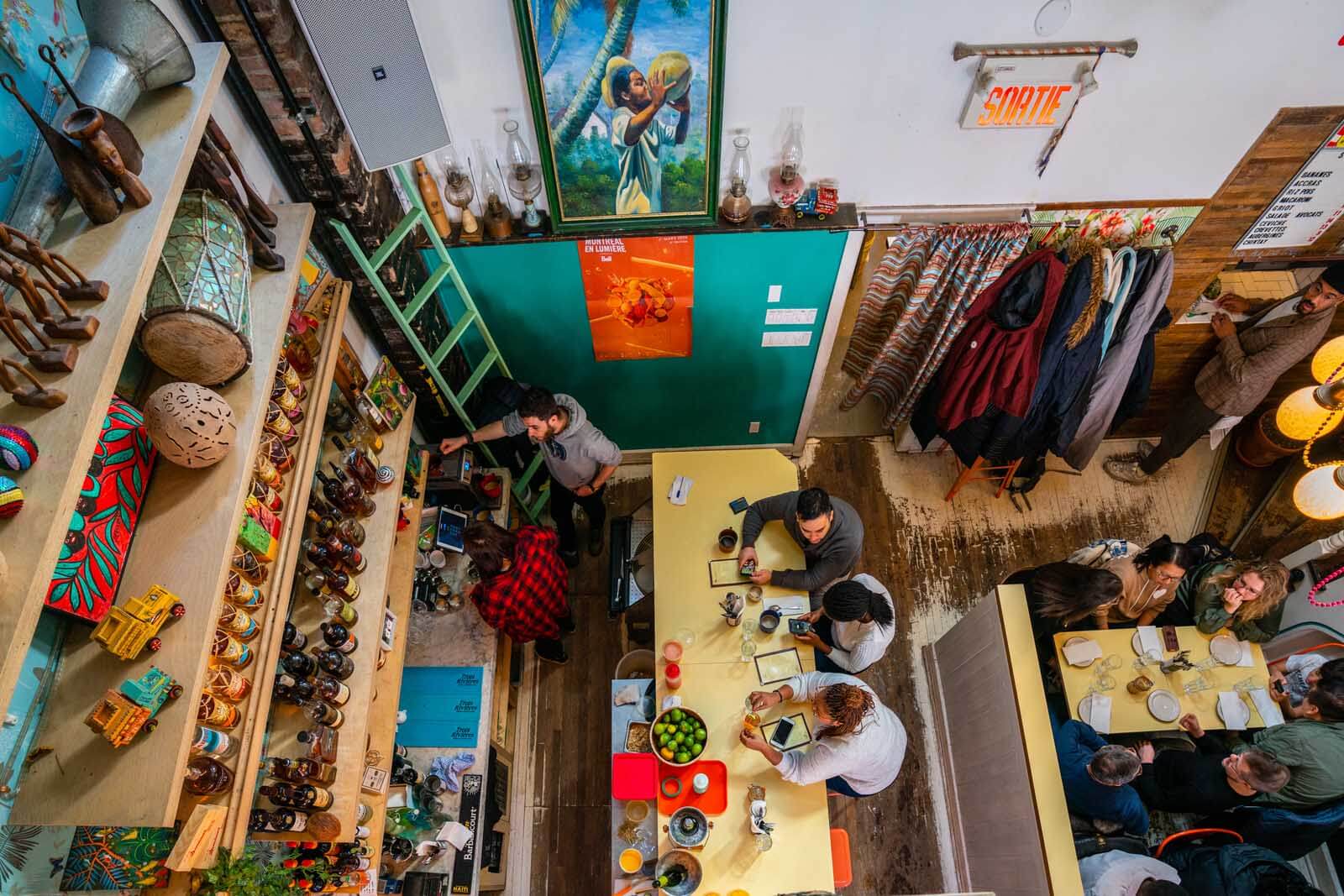 During your 3 days in Montreal, you don't want to miss the lively scene in the Gay Village neighborhood of the city. We recommend coming a little early before dinner to check out Galerie Blanc, an outdoor art gallery open 365 days a year day and night!
Walk around the neighborhood and get the vibe of the place then be sure to head over to one of our favorite meals from our own Montreal itinerary and trip at Agrikol.
Agrikol is a Caribbean restaurant serving Haitian food owned and started by Win Butler and Régine Chassagne of the popular Canadian indie-rock band Arcade Fire. (Sadly Agrikol closed in 2020).
This restaurant has it going off, with a lively and fun atmosphere, loud music, and ridiculously good food and rum cocktails.
If you're still up for it, end your Montreal itinerary and 3 days in Montreal with a fun night out enjoying laid back swanky bars or go clubbing.
Extra Time in Montreal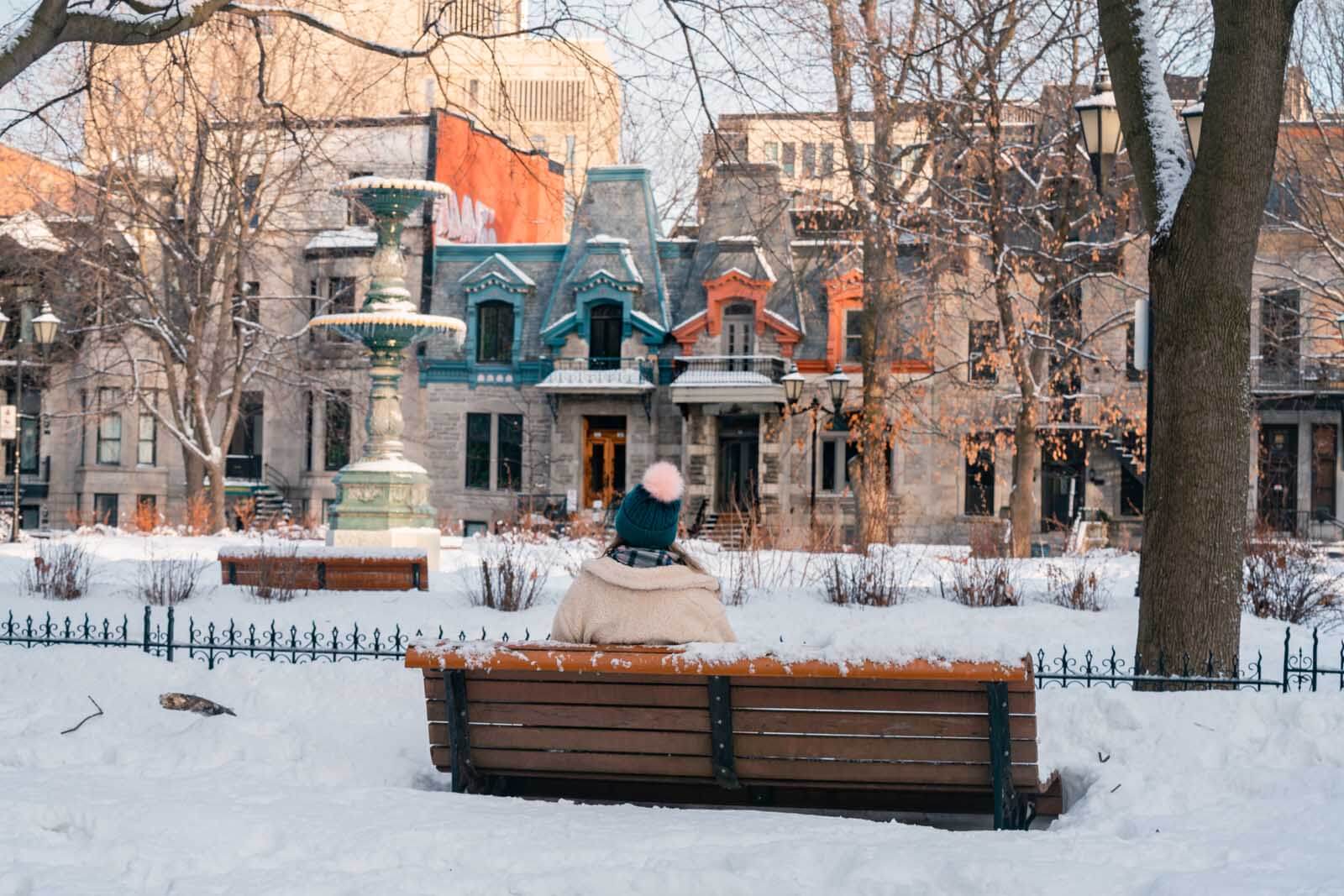 Do you have more than 3 days in Montreal or you want to substitute some of our choices for your Montreal itinerary with other options? Check out our picks for how to spend any extra time in Montreal.
Olympic Stadium – Built for the 1976 summer Olympics, this has since become a symbol of the city. There are several things to do around Olympic Park including the Biodome, sporting events, or ride the funicular to the top of the tower.
Street Art Tour –If you want to learn a bit more behind the street art scene during your 3 days in Montreal itinerary check out these small group Street Art walking tours covering over 35 murals in 2.5 hours with a local guide!
Underground City – Did you know that Montreal has a famous underground city that has over 20 miles of tunnels?! No need to go outside as this giant underground city connects many points in the city. Don't know where to start? Head to Montreal World Trade Center by the Berlin Wall segment and start exploring.
Botanical Gardens – Witness one of best and important botanical gardens in the world! With 34 themed gardens and 10 greenhouses, you can explore the world through these unique gardens.
Schwartz's Deli – Another iconic and hearty dish to try during your Montreal itinerary are the smoked meat sandwiches at this famous spot. You will know when you're close as there will probably be a line out the door. A Montreal staple since the 1920s!
Festivals – This goes for any trip to Montreal but you should check to see if your visit lines up with any of the amazing festivals the city hosts every season! It doesn't matter whether its summer or winter there are festivals going on all year long from the Jazz Festival, Street Art Festival, to winter festivals like Igloo Fest and Montreal en Lumiere.
Mont Tremblant – Have time to make a day trip or overnight trip in your Montreal itinerary? Consider heading to the famous village of Mont Tremblant in the Laurentians any season. In the summer you can enjoy the beautiful outdoor activities surrounding the mountains and in the winter you can enjoy skiing at this world-famous ski resort.
Where to Stay in Montreal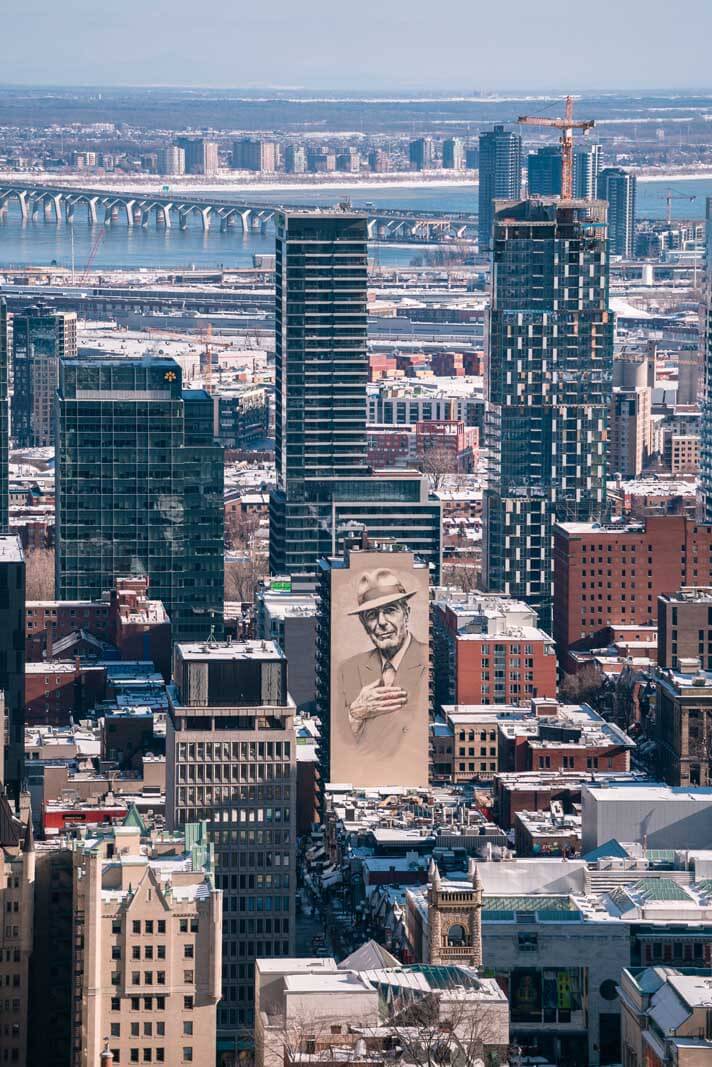 Boxotel
You'll need a cozy place to stay while exploring all the best things to do in Montreal in winter! We recommend staying where we stayed at Boxotel which feels more like a home than a hotel.
This boutique hotel has fully equipped rooms with a full kitchen, laundry services (washer & dryer), heated bathroom floors, automated curtains, and a gorgeous bathtub facing the window with a view of the city.
Better yet, Boxotel is a sustainable hotel and uses locally sourced products.
---
If you're looking for more Quebec province travel check out our guide to the best things to do in Quebec City in winter (& the holiday season) and the gorgeous region of Saguenay-lac-Saint-Jean.
Found our 3 days in Montreal itinerary helpful? Bookmark for later or share the love on Pinterest below! Happy Travels!