Looking for the perfect 3 days in Venice itinerary? We've got you covered. Check out this incredible guide for how to spend 3 magical days in Venice. In a nutshell, Venice is all about art-filled palaces, picturesque canals, gondolas, mind-boggling architecture and pristine blues flowing right beneath your feet.
A group of some 118 odd small islands connected by 417 bridges floating above 17 canals forms what we popularly know as Venice, Italy.
Often called the 'City of Romance' or the 'City of Water', Venice sits proudly on the Venetian Lagoon that can be located at the north-eastern tip of Italy.
The tiny but historic city of Venice is explored by nearly 25 million tourists every year. The city is quite famous amongst history buffs, fashion lovers and architecture appreciators.
The city practically floats on water which is why walking or taking Gondola rides seems like the best viable option to explore the city of Venice by water.
Call it a god's gift or man-made brilliance but the city is a traveler's delight in every sense. There's a good blend of modern conveniences in terms of well-cobbled footpaths, canals, and parking along with signature old-world elegance of gondolas, ornate palaces and blow-glass artifacts that can be well-enjoyed in 3 days in Venice.
Venice happens to be one of those very few cities in the world that has 'no off-season'. You can practically travel to Venice whenever you can.
However, factors like crowds, Venice events calendar, and that weather should be considered while planning your Venice itinerary and trip.
Although the wee hours of the morning are calm and serene, you can expect to see thousands of tourists flocking the streets near famous spots like the Grand Canal or Venetian Square.
This 3 days in Venice itinerary, you are bound to have a relaxing, enriching and joyous trip to the most-serene city in the world. We bet as you follow our 3 days in Venice itinerary, you will leave with unforgettable memories albeit ton loads of gorgeous photographs.
Disclaimer: This article contains affiliate links meaning if you purchase or book through our links we receive a small commission at no extra cost to you! Thanks for your support!
3 Days in Venice Itinerary
Table of Contents
No pictures, postcards or internet imagery has prepared you well enough to witness something so beautiful and unique that you will see once you land in Venice. Every nook and corner of this mysterious and whimsical city is decorated with museums, galleries, forts, palaces, and canals that will leave you awestruck.
Although the entire city can be roamed quickly around on feet or through Gondola rides in about an hour at a glance; I recommend at least 3 days in Venice to fully immerse in the true essence of this Italian gem.
Guarded by the Adriatic Sea, Venice is best traveled through walks along the labyrinth of tiny streets that will trigger your claustrophobic minds. You do know about Calle Varisco, the narrowest street in the world that is just 53cm wide.
So, be a little cautious and choose odd hours to check out what this city has to offer. Let us get to the itinerary for 3 days in Venice.
Read Next: How to Spend 3 Days in Rome Itinerary
Tips for Your Venice Itinerary
Getting Around Venice
Lucky for you getting around during your 3 days in Venice couldn't be easier! Many of the attractions in our Venice itinerary are walking distance from each other and what isn't can be done on the Vaporetto, the floating public transport system in the city.
The Vaporetto can take you to the different islands as well as around central Venice, this also happens to be a great way to see some of the most beautiful sites in the city as well from water!
We recommend getting an unlimited Vaporetto and transportation pass during your visit, you can get a pass as little as 75 minutes up to 7 days. This is the most cost-effective and easy way to getting around Venice.
This Vapopretto pass allows for unlimited use of public transportation services in the city of Venice; Lido, Murano, Burano, and Torcello including the mainland buses. Book your ACTV public transportation ticket in advance.
If you're walking its helpful to know that Calle = Street, Sotoportego = Covered Street, and Ramo = A smaller part of the street. This will be helpful as you're trying to navigate the city.
Getting to Venice
Flying into Venice is easy from most European airports. The local airport is Venice Marco Polo Airport (VCE) or Treviso Airport (TSF).
Other easy ways to get to Venice is by bus or train to the Venezia Santa Lucia train station.
When is the best time to travel to Venice?
The most popular times to visit Venice are between the months of March and May. We also love taking advantage of shoulder seasons, September through November are also a great time to visit as well as March and April to avoid the peak of tourist season and crowds, plus the temperatures are still pleasant.
Keep in mind that Venice has had issues with flooding for centuries. The city floods on an average 100 times a year typically from late October through late winter as well as September and April. that the locals call acqua alta.
If you're visiting during this time there will most likely be elevated planks and walkways for you to walk on to keep you out of the water. However, we recommend coming with rain boots or shoes you don't mind getting wet for the times you're out and about during the higher levels of water.
Typically the very severe floods are tidal and the water levels will go down as the tide goes out and all that will be left are a few puddles after a few hours.
General Tips for Venice
Venice attractions can get very crowded, we recommend trying to get to attractions right as they open or just before to get in line first or if you're just looking to do sightseeing you can do it in the early mornings before everyone wakes up (as long as it's not flooding) or in the evenings as most are eating dinner or going to bed.
We recommend booking everything from accommodation to tours far in advance to secure your spot. Venice is one of Europe's most popular destinations and requires planning in order to make sure you see everything on your Venice itinerary. We have provided links to help you book things in advance throughout our 3 days in Venice itinerary.
Places in Venice often have more than one name as sometimes places are referred to by their Italnised version or the Venetian dialect. Be sure to be aware of this because even Google doesn't always get it right!
Most restaurants in Venice are not actually owned by locals, in order to avoid tourist trap restaurants try to avoid places that are right next to famous tourist attractions, use images on signs outside the restaurant for their food, or have someone outside trying to pressure you to come inside. Some of these restaurants are great, but are typically not an authentic, local spot if that's what you're looking for!
Day 1 of 3 Days in Venice – Iconic Landmarks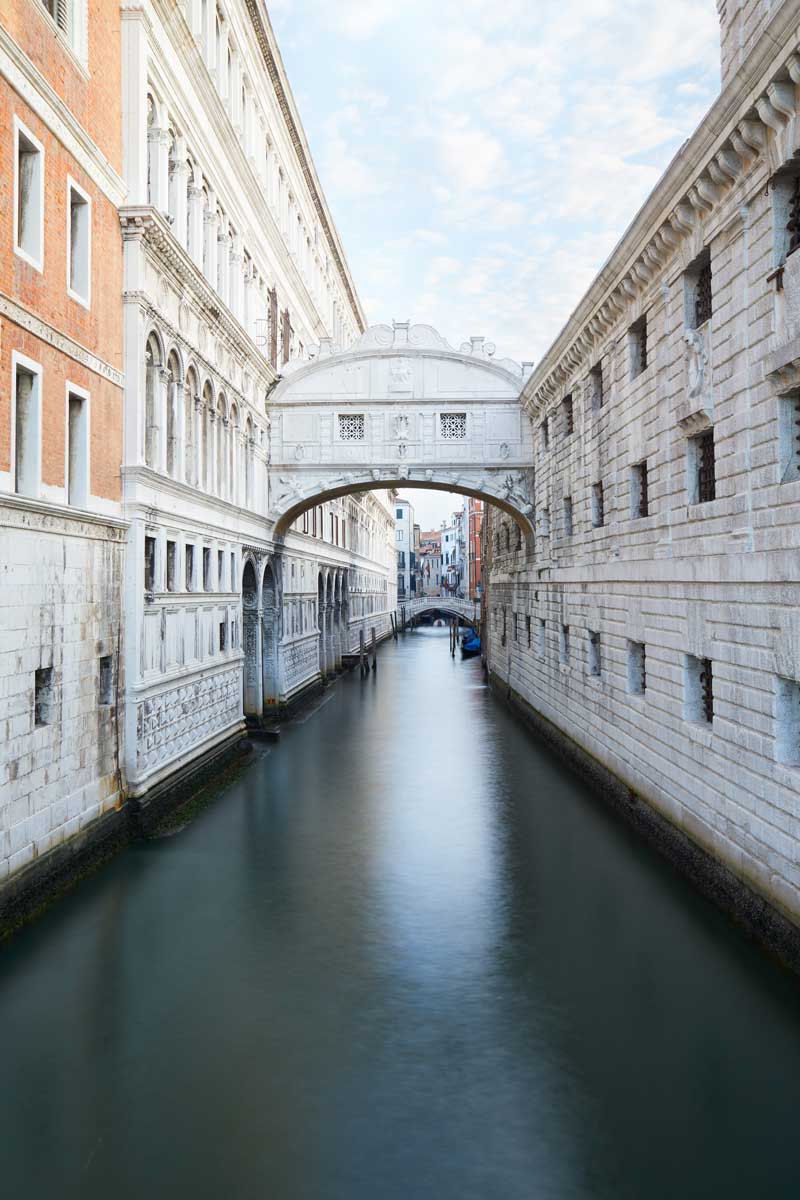 Start your first of 3 days in Venice early with a light breakfast at your accommodation or hold off for something small while you're exploring.
By early we mean to start as early as 7:00 am because of this when half of Venice is still sleeping or just waking up.
Use the opportunity to gaze through the Venetian marvels and the most popular tourist attractions like the Piazza San Marco and St Mark's Basilica with less crowds.
Be sure to comfortable walking shoes since this will be a long day on your feet as this is going to be the most aggressive day of sightseeing on the entire 3 days in Venice itinerary! The rest will be a little more relaxed so you can soak in all the emotions and feelings of Venice.
Don't worry though, most of our picks for our first of 3 days in Venice itinerary are all in a condensed area. We recommend booking tours to learn the history of these iconic landmarks as well as spending time in the museums.
Rialto Bridge
Start your morning of your first of 3 days in Venice at the most famous bridge in the city dating back to the 16th century, the Rialto Bridge.
The Rialto Bridge is the oldest of the four different bridges that cross the Grand Canal and easily one of the most recognizable icons of Venice.
The bridge connects San Marco to San Polo over the Grand Canal. We encourage walking the bridge and seeing the amazing views from both sides and from on the bridge itself.
Besides the majestic bridge there are also two markets here to explore. If this is something you want to do be aware that they close right after lunch so its best to do this first thing in the morning on your Venice itinerary.
The market you see when you exit the bridge is the souvenir market where you can find great items including glass and lace from Murano and Burano and the other is the food market where you can find produce and fish.
The best time to visit the Rialto Bridge is early morning before the crowds arrive as this is a very popular attraction or if you don't mind missing out on the markets, the bridge tends to have less crowds after 1 pm when the shops have closed.
Piazza San Marco
Chances are you have already seen photos of this architectural beauty online as this is one of the most popularly photographed locations in any Venice itinerary or trip as well as an icon or symbol for the city.
Piazza San Marco is easily one of the busiest and bustling areas in Venice. This is a spot that one cannot skip even if you're not the type who likes to visit the touristy attraction. This is the political, social, and religious center of the city.
San Marco Square attracts millions of tourists from around the world. Just soak in all the Italian beauty and people watching while you spend time walking around the square.
This is where you'll also see those famous 'extra-friendly' pigeons! Watch out if you have food, you might get an unexpected visitor on your shoulder.
St. Mark's Basilica and St. Mark's Campanile
Located right at the San Marco Square, the world-famous St Mark's Basilica will sweep you off your feet. After you've battled the long queues, you will be treated with one of the most stunning and best-known examples of Italo-Byzantine architecture and opulence.
St. Mark's Basilica is the seat of the Roman Catholic Archdiocese of Venice and northern Italy and the most famous church in the city.
The four bronze horses guarding the church lead you to thousands of square feet of mosaics, more than 1.5 football fields worth, to the ornate and gem covered Pala d'Oro alter.
You also won't miss Venice's national emblem – The Lion of St. Mark which is a lion with wings.
If you desire an unforgettable panoramic view of the city, then climb up to the St Mark's Campanile, the famous and iconic bell tower located in Piazza San Marco.
Get this skip the line ticket for St. Mark's Basilica plus admission to Doge's Palace
Doge's Palace
Doge's Palace is another must on Venice itinerary as its another one of the city's most iconic and historic buildings. Also known as Palazzo Ducale, this is less than a 2-minute walk from Saint Mark's Basilica.
To learn more about the history of this former palace to the ruler of Venice, we recommend taking a guided tour. You'll want to book your tickets in advance to make sure you not only secure a spot on a tour in this popular city but so you don't waste time during your 3 days in Venice in long queues.
Doge's Palace is a wonder in itself considering it looks like it's floating on water. To avoid peak visitation times we recommend trying to do this first thing in the morning or just before closing.
Your ticket to Doge's Palace also includes entry to Museo Correr, Museo Archaologico Nazionale and Biblioteca Nazionale.
Get this skip the line ticket for Doge's Palace plus admission to St. Mark's Basilica
Correr Museum
The next stop on your first of 3 days in Venice itinerary is the Correr Museum. This is included with your Doge's Palace ticket and worth exploring the art and history of the city of Venice.
This is a great place to get a break from the buzzing energy of San Marco Piazza exploring the life and culture of Venice over centuries of history through art and exhibits.
Bridge of Sighs
One of the most famous picture-perfect spots in the entire city is the Bridge of Sighs, a covered walkway floating high above the canal, Rio di Palazzo connecting the New Prison and Doge's Palace.
This beautiful white limestone enclosed bridge offers a window on the side and is what prisoners would walk through to get from the prison to the interrogation rooms in Doge's Palace.
The legend goes, the prisoners would enter the jails through the bridge passing by the Venetian marvels and sigh. Hence, the name Bridge of Sighs.
While this is one of the most stunning spots to photograph and admire, it has a pretty dark and fascinating backstory!
Day 2 of 3 Days in Venice – Away from Crowds & Lido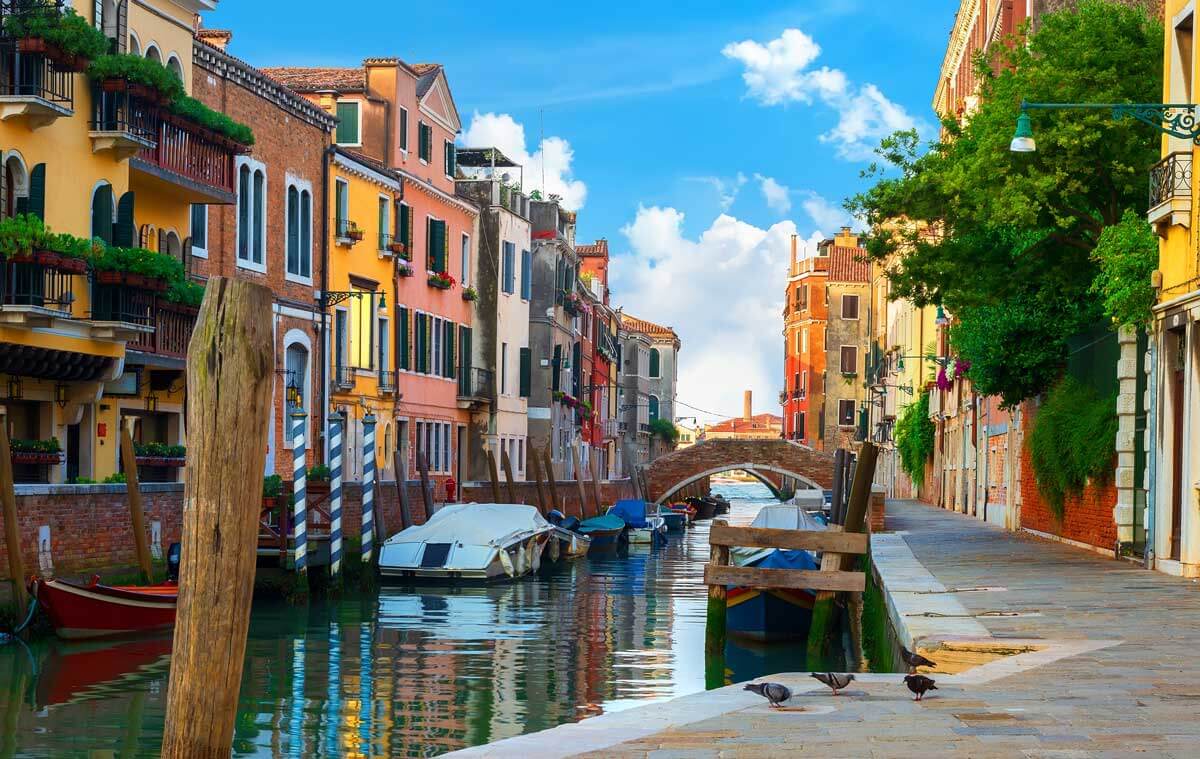 On our second of 3 days in Venice, we are going to recommend getting away from the crowded hot spots by joining a tour by a local who takes you around some enjoyable and beautiful locations to see the best landmarks and attractions in Venice outside of the congested areas.
After, you'll spend the afternoon on your Venice itinerary enjoying the sun and sand at Venice Lido. Ending your day by grabbing a drink at one of the most beautiful bars in the city.
Venice Away From the Crowds Tour
One of the best ways to enjoy your 3 days in Venice is actually exploring areas, in addition to the iconic landmarks you did on the first day of your Venice itinerary, some of the more secluded and less visited areas.
Since you're not a local, you might not know where to go. There's no shame in that and that's why you can hire a private, local tour guide to take you to some of the beautiful and less crowded spots and alleyways and canals in the floating city.
This private experience gives you what every day like is for a Venetian, the ones who are left still in the city that is.
You'll get to visit a famous church that was used as a filming location for an Indiana Jones film, visit a floating produce market, explore mall bridges and canals you just wouldn't find on your own without a local, learn about different Venetian architecture, plus getting an incredible view of San Marco Piazza from San Giorgio Island.
Book your Venice Away from the Crowds Tour
Venice Lido
Next up on your Venice itinerary is visiting the famous Venice Lido, the thin strip of land and barrier between Venice and the Adriatic Sea. This is also where the annual Venice Film Festival is famously held as well as some of the most beautiful beaches.
You will find yourself in a much calmer, laid back and relaxed atmosphere as compared to central Venice. You can either lazy around at the beach all day or check out some of the amazing things that Venice Lido has to offer.
If you choose to do a beach day you can choose between heading to a private beach or a public beach. If you're visiting in peak season you'll want to make sure you get here a little early to get a good spot or be patient and not expect to be the only one on the beach. Hotel Excelsior Beach is a great private beach to check out.
If you're not visiting during beach season don't worry, there are plenty of other sites to see like the Lido War Memorial, known as the Tempio Votivo, visit the Armenian Monastery where poet Byron used to study and stay, or rent bicycles and explore the Oasis of Alberoni nature reserve that inspired the works of Byron and Goethe.
Be sure to stroll down the shops and restaurants of Gran Viale that runs across all of Lido and if you're feeling extra adventurous you can make your way to Malamocco, a small village that's also its own island connected to Lido by bridges.
Getting to Lido is easy using the Vaporetto. Lines 1, 5.1, 5.2, and 6 run to Lido from central Venice. Book your ACTV public transportation ticket in advance.
Evening Drink at Bar Longhi
End your second of 3 days in Venice with a drink at the beautiful Bar Longhi in the Gritti Palace hotel. This is where Ernest Hemingway would frequent while writing his novel, Across the River and Through the Trees since he stayed in this very hotel.
This gorgeous bar is as ornate as the rest of Venice and a classic place to grab a drink under the magnificent chandeliers made of Murano glass and paintings on the wall.
This is a more upscale spot, so you'll want to dress the part (meaning no flip flops – but you're in Italy so you already know this for most places) and you should expect to pay just a tad more for their elegant drinks.
The best part might be the fact that in the warmer months you also have a prime location outside along the Grand Canal.
Day 3 of 3 Days in Venice – Murano & Burano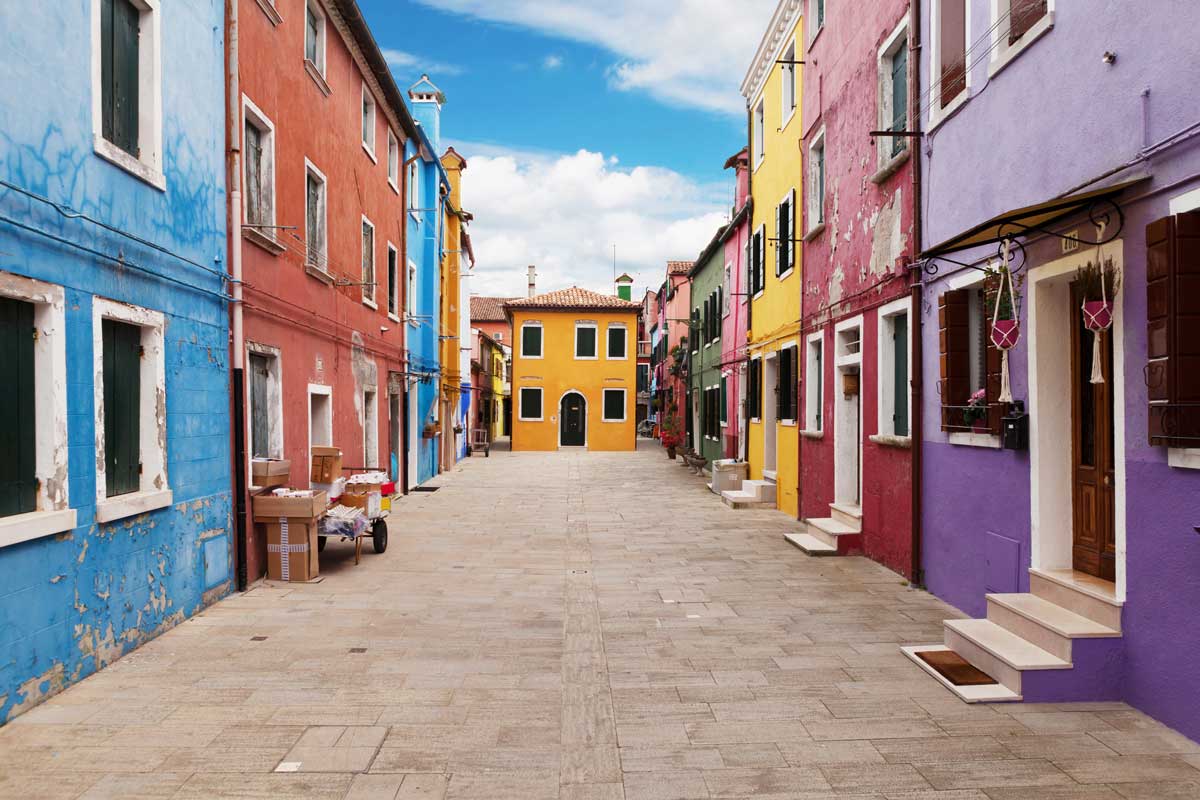 On the final day of your 3 days in Venice itinerary, we recommend exploring the beautiful and vibrant Venetian islands of Burano and Murano – plus more if you have time! You can totally try to navigate the islands yourself via the ACTV Vaporetto lines or you can join a tour that lasts around 4-5 hours and takes you to both Murano and Burano.
Murano is famous for its world-class glassmaking, glass museum, and historic churches whereas Burano is famous for its lacemaking, vibrantly colored houses, and as a fishing community.
Murano & Burano Tour
Don't stress about having to navigate the ACTV Vaporetto lines yourself or finding and deciding what to do on your own by joining a curated tour to Murano and Burano for a fun half-day adventure.
Departing nearby St. Mark's Square you'll head to Murano first where you will learn about the Island of Glass and see a glass making demonstration as well as visit one of the colorful glass factories.
You will also have a little time to walk the sleepy streets of the island on your own.
After, you'll head to Burano, one of the most beautiful places in Italy known for its brightly colored houses. You'll learn the history of the area and visit a local lace museum before returning.
Book your Murano & Burano Tour here
DIY Murano & Burano
If you decide that you might want extra time to explore both Murano and Burano you can do both of these islands yourself.
The Vaporetto stop for Murano is conviniently named Murano and Burano's Vaporetto stop is Burano. Easy peasy.
Some highlights in Murano are experiencing the tradition of over 1300 years of glassmaking at the Museo Vetraio or Glass Museum as well as the beautiful churches including Basilica di Santi Maria e Donato.
Highlights at Burano include the brightly colored houses, the lace-making museums of Museo del Merletto, visit the famous colorful house Casa Bepi, witness the leaning tower of Burano at the church of San Martino.
If you plan on buying lace, just be aware that authentic Venetian lace is labor-intensive and hard to come by. Most lace you see in shops are machine-made or imported. Also, the lace museum is closed on Tuesdays!
If you want to go at a quicker pace you might also be able to squeeze in a visit to Torcello, another island in the Venetian lagoon worth visiting. You can spend a quick hour here before heading back to central Venice exploring the cathedrals and the central piazza.
Book your ACTV public transportation ticket in advance.
Enjoy a Gondola Ride
It would be criminal to leave after spending 3 days in Venice without taking a leisurely ride through the canals in a Gondola.
Transfer from one touristy spot to another in the world-famous Venetian gondolas and enjoy all the incredible sites in the city while floating through the canals with your gondolier.
Book your 1-hour private gondola ride in advance or if you're on a budget you can book a shared gondola ride to save some money!
More time on your 3 days in Venice itinerary?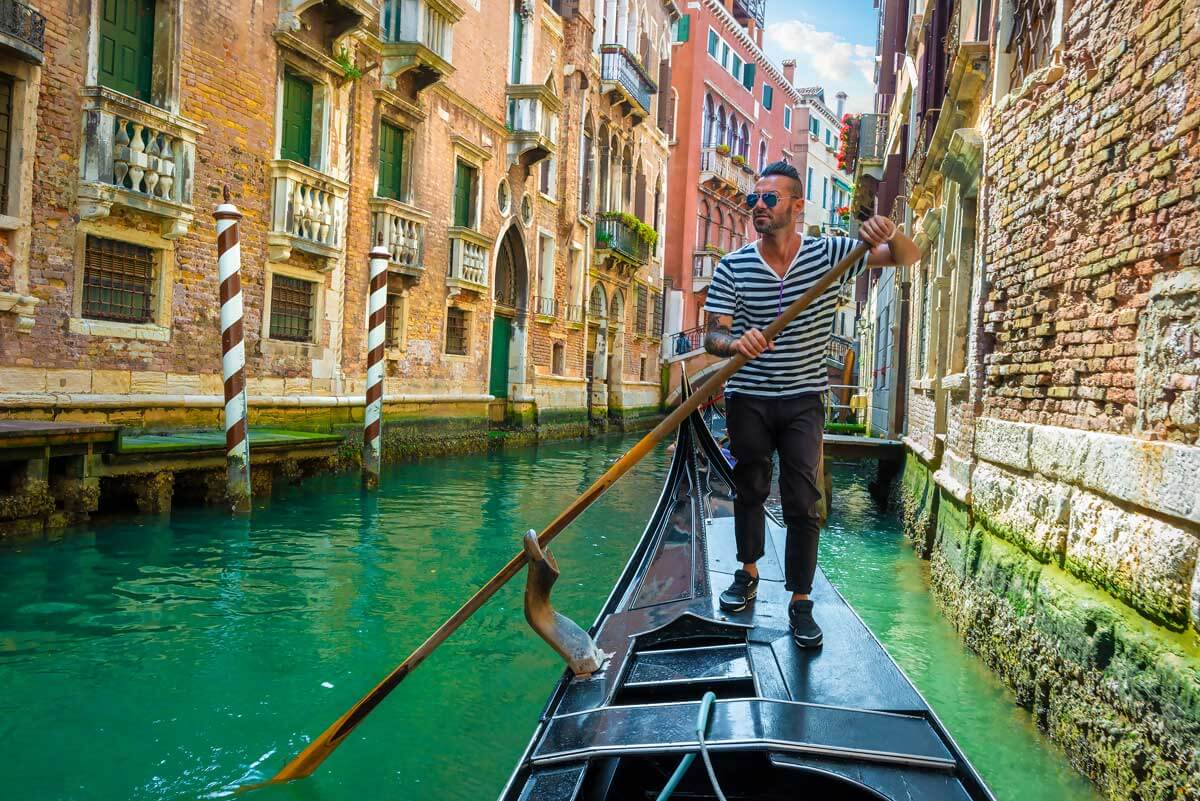 Do you have extra time on your Venice itinerary? Or perhaps you'd like to swap something out with any of these additional amazing things to enjoy in Venice!
Explore more Art Galleries – It's no secret Venice has one of the richest art scenes in the world and you can find plenty of galleries to explore if you're a lover of fine arts! Check out extra galleries like Teatrino di Palazzo Grassi, Ca' Pesaro, and the Peggy Guggenheim Collection for a few ideas!
Food tour of Venice – One of our favorite ways to explore a city is through the food and history on food tours! This 2.5-hour Venice food tour gives you 6 tastings while learning all about the famous and typical Venitian foods and snacks at local spots including the local specialty Cicchetti.
Bakery & Dessert Tour – Sample your way through the traditional bakeries of the city on your Venice itinerary with this small-group bakery and dessert tour by Lonely Planet taking you to the bakeries in the Cannaregio and Castello areas of Venice.
Venetian Mysteries Evening Tour – Love spooky tours and want to learn a bit more about the city by night? Join an evening mystery tour to learn more about the secrets and ghost stories of Venice!
Visit more of the Venetian Islands – Besides Murano and Burano there are more amazing islands to discover using the Vaporetto – we recommend checking out Torcello Island, San Michelle Island, Sant'Erasmo Island, and Lazaretto Nuovo.
Explore the other neighborhoods – Central Venice has plenty of neighborhoods you can easily explore by foot even if you only have a few extra hours to fill. We recommend checking out the shops, churches, restaurants, and alleys of Cannaregio, Dorsoduro, and Castello.
Libera Acqua Alta – In the neighborhood of Castello you can find one of the most unique book shops in the world. The different settings of book reading spaces here are incredible. You can sit on a Gondola and enjoy a ride while reading your favorite book or head to the staircase decorated with books from where you can get a good view!
Have a local show you around – Take a private 3-hour tour with a local to show you some of their favorite hidden gems on this personalized private tour for a completely unique experience.
Teatro La Fenice – Explore the opulent and majestic Venice opera house in an exclusive behind the scenes La Fenice Theater tour including the history and stories behind this legendary opera house in a rare, behind the curtain glimpse into this iconic theater.
Day Trip to the Dolomites – Perhaps you are short on time but would love to see the beautiful mountains of Northern Italy! You can schedule a private group tour to the Dolomites for you and your family/friends on a 9-hour journey to the Dolomites and back where you'll witness Braies Lake, the three peaks of Lavaredo, Cortina d'Ampezzo, and Giau Pass all in one day!
Where to Stay in Venice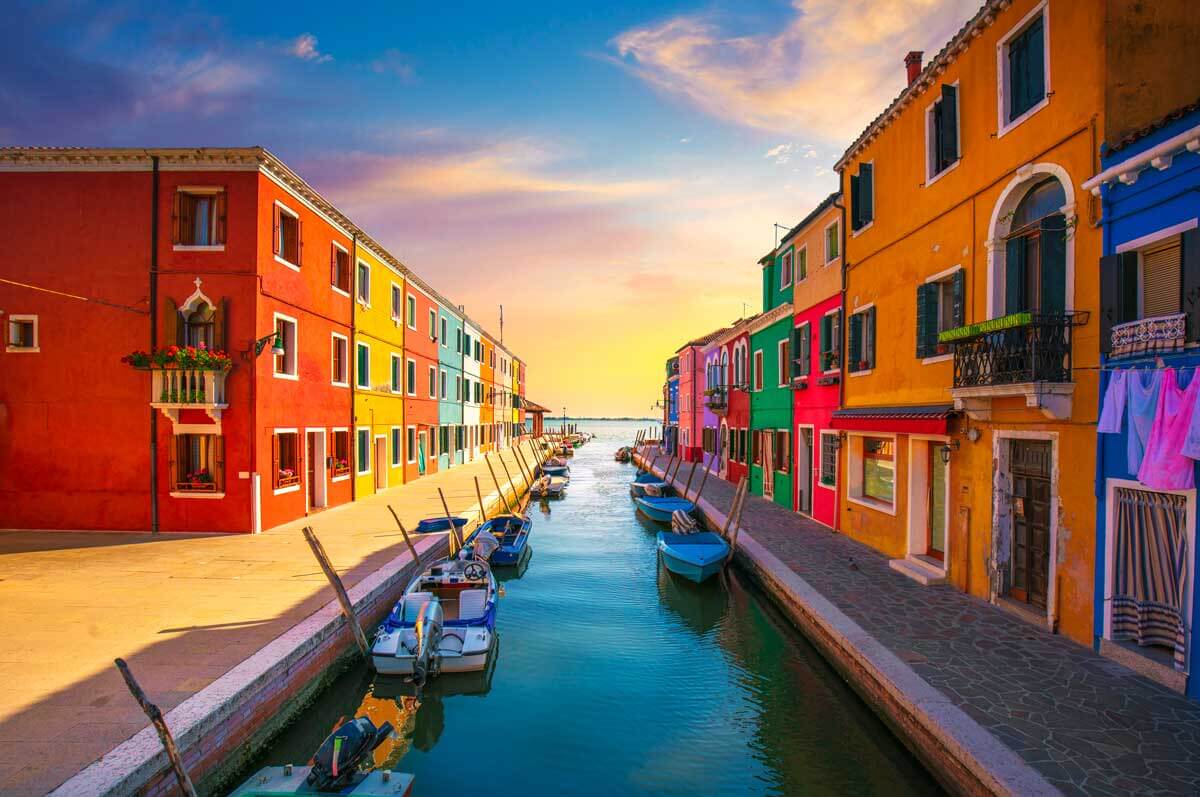 We have a few great recommendations for where to stay during your 3 days in Venice itinerary and vacation for all budgets.
$$$$ Gritti Palace
This luxury and lavish 5-star hotel is a part of the Luxury Collection Hotels housed in a 15th-century palazzo right on the Grand Canal. The rooms are elegant and offer balconies over the canals. This hotel has famously housed Ernest Hemingway while he was writing a novel and is the perfect place to stay if you're looking to have a one of a kind experience. Book Now
$$$ Bauer Hotel
This beautiful 5-star hotel is located on the Grand Canal just a short walk from Piazza San Marco. With ornate rooms featuring marble bathrooms and designer toiletries, you'll feel like royalty here. Rooms offer either street views or canal views and upgraded rooms have balconies. There's also an incredible lounge and terrace here as well as complimentary breakfast. Book Now
$$ Hotel Principe
This beautiful 4-star hotel is a great place to rest during your Venice itinerary. The hotel faces the Grand Canal and offers elegant individually designed rooms. You can upgrade to a room with a balcony, Murano glass chandeliers, and canal views! Plus breakfast is included. Book Now
$ Hotel Residenza San Maurizio
You really can't beat this budget hotel option for its location right on San Marco Piazza. Offering simple to elegant rooms for a couple or a group of friends in this former 16th-century palace. Book Now
About the Author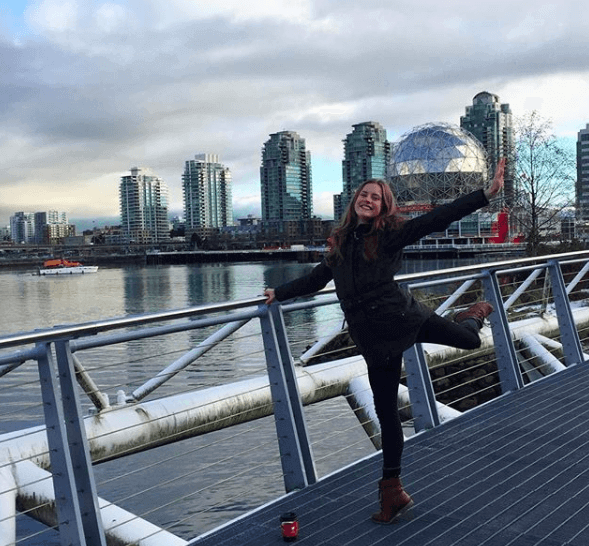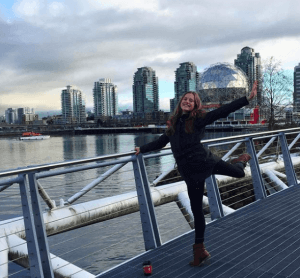 This piece was written in collaboration with Sydney from Route Prints. She loves dancing, history, beer and exploring the hidden places. Travelling is her life as it always gives her new experience and makes her feel stronger. To date, she has traveled to more than 25 countries and her favorite destination is India.
Follow Sydney on Route Prints or check her out on Instagram @RoutePrints
---
Found this 3 days in Venice itinerary helpful? Bookmark for later or share the love below on Pinterest!