Looking for the best things to do in Joshua Tree? We've got you covered, after growing up and living in California we both have a fond love of Joshua Tree and have been several times!
Going to Joshua Tree is one of the most fun road trips in California, in fact, there are tons of great stops along the Los Angeles to Joshua Tree drive to check out. Then, we have Joshua Tree, where do we begin? This Southern California desert is a special place. It's popular with both the young and old, creatives, and people who just appreciate nature.
There are two parts to this area. You first have the gorgeous, unique desert ecosystem full of Joshua trees. And the second part involves the town, which was created for artists, antique lovers, and solitude seekers. This is the place to go for an instant refresh, photography, inspiration, star gazing, camping, and just appreciating mother nature.
Things to Do in Joshua Tree National Park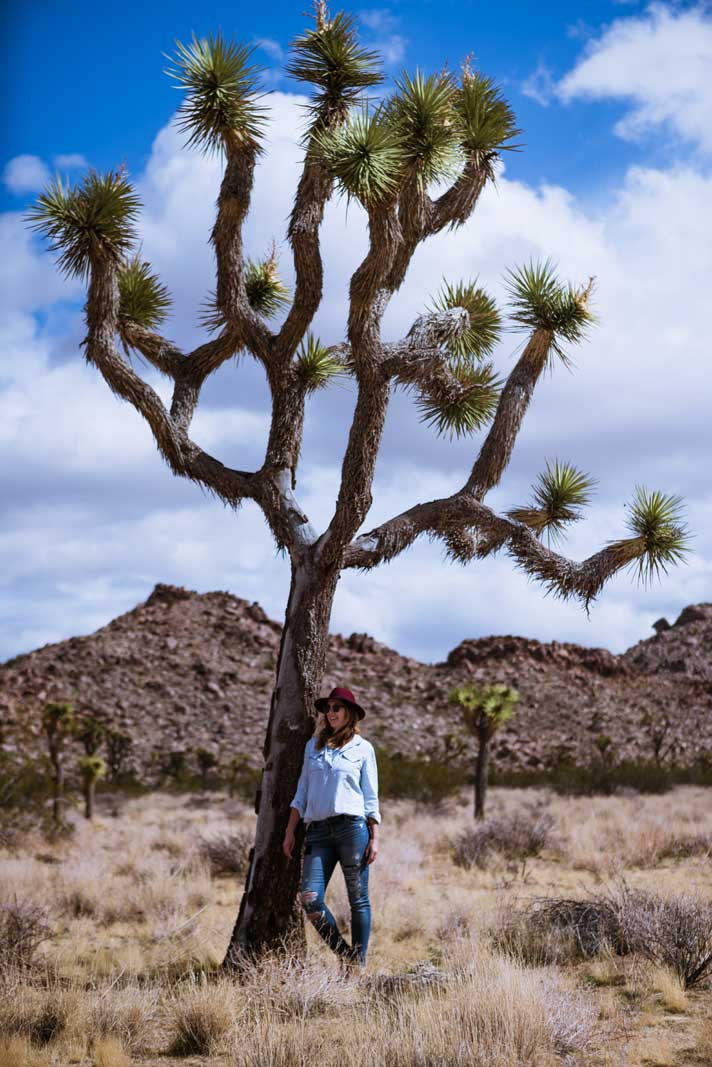 Easily one of the best things to do in Joshua Tree is to dedicate most of your time visiting the national park. Famous for it's odd looking Yucca trees that look like they are something out of a Dr. Seuss book, this is a place that has inspired creatives for decades.
Whether you come to camp or come for a day visit. Here are our top picks for what to do in Joshua Tree National Park.
Explore Hidden Valley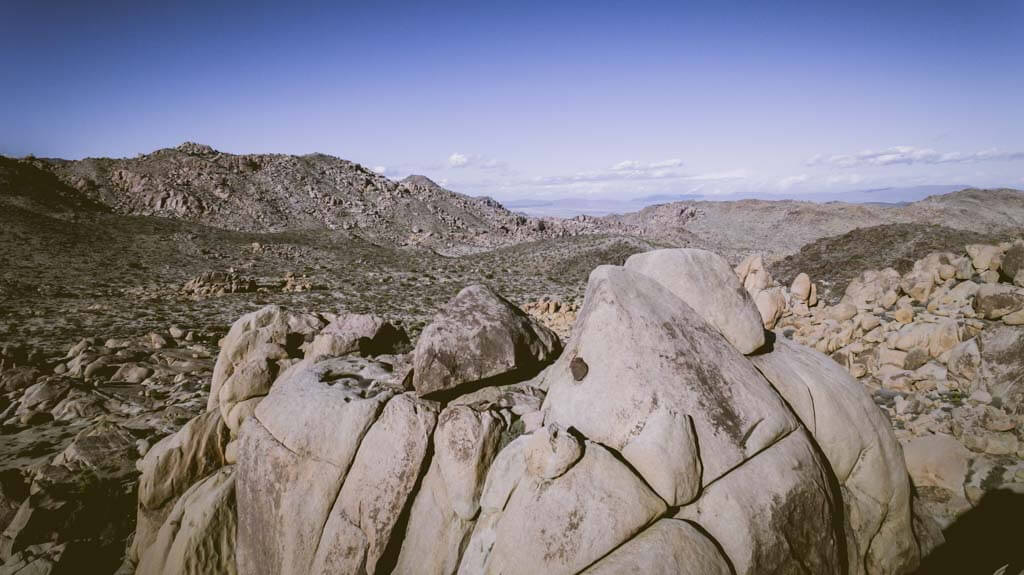 This is one of the best things to do in Joshua Tree National Park. Not only is this spot popular with campers and rock climbers but there are some great photo opportunities here with all the giant rocks and trees. We really found this area to be picturesque. It's also one of the closest stops to the main entrance of the park.
Walk around Cholla Cactus Garden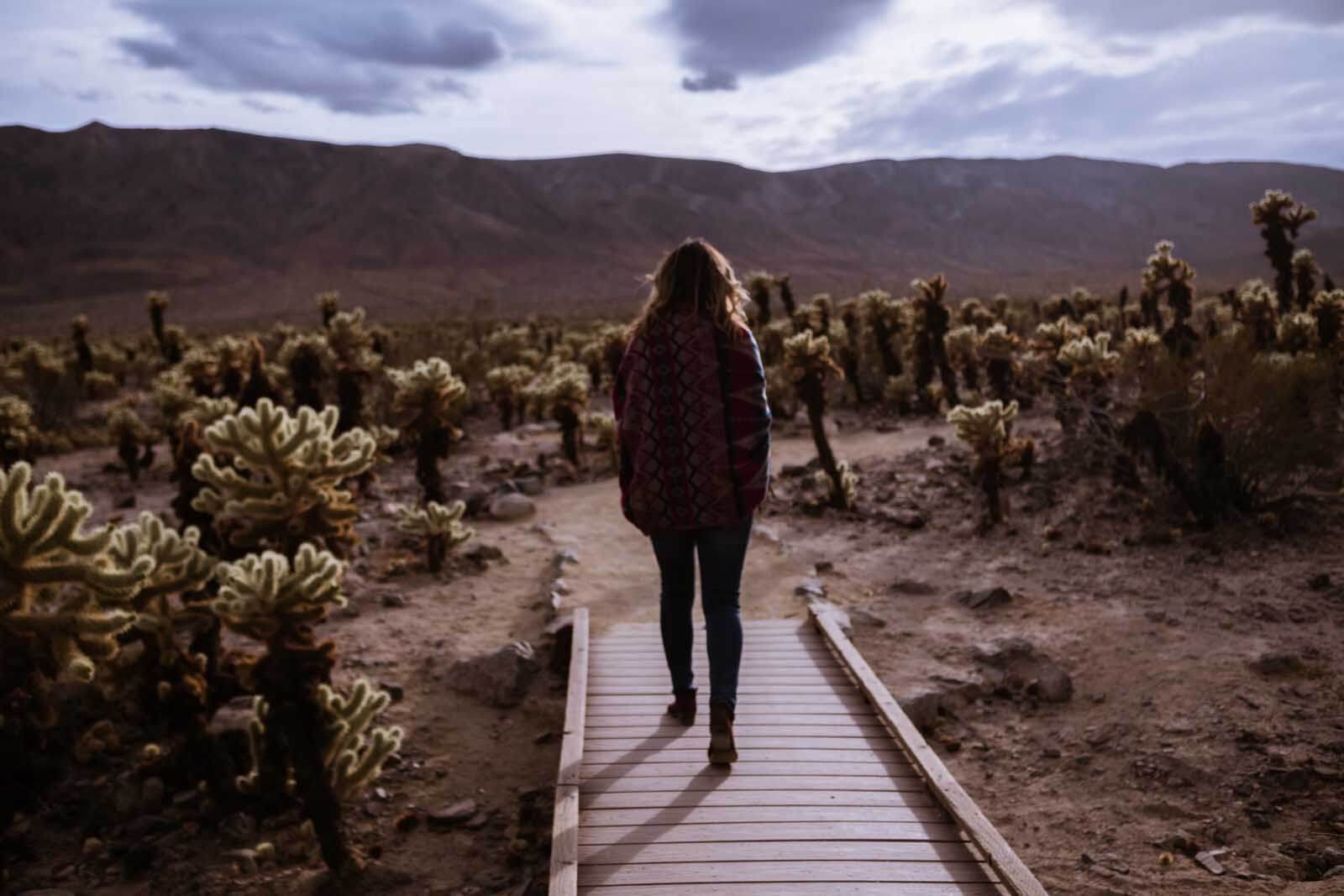 Cholla Cactus Garden was one of our favorite things to do in Joshua Tree. This part of the park is different from the rest because you have these incredibly fuzzy looking (the keyword here is looking) cacti everywhere.
Their name is actually the Teddy Bear Cholla Cactus. But we must warn you, do not, I repeat DO NOT TOUCH the cactus or you will be sorry! Once the spines of the cactus are attached to you they are very difficult and painful to remove. There is an emergency first aid kit here in case you have a mishap, but be very careful.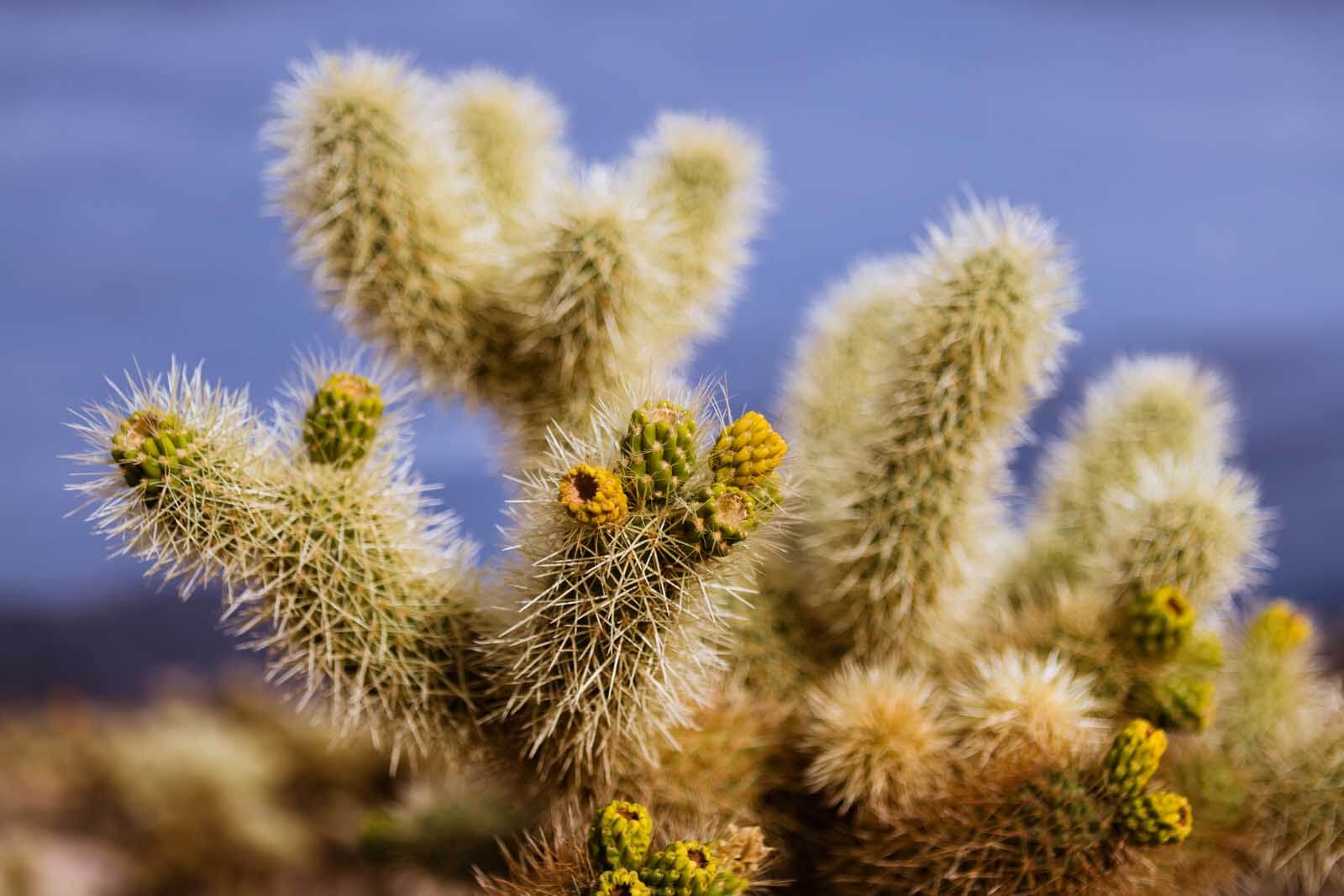 While this cactus garden may sound intimidating after that, it really is one of the most beautiful and best things to do in Joshua Tree! We absolutely loved it and it was worth the bit of a drive it took to get there!
Take in the views at Keys View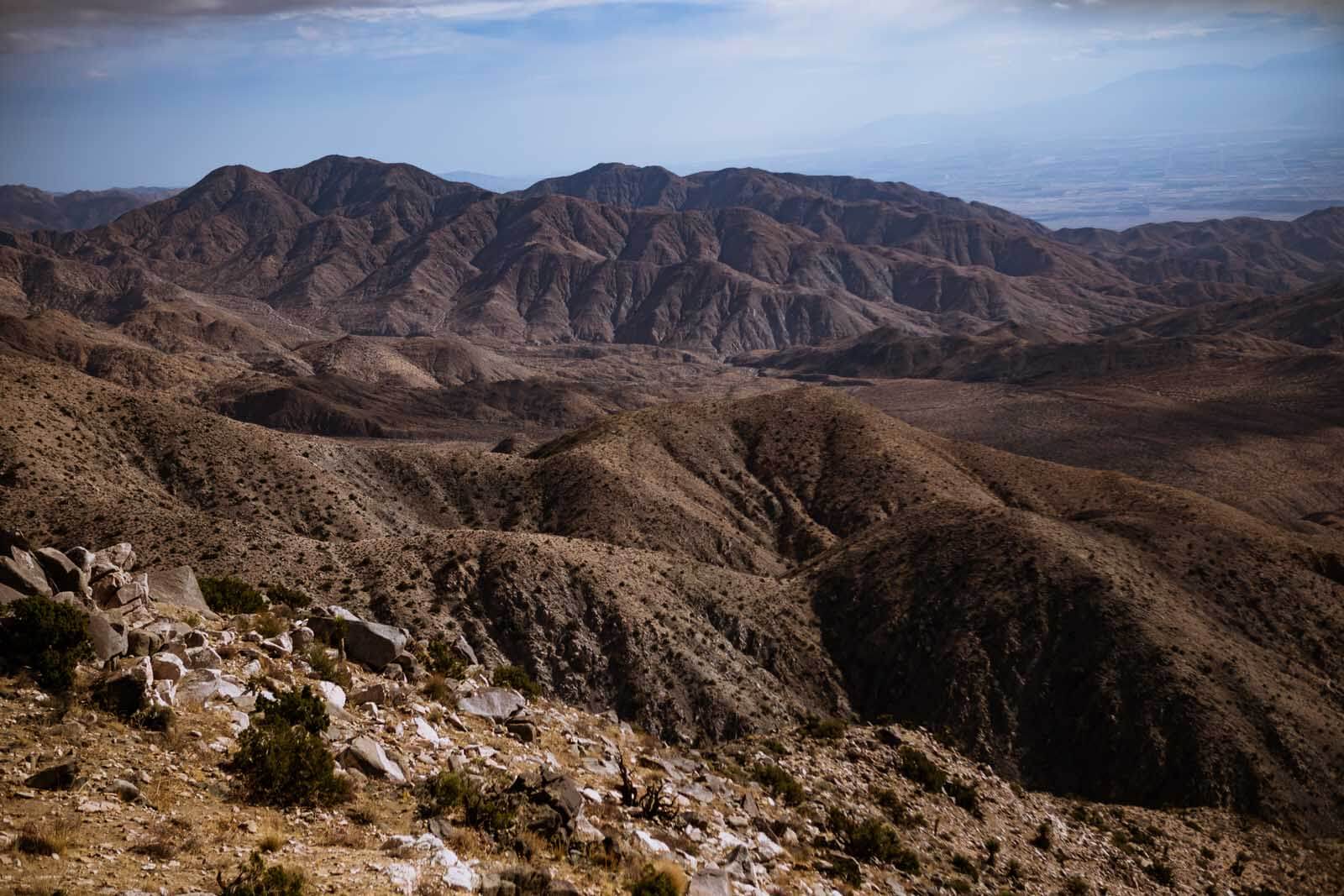 This is one of the best things to do in Joshua Tree National Park if you're looking for a panoramic view. We were a bit unlucky as it was a little too hazy for us to enjoy the best views, but it was still a fun stop.
Keys View is perched at the top of the Little San Bernadino Mountains where you can see the San Andreas Fault Line.
On a clear day, you can even see Signal Mountain in Mexico. But you really have to be here on one of the rare occasions the sky is clear enough to see it as the air pollution has made it more difficult over the years.
Better yet, this spot is wheelchair accessible.
Check out Skull Rock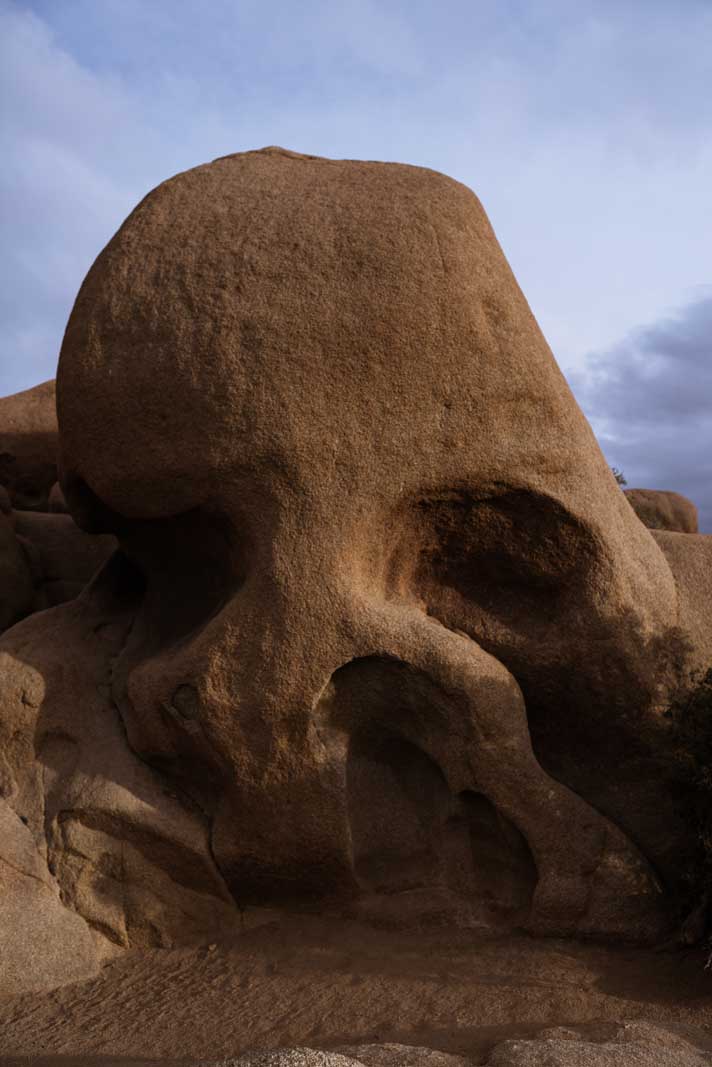 Probably on everyone's list of what to do in Joshua Tree, the popular Skull Rock is right along the roadside. The natural formation in this rock really does look like a giant skull. You won't be able to miss it because you'll definitely see people stopping to take photos here.
If you really want to, you can just drive past Skull Rock and not even get out of the car to see it if you're on a time crunch. If you have the time there is also a 1.5-mile loop hike here as well.
Go Rock Climbing at the Hall of Horrors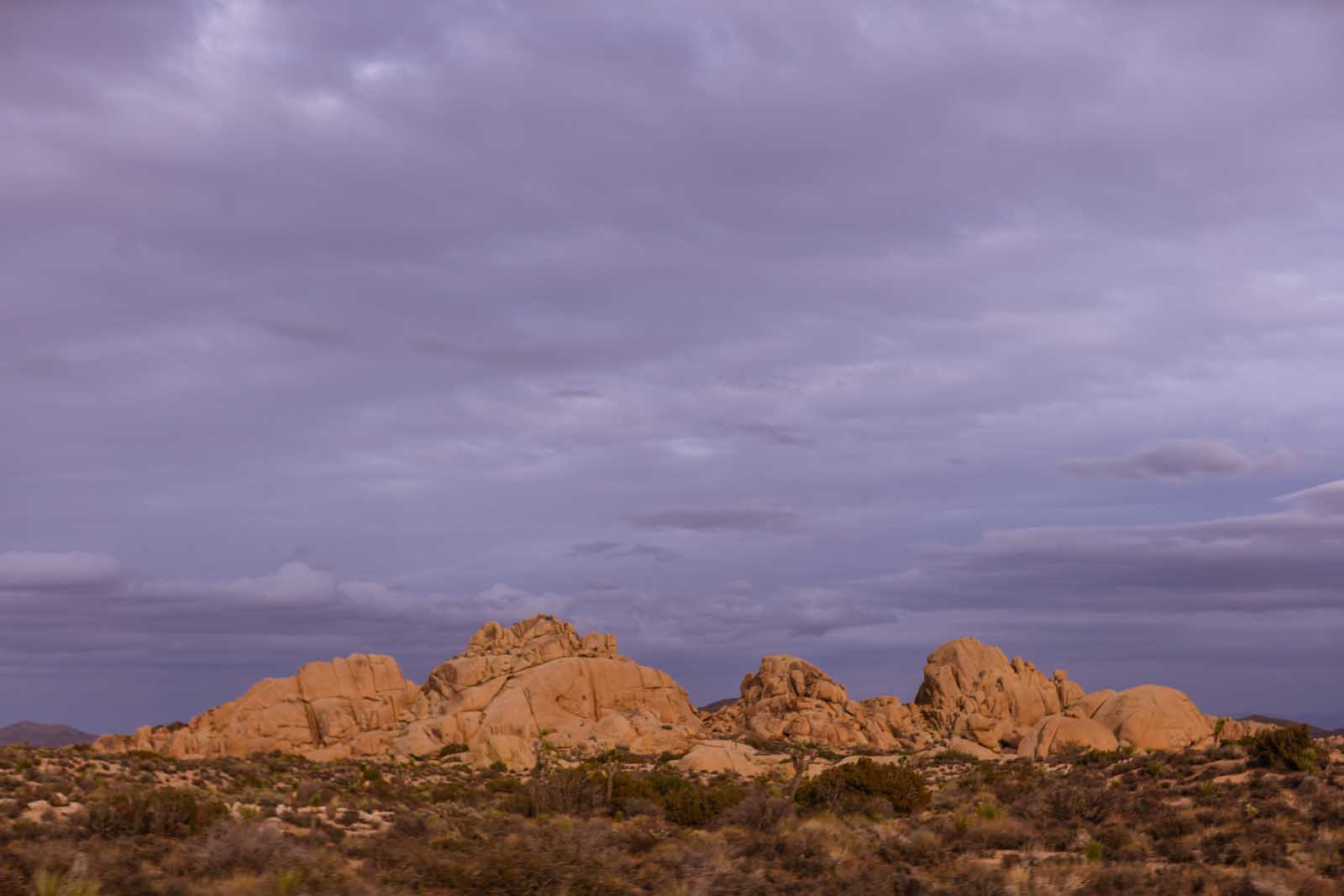 While I misunderstood that we were going to actually see a hall full of horrors, this spot is one of the best things to do in Joshua Tree if you're a rock climber.
If you're not, no worries, there are some great barely-there paths to follow along to get some great photos. Bring a picnic and a blanket, or snap some photos.
Hang out at White Tank Campground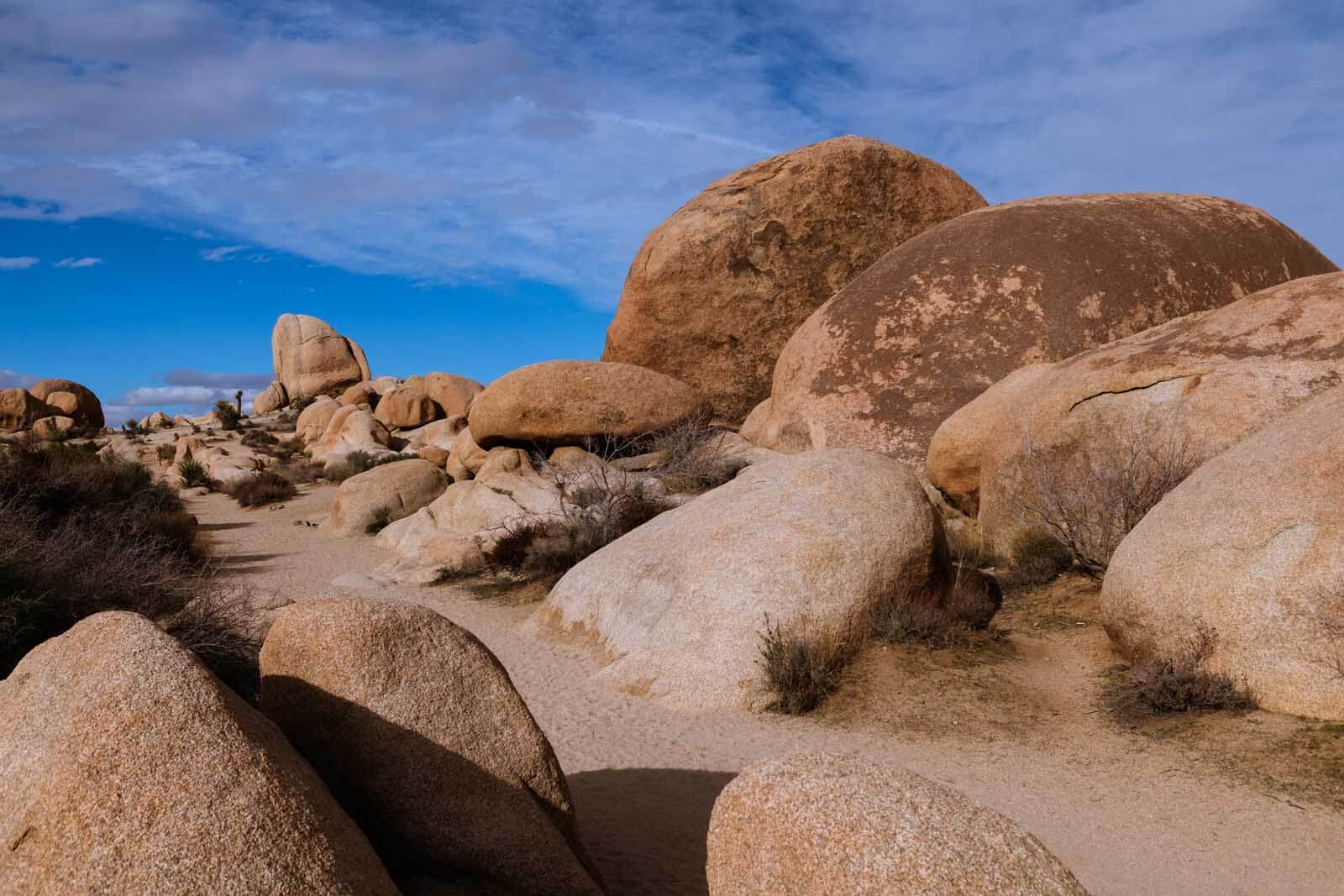 After spending a day trying to see all the best things to do in Joshua Tree National Park we decided we wanted to come back and do a camping trip. We thought White Tank Campground was one of the coolest spots we saw in Joshua Tree National Park.
Each of the campsites is separated by large sand colored rocks making you feel a bit more secluded. But it's also easy to just pop around the corner and make friends with any neighbors.
From here you can also walk to Arch Rock, a short hike to one of the famous photo spots in the park. We will be looking into this on our next trip!
Learn more about Joshua Tree camping in this great post by Park Ranger John.
Drive Through Joshua Tree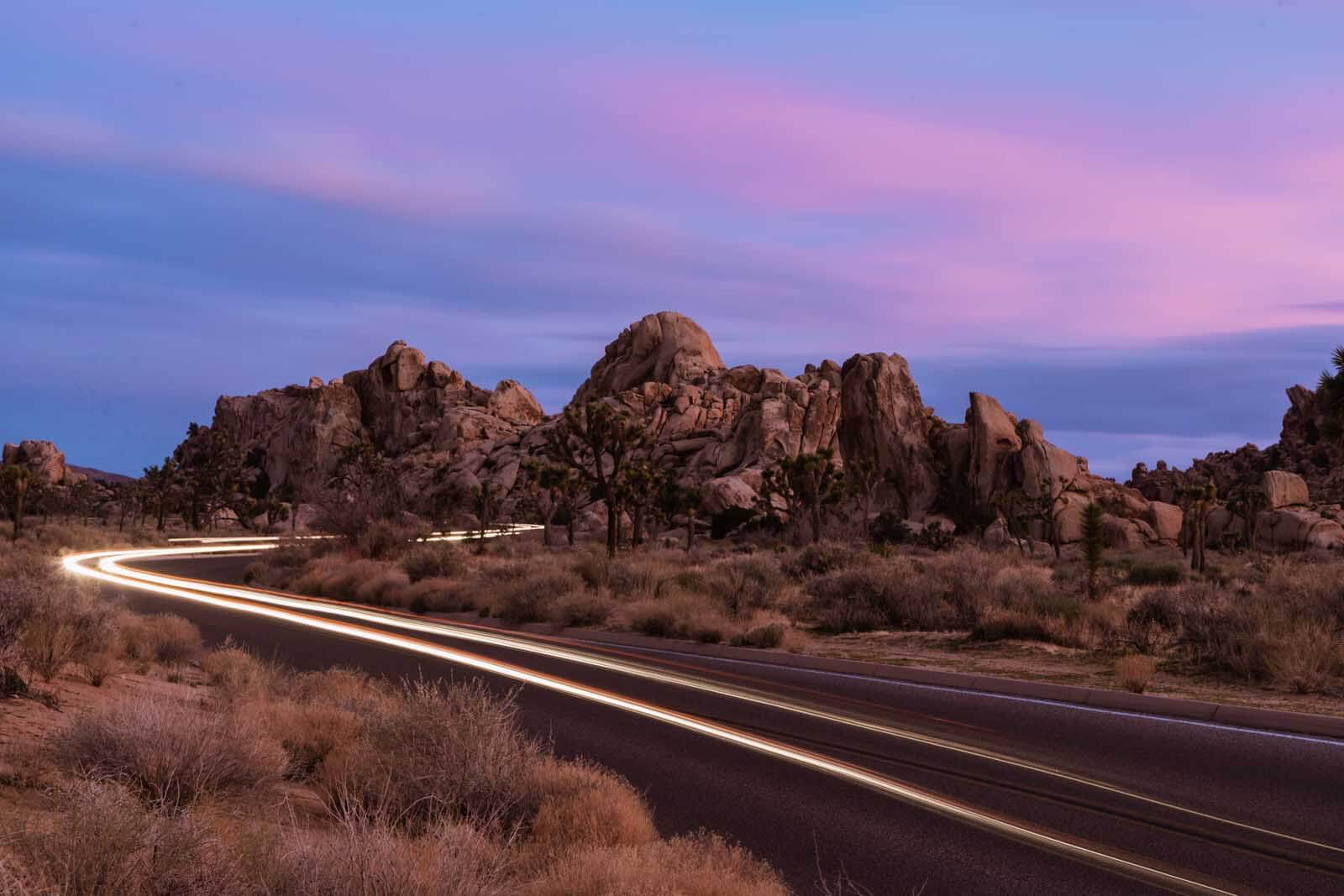 Easily one of the best things to do in Joshua Tree National Park is just driving through the park and enjoying the view. There were so many times both of us would ooooh and ahhh at the landscape.
Don't skip the park if you don't feel like you don't have enough time. Even a drive through Joshua Tree is worth it in our opinion and how we first experienced it last year during our trip to Palm Springs.
Things to Do in Joshua Tree Town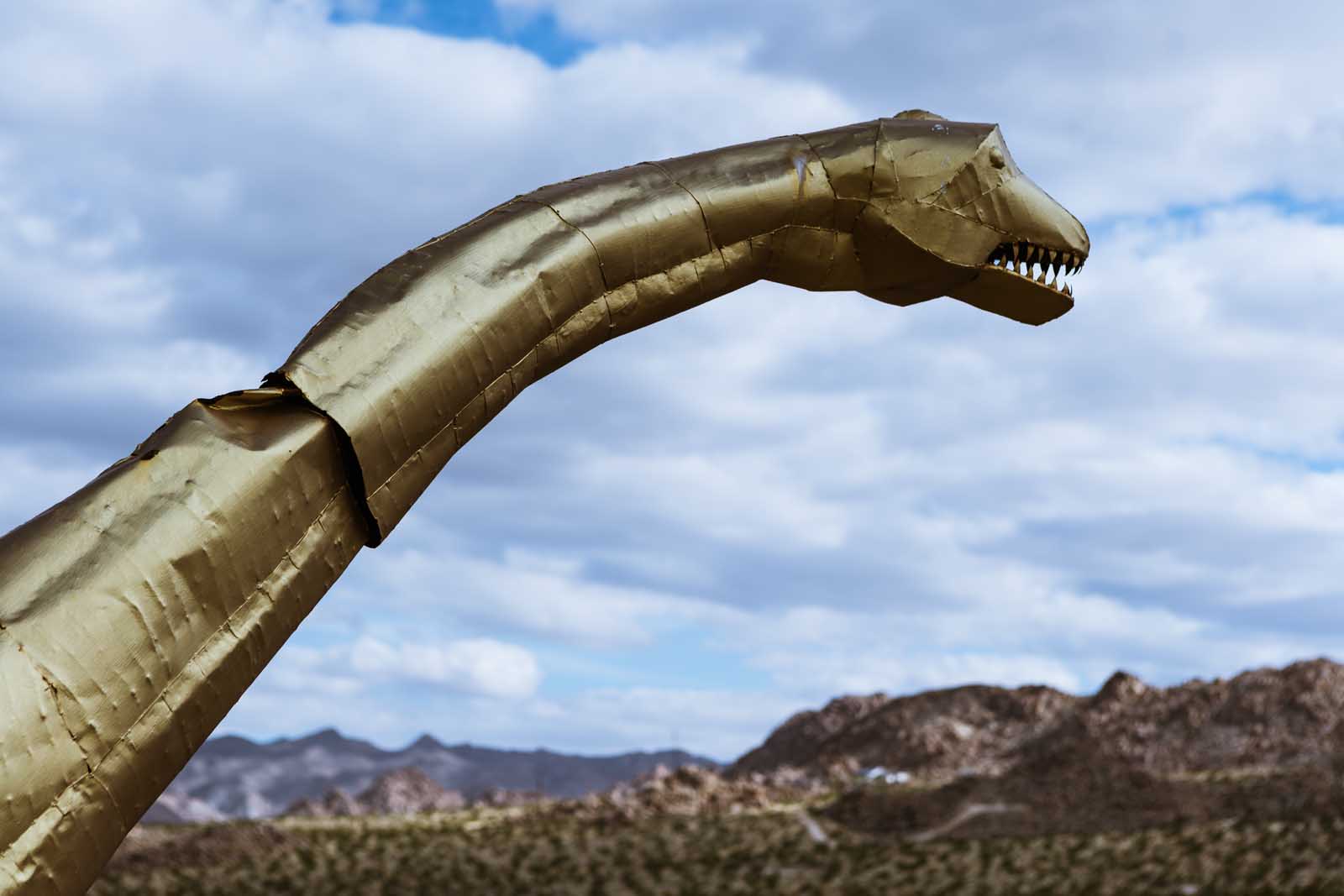 Besides the National Park there are also a lot of amazing things to do in Joshua Tree town to help fill your itinerary with amazing places to eat, shop, and entertain yourselves. Check out our picks for best things to do in Joshua Tree Town.
Listen to Live Music at Pappy & Harriets
Pappy & Harriet's is one of the most popular things to do in Joshua Tree as it is considered one of the best music venues in Southern California. Located seemingly in the middle of nowhere this popular nightlife spot is known for its live music performances and looks like its straight out of a movie.
There's a reason you might feel this way, it's because this establishment used to be an old movie set.
Sadly, we showed up on the only two weekdays Pappy & Harriet's is closed, Tuesdays and Wednesdays.
Check out the Beauty Bubble Salon & Museum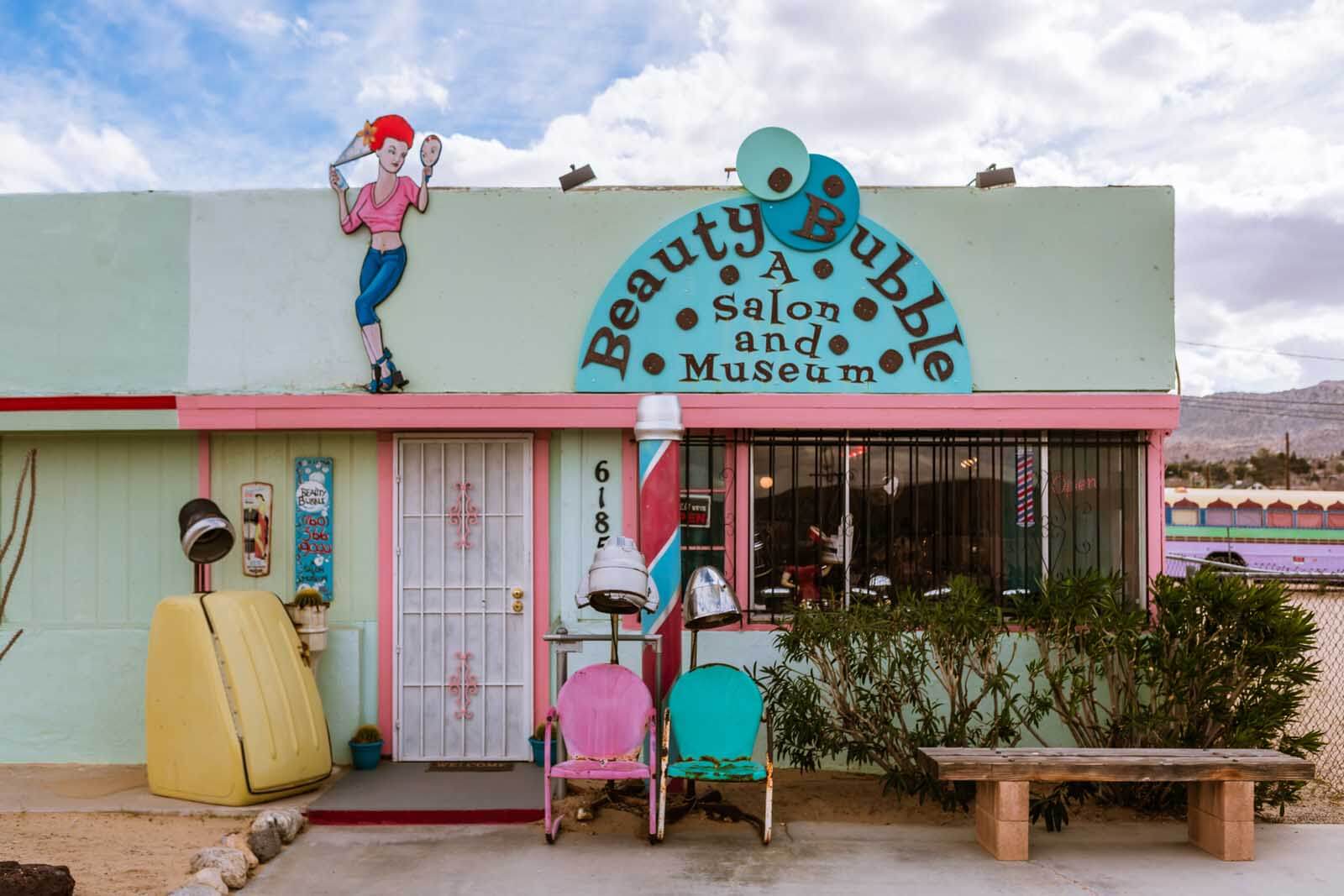 This was an unexpected find and one of our favorite things to do in Joshua Tree! The Beauty Bubble Salon & Museum is not only a working salon but also a retro filled museum of old hair and beauty products.
The salon's owner, Jeff Hafler, began collecting items 17 years ago and keeps his collection on display to the public for free. He loves when people pop in to check out things out!
Some of the coolest items we spotted was a kerosene curling iron (OMG so sketchy sounding) from the 1800s and the colorful collection of old hair dryers displayed all over the walls.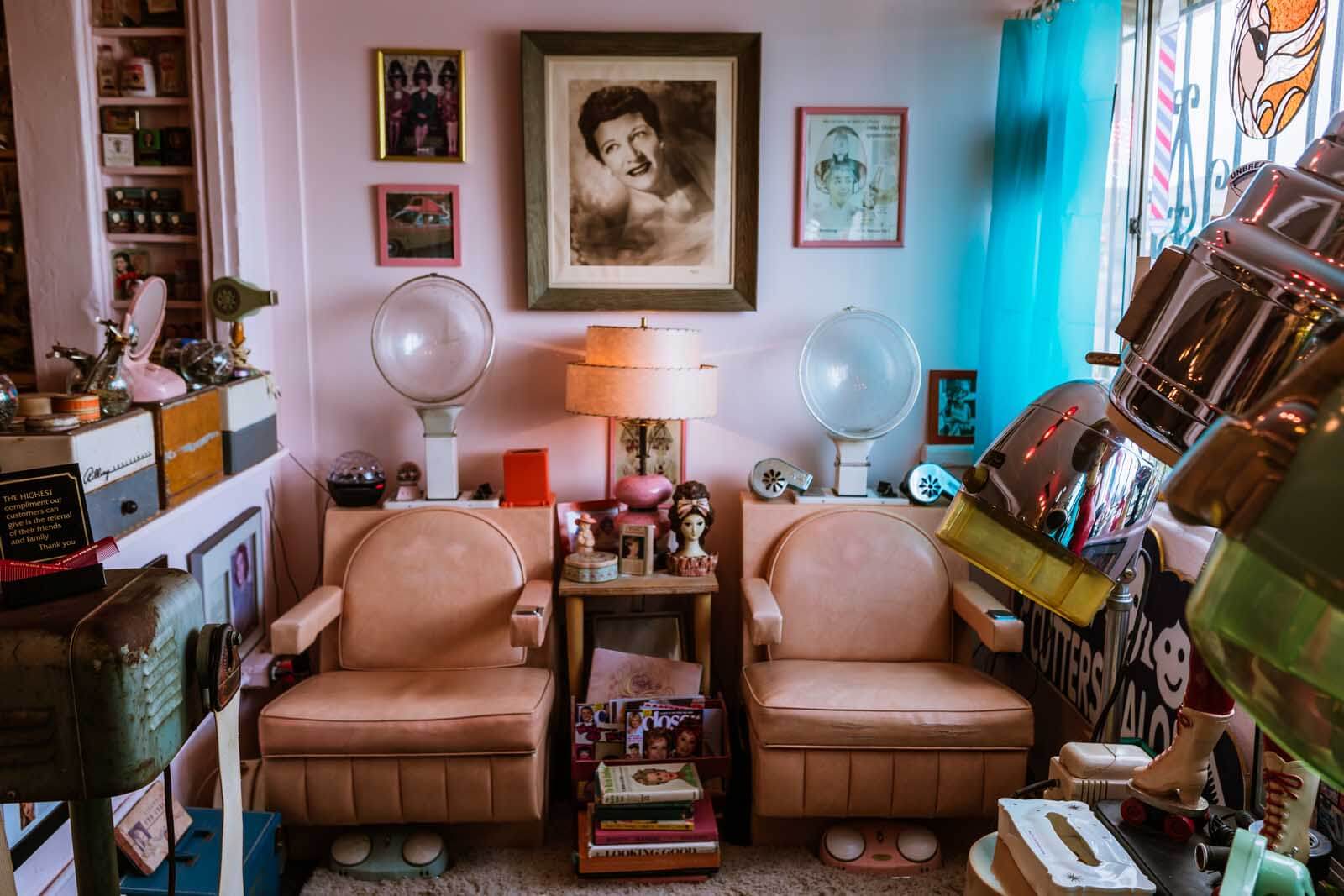 Be sure to peek at every nook and cranny from the bathroom to the back patio for more retro surprises! I just wish we knew about this place sooner so I could have scheduled a hair appointment here during our visit! I know where I want my hair done next!
His collection is becoming wildly popular and now he even receives pieces to add to his collection from strangers! How cool is that? He has even been featured in the Guardian and in several beauty magazines which are on display in the museum!
Go Bowling at Yucca Bowl
What better way to spend an evening in Joshua Tree, especially if its a cloudy night and there are no stars, than bowling with your friends? One of our favorite things to do for a date night when we are out and about traveling is enjoy a night of bowling.
Shop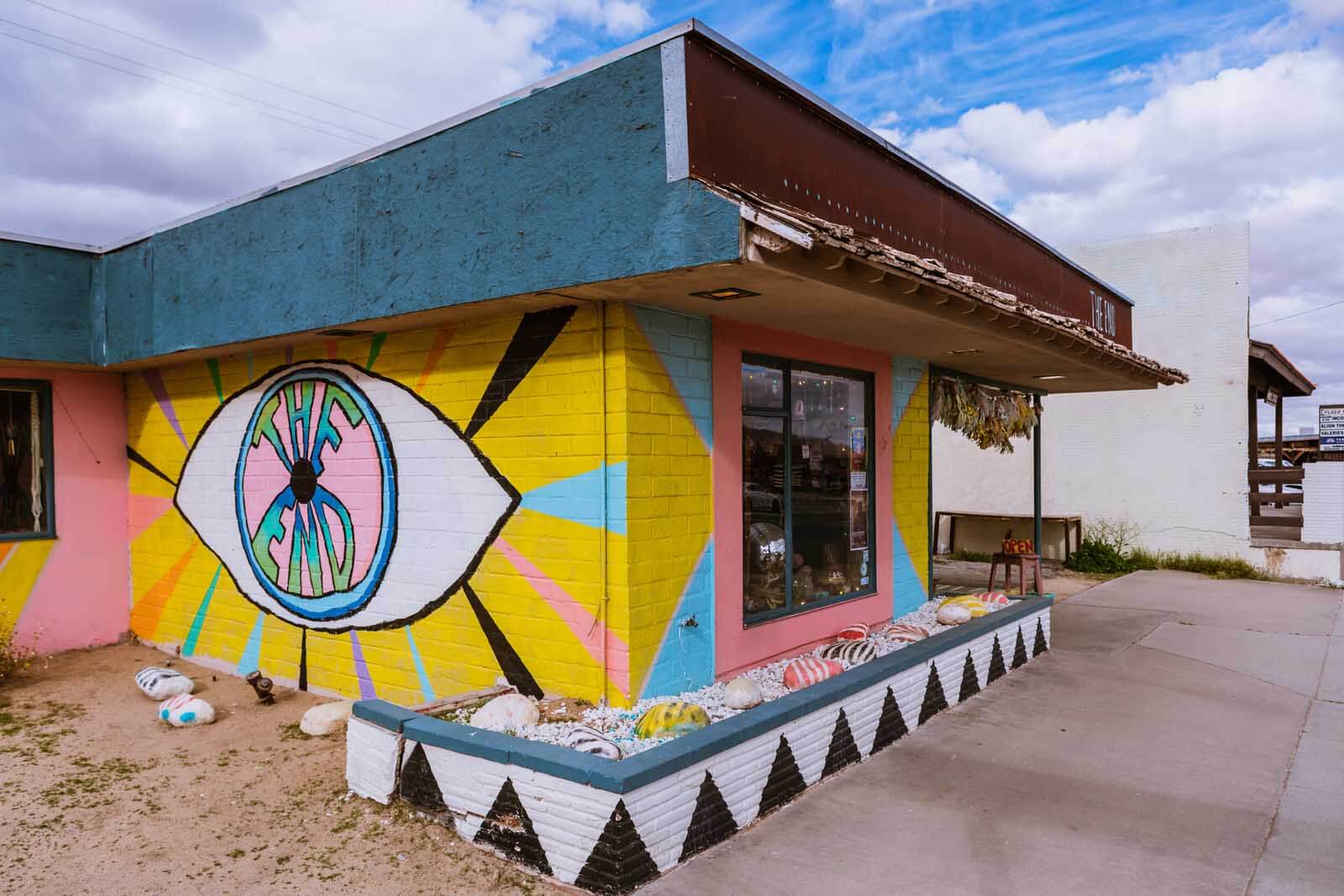 One of the greatest things to do in Joshua Tree is shopping! With cutesy boutiques and shops owned by creative people who have a great eye, you can find all kinds of unique treasures here from adorable outfits, antiques, great second-hand items, handcrafted jewelry, to great gifts. Some of our favorite shops we stopped at were The End and Coyote Corner.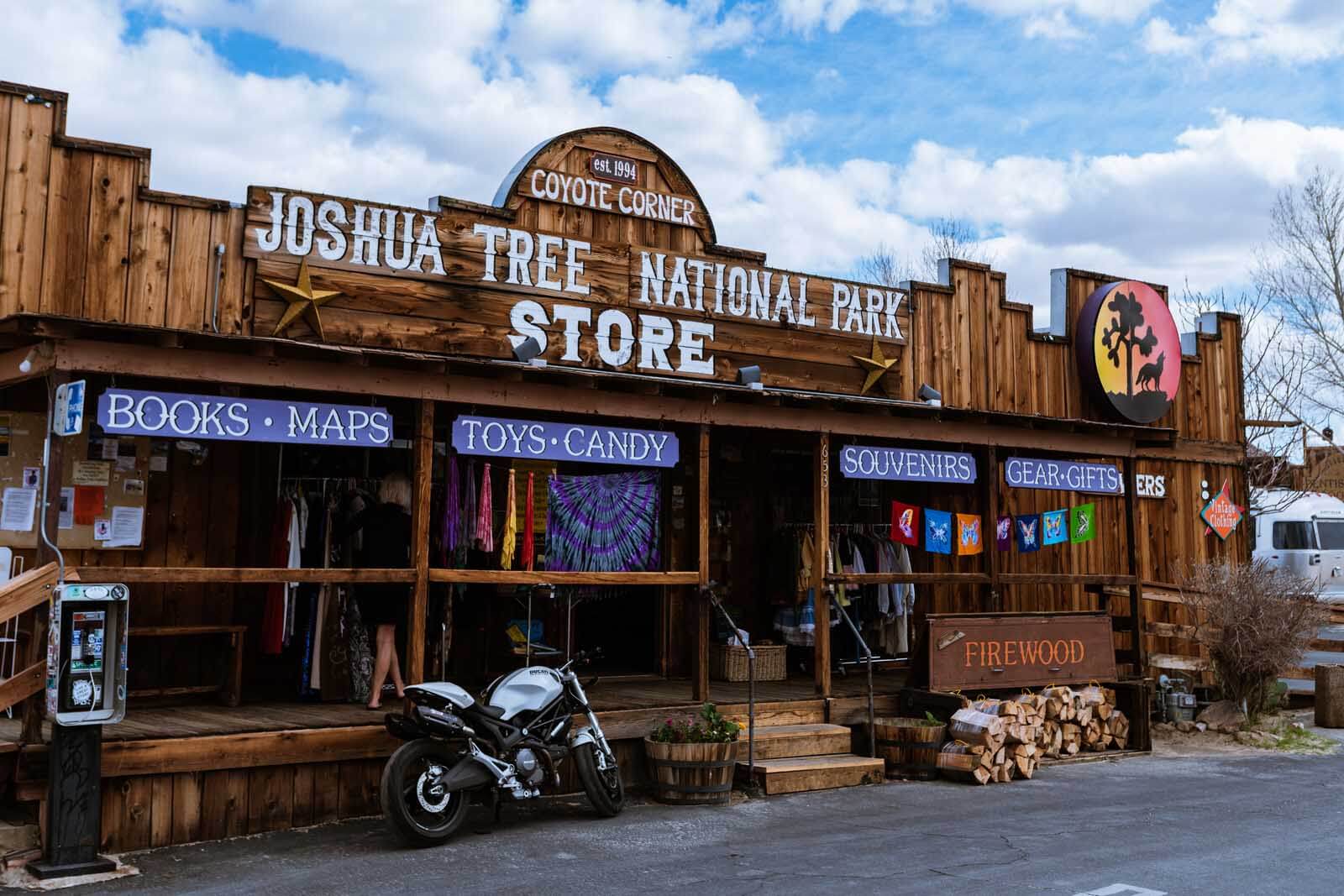 Note that during the winter some of the shops during midday on the weekdays may not be open, you'll have better luck on the weekends(the end, coyote corner, cute shops near beauty bubble)
Try a Sound Bath
One of the more unique things to do in Joshua Tree would be Integration. It's a sound bath that is supposed to be soothing and relaxing on levels you just can't achieve elsewhere.
Located inside a white dome, you can schedule a 30 minutes sound bath where you leave rejuvenated after listening to quartz crystal singing bowls. Each note played is devoted to the major chakras of the body.
If you're not a spiritual person or if you're a skeptic, maybe this isn't the best experience for you. But the reviews are convincing enough for us to give it a try on our next visit, sadly we missed out on this during our trip.
Where to Stay in Joshua Tree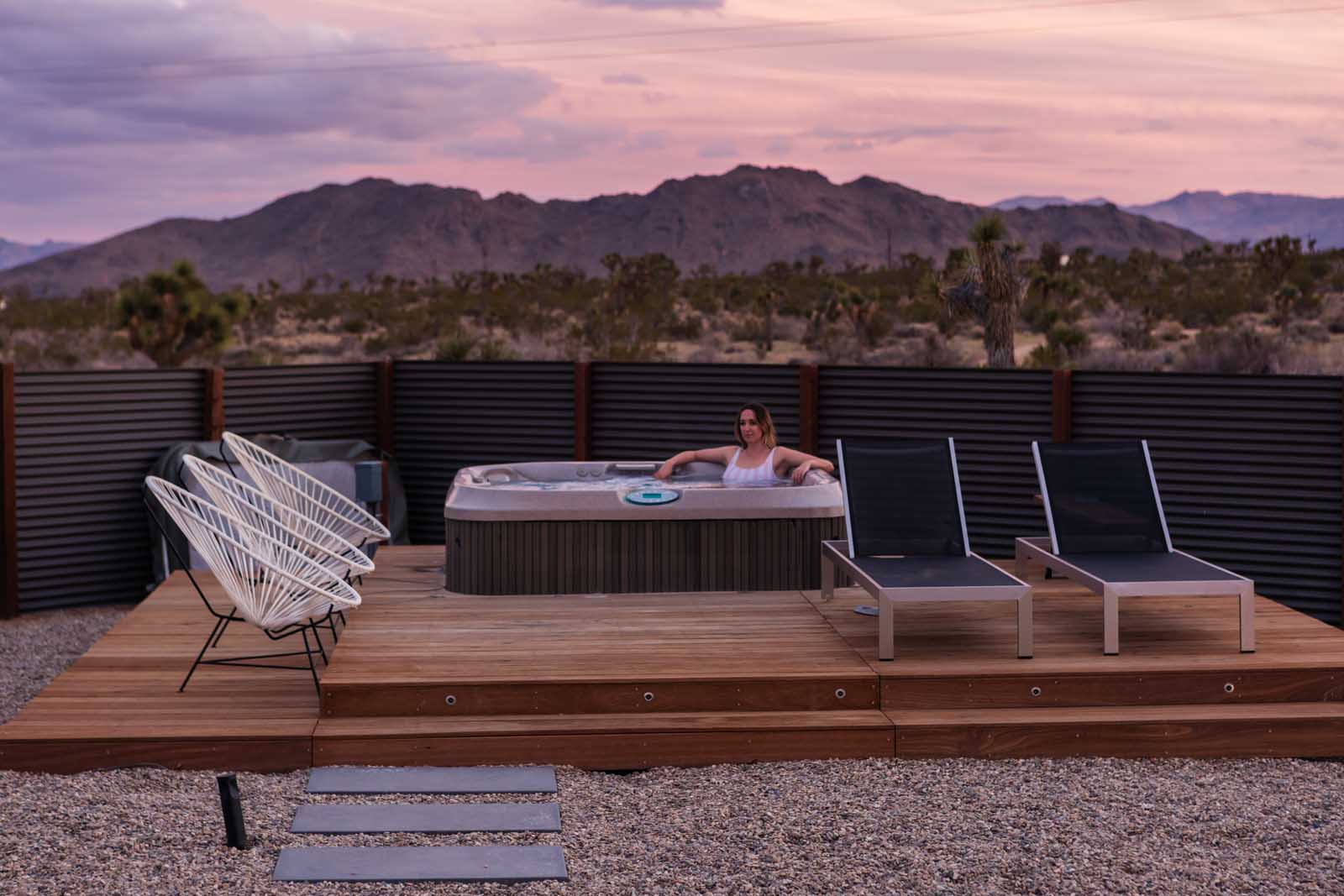 We recommend camping in Joshua Tree National Park if you're an outdoorsy person. Pick between either Hidden Valley or White Tank campsites or enjoy an elevated camping experience by glamping in Southern California.
If you'd rather have a more luxury experience, we recommend booking an Airbnb.. There are tons of great listings in Joshua Tree but we highly recommend the one we stayed at Serenity Escape. You can read our full review of what we think is the best Airbnb in Joshua Tree.
We also have a discount code for our fans! Get $50 off your booking at Serenity Escape Airbnb in Joshua Tree. Check out the listing here. Use the promo code BoChi50 for $50 off.
If you are a new user on Airbnb, you can get $55 off your first stay with this code.
For more places to stay in Joshua Tree, check out the map below:
Also, check out how to spend a Palm Springs weekend getaway that combines a trip to Joshua Tree National Park for more trip ideas!
Liked this post on what to do in Joshua Tree and the best things to do in Joshua Tree National Park? Share the love below on Pinterest!