Looking to spend one day in Seoul? We've got you covered with some of the best historical sites that need to be included on your one day in Seoul itinerary!
Seoul is one of the largest cities in the world and visiting for a short period may be overwhelming with picking which attractions you would like to see, there is no shortage of amazing things to do in Seoul either.
We've been lucky to call this city home for nearly 3 years and have had the opportunity to explore most of what it has to offer. Even after leaving we dream about what our ideal one day in Seoul itinerary would be if we got to go back for one day!
After all our experiences, we have now put together the perfect one day in Seoul itinerary to highlight the most iconic areas in the city, and some of our personal favorite recommendation! All of these spots are situated within a nice 4km walking radius and can be walked to.
Check out our guide on how to spend one day in Seoul and, for even more help, a map with all the attractions below!
How to Spend One Day in Seoul
You can also book this tour, which will cover many of the places we cover below!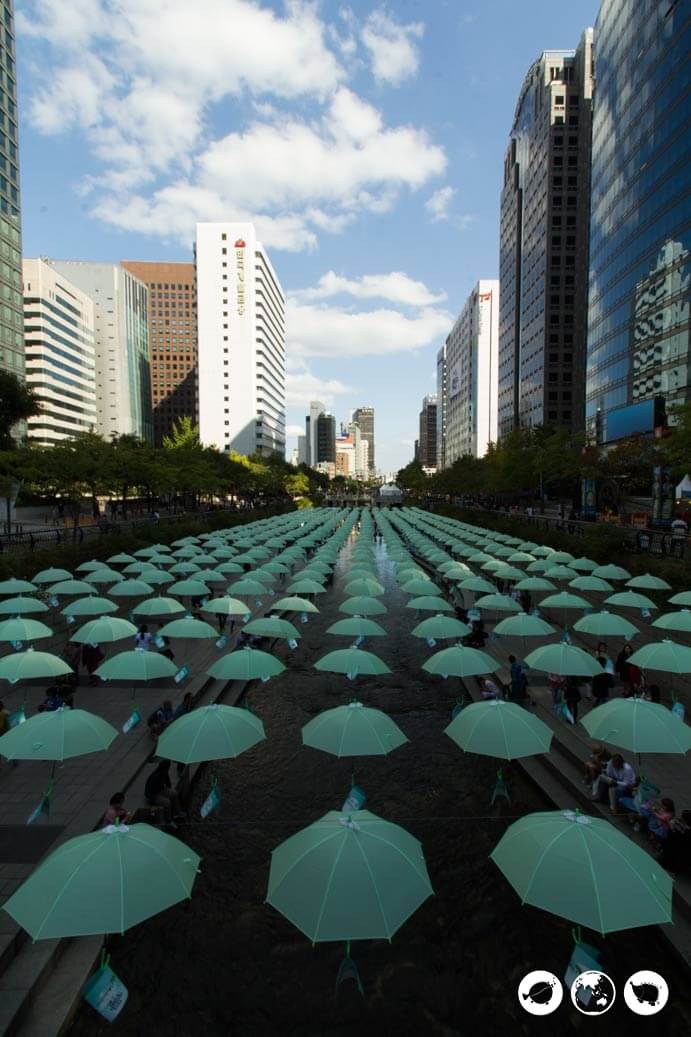 One Day in Seoul Itinerary: Morning
Start at Cheonggyecheon Stream
Start your one day in Seoul itinerary by adventuring to the Cheonggycheon for a relaxing walk along the downtown, manmade stream. Take your shoes off, have a snack, and rest your feet in the water, unless its chilly out! If you are lucky it could be decorated with either lanterns or umbrellas for one of many festivals they celebrate here throughout the year.
If you haven't eaten breakfast before starting your day, go to a nearby convenience store and get some kimbap and coffee and have a mini-picnic here. This will make you blend in like a local, as that's what everyone does here.
How to Get to Cheonggyecheon
To Cheonggycheon Stream: Take the subway to Gwanghwamun Station (line 5) exit 5
Walk to the iconic Gwanghwamun Square
Once you're done with Cheonggyecheon, your next stop on your one day in Seoul is the iconic Gwanghwamun Square. Gwanghwamun Square is one of the most photographed areas of Seoul and easily recognizable as whenever you see Seoul on TV it usually has this shot.
Walk along the path leading to Gyeongbokgung Palace with views of Bukhansan Mountain in the backdrop. Along the way you will pass the King Sejong Statue (known for developing the modern Korean alphabet, Hangul) and Admiral Yi Sun-Shin Statue (famous naval war hero who used the Korean turtle ships to defeat the Japanese).
On the weekends there are flea markets and musical shows filling the empty space between statues! This is also where you'll find locals doing peaceful protest demonstrations. If this is happening during your visit, we recommend going around as it will be very crowded and might slow you down on your one day in Seoul itinerary stops!
How to Get to Gwanghwamun
The square is off the same station as Cheonggycheon — Gwanghamun Station. It's near exit 2 or 3 instead of 5 though.
Have extra time?
Check out the free museums below the King Sejong & Admiral Yi Sun-Shin Statues in the Square. You can quickly breeze through the exhibits or take as long as you want to read and learn a bit more about Korean history and culture.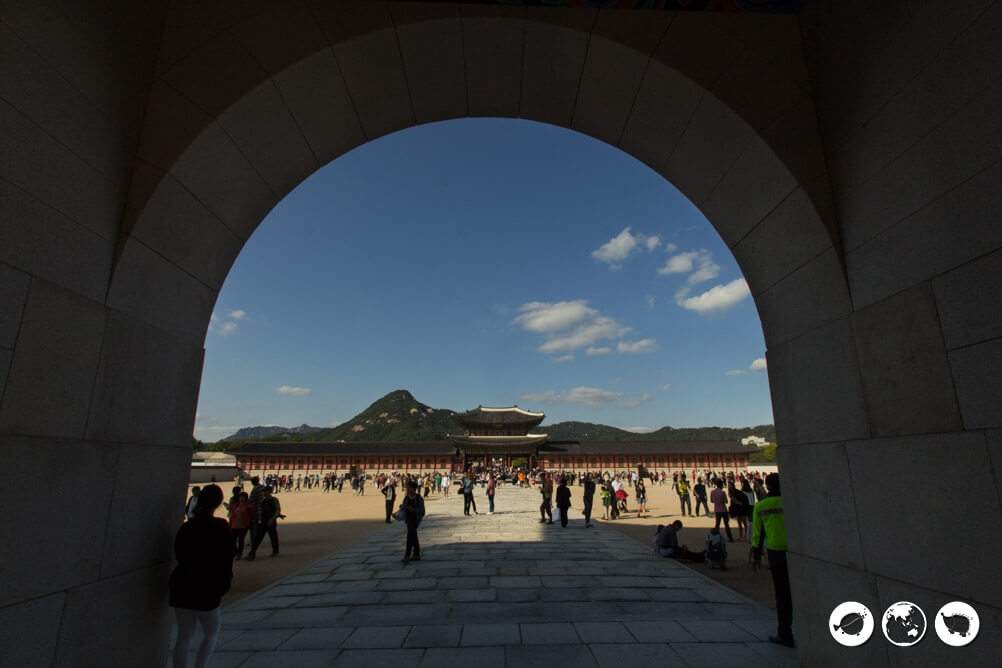 Explore Gyeongbokgung Palace
If there's only one thing you do during your one day in Seoul itinerary, we would highly suggest you visit Gyeongbokgung Palace! Not only is the largest of the five palaces built during the Joseon Dynasty, it's also considered the main one.
The palace was originally built in 1395, though it was destroyed first during the Imjin Wars in the late 1500s and then again under Imperial Japan in the 1900s.
Since then it's been restored to what it is today, still following traditional architectural guidelines from the Joseon dynasty.
If you are lucky you will get to see the changing of the guard at the front entrance on the hour.
Give yourself at least an hour to wander the massive grounds with beautiful, colorful intricate painted buildings. The grounds are a lot bigger than they look from the outside!
Admission: adults 3,000 KRW (~$3) and children 1,500 KRW (~$1.50)
Directions:
If you're coming from Gwanghwamun Square, it's quite literally across the street (you have to go out of your way to miss it). Otherwise, use Gyeongbokgung Palace Station (Line 3), Exit 5.
Note: Gyeongbokgung Palace costs 3,000 KRW for adults and 1,500 KRW for children, and is closed on Tuesdays. You can, however, get in for free if you're wearing a hanbok. Rent your hanbok in advance here.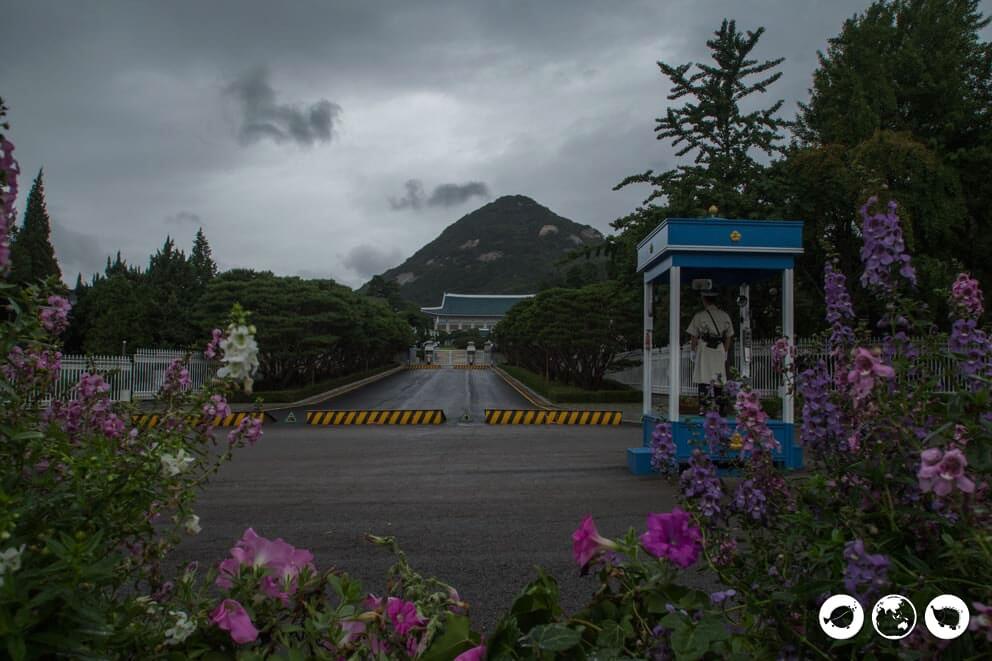 Have extra time?
You can also visit the National Palace Museum of Korea and the National Folk Museum, both of which are on the palace grounds. These museums are quite large, so if you have more than one day in Seoul you definitely should check them out. If you don't you can quickly breeze through to get an idea but don't spend too long as we have alot of great recommendations for the rest of your one day in Seoul itinerary to check out!
This is also a great idea for if you end up on a cold or rainy day to keep yourself from getting soaked!
If you exit through the back gate at Gyeongbokgung Palace, you can se the Presidential Blue House (above).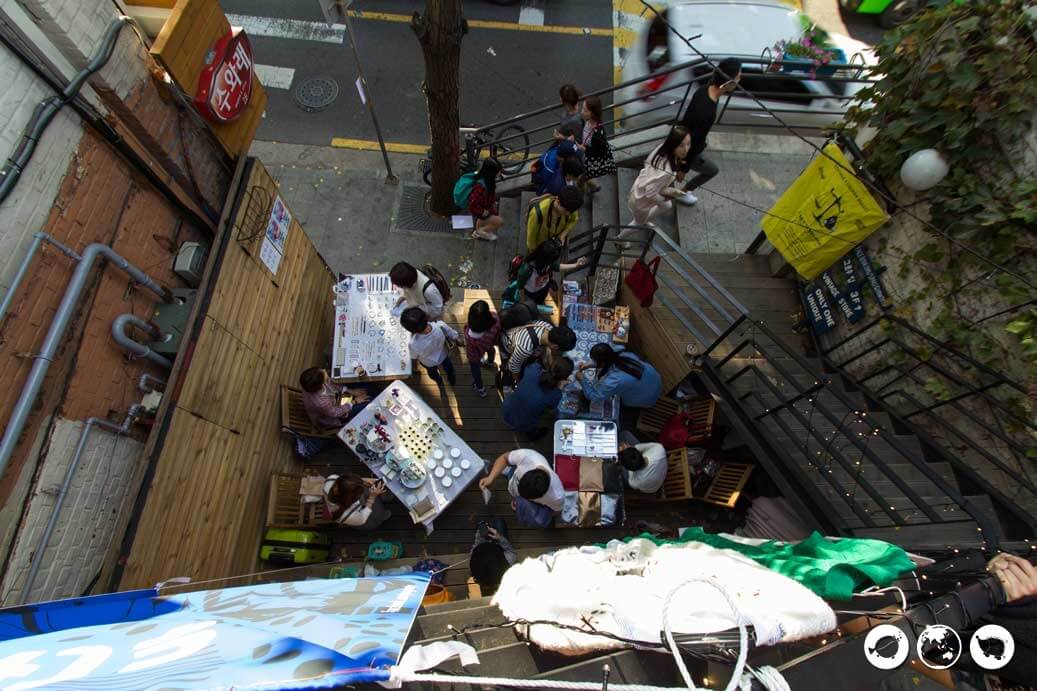 One Day in Seoul Itinerary: Afternoon
Walk around and shop in Samcheong-dong
This delightful area is located directly right of Gyeongbokgung Palace. Samcheong-dong is famous for its traditional Korean hanok style buildings, tons of shops, cafes, restaurants, street vendors, and art galleries. This area is conveniently sandwiched between Gyeongbokgung and Bukchon Hanok Village which makes it a perfect stop to enjoy a cup of coffee and a snack.
This is one of our favorite places to spend an afternoon shopping and strolling through the streets. The area is very charming and you can't help but love the small town atmosphere tucked in the big city. It's a good spot to grab lunch if you're feeling hungry!
This area is one of our top picks for neighborhoods to stay in Seoul. If you're booking a hotel, use our guide for where to stay in Seoul by neighborhood, budget, and attractions to help you pick which area is best for you!
How to Get to Samcheong-dong
From Gyeongbokgung, exit the gate on the right side of the palace. OR walk around to the right side of Gyeongbokgung. If you're coming by subway, use Anguk Station (Line 3), Exit 1 toward Jeongdok Library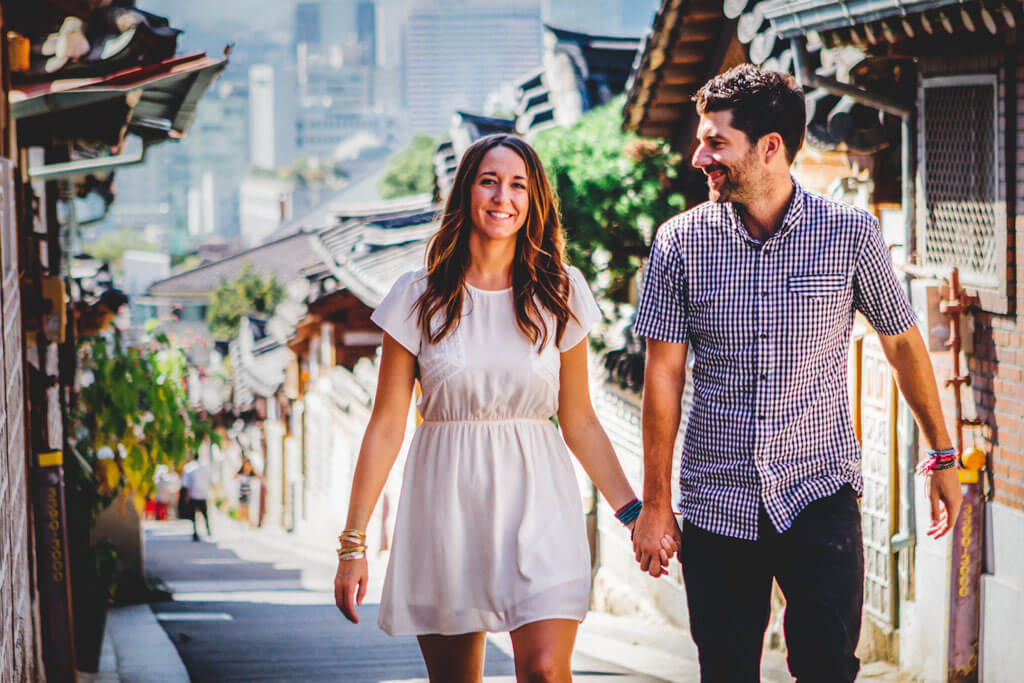 Stroll through Bukchon Hanok Village
Walk through this historic village of Bukchon and enjoy the splendor of these traditional Korean homes called hanoks. Bukchon's hanoks are the giwa style, which means they have the tiled roofs unlike places like Andong Hahoe Folk Village, which are in the choga style with straw roofs.
There are around 900 hanok style buildings scattered through this small area nestled between the Gyeongbokgung and Changdeokgung palaces.
This village is actually home to residents of Seoul and has a few small museums. Grab a coffee to go and meander through the alleyways of these historical, traditional homes and buildings.
If you can, spend the 3,000 KRW to go up the observatory for views over roofs. On a clear day, you'll see all the way to Namsan Tower. For more, check our guide to the Bukchon Hanok village here.
Just note that since this is still a residential area that you are a respectful and quiet visitor. The residents of this neighborhood, who have lived here for generations, are welcoming of visitors but often are bothered by the noise of many tourists. You may see signs as a friendly reminder to keep the volume down. Please keep that in mind if you visit this spot on your one day in Seoul itinerary!
How to Get to Bukchon
From Samcheong-dong, walk back towards the palace and make a left on Bukchon-ro 5-gil. Then make a left on Buckhon-ro (the 3rd street). If you're coming by subway, use Anguk Station (Line 3), Exit 2.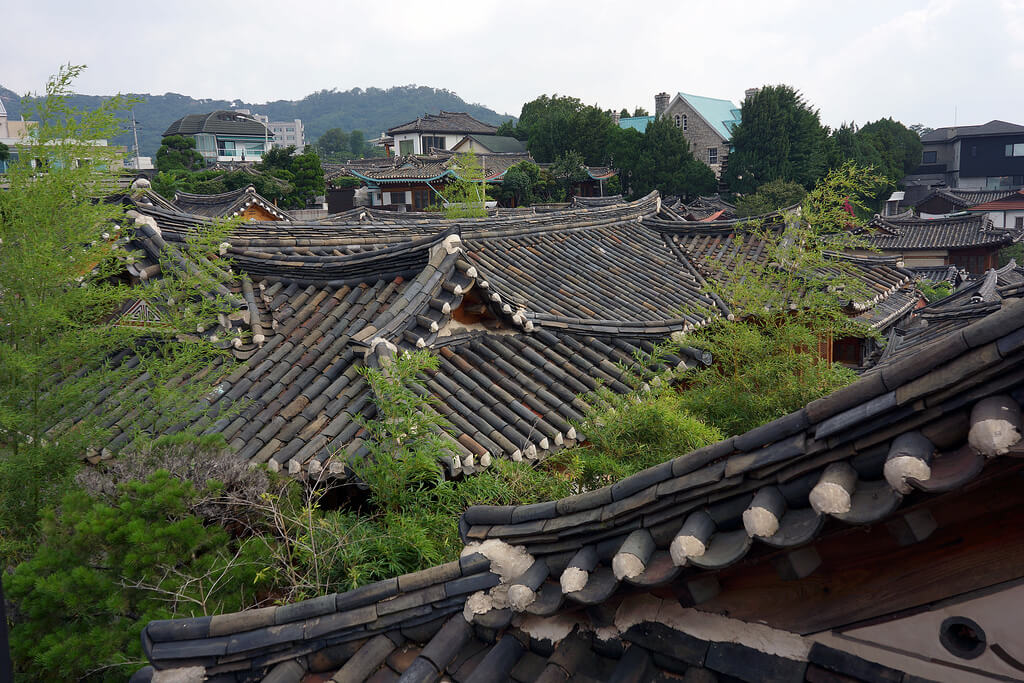 Have extra time?
Rent your hanbok here and do a nice little photoshoot. Rent your hanbok in advance here!
As mentioned, if you have more than one day in Seoul or need to stay overnight you can check our guide for where to stay. One of the best options is staying in a hanok style home! Both Sky Guesthouse or Hanok Guesthouse 201 are great options for where to stay if you're looking for a traditional Korean experience in the historic heart of Seoul.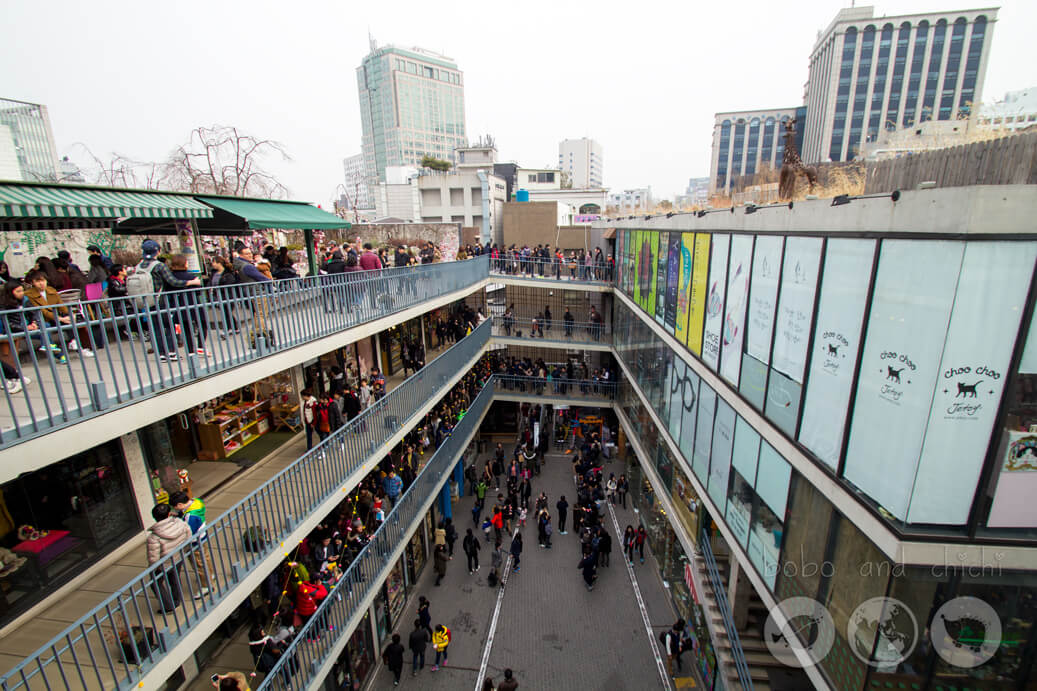 Explore Insadong
Insadong is a great stop in the afternoon on your one day in Seoul itinerary. Wander through the main street and alleyways for tons of traditional shops, tea houses, restaurants, street vendors, art galleries, and street performers. This is the place to shop for souvenirs!
Even if you are not fond of shopping, you should still walk through Insadong to try some of the traditional candy or sweet treats this area has to offer along with fun tea houses and other experiences!
Check out Ssamziegil shopping center located in the heart of Insadong. This shopping plaza is home to local artisan boutiques and delicious snacks.
If you have extra time on your one day in Seoul itinerary or are looking for something quirky to do then check out the Alive Museum, a trick art museum, in the basement and the rooftop coffee shop. Oh, and of course, the poop cafe!
If you haven't eaten yet, then we recommend one of our favorite places to eat in Korea! Bukchon Mandu for the best mandu (Korean dumplings) you've ever tried.
Note: Make sure you plan a visit to Insadong in the afternoon or early evening as most places close by 8 pm.
Directions
From Bukchon, head back towards Anguk Station (line 3) and find exit 6. Walk 100 meters then turn left.
Visit Jogyesa Temple
Jogyesa is one of Seoul's most popular Buddhist temples due to its convenient location in the heart of the city. Check out the temple anytime of the day as it is always open to the public.
Take off your shoes and enter Daeungjeon, the main Dharma Hall, and silently admire the golden Buddha and witness how the Korean Buddhists worship.
During different times of the year the temple will be covered with paper lanterns or other decorations. We were lucky enough to visit Jogyesa during Buddha's Birthday where the temple is decorated in hundreds of colorful lanterns.
Directions:
Head back towards Anguk Station (Line 3), Exit 6. Walk 50m straight then cross the street in front of Dongduk Gallery. Walk another 50m to arrive at a path to Jogyesa Temple.
More than One Day in Seoul?
If all of these spots are already familiar to you from other visits or you have more than one day in Seoul, then we recommend the following along with all our recommendations on our top things to do in Seoul guide!
Buam-dong
Already been to Gwanghwamun Square? Then start in Buamdong and walk your way down to the Presidential Blue House. Enter Gyeongbokgung from the back entrance.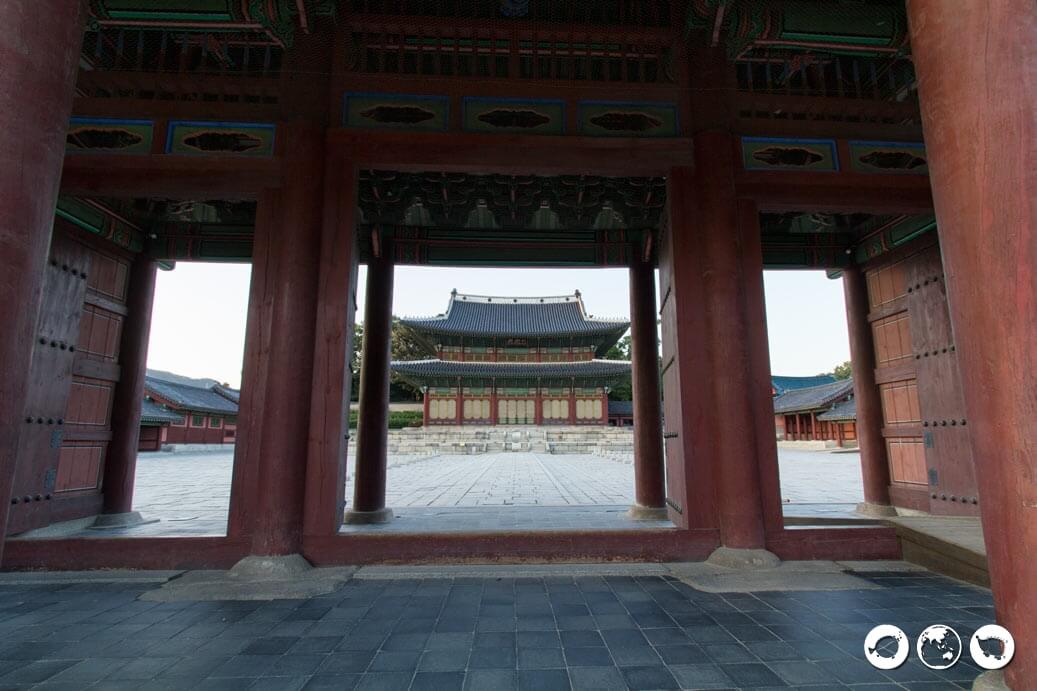 See Changdeokgung Palace and its Secret Garden
Check out Changdeokgung Palace, a UNESCO World Heritage Site and one of the 5 palaces in Seoul near Bukchon Hanok Village. It's most famous for its secret garden, which you need to book a tour for.
Note: Changdeokgung Palace is closed on Mondays.
Directions:
By Subway: Anguk Station (line 3) exit 3: walk straight for 5 minutes
---
Getting Around Seoul
While this one day in Seoul itinerary is walkable, you may want to take the subway, bus, or taxi if you want to skip around the city a bit, this information is to help you get around Seoul easily!
Seoul is one of the easiest cities to get around thanks to the incredible public transportation infrastructure. The most common ways to get around are via the Seoul subway, bus, taxi, and in some cases walking!
First and foremost, if you plan on using any modes of public transportation during your trip you will want to purchase a T Money Card at any convenience store where you can ask them to load it with money with a predetermined amount or you can load in the subway.
You can use a T Money card to pay for the subway, bus, and even Seoul taxi rides!
The other option is to buy single tickets, which you can do with cash in the subway station at the ticket stations. We personally don't recommend this unless you really only are in Seoul for a day.
Also, be aware the Google Maps is helpful anywhere you travel in the world but not 100% reliable in Korea as they have their own maps run by Naver. Unless you know Korean, Naver isn't going to be your first choice for navigating.
Google Maps does a pretty decent job, but be prepared for a few hiccups as it's not what the locals use and isn't 100% reliable, I'd say its pretty darn close though. We lived in Korea for almost 3 years and still used Google Maps and only ran into a few issues here and there.
If you get lost, don't worry. You can always call a cab or ask a local, Koreans are SUPER friendly and most speak English and can help.
Seoul Subway
There are over 20 subway lines connecting you from where you stay in Seoul to where you want to go in the city and even to the outskirts of the city where some amazing countryside is! This is our favorite way of getting around Seoul because their subways are NICE, fast, reliable, and convenient.
The fares are incredibly reasonable making Seoul one of the cheapest cities to get around in.
Single Journey Ticket Fares
T-Money Card Fares
Adult Ticket (19 & Up) ₩1,350
₩1,250
Youth Ticket (13 – 18 ) ₩1,350
₩720
Child Ticket (7 – 12) ₩450
₩450
Note that the Airport Railroad Line & Sinbundang Line have slightly higher fares!
The Seoul subway operates from 5:30 am to 1:00 am the next day – closing in the wee hours of the morning. However, some close even earlier, so we recommend if you're planning a late night out not to rely on the subway and get a Seoul taxi!
Also, rush hour in from 4:30 pm to around 8:00 pm, if you're scared of crowds you might feel a little crammed! However, taking a taxi might be even slower, so just be prepared for heavy congestion during these hours!
Most subway stations have lockers you can pay to use as well as elevators for travelers who need accessibility friendly entrances/exits.
Also, if your transportation route combines subway & bus, you will get a free transfer within 30 minutes of using your T Money card!
Seoul Bus
This mode of transportation is great if you're a savvy explorer, but it also can be a bit more difficult for most travelers as there are a ton of busses and a lot of time the bus routes are in Korean, so if you're not familiar with hearing Korean words it could be harder for some and easy to miss stops.
There are a ton of different bus routes and this is another extremely affordable option. If you plug in where you want to go in Google maps, you'll get some bus route options. Decide if you want to try this, its really not that hard but more difficult than the subway.
Double-check you're at the right direction of the platform and just watch your stops and be sure to get off at your stop. Luckily, if you miss your bus stop on most center of Seoul busses, you'll only have a very short walk to get back to where you were supposed to be!
To pay you will need either exact cash or that handy T Money Card we mentioned earlier! If you're transfering to/from a subway you get a free transfer within 30 minutes. Using a T Money card also gives you fare discounts, much like the subway.
If you want to pay for more than one person with your T Money Card, signal to the driver with your hands how many people and then tap your card.
There are a few different types of buses in Seoul:
Blue Buses – Run on the main lines within the entire city of Seoul. Single rides cost ₩1,300
Green Buses – These are short routes between major stations and blue bus routes. Single rides cost ₩1,300
Yellow Buses – Run through the heart and center of Seoul. Single rides cost ₩1,200
Red Buses – Run to the outskirts of the city and satellite neighborhoods of Seoul. Single rides cost ₩2,400
Night Routes "N" – Regular routes that run at night, you'll see an "N" on the bus
Seoul Taxi
One thing to keep in mind when traveling in Seoul is that while there's quite a large English speaking population, not all older generations speak English and that goes for taxi drivers as well.
That's okay though, if you know the name of where you're going they will get you there. Or, if you want to get dropped off at the nearest subway station that also is the easiest way to communicate. You can also show the location on a map if all else fails.
The taxis are very affordable, we've gotten all over Seoul in a taxi and rarely spent over $10-15. Meaning you'll probably spend much less depending on how far of a drive it is. Better yet, they do accept your T Money card for payment in taxis too!
Just note, that during peak rush hour sometimes this isn't the fastest way to get places as you'll be stuck in traffic. The subway can be the quickest option during peak traffic hours.
Best Time to Visit Seoul
There is no wrong time to visit Seoul, but there definitely are more 'comfortable' times to visit Seoul. Believe it or not Seoul does have all four seasons, however, they are dramatic. From cold and chilly winters to hot and humid summers plus a monsoon season – if you're finicky with weather or just want the most ideal conditions you'll want to plan ahead.
Summer – (July – August) This is actually one of the most difficult times to travel in Seoul and throughout Korea, but a very popular time people book vacations, as its the monsoon season. Expect heavy rains and very hot and humid weather!
Fall – (September – November) This is one of our favorite times in Seoul and throughout Korea as the weather is very mild, pleasant, and you get to experience the changing of the leaves!
Winter – December – Mid March) Winter can get VERY cold in Korea but don't let that fool you, while it 'can' get cold, some of the weather isn't THAT cold and is still manageable. Better yet, this is when you can experience some of the most popular attractions and places without crowds. We loved exploring Seoul and Korea in the winter because of this reason!
Spring – (Mid March – early June) this is a pretty pleasant time to visit Korea as you are coming out of the coldest months and transitioning into the warmer months. This shoulder season is also when you can experience the splendid cherry blossoms all throughout the country! You'll want to look at the cherry blossom forecast though as its different dates depending in what part of the country you're at!
Seoul Travel Tips
One of the best Seoul travel tips is how to do the best currency exchange! We recommend having a travel credit card and an ATM card that you can withdraw cash easily at foreign ATMs. This will require you, if you're not already a frequent traveler, to let your bank know your travel plans so they don't block transactions while you're abroad.
The local currency is Korean Won, KRW and the best way to get cash is via ATM. We recommend using bank ATMs only though like Citi, KEB, KB, and Woori are the most common.
If you prefer to go to a money changer we recommend doing this only in Myeongdong as this area has the best rates! Do not, I repeat DO NOT exchange money at the airport, you'll get the worst exchange rates! Save your money for some of the best things to do in Seoul instead.
This next travel tip is important if you want to be connected 100% of the time you're in Seoul! While you can find wifi all over the city, there are places where the wifi just isn't great or you won't be able to find it! What's great is that Korea has really affordable SIM card options!
Choose from a SIM card that will connect you from as little as a one day visit to a 30 day visit! We actually miss how affordable and FAST Korean service is! You can buy SIM cards in advance here for as little as $5.
What to Pack for Seoul
While Seoul is really safe and crime rates are low, it's always nice to have This Pacsafe Shoulder Bagfor your travels which slings over your body and is the perfect size to carry your day essentials while exploring Seoul. This lightweight bag has anti-theft features so you can enjoy Seoul with ease of mind with Pacsafe's anti-theft patent products whether you're in a crowded area or on the subway.
This Pacsafe Anti-theft Backpack is another essential any city trip. This backpack has a patented anti-theft design with lockable zippers and slash-proof material in this sleek and comfortable designed backpack.
Avoid high tech thieves with this 15 pack of RFID blocking sleeves that doesn't require you to buy a special travel wallet, you can carry your favorite purse, wallet, or backpack by simply putting your credit cards and sensitive information in these RFID blocking sleeves.
Upgrade your wallet with this RFID Blocking Wallet by Pacsafe is the perfect pick. Always have your identification, bank cards, and credit cards protected from high tech thieves with this RFID blocking wallet in this sleek and slim design.
One of the best ways to keep valuables safe when you travel is this Portable Safe by Pacsafe. This is ideal when you're hotel has a safe that is too small for your belongings, with it's sleek and compact design so it doesn't take up much space in your luggage offering maximum security with its stainless steel wire mesh covered in a piece of cut-resistant canvas fabric. You simply lock this portable safe to a secure fixture in your hotel room when you leave. This is great for travel in general.
This iPhone crossbody case is perfect for sightseeing as you can easily grab your phone for that perfect photo moment on the fly as well as keep your phone secured to your body.
We recommend Allbirds Women's Wool Runner as well as the Allbirds Men's Wool Runner for an everyday walking shoe that's breathable, comfortable, and feels like you're walking on clouds. Your back and feet will thank you later, plus they are really popular currently!
A good reusable water bottle is one of the best things you can have in your day bag or on you at all times – cut back on single-use plastic and have a good reusable water bottle for your trip.
Don't leave on a trip without a good power bank. Don't spoil your fun exploring all the fun neighborhoods and things to see in Seoul by having your battery die on you. If you're anything like me you'll be using your phone to take photos, navigate, and post to social media while you're exploring.
When it comes to the city, this weather is not forgiving and you don't want to get caught out and about in the rain without an umbrella, especially in monsoon season. That's why we recommend this compact wind resistant travel umbrella for what to pack for Seoul.
Are you a sensitive sleeper? A good pair of earplugs are essential for your Seoul or city trip, especially if you're not from a big city or staying in a more party centric place from our guide picks for where to stay in Seoul.
Travel Insurance is one of the most important things travelers can get. If you're traveling over 100 miles away from home, you should get travel insurance. We recommend World Nomads Travel Insurance because you can buy anytime before or during your trip no matter where you are. (See our travel insurance review guide)
Covering everything from lost or stolen documents, electronics, or if you get sick unexpectedly, don't leave home without it!
---
We hope that this one day in Seoul itinerary guide was helpful and you now have a better idea of how to spend one day in Seoul! Let us know if you'd add anything else in the comments below!
Pin for later!