One of the most favorite areas to explore for many in Paris is the Montmartre neighborhood, also known as the Mountain of Martyrs sitting on a large hill just north of the rest of the city in the 18th arrondissement. Famous for being a area prone to some of the world's best known artists in history like Van Gogh, Renoir, Matisse, and Picasso to name a few.
There are many incredible things to do in Montmartre, Paris from some of the city's most famous sites like the famous Moulin Rouge, the Sacré Cœur basilica, and other picture perfect spots that keep people flocking to this beautiful bohemian neighborhood.
Be sure to also check out our guide for the top 25 best places to see in Paris.
Table of Contents
Top
Tips for Visiting Montmartre Paris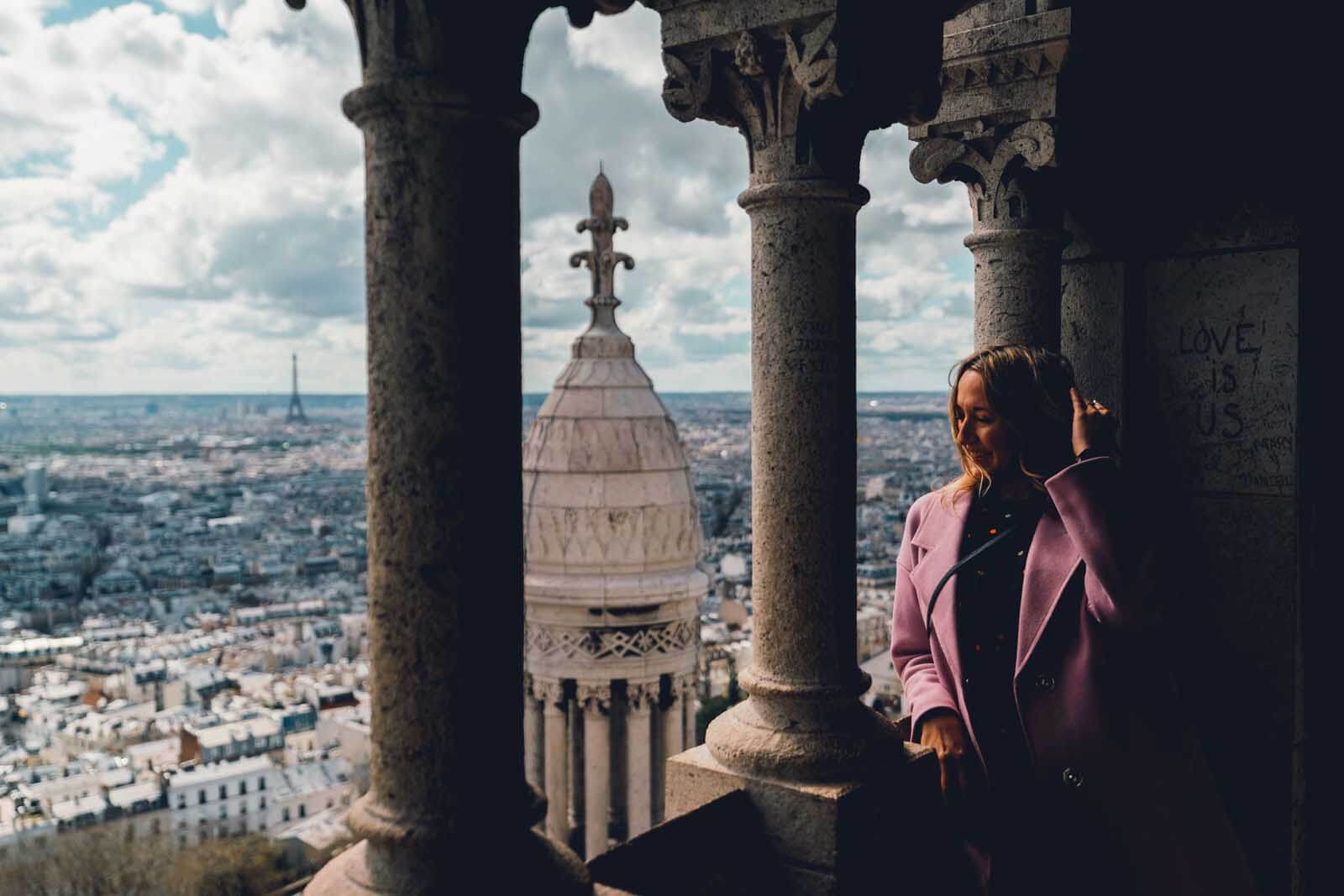 So let's address the elephant in the room first and foremost, Montmartre, Paris is now a very touristic area that can get very crowded with people, like us, who want to come and wander and romanticize this picturesque cobblestone neighborhood where some of the most famous artists once roamed.
However, this neighborhood is no longer a place where starving artists can afford to live. This has become a place that has taken the opportunity given to capitalize on the mass amount of visitors it sees. Expect to see tourist souvenir stores selling the same trinkets one after another as well as overpriced food and drinks.
This didn't bother us one bit, we loved Montmartre, Paris but I want to set up a real expectation for anyone visiting who thinks they may be visiting some off the beaten path neighborhood in the city. It's not, it's a heavily visited tourist hotspot because it's beautiful and chocked full of history and references to some pop culture's favorite movies and famous artistic figures from writers to painters.
Now that we've covered that, some tips to avoid the crowds this place can get, especially in peak summer holiday season, would be my advice to anywhere that sees alot of tourists. Beat the crowds by coming at less popular times to visit either early in the morning or later in the evening to enjoy all the things to do in Montmartre, Paris.
Avoid the midday if your time allows for it. We did visit during early April during mid-day because we had no other option and were pleasantly surprised at the thin crowds.
Everything I've read prior to visiting Montmartre, Paris myself is that this is also a place to be a bit more aware and alert of your belongings as it's prone to pickpockets. We say this as a caution but this really goes for any major city you visit.
Ok, now that you've had our best tips for visiting the area we can head to the fun part, all the top things to do in Montmartre, Paris.
Top Things to do in Montmartre Paris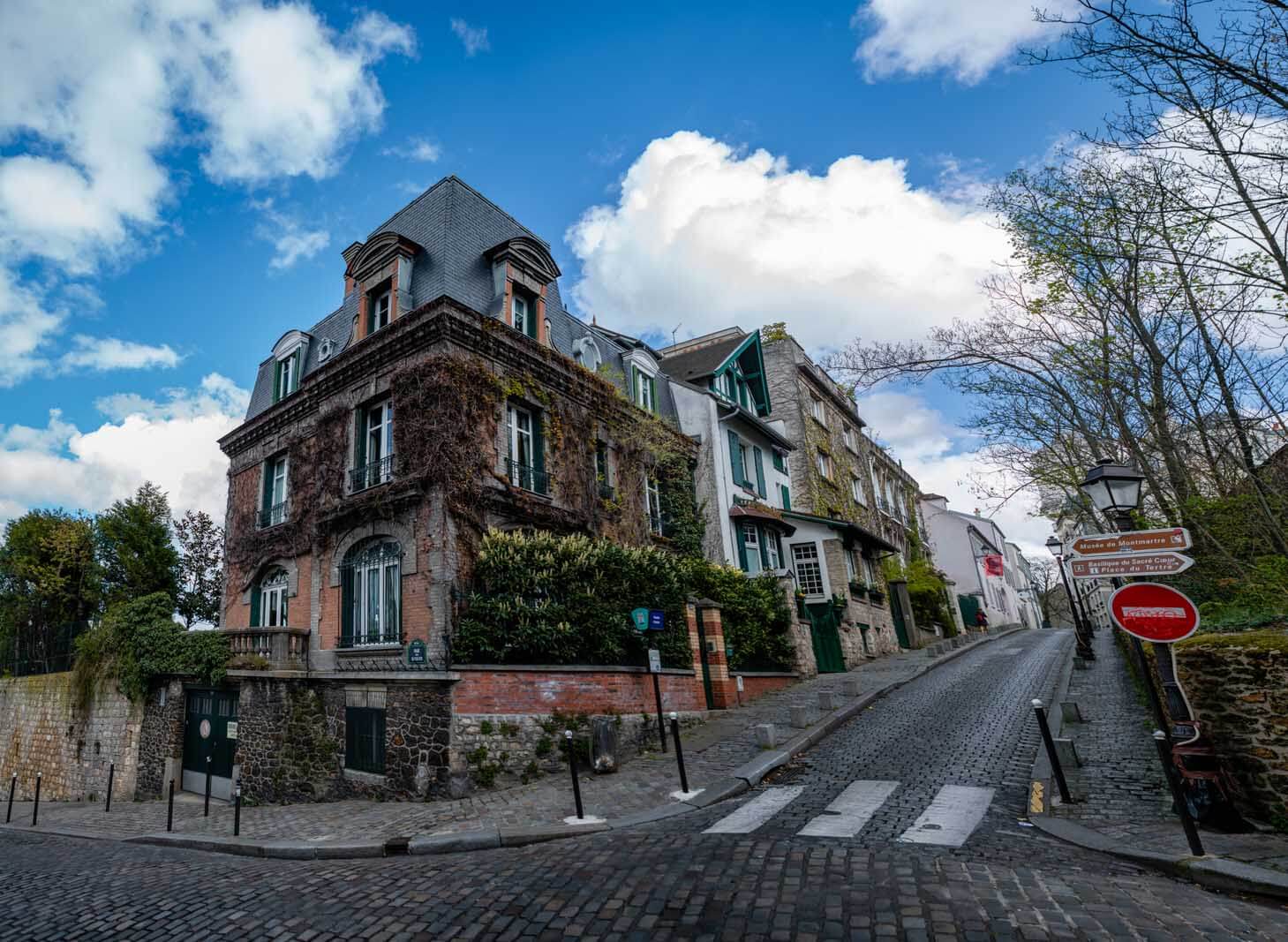 Basilica of the Sacred Heart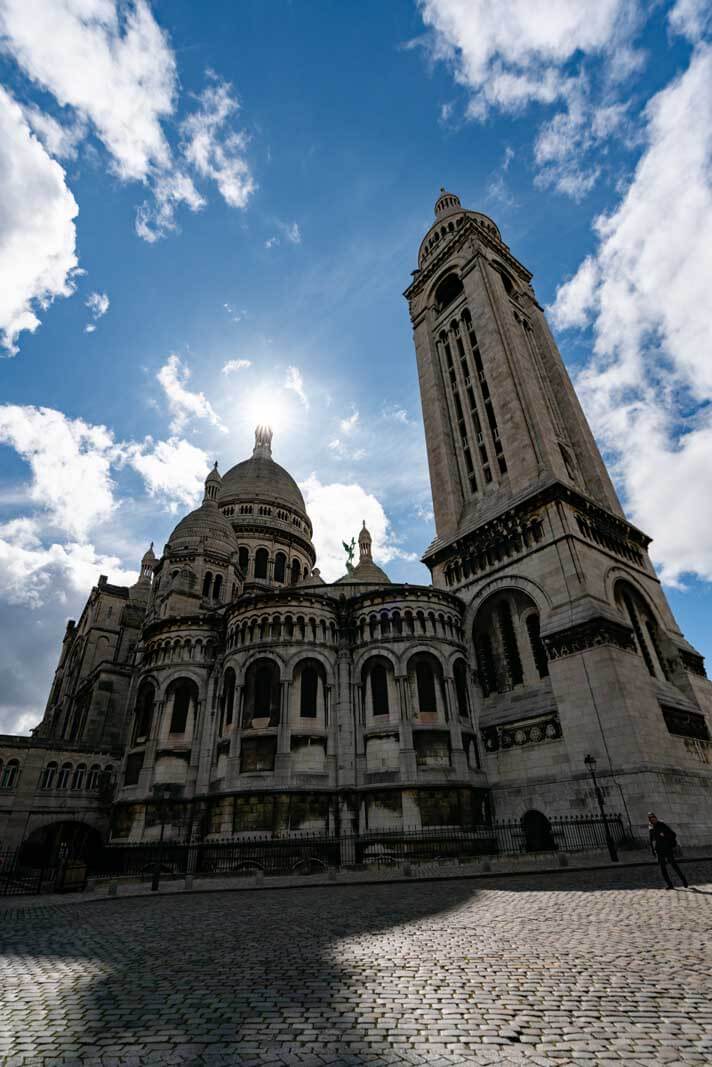 This guide to the top things to do in Montmartre, Paris wouldn't be complete without the Basilica of the Sacred Heart or locally known as the Sacré Cœur Basilica. Perched on the highest point of Paris, this is where you will find one of the best panoramic views of the city.
This Roman Catholic church and the basilica is one of the most popular landmarks in the city and the second most visited attraction in Paris and easily the number one thing to do in Montmartre, Paris.
Besides being a religious monument and place of worship, Sacré Cœur is also considered a political icon for the historical significance of the victory over France in the Franco-Prussian War and the Paris Commune when the radical socialist part ruled Paris from March to May in 1871. Marking the neighborhood as one of the most revolutionary and rebellious in the city's history.
The church was built after political unrest and defeat over the French as a symbol for the pain the French went through during this time it was constructed to symbolize they will rise again.
Well before the construction, this site was always a religious one being a place of worship for paganism as well as Roman temples dedicated to Mercury and Mars due to its high location in the city.
Visitors can go inside the church, visit the crypt, and pay a small fee to climb the 300 steps up to the dome with a gorgeous panoramic view of Paris.
Take a guided tour of Sacré Cœur and the Montmartre neighborhood with an expert guide over two hours learning about the history of the area. Book your tour here.
Place de Tertre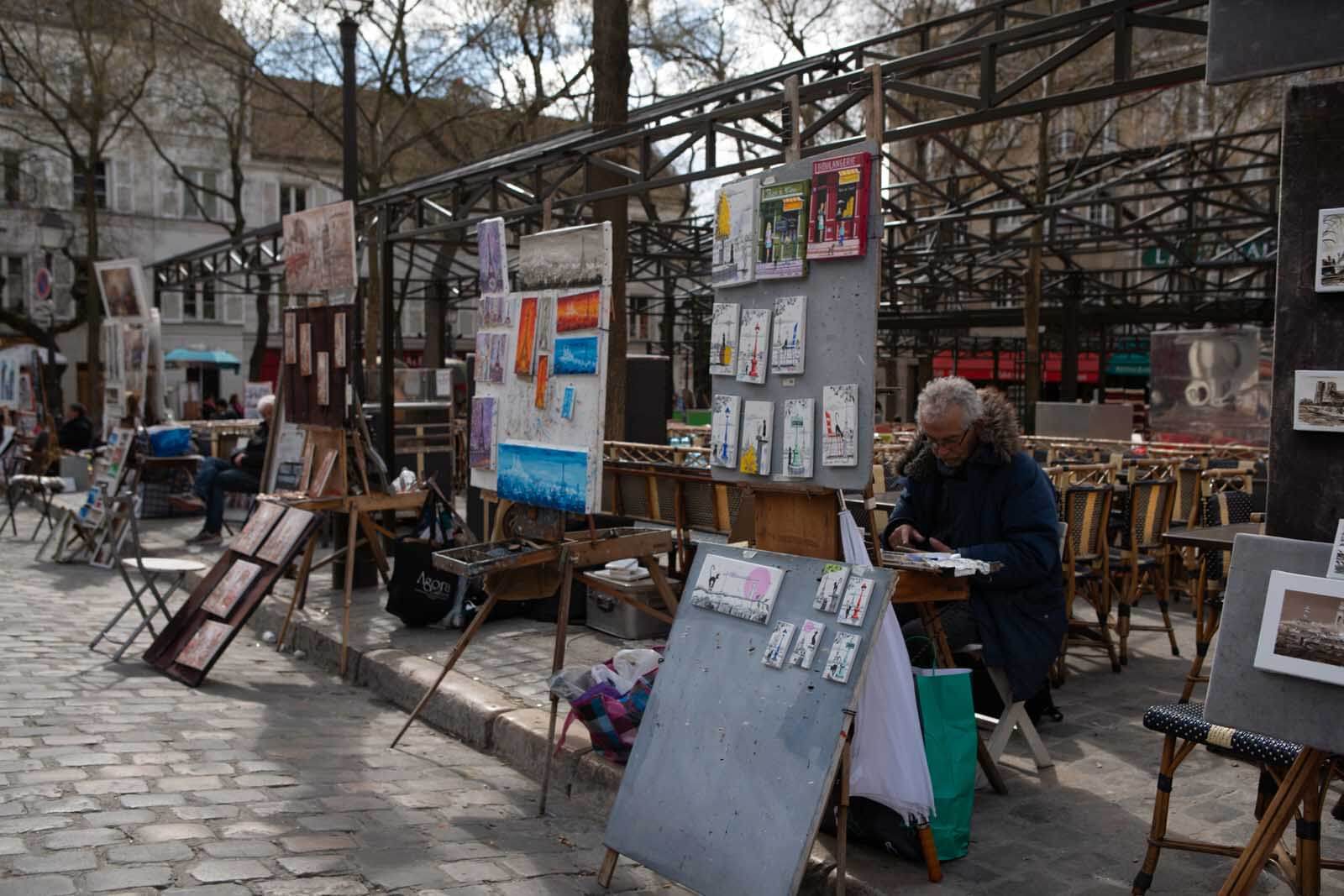 Another one of the best things to do in Montmartre is visit Place de Tertre or the public square. This is possibly the most artistic place still left in Montmartre, Paris and easily one of the most visited squares in the city.
This is where artists have as mall space to paint and create in a public space. This is where you'd find any artist, poet, or writer from the end of the 18th century until WWI. This is where some of the most famous artists in history would work and today artists still gather here to work publicly and remind us of the art history that took place here.
Apparently, getting to be an artist here is not as easy as it may look. In order to have a space here you have to apply through the local town hall and there's a good chance you'll end up on a years long waiting list.
Place de Tertre is also said to be where the birthplace of the word bistro took place as well!
Nearby, you can find the Dali Museum, the only place in France solely dedicated to the artist.
Find the Picture Perfect Spots in Montmartre, Paris
Easily one of the most photogenic areas of the city, one of the best things to do in Montmartre, Paris is seek out all the picture perfect spots whether you have a camera or not. From the gorgeous winding cobbled lanes leading up hill lined with ivy-covered homes you just continue to pass one gorgeous home and scene after another here.
Be sure to even pay close attention for any outdoor art installations from street art to small sidewalk barriers painted like dominos during our visit.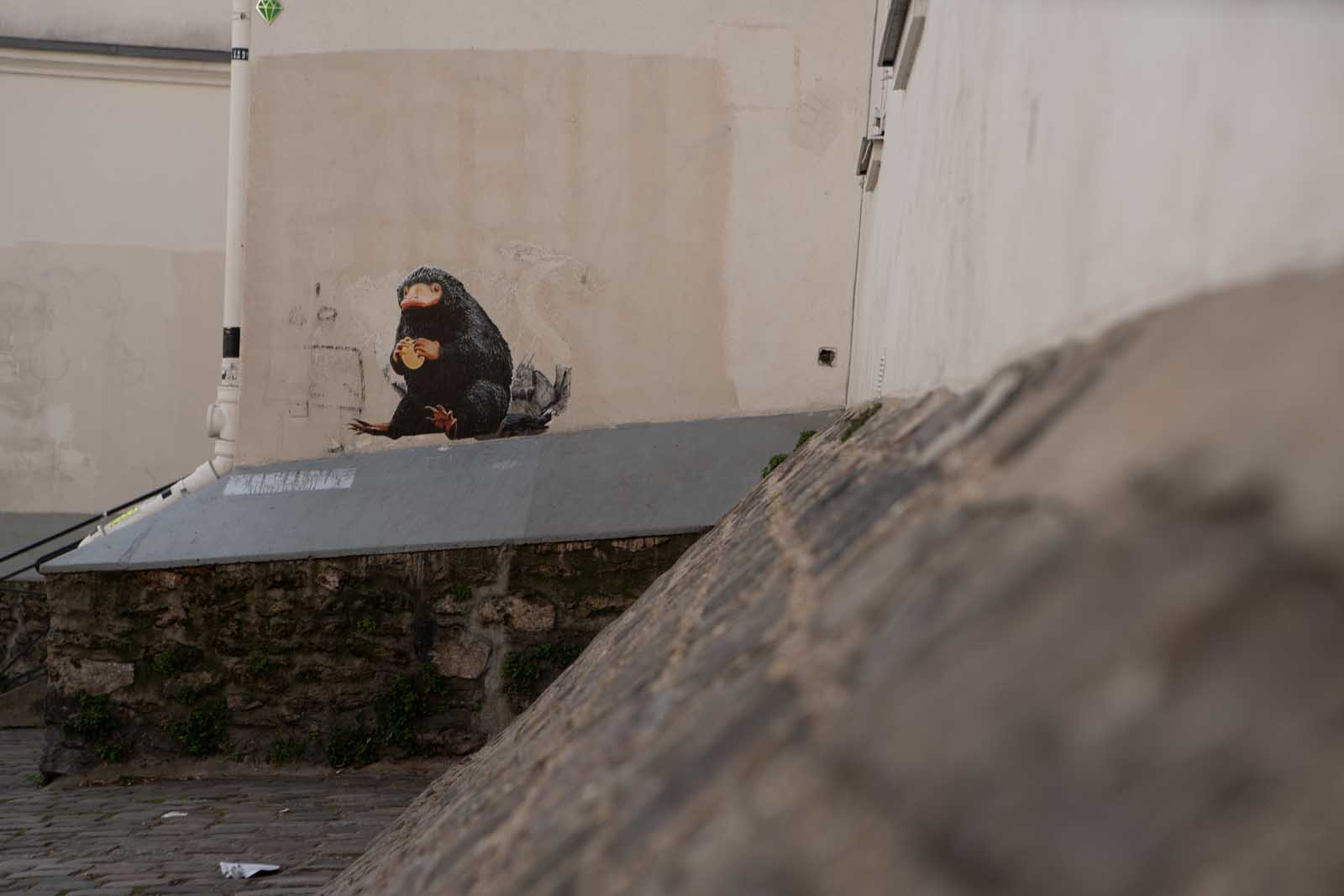 As you're wandering you may even find some of the vineyards this area is famous for. During it's artistic and bohemian heyday this area was also famous for its cheap wine, this is another reason said to have attracted all the artists to the area as well.
The area is full of gems but easily one of the most famous picture perfect spots is the perfectly pink La Maison Rose. Operating as a traditional French restaurant, this is one of the most famous photography spots for Instagrammers and anyone who loves the color pink, cough cough Scott.
Have a drink at Le Consulat Cafe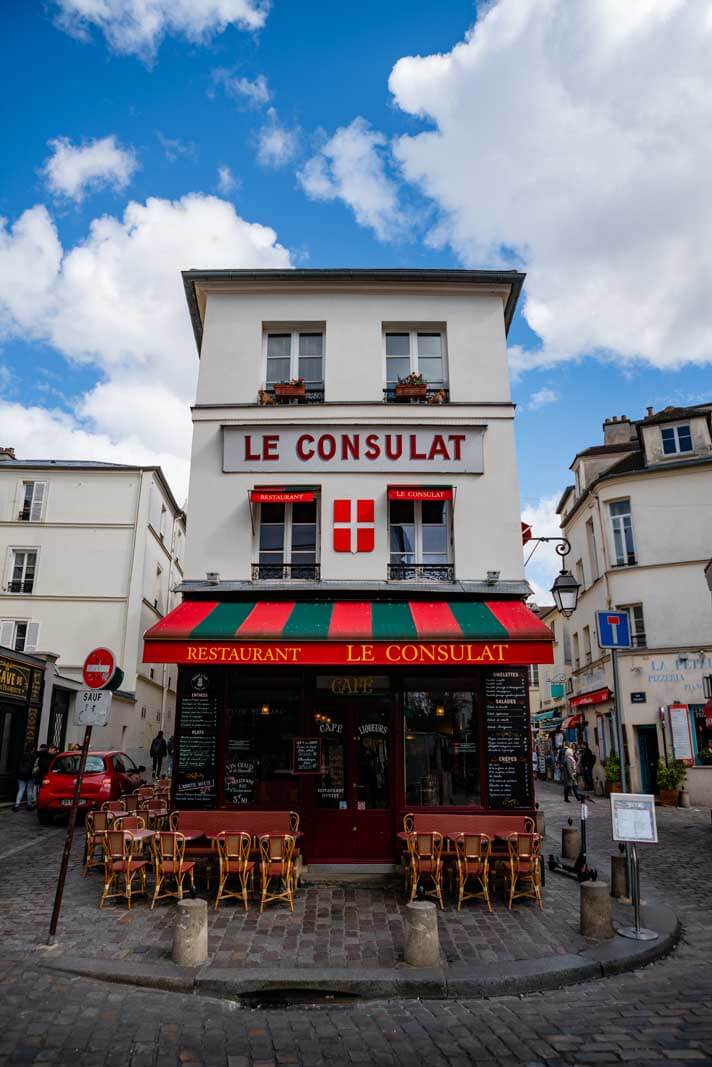 Easily one of the most famous things in Montmartre to photograph that feels directly out of a Wes Anderson set is the Le Consulat Cafe. It's no wonder why as this place is one of the most aesthetically pleasing buildings we've ever seen.
Besides being another pretty building in Paris and in the Montmartre neighborhood, this cafe has famously been associated with artists such as Picasso, Van Gogh, and Monet to name a few of the most notable but many more.
While this is a pretty photograph, this is also a great place to sit down and give your feet a break from the cobbled lanes for a drink. You can find specialty drinks, we enjoyed a mulled wine, a French wine list, and other beverages as well as French cuisine on the menu if you're feeling hungry.
Since this is one of the most popular of the touristic spots and things to do in Montmartre, Paris you can expect the prices to be a bit overpriced. However, we didn't find them to be too awful considering we'd easily pay the same prices if not more back in New York or California.
During our visit we must have come at an odd time between lunch and dinner as we were the only ones dining, however from photos I have seen this place can get packed so if you want to get that picture perfect moment it will require patience and perhaps a visit early in the morning.
Stroll Down Villa Leandre
Another one of our favorite finds and things to do in Montmartre, Paris was wander down the gorgeous Villa Leandre. This is where you can find some of the most expensive homes in the neighborhood and even in the entire city.
It is said there may have been two windmills here previously and the English style art deco homes you see now were built in the 20th century.
The street is named after a local comedian Charles Léandre, but before it was known as Villa Junot, and the homes on this street are just breathtaking and what we think is one of the most picturesque streets in the city.
But before this was just another pretty street to photograph in Paris with astronomical rent prices, this was the stomping grounds for one of the biggest street gangs in Paris as told by our Retro Tour Guide, Romain when we stopped here on a tour for some photographs.
At the turn of the 20th century, this area became where the Apache Refuge claimed as their territory. In an area with tons of bars and cabarets its no wonder why these bad boys liked this area.
The Apaches named themselves after the Native American tribes and were famous for their violent acts of crime and considered the hooligans and street gangs of the 20th century.
In fact, they became so famous for their crime that other countries even called their local gangs Apaches as well, for example, the Russian Apaches.
It was common that Apaches would mug and rob people as well as do it in a pack and were feared by the upper class. One of their famous and unique style of weapons that is semi famous if you know anything about weaponry in history is their special gun that was called the Apache revolver or the Apache pistol. This unique gun had no barrel, brass knuckles for the handgrip, and a folding knife mounted underneath it to also be used as a stabbing weapon. You should see a photo of it, its terrifying and I wouldn't want to be on the receiving end of one of these.
What makes this gang activity so notably and worthy to mention is its impact on society. They were the influencers of the early 20th century. The style of the Apache's became cool in pop culture.
For example, the "Apache Dance," became popular enough that it has ended up in films and even the ballet Le Papillon.
This style of dance is a choreographed violent set of movements that would have been re-enacting a discussion between a prostitute and her pimp. It is common in the dance to see an acting out of fake punches and slaps and violence on the woman, but she fought back.
Another example of the Apache gang subculture that became popular was also their clothing and slang. From their shirts to boots, red scarf, and flat caps their style became iconic.
If you're aching to learn more you can watch the French silent film Les Vampires, however, you will need to be extremely invested as the film is in 10 parts and over 7 hours long!
If you're interested in exploring this subculture more consider this tour on the history of gangs in Montmartre I found while looking for more history on the area. However, it's only available in French at the moment.
Ride the Funicular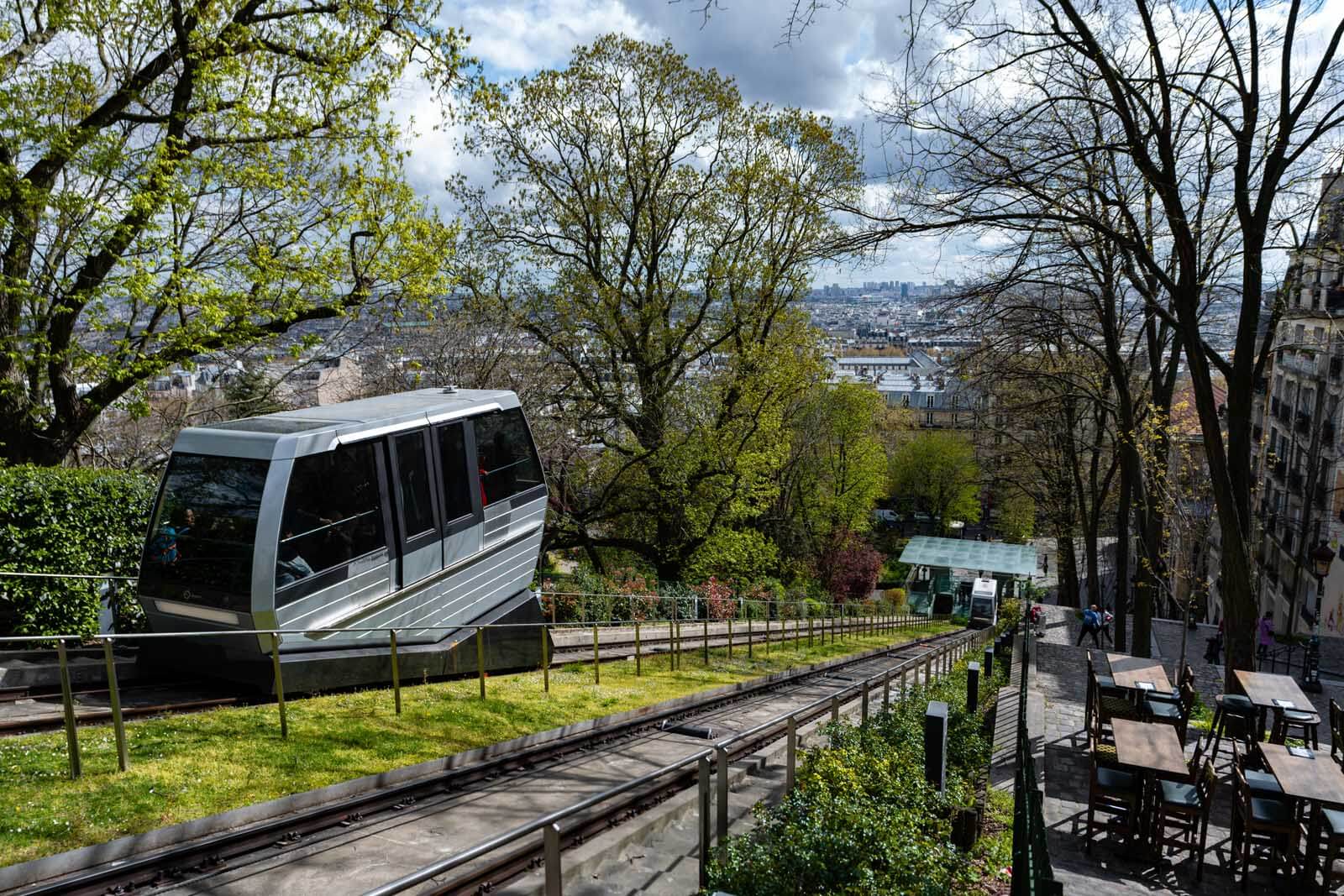 Strolling around this neighborhood can be hard on your feet and legs thanks to the location on the hill and the cobblestone lanes. That's why we recommend this next fun thing to do in Montmartre, Paris. The Funicular carries passengers from the foot of the hill to the summit right by the stairs up to Sacré-Cœur.
If you prefer some extra steps you can walk along the Funicular for about 300 steps and admire the street art along the way. We saw some artists we recognized like Sobr, who we were introduced to while exploring Berlin last summer.
Boulevard de Clichy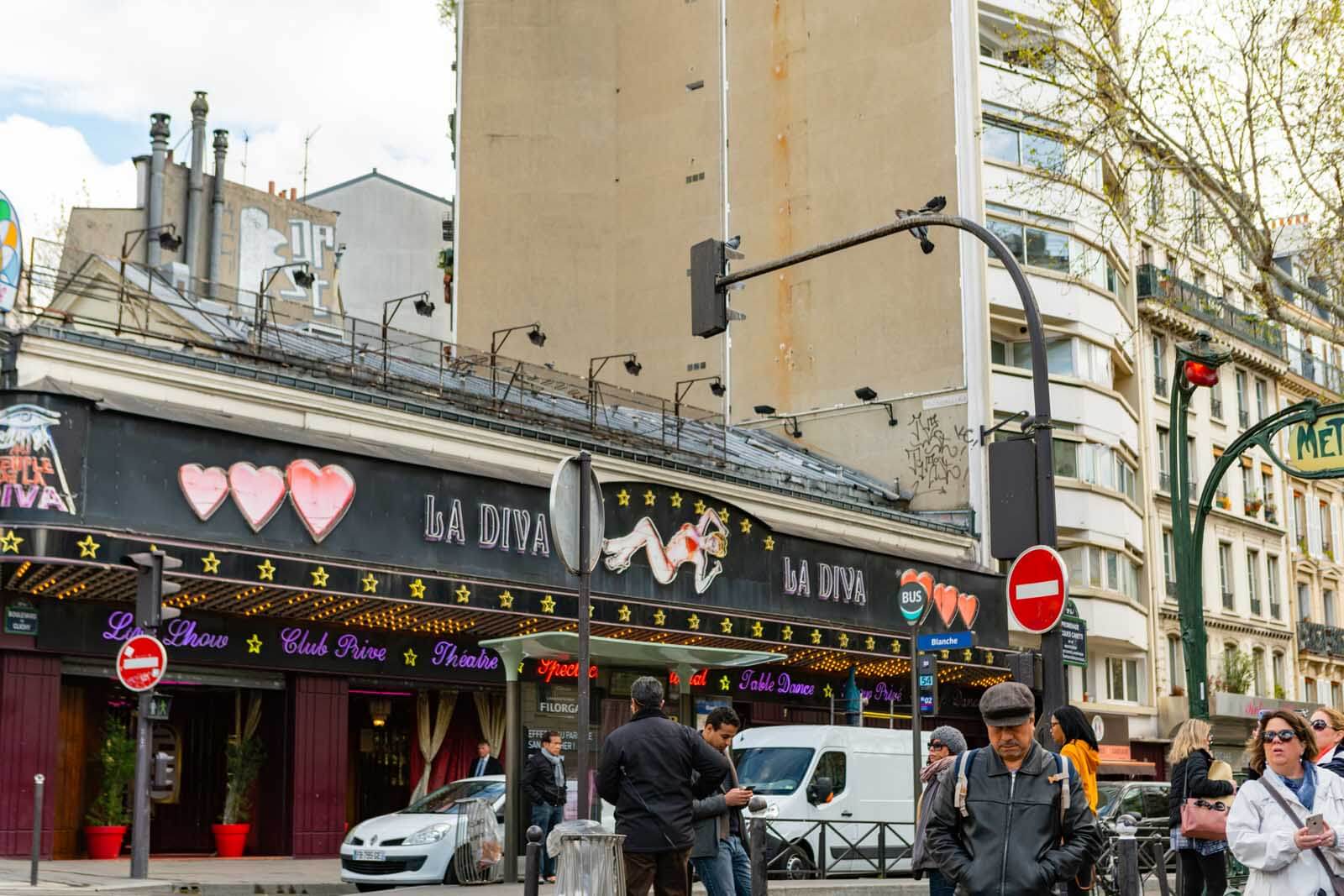 Another one of the most iconic things to do in Montmartre, Paris is explore Boulevard de Clichy, one of the most famous streets in the area and where you can find some of the most notable buildings in Paris that formerly housed some of the most famous figures in artistic history in this city.
Boulevard de Clichy was were the home of Edgar Degas lived, where French painter William Didier-Pouget lived, painter Francis Tattergrain lived, home to American painter James Abbot McNeill Whistler created some of his famous masterpieces, and where Van Gogh lived.
Some other famous history that took place here includes the location of some of the most famous French cabarets including Moulin Rouge which is considered the home of the Can-Can dance as well as the famous cabaret Le Chat noir or the Black Cat.
You may actually recognize the famous post that was once an advertisement for Le Chat Noir, Théophile Steinlin created the famous advertisement to bring awareness to the cabaret entertainers that would be coming soon in 1896. I had no idea that this poster was actually for this cabaret as I owned it in college! You can guess why I bought it though, because of that cool cat!
Another famous stop is the Cafe du Tambourin, a famous cafe that Van Gogh decorated in exchange for meals in which he frequented here and where he held his first exhibition in the city of Paris.
You could spend a whole day here with a local guide or historian just learning about the history that took place here from cabarets to the artists who stayed and played here.
The Sinking House
So this next thing to do in Montmartre, Paris is a bit of an optical illusion. Don't waste your time walking around looking for a sideways house, because you sort of have to make it sideways with your imagination and photography skills!
The Sinking House is one of the most popular photography spots in Montmartre and it's no wonder why it's such a fun photo to get!
Located directly next to the Sacré Cœur stairs leading up to the church and basilica on your right you will see this building, except it's not really sinking.
To get this effect you have to move your camera a bit and get the perfect shot! Unless you're actively looking for this you can easily miss it because who on earth thinks to take photos this way?
Whoever was the first one was a creative genius! Since then it's taken off like wildfire and you may see a ton of other people trying to get the same shot.
Musée de Montmartre
Another one of the best things to do in Montmartre, Paris is visit the Musée de Montmartre. Besides housing collections of pieces from famous artists and writers who spent time here in this artistic neighborhood, the buildings of the museum themselves are noteworthy.
The buildings holding the museum include Hotel Demarne and the Maison du Bel Air and are over 300 years old. In the 17th century, a famous French actor known as Rosimond owned the home and they also housed many famous artists and writers throughout the years.
This house is where Renoir painted one of his most famous pieces, La Balançoire as well as Bal du moulin de la Galette.
The entire museum hosts a collection dedicated to the history here from paintings, posters, writings, and photos portraying life here from the famous artists and creatives who resided here to the famous cabarets.
Some noteworthy pieces include the famous Chat Noir advertisement poster by Steinlen mentioned earlier under the Boulevard de Clichy section of things to do in Montmartre, this is easily one of the most famous and recognizable posters of all time!
Besides the impressive collection dedicated as an ode to Montmartre and history, there's also the gardens. These gardens have been changed according to Renoir's famous paintings with a beautiful view of the vineyard.
Au Lapin Agile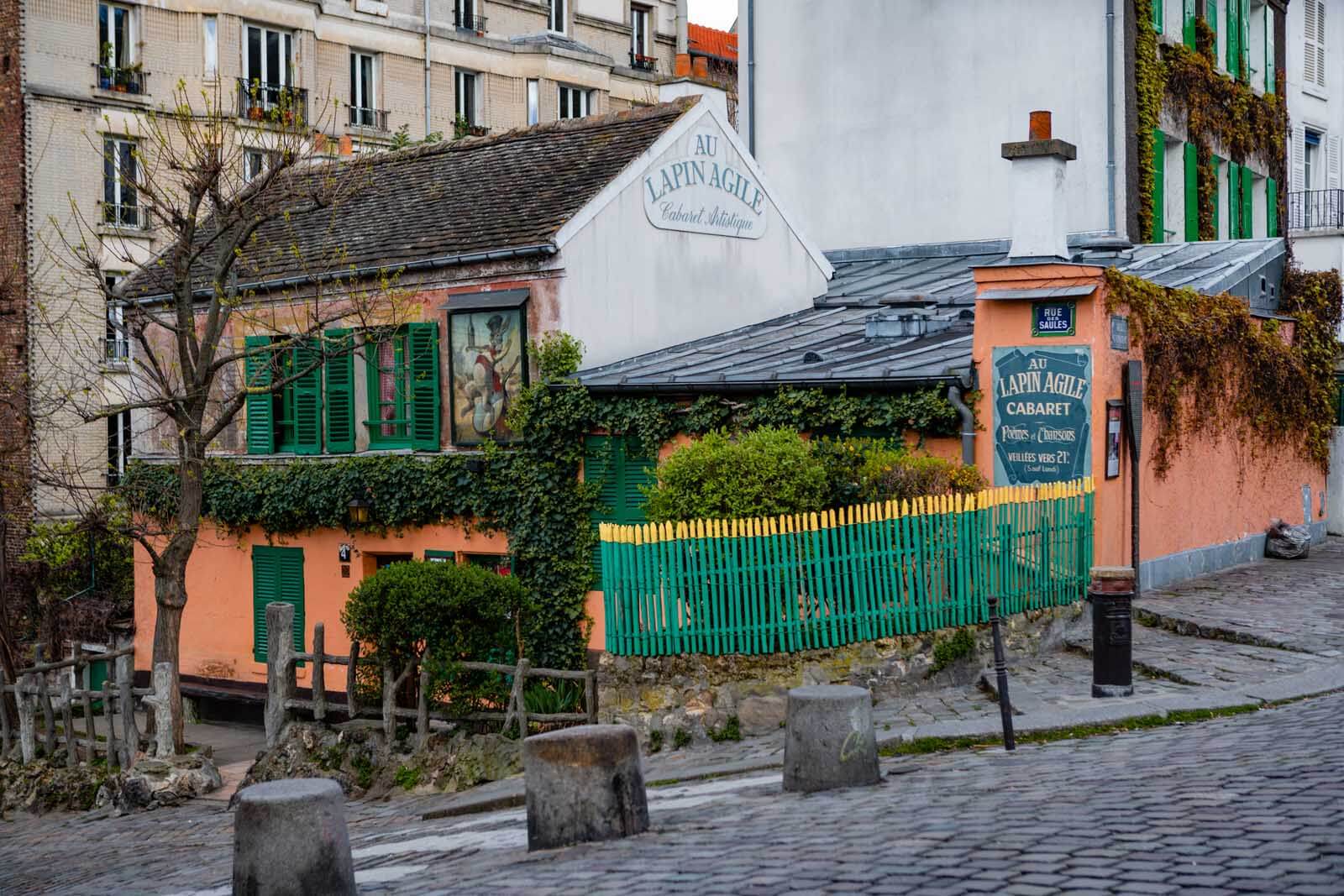 Another one of the best things to do in Montmartre, Paris is visit some of the famous cabarets including one of the oldest in all of Paris, Au Lapin Agile. This was also a favorite of artist Picasso and titled a piece of his work with the same name that's on display in NYC's Metropolitan Museum.


We came during the day and didn't go inside, but we couldn't help but notice the proud plaque placed outside mentioning this was one of author Patricia Shultz 1000 Places to See Before You Die.
This cabaret is still open to the public today, the show is titled, Songs, Music, Poetry and showcases a variety of artists and songs.
Trace the Footsteps of Amélie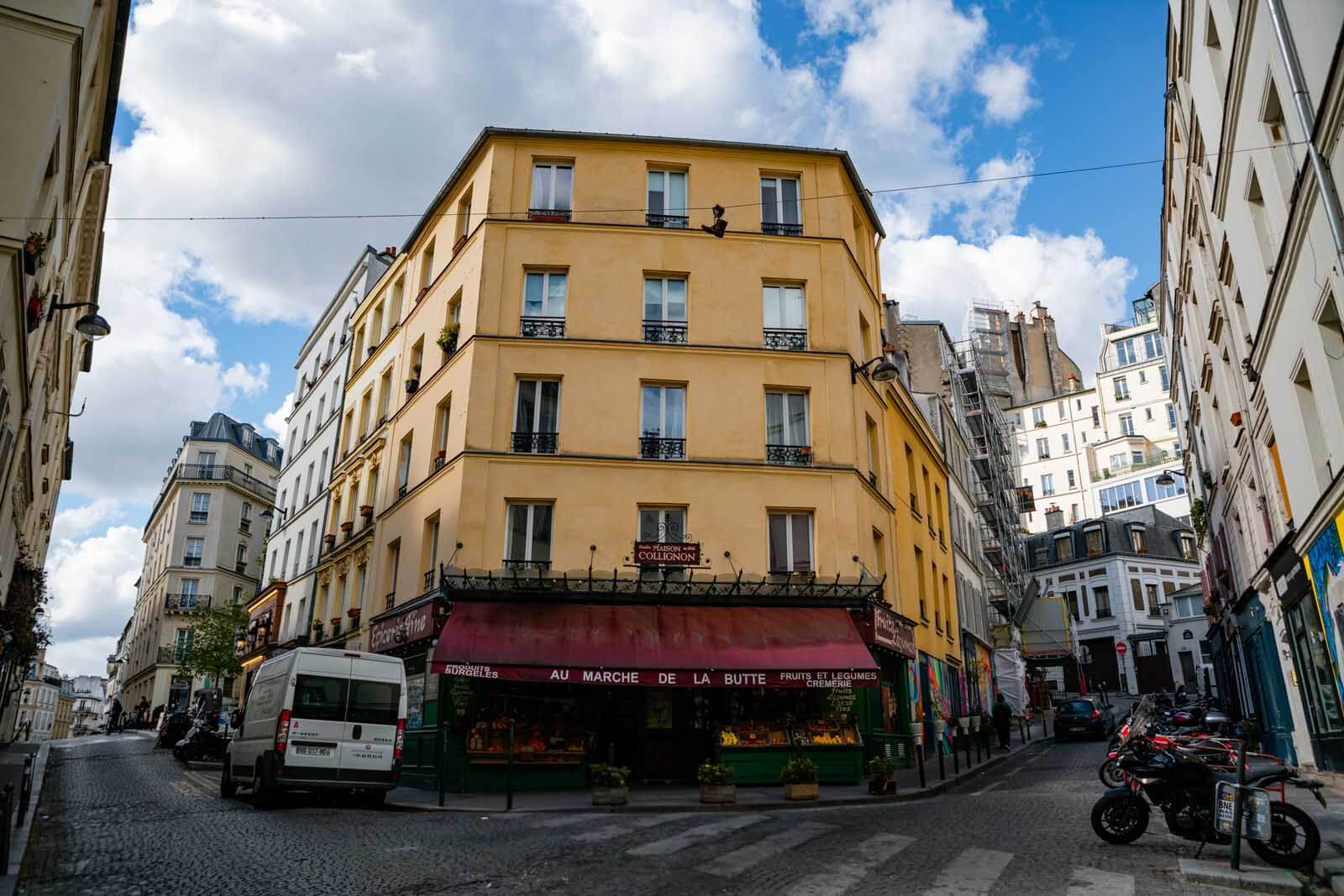 The next thing to do in Montmartre, Paris is trace the steps of the French romantic comedy with a cult following. Amélie or Le Fabuleux Destin d'Amélie Poulain to be exact has won critical acclaim and won awards.
The movie is set in Montmartre, so you if you're familiar with the movie you might recognize some of the scenery used as a backdrop in the film.
The most famous of the filming locations is the Café Deux Moulins where Amélie worked in the film. A Parisian cafe that you can actually stop and have a coffee at! While the interior is a bit different from the movie itself, you can still reminisce and feel a sense of the film inside, for example the tobacco counter in the cafe was removed in 2002, a year after the film was released under new ownership. People also frequently stop to take photos outside of the cafe.
The cafe's name actually translates to "two windmills" named after the two historical windmills of Moulin Rouge and Moulin de la Galette nearby!
Another filming location for Amélie is the grocery store known as Maison Collignon and Sacré-Coeur.
Take a Tour!
Did you know you can take a 2 hour walking tour through Montmartre, Paris retracing the steps of Amélie! This is a great way to see all the great filming locations as well as learn a bit more about the neighborhood. Book Your Amelie Tour here.
Moulin Rouge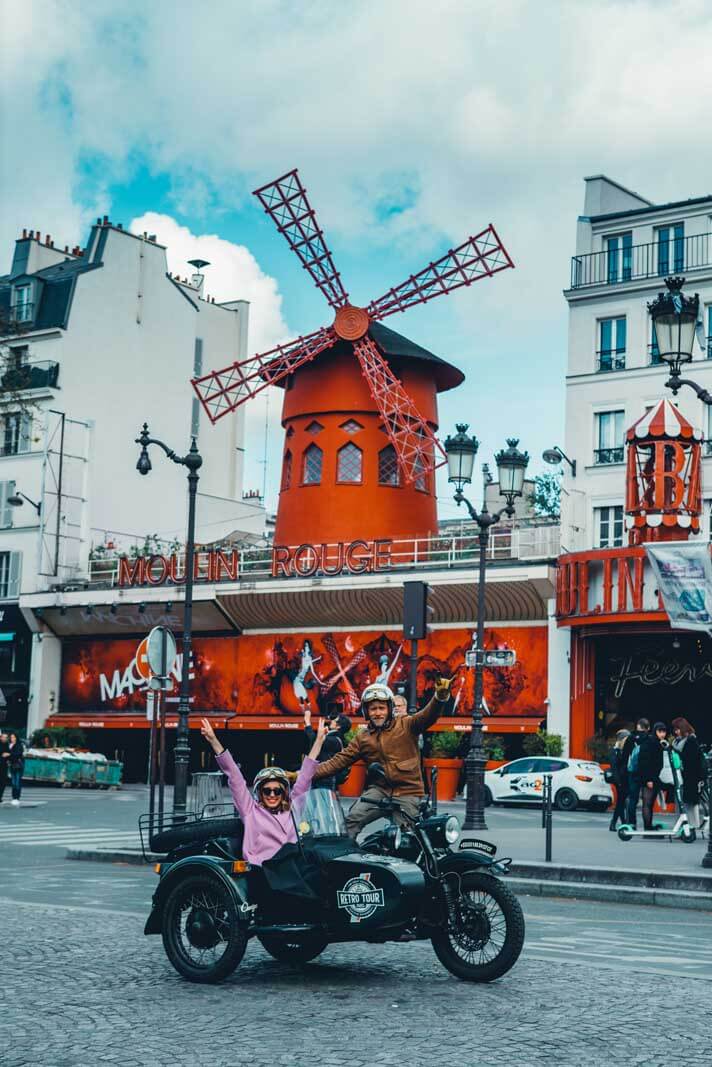 Easily one of the most famous things to do in Montmartre, Paris is visit the famous Moulin Rouge. No doubt, the most famous and recognizable name for cabarets in the world thanks to pop culture in film and music.
The name literally translates to the red mill and is where the famous Can-Can dance originated. Located on Boulevard de Clichy, this famous cabaret opened its doors in 1889.
You can take a photo or admire the exterior as many do when visiting this area or actually attend the Féerie show showcasing 80 artists including the famous Doriss Girls, 1000 handcrafted Parisian costumes, a giant aquarium, and performance set to original music.
Don't miss your chance at this once in a lifetime iconic experience! Tickets on the official site are anywhere up to 500 Euro depending on your reservation type.
You can pre-book a Moulin Rouge show with champagne in advance or the Moulin Rouge show with dinner in advance.
Montmartre Cemetery
Another one of the great things to do in Montmartre, Paris is the Montmartre Cemetery. This beautiful cemetery is the final resting place for many of the artists who called this neighborhood home in the 19th and 20th centuries.
Artists include Émile Zola, a famous author who wrote the French Novel, Thérèse Raquin, artist Edgar Degas, and French writer Alexandre Dumas to name a few of the most noteworthy, but there are a ton more.
And a bonus would be all the cats that call this place home!
Try a Unique Tour Experience
Before exploring all the best things to do in Montmartre, Paris by foot we explore Montmartre on a vintage motorbike with a sidecar with our guide Romain from Retro Tour Paris. This has to be one of the most unique tours we have ever done as well as the most fun and exhilarating!
We met outside the Tuileries Gardens where we embarked on a tour through Paris passing some of the most iconic sites on our way to Montmartre. Our guide took us to the best photo spots in the Montmartre neighborhood and left us there so we could explore on our own all the best things to do in Montmartre, Paris.
What's even better is that you can customize your tour with Retro Tour Paris, if you want to explore a different part of the city they can arrange that or you can also extend your tour to be longer than the hour long journey.
Book your Retro Tour Paris here.
Where to Stay in Montmartre Paris
$$ Hotel Des Arts
Perched on a hill with views of rooftops and Sacré-Coeur this hotel is a prime location in the Montmartre, Paris neighborhood. Nearby things to do in Montmartre include Moulin Rouge (3-minute walk), Place du Tetre (5-minute walk), and Sacré-Coeur (a 5-minute walk). This hotel has a very Parisian feel to it and offers a different variety of room styles to choose from.
Book Now on Booking.com | Compare Prices for Later on Agoda.com | See Prices on Hotels.com
$$ Terrass Hotel
This hotel in Montmartre provides a fantastic location as well as a gorgeous view of the city on its location on the hill. The rooms are artsy with unique decor in each room. Some rooms even offer a balcony where you can see the Eiffel Tower off in the distance. Located next to Montmartre Cemetery and just a 5-minute walk to the famous Moulin Rouge.
Book Now on Booking.com | Compare Prices for Later on Agoda.com | See Prices on Hotels.com
$$$ Montmartre Résidence
This incredible 4-star hotel is located in a prime location in the Montmartre neighborhood just a 5-7 minute walk to Moulin Rouge. The rooms are beautiful and cozy and are more apartment like rather than hotel room feeling with kitchens and living rooms, which is rare to find in Paris.
Book Now on Booking.com | Compare Prices for Later on Agoda.com | See Prices on Hotels.com
How to get to Montmartre Paris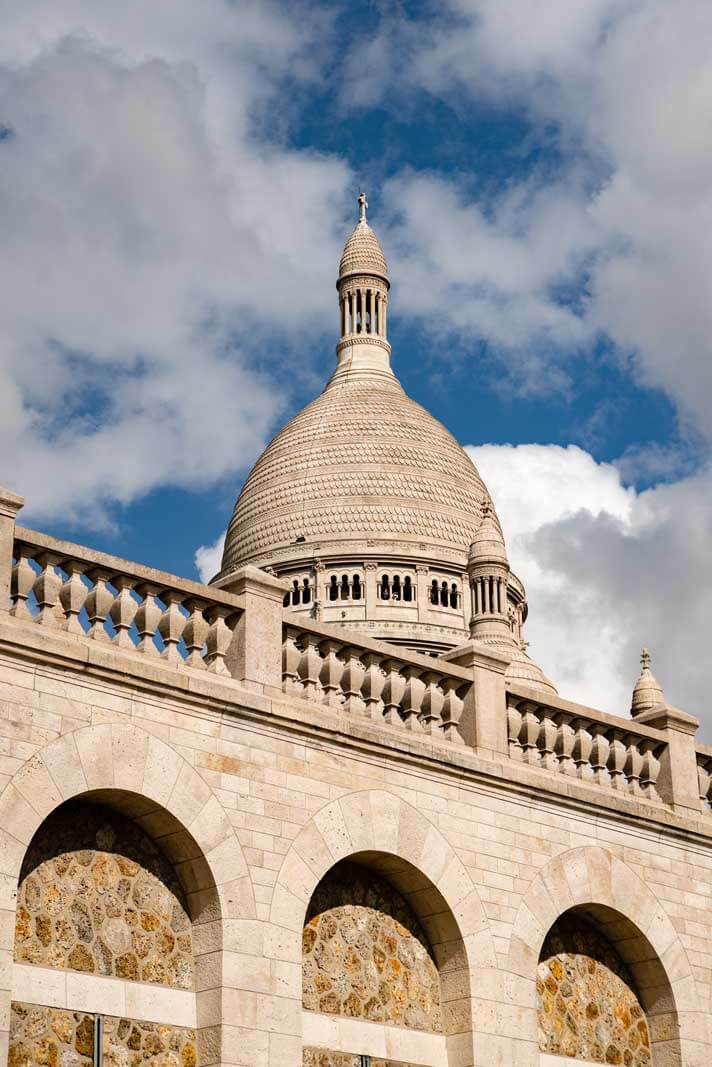 There are a few ways to get to this part of the city to enjoy all the great things to do in Montmartre, Paris using the metro.
Abbesses Station (line 12) is one way, you can exit at place des Abbesses and you're in the heart of Montmartre,
Anvers Station (line 2) is another option, exit along Rue Steinkerque and you will be right at the bottom of Sacré Cœer.
Blanche Station (line 2) is another great option, you will be right at Moulin Rouge here and if you head up Rue Lepic you will be at Montmartre Hill.
Pigalle Station (lines 2 & 12) is also a great option located under Boulevard de Clichy not far from Anvers Station and where you can see the Moulin Rouge easily from.
---
Liked this guide for all the great things to do in Montmartre, Paris? Bookmark for later or share below on Pinterest.