Welcome to this Oaxaca City travel guide. Located in the Southern state of Oaxaca, Oaxaca City is a bustling city and is considered one of the best food destinations of all in Mexico. So get your appetite ready before coming and expect everything from tacos to fajitas and much more.
Oaxaca City, Mexico: Travel Guide
In this Oaxaca travel guide we'll cover how safe the city is, cool things to do and see in Oaxaca City as well as when the best time to go.
Lastly, we'll look at some of my own recommendations to get the most out of a trip to this lively city!
Why Travel to Oaxaca City?
As already mentioned, Oaxaca City is a food lovers paradise. Here you can try a variety of both Oaxacan and general Mexican cuisine.
Some of the best Oaxacan dishes include tlayudas (like a Mexican style pizza) and organic chocolate.
Oaxaca City is well connected with the rest of Mexico, with domestic airlines flying to and from other major destinations daily.
You'll find Oaxaca City is home to many authentic experiences and traditional Mexican customs. There are some massive markets here to be explored, bustling plazas to navigate as well as old churches and museums to stroll around.
Traveling to and basing yourself in Oaxaca City is also great for exploring outside of the city. There are many things to see which can be done as day trips, including a visit to the Monté Alban archaeological site as well as a trip to Hierve el Agua.
Is it Safe to travel to Oaxaca City?
Oaxaca is generally one of the more safer states to visit in Mexico, and is a good reason why it tends to attract a lot of visitors, similar to the Yucatan Peninsula. Oaxaca City specifically felt like one of the safest cities that I visited in Mexico.
This is especially true with the popular central zone, which has a friendly small town vibe which is unlike what is found in many other big cities.
Be sure to research where you're going to stay and visit, and you'll have a pleasant, trouble-free experience. Of course, remember that you're in a foreign country, and having even a small grasp of Spanish will be really useful when out and about.
Things to do in Oaxaca City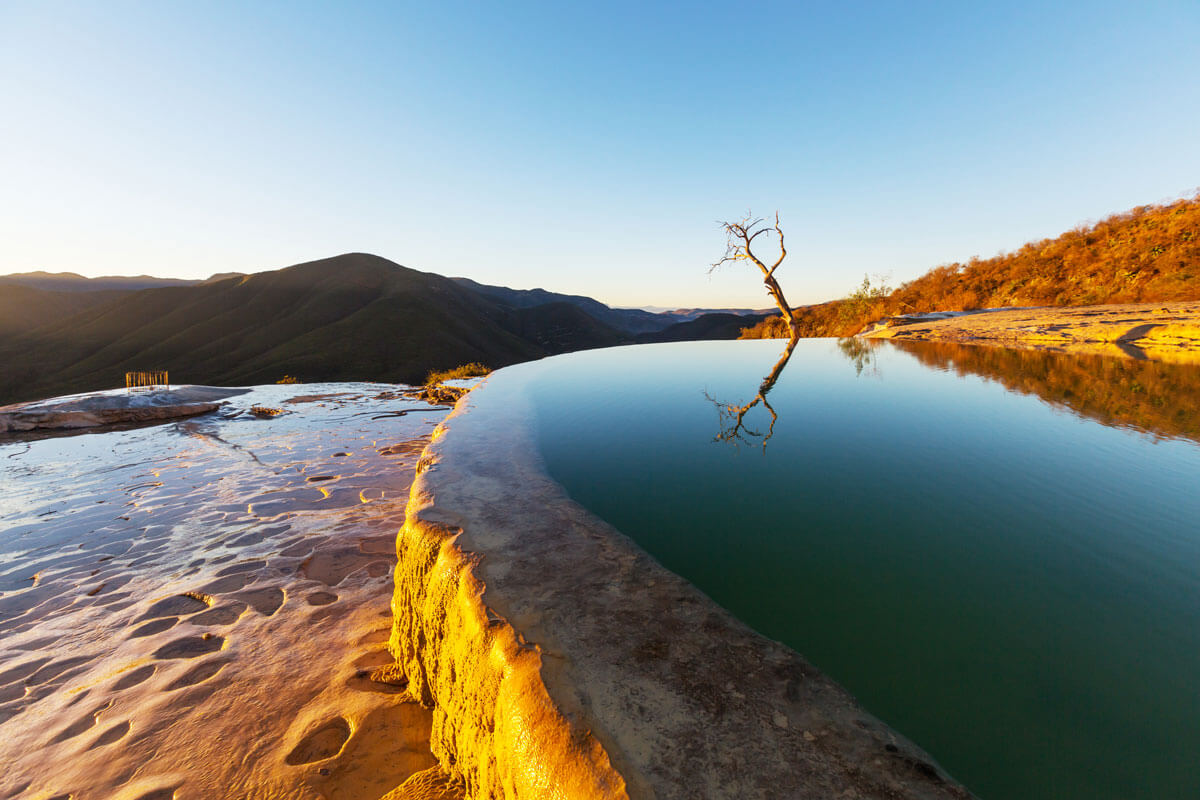 Now, let's delve into some of the cool things to do in Oaxaca City. We'll also explore some other popular attractions outside of the city, which can easily be organized as a half or full day trip.
Monte Albán Ruins
Monte Albán is an archaeological site located just one half an hour drive from Oaxaca City, which is impressive to say the least.
Perched on top of a mountain, this site used to provide a great vantage point to warn of any potential threats. Nowadays, the site can be accessed for a small fee.
There are many pyramids here you can see, and I believe this site looks way cooler than the ruins found in the
Riviera Maya region in places such as Tulum; or even the famous Chichén Itzá. Monte Albán has the most gorgeous backdrop of mountains!
Zócalo Oaxaca
The main square is easily one of the best things to do in Oaxaca City and is the place to be. Constantly heaving with tourists, there are tonnes of performances happening almost daily.
There are many restaurants here to whet your appetite as well as street food stalls. I recommend trying out a Froyo, which is a frozen dessert served in a cup with your choice of fruit. They're really tasty and can be bought from the small carts found around the plaza.
The Markets
There are two major markets in Oaxaca City – Mercado Benito Juárez and Mercado 20 de Noviembre. Both are vibrant, bustling markets and can be considered some of the best in the country.
Head to either to try out some of the Oaxacan cuisine, browse for novelties or just to experience a typical, busy Mexican market. Mercado Benito Juárez is especially good for finding cool crafts and handmade goods.
Museo de las Culturas de Oaxaca
A must-see for the lovers of the arts and culture. An old church-complex that has now been restored, this building now houses hundreds of different artworks. Walk around and see both a variety of pre-hispanic, colonial, and modern pieces of art, and learn more about the history and past life of Oaxaca!
Templo de Santo Domingo
This church and former monastery is the beating heart of Oaxaca City. You can visit inside and check out the courtyards and sanctuary. It is located in the center of the city, about 3 blocks walking from La Avenida de la Independencia.
Hierve el Agua
Another gem located outside of the city, this can easily be taken as a day trip from Oaxaca City. Hierve el Agua is an exceptional natural phenomenon and features a large petrified waterfall, as well as natural infinity pools with the stunning backdrop of the Oaxacan wilderness. It will take around 2 hours to get here, after navigating along the winding mountainous roads.
Travel Tips for Oaxaca City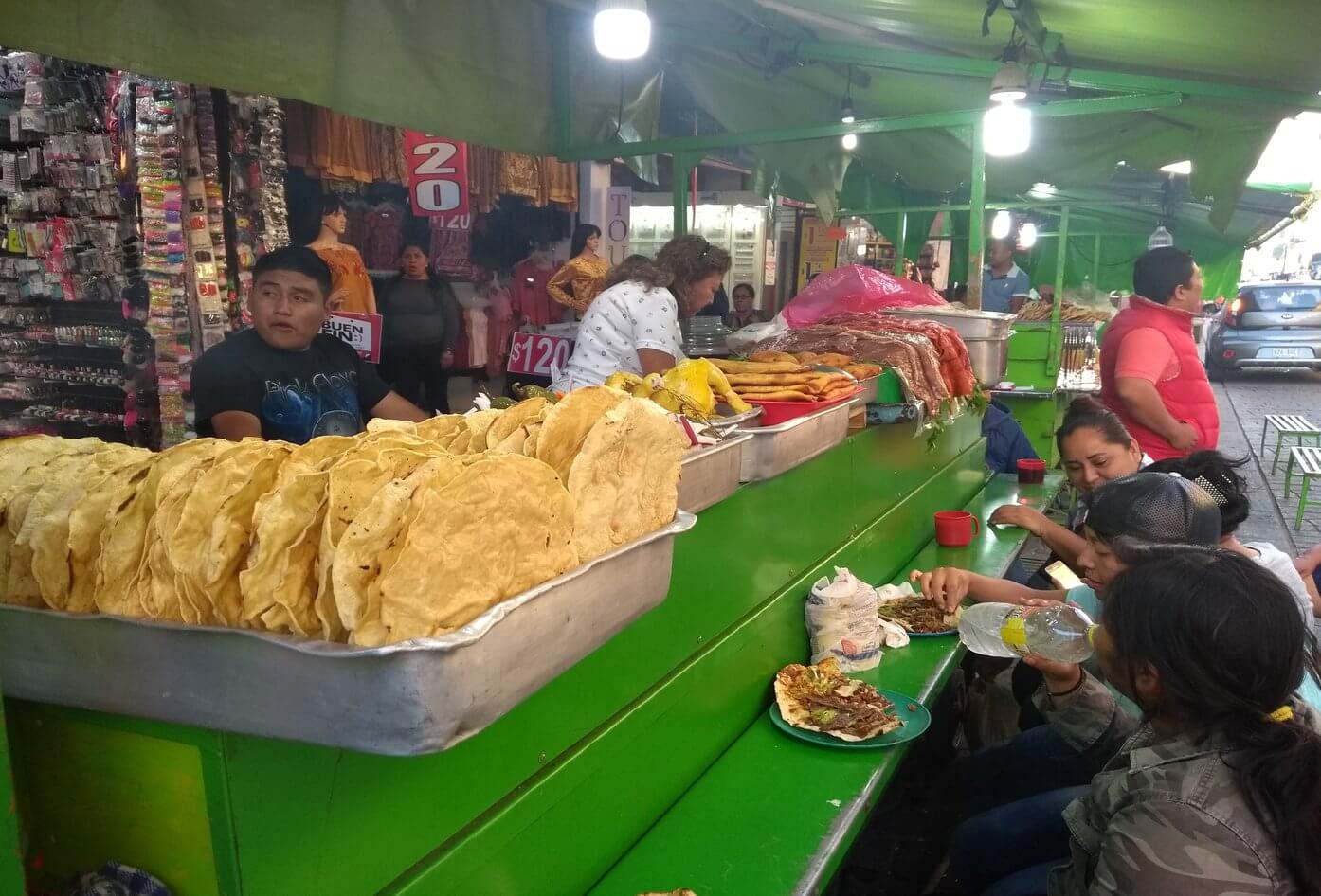 Best Time to go to Oacaxa?
The best times to visit Oaxaca City are during the Spring and Autumn seasons, specifically from April-May and September-October. Traveling during these times will see more relaxed temperatures averaging around 86°F in spring, and 80°F in autumn.
These seasons also happen to be less popular with other tourists, which means that accommodation prices will be slightly lower as is it off-peak season.
If you're thinking of heading in the summer months, then know that this coincides with the rain season, where the level of precipitation is much higher than the rest of the year.
The temperature is quite stable around 82°F. Also, be aware that the summer season is also more popular with tourists which therefore means higher room rates!
Also, consider visiting around the winter months.
This is considered low season and is the best time to score some cheap deals on accommodations and tours.
If you're thinking of visiting around this time, then be sure to pack some warmer clothes, as whilst averages are around 70°F, the weather can sometimes drop down into the 50s, especially in the more mountainous areas of Oaxaca.
My Oaxaca travel guide Recommendations
Considering the sheer amount of things to do in this region, I would allow at least 3 days in Oaxaca City (this would mean being out virtually all day seeing things. It really depends on how you like to travel).
Within the city, you can easily visit all of the main attractions within one day, as the cathedral, zócalo and markets are all within walking distance of each other.
The Monte Alban ruins are very popular, so try your best to get there as early as possible to avoid the crowds. I got there at around 10 am and it was already packed. My top recommendation would be a trip to Hierve el agua, as the scenery and landscapes are truly stunning.
Look at getting on a tour there, as sometimes they organize a trip to some lesser-known gems. For example, we were able to visit a handmade textiles shop where the group learned about how the indigenous make their fabrics using different colors, etc.
---
Thanks for reading this Oaxaca travel guide. With many already knowing Oaxaca as the best place to try some of the best of Mexican cuisine, lots still don't know what else there is to do here.
Hopefully, by reading this guide you have a better idea of what to see and do in the city, as well as cool the experiences you can have as day trips from the city. We've also looked at the best time to visit, including my recommendations to have a great trip here.
About the Author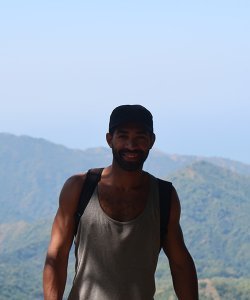 Daniel James from Layer Culture is a cultural traveler based in Colombia who dedicates his time to learning Spanish whilst exploring life in both Central and South America.
Follow along with his adventures in Latin America on Twitter, Facebook, and Pinterest.
---
Liked this post on all the best things to do in Oaxaca City and Oaxaca travel guide? Bookmark for later or share the love on Pinterest below.