Looking for the best things to do in San Francisco? We got you. San Francisco is one of our all-time favorite cities. There really is no other city like it. Not only is San Francisco home to one of the most iconic and famous bridges in the world, but it's home to the country's oldest Chinatown, insanely good seafood and sourdough bread, thigh-burning hills, and who doesn't love the dollhouse Victorian architecture you can find all over the city?
Oh, and it's one of the best places to visit in Northern California too.
I feel like within the United States, there are a few destinations/cities that really have a full-on personality of their own not replicable in any other place, that list of ours includes cities like New Orleans, New York City, and San Francisco.
And while the city has seen some struggles over the years, it still is a really special destination and a place you really can easily fall in love with.
Personally, this is one of our favorite destinations to travel together as when we first started dating, this was our first trip together. And we are lucky to have friends in the Bay area and in the city that we have excuses to visit, including this last summer for a dear friend's wedding. During this time we fell in love all over again with the city.
Tips for Visiting San Francisco: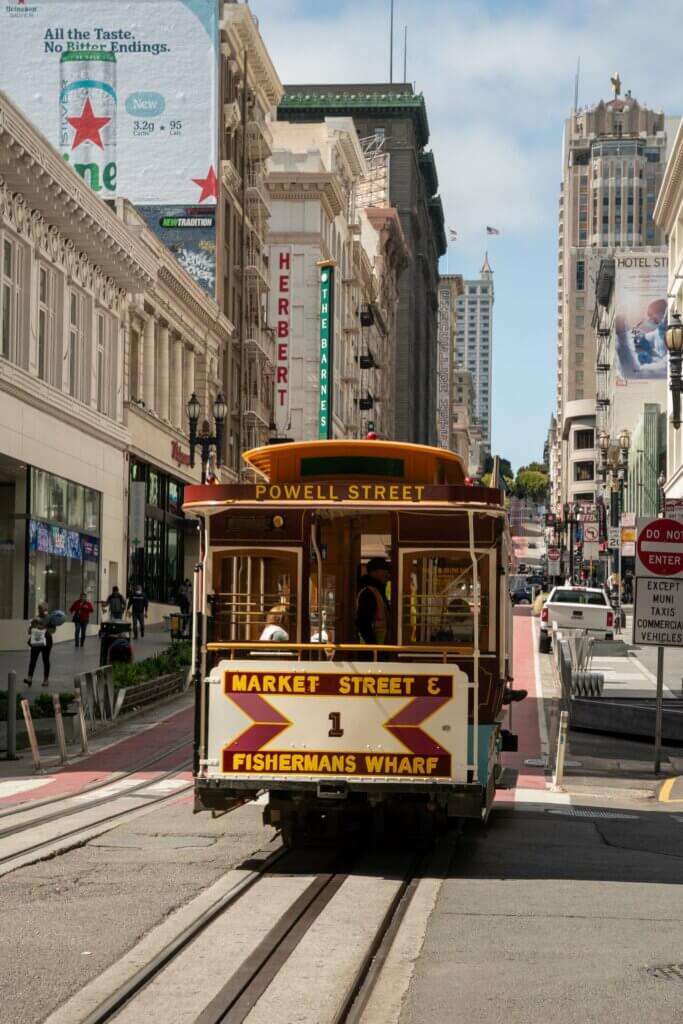 It's no secret that San Francisco has been flooded with stories in the news about the city's struggles, and while these are all important topics to be brushed up on and up to date with, it can cause fear-mongering and deter visitation. The problems they are facing are the same problems alot of cities and places in the United States are struggling with, so as long as you're aware and treat your visit like you would (and should) anywhere else you go, you'll be fine.
We are going to share a few general tips for your visit.
First, we are going to address the uptick in crime. The crime you're hearing about is most likely the "smash and grabs" which are when opportunist thieves break car windows and steal from cars. You really don't have to worry about this unless you're in a rental car or your car. In that case, leave NOTHING in the car. Not even a phone cable, shopping bag, luggage, sweatshirt, anything.
We didn't understand the severity of it until a local friend was driving us around and I was going to leave a record I just bought in the car while we looked at a view of the Golden Gate Bridge, she said I have to carry it and told us how you can't even leave a cup in the car.
Again, this was only an issue if we had a car or were in a car. We recommend just not bothering having a car in any city trip or visit so you can easily avoid this issue.
You'll also most likely hear about the increased homeless population. A majority of where you'll see this is around the Tenderloin District, a popular area for locals and tourists. This is where a lot of the essential social services are for the homeless population, hence the notable concentration in this area.
Most of the homeless population keeps to themselves, but if anyone approaches you, just continue on your way and avoid confrontation, they will likely move on. If you ever feel like your safety is at risk, just go inside a business and either ask them how to get where you're going or use this as an opportunity to call a ride share.
And just like any other city you visit, when you're using public transportation or walking around be generally aware of your surroundings and keep your wallet in a sensible pocket and keep your purse zipped.
Other than those few tips, you really will be fine. The news has really made it seem like San Francisco is unsafe, and it's not. Be sensible like you should and would anywhere you go.
OH, and wear comfortable shoes! I mean it! Even coming from New York City where we walk alot (and living up a hill that I walk daily), walking in San Francisco kicked my butt and I consider myself in pretty good shape for the reasons mentioned plus we are pretty active. I was really glad to have extra comfortable walking shoes for travels like this.
Disclaimer: This post contains affiliate links.
Best Places to Visit in San Francisco
Explore Chinatown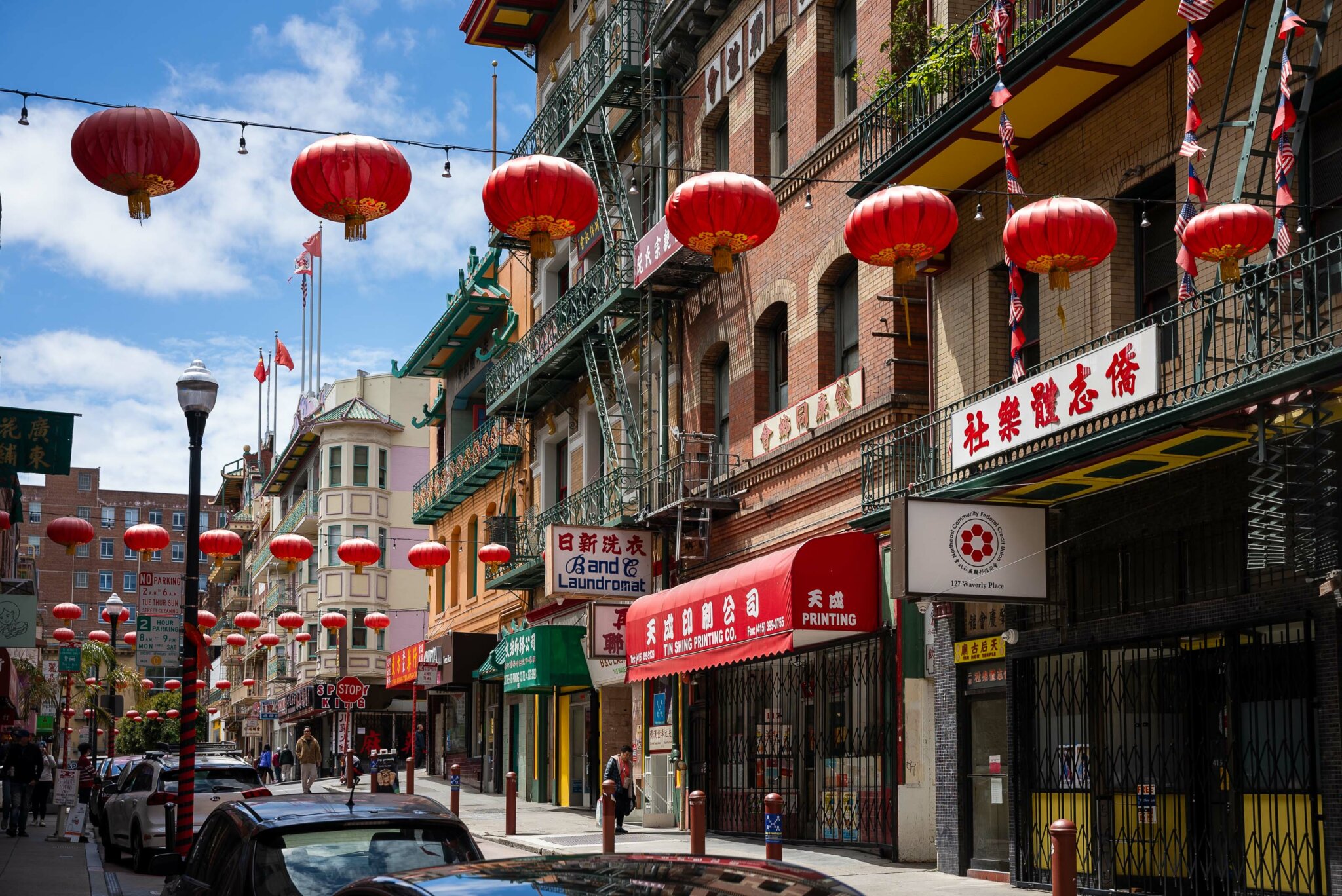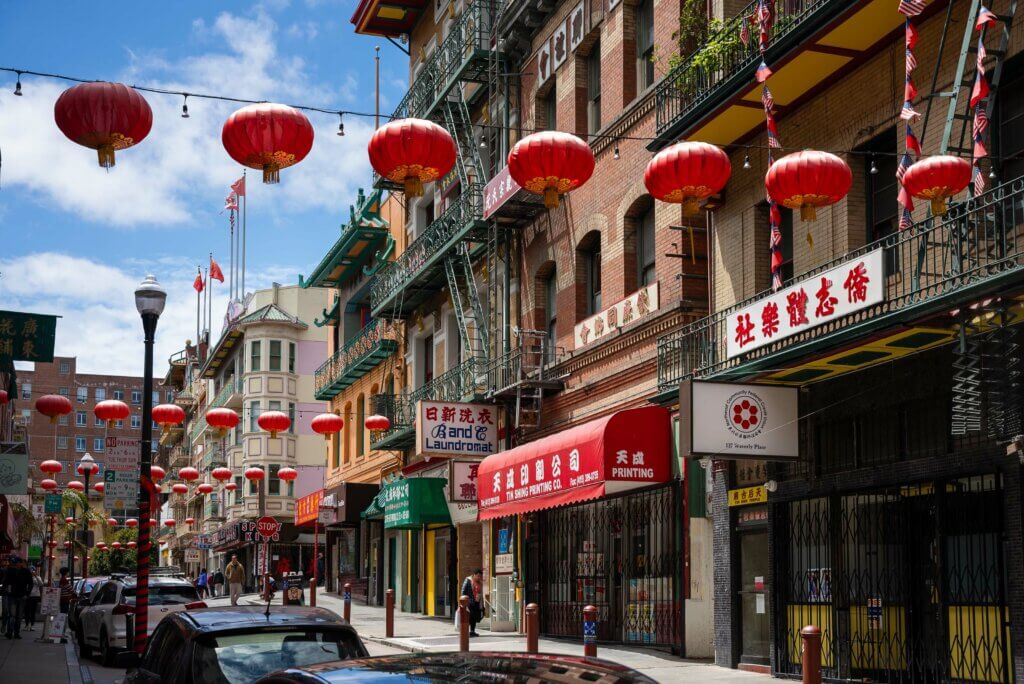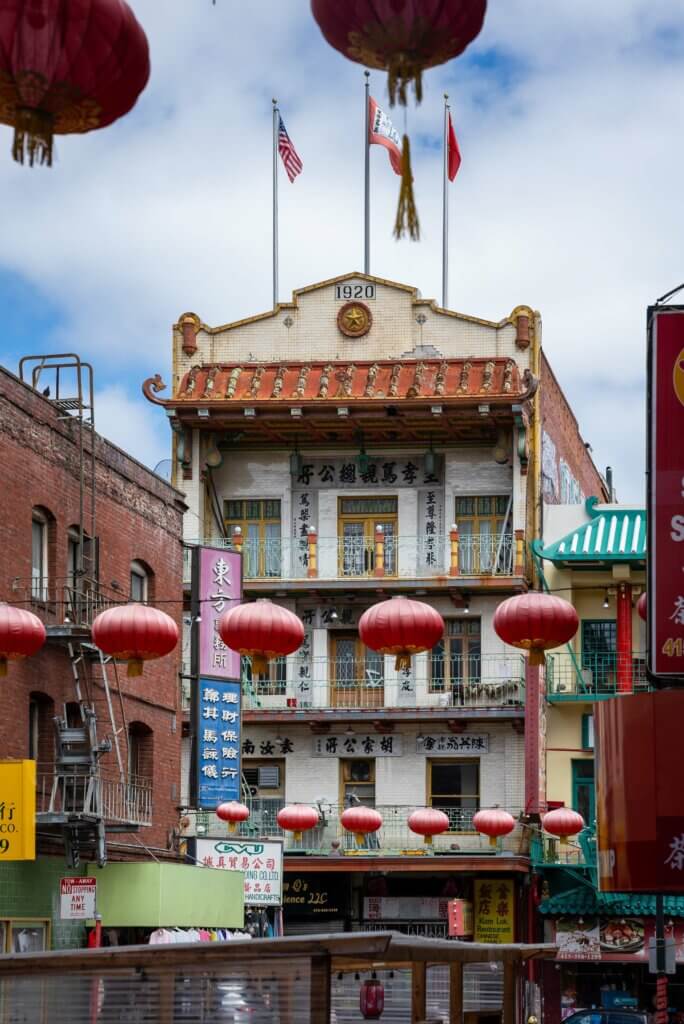 When most people visit San Francisco for the first time, Chinatown is at the top of their list. And of course! It's the oldest Chinatown in North America and features San Francisco's iconic rolling streets adorned with strings of paper lanterns. Living in NYC, we love a great Chinatown (and we love ours) but there's something really special about San Francisco's Chinatown, the Chinese-influenced architecture, array of colors, and sheer size of the area make it feel like you've stepped into another city.
One of the best things to do in San Francisco is start at the ornate Dragon Gate and head down Grant Avenue, lined with traditional shops and eateries. Try dim sum or Peking duck at House of Nanking, a famous and favorite spot. Then for dessert, get your hands on an egg tart from Yummy Bakery Café.
From herbal medicine stores and antique shops to souvenir vendors, Chinatown offers a treasure trove of unique finds. And don't forget that part of the experience of shopping in Chinatown is bartering! Many of the shops, especially those selling clothing, accessories, and souvenirs, are open to negotiation on prices.
One shop that's really interesting is Buddha Exquisite, which sells ceremonial supplies with an impressive selection of Joss paper, a Chinese-Taoist ceremonial paper used as a currency (often called "spirit money" or "ghost money") that is burned as an offering to deceased ancestors and spirits to provide for them in their afterlife. You'll find all kinds of joss paper in form of clothing, everyday items, and even food all made out of paper for this ritual.
You'll feel the history beneath your feet with stops like the Tin How Temple, the oldest Chinese temple in the US. Did you know that fortune cookies were invented right here over 100 years ago? Make sure to stop at the Golden Gate Fortune Cookie Factory, where you can even make your own cookies!
And one of the best things to do in San Francisco and Chinatown is of course eating your way around the neighborhood. Consider joining a cultural walking and culinary tour that includes an intimate history of the neighborhood and a traditional Chinese lunch. Or this wonderful history and cultural tour through Chinatown.
Check Out Pier 39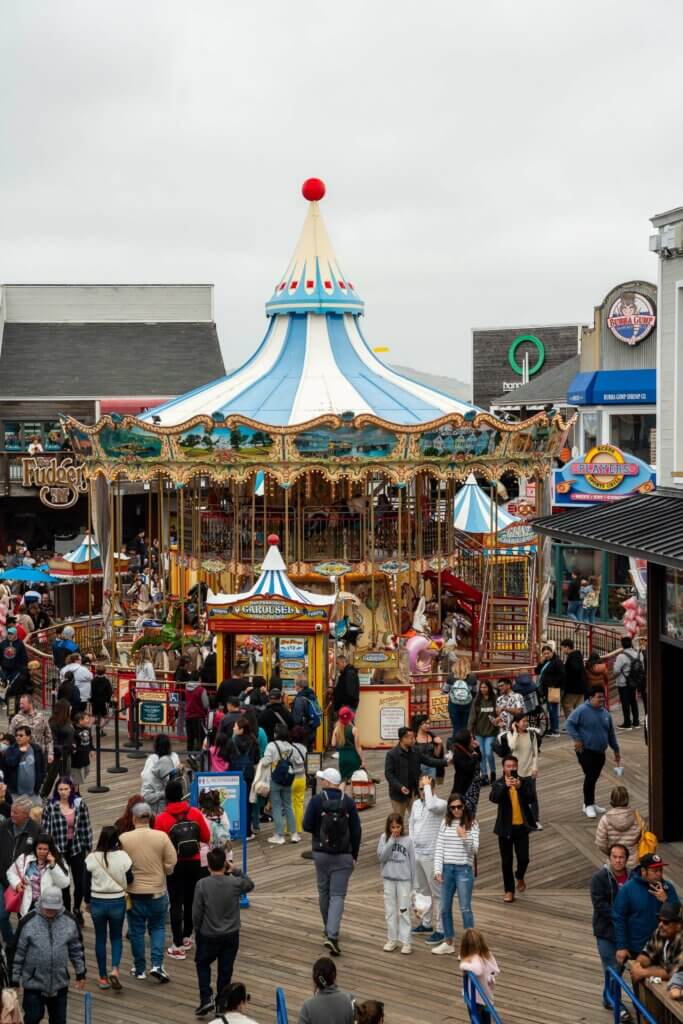 A highlight of the Fisherman's Wharf neighborhood and one of the most popular places to visit in San Francisco is Pier 39. Once a busy cargo pier, the pier has been transformed into a hub of entertainment, shops, restaurants, great views of the bay, and even a herd of sea lions!
If you love places that are just buzzing with energy and offer alot to do in one space, you'll love the atmosphere at Pier 39. You'll see street performers, souvenir shops, a variety of dining options, and family-friendly attractions! Explore the Aquarium of the Bay, ride the double-decker Carousel, or enjoy all the shops.
While you're here, peep at the resident sea lions! There's a spot where you can watch these playful creatures on the docks as they sunbathe. Sometimes there's a wildlife representative there that will answer your questions. The best time to see the sea lions tends to be in the afternoons.
A lot of people come to Pier 39 for the amazing views of the sunset behind the Golden Gate Bridge. Pier 39 comes alive with twinkling lights and you can capture stunning photos of the iconic bridge and Alcatraz Island from here!
Pier 39 is also next to where alot of the Bay Cruises and Alcatraz Island tours depart from at Pier 33, it's a very short walk. We actually did an excellent Day in San Francisco Tour with Take Walks that covered Chinatown, North Beach, riding a cable car, and a scenic bay cruise that went under the Golden Gate Bridge from here. We highly recommend checking out this tour if you want to have an action-packed day with a guide.
Ride A Cable Car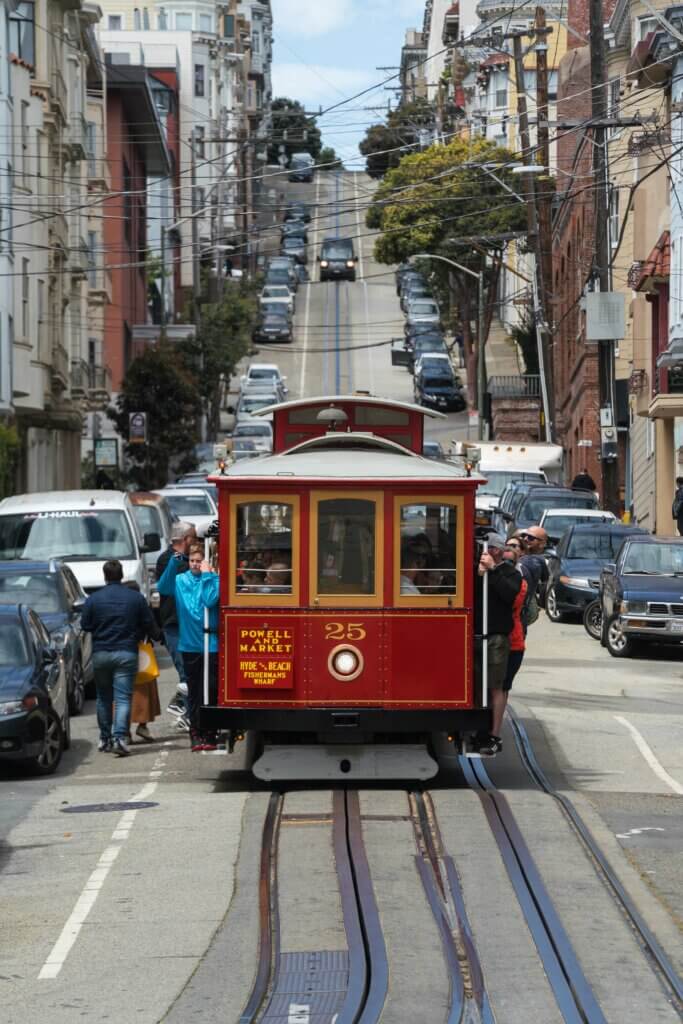 Whether you're trying to get from point A to point B or just looking for a thrilling ride, hopping on a historic cable car through the streets is one of the most unique things to do in San Francisco!
There are three different cable car lines: Powell-Hyde, Powell-Mason, and California Street. The Powell-Hyde line, for example, starts at Powell Street near Union Square. You'll ride steep hills, passing landmarks like Lombard Street, the "most crooked street" in the world.
But riding a cable car isn't just a mode of transportation! It's one of the most fun things to do in San Francisco. The historic cable cars feature iconic bells and wooden benches. You can literally sit in a piece of the city's history while enjoying a fun and scenic way to get around.
Cable cars are a popular attraction, so be ready for crowds, especially during the peak season. You can purchase single-ride tickets or choose multi-ride passes for more flexibility. If you pay when you board, you'll need exact change. But the easiest way is through the MuniMobile app!
Familiarize yourself with the cable car routes so you can pick one that is convenient for your trip.
Ride a Historic Streetcar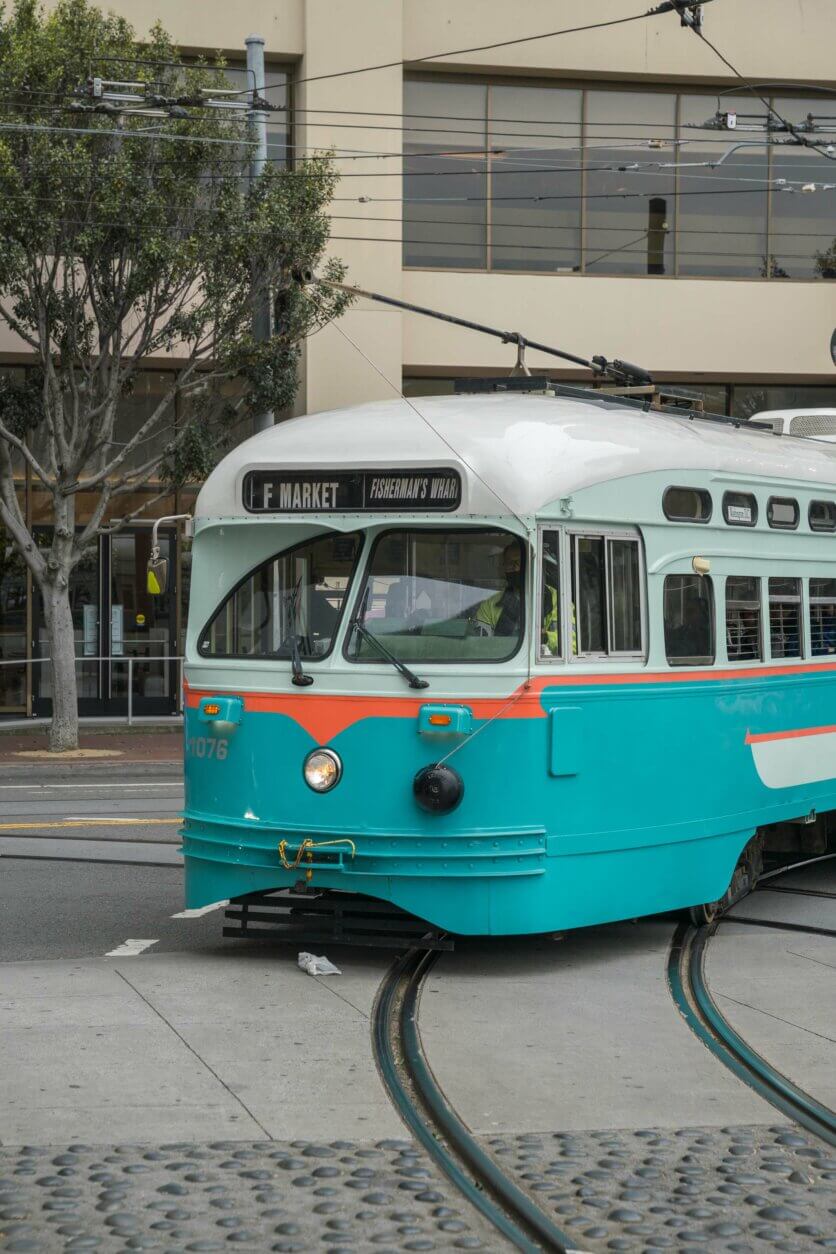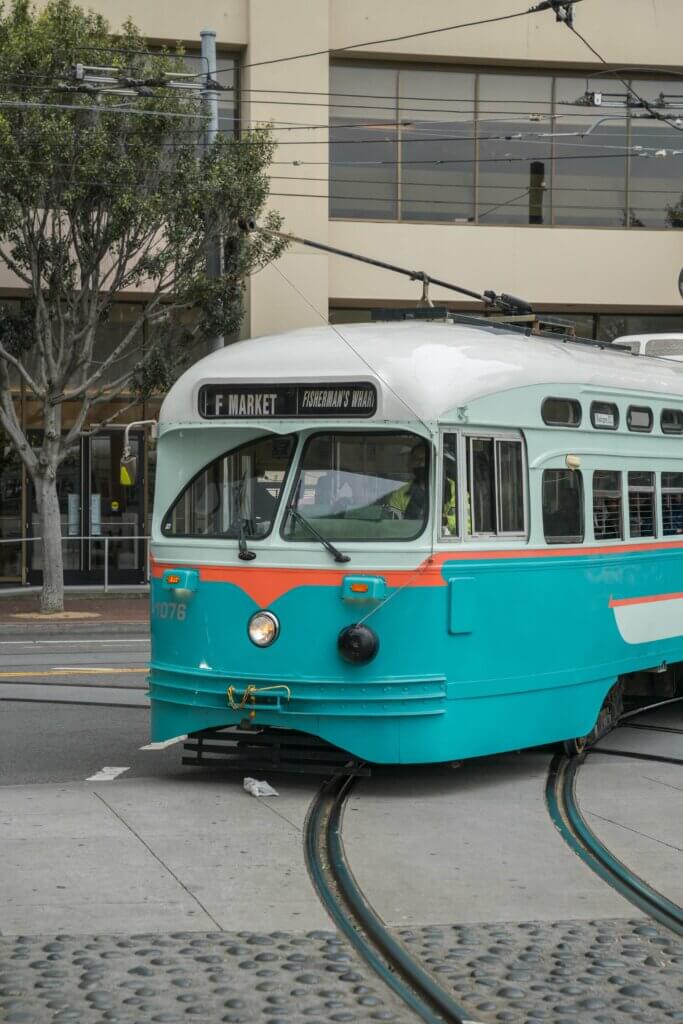 Just as iconic as San Francisco cable cars are the city's stunning vintage streetcars. Unlike cable cars, which rely on an underground cable system, streetcars operate on tracks and are powered electrically.
And we love the distinctive look of SF's sleek streetcars! Riding one is definitely one of the most unique things to do in San Francisco. They come in several designs, including historic ones from around the world!
There are a few different streetcar lines, with the most popular being the F-Line that runs along the Embarcadero from Fisherman's Wharf to the Castro District. It's a great way to reach landmarks like Pier 39, the Ferry Building, and the historic Castro Theatre
Streetcars stop at designated stations along the route. Simply wait at the marked stops, and when the streetcar arrives, hop on! And you can use the same Muni payment methods as buses and cable cars.
See the Curvy Lombard Street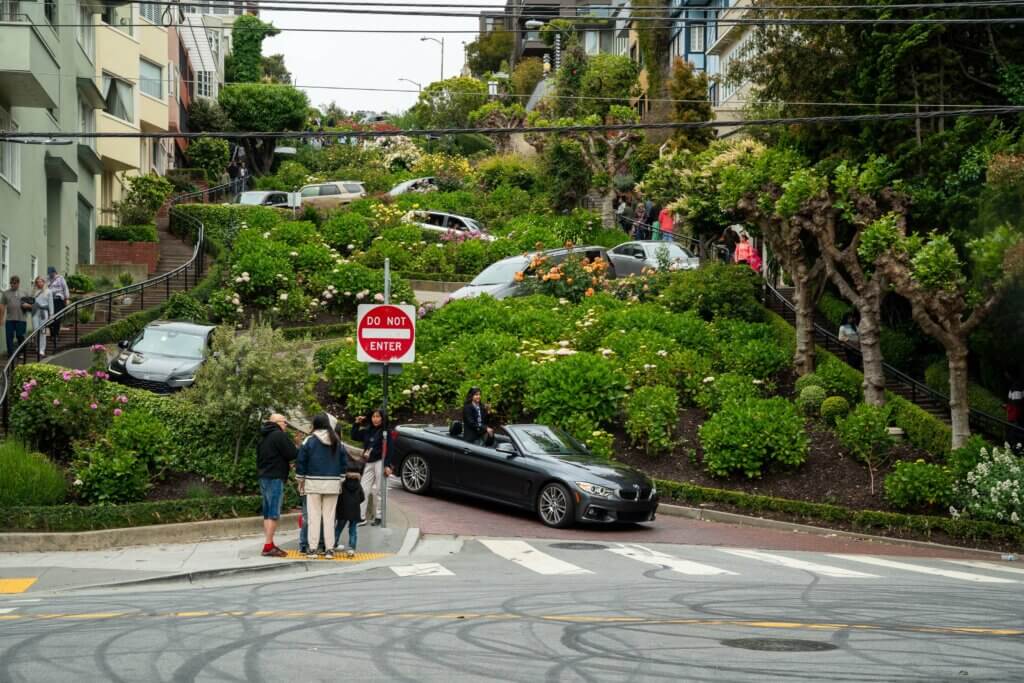 You might stumble upon Lombard Street while you're exploring the San Francisco neighborhood of Russian Hill, but many people seek out this world-famous landmark, I know I did on my very first visit to San Francisco in my college years!
You can navigate this iconic winding brick road via car or climb steps and walkways along each side of the street. The best way is by foot in my opinion as it's easier to check out different vantage points and get photos this way!
This uniquely crooked street dates to the early 1900s when its steep grade posed a challenge for vehicles. The solution? A series of 8 hairpin turns that transformed the street into a mesmerizing zigzag lined with flower gardens!
For the most blooms, visit Lombard Street during the spring and summer. And this is another popular tourist attraction, so avoid crowds by visiting earlier in the day.
Also, the Hyde/Powell Cable Car stops at the top of Lombard Street if you want to use this as an opportunity to tie in another one of the best things to do in San Francisco with this!
Have A Sourdough Bread Bowl at Boudin's Bakery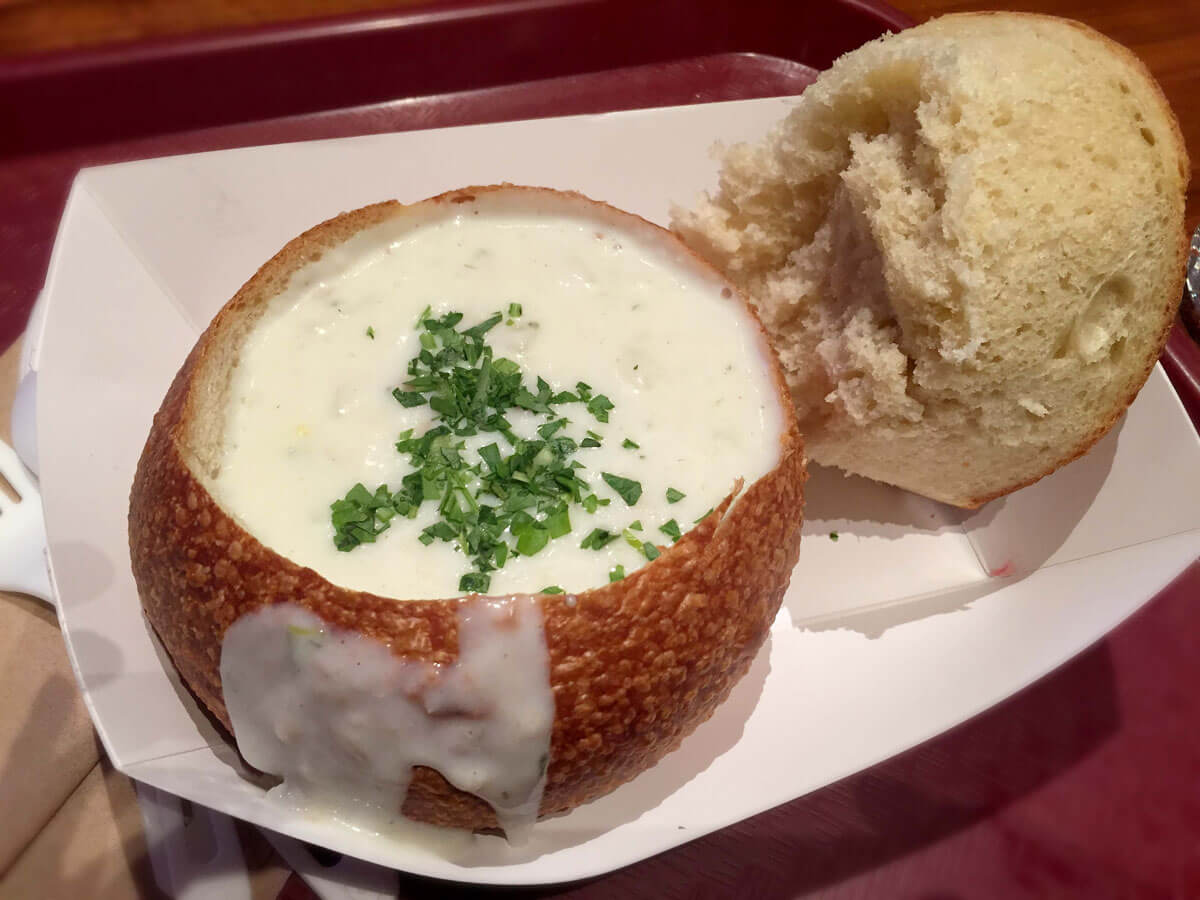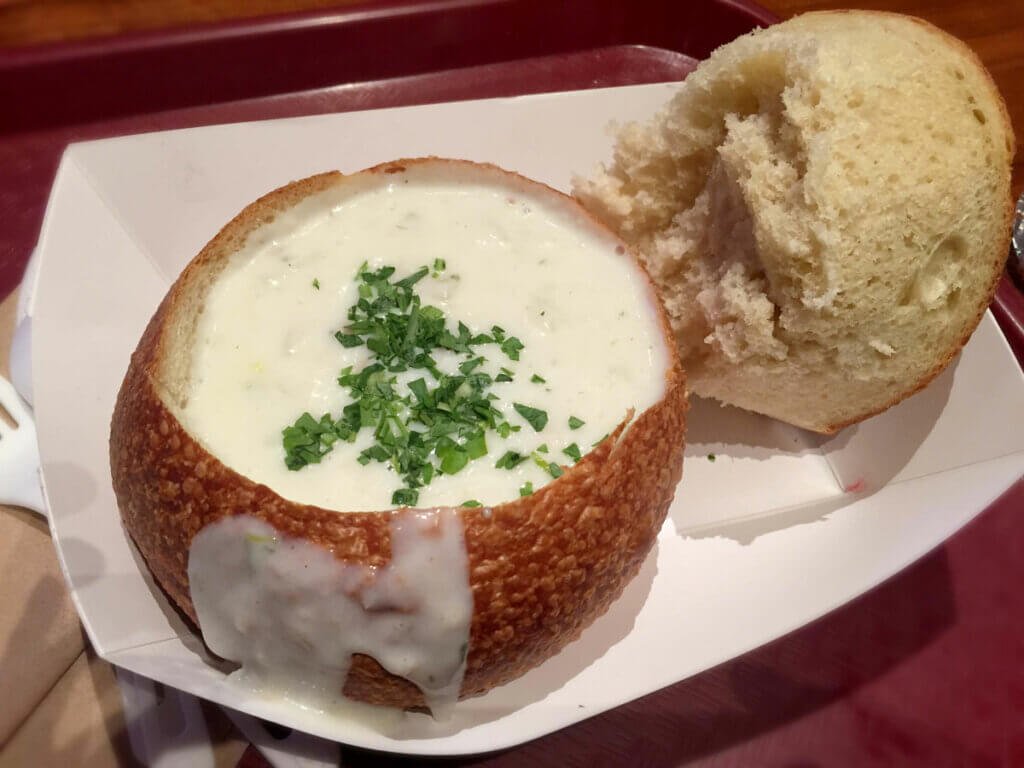 Foodies looking for what to do in San Francisco should plan at least one stop at Boudin's Bakery (or another famous San Francisco bakery known for their sourdough!). Try the bakery's world-famous sourdough bread, crafted using a special mother dough that's been nurtured for generations.
You'll find a handful of locations, but the original flagship location is at Fisherman's Wharf. Open since 1849, this bakery is a piece of San Francisco history. Here, you can watch the bread-making process through glass-paned windows and check out exhibits at a museum.
A must-try for first-time visitors is Boudin's clam chowder, served in a freshly baked sourdough bread bowl. It's the perfect blend of San Francisco's culinary gems, combining the city's famed sourdough and quality seafood! And if you happen to be visiting on a brisk day, it's the perfect comfort meal.
And don't miss the chance to take a piece of Boudin's home with you. Their wide array of bread and baked goods, including mini sourdough loaves, makes for delightful souvenirs or gifts (if they make it home before you can eat it!).
Check Out Ghirardelli Square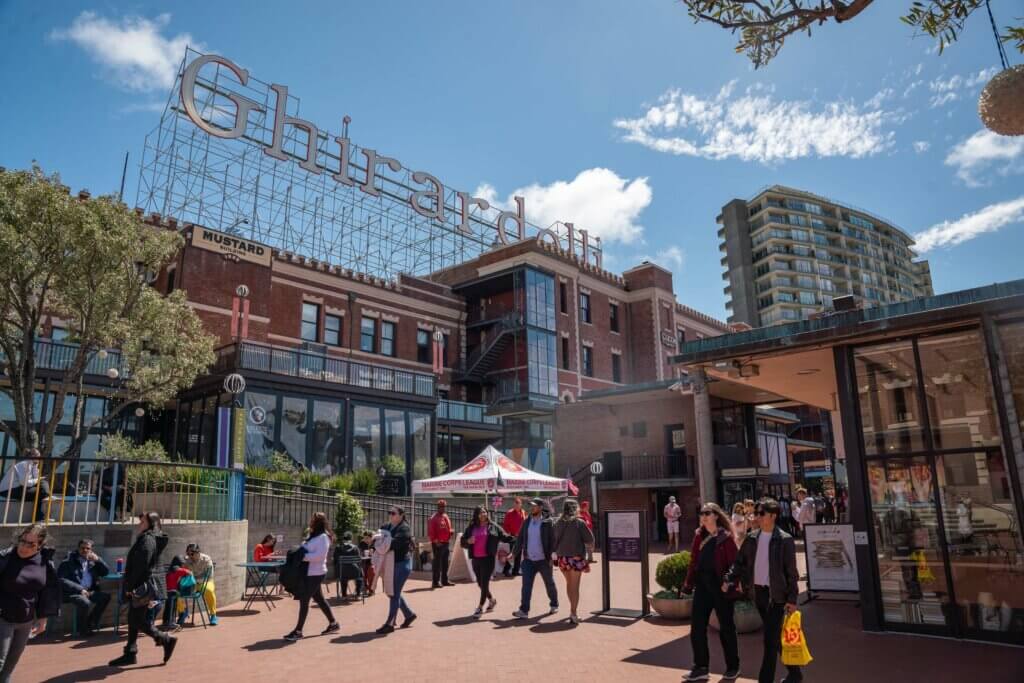 If you're looking for the best things to do in San Francisco, you'll want to visit Ghirardelli Square. Domingo Ghirardelli set up his chocolate factory here in 1893, and the rest is history! Their famous ice cream sundaes actually was on my radar since I was a teenager and on my first visit to the city, this was one of the top things on my must-do list in San Francisco!
Today, the site is a city landmark and a shopping hub. You can check out the artisan boutiques, cafes, bakeries, restaurants, and of course, the Ghirardelli chocolate shop. And this is one of our favorite places to visit in San Francisco for anyone with a sweet tooth as this is where you can find their world-famous ice cream sundaes oozing with hot fudge.
After stopping by the Ghirardelli Marketplace for a sweet treat, stroll through the complex and admire the old buildings. The square hosts events throughout the year, so there's always something exciting going on and it's easy to explore Fisherman's Wharf here on foot too!
Walk Around Haight-Ashbury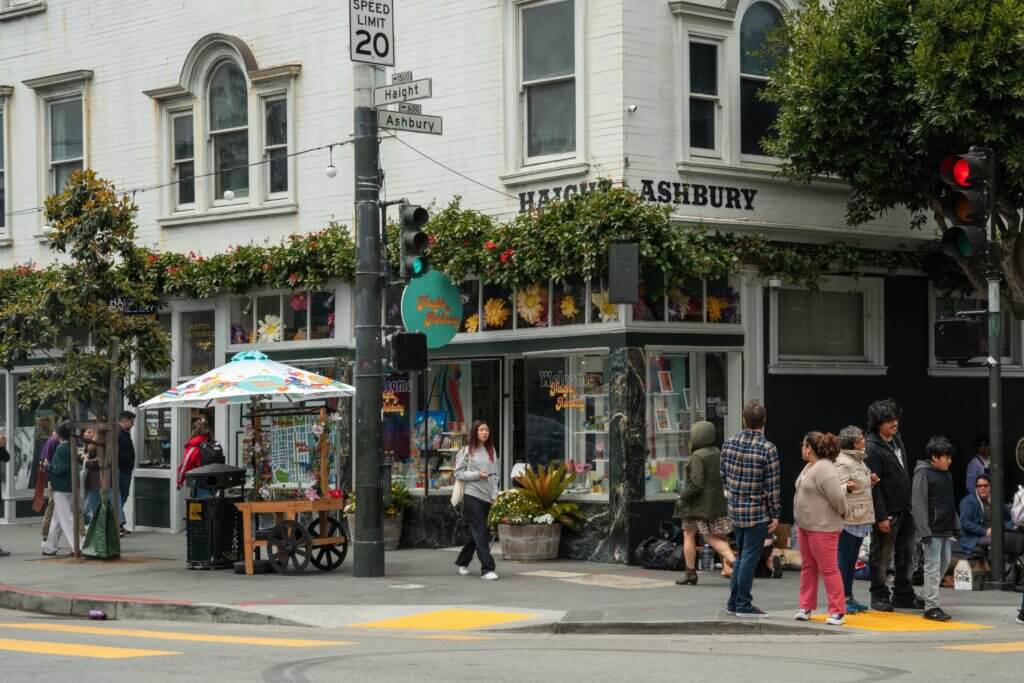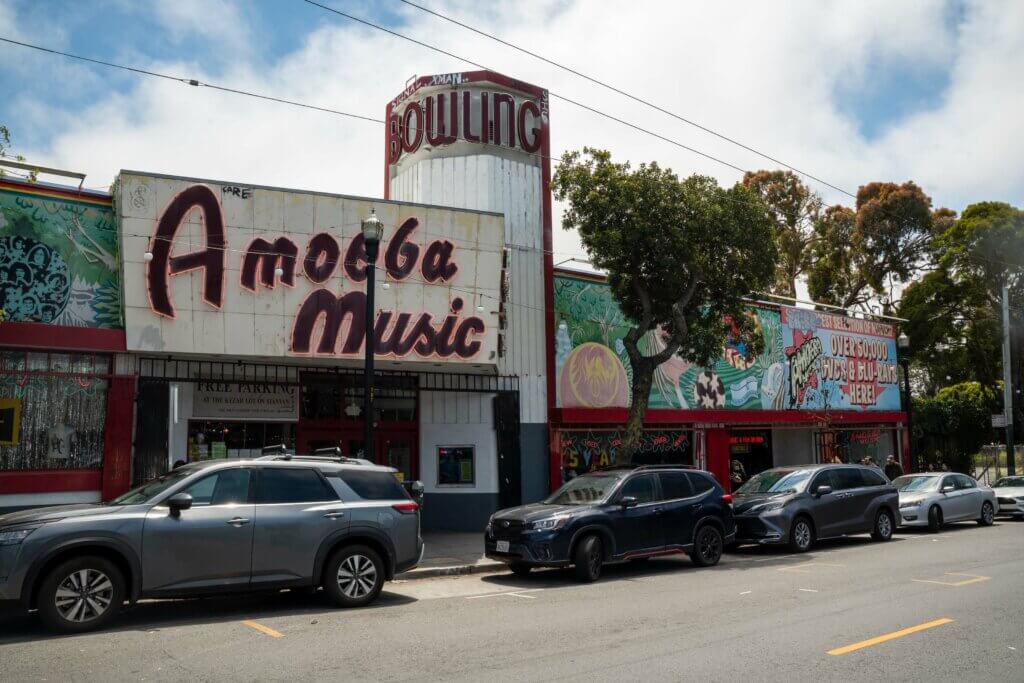 San Francisco neighborhoods present a kaleidoscope of colors and histories, and Haight-Ashbury is an especially unique area to explore. The neighborhood gained fame during the 1960s as the epicenter of the counterculture movement. It was a haven for artists, musicians, and free spirits who didn't have anywhere else to go.
Today, exploring Haight Ashbury is the answer for what to do in San Francisco if you love a retro vibe and vintage shopping! The neighborhood feels lost in time, with colorful Victorian houses, rainbow-hued storefronts, and murals that celebrate its hippie heritage.
Music lovers and fashion enthusiasts will be in heaven here! The neighborhood is dotted with record stores offering vintage vinyl, as well as boutiques filled with retro fashion, crystals, pottery, and more. One spot not to be missed is Ameoba Music and I really enjoyed browsing Decades of Fashion's ginormous collection of antique and vintage clothing. They had pieces from the 1880s to the 1980s!
After a day of shopping, enjoy delicious food at a local eatery. You'll find everything in Haight-Ashbury from cute cafes to international cuisine.
Sit outside a local café or park bench, and you're guaranteed a fascinating people-watching experience. Haight-Ashbury still attracts an eclectic mix of individuals, from modern-day hippies to curious tourists. And don't forget to admire the bright and beautiful street art that covers walls throughout the neighborhood!
This is also a great addition when exploring more of the popular places to visit in San Francisco like Alamo Square Park (aka where the Painted Ladies are) and Golden Gate Park.
See the Painted Ladies from Alamo Square Park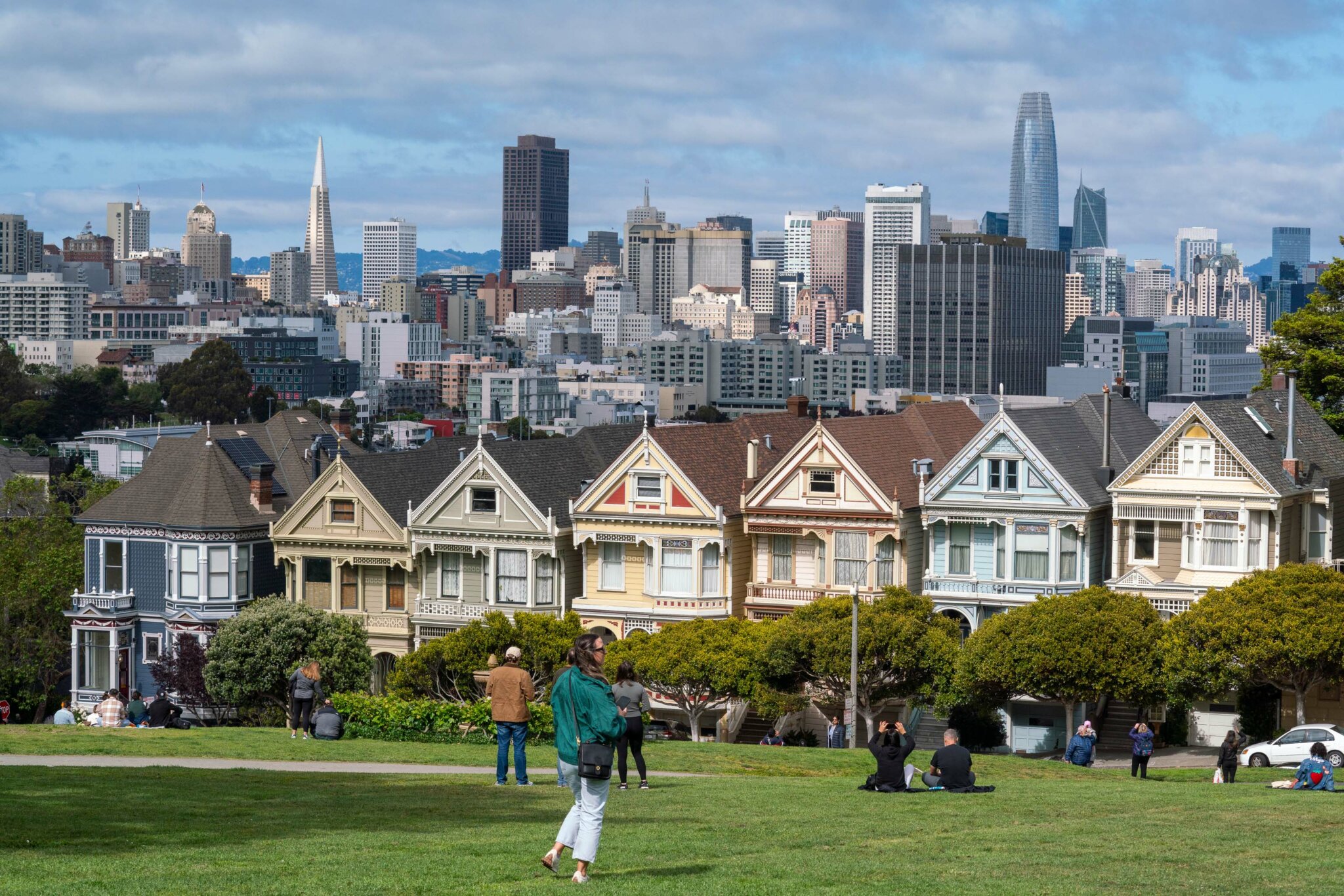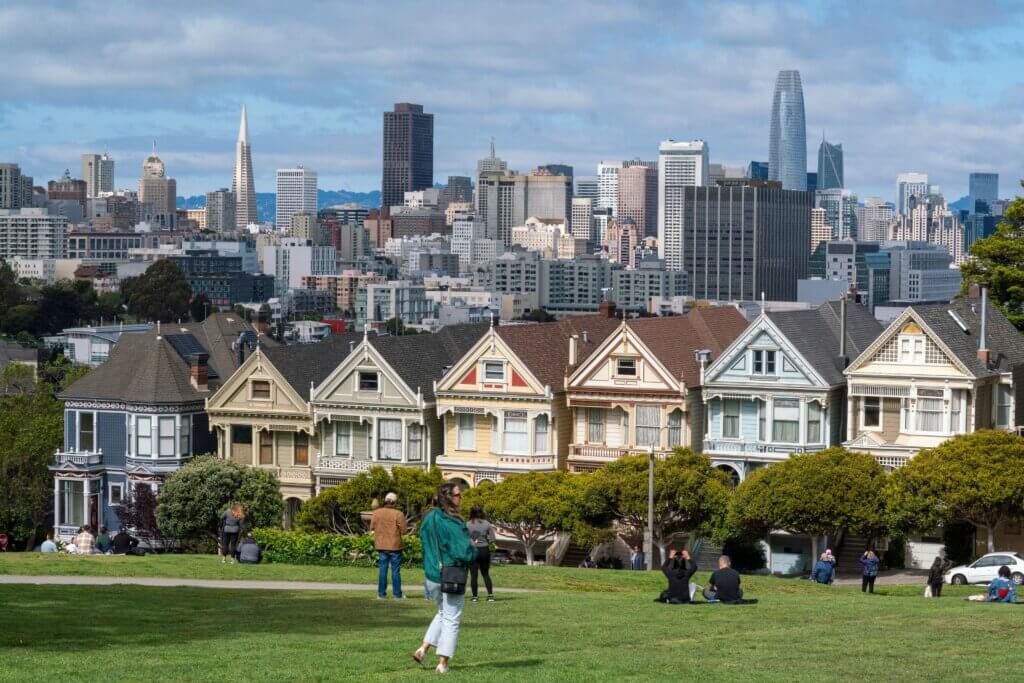 Cue the intro to Full House, where the entire Tanner family is having a picnic with the iconic painted ladies and the city skyline in the backdrop. That famous view is from Alamo Square Park and is one of the top places to visit in San Francisco!
Alamo Square Park offers panoramic views of the city and the perfect vantage point to marvel at the magnificent row of Victorian dollhouse homes known as the Painted Ladies. With the San Francisco skyline as a backdrop, it's a prime spot for a leisurely afternoon and one of the best things to do in San Francisco.
This row of impeccably preserved Victorian houses dates back to the late 19th century and are a renowned example of San Francisco's architectural legacy as well as have become a symbol of the city's unique character. The row of houses is often referred to as the "Postcard Row," and for good reason! It's hard to pass up the opportunity to photograph the vibrant colors and intricate details.
Also, walk the perimeter of the park to see more cool houses like the William Westerfield House!
After soaking in the views, we recommend grabbing a meal along Divisadero Street. This bustling area is full of delightful food spots and shops.
See the Golden Gate Bridge
Did you even come to San Francisco if you didn't see the Golden Gate Bridge? The answer is NO! Haha, but seriously, it's hard to miss. And while it's hard to miss, there are definitely better vantage points to take advantage of and take in the breathtaking views of not only the Golden Gate Bridge but the San Francisco Bay and maybe even Karl will make an appearance (the fog in SF has it's own name!).
Completed in 1937, The Golden Gate Bridge is more than just a pathway connecting San Francisco to Marin County. The bridge's towers were once the tallest structures in San Francisco. Its construction was a feat of engineering brilliance, and it inspired many during the Great Depression and beyond.
The iconic bridge stretches almost 2 miles, offering stunning views of the San Francisco Bay, Alcatraz Island, and the city's skyline. And its vibrant International Orange color adds to its unique charm! You can drive over the bridge by taking the 101 or walk the length and back by heading to the pedestrian walkway at the southeast end. It's for sure one of the most unique things to do in San Francisco.
Seeing the Golden Gate Bridge is an experience that will stay with you forever! Whether it's a fog-shrouded morning or a clear, sunny day, you'll want to capture each moment at one of the world's most renowned landmarks. Although we do recommend checking the web cam to see the fog conditions if you're going out of your way, people can be disappointed if Karl is too thick and visibility is none).
A few of our favorite ways to see the Golden Gate Bridge include from Crissy Field or by taking a scenic Bay Cruise that goes under the Golden Gate Bridge!
If you do have a car (a lot of people come by doing a California Coast road trip) you can get epic views from Battery Spencer.
Check out the Gardens & Museums in Golden Gate Park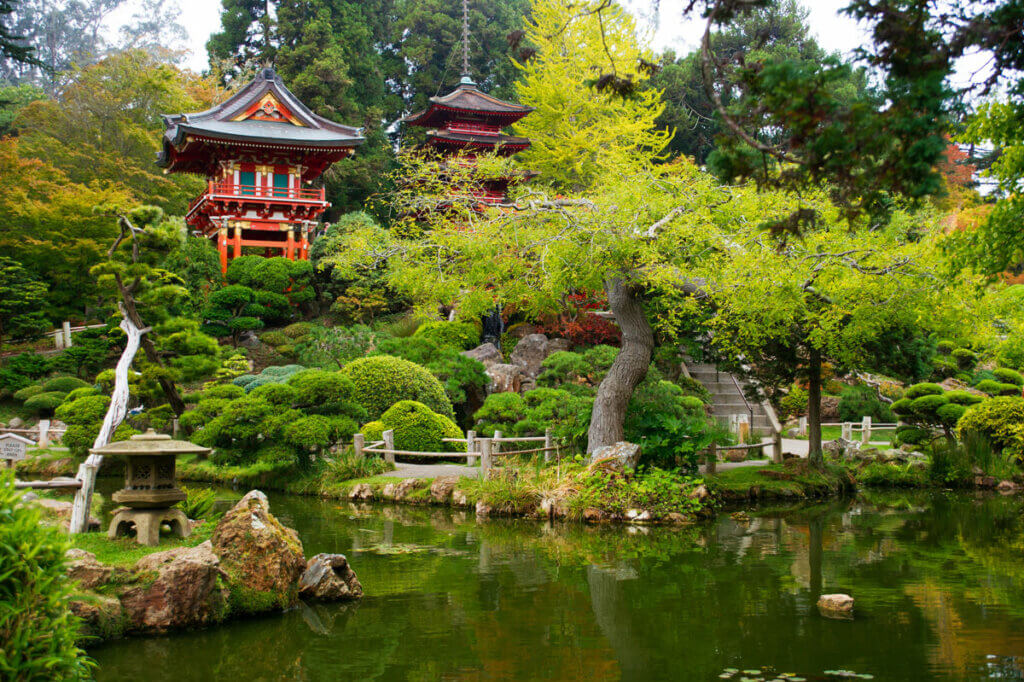 Another one of the best places to visit in San Francisco is Golden Gate Park, the city's largest urban park that's actually larger than Central Park in NYC! This sprawling oasis offers a plethora of activities for all ages among dramatic landscapes and pretty gardens. Among its gems, the park boasts fascinating museums that you'll want to set aside a whole day to explore!
Soaking in the serenity of the Japanese Tea Garden is one of the best things to do in San Francisco. Stroll along tranquil ponds, beautiful plants, and traditional structures that embody the essence of Japanese aesthetics.
De Young Museum won't disappoint, with its impressive collection of American art, textiles, and indigenous artifacts. The museum building on its own is a work of art, featuring thought-provoking architecture! There's also an observation tower here that you can go up into for great views.
If you love natural history museums, make sure to plan enough time to visit the California Academy of Sciences. It includes an aquarium, a planetarium, and a living rainforest! And don't skip the mesmerizing "living roof," covered in native plants that also serve as natural insulation.
And it goes without saying that you need comfortable walking shoes for your San Francisco itinerary, plan on walking alot in Golden Gate Park if you plan on seeing as much as you can here. There are also bicycle and surrey rentals available around the park.
Tour Alcatraz Island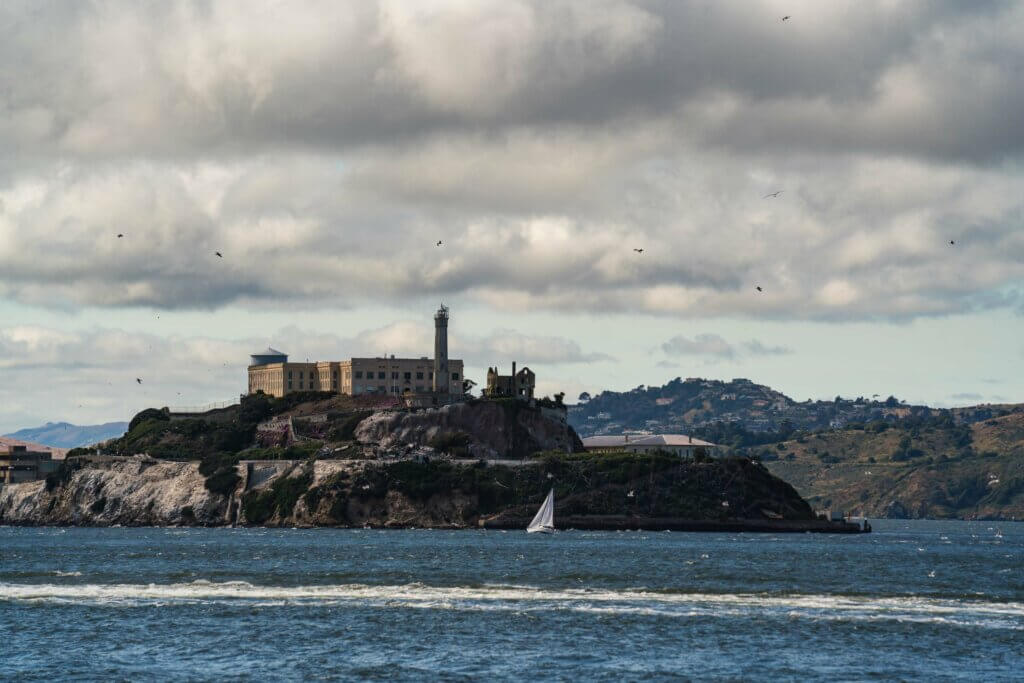 For more iconic places to visit in San Francisco, consider a tour of Alcatraz Island. This intriguing landmark has a long, dark history. It was a military stronghold in the 1700s, a state penitentiary in the 1900s that hosted notorious criminals, and shortly the site of protests over Native American rights!
Today, the island is part of the Golden Gate National Recreation Area, preserving its history through haunting ruins. To visit Alcatraz, secure your tickets online in advance. Ferries depart from Pier 33, offering a scenic ride by the Golden Gate Bridge along the way.
Alcatraz housed some of the most notorious criminals, including Al Capone and "Machine Gun" Kelly. You can also When you visit, you'll walk through the cells, corridors, and common areas while listening to a self-guided audio tour narrated by former inmates and guards.
But Alcatraz isn't just about the prison. You'll also have access to an exhibit on the American Indian Occupation of 1969. The island has gardens, bird colonies, and ruins of military structures that you can explore along nature trails. Hike to the top for sweeping views that encompass the bay, the bridge, the city of San Francisco, and more!
Explore The Castro District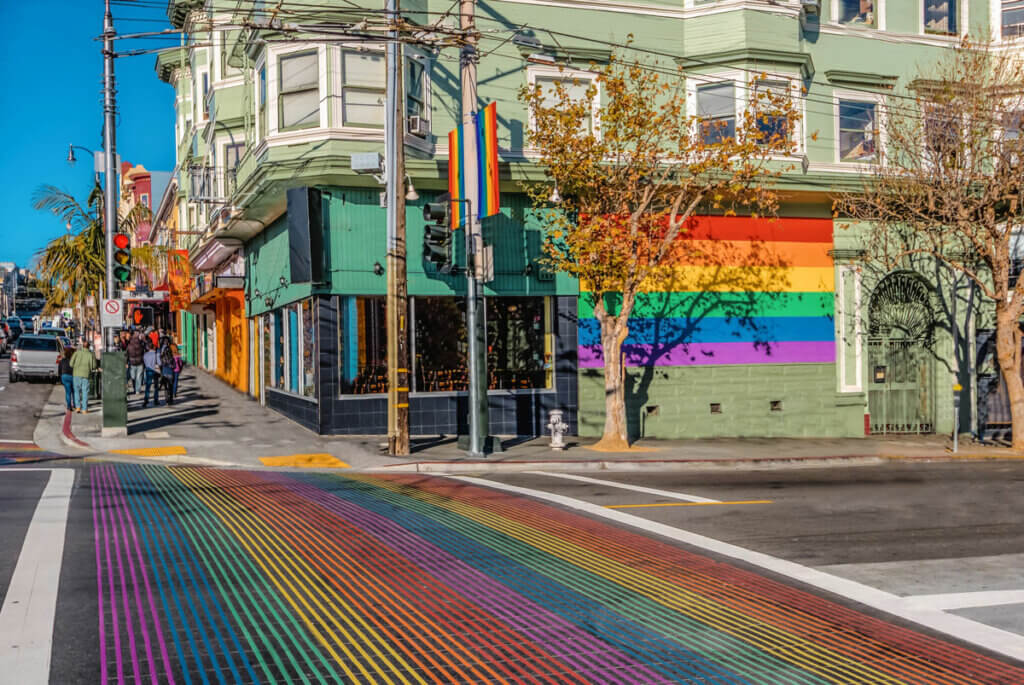 The Castro District could be considered the heartbeat of San Francisco's LGBTQ+ community. It's an area steeped in history and rich culture that offers an unforgettable experience for first-time visitors.
The Castro's journey began as a blue-collar area, but in the 1960s, it transformed into a safe place for LGBTQ+ individuals seeking acceptance and a sense of community. It played a pivotal role in early 20th-century LGBTQ+ activism.
Exploring the rainbow-flag-adorned streets of the Castro District is one of the most inspiring AND fun things to do in San Francisco! You can check out the fun shops and dining stops. And after the sun sets, the Castro comes alive with its renowned nightlife! Explore bars, clubs, and entertainment venues that celebrate the neighborhood's free spirit.
Also, the Castro was home to Harvey Milk, the first openly gay elected official in California. You can visit the Harvey Milk Plaza to pay homage to his legacy. There's also the Rainbow Honor Walk and the Pink Triangle Memorial that are worth mentioning.
Climb Coit Tower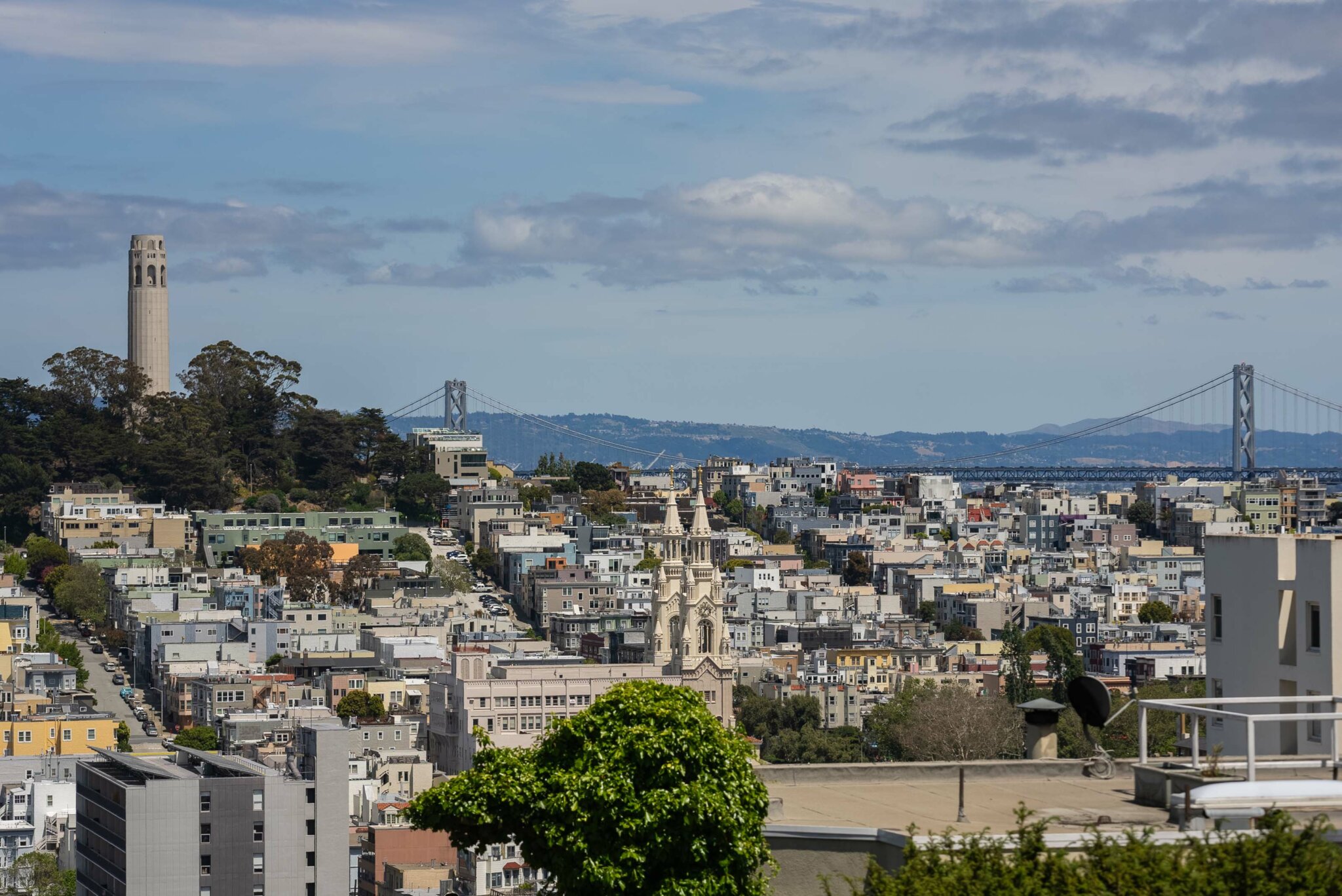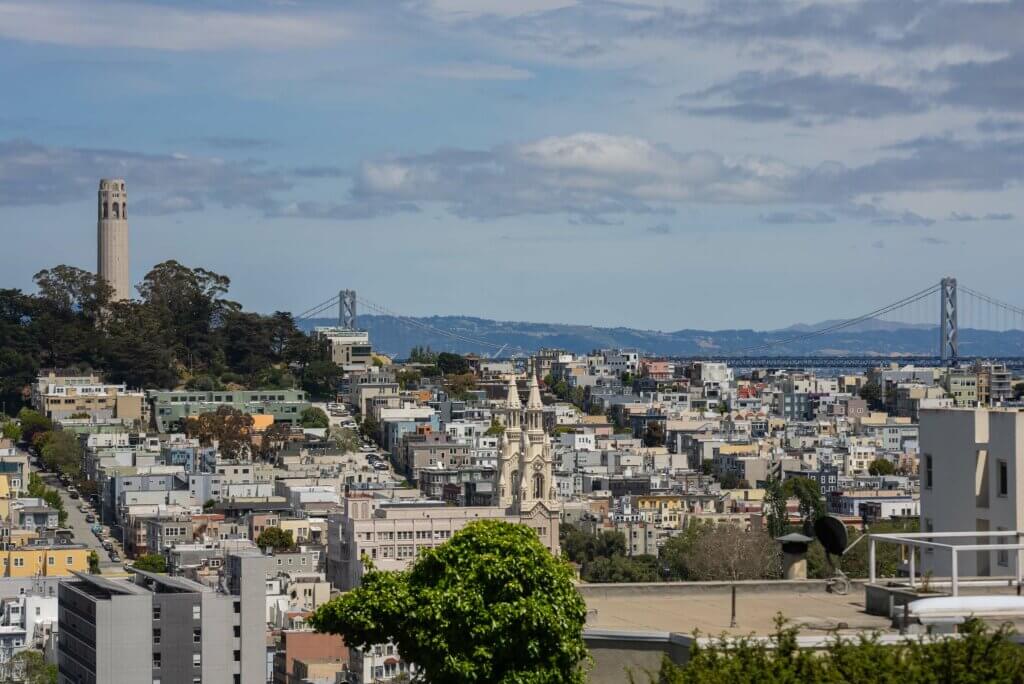 Rising elegantly from Telegraph Hill in Pioneer Park is Coit Tower, another iconic landmark of the city. Curious about what to do in San Francisco that you can't do anywhere else? You can climb to the top of this historic structure for panoramic vistas of the city and beyond.
Coit Tower was built in 1933, featuring unique Art Deco architecture. And inside, the tower boasts Depression-era murals that tell of the city's history and culture. To reach the tower's observation deck, you'll climb a series of stairs or use the elevator. From the top, gaze upon San Francisco's urban tapestry, its rolling hills, and the shimmering waters of the bay. It's a sight that encapsulates the city's allure.
Also, keep an eye out for the famous wild parrots of Telegraph Hill during your visit to Coit Tower! Often referred to as the "Telegraph Hill Parrots," these exotic birds have made the area their home for several decades.
Check out the Mission District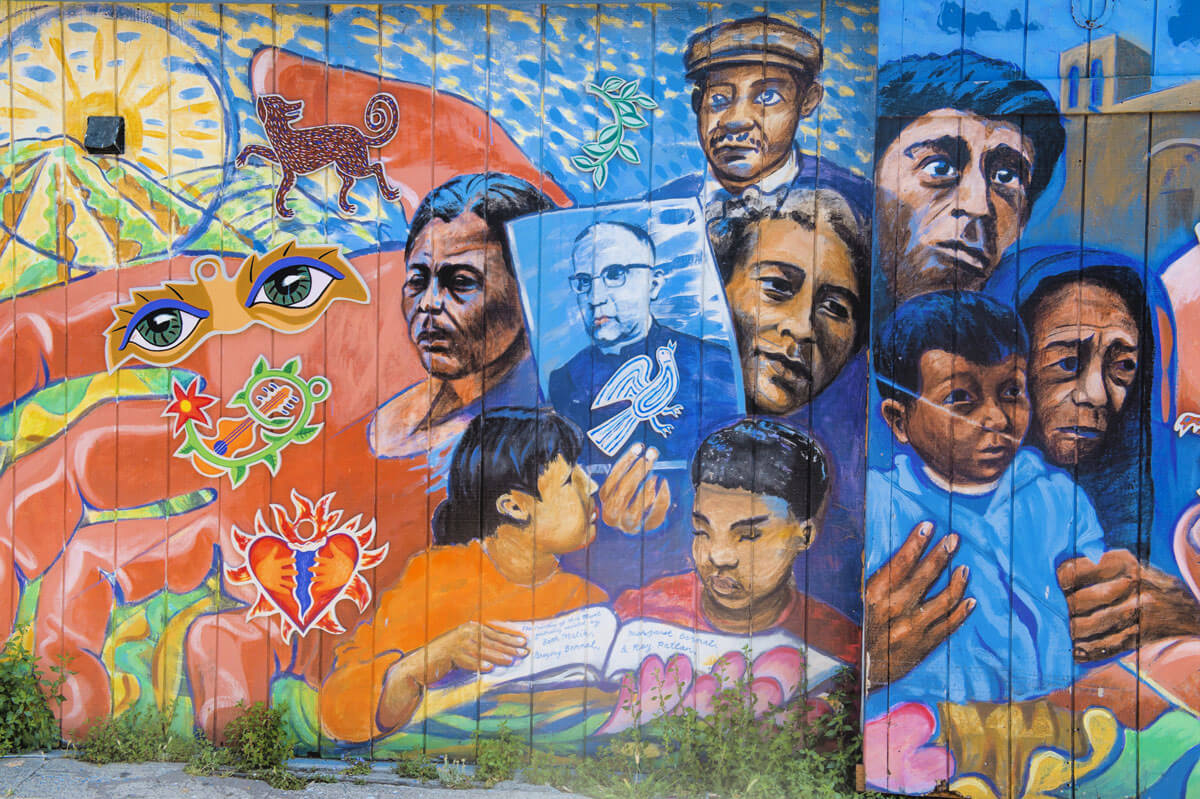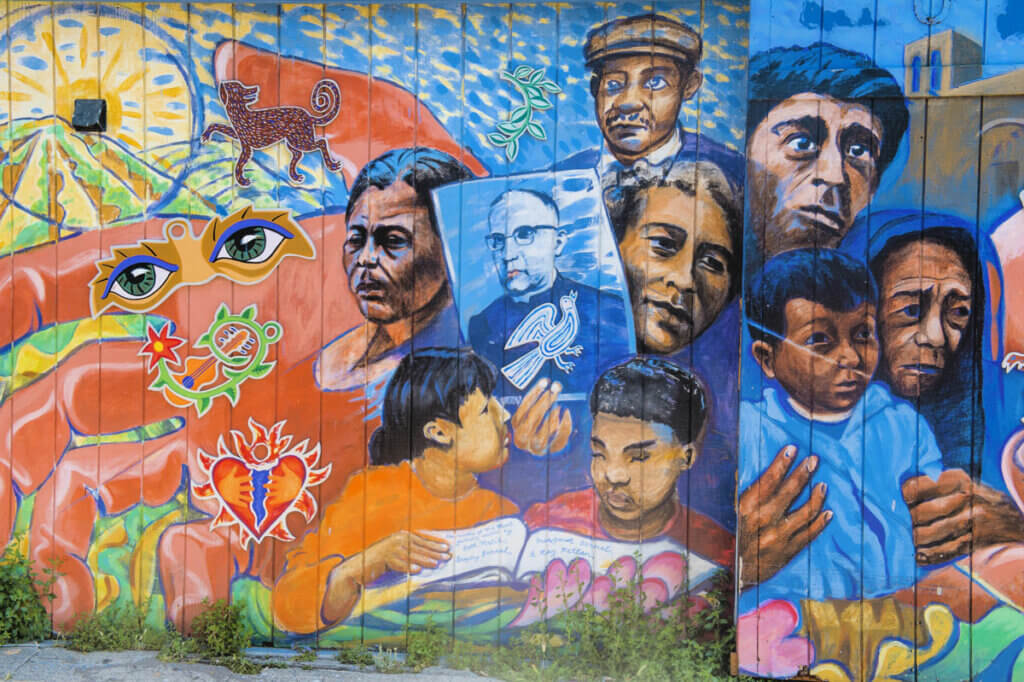 San Francisco's Mission District is a treasure trove of fun things to do in San Francisco. Start with a street art tour, especially along Balmy Alley and Clarion Alley. The colorful artworks here celebrate the district's diverse heritage and tell stories of its community.
Wander down Valencia Street to discover an array of shops, from vintage stores to local designers. Both Nooworks and Jenny Lemons are necessary stops here! I am a HUGE Nooworks fan, they only have two locations in California and run limited prints designed by independent female artists (and made in the US). Their prints are fun and funky and because I have been admiring from afar on the East Coast, I couldn't wait to visit one of their actual stores in person!
And make sure you stop by Tartine Bakery for fresh, buttery pastries and artisanal bread. They draw crowds of both tourists and local patrons! Or come in time for lunch and enjoy all the authentic taquerias (get the mission-style burritos).
Picnic at Dolores Park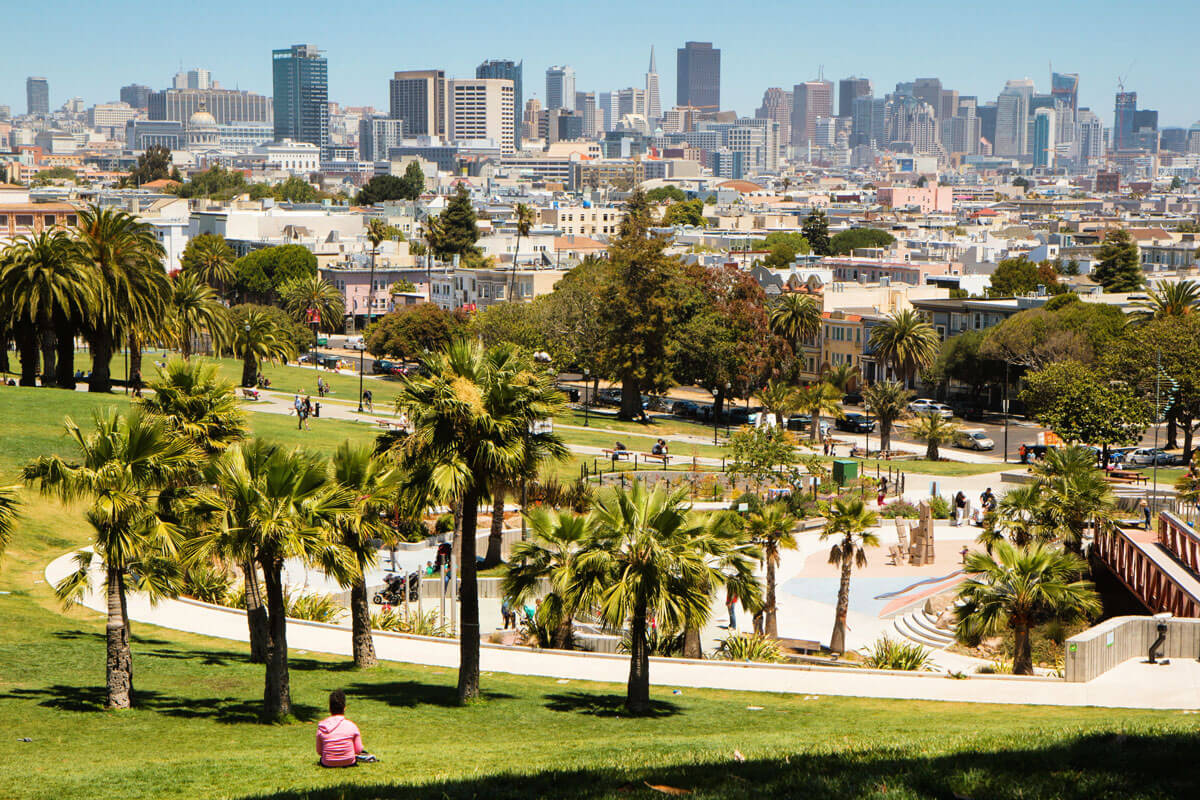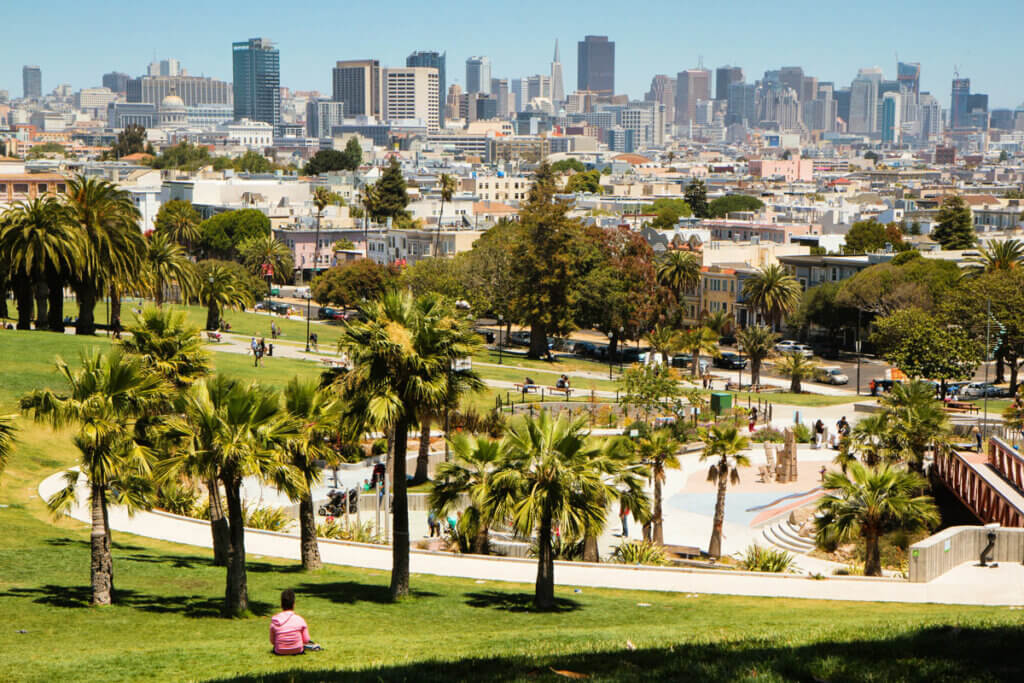 Dolores Park in Mission Dolores is one of the absolute best places to sit back, relax, and enjoy a picnic with some of the best views of San Francisco! And a great place to let your dogs rest (your feet) from all the walking. The sprawling, hilly park started as a Jewish cemetery in the 1800s until the city bought it to turn into a park. Today, it has evolved into a gorgeous green space.
Pack a blanket and your favorite snacks, and enjoy a picnic under the sun. From the sprawling grassy lawns, you can gaze at the city skyline, the iconic Transamerica Pyramid, and the sparkling waters of the bay. But the breathtaking scenery that the park offers is just one of the highlights of Dolores Park.
Take a stroll through the park and you'll notice a few statues recognizing the Mexican heritage of the area. Or check out the Rainbow Bridge near the Church Street entrance. There's also a fun hillside playground in the middle of Dolores Park with a massive slide for both kids and kids at heart!
Eat Your Way Through North Beach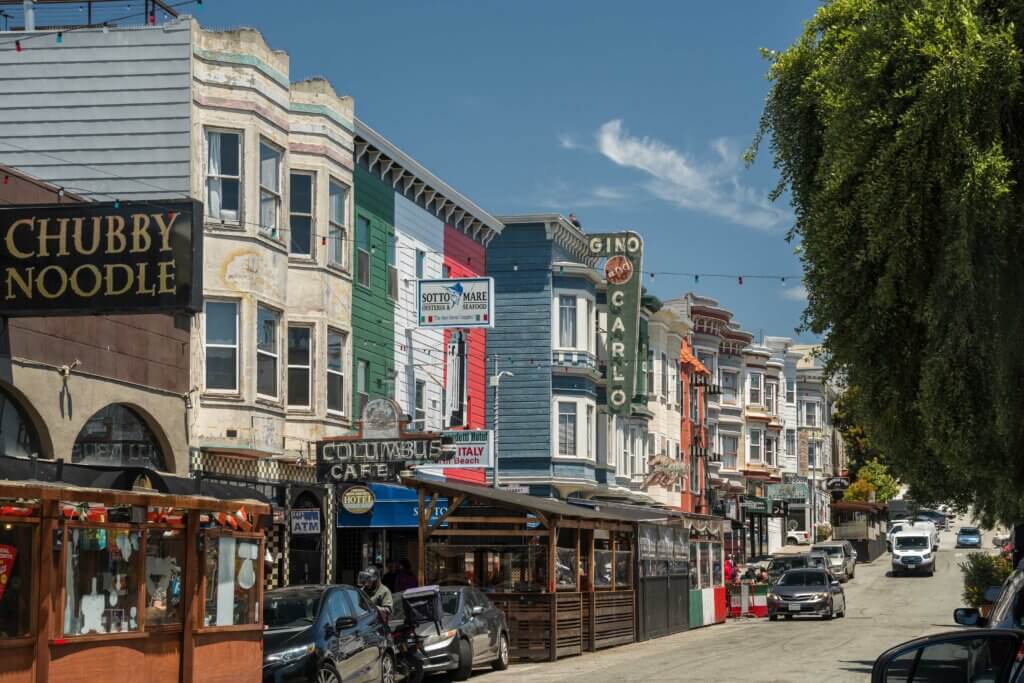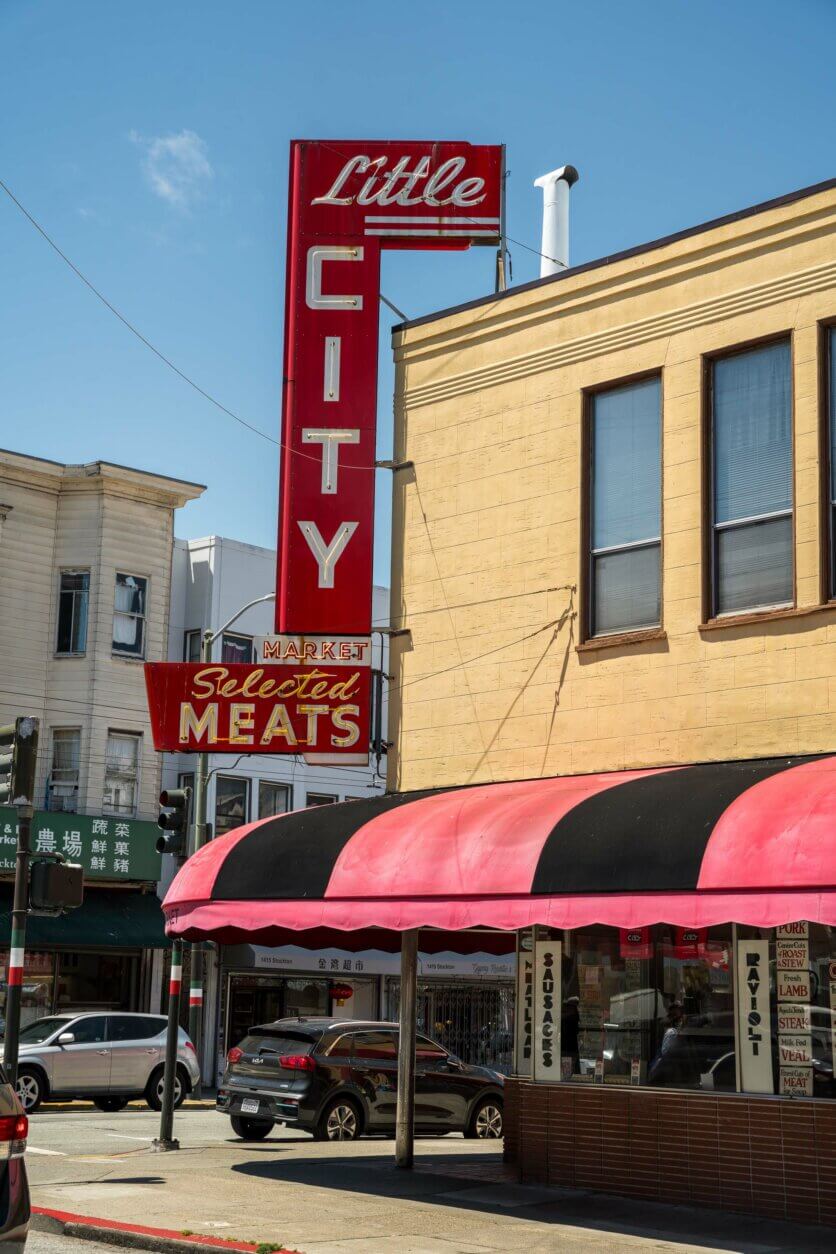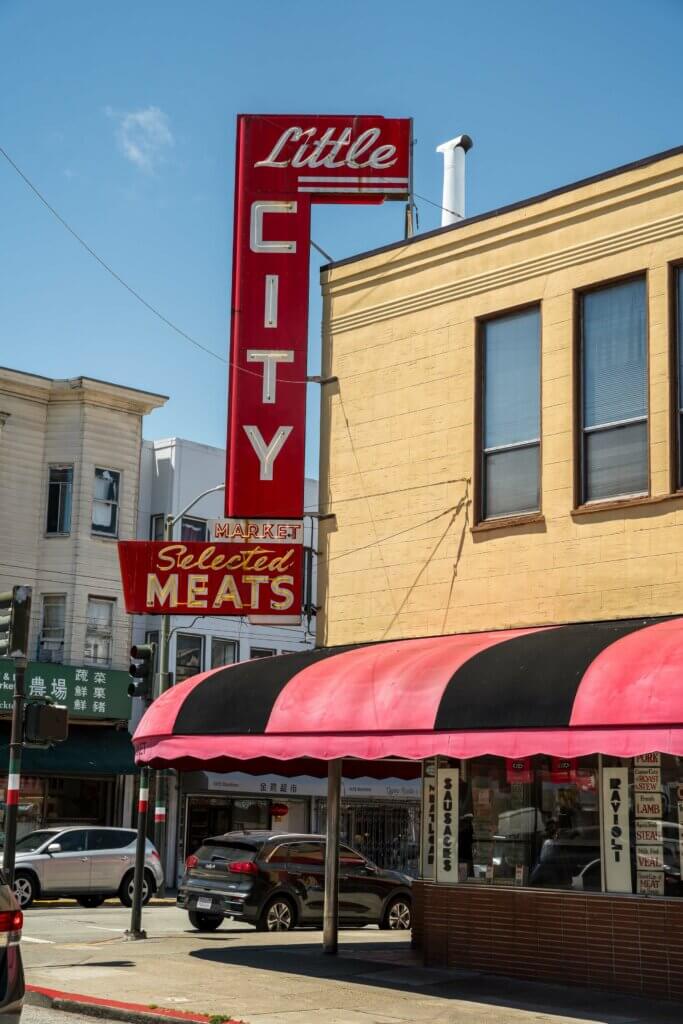 North Beach's Italian heritage shines through its fantastic food scene. One afternoon, take a stroll along Columbus Avenue and savor all the delicious restaurants, cafes, and bakeries along the way!
Begin your culinary adventure at Tony's Napoletana, across the street from Washington Square. Feast on different types of pizza from one spot. This award-winning (and Guinness Book of World Records holding) pizzeria is known for having seven different styles of pizza ovens and insanely good pizza.
Don't be surprised if it's hard to get a table here, instead call for take out and go the Washington Park.
Nearby is Mario's Bohemian Cigar Store, one of our favorite stops we made for lunch on our most recent visit. But don't be fooled by the name! This is a bakery known for its delicious sandwiches and welcoming old-school vibe. Try one of their famous focaccia sandwiches in a cozy atmosphere.
If you're craving classic Italian pastries, we recommend Stella Pastry & Café. This unassuming bakery requires you to order their signature sacripantina cake. And don't forget to pair it with an espresso! They also have a really good cannoli.
And for serious garlic lovers, here's what to do in San Francisco for you. Stop at Stinking Rose, where garlic takes center stage. You can try garlic everything, from garlic-infused pasta to garlic ice cream. Sampling the menu at the Stinking Rose is one of the most unique things to do in San Francisco!
Step Back in Time at Musee Mécanique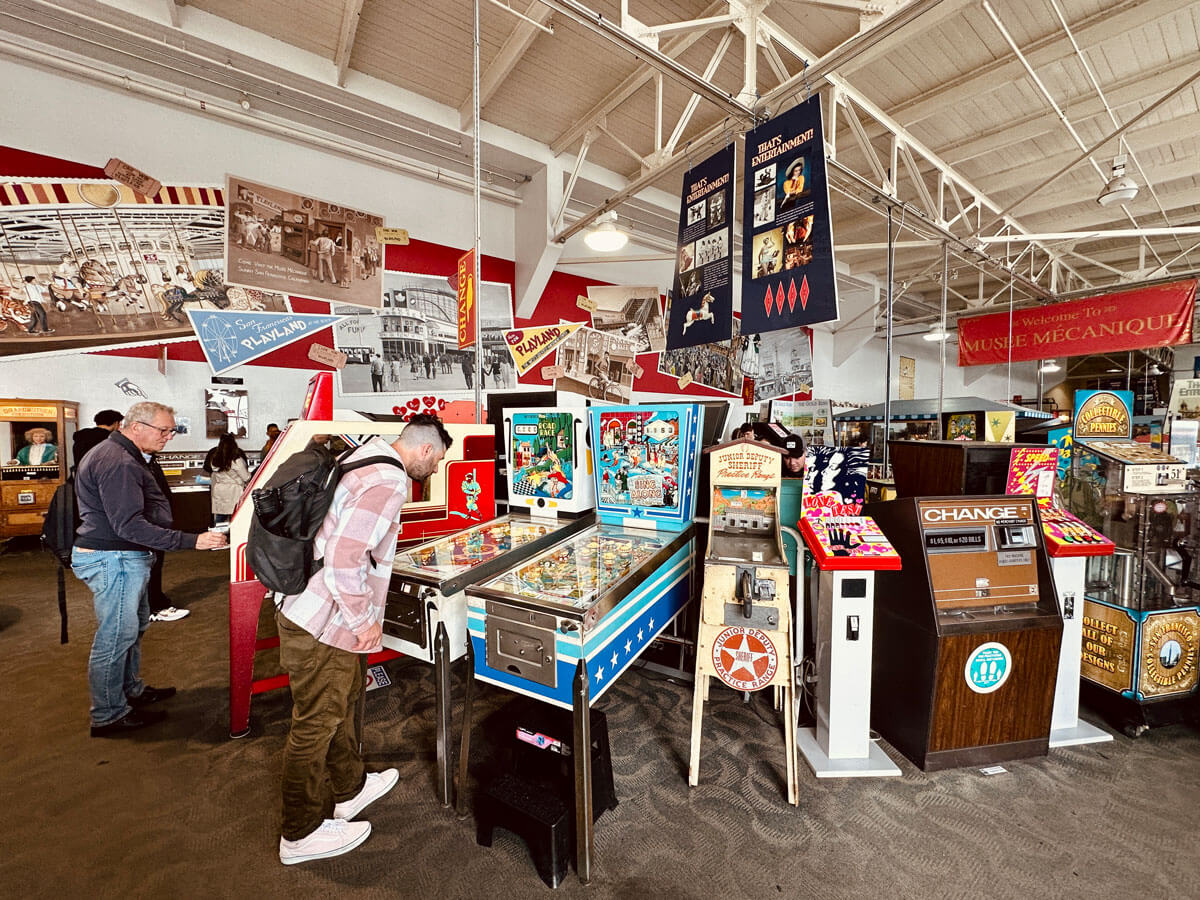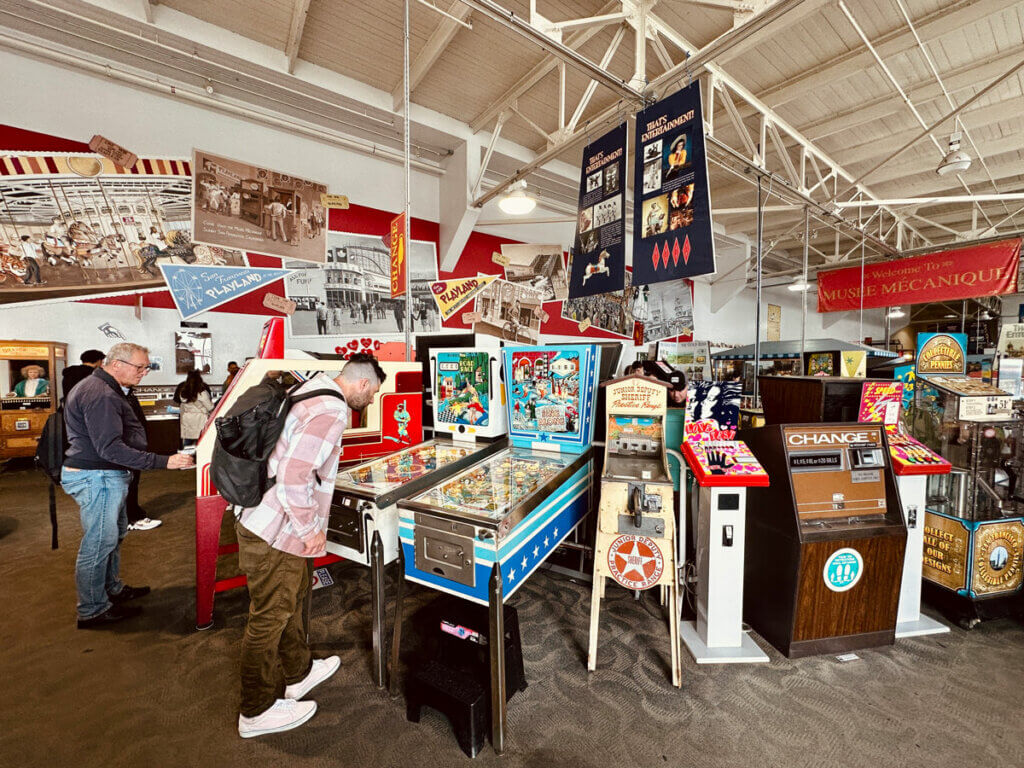 For first-time visitors, experiencing the Musee Mécanique is one of the best quirky things to do in San Francisco. Step through the doors and you'll travel back in time to a different era! This captivating museum showcases a treasure trove of vintage arcade games, slot machines, and carnival attractions.
Musee Mécanique features the collection of Edward Zelinsky. Some of the items are at least 100 years old! Today, you can see Zelinsky's beloved collection at the museum on Pier 45 in Fisherman's Wharf.
Walk through rows of vintage arcade games, automatons, and intricate dioramas. From early 20th-century coin-operated games to whimsical fortune-tellers, is a fascinating display. Some exhibits offer a glimpse into San Francisco's past, from its maritime heritage to the city's iconic landmarks.
But the Musee Mécanique isn't just about observing! You can play a game of Skee-Ball, marvel at mechanical music boxes, or witness the charm of dancing figurines that come to life with a few coins. And movie lovers might recognize the site from The Princess Diaries!
It's free to visit the Musee Mécanique. You just pay to play games, which are all coin-operated. It's open for visitors from 10 AM to 8 PM every day of the week.
Browse SFMOMA
If you're looking for what to do in San Francisco on a rare rainy day, or if you just love contemporary art, head to the San Francisco Museum of Modern Art (SFMOMA).
SFMOMA boasts 7 floors, with each floor dedicated to different art forms, from paintings and sculptures to photography and media installations. If you take your time to wander and take in each piece, you could easily spend 3-4 hours here.
You'll find an impressive collection spanning from iconic masterpieces to cutting-edge works. From renowned artists like Frida Kahlo to local creators, the museum celebrates them all! SFMOMA offers guided tours, or you can use the museum's app for audio guides that delve deeper into the art.
Enjoy a break at SFMOMA's cafes and restaurants or enjoy fantastic views of the city from the rooftop garden. The museum is conveniently located in the Yerba Buena district and requires an admission fee. If you want to skip lines, consider purchasing them in advance.
Enjoy the Views from Crissy Beach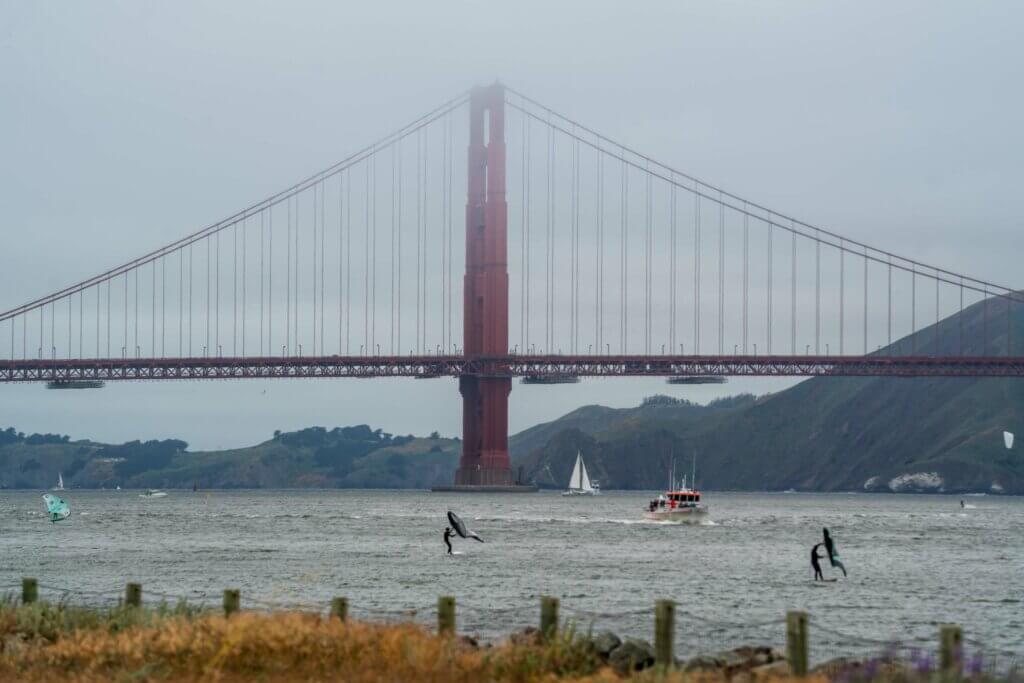 Crissy Field East Beach, AKA Crissy Beach, is the perfect waterfront escape in San Francisco's Marine District. The beach's unique position provides unparalleled views of the Golden Gate Bridge and the Marin Headlands. And we think spending a morning or evening here is one of the best things to do in San Francisco.
Once a military airfield, Crissy Field Park underwent a transformation into a thriving urban park. It boasts expansive grassy areas for picnics and ball games. Crissy Beach is part of the larger park, with access to walking and biking paths that wind along the coast.
You can rent a bike nearby and pedal along the waterfront, passing by historic military structures. And water sports enthusiasts can kayak, paddleboard, or windsurf in the bay's calm waters. Visitors also have access to changing rooms right off the beach.
Palace of Fine Arts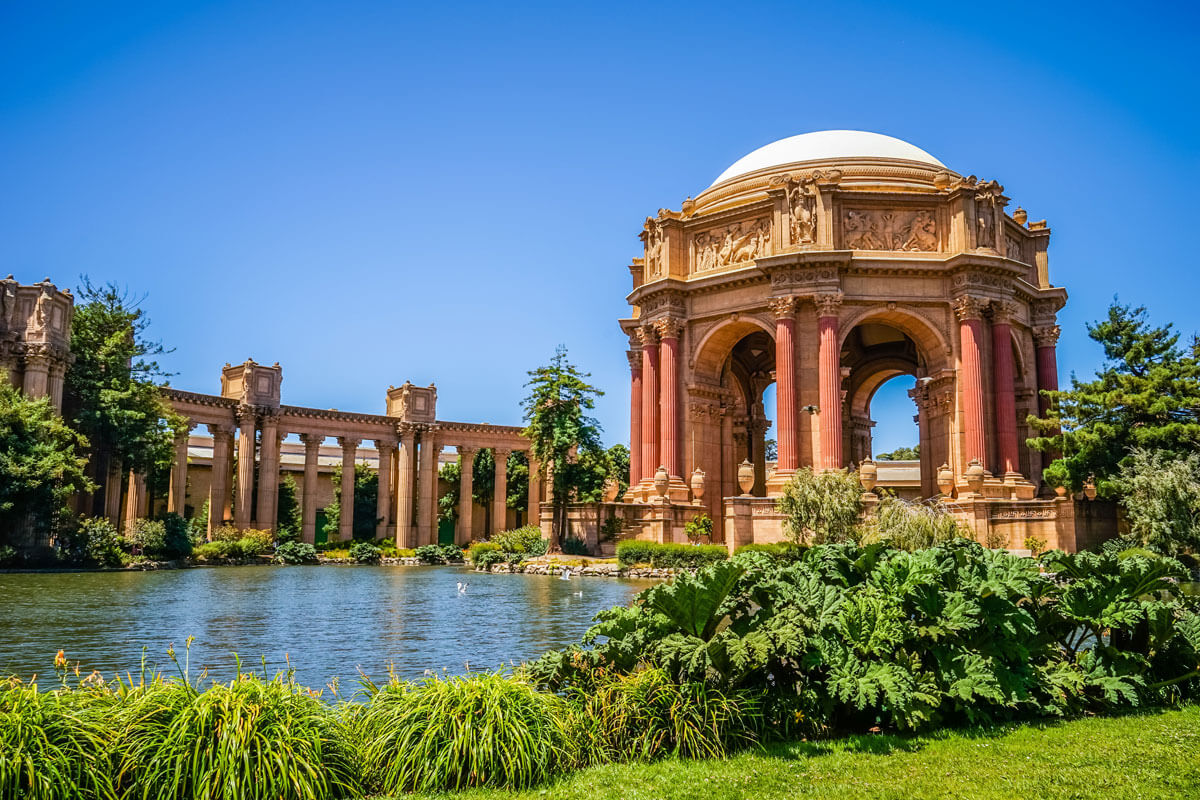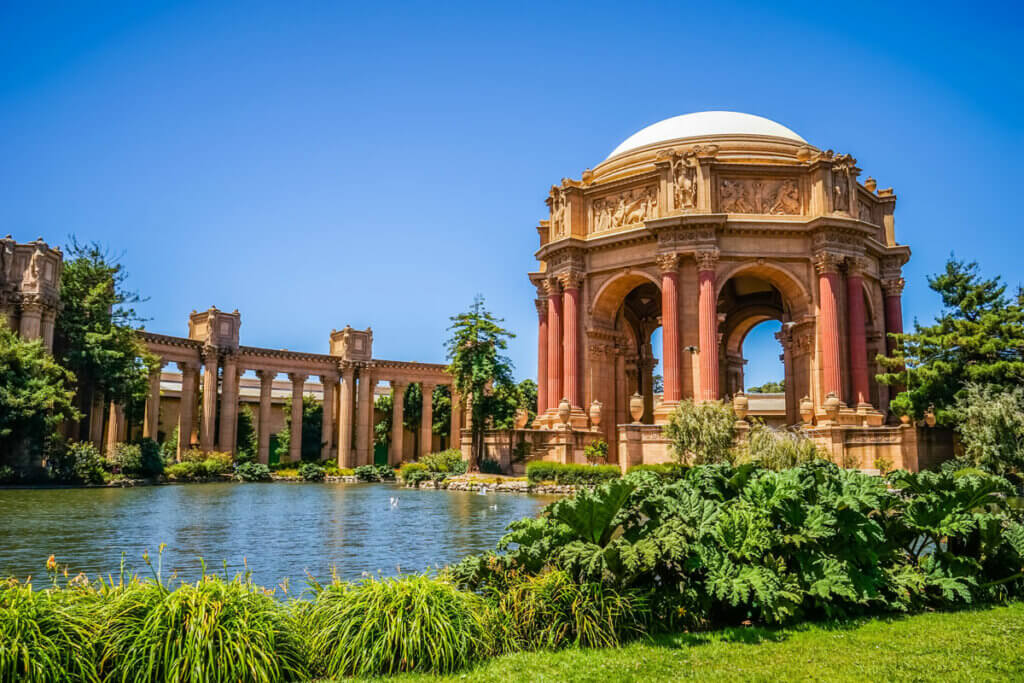 One of the most fascinating places to visit in San Francisco is the Palace of Fine Arts. This iconic structure was originally constructed for the 1915 Panama-Pacific Exposition and features a classically elegant Greco-Roman design. Its meticulously crafted rotunda, colonnades, and serene lagoon create a grand scene!
The palace was meant to be temporary, and most of the rest of the exposition's structures were demolished afterward. But the Palace of Fine Arts was so popular, it was eventually restored as a park in the 1960s. Today, you can visit and walk along the palace's peaceful lagoon and admire the intricate architectural details of the palace.
Because of its timeless beauty, the palace and grounds are a popular backdrop for engagement shoots. It's fun to catch brides posing for pictures! And keep an eye out for swans who call the lagoon home.
Spend Time at the Presidio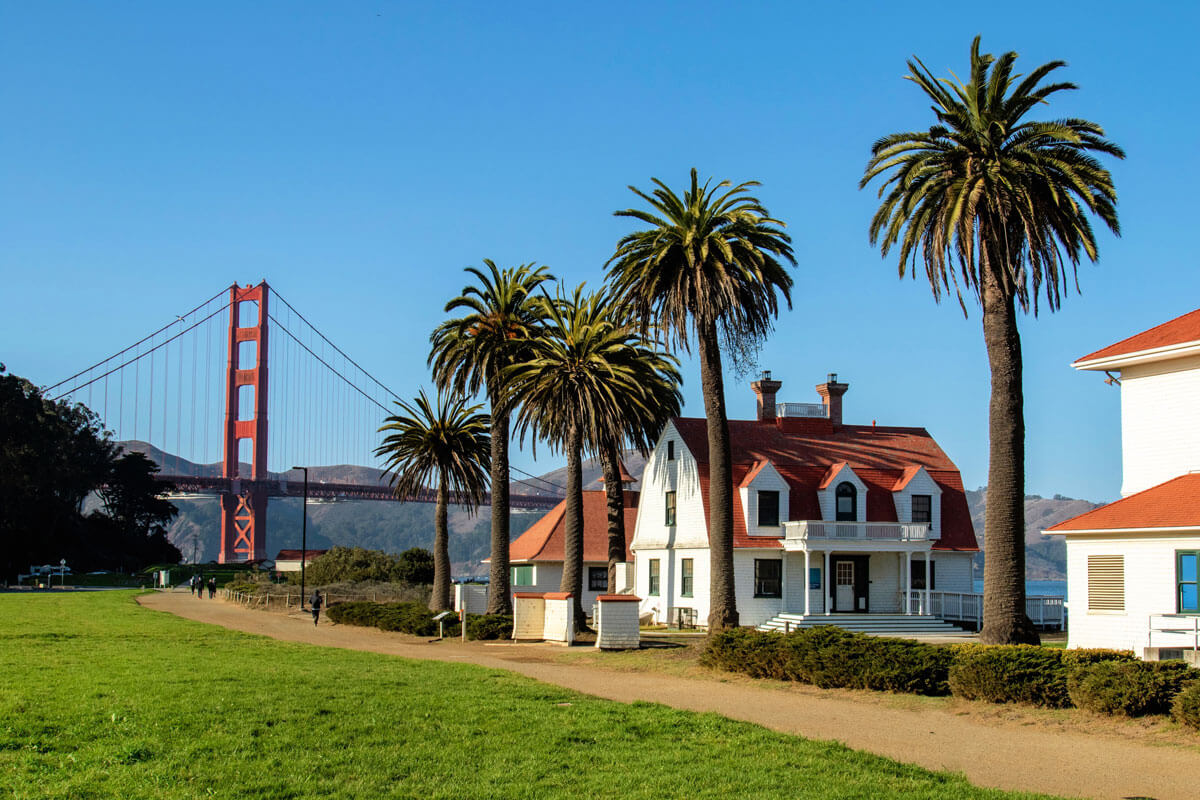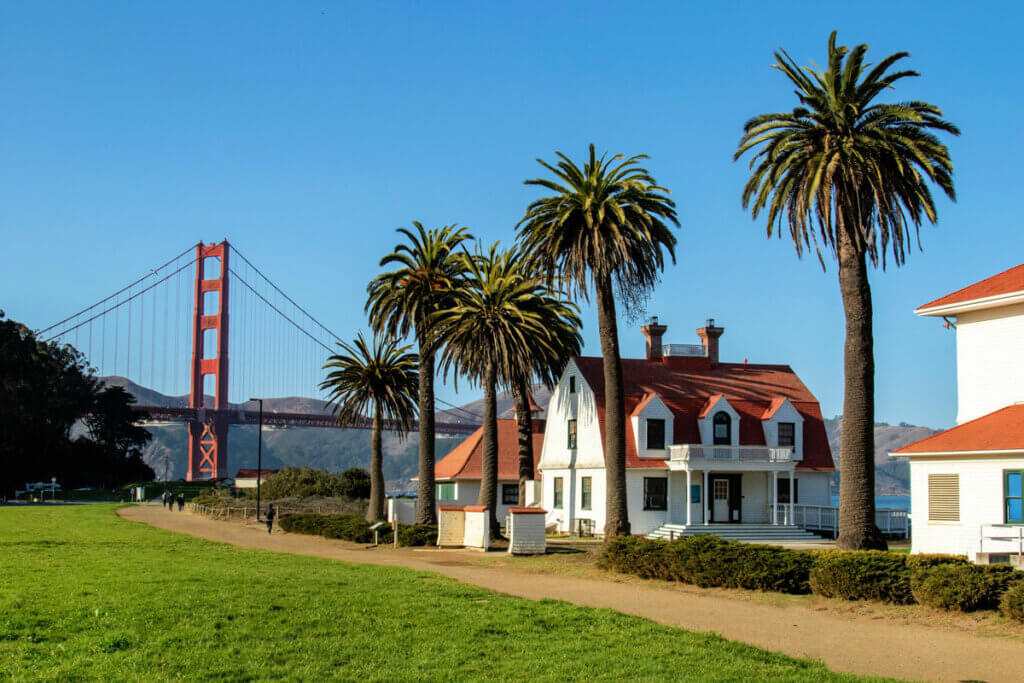 You'll find a diverse range of things to do in San Francisco's Presidio. This historic park features almost 1500 acres of history, natural beauty, and unique attractions. It was a military post for over 2 centuries, guarding the Golden Gate and shaping California's future. In the 1990s, the Presidio was handed over to the National Park Service for commercial and public use.
Today, the Presidio shines with lush landscapes, meadows, and coastal beauty. Trails wind through cypress groves and lead to breathtaking viewpoints. At the southeastern end of the park is the Wood Line, a stunning forest that's worth the hike. You can also take trails to amazing views of the Golden Gate Bridge and find historic buildings and structures that tell the area's long history.
For Disney lovers, visiting the Walt Disney Family Museum in the heart of the Presidio is one of the best things to do in San Francisco! And the Presidio Officer's Club offers insights into the area's indigenous history.
Have an Irish Coffee at The Buena Vista
If you find yourself in Fisherman's Wharf (or if you want to take a cable car ride here!), make sure to stop by The Buena Vista. This iconic San Francisco institution on the corner of Hyde and Beach Streets has been serving up its legendary Irish coffee since 1916.
The Buena Vista's Irish coffee has achieved legendary status, attracting locals and visitors alike. Visiting the café is one of the best things to do in San Francisco. Step inside and soak in the cafe's cozy atmosphere. Check out memorabilia on the café walls that tell its history. It's a fun way to learn about Irish coffee's journey to perfection!
Sit at the old-fashioned wooden bar or at a table by the window. As you savor your Irish coffee, you can watch the cable cars on Hyde Street. And while Irish coffee is the crown jewel, The Buena Vista's menu offers a range of classic American comfort foods, coffee drinks, alcoholic beverages, and more. For more San Francisco classics, order the crab cakes or clam chowder bread bowl!
Shop at City Lights Bookstore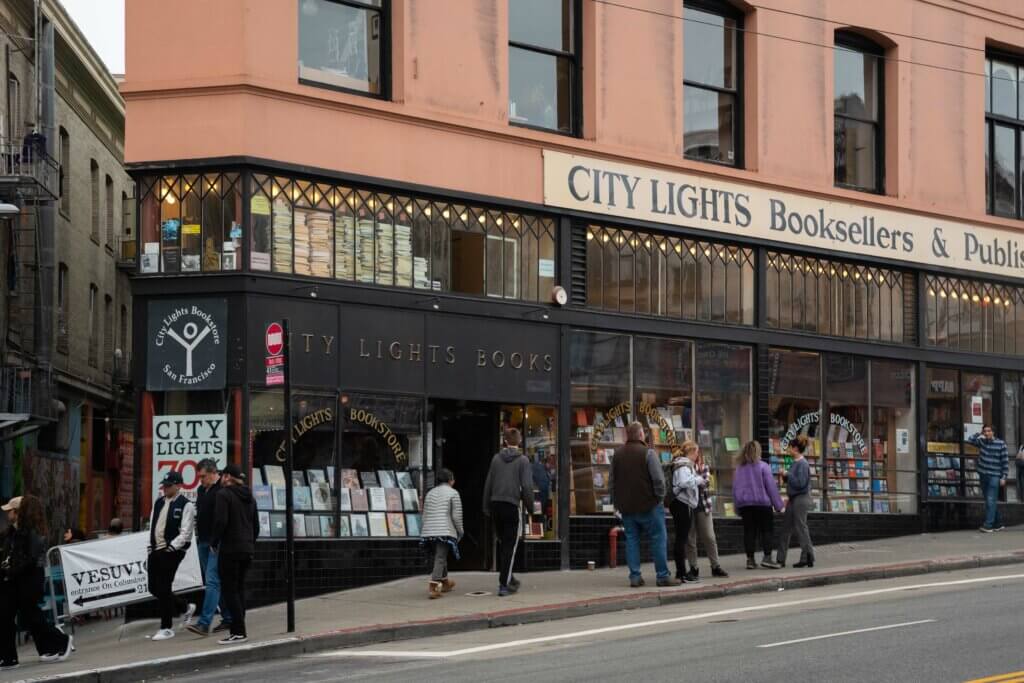 Looking for what to do in San Francisco on a quiet evening? You can't go wrong with a visit to City Lights Booksellers & Publishers. You'll find it on Columbus Avenue in North Beach. Established in 1953 by poet Lawrence Ferlinghetti and Peter D. Martin, it isn't just a bookstore – it's a priceless piece of literary history!
City Lights became an escape for the Beat Generation, nurturing writers like Allen Ginsberg and Jack Kerouac. Ferlinghetti's writing on Ginsberg's "Howl" trial here marked a groundbreaking moment in America's advocacy for free speech. Over the years, the bookstore's commitment to progressive ideals and freedom of expression went far beyond literature. It became a symbol of activism and an exploration of ideas that pushed boundaries.
When you visit City Light Bookstore, you can wander the narrow aisles lined with diverse books. There are makeshift shrines set up to the store's fascinating history. All of it gives you a sense of the store's respect for literature as an agent of change. There are 3 levels, with the children's section in the basement. The cozy Poetry Room upstairs is worth a stop.
After your visit, it's almost essential to continue your literary tour by heading across the street to the historic bar, Vesuvio Cafe! This bohemian haven was frequented by Beat Generation icons. Enjoy one of their amazing cocktails and check out Beatnik memorabilia all over the walls.
Find a Fun Stairway!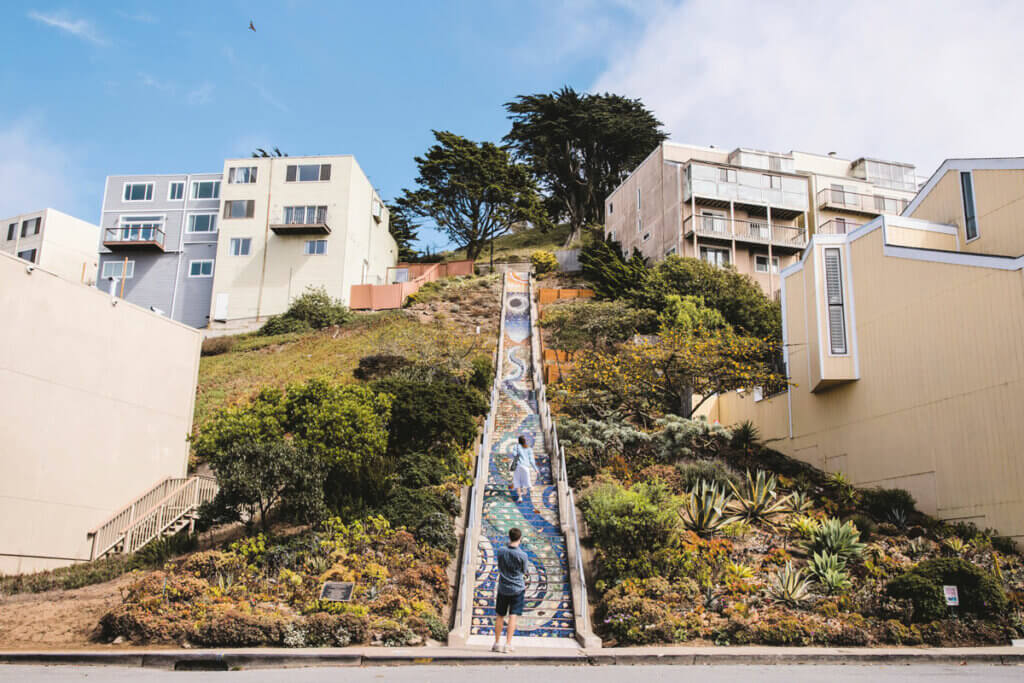 Something so beautiful about San Francisco is the delightful art around every corner. And in every neighborhood, you'll discover vibrant, mosaic-adorned stairways that transform ordinary paths into works of urban art.
San Francisco boasts a staggering 400 public stairways, many featuring mosaic tiles that turn them into jewels set in the city's urban landscape. And fun fact: a few of the staircases are designated as parks! Going on a scavenger hunt for these stairways is one of the best things to do in San Francisco.
Perhaps the most famous is the Filbert Street Stairs. Wind their way up Telegraph Hill, this wooden staircase is lined with beautiful gardens and features breathtaking views of San Francisco. You get bonus points if you spot the famous wild parrots of Telegraph Hill or explore side streets with their charming cottages!
One beauty is the 16th Avenue Tiled Steps, a stunning collaboration between local artists and the community. The mosaic masterpiece resembles a giant sea serpent. Nearby, the Hidden Garden Steps are just as lovely, featuring a bohemian mosaic of butterflies and mushrooms. You can also enjoy a well-tended flower garden lining both sides of the stairway.
Then there's the Lincoln Park Steps in the Outer Richmond district. This breathtaking stairway is stunning, with mosaic designs that extend from the expansive stairway to the support wall at the top. With the row of palm trees framing the entire thing, it's worth taking some pictures here.
Also, hiking the staircases for exercise is one of the more unique things to do in San Francisco. A popular stop for this is the Vulcan Stairway. Nestled between historic houses, this stairway offers a scenic ascent through lush greenery and fragrant flower gardens. With each of the 300 steps to the top, you'll uncover San Francisco's unique blend of outdoor fun!
Where to Stay in San Francisco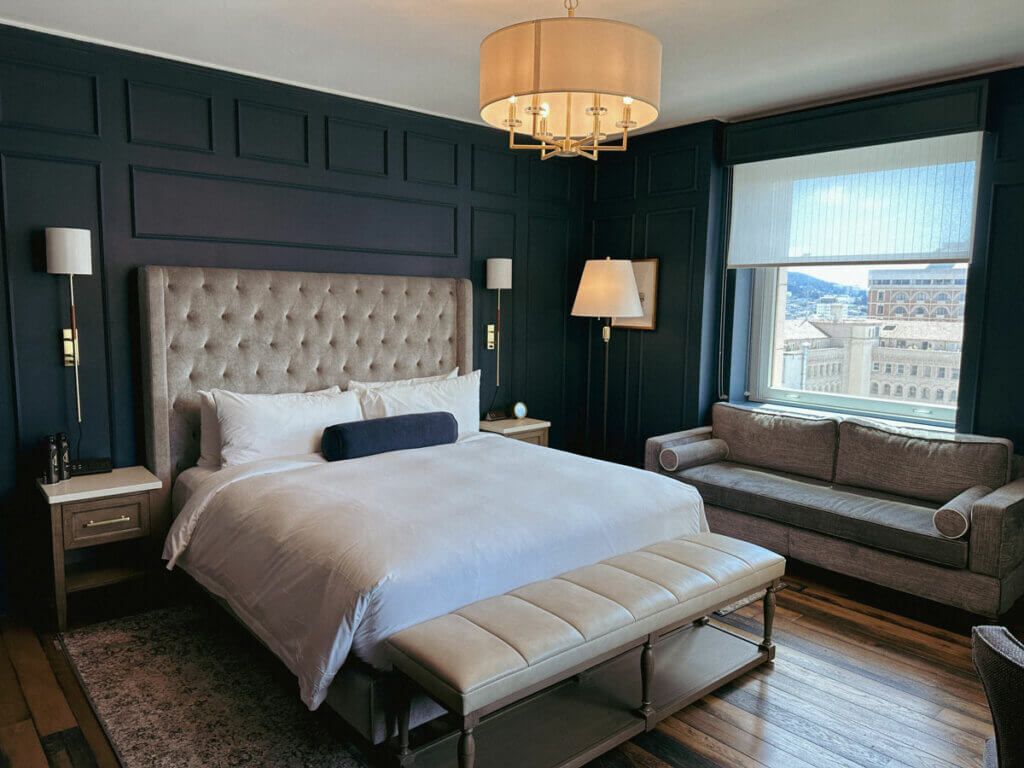 On our most recent visit to San Francisco, we stayed at The Beacon Grand Hotel, which we can't recommend enough. Located conveniently in Union Square it was really easy to navigate the city and visit the best places in San Francisco from here. Not only were we located right on a cable car stop, but within 2 minutes we also had access to other transit stops making getting anywhere really easy.
The hotel is set in a historic 1920s building that was formerly the Sir Francis Drake Hotel. You'll find elegant details in the lobby and the rooms are handsomely designed and comfortable. Book here.
If that's a bit out of your budget, check out The Marker Hotel, also near Union Square. This upscale boutique hotel not only has a great location for getting around, but the rooms are modern and comfortable for your time exploring San Francisco. Book here.
What to do in San Francisco (Post Summary):
Explore Chinatown
Check out Pier 39
Ride a Cable Car
Ride a Historic Streetcar
See the Curvy Lombard Street
Have a Sourdough Bread Bowl at Boudin's Bakery
Check Out Ghirardelli Square
Walk Around Haight-Ashbury
See the Painted Ladies from Alamo Square Park
See the Golden Gate Bridge
Check out the Gardens & Museums in Golden Gate Park
Tour Alcatraz Island
Explore the Castro District
Climb Coit Tower
Check Out the Mission District
Picnic at Dolores Park
Eat Your Way Through North Beach
Step Back in Time at Musee Mècanique
Browse SFMOMA
Enjoy the Views from Crissy Beach
Palace of Fine Arts
Spend Time at the Presidio
Have an Irish coffee at The Buena Vista
Shop at City Lights Bookstore
Find a Fun Stairway
---
What shouldn't you miss in San Francisco?
In San Francisco, don't miss iconic attractions like the Golden Gate Bridge, Alcatraz Island, Fisherman's Wharf, and great neighborhoods like Chinatown and North Beach. Enjoy the city's diverse cuisine and ride the famous cable cars.
What is San Francisco best known for?
San Francisco is best known for its iconic landmarks like the Golden Gate Bridge, Alcatraz Island, Victorian architecture, and cable cars. It's celebrated for its cultural diversity, historic neighborhoods, and its role in the tech industry.
What's the weather like in San Francisco?
San Francisco has a mild, marine-influenced climate with cool, foggy summers and wet winters. Average temperatures range from 50-70°F (10-21°C). The city is known for its fog, especially in summer. Layered clothing is advisable year-round due to temperature variations throughout the day.
How many days do you need for San Francisco?
To fully explore San Francisco's top attractions, allow at least 3-5 days. This allows time for iconic sights like the Golden Gate Bridge, Alcatraz, and exploring diverse neighborhoods. However, shorter trips are possible to get a taste of the city's charm.
Is San Francisco safe?
San Francisco is generally safe, but like any major city, it has areas with higher crime rates. Stay aware, particularly in some downtown and Tenderloin neighborhoods. Take standard safety precautions: be vigilant with your belongings, use well-lit streets at night, and avoid confrontations. Enjoy the city but stay cautious. If you have a car, leave nothing in it.
What is the best area to stay in San Francisco?
The best area to stay in San Francisco depends on your preferences. Union Square offers shopping and dining, while Fisherman's Wharf is tourist-friendly. Nob Hill provides elegance, and the Mission District offers a vibrant, artsy scene. Choose based on your interests and budget.
Enjoyed this guide to all the fun things to do in San Francisco travel guide? Bookmark for later or share the love below on Pinterest!
And if you're doing a larger road trip, be sure to check out all our favorite stops on the San Francisco to San Diego drive too!