Looking to visit the most charming towns in New York? You've come to the right place! We have road tripped and traveled extensively through many of the small towns in Upstate New York from the Hudson Valley, Finger Lakes, Adirondacks, and Catskills, to the Hamptons to name a few regions featured in this guide to New York towns we've found and fell in love with along the way!
This guide to small towns in New York will grow and evolve as we continue to travel throughout more of the state to some of the best towns in New York. If you don't see your favorite town in New York, let us know! We are always planning adventures and love adding more charming villages to our road trips and travels!
Each of these New York towns includes what region they are in, extra travel guides, and suggestions for what to do and see in each one! So get ready to add as many of these spots to your trip, we will warn you, there are many amazing spots that will keep you coming back to New York for more! Plus many of these make for some of the best romantic getaways in Upstate New York!
Best Small Towns in New York
Kingston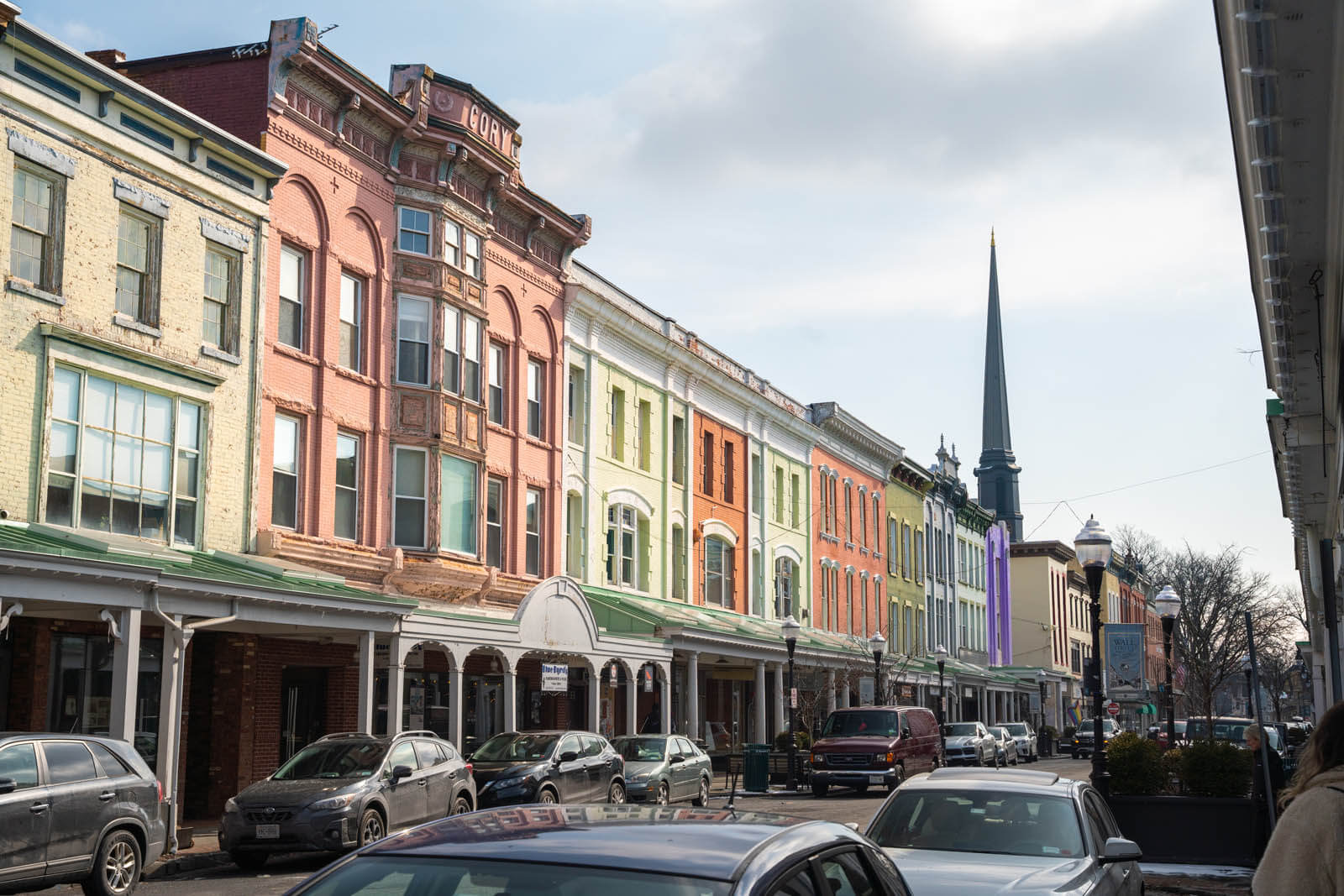 Nestled in the heart of the Hudson Valley, Kingston is without a doubt one of the most charming towns in New York. With its picturesque streets, well-preserved architecture, and lively arts scene, Kingston has earned its reputation as one of the most delightful towns to visit in the state and an easy day trip from New York City.
One of the highlights and best things to do in Kingston is its historic uptown district, known as the Stockade District, lined with stone buildings and quaint shops. Strolling along the streets, you can admire the colorful old storefronts full of fun shops and eateries along the way. We love the pastel hues on all the buildings!
The Senate House State Historic Site is a must-visit, offering insights into Kingston's role as New York's first capital.
The Rondout District is located along the Hudson River waterfront. There are galleries, antique shops, and boutiques down here, or the option to join a scenic boat cruise along the Hudson River.
The Trolley Museum offers a glimpse into New York's transportation history, with vintage trolleys and exhibits.
Kingston is also renowned for its thriving arts and culture scene. The town is home to numerous murals you'll see dotted around each neighborhood during your visit, our favorite spot to explore the murals were in the Stockade District and the Midtown District also had a plethora of murals to check out.
Kingston's culinary scene is a treasure trove for food lovers. With a range of dining options, from cozy cafes to upscale restaurants, visitors can savor delicious farm-to-table cuisine, local craft beer, and regional wine. Our favorites include Rosie's General in the Rondout District and you can even take a cooking class at Blue Cashew Kitchen.
Owego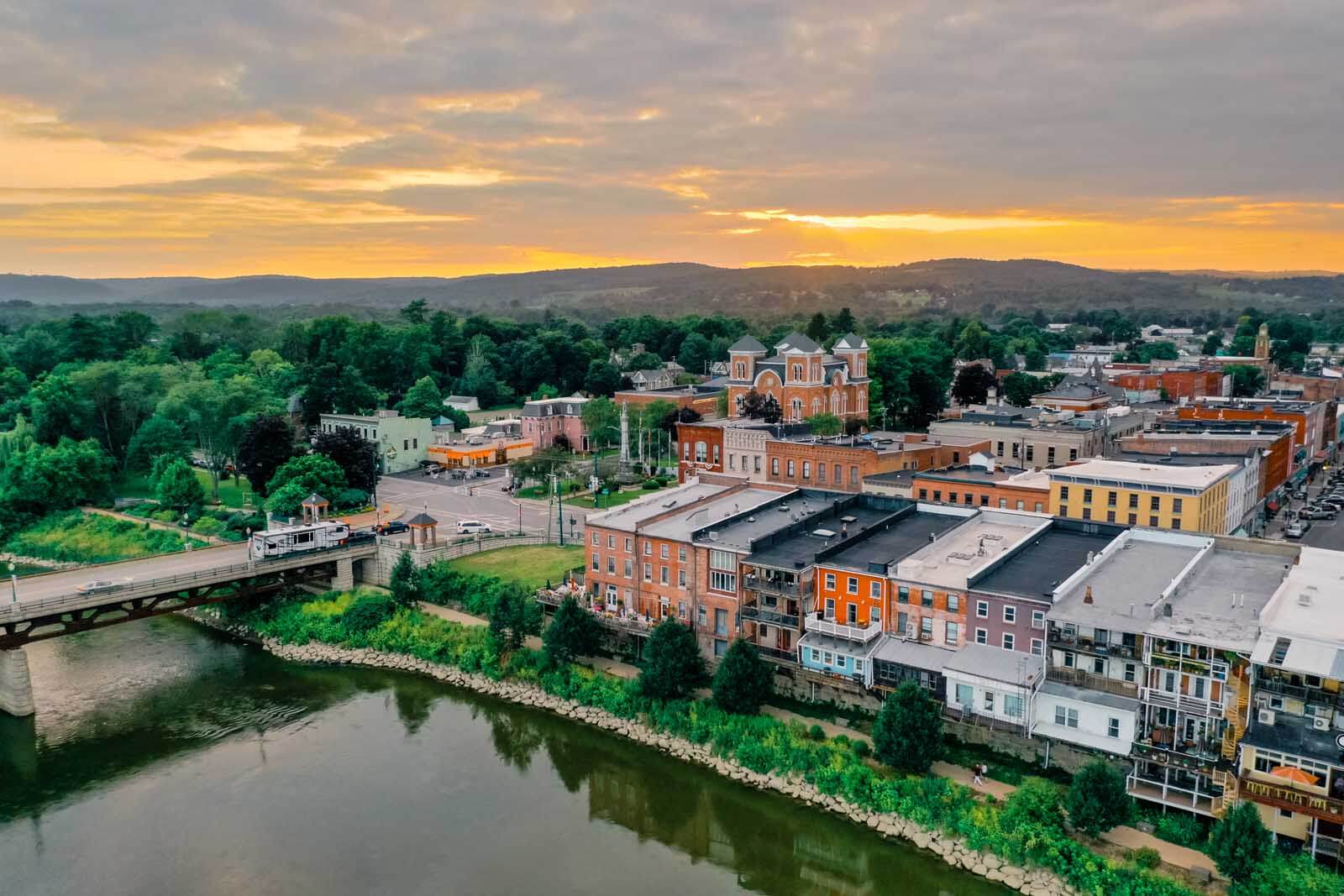 Starting off this list of charming New York towns strong with one of our personal favorite stops and towns in the Finger Lakes. The charming village of Owego in Tioga County perched overlooking the scenic Susquehanna River.
Every time we drive from the city to the region, we always make a planned stop here for lunch and a stop to my favorite antique shop, the Early Owego Antique Center on Lake Street where I've found many great items including my favorite upcycled jacket!
There are plenty of great things to do in Owego from the scenic River Walk, the beautiful bridge leading to the town, and all the shops, eateries, and places to drink on Lake Street are a great place to start when exploring this charming town in New York.
Don't miss the summer Strawberry Festival that takes place each year in June at the Historic Owego Marketplace which is a favorite among locals and even attracts visitors from all over the state.
You can also immerse yourself in nature by visiting Tioga Gardens, where you can take a tour through the 11 full greenhouses!
Besides the shopping and sightseeing, Owego is known to be a great spot for foodies! We love Las Chicas Taqueria, The Owego Kitchen, and The Cellar Restaurant.
Wilmington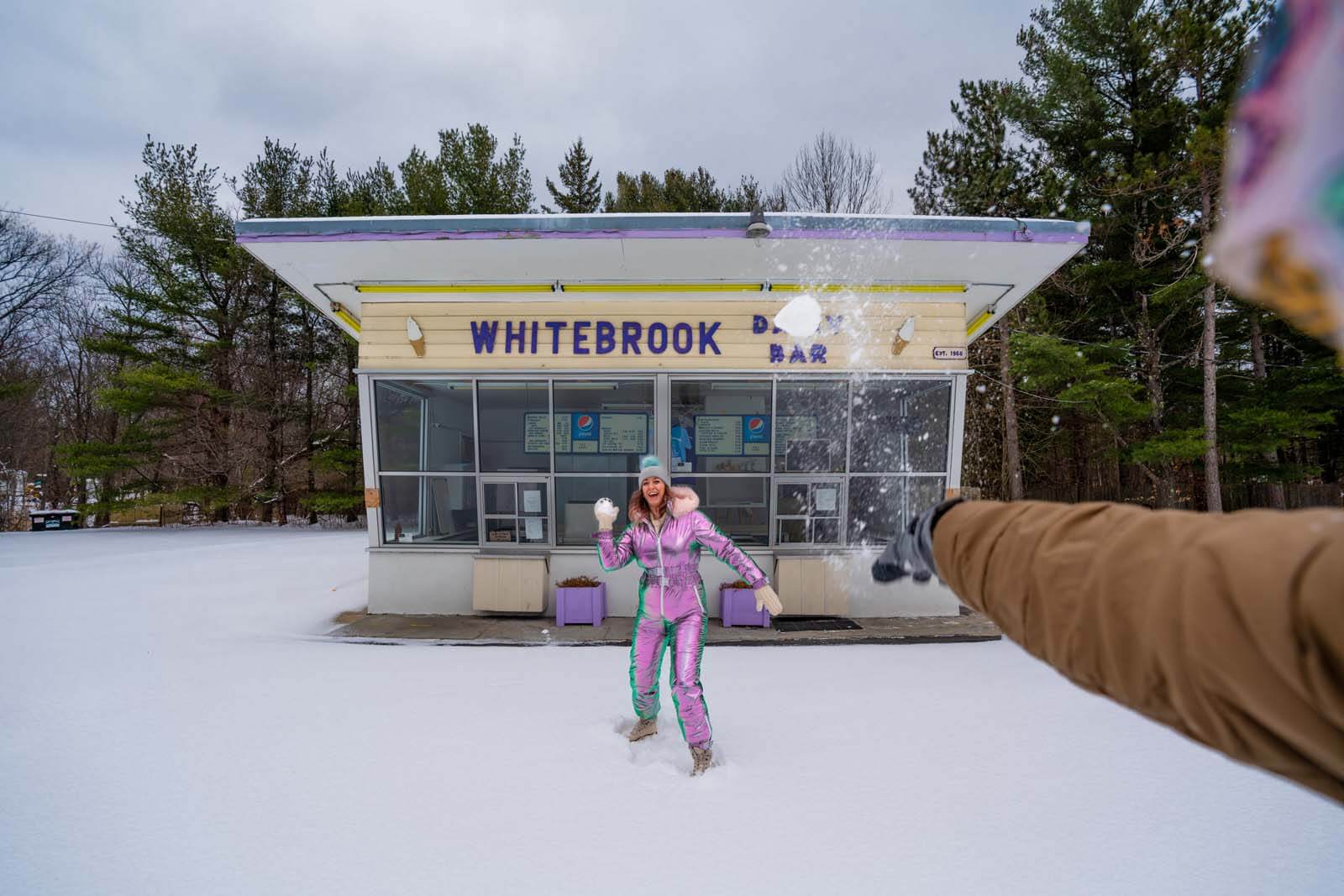 A hidden gem and one of the best towns in New York located in the Adirondacks region is the small village of Wilmington. Located just 20 minutes north of Lake Placid, Wilmington is a great base for those adventuring on and around Whiteface Mountain.
Each season presents many outdoor adventures. In the winter, visitors enjoy skiing, snowboarding, and ice skating in the area, and the rest of the seasons you can expect ample amounts of options for hiking, fishing, and mountain biking to name a few options!
If you're a fan of Christmas be sure to visit the North Pole! Open from June to December, Santa's Workshop is sure to charm the young, and young at heart alike. With live reindeer, elves, storybook characters, rides, and more, this charming gem is worth the trip!
Or, if galivanting with elves and reindeer isn't your thing, why not check out High Falls Gorge. A 22 acre privately owned nature park provides walking and hiking trails suitable for all ages. The main path leads travelers along a wooden bridge affixed to the side of the gorge cliff face.
Don't miss the adorable little stops along the way, like this old-fashioned ice cream shop in the photo above!
Tannersville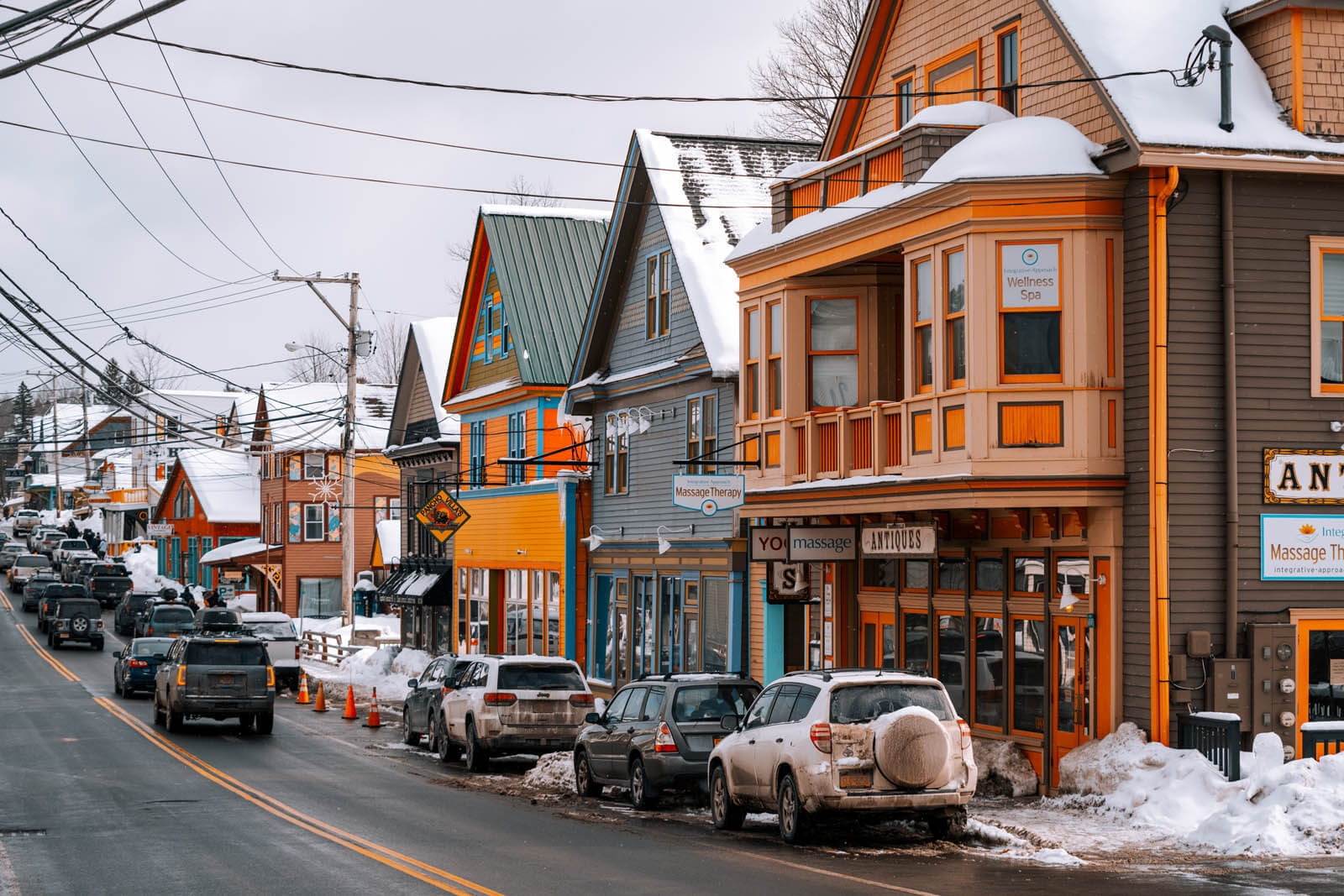 Love colorful places? This is one of the best towns in New York located in the heart of the Catskills near Hunter Mountain attracting outdoor winter enthusiasts to hit the slopes nearby and those looking for great hiking opportunities including one of the best waterfalls in New York, Kaaterskill Falls here near Tannersville.
As mentioned, if you're a fan of hitting the slopes, Tannersville is a great addition to a Catskills winter getaway. If not, no worries there are plenty of other options like antique shopping at Tannersville Antiques & Artisan Center you can't miss with the giant Rip Van Winkle mural on the side of it, and Catskill Mountain Country Store where you can find fun gifts and even dine!
Nearby, the Mountain Top Arboretum is a public botanical garden, spanning over 150 acres with walkable land with an emphasis on the preservation of the region's natural landscapes and is a gorgeous spot to visit.
Montauk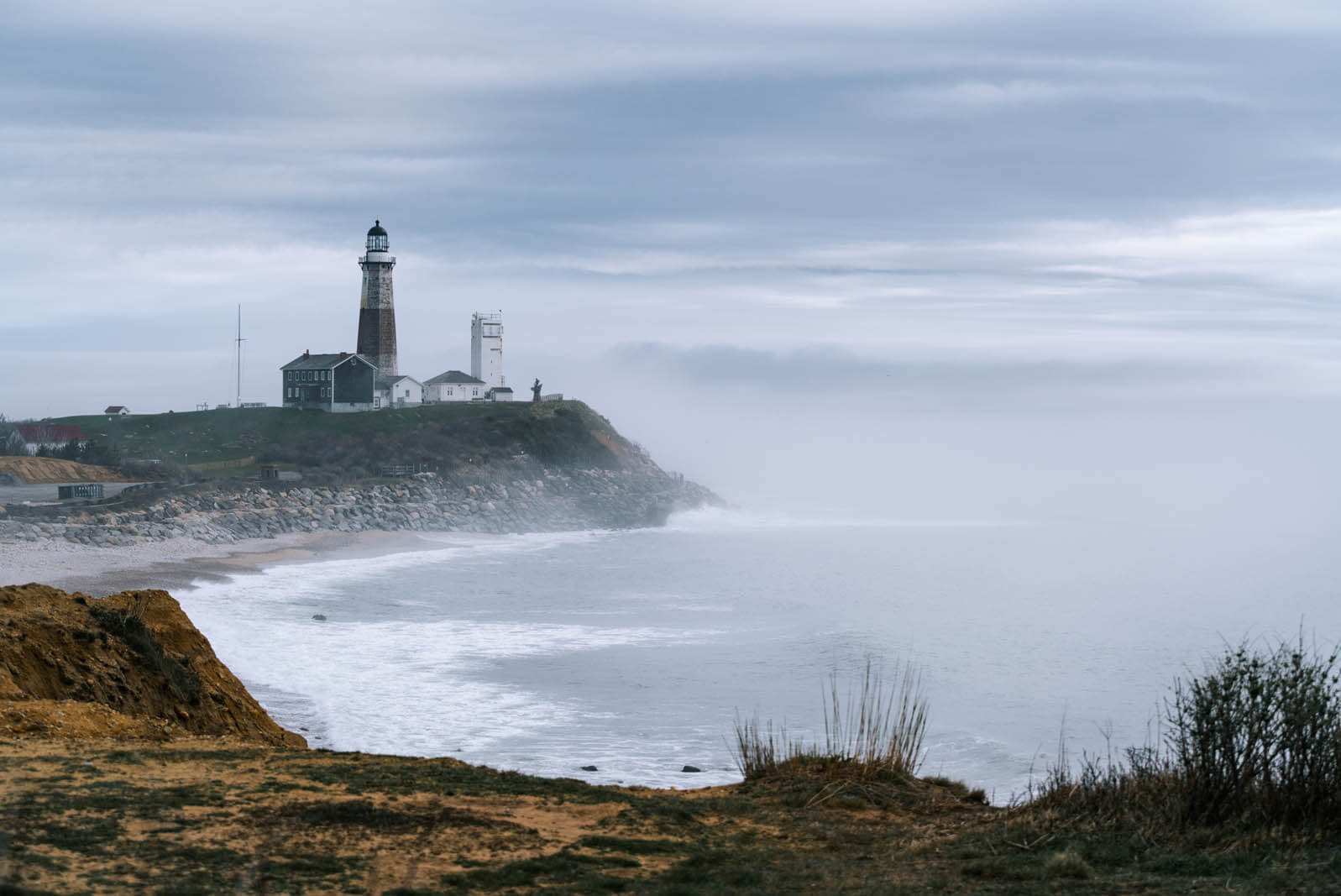 Another favorite and top contender for best New York towns takes us to the Hamptons to the "End of the World" as this is the most eastern point of Long Island.
There are plenty of amazing things to do in Montauk that make it an incredible destination from visiting this famous East Coast lighthouse to the beaches, dining, and entertainment scene. Enjoy dramatic cliffside views, trails in State parks, and saltwater fishing in the ocean from here.
Another popular spot in this charming Hamptons town for locals and tourists in Montauk is Ditch Plains Beach. This well-known surf beach is in the heart of Montauk and is very lively during the summer season where you can spot surfers catching waves, grab a bite to eat at the food trucks, and lounge on the beach.
Love the show Stranger Things? Head to Camp Hero State Park, a former military base turned park that offers stunning views of the lighthouse and the ocean below. This spot is cloaked with mysteries and unexplainable local tales that inspired the plot for the cult hit Netflix TV series by the Duffer brothers.
Don't miss the seafood here either! Try Clam Bar and Lobster Roll aka Lunch, two roadside stands that are popular in the summer months or Harvest on Ford Pond and Duryea's Lobster Deck, which both have waterfront views.
For music lovers, The Surf Lodge is one of the best things to do in the Hamptons if you love catching intimate performances of indie bands and even some household-name musicians like John Legend or the Flaming Lips.
Corning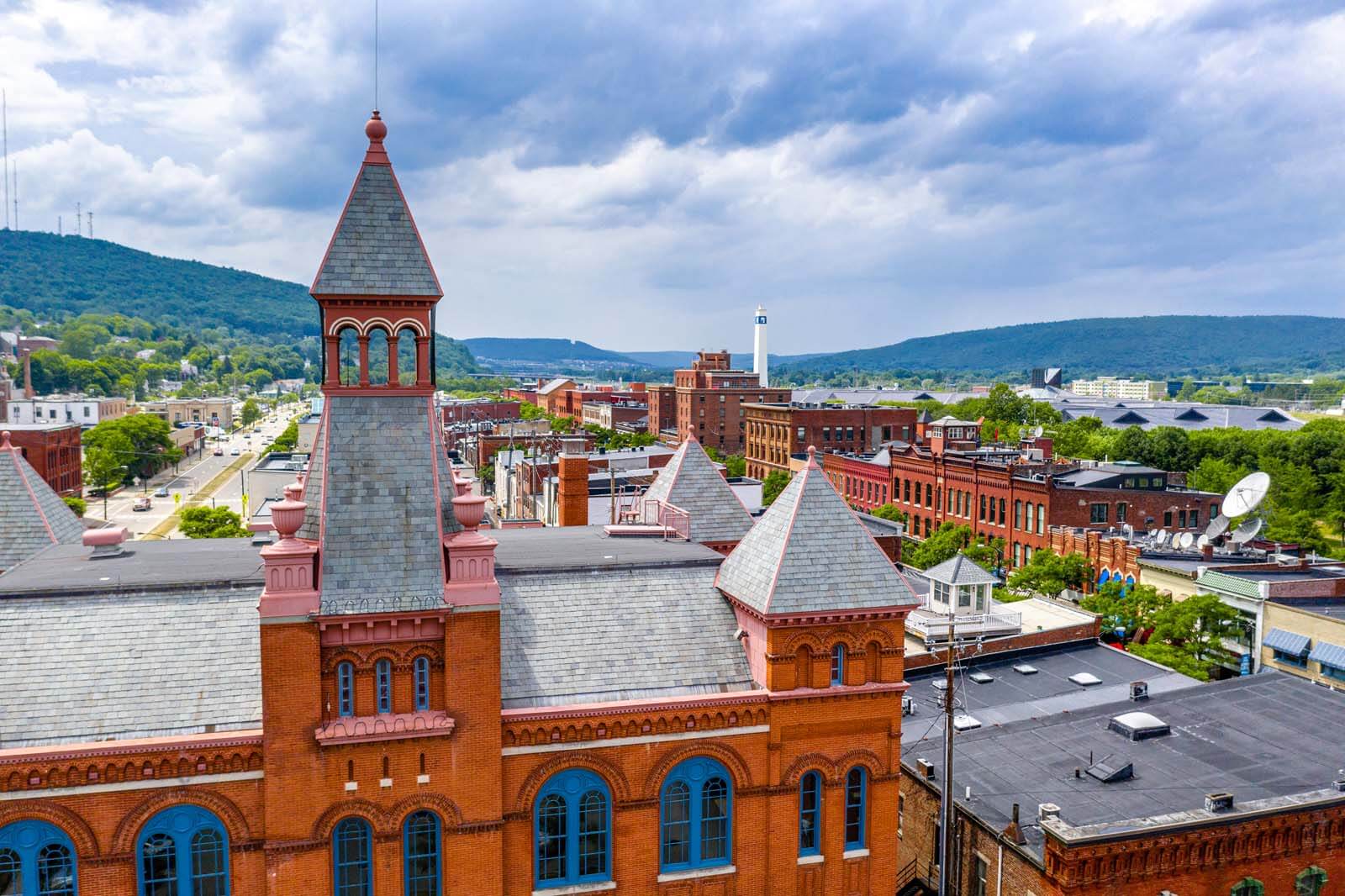 The town of Corning offers some of the best things to do in the Finger Lakes region and is a great base if you're looking to explore wine country and the small towns in New York that make up the region.
This small town in New York is located in Steuben County and home to the famous Corning Museum of Glass. Nicknamed the Crystal City, Corning is the home of many innovative inventions, from the light bulb to gorilla glass thanks to Corning Inc., which is based here who brought us everything from grandma's Corning Ware to the protective screen coverings we put on our phones.
More popular things to do in Corning include visiting the Rockwell Museum, which focuses on American art and is an official Smithsonian affiliate museum as well as head down Market Street where you'll find restaurants, boutiques, cafes, and other shops such as the well-known feminist book store, Card Carrying Shop.
What makes this one of the best towns in New York is its location. Corning is about a 30-minute drive to the base of Keuka Lake and Seneca Lake, both of which have their own wine trails and an abundance of outdoor activities to enjoy every season.
Tarrytown & Sleepy Hollow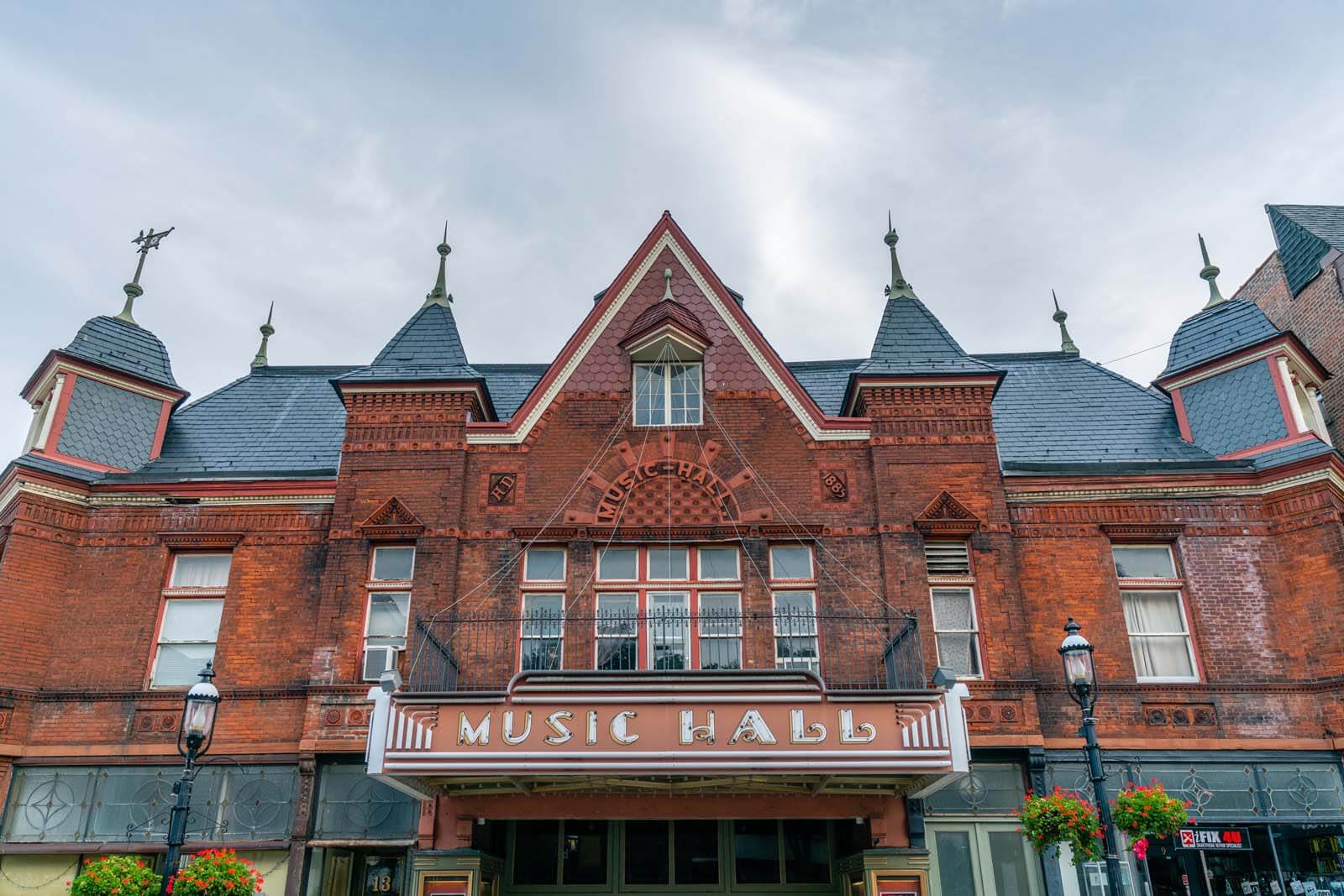 One of the most enchanting small towns in Upstate New York located in the Hudson Valley is Tarrytown and the village of Sleepy Hollow which most know from the literary classic by Washington Irving, "The Legend of Sleepy Hollow" where he drew much of his inspiration from the story here.
This is an especially popular town in New York to visit around Halloween time due to the spooky tale of Ichabod Crane and the Headless Horseman.
In Sleepy Hollow you can visit the Old Dutch Reformed Church and graveyard where you can find the Headless Horseman Bridge, the 18th-century historic mill at Phillipsburg Manor, estates, and mansions including a Rockefeller estate and Washington Irving's estate.
There are more great things to do in Tarrytown, which is a charming and an easy 5 minutes from Sleepy Hollow whether you're coming to this New York town by train from the city for a day or enjoying a New York road trip, this is one of our favorite spots!
Be sure to see our full guide to how to spend a weekend in Sleepy Hollow at Halloween time too! (September – early November, the most popular and festive time to visit!)
Watkins Glen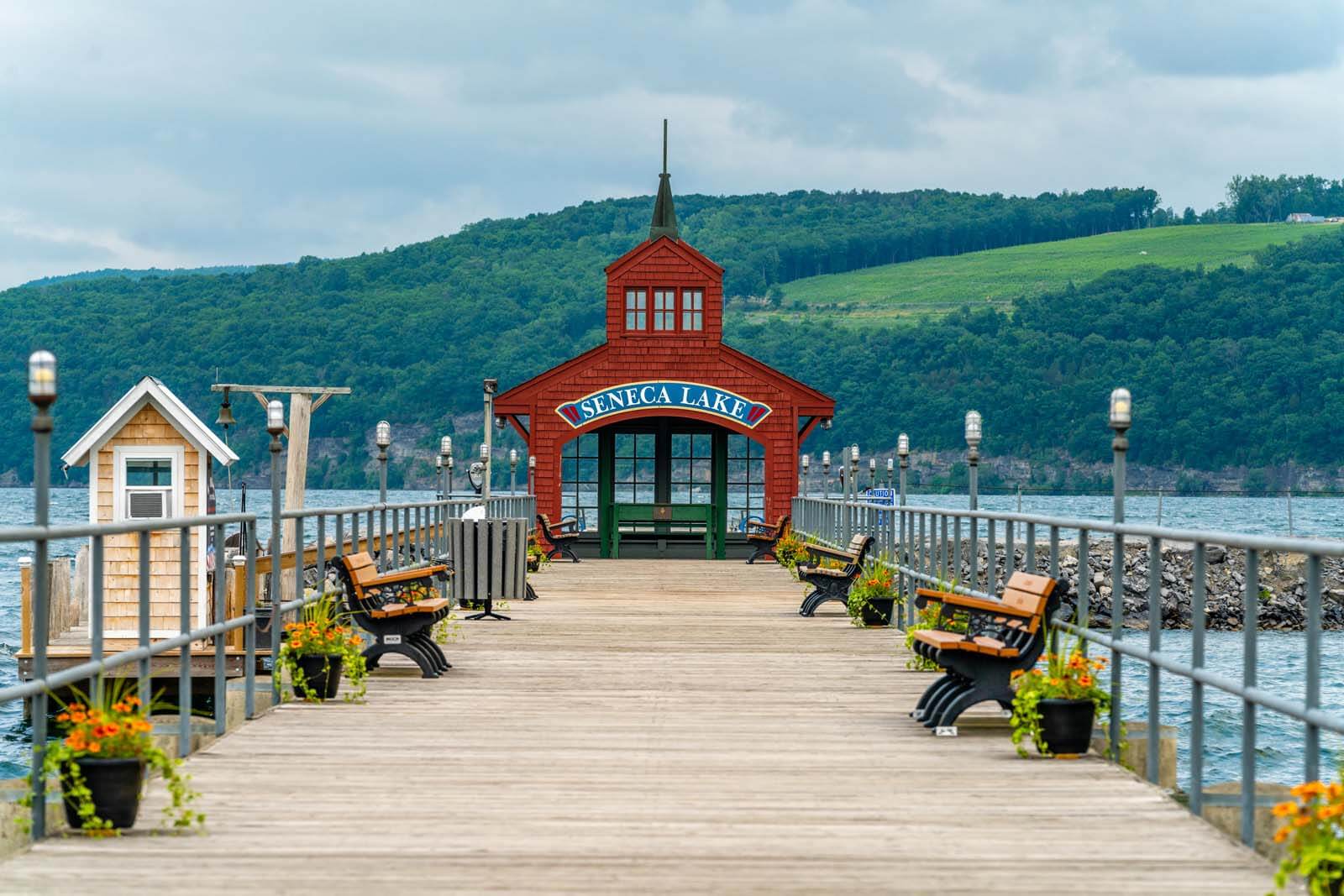 One of the most gorgeous New York towns is Watkins Glen, home to Watkins Glen International Race Track, one of the most famous raceways in the country hosting NASCAR events as well as Seneca Lake, wineries, waterfalls, and more amazing things to do in Watkins Glen to plan a whole vacation around.
Don't miss one of our favorite places ever, the 19 magical cascading waterfalls that can be found in Watkins Glen State Park on the cobbled pathway of the 1.5 mile Gorge Trail through the scenic glen that feels straight out of Fern Gully.
Head to Franklin Street, the heartbeat of this small town in Upstate New York where you can find an array of places to eat and if you walk to the harbor you can enjoy the breathtaking views of Seneca Lake from the south end of the lake or join a boating excursion like a sunset cruise on the historic True Love schooner.
Toward the outskirts of Watkins Glen, you can find another village and adorable small town in New York at Montour Falls which has a dramatic backdrop of She-Qua-Ga Falls tumbling over rocks overlooking the town.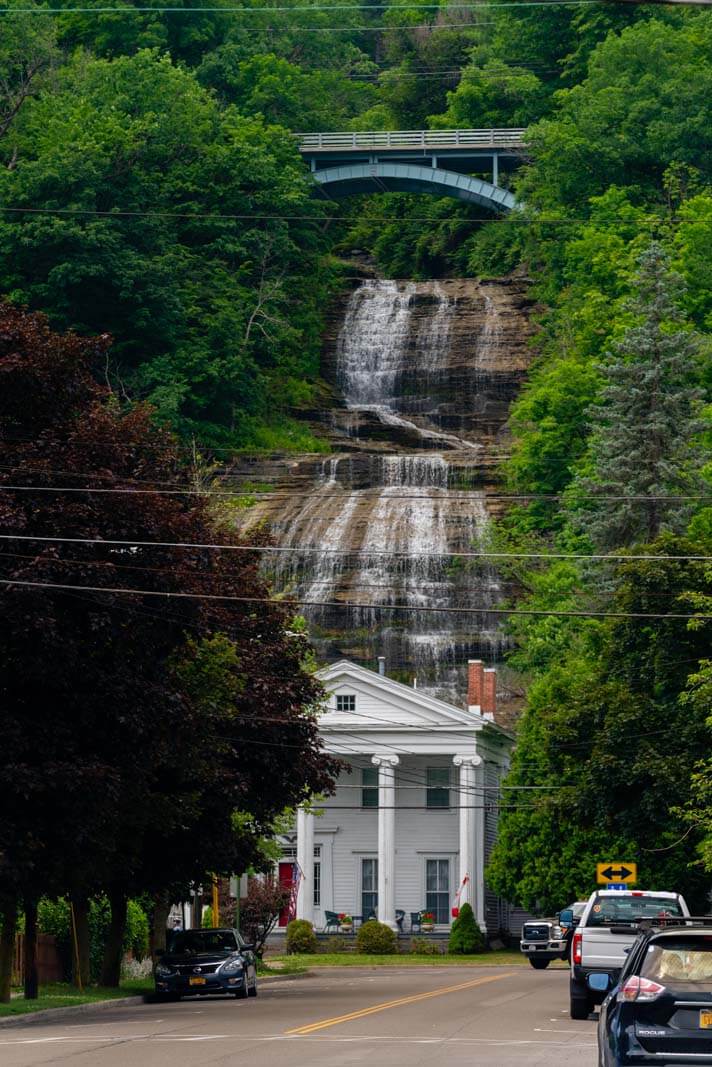 This waterfall made its way to Paris too as there's a painting of it on display in the Louvre. In 1820, Louis Philippe, who eventually became the King of France was so taken aback by the beauty of this waterfall here that he painted it and it's recognized in the most famous art museum in the world!
In Montour Falls, you can also expect to find Havana Glen Park, where you can hike along the creekside trail and end at a popular sightseeing point with more waterfalls in the Finger Lakes opportunities like Deckerton Falls and Eagle Cliff Falls.
Another roadside waterfall found nearby is Aunt Sarah Falls on Route 14 as well as Hector Falls on route 414.
Hudson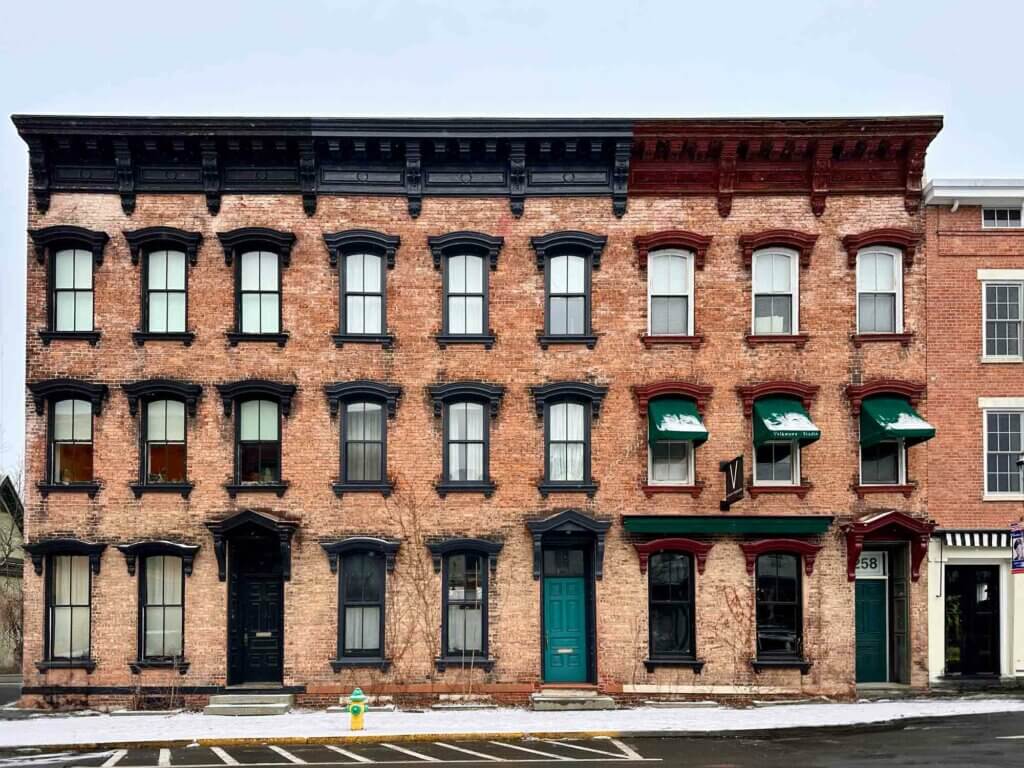 Another one of our absolute favorite small towns in New York nestled along the Hudson River is the town of Hudson. Better yet, this is another easy town to visit from New York City by train too on a day trip if you don't have a car to explore.
Hudson exudes undeniable charm, making it one of our own personal favorite towns to visit in New York. With its unbelievable antique shops, architectural splendor, and incredible foodie scene, Hudson offers a perfect blend of history, culture, and beauty.
Hudson is a haven for antique lovers and collectors like ourselves. You can find a plethora of antique shops, vintage boutiques, and curated markets. You'll want to schedule at least a few hours for the Antique Warehouse.
Also, be sure to shop up and down Warren Street where you'll find anything and everything from bookshops, clothing stores, antique stores, home decor, and other interesting boutiques. One of our favorites is Spotty Dog Books & Ale which is not only a bookshop but a bar set in an old firehouse.
One of our favorite things to do in Hudson was admire the well-preserved historic buildings. The town boasts a remarkable collection of Victorian and Federal-style architecture, which you'll encounter as you stroll up and down the streets.
The Hudson Opera House, a grand cultural landmark, is a must-visit, hosting a variety of performances, exhibitions, and community events.
And being situated on the Hudson River, it provides an idyllic backdrop for scenic walks, picnics, and views of the Athens Hudson Lighthouse.
The nearby Olana State Historic Site offers panoramic views of the river and showcases the picturesque home and studio of renowned Hudson River School artist Frederic Edwin Church.
Food lovers will be delighted by Hudson's burgeoning culinary scene. The town is home to a multitude of farm-to-table restaurants, artisanal bakeries, and specialty food shops. A must for dining is at Kitty's and Lil' Deb's Oasis.
Roscoe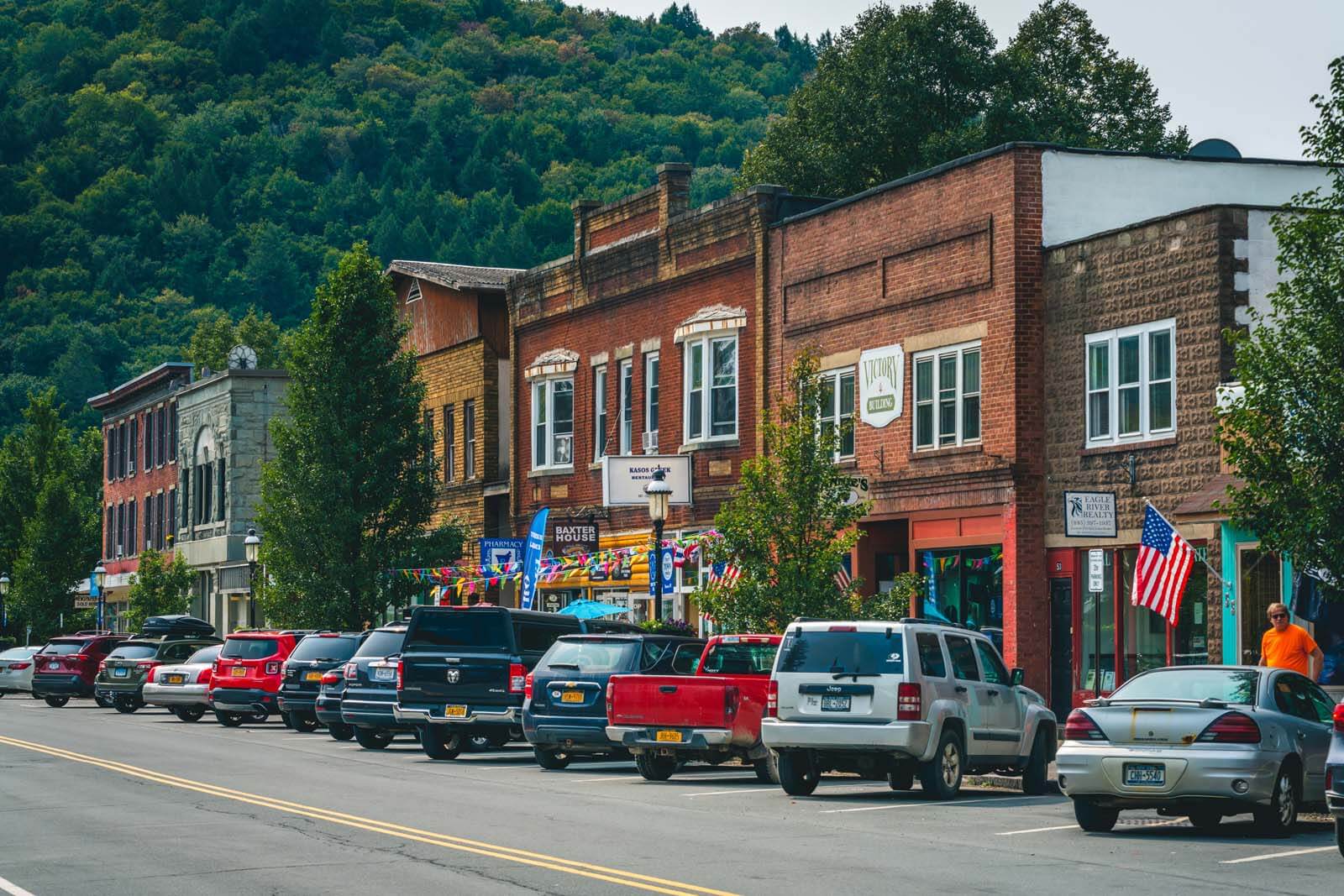 Another one of the most charming towns in the Catskills that's also one of the best towns in New York is Roscoe and Livingston Manor, which are only 10 minutes from one another.
Within the two of these towns in New York, you'll find cute shops, eateries, and coffee shops. There are also some great craft beverage options nearby including breweries like Catskills Brewery and Roscoe Beer Company and distilleries like Do Good Spirits.
Along with long stretches of roads and places to hike, fish, or picnic, this area also has a number of covered bridges that are worth exploring. The Beaverkill Covered Bridge, also known as Conklin Bridge, was constructed in 1865, and 98 foot long hemlock lattice beams have an unbeatable rustic charm.
Another noteworthy New York covered bridge in the area is the Livingston Manor Covered Bridge (or the Vantran Bridge) that was built in 1860, the 103-foot long bridge sits atop the running Willowemoc creek.
Sag Harbor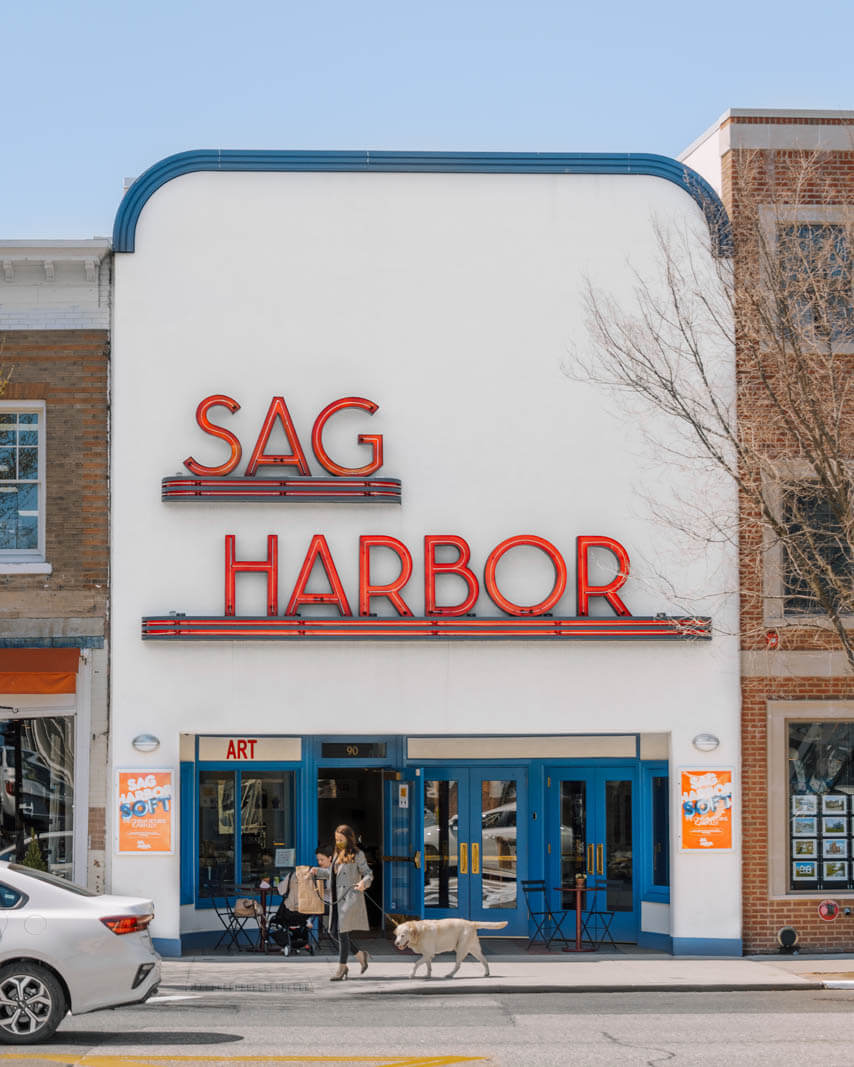 One of the most popular best small towns in New York can be found in the Hamptons and an easy trip from city folk like us. This quaint, seaside village offers great dining, shopping, and views not to mention the interesting history at this little New York town.
This quaint seaside village is famous for its history tied to being a major whaling port in the 18th and 19th centuries and was even mentioned in the iconic literary classic, Moby Dick by Herman Melville. You can explore and learn about the whaling history here at the Sag Harbor Whaling & Historical Museum.
Besides being a popular whaling spot, this town in New York became a popular haven for not only the wealthy and elite, but also an enclave for creatives and artists.
Another great place to visit for those who love historic spots is The American Hotel, a hotel, and restaurant that's known for its great seafood and an extensive 85-page wine list that's been around since 1846 making it a historic Hamptons institution.
Take a wander around the village and admire the vintage picture-perfect storefronts or check out more of the great dining scene including the Dockside Bar & Grill, which we ate lunch at, and little did we know, this is next to Billy Joel's house – no we didn't see him sadly!
There are also great shops you can browse and if you're aching to see a movie, check out their beautiful little cinema with the pretty facade that reads Sag Harbor featured in the photo above.
Lake George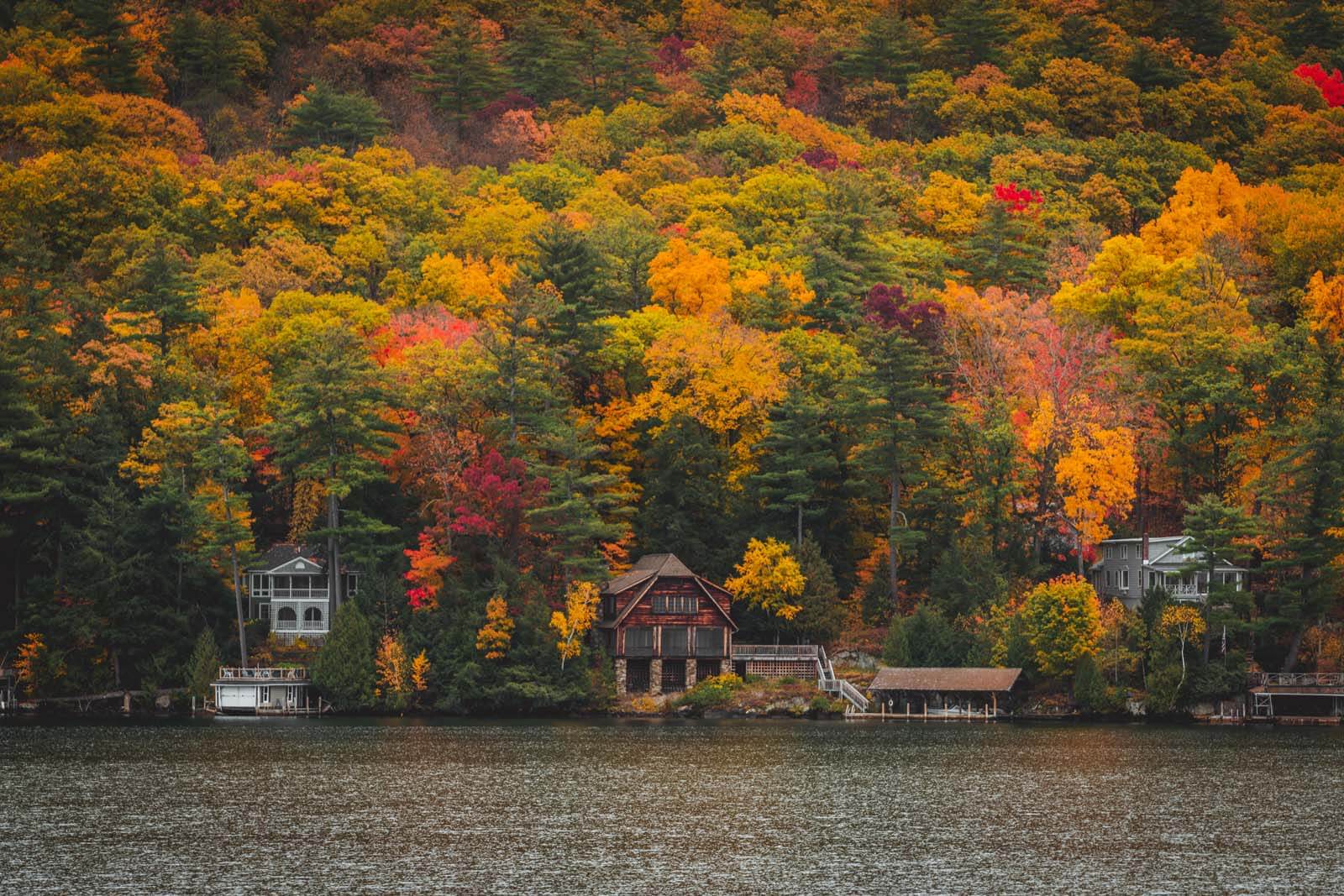 A round-up of the best small towns in Upstate New York wouldn't be complete without mentioning one of the best towns in the Adirondacks.
Lake George is located on Lake George and has been a popular resort town in the summer where visitors flock to lakeside cabins and resorts to enjoy fun on the lake, hiking, and all the other amazing things to do in the Adirondacks as this is a great base for exploring the scenic region.
Be sure to check out our full guide to the best things to do in Lake George like cruise the lake on a historic steamboat, chase fall foliage, hit up the local breweries, wineries, and great restaurants that are all here not to mention all the fun mini golf courses available in this New York town.
For history buffs, check out Fort Williams Henry, a historic site that operated as a military fort between 1755 and 1757 during the French and Indian War and offers tours and visits.
Last but not least, you can visit the world-famous luxury Sagamore Resort on Lake George. This waterfront resort offers many different lodging options, but also a full-service spa and outdoor activities to enjoy on the scenic waterfront along with a famous golf course.
Ithaca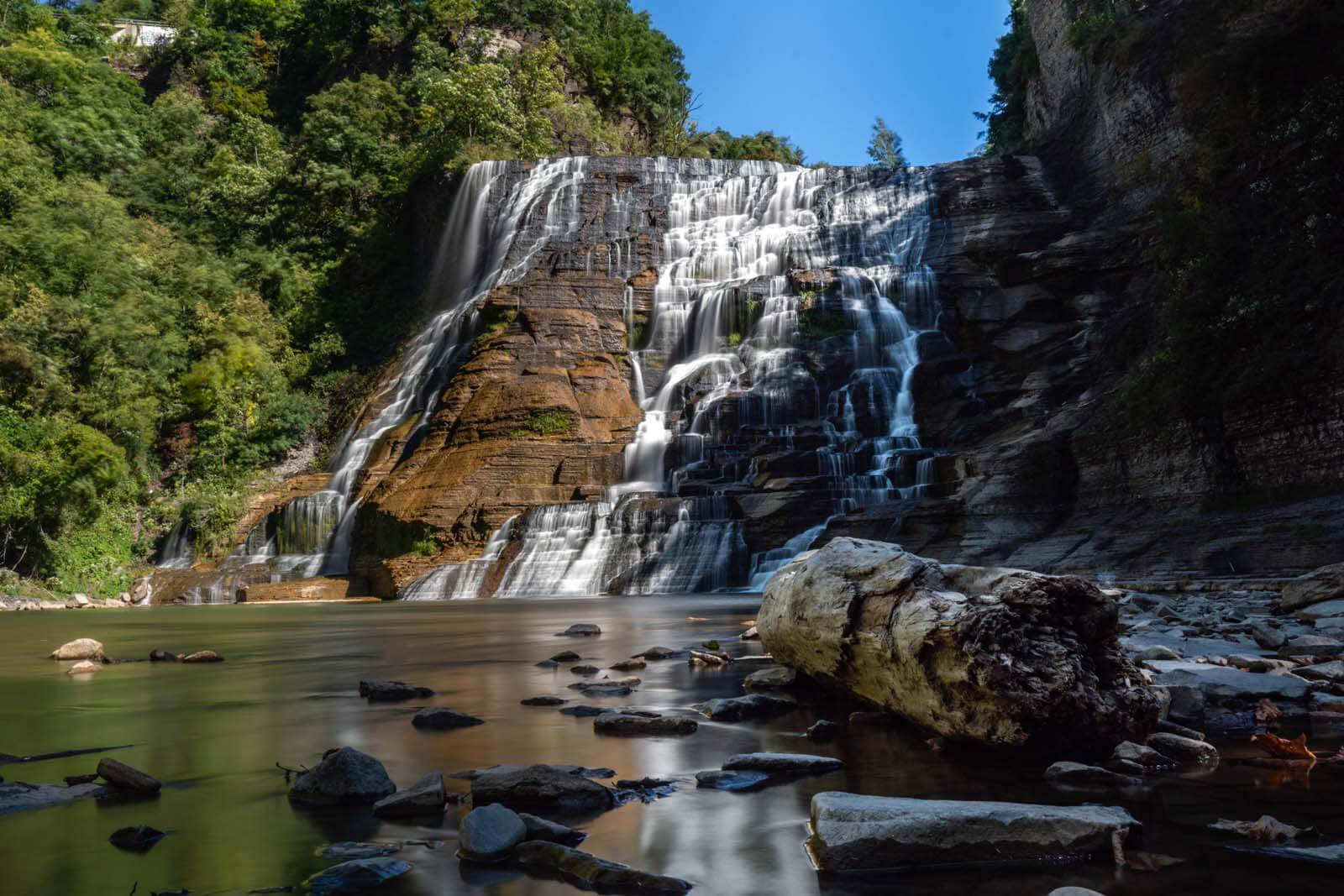 One of the most epic towns in New York when it comes to waterfalls, scenery, food, and activities is Ithaca in the Finger Lakes region on the southern tip of Cayuga Lake.
Ithaca is also home to not one but two famous universities including Ivy League, Cornell University. There are so many wonderful things to do in Ithaca from dining, shopping, lake activities, more wine tasting, and of course the famous Ithaca waterfalls, where there are over 150 waterfalls in a 10-mile radius including waterfalls smack dab in the middle of this New York town and through the university campuses!
We aren't talking about small, trickling 2-foot waterfalls either, we are talking about some of the most stunning falls we've ever seen which is one of the many reasons we love it here and why we think the Finger Lakes is one of the most underrated destinations in the US.
Check out the waterfalls here including Fall Creek, Cascadilla Gorge, and Six Mile Creek. These are all great spots to hike and see the waterfalls in the heart of the town and there are even more opportunities just driving a short distance out of town too.
Head to the Ithaca Commons for shopping and dining options as well as beautiful historic architecture. Nearby you can also explore more wineries, breweries, and more scenic state parks with waterfalls including Robert H. Treman State Park, Buttermilk Falls State Park, and Taughannock Falls State Park.
Woodstock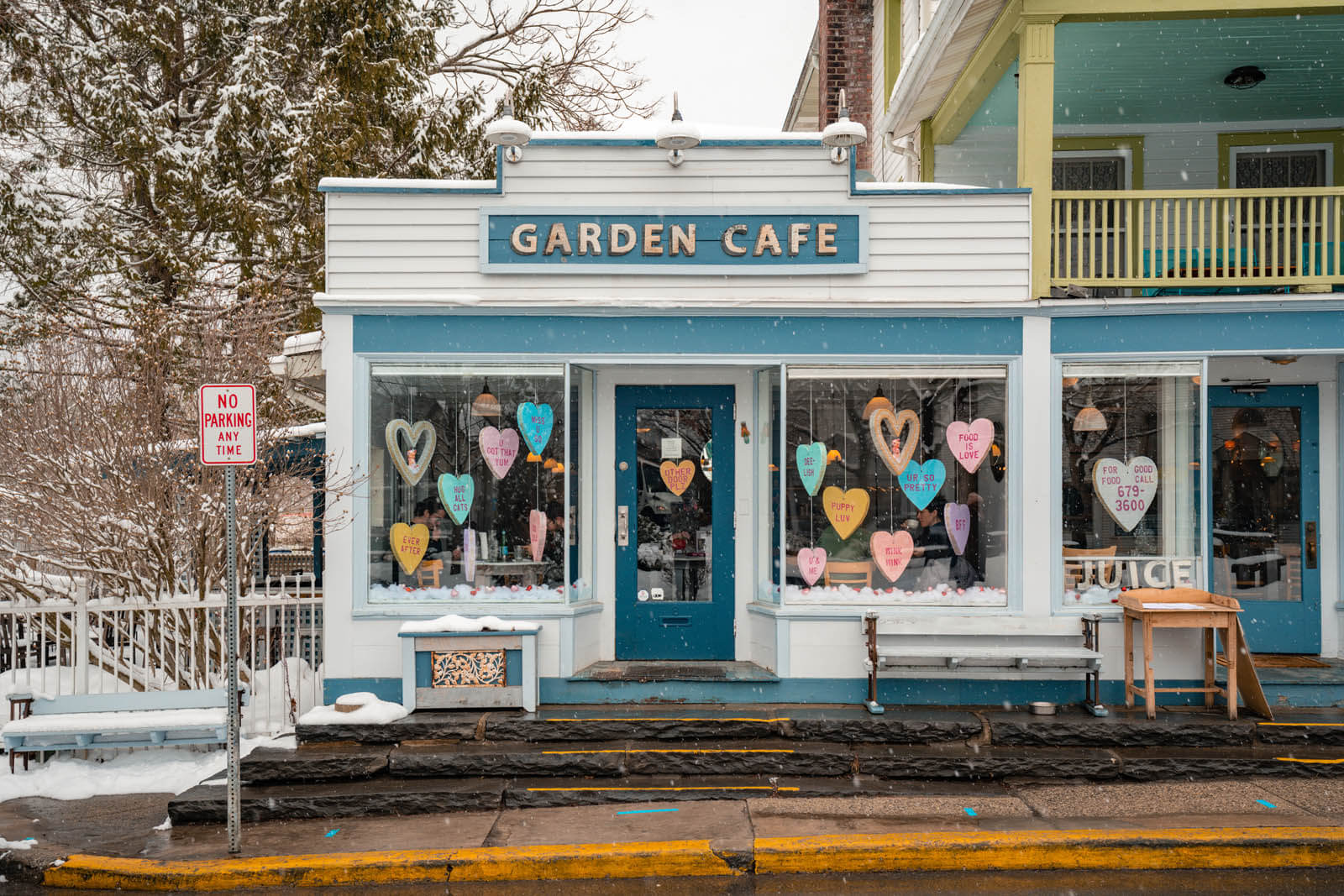 Another great small town in Upstate New York and popular spot to visit the unique things to do in the Catskills can be found at Woodstock. Most people are familiar with the name Woodstock from the legendary music festival that took place in summer 1969, but what most don't realize is that the music festival was actually in Bethel which is a drive from here.
The town of Woodstock still stays on brand with the music festival though with its bohemian art scene, nature-filled landscapes, galleries, and boutiques. On Tinker Street, you can find all of the independent shops and restaurants plus stores with that Woodstock festival memorabilia.
There are more great things to do in Woodstock like head up to the mountain where you can visit the Buddhist Monastery, Karma Tryana Dharmachakra, and enjoy some hiking at Overlook Mountain.
Check out cultural institutions like the Woodstock Playhouse for a show or plan a visit around the Woodstock Film Festival as well as the many galleries dotted throughout down.
Millbrook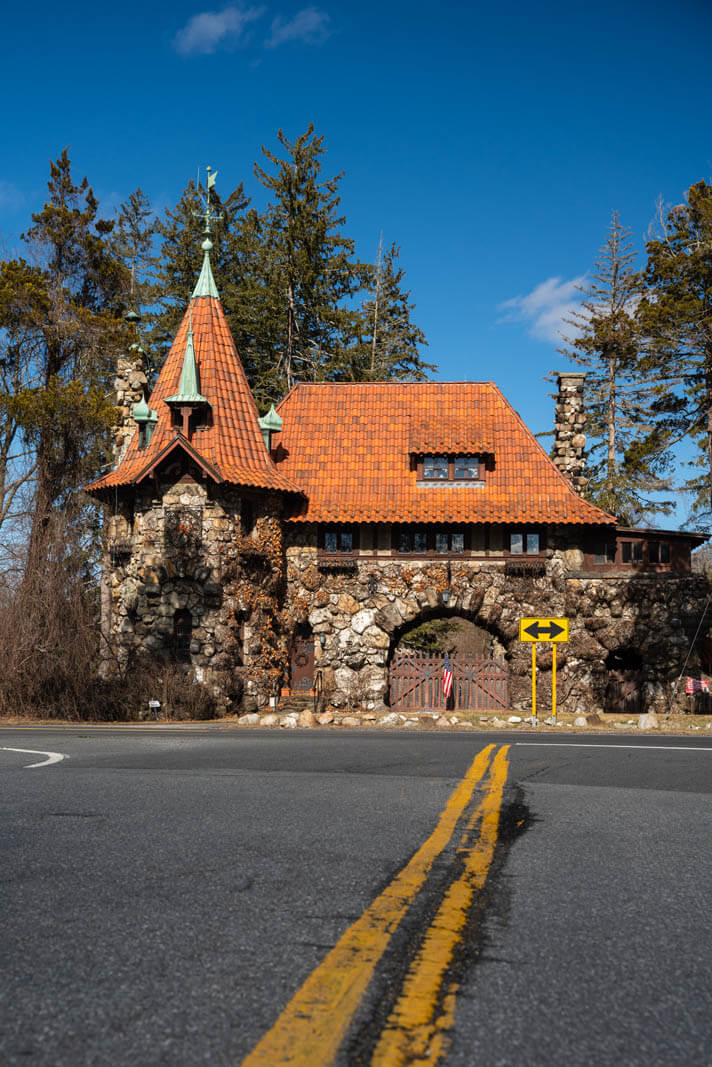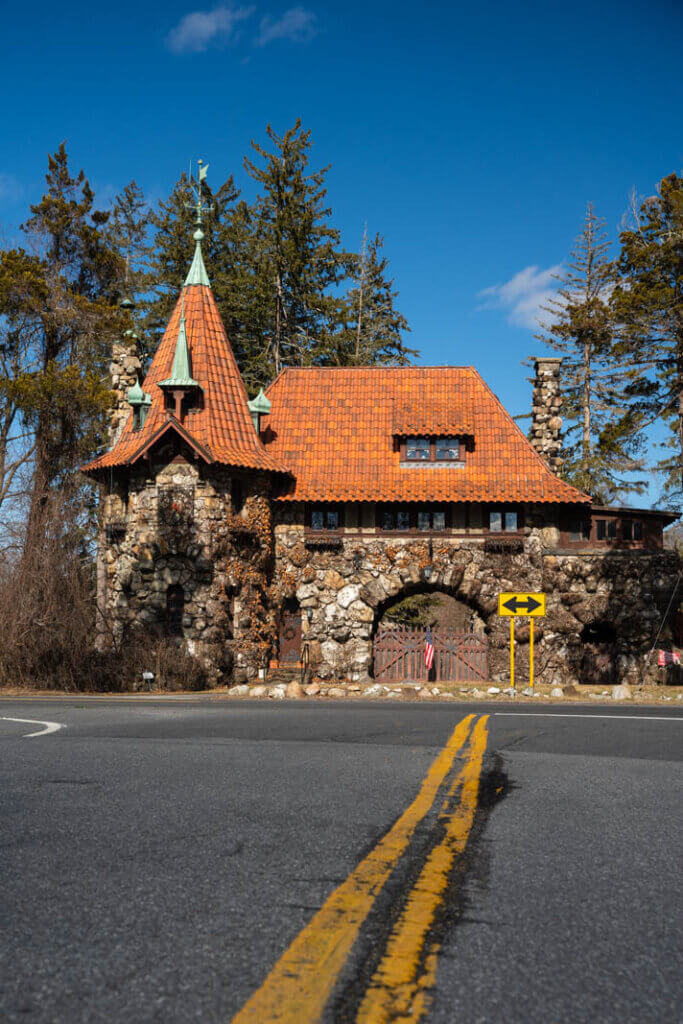 Tucked away in the picturesque Hudson Valley, Millbrook captivates visitors with its undeniable charm, making it one of the most enchanting towns to visit in New York. With its idyllic countryside, elegant estates, and a thriving equestrian culture, Millbrook offers a perfect blend of natural beauty, cultural richness, and refined living for the ultra-wealthy.
Millbrook is known for its affluence and abundance of wealth, primarily due to its proximity to New York City. Many affluent individuals and families choose Millbrook as a retreat, drawn to its serene countryside, privacy, and luxurious amenities.
But don't let that deter you from visiting, the town boasts elegant estates, historic mansions, and upscale shopping that contribute to its reputation as a destination for refined living. Some of the best antique shopping can be found downtown as well as a few cute eateries and historic landmarks.
One of the highlights of Millbrook is its stunning landscapes. Rolling hills, lush farmland, and scenic trails invite visitors to immerse themselves in the beauty of the Hudson Valley. The Millbrook Vineyards & Winery is a must-visit, where visitors can enjoy tastings and vineyard tours.
Other cool landmarks in Millbrook include Wing's Castle; a medieval fairytale-style estate, Innisfree Garden; a breathtakingly beautiful and internationally renowned public garden inspired by Asian design principles, and Hitchcock Estate Gardens; a meticulously designed, lush garden surrounding a beautiful estate.
Saranac Lake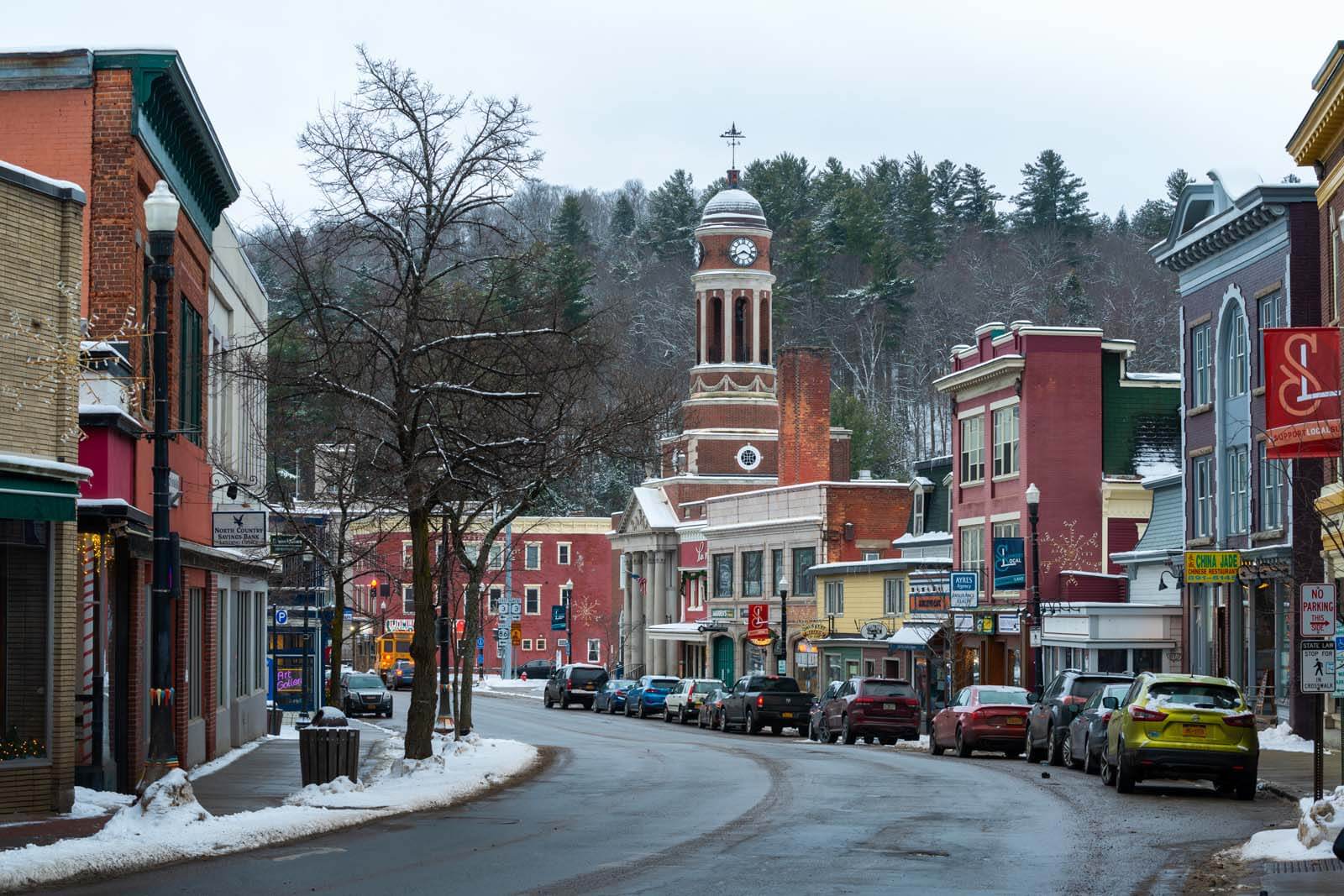 Located deep in the Adirondacks is another one of the best towns in New York. Saranac Lake is not only a fun stop while exploring this upstate mountain region, but this New York town has quite a fascinating history.
In the 1870s, this New York town became a famous place to send Tuberculosis patients in hopes to cure their illness with prescribed treatments of the fresh, crisp mountain air, scenery, and nature at the 'cure cottages'. Notably, the author Robert Louis Stevenson spent a year here recovering and you can visit his cottage today which is a preserved historic landmark.
Besides the really interesting past, this small town in Upstate New York also has a scenic lake, little shops, restaurants, hotels, and of course beautiful architecture.
Aurora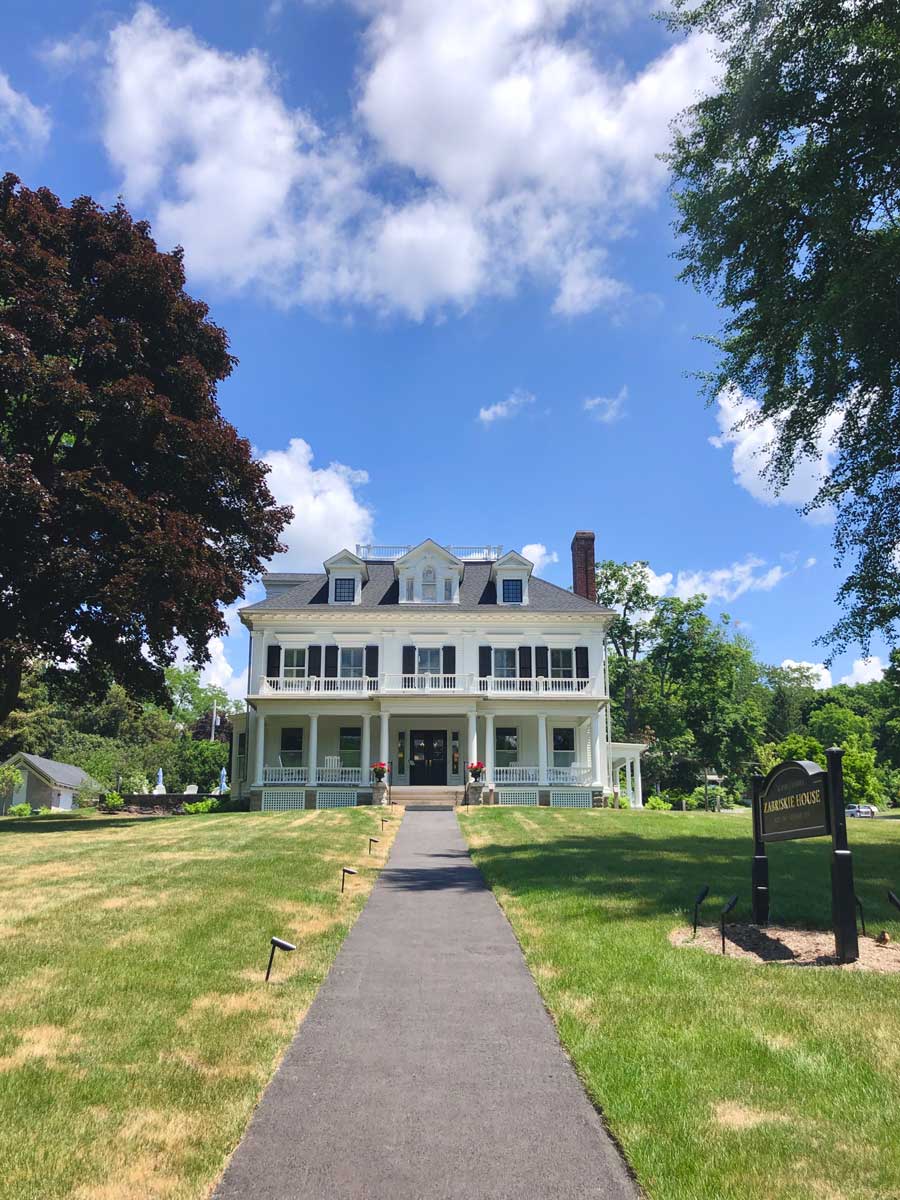 Aurora is a village and college town in New York located in the Finger Lakes region along Cayuga Lake. It's hard to believe this small New York town is home to a university, but it is. You can find Wells College here in this tiny town which is a small liberal arts school.
This one-road town in New York is picturesque as you have glimpses of Cayuga Lake between the lakeside mansions and historic, grandiose buildings.
While exploring some of the other best towns in New York in the region, stop by Aurora for a meal or the views. One of my personal favorite landmarks is the Morgan Opera House which is housed in a Victorian, half-timbered Tudor-Revival building that also houses a library.
The history of this New York town and its success is also fascinating. The creator and founder of the American Girl Doll Company, Pleasant Rowland who graduated from Wells here in Aurora which according to her interview with Vogue, changed her life.
25 years after graduating she returned back to Aurora and restored many of the beautiful, old homes here that were falling into disrepair as well as the entire town and even businesses that were suffering here, although not everyone appreciated this.
Be sure to stop at Long Point Winery for not only their great red wines but also the views.
New Paltz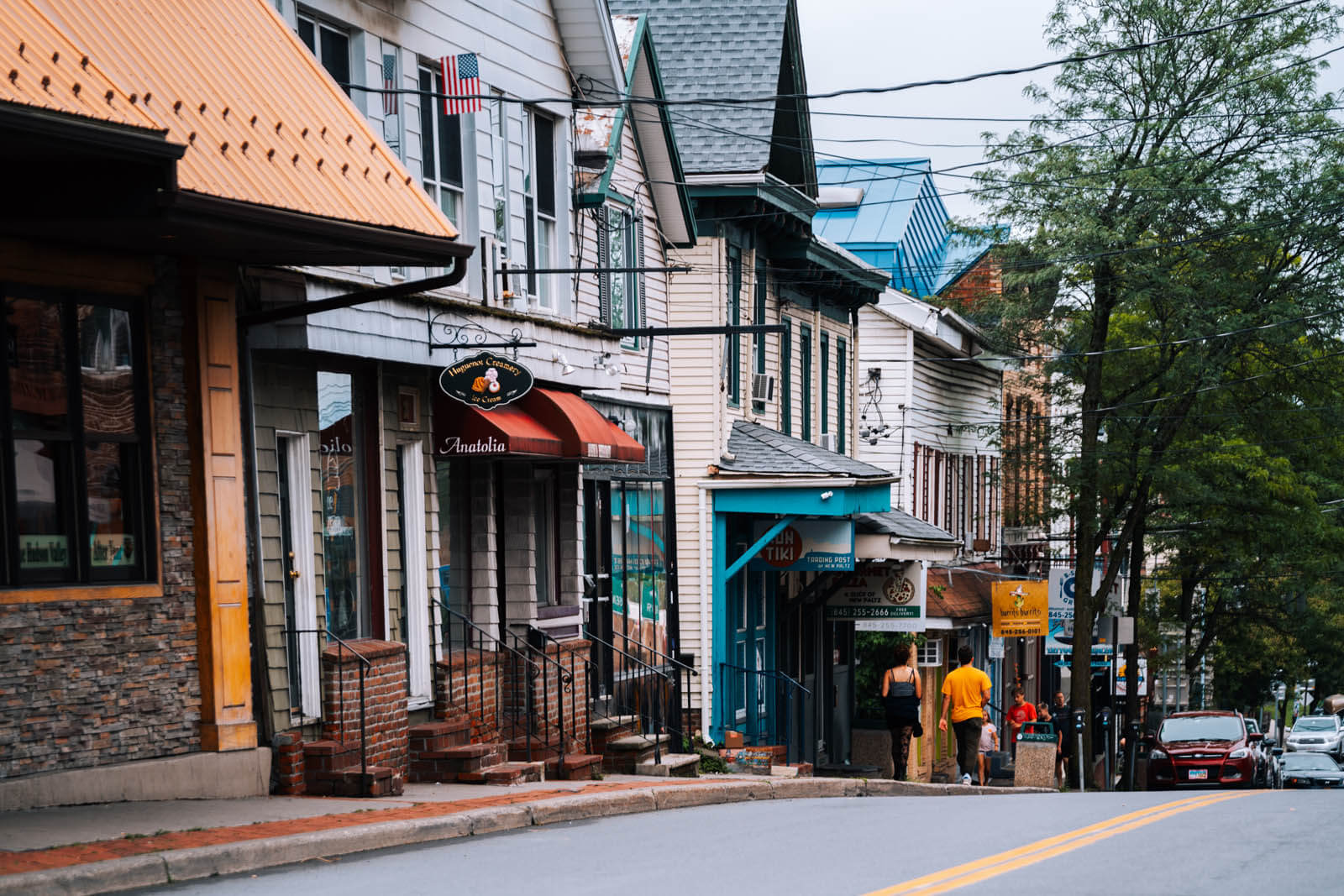 Another beautiful, small town in Upstate New York located in the Shawangunk Mountains and Catskills region is New Paltz.
Visit Main Street where you can find options to shop, dine and drink. Don't miss Water Street Market either which is an open-air market offering all kinds of great goodies and antiques.
There are also cultural institutions like museums and galleries worth exploring here too including the Samuel Dorsky Museum of Art which offers a collection of art including photography, painting, and sculpture-based works or the Unison Arts Center which has a sculpture garden and serves as a venue for events to name just a few options.
Nearby, check out Huguenot Street, a preserved historic area that was occupied by French Huguenot settlers who were fleeing religious persecution.
Nearby you have plenty of outdoor activities to enjoy like the miles of trails available at Minnewaska State Park and the Wallkill Valley Rail Trail along the Shawangunk Ridge that was a filming location for both installments of the "A Quiet Place," films by John Krasinski and Emily Blunt.
And nearby this small New York town is the famous Mohonk Mountain House, a luxury lodge and resort on a huge plot of 40,000 acres of land that's also a National Historic Landmark.
Phoenicia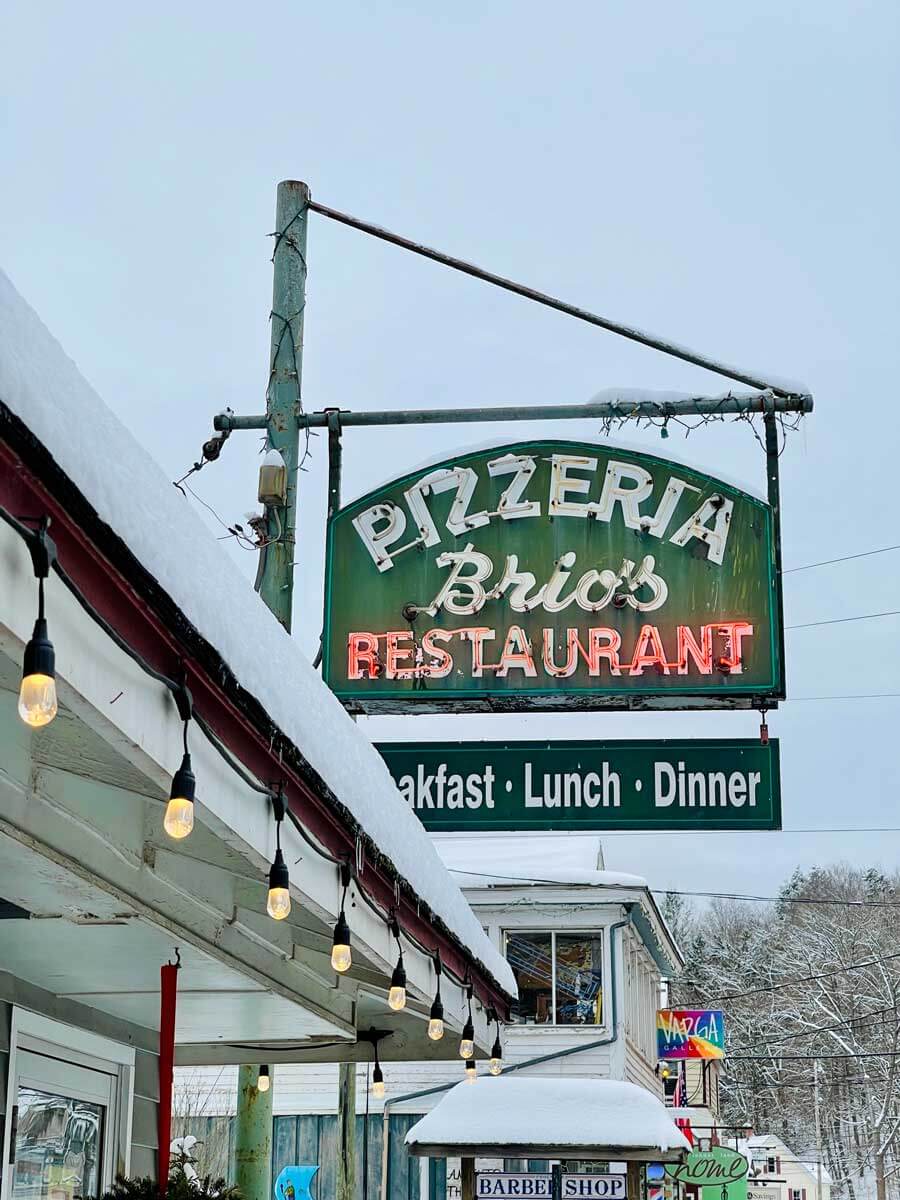 Another quaint, gorgeous New York town to check out in the Catskills region is Phoenicia which is tucked between neighboring valleys and has an adorable downtown with shops, restaurants, and lodging.
Exploring the food scene is just one of the best things to do in Phoenicia as well as the outdoor adventures here from hiking to hitting up the nearby slopes in the winter.
Don't miss a meal at Phoenicia Diner, an upstate classic diner that draws crowds for their appetizing fare, especially in the mornings! Nearby you can food Woodstock Brewing for more great dining and local craft brews!
Don't miss the shops at Emerson Resort and Spa including the world's largest kaleidoscope installed inside a silo with a mesmerizing, sensory-stimulating "kaleidoshow" that you don't want to miss!
Nearby you can also visit the Brunel Sculpture Garden which focuses on indigenous art created in 1921 by French photographer Emile Brunel.
Seneca Falls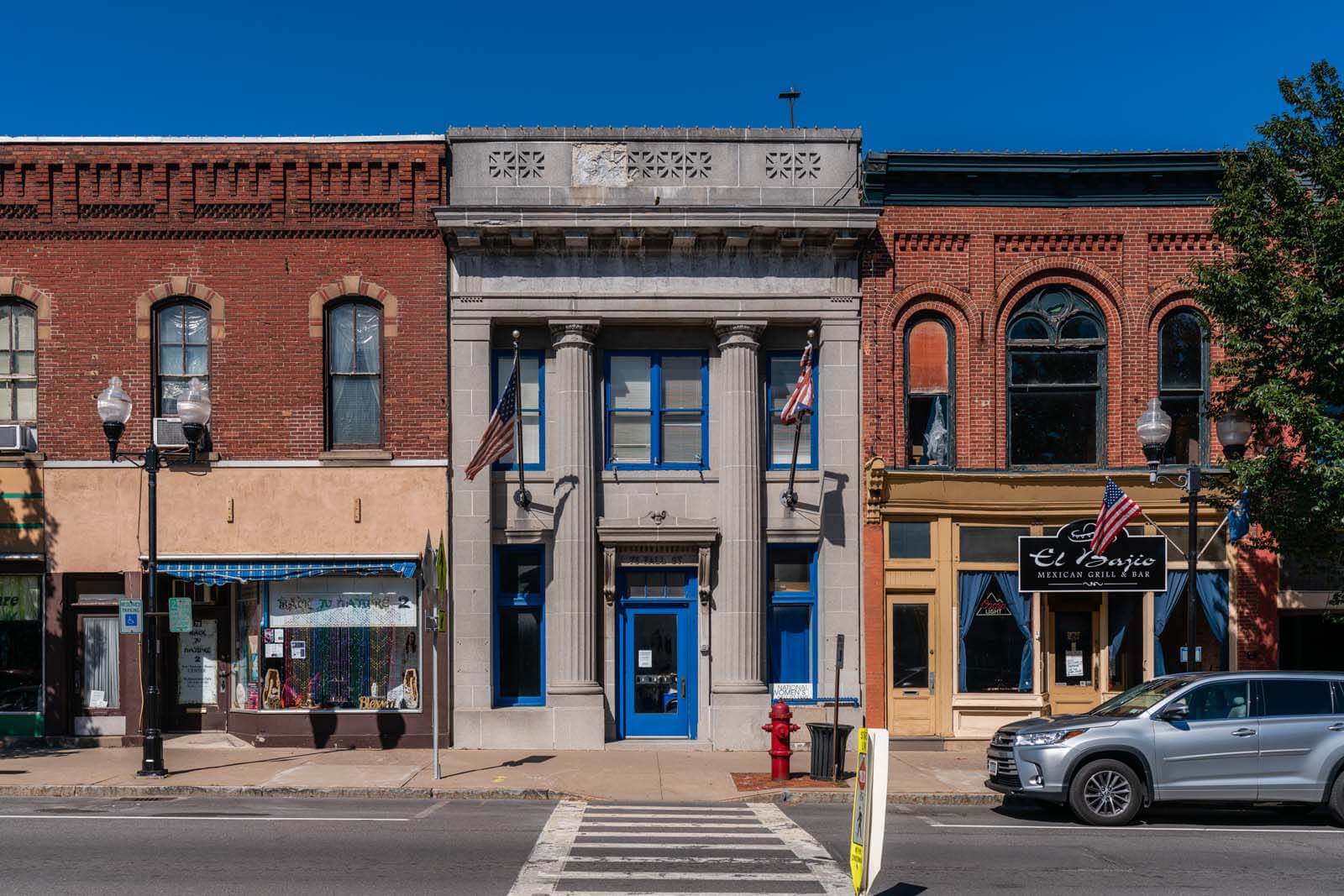 One of the most historic towns New York to visit located in Seneca County in the Finger Lakes region is Seneca Falls. This New York town is the birthplace of women's rights in the United States!
One of the best places to learn about the town's history is The Women's Rights National Historical Park that offers 6 acres of land and historic tours, this museum tells the story of the first women's rights convention that was held in Seneca Falls and also gives you different landmarks throughout the area where you can stop and appreciate the pioneering figures behind the women's suffrage movement including the homes in notable figures that fought for women's rights.
For example, visit Elizabeth Cady Stanton's home that has now been turned into a historical landmark. You can tour the home to learn more about Stanton's life, the women's rights movement, and the history of Seneca Falls.
If you're a lover of classic films you may also feel a familiarity while you're in this New York town. Seneca Falls is said to be the inspiration for Bedford Falls in It's a Wonderful Life by Frank Capra and there's even the It's a Wonderful Life Bridge in town as well as other landmarks and a museum to visit!
Lake Placid

For sports and outdoor enthusiasts, one of the best towns in New York to visit is Lake Placid, the home of both the 1932 and 1980 Winter Olympic games.
This is where you can find four seasons of outdoor activities including all of the winter Olympic sites which is why many plan their winter in the Adirondacks vacation around this destination and small New York town.
Be sure to check out all the amazing things to do in Lake Placid in winter so you don't miss a single attraction from the Olympic Sports Center, where the famous "Miracle" hockey game took place, and take a tour around the Speed Skating Oval (open from December to March.
Nearby, is Whiteface Mountain, one of the downhill skiing slopes in the country with over 76 trails.
Don't miss the Cliffside Coaster, North America's longest mountain roller-coaster located at another Olympic site, Mt. Van Hovenberg. Other places open to the public include the ski jumping complex, and ice-skating rinks right off of Main Street.
For those who need a break from all the sports activities and attractions, this New York town also has some great shopping and dining options along with breweries and wine tasting rooms.
Naples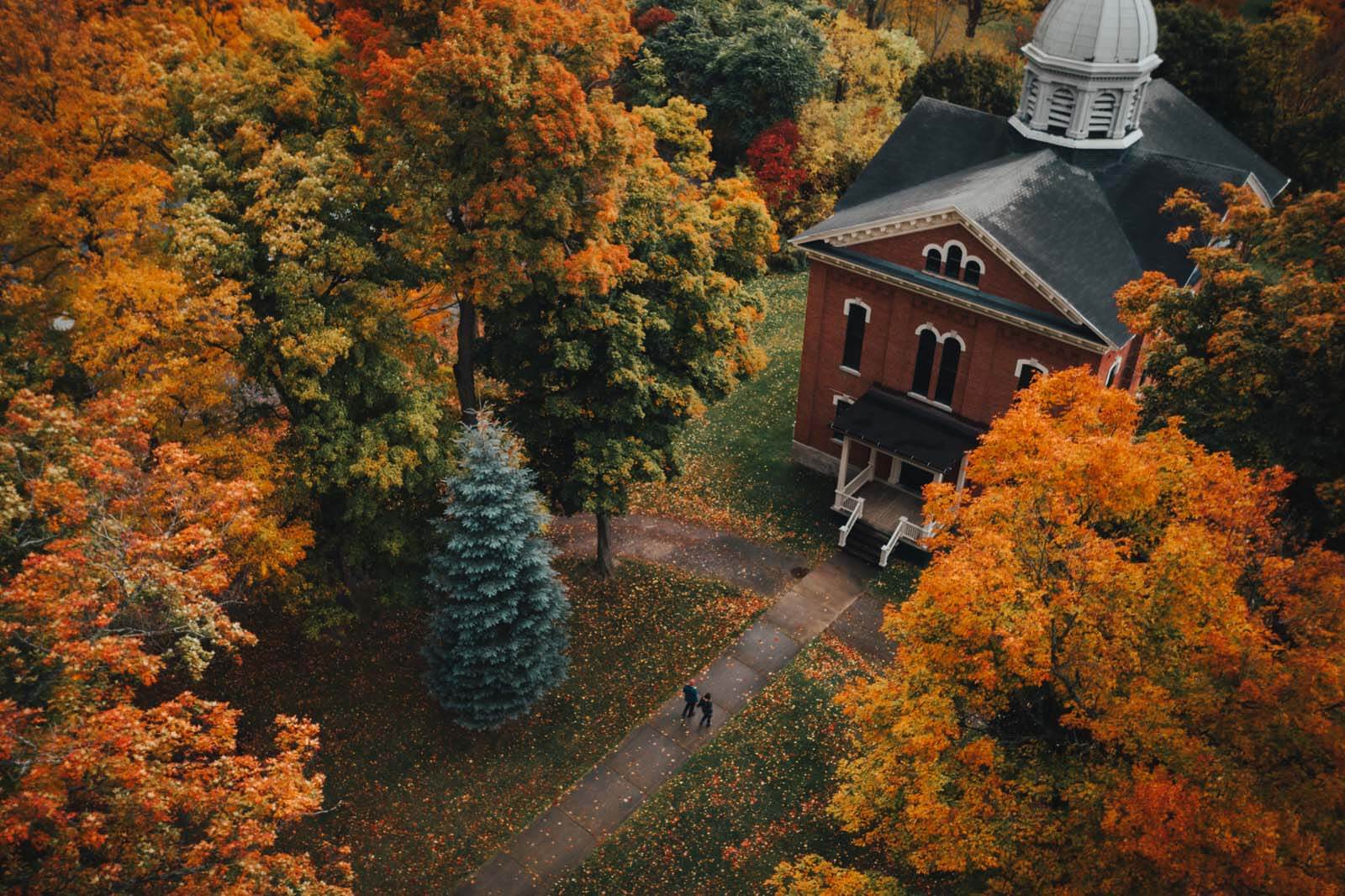 Naples is another one of the most charming small towns in New York near Honeoye and Canandaigua Lakes in the Finger Lakes region and home to the Grape Pie Capital of the World!
One of the best things to do in Naples, New York is try one of their world-famous grape pies! so don't miss trying one of the famous grape pies while you're here. The best grape pie varies depending on who you ask so you might have to try one of each to determine who truly has the best grape pie.
This is another cool New York town that has waterfalls as well, you will want to explore the cascading falls of Grimes Glen Park where you hike through a creekbed to witness these hidden gem waterfalls tucked away in this picturesque glen. For more outdoor adventures and hiking opportunities head to West Hill Preserve's forested landscape.
Even though Naples is truly one of the smallest towns in New York on this list, they have a great food scene. Don't miss the famous Roots Cafe, a community-driven restaurant and a foodie favorite, as well as some wine tasting at Inspire Moore Winery next door before or after your meal.
Long Lake
Another one of our favorite picks for best small towns in Upstate New York in the Adirondacks region is Long Lake. This very small town offers scenic lake activities, seaplane tours, fishing, and a great dining scene.
Long Lake, the actual body of water, is just over 14 miles long, and a mile wide at its widest point. This is an especially popular spot for anglers who want to get a big catch.
This New York town is serene and the perfect place to rent a rustic lakeside cabin or pamper yourself at one of the beautiful historic resorts.
Charter a tour by plan at Helms Aero Service to get an aerial view of the sprawling landscape of mountains and lakes for a unique experience.
If you want to chase down waterfalls, head to Raquette River and find Buttermilk Falls, a great picnic spot, and if you want to keep adventuring from here enjoy the hikes on Owls Head Mountain nearby.
Narrowsburg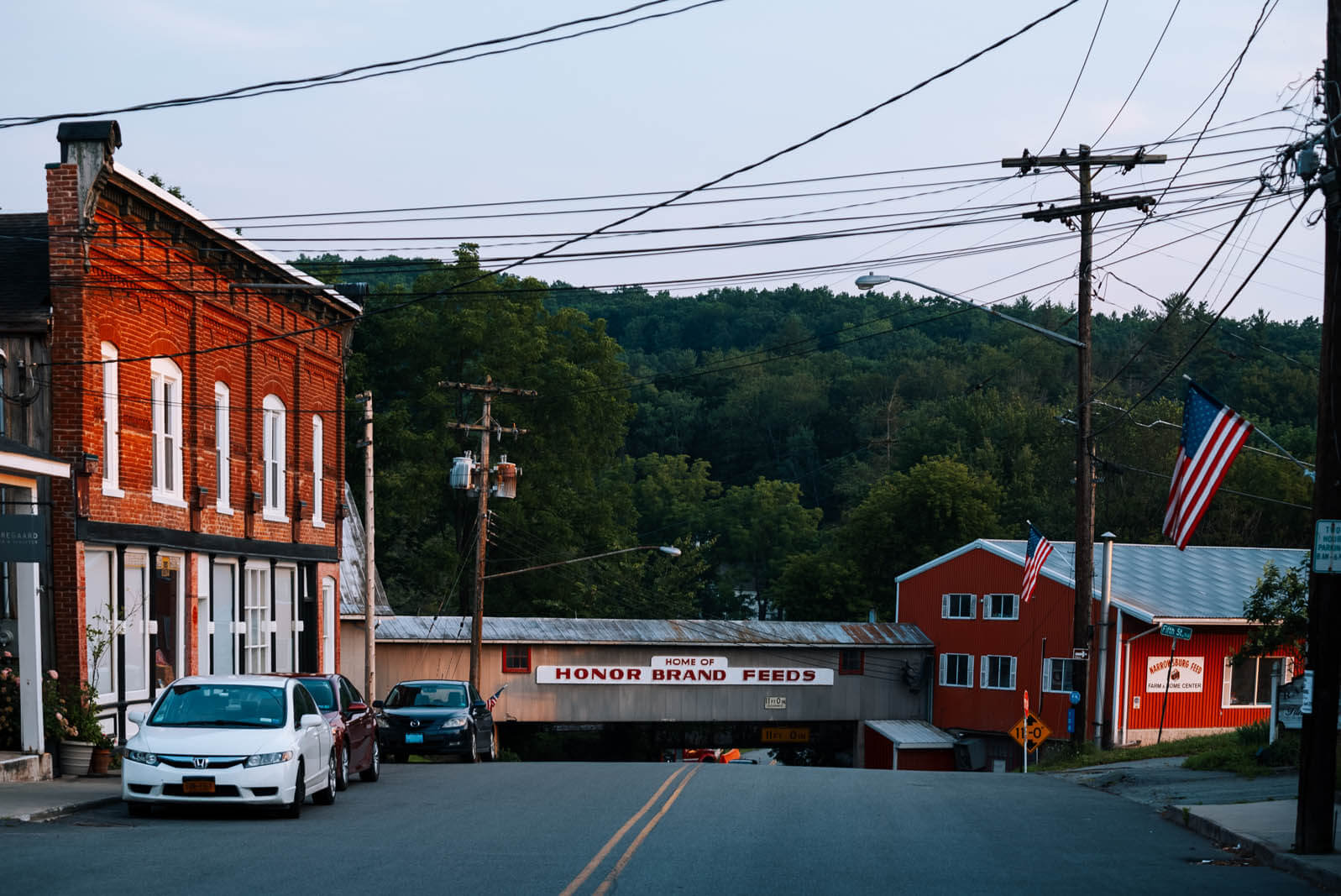 Another one of the most charming towns in New York to visit located at the foothills of the Catskills mountains along the scenic Delaware River on the border of New York and Pennsylvania is the charming town of Narrowsburg, NY.
This town has a very creative community with pop up shops and art studios that come and go including Sunny's Pop on Main Street owned by Sunshine Ruffalo, the wife of actor and the Incredible Hulk himself, Mark Ruffalo who live nearby.
Walk down Main Street and you'll find more shops like MayerWasner and Narrowsburg Proper and a few other gems too! Don't miss the plethora of antique shops this charming Catskills town has to offer too!
There are two great cafes in town as well including Tusten Cup on Main Street and 2 Queens Coffee which is probably one of the most adorable and beautiful cafes we have yet to see!
Enjoy dinner with a view at The Laundrette, the local pizza joint serving sourdough woodfired pizzas with gorgeous outdoor seating overlooking the Delaware River in the warmer months or The Heron restaurant on Main Street is another popular choice.
If you're visiting in the summer months you won't want to miss Lander's River Trips who offer rentals and gear for journeys along the scenic Delaware River from lazy river tubing to rafts, kayaks, canoes, and more! You can choose between 5 miles or 10 miles. We rafted and it was so relaxing we extended our journey with snacks and floated the extra miles to complete the 10-mile day!
Keep an eye out along the way as you may spot wildlife like deer and bald eagles, both of which we saw up close from floating along the river which is the perfect activity during a Catskills summer vacation!
Callicoon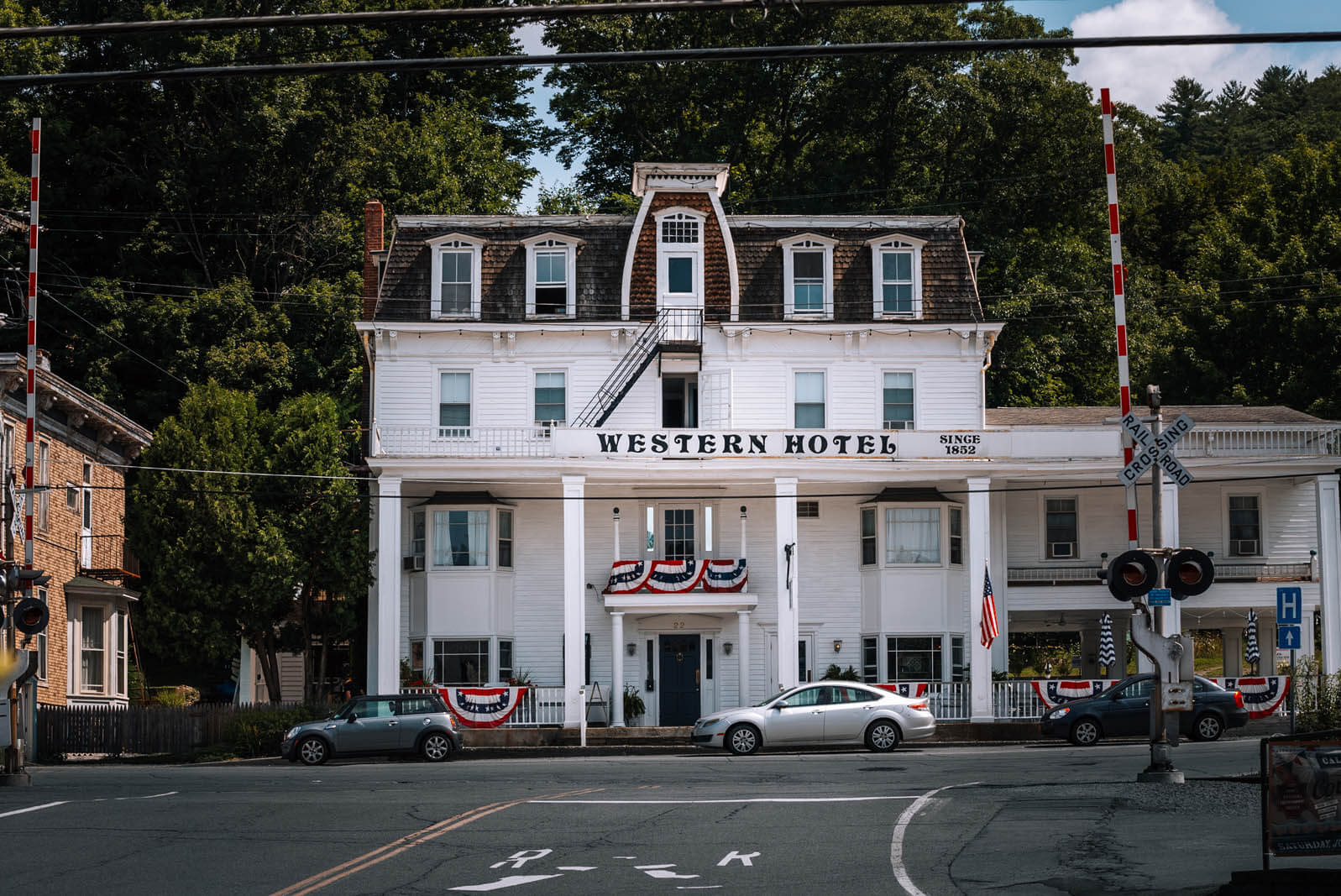 Another beautiful New York town in the Catskills that is also situated on the border of both New York and Pennsylvania following along the Delaware River is Callicoon.
This small town is worthy of a visit even if only for lunch, craft spirit tasting, and shopping during the afternoon or on your way to or from Bethel wandering along the trail of the Woodstock Music Festival.
When visiting this Catskills town I couldn't help but feel like I was in a mini-Western town, perhaps due to The Western Hotel which is housed in an 1852 Victorian Mansion that looks straight out of a Western movie and the Callicoon Brewery, don't be fooled by the name this is no brewery but a local dive bar and restaurant housed in a cool building, next door also fits this aesthetic.
While in town, do yourself a favor and enjoy a tasting at the craft and small-batch distiller, Catskills Provisions Distillery who also has a full menu and one of the most gorgeous spaces we've ever seen a distillery housed in.
Take a moment to walk through town and walking up and down any alley you see where you can find the renovated Weigh Station and silos which is a mixed-use facility that doesn't really offer much to do other than take a peek and get some extra glimpses of the town.
You'll also find a cool old movie theater here with a cute marquee and plenty of shops! Don't miss Spruce Home Goods, which is tucked away down an alley and semi-hidden but worth scoping out. This shop sells home decor products and has an artisanal pantry including a cheese and meats counter where you can grab the perfect items for hosting your next gathering as well.
---
Small New York Towns to Check Out Post Summary:
Kingston
Owego
Wilmington
Tannersville
Montauk
Corning
Tarrytown & Sleepy Hollow
Watkins Glen
Hudson
Roscoe
Sag Harbor
Lake George
Ithaca
Woodstock
Millbrook
Saranac Lake
Aurora
New Paltz
Phoenicia
Seneca Falls
Lake Placid
Naples
Long Lake
Narrowsburg
Callicoon
---
Enjoyed this guide to the most charming towns in New York? Bookmark for later or share the love below on Pinterest!
Did we miss your pick for best small towns in New York? Let us know in the comments below!