Located in the heart of Canada's prairie land and the capital of the Manitoba province is the city of Winnipeg. We recently explored this city and were surprised at how much this destination had to offer. From an incredible food scene, craft brew scene, museums, to a fascinating history there are some incredible things to do in Winnipeg that can make up the perfect getaway.
Check out our one stop guide to what to do in Winnipeg and the best Winnipeg attractions worth exploring on your vacation.
Table of Contents
About Winnipeg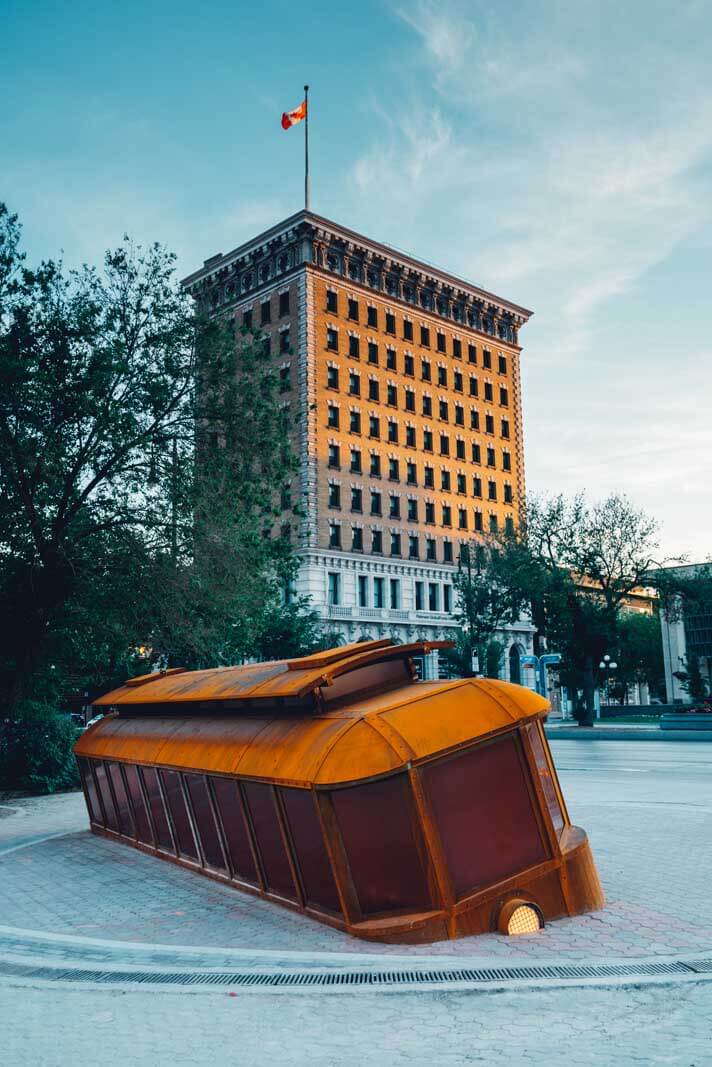 Winnipeg was one of the most thriving cities in North America during the 19th century thanks to its crucial location in the center of the country and close to the United States border. Even before European colonization, this region was a trading center and capital for Indigenous people.
The city was considered the gateway to the West with its railway infrastructure, strong ties with the fur trade and origins of the Hudson Bay Trading Company until the Red River Rebellion led by Louis Riel, a Canadian politician and leader of the Métis people. The rebellion led to what is now known as the province of Manitoba, formerly part of Rupert's Land.
The city was a lead powerhouse in trade until the Panama Canal opened in 1914. The combination of this and the post war recession after World War I led to dismal working conditions in the city of Winnipeg.
In 1919 workers fed up with low wages and poor working conditions started the general strike that would be the most influential and violent strike in Canadian history shaping and giving rise to the modern union movement changing the fabric of labor rights in Canada.
Today you still see trains coming in and out of the city, relics of its past in the architecture throughout the Exchange District, and the unique blend of diversity in the city to this day.
Transportation in Winnipeg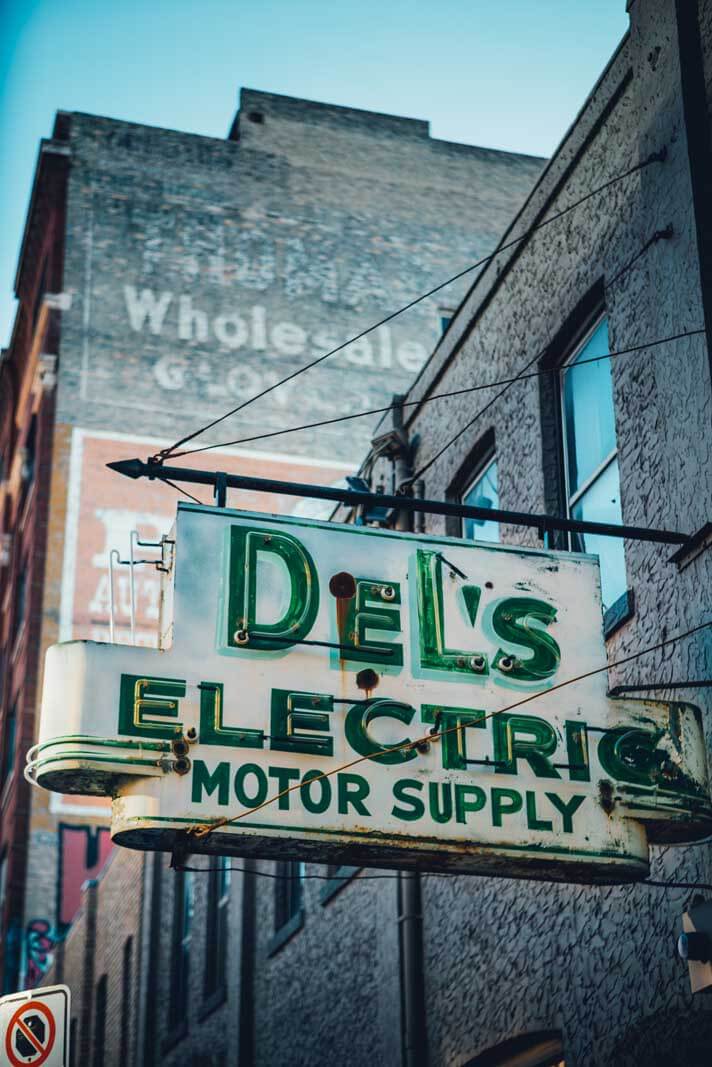 Getting around to all the best Winnipeg attractions can be tricky if you're not prepared. While many of the downtown Winnipeg attractions are walking distance apart, depending on the time of year you visit you might not want to do a 20-30 minute walk in the middle of winter.
Popular ride share apps like Uber and Lyft aren't available in Winnipeg. The city transportation uses local taxis. While there are a few taxi services, the most popular one is Unicity Taxi.
However, hailing a cab isn't that easy either. You will want to download and register your Unicity Taxi App on your phone to help ordering a taxi when you need it a breeze or call the taxi line when you need a ride.
We downloaded the app while we were in the US but didn't register our number until we were in Winnipeg and the app didn't work for us. I recommend setting this all up beforehand to know if you have this option or not, the reason why we couldn't register our phone number is unclear but we speculate it had to do with our American phone numbers in Canada.
If the app doesn't work for you still, then calling a taxi was easy and we usually had a cab instantly or within minutes. There were places that even would call the taxi service for us.
Another alternative would be to rent a car, especially if you plan on doing day trips.
What to Bring to Winnipeg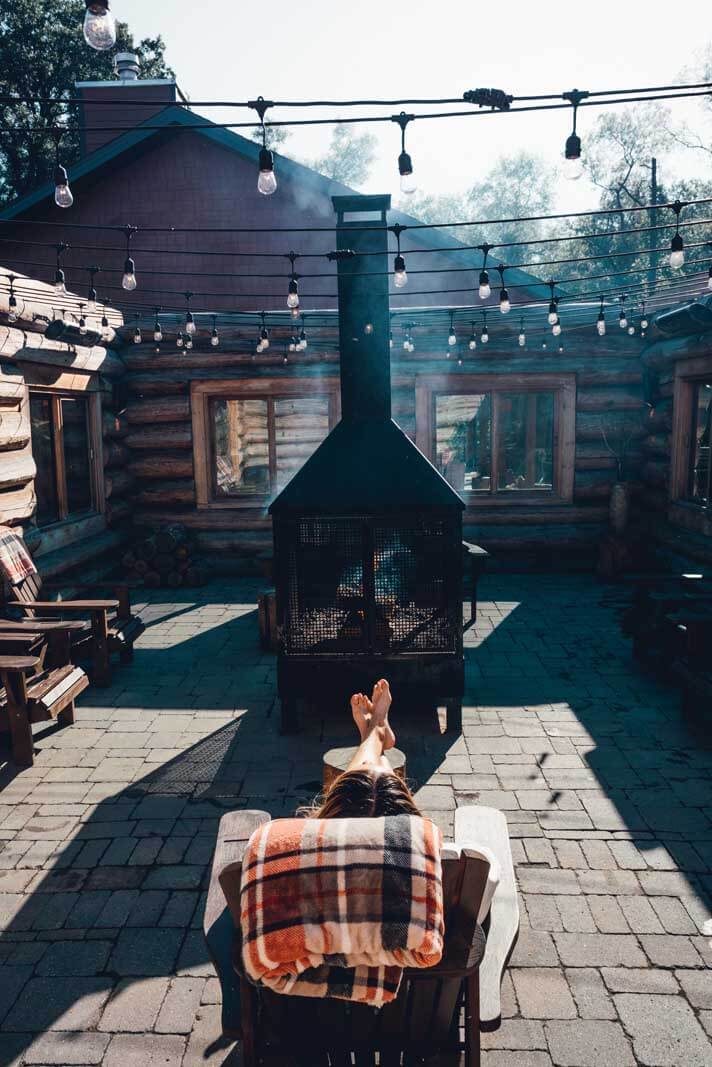 While exploring the best things to do in Winnipeg and the best Winnipeg attractions we recommend coming prepared with the following items.
Bug Spray – Winnipeg, Manitoba is in the heart of prairie land. Be sure to come prepared with bug spray so you don't have to worry about bug bites or shopping for it while you're here!
Comfortable Walking Shoes – Getting to the best things to do in Winnipeg can easily be done on foot for many Winnipeg attractions which means you might be putting in big walking days. Come prepared with comfortable and stylish walking shoes for travel (check out our guide) to make sure you don't miss out on anything due to achy feet!
Outdoor Apparel – The weather in Winnipeg varies dramatically depending on season. Be sure to check the weather for your visit and come prepared with proper clothing, even in the summer it can get chilly in the evenings and you might need a light jacket or sweater. The winter months can be very cold so you will need to come prepared with suitable winter gear and clothing.
Top Things to do in Winnipeg
Explore the Exchange District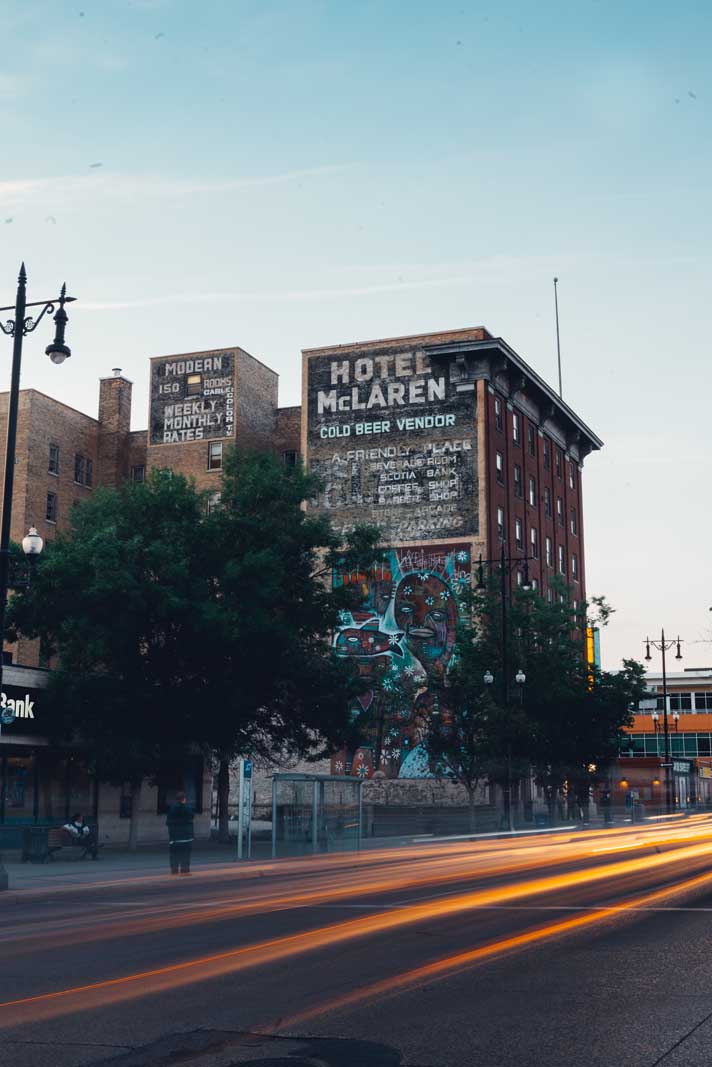 One of our favorite things to do in Winnipeg is explore the Exchange District. This area is filled with early 20th century warehouses and buildings full of great eateries, places to grab a drink, shops, artist studios, and even street art.
Winnipeg was one of the fastest growing cities in North America at the turn of the 20th century and this was a prosperous area because this is where the Winnipeg Grain Exchange was located, which was the center of the grain industry in Canada.
The Exchange District is considered one of the oldest and was styled and built around Chicago and is also known as the Chicago of the North.
Because of the great condition of the 20th-century buildings, the Exchange District is considered one of the most historically intact commercial districts in North America from this time and is named a National Historic Site in Canada.
We loved the character of this area for its historical character and remaining old advertisement paintings on the sides of the brick buildings.
This is what to do in Winnipeg if you love older architecture, great shops, and are looking for some of the best restaurants in the city.
Canadian Museum of Human Rights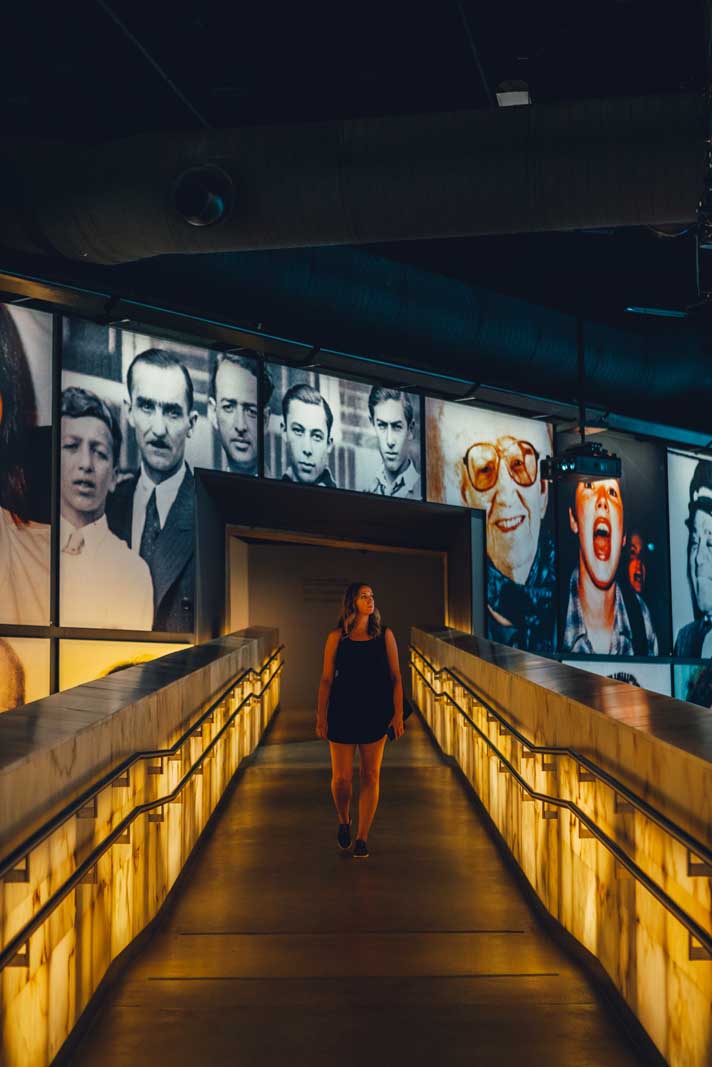 A must for what to do in Winnipeg includes visiting one of the most incredible museums we have ever been to in the world. The Canadian Museum of Human Rights in Winnipeg chronicles the journey of human rights throughout history of the idea that, "all human beings are born free and equal in dignity and rights."
This journey hasn't been a straight line of progress for many people around the world near and far. It's one of the reasons why the building was designed the way it was, with the staircases going in many different directions for over a kilometer in length, but slowly getting reaching its goal.
Besides having incredible architecture symbolzing the struggle for human rights, the exhibits are interactive and state of the art. Some of the permanent exhibits include an explanation of what human rights are, perspectives of indigenous people, Canadian stories from the underground railroad to missing and murdered aboriginal women, examining genocides including the Holocaust and the Rohingya, to the turning points of humanity and inspiring change.
There are also featured temporary exhibits, during our visit there was a Nelson Mandela examining the apartheid in South Africa.
This is truly one of the best things to do in Winnipeg and best Winnipeg attractions that has become a national icon as its printed and circulated through the country on a $10 bill.
The entire museum is powerful and you need at least a few hours to really experience the exhibits here.
Relax at Thermea Nordic Spa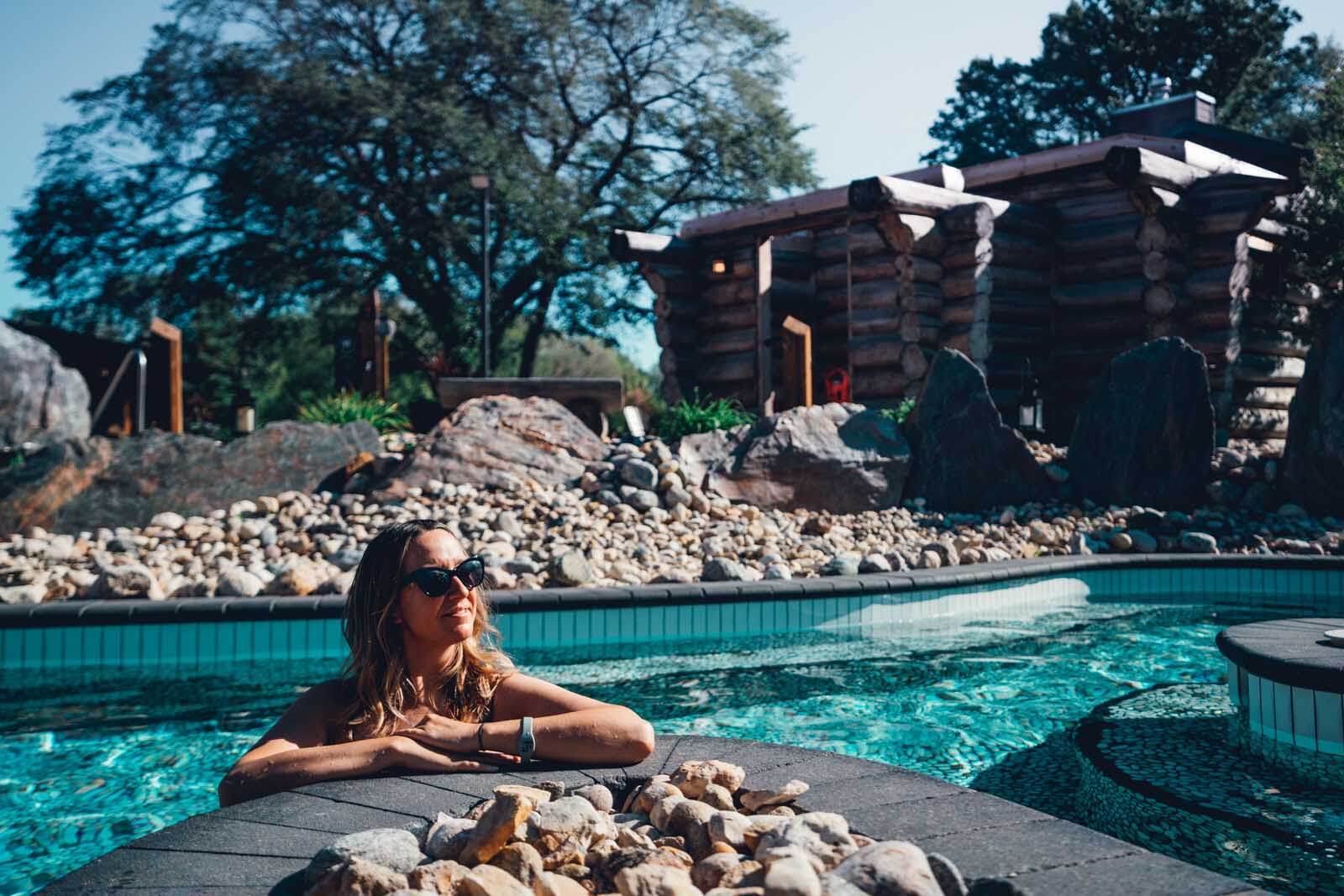 The most relaxing thing to do in Winnipeg is spending a morning, evening, afternoon, or entire day at Thermea Nordic Spa. We could have easily spent the entire day, no week, relaxing here.
This spa focuses on the Nordic spa cycle which consists of warming your body up in the spa or sauna for 15 minutes, plunging in cold water, then hang out in a heated pool for three cycles. There are many benefits to doing this cycle including boosting the immune system, alleviate fatigue & stress, sooth muscular pains, eliminate toxins, purify the skin, and improve circulation to name a few.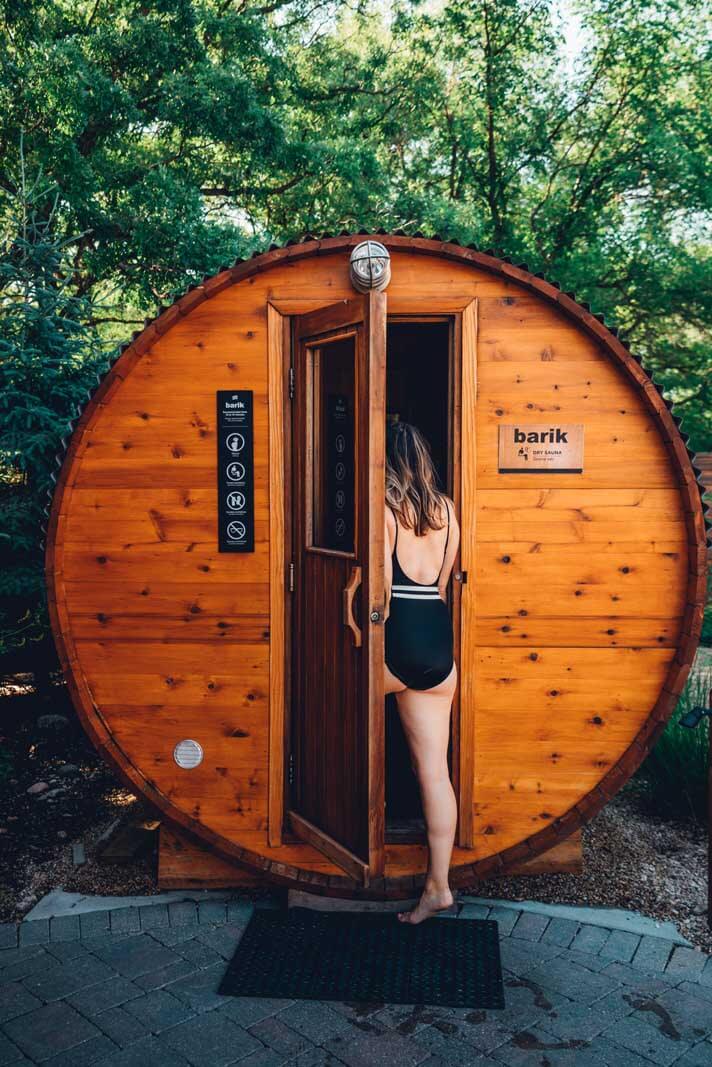 Around the facility you can relax and nap among the woodsy log cabin themed outdoor area with fire pits, swinging chairs, and loungers in between cycles. They even sell s'more kits if you want to toast some marshmallows while you relax.
The restaurant is also surprisingly amazing so plan a meal while you're here with a bar. If we hadn't already had afternoon plans we would have stayed all day, 4 hours came and went so quickly.
Also, this place looks even more magical in the middle of winter, we'd love to come back and try it out then!
Everyone needs some self care from time to time so don't miss out on this Winnipeg attraction, we 10/10 would do this again.
Be sure to make an appointment online in advance, they just started doing it this way but you have to secure an appointment with an online reservation. Then you can stay as long as you want.
Manitoba Museum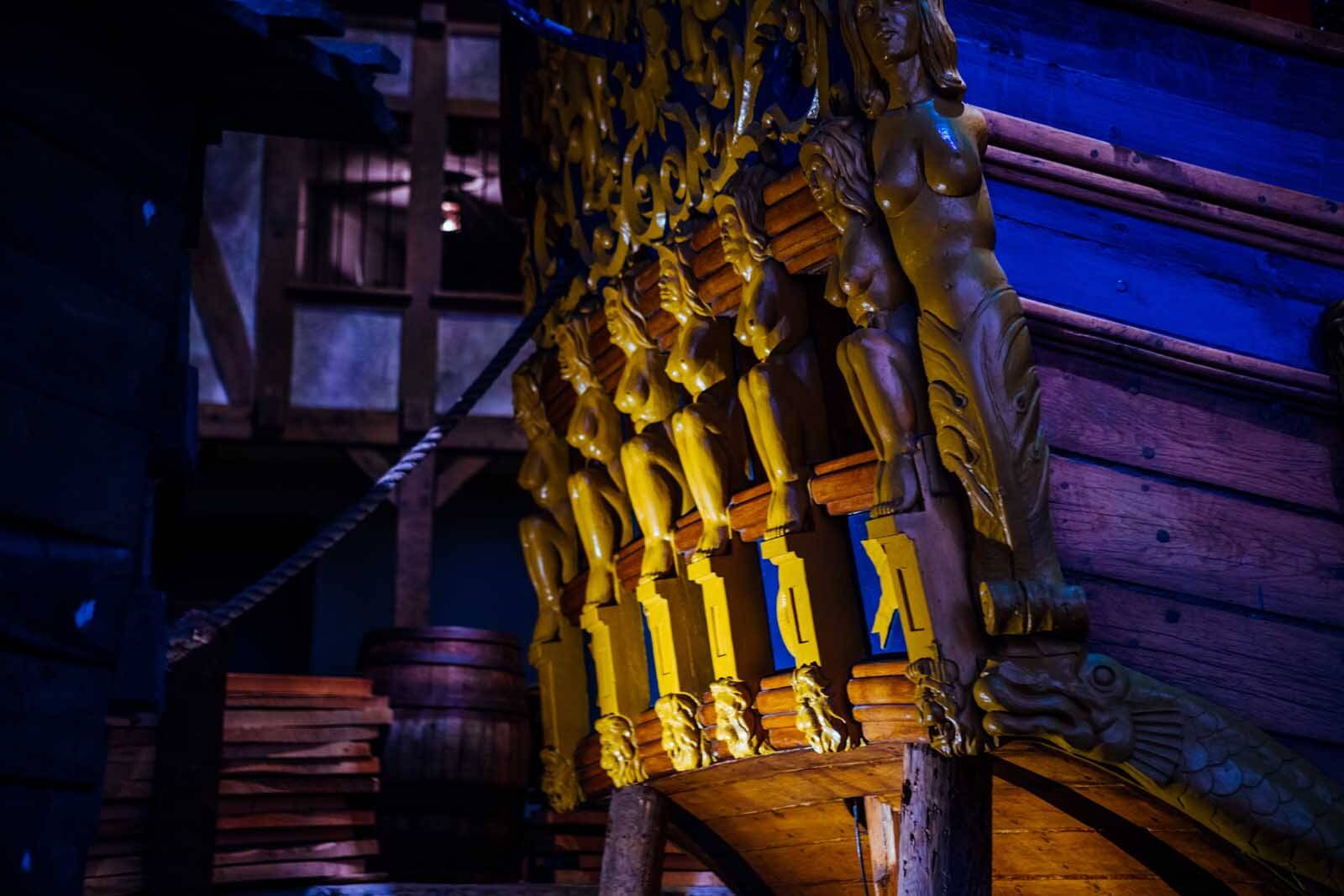 The Manitoba Museum is what to do in Winnipeg if you're a fan of museums. Inside you'll find exhibits on man and nature, a science gallery, the Institute for Stained Glass, and a planetarium.
We explored mostly the natural history section of the museum and made our way to our favorite room where the Nonsuch ship replica was!
This ship replica was built after the Nonsuch ship who set sail on a voyage in 1668 leading to the founding of the Hudson Bay Company, which started as a fur trading business and is now a huge department store chain in Canada.
You can climb on the replica which is set in a room that reminds us of the Pirates of the Caribbean ride in Disneyland. There was great effort and detail put into this exhibit complete with a village surrounding the ship with rooms to explore and the complete history of the fur trade and Hudson Bay Company.
This Winnipeg attraction is the main showcase piece in the Manitoba Museum. Spend some time exploring the different museums within the Manitoba Museum.
In the summer on the weekends there are laser shows to music in the planetarium! We went to see the Queen laser show which was a really fun throwback. Scott wasn't nearly as impressed as I was but if you play Queen music for me it doesn't take much for me to have a good time!
Hang out at the Forks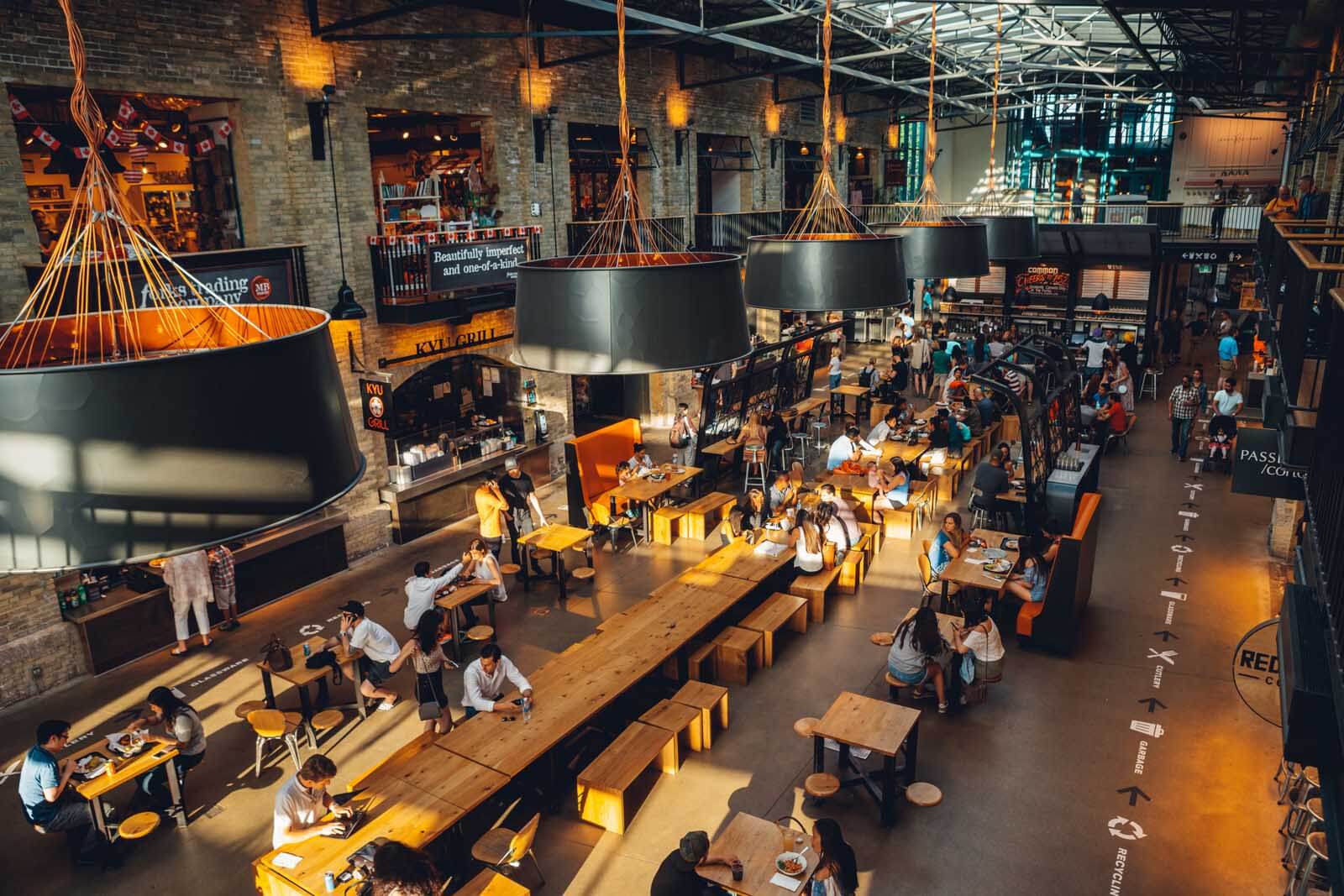 Another one of our favorite things to do in Winnipeg was hang out and explore all the Winnipeg attractions in the Forks. The Forks gets its name from the confluence of the Red River and the Assiniboine River and this is where the crossroads of canoe routes were traveled before European contact with the first nations.
This happened to be where our hotel was, which is a great area to stay in given its proximity to many of the Winnipeg attractions.
We recommend spending at least one of your meals at the Market at the Forks dining hall. Here you can find just about every type of cuisine from Caribbean food to Italian food and even desserts. I also loved browsing through the small independently owned shops on the upper level.
This is also where you can find the Common, an outdoor sitting area overlooking the river where you can order craft beer or wine.
Other activities include the Shops at Johnston Terminal which include more stores including a place to by indigenous art pieces and the Splash Dash Historical Boat Tours that take you down the river and give you the history of Winnipeg.
The Forks is also where many of the different events throughout the year take place in Winnipeg including Canada Day celebrations and New Years celebrations. Sometimes there are gatherings and pow wow's at the Oodena Circle in the evenings as well.
Check out St. Boniface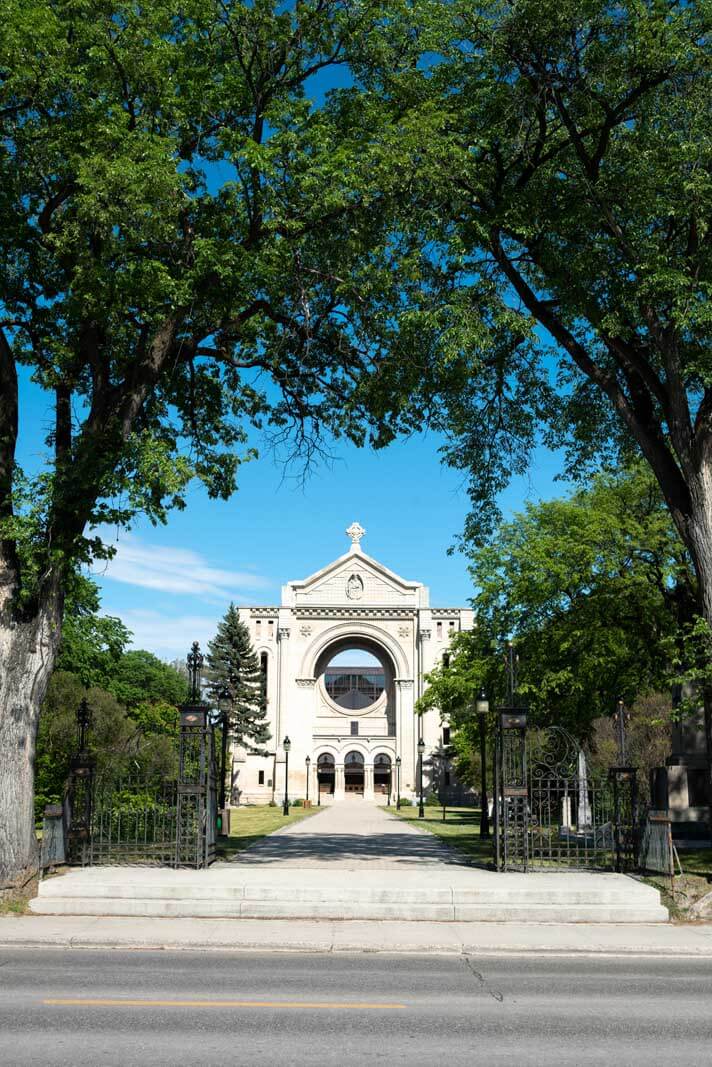 Don't miss out on exploring the St. Boniface area of the city. This is one of the best things to do in Winnipeg to learn about the French Canadian Roman Catholic influence on the city.
This historical district was where French missionaries built a chapel to honor St. Boniface. This is one of the main Winnipeg attractions in this area, the Saint Boniface Cathedral named after Saint Boniface.
After its construction, this became the epicenter for French Canadians and Roman Catholics in the city not only for worship but where they'd gather and live.
Walking through this area you can see the French influence on the construction of the homes and even the eateries around the area.
Other things to do in this area include the popular Cafe Postal and the St Boniface Museum. The museum is set in the oldest building in the city that was a convent run by nuns as well as a school, orphanage, and senior home.
Here you can learn about the culture of the French Canadians that lived in Manitoba known as Franco Manitobans. One notable figure you'll learn about is Louis Riel, the politician and leader of the Métis people.
Walk Across the Esplanade Riel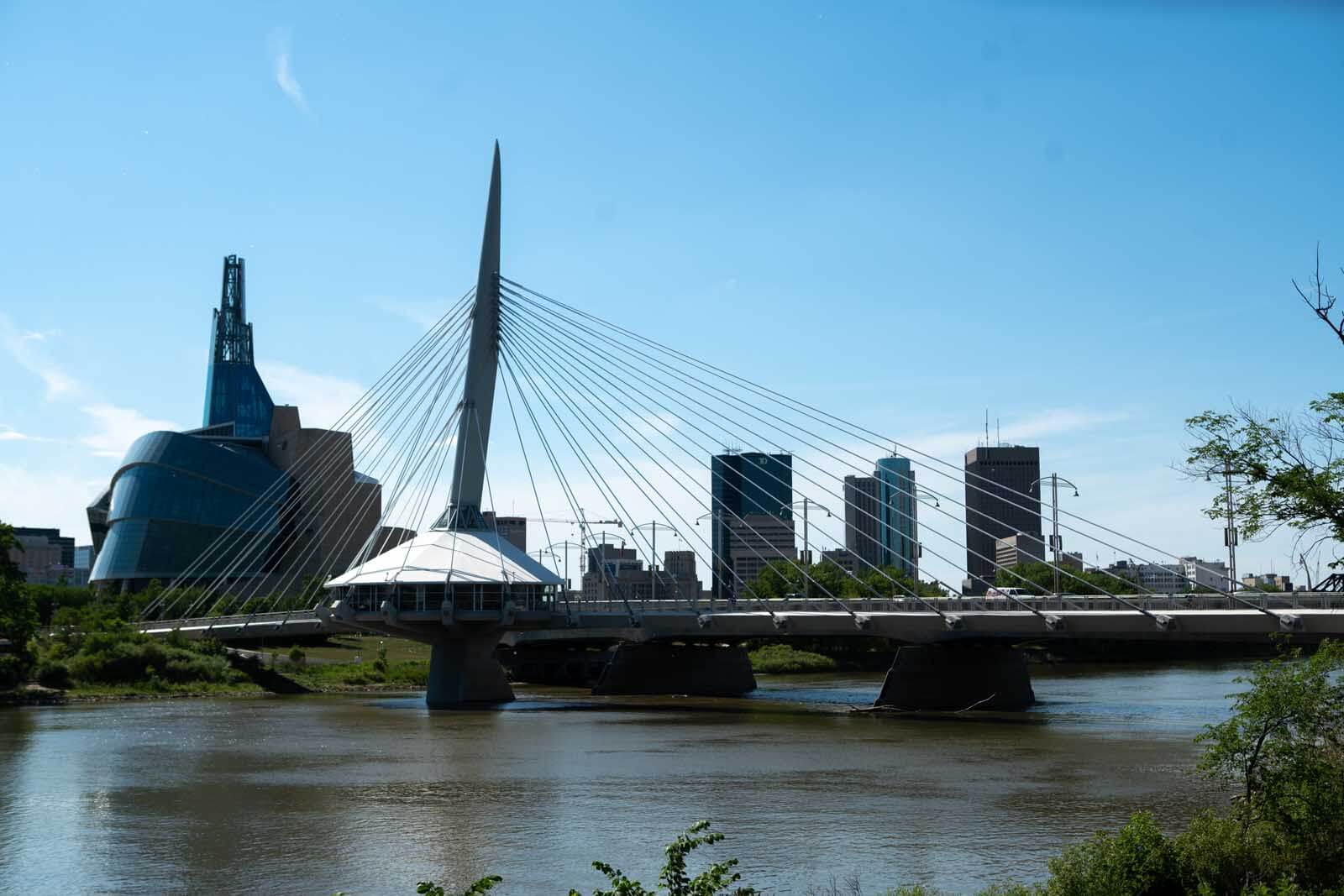 One of the most iconic pieces of architecture in the city the shapes the skyline is the Esplanade Riel bridge. This bridge is also a pedestrian bridge connecting the Downtown Winnipeg area to St. Boniface named after Louis Riel.
In the center of the bridge is a restaurant where you can enjoy a casual dining environment at Mon Ami Louis, we were told their poutine is fabulous but sadly it wasn't open during our visit. This is the only bridge with a restaurant in North America!
This is a great way to explore what to do in Winnipeg in the St. Boniface neighborhood after checking out Downtown Winnipeg or the Forks.
Eat Your Way Through the City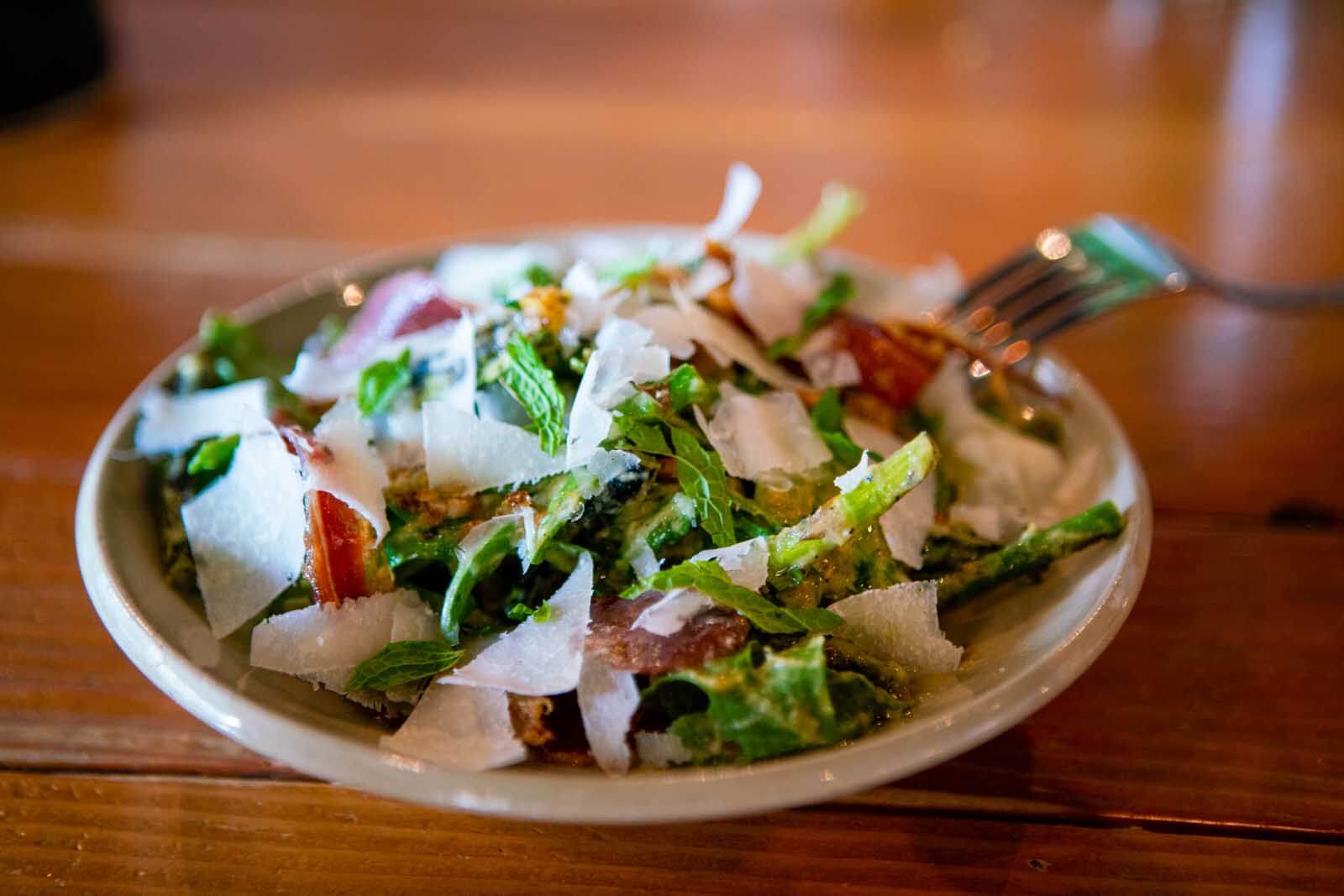 Another one of our favorite things to do in Winnipeg was discover their incredible foodie scene. We didn't have many expectations as we didn't really hear much about the food scene here and were blown away on our visit. Meal after meal we were impressed with the incredible food and selection there was to offer. Here were some of our favorites.
Deer + Almond – One of our favorite meals was enjoying a dinner at Deer + Almond, we knew we were in for a treat as every local we met told us this was their favorite restaurant. Their menu is constantly changing but will not disappoint. Don't miss out on their signature cocktails either. Each night they bring up a different infused popcorn flavor out to the table as well to snack on before your meal comes out. In the winter, this restaurant also does a special 24 day fine dining pop up experience featuring guest chefs on the frozen rivers at the Forks, we'd love to come back and check this out for ourselves!
Macque – Located in the Crescentwood neighborhood and serving up a fusion of Asian dishes this was one of our favorite eateries in the city. You'll need to take a cab here, but its worth it. Their menu is always changing but we split four shareable plates and each one happened to top the last.
The Market at the Forks – Already mentioned earlier for what to do in Winnipeg in the Forks area but worth mentioning again is the Market at the Forks. This is perfect with a group of people because everyone can pick what they want to eat from the different eateries featuring global cuisine options, beer, wine, and dessert! We loved the casual atmosphere here and the shops.
The Smith – Located at the Inn at the Forks, this hotel restaurant is one of the most popular in the city. We regretably didn't get to try dinner here but ate breakfast here twice and loved everything we ordered, we highly recommend their shakshuka.
Kevin's Bistro – Another favorite of the locals and the perfect comfort food is at Kevin's Bistro. Famous for their different savory mac n cheese dishes with anything you can imagine combined in a tasty medley in your macaroni and cheese. We highly recommend the lobster mac n cheese.
Try a food tour – When you want to try alot of places but don't have enough time then hop on a food tour! This is what to do in Winnipeg if you're a foodie and want to get to know an area through your tastebuds. We recommend the Exchange District Food Tour with Culinary Adventure Co.
Experience the Great Drinking scene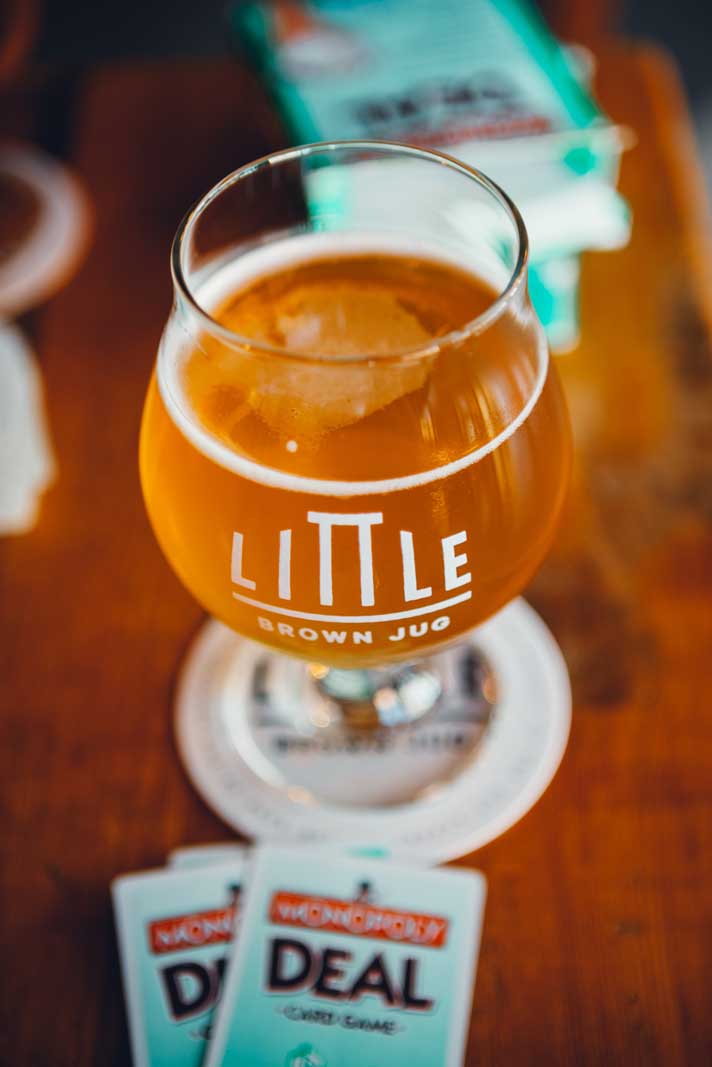 What should you do in Winnipeg if you like a good drink? Check out their awesome local craft brewery scene and bar scene! We were impressed with the quality of the craft breweries we tried and recommend the following places to grab a nice boozy beverage.
Nonsuch Brewery – Our first brewery we went to in Winnipeg was a home run. Nonsuch Brewery is named after the ship I mentioned earlier in the Manitoba Museum who set off for a voyage in 1668 leading to the founding of the Hudson Bay Company. We love when breweries have local historical connections tied into their name and brews. This stylish spot for a drink also offers up small plates, which are heavenly (we tried them all), and a few great brews on draft. We loved the Belgium brews including their Saison and Strong Ale.
Little Brown Jug – This is a great place to hang out and thing to do in Winnipeg when you need a bit of a walking break in the late afternoon. The Little Brown Jug has a fun, casual environment with board games and beers on draft. While they only had 3 beer on draft to choose from they were all top notch and delicious, we tried them all and loved all three. This is a perfect place for a hangout and rest from seeing all the Winnipeg attractions.
The Common – Located at the Forks in the Market at the Forks, The Common serves up different local Winnipeg and Canadian craft brews as well as a selection of wine. This is best to visit in the warmer months when you can sit outside along the river and enjoy your drink with a view.
Amsterdam Tea Room – Serving up unique cocktails featuring tea from their tea room this is the perfect place for a cocktail infused with tea or a cup of just tea. Be sure to get a Stroopwaffel while you're here too!
Patent 5 Distillery – One of our favorite things to do in Winnipeg that we discovered on our last night of our trip was enjoying cocktails and punch bowls at Patent 5 distillery. All of their drinks feature either their own gin or vodka which are incredibly smooth and easy to even sip on their own. We recommend trying a punch bowl, you can by the size by person!
Take a Day Trip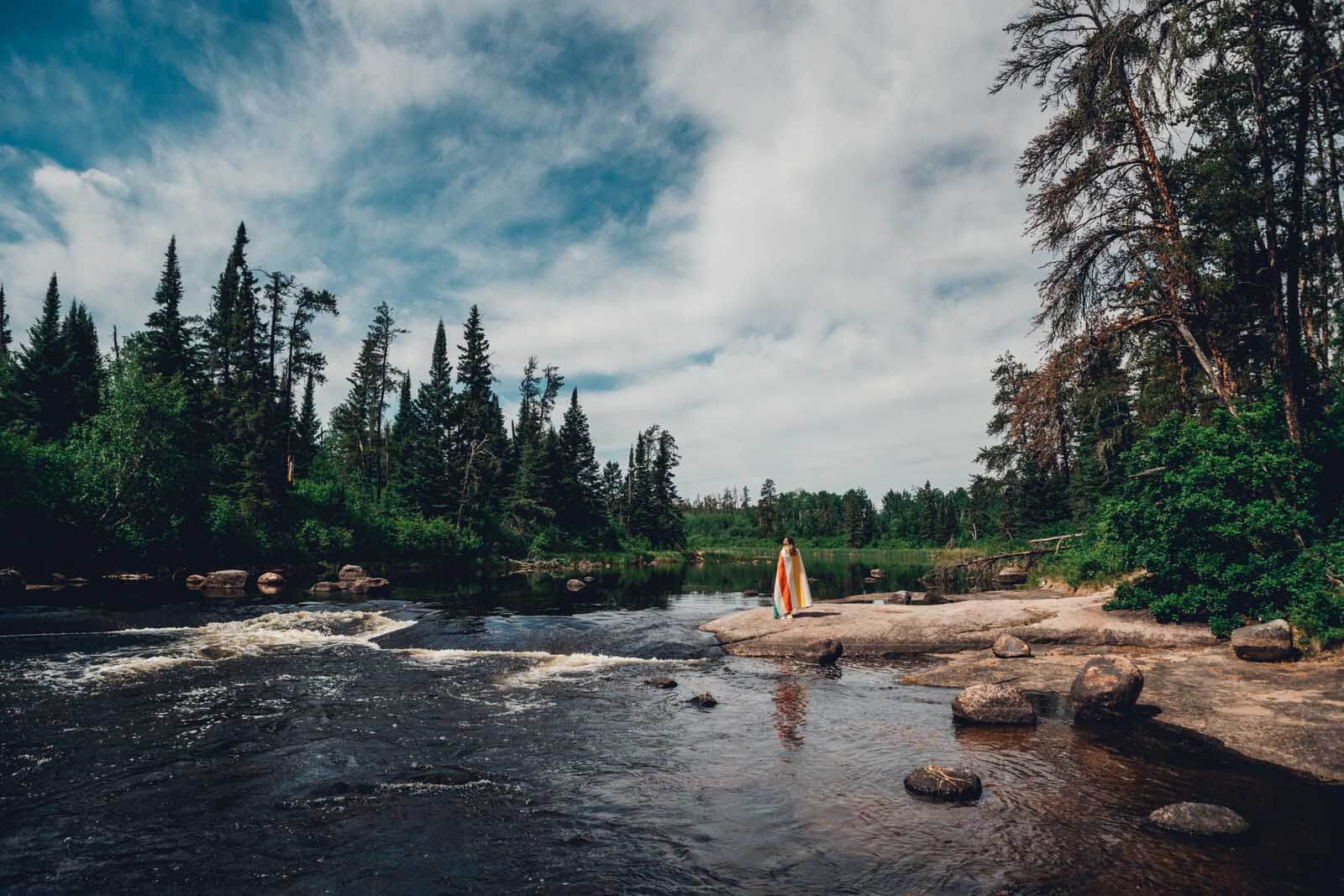 Take a break from Winnipeg attractions to explore the beauty of the prairie land in Manitoba. Rent a car for a day and make your way to one of the many provincial parks within driving distance or pick one of these suggested scenic day trips from Winnipeg.
We drove 1.5 hours to North Whiteshell where we enjoyed a light 2 km hike and picnic at Pine Point Rapids. This scenic trail takes you to Pine Point Rapids then if you wish to continue you can hike an additional 2km + to more rapids including Acorn Falls. We recommend bringing a picnic as its just a great place to relax and enjoy the sound of the rushing water.
After we stopped at the Bannock Point Petroforms, centuries-old stone formations and a sacred site laid out by First Nations in the shapes of snakes, turtles, designs and even a Thunderbird. While its hard to tell what you're looking at from a walker's point of view, we recommend looking up aerial photos to see the bigger picture of these sacred formations.
We continued to Nutimik Lake Campground where we went to the famous bridge that's a part of the Trans Canada Trail, the longest hiking trail in the world at over 24,000 km stretching from the Pacific to the Atlantic coasts of Canada.
Whitemouth Fall Provincial Park is also a great picnic stop that doesn't require a hike to get to the rushing rapids and water.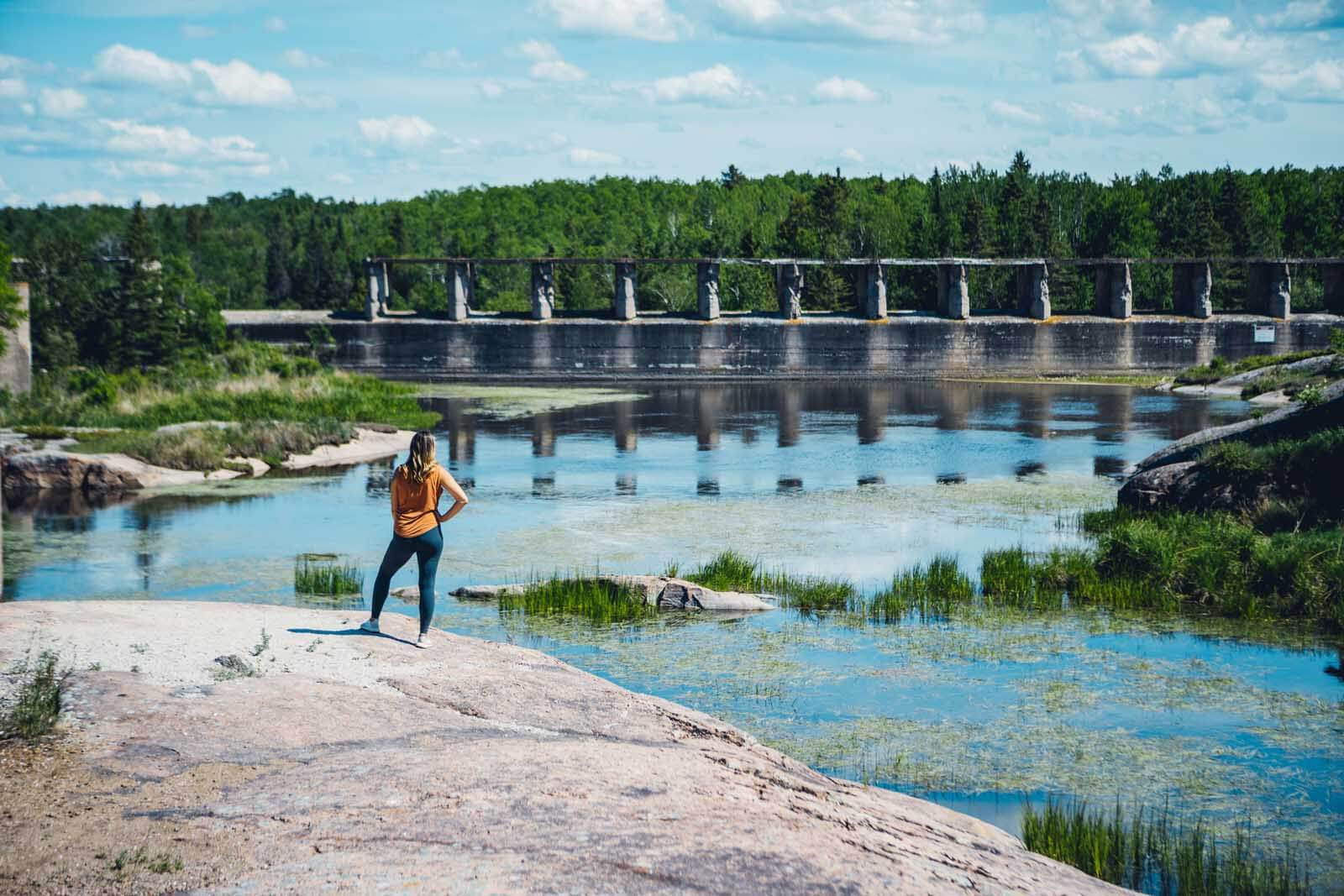 And last we stopped at the dam ruins at Old Pinawa Dam Provincial Heritage Site. This was Manitoba's first hydro-electric generating station that operated year round and was built in 1906. This dam was very crucial to the growth of Winnipeg before World War I.
After it was decommissioned it was used briefly for a training site for the Canadian military and used for aerial bombing tests.
Today you can walk through paths around the dam and take a look at the ruins that's starting to be reclaimed by nature.
You can also walk to the different stone markers for where the town of Pinawa once was around the dam. Each rock has a plaque on it describing which building was in its place.
This was a nice paced day trip from Winnipeg starting at around 8 am and getting back to the city by 4 pm for a nice dinner in the city.
Assiniboine Zoo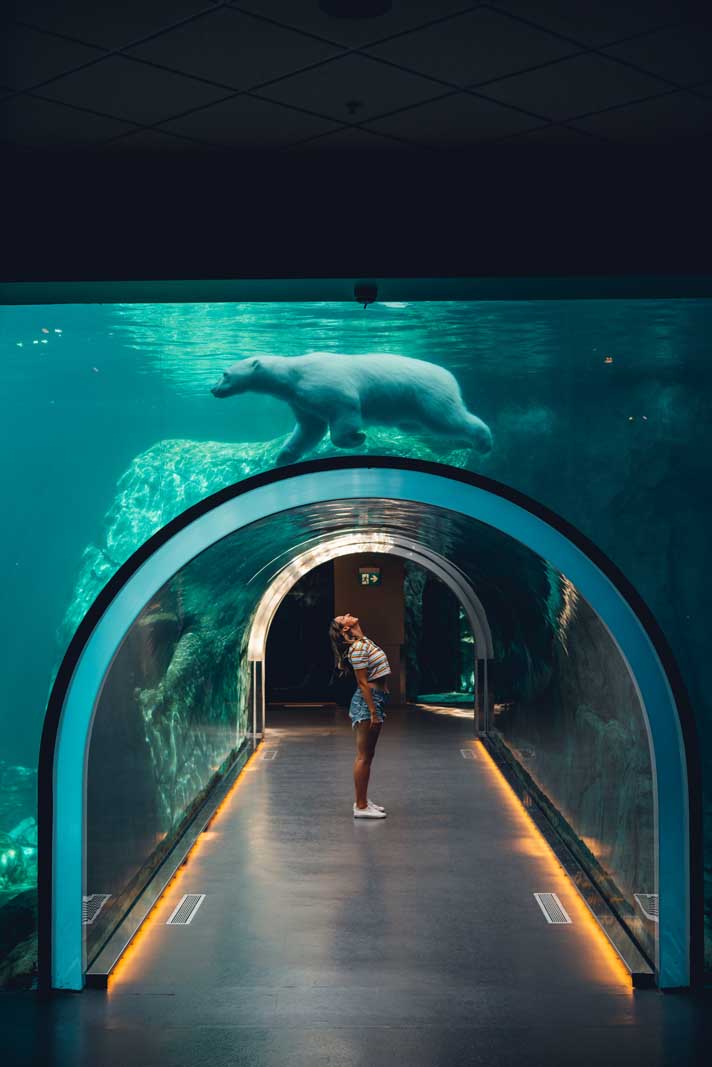 One of our favorite things to do in Winnipeg was visit the Journey to Churchill and Arctic exhibit at the Assiniboine Zoo. This zoo has large, naturalistic enclosures for the animals and an astounding research and conservation program on site as well as operating the zoo sustainably.
We spent a majority of our time in their award-winning Arctic exhibit thanks to their exhibits featuring polar bears and other northern species.
Our favorite were the polar bears. Their enclosure is huge with many different viewing areas including an underwater tunnel you can walk through where the polar bears are swimming and playing above you. This was one of the most fascinating ways to see these beautiful threatened creatures up close.
Many of the polar bears here are rescues or part of the conservation of the species.
An enthusiastic visitor who visits weekly knew all the animals by name and we were lucky enough to be walking with her to this area of the zoo. She told us the story of Storm, he was in Churchill before coming to the zoo.
Churchill has a curfew for humans, not bears, at 10 pm because of the polar bears. One man from Churchill got nipped by Storm on his way home one night after curfew.
At the time there was a law that if bears attacked humans they'd be euthanized. This guy survived the bite and fought the legislation so that bears wouldn't be put down.
Instead, since they've had human contact they'd be relocated. Storm made it here where he plays all day with his other polar bear friends. Our new zoo friend could tell you all of Storm's best friends by name and his daily habits. He even will come running towards you like a dog if you call his name.
If you can bear to leave the polar bears, see what I did there??? Then continue on to the other arctic animals and the Aurora Borealis theater where you can see what the northern lights look like in the dome theater as well as learn about how people and animals in the north live.
It was fascinating to learn more about this zoo's efforts in research and conservation of species as well as see these majestic creatures up close. This is definitely one of the greatest Winnipeg attractions and what to do in Winnipeg if you're an animal lover or traveling with your family.
Fort Whyte Alive
Another great option for what to do in Winnipeg if you like spending time outdoors is visit Fort Whyte Alive. On this environmental recreational space, you can rent kayaks or bikes or walk and explore the property passing a field of bison and prairie land close to the city. This is also along the migratory pathway for Canadian geese.
There's also an Interpretive Center that has exhibits including an aquarium, a touch museum, and a climate change greenhouse along with other exhibits relating to the environment.
I would only recommend going on a good weather day as the majority of things to do here besides the Interpretive Center involve being in the outdoors.
Royal Canadian Mint Museum
Another great idea for what to do in Winnipeg is visit the Royal Canadian Mint museum where you can see the facility where Canadian money is produced and made.
This is the location where all Canadian circulation coins are produced including other countries as well.
Hop on a guided tour where you can learn about coin making and see the behind the scenes of what it takes to produce billions of coins each year.
At this Winnipeg attraction, you will also get the chance to hold a pure gold bar valued at over $700k.
Shop at the Hudson Bay Company Department Store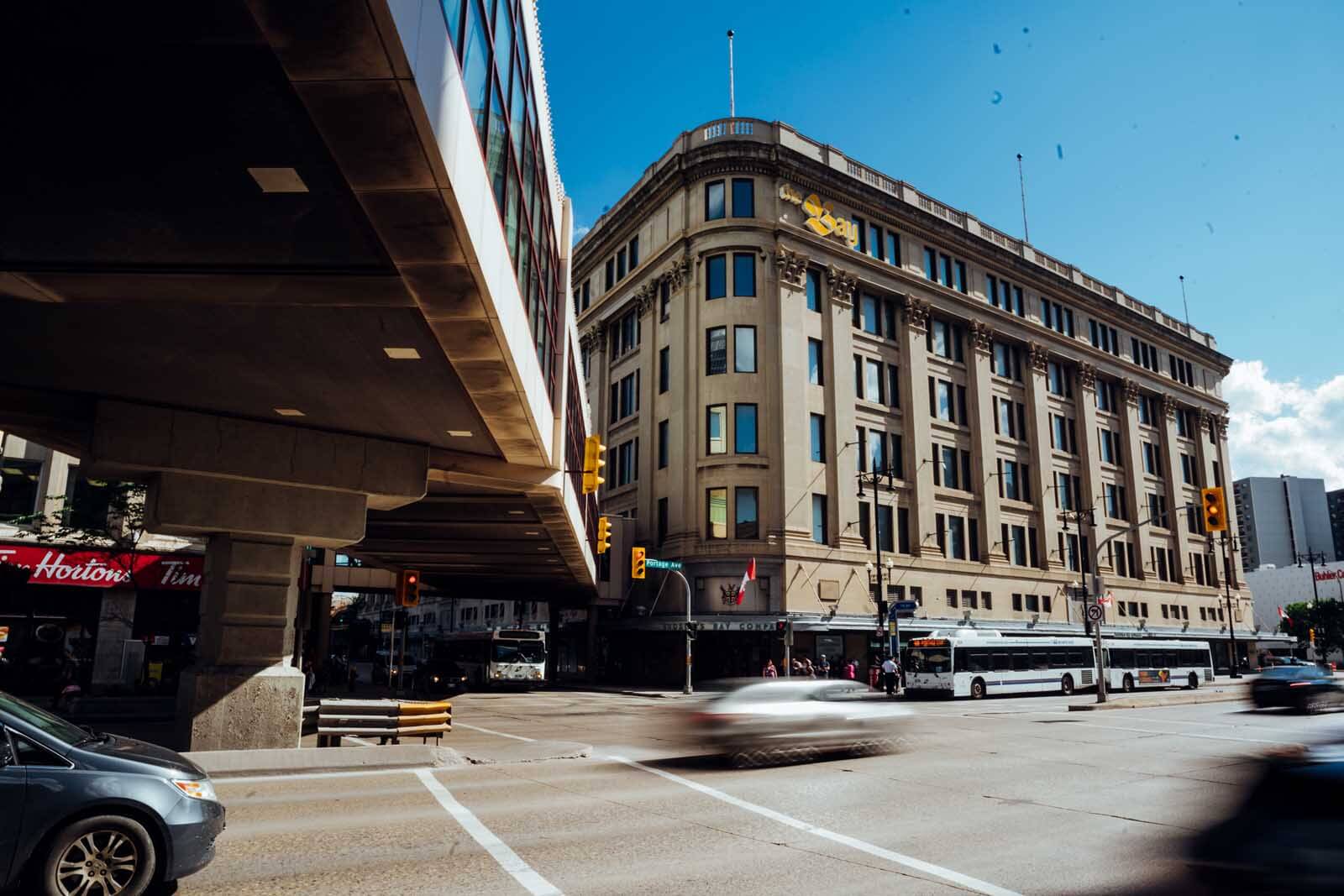 This next thing to do in Winnipeg is great for anyone who loves shopping, like me! Visit the oldest Hudson Bay Company Department Store in Downtown Winnipeg.
The Hudson Bay Company is steeped rich with history of the area and is the oldest company in North America. This now giant Canadian retailer started as a small fur trading company with its first ship the Nonsuch as mentioned earlier. What started as a fur trading business has expanded to a global retail brand with stores across the world.
The company grew so large it controlled the fur trade pretty much throughout North America and owned a huge portion of Canada and the US known as Rupert's Land that made up about 15% of North America. By the 19th century, the Hudson Bay Company grew into a mercantile business and evolved into what it is today.
Also known as HBC, the company owns Lord & Taylor as well as Saks Fifth Avenue.
Any Canadian can recognize their green, yellow, red, and blue signature stripes that they brand on alot of their merchandise from their original Hudson Bay point blanket. The blankets with the stripes were originally made to barter with First Nations to exchange for beaver pelts and were known for the superior quality and as a great insulator in cold weather.
Hudson Bay Company continues to make these blankets today as they are an icon to Canada and their history. However, getting one of these blankets can be quite costly. There are cheaper versions made running you around the $100 range but to get the high-quality collectible point blanket you can pay upwards to $1300.
You can pick up your Hudson Bay Company ultimate Canadian souvenir here and shop at the oldest Hudson Bay Company department store location in Canada. While the department store itself isn't going to blow you away it is really cool to pay close attention to the older details in the building that give you an idea of the age.
Unlock the Mysteries of the Legislative Building
One of the Winnipeg attractions we really wished we could have enjoyed was the Hermetic Code Tour of the Legislative Building. We were told by many locals that this was one of the best tours they had ever done and it felt like you were in the Da Vinci Code.
On the tour you will explore all the mysteries of the design and architecture behind what looks like a normal Legislative Building. There are secrets and mysteries tied into this landmark of Winnipeg including hidden hieroglyphic messages, numerological codes, and other symbols that's left historians stumped for a hundred years.
This tour is said to take place every Wednesday evening, however, when I checked for tickets I couldn't book for our dates. It would be best to call in advance to see if your dates line up and if so you should definitely join this tour!
204-989-9630
Walk the Design Quarter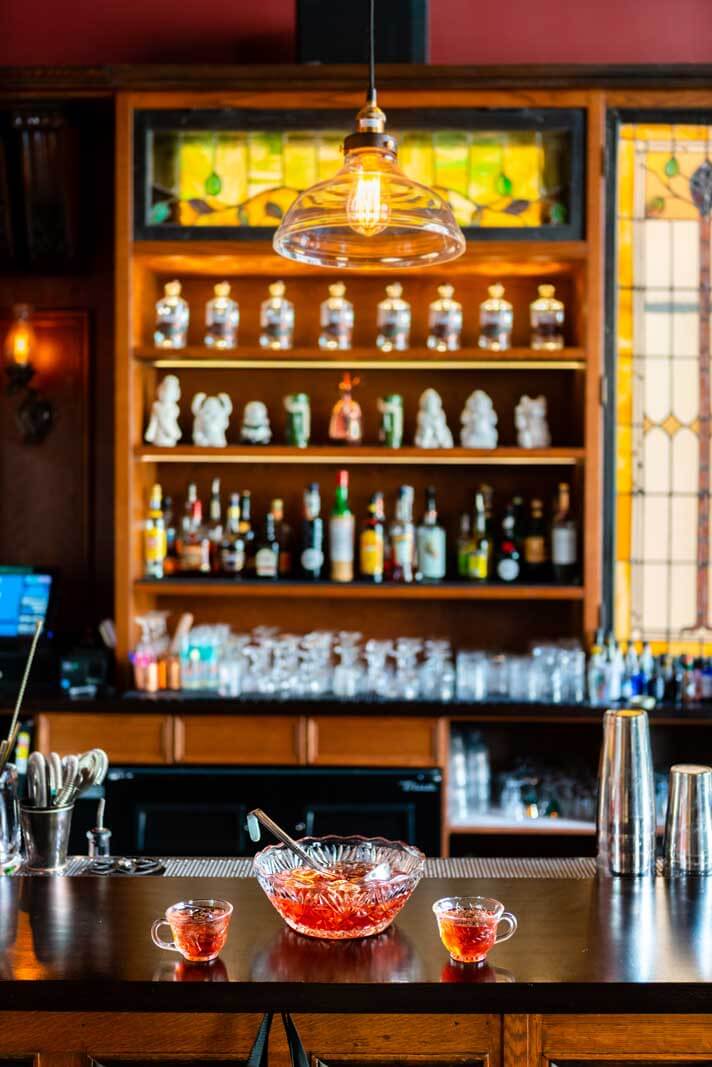 Many of our top picks for best things to do in Winnipeg are located in the Design Quarter, a walkable area of the city focusing on local businesses from boutiques to places to grab a drink.
Grabbing a Design Quarter map, you can get one at any of their participating members – just ask! and walking around you'll come across the creative and innovative small businesses this city has to offer!
Many of the breweries, shops, distillery, and even museums we visited are members! Check out more information.
Stroll Through Chinatown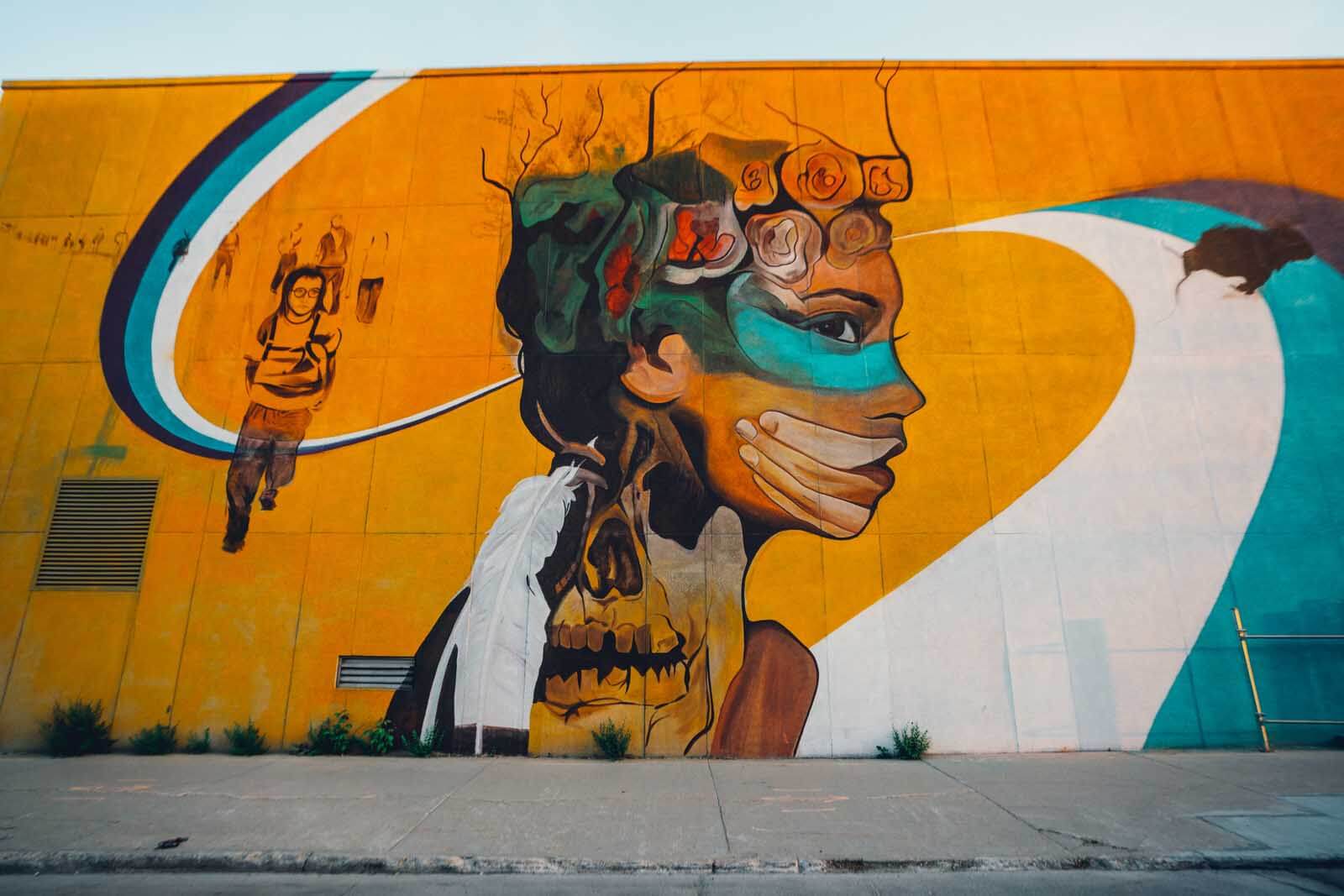 Small but mighty, Chinatown in Winnipeg is one of the smaller areas neighboring the Exchange District but well worth strolling through. Here you'll find pagoda style buildings in this single block neighborhood.
There are different types of Chinese restaurants available and shops. Our favorite part about strolling through here would have to be the colorful and beautiful murals in the small concentrated area of the city.
This is an easy Winnipeg attraction to see while exploring Downtown and the Exchange District, so don't miss it!
Explore the West End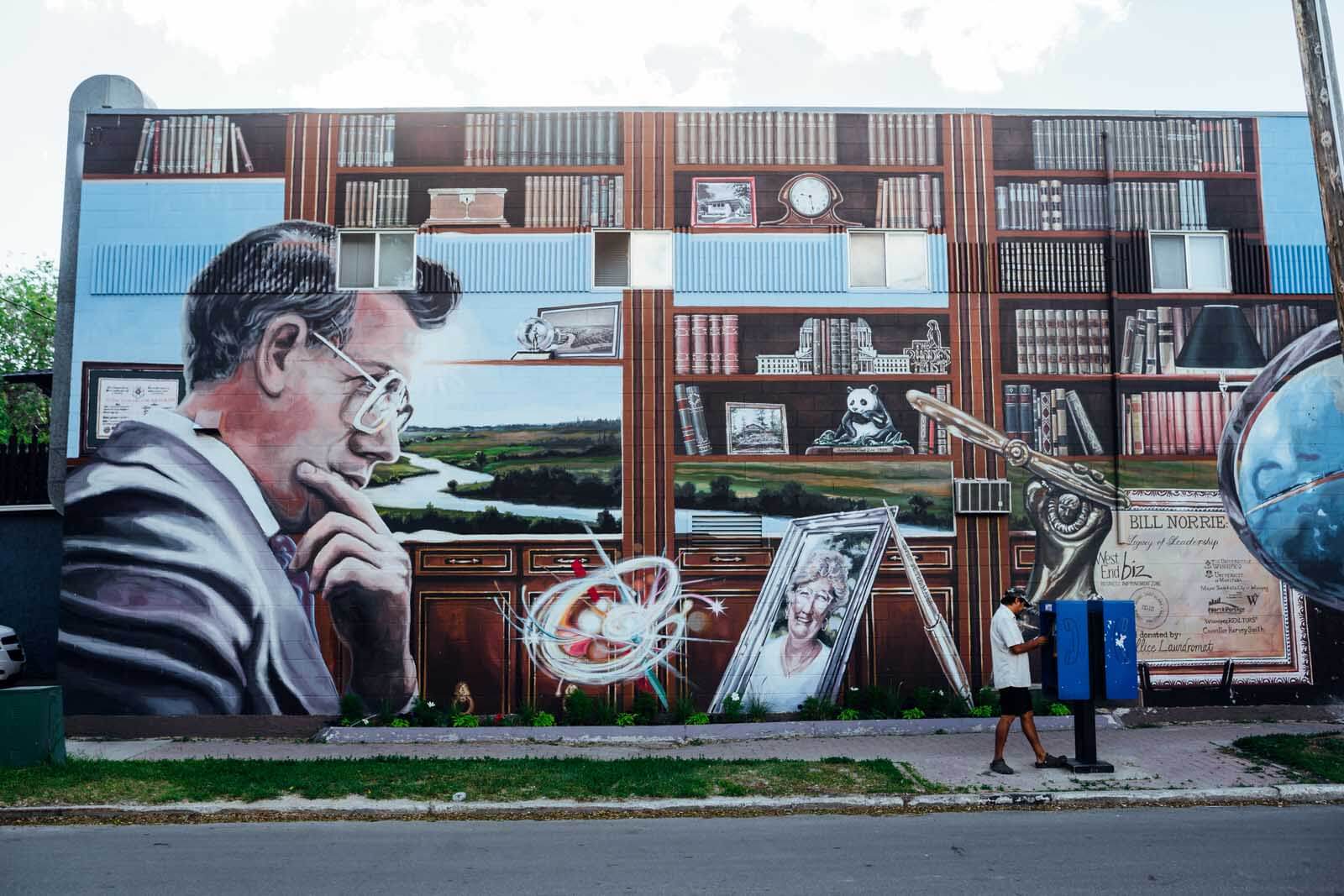 The West End and Spence neighborhood is where to go and what to do in Winnipeg if you want to find more colorful murals in the city. The West End is a residential neighborhood in the city with a population of 38,00 people. If it were it's own city it would be the 3rd largest in Manitoba.
The West End also has over 1000 businesses including tons of restaurants offering different cuisines from all over the globe. We sampled our way through Italian food, Ethiopian food, and Vietnamese while we were here.
This is one of the most diverse neighborhoods in the city and it shows through its eateries.
This is also where you can find Homer's, a Greek restaurant and what we were told by a local was the inspiration behind My Big Fat Greek Wedding. However, I can't find anything online to confirm this so for now I will just take his word on it.
This area is great for exploring the murals and having some lunch.
Where to Stay in Winnipeg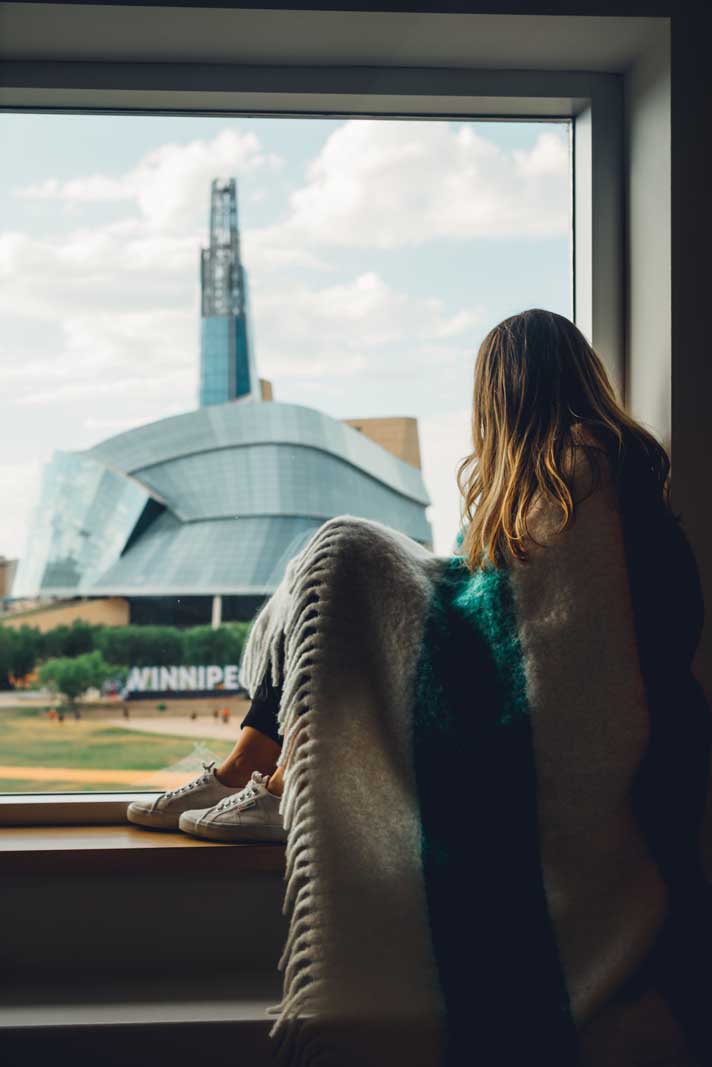 We recommend staying at the Inn at the Forks during your stay for exploring all the Winnipeg attractions. This beautiful hotel has a prime location right in the Forks next to the Canadian Museum of Human Rights, The Forks Market & Common, and walking distance to some of the best things to do in Winnipeg.
The hotel rooms are comfortable, some even offer great views! Our room had a gorgeous view looking at the Canadian Museum of Human Rights. The rooms are spacious and come with large bathrooms with a shower and tub, a faux fireplace, and seating area.
We also loved the restaurant on site, The Smith, offers a great selection of food and drink for every meal of the day.
Book Now on Booking.com | Compare Prices for Later on Agoda.com | Check Rates on Hotels.com
---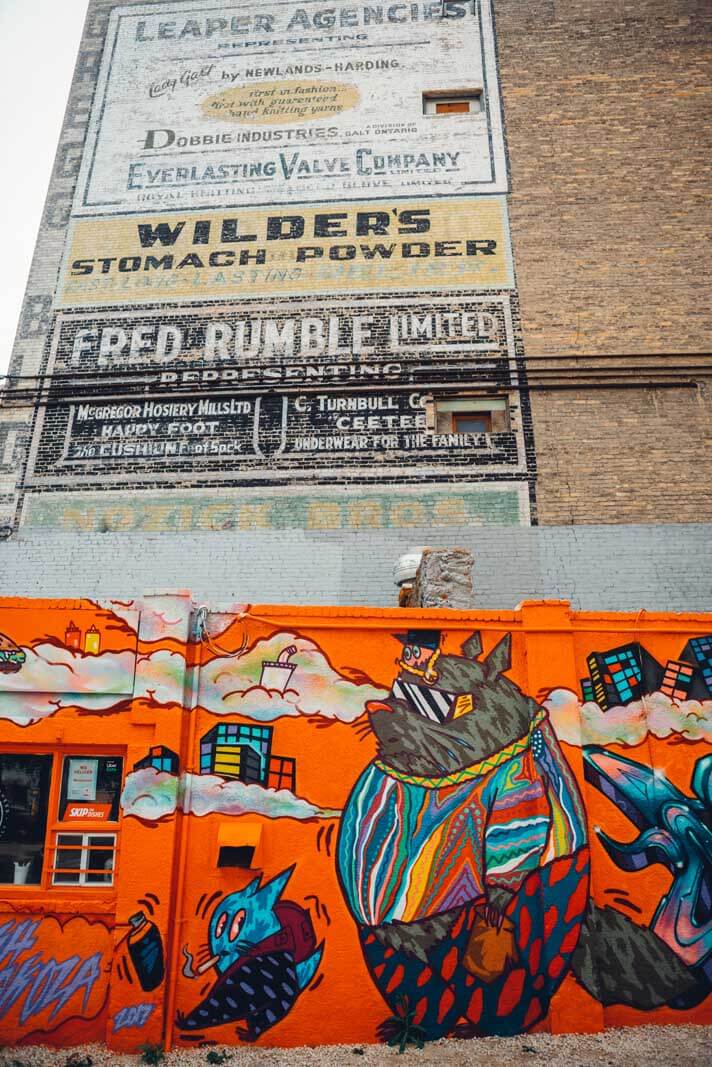 Disclaimer: Our trip to Winnipeg was in partnership with Travel Manitoba. However, we were free to explore any activities that interest us and all experiences and opinions are our own!
Enjoyed this post on what to do in Winnipeg and all the best Winnipeg attractions? Bookmark for later or share the love below on Pinterest!