Looking to visit Portland Head Light in Portland, Maine? We've got you covered! Welcome to the oldest lighthouse in Maine and the most photographed lighthouse in the United States! Not to mention, one of (if not the most) beautiful lighthouses on the East Coast.
On a weekend in Portland, Maine you can easily spend a good chunk of it here just witnessing the beauty of this Cape Elizabeth lighthouse overlooking the Casco Bay coastline and scenic trails around Fort Williams Park and plenty of picnic and photo spots.
This guide to Portland Head Lighthouse and Fort Williams Park will help you plan your visit should you spend as little as 20 minutes to a few hours. Just keep in mind, during your visit to Portland Head Light and Fort Williams Park that you will need to carry out what you bring in, which means if you bring a picnic you will have to take all of your trash out with you. Just something to keep in mind before we dive into this incredible destination in New England and the Atlantic coastline!
Be sure to also check out the other amazing Portland, Maine lighthouses to check out while you're here too!
History of Portland Head Light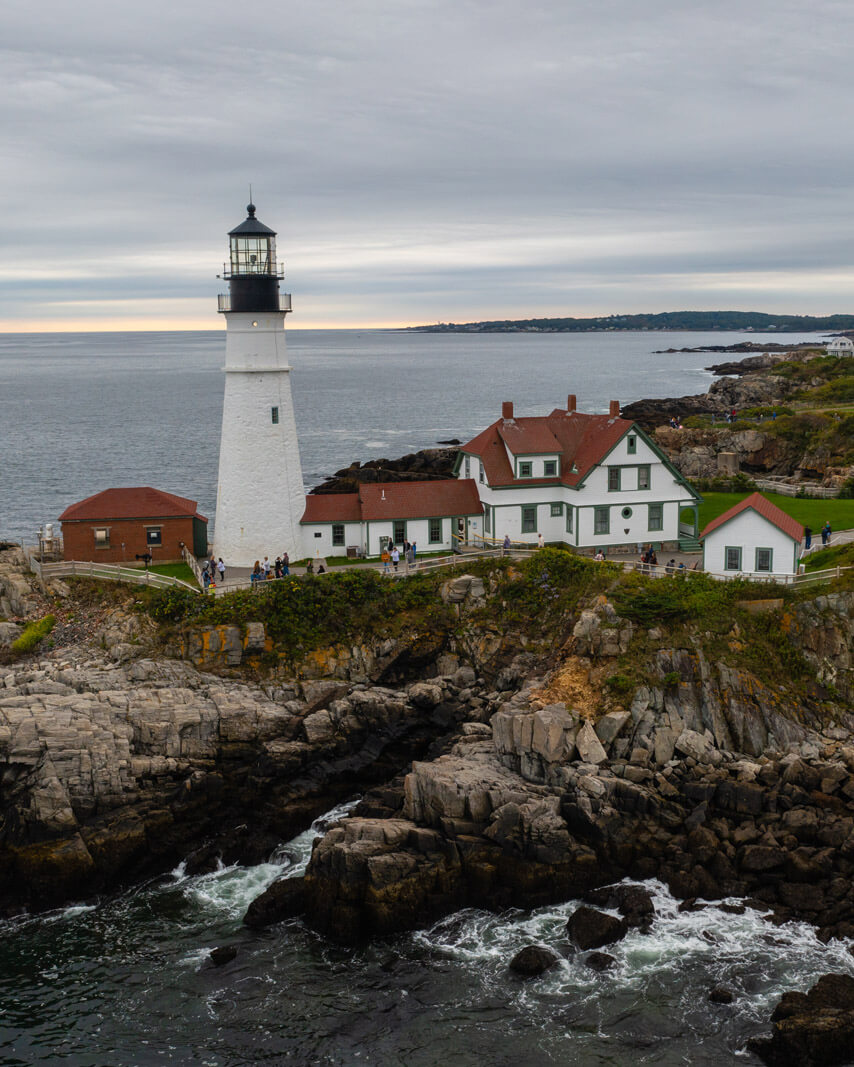 As mentioned, Portland Head Lighthouse is the oldest lighthouse in Maine and is known as one of the most popular lighthouses in New England.
Portland Head Light in Cape Elizabeth has protected Portland and was constructed in 1787 when the Massachusetts legislature provided $750 to the city to build it after George Washington had approved its construction.
While there were lighthouses constructed before the United States was considered a nation, Geroge Washington, our first president, enacted management of protecting the new nation's shores by passing the Lighthouse Act in 1789.
The first lighthouse to be built after this law was the Portland Head Light.
However, in 1790, the United States took over and Congress gave $1,500 toward the completion of this lighthouse. It was first lit in 1791.
This landmark was 72 feet high when it was first built and originally went into service in 1791. However, since then, it has gone under many revisions and been made over 20 feet taller! In 1791, this lighthouse was kept by veterans from the American Revolution. During this time, the keepers lived in the side house and fished and farmed.
After getting many residents in the town to sign off on a petition, the keeper of the house got a raise and convinced those who ran the lighthouse to rebuild the keeper's house. This is when it became a one-story stone house! It has an attached kitchen, attic, and is joined to the tower itself.
Now formally known as the keeper's quarters building, it is a two-story duplex that was last remodeled in 1891. Those who stayed there include the lighthouse keepers and their families.
Now, this Cape Elizabeth lighthouse is protected under the National Register of Historic Places.
If you're fascinated with lighthouses and history, check out our guide to Montauk which features the famous Montauk Point Lighthouse on Long Island, the oldest lighthouse in New York state and also commissioned under George Washington.
Visiting Portland Head Light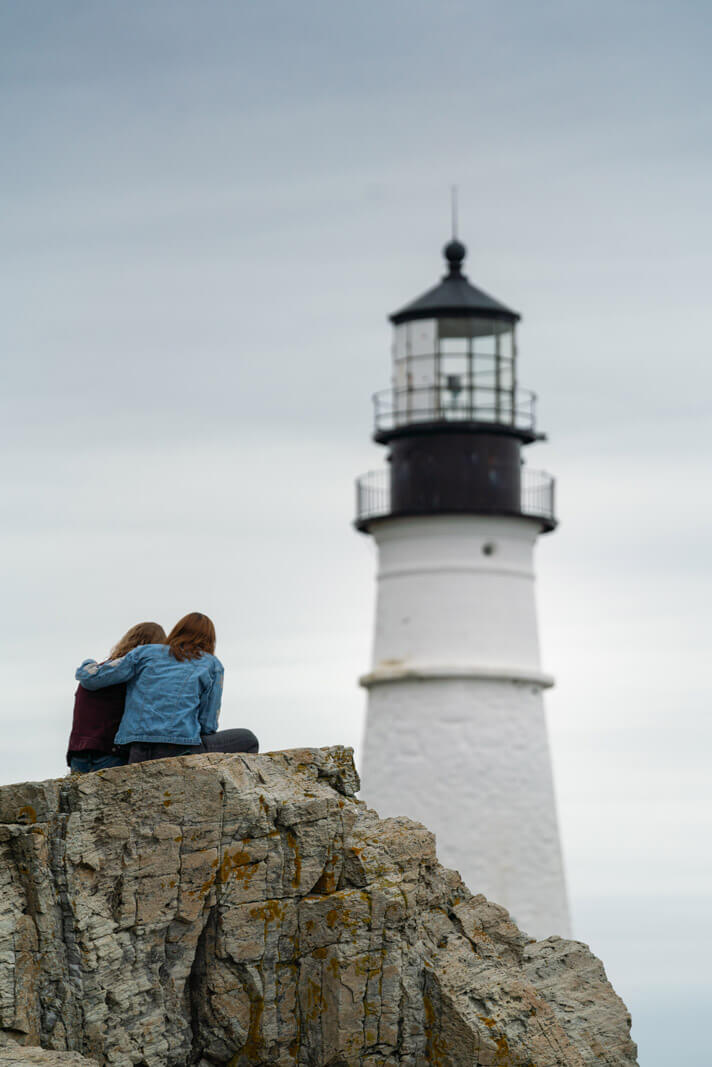 You can visit Portland Head Light in as little as 20 minutes if you snag a parking spot quickly and just catch a few of the coastal views from the path or you can easily spend a few hours here enjoying a picnic or a meal from one of the vendors here, enjoying walks along the trails, and head to the museum.
Portland Head Lighthouse and Fort Williams Park are open to the public year-round from sunrise to sunset. The months of April 1 through November 15th are considered peak season and have some parking options that cost money during this season, more on that below.
There is no admission fee for visiting, although donations are appreciated if you can spare a few bucks. And if you're traveling or visiting with your furry friend, Portland Head Light and Fort Williams Park is dog-friendly as long as you have your dog on a leash.
Here's the essential information you need to know about visiting Portland Head Lighthouse.
Parking at Portland Head Light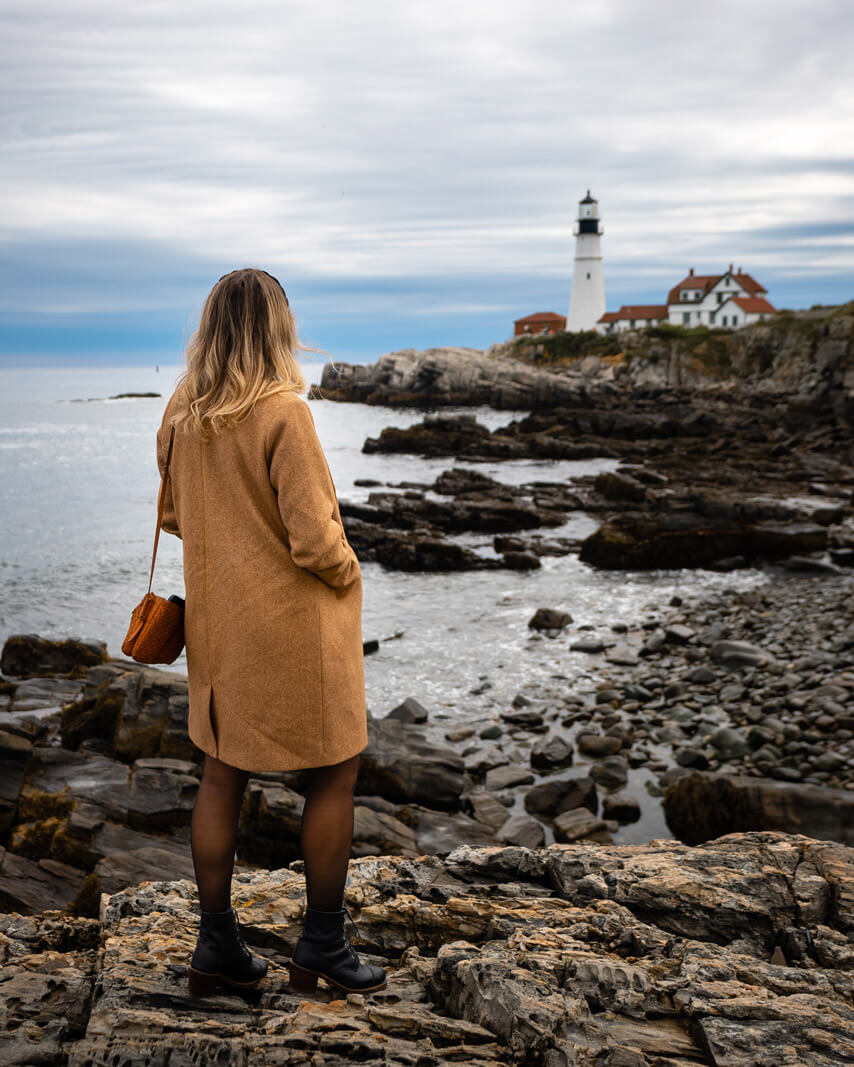 The best way to get to Portland Head Light is by car, especially if you're visiting out of town. However, if you're staying nearby, this is a popular stop for cyclists.
There are plenty of paid parking options at the Portland Head Lighthouse at Fort Williams Park from the months of April through mid-November, during off season it's free.
There are quite a few parking lots, if it's not a busy day, I suggest driving closer to the lighthouse and find parking so you're closer to the actual lighthouse.
However, if you do get a spot at one of the other parking lots you can walk over to the coastal trail and also enjoy the view the whole way towards the lighthouse from your parking spot.
Parking at Portland Head Light is $2 per hour and $10 per day for all non-residents. A season pass is $15 for anyone who plans on visiting multiple times.
There are many kiosks in the actual parking lots that make parking easy. After you find a parking spot, head over to a kiosk that accepts credit cards and come prepared with your license plate number.
You print out your tickets to display on the dashboard of your car to avoid a ticket.
There is a free parking option too in the overflow lot area which is just a little further distance away if you don't mind the extra walk.
Food at Portland Head Lighthouse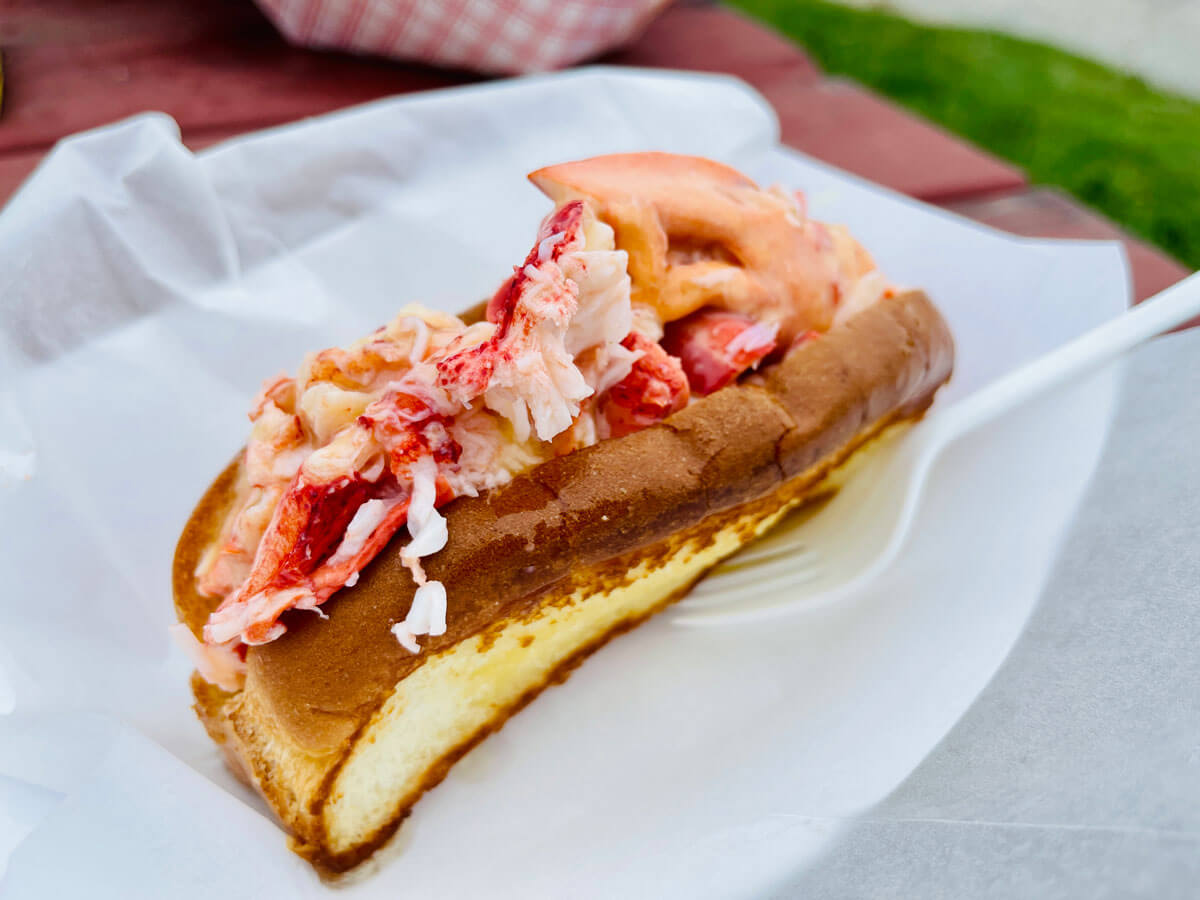 You're more than welcome to bring your own picnic and food to Fort Williams Park. However, keep in mind they have a carry in carry out policy meaning there are no public trash cans and guests need to leave Portland Head Light and Fort Williams Park better than they found it by taking out any trash they bring in, and if you're a sweetie and see a piece of rubbish laying around you will pick it up and take it out!
There are also a few excellent food options in Fort Williams Park and near this Cape Elizabeth lighthouse!
One of the most popular vendors located in Fort Williams Park is Bite of Maine lobster truck. They serve up lobster rolls, chowder, and other delicious options like lobster grilled cheese. Their lobster rolls have received critical acclaim and have even been named the best lobster roll in America by various publications like Food and Wine, Buzzfeed Food, and Yelp.
Don't be surprised if there's a line for this spot, if you roll up early and there's no line, EAT first! Trust us! This lobster roll is heaven.
Other food vendors available at Portland Head Lighthouse and Fort Williams Park include Cousins Maine Lobster, another great spot for lobster rolls and fresh Atlantic lobster and for those with a sweet tooth you can have dessert or your afternoon sugar fix at Gorgeous Gelato which serves housemade gelato, coffee, and Italian hot chocolate! 
If you're on the hunt for some sit-down options, UNION Restaurant is a great pick that isn't far from the Portland Head Lighthouse. This New American restaurant is known for its American fare, delicious cocktails, and sophisticated space.
One of the best dessert spots near the Cape Elizabeth lighthouse is The Cookie Jar Pastry Shop! This 5-star, family-owned bakery is known for its custom cakes, donuts, and pastries. However, you can also come here to order sandwiches, soups, and salads during the day!
If you're looking for fine dining, Evo Kitchen + Bar is a great pick! This Middle Eastern bistro is known for its classic cuisine and creative cocktails. Whether you're in the mood for ahi tuna or fingerling potatoes, you'll be able to find it here along with the great service. 
If you're looking for small plates, Central Provisions is the place for you! Not far from Fort Williams Park, this upscale restaurant is known for its eclectic small plates and cocktails. On top of the unique, brick wall setting and quaint atmosphere, this restaurant has many vegan and vegetarian options on the menu as well. 
Portland Head Light Museum
The Portland Head Lighthouse has such an interesting history and the best way to learn more about it is to visit the Portland Head Lighthouse museum located in the former keeper's house that was built in 1891, this museum features many artifacts, photographs, and documents that will help you understand the timeline of this famous landmark.
By going to this museum, you'll learn more about the origin of the Portland Head Light, the lives of the keepers, and how the technology within the Portland Head Lighthouse has changed over the past 200 years.
Entering the museum is only $2 for adults, $1 for children, and free for children under the age of 6.
There is also a gift shop within the museum where you can find things like A Portland Head Light book, photographs of the lighthouse, ornaments of the lighthouse, and other fun keepsakes & merchandise.
Fort Williams Park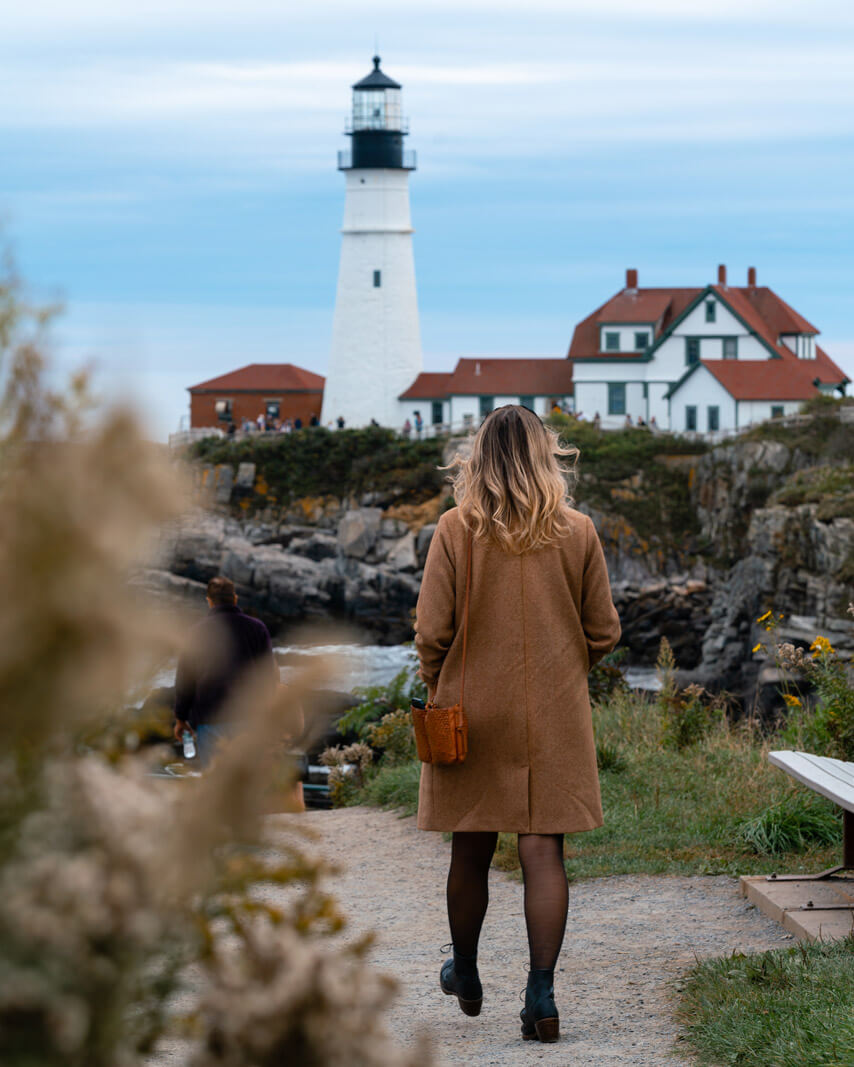 This scenic Cape Elizabeth lighthouse is located in the 90-acre Fort Williams Park overlooking Casco Bay which offers no shortage of coastal views and scenic trails.
We recommend planning a meal around here and taking in the coastal paths and cliffside loop, gander at the arboretum, make your way down to the rocky beach (just be careful not to slip on wet rocks), and for those with kids there is even a playground.
Since you're along the coast here with a breeze, this is also a great place to bring a kite or just grab one of the many benches and take a break soaking in those views.
Things to do at Portland Head Light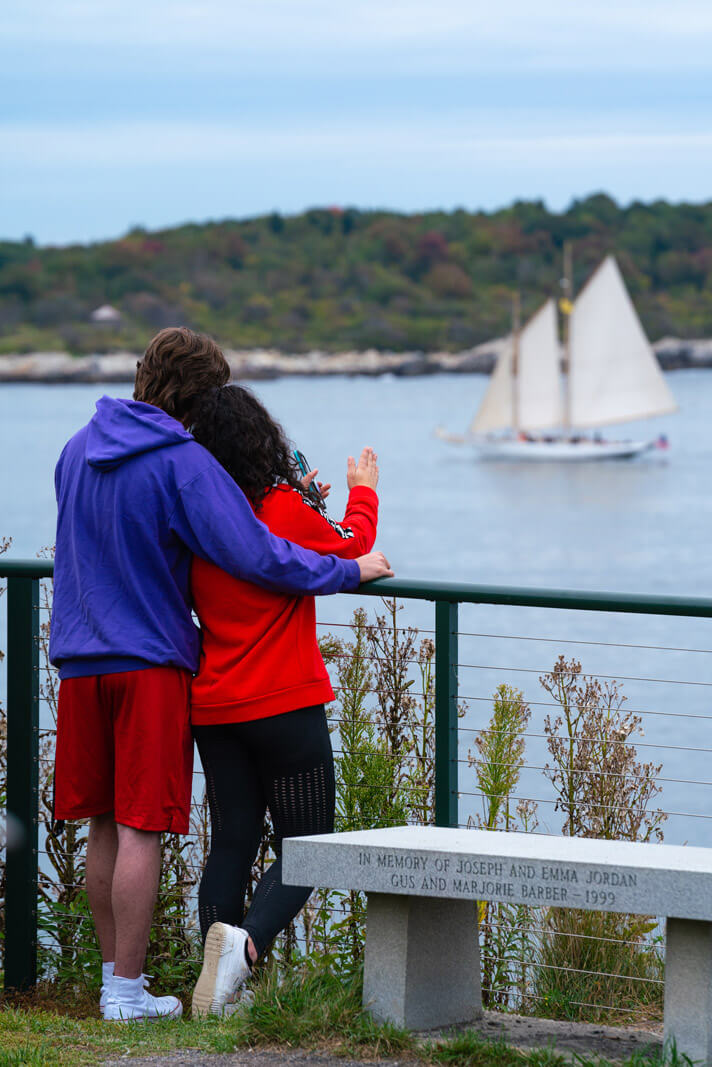 Other than everything we have already mentioned, there are a few other great things to do at Portland Head Light and Fort Williams Park.
From Portland Head Lighthouse you can actually see other lighthouses off the coast in the distance. On a clear day, you may be able to see the three other lighthouses that are nearby: Spring Point Ledge Light, Ram Island Ledge Light, and Halfway Rock Light Station. 
As briefly noted before, be sure to visit the arboretum! Completed in 2016, this arboretum was started with the goal of increasing native biodiversity and supporting the wildlife that lives near this Cape Elizabeth lighthouse.
Now, this arboretum features multiple landscapes that educate visitors on the park's unique features. The landscapes here include the cliffside landscape, the lighthouse view landscape, the cliff walk landscape, and the children's garden.
All of these landscapes are great places to spend time with your family, learn more about the surrounding plant life, or host your picnic. They also each boast their own unique views based on the name, so be sure to check all of them out while soaking in the views and watching the excursion boats pass by on the water.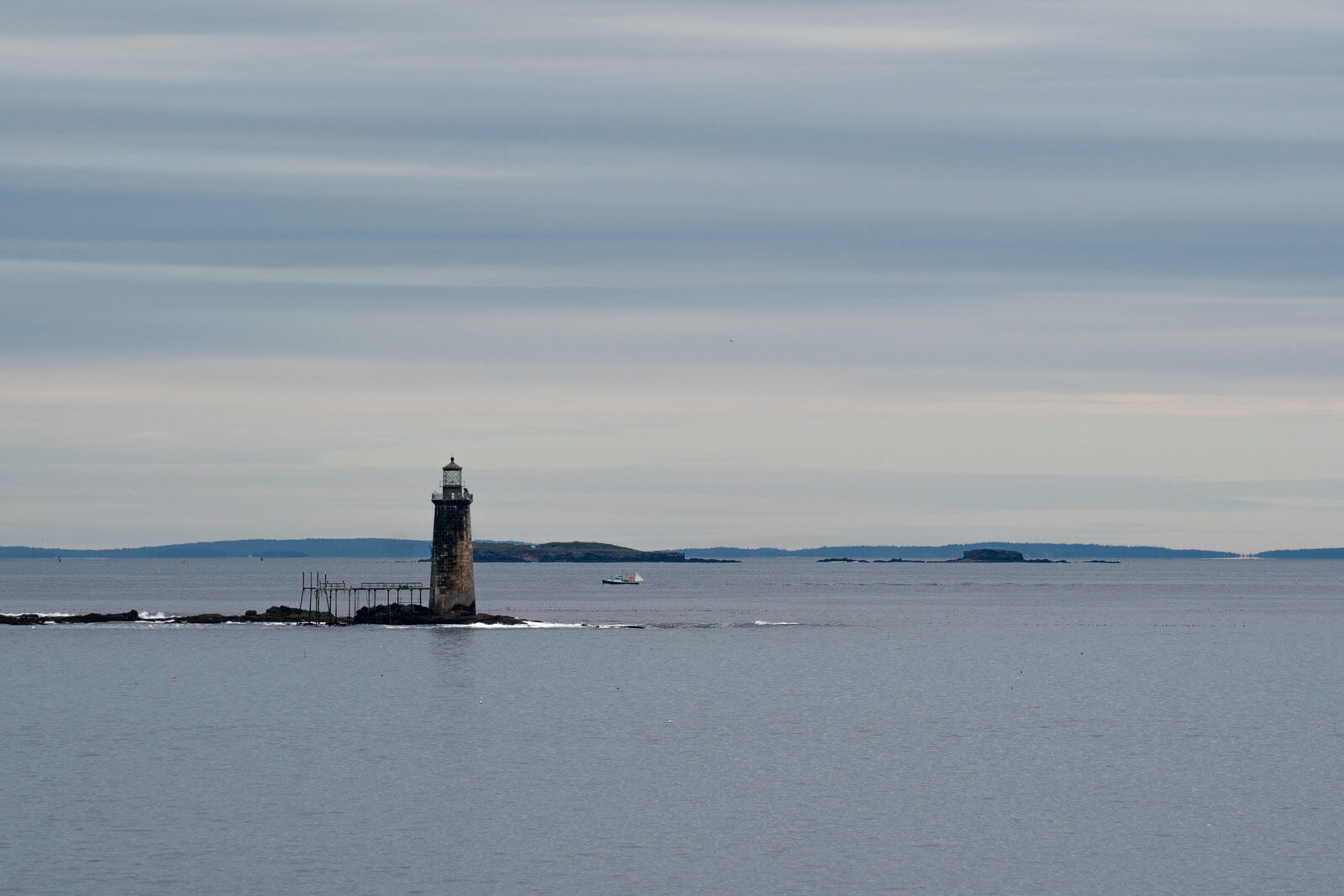 You can also take a look at the Goddard Mansion that guards the park. This ruin was originally built for Colonel John Goddard, a commander in the American Civil War.
However, in 1900, this mansion was acquired by the federal government while they were expanding the park. It was then converted into quarters for officers. To this day, the mansion overlooks Fort Williams Park and looks like a castle from the outside.
Be sure to also check out Ship Cove, the small rocky beach that offers great views of Casco Bay and Ram Island Ledge Light House off in the distance. If you're visiting at low tide you may even enjoy a bit of a sandy beach, but most of the time expect it to be a little rocky.
For history buffs you can check out the Battery Blair Memorial which served as a gun battery to protect the coastline, which was the largest of its kind in the country's battery arsenal. This site dates back to 1903, although it hasn't been used in ages but is one of the most visited spots in Fort Williams Park as it's just along the coastal path by the lighthouse.
Another battery located on Cape Elizabeth is Battery Keyes, located closer to Goddard Mansion along the coast above the rocky beach of Ship Cove. This was one of the final two batteries built at this military fort in 1906 to protect the coastline. 
If you do find yourself wanting to explore Battery Keyes beyond glancing at it, be sure to watch your footing as there has been erosion from heavy foot traffic as well as watching out for plants like poison ivy.
Lastly, be sure to check out the nature preserve in Fort Williams Park! Also known as Children's Garden, this 1.5-acre preserve was designed to let children explore nature and the wildlife that resides there. Here, you'll find a pint-sized woodland full of birds, a garden with wildflowers, plants with insects, and a pond with frogs and dragonflies! You'll also find a rest stop, tree lookout, and many seating areas that are great for family picnics. 
---
Why is Portland Head Light so famous?
Portland Head Light is famous for being one of the oldest lighthouses in the United States, its picturesque location in Cape Elizabeth, Maine, and its rich maritime history.
Is Portland Head Light still in use?
Yes, Portland Head Light is still an active lighthouse and plays a vital role in aiding navigation for ships along the rugged coastline of Maine and Cape Elizabeth.
How much does it cost to visit Portland Head Light?
There is no cost to visit Portland Head Light itself as it is located in a public park, although donations are appreciated. However, there may be parking fees depending on the specific parking area used.
What is the best time of day to visit Portland Head Lighthouse?
The best time of day to visit Portland Head Light is during sunrise or sunset when you can witness breathtaking views and capture beautiful photographs of the lighthouse against the golden light.
---
There you have it! Enjoy your visit to this beautiful Cape Elizabeth lighthouse and the surrounding Fort Williams Park. Don't forget your camera and if you found this guide helpful be sure to bookmark for later or share the love on Pinterest below.