Joshua Tree is the desert getaway for dreamers, nature lovers, and people who are seeking a relaxing time. There's no better way to experience the beauty of the area than staying in an Airbnb in Joshua Tree.
Enjoy the desert in your own home with stylish décor and a hot tub under the stars at night surrounded by the unique and oddly shaped trees surrounding you.
We believe the best way to experience Joshua Tree is through renting your own home and living in your destination even if it's just for the weekend.
We just wrapped up our three day trip to Joshua Tree by staying in one of the best Airbnb properties we have ever stayed in to date, Serenity Escape in Joshua Tree.
The Home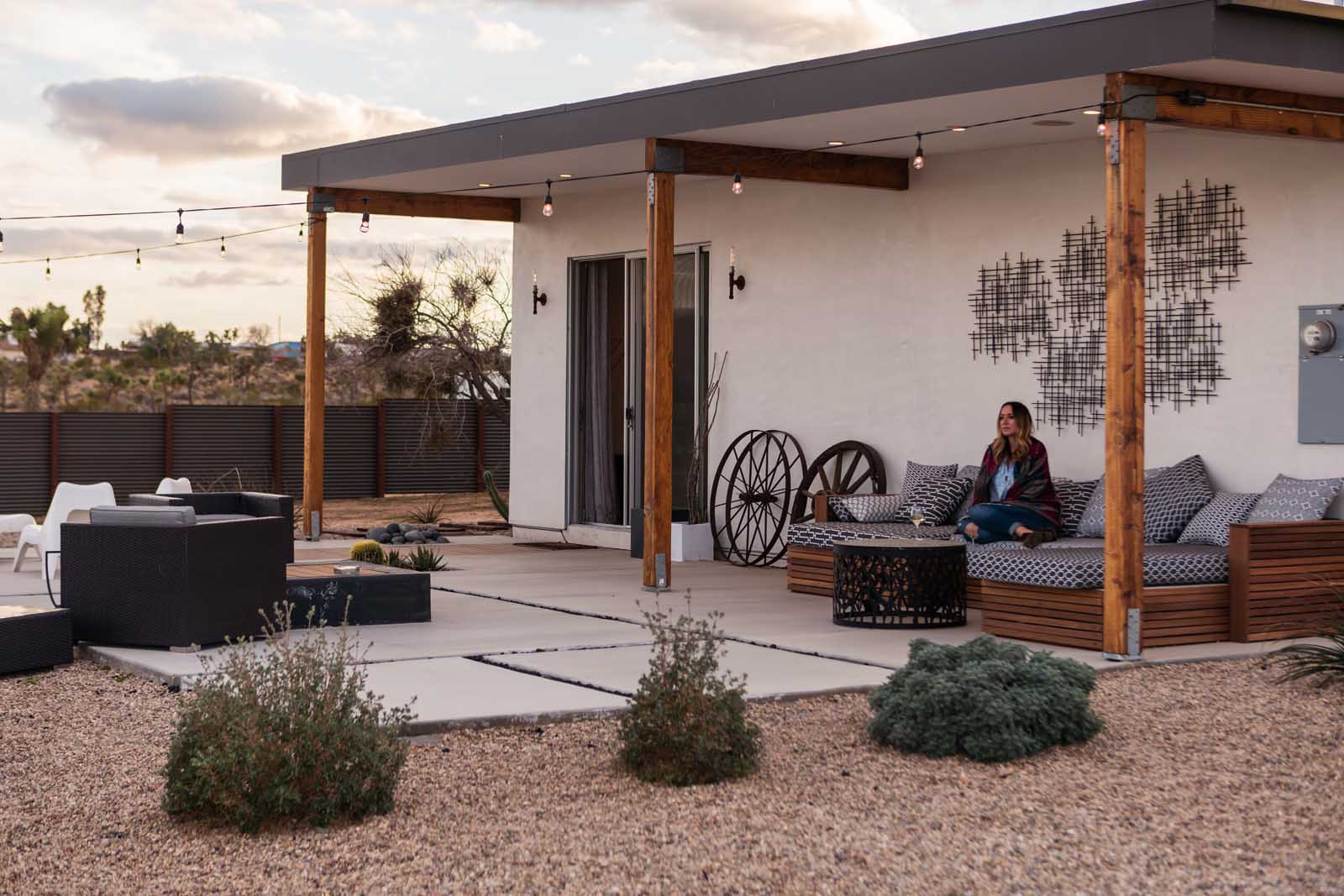 Serenity Escape's Airbnb in Joshua Tree is great for a couple's getaway, group trip, or family trip. With two bedrooms, two baths, a fully equipped kitchen that opens up to a dining area and a living room, to a large backyard patio, and a hot tub under the stars.
The house feels straight out of a home décor magazine. Every detail in the house was carefully selected and we couldn't help but feel like every corner of our Airbnb in Joshua Tree could be found on a popular Pinterest home inspiration board.
We loved the industrial-inspired and modern chic décor. From the vinyl collection and record player to the Nest heating and cooling system, you can tell this home was carefully planned out for the ultimate experience. We honestly didn't want to leave.
Each of the bedrooms has their own bathrooms complete with a gorgeous glass door shower with a window looking outside.
The bedrooms each have their own unique decorative flair, we couldn't help but admire the lighting fixtures and the color combinations as well as the white and bright rooms. There is a calming feel to the rooms.
The kitchen is fully equipped with a huge refrigerator, impressive sink, microwave, stove, oven, dishwasher, and even a washer and dryer that is cleverly tucked away and hidden in the cabinet unit.
The kitchen is also fully stocked with pots, pans, kitchen utensils, seasonings, spices, and oil making it really easy to pick up a few groceries and whip up a meal inside your borrowed home.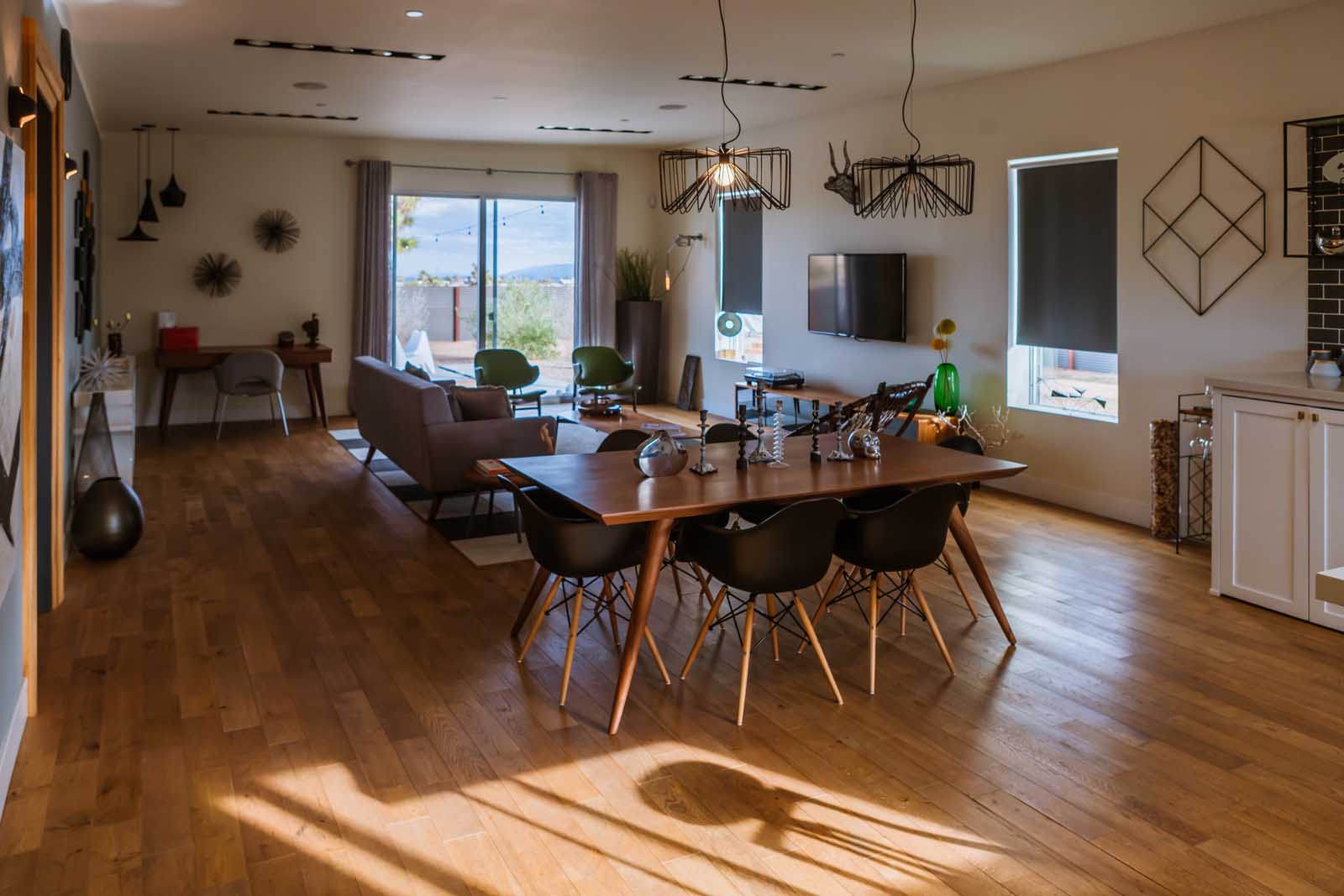 We liked the entire openness of the home and how the kitchen connected to the dining area and the living area.
All the lights in the home have a dimmer on them making it easy to set the mood or ambiance in this Airbnb in Joshua Tree.
Outside the sliding doors from the living space is the outdoor patio complete with plenty of sitting areas so you could even host a few friends if you are coming to Joshua Tree in a group.
There is an outdoor couch area, stylish white chairs, a table with chairs, and even a firepit with a string of lights to help illuminate and make a perfect gathering spot for the evenings.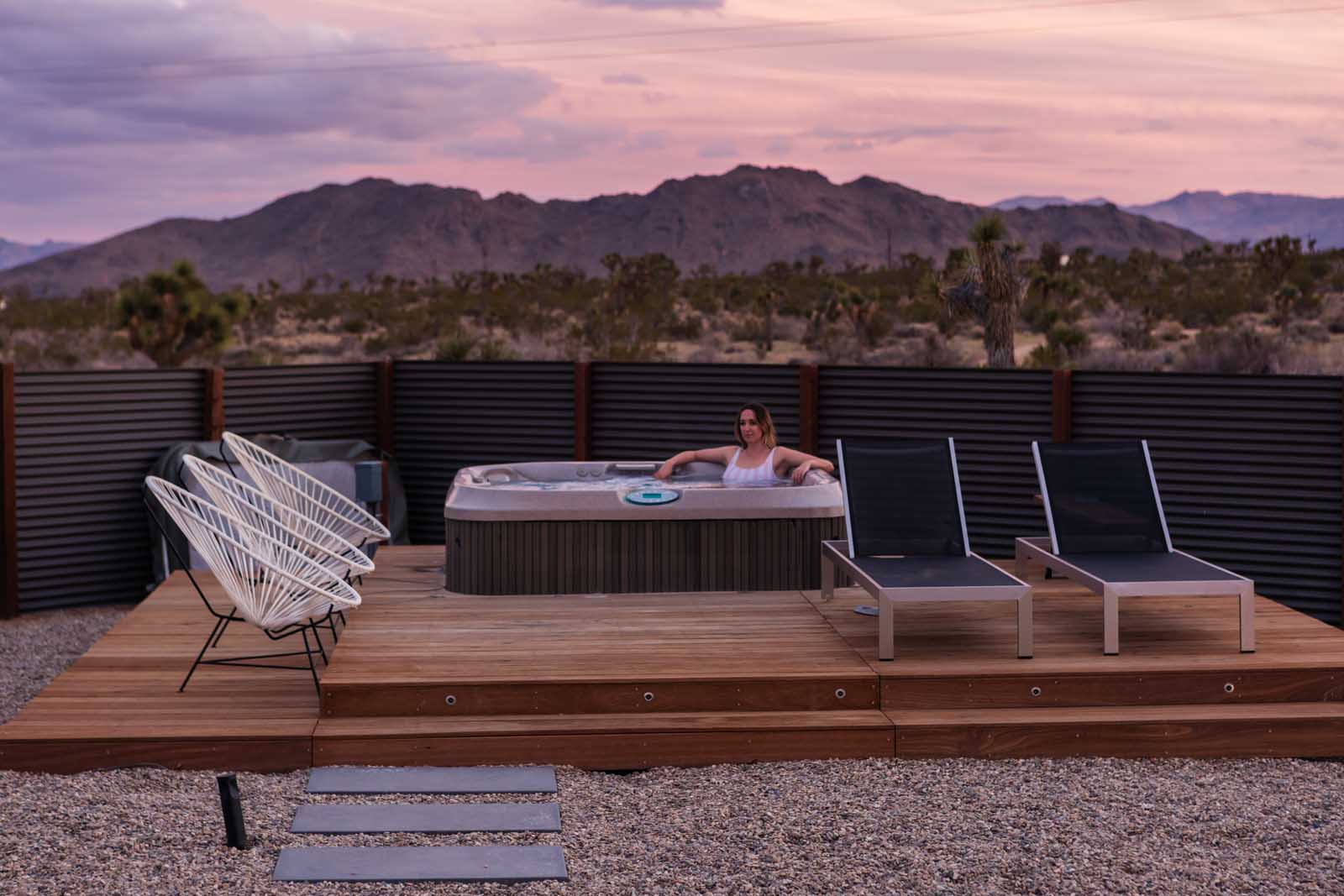 We enjoyed the hot tub at night with a clear view of the stars. It made for a very romantic and unforgettable memory surrounded by complete quietness and Joshua Trees.
The entire home is surrounded by a fence for complete privacy from any of the few nearby neighbors and wildlife from coming in. We did see a few rabbits out the window though, we didn't mind their presence as they were very adorable.
Location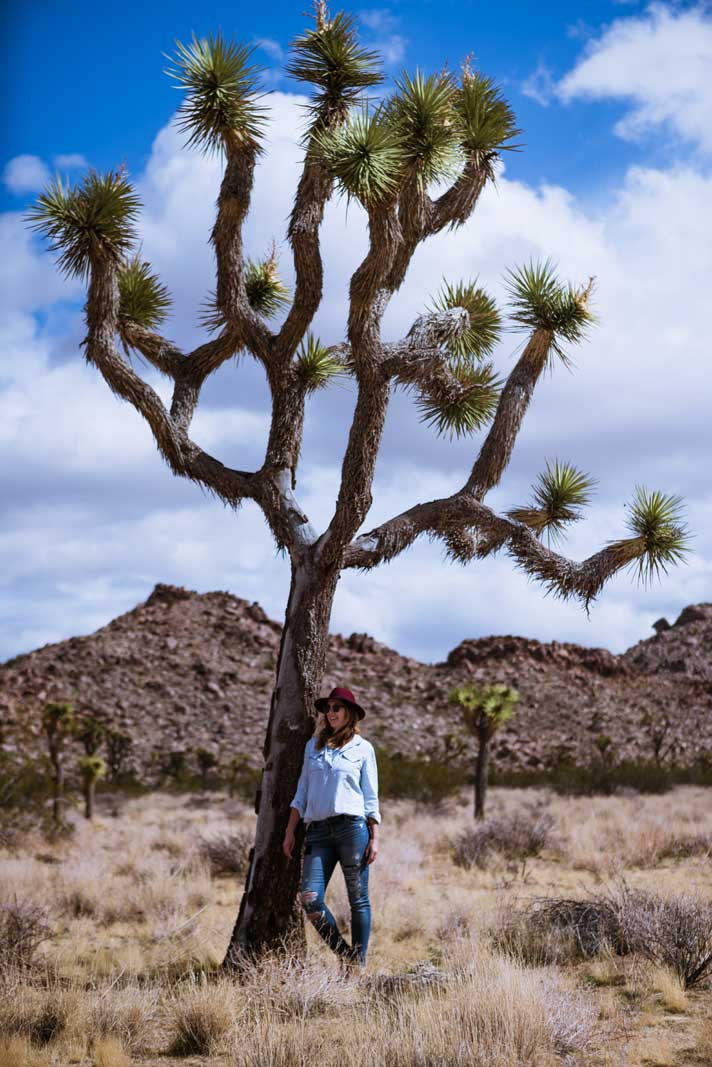 Another reason why this is the best Airbnb in Joshua Tree would be the killer location. Serenity Escape is located only a 15-minute drive from the entrance to Joshua Tree National Park making it incredibly convenient and easy to visit the National Park during your stay.
The location is also on a street in more of a remote area of Joshua Tree with only a few homes on the same street. There's generous space between Serenity Escape and any neighbors.
Once you get off the 62 you are on a paved road the entire way until the last half of a mile before it turns into a dirt road. You can easily get to the home in any car but you will want to drive a bit slower on the dirt road to avoid bumps.
We were surrounded by our own Joshua Trees and enjoyed the removed location of our home. It was nice to enjoy a place where you won't hear any neighbors, the sound of cars on the road, and at night can see the stars in the sky perfectly without any light pollution.
Why we loved it
We like to stay both in hotels and in Airbnbs when we travel. What we like about staying in a home or our Airbnb in Joshua Tree is that we have a complete home or space to ourselves.
We love cooking when we are on the road and having a fully stocked kitchen with utensils and spices makes it easy to whip up a nice meal and enjoy the intimate home setting.
We enjoy the feeling of staying in our own home rather than borrowing a room. We like having the freedom of being able to dine in by cooking and not having to share a hot tub with other hotel guests!
Even having the option to enjoy a bottle of wine, pop a bag of popcorn, and throw on a movie in our own vacation living room is always a bonus.
Plus, we often work from the road so having a comfortable environment to post up on the computer for a few hours is always a perk for us.
Besides all the reasons we prefer a home over a hotel room we also were obsessed with the décor at this Airbnb in Joshua Tree. I kept telling Scott that whoever did the décor I want to have decorated our home one day!
Who this Airbnb in Joshua Tree is for
Anyone who is looking for an intimate hideaway in Joshua Tree with all the amenities of a home plus the feel of a boutique hotel. This is great for groups, couples, and families.
Want $50 off your booking at Serenity Escape Airbnb in Joshua Tree? Check out the listing here.
Use the promo code BoChi50 for $50 off.
If you are a new user on Airbnb, you can get $30 off your first stay with this code.