Planning a trip of a lifetime to check out all the amazing things to see in Glacier National Park? This guide covers everything you need to know about visiting all the Glacier National Park must-see sites from the different areas of the park plus all the information you need to know about visiting from the vehicle registration system (you won't want to come all this way and be turned away) to the best time to visit Glacier National Park!
Whether you're on a Montana road trip or coming just for this stunning natural landscape, there's no shortage of beautiful places to see in Glacier National Park. Be sure to check out our suggested itinerary for Glacier National Park too for more helpful resources to plan your trip.
Also, you're in bear country here. We're talking about grizzly and black bears. Be sure to brush up on what to do if you encounter a bear, meaning don't stop to take a photo. Also, you can easily find bear spray for sale just about at any store around the park.
When is the Best Time to Visit Glacier National Park?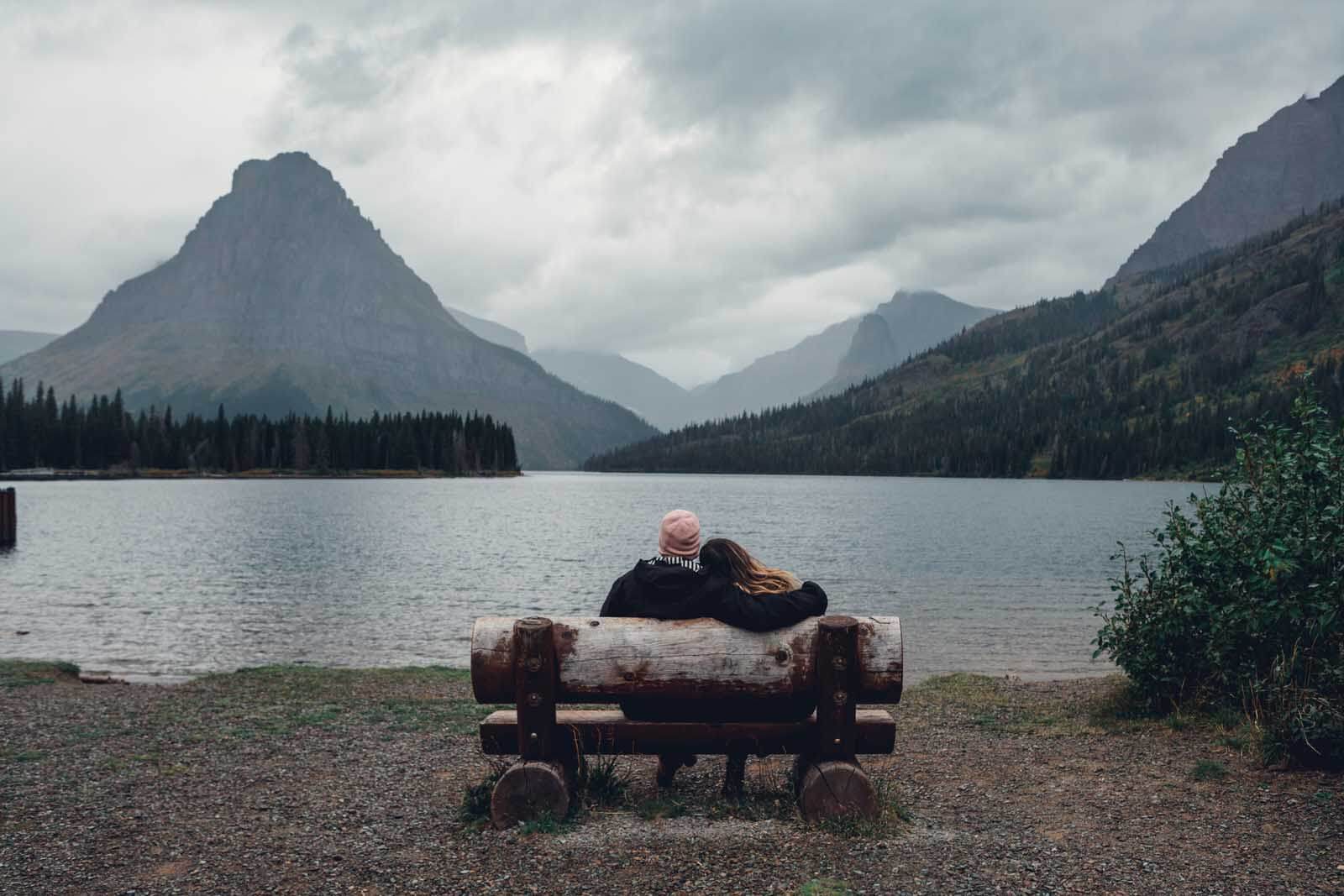 The best time to visit Glacier National Park will depend on what you want to experience while you're there. While technically all national parks are open 365 days a year, there are certain times when it's best to visit Glacier National Park.
Both times we visited the park, it was during the shoulder season (both May before the peak season and in late September at the tail end of the peak season), and we highly recommend going then. However, it's important that you do your research before you so your timing is just right!
The peak season to visit Glacier National Park is typically early July through mid-September. Because it's a mountainous park in Northern Montana, many of the top things to see in Glacier National Park are inaccessible most of the year. So, if you want to see the best parts of the park, you'll have to go during the small window when they're open to guests.
Keep in mind, Going-to-the-Sun Road, which is one of the top Glacier National Park must-see wonders isn't fully open-year round. The lower elevation areas are open year-round, but if you wish to complete Logan Pass through the continental divide, that section takes weeks to plow after the spring season and is only open a short window each year typically from July through mid-September, hence the peak season.
Each year the actual opening dates are different as unexpected snowstorms and weather can delay the plowing progress or close the road earlier in the season as conditions become too dangerous.
Summer Season at Glacier National Park
The summer (June through September) is peak season at the park. This is when everything is accessible and all the activities are available. But peak season means you'll have plenty of company. In fact, it can be very difficult to visit during the summer with all the crowds.
We suggest securing your reservation in advance (more on that below) as this is a way to combat overtourism that most often occurs in the summer. You can also do this by supporting local businesses and booking local guides for tours only available in the summer.
In the summer, all of the lodges and chalets are open for accommodations! And the weather is ideal for visiting the park. By July 1, Going-to-the-Sun Road is usually completely plowed and you'll be able to cross Logan Pass.
(It can stay open through mid-October, but don't drag your feet as it can close much earlier if there are storms or snow, we missed it by a week our first trip to Montana in September. In reality, the closer you get to the end of September into October, there's a chance of snowstorms and Logan Pass will be closed.)
Shoulder Seasons at Glacier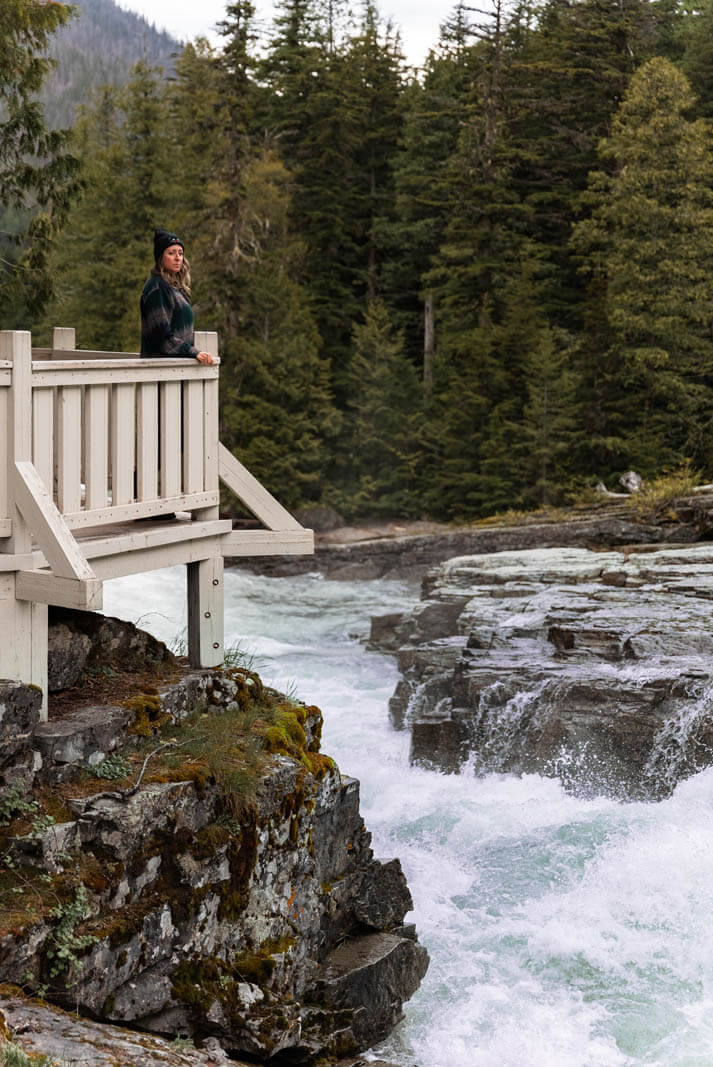 Shoulder seasons are great, but you're not guaranteed certain spots in the park, like doing the entire Going-to-the-Sun Road via Logan Pass. Depending on how late in the season you go, higher elevation hikes are usually closed off and local wildlife might be dormant.
In the spring, the Going-to-the-Sun Road is closed to cars beyond a certain point. However, there are some sections that are open to hikers and bikers during this car-free time while workers finish plowing the snow at Logan's Pass. We were able to do an e-bike tour to The Loop on the Going-to-the-Sun Road without cars which was nice! However, the rest of the road was still closed.
And if you want to see Glacier National Park's amazing animal inhabitants, head to the park from May through early June. However, spring also means that bears are active, so you should prepare and carry bear spray.
Also, the snowmelt can cause higher water levels and you may not get to see the pretty turquoise glacial waters as clearly this time of year due to it.
From September to mid-October is another great shoulder season. Wildlife is still out for viewing and the trees are starting to change! It's the perfect time for hikes and driving the Going-to-the-Sun Road. Just don't push your trip past the middle of October. Snowstorms in the mountains make conditions dangerous for visitors and sections of the park could be closed off. And you'll be increasing chances that Going-to-the-Sun Road will be closed for the season.
Things to know about the Reservation System at Glacier National Park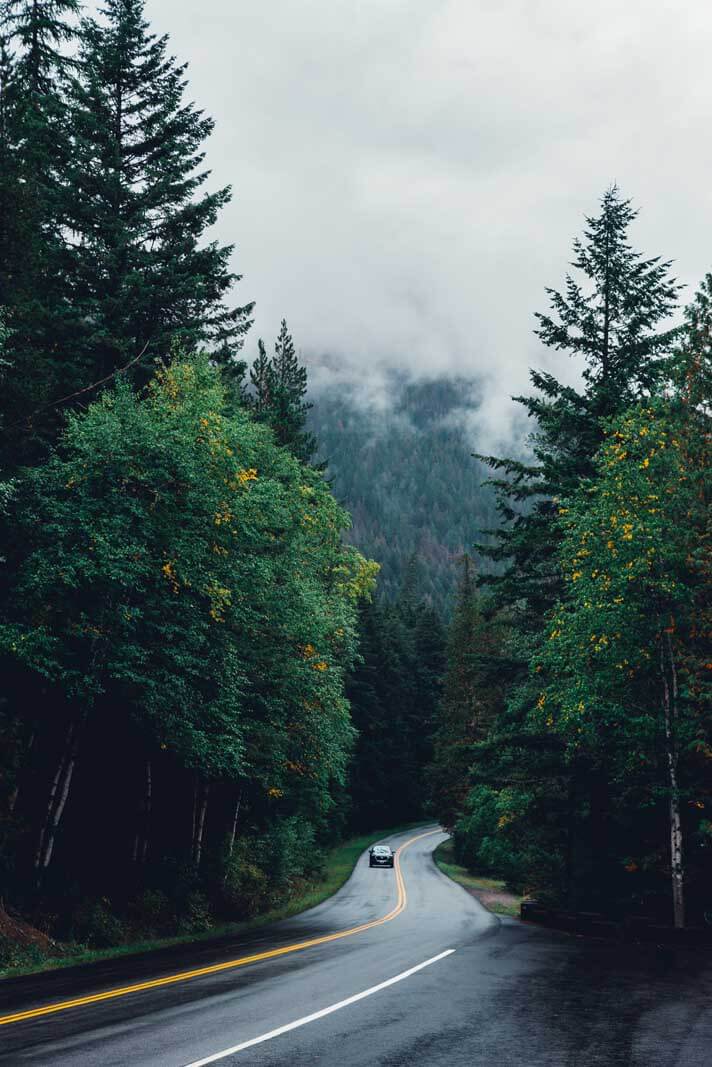 To help combat overtourism and because of the national parks finite resources and infrastructure, some national parks, like Glacier National Park have introduced a reservation system to limit how many cars are allowed into the park.
Guests will have to secure vehicle registration to access the North Fork Vehicle Reservation Areas and the Going-to-the-Sun Road Corridor, which includes the most visited areas of Glacier National Park.
As of now, the vehicle registration is required from the months of May through September. The vehicle registration is required between the hours of 6 AM and 4 PM.
If you royally messed up planning your trip and have everything booked except the vehicle registration, don't sweat as there are ways you can still enter Glacier National Park including coming into the North Fork Vehicle Registration Area or Going-to-the-Sun-Road Corridor after 4 PM. This is a great option in the summer as the days are longer and you still have a few hours to enjoy in these areas!
Another option is to book a few of the Glacier National Park must-see attractions like the scenic boat rides on Lake McDonald or St. Mary Lake. Also, the Red Bus Tours. If you purchase a tour you can access the park to join the tour and still get to enjoy your time inside Glacier National Park. Another way around this is if you have lodging or camping already booked inside the park.
Last, you can visit areas that don't require the vehicle registration like Many Glacier or Two Medicine, which are also full of Glacier National Park must-see wonders!
This guide on Glacier National Park's website includes all the details about the vehicle registration system and the exceptions to having to secure one. Plus information on how to get yours.
Best Things to Do in Glacier National Park
Take a Scenic Boat Tour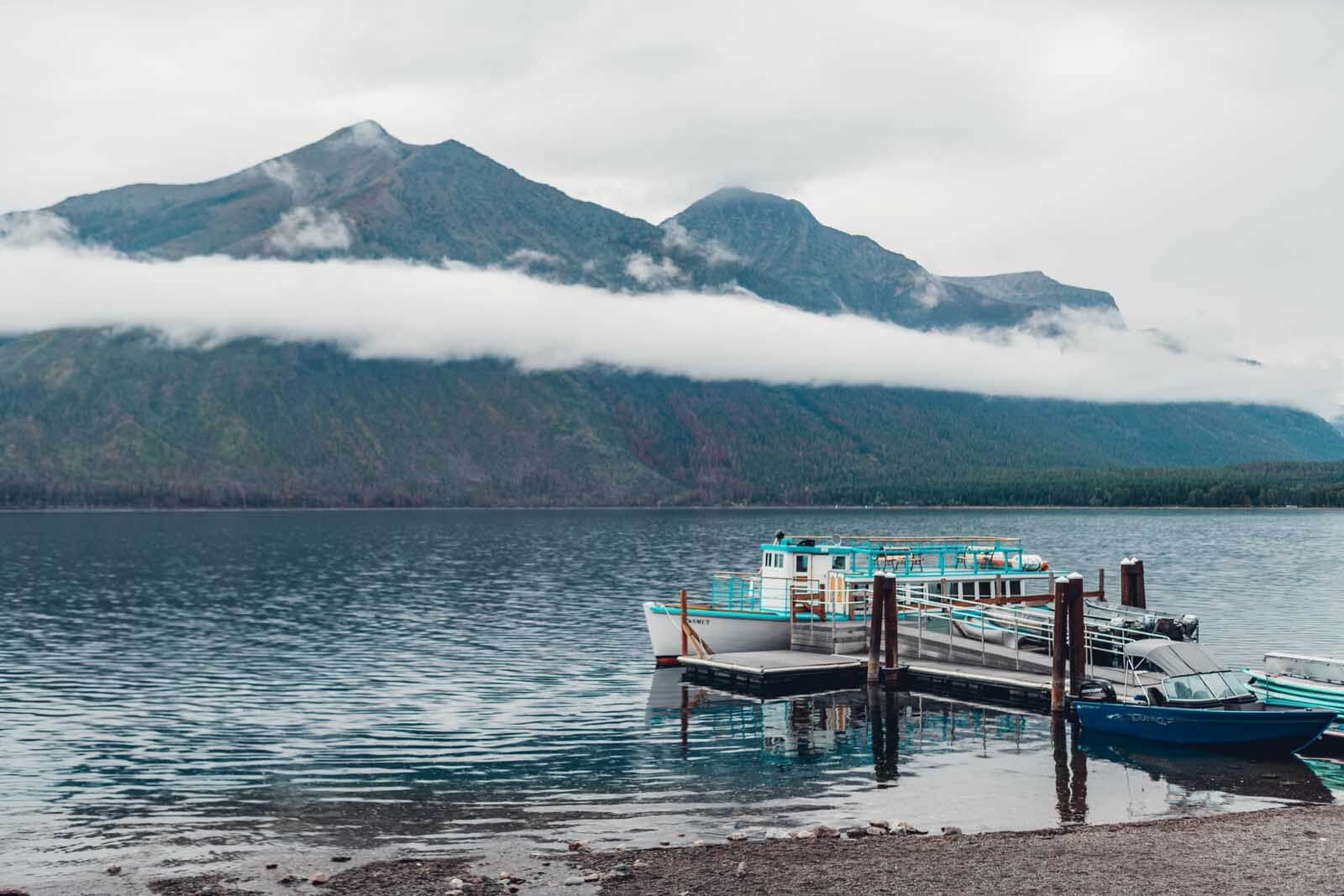 Some of the best things to see in Glacier National Park are the parks over 700 lakes! A great way to see them is by booking a tour with the Glacier Park Boat Company. We love that the family-owned company is environmentally conscious with low-impact and ethical practices.
The Glacier Park Boat Company has these super cool antique wooden boats that you'll board for your tour. Each boat has a driver and a park guide who will give you commentary and local history along the way. In total, most boat tours are about 60-minutes long, and it's a wonderful way to see the park!
There are some boat tours that have additional add-ons like visiting other lakes or waterfalls with a park ranger guide lasting around 3 hours.
Lakes that Offer Boat Tours
There are four locations to take a scenic boat tour with a park ranger:
One of the most famous places to visit in Glacier National Park is Lake McDonald. It's the largest lake in Glacier at over 9 miles across and it's a must-see in the park. You'll love the iconic mountain views above the lake's crystal-clear waters and be sure to stop on your way to see tons of rainbow stones on the lakebed over at Apgar Village! Plus, near the boat dock where you'll depart, there's the gorgeous Lake McDonald Lodge to explore.
This is definitely the most popular of the scenic boat tours in Glacier National Park, you can also rent kayaks and private small boats from Apgar Village too.
St. Mary Lake is a popular destination for those taking the Going-to-the-Sun Road on the Eastern side of Glacier National Park. If Going-to-the-Sun Road isn't open for the season yet, you'll have to drive all the way around the park which will take some time.
A lot of people like to take the Many Glacier boat tour because you can take the 90-minute guided boat tour on Swiftcurrent Lake or you can choose the longer tour which also includes a guided park ranger hike to Grinnell Lake too.
While the entire area and park has no shortage of wildlife sightings, Many Glacier seems to be a spot where there's a higher concentration of wildlife sightings from bears to moose.
If you're interested in the history of the indigenous peoples of Montana, you might prefer the Two Medicine Lake Tour. On your scenic boat tour, you'll learn about the Blackfoot tribe that once lived in the Two Medicine Area. You can choose the 45-minute scenic boat tour or you can opt for one of the 3-hour tours that also includes a guided hike to Twin Falls.
Tips for Scenic Boat Tours at Glacier National Park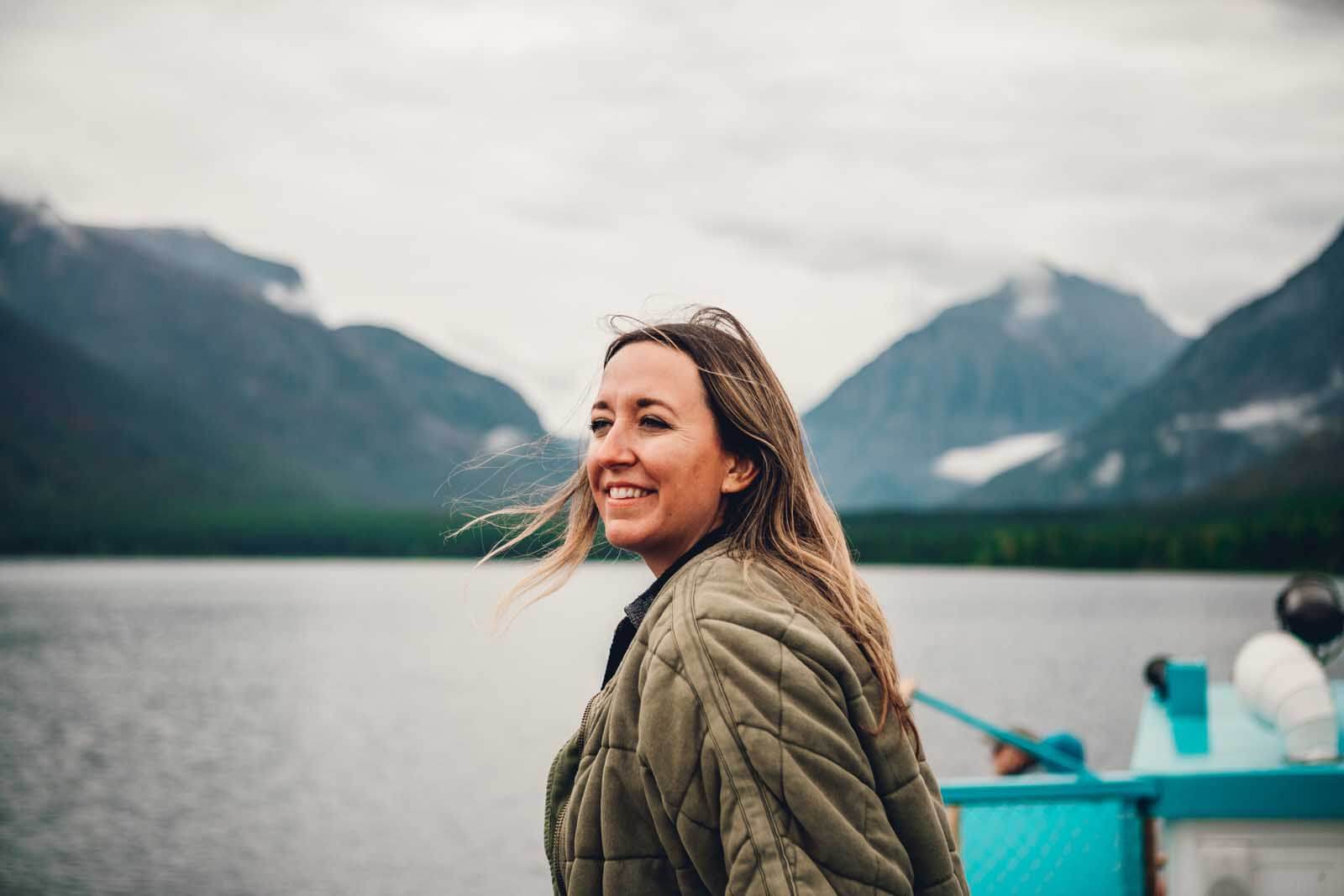 If you want to guarantee a spot on a boat, consider making reservations in advance through the links above. You don't need them for boat tours, but this is one of the most popular attractions, so reservations are a good idea especially if you're visiting in peak season or don't have a vehicle registration pass and you're hoping to get into spots like Lake McDonald – you'll need at least a reservation to get into the park.
Tours typically launch every 90-minutes from 11 AM to 7 PM and there's a ticket booth at the dock that's open from 10 AM to 8 PM. A seasonal activity, you can go on a scenic boat tour from mid-May through the end of September. It's best to check the exact times for the boat tour you're looking for.
Red Bus Tour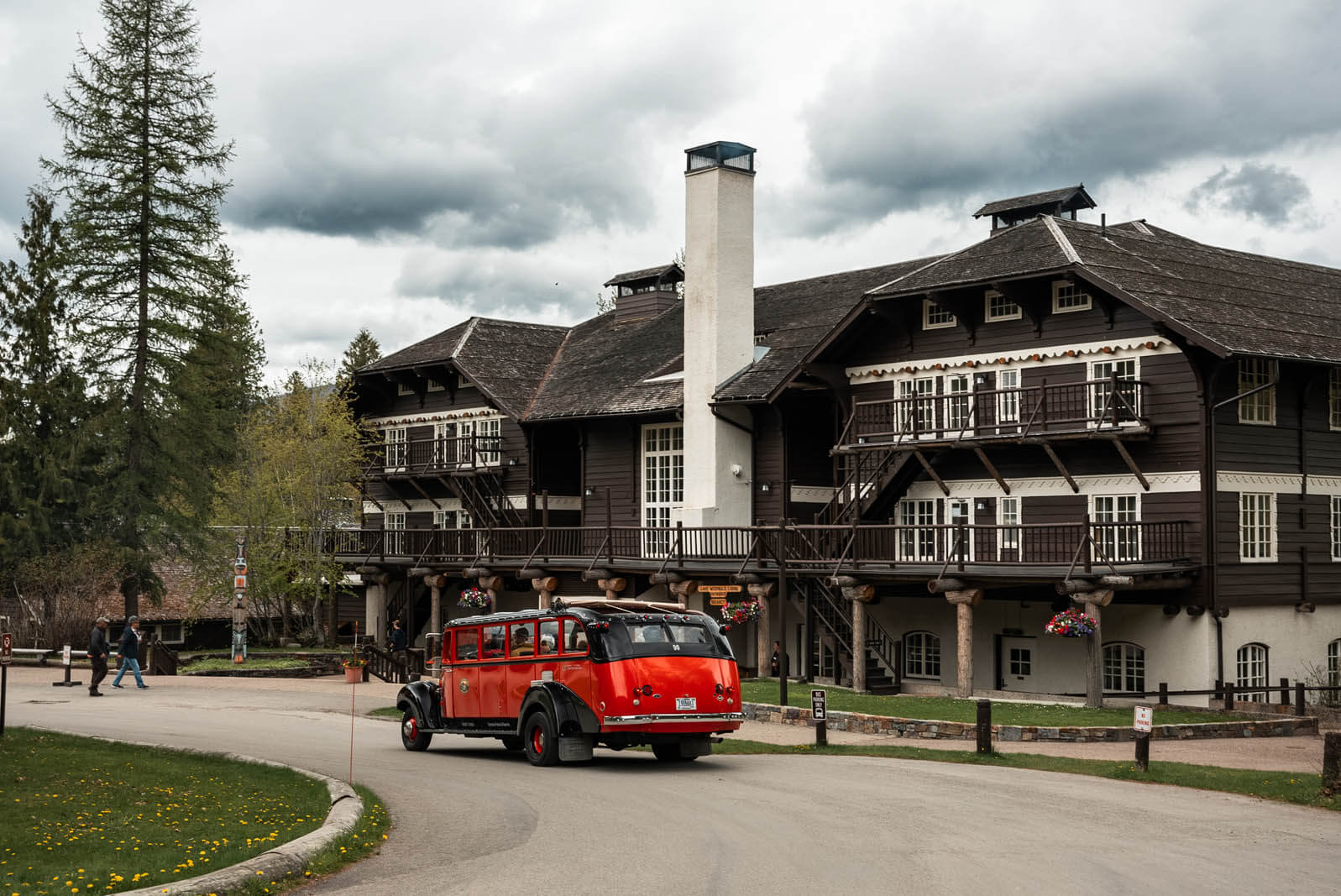 One of the most iconic Glacier National Park's must-see attractions is the Red Bus Tours that take guests through the park! This fleet of historic red busses has been active since the 1930s, making it the oldest touring fleet of vehicles in the world.
Red Bus Tours take groups from the lodges of Glacier National Parks to some of the biggest sites along the Going-to-the-Sun Road and beyond. What's so neat about these old-timey busses is that they have rollback-roofs. So, you can enjoy unobstructed views as you ride through the mountains of Montana. Each bus has an assigned driver who knows the ins and outs of Glacier National Park. Along the way, they'll tell you everything they know.
This is one of the best ways to see the Going-to-the-Sun Road over driving because you can relax and take in all the scenery! You'll see towering cedar forests, mountain valleys full of flowers, and the only rainforest in Montana. Take in the sweeping prairies of Big Sky Country and the majesty of the Sacred Dancing Cascade mountains.
Some tours give you the chance to get out of the bus and stretch your legs. You can enjoy a nature walk at the Trail of the Cedars board trail or take pictures at Wild Goose Island overlook. Two major stops on a lot of tours are the Crown of the Continent at Logan Pass and the historic lodges of Glacier.
In our opinion, this is one of the best ways to see Logan Pass because no one in your group will have to worry about being the driver and keeping their eyes on the road will some of the most beautiful Glacier National Park must-see wonders all around you!
Red Bus Tour Details
There are a handful of different tours you can take ranging from 2.5-hours long to 9.5-hours long. Routes start from both West Glacier and East Glacier. And tours can change depending on when you're there and how much of the road is open.
You have to make reservations for tours online in advance. Each tour is different, but they generally pick up passengers at a handful of locations including the park lodges, inns, and the Apgar Visitors Center. Some pick-up locations are guest-only, so double-check when you book.
Some tours run twice a day depending on the time of year while others just run once. And if you go on a longer tour, your Red Bus will stop at a few different chalets and lodges along the way for both lunch and dinner. Just plan on paying for your meals.
Logan Pass & Going-to-the-Sun Road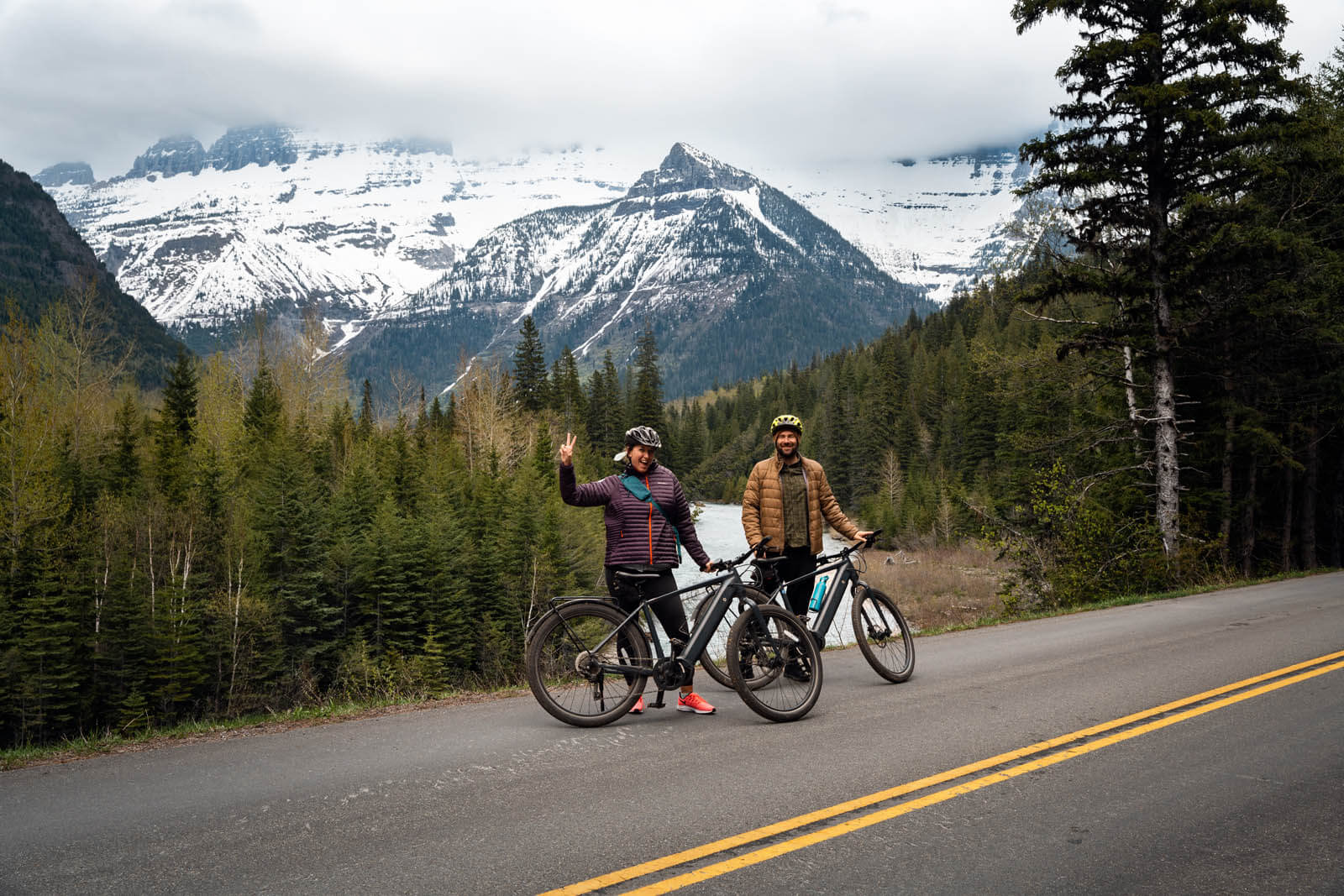 One of the top things to see in Glacier National Park is Logan Pass and the Going-to-the-Sun Road. This is such a big deal because it's the only road that goes through the entirety of the park. Most people start in West Glacier and make the 50-mile scenic trip to St. Mary in about 2-hours straight.
But there are places to stop along the way! You'll find trailheads and scenic overlooks where you'll see some of the most famous sites in Glacier National Park. There are visitors centers, restaurants, campgrounds, and more. But most people take the road because of Logan Pass, the highest point of the Going-to-the-Sun Road along the Continental Divide.
In fact, the most famous way to do Going-to-the-Sun Road is when Logan Pass is open from July until October (if you're lucky). Here you can enjoy picture-perfect views of snow-covered mountains, flowery hillsides, thick forests below, and mountain streams running through it all!
When to Do Going-to-the-Sun Road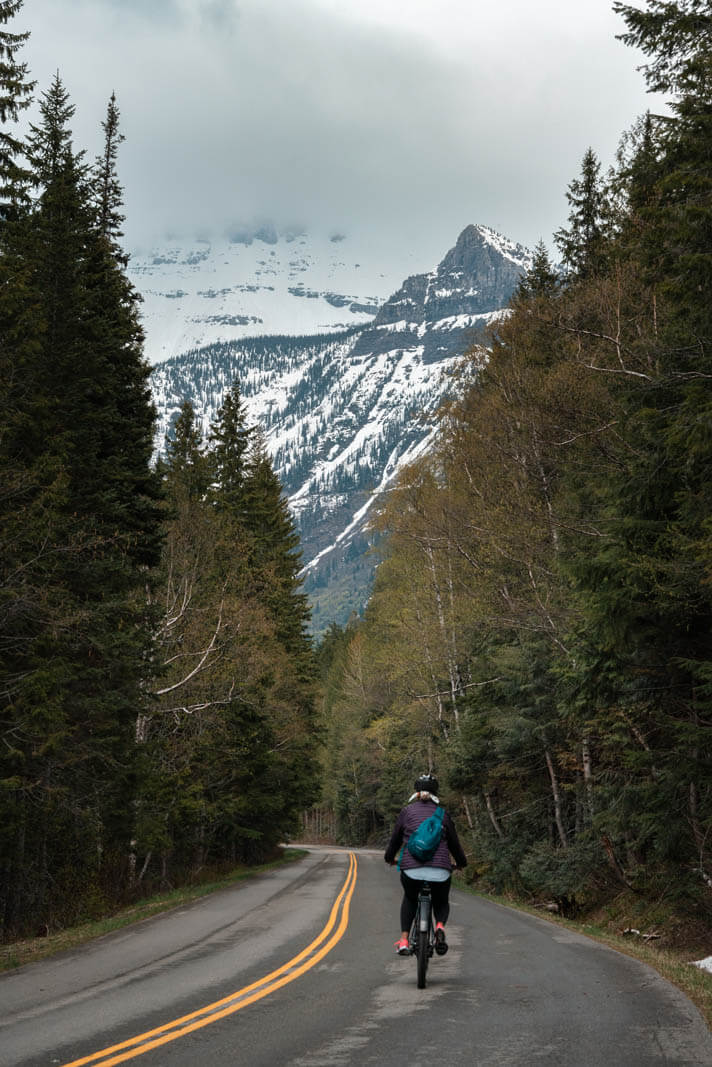 The important thing to know about the road is that it's only open from late June/early July through early October-ish. But there's no exact date because it all depends on the weather. Snowfall starts in October, and gradually entire sections of the road start closing down. Over the winter, drifts can get upwards of 50 to 60 feet high, and then those have to be plowed out for the spring before the road can be used!
If you want to take Going-to-the-Sun Road when it's completely open from end to end, go in the summer. For all of July and August, you can do the entire road, including Logan Pass. This is when it's open to cars. You can drive it when it's fully open, but joining a Red Bus Tour is better because you don't have to keep your eyes on the roads.
If you come during one of the shoulder seasons, sections of the road are still open but only to hikers and cyclists!
This is a special way to experience Glacier National Park. When we went, we took a 5-hour-long guided e-bike tour. We loved our e-biking the Going-to-the-Sun Road experience with Glacier Guides and Montana Raft Company. They have both "regular bike" tours and e-bike tours, so there are options that make the journey more accessible to more people.
Tips for Driving Going-to-the-Sun Road
For those who prefer to drive, you'll need to make vehicle reservations for the day that you plan on being on Going-to-the-Sun Road. And this is separate from park passes and vehicle fees for admission to the park. It's part of a new endeavor to combat traffic on Going-to-the-Sun Road that happens during peak season.
From the end of May through mid-September, or when the road is fully open, you'll need to make vehicle reservations online. They're first-come-first-served and people often book weeks in advance. Reservations are also limited to protect the park and its resources, as well as to give guests the best experience possible!
Let's say you just can't get a reservation for the dates you'll be in the park, there are exceptions to the vehicle reservation system at Glacier National Park. If you have other types of reservations inside the park (as mentioned early in this guide which includes commercial tours inside the park, campground reservations, and lodging inside the park) between West Glacier and St. Mary, you don't need the vehicle reservation!
These reservations include things like camping permits, a boat tour, a Red Bus Tour reservation, or even lodgings inside the park. If you have another booking already established in this part of the park, that covers your vehicle registration for that date.
Trail of the Cedars & Avalanche Creek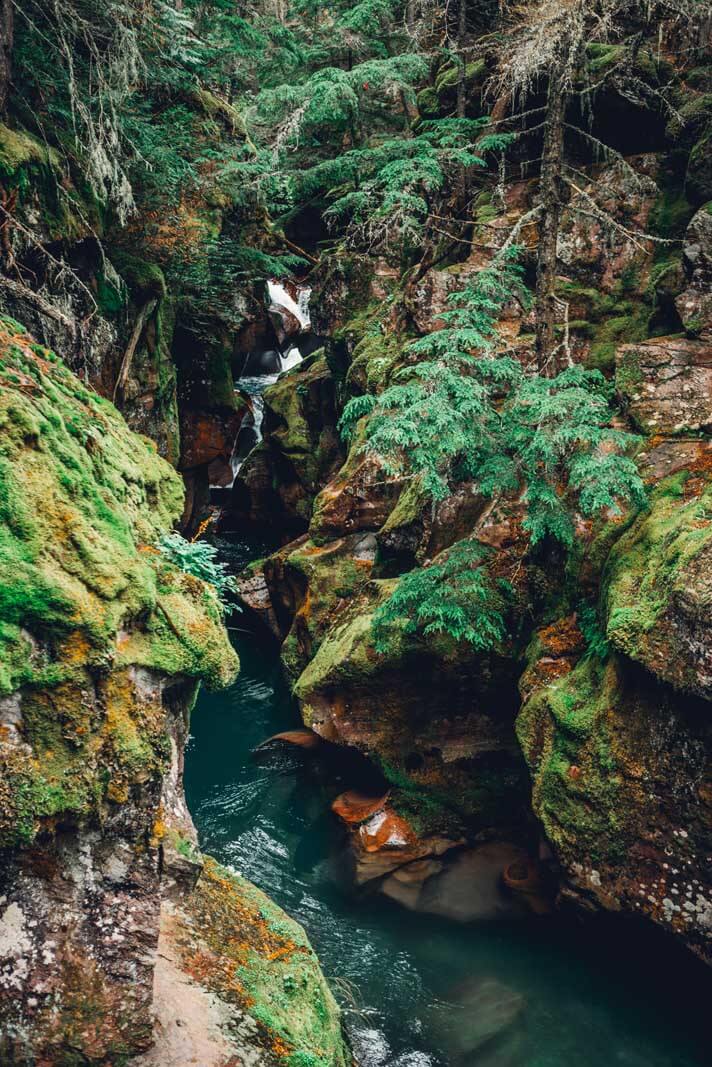 If you have more time for things to do in Glacier National Park, you should get some hiking in. Of the over 700 miles of trails across the park, two of the most popular are Trail of Cedars and Avalanche Lake Hike.
The Trail of Cedars is a great wheelchair-accessible nature trail that everyone will love. This easy 1-mile loop takes less than 20-minutes through a rainforest of towering cedar and hemlock trees, mossy rocks, low ferns, and the bright blue glacial waters of Avalanche Creek is a sight to see. It's truly one of the best things to see in Glacier National Park!
You can start on the western or eastern side of the loop from the Avalanche Campground. Most people choose the eastern side because it's so much prettier. An extremely popular trail, it's known for the elevated boardwalk that winds through an old-growth forest.
Eventually, you come to the beautiful Avalanche Gorge. From here, you can decide to take the loop back around to the parking lot. Or for a more challenging day hike, continue to the Avalanche Lake Hike.
If you start at the Trail of Cedars trailhead, the entire Avalanche Creek Hike is 5.9-miles-long. It's considered a moderate hike, being more challenging and is less accessible than the Trail of Cedars. The path is pretty defined with markers along the way. After turning onto the trail from the gorge, you'll have a short climb and level off along Avalanche Creek.
This more challenging hike is perfect for outdoor lovers with periods of dense forest, areas impacted by avalanches, and finally the banks of Avalanche Lake. Beyond the lake, you can take in the beauty of mountains with pinstripe waterfalls cascading hundreds of feet to the water below! Out and back, the hike takes about 2.5-hours.
Rafting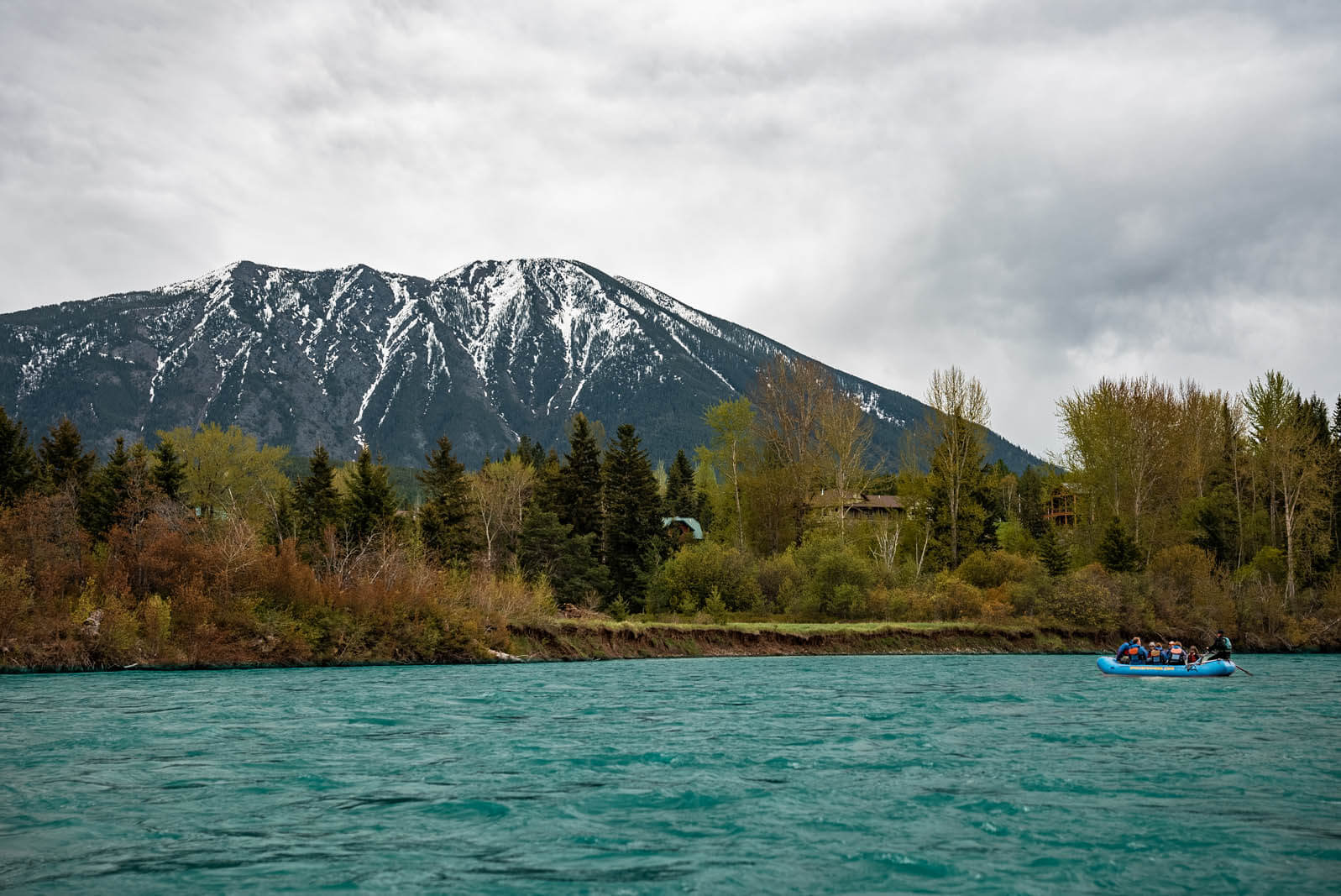 The 158-mile-long Flathead River is one of Glacier National Park's must-see wonders. For the most part, this completely untouched river runs through the park protected on both sides by vast mountain forests. It's a serene, quiet place to enjoy the park. But if you like rafting, you'll want to head to the North Fork and Middle Fork of the river!
We joined Glacier Guides and Montana Raft Company for a scenic float on the calm banks of the Flathead River. It was fascinating to learn about river ecology and the history of the impact of the river on the area. Overall, the trip was about 2 hours and they provide everything you need!
They have a few different scenic float trips you can choose from if you're not a fan of big rapids. The company also offers class II and III white water rafting trips. Or for travelers with advanced experience in white water rafting, they even offer great overnight rafting trips!
And you can always get some thrilling inspiration by watching the 1994 film The River Wild starring Meryl Streep, Kevin Bacon, and John C. Reilly.
Hiking in Glacier National Park
Easy to Moderate Hikes
It's not hard to understand why the Trail of Cedars is one of the most popular easy hikes at Glacier National Park. But there are more wonderful opportunities for everyone in your party to enjoy the natural beauty of this mountain destination. For a bit more of a challenge, try these longer easy to moderate hikes at Glacier National Park.
Red Rock Falls Trail
The trailhead for Red Rock Falls Trail is at the Swiftcurrent Pass Trailhead in the parking lot of the Swiftcurrent Motor Inn in the Many Glacier area of the park.
This easy trail is a little over 4-miles and takes less than 90-minutes. It's a great trail for experiencing the flora and fauna of Glacier National Park with a stunning, unique waterfall at the end.
Grinnell Lake Trail
For something a little longer, the Grinnell Lake Trail starts at Many Glacier Hotel. can either do the full 7-mile loop along Swiftcurrent Lake and Lake Josephine and then all the way to Grinnell Lake.
Or you cut about 5-miles off the trip by taking the express shuttle boats across both Swiftcurrent and Lake Josephine. Then just take the 1.8-mile hike to Grinnell Lake for a great view. It's generally considered an easy hike, but the length and full sun exposure require a bit of endurance.
You can also experience Grinnell Lake with the longer Many Glacier boat tour where in addition to your scenic boat ride, you can also join a park ranger guide to Grinnell Lake!
Upper McDonald Creek
This easy to moderate 5.6-mile hike starts around Lake McDonald at Johns Lake Trailhead. You start out on gravel paths and there's a canopy of trees the entire time. It's a serene way to enjoy nature as you walk among cedars, ferns, hemlocks, and babbling brooks. The trail culminates in the rapids at McDonald Creek at the end.
St Mary & Virginia Falls
The Virgin Falls Trail starts at St. Mary Falls Trailhead in St Mary and takes about 1.5-2 hours. It's an easy to moderate trail with fascinating views. You'll have a breathtaking viewpoint at the feet of mountains with their peaks towering over you on both sides.
What makes this hike moderate is that a good portion heading towards the falls is uphill. You'll pass through an area that was burned during the Reynolds Creek Fire of 2015 and then move on to see the 3-tier St. Mary Falls. Hike a little further to reach the cascading Virginia Falls. Out and back it's an easy 3-mile hike.
More Challenging Hikes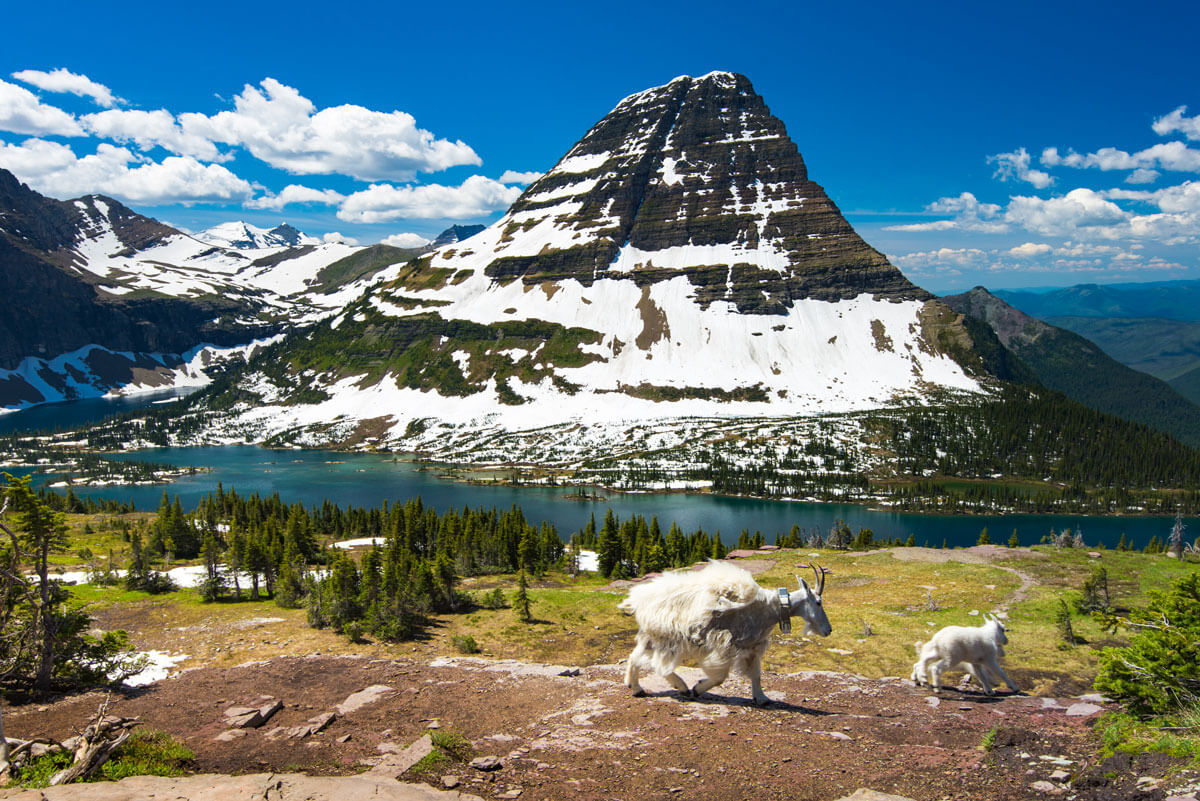 If you're a more experienced hiker looking for things to do in Glacier National Park, there's plenty to entertain you! Try one of the over 65 trails, many of which are moderate to difficult.
If you get all the way out and decide you're ready to call it a day, a lot of the trails are accessible to the free park shuttle on Going-to-the-Sun Road. Just be aware that this service is only available from 7 AM to 7 PM, and seating is very limited.
Highline Trail
Take a full day for this isolated trail that's 7.5-miles one way! It's moderate to difficult and takes a full 8 hours at least. You start at Logan Pass Visitor's Center. We recommend this since it's one way.
You'll need to take the free park shuttle back or have someone not hiking in your group pick you up at the end. For more of a challenge you can add on the Grinnell Glacier Overlook (it'll add another strenuous hour to your hike).
Hidden Lake Overlook
Hidden Lake is one of the Glacier National Park must-see sites. The Hidden Lake Overlook Trail starts at Logan Pass Visitors Center. After a moderate, uphill hike that's 3 miles over 1-2 hours, you can enjoy coming upon this mountainous alpine lake! It's a popular hike so you'll have plenty of company.
Grinnell Glacier Trail
If you want to see the glaciers at the Many Glacier Hotel before their gone, take this full-day hike. From the hotel, it's a hard 6-hour hike over 11 miles at a high elevation. You can't beat the views of the red rock mountains and turquoise glacier lakes. This hike is easy to cut into a smaller, easier hike. You can also take a boat tour from the Many Glacier Hotel and cut off 2-miles one-way.
Apikuni Falls Trail
The Apikuni Falls Trail starts in the Many Glacier area of the park starting at Apikuni Parking Area. It's considered a moderate trail with a 1.8-mile trek over 1-1.5 hours. However, much of the hike is steep with no break from the sun at the high altitude. But you're rewarded with a beautiful cascading waterfall at the end!
Historic Chalets & Lodges of Glacier National Park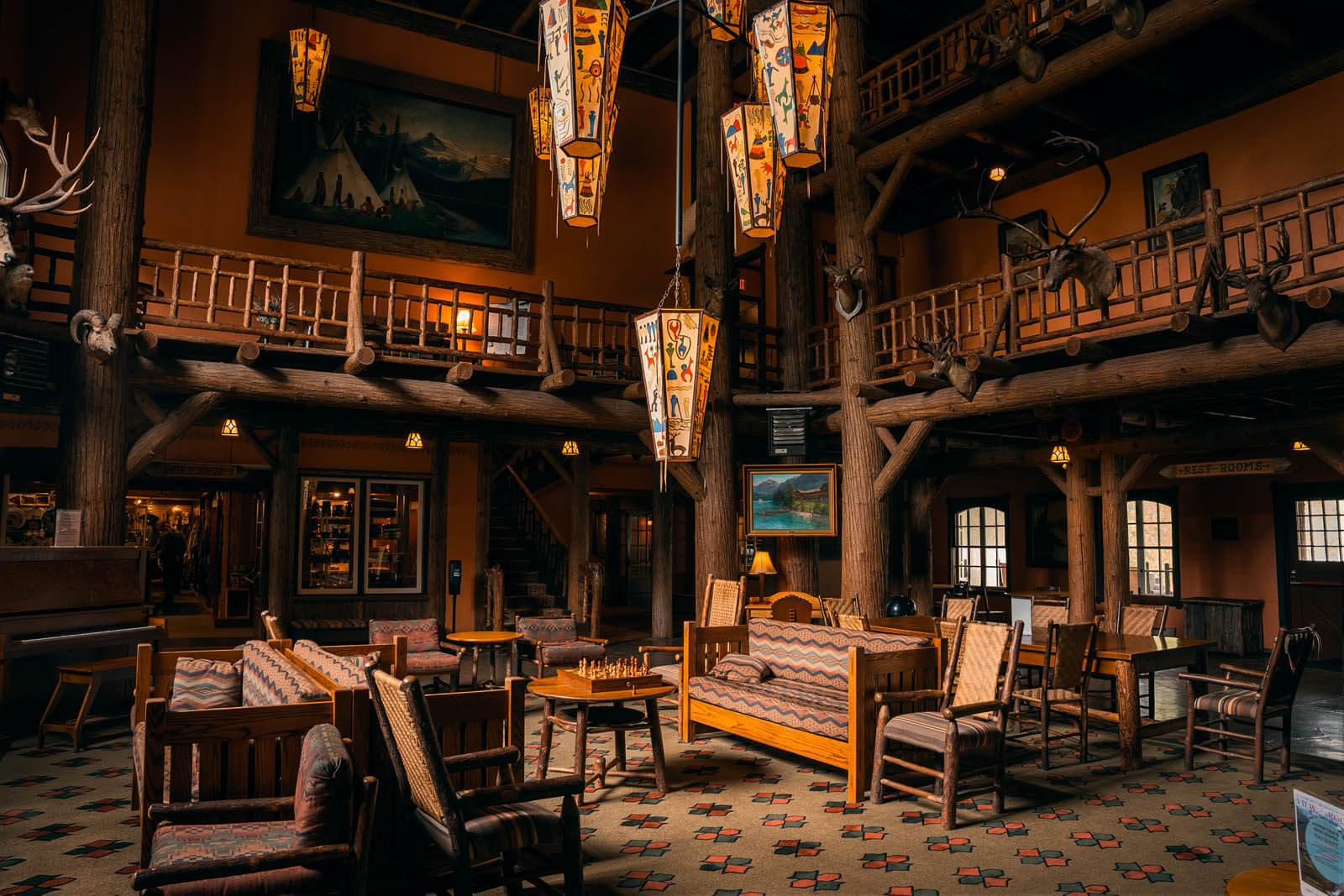 Unique historic buildings and the old chalets are some of the best things to see in Glacier National Park. They were built by the Great Northern Railway as a place for travelers to rest and refuel in the early days of the park. For the most part, they were built with local timber and stone and have stood the test of time. The oldest one dates all the way back to 1910!
Two of the chalets (Granite Park Chalet & Sperry Chalet) are backcountry chalets that hikers can do a multi-day trek to. But you don't have to pack a ton of camping gear because instead of camping, you can just stay at the chalets! And once you're there, you can enjoy different hiking trails near the complex.
The lodges of Glacier are highlights of the park and some of the most popular destinations. You can visit them and see the well-preserved century-old structures. And if you're looking for a place to stay in the park, many of them are still hotels you can book!
Granite Park Chalet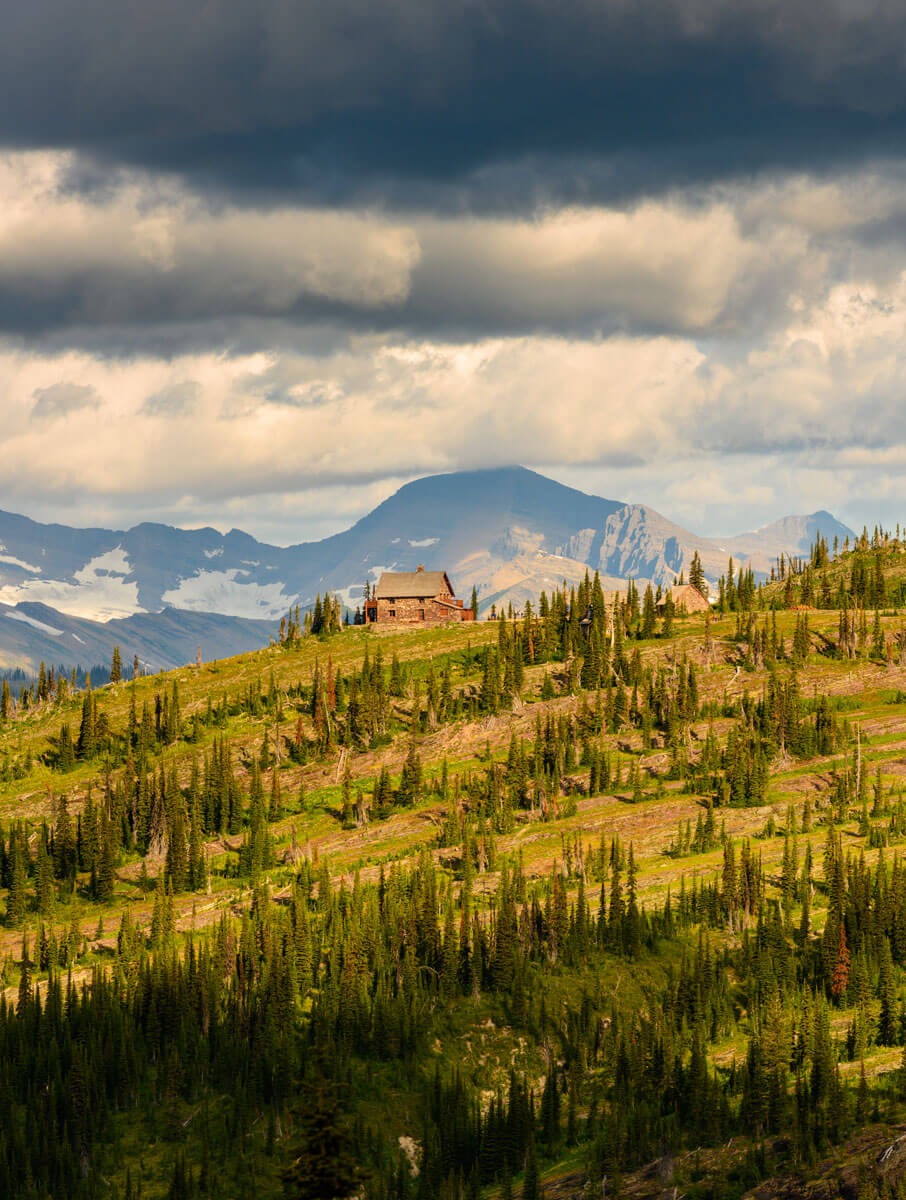 Backcountry hikers will love the opportunity to rough it in a beautiful setting like Granite Park Chalet. It's a simple structure of lodges and stone built in 1914 with 12 guest rooms with bunk beds inside. There's no electricity or food at the chalet, so you'll need to bring your own food. Water is available for purchase or you can refill at a nearby stream.
Sperry Chalet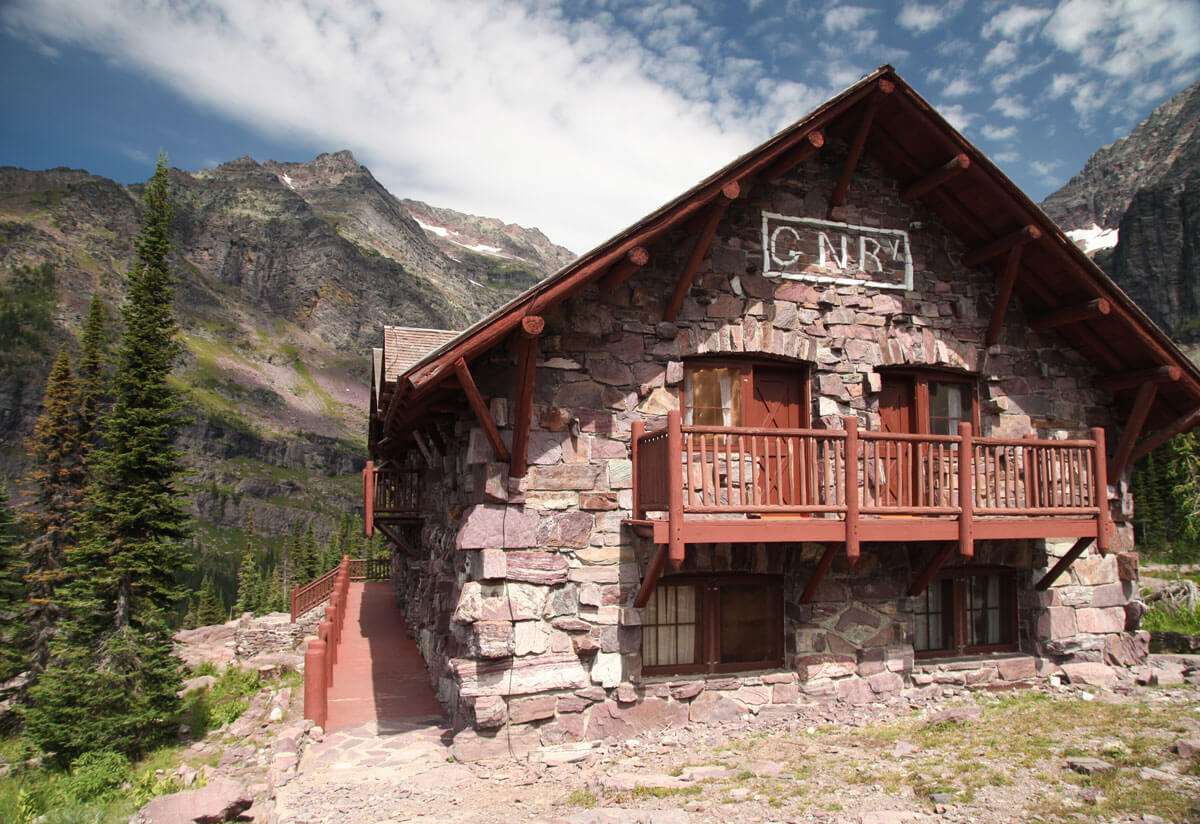 Sperry Chalet is a beautiful 2-story hotel and restaurant on a rocky cliff overlooking Lake McDonald Valley. Built in 1913, the complex features a rugged rock face and no electricity! You can stay at the hotel and enjoy the dining hall for all your meals, or non-guests can book a reservation in advance between 11:30 AM and 5 PM.
Belton Chalet
Built in 1910, Belton Chalet in West Glacier is the oldest of the Glacier chalets. You'll love the elaborate Swiss-style destination that houses a hotel, restaurant, and tap house. Even if you don't stay here, having a meal here is a must as it's one of the best places to eat around here plus you're in the historic chalet, so win-win.
You can also stay the night here, which is great. But be warned, it's rumored to be haunted! Spooky!
Two Medicine General Store
Previously Two Medicine Chalet, the Two Medicine General Store was built in 1914. A good portion of it burnt down in the 1940s, including the hotel at the chalet. Today, the lone General Store on the shores of Two Medicine Lake is a popular destination for hikers, campers, and guests heading out on boat tours.
This is only open during the summer season though!
Lake McDonald Lodge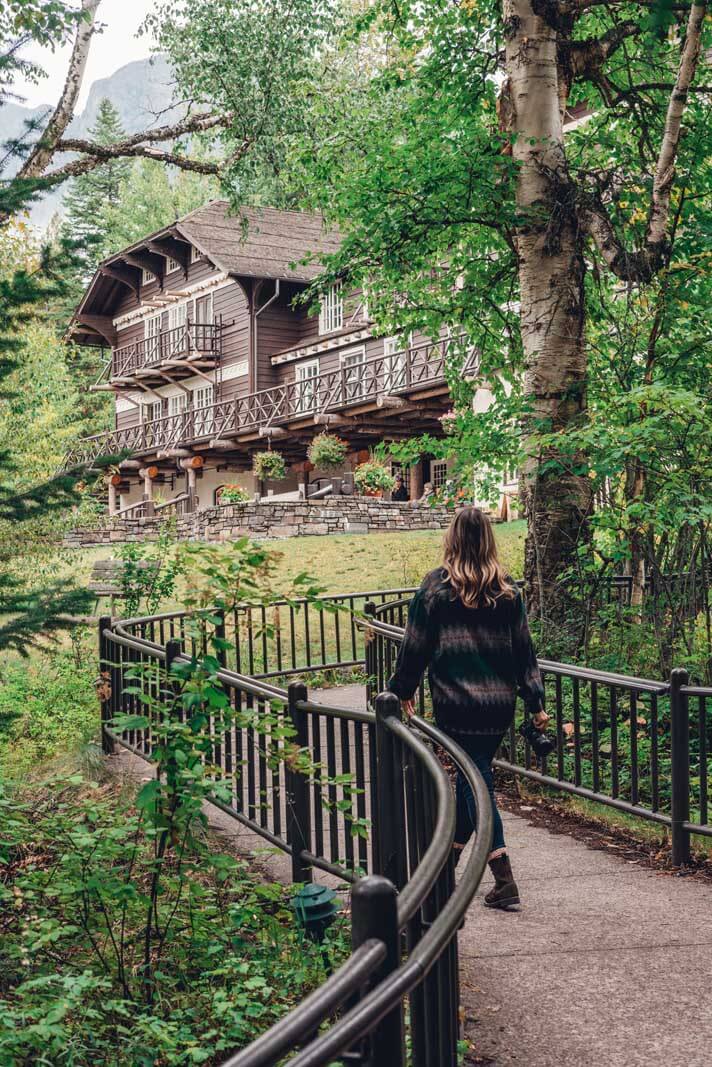 Lake McDonald Lodge was built in 1913 and it's one of the most popular places to visit in Glacier National Park. It's easy to access on the banks of McDonald Lake, and it's a must-visit. Just come for a meal at the stunning main lodge building that feels frozen in time! Or you can choose from rooms and cabins across 4 buildings.
Glacier Park Lodge
If you're bringing the Amtrak in, Glacier Park Lodge is a perfect choice as it's next to the East Glacier Park Amtrak station. It's a beautiful hotel with suites, cabins, rooms, and more. You can enjoy a restaurant, a café, and shopping at this well-maintained lodge built in 1913.
Many Glacier Hotel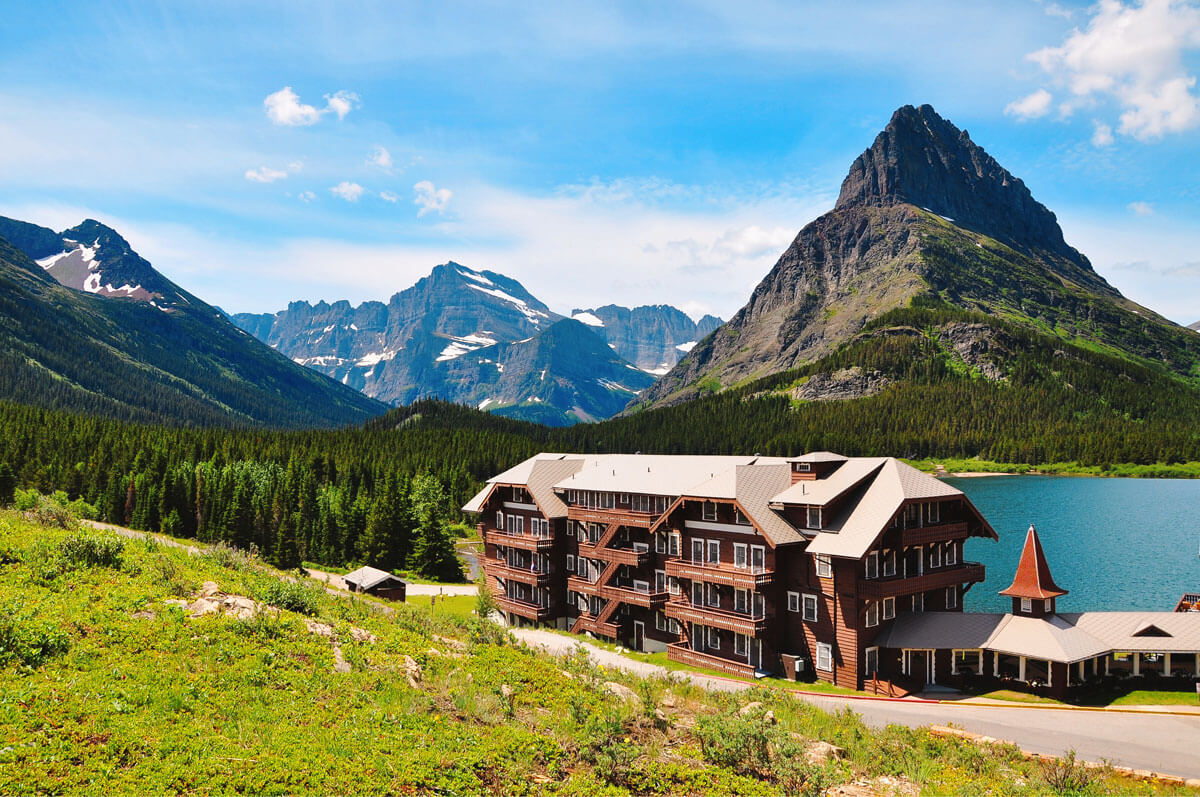 The Many Glacier Hotel is a massive hotel from 1914 and was the showcase for the Great Northern Railroad lodges. Located along Swiftcurrent Lake with unbelievable views of the surrounding mountains, the area was sold as the "Switzerland of North America." Stay at the gorgeous 5-story log-sided hotel or enjoy all the many activities and amenities on site.
Prince of Wales Hotel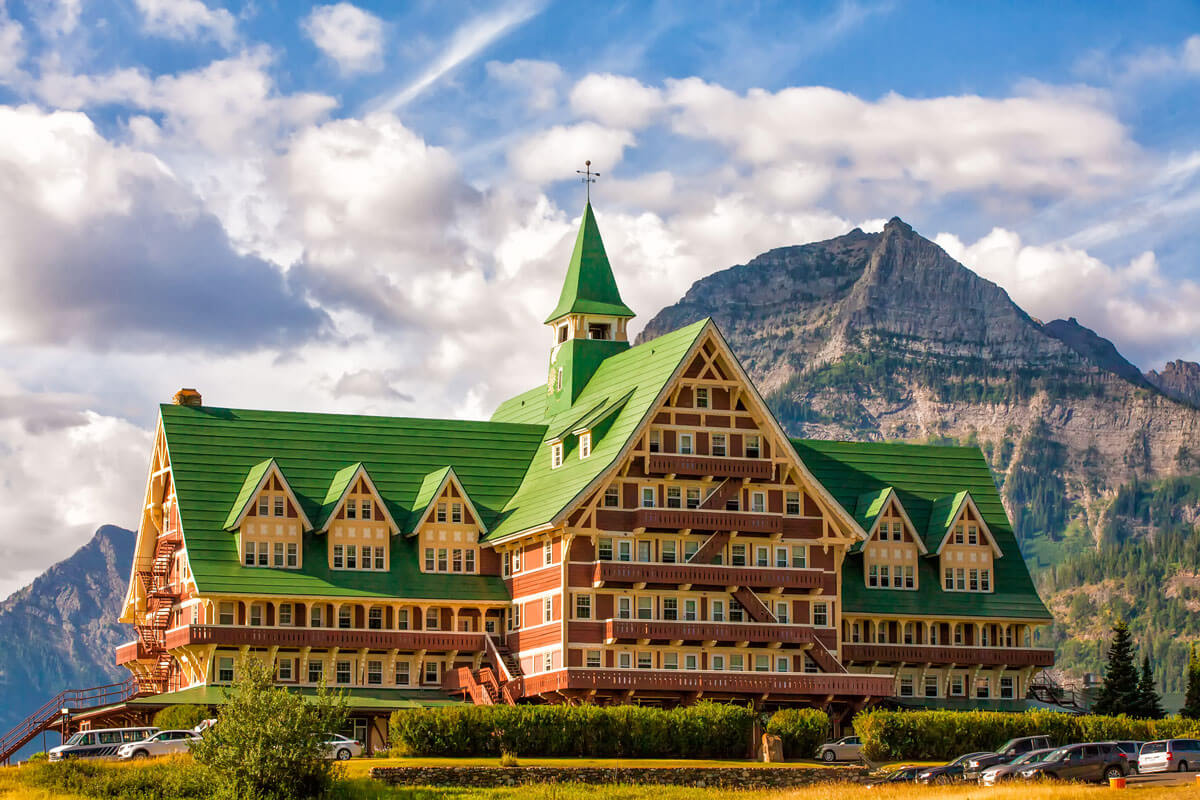 There's nothing quite like the Prince of Wales Hotel, an absolutely stunning lodge built in the 1920s on the Canadian side of the Rockies. It sits on top of a bluff over Upper Waterton Lake with unbroken views of the surrounding mountains!
West Glacier
During your time in Glacier National Park, chances are you will enter the park at some point through the West Glacier Entrance and pass through West Glacier. Many of the commercial tours start here too including the biking and rafting adventures.
This is also a great place to stop for breakfast on your way into the park. Stop at West Glacier Cafe, who has GREAT breakfast burritos in case you're wondering and fuel up for a day of adventures.
There are also a few fun things to do in West Glacier too! There's Going-to-the-Sun Mini Golf where you can enjoy a nostalgic game with holes themed around Glacier Park fun facts.
Or stop by the Huckleberry Hut, a fun gift shop with all things huckleberry! And Belton Chalet is here, which makes a great convenient place to stay if you want to be extra close to the park.
Apgar Village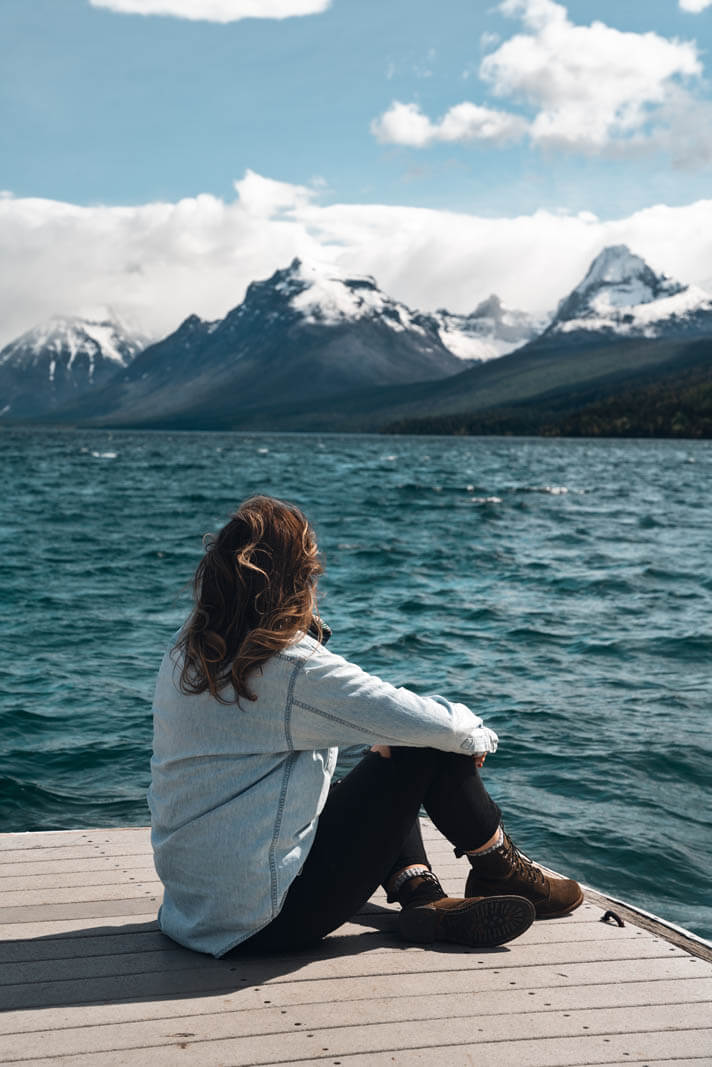 Just north of West Glacier at the southern tip of Lake McDonald is Apgar Village. It's a popular area to stop with campgrounds, shops, and places to eat, it's actually not very far at all from West Glacier.
The best views of Lake McDonald, besides being on the lake on a boat, is from the Apgar Village pier. This is where people get the iconic pictures of the pretty rainbow-colored rocks in the clear water with the mountains beyond.
Although I must admit, to get that iconic colorful, rainbow rock photo you'll have to have the perfect conditions and still water! Regardless, they are stunning to see and the view from here is one of the best!
Near Glacier National Park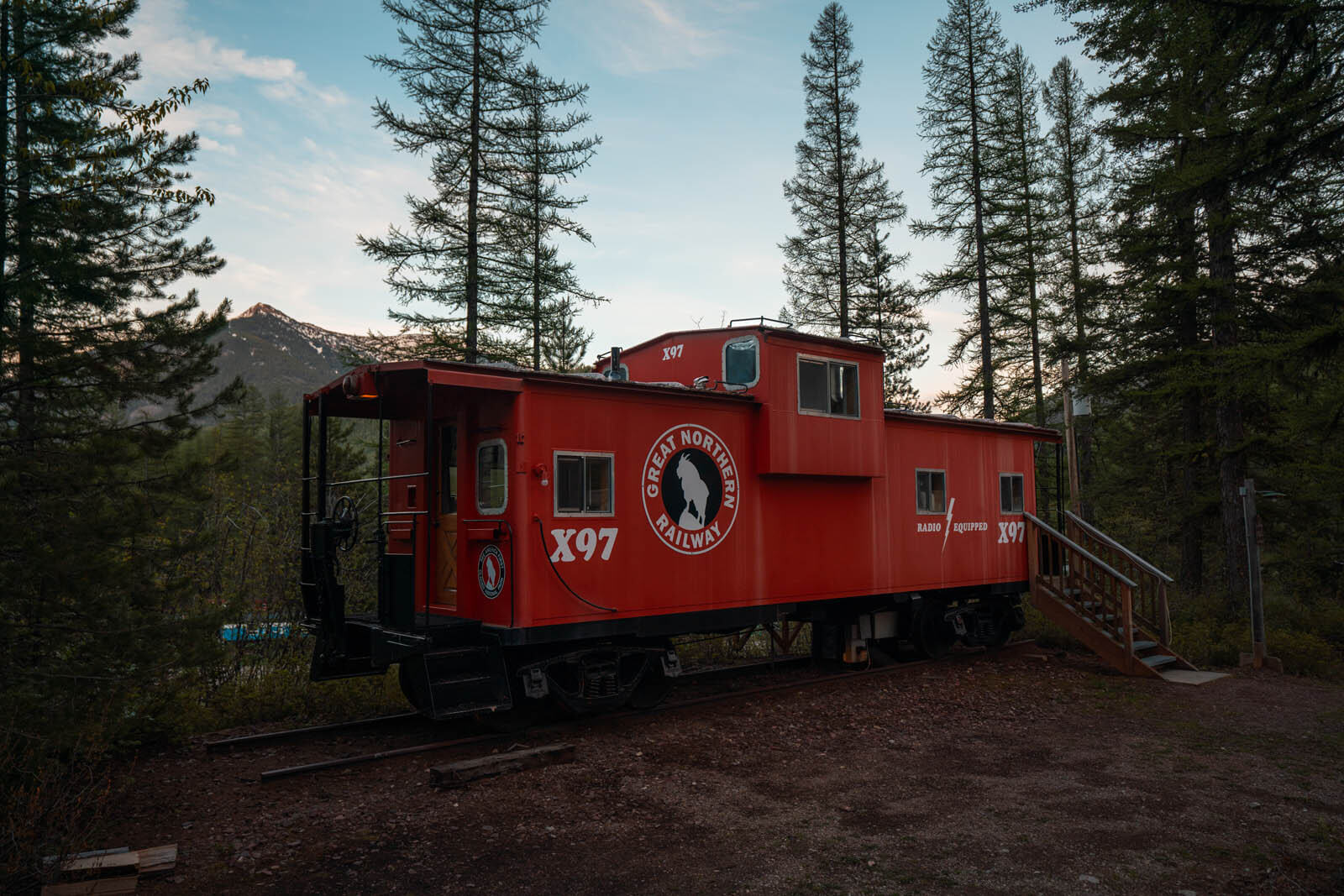 You can spend an entire vacation (or lifetime) checking out all the best things to do in Glacier National Park. In addition, there are many great places to visit near and around Glacier National Park too!
Depending on the time of year you come too, you might want to stay outside of the park or between the West and East ends of the park so you can explore easily.
We recommend seeing our full guide to the best places to visit near Glacier National Park which includes towns like Columbia Falls, Whitefish, Kalispell, Essex, and the gorgeous Flathead Lake which is full of more outdoor adventures.
Or if you happen to be visiting Yellowstone National Park too, check out our guide to all the best stops on the drive from Yellowstone to Glacier National Park to make an unforgettable road trip out of it.
One of the best places to stay during your time exploring all the Glacier National Park must-see sites is located just a 30-minute drive from the West Glacier entrance to the park or a 40-minute drive to the East Glacier entrance, which is the perfect middle point and base to use during your trip.
You can stay at one of the most unique accommodations ever at the Izaak Walton Inn, a historic inn that dates back to 1939 built by the Great Northern Railway as lodging for railway workers. It's actually the influence of Great Northern Railway that created Glacier National Park in the first place!
Something we wish the US had more of was access to more train travel route options throughout the country – which you still can do easily in and out of Glacier National Park by the way via Amtrak.
Because of the strong connection between Great Northern Railway and Glacier National Park, you can actually stay at one of the renovated train accommodations (or cabins) here! From cozy cabins to refurbished caboose train cars or you can opt for the most luxurious option, the luxury locomotive which is extra spacious!
---
Enjoyed this guide to the best things to see in Glacier National Park travel guide? Bookmark for later or share the love below on Pinterest!