Looking for the best things to do in Newport Beach, California? We got you. Both of us have spent YEARS visiting Newport Beach, Scott being a local from the neighboring town to the north his entire life, and myself just living south of Newport Beach in Laguna Beach for years too! So we are excited to share some of our favorite picks for cool things to do in Newport Beach!
Southern California has lots of sunny, gorgeous, photo-worthy beaches, not to mention some of the most beautiful coastal towns in California to check out. But, Newport Beach is special. The scenery and views here are truly something to behold. You will find everything from some of the most beautiful beaches in Orange County to cool shops, bars, places to eat, and more.
Beautiful, coastal homes line the waterfront. And there are a variety of beaches where you can enjoy a beach day. This guide will give you the scoop on all of the Newport Beach attractions and the most unique things to do in Newport Beach that you will want to be sure to check out whether you're planning a whole vacation here and around Orange County or making stops on a California coast road trip.
Visiting Newport Beach Cheat Sheet: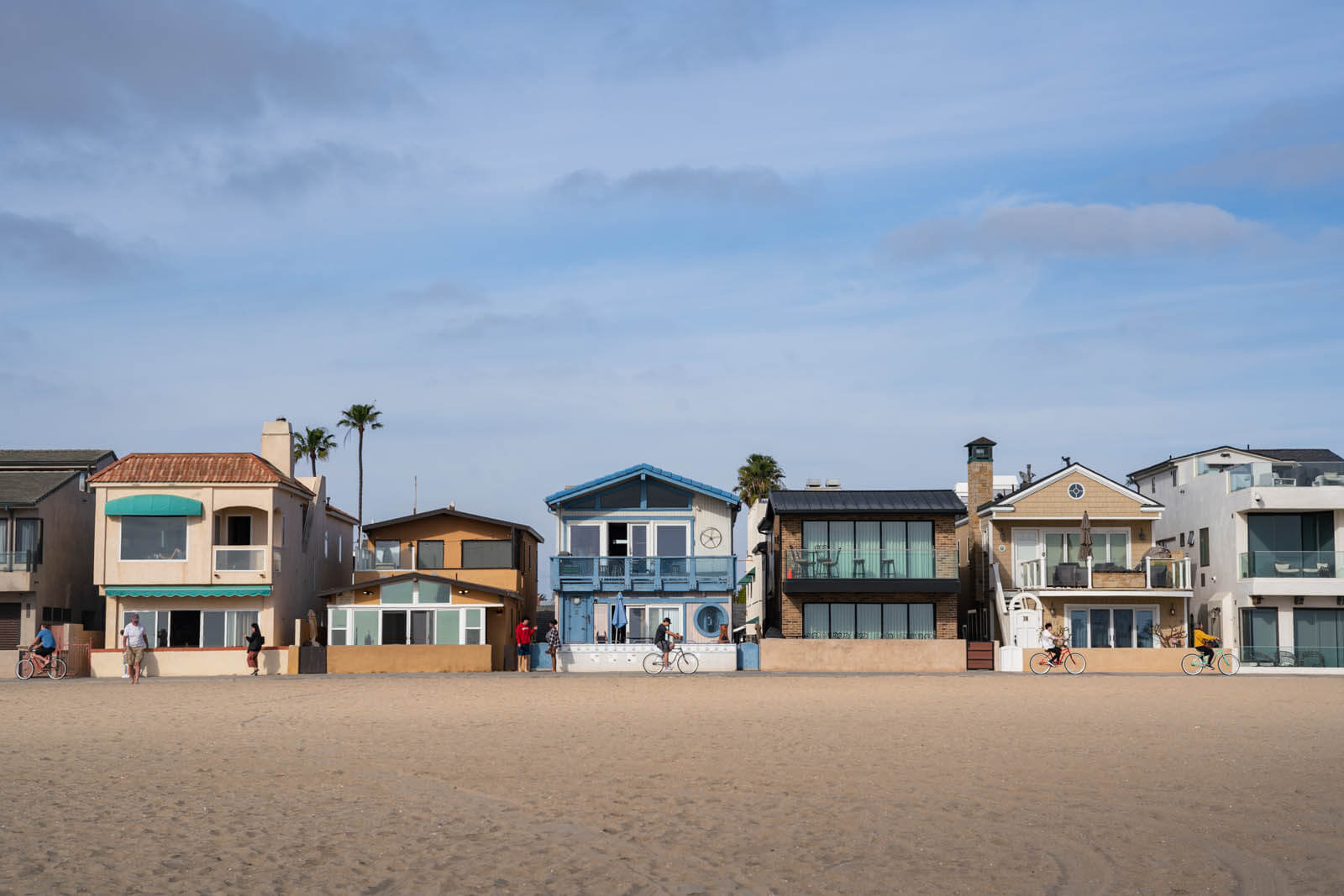 A few essential things to know before visiting Newport Beach, California. Newport Beach is located smack dab in the middle of Orange County in Southern California along the coast.
The weather in Newport Beach is very moderate and comfortable year round (when we lived in Southern California we never really used air conditioning and barely had to use any heat at all even in the winter!). It's these comfortable, coastal temperatures year-round that attracts so many people and serious folks with $$$ to live here.
The temperature typically ranges from 48°F to 79°F and is rarely below 42°F or above 87°F. And it doesn't rain very often.
If you're not familiar with Southern California and you're planning a vacation, keep in mind that May and June are actually not the best time (or prettiest) time to visit! There is something known as May Gray and June Gloom in Southern California, especially along the coast where it's very overcast and not really that pretty, sunny California weather they get year round. Regardless, it's still a comfortable time to visit Newport Beach, but don't expect the prettiest of days!
Last but not least, there are a few main areas where you'll most likely be visiting in Newport Beach that can be confusing for a first timer:
Balboa Peninsula: the peninsula that has many beaches, the Newport Beach Pier, Balboa Pier, Balboa Fun Zone, Newport Landing (whale watching tours, Catalina Island ferry, Balboa Island ferry), and The Wedge
Balboa Island: Mostly a residential island with fun shops, sweet treats, and a few restaurants along Marine Avenue, the Balboa Island Ferry (from Newport Landing) comes here or you can take Marine Avenue to get to the Pacific Coast Highway and mainland Newport Beach.
Mainland Newport Beach: along the Pacific Coast Highway and where you can connect to the Newport Bay and Back Bay areas, Fashion Island shopping outdoor mall and entertainment center, and inland to Santa Ana/Costa Mesa.
Corona del Mar: luxury, affluent oceanfront neighborhood in Newport Beach along the Pacific Coast Highway on your way to Crystal Cove. Beautiful vantage points from bluffs overlooking the ocean, great food, and drink, and some shops.
The Best Newport Beach Attractions
Balboa Island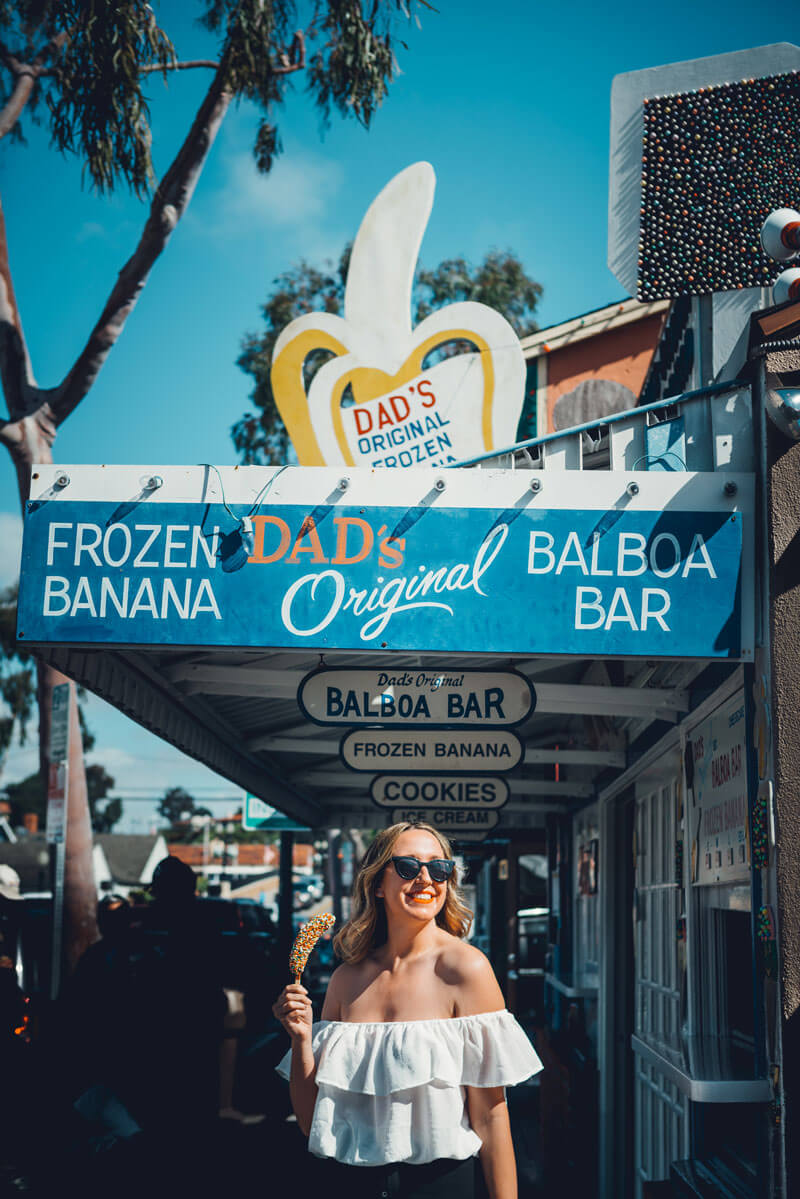 When you're visiting Newport Beach, the place that you absolutely must check out is Balboa Island. It's a picturesque community right on the water, and it just looks like the type of idyllic place you would see on television.
Well, maybe that's because it's been used as a filming location for MANY things including one of the best comedy tv series ever, Arrested Development. For fans of the Bluth family, you have to stop by the shop Sugar 'n Spice. They sell frozen bananas, which are the famous frozen bananas from Bluth's Original Frozen Banana Stand on the show.
Aside from grabbing a frozen banana treat, be sure to check out Marine Avenue. It's got lots of delightful local shops and restaurants with a coastal flair, particularly clothing and gift stores. The aforementioned Sugar 'n Spice is located on Marine Avenue.
Another eatery to hit up is Dad's Donut & Bakery Shop, which has a tempting array of baked goods to scoop up, which you can then enjoy while walking up and down the street.
Ride the Balboa Island Ferry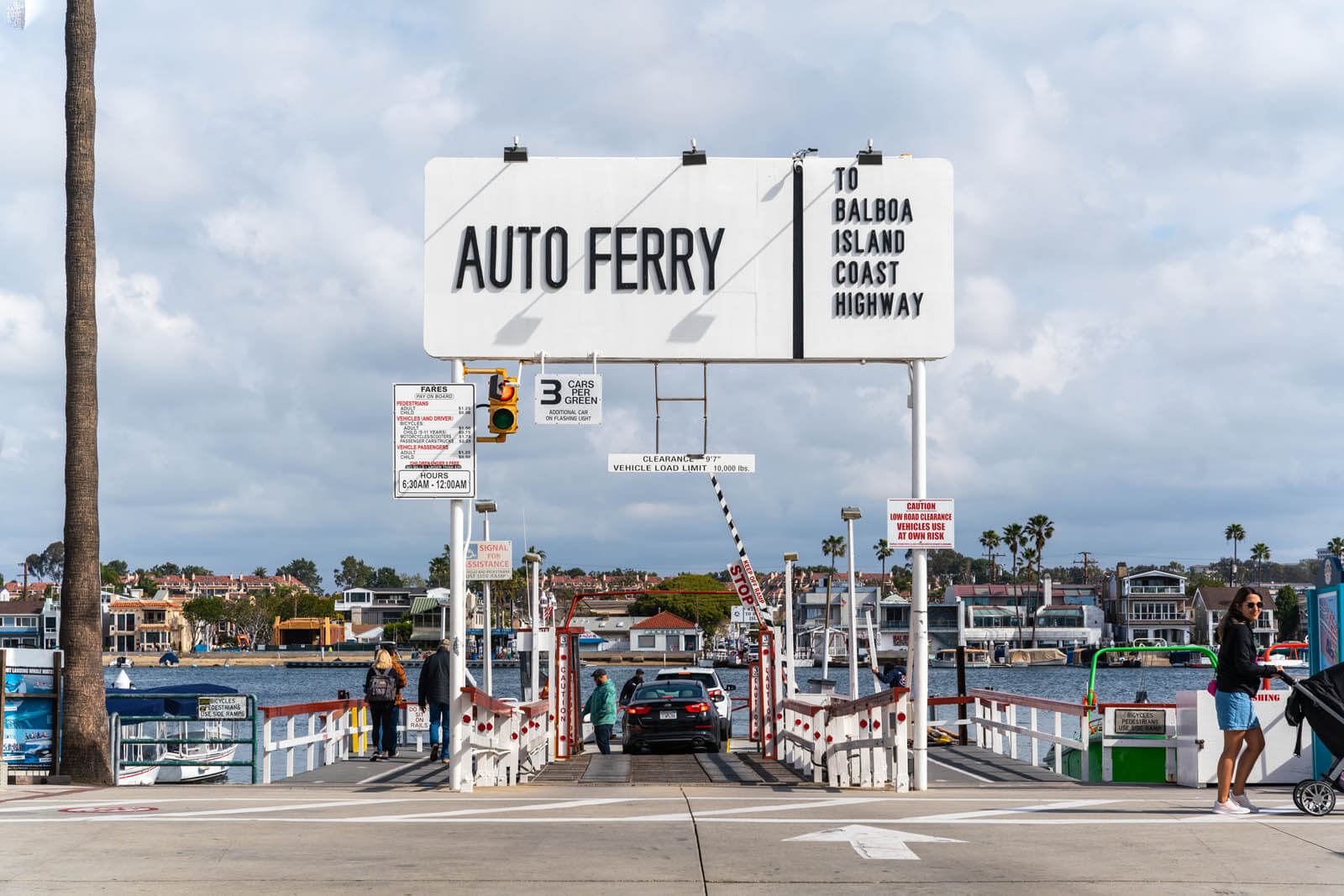 So, how do you get from Newport Beach to Balboa Island? You take the Balboa Island Ferry! It may not be the shortest ferry ride in the world, but it's a very brief three to five-minute ride and is quite scenic.
If you have a car, you can actually drive onto the small ferry, and it'll transport you across the water. The ferry's size can accommodate about two cars, as well as some bicycles, and pedestrians. There is a fee to use the ferry, which is under $2.00 for pedestrians and cyclists, and under $3.00 for vehicles.
Catching a ride on the Balboa Island Ferry is one of the most unique things to do in Newport Beach.
And believe it or not, you will save time because the alternative to get to Balboa Island means you have to drive all the way around the Balboa Peninsula back towards the PCH to get to Balboa Island, the Fashion Island Mall at Newport Center, or go towards Corona del Mar! (as long as there's not a long line for the ferry, but regardless, it's still one of the coolest things to do in Newport Beach because just being on the ferry is fun and more scenic!)
Balboa Fun Zone
When you're ready to let loose and have some fun, head over to the Balboa Fun Zone. This Newport Beach attraction is an amusement park on Balboa Peninsula (right next to the Balboa Island Ferry) that boasts a Ferris wheel, rides, arcade and game room, shops, and restaurants.
If you're scared of heights, the Ferris wheel is pretty small, so maybe this won't be as intimidating as some of the larger Ferris wheels out there! From the top you'll get views of the Newport Harbor and the Pacific Ocean.
When you get hungry, hit up Balboa Bar B Que or Ruby's Diner for fantastic fare. Additionally, this is the departure point for whale watching tours, narrated harbor cruises, and the Catalina Island ferry to one of our favorite places ever – Catalina Island!
Whale Watching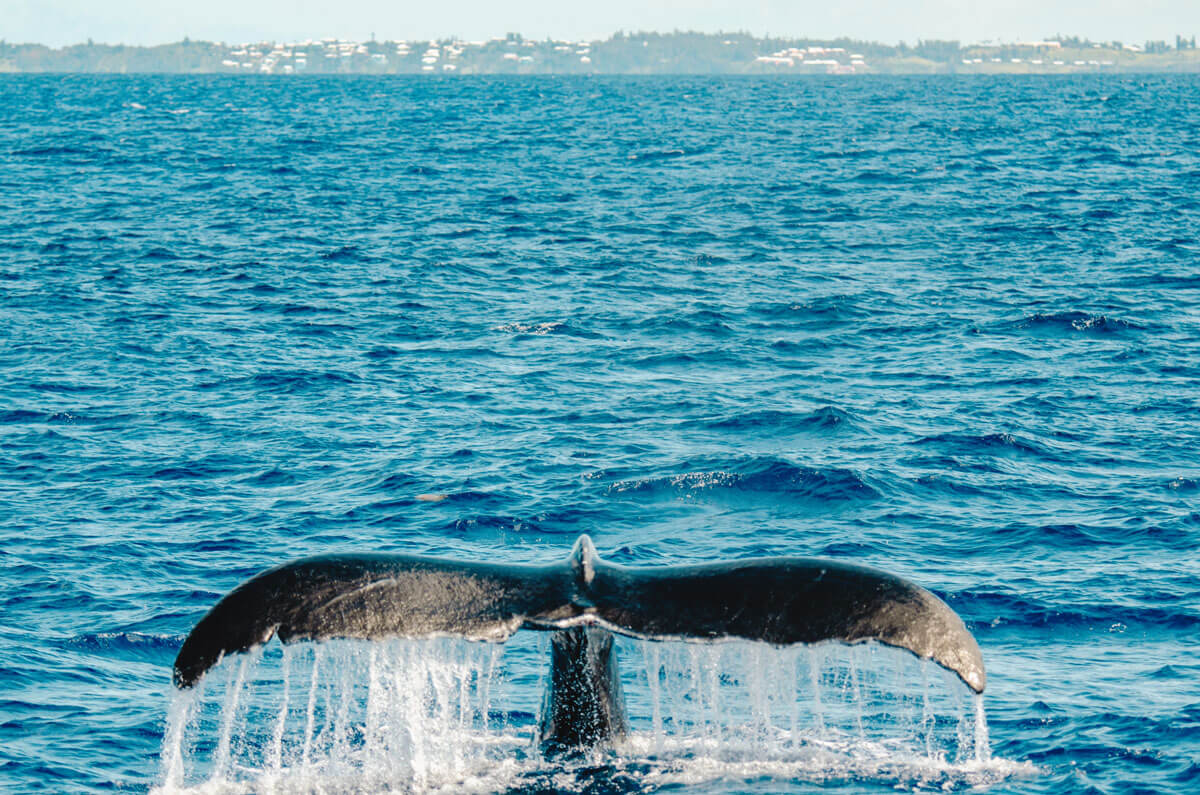 One of the most popular Newport Beach activities is whale watching. You have the opportunity to see gray whales, humpback whales, finback whales, and giant blue whales, as well as dolphins, during a whale-watching tour. In fact, this is one of the best places to go in Southern California if you're wanting to see whales!
The outskirts of Newport Bay contain a substantial marine protected park, which makes watching the whales ideal in this area. This 2 hour whale watching tour offers a scenic two-hour expedition off the coast where you may be able to catch a beautiful whale in its natural habitat.
Everyday they update the chalkboard outside of the meeting point for the whale watching tours letting visitors know how many of each species of whales and dolphins were spotted on the last tour! It's always pretty impressive numbers, so rest assured you'll see something spectacular when visiting Newport Beach!
Better yet, you'll end right at Balboa Peninsula where the Fun Zone is! So it's easy to combine multiple Newport Beach attractions before or after your whale watching tour!
Rent a Duffy Boat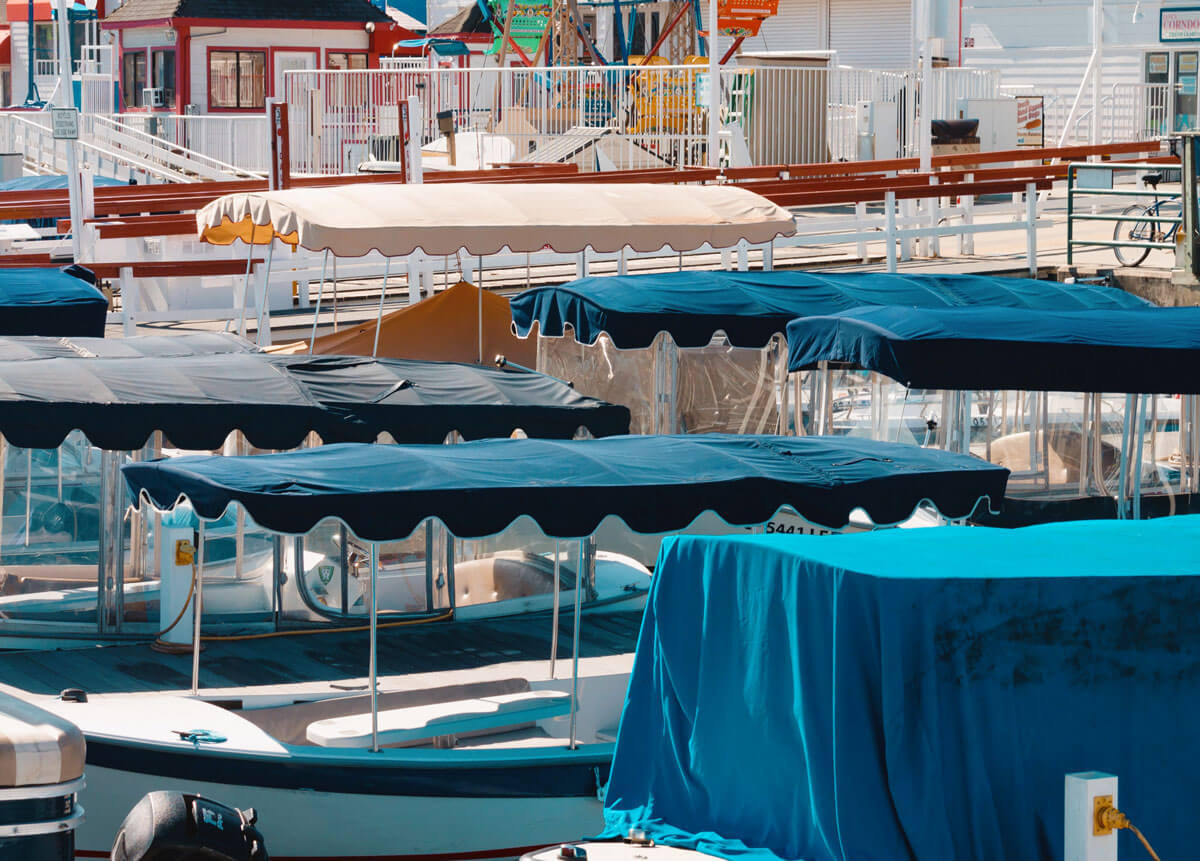 Even for locals, one of the coolest things to do in Newport Beach is rent a cute little duffy boat with friends/lovers/your family etc., and cruise around Newport Harbor.
These adorable electric boats make for a comfortable and casual mode of transportation on the water, and are a great Newport Beach activity. You can cruise by the waterfront homes that line the harbor, get a closer look at the coastal landscape, and anything else on the water that intrigues you – you may even see some marine life in the harbor, it's not common but people have even seen whales in the harbor!
Renting a duffy boat is a cool and unique thing to do in Newport Beach especially around the holidays in the evening to see Christmas lights! They are also popular to book around sunset or pre or post-brunch on the weekends. But honestly, they are fun anytime!
Newport Beach Pier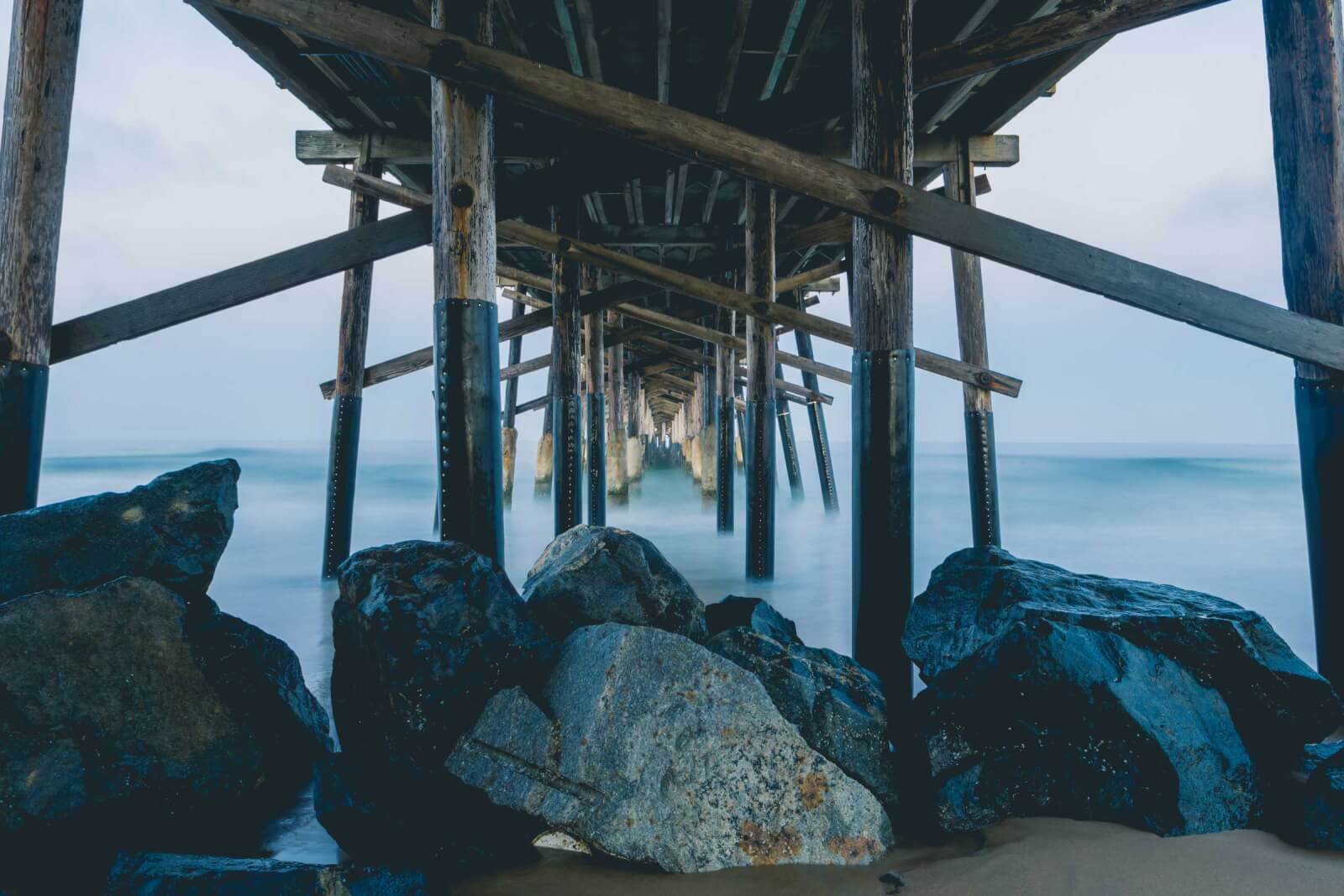 It's kind of an unspoken rule that when you make a trip to the beach, you must venture out to the beach's pier. So when you are visiting Newport Beach, you just have to make your way over to the Newport Beach Pier, not to be confused with Balboa Pier which is also on Balboa Island along the same stretch of sand further south.
Located at the Balboa Peninsula, a perfect way to explore the pier is by taking a scenic stroll or you can skate or bike along the bike path that lines the beach.
You'll get great views of the gorgeous coastal homes, surrounding beachfront and ocean scenery, and Newport Beach, all while listening to the distinctive chatter of pelicans and seagulls.
The beach here has soft sand, perfect for a nice day at the beach and right by the pier you can check out the fun waterfront bars and restaurants along W Oceanfront or McFadden Place. Mutt Lynch's and Blackies are two of my favorite Newport Beach bars right around here!
Enjoy a Beach Day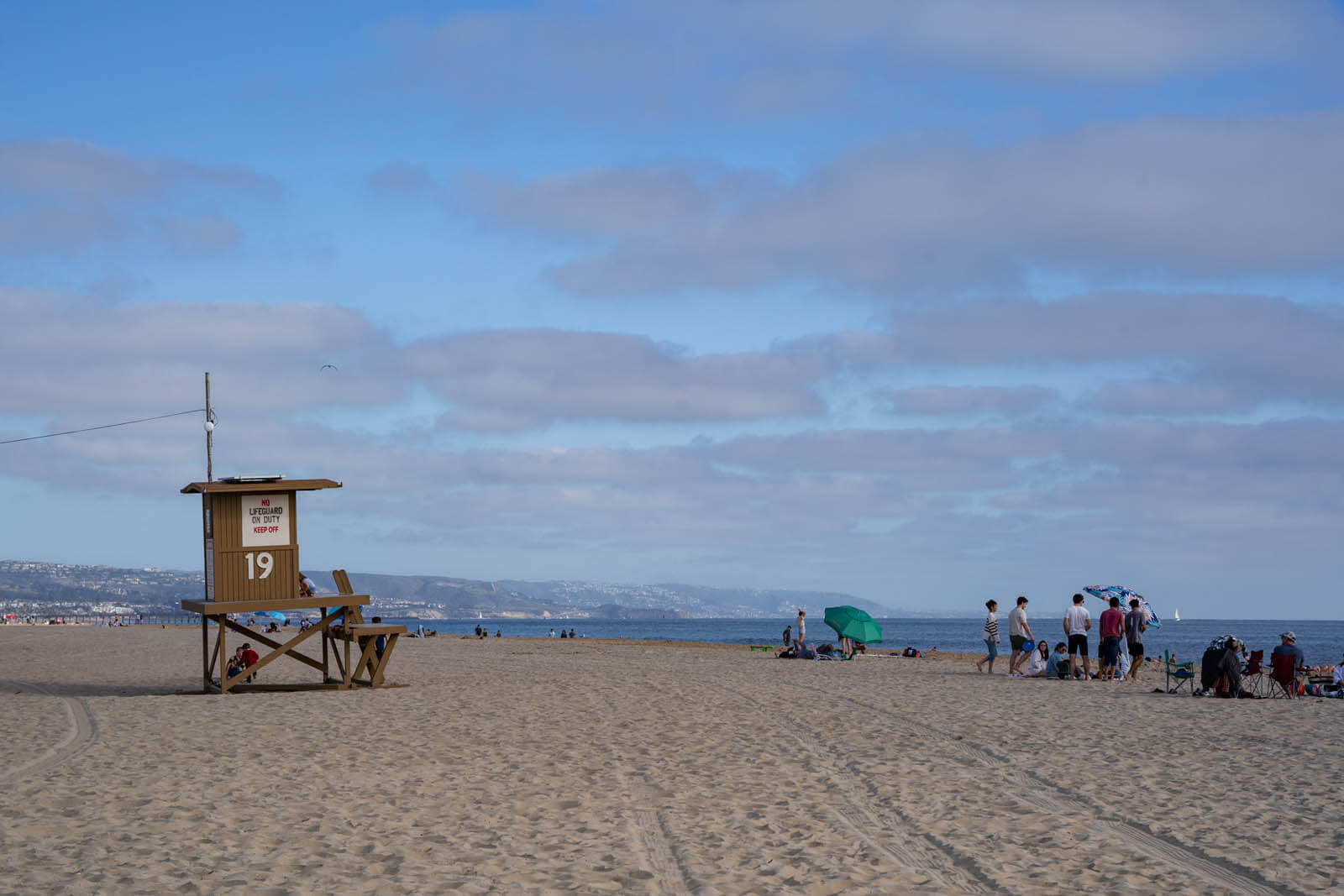 Newport Beach, California has some of the best beaches in Southern California. With pretty much every beach in this area, you will be treated to incredible, picturesque scenery.
And whether jumping in the ocean for a swim, watching surfers ride the waves, or biking along the beach on the nice bike paths piques your interest, there's a beach for you to check out.
Enjoying a beach day is arguably one of the most fun things to do in Newport Beach! The next few sections talk about the best beaches of Newport Beach.
Santa Ana River Jetties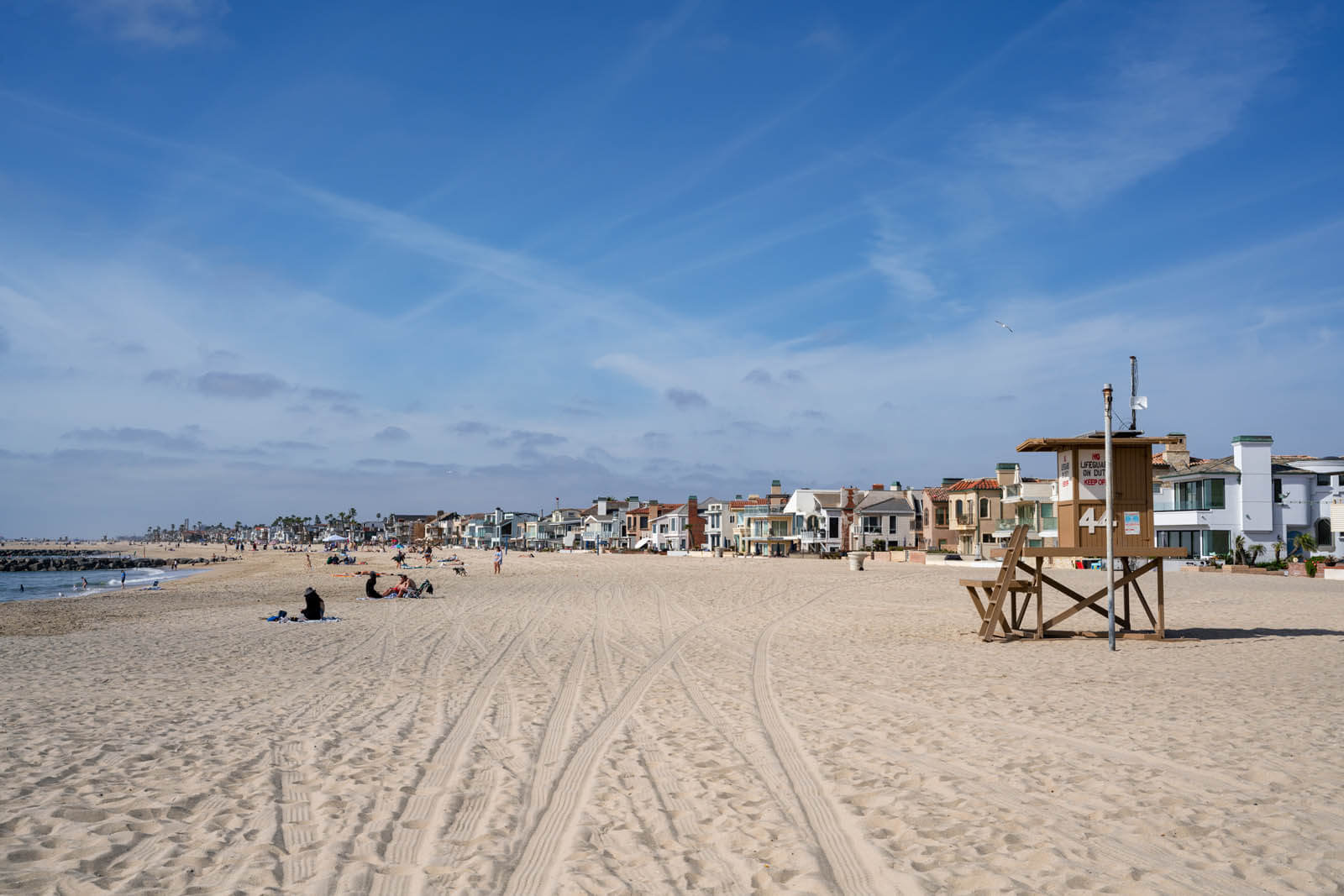 One of the best beaches in Newport Beach, California is the Santa Ana River Jetties. The fun to be had here includes volleyball, biking, skating, and running. Perhaps the most popular activity is surfing, because of the very favorable surf conditions at this beach.
There is a paved bike path here, which is great for beach cruisers. A terrific Newport Beach activity is to take the bike path towards the pier, to scope out the restaurants and bars there. This area is very residential, but it is open to the public.
If you come here by car, note that this stretch of beaches is found along Seashore Drive. Finding street parking is quite difficult, if not impossible unless you're traveling by Vespa, so your best option is finding parking lots at Seashore Lots.
If you want eat around here, either pack your own food to bring to the beach or head back over to the PCH and enjoy great Italian food at Cucina Alessá (better for dinner), Eat Chow, The Spaghetti Bender, or Tidepoole's.
Balboa Beach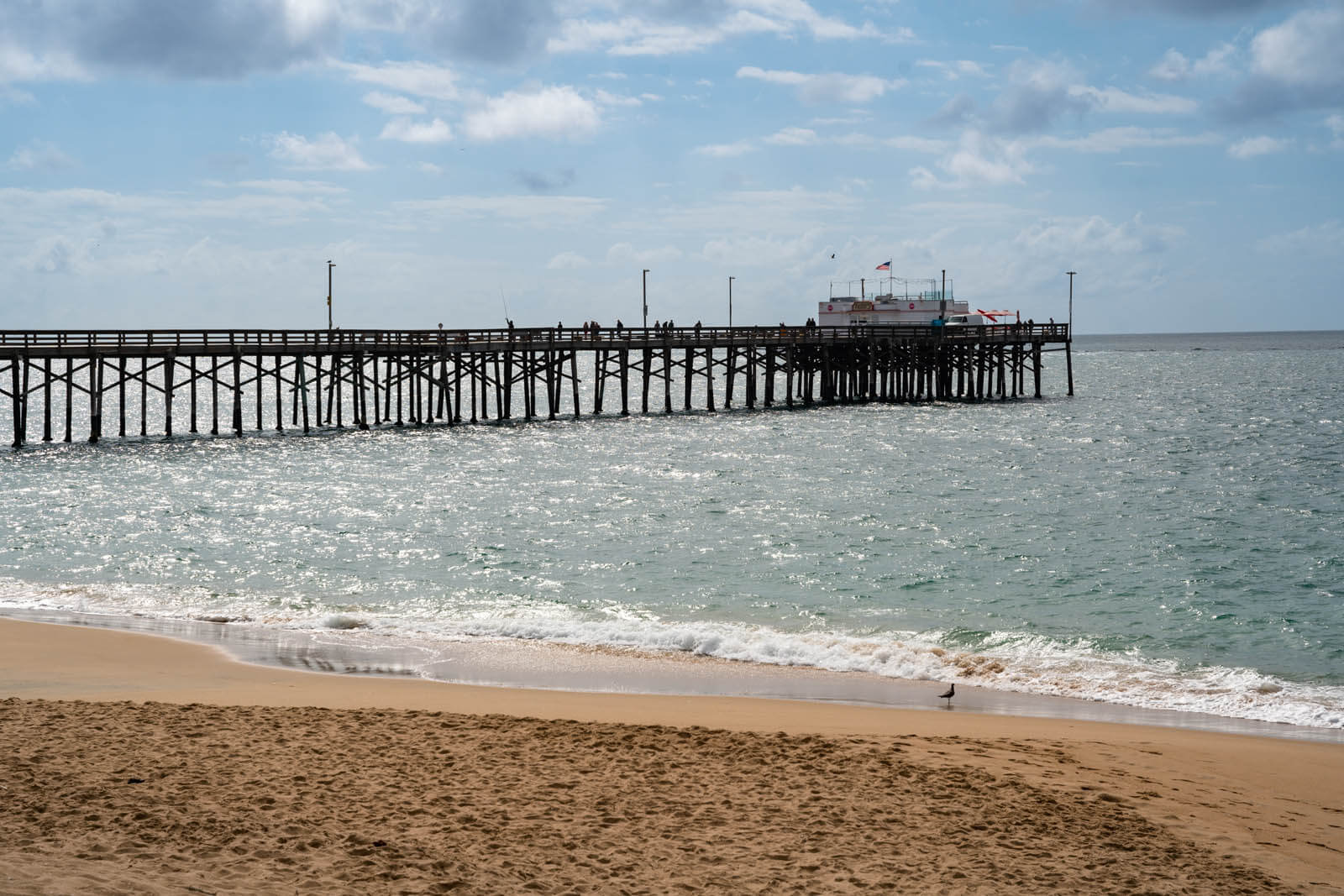 A beach with a lot of buzzy activity happening is Balboa Beach, located on the south end of the Balboa Peninsula. In addition to the shore, there are bars and live music nearby (closer to Balboa Pier), which is a perfect place to relax after a day enjoying the sun and sand. At the far end of Balboa Beach is the famous 'Wedge', a Newport Beach attraction that draws some of the best surfers and skimboarders around. The impressive swell here produces pretty big waves, and you can watch surfers at the top of their game do their thing. Just a quick thing to note about the Wedge is that it's not great for swimming.
Along Balboa Beach, you can also visit the Balboa Pier, which is the second pier along Balboa Peninsula. Closer to the pier is a better stretch of beach for swimming, just keep in mind that swimming right next to any pier where fishing is taking place means there might be more activity for 'marine life'.
While visiting Newport Beach, be sure to stop by Balboa Beach to get in on the action! For great places to eat around Balboa Beach, head towards the Balboa Pier where you can find options along Newport Balboa Bike Trail (plus rent bikes at Seaside Bike Rentals if you want to cruise around) as well as along East Balboa Boulevard towards Balboa Fun Zone and Newport Landing.
Newport Municipal Beach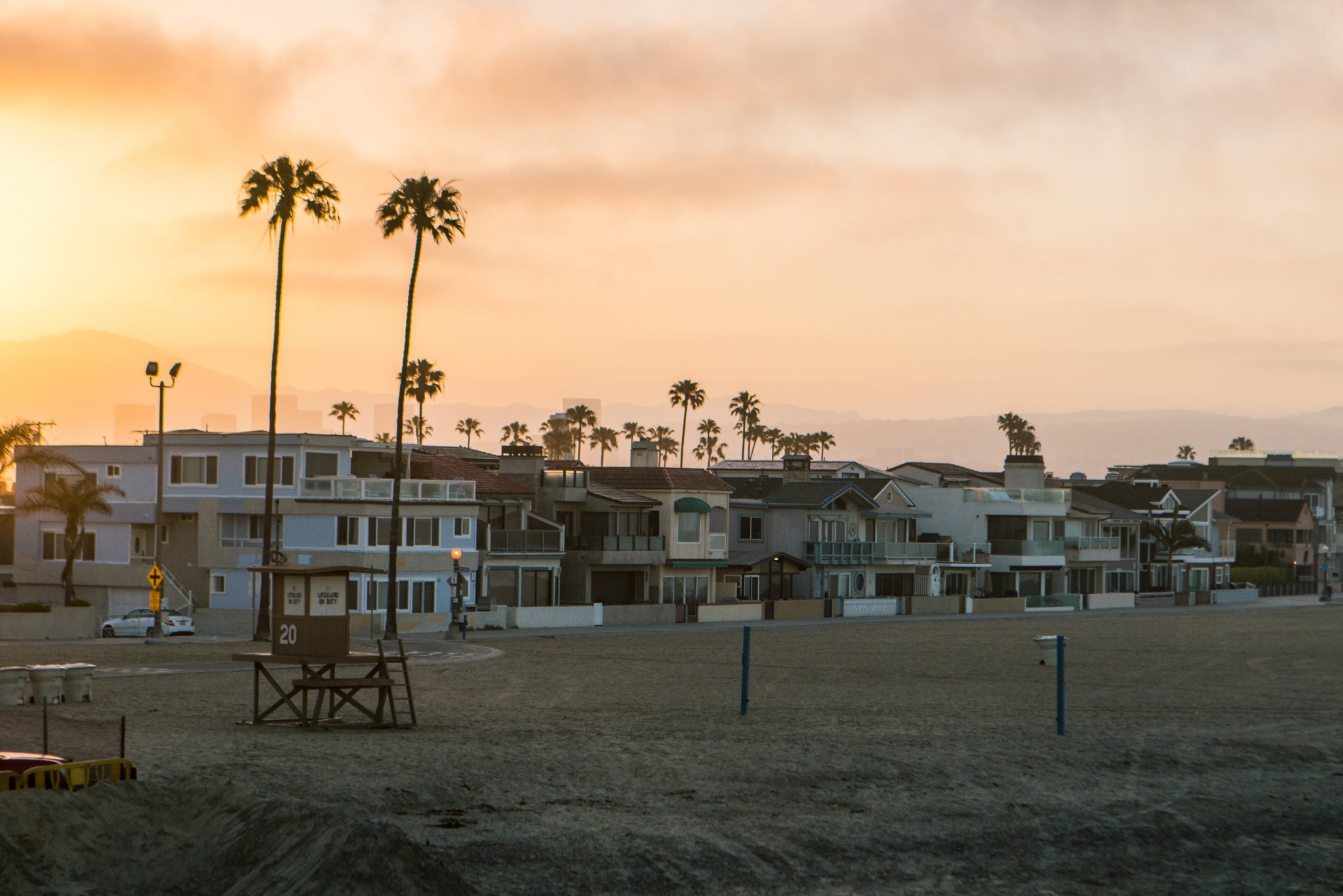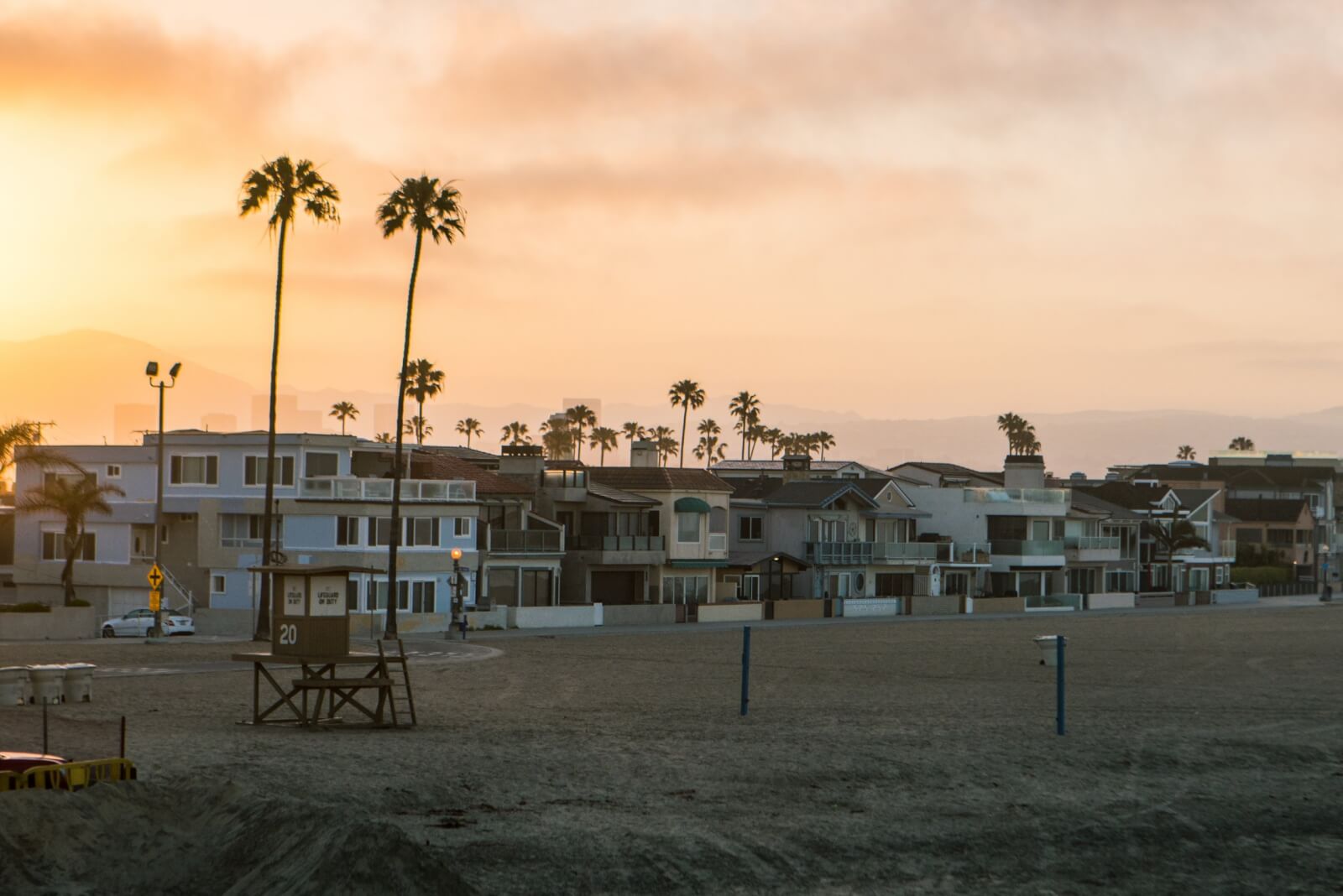 Newport Beach's namesake beach is a great place to spend an afternoon, enjoying some fantastic Newport Beach activities. Located on Balboa Peninsula, this beach surrounds the Newport Beach Pier.
This is the place to surf, swim, skate, bike, and get vitamin D in the gorgeous California sunshine.
There is a really good bike trail along the beach here that is a great way to explore the entirety of Balboa Peninsula and explore around. Don't have a beach cruiser (aka bike)? Don't worry, there are two spots right around Newport Pier (Newport Bike Beach Rentals & Hot5Local Beach Bike Rentals) or if you explore down towards Balboa Pier there are more options too.
What's awesome about visiting this Newport Beach area is that you have a lot right around here. You can easily lounge around on the beach, cruise down the bike path, walk around the pier, or hit up all the beachside bars and restaurants like Mutt Lynch's, Blackies, and Baja Sharkeez to name a few of the more lively spots.
This is definitely one of the most cool things to do at Newport Beach since there are so many options right around here. You'll have to find paid parking at McFadden Parking Lot or if you luck out or come early enough you may be able to snag street parking somewhere.
Corona Del Mar State Beach Park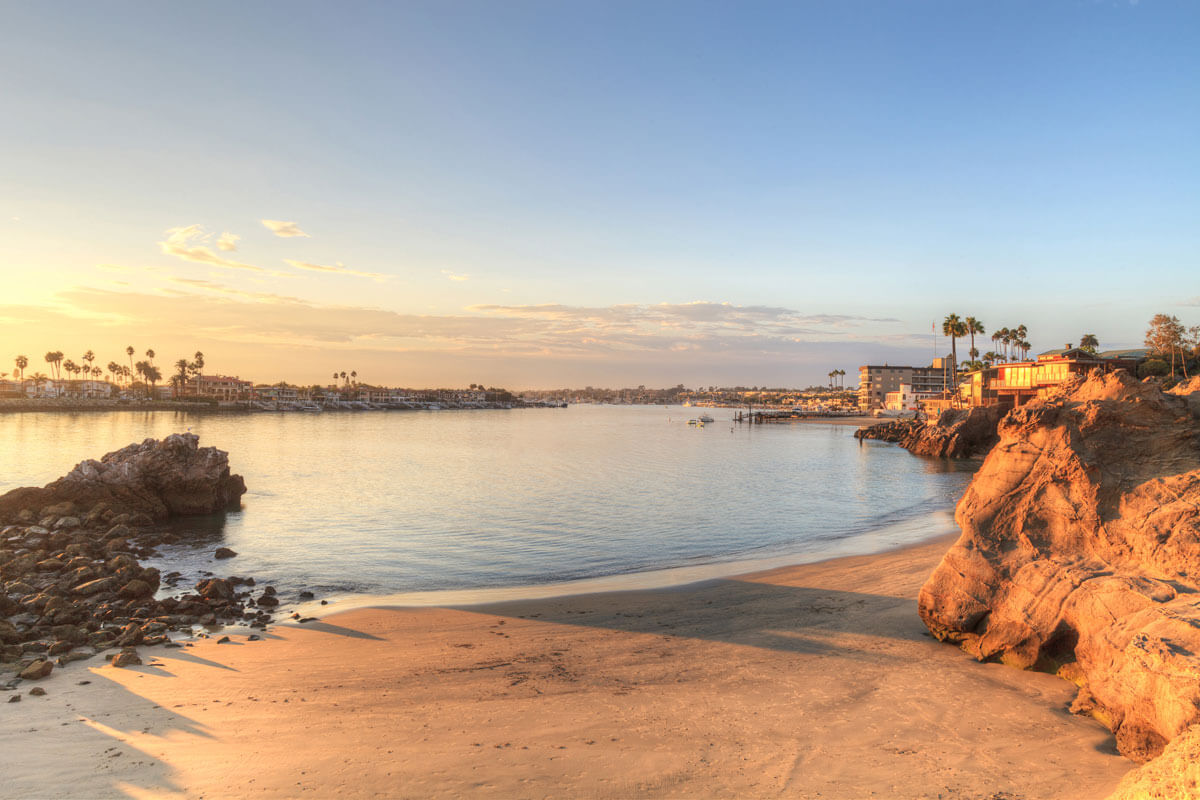 If you're looking for a beach to jump into the ocean and take a swim, Corona Del Mar State Beach Park is ont only one of the best things to do in Newport Beach, but also one of the most beautiful beaches in the area!
As you take a dip, you'll be surrounded by cliffs and a rock jetty that make up this beach. Other popular activities here include surfing, windsurfing, diving, snorkeling, and fishing. You'll also be close to Little Corona Del Mar Beach, which is a great spot for diving in particular, but worth taking a scenic stroll to!
Better yet, visiting this Newport Beach spot is made easier as there's a parking lot right near the beach access. If you want to eat around here, you'll want to head back up to the PCH or pick up food before and bring it down to the beach. Corona del Mar has quite a few great options for dining, including great sitdown establishments but for the sake of the 'beach day' grab tacos at Chronic Tacos or El Cholo or baked goodies, sandwiches, and breakfast burritos from Rose's Bakery.
Sherman Library & Gardens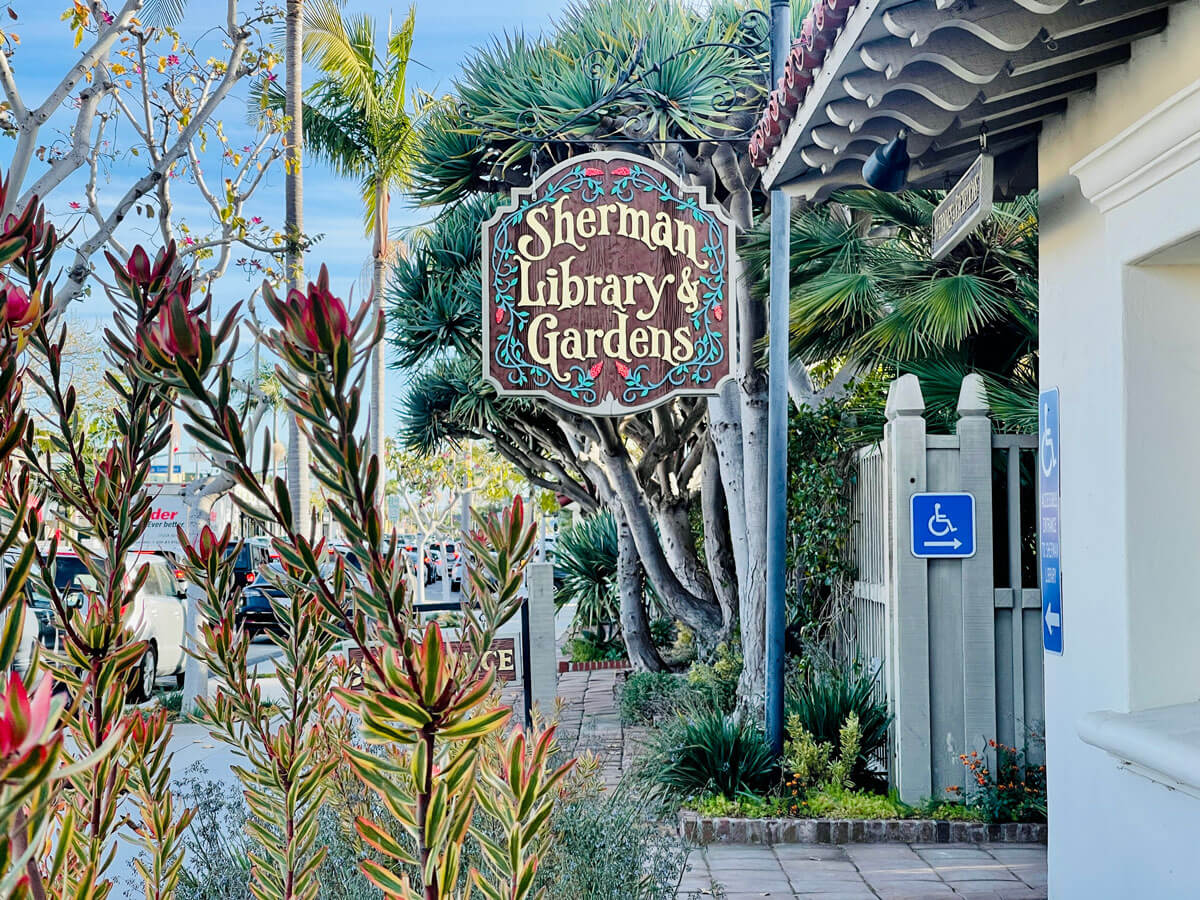 A pretty hidden gem in Corona Del Mar and one of the most unique things to do in Newport Beach is visit the Sherman Library & Gardens.
This Newport Beach attraction has a gorgeous property with botanical gardens including a few different outdoor gardens and a tropical conservatory, a historical library, and a garden-side restaurant.
The library is an archive of information focusing on the history of the Pacific Southwest. But the crown jewel is the stunning botanical garden. The photo-worthy plants here include palms, begonias, orchids, succulents, and a tea garden. You may even be able to catch an art exhibit in the garden during your visit.
Take your time to enjoy the rich visual experience at this Newport Beach attraction. There is an admission fee, and tickets can be purchased online or when you arrive.
The Dahlia Restaurant is only open for lunch Wednesdays through Sundays from 11 AM to 2 PM if you want to plan on eating here!
Fashion Island
Shoppers, rejoice! When you're visiting Newport Beach, you will be able to jaunt over to Fashion Island. This outdoor mall with ocean views is one of the premier shopping areas in the region, and a great Newport Beach attraction.
You will be able to meet just about all of your shopping needs; apparel and accessories, beauty, health and fitness, home furnishings, pets, sporting goods, electronics, and even automotives! There are restaurants to check out when you're ready for a bite, as well as a movie theater (along with another just across the street from Fashion Island) to catch a flick.
This mall is more upscale, you'll find big department stores like Nordstrom, Bloomingdale's, Neiman Marcus along with plenty of other shops including anything and everything from Apple, Anthropologie, and tons of other great shops.
This mall is more of a lifestyle and entertainment center so as mentioned, there are movie theaters. The movie theater inside the Fashion Island complex is more of a luxury experience with comfortable recliner chairs and bar service. If you're looking for more of an old school, classic theater, head to the Regal Edwards Newport just across the street.
There are tons of great food options here and great areas to sit outside and take a break next to a pretty koi pond or fountain. This is one of my favorite malls of all time, it's not often you get the ocean breeze while you're shopping!
Lido Marina Village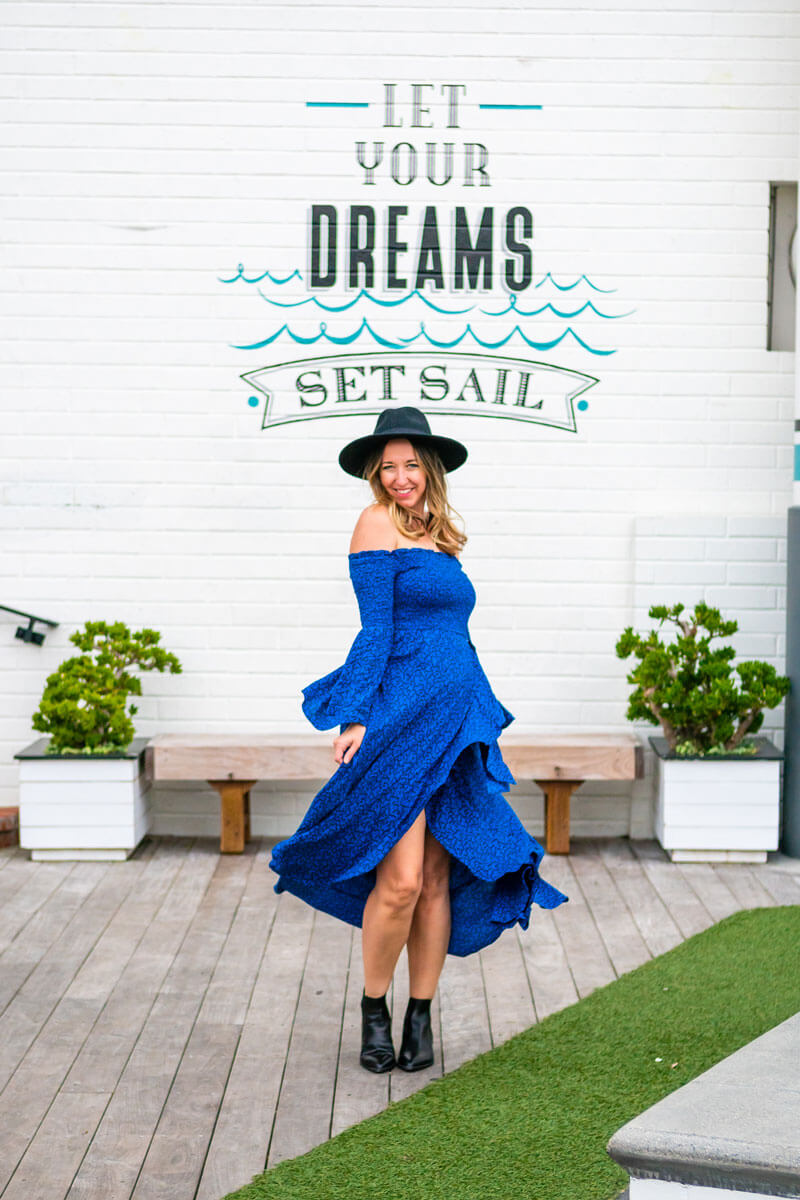 A really delightful area to explore for a couple of hours is Lido Marina Village off of Newport Boulevard and Via Lido. There are excellent restaurants to experience, which you can follow up with browsing the upscale boutiques and stores.
Nobu is a celebrity favorite restaurant and lounge that serves Japanese cuisine. Zinqué is a food and wine bar with a pristine oceanfront location. Some of the shops to check out are Warby Parker for eyewear, Faherty for clothing with a coastal feel, and Lido Village Books to browse international magazines and books. I think that all the shops here kind of evoke the 'rich coastal grandma' style. Think lots of linen, beige, and higher-end shops including the Real Real.
This is one of the best things to do in Newport Beach if you want to increase your chances of seeing rare and exotic sports cars. This spot attracts money and the people who live around here nearby and on Lido Isle (a residential island off of Balboa Peninsula) are pretty wealthy.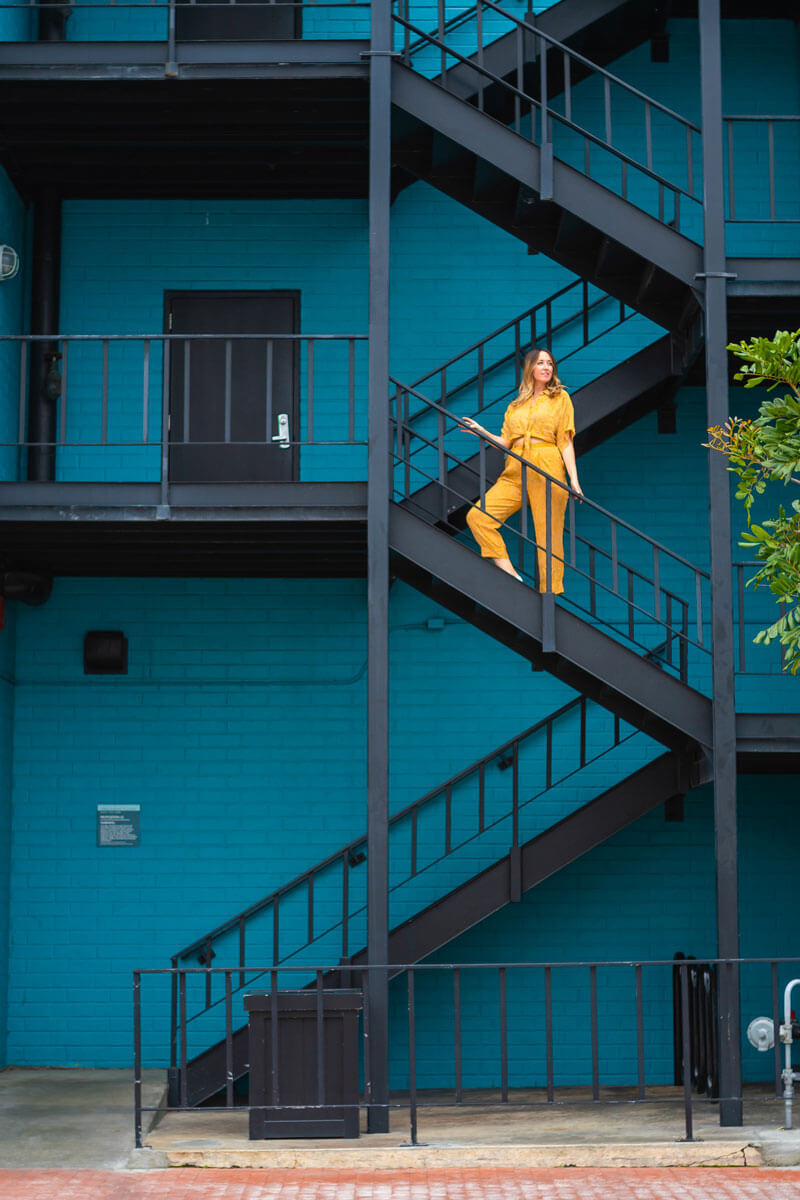 This is also a pretty picturesque spot, the entire shopping/lifestyle complex is photogenic from the teal parking lot building (the stairs here make for cool photos) to the fountain and Boat Pond.
There's also a Malibu Farm here, which has insanely good food (the original location being on Malibu Pier in Malibu). Head to Zinqué or Lido Bottle Works for a glass of wine or drink here.
Inspiration Point in Corona Del Mar
Perhaps the best views of Newport Beach, California can be found at Inspiration Point in Corona Del Mar. The scenery here is truly amazing and shouldn't be missed when visiting Newport Beach.
At the top of the bluff, you'll be greeted by superb views overlooking the harbor and the shore. You are able to make your way down to the beach, where you can dip your toes in the ocean.
A great time to come here is at sunset. Bring a blanket, find a bench or spot to settle down, and get your camera ready!
Visit Crystal Cove State Park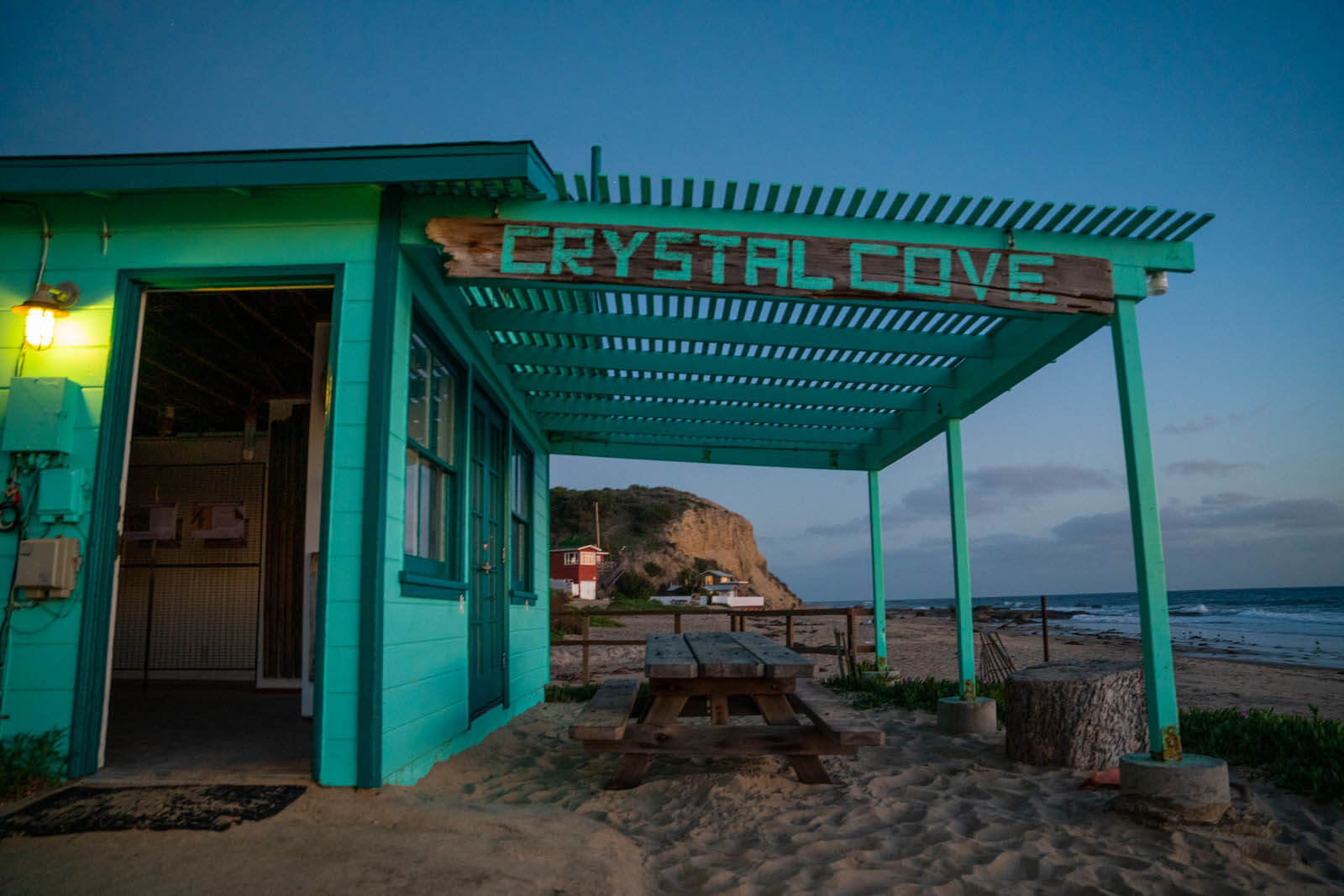 Rounding out the list of the best things to do in Newport Beach is visiting Crystal Cove State Park. This is one of Orange County's best-kept secrets…well, sort of. Come here to hike the bluffs, enjoy a beach day, and check out tide pools. Scope out the old beach cottages that line the beach, some of which have been renovated and are available for rental.
This is not only one of my personal favorite things to do in Newport Beach, but one of my absolute favorite spots in California. The scenery here stole my heart from the day I moved to Orange County. Plus, I am (Scott is too) obsessed with the old beach cottages here on the beach!
A favorite Newport Beach activity is having lunch or dinner at The Beachcomber at Crystal Cove restaurant, where you can enjoy fresh seafood dishes while seated pretty much on the beach. And a bonus is that they validate your parking when you dine in. (the lunch menu is cheaper than the dinner menu if you're budgeting at all).
After your meal, head over to the Crystal Cove Shake Shack, which is a milkshake shack up on the cliff. They have a very tempting selection of shakes and malts, but hands down the best shake to order is the 'date shake'. Make sure you hit up Crystal Cove State Park when visiting Newport Beach!
Day Trip to Catalina Island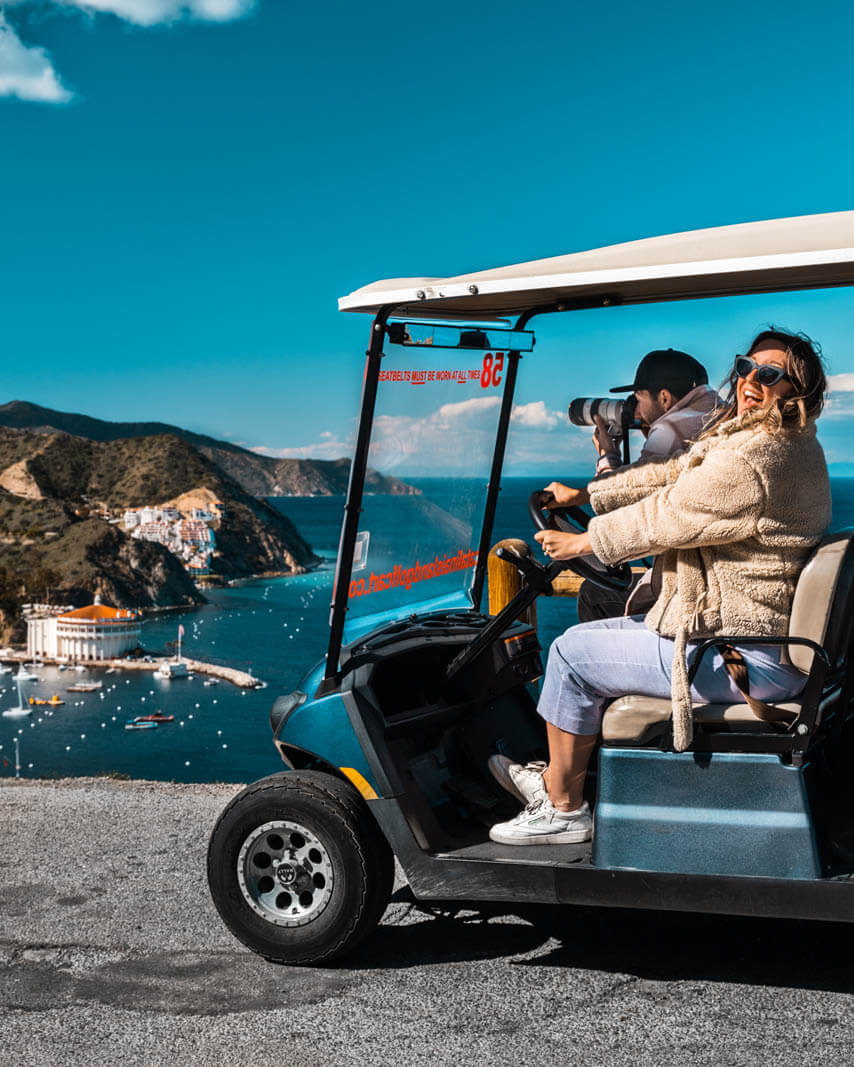 It would be criminal not to mention a day trip to Catalina Island from Newport Beach! Catalina is one of our favorite places in California, period! We love Catalina Island so much that we've been several times on day trips, weekend trips, and even off season when you can enjoy the island pretty much all to yourself.
This gorgeous island getaway is a part of the Channel Islands off the coast of Southern California. There are a few ferry services that connect Catalina Island to mainland including the Catalina Flyer at Balboa Pavillion, making it one of the best Newport Beach activities if you want a sense of adventure at Catalina for the day.
You'll want to go to Avalon and explore all the best things to do at Catalina Island from ziplining with ocean views, taking a day hike to the back end of the island with Catalina Backcountry, visit Wrigley Memorial and Botanic Gardens, golf carting around the scenic loop, to just wandering around the town of Avalon shopping, dining, having a drink or two, and of course, taking in the views.
There are daily departures leaving in the am and returning back to Newport Beach in the afternoon just in time for dinner. But if you're anything like us and have the time, try to stay at least one night (if not a weekend on Catalina Island).
Where to Stay in Newport Beach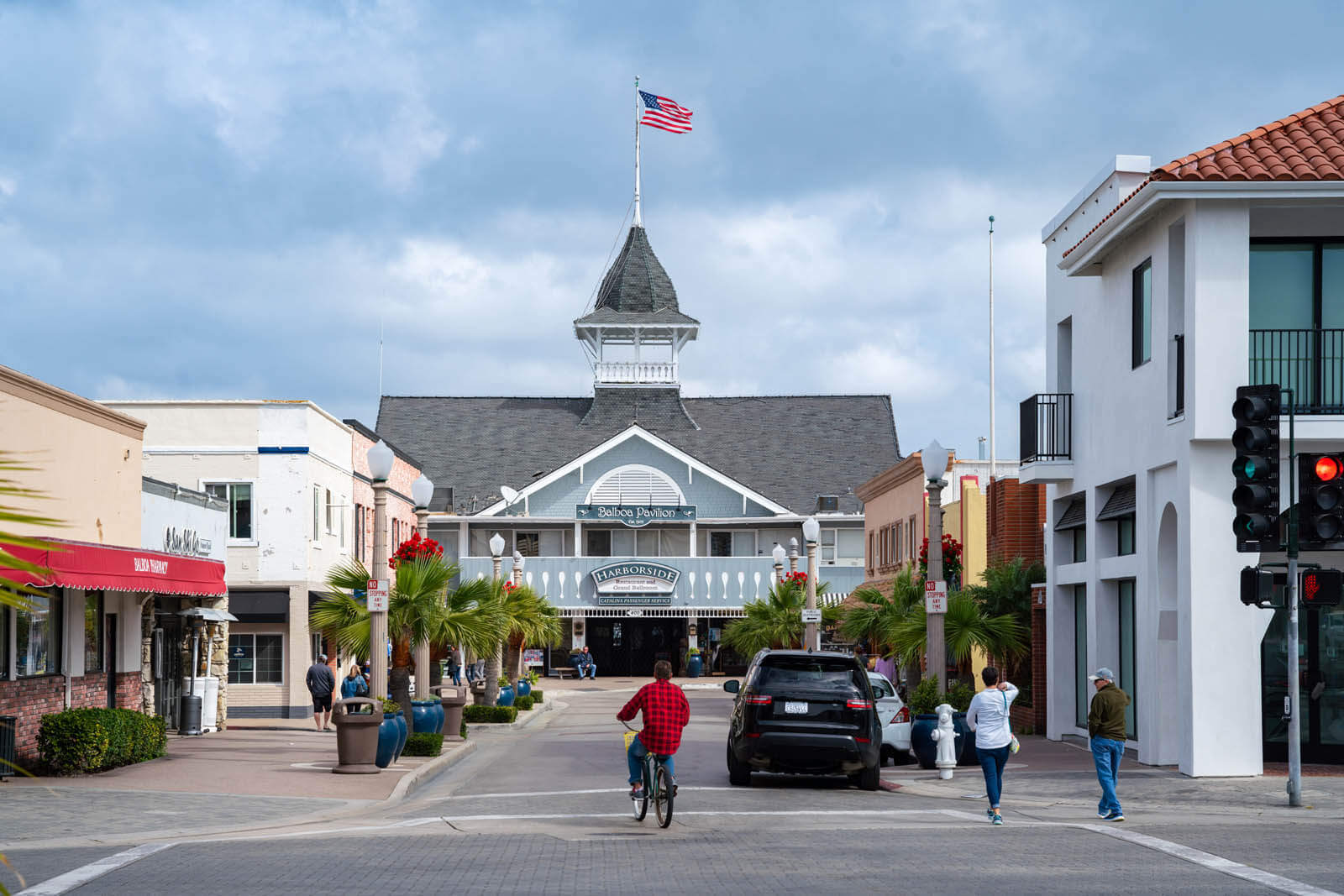 Newport Beach Hotel
The Newport Beach Hotel is a great boutique hotel property located steps away from the sand and Newport Pier on Newport Beach. Besides its stellar location on Balboa Peninsula next to all the action and beach, this hotel aims to be your 'coastal home away from home,' during your stay.
This hotel is also awesome because they offer loaner bicycles for guests, which is the perfect way to get around all the best things to do in Newport Beach as it's a very bikeable destination. They also offer guests a complimentary continental breakfast and have an oceanfront spa on site if you're looking for a little pampering during your stay. Book the Newport Beach Hotel here.
Lido House
One of the most luxurious places to stay in Newport Beach, located on Balboa Island, is Lido House, an Autograph Collection property located at Lido Marina Village. Their rooms range from luxury king size suites to full-on spacious cottages that are more than enough to feel like your home away from home.
Guests can take advantage of their beautiful pool with private cabanas, swanky roof deck restaurant and bar, and their spa on site if you're looking for any special treatments or pampering during your stay.
The rooms and cottages are sophisticated and you're steps away from waterfront views, great dining and nightlife options, and just a short walk to the beach. Book the Lido House here.
---
Enjoyed this guide to the best things to do in Newport Beach? Bookmark for later or share the love below!