Looking for the best things to do in New Orleans for a first time visitor? We got you. As a matter of fact, this guide will cover the top New Orleans attractions and sightseeing to check out whether you're a first time visitor or you're a seasoned New Orleans visitor.
Famous for its great music, delicious food, beautiful architecture, and friendly faces, New Orleans is a must-visit for anyone traveling or living in the United States. There's no wonder why so many have rated it as one of the best destinations to visit in the US.
With Spanish, French, West African, Caribbean, Native American, and Southern influences this city has developed a personality and culture of its own unlike anywhere else in the world. If this is your inaugural trip to the city you're in for a treat.
We spent 3 days in New Orleans, so here are out our picks on what to do in New Orleans, plus tips for visiting!
And as the locals say, "laissez les bon temps rouler." (Let the good times roll!)
Table of Contents
Disclaimer: This post contains affiliate links.
Top Things to Do in New Orleans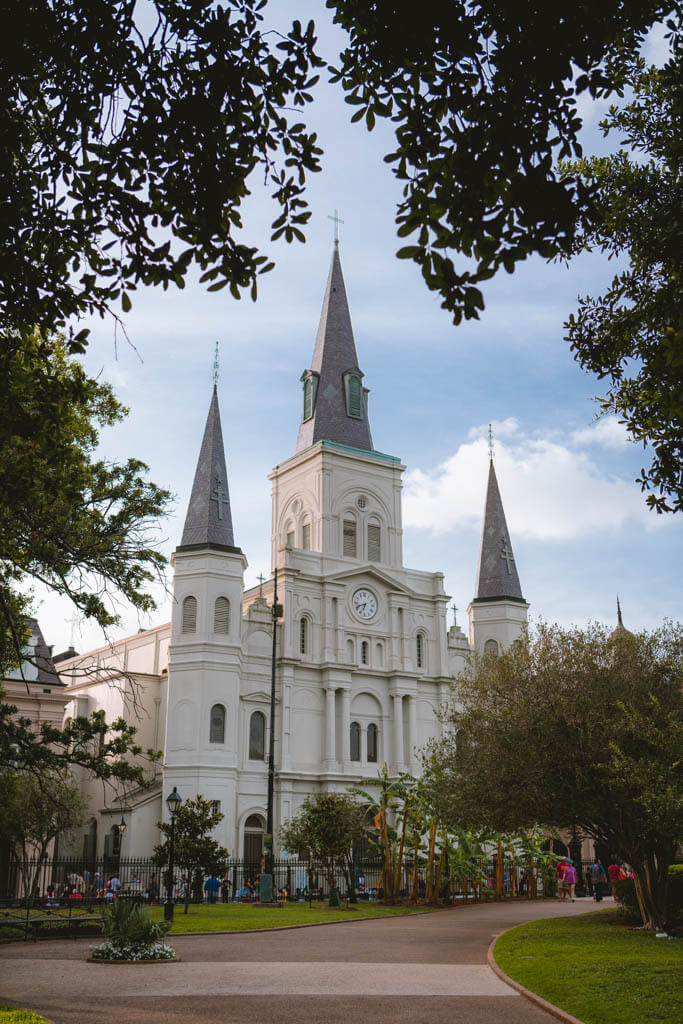 Many of our picks for what to see in New Orleans are in the popular French Quarter and Garden District. However, we do mention some other great New Orleans attractions and neighborhoods to check out!
Another one of the best things to do in New Orleans is check out the different incredible tours there are. We put together an entire guide of the best tours in New Orleans to try.
Below you'll find our favorite recommendations for New Orleans attractions not to miss to help you plan your vacation.
Explore the French Quarter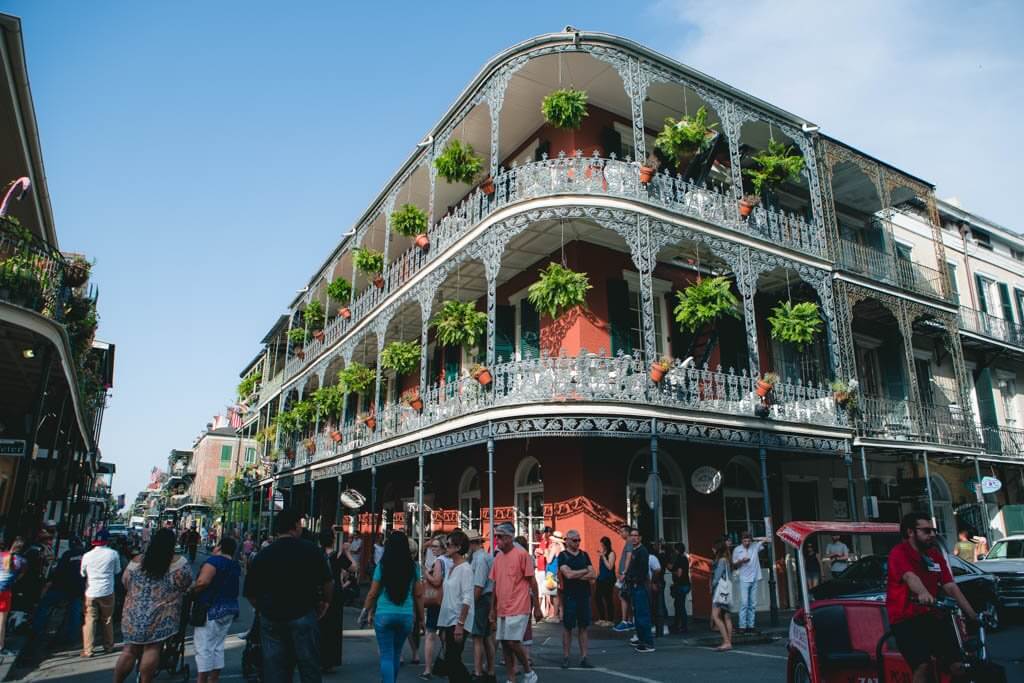 The oldest neighborhood is the French Quarter, aka Vieux Carre. It's easily one of the most famous New Orleans attractions and without a doubt, exploring the French Quarter is one of the best things to do in New Orleans whether it's your first time or you've come a thousand times!
This is also where we recommend staying near because much of the city is walkable from the historic district. Not only is it convenient but it's beautiful. Each street is lined with beautiful buildings, shops, restaurants, hotels, and bars. Just check out our favorite New Orleans photos to see how many of them re located here!
We loved walking up and down every street in the French Quarter, ooohing and ahhing at each building.
New Orleans Points of Interest in the French Quarter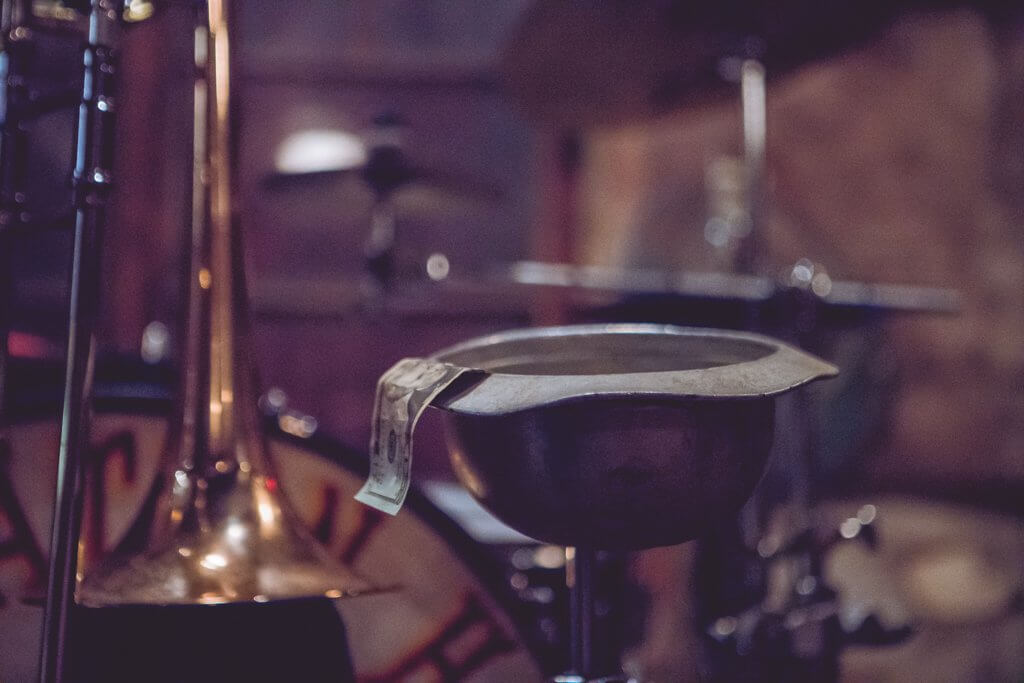 Preservation Hall
One of the top things to do in New Orleans if you're a lover of jazz music!
Every night there are intimate, acoustic New Orleans jazz concerts held by some of the best musicians in the city. Be sure to get in line early if you want a seat unless you book ahead and pay extra for Big Shot tickets.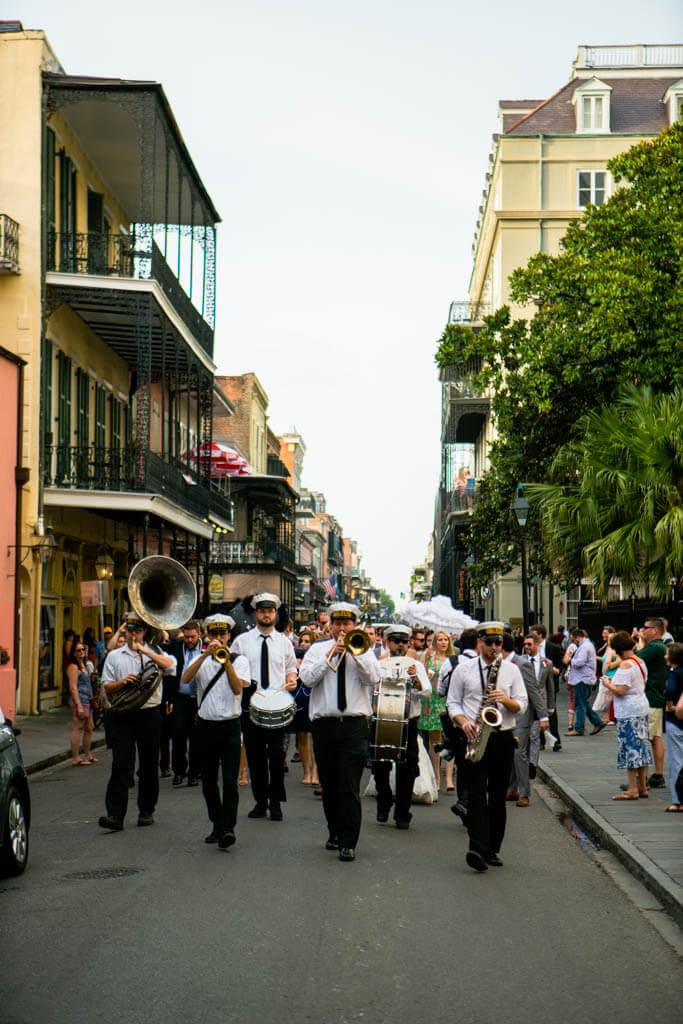 Royal Street
This is one of the most beautiful streets in the French Quarter. It's filled with incredible antique shops, art galleries, boutiques, and hotels. It's also one of the most photogenic things to do in New Orleans, and if you're lucky you might just pass a live wedding procession like we did (pictured above).
You can also join a French Quarter walking tour and photoshoot tour too – in case you want to learn about the area plus get great photos too!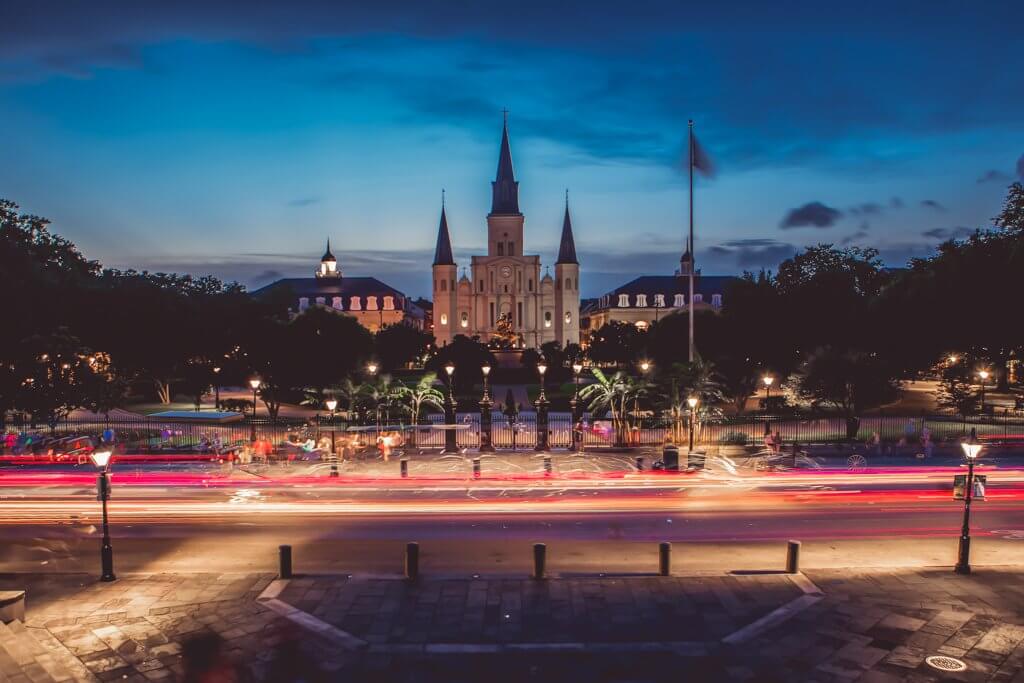 Jackson Square
This historical and well-manicured park is a must, located right next to the river you can get an incredible view and photo of the square from the platform across the street, this is one of the most famous New Orleans attractions in the French Quarter.
The fate of the Andrew Jackson statue, who's a problematic historical figure, is uncertain after the mayor's recent efforts to remove other controversial monuments. However, the entire park is worth taking a stroll through and checking out as it's also the spot where the final version Louisiana Purchase was signed.
You can learn more about the history of Jackson Square on this French Quarter storytelling and history tour.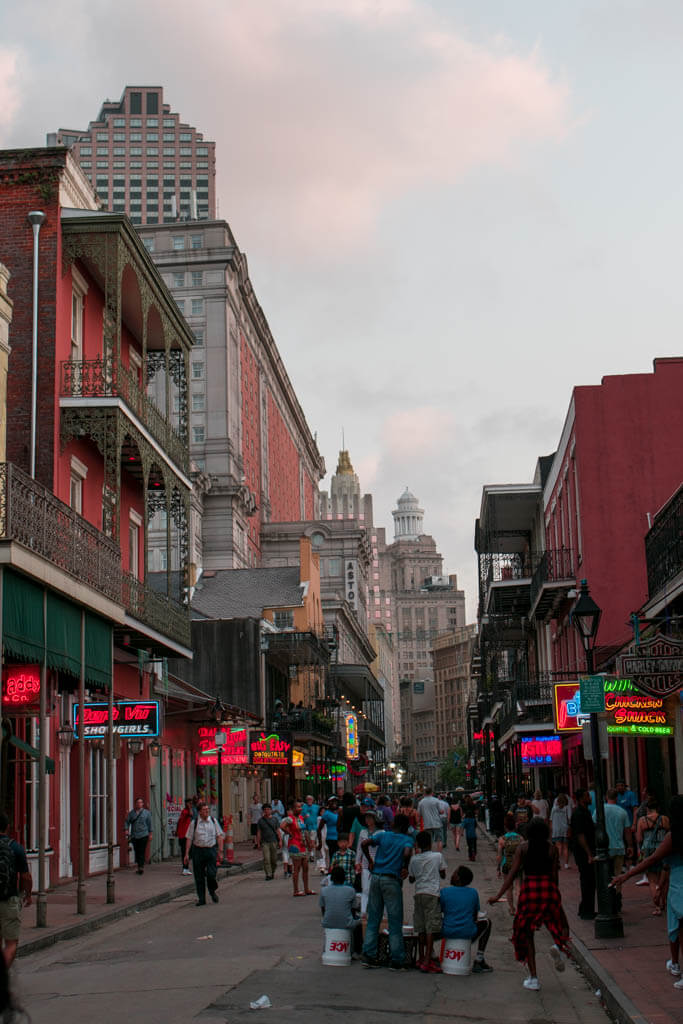 Bourbon Street
Bourbon Street is one of the most famous things to do in New Orleans. Once where all the jazz music and bars were is now a spring break college frat boy street lined with neon signs and bars selling giant drinks to go and where people go to let loose.
It does have sort of a slimy vibe going on but is an experience you can't miss. If this is not your scene be sure to walk down Bourbon Street at least once on your New Orleans trip, and it's funny because you literally take one step off of Bourbon Street and you'll notice the difference of how quiet it suddenly is!
You can learn more about this historic and famous spot by joining the Secrets of Bourbon Street Tour!
Cafe du Monde
One of the best things to do in New Orleans is to try one of the famous beignets and the place to do it is Cafe du Monde. We won't go too much into food on this post as I can write a whole book dedicated to the food of New Orleans, but the beignet is a "New Orleans attraction" on its own.
Each order comes with three of these tasty powdery sugar goodness french donuts and once you try them you will be back for more. This is what to do in New Orleans if you have a sweet tooth! Make sure you have cash!
If you want to deep dive into the food scene of New Orleans, and you should check out this food tour of New Orleans that covers some of the best bites and dishes you have to try on your visit.
Wander through the Garden District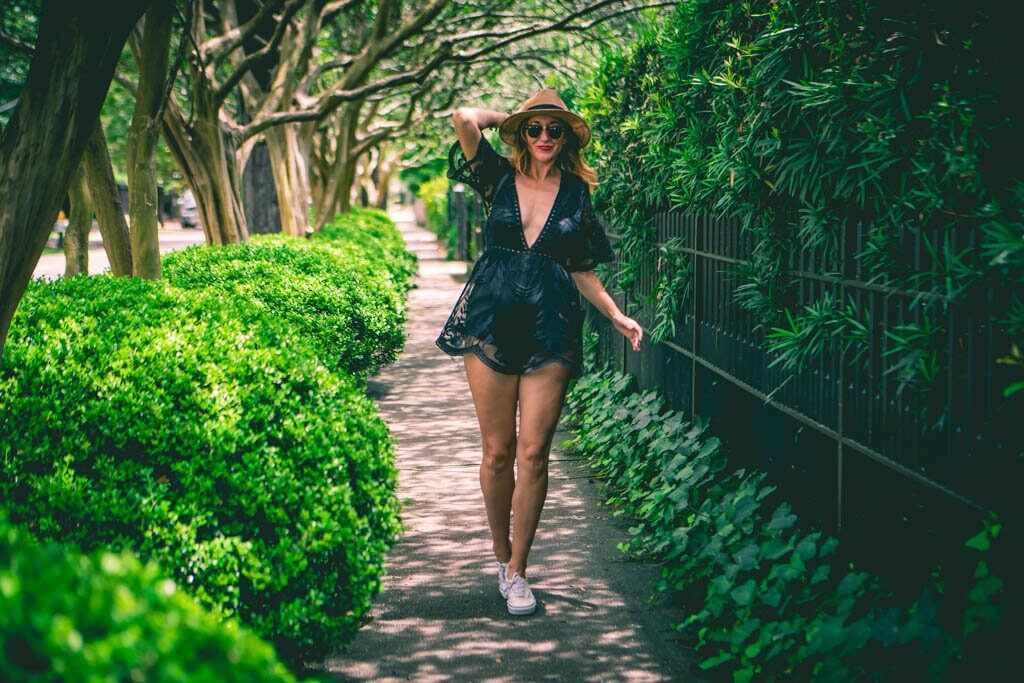 Another beautiful neighborhood and one of the top things to do in New Orleans is visiting the Garden District. The beautiful tree-lined streets build a canopy of lush green lined with gorgeous mansions and homes.
You almost feel like you're in a movie walking down the streets, probably because many big Hollywood movies have filmed here. The mansions themselves are a New Orleans attraction on their own, you can wander aimlessly or if you want to make the most of your time while seeing the best of the neighborhood join a Garden District walking tour with the best highlights of the neighborhood.
New Orleans Points of Interest in the Garden District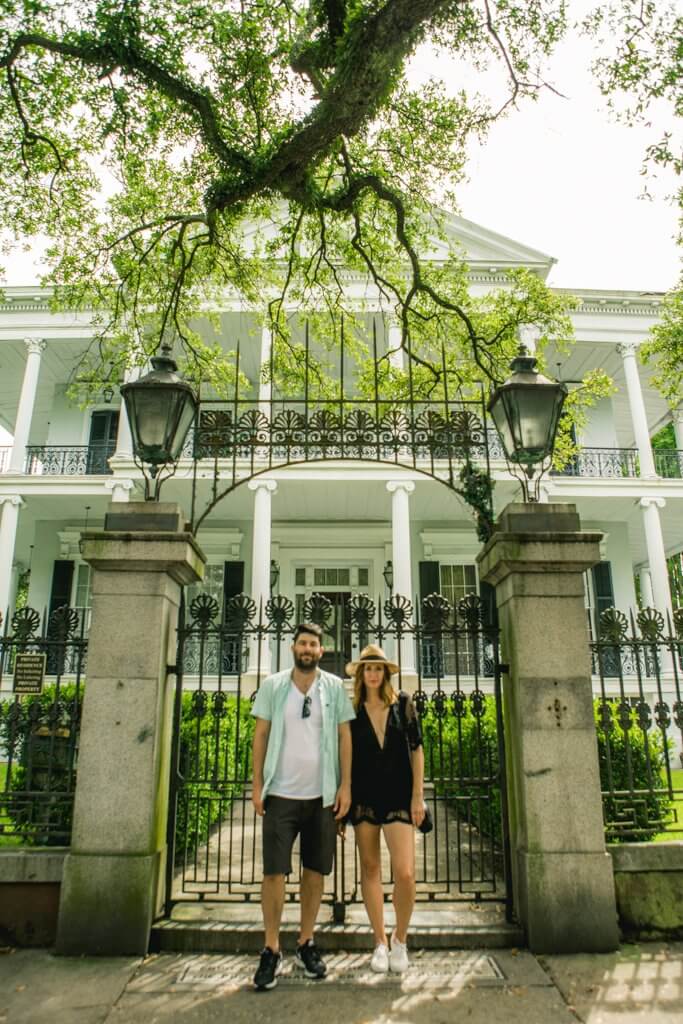 Buckner Mansion
This is what to see in New Orleans if you're a lover of beautiful historic homes. Besides being beautiful, this mansion is famous because this was the star in the tv series, "American Horror Story Coven."
Even if this beautiful home wasn't in the show you'd probably find yourself stopping here to take a photo in front of it, it's that alluring!
This is also one of the popular stops on a city bus tour in the Garden District, which also stops at many iconic spots throughout the city. Or if you want to join a spookier tour, check out this Cemetery night bus tour which includes AHS: Coven filming locations!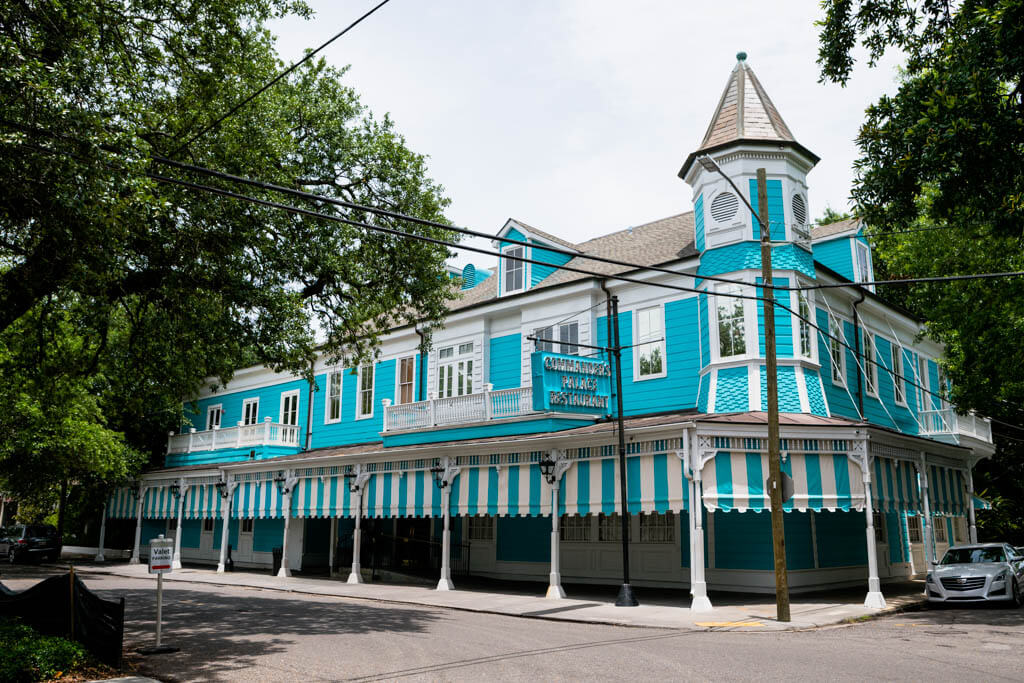 Commander's Palace
Another one of the top things to do in New Orleans in the Garden District is dine at this famous southern restaurant. Come here for an authentic southern dining experience and Creole dishes. And did you know that the famous chef Emeril Lagasse once was the head chef here?!
We recommend coming at lunch for their famous $.25 martinis. It's an unforgettable experience!
In order to dine at this famous New Orleans attraction, you need to dress up. Men need to wear covered shoes and a button-down shirt. Women are encouraged to dress in business casual attire.
If you're interested in visiting Commander's Palace and joining a tour, this Garden District walking tour includes a stop here.
Magazine Street
This is what to do in New Orleans after eating a big meal. There's nothing more refreshing than a walk.
Stroll up and down this historic street's shops, boutiques, and restaurants. Even though you might be full, plan your appetite right for a quick stop into District Donuts for unique flavors like ginger mint julep and brewed coffee on tap for dessert.
Another great thing to do in New Orleans for all those with a sweet tooth!
Or if you want to explore Magazine Street by a bus tour, check out this New Orleans city highlights tour which takes a route down Magazine Street highlighting some of the points of interest here, perfect for getting your bearings and coming back to explore more by foot later.
Enjoy the Music Scene on Frenchmen Street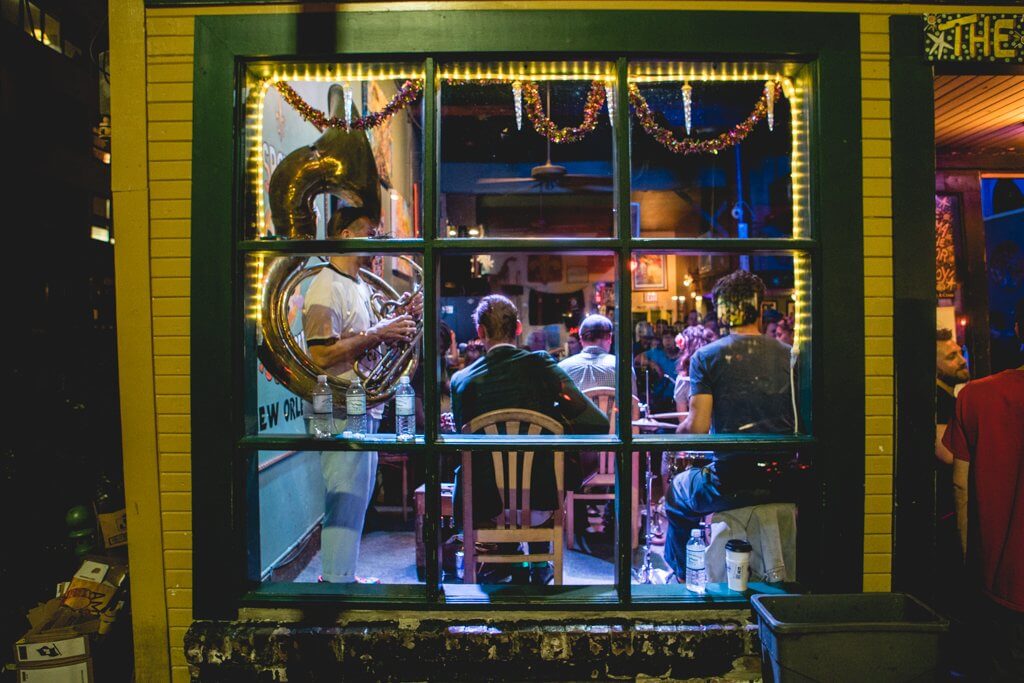 Experiencing the local music scene is undoubtedly one of the top things to do in New Orleans. Frenchmen Street is the spot all the locals love and it's no wonder why on either side of the entire street there is jazz club after jazz club playing live music nightly.
We were told by a local this is what Bourbon Street used to be like before it became mainstream and party central.
You can't help but fall in love with this area or the live music performances, you may even want to come back every night thanks to its close proximity and walking distance to the French Quarter.
If you want to make a few new friends and not wait in any lines to get into these popular music venues, consider joining a VIP Frenchmen Street Jazz Pub Crawl which comes with a few drinks, VIP entrance to all the clubs, and a pretty good time.
New Orleans Points of Interest on Frenchmen Street
The Spotted Cat
One of the best jazz clubs and best New Orleans attractions for jazz lovers with a tiny stage and nightly performances.
d.b.a.
This New York City inspired cool club is known for serving up craft beers and it's nightly live musical performances and is what to do in New Orleans if you're looking to enjoy a cool hang out while listening to live performances.
The Maison
This club offers three different stages with nightly performances where you can get a great mix of music and drinks.
Visit the New Orleans Cemeteries
One of the most popular things to do in New Orleans is to visit their many cemeteries. Since New Orleans is below sea level they are unable to bury their remains underground. The only other option is to have above ground tombs and mausoleums.
This is not a common practice among cemeteries in the US. The cemeteries in New Orleans are not only unique but a rich part of its history, making them one of the most iconic things to do in New Orleans.
If you want to do more than wandering through and snap photos be sure to check out one of the many tours through the cemeteries. You will learn about the famous people who remain are there as well as the burial rituals and techniques of the local cemeteries.
We recommend checking out a cemetery tour. We loved this French Quarter, Cemetery, and Voodoo tour in New Orleans because it covered more than the cemeteries and is perfect for an all in one overview of the history of New Orleans and its culture.
New Orleans Points of Interest for Cemeteries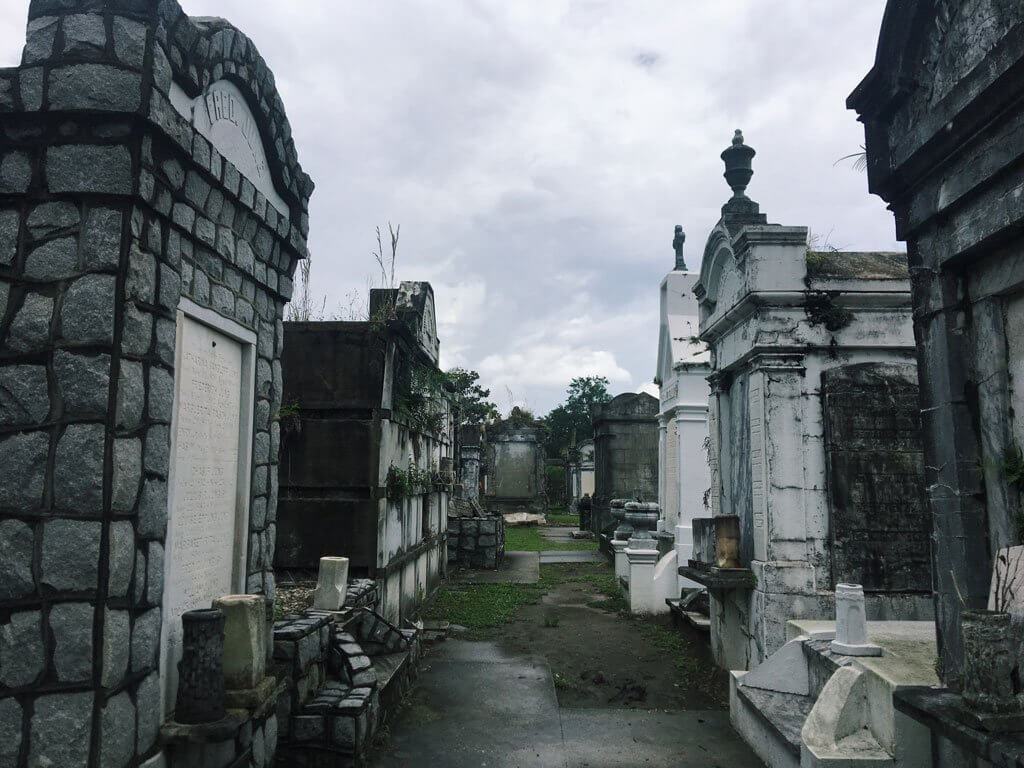 Lafayette Cemetery No. 1
This is what to do in New Orleans if you want to experience the unique cemeteries in NOLA. Located directly across from the Commander's Palace in the Garden District is the famous Lafayette Cemetery No. 1 where you can stroll through the famous maze of above ground tombs being reclaimed by nature with trees and plants growing out of the cracks of the stones.
You don't need a guide to enter this cemetery, check out this self-guided tour as you enter or check out this 2 hour Garden District and Lafayette Cemetery tour if you're looking for a guided and informative experience!
St. Louis Cemetery No. 1
This is the city's oldest cemetery and one of the most famous being the final resting spot for Voodoo Queen Marie Laveau and home to the odd future pyramid tomb to actor Nicholas Cage.
Located right outside the French Quarter this Catholic cemetery only allows certain people in, so it's best to come with a tour. This is definitely what to do in New Orleans and an unmissable New Orleans attraction if you want to experience a cemetery here.
Lafayette Cemetery No. 1
Located in the Garden District and easily able to self-guide your way through this eerily beautiful cemetery you may find yourself feeling like this place is oddly familiar looking. That is because Lafayette Cemetery No. 1 was also featured in Hollywood films like, "Double Jeopardy." This cemetery is also home to The Mayfair Witches and Lestat the vampire's tombs and is one of the best things to do in New Orleans.
St. Roch Cemetery No. 1
Unusual and creepy this cemetery is different from the others because it has a room full of the deceased prosthetic limbs making it a bit different compared to the other cemeteries in the city and is a creepier New Orleans attraction.
Visit Faubourg Marigny & Bywater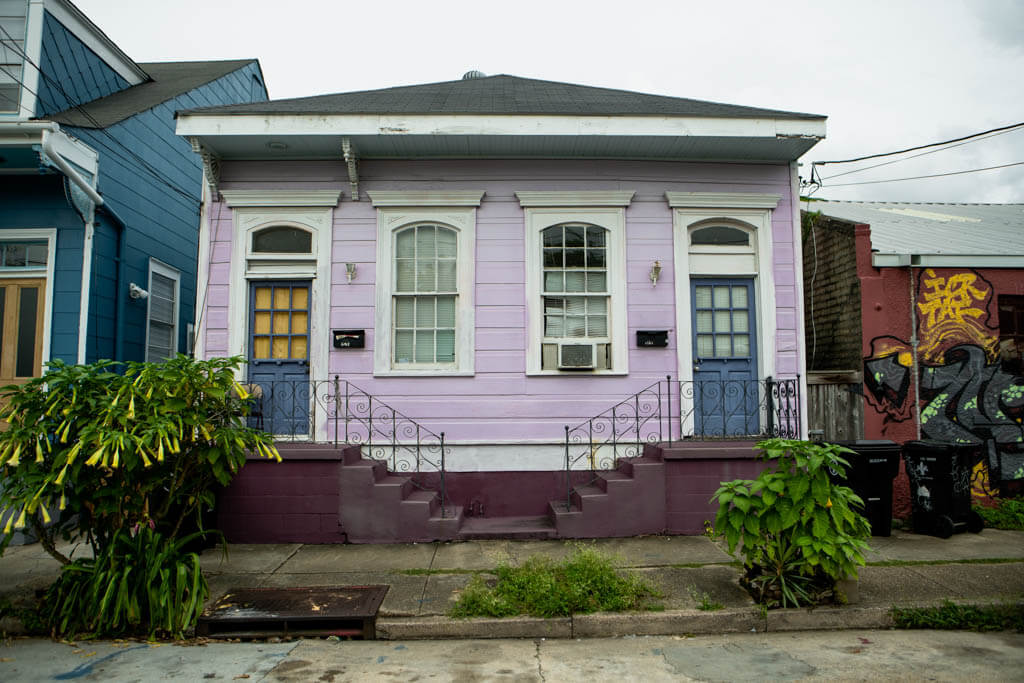 Our next pick for what to do in New Orleans is in a neighborhood that is starting to become a more popular place to visit if you want to get away from the crowds at all the other New Orleans attractions.
Located not too far from the French Quarter the neighborhoods of Faubourg Marigny & Bywater are some of the best-kept secrets and one of the best things to do in New Orleans that not too many others explore as well.
Filled with streets of colorful shotgun-style homes and off the beaten path restaurants and bars, this is the next up and coming part of the city.
Another bonus would be some of these under the radar spots are significantly less expensive than anywhere you would go in the French Quarter!
New Orleans Points of Interest in Marigny & Bywater
The best part of Marigny and Bywater is the food scene. And while there are plenty of great spots you can find, you can graze and sample some of the best food in the area on this Bywater Beer, Food, and History Tour! Otherwise, here were a few of our favorite spots:
St. Roch Market
This newer food hall was one of our favorite things to do in New Orleans and was introduced to us by a friend. This is the place to go if you want to sample all kinds of dishes and enjoy premium $5 sazeracs during happy hour.
Sample around each stall as they serve up different types of food including everything from Haitian, Cajun, to Mexican food.
Frenchmen Street
As mentioned before on our picks for what to do in New Orleans, this famous jazz club street is located in the area!
Fry and Pie
We had some of the best-loaded fries we have ever had in our life with BBQ beef brisket and gooey cheesy goodness. Not to mention the incredibly reasonable drink menu, it's no wonder why it has such rave reviews.
Bacchanal Wine & Spirits
Another incredible under-the-radar spot and what to do in New Orleans if you're looking for a great place for live music and a drink. This wine bar in Bywater was one of the most chill places to hang out for late-night cheese and meat boards, wine, and live music performances.
Pick out your wine, pull which cheese and meats you want from the fridge and find a spot upstairs where a waiter will deliver everything to you on a cutting board while you enjoy the dark ambient setting and chill music. This is a great place for a more intimate experience.
Ride a Historic Streetcar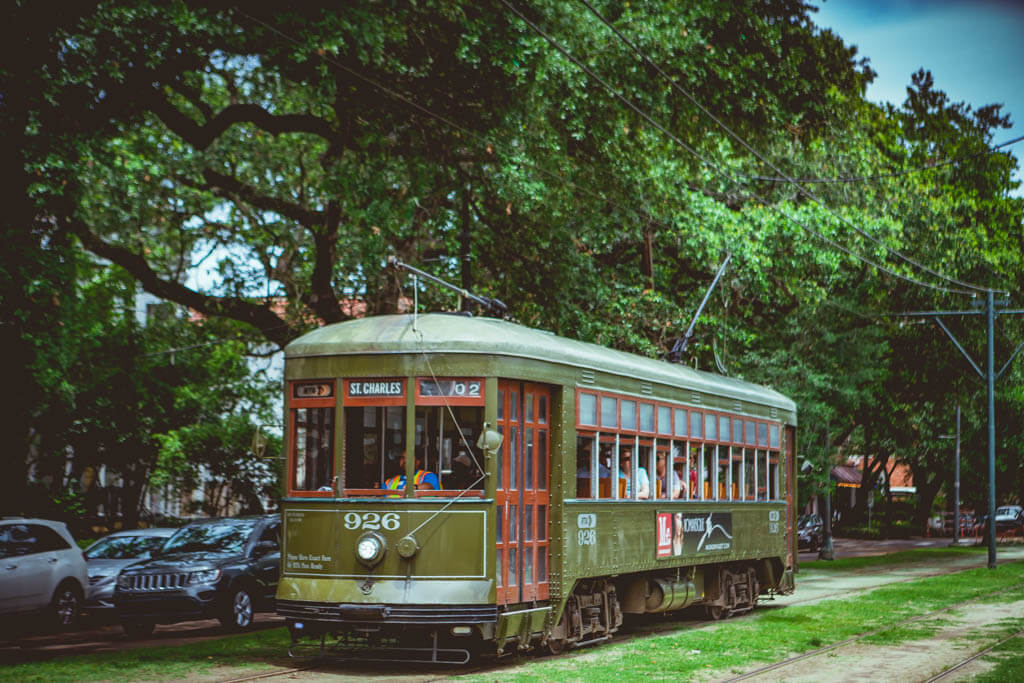 There aren't too many places left in the world where you can ride an old-fashioned streetcar to get around the city. In New Orleans, one of the best ways to transport around the city would be by the local streetcar routes.
This is one of the top unique things to do in New Orleans. The historical cars only cost $1.25 per ride. Be sure to have exact change or $3 for an all-day pass!
We recommend taking the streetcar to get from the French Quarter to the Garden District and vice versa. Be sure to schedule more time as the streetcars do take a little more time. Sometimes the streetcars won't stop if they are too full. Don't stress you'll just have to wait for the next one!
Or if you're wanting to do a history and highlights tour of the Garden District, this Garden District Tour with access to Elms Mansion (yes you get to go inside one of the mansions!) includes a ride on the streetcar!
New Orleans Points of Interest for Streetcar Rides
St. Charles Streetcar
Ride along this famous route looking at the beautiful mansions and tree-lined streets of St. Charles in the Garden District. You can take it all the way to Canal Street. There it ends its route in one direction right at the French Quarter.
Rampart & St. Claude Streetcar
Rampart St. gets its name from being the outside walls of the historic French Quarter. This new streetcar route opened in November of 2016. It's a great addition connecting Central City, through the outside of French Quarter, to Faubourg Marigny.
Visit a Swamp
Another one of the coolest New Orleans attractions! Don't miss the famous swamps of Louisiana and it's biodiversity and wildlife. The best way to see them is by doing a tour of the swamps. Experience narrow slews, Cajun villages on the water, and all the wildlife including tons of alligator sightings, birds, insects, and even wild pigs!
This ended up being one of our favorite things to do in New Orleans because the swamps were somehow calmingly beautiful and all the wildlife we encountered was thrilling!
This tour of the swamp and bayou is just under 4 hours and includes an experienced guide you will teach you about the different species you encounter along the way!
Travel Tips for What to Do in New Orleans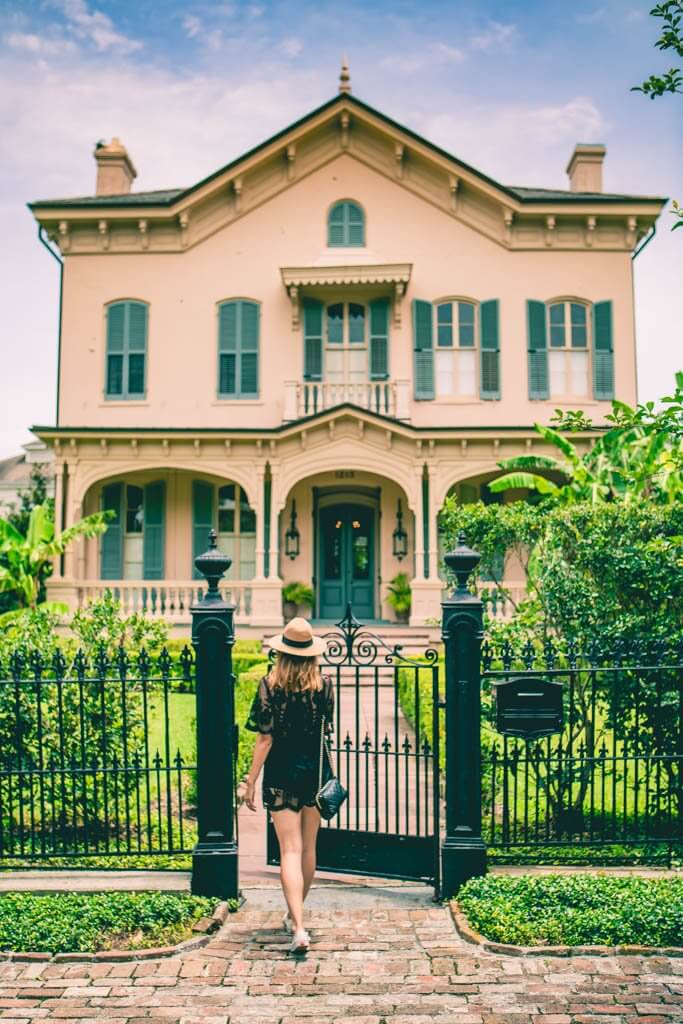 Here are a few travel tips to help enjoy what to do in New Orleans.
The Best Time to Visit New Orleans
February to May are when it's considered the most comfortable and best time to visit New Orleans. New Orleans has a very humid and hot climate. These are considered the best months for comfortable and cooler weather to enjoy the best of New Orleans attractions you'll be checking out on your trip.
Mardi Gras is celebrated in February and is by far the busiest and most popular time to visit the city. If you wish to come during Mardi Gras you'll want to be sure to plan your trip well in advance and secure a place to stay.
December and January are a quiet time to visit New Orleans and a less competitive time to secure accommodation.
June through November is hurricane season in New Orleans and is considered the worst time to plan a visit. July through September are the worst months for weather. While we think it's not impossible to visit during hurricane season, we recommend keeping a close watch on the weather and take all precautions seriously.
Getting Around & Transportation in New Orleans
Getting around to all the New Orleans attractions is pretty straight forward. Depending on where you're staying, you can easily walk to many sights mentioned especially if you're located in the French Quarter. Otherwise, you're just a quick ride away to most of the things to do in New Orleans.
Other modes of transportation include using local taxis or rideshare apps like Uber & Lyft.
Also, you can enjoy the unique streetcars in the city as mentioned above. This is a great way to get to and from the Garden District and the French Quarter.
Streetcar fares are $1.25 per person and must be paid in exact change when you board the car. Be sure to come prepared. You can also get Jazzy Passes for multiple-day transportation passes during your stay if you plan on using this route alot.
What to Bring to New Orleans
You'll want to dress accordingly to the weather in New Orleans. Always check the weather before your trip and come prepared. We recommend wearing breathable fabrics on the hot, humid days. Here are a few things we recommend bringing with you on your New Orleans itinerary.
Rain Poncho
During our trip it rained a few times and we ended up having to buy rain ponchos so the weather wouldn't spoil our time. Bring one with you so you don't have to worry about finding one on your visit while trying to enjoy all the awesome New Orleans attractions. Shop on Amazon here.
Umbrella
Same as above, we recommend coming prepared with a small, compact umbrella you can easily throw in your bag. We love this compact travel umbrella on Amazon.
Liquid IV Hydration Packets
New Orleans is undoubtedly known for its nightlife scene. One of the best things to do in New Orleans is trying their signature New Orleans drinks. If you plan on doing some partying, it's important to stay hydrated. Not only will it help you recover from a hangover quicker but you'll overall feel a lot better. We love these Liquid IV hydration packets that you can easily throw in your bottle of water.
Bug Spray
If you plan on doing any swamp visits or are prone to attract mosquitos you'll want to come prepared with bug spray. Shop this nice travel friendly bug spray on Amazon.
Dressy Clothing
If you plan on checking out some of the dining experiences mentioned as our picks for best things to do in New Orleans like Commander's Palace you will need to have the proper attire. Check dress codes when making reservations. Men will need to bring closed-toe shoes and a button-down shirt. In some cases they may even need a dinner jacket. Women are fine in dresses or casual business attire.
Where to Stay in New Orleans
There are plenty of great options that put you right in the middle of the top things to do in New Orleans. We recommend checking out our comprehensive guide of where to stay in New Orleans by neighborhood with plenty of awesome hotel options to choose from.
Pictured above is the lobby of the Bourbon Orleans Hotel in the French Quarter. This is where we stayed on our first visit, and we loved it.
The most popular area to stay in New Orleans is in the French Quarter. Book your hotel easily below on Booking.com.


---
New Orleans is so much more than the parties on Bourbon Street. No matter what you do, even if it's just partying, you will have a great first visit to the city. Check out at least some if not all of our picks for the top things to do in New Orleans.
We tried our best to see it all. Of course, it's impossible to do all the great New Orleans attractions in a few short days. We have already decided we have to come back. There's a magic to this place. The fusion of all different influences that make the culture and vibe here unique and incredibly alluring.
---
Enjoyed this guide for all the top things to do in New Orleans for a first time visitor? Bookmark for later or share the love below on Pinterest.