Welcome to our itinerary for Glacier National Park! In a perfect world, you would have the time and could easily spend a week here on a full Glacier National Park vacation hiking and exploring all the natural wonders here from traversing the continental divide along Logan Pass on the Going-to-the-Sun Road, visiting and witnessing the few remaining glaciers before they melt, spotting wildlife, taking in the majestic views to be seen here, and befriending mountain goats.
However, we realize that there is a possibility you only have one day in Glacier National Park or maybe two days in Glacier National Park as you could be on an epic Montana road trip stopping at all the amazing places to see in this gorgeous state or even hitting up more than one national park on this visit driving from Yellowstone to Glacier National Park.
So yeah, in an ideal world you have all the time to check out the best things to see in Glacier National Park, but in reality, you might not so we put together this guide for one and two days itineraries for Glacier National Park to help you plan your visit and making the most of your time here!
And rest assured, you will still see and get to fully appreciate and experience the wonders of this incredible place! Our first visit was a single day and we were able to pack in a lot. Plus, after visiting once you'll have a great excuse to come back and visit again!
Glacier National Park Tips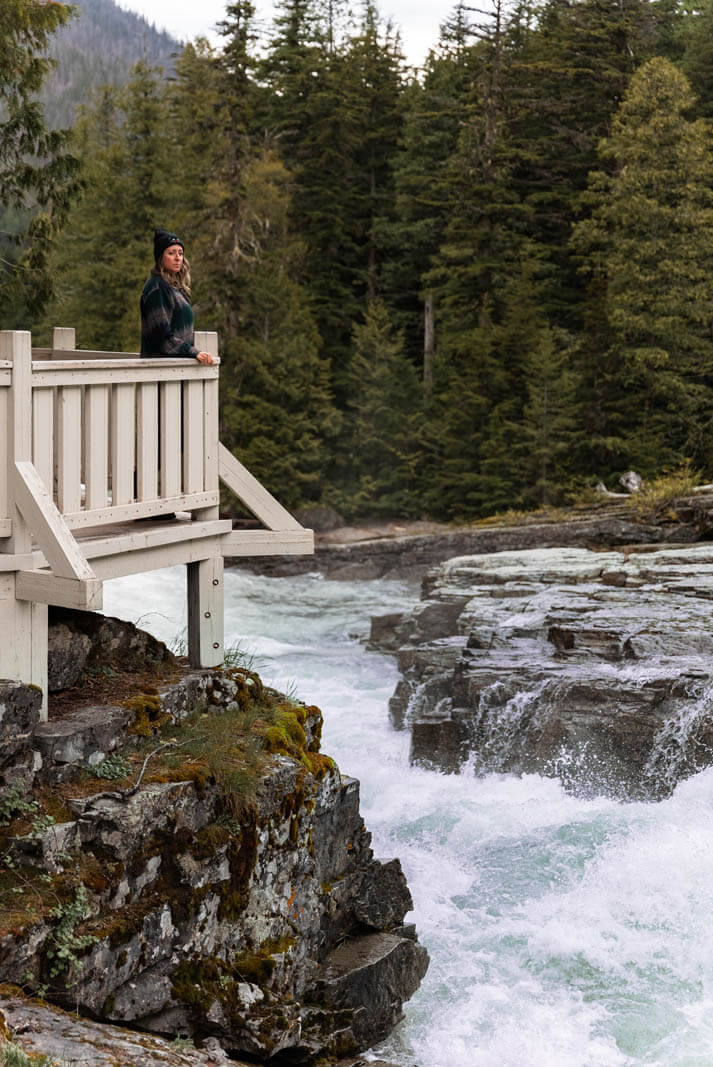 Before we dive into what a perfect one day in Glacier National Park looks like (or your Glacier National Park two day itinerary) we are going to cover a few tips about planning your visit with some vital information you need to know.
Glacier National Park is open year-round, but depending on when you visit certain things may not be open as the snow and weather here can make areas of the park inaccessible.
Peak season is typically when the Going-to-the-Sun Road is completely open which tends to be early July through mid-September (sometimes as late as October). The Going-to-the-Sun Road cuts through a large portion of the park and the most famous section is Logan Pass. This is the section that takes months to clear the snow, which is why it doesn't open until early July typically and the season can end early if there are snow storms late summer/early fall.
It's safe to say mid-June through mid-September are the most busy times of year to visit Glacier National Park. However, visiting on the shoulder season like May or in late September is also a fantastic time to visit the park as it's less crowded. Just keep in mind there's a chance that Logan Pass may not be an option.
The lower elevation portions of Going-to-the-Sun Road are often open for a much longer season and have plenty of incredible stops along the way too!
Something else to be aware of, especially if you're visiting during the months between May and September, is that you'll need to secure a Vehicle Registration Permit to enter Glacier National Park to access the most visited areas of the park in the North Fork Vehicle Reservation Areas and the Going-to-the-Sun Road Corridor, which includes the most visited areas of Glacier National Park.
This is a semi-new system put in place to prevent overcrowding. You are required to have the vehicle registration to enter the park between the hours of 6 AM and 4 PM (May-Sept).
Didn't get one? Don't cancel your trip yet. If you're visiting May through September without vehicle registration here are your options to still enjoy your day in Glacier National Park:
Enter the park after 4 PM (during the summer months you have daylight until after 9 PM so you can still get a nice 5 hours in the park if you time it well)
You can book a tour online inside the park (like the scenic boat rides or the Red Bus Tours) which will give you access to the park. These are awesome to do anyways!
You can visit a section of the park that doesn't require vehicle registration like Two Medicine and Many Glacier on the East End of the park.
This guide on Glacier National Park's website includes all the details about the vehicle registration system and the exceptions to having to secure one. Plus information on how to get yours.
Last but not least. You are in BEAR country including black bears and grizzly bears. Be sure to brush up on what to do if you encounter a bear, meaning don't stop to take a photo. Also, the way you handle a situation with a black bear is different than a grizzly. It's important for your safety and the safety of others you brush up on your bear safety facts as they are not uncommon to encounter here. You might want to also pick up bear spray too. You can find it for sale all throughout the stores in the park if you wait until last minute.
One Day in Glacier National Park Itinerary Options
Yes, Glacier National Park is huge! But you don't have to plan a week-long trip to enjoy one of the best national parks in the US. That's why we are going to guide you in building a worthwhile itinerary for Glacier National Park.
For one day in Glacier National Park, you'll just have to limit yourself to one side of the park or stick to the biggest attractions. If you can visit Glacier National Park in two days, you can easily visit another area of the park if you want to cover more ground, which we recommend!
On our most recent visit, we did a Glacier National Park road trip stopping at a ton of cool spots in Western Montana starting in Missoula, making our way from Flathead Lake to Kalispell and visiting Glacier National Park. This is a great route and really works for a short visit if you're flying in or out of Glacier Park International Airport (FCO) in Kalispell.
So, if you only have one day in Glacier National Park, we recommend the Lake McDonald Area of the park coming in from the West Glacier Entrance. (which you'll need a vehicle registration pass for between May-September)
If you can do Glacier National Park in two days, we recommend doing the West Glacier/Lake McDonald suggested itinerary for 1 day then heading to East Glacier on your second day.
But if there's only time for ONE thing to do, prioritize Going-to-the-Sun Road. We think you'll have the best experience by taking a Red Bus Tour. That way you don't have to worry about keeping your eyes on the road and can enjoy the views. The next thing we would say you have to do is one of the scenic boat tours.
On this suggested Glacier National Park itinerary, you'll find several options whether you have 1, 2, or even 3 days in Glacier National Park. And keep in mind that this Glacier National Park itinerary depends on attractions being open and not closed due to weather. So, adjust accordingly depending on the time of your visit!
Glacier National Park Itinerary – Lake McDonald Area
Breakfast in West Glacier
Kick off your day in Glacier National Park with breakfast in West Glacier, where the park's entrance to the Lake McDonald Area is. While you have a handful of options when it comes to places to eat, most of them don't serve breakfast. We enjoyed the West Glacier Cafe. They had an amazing breakfast burrito that was perfect for fueling up for a day full of outdoor adventure and quick.
Or if you want a more of a sit-down restaurant option, there's also Glacier Highland Restaurant with American breakfast classics and great coffee next to Belton Chalet in West Glacier.
Before you head into the park, West Glacier is a visitor's hub with restaurants and shops for food and supplies. It's where the west end of Going-to-the-Sun Road is and it's not far from most of the most popular things to do.
The West Glacier entrance requires a vehicle registration pass May – September, so be sure to have that prepared when you get to the gate (or information about the tour you're joining inside the park) to present to the park ranger at the gate so you can get inside.
Another note about West Glacier, if you're looking for somewhere to stay for your Glacier National Park 2 day itinerary, you'll find a variety of hotels, lodges, and cabin rentals here. There's also an RV camp and a few campsites further out. If you're staying more than one day – check out our accommodation selection halfway between West Glacier and East Glacier for a convenient option for 2 days in Glacier National Park checking out both sides!
Red Bus Tour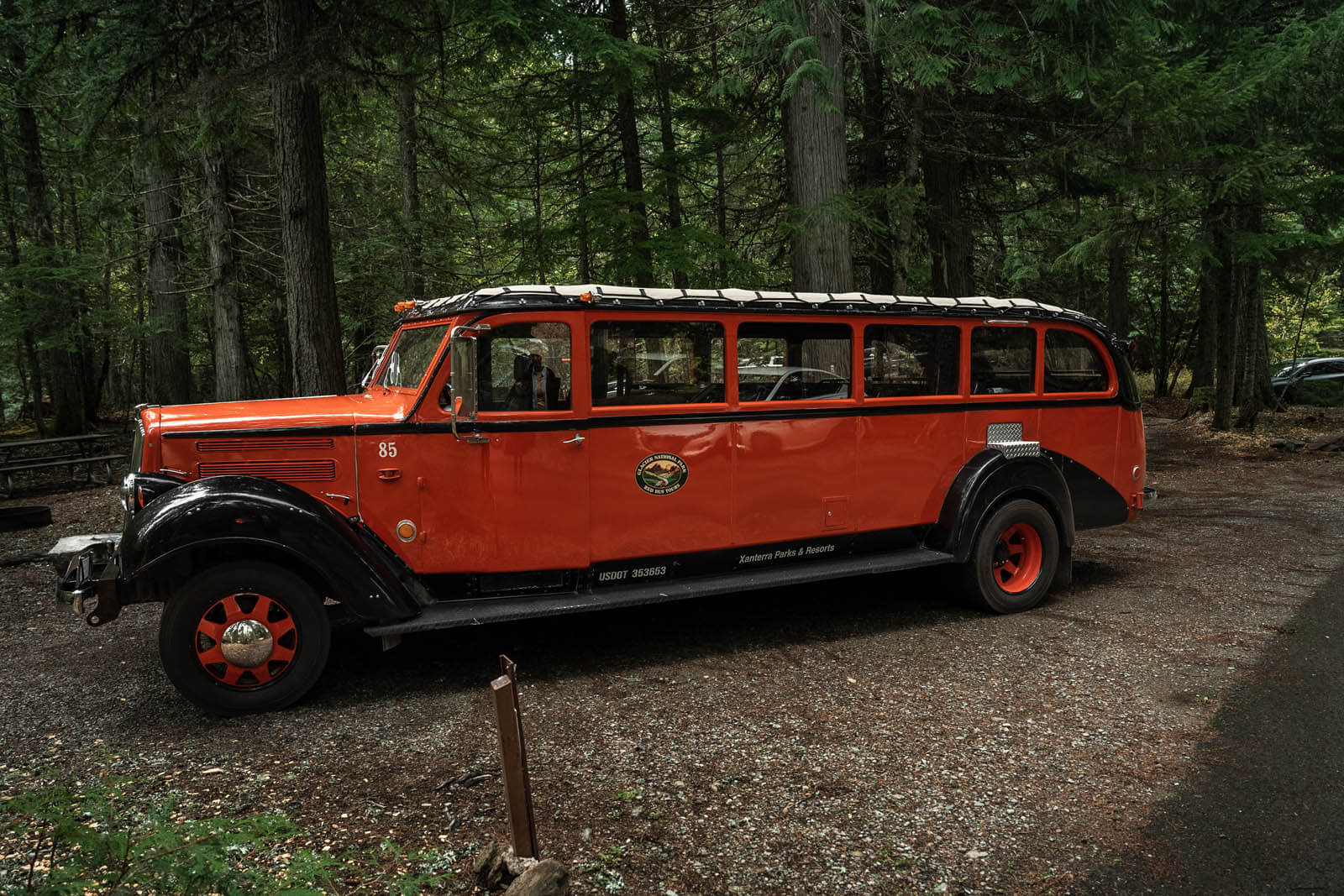 After your breakfast, head to the southern end of Lake McDonald for a Red Bus Tour! Make sure to secure your reservation in advance. This really is the best way to see Going-to-the-Sun Road and a lot of historic sites in the park. You get to sit in these vintage red buses with rollback roofs for great views of the Rocky Mountains! The drivers offer a lot of fun and interesting information about the park along the way and some tours stop for hikes or at lodges and shops.
If you're seeing Glacier National Park in 1 day, you could take a half-day tour. The 9 AM Huckleberry Mountain tour (mid-May through mid-June) is 3.5 hours long. There's also the Western Alpine Tour (mid-June through late September) which departs at 9 AM at the Apgar Visitors Center or 9:30 AM from Lake McDonald Lodge.
You could also take a full-day Crown of the Continent tour (mid-June – Mid-September, and it would cover an entire day in Glacier National Park including Logan Pass, plus stops for lunch. Then you could just disregard most of the rest of this Glacier National Park itinerary until dinner. This is the most highly coveted of tours.
Another option for Logan Pass via Red Bus Tours is the 8-hour Mountain Majesty Tour (July through early September).
Lunch at Lake McDonald Lodge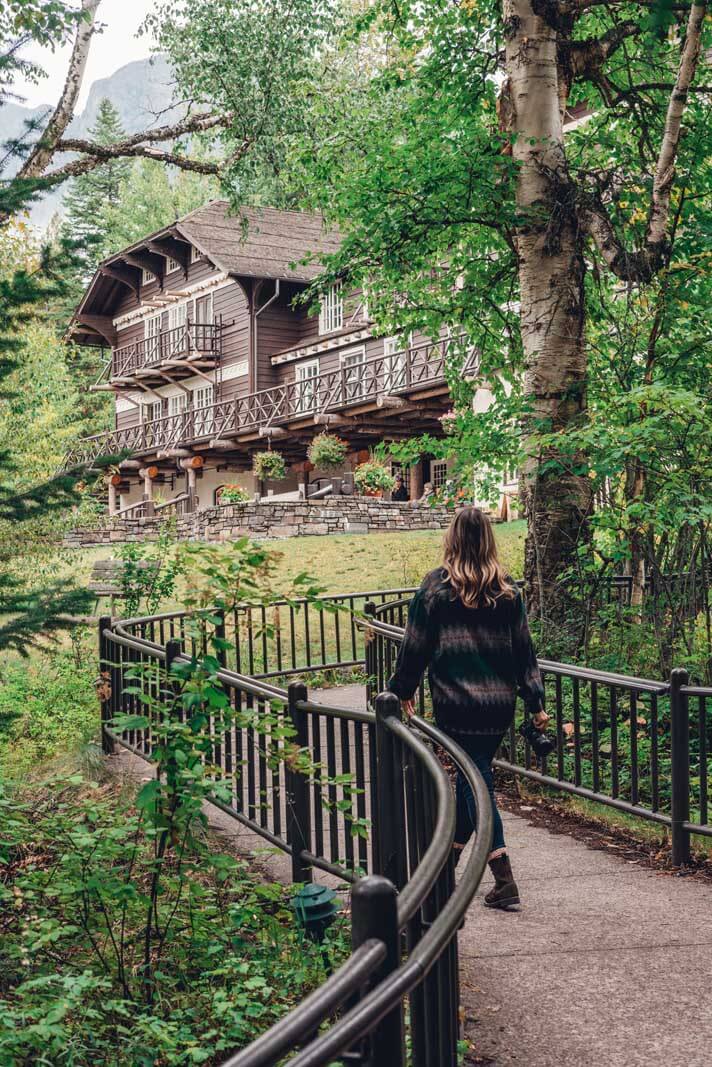 After your Red Bus Tour (if you chose a half-day tour) you'll make your way to Lake McDonald Lodge on Going-on-the-Sun Road where you'll stop for lunch at the historic Lake McDonald Lodge.
It's open from mid-May through late September for both lodgers and visitors of the park. This is a must-stop for your itinerary for Glacier National Park, even if you do end up having lunch elsewhere.
The lodge was one of three built inside the park at the turn of the century to attract guests to the newly formed national park. Glacier's sweeping mountain views reminded the park founders of Switzerland. So, they built Swiss chalet-style lodges and marketed the park as the "Switzerland of North America!" Today, Lake McDonald Lodge has been well-maintained and you can check out the classic hunters' lodge-turned hotel.
There are actually a few options for lunch at Lake McDonald Lodge. Inside the main lodge, enjoy views of the lake inside Russel's Fireside Dining Room.
It's a cozy, casual place to enjoy a meal. For lunch, you can choose from a menu that is mostly made up of regional ingredients. They also offer local Montana microbrew beer. And they don't take reservations or have a dress code, so you can just check for an available table after your Red Bus Tour.
On the lodge ground, you can also eat at Jammer Joe's Grill and Pizzeria near the General Store. Enjoy handmade pizzas, buffalo wings, and pasta, or order a heaping fresh salad. It's a fun, relaxed setting, and you can grab some coffee at the coffee shop next door.
Lake McDonald Boat Tour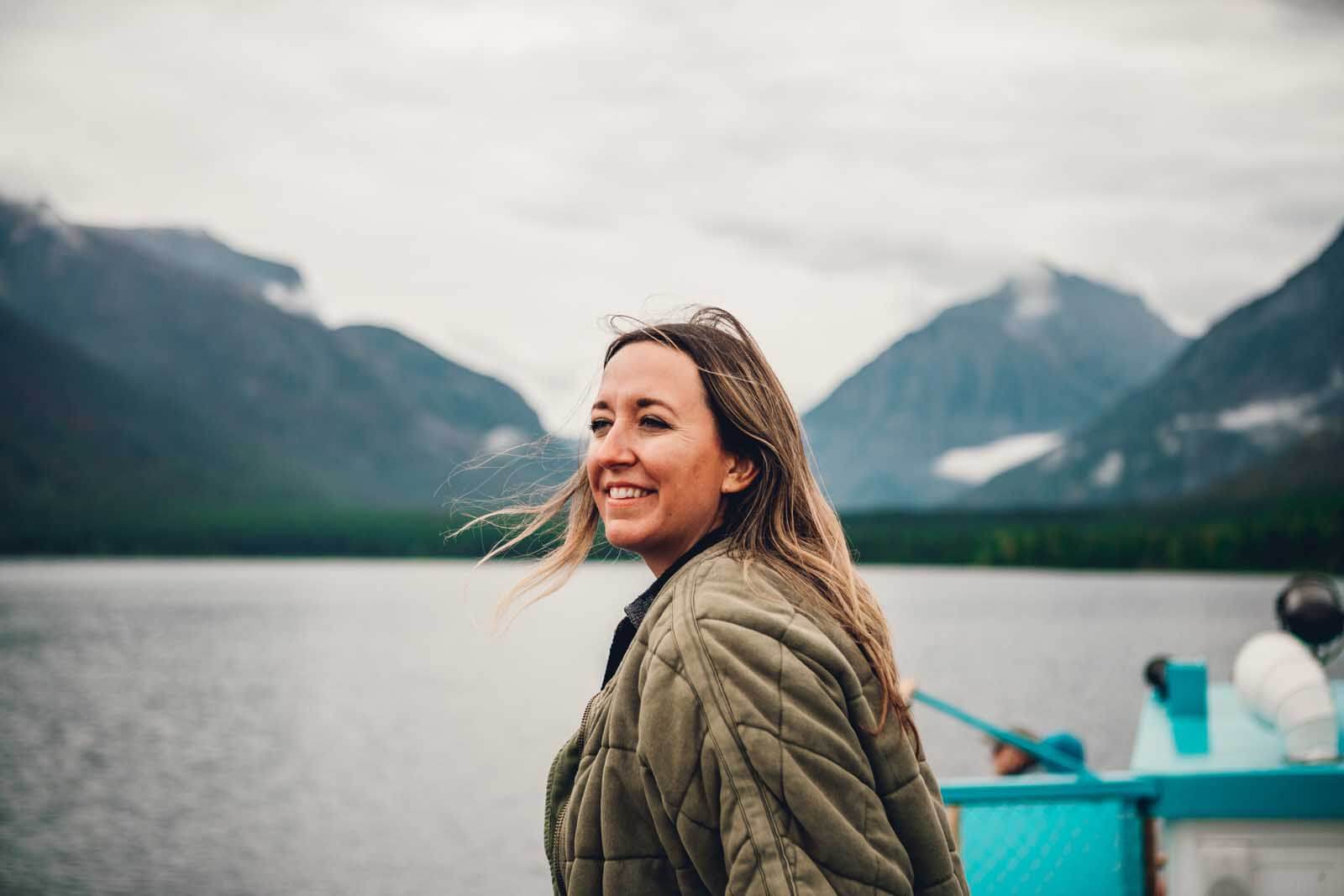 Full of delicious food, you'll be ready for more adventures. Take the opportunity to go on a boat tour of Lake McDonald. Right behind the lodge, there's a dock where the Glacier Park Boat Company offers tours.
This company offers a few different tours at lakes inside Glacier National Park. You'll board a cool old tour boat from the 1930s with benches and viewing windows. The entire tour is about an hour long. It's a great way to see the park from a refreshing and exciting perspective. In the end, you'll arrive back at the dock outside Lake McDonald Lodge.
Tours run about very 90-minutes and run several times from 11 AM to 7 PM from mid-May through the beginning of September.
This is an ultra-relaxing and scenic ride, and since you just ate lunch you might want to grab a coffee to bring onboard!
Trail of the Cedars & Avalanche Creek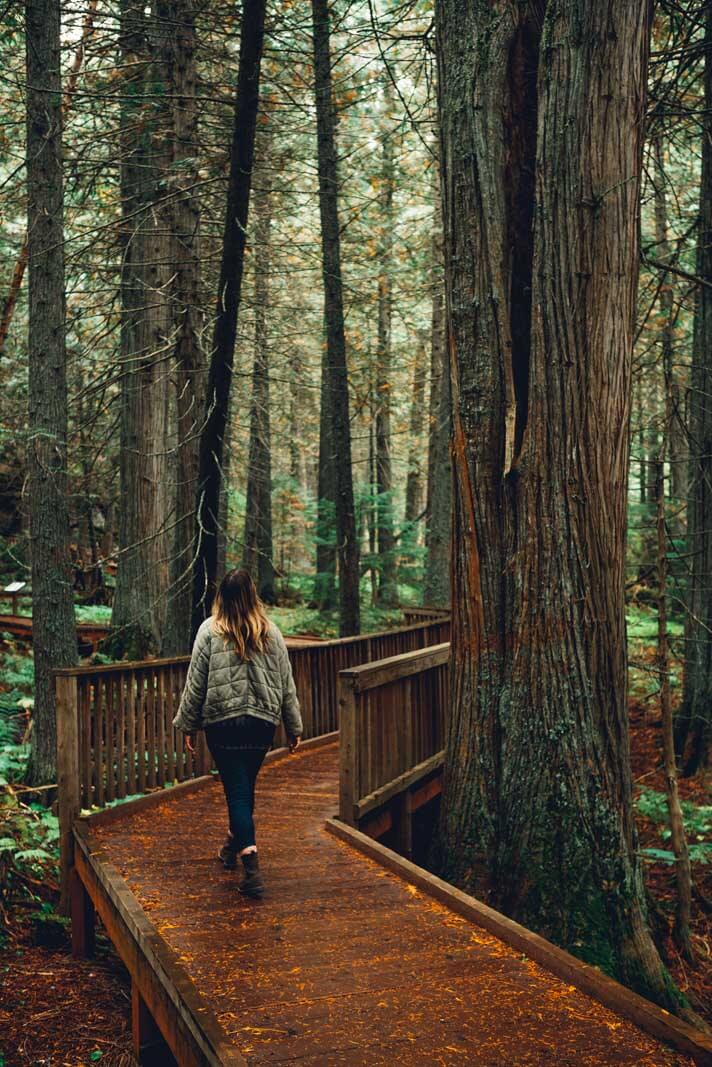 If you have some time, you could add an easy hike in the afternoon to your 1- or 2-day itinerary for Glacier National Park. Just over 5 miles north on Going-to-the-Sun Road is Avalanche Campground where you can take the incredibly scenic (and accessible) Trail of the Cedars.
You have two options. There's the Trail of Cedars, which is an easy nature walk through a beautiful old cedarwood forest. It takes about 20-minutes to do the 1-mile loop. If you have more time and are up for more of a challenge, you can take the Trail of Cedars about halfway where it connects to the Avalanche Creek trailhead.
While the Trail of Cedars is a serene, accessible nature walk on an elevated boardwalk through an ancient wet forest, the Avalanche Creek Hike is more adventurous. It's a moderate 5.9-mile hike that usually takes 2 to 3 hours from beginning to end. This is a great way to get a feel for Glacier, with thick forests, rocky climbs, and the rocks of Avalanche Creek.
Eventually, you get to the banks of Avalanche Lake with stunning views of waterfalls connecting the mountains to the lake at the bottom.
Dinner at Belton Chalet
Enjoy a 30-minute ride back to West Glacier where you'll enjoy dinner reservations at the Belton Chalet. Where the Lake McDonald Lodge feels like an elevated hunting lodge, the Belton Chalet is more elegant. It was the first of the lodges to be built and is over 110 years old!
If you arrive at the Belton Chalet before dinner, you can relax in the Tap Room. They have a good mix of beer, wine, and classic mixed drinks, as well as appetizers. Afterward, you'll move into the Belton Grill Dining Room for your meal. You can choose from an a-la-carte menu featuring local fare like trout, bison, elk, and more.
Glacier National Park Itinerary – East Glacier Area Options
West Glacier makes an iconic day in Glacier National Park, but if you have an extra day you can build your own Glacier National Park itinerary for two days from the options below. East Glacier is a bit further out at about 60 miles from West Glacier, but with our accommodation recommendation at the end of this guide we suggest you stay halfway between both sides of the park to make things as easy as possible.
Because there's not as much to do concentrated in one place, we'll look at the larger East Glacier area, generally between St. Mary's and the East Glacier Park Village. The activities for your Glacier National Park itinerary are split into morning and afternoon options.
You can use it for a 1-day itinerary or piece together your perfect trip to Glacier National Park in 2 days.
Also, you do not need a vehicle registration permit to enter Many Glacier or Two Medicine! This is great to know in case you didn't get a pass, you can still enjoy these areas of the park.
Morning Options
Drive Going-to-the-Sun Road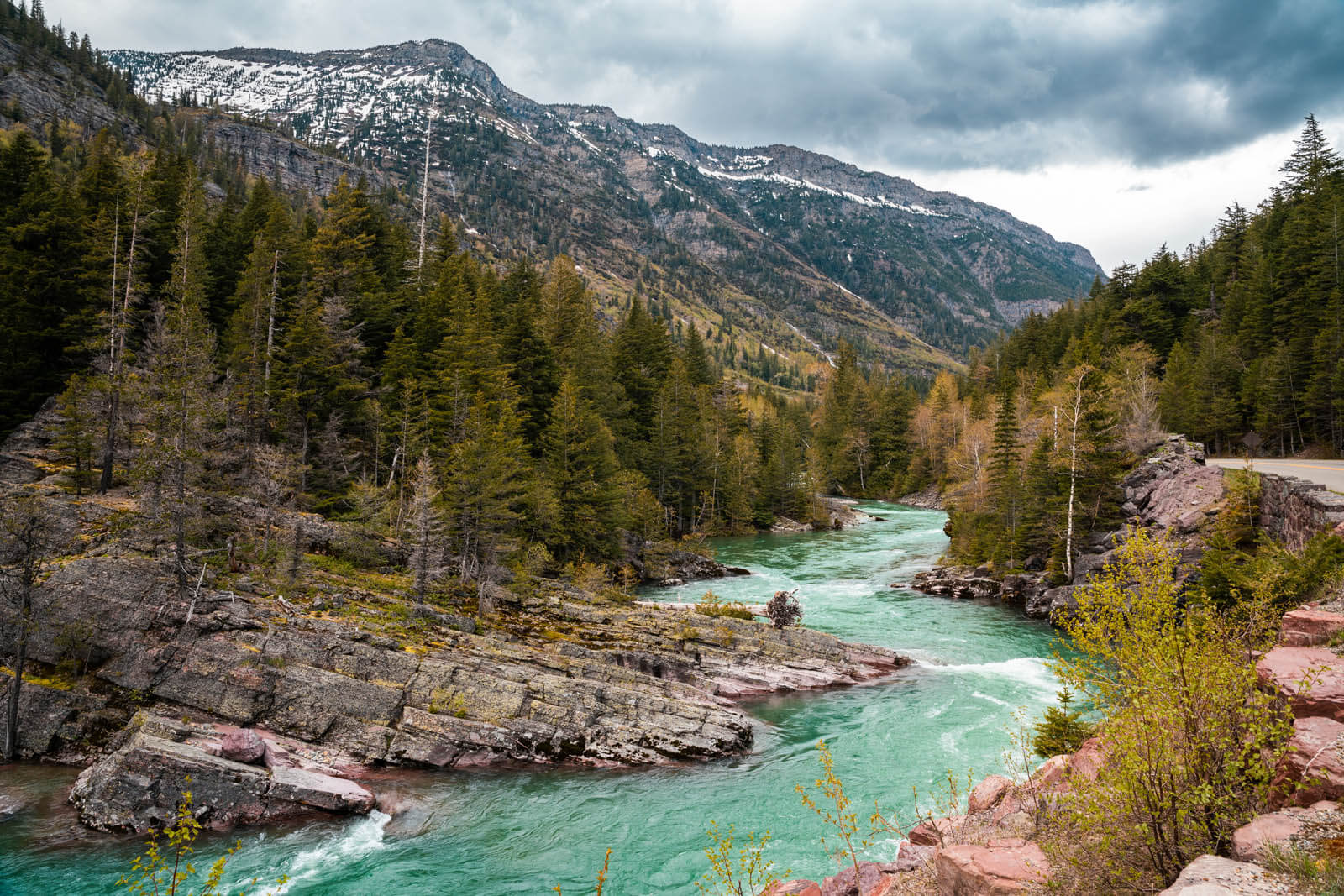 If you decide to stay in West Glacier (vs the option we provide at the end of this guide) during peak season when the full Going-to-the-Sun Road is open, you can start your second day by driving the full Going-to-the-Sun Road which without stops takes around 2 hours before arriving to St. Mary's.
There's a reason this drive is the crown jewel of the park. It's the only road that goes through the entire width of the park. Going-to-the-Sun Road is also the only way to see both the Continental Divide and Logan Pass, which is the highest point in the park.
Some parts of the road are long stretches of straight, flat road with powder mountains framing both sides. And then there's one section of the road that's less than 6 feet across and winds along the side of a cliff! This drive is not for the faint of heart, which is why most people opt to do it only via Red Bus Tour. If you're a timid driver choose another option.
You can stop at trailheads, gift shops, or lodges along the way. The Going-to-the-Sun Road is also a great place to look for trailheads and go on a hike. For our itinerary, you'll enjoy a lovely drive from West Glacier and end up in St. Mary.
Breakfast at Glacier Park Lodge
If you're planning your itinerary for Glacier National Park starting in East Glacier Park Village, begin with breakfast at the stunning Glacier Park Lodge. This is especially a great option if you took Amtrak since it's next to the station. It's a massive hotel with all kinds of accommodations and dining options.
Each of the historic lodges has a unique feel and story to it. While the other lodges have had many lives, the Glacier Park Lodge has been a hotel since it opened in 1912. You'll love this beautiful log-covered hotel with gorgeous vistas overlooking lawns, forests, and mountains.
For breakfast, there's the Great Northern Dining Room. They serve a breakfast buffet as well as an a-la-carte menu and locally roasted coffee. Just keep in mind that the dining room is first-come-first-served. And there's the lodge's Empire Café where you can order a variety of coffee and tea beverages.
Red Bus Tour
Just like on the western side of the park, you can find great Red Bus Tours that leave from both East Glacier Park Village and St. Mary. The shortest "half day" tour is estimated to be up to 2.5- to 4.5-hours long. This is the Eastern Alpine Tour (mid-June through mid-September) and it's a wonderful way to see the St. Mary Lake area. It leaves St. Mary Lodge at 9:30 AM.
Some of the western and eastern Red Bus Tours overlap, so keep that in mind if you plan on taking one of the tours while you're in the West Glacier area. For a unique full-day tour on the Eastern side, you have a few options. The first one we recommend is the Old North Trail Tour (early- to mid-June) that's 6 to 8 hours long. It departs St. Mary Lodge at 10 AM.
There's also the Big Sky Circle Tour (mid-June through mid-September) that takes 8 hours and leaves from Glacier Park Lodge at 9 AM. It's the most inclusive tour of both the west and east side. If you do nothing else, it's one of the best ways to see the entire park. If you do a full-day tour, you could skip the afternoon options and finish up with dinner in East Glacier.
Afternoon Options
Two Medicine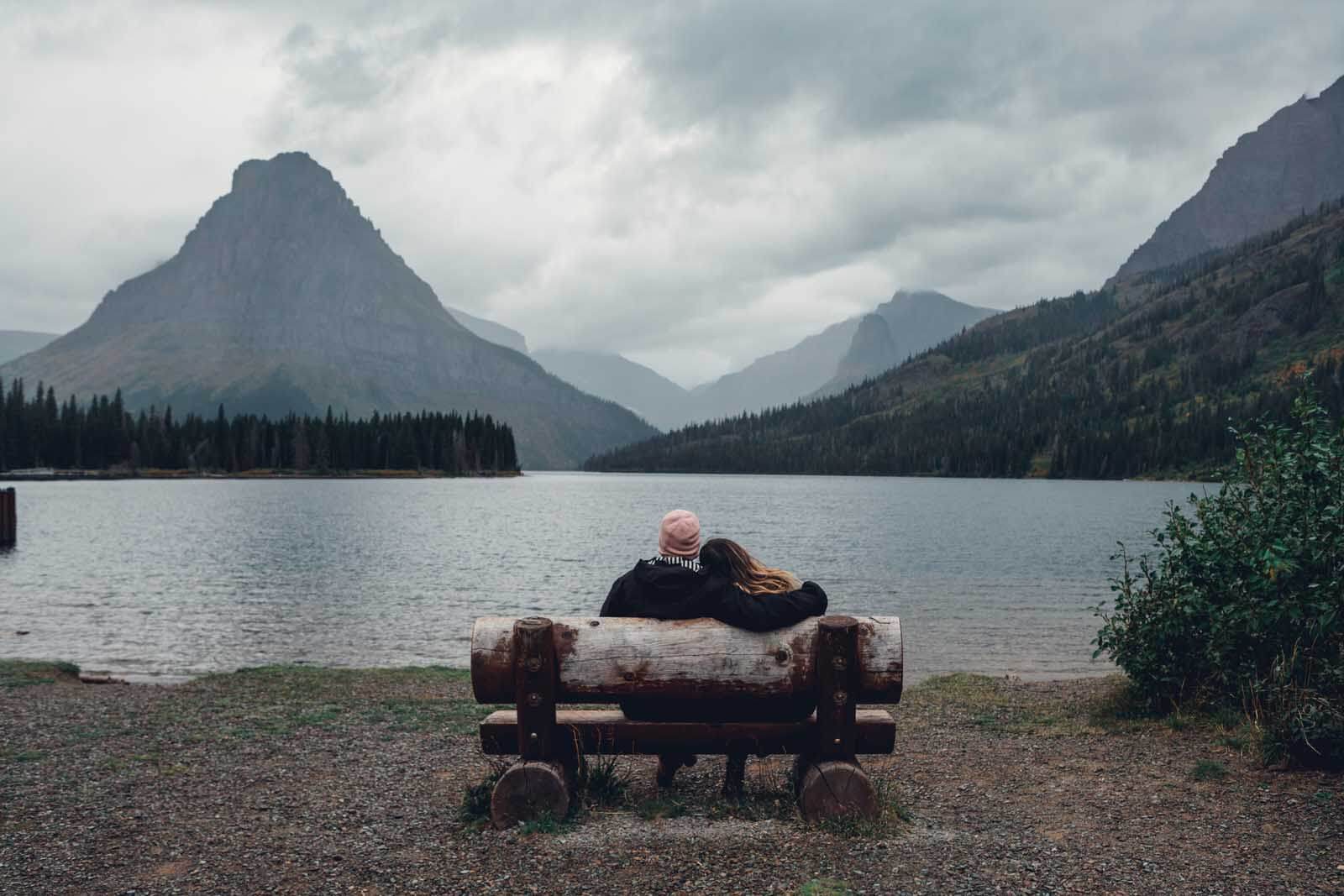 At this point in your itinerary for Glacier National Park, you have the choice of either spending the afternoon in the Two Medicine Area or St. Mary area.
Two Medicine is just a 20-minute drive from East Glacier and centers around a lake with different things to do around it. There's a rather basic campground at the lake that's popular. It's great for tents with basic amenities like washrooms, picnic tables, and food storage lockers. It's also a common place for many hiking trails to start.
If you're a trail enthusiast, take the afternoon for an easy hike. Running Eagle Falls trail is a great one to start with. It's a 15-minute trek that takes about 15-minutes to hike, ending with views of a pretty waterfall.
The Appistoki Falls trail is slightly longer at 1.2 miles and takes about 30-minutes. It's a nice, easy-to-follow trail at a higher elevation with great scenery of the mountains.
Or to fill your afternoon, try Aster Park trail. It's 3.5 miles out and back and is considered an easy to moderate hike. You can enjoy scenic views of the lake before you reach a waterfall at the end of the hike.
There's also a historic old chalet here on the lake! It was originally the Two Medicine Chalet but after the rest of the buildings burned down in the 40s, it's become the Two Medicine General Store. It's fun to visit and see the old building while you shop for snacks or gifts. Just note that this is only open during the peak summer season.
Close to the General Store, you can also take a scenic boat tour of Two Medicine Lake with Glacier Park Boat Company. This particular tour features a fascinating history of the indigenous people of the area. Usually, the tour is 45-minutes but if you go with the 3-hour option you can get off the boat and hike to Twin Falls with a ranger guide.
St. Mary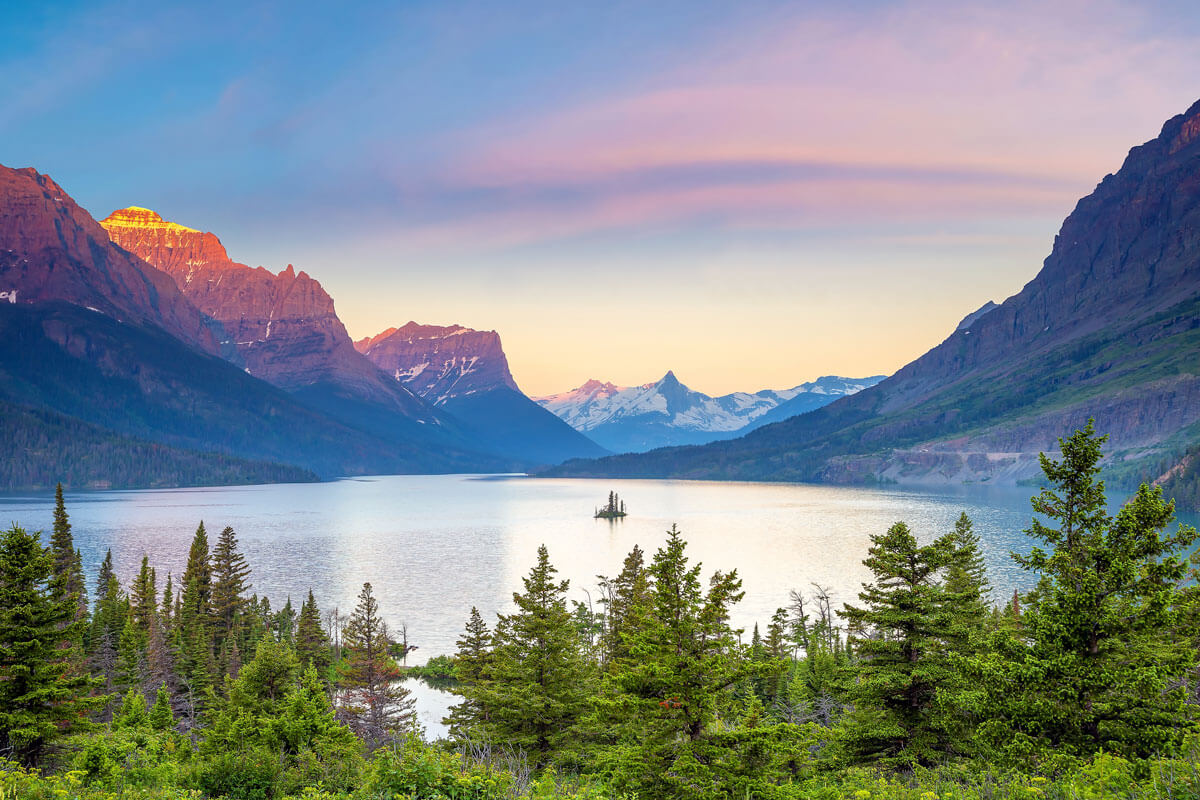 If you're willing to drive 50 miles north of East Glacier (or start out in St. Mary by doing the full Going-to-the-Sun Road route starting in West Glacier ending in St. Mary), you have a few different options in a beautiful region east of the park.
This is where the Going-to-the-Sun Road ends. Because Logan Pass isn't open for a majority of the year, it's not part of the park a lot of people get to see unless you drive the other direction around.
For your afternoon in St. Mary, you can also take a Glacier Park Boat Company scenic tour of St. Mary Lake. It includes a break from the boat when you walk a short way to a waterfall! It takes 90-minutes and launches from Rising Sun Boat Dock.
St. Mary Falls is a great afternoon hike that's relatively easy. It's a 1.7-mile hike that takes about an hour to complete. Just be prepared for a climb back to the road!
You could finish your day with a meal at St. Mary Village. There are several different options for dinner, depending on how far out you want to go. Inside the gas station is the Curly Bear Café. You can enjoy fresh sandwiches and delicious ice cream.
Or inside the St. Mary Village Hotel is Snowgoose Grill. They offer a full menu with soups, salads, entrees, and more. Make sure to try one of their creative huckleberry cocktails or visit the gift shop for huckleberry preserves!
Many Glacier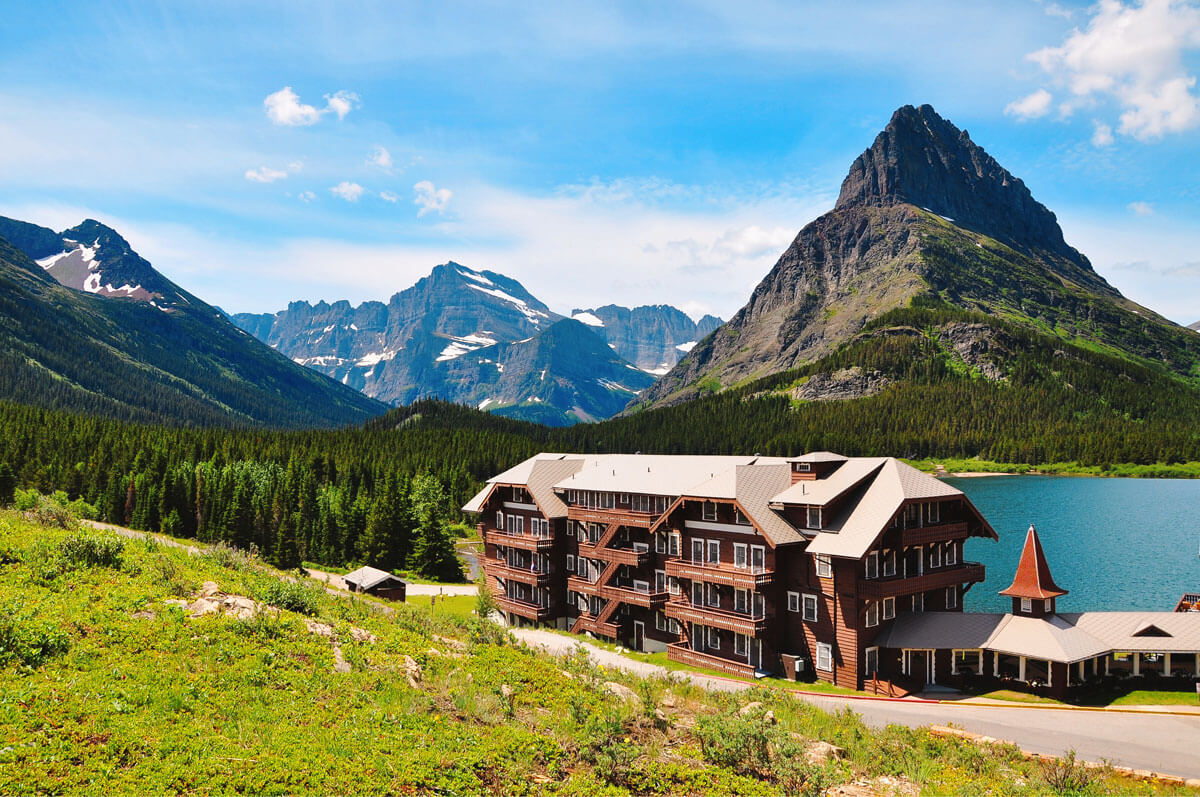 You could also head to Many Glacier for the afternoon. It's a much less busy part of the park and it's less than 10-minutes from East Glacier. We haven't been here but it's on our to-do list! It's a very rugged, isolated part of the park. And because it's so undeveloped, it's common to see moose and bears here, especially at the end of the summer.
Take time to visit the rustic Many Glacier Hotel while you're here. This historic lodge of Glacier National Park is an experience just to walk through with fascinating architectural details. You'll love the sweeping staircases, windows made for scenic views of Swiftcurrent Lake, and gorgeous chandeliers. If you're hungry, there's a cocktail lounge, snack shop, and the Ptarmigan Dining Room.
You'll see Glacier Park Boat Company offering tours from the dock outside the hotel. The Many Glacier scenic boat tour is a great activity if you're looking for a ride with a guided hike. For no added cost, this particular boat tour covers both Swiftcurrent Lake and Lake Josephine. Between the lakes, you'll take a 5-minute walk with a guide or you can break off from the group and hike on your own. In total, the boat tour takes about 3 hours but you just need to make sure you come back before the final boat launches.
In fact, Many Glaciers is a popular destination in Glacier National Park for secluded, manageable hikes. From the Many Glacier campground, you can hike to Fishercap Lake in less than a mile or less than 30-minutes.
Try Apakuni Falls trail that's 1.8-miles out and back and takes a little over an hour. It's considered easy to moderate because it's a straight, clear trail but it can be a climb at some spots with little relief from the sun. The Grinnell Lake trail is a super adaptable easy hike that can be a few miles long or over 7-miles long. Or you can just take a walk along Swiftcurrent Lake and enjoy the beauty of nature!
Also, this area of the park has more bear activity as well as other wildlife like moose. Don't be surprised to encounter wildlife here and please make sure you are prepared for what to do if you do encounter the wildlife of Glacier National Park.
Dinner in East Glacier
After a full day in Glacier National Park, we recommend a meal at Serrano's Mexican Restaurant! Enjoy heaping servings of beautifully prepared food. They offer Tex-Mex and authentic Mexican dishes, as well as burgers, salads, and fun alcoholic drinks. Try their huckleberry pie for dessert or huckleberry carrot cake, which is a local favorite!
Where to Stay – Izaak Walton Inn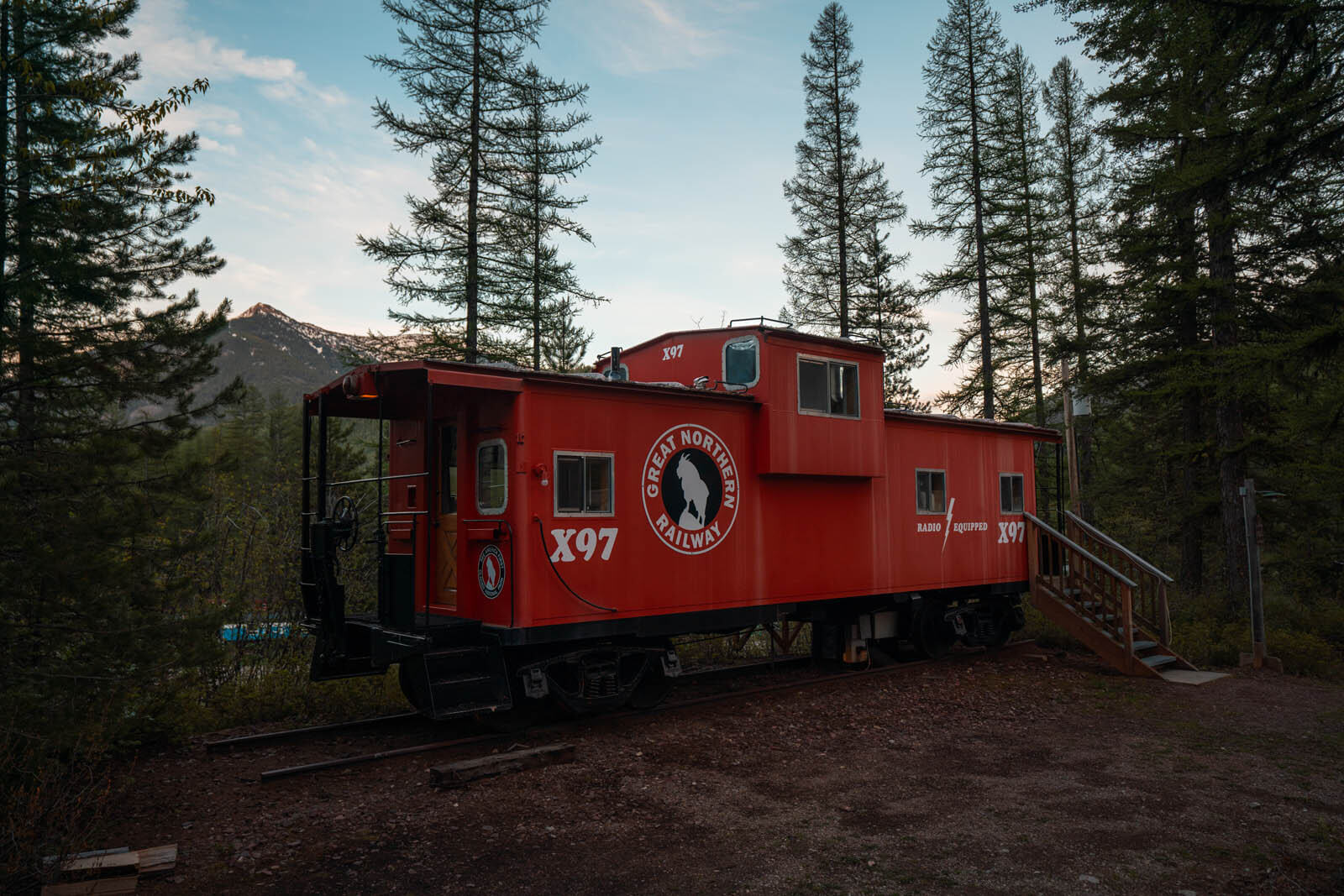 One of the best places to stay during your Glacier National Park itinerary (and where we stayed) is the Izaak Walton Inn located in Essex, Montana.
This is a prime location, especially if you're doing an Glacier National Park two day itinerary on both sides of the park because it's halfway between the West Glacier and East Glacier entrance, plus the accommodations are unique and tie into the local history of Glacier National Park.
Izaak Walton Inn is a 30-minute drive from the West Glacier entrance to the park or a 40-minute drive to the East Glacier entrance, which is the perfect middle point and base to use during your trip.
This historic inn dates back to 1939 built by the Great Northern Railway as lodging for railway workers. It's actually the influence of Great Northern Railway that created Glacier National Park in the first place!
Something we wish the US had more of was access to more train travel route options throughout the country – which you still can do easily in and out of Glacier National Park by the way via Amtrak. (PS there's an Amtrak stop at East Glacier too)
Because of the strong connection between Great Northern Railway and Glacier National Park, you can actually stay at one of the renovated train accommodations (or cabins) here! From cozy cabins to refurbished caboose train cars or you can opt for the most luxurious option, the luxury locomotive which is extra spacious!
---
Enjoyed this one and two day itinerary for Glacier National Park? Bookmark for later or share the love below on Pinterest.