The best tours in New Orleans you have to try! A city with great music, delicious food, beautiful architecture, and friendly faces New Orleans is a must visit for anyone traveling or living in the United States. With Spanish, French, West African, Caribbean, Native American, and Southern influences this city has developed a personality and culture of its own unlike anywhere else in the world plus a deep and rich history.
From paranormal, historical, steamboat, to food tours New Orleans has it all! We've picked out the best tours in New Orleans you have to try on your trip!
By booking a tour through the links below we receive a small commission at no extra cost to you. These small contributions add up and help us keep our site up and running!
Cemetery Tour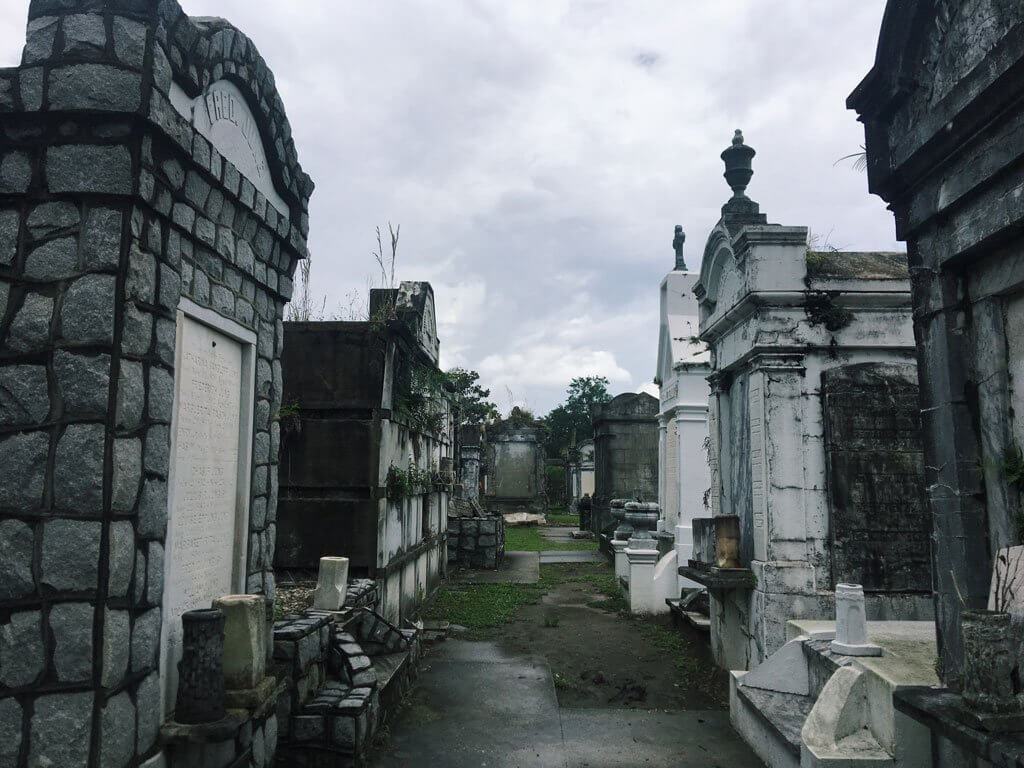 The cemeteries in New Orleans are unique to the United States. Since New Orleans is below sea level they are unable to bury their remains underground, so the only other option is to have above ground tombs and mausoleums. We found from our trip, that going with a guide to the cemeteries were one of the best tours in New Orleans.
Sure, you can go on your own, but you won't be able to learn about all the famous people whose remains are in the beautiful cemeteries as well as learn about the burial rituals and techniques of the local cemeteries.
We recommend the French Quarter, Cemetery, and Voodoo tour. You get to knock out three tours in one while visiting the St. Louis Cemetery No. 1. This is the city's oldest cemetery and one of the most famous being the final resting spot for Voodoo Queen Marie Laveau and home to the odd future pyramid tomb to actor Nicholas Cage.
This cemetery is popular because of Marie Laveau's tomb and over the years admirers have left their three XXX on her tomb defacing it. It's also a Catholic cemetery and only allows certain people in, so this is another reason why this is one of the best tours in New Orleans because otherwise, you might not get into the cemetery on your own!
Book
your French Quarter, Cemetery, and Voodoo tour in New Orleans here.
OR
if you want to solely focus on the St. Louis Cemetery No. 1 you can take this two-hour Cemetery Tour in New Orleans.
Tips: Bring water, sunscreen, and comfortable walking shoes for this tour.
Steamboat Tour
One of the coolest tours in New Orleans you can do is aboard the Steamboat Natchez in the Mississippi River. This is the only authentic steamboat in the city and an unforgettable and unique experience. This steamboat is actually the 9th steamer to be named Natchez in the Mississippi River. Her predecessors were the fastest steamboats in the Mississippi which makes her the pride of the river.
Your tour includes ambient calliope music, live narration, and a creole lunch aboard your two-hour cruise taking in the atmosphere and learning a bit about the history of the Mississippi and the Natchez steamboats.
If you happen to be in the city on a Sunday you may want to check out the Sunday Brunch jazz cruise tour in New Orleans aboard the Steamboat Natchez as well. Instead of calliope music, you will be serenaded with a jazz performance and a big tasty brunch for two hours.
Book
your Day Cruise Aboard the Steamboat Natchez tour in New Orleans here.
OR
your Sunday Brunch Steamboat Jazz Cruise tour in New Orleans here.
Garden District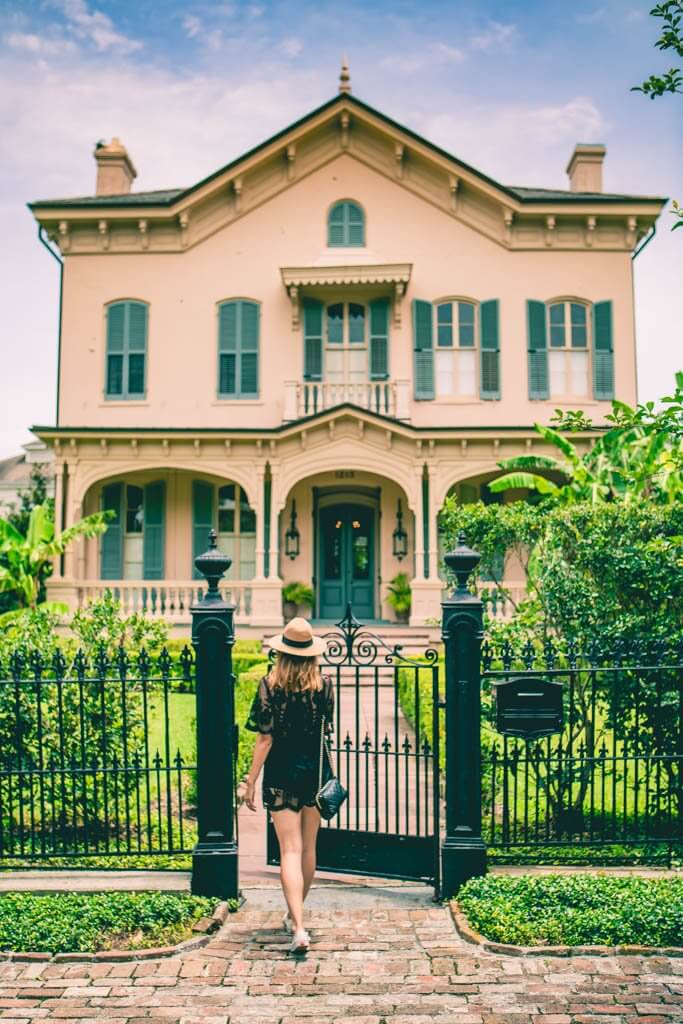 One of the most beautiful places to visit in NOLA is the Garden District. This lovely neighborhood is full of lush tree-lined streets lined with gorgeous antebellum mansions and homes. You almost feel like you're in a movie walking down the streets, probably because many big Hollywood movies have been shot here!
So hands down, this is one of the best tours in New Orleans you could experience. Take this two hour Garden District and Lafayette Cemetery tour and learn about the history of these gorgeous 19th-century homes, famous filming locations, and end with a stroll through the most famous cemetery in the Garden District, the Lafayette Cemetery No. 1 where you're guide will point out some of the notable figures who rest here as you weave your way through the maze of above-ground tombs being reclaimed by nature with trees and plants growing out of the cracks of the stones.
This tour in New Orleans lasts for 2 hours. You may want to stick around afterward and shop or eat your way around Magazine Street or make a reservation at the famous Commander's Palace restaurant, check out more suggestions in our article featuring the best things to do in New Orleans for a first time visitor.
Book
your Garden District and Lafayette Cemetery Tour in New Orleans here.
Tips: Bring water, sunscreen, and comfortable walking shoes for this tour.
Food Tour in New Orleans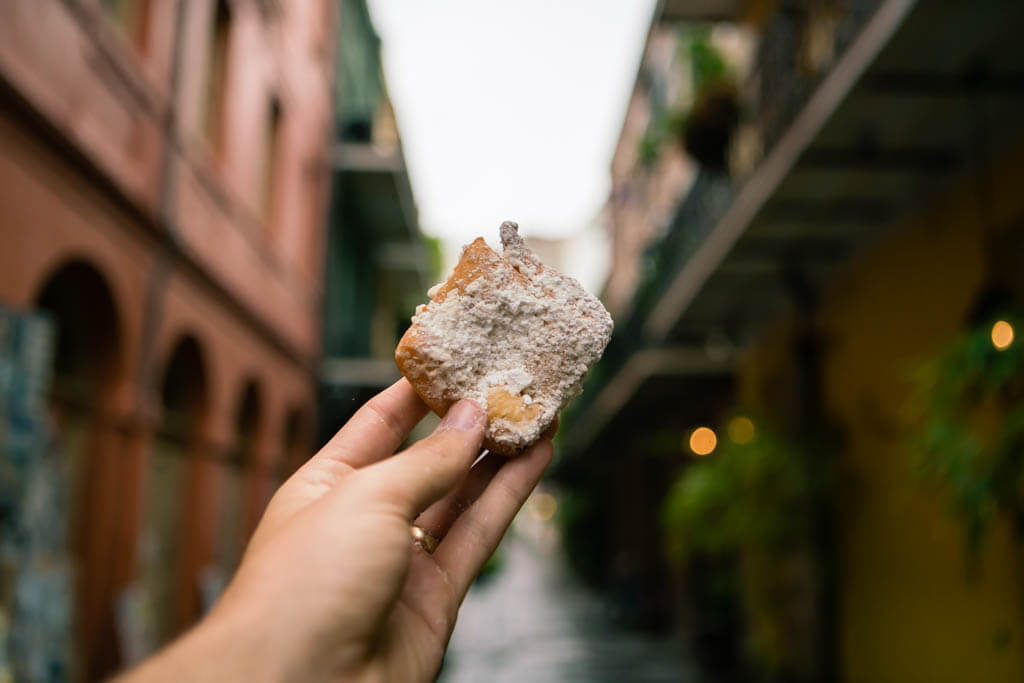 We are HUGE fans of food tours! They are a great way to get to know a city. We have done several food tours both in the US and internationally and they never disappoint. We highly urge you to taste the flavors of the big easy through a food tour in New Orleans.
Enjoy a 3-hour tasting tour in New Orleans sampling 10 different delectable foods like muffuletta, gumbo, and po'boys to name a few. Besides getting to eat your way through your tour you also get to learn the history of food and culture in New Orleans.
If you only have time for one tour, we recommend being a food tour since you get to taste great food and learn some history.
We loved the food in New Orleans! It is one of our favorite food cities in the U.S..
Book
your Food and History Tour in New Orleans here.
Swamp & Bayou Tour
Check out the famous swamps of Louisana and it's biodiversity and wildlife by doing a tour of the Barataria Preserve. Experience narrow slews, Cajun villages on the water, and all the wildlife including tons of alligator sightings, birds, insects, raccoons, and maybe even wild pigs! This ended up being one of our favorite tours in New Orleans because the swamps were somehow calmingly beautiful and all the wildlife we encountered was thrilling!
This tour of the swamp and bayou is just under 4 hours and includes an experienced guide you will teach you about the different species you encounter along the way!
Book
your Louisiana Swamp and Bayou Tour in New Orleans here.
Tips: Bring water and bug spray for this tour in New Orleans.
Treme History and Culture Tour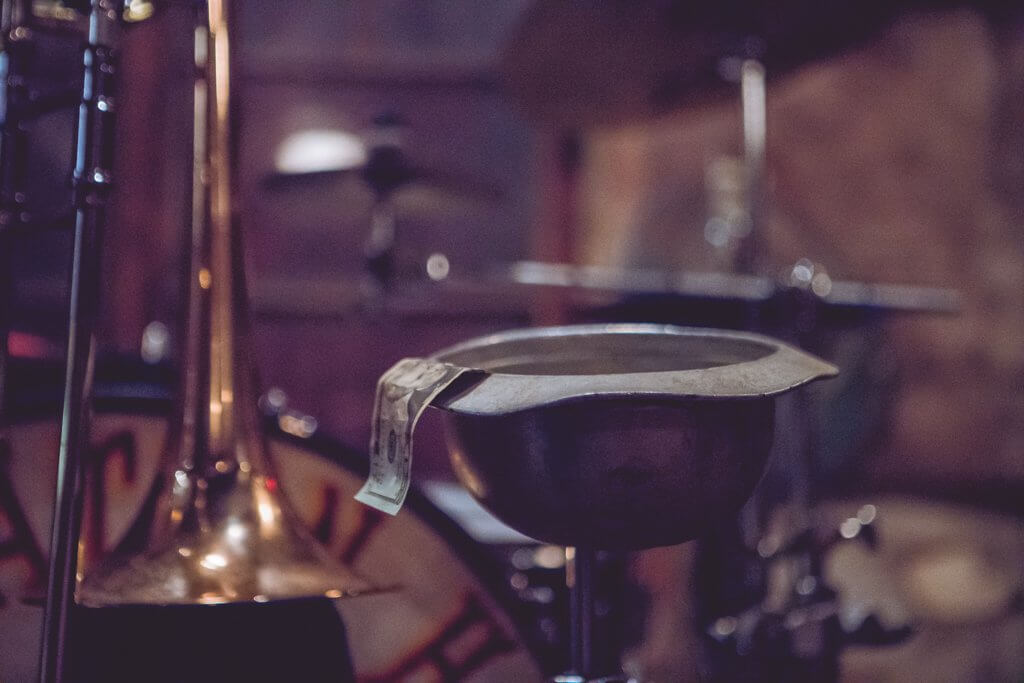 Want to learn more about the African and Creole roots in New Orleans? Or if you're a history buff this is the tour in New Orleans for you. This 2 hour African American and Creole history tour through Treme offer just that. Learn more about the birthplace and origins of jazz music, learn about the Creole culture and its impact on today's culture in NOLA, and see some of the filming locations for the HBO series Treme all in one tour! This is also where the rise of civil rights movement took place. Your guide, a local historian, will explain the significance of this area of the city and all of its incredible history.
Book
your African and Creole History Tour in New Orleans through Treme here.
Plantation Tour in New Orleans
Plantation Tours in New Orleans and the south, in general, are popular. People are attracted to the architecture and the property as well as the history that took place there. However, everything we've read about, we've never actually done a plantation tour, basically states that if the plantation you go to does bring up slavery they sugarcoat the history and don't actually talk about the horrors of slavery that took place there.
What's mindboggling is that there are plantation tours that don't even bring up the slavery and horrendous acts that took place there.
If you decide to do one of these tours, keep that in mind. Also, be extra mindful when taking photos here, this really isn't the place to be taking your glamour selfies. Be mindful of the atrocities that took place here and systematic racism that still takes place today in our society. While taking photos isn't discouraged and we aren't saying don't take any photos, just be mindful that this might not be a place to take a flowy pretty girl in a dress photo.
On this double plantation tour in New Orleans, you get to choose a combination of two different plantations to visit on the Great River Road. The possible combination is the Whitney/Laura plantations, Whitney/Oak Alley plantations, or Laura/Oak Alley plantations.
The Whitney Plantation is the only plantation museum in the entire state of Louisiana with a focus on slavery with first-person slave narratives. The museum has exhibits, artwork, and restored buildings you can walk through. However, even though the focus is on slavery and the lives and memories of the slaves it's still a sugarcoated history that doesn't go into the depths of the real horrors of slavery.
The other two plantations, Laura and Oak Alley, focus on architecture and the families who lived there. The Oak Alley Plantation is the most photography plantation with their famous oak trees leading to the main house. The properties look beautiful, but behind the veil of beauty, there was a very dark past.
We came across this article by VOX that we found interesting, it's about the questions and misunderstanding of American Slavery by Americans during the time this tour guide worked on a plantation tour. It's worth a read.
Book
your Double Plantation tour in New Orleans here.
Haunted Tours in New Orleans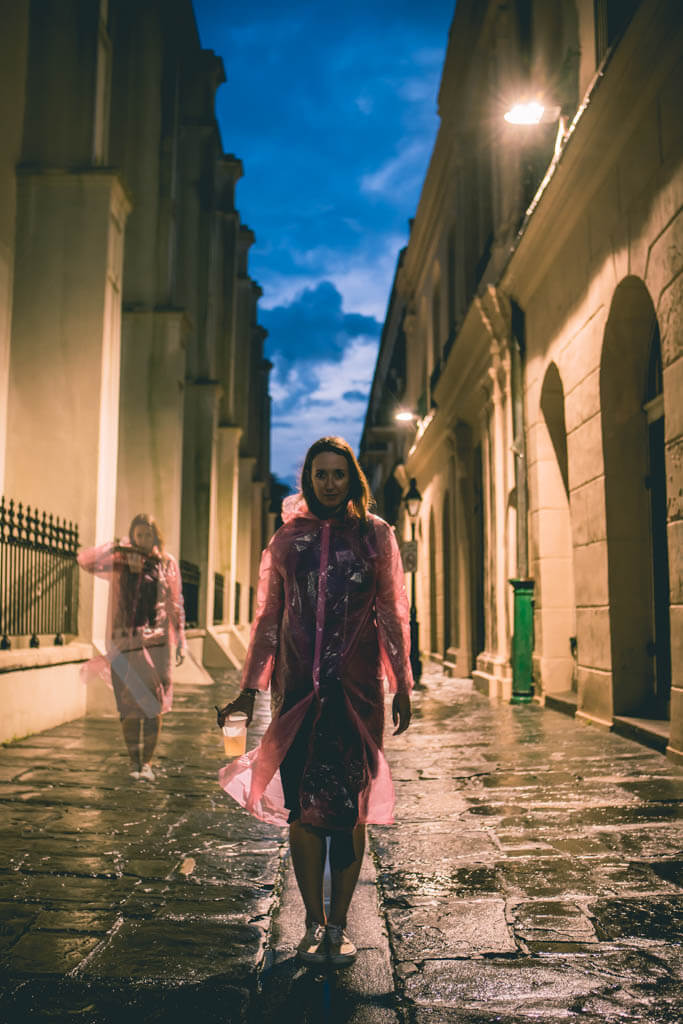 If you love the paranormal and ghost tours then you need to join on a haunted tour in New Orleans. Considered one of the most haunted cities in the United States your chances of ending up in a haunted building without even knowing it is pretty easy. These tours are even fun for skeptics, I am a ghost believer, Scott isn't but we both still had a great time. This 5 in 1 haunted history tour in New Orleans doesn't just focus on ghosts either! You'll learn more about vampires, occult, voodoo, and unsolved mysteries in NOLA.
These two-hour tours are pretty fun and you'll leave learning something whether you believe in the paranormal or not. New Orleans is a party city so you will have an option to get a 2 for 1 hurricane at the beginning of the tour and there's a brief stop at a tavern to pick up another drink if you feel like having a spirit on your haunted tour. See what we did there?
The description of this tour says to be sure to bring a camera as 90% of the participants capture paranormal activity. Haha, we are not sure about that number but why not try?
Book
your Haunted Tour in New Orleans here.
---
Check out our perfect itinerary for 3 days in New Orleans before your visit to make sure you hit up our favorite spots!
Liked this post on the best tours in New Orleans? Share the love below on Pinterest!