There are dozens of castles in the Scottish Highlands. Some are ruins while others are occupied or run as tourist attractions. We think they've all got one thing in common though – they're big on atmosphere!
If you're heading to the Highlands soon, make sure you put a few of the best Highland castles on your list of things to do and see. We've listed some of our favorites here for you.
We've got a ruined castle overlooking a famous loch. A glorious castle hidden away in forests and formal gardens. A castle famous for its appearances in Highlander and James Bond. There is a dreamlike castle in here for everyone. Discover our recommendations for visiting the best castle in the Scottish Highlands here today.
Discover Your Favorite Castles in the Highlands
Do you prefer dramatic ruins or castles in the highlands filled with antiques and steeped in history? Do you want to explore the grounds and gardens of these magnificent places instead?
Whatever you love most about castles, you'll find plenty of superb Scottish Highland castles to visit when planning your next trip.
And for more castle inspiration, be sure to check out the best castles in Aberdeenshire and take our fun quiz: Which Castle in Scotland Would You Live In?
Urquhart Castle
View this post on Instagram
Not so much a castle as a fortress, the ruins of Urquhart overlook the famous Loch Ness. Discover 500 years of history, conflict, and drama within its ruined walls. And who knows, if you keep one eye on the loch, Nessie herself might appear if your luck is in!
The Scottish Highland castle ruins you see today are what remained after the Jacobite Rising. Grant Tower looks out over the loch, while the Gatehouse includes a prison cell. You'll love the visitor center and exhibition too, as it includes many artifacts that were discovered dotted around the site.
Urquhart Castle opens daily throughout the year. You can explore between 9.30 am and 6 pm from 1st August through to the end of September. During October, it opens at the same time but closes an hour earlier at 5 pm. From 1st November through until 31st March, opening times are between 9.30 am and 4.30 pm.
Ardvreck Castle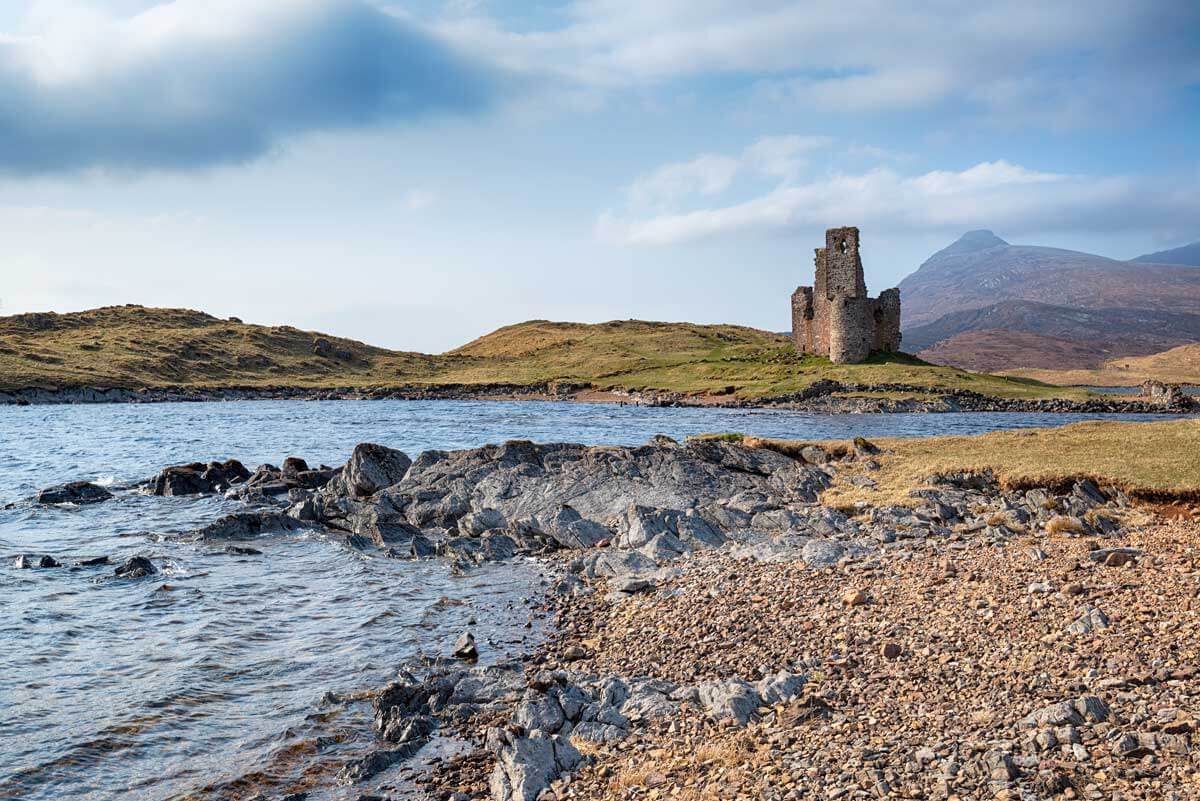 Another ruin on our list of castles in the Scottish Highlands, this time from the 15th century. This one boasts amazing views over Loch Assynt. Whichever way you approach it along the A837, you're in for a treat.
You won't need to worry about opening times for this one. It's easily reached from the road, thanks to a well-placed and signed parking area. All you need to do is to follow the path from there for the short walk to the remains of this Scottish Highlands castle.
There isn't much left, but the ruined tower still stands tall, attached to a couple of portions of wall. Bring your imagination (and your camera) along for the ride. Imagine how Ardvreck Castle might have looked back in the 1400s.
If you are planning on visiting Ardvreck Castle, check out this Ullapool Accommodation Guide. Ullapool is the closest major town to Ardvreck Castle.
Eilean Donan Castle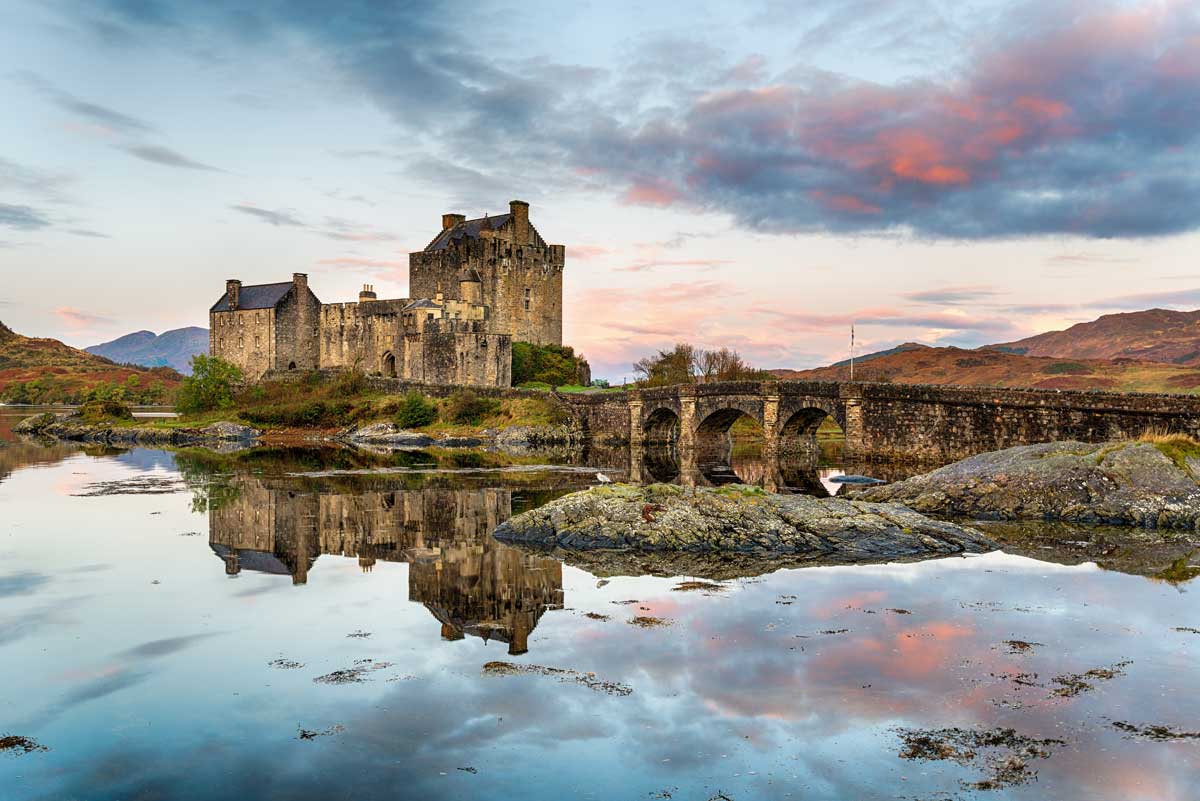 Chances are you've seen Eilean Donan Castle at Kyle of Lochalsh on postcards or in promotions for Scottish holidays, even if you don't realize it. It sits on its own island, reached by a stone bridge from the land, at the head of Loch Duich. Loch Long and Loch Alsh meet the third loch where the castle resides.
It's quite a dramatic scene. If you only visit one of the many castles in the Scottish Highlands, make it this one.
Opening hours change throughout the year, with the last admission an hour before closing. Make sure you have plenty of time to explore though – you won't want to miss anything. From stronghold to ruin to the castle you see today, this castle in the Highlands has a dramatic history.
It opens at 10 am throughout the year, with closing times varying. From 1st February until 28th March, it closes at 4 pm. From 29th March to 30th September, it closes at 6 pm. This changes to 5 pm throughout October. From 1st November to 30th December, it shuts at 4 pm.
The visitor center is the perfect introduction to the castle and its history. Don't miss the coffee shop. If the weather is nice, nothing beats a cappuccino at one of the outdoor picnic tables.
Dunrobin Castle
View this post on Instagram

You might think you've strayed over to France when you see this Scottish Highland castle. Dunrobin Castle's chateau-style is hard to miss thanks to its position overlooking the Moray Firth, where dolphin spotting is a popular pastime.
You'll likely spot the spires reaching into the sky before you reach the castle itself. It looks different to any of the other castles in the Scottish Highlands to make our list.
The castle is only open for part of the year; we'd recommend visiting their website to confirm dates for this year. They usually operate between 1st of April and the end of October. July through to September typically sees the castle open its doors between 10 am and 4 pm. Other times of the year may have later opening times.
While the castle is impressive, the gardens are equally so. Sir Charles Barry designed them in 1850. Explore the Grove, the Lily Fountain Parterre, and take in a falconry display at the rear of the gardens.
Strome Castle
View this post on Instagram
All the castles in the Scottish Highlands capture the imagination. There's something about the ruins of Strome Castle, though, that does this more than most. Maybe it's the circular window that remains in the ruins, topped by moss and grass that has established itself there.
There may not be much left of this one, but it has held on to every element of atmosphere and drama that surrounds it.
You can reach this castle in the Highlands via a couple of minor roads off the A896 at Lochcarron. The castle overlooks the loch itself. It saw two active centuries from the 1400s onwards, before being destroyed in the 17th century. While little remains, it's worth a detour to see it – and to get some amazing views of Skye.
Old Keiss Castle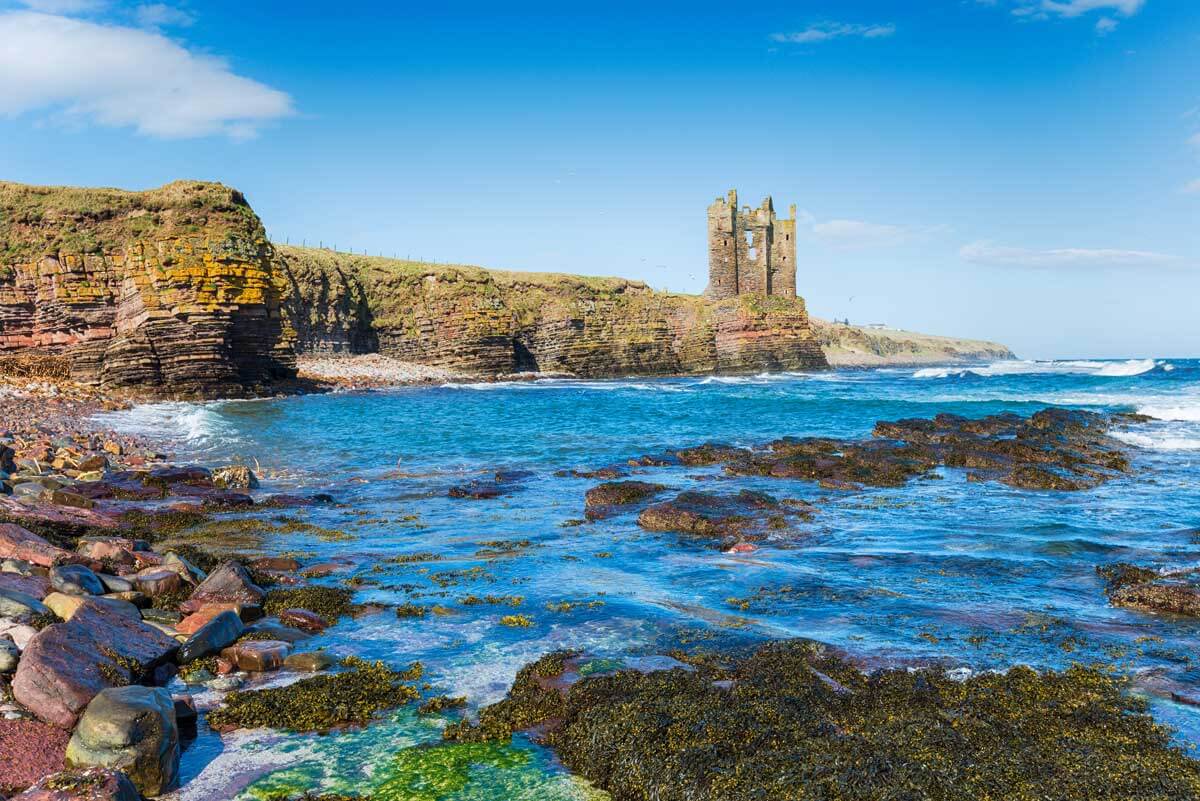 Another ruined delight, although more remains of this castle in the Scottish Highlands than some of the others on our list. You'll find it around 15 minutes' drive north of Wick. It sits between Wick and John O'Groats, so if you're heading to either of those, be sure and stop off for a look.
You won't be able to wander around the ruins, which sit on the cliffs overlooking Sinclair Bay. It is fenced off for safety reasons. You can, however, get close enough to see what is left of this Scottish Highlands castle.
It is sometimes referred to simply as Keiss Castle. Don't get confused with New Keiss Castle, which was built in 1755 and stands further inland.
Castle Sinclair Girnigoe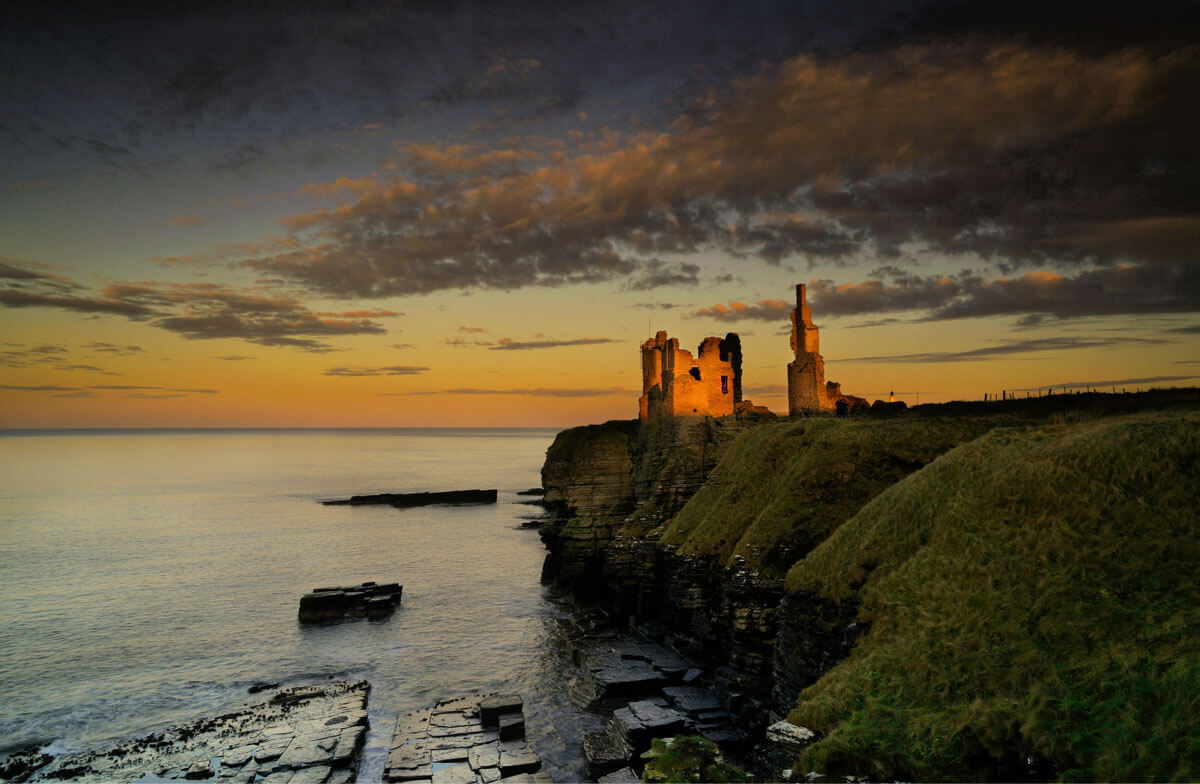 Twenty minutes or so south of Keiss you'll find Castle Sinclair, Girnigoe. This is a two-for-one deal, too. What do we mean by that? Simply that Castle Sinclair and Castle Girnigoe share the same spot and are jointly recognized as a monument, therefore easy to visit two Scottish Highlands castles in one easy trip.
Girnigoe has stood the longest of the two, its ruins dating from the 15th century. Castle Sinclair was constructed two centuries later. It's a dramatic place today too, even though the castle complex is only a shadow of what once was. No matter the weather, you'll find plenty here to captivate you for an hour or so, wandering around the ruins.
Our highlight is surely the walk across the bridge and under the portcullis beyond, before exploring further. Irresistible – and ideal for photographers on a mission to photograph more castles in the Scottish Highlands.
Inverness Castle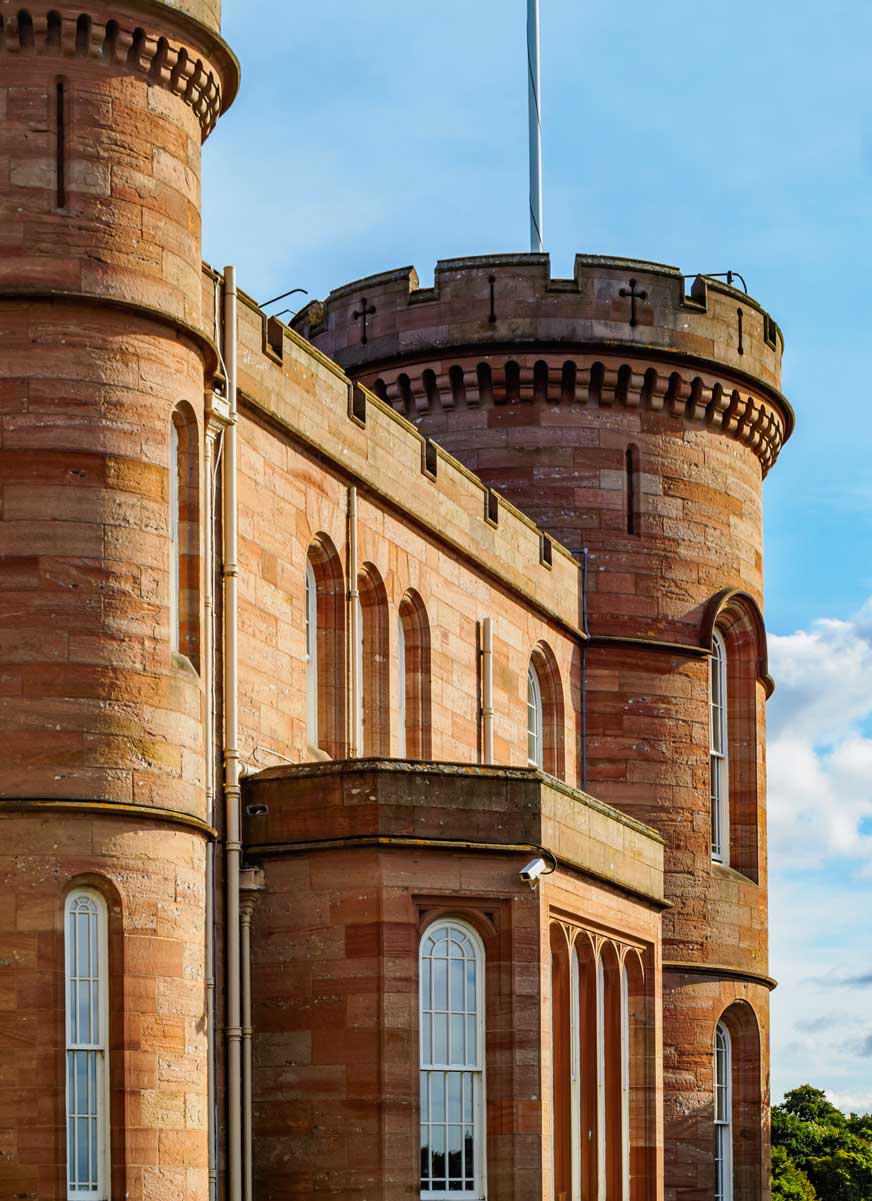 Spending a day in the Highland capital? Make sure you add Inverness Castle to your list of places to see. The original castle was constructed in the 12th century, but it has undergone many changes since then.
The original timber castle was destroyed in the 1300s. This led to the construction of a stone version in the 15th century. Still more building work has occurred over the centuries since then. Only two medieval portions of the castle remain – one of which is below ground (a well).
The castle overlooks the River Ness and offers trips up the tower to the viewing platform. Check the Highlife Highland website for the latest opening hours, days, and booking information. At the time of writing, the Castle Viewpoint attraction was open from Thursday through to Monday each week.
Of course, you can also get superb views of this Highlands castle itself from the opposite bank of the river.
Leod Castle
View this post on Instagram

This Highlands castle sits just inland from the Cromarty Firth. It is close to the village of Strathpeffer. It dates from the 15th century and has been beautifully restored.
Not all castles in the Scottish Highlands boast their own drive lined with trees. This one does. There are various public open days during the year. Visit the official website to find the next available dates.
The castle has been home to the Clan Mackenzie for over five centuries. Explore the Great Hall, the Billiard Room, and a castle dungeon. Parklands and woods surround the castle.
One of the highlights is a woodland walk that introduces you to some of the oldest trees there. There's a sweet chestnut tree dating from 1550! Another must-see tree is the Giant Sequoia (one of two) that is the largest tree in the whole of Britain.
Bonus: 3 more AMAZING castles in the Scottish Highlands
We'll introduce our final three separately as they are not in the traditional Highland council area. Instead, they come under Moray. However, they're all situated above the Highland Fault Line, so they still qualify.
You won't want to miss these either, so let's get on and introduce you to them.
Cawdor Castle
View this post on Instagram
A fine drive through charming Highland scenery brings you to Cawdor Castle, just south of the village. If you're coming from Nairn, you can be at the castle in under 15 minutes.
The castle gardens are open daily from 10 am until 5 pm. They are well worth exploring. Opening times for the castle itself vary and can be confirmed via the website. The castle rooms include the Tapestry Bedroom and the Drawing Room, complete with a Minstrel's Gallery.
The gardens alone are worth the trip to this entry on our list of castles in the Scottish Highlands. Three separate gardens are available to explore. Beyond lies the Big Wood, with five trails available to follow. We tackled the five-mile one, returning to the Courtyard Café for afternoon tea.
Ballindalloch Castle
View this post on Instagram

Don't miss this 16th-century castle, easily reached from the A95 not far from the River Avon. The Macpherson-Grants have lived in the Baronial-style castle since 1546.
The opening times for the castle and grounds vary throughout the year. They do not open all year round either. We visited just after Easter one year, and they'd only just opened. It's the ideal castle to explore during the summer months, though.
We'd recommend the castle tour as it delves into the history of the building, the family that lives there, and their previous generations. There are plenty of fine furnishings and antiques to spot too.
The formal gardens are a delight. The doo'cot, dating from the 18th century, leads you into them. It doesn't matter which season you visit during either, with beautiful surroundings guaranteed every time.
Quick tip – download the map of the castle grounds or pick one up when you get there. We tackled the largely flat riverside walk which you can start from the car park. It takes you along the banks of the River Spey and provides a wonderful Highland escape.
Brodie Castle
View this post on Instagram
For the final entry on our list of castles in the Scottish Highlands, we'll take you to Brodie, just to the west of Forres. This one is easy to find from the A96 coming from either direction.
Daffodil fans are going to love this one, as it boasts over 400 different types! We didn't even know there were that many. That makes Brodie the perfect castle to add to a springtime Highland trip itinerary.
In common with certain other castles, the garden and grounds are open to visit every day. No times were given for the grounds on the website but do check current times if you wish to see the castle.
If you like your castles to have turrets, Brodie Castle is for you. The salmon-colored exterior is beautiful. The Brodie clan has lived here for over four centuries.
Walkers will find plenty to do in the castle grounds too. The Pond Walk is the most accessible of the two marked walks at Brodie Castle, covering around 1¼ miles. Alternatively, follow the Green Walk over ½ mile to stretch your legs. Dogs are allowed in the grounds too, so it's the ideal spot for a dog walk.
What to Pack for Scotland
Scottish weather is a bit different than anywhere you've likely ever been! You don't want to come exploring the best Scottish Highlands castles without layers and the right clothing.
Windproof and Water- Resistant jackets are a key item for what to pack for Scotland as chances are you will most likely encounter wind and rain during your trip. It's important to have a jacket that is wind resistant and waterproof to keep you dry and warm, there's nothing worse than getting wet from cold rain and dealing with wind, that will chill you to the bone. Shop a men's windproof jacket here and a women's windproof jacket here.
Water-resistant boots are another essential for what to bring to Scotland. There's nothing worse than getting wet feet because they tend to take forever to dry, plus you'll save yourself from blisters from wearing wet socks and shoes. Shop men's water-resistant boots here and women's water-resistant boots here.
The perfect sweater, layering is key for how to dress with the weather in Scotland. You will want to come prepared with layers for what to pack for Scotland on your trip. When the weather is nice, it's easily sweater weather, but when it starts to get windy or rain starts you'll want to throw on your wind and rainproof jacket. Shop men's layering sweater here and a women's layering sweater here.
A thermal undershirt is another good idea for what to bring to Scotland for those colder days and perfect for layering. On colder days wear this under your sweater and on warmer days leave it at home or wear it by itself. It's always good to pack one of these in your suitcase. Shop a men's layering thermal here and a women's layering thermal here.
Warm socks are clutch no matter what kind of shoes or boots you choose to wear in Scotland. There's something about the wet air that makes it feel much colder than it is. Do yourself a favor and follow our advice for what to pack for Scotland by making sure you have a few pairs of warm socks. Shop men's warm socks here and women's warm socks here.
Wind resistant umbrella is also a must-have. We broke two umbrellas during our trip to Scotland because we didn't have a quality wind resistant umbrella. Don't let the same happen to you by coming prepared with a wind-resistant durable umbrella. Shop here.
Travel Insurance is a must! If you don't already have it be sure to check out our guide for the best travel insurance for you based on where you live and what kind of travel you do.
Renting a car in Scotland
The best way to get around all the amazing castles in the Scottish Highlands is by renting a car. Keep in mind that car rentals work a bit differently in Scotland. The main difference being that many rental cars have mileage limits when you book your rental, especially pay close attention to this when you plan on driving up to the Highlands!
This can catch you by surprise when you go to pick up your car like it did for us as we didn't catch this on our booking. You can easily upgrade your car to unlimited mileage for an extra fee, but often times when you're booking online you might not notice the fine print of the distance you can drive before being charged extra.
If you don't watch this or upgrade to unlimited mileage you can be really taken by surprise at the end of your rental. They were going to charge us an extra $.25 USD for mile over the mileage.
If you're doing a shorter Scotland road trip this shouldn't matter but should be something you're aware of if you don't want any surprises when you drop off your rental car.
We recommend renting a car through Expedia for great rates and discounts!
Author Bio
Graham Grieve is a Scottish blogger who specializes in writing content about his home country. Graham loves visiting castles in Scotland and regularly ventures from his home town, Glasgow, to the Scottish Highlands. You can keep up with Graham's travels at his blog My Voyage Scotland or on Facebook or Instagram.
---
Liked this post on the best castles in the Scottish Highlands? Bookmark for later or share the love below on Pinterest.