Looking to plan an amazing getaway in Upstate New York? Check out the best towns in the Adirondacks to visit to help you plan a trip of a lifetime any season. What's great about this region is that there are tons, and I mean TONS, of outdoor Adirondacks activities and cool towns in the Adirondacks to visit no matter the season.
Whether you're coming for some summer fun hiking and enjoying the lakes, or chasing the changing of the leaves in the fall, to enjoying the winter in the Adirondacks from cozy cabin getaways to skiing and hiking, to the fun festivities in the spring including maple syrup festivals – there's something every season and these are the towns the best Adirondack towns we've been to and are worth checking out and exploring on your trip!
This guide will cover each of our picks for towns to in the Adirondacks to visit along with some of the nearby activities and points of interest at each!
For more cool places to check out in the state read our guide on the most charming towns in New York to add to your trip!
Best Adirondack Towns to Visit
Wells
With Lake Algonquin to one side, and pristine forest to the other, the town of Wells, New York is an obvious inclusion in any list of the best towns in the Adirondacks to visit. Right on NY-30, this small town boasts cozy cafes, a historic country store, lakeside views, and charming summer cottages or cozy winter cabins.
In the midst of a revival, this town in the Adirondacks is known for its summer attractions. Wells has a public beach on the shore of Lake Algonquin with boating, kayaking, fishing, and plenty of campgrounds and cabins to make your summer vacation memorable.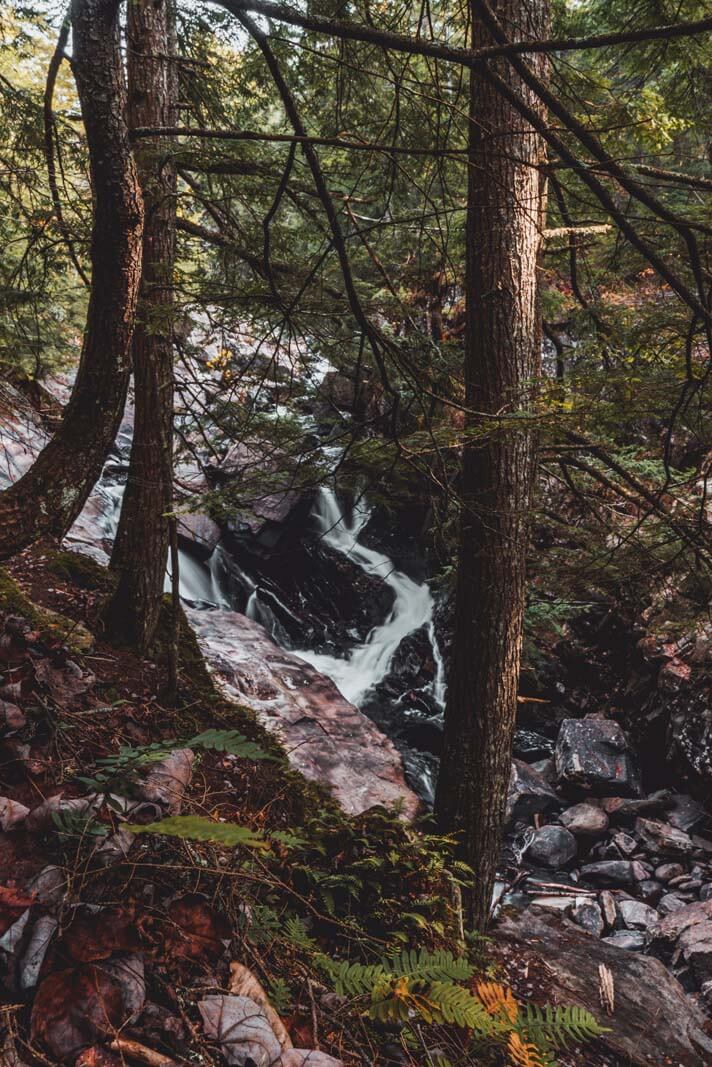 One of the best things this town in the Adirondacks has to offer is the hike along the Sacandaga River to Auger Falls. This 1.3 mile, relaxed, and well-marked hike features a lush forest trail with a rewarding view of the falls at the end. The hike slopes down to a scenic riverside view of Auger Falls.
Be mindful here as there are some steep cliffs and areas where it can be easy to slip and fall into the raging currents of the waterfall and river. Keep kids and dogs close by and watch your footing.
Speaking of waterfalls, Wells boasts five of the waterfalls listed in the Heart of the Adirondacks Waterfall Challenge including; Griffin, East Jimmy Creek, Falls on the West Branch and Cold Brook, Tenant Creek, and Austin Falls, just a few of the best waterfalls in New York.
Lake Placid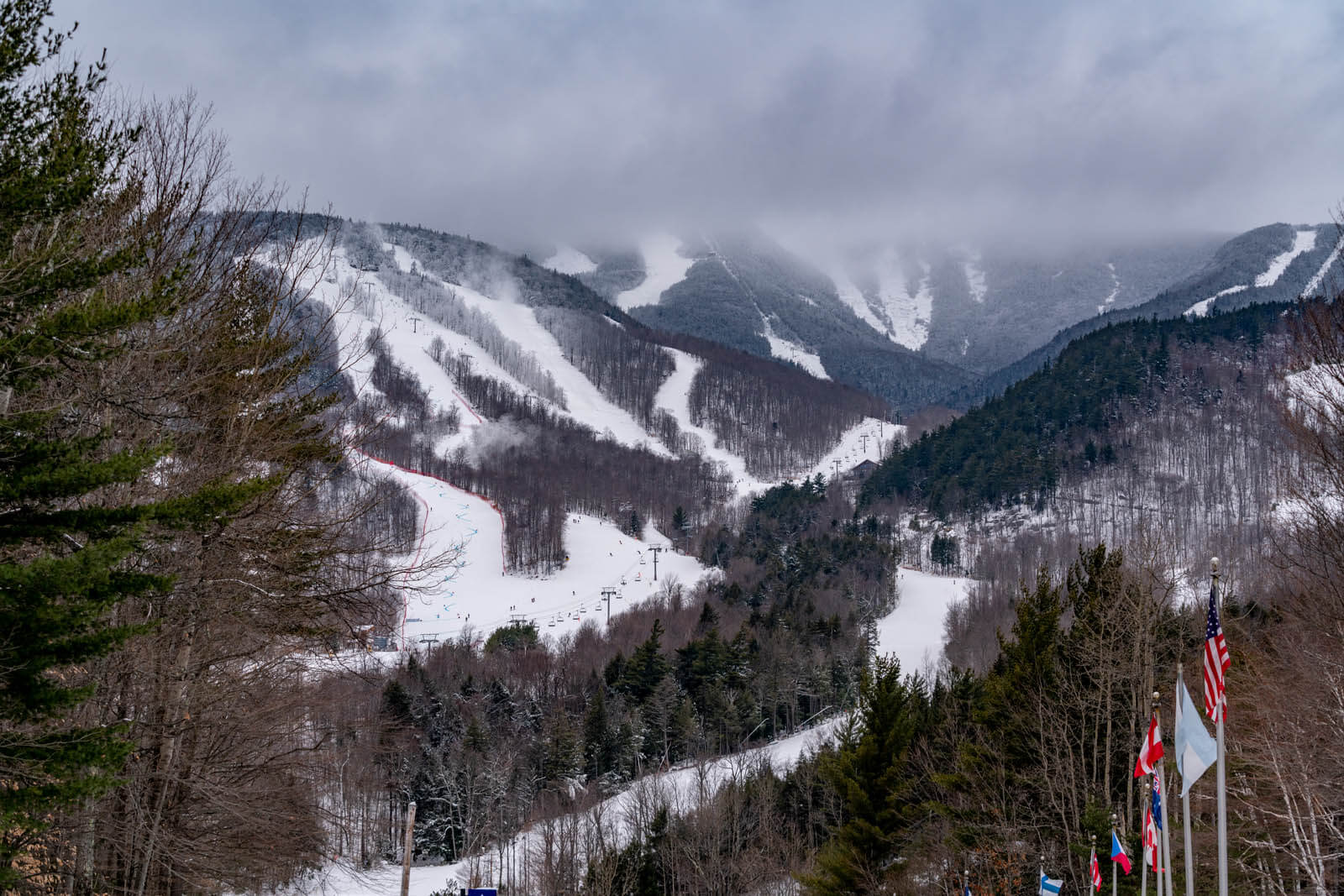 For sports and outdoor enthusiasts, one of the best towns in the Adirondacks to visit has to be Lake Placid. Home of both the 1932 and 1980 Winter Olympics, Lake Placid is a true oasis of outdoor leisure activities including; camping, mountain biking, hiking, and gondola rides – not to mention some of the most amazing skiing in Upstate New York.
Since the Olympics, Lake Placid has maintained the venues built for the games, and operates as a training ground for new Olympic hopefuls and there are tons of amazing things to do in Lake Placid in winter for those outdoor or winter sports enthusiasts.
Right in downtown Lake Placid you can visit the Olympic Sports Center, where the famous "Miracle" hockey game took place, and take a tour around the Speed Skating Oval (open from December to March). This is also where you can find some great breweries and shopping too.
Or, you can take a short beautiful drive out to Whiteface Mountain, one of the best downhill skiing slopes in the country. The mountain features 76 trails with difficulty ranging from absolute beginner to the most experienced.
This great town in the Adirondacks also hosts The Cliffside Coaster, North America's longest mountain roller-coaster located at another Olympic site, Mt. Van Hovenberg. Other places open to the public include the ski jumping complex, and ice-skating rinks right off of Main Street.
Be sure to read our entire guide to winter in the Adirondacks to see why Lake Placid is the perfect place to go during the snowy season!
Lake George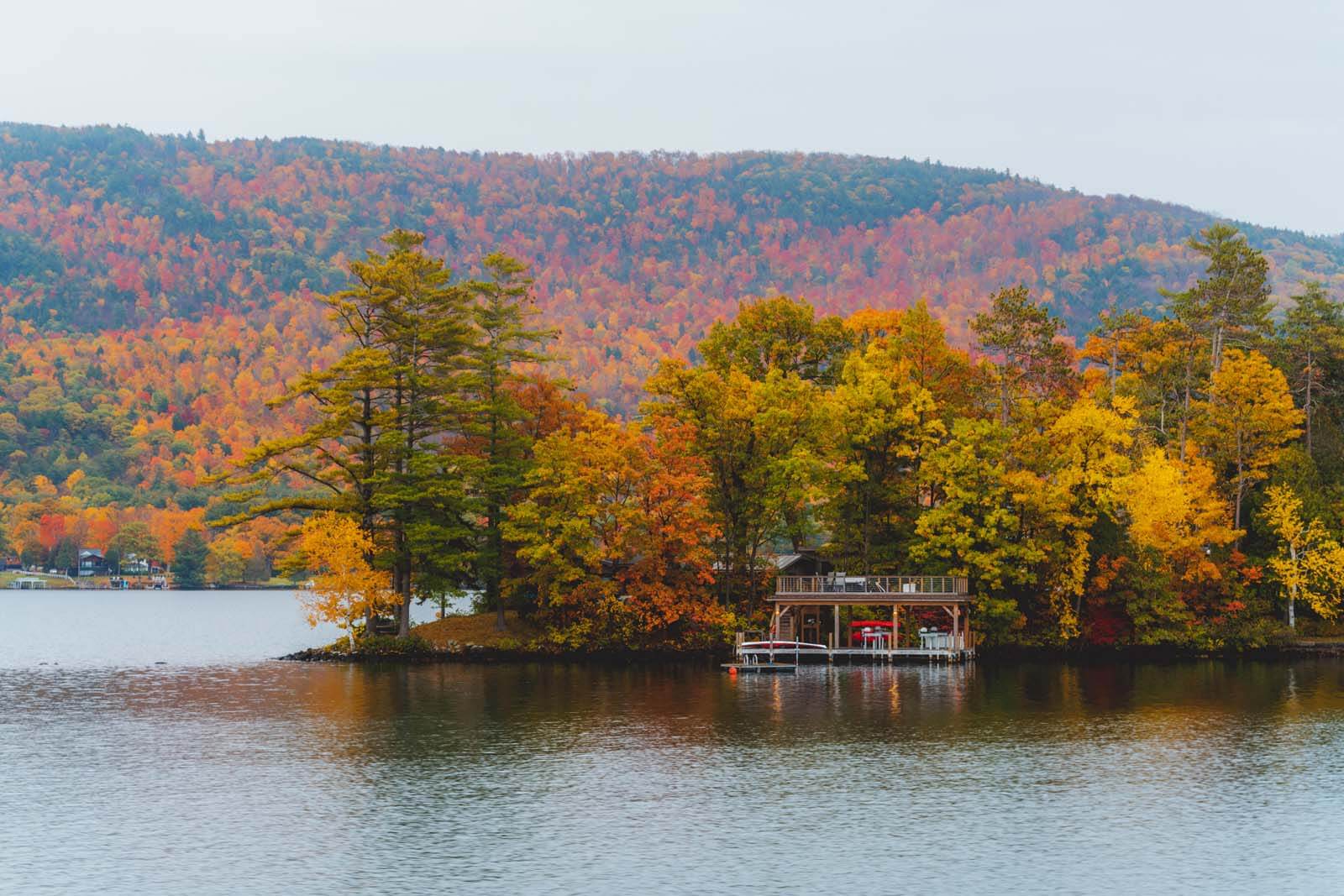 If you are planning a visit to one of the best towns in the Adirondacks, consider adding all the amazing things to do in Lake George to your itinerary. Whether you plan on visiting for a week or a weekend, the small town has more than enough to keep you entertained.
A popular attraction at this town in the Adirondacks is a tour on their historic steamboat. Take in some of the breathtaking views this unique experience offers. Tours can include romantic sunset cruises, fall foliage tours, or even a six-hour option for those who want views of the entire lake.
For a night out, a lake-side stop at one of the breweries or wineries could be just the ticket. Or, if you are in for more of a self-guided tour, consider the Adirondack Craft Beverage Trail. Taste the best of what more than 27 breweries, wineries, and distilleries have to offer while taking in breathtaking waterfront views.
Lake George is also one of the best towns in the Adirondacks to visit if you're a history buff as Fort William Henry is located here, this historic site operated as a fort between 1755 and 1757 during the French and Indian War and offers tours and visits.
Last but not least, you can visit the world-famous luxury Sagamore Resort on Lake George. This waterfront resort offers many different lodging options, but also a full-service spa and outdoor activities to enjoy on the scenic waterfront along with a famous golf course.
Speculator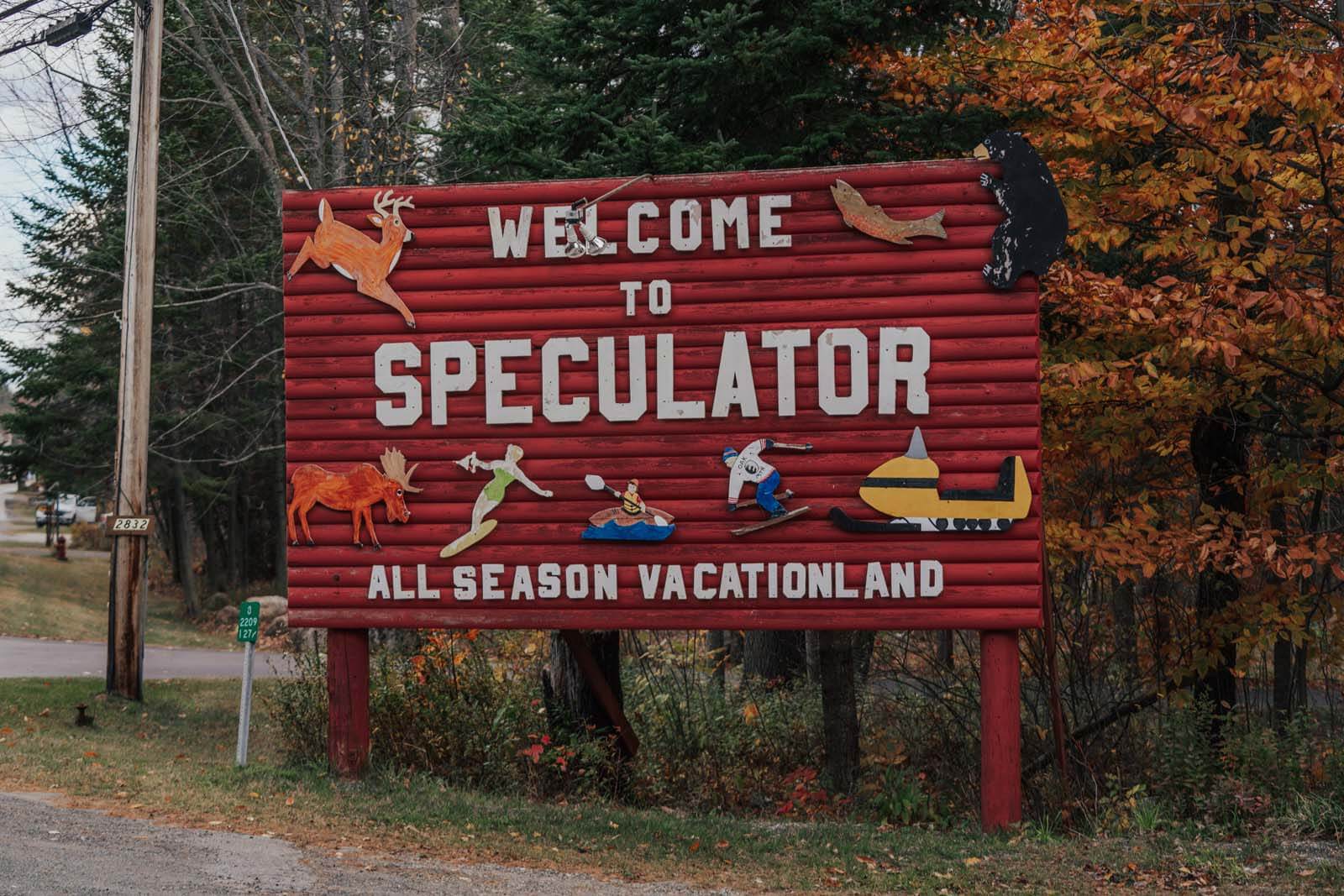 Just north of the 2,966-foot Speculator mountain is one of the best towns in the Adirondacks to visit, Speculator, New York. What this town lacks in size, it makes up for in views and recreation opportunities.
Whether you are looking for ice fishing, maple syrup making, or spending time in some of the most beautiful fall leaf displays imaginable, all you have to choose is when to visit, and Speculator will have something for you.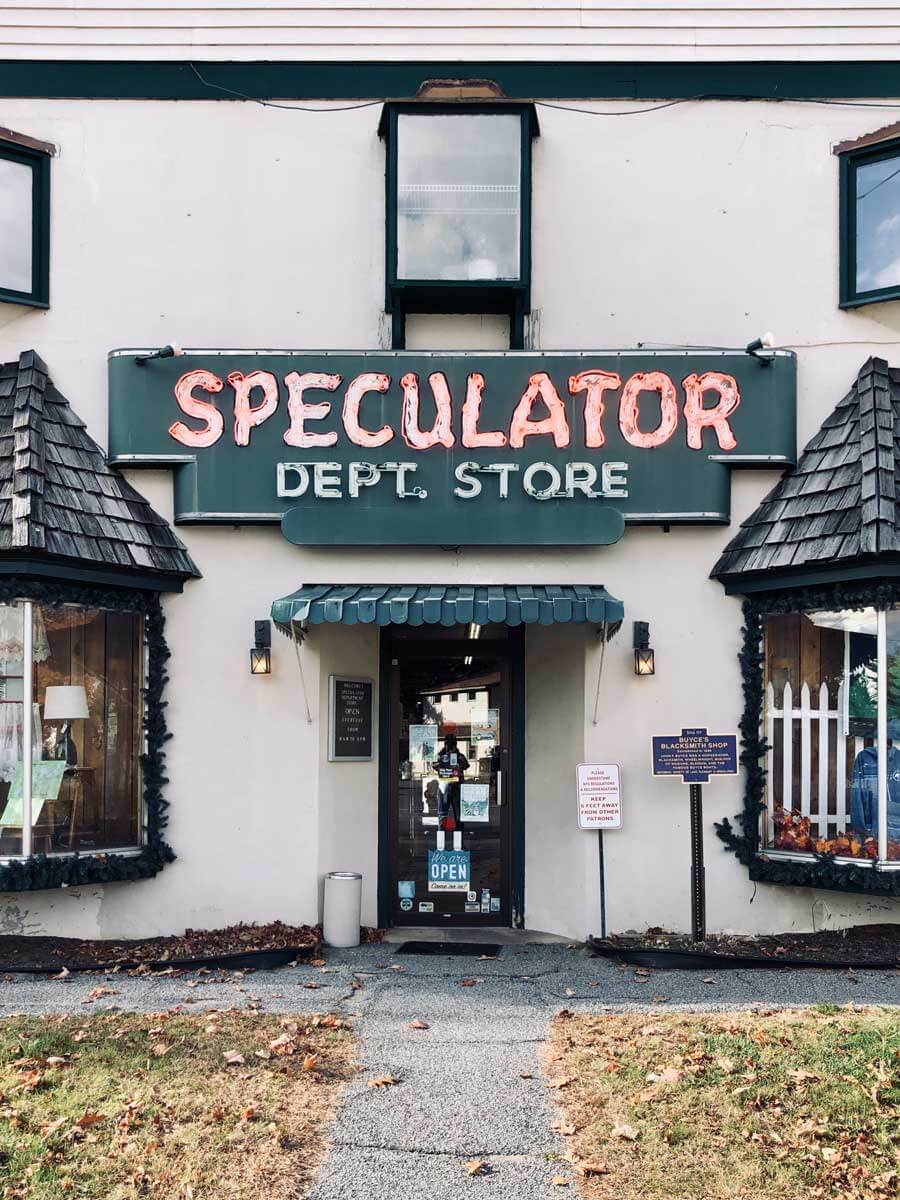 In the spring, why not check out Maple Fest! Held in mid-March, the town curates a day for visitors starting with a pancake breakfast at the Inn at Speculator and then moves to craft fairs, Irish Road bowling, Pond Skimming (which really has to be seen to be believed), live music, tours of local sugar shacks, and more.
In the fall, a mountain biking vacation through the rolling hills and gorgeous forests that surround this beautiful town in the Adirondacks could be a perfect getaway. With thousands of acres of pristine forest, spectacular lake views, and a host of friendly inn's and cafés for a rest stop, this "All-Season Vacationland" really can not be passed up.
Saranac Lake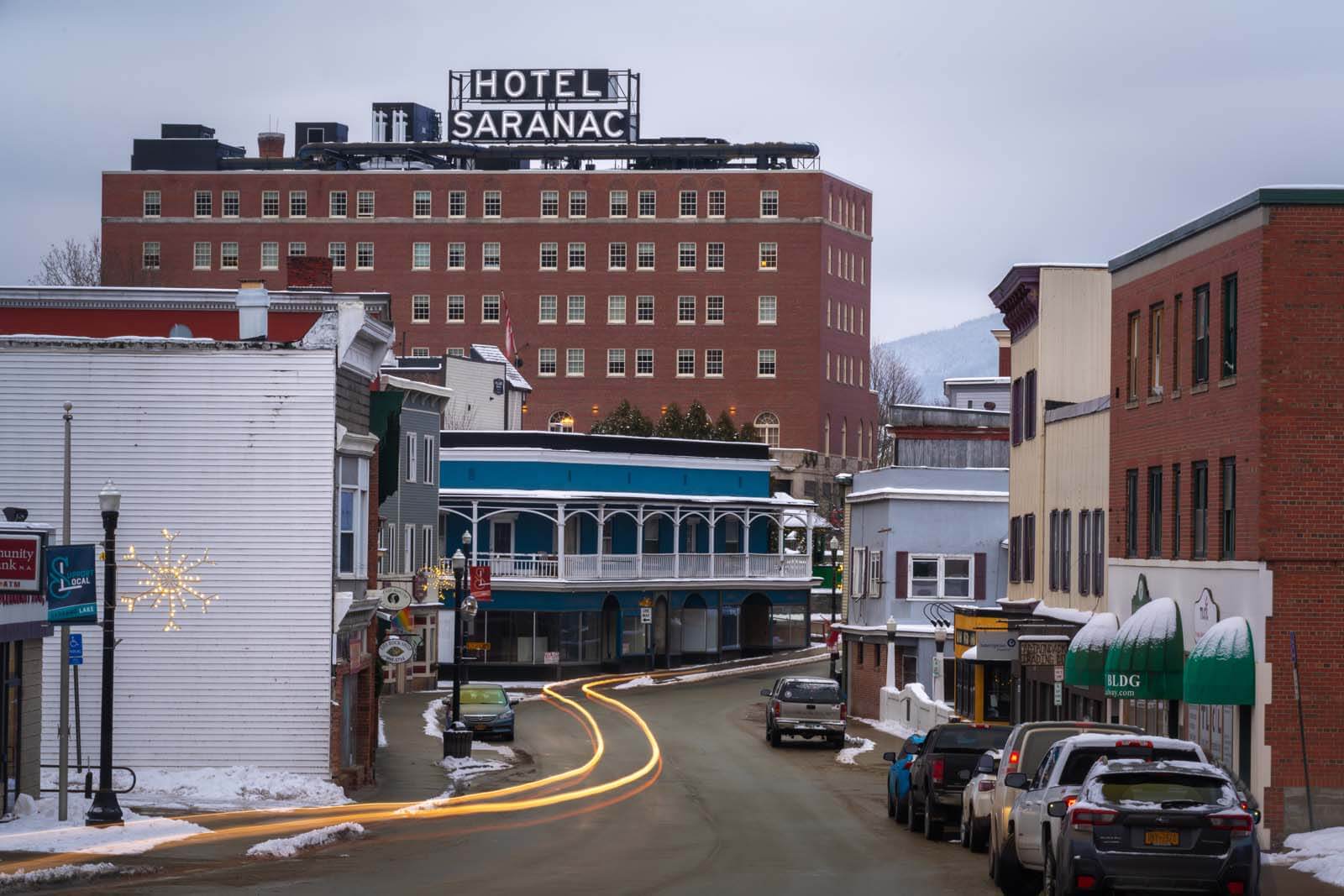 If you are looking to visit one of the best towns in the Adirondacks for a dip into history, with a heavy dose of arts and leisure, look no further than picturesque Saranac Lake, which also happens to be the photo used as the featured image for this guide at the top.
In the 1870s, this town in the Adirondacks became a famous rest spot for wealthy New York City citizens looking to cure their Tuberculosis. With the crisp mountain air, beautiful scenery, and ample trails for outdoor hikes, Lake Saranac's "cure cottages" still remain as windows into the past.
A unique stop in this town in the Adirondacks is a visit to the Robert Louis Stevenson Cottage. This home is where the author spent a year with his mother while recovering from his bout with the illness. The cottage has been preserved, and all original furniture and décor remains. The original mantlepiece even has burns from where Stevenson left forgotten cigarettes.
This town in the Adirondacks is also well known for its historic and well-preserved architecture. Browse downtown Saranac's array of shopping, dining, and hotel options, while taking in the ornate stonework and original balconies. Whether you are looking for rest, recreation, or a trip back in time, Lake Saranac could be just what the doctor ordered.
Saratoga Springs
Just a 3-hour drive from New York City, Saratoga Springs has offered weary city residents' reprieve and revitalization for centuries. At one time, the town's 100 natural mineral springs were touted as a cure from everything from hangovers and morning sickness, to malaria, and cancer. Today, 21 springs are open to the public and can be found throughout the town and nearby parks.
Spend the afternoon in this town in the Adirondacks lounging on the beautifully manicured lawns at Saratoga Spa State Park. The state park features classical architecture and is a National Historic Landmark. The park is also home to the Saratoga Performing Art Center, Saratoga Auto Museum, the National Museum of Dance, and a world-class golf and spa center.
Another great way to spend the day in this town in the Adirondacks is a visit to Congress Park. Plan an afternoon strolling through the lush gardens, fountains, and springs. In the summer, be sure to check out the historic wooden carousel, a centerpiece for locals and tourists alike.
Jay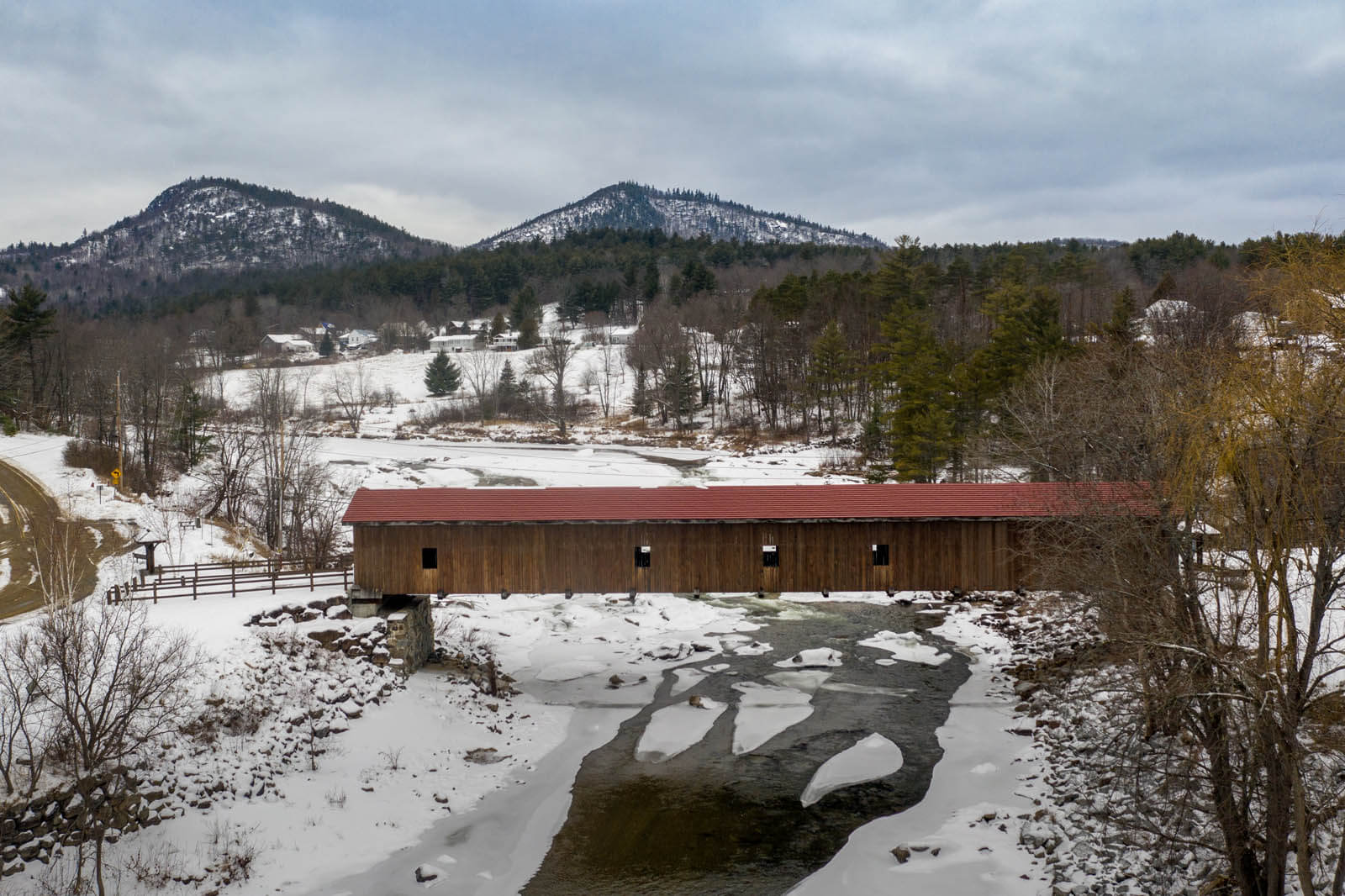 Growing up, visiting covered bridges was always a fun pit stop on our family road trips. If you are visiting the best towns in the Adirondacks, and want a dose of nostalgia in a small town, you can not pass up Jay, New York.
The Jay Covered Bridge is one of the most beautiful covered bridges in New York and crosses the Ausable River. The pedestrian-only bridge is the northernmost covered bridge in New York, and at 160 feet long, it is also one of the longest.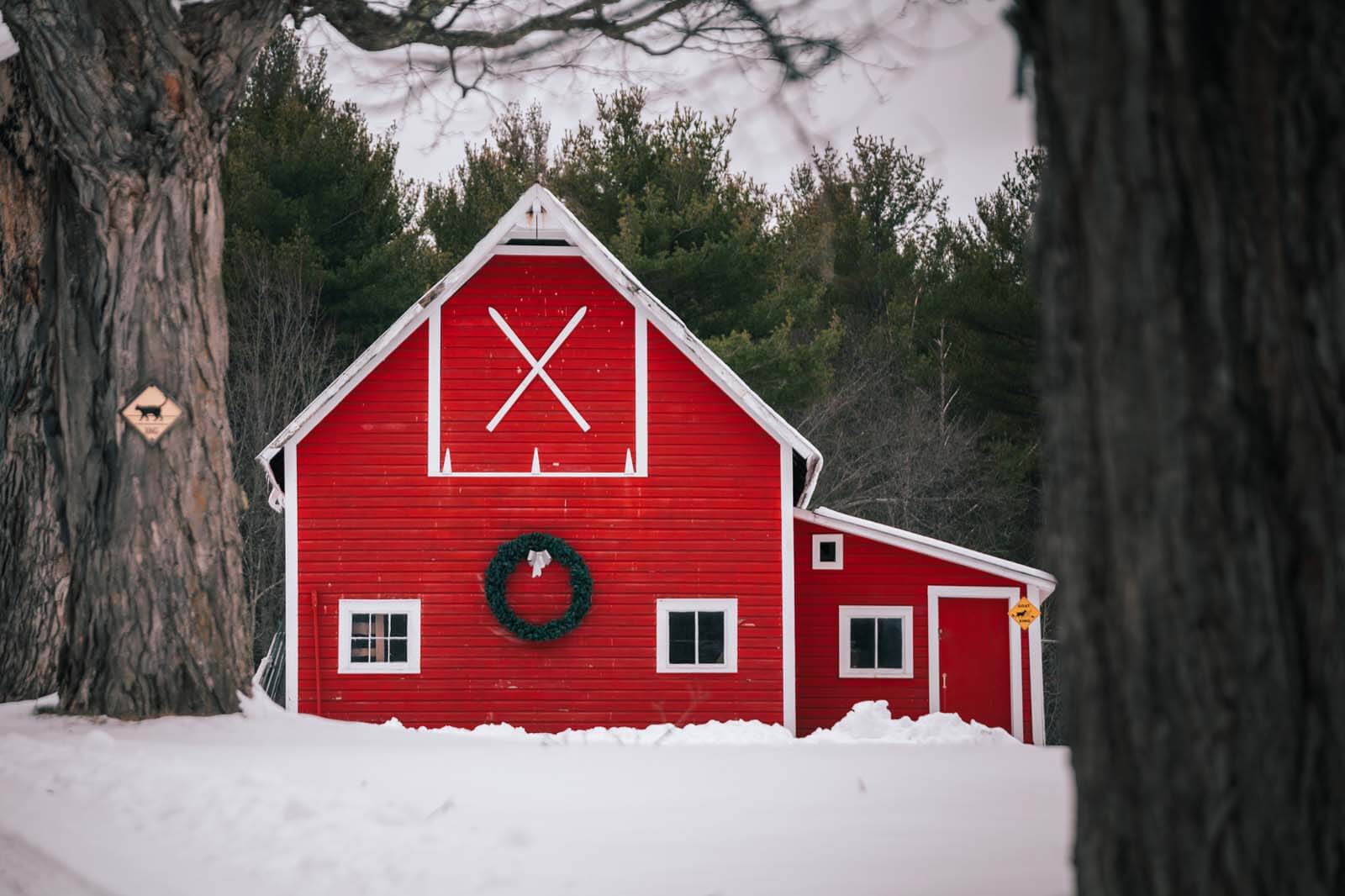 A short hike downstream of the bridge leads to Jay Falls. During the summer, anglers can try their luck in and around the Ausable River. While trout fishing is pervasive throughout the Adirondacks, fishing enthusiasts travel every spring and summer to try their luck in Jay's clear rivers and streams.
Even if fortune doesn't favor you at the fishing hole, my dad always said a bad day fishing is better than one in the office. With beautiful hardwood forests, and mountain vistas as your backdrop, this small, quiet town in the Adirondacks really can't be missed.
Wilmington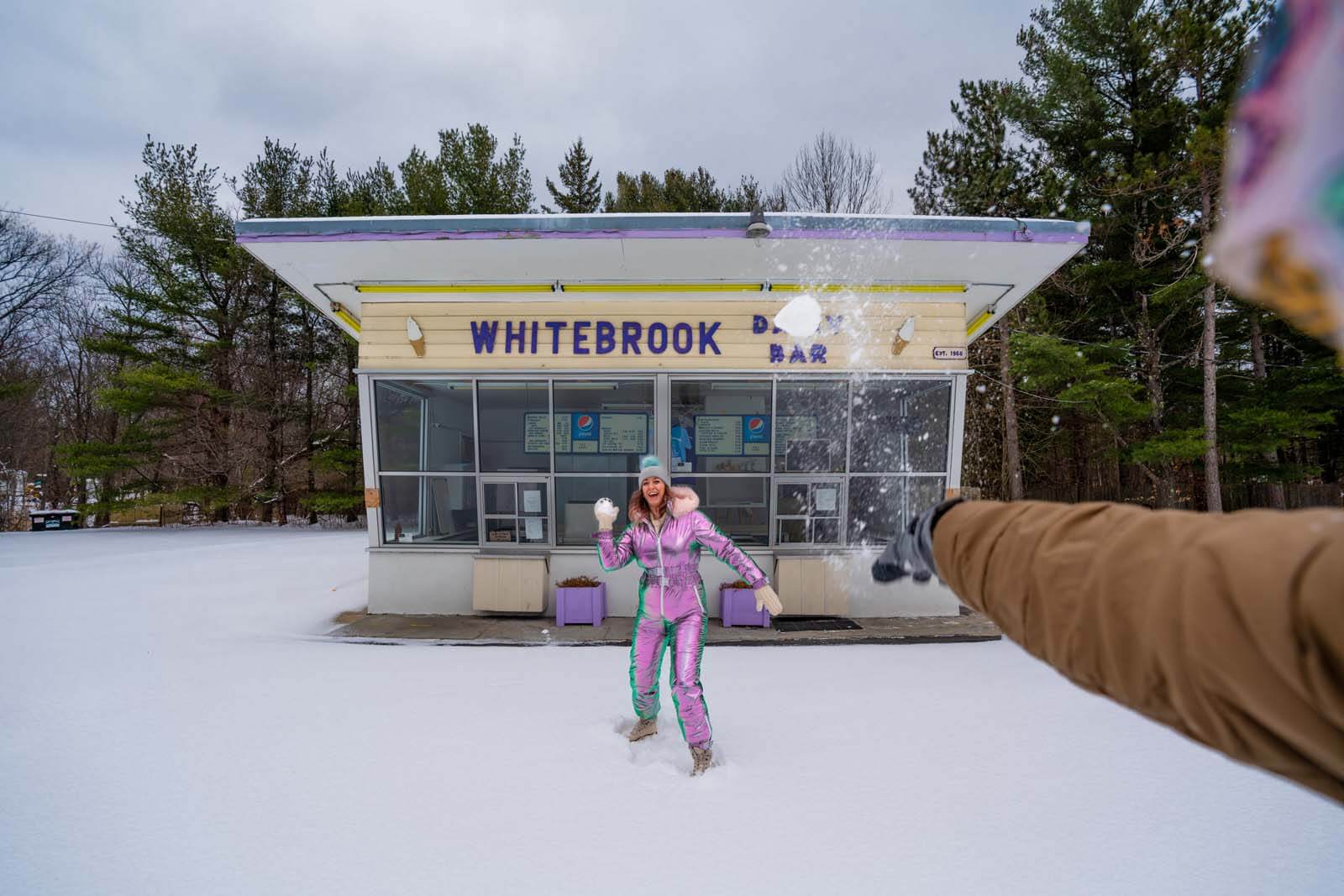 Wilderness enthusiasts simply can't afford to pass up a chance to visit one of the best towns in the Adirondacks, Wilmington, New York. Located just 20 minutes north of Lake Placid, Wilmington offers a convenient home base for adventuring on and around Whiteface Mountain.
The mountains skiing, snowboarding, and ice skating in the winter move to hiking, fishing, and mountain biking in the spring, summer, and fall.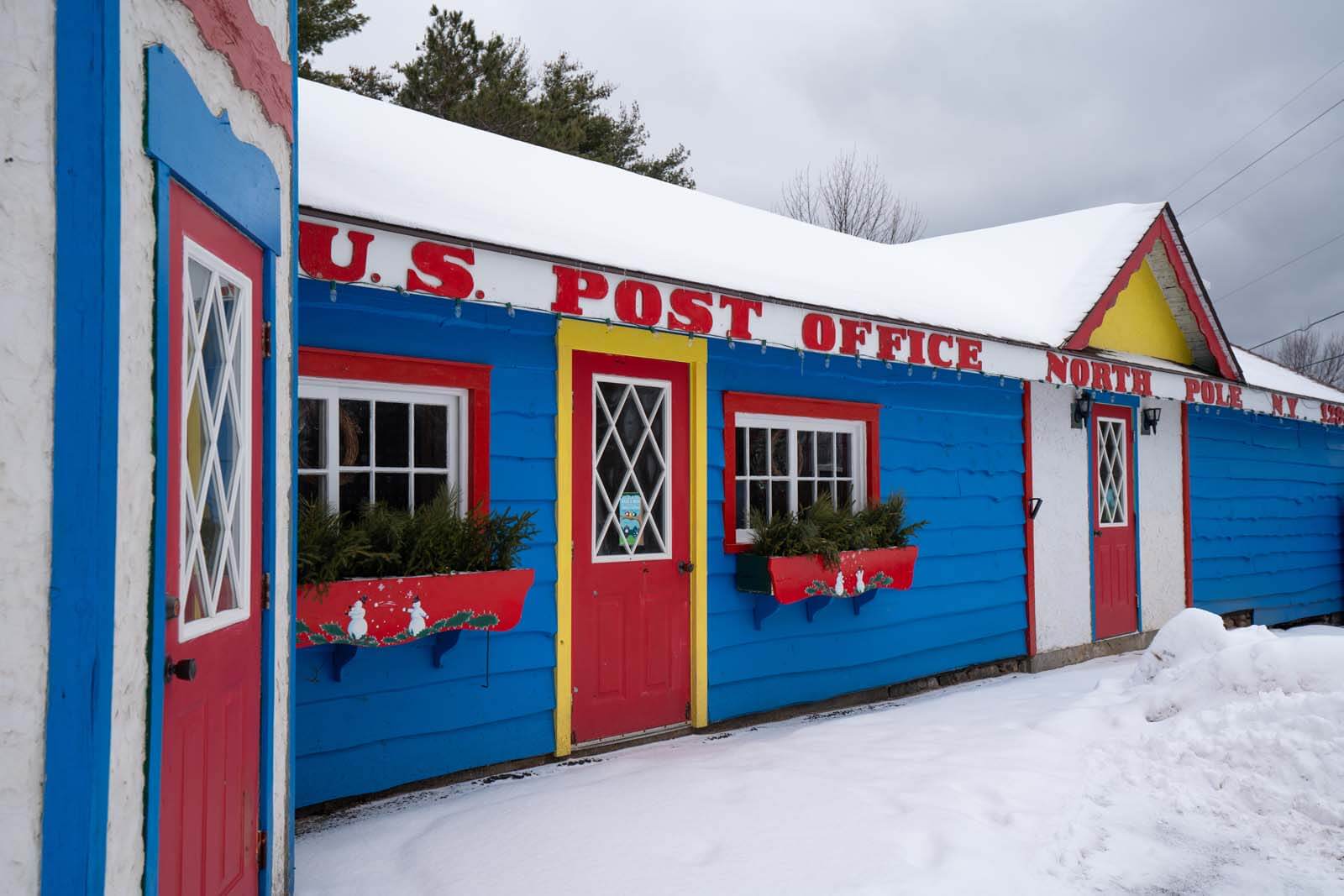 Plan a cheerful and festive visit to this town in the Adirondacks very own North Pole. Open from June to December, Santa's Workshop is sure to charm the young, and young at heart alike. With live reindeer, elves, storybook characters, rides, and more, this charming gem is worth the trip!
Or, if galivanting with elves and reindeer isn't your thing, why not check out High Falls Gorge. A 22 acre privately owned nature park provides walking and hiking trails suitable for all ages. The main path leads travelers along a wooden bridge affixed to the side of the gorge cliff face.
In the summer, the brave can even try their footing on one of the two glass floor walkways as they take in the roaring water, and amazing views below. Whether you come for a winter getaway or a gorgeous hike along a gorge, don't pass up this beautiful town in the Adirondacks.
Long Lake
Small town feel, world-class fishing, dining cruises, and seaplane tours? Must be the next best town in the Adirondacks, Long Lake, New York.
Long Lake is just over 14 miles long, and mile wide at its widest point. Anglers travel every year to try their luck with the region's largemouth bass, smallmouth bass, and northern pike. If you are looking for the northern pike, check out Big Brook Bay area just north of this Adirondack town.
After a long day of fishing and site seeing, check in to your very own home away from home. From rustic lakeside cabins to beautiful resorts, choosing where to stay may be the most difficult part. For example, the historic Adirondack Hotel, built in the 1850s, is located just across from the town beach, local shops, cafes, and stores.
From here, you are also just minutes away from the Helms Aero Service at Long Lake. Charter a half-hour tour over the Adirondacks High Peaks, providing views of the mountains and lakes like you've never seen before. During clear, summer, and fall days the flights run regularly, and while you can make a reservation, you can also just pop in to the dock for an impromptu adventure.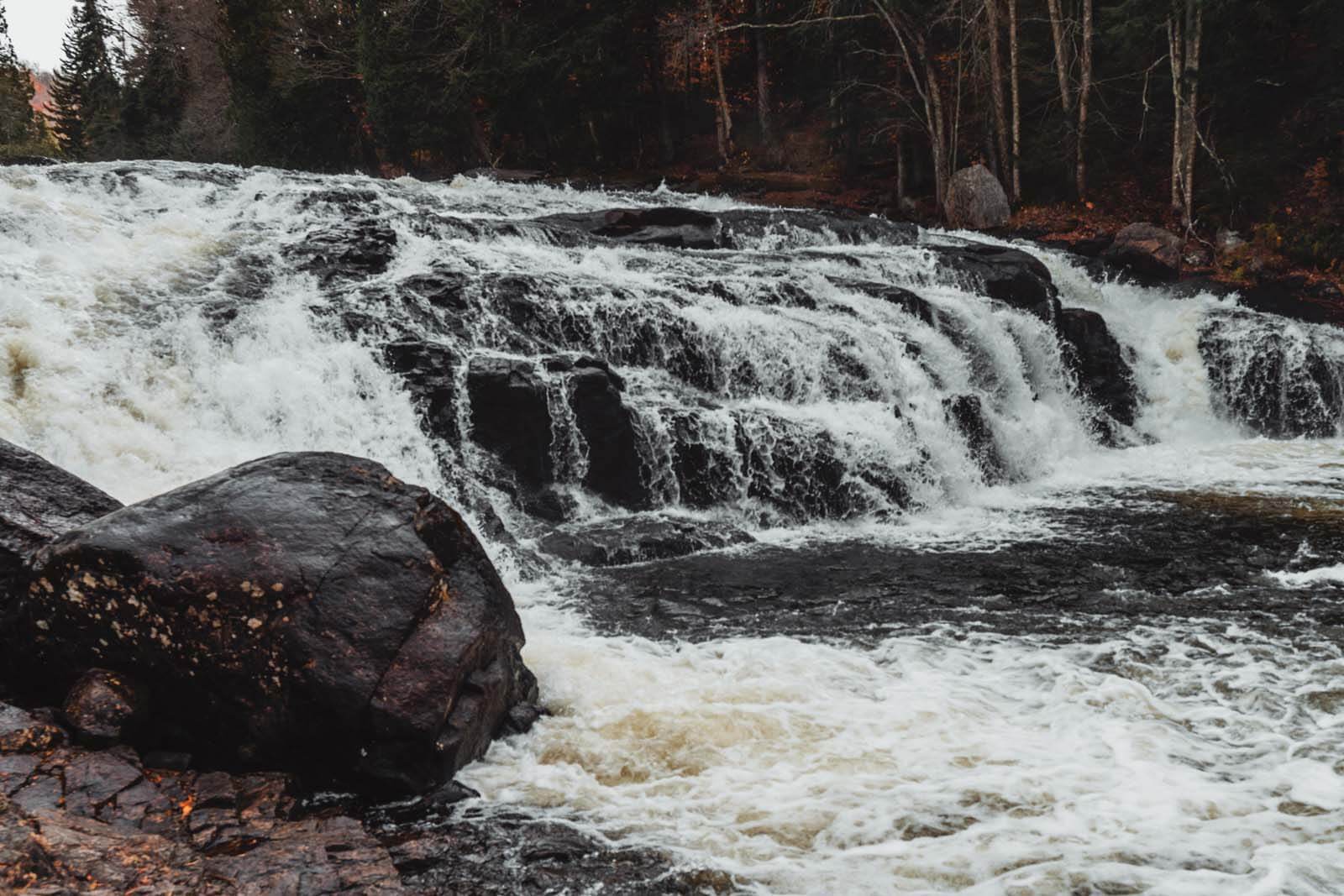 This little town in the Adirondacks has it all, and is just waiting for you to claim your next adventure. Don't miss Buttermilk Falls either which flows along the Raquette River just a short drive from Long Lake too!
Ticonderoga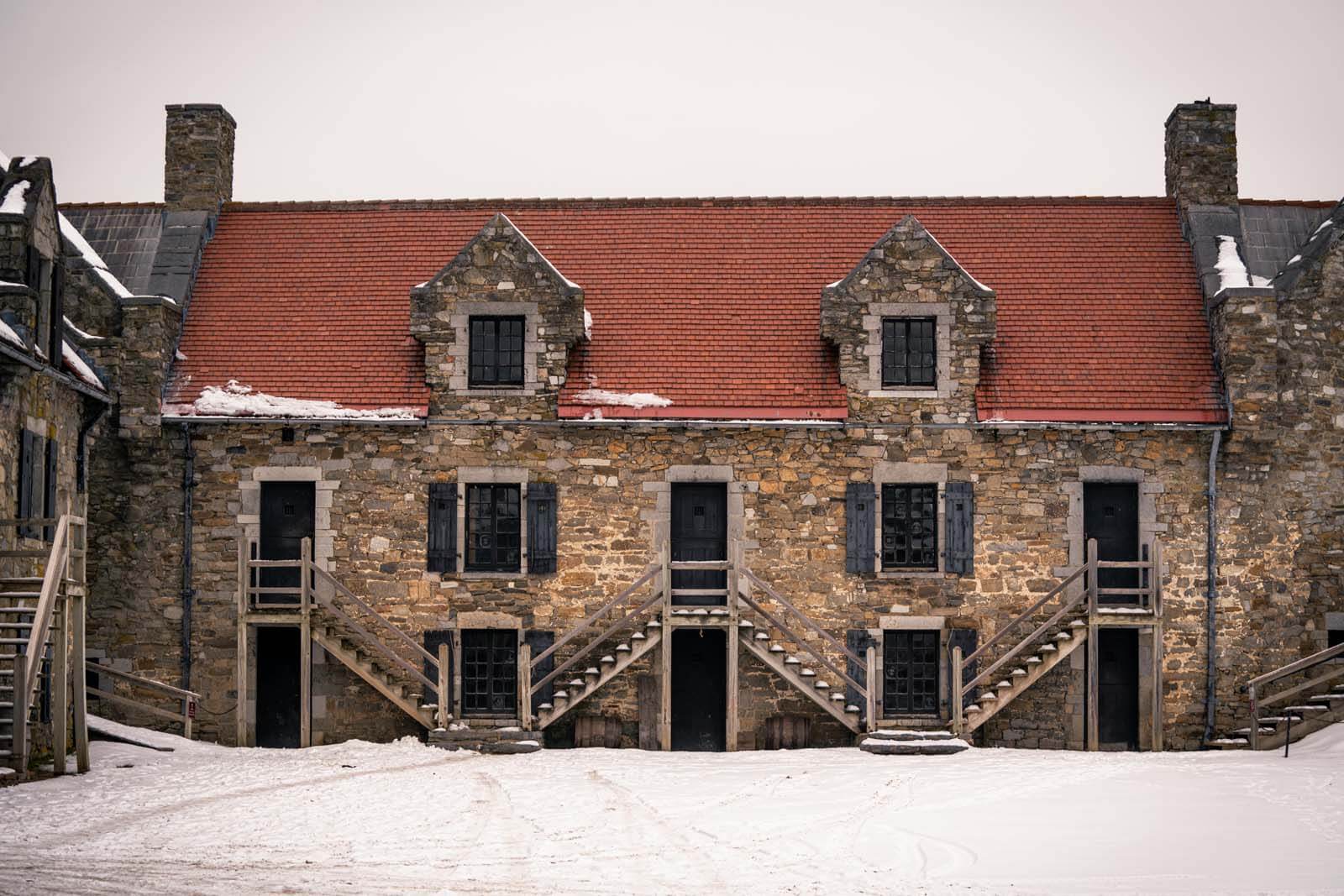 Where Lake George and Lake Champlain meet is the next best town in the Adirondacks at Ticonderoga, New York. A unique experience of scenery, history, and outdoor leisure activities, Ticonderoga has something for everyone.
Fort Ticonderoga, built by the French in the 18th century, stands today as a living, working monument to the past. With views of Lake Champlain, this fort was a strategic point for the French and Americans due to its convenient port access. The fort offers live reenactments, museum tours, education opportunities, Farm to Fork dining, boat cruises, and more.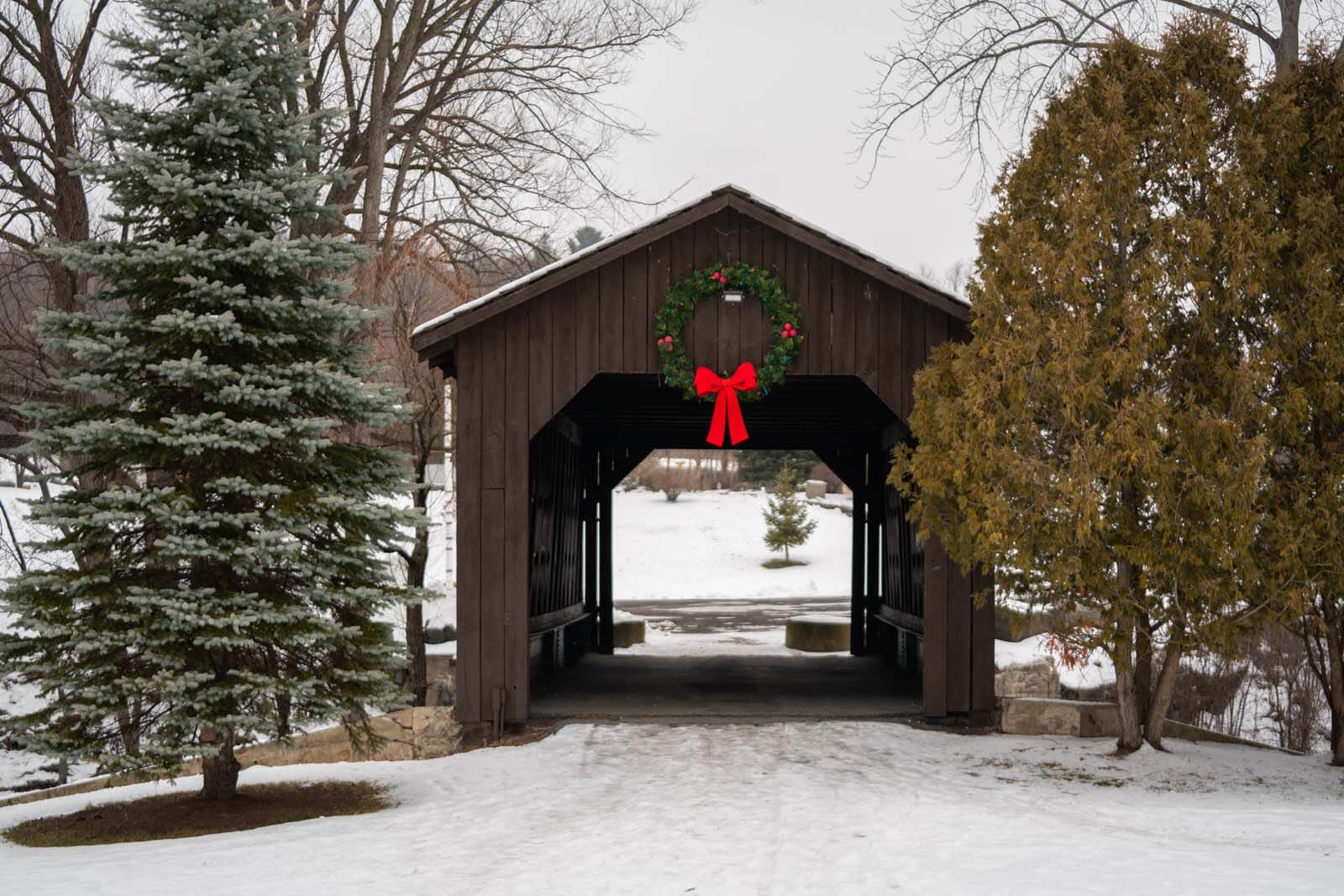 Less than three miles from Fort Ticonderoga is another can't miss spot in this town in the Adirondacks, the Ticonderoga "Kissing" Bridge. Near the Falls of Clarion, this steel stringer bridge provides a romantic overlook of Ticonderoga Creek.
Or, how about spending some time adventuring on the LaChute River Walk Trail. The LaChute river connects Lake George to Lake Champlain, and runs about four miles through the town. The water meanders over dams, ledges and boulders before finally heading over the last falls in Bicentennial Park.
Stop into downtown Ticonderoga and then head to the Bicentennial Falls for a beautiful finale to the day.
Tupper Lake
Stargazers rejoice! For the next best town in the Adirondacks to visit, check out Tupper Lake, New York. The area's high elevation, unobstructed views, and minimal light pollution from larger cities make this town in the Adirondacks one of the top places to visit for an evening stretched out under the stars.
Plan a trip to visit the Adirondack Sky Center & Observatory just after dusk any Friday from Memorial Day and Labor Day. Large, high-powered telescopes are available for you to look through, and amateur astronomers are there to answer questions and give short talks about the celestial bodies visible in these inky black skies.
After you've rested from your late-night stargazing, head over to The Wild Center at Tupper Lake. The indoor portion of this park features interactive exhibits sure to delight kids and adults alike. Check out the otters, porcupines, and river life displays, learn how maple syrup is made, and learn from naturalists. Asking questions is encouraged!
Outside, the brave may want to tackle the Wild Walk, an Adirondack tree top series of bridges that takes you around the forest for a literal bird's eye view! On the way, the trail in this town in the Adirondacks has tree houses, spiders web to bounce on, and even a bald eagle's nest at the tallest point of the walk.
Whether you are weary and hungry from a night of stargazing, or want to share in a local craft brew to celebrate your other adventures, this town in the Adirondacks has you covered. With everything from a 50's diner, to brew houses, dining in Tupper Lake is sure to surprise you!
Au Sable Forks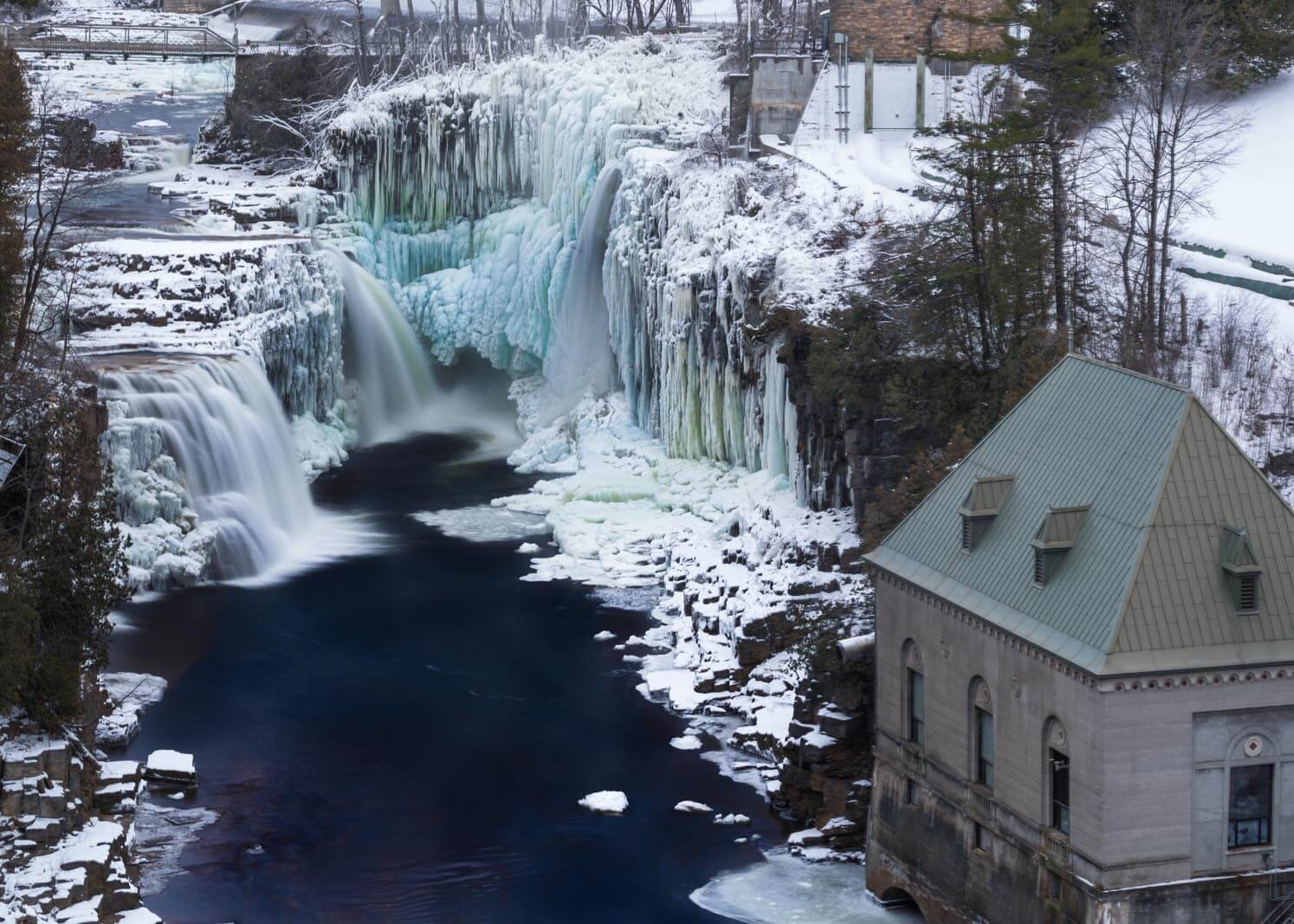 If you're looking for one of the best towns in the Adirondacks, be sure to consider Au Sable Forks. Known as an angler's paradise, this small hamlet has some of the best fishing in the Adirondacks. Located at the confluence of the East and West branches of the Ausable River, Au Sable Forks serves as a convenient home base for a weekend fishing trip. Both brown and rainbow trout are common in the rivers.
If you're more interested in a day of adventure, be sure not to miss a visit to the Ausable Chasm, the Grand Canyon of the Adirondacks. One of the oldest natural attractions in the United States, this park has it all.
In the summer, check out one of their raft tours. Float down the river into the Ausable Chasm, where the sheer cliff faces lay bare eons of earths history.
Ausable Chasm is even open in the winter for a magical winter wonderland scene, you can hike with snowshoes or crampons around the Rim Trail by yourself or the Inner Sanctum Trail with a guide. You can rent your snow shoes and purchase your ticket at the visitors center!
The park in this town in the Adirondacks offers several different adventure packages including; scaling the chasm, walking tours through the gorge past natural landmarks including Elephants Head, Rainbow Falls, and Hyde's Cave, and mysterious nighttime lantern tours.
Whether you visit Au Sable Forks for some quiet commune with nature, or for an adventure-packed weekend, this town in the Adirondacks can't be missed!
Old Forge
Considered to be the "Adirondack Base Camp" be sure to check out this next best town Adirondacks. Old Forge, New York, located on Route 28 is a picturesque Upstate New York town. Beautiful waterfront properties back up to Old Forge Pond, not a pond at all but a 51-acre recreational reservoir.
Book a hotel, cabin, or luxury vacation rental and be minutes away from relaxing on the Old Forge Beach in the summer, or snowshoeing and snowmobiling in the winter.
Skiing enthusiasts will thrill in the big mountain fun the nearby McCauley Mountain Ski Area has to offer. Just seven minutes from one of the best Adirondack towns, this ski center features a 633-foot vertical drop packs a lot of big mountain adventure in a small area. Considered one of New York's best family mountains, McCauley has everything from double black diamond runs, to long, cruising slopes. You can also check out their cross-country skiing, snowboarding, and scenic chair lift.
This great town in the Adirondacks is also home to New York's largest water theme park, Enchanted Forest Water Safari. The park offers two lodging options, 50 water and amusement rides, go-carts, and more! Come for the day and enjoy lounging at the beach at Waters Edge Inn.
Or, in the winter, make this town in the Adirondacks your home base while taking in miles of snowmobile trails, cozying up by the fire, or going for a swim in their indoor heated pool. This town really has it all!
Indian Lake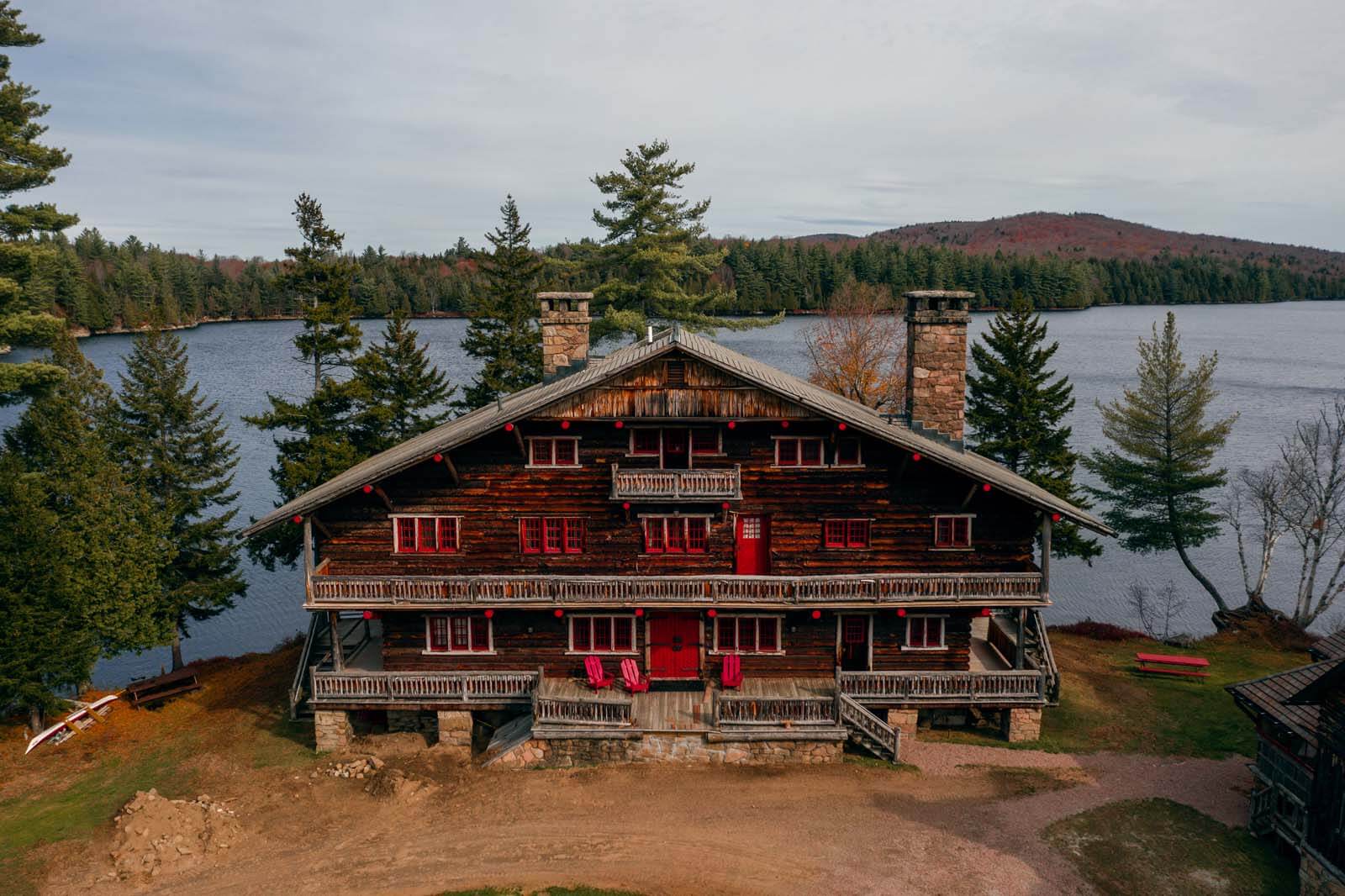 The next best town in the Adirondacks to visit, just happens to be the Whitewater Rafting Capital of New York State, Indian Lake.
Beginning at Indian Lake, and running 17 miles to North River, the single day trip down the gorge is considered one of the best in the country. From the 150-foot drop that occurs in just over 3 miles, to the many class III and IV rapids interspersed with calm pools to recuperate, the river is sure to offer everyone a day of adventure.
For a unique experience, be sure to check out railbiking! Ride the rails, literally, in a two- or four-person cart, and modified wheels to run smooth on sections of unused Adirondack railroad. Revolution Rail Co. offers two tour options. First, the North Bridge run is a 7 mile there and back again trip that offers views of the Hudson River, and Adirondack canopy. Second, the South River Run will take adventure seekers on a 9 mile there and back again trip. With more views of the Hudson River than the North Bridge, this new track offering is sure to be a favorite.
The town of Indian Lake also offers cozy cafes, gorgeous vacation homes for a weekend or week-long retreat, cabins, and more to make this home away from home, one you want to return to year after year.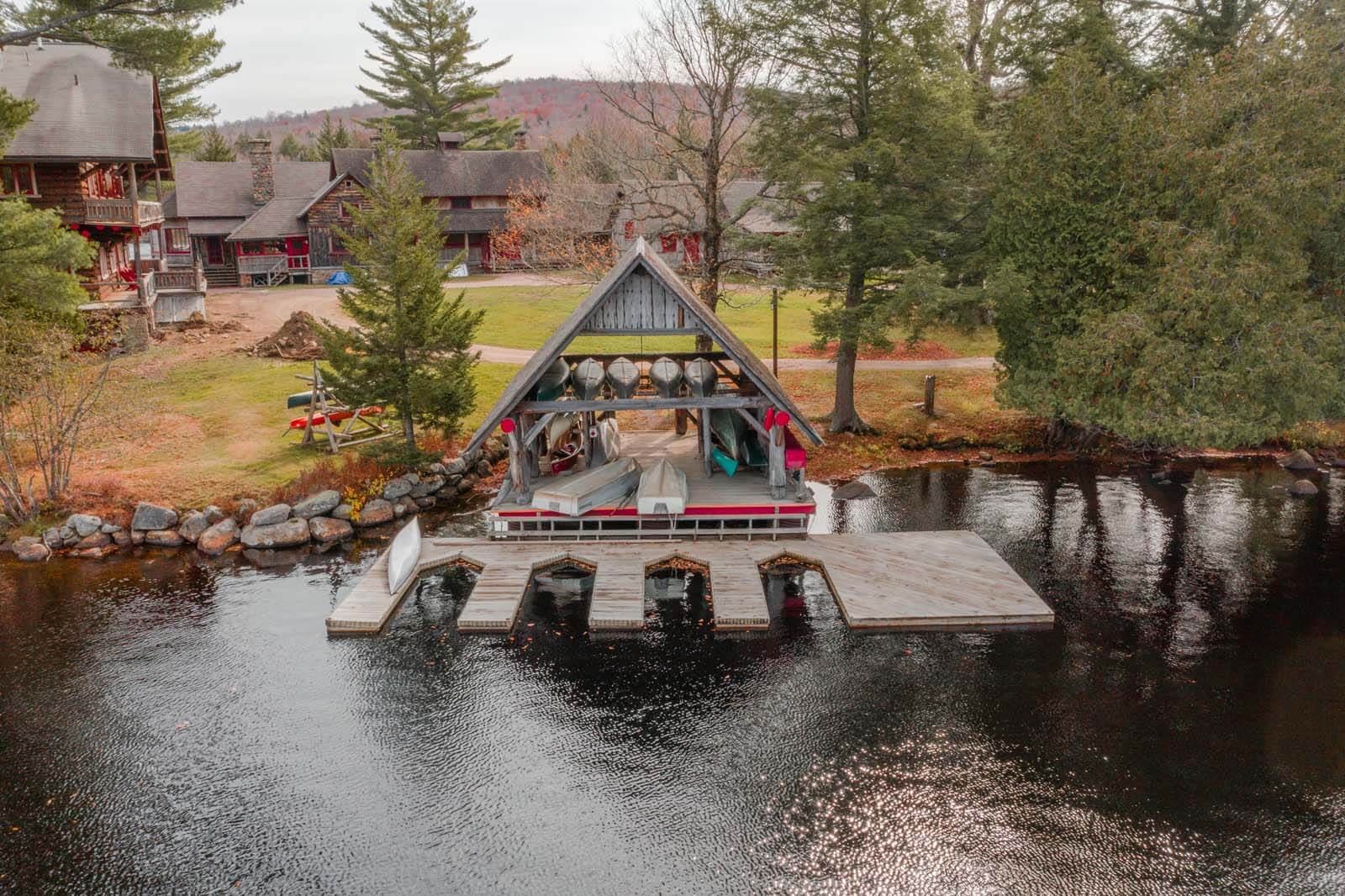 Don't miss making a trip to Great Camp Sagamore while you're here on Sagamore Lake. This is one of the historic camps in the region that dates back to 1895. It was initially used as a vacation haven for some of America's wealthiest families. In 1901, Alfred G Vanderbilt, of the famous Vanderbilt family, purchased this historic camp but passed away on tragic sinking of the Lusitania in 1915.
Eventually, the property was donated to Syracuse University and is listed as a National Historic Landmark. Tours are available as well as stays, as long as you plan ahead, and if you can't do either of those, be sure to check out the trail that's open to the public that circles the lake passing lush pine forests and gorgeous views.
Westport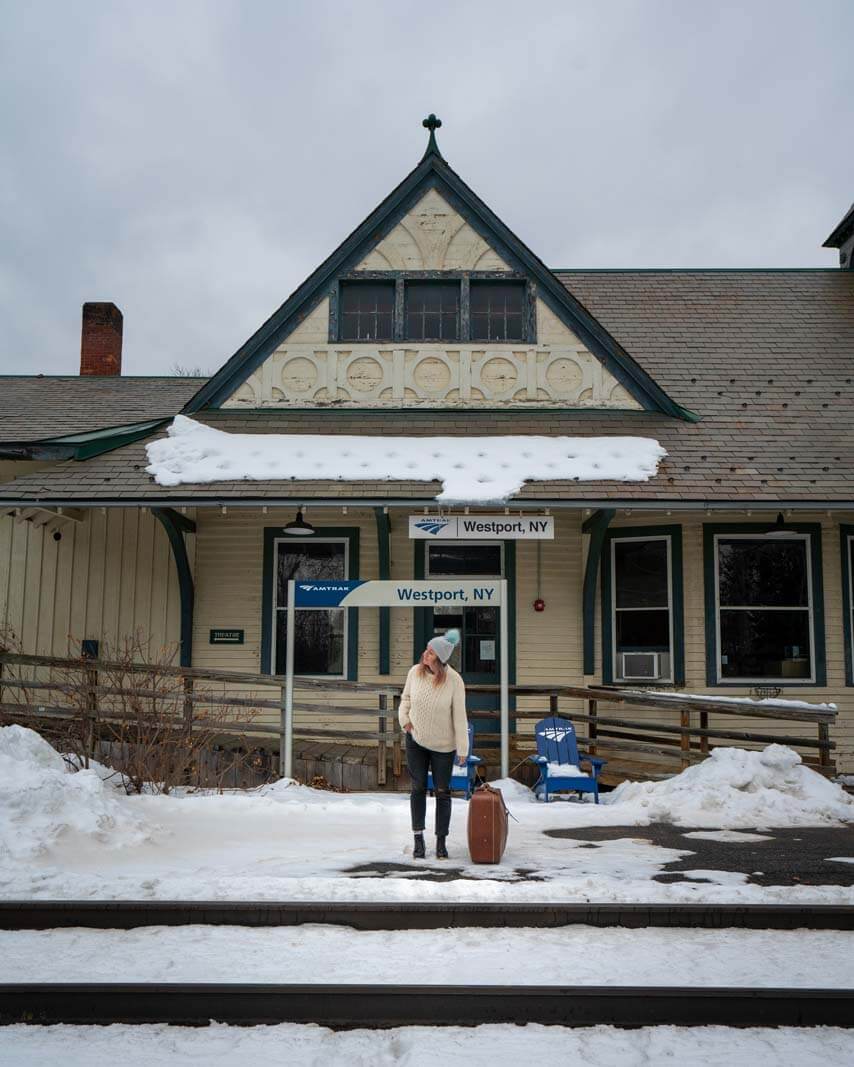 With Lake Champlain to the East, and the magnificent Adirondacks to the West, Westport really is one of the best towns in the Adirondacks. Offering all-season vacation attractions, this charming village takes pride in its magnificent sunrises, arts and crafts community, rich history, and summer outdoor concerts.
Spend an afternoon on a guided walking tour through the town. Admire historic architecture beginning at the historic Heritage House, a Baptist church from 1877. The walking tour takes you along the waterfront, stone furnaces, and some of the most beautiful gardens and vistas imaginable.
This town in the Adirondacks also offers a number of hiking trails, clear streams for a day of fishing, or charter a boat at the marina for a summer cruise. No matter your reason for visiting, this small, quiet town is sure to offer the peaceful escape you have been looking for.
Where to Stay in the Adirondacks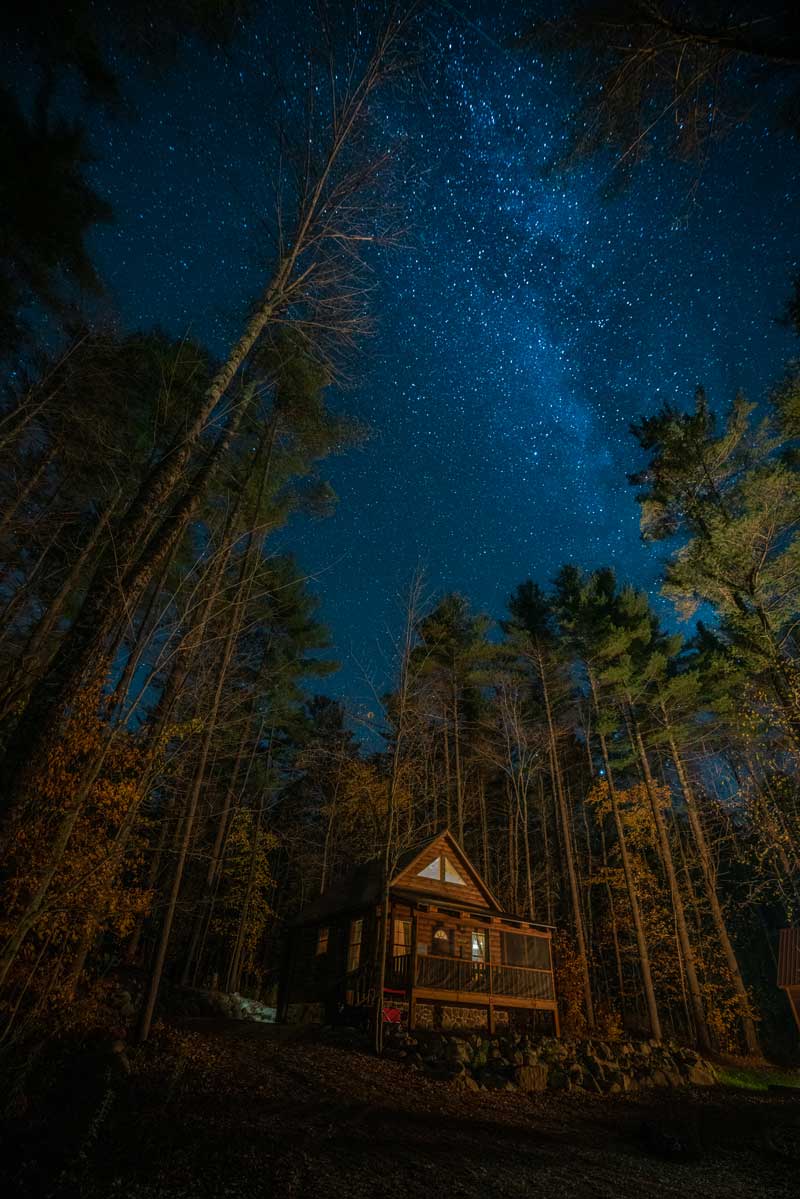 Each of these towns in the Adirondacks are excellent choices for where to stay whether you're looking for a local hotel/lodge/motel or a cabin or house rental. To help you narrow down a few of the best spots to stay, we have listed some personal recommendations that we've either researched or stayed at ourselves.
Be sure to also check out our guides like the best New York cabins for more ideas!
This gorgeous A-Frame cabin, is located in Jay which is one of our picks for best towns in the Adirondacks to visit and a short drive to Lake Placid and Whiteface Mountain where you can find many activities and just a short drive from Ausable Chasm. This cabin can sleep up to 6 individuals and comes with board games!
Another great cabin perfect for 2-4 guests is the Ruby Hill Cabins in Wells on Lake Algonquin which is just a short drive to many of the beautiful outdoor activities and not too far of a drive to Lake George.
Another dreamy cabin perfect for your getaway to the Adirondacks is this cabin and property at Camp Garoda that also has a fireplace and a jacuzzi to warm up to on those chilly winter evenings with a great location next to Caroga Lake that comfortably sleeps up to 4 guests.
One of the most famous places to stay in the Adirondacks any season is located on an island in Lake George as mentioned earlier in this guide. The luxurious and famous Sagamore Hotel is a premier destination and property was named by Architectural Digest as being one of the most beautiful hotels in the Adirondacks as well as being an official AAA Four Diamond recipient.
This hotel dates back to the 1880s and is designated as a National Register of Historic Places. Stay in one of their condos, standard rooms, luxury suites, or a private lodge overlooking the gorgeous Lake George. Book here.
One of the best places to stay during an Adirondack winter vacation if you plan on doing any skiing or snowboarding is at the world-famous Whiteface Lodge in Lake Placid. They have several styles of rooms to choose from, a spa, heated indoor/outdoor pool area, and other great amenities for guests at this 4.5-star resort not to mention a great location. Book here.
Another great, AAA Four-Diamond hotel and member of the Small Luxury Hotels of the World located in Lake Placid, and a great base for exploring the Adirondacks, is the Mirror Lake Inn. Get a gorgeous room with a balcony overlooking the mountains and Mirror Lake with a crackling fireplace to cozy up to at nights.
There's a luxury spa on site and you can walk to all the attractions and things to do in Lake Placid right from this resort which is just a short, 10 minute drive to Whiteface Mountain if you are also hoping to hit the slopes. Book here.
---
Enjoyed this guide to our picks for the best towns in the Adirondacks to visit? Bookmark for later or share the love below on Pinterest!