Planning a trip and looking for the best places to stay in Bermuda? We got you. While planning our own dream Bermuda vacation we carefully compared all of the top hotels in Bermuda to pick the best for our own stay including three of the best Bermuda resorts on our own trip plus others we looked at (and visited while we were there).
There are many things to know before visiting Bermuda and planning a trip, which is a huge investment as this is not a very budget-friendly destination. That's why we put this guide for where to stay in Bermuda to help you pick which part of Bermuda to stay in as well as what amenities you can expect at each of these Bermuda resorts and hotels.
Spoiler alert, there's not a bad place to stay in Bermuda on this list – but depending on your needs and wants from your trip, you may want to carefully choose where you're staying. Especially if you're aware of Bermuda transportation as they don't have regular rental cars, but electric 2-seater cars and scooters to rent or local transportation.
Without further ado, here are the best places to stay in Bermuda whether you're looking to stay on the south shores on a pink sand beach, a quiet ocean-front cottage with a private pool, something right on a world-class golf course, or a 5-star resort from a reputable hospitality group.
Disclaimer: This post on the best places to stay in Bermuda contains affiliate links.
Best Bermuda Resorts
Hamilton Princess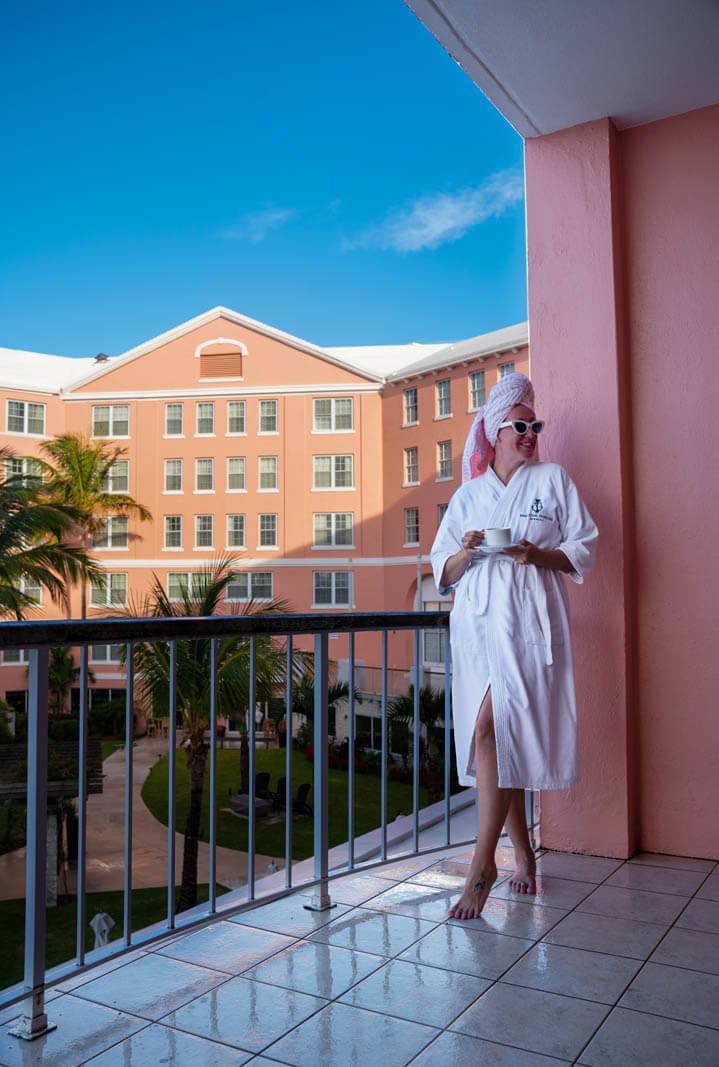 One of the top hotels in Bermuda is the Hamilton Princess Beach & Club. Known as one of the best Bermuda resorts out there, this 5-star resort is Fairmont-managed and has many unique perks. One of the many reasons that the Hamilton Princess is one of the best resorts in Bermuda is because of its own private Princess Beach Club situated on the South Shores near some of the best beaches in Bermuda. This beach club is for guests only!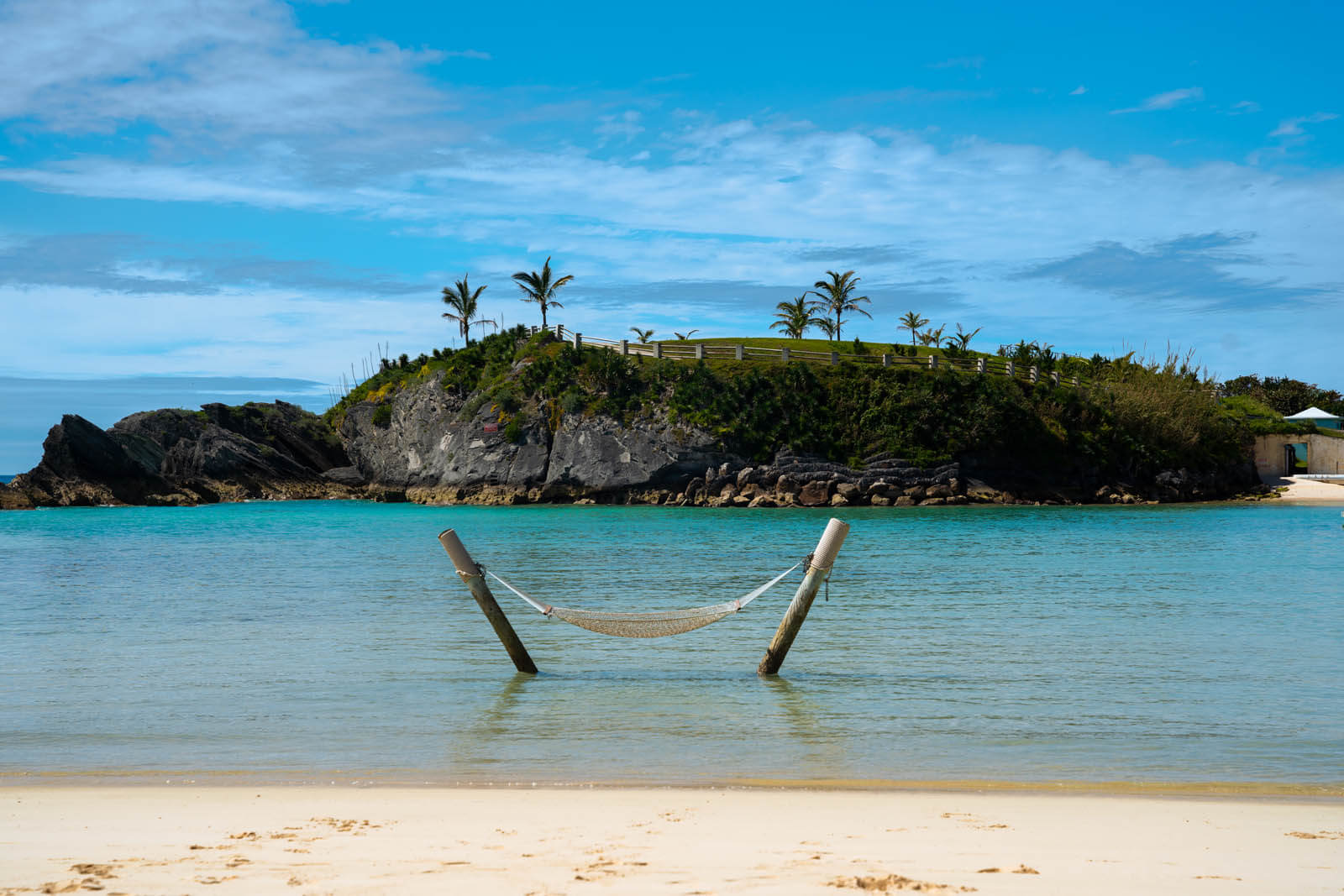 Guests can use the free shuttle that goes from the Hamilton location of the resort to Sinky Bay Beach where the Princess Beach Club is. At this private beach club, you can enjoy their full amenities like beach chairs, umbrellas, towels, bathrooms, cold water, ice, food & drink, and kayaks. Oh, there are also tennis courts and cliffside walking trails and viewpoints here too.
This was one of our highlights of staying at this Bermuda resort as the private beach club was perfect for lounging. The best have to be the overwater hammocks and private cabanas for guests. There are two beaches to enjoy here, one is a protected cove with no waves which is great for timid or beginner swimmers, the other is steps away and opens to the ocean with gorgeous rock formations jutting out of the water.
In addition to the private beach club, this gorgeous pink hotel in Bermuda is not only is a great base for checking out all the best things to do in Hamilton, but also a great spot if you want to stay centrally located as you're just steps away from the ferry terminal, bus terminal, and rental options.
This Bermuda resort also has a stunning collection of contemporary and modern art, that even non-guests can enjoy walking through featuring works from artists like KAWS, Banksy, Andy Warhol, and Jeff Koons to name a few.
Other amenities include two fantastic pools overlooking the Hamilton Harbour, dining options (the Duchess Cafe is great for breakfast and 1609 Restaurant is great for dinner – skip the main restaurant the food wasn't great and overpriced), and you can actually get your rentals on site here whether you're looking for boats or electric cars.
The Princess Beach Club honestly made staying at the Hamilton Princess worth it to us, enjoying the private beach was awesome and we went a few days in a row. Book Hamilton Princess here.
Cambridge Beaches Resort & Spa
Another one of the best Bermuda resorts is Cambridge Beaches Resort & Spa. Secluded on Somerset Bay on the West End of Bermuda, this resort is only 15 minutes from the Royal Naval Dockyard! This was another Bermuda resort we enjoyed during our trip and it was probably our favorite – although that's a tough call.
Although many of the best Bermuda resorts offer rooms with great views, this hotel offers rooms, suites, and even cottages with water views. The pink, private luxury cottages give off an old-world feel and offer fantastic views of the water. Some of the cottages even come with a private pool, which is what we had and HIGHLY recommend booking if available during your dates.
One of our favorite memories from our stay here was the romantic nights in the pool floating under the stars. The private cottages are awesome for honeymooners or a romantic getaway.
The largest cottage they offer is excellent for families and groups of friends. This private, 2-story cottage is made up of 3 bedrooms, 2 and a half bathrooms, a living room, a kitchen, a dining room, and views of Mangrove Bay.
This is also one of the best places to stay in Bermuda because of the fantastic spa! At the spa, guests can enjoy a whirlpool, relaxation pool, steam room, sauna, and many other amazing amenities. These are available to visit anytime the spa is open and if you want a specialty treatment or massage you have the option to book one of those as well.
In addition to everything mentioned, there are also private sandy beaches here, private coves, waterfront dining, a garden, and a beautiful infinity pool for guests.
This hotel also offers scooter and electric car rentals next door at Oleander Cycles! Book Cambridge Beaches Resort & Spa here.
Grotto Bay Beach Resort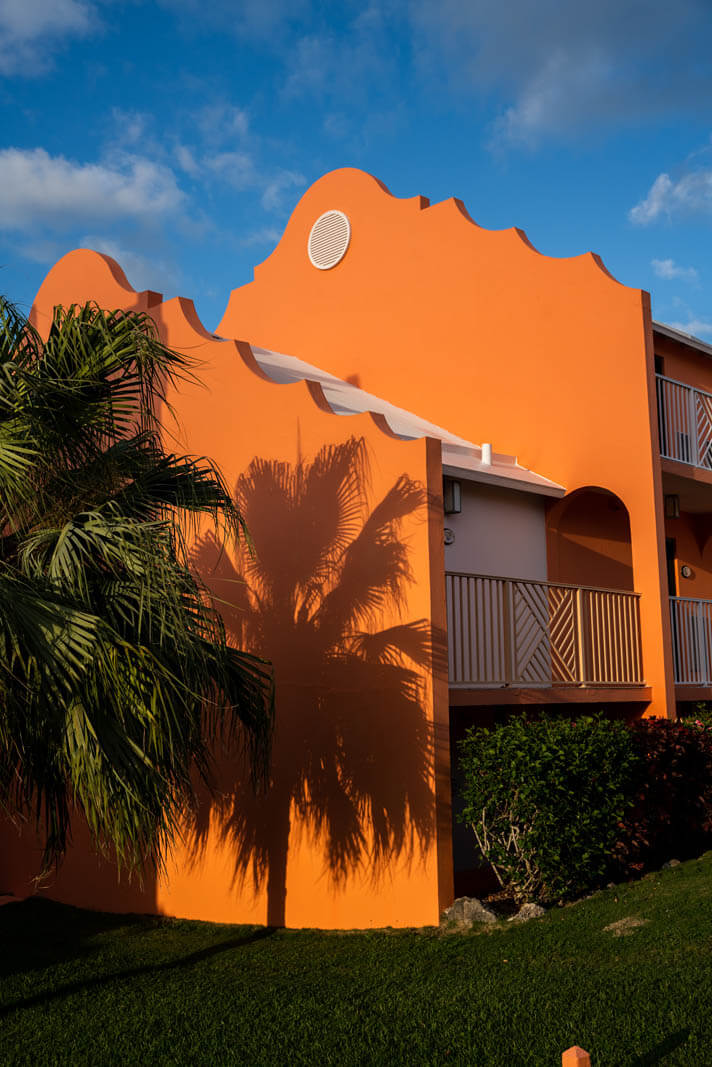 Grotto Bay Beach Resort is another one of the best resorts in Bermuda, and the final resort we stayed at on our trip, which we also loved. This resort is located near the airport on the East End and is the only Bermuda resort that has an all-inclusive add-on option. While you book a room here, you can choose the all-inclusive option to get food and drinks included in your stay for a daily set fee. This is better for guests who plan on staying around the resort most of their stay.
Speaking of, there's plenty to do here that might entice guests to do that too. One of the best perks about staying at Grotto Bay Beach Resort (besides the friendly cats that live on the property here) is the access to swim in Cathedral Cave, which is one of the rare caves you can swim in Bermuda.
Guests can also book a treatment at the Natura Spa here, which is set in Prospero's Cave for one of the most unique things to do in Bermuda and honestly a bucket list-worthy item, I have never heard of having a cave massage before this.
There is also onsite dining, onsite rentals for electric cars and scooters, as well as a great pool and bar overlooking a private beach that has its own shipwreck you can snorkel or swim to.
This Bermuda resort is also less than a 5-minute drive to the airport, so this is a great option for where to stay in Bermuda towards the end of your trip.
When deciding where to stay in Bermuda, location is always an important factor. Luckily, Grotto Bay Beach Resort is located within walking distance to the Crystal & Fantasy Caves, Blue Hole Park, and Swizzle Inn!
The rooms are located in the gorgeous tropical, salmon-colored cottages which guests can also have a balcony overlooking the water. What really made this resort stand out are the amenities, location, and of course the caves! You can easily rent a scooter or electric car from the resort to explore around St. George's too! Book Grotto Bay Beach Resort here.
St. Regis Bermuda Resort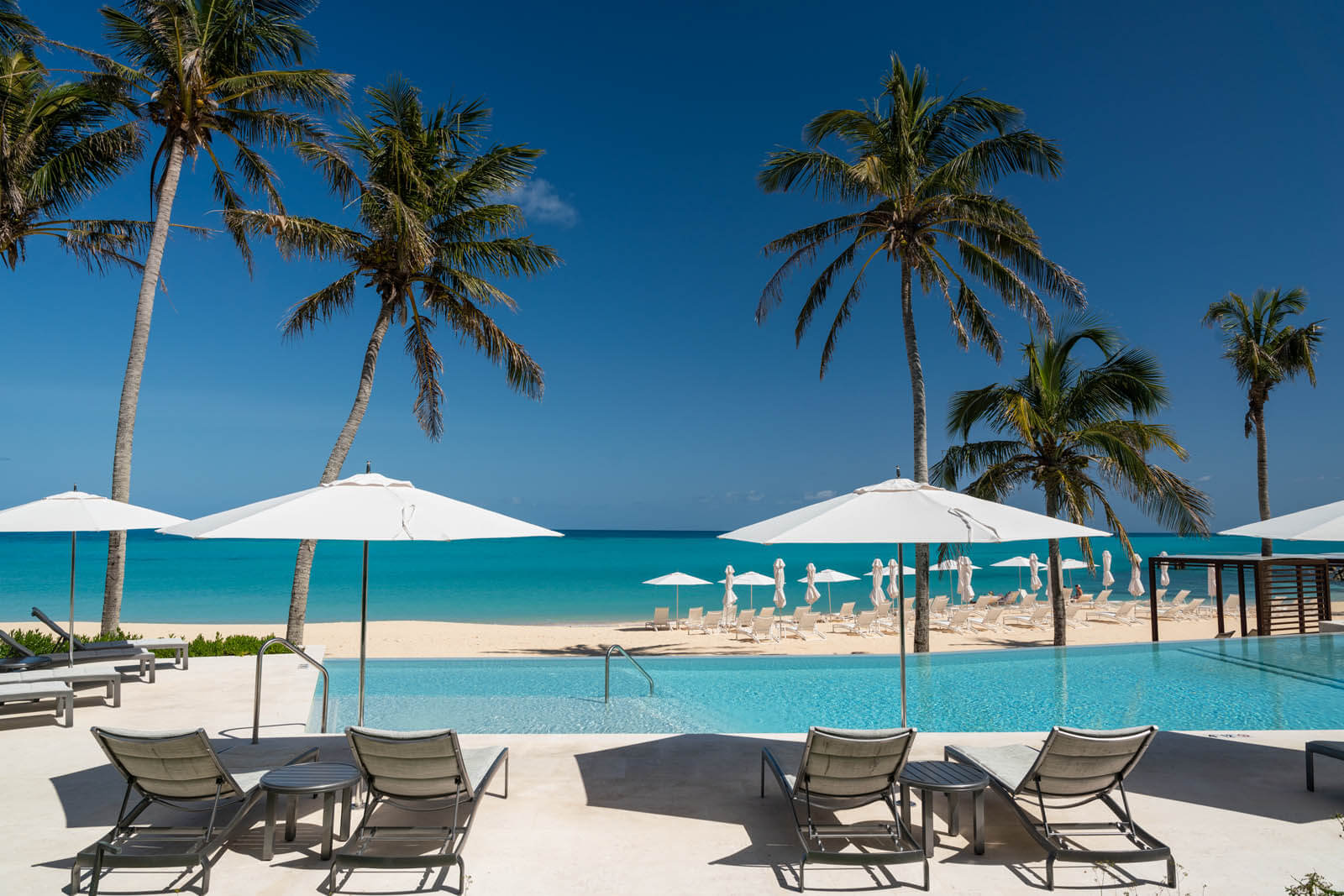 If you're wondering where to stay in Bermuda that offers large, luxurious rooms with views of the water, look no further than the St. Regis Bermuda Resort. The St. Regis is one of the best resorts in Bermuda if you want to be located on one of the most gorgeous beaches here.
Located on the East End at St. George's, the St. Regis Bermuda sits right on Catherine's Beach at the base of the 17th-century Fort St. Catherine. This soft, powdery, white sand beach was one of the most beautiful we encountered on our visit with some of the most gorgeous blue water we have ever seen, not to mention very calm so great for all levels of swimming and wading.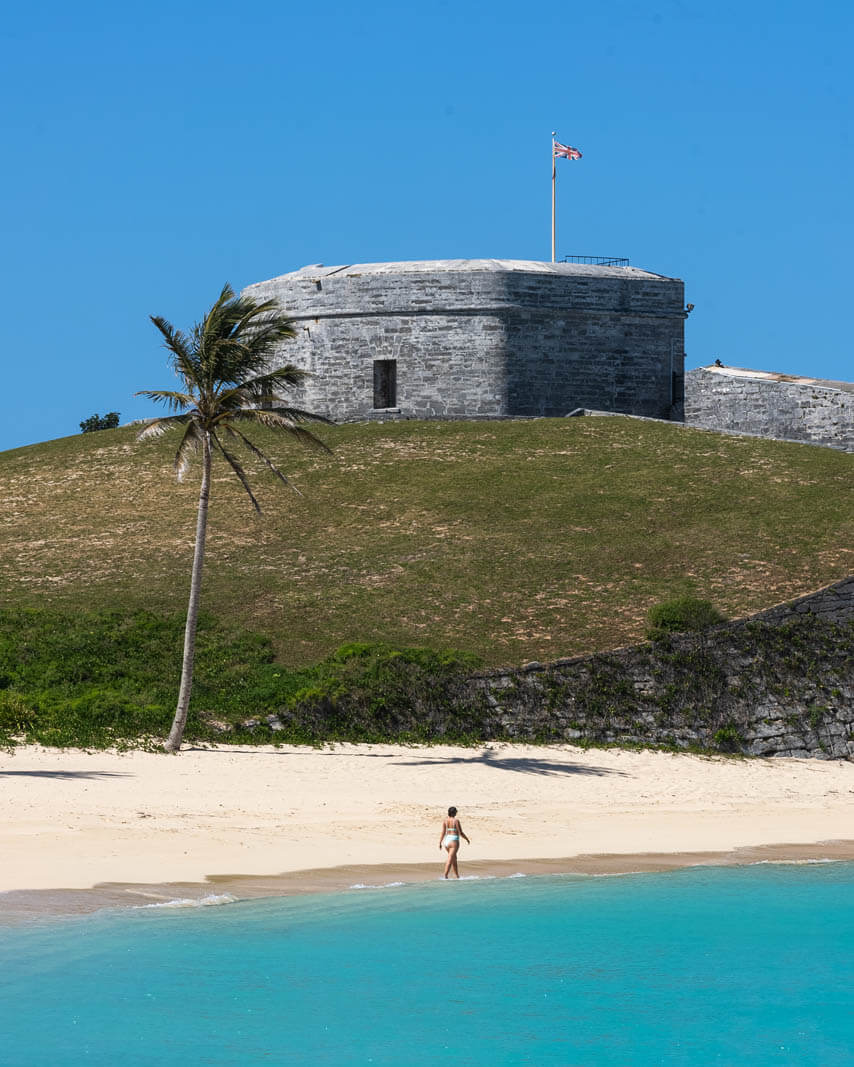 Located in a more secluded area, this Bermuda hotel feels private, but you also aren't too far away from St. George's or other cool beaches like Tobacco Bay. The reason it feels more secluded over here is that there's really no ferry service or bus service at this location, meaning that day visitors are coming via scooter or electric car rentals. Or if they're ambitious enough they can come by foot from St. George's.
Although this beach is open to the public, St. Regis has a stunning pool area for guests that's located right on the beach. Here, you can rent a cabana and enjoy poolside service! There are two pools, one designated for adults only and the other that is more family friendly. There are beach butlers as well who will serve you at the beach or poolside.
You can also enjoy coffee that's served in the lobby until lunchtime every day.
This hotel is also an excellent pick for golf enthusiasts since it's home to Five Forts Golf Club. This golf club offers panoramic ocean views so that you can admire the turquoise water from any spot on the course.
As anyone familiar with St. Regis resorts, this one is no different. Expect luxury prices and service and a great location. Book St. Regis Bermuda here.
Fairmont Southampton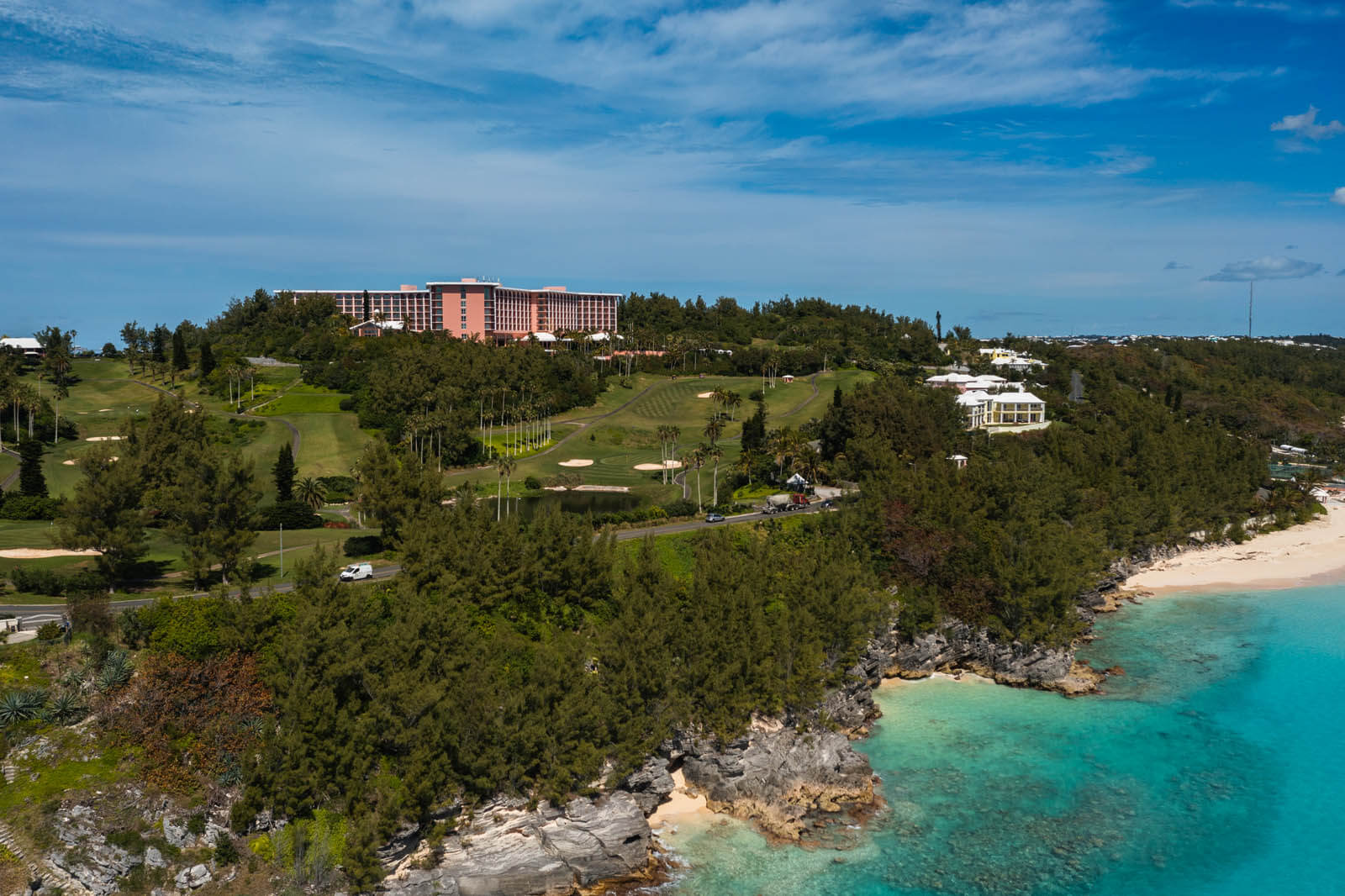 While searching for where to stay in Bermuda and looking for a great location, golf, and a family-friendly destination, be sure to check out the Fairmont Southampton. The Fairmont Southampton is known as one of the top hotels in Bermuda for golfers and families. Currently, this hotel is undergoing restoration but is likely to reopen in 2023!
This pink hotel offers many large rooms with waterfront views, private balconies, and easy access to the pink sand beaches of the South Shore. This hotel is especially popular with families with children since they offer babysitting services and a children's activity center. There are also electric car and scooter rentals on site.
Fairmont Southampton is also home to Turtle Hill Golf Club, a popular golf course that Golf Magazine ranked as one of the top five par-three courses worldwide! This course is great for golfers of all skill levels and offers sweeping views of the water. This course also offers FootGolf, which is played with a soccer ball and is great for kids!
Another perk of this resort and why it's often considered one of the best places to stay in Bermuda is that you're located next to all the famous pink sand beaches in Bermuda like Horseshoe Bay Beach and Warwick Long Bay Beach making it very easy to visit some of the top beaches in the world with just a short drive or bus ride away. Book Fairmont Southampton here.
The Reefs Resort & Club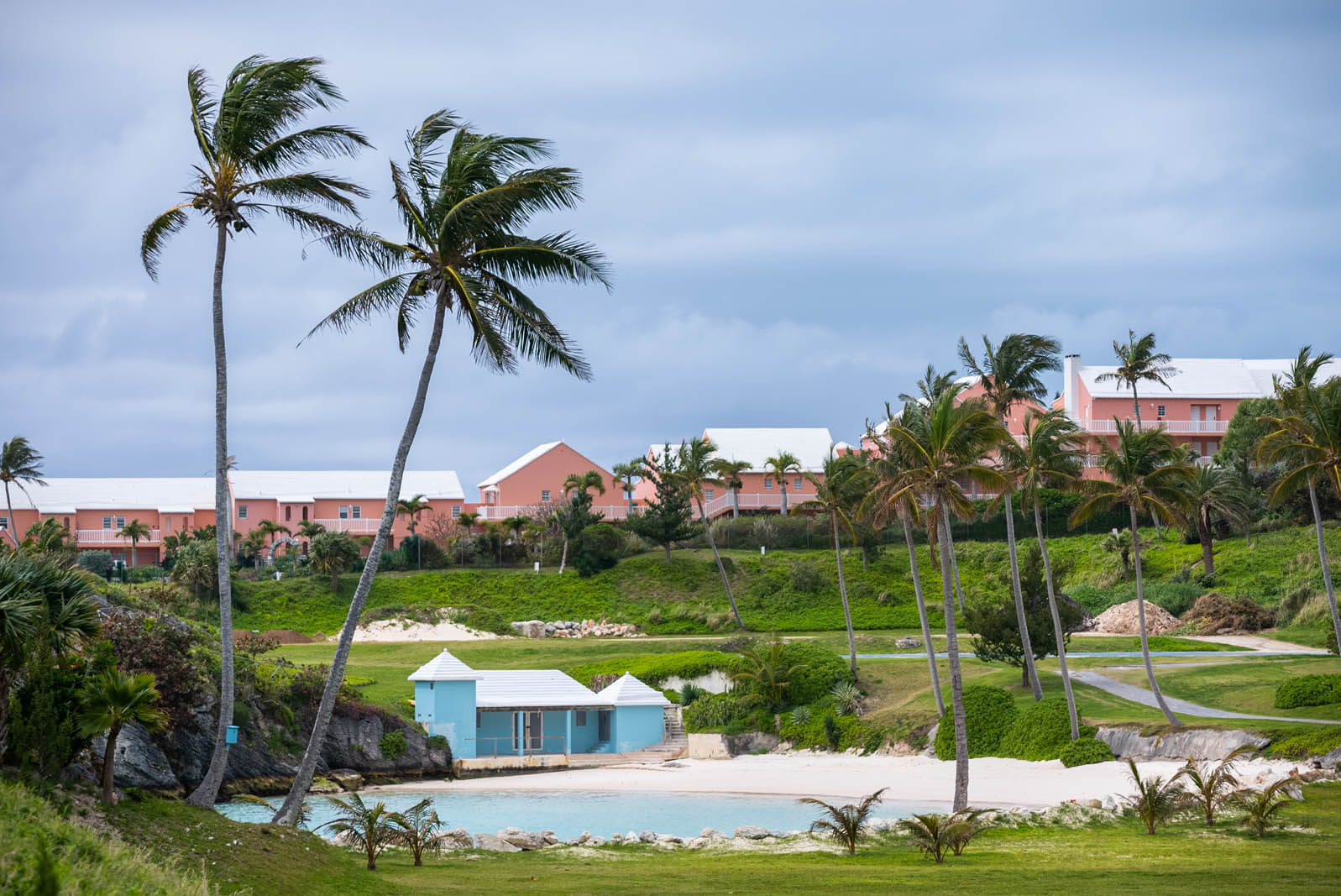 The Reefs Resort & Club is another one of the gorgeous pink hotel and one of the best places to stay in Bermuda in located on the South Shore near the pink sand beaches right on the waterfront. This family-owned and operated resort is one of the best resorts in Bermuda.
It even has its own private pink sand beach! This is probably one of the hottest selling points because not many resorts have that here. Here, you can enjoy the complimentary snorkeling equipment, kayaks, beach chairs, and towels. For snorkelers, you can swim out just a short distance from the shoreline to find some of the incredible reefs to see the underwater wildlife – the same reefs the resort is named after.
This resort is also known as one of the best places to stay in Bermuda due to its other extensive amenities. You can take advantage of the spa, daily afternoon tea, infinity pools, and scooter rentals that are located just across the street. This resort is also home to Aqua Terra, an upscale waterfront restaurant that's perfect for any meal of the day. Not to mention all the rooms have views of the ocean. Book The Reefs Resort & Club here.
The Loren at Pink Beach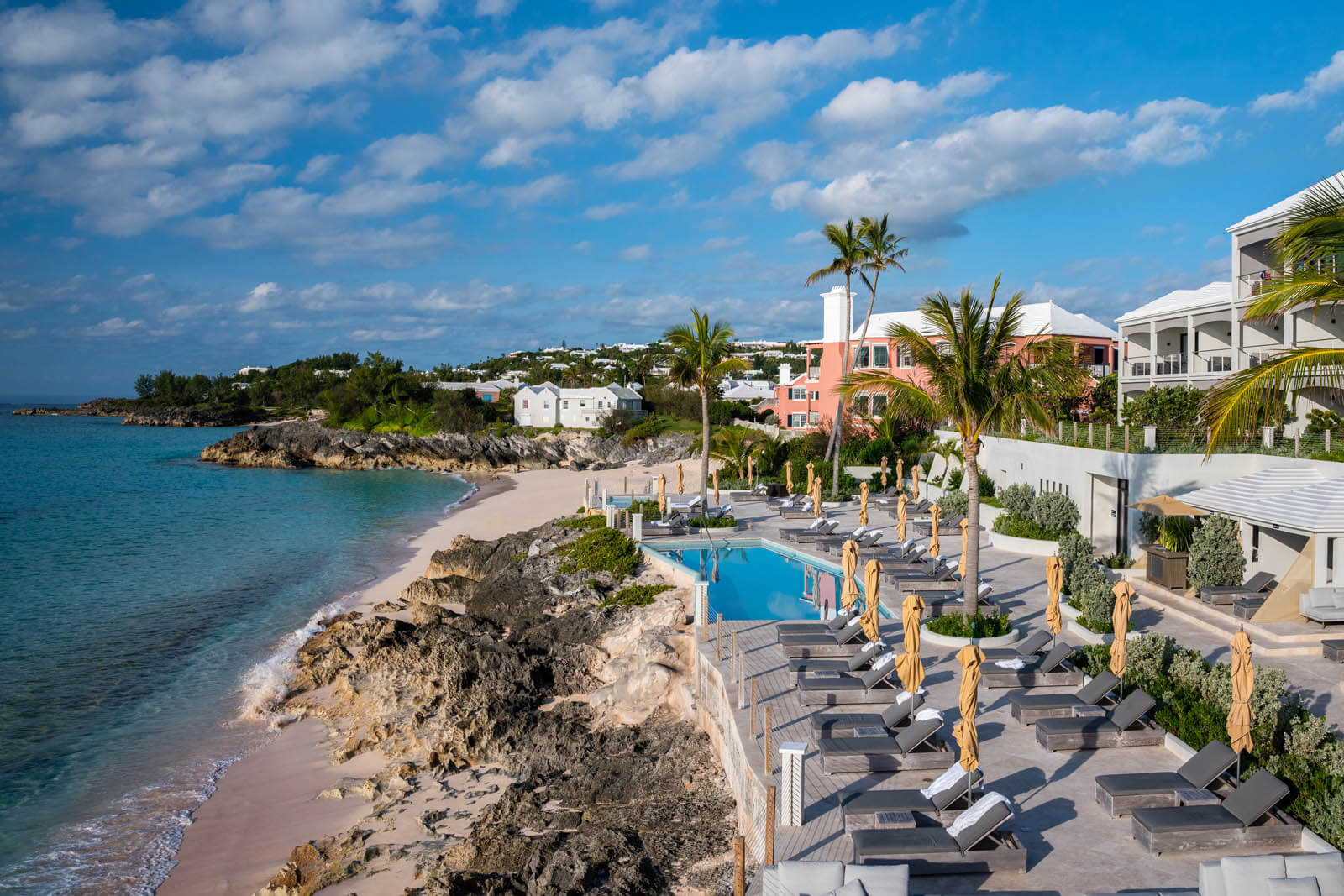 One of the best places to stay in Bermuda and resorts is located in Tucker's Town is The Loren at Pink Beach. Located in Smith's Parish, this hotel opened in 2017 and still looks brand new. Guests love the modern design, marble bathrooms, free-standing tubs, and Malin+Goetz toiletries.
Many rooms have private balconies, views of the ocean, and tons of natural light. There's also a stunning pool that overlooks the private stretch of shoreline, might I add that it's a stretch of pink shoreline too.
The Loren is one of the best places to stay if you want great on-site dining options like The Pink Beach Club. This restaurant is located on the property and serves locally sourced food, which is famous for its weekend brunch, so you won't want to miss that. There's also Maree, a lounge and cocktail bar on the hotel grounds that serves food in the evening as well.
There's also a spa you can book luxurious treatments and packages at if you're looking to pamper yourself.
Located on the East End, this is a very swanky area of the island, where all the billionaires live. If you're a golfer, this is also a great pick for where to stay at Bermuda as you're next to Tucker's Point Golf Course as well as Mid Ocean Club, both of which are world-class golf courses. Book The Loren at Pink Beach here.
Rosewood Bermuda
View this post on Instagram
If you're wondering where to stay in Bermuda is considered the most luxurious, look no further than the Rosewood Bermuda. Located at Tucker's Point, this is one of the top hotels in Bermuda for luxury travelers and those who want to rub elbows with Bermuda's billionaires. Situated on a hilltop that overlooks Castle Harbour, this hotel has a private pink sand beach and great views in each room.
Inside the 5-star rooms are oversized soaking tubs, private balconies, and a minimum of 500 square feet of space. This makes these hotel rooms some of the most spacious in all of Bermuda.
Guests have access to a large golf course, kid's club, multiple tennis courts, two stunning outdoor swimming pools, sauna, steam rooms, kayaks, and lots of great dining options to name a few. For instance, Conservatory Bar & Lounge is a gin lobby bar on the property that has a removable roof! There's also Sul Verde, a Southern Italian restaurant that overlooks the golf course.
Although this hotel is somewhat secluded from the other pink sand beaches (around a 35-minute drive to the main ones), it's only a 10-minute drive from the airport, and a free shuttle runs between the hotel and private club. Book Rosewood Bermuda here.
Pompano Beach Club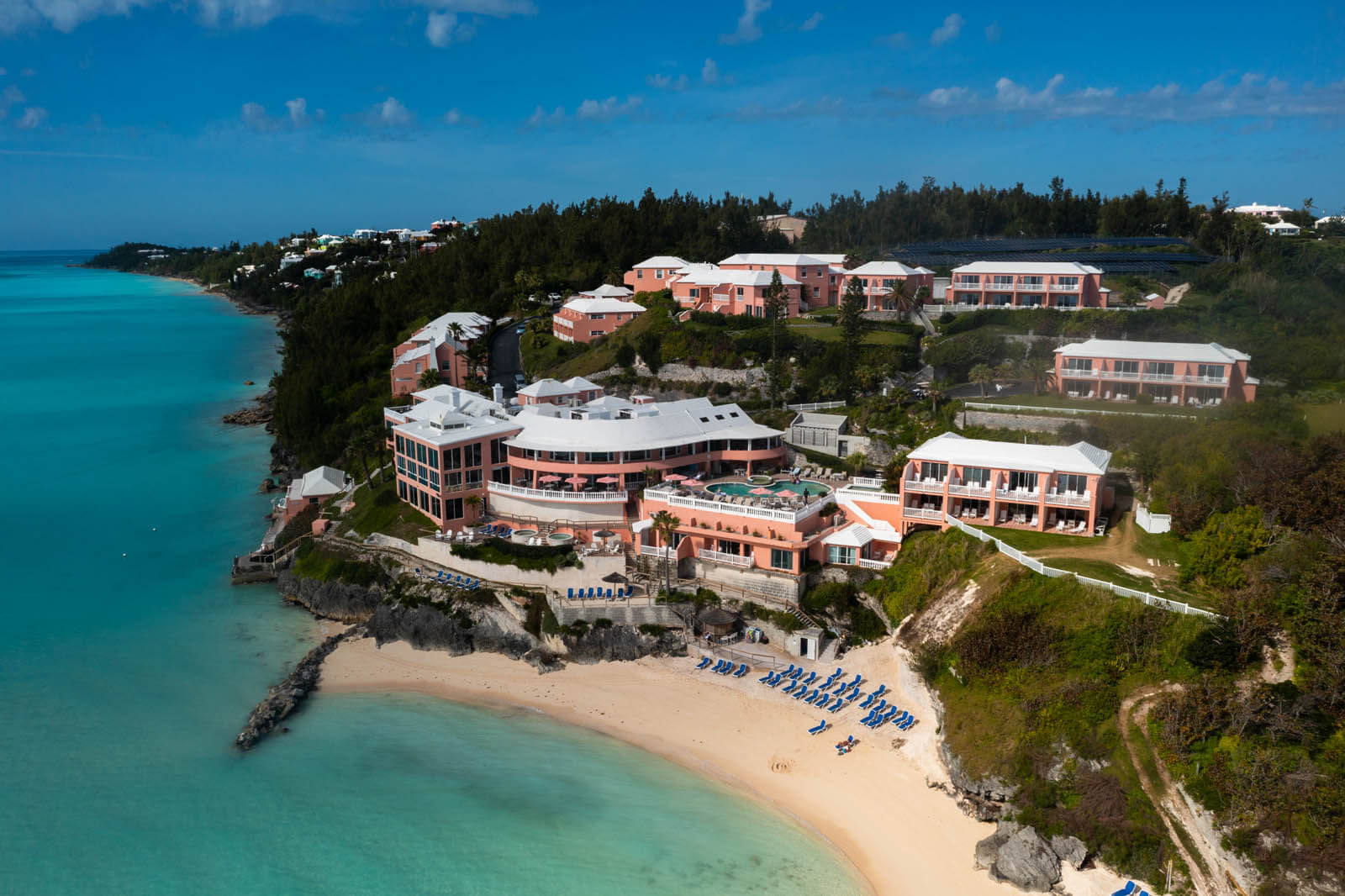 Another great pick for where to stay in Bermuda, especially if you like pink hotels like us, is Pompano Beach Club located on Bermuda's southwest coast near Hog Bay. This beachfront property is family owned and operated not to mention it has a dramatic cliffside location overlooking the waterfront.
Guests can enjoy incredible ocean views from every room which include rooms, suites, and even multi room townhouses all equipped with a balcony with incredible views.
There's also a great beach, where you might spend most of your time at if you stay here. The beach is located next to a sand bar off the coastline making it really great for any level of swimmers and young ones who aren't great in waves. This is also a great spot to walk far off the coast during low tide too!
All bookings in the rooms here come with breakfast and dinner included, so it's semi-inclusive in that sense and a great option if you don't want to plan or travel for meals.
There's a spa on site for guests to enjoy or book treatments as well as a 24-hour pool and jacuzzi overlooking the ocean that you can enjoy any time of the day or night. There's a kiddie pool for the young ones too.
One thing to note about this spot, of all the places to stay in Bermuda this one is one of the oldest and family-operated. This is not a design-forward hotel when it comes to the interior of the rooms – they aren't bad by any means but they aren't the most stylish either. If those aesthetics are important to you, be sure to check photos of the rooms first.
This is one of the best places to stay in Bermuda for families, golfers as it's very close to Port Royal Golf Course, and those looking for a great oceanfront property to stay at. Book Pompano Beach Club here.
---
Enjoyed this guide to the best places to stay in Bermuda and all the best Bermuda resorts? Bookmark for later or share the love below on Pinterest.