Looking to spend a weekend in Edinburgh? You're in for a treat, Edinburgh is arguably one of the most beautiful cities in the world with a beautiful blend of old-world charm mixed with modernity. It's been the inspiration for fantastical stories as well as resonating with the tales of kings and poets.
The gorgeous Edinburgh Castle is perched atop Castle Rock, you can get lost on the cobblestone medieval alleyways, secret corridors and closes, and find beauty all along the Royal Mile.
Beyond the historic beauty and grandeur, Edinburgh has a cultural heartbeat including theaters, galleries, and annual festivals like Fringe, which has inspired the entire world.
There's so much to love in Edinburgh that we fell in love at first sight on our visit, just like many others have. You need at least a few days to take in the beauty of Edinburgh and that's where our guide comes in handy, we will break down how to spend 3 days in Edinburgh.
This weekend in Edinburgh itinerary features iconic and historic landmarks, interesting stops, plus recommendations on where to eat, stay, and any extra activities you may want to check out. This Edinburgh itinerary is fully customizable or you can use it as is to help make planning your Edinburgh getaway easy breezy.
Disclaimer: This post contains affiliates.
Day 1 of 3 Days in Edinburgh Itinerary
Breakfast at Edinburgh Larder
Address: 15 Blackfriars St, Edinburgh EH1 1NB, United Kingdom
Start your weekend in Edinburgh with a rustic Scottish breakfast at the Edinburgh Larder. The quaint café on Blackfriars Street is known for its local seasonal menu that includes artisan roast coffee and fish and produce from local suppliers.
Enjoy their full breakfast with blood pudding or go with the vegan or vegetarian versions! And try to make reservations ahead of time. This place is really popular and fills up daily.
After breakfast, you'll be ready for a scenic walk up the Royal Mile towards the castle (don't worry there will be more Royal Mile exploring later in the day).
Visit Edinburgh Castle
Address: Castlehill, Edinburgh EH1 2NG, UK
The crown jewel of the Edinburgh skyline and a must-visit spot on during your Edinburgh itinerary is Edinburgh Castle. Humans have occupied Castle Rock since the Dark Ages, and it's been the site of Edinburgh Castle since the 11th century and it's a great place to learn about Scottish history and take in some amazing views of the city!
In fact, Edinburgh Castle has a history that spans over a millennium. It's believed that the site has been inhabited since at least the 2nd century AD, making it one of the oldest continuously inhabited places in Scotland.
At the gate, you'll pay an admission fee (but it's best to book reservations in advance because they sell out fast).
From there, you can walk the grounds and check out exhibitions in different parts of the castle or join your guided tour. One thing you won't want to miss here are the Honours of Scotland, also known as the Scottish Crown Jewels located inside. And at 1:00 PM, you'll likely hear the One O'Clock Gun, a canon that is shot daily precisely at 1:00 PM since 1861 (except for Sundays and a few holidays).
Wander Down Victoria Street
Whether you're a Harry Potter fan or just love old architecture, Victoria Street is an essential stop on any Edinburgh itinerary. It's a tiny street full of charming cobblestone pathways, graceful arches, colorful storefronts, and a larger-than-life history.
Check out the gift shops and clothing boutiques, we found so many cool things while shopping around!
And yes if this street has a sense of familiarity to it that's because Victoria Street was the inspiration for Diagon Alley. Potterheads can pick up souvenirs at The Head Wizard or explore Museum Context, which is Edinburgh's very own Diagon House! There's even a Harry Potter walking tour you can join to learn all about the sites in this city that inspired one of the most popular and beloved book series of all time.
For a great shot of the street, walk up to Victoria Terrace. You'll find an archway across from Bertie's with an incline and a few steps that lead to a balcony. Here, you can get perfect shots of the brightly-colored buildings going around a curve.
Lunch at Greyfriars Bobby
It's time to head to Candlemaker Row for lunch at Greyfriars Bobby Bar. This is one of the most famous and historic Edinburgh pubs that's been open since 1772 and is known for its savory pies and authentic Scottish dishes.
In fact, if you're up for trying haggis or cullen skink, this is a great place to do that! But the pub is popular among tourists because it's named after a famous dog named Bobby.
In 1858, John Gray passed away, sadly leaving a terrier named Bobby behind. Bobby became well known with pub-goers because he spent the next 14 years guarding his owner's grave in Greyfriars Kirkyard, the graveyard across from the pub! Locals looked after this little loyal dog and when Bobby passed in 1872, he was buried near his owner.
Soon, a granite memorial to Bobby was placed outside the entrance of what became known as Greyfriars Bobby Bar. You'll see it right in front of the pub, so make sure to stop on your way in and honor Bobby's memory!
Please be aware that tourists rub his nose as they believe it brings good luck and has been very popular over the years, but this has caused issues with restoring and preserving this statue, so please avoid rubbing it so that this legendary statue to the best little boy continues on.
Stroll Through Greyfriars Kirkyard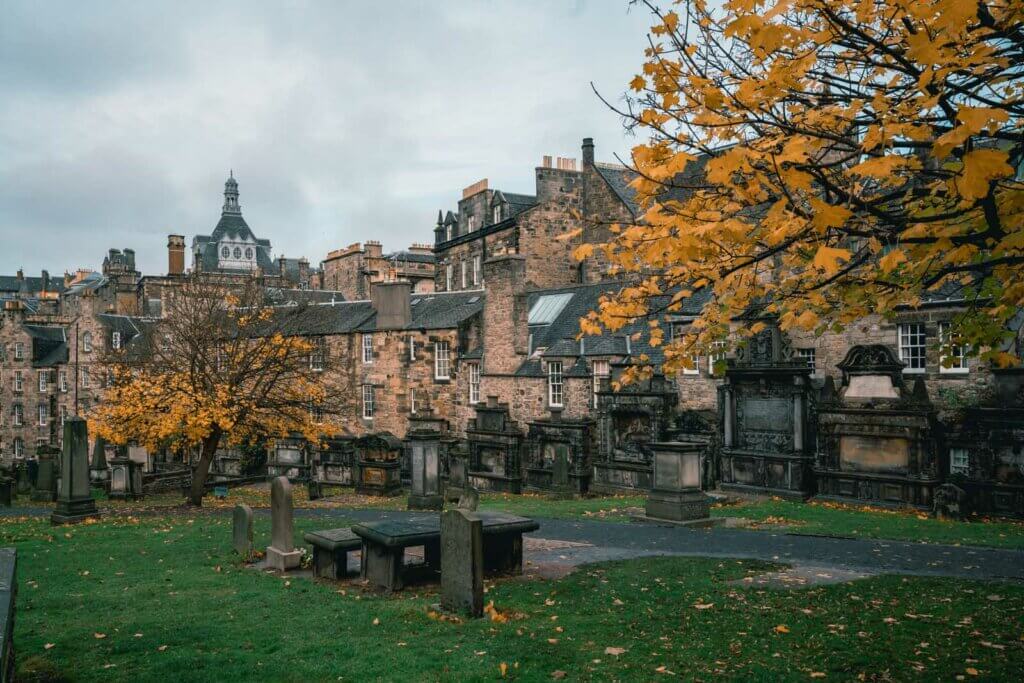 Next on your Edinburgh itinerary is a walk through Greyfriars Kirkyard itself. The church and cemetery date back to the 1600s. You'll enjoy walking around the beautiful grounds and checking out details on weathered headstones, tombs, and mausoleums.
Make sure to leave a stick at Greyfriars Bobby's tombstone! And Harry Potter fans will want to pay attention to names on the tombstones. Many were JK Rowling's inspiration for the names of characters in the wizarding world!
Explore the Royal Mile
During your 3 days in Edinburgh, you'll transverse the Royal Mile off and on, but this afternoon is a great time to focus on the historic street. Located in the heart of Edinburgh's Old Town, there are a variety of things to do along the Royal Mile that are worth a stop.
The Royal Mile runs a "Scottish Mile" or 1.81 km (or 1.13 miles) between Edinburgh Castle and the Holyrood Palace. It's where you'll find gems like the Scottish Whisky Experience. Don't skip this tourist attraction, where you can learn all about the long history of Scotland's national drink, do a tasting, and learn about whiskey making.
As you walk along, take a peek down the closes. This was one of our favorite things to do in Edinburgh! Closes are tiny alleyways that feel like living archeological sites. You'll find them everywhere, and if they're not gated, just pop down any you see! Many along the Royal Mile have great views of the city or other surprises. A few good ones are Mary King's Close and Advocate's Close.
And across High Street from Mary King's Close, you can't help but notice St. Giles' Cathedral. This stunning church dates all the way back to the 1400s, but the parish was established in the 12th century. It's an important centerpiece in the rocky political and religious history of Scotland. You can take free 45-minute walking tours or just visit on your own.
And if you want to learn all about the Royal Mile, consider taking a Royal Mile walking tour with a local historian to learn all the history, secrets, stories, and notable people who have been up and down the Royal Mile.
Visit the National Museum of Scotland
Address: Chambers St, Edinburgh EH1 1JF, United Kingdom
Get in a visit to the National Museum of Scotland which is just across the way from Greyfriars Kirkyard. It's free to visit and open till 5 PM.
While you could easily spend an entire day here, this stop is perfect for an afternoon on your Edinburgh itinerary. Check out all kinds of breathtaking exhibits across 3 levels covering Scotland's political and natural history. The Main Gallery alone is absolutely stunning with its 3-level atrium!
If you want to learn more and see just the museum highlights, check out this curated tour of the National Museum of Scotland with a guide.
Head to Grassmarket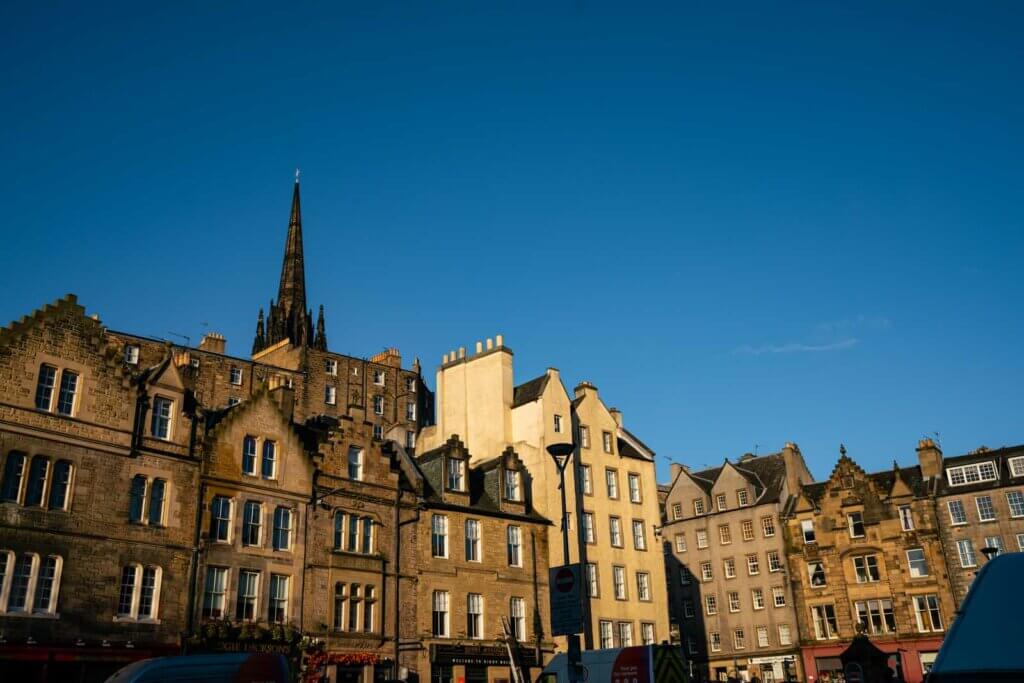 Grassmarket Square runs between W Bow and King's Stable Road in Old Town with Edinburgh Castle towering overhead. The historic square was a famous marketplace dating back to at least the 1300s.
Over the years, Grassmarket became a natural gathering place for traders selling everything from cattle and horses to oils, produce, and houseware. Inns, boarding houses, and bars lined the area for passers-through. It was also the site of public executions. By the 1800s, the square was a rough place to be!
While the area was changed up a bit in the early 2000s, Grassmarket can't get away from its long past. In fact, some of the pubs along the square are said to be haunted by medieval ghosts! Some of our favorite historic haunted pubs in Edinburgh are down here!
But today, Grassmarket Square is a great place to stop in for home goods, souvenirs, and boutique clothing. There's also a weekly farmers market.
Check out Vennel Viewpoint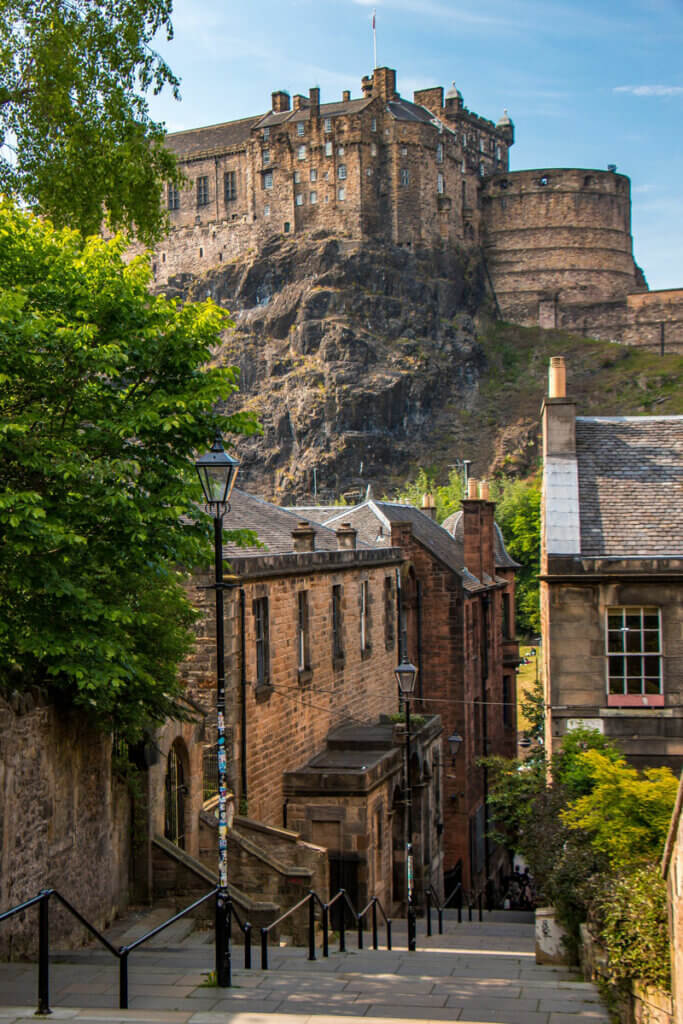 Address: 11, 1 Vennel, Edinburgh EH1 2HU, United Kingdom
While you're in Grassmarket Square, head to Vennel Viewpoint. At the southwestern corner of the square, you'll see an alleyway with a sandstone staircase leading up between tenement buildings. Vennel eventually meets up with another street, but about halfway up the stairs is a great viewpoint of Edinburgh Castle!
It's perfect if you want to grab some photos of the castle from a different perspective, over the tiled roofs of Edinburgh.
Dinner and Pub Crawl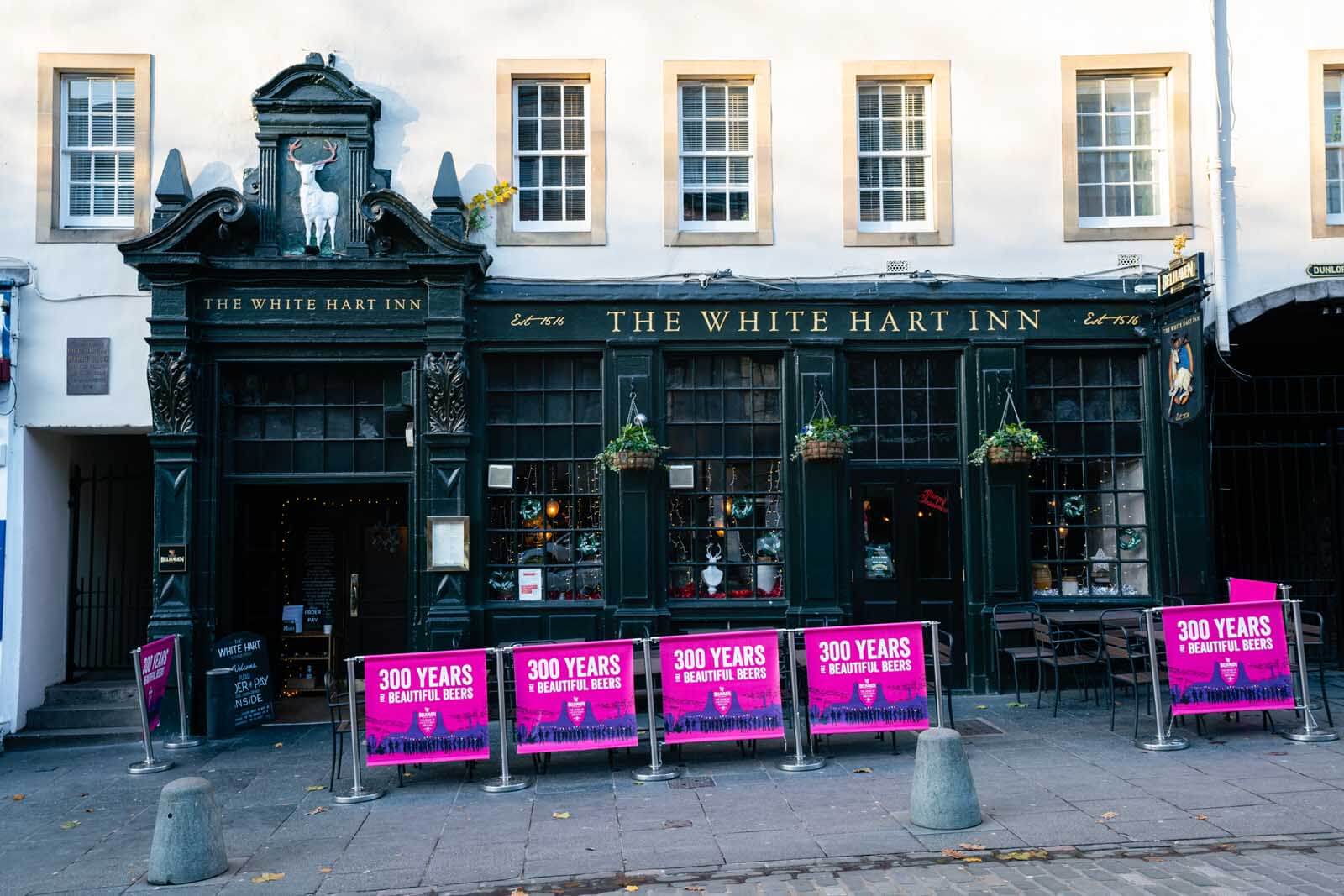 No weekend in Edinburgh would be complete without a pub crawl of the historic pubs of Edinburgh! Start at the historic spots on Grassmarket Square and then head up to the Royal Mile like we did. Beehive Inn is a great one for dinner. The pub dates back to the 1500s and has some cool historical relics you have to check out.
Also on Grassmarket, one of my favorite spots was the White Hart Inn. This one's believed to be the oldest pub in Old Town Edinburgh. They also claim to be the most haunted. While we didn't experience anything supernatural, it's a wildly entertaining pub. Especially after a few drinks!
Along the Royal Mile, you have to stop at The World's End. It's a great place for authentic Edinburgh culture and fascinating local history. But if you truly love a good story, check out our all-time favorite pub crawl stop, Tolbooth Tavern.
Day 2 of 3 Days in Edinburgh
Breakfast at Cowan and Sons
Address: 33 Raeburn Pl, Edinburgh EH4 1HX, United Kingdom
On the 2nd day of your weekend in Edinburgh, you'll spend the day in New Town. Start off with a breakfast at Cowan and Sons. It's in Stockbridge, which is just a bit too far to walk, but it's easy to get cheap transportation here.
Cowan and Sons is a charming café and print shop on Raeburn Place. Enjoy the beautiful interiors with bright artwork while you munch on baked goods. Go with sweet pastries and banana bread or savory brioche breakfast sandwiches. If you're vegan or vegetarian, you'll love how easy it is to find something on the menu!
When you're done, take a walk along the Water of Leith route through Dean Village for your morning exploring. Look for the St. Bernard Bridge for a staircase to the walkway.
Wander Around Dean Village
The Water of Leith Walkway turns into Miller Row, which you'll take right into the heart of Dean Village. This picturesque neighborhood is just a quiet place to fit a peaceful walk into your Edinburgh itinerary. Take in the ivy-covered apartments and townhomes with chimneys, archways, and turrets.
Look for Well Court, a local landmark. This beautiful Arts & Crafts-style apartment building is a beautiful example of Victorian architecture. It was commissioned by a newspaper magnate for workers' residences, but today it's privately owned. But it's nice to walk around and check out the red sandstone structure.
Next, take a stroll over to Dean Cemetery. Here, some of Victorian Scotland's wealthiest and most prominent figures are buried. And the tombstones and mausoleums are works of art! Or if you're craving a museum, head to the impressive Scottish National Gallery of Modern Art.
New Town Exploring
Edinburgh's city center is divided into 2 neighborhoods, Old Town and New Town. In the 1600s, New Town became the city's answer to more space for the middle and upper classes. The neighborhood is gorgeous, with gardens, townhomes, and even more great views of Edinburgh Castle.
Doing Edinburgh in a weekend, a must-see in New Town is the Princes Street Gardens. There are pathways that wind through the green lawns of the park and benches you can sit on to enjoy the sights. We thought the Ross Fountain was especially stunning with the castle in the background!
Lunch & Shop on George Street
A few blocks north is George Street, where you'll have lunch and do some shopping along Edinburgh's main retail hub. You'll find tons of dining options, like Cafe Andaluz if you're feeling like tapas. Or go to Copper Blossom for a great ambiance and pretty bites to eat.
As far as shopping, there's everything from the brand names you know and love to local retailers and high-end boutiques. You can pick up your favorite scent at Jo Malone, order a suit at Charles Tyrwhitt, or pick up souvenirs at House of Aran.
Visit the Scott Monument
Address: E. Princes St Gardens, Edinburgh EH2 2EJ, United Kingdom
Heading back towards the Princes Street Gardens, stop at the Scott Monument. It was built in 1840 to honor the recently passed author, Sir Walter Scott. Made with blackened stone and wood, the Gothic-style structure is striking!
From the ground, the 200-foot-tall Scott Monument is beautiful with stained glass high above you. You can climb to the summit for a bird's eye view of Edinburgh, but it's not easy to do and it's not recommended for those who are sensitive to small spaces!
Stop by the Doric Tavern for a Drink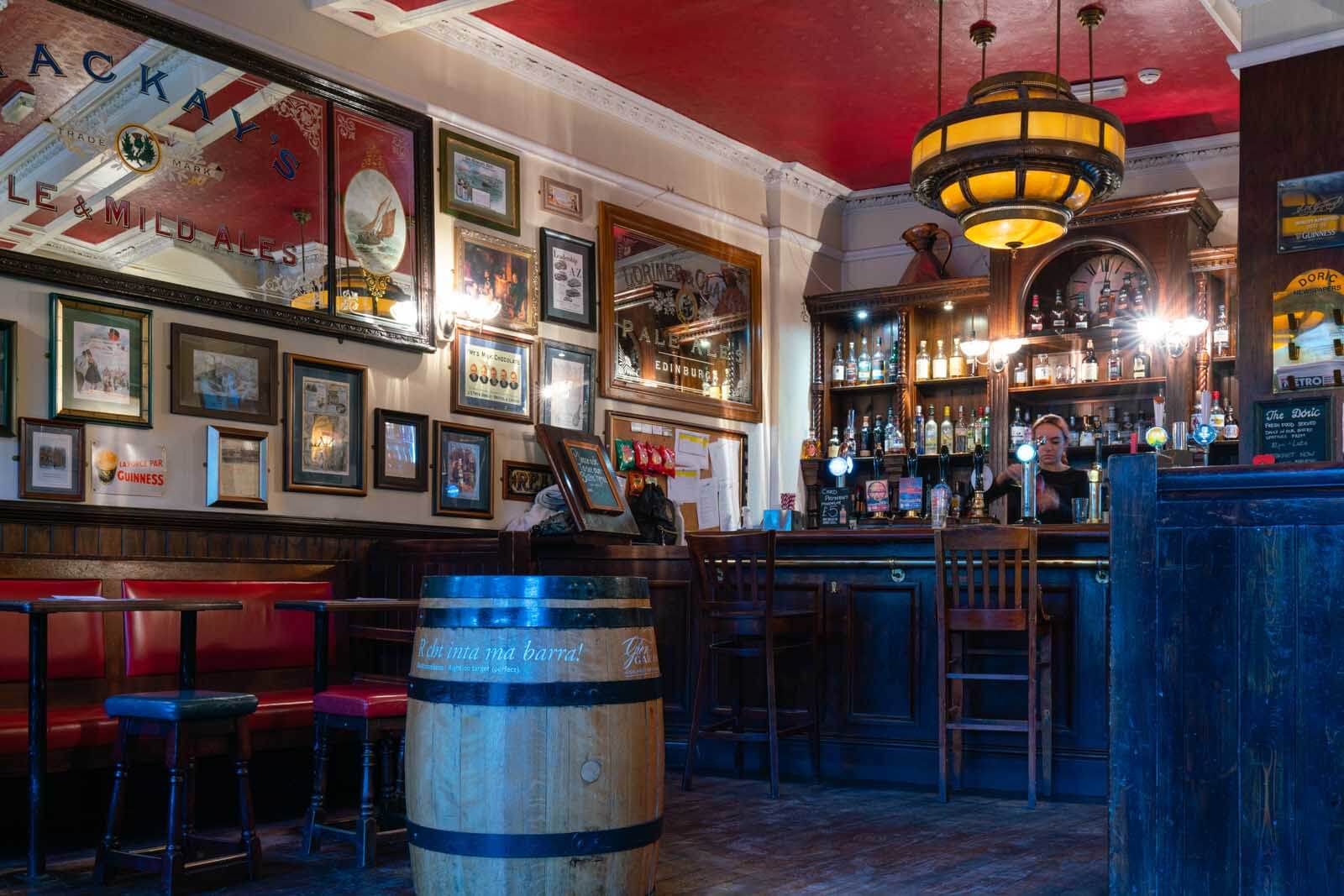 Address: 15-16 Market St, Edinburgh EH1 1DE, United Kingdom
Walk down to Market Street on the outer edges of Old Town to have a drink at the Doric Tavern. During your 3 days in Edinburgh, you'll have plenty of opportunities to enjoy Scottish whisky. The Doric Tavern should definitely be at the top of your list.
There's a restaurant on the ground, but you'll head downstairs to the pub. The menu offers all varieties of spirits, but Doric is especially known for its ales and 50 different kinds of single malt whiskies.
Explore Calton Hill
One of New Town's most prominent landmarks is Calton Hill. From the top, you have possibly the best-uninterrupted viewpoint of Edinburgh. Look for the towers and spires of Holyroodhouse, Old College, and of course, Edinburgh Castle.
But Calton Hill has its own collection of monuments worth peaking at, including the Greek-style National Monument. There's also the Nelson Monument, the City Observatory, and more.
Dinner at Tolbooth Tavern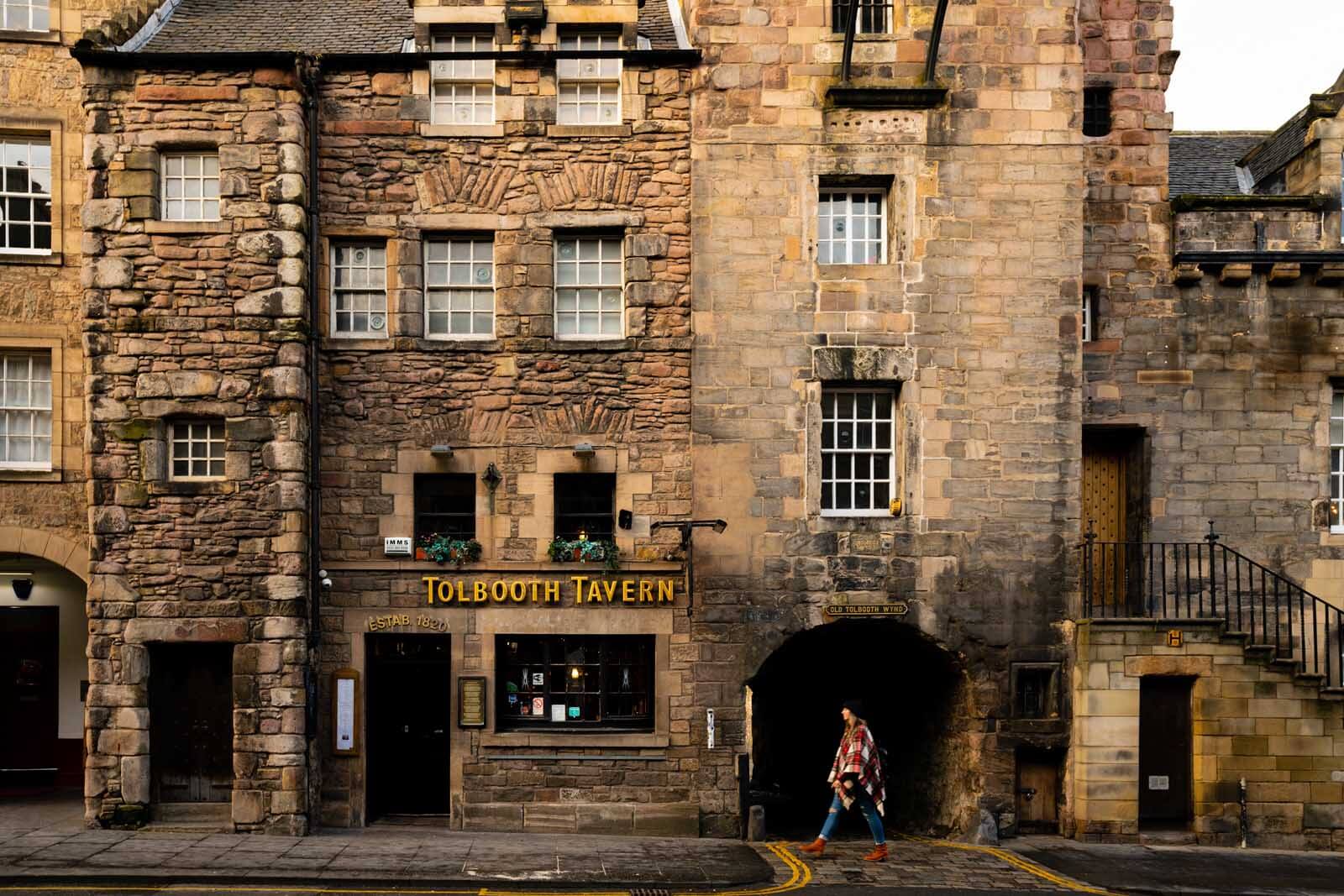 You'll wind down your day exploring north of Market Street with dinner back at our favorite pub on the Royal Mile, Tolbooth Tavern. The exterior of the pub gets its rustic charm from being part of the original city walls! It was literally a tollbooth where travelers paid a fare to enter Edinburgh.
Built in 1591, Tolbooth has quite an extensive history that you can read and hear all about while you enjoy dinner here. Over steak pie or a salad, find out how the back of Tolbooth Tavern is haunted by the spirits of former tenants. Or learn how the rooms of the pub were once used as cells to imprison enemies of the state!
Visit Dunbars Close & Bakehouse Close
During our weekend in Edinburgh, took any opportunity to explore the closes of Old Town, and this is your chance, too! If it's getting dark, just do this before dinner. These small alleyways feel forgotten and untouched by the more touristy parts of Edinburgh. It's almost like they've frozen in time, and it's exciting to see what surprises await down each one!
We suggest starting tonight with Dunbar's Close, which is pretty easy to find on Canongate with a clearly marked plaque. Passing through the cobblestone alleyway, it opens up to a beautiful, manicured public garden! Enjoy the charming space for a moment before moving on.
Next is Bakehouse Close, across from Canongate Kirk. Fans of Outlander will want to check this one out. It was a film location for the 3rd season of Outlander and is the site where Jamie's printshop is located. It feels very old, like what Edinburgh looked like during that era!
Another Outlander film site, Tweeddale Court was used in episode 6 of season 3. It's very old, dating back to 1572! Closes were commonly named after nearby residents, and this one was named after the Marquess of Tweeddale. It's easy to find with the elaborate entrance and was part of the original city boundary.
Day 3 of 3 Days in Edinburgh
Breakfast at EM's Kitchen
Address: 38 St Mary's St, Edinburgh EH1 1SX, United Kingdom
All good things must come to an end, but not yet! For your final morning on this weekend in Edinburgh, indulge in brunch at EM's Kitchen. And if you are a fellow lover of the color pink like us, you're going to love this bubble gum pink eatery!
There are some Instagrammable spots inside, but the spotlight here is truly the amazing food. You can (and should) order things like their popular Nutella hot chocolate or pistachio latte. But EM's Kitchen also does amazing things with a classic Scottish breakfast.
Hike Arthur's Seat
This is the day to finally see Holyrood Park and Arthur's Seat up close. Arthur's Seat is the highest point of an ancient extinct volcano in the heart of Edinburg. If the name reminds you of King Arthur, you're not alone there! It's thought that it was named after him, but no one knows for sure.
This hike is perfect for anyone exploring Edinburgh in a weekend. That's because you can customize the hike to your time restraints and how difficult you want it to be. And the views from the top are the best way to see Edinburgh!
In total, the hike takes around 2 hours. There are a few different ways to go, but we suggest taking one of the easier routes that start near Holyrood Palace.
Lunch
Address: 67 Canongate, Edinburgh EH8 8BT, United Kingdom (Kilderkin)
Making the most of your weekend in Edinburgh, finish off your hike with a quick lunch nearby. If you want something quick before you tour the Palace, there's the Cafe at the Palace that's open every day but Wednesday. Otherwise, check out Kilderkin or other options on Canongate near Holyrood Palace.
Tour Holyrood Palace
Address: Canongate, Edinburgh EH8 8DX, United Kingdom
Every Edinburgh itinerary should include a tour of the Holyrood Palace. Built in the 16th century, this beautiful castle is His Majesty The King's official Scottish residence! You can take guided or virtual tours that take about an hour.
It's a great way to learn about historic Scottish figures and see rooms that the King of Scotland uses. Each room features relics and antiques that will give you great insight into Scottish history and royal life. If you have time, there's also the 12th-century Holyrood Abbey and the Royal Gardens in the summer.
Visit the Royal Botanic Gardens
Address: Edinburgh EH3 5NZ, United Kingdom
Grab a car and head to your next destination, the Royal Botanic Gardens in Inverleith. The 70-acre gardens include differently-themed gardens and offer something different in every season. The Chinese Pavilion is stunning throughout the year, and the Azalea Lawn must be experienced in the spring!
The Royal Botanic Gardens is a great way to take in nature while doing Edinburgh in a weekend. Stroll through the different regional gardens, and make sure to walk through the stunning glasshouses! The gardens are free to enter and they're open every day. Just keep in mind that hours change seasonally, so if you come in the winter, the last entry is at 3:15 PM. In the summer, the last entry is at 5:15 PM.
Spend the Evening in Leith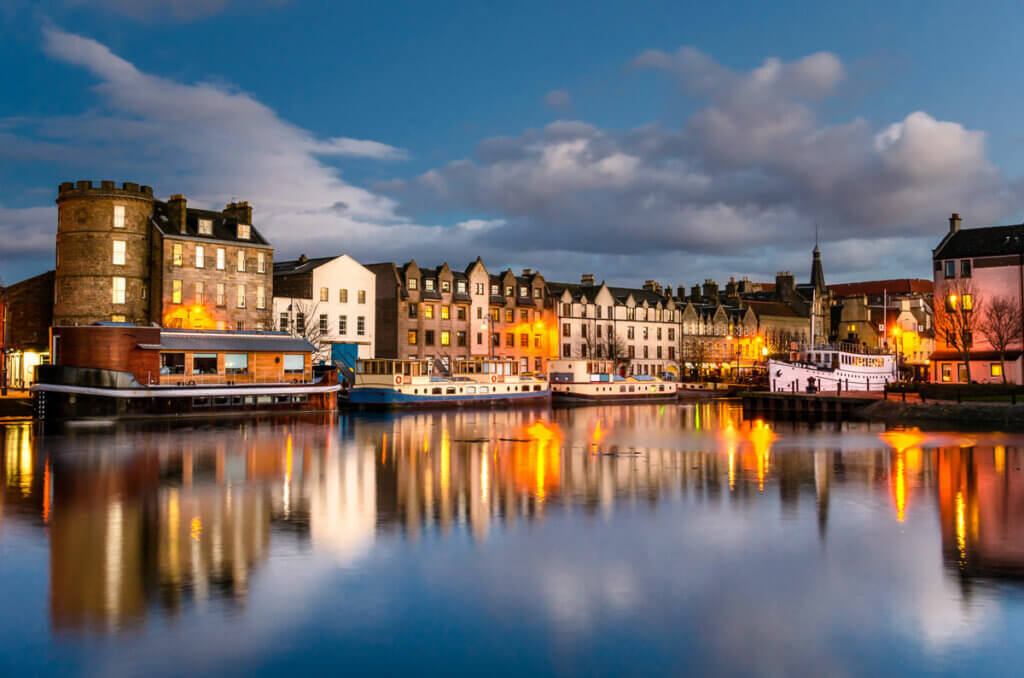 Top of your Edinburgh itinerary with a night in Leith. Today, Leith is a trendy neighborhood known for its nightlife and wide range of restaurants. It's always been an important part of Scotland, beginning as a major port in the 14th century.
On your last evening of your 3 days in Edinburgh, you'll experience both the hip and historical sides of Leith!
If you have a bit of time before dinner, head to Leith Walk for a feel of the neighborhood. Among bars and restaurants are great stores like Typewronger Books and Epoca Vintage Clothing Shop. You can join a pub quiz at The Brass Monkey. Or head to the harbor to visit the Royal Yacht Britannia, the former royal yacht of the British monarchy.
While you're along the water, pick one of the many amazing seafood spots for dinner. For a white-linen experience, dine on oysters at Loch Fyne Restaurant. Or enjoy views of the pier over fish 'n' chips at The Fishmarket.
Extra Time During Your Weekend in Edinburgh?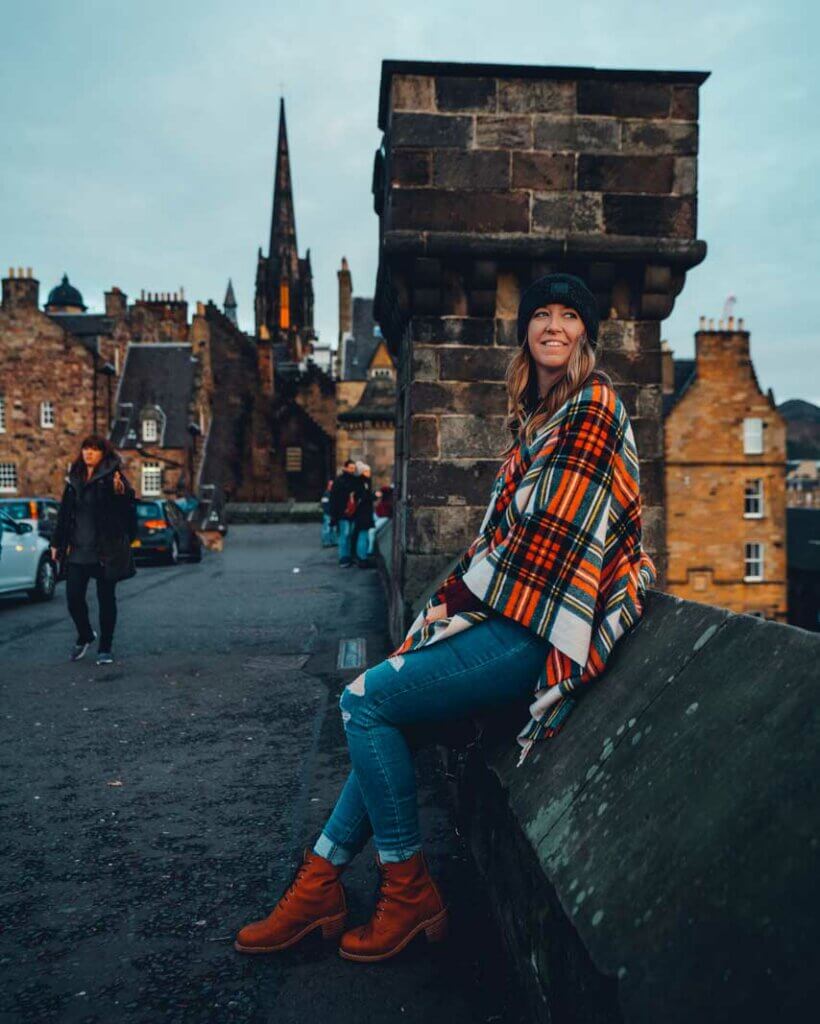 If you end up having more time on your Edinburgh itinerary, join an action-packed day tour! These ones are great to dip your toes into the beauty of Scotland, especially if you won't get to explore Scotland again after your weekend in Edinburgh.
Take a 12-hour day trip through the rolling Highlands with an optional cruise of Loch Ness. Or if you loved the sweeping scenery from Harry Potter and Skyfall, go on this full-day tour of Glencoe, Fort William, and Glenfinnan Viaduct.
For Outlander fans, take a guided tour to several medieval villages and Outlander filming locations, including sites used for Inverness and Lallybroch.
Back in Edinburgh, try genuine Scottish gin when you go on a guided 90-minute distillery tour and tasting.
If whisky is more your thing, this history of whisky tasting tour is super entertaining!
Or go on a group tour through the underground vaults of Old Town where you'll learn about the dark and haunting (and true) history of Edinburgh.
And then there's Fringe Fest, quite possibly Edinburgh's biggest event of the year! It happens every August over 3 weeks. You'll find something going on across the city at all hours of the day, including street markets and performance art events at both ticketed and free venues. It's a memorable time if you're in the city during the festival. We have only been to the version of Fringe Fest in Rochester, New York and hope to go to the OG Fringe in Edinburgh one day!
Where to Stay During Your Weekend in Edinburgh
During your 3 days in Edinburgh, we are recommending you stay in New Town or Old Town to be conveniently located near all the amazing attractions and sightseeing we are recommending in this guide.
$ Castle Rock Hostel is a great budget-friendly, adults-only option in Old Town. Located conveniently a 3-minute walk to Grassmarket and Edinburgh Castle you can't beat this location. Housed in a 19th-century art-adorned building, the property offers vibrant dorms and free WiFi. Dorms include bunk beds with lockers and shared bathrooms with showers. Amenities encompass a cozy lounge with a piano, a movie room, an internet lounge, laundry, and luggage storage. Book here.
$$ Cheval Old Town Chambers is an excellent option in Old Town less than a 5-min walk from Edinburgh Castle. The Cheval Old Town Chambers presents contemporary, upscale apartments with an open-plan fully equipped kitchen, dining and living area, smart flat-screen TV, lavish bathrooms, and complimentary toiletries. Select apartments feature balconies offering city vistas. Book here.
$$ Tigerlily is an acclaimed boutique hotel in New Town that boasts stylish rooms, a sophisticated bar, restaurant, and a nightclub. Situated a 10-minute walk from the Scott Monument, it thrives in Edinburgh's prime shopping and financial hub. The George Street gem offers elegant rooms and guests enjoy free entry to the Lulu nightclub and bar below. Book here.
$$-$$$ The Witchery by the Castle offers lavish and distinctive gothic suites in Old Town Edinburgh. Opulent furnishings, including oak beds, velvet-lined walls, and rich red and gold accents, create a sumptuous atmosphere. Some suites overlook the Royal Mile or Old Town. Book here.
$$-$$$ The Balmoral Hotel Edinburgh is a luxury hotel located in New Town right where it meets Old Town and epitomizes luxury and elegance. Its prime location near Edinburgh Castle and Princes Street Gardens makes it a sought-after stay. The lavish rooms feature exquisite decor, modern amenities, and stunning views of the city. There's even Michelin-star dining on site at Number One restaurant. Book here.
---
How to Spend 3 Days in Edinburgh (Post Summary):
DAY 1
Breakfast at Edinburgh Larder
Visit Edinburgh Castle
Wander Down Victoria Street
Lunch at Greyfriars Bobby
Stroll Through Greyfriars Kirkyard
Explore the Royal Mile
Visit the National Museum of Scotland
Head to Grassmarket
Check out Vennel Viewpoint
Dinner & Pub Crawl
DAY 2
Breakfast at Cowan and Sons
Wander Around Dean Village
New Town Exploring
Lunch & Shop on George Street
Visit the Scott Monument
Stop by the Doric Tavern
Explore Calton Hill
Dinner at Tollbooth Tavern
Visit Dunbars Close & Bakehouse Close
DAY 3
Breakfast at EM's Kitchen
Hike Arthur's Seat
Lunch
Tour Holyrood Palace
Visit the Royal Botanic Gardens
Spend the Evening in Leith
---
How many days do you need in Edinburgh?
You need 3 to 4 days in Edinburgh allows you to explore its historic sites, cultural attractions, and experience its vibrant atmosphere without feeling rushed.
Is Edinburgh a walkable city?
Yes, Edinburgh is a highly walkable city, with its compact layout allowing visitors to easily explore its historic sites, attractions, and charming neighborhoods on foot.
When is the best time to visit Edinburgh?
The best time to visit Edinburgh is during late spring (May to June) and early fall (September to October) when milder weather, fewer crowds, and various festivals enhance the experience.
When is the cheapest time to visit Edinburgh?
Visiting Edinburgh in the winter months of January and February generally offers lower accommodation prices and fewer tourists, making it a more budget-friendly option.
---
Enjoyed this guide to how to spend 3 days in Edinburgh? Bookmark for later or share the love below on Pinterest! And if you're looking to explore more of Scotland check out our guides to the best castles in Aberdeenshire and the best castles in the Scottish Highlands.