Looking for an escape to Montauk, NY? You came to the right place check out our guide to all the best things to do in Montauk to help you plan your trip whether you're spending a day exploring around all the different Montauk attractions or spending a week here, for being a small hamlet in New York there is a ton of fun and activities to do here from relaxing on the beach, spa, or surfing to hiking, dining, exploring nearby towns, and visiting cultural sites.
Montauk has historically been a sleepy fishing village on the tip of Long Island, often referred to as the End of the World. Compared to other Hamptons destinations, Montauk was more of a local's only and fishing village scene up until recent years and now Montauk is booming with tourists and visitors in the summer looking for an oceanfront escape.
For years, even before this became a popular vacation spot like the rest of the Hamptons which has always been a place where celebrities and the wealthy had their vacation homes by the ocean, this area has been an inviting scene and atmosphere for artists and creatives even until this day. From Andy Warhol's oceanfront compound and estate in the 1970s to musicians like Paul Simon and fashion designers like Ralph Lauren.
We want to give a special thanks to our hosts in Montauk, we were shown around by locals who have had a home here their entire lives and were able to not only show us the best Montauk attractions in person but also recommend what we didn't make it to on our first trip!
So rest assured, this guide for what to do in Montauk is local's approved! Also, if you're planning a trip up here be sure to check out our picks for best things to do in the Hamptons!
When's the best time to visit Montauk?
Peak summer season in the Hamptons is Memorial Day to Labor Day, this will be the most crowded time to visit Montauk and will require securing reservations ahead of time. This will also require you to plan your drive/transportation accordingly as well.
If you're driving you will want to plan around the weekend rush hours if you want to avoid gridlock traffic the entire route and if you're taking the bus/train/seaplane/helicopter you will want to book your reservations in advance.
The summer is the most happening time to enjoy all the best things to do in Montauk as that's when everything is open, prime beach weather, and when all the partying and live musical performances usually happen.
The best time, in our opinion, to visit Montauk would be on-the-shoulder seasons, so in spring before Memorial Day and in fall after Labor Day. Just keep in mind that certain things are only open during peak summer season, so if there's a specific Montauk attraction or activity you want to visit – just make sure it's open during your planned visit from restaurants to attractions.
This is also when rates can be a little lower for house rentals and hotels too!
In the winter, you can still have a great time in Montauk if you plan ahead and set realistic expectations from your trip. While certain restaurants and other Montauk activities might be closed and the weather is a bit chillier, you can still get amazing views, hike, and have a more serene escape.
The time you choose to visit Montauk can really dictate what kind of trip you have and each season offers something different.
What to do in Montauk
Montauk Point Lighthouse
The most recognizable landmark and famous thing to do in Montauk is visit the Montauk Point Lighthouse, aka The End of the World, the easternmost point of Long Island, and the Hamptons.
Visitors to the Hamptons come to this Montauk attraction to enjoy the sweeping views off of Turtle Hill and to enter the lighthouse and learn about the history at the museum here as well.
This is New York's oldest lighthouse and the 4th oldest active light station in the United States reaching 19 nautical miles with light flashes every 5 seconds! Not to mention, it's one of the most stunning East Coast lighthouses to visit.
Montauk Point Lighthouse towers at just over 110 feet on Turtle Hill and is a designated National Historic Landmark for its role in international shipping from the late 1780s to 1810s – known as the Federal period.
Another fun fact, the lighthouse was approved by the Second Congress under the United State's first president, George Washington in 1792. It wasn't until a few years later that construction began and completed in 1796.
Visiting the lighthouse is one of the most popular things to do in Montauk, but you will want to plan your visit ahead as during different times of the year there are different hours as well as closures to areas during the slower season. Also, if there's really bad weather, the Montauk Point Lighthouse will close.
If you want, you can take a virtual tour in advance as there's a lot of history and beauty to unpack on your visit to this famous Montauk attraction!
Camp Hero State Park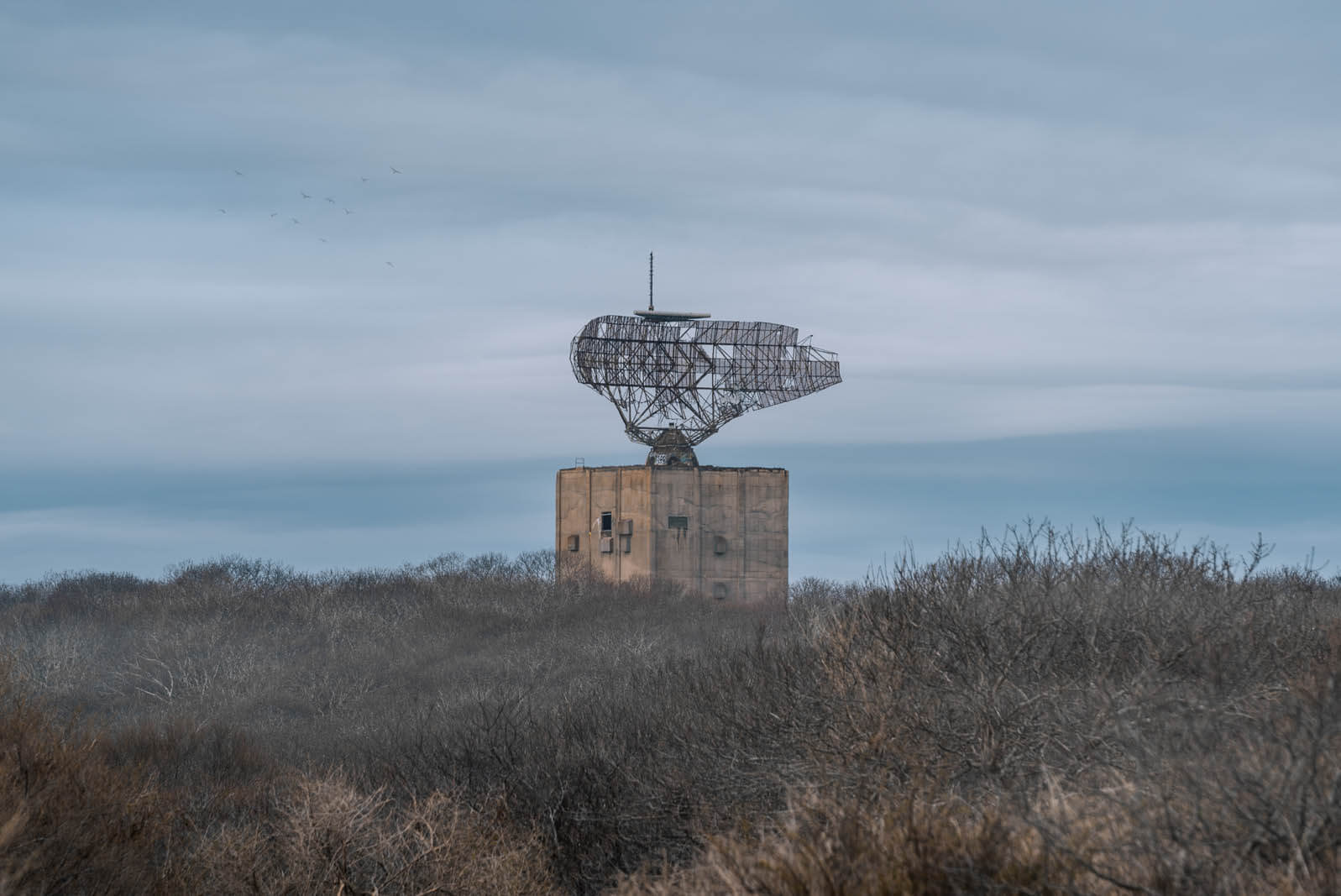 Want some of the best views of Montauk Point Lighthouse? Head to Camp Hero State Park which is located on Montauk Point. From the parking lot you can walk the trails towards the bluffs for incredible, dramatic views of the waves crashing below as well as great, unobstructed views of the lighthouse at the end of Montauk Point.
Camp Hero has several trails and you can't help but notice the ruins from the former Montauk Air Force Station that used to be here commissioned in the 1940s during WWII and was disguised as a fishing village until the mid 1980s until it was decommissioned.
There are actually several stories and even conspiracies about the former Air Force base here, the more popular of the stories are the conspiracies around what the government did at this facility. There are several conspiracies but the most popular is The Montauk Project which suggests that the government was conducting human experiments on young boys to try mind control experiments to create "Manchurian candidates" or "sleeper cell agents" to be called to duty whenever the US needed their psychological warfare human weapons.
There's even an entire series of books by Preston Nichols that also suggests that there were even time travel experiments conducted here that gained popularity and have a cult-like following that even inspired the storyline for one of our favorite Sci-Fi Netflix series, Stranger Things!
The original working title for Stranger Things was called Welcome to Montauk until they changed it up a bit and made the location a small town in Indiana.
I love that random fact, but if you choose to go down this conspiracy rabbit hole, there are several documentaries and even videos on YouTube by urban explorers who found evidence to suggest some nefarious activities took place here while this was a military base, even as far as suggesting there are secret underground chambers and tunnels where said experimentations happened that aren't on the original blueprints.
Besides all the Sci-Fi fun, there's actually quite a collection of other interesting historic facts about Camp Hero too. While it was a military base, disguised during WWII there apparently were Nazis captured off the coast here under Operation Pastorious who were ultimately trying to set off explosives on the NYC subways as a part of one of the many American target points.
In the conspiracies, it's also suggested that the US military recruited German scientists after WWII to conduct experiments on people and time travel in the Montauk Project too.
So whether you're looking for some of the best views in the Hamptons or here for all the interesting history and theories tied to Camp Hero, or both, this is one of the best things to do in Montauk.
Seafood & Foodie Scene
Montauk is known for fishing, there are commercial fishing fleets here and those who just enjoy the sport either live here or visit here to do some fishing in the great Atlantic Ocean and they claim to hold the most saltwater fishing records in the world!
It goes without saying, if you're a fan of seafood, this is one of the best Montauk activities for you! Check out the amazing seafood dining scene, but don't just stop there, what we discovered, thanks to our gracious local hosts and locals to Montauk, the foodie scene in Montauk, in general, is on point.
Here are a few of our suggested foodie stops in Montauk:
Clam Bar – located off the Montauk Highway this popular roadside seafood spot is a great lunch stop for lobster rolls, clam chowder, and other fresh seafood dishes. This gets wildly popular in the summer and its location on the busy highway can be dangerous – so plan ahead and be careful!
Lunch Lobster Roll – Located directly across from Clam Bar on Montauk Highway is another casual seafood joint that's insanely popular with the summer crowds that's been around since the 1950s.
Harvest on Fort Pond – If you're looking to indulge on a feast with some friends, head to this spot. There are a few things to know about this Montauk eatery, their servings are huge and family style – so bring some bodies to share with, everything we tried is absolutely delicious, and during the offseason they allow guests to order half portions – which are still extremely LARGE.
There were four of us and we tried multiple things at the half order size since we visited before the summer season, and there were TONS of leftovers to take home. Everything was really amazing, this is probably one of our favorite seafood feasts we've enjoyed – although they do carry more than seafood, we just were really feeling fishy on this trip.
TTs – We absolutely LOVED this spot. Not only are all the aesthetics of TTs seriously on point with a fun, hot tropics vibe, but they serve up seriously good Tex-Mex. I also appreciate how delicious and crunchy their freshly fried tortilla chips were.
Best Pizza & Dive Bar – This was a local (one with seriously great foodie recs) suggestion given to us since we didn't have enough time on our trip to eat everywhere. If you're looking for a classic pizza, get it from here!
The Fish Farm – Another recommendation from a local, The Fish Farm (as locals call it) or Multi Aquaculture Systems on Google Maps is an active fish farm that has gourmet take-out and picnic tables for a great, fresh seafood feast.
Left Hand Coffee – This is not a place to grab a meal, but this is the go-to spot to get a great cup of coffee or nitro cold brew in the mornings for a caffeine jolt of energy to explore all the amazing Montauk activities in your day ahead!
Note: Check the hours of operation for anywhere you plan on dining while exploring the best things to do in Montauk, some of these restaurants are open seasonally and some are only open on the weekends.
Sunset at Montauket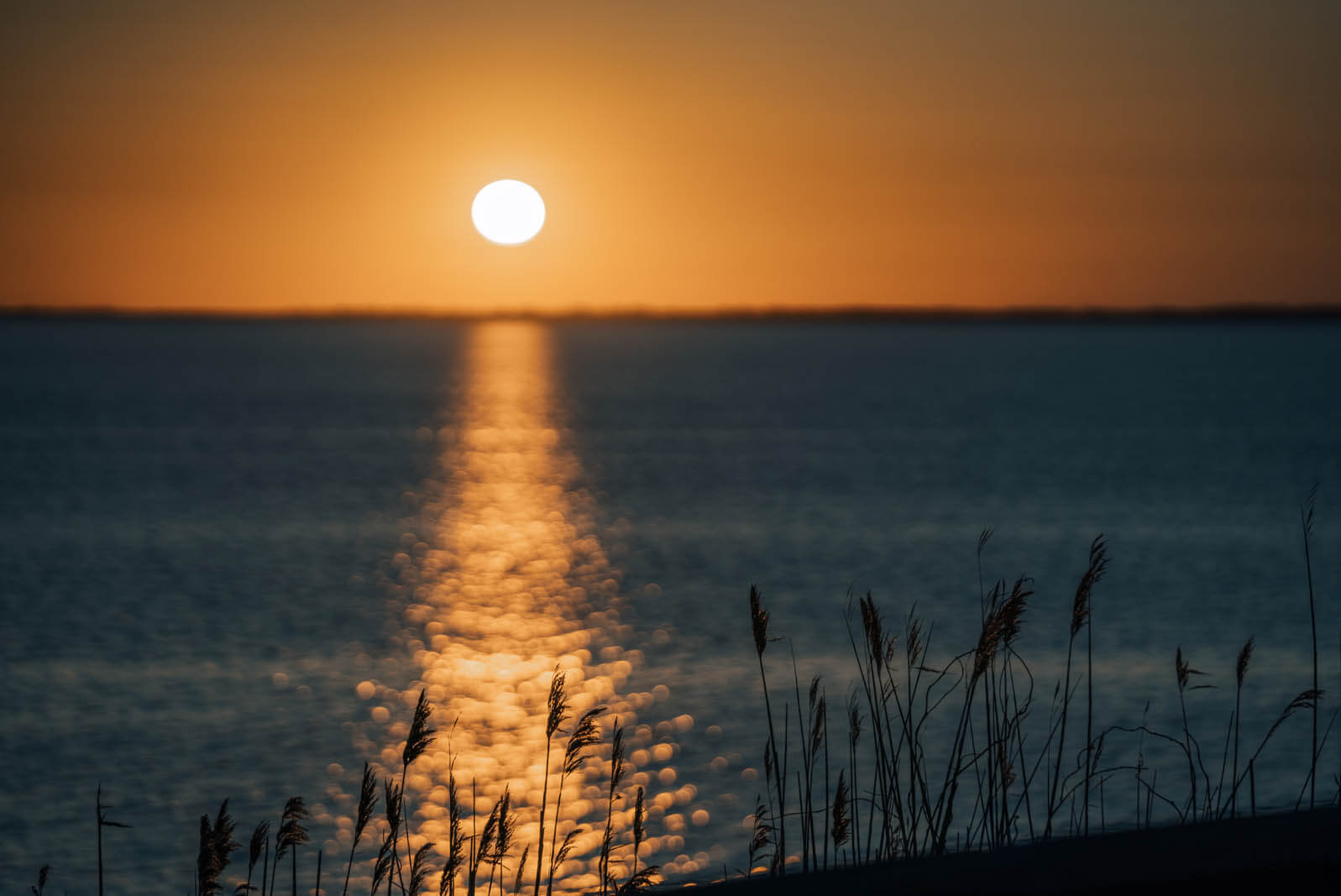 One of the best things to do in Montauk is enjoy a breathtaking seaside sunset with a drink! The best place to do that? The Montauket bar/restaurant/hotel that has been around since the 1920s and is a classic Montauk attraction with epic sunset views overlooking Gardiner Island.
Grab an outdoor seat and drink and get ready to watch the gorgeous natural show!
The name Montauket refers to the Montaukett Native American tribe whom Montauk is named after pre-colonization. A random fact, the Montauk tribe is not recognized on a federal level yet. Many Montauk descendants currently live in the Shinnecock Reservation on Long Island. Legislation was passed by the state of New York in July 2020 to restore recognition of the Montaukett Tribe.
Beach & Surf Scene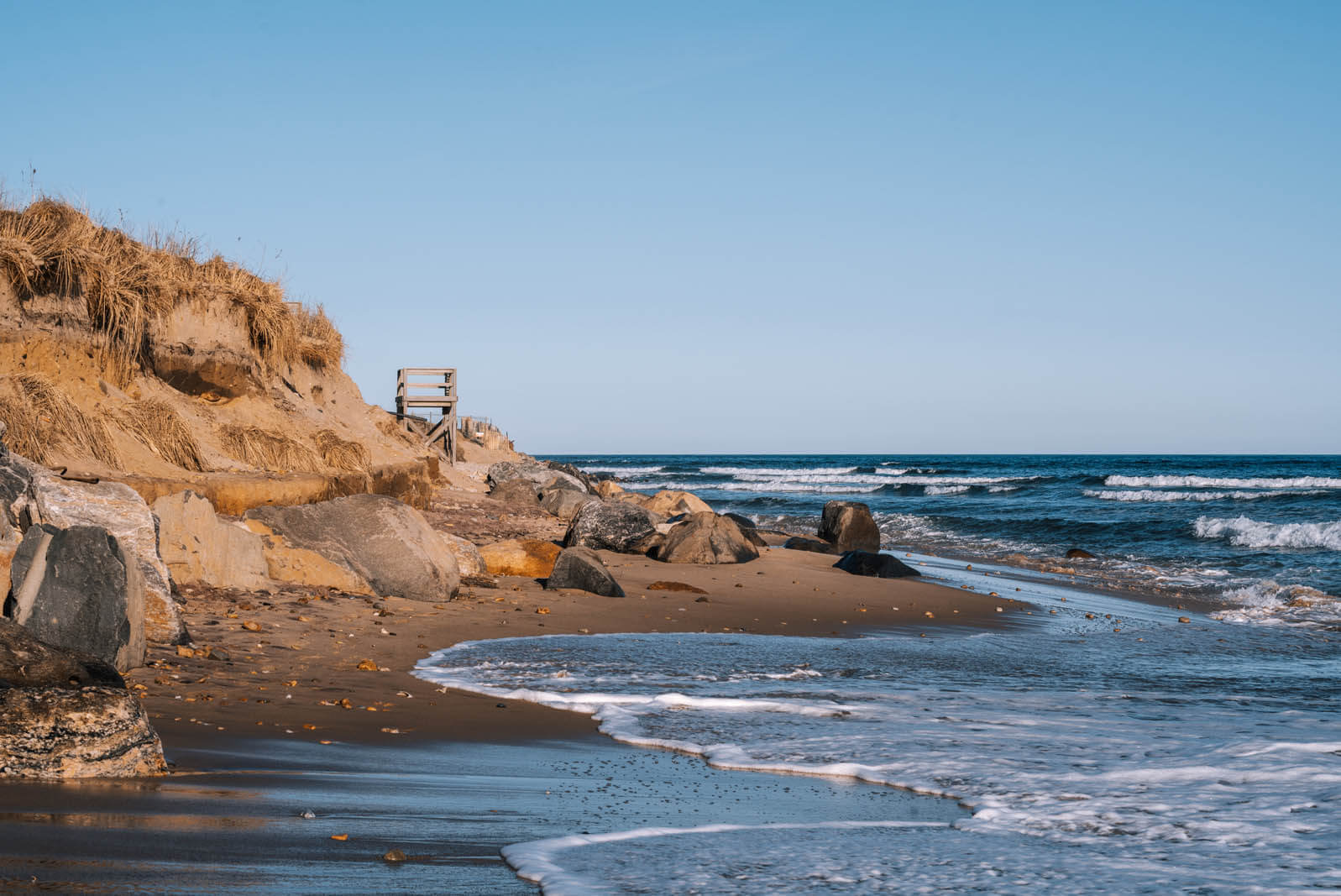 Did you know that Montauk is home to some of the best surfing on the east coast? Ditch Plains Beach attracts surfers for its great waves and beachgoers. Ditch Plains is an actual breakpoint and offers waves that are suitable for beginners as well as experienced surfers, it is said that some of the waves can get a bit gnarly here – there are lifeguards on duty.
Ditch Plains is one of the most popular Montauk attractions and beaches, so expect crowds on the summer weekends. If you're just hoping to sun on the sand, head towards the bluffs for more quiet beach real estate at this popular spot. If you need a bite to eat, there's usually a popular food truck here called The Ditch Witch in the summer to feed the beach visitors.
Don't have your own surf gear? No worries, this beach shop not only rents wetsuits and surfboards but also offer surfing lessons.
Another one of the most popular beaches in Montauk is Kirk Park Beach in downtown which offers a free parking lot for guests, which is rare on Long Island. This beach has soft, powdery white sand which makes it great for a relaxing beach day.
Nick's Beach, another beach located in the heart of downtown is another one of the best things to do in Montauk if you're looking for a fun beach day. Located right at Nick's Restaurant this is a great spot in the summer if you want to also grab a bite to eat or listen to live music at the Boat Bar.
Hither Hills State Park, which is great for hiking, another one of our picks for best things to do in Montauk below, also has a nice patch of white sandy beach you can hang out at. If you're looking for an alternative to staying in a hotel or house rental, check out the camping available here too!
Tip: Most of the beaches in the Hamptons require you to have a local village parking permit (for locals) or pay for parking. Check the parking situation before visiting each beach so you don't get a ticket!
Go for a Hike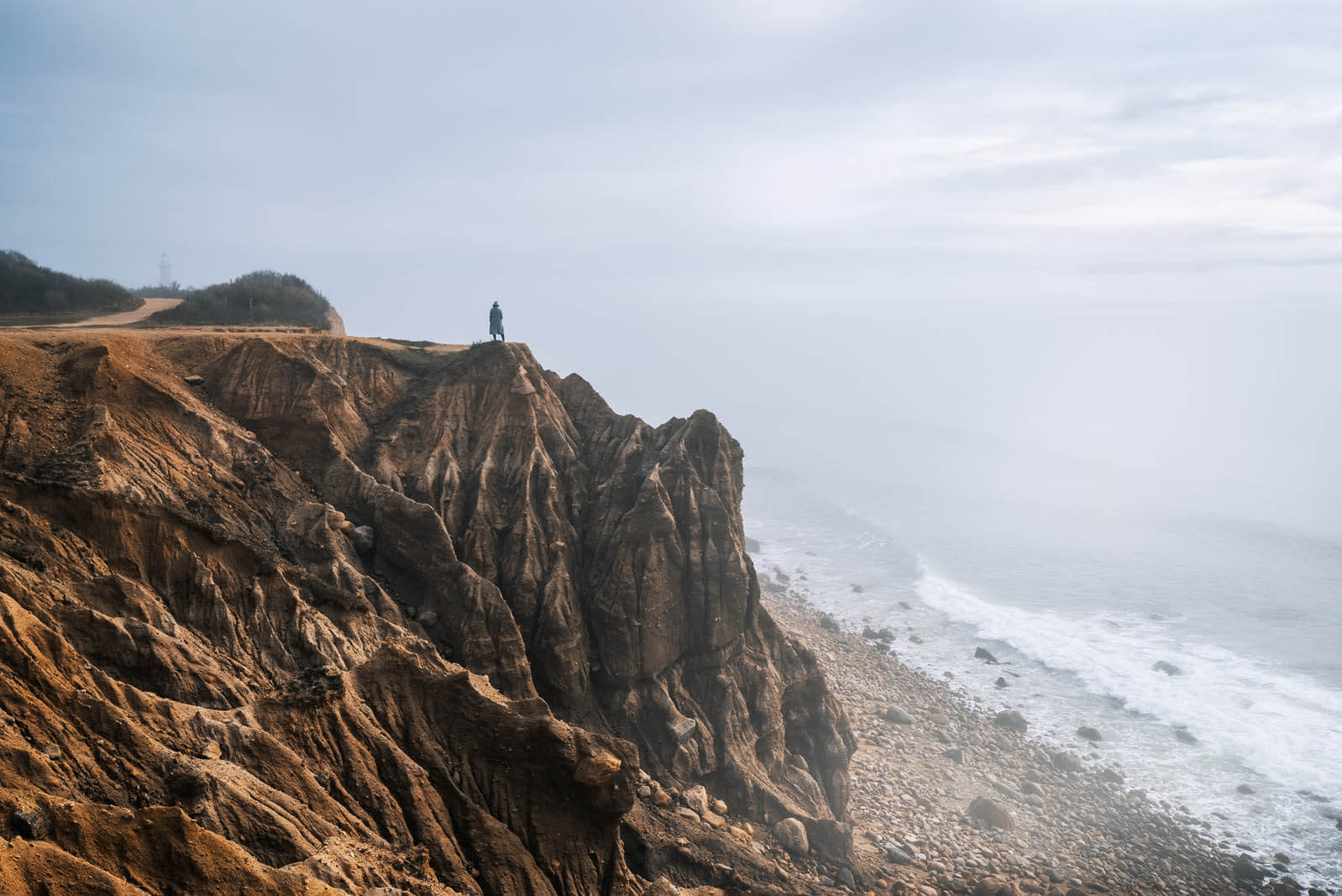 Take in all the beauty this spot in the Hamptons has to offer, one of the best things to do in Montauk is to take a hike on any of the many trails that traverse the craggy bluffs, shoreline, and hills overlooking the Atlantic Ocean. There are 6 State Parks in the Montauk area, which is pretty surprising if you understand the size of Montauk.
For amazing views of Montauk Point Lighthouse check out the Camp Hero State Park bluffs and trails which also pass the ruins of the spooky military base that all the conspiracy theories are based on! When you park at the Montauk Lighthouse Museum parking lot, you can access trails that take you to the beach around the lighthouse as well for more scenic walks with the iconic lighthouse in your backdrop.
Head to Hither Hills State Park for more trails, camping spots with a permit if you want a unique Montauk experience stargazing on the beach at night, and access to a beautiful beach! Don't miss the Walking Dunes, which are always slowly moving (~3.5 feet a year) and swallowing the trees and other vegetation in the area while you're here too!
Shadmoor State Park offers trails that reward you with ariel views overlooking the Atlantic Ocean from the bluffs and cliffs. Stunning views can be found in each direction and you can continue on to Ditch Plains, the popular surf spot from here as well.
Tip: This area has alot of tall grassy vegetation which is where you can find random hitchhiking ticks on you or your pets. Be sure to do a tick check when you're done!
Catch a Live Musical Performance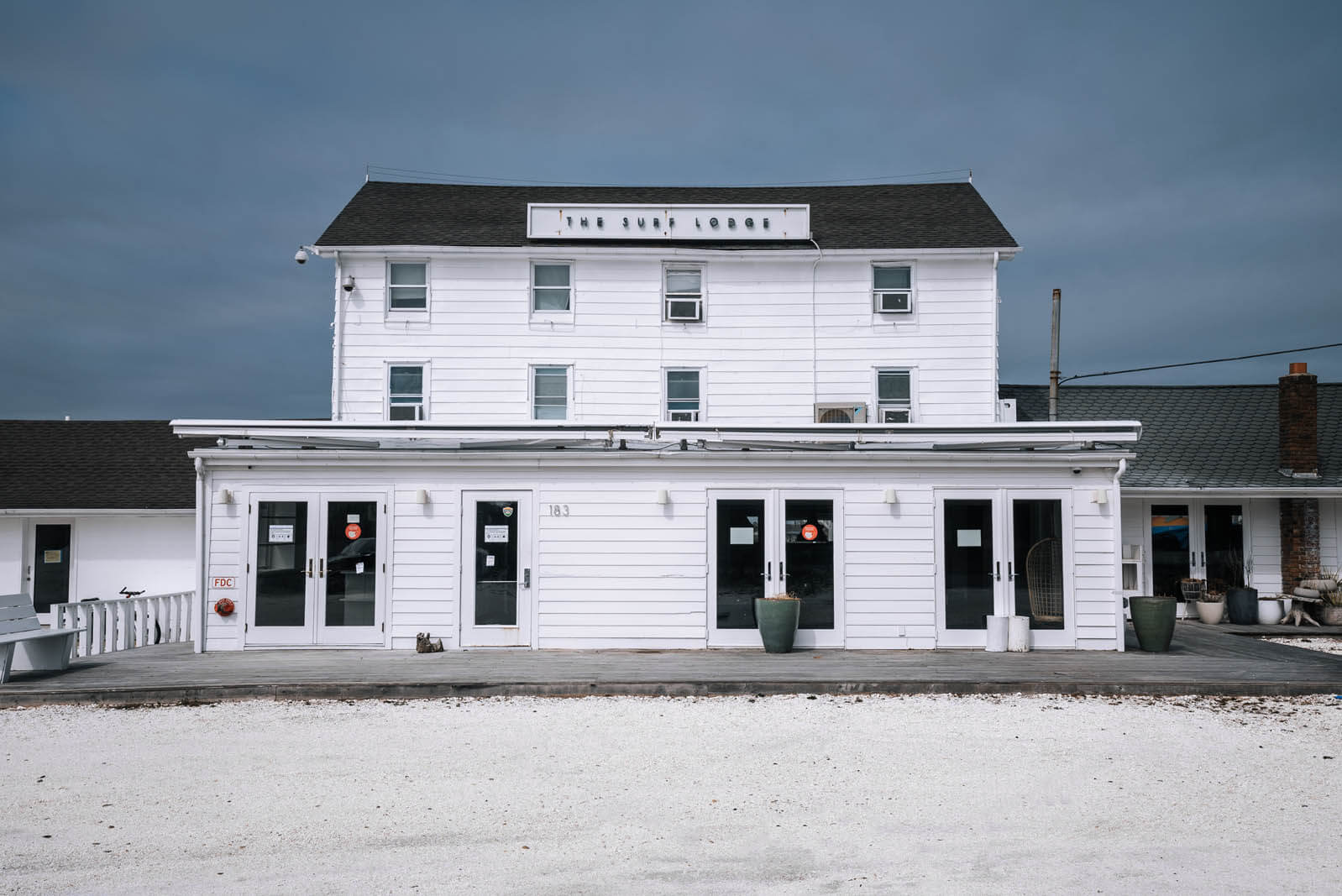 Something that Montauk is known for is having great live music, especially in the summer at many different venues! Also, we were told that it's not uncommon for the popular musicians that live in the Hamptons to do pop-up musical events or concerts, like when Paul Simon (who owns a house in Montauk) surprised everyone with a performance at Montauk Point Lighthouse in 2018.
I feel like those kind of 'pop-up' events are seriously difficult if not impossible to plan for unless you just happen to be at the right place at the right time, or you have an inside source. Don't worry though, one of the best things to do in Montauk is enjoy the live music scene.
Some of the best live music venues and spaces in Montauk also offer waterfront views, like the Montauket mentioned earlier for a great sunset spot!
One of the most famous Montauk attractions for celebrities and models is The Surf Lodge. This spot overlooking Fort Pond is rumored to be challenging to get into unless you are ready to drop a lot of cash and is typically packed to the gills with people including regular celebrity guests like Christie Brinkley, John Legend, Nina Agdal, Solange, Neil Patrick Harris, and Malia Obama to name a few (there are so many celeb sightings here).
The Surf Lodge often features stacked musical performances at their Sunday Sessions by indie bands or household names and popular artists like Janelle Monáe, The Flaming Lips, Jenny Lewis, Patti Smith, Lauryn Hill, Courtney Love, Willie Nelson, Jimmy Buffet, & Solange to name only a few.
This is also a hotel, so you can book a room at The Surf Lodge or plan a meal in their restaurant (make a reservation) around the time they do musical performances during their Sunday Sessions to try and catch a sneak peek if your wallet can't afford you onto the party deck or table service.
Another way you can possibly catch a show is kayak Fort Pond and just happen to 'paddle' to the Surf Lodge. You may not get to dance and party with everyone, but you can watch a free show from the water – the music and the partiers.
See Jaws!
View this post on Instagram
Everyone knows or has heard of the famous Steven Spielberg film Jaws, or maybe the book? Did you know the real-life Jaws was caught off the shores of Montauk by shark hunter Frank Mundus. Yep, this didn't happen in Martha's Vineyard, even though this was where much of the movie was filmed, it actually happened here.
The 'real' Jaws caught by Mundus was a 4,500 lb. great white shark in 1964. It is rumored that the reason the movie was set in Martha's Vineyard was not to spoil the tourism in the Hamptons and Long Island, although in the 1970s, Montauk was still a sleepy fishing village, not the summer getaway haven it is today.
Mundus passed away in 2008, and up until his final days, he'd take people out on his boat, Cricket II, the same boat he caught Jaws on. And while he started out his career as a shark hunter, he passed away as a shark conservationist and campaigned heavily for 'catch and release' in his later years even though he was surrounded by controversy from chumming sharks in his early days.
In 1986, Mundus and Donnie Braddic caught another great white shark that weighed 3,427 lbs off the shores of Montauk which was the largest shark and fish caught by a rod and reel.
One of the best things to do in Montauk is check out Jaws! Or actually, the 1986, slightly smaller version of Jaws statue hanging from Sam's Star Island Yacht Club & Marina on Lake Montauk for your Jaws inspired photo!
Tip: This is taken down off-season.
PS we aren't fans of shark hunting, we just liked the backstory and connection to the movie Jaws and the fake shark statue you can check out!
Spa Day at Gurney's Resort
One of the most luxury spa hotels available to stay at in the Hamptons is located right here in Montauk. Gurney's Resort and Spa is located on its own private beach that offers great surfing, 6 on-site dining options, gorgeous rooms, suites, and cottages plus their free spa facilities for guests which include an indoor pool that can be enjoyed year-round and roman baths.
Their Seawater Spa, which is open again after renovations, is a 30,000 sq foot spa center with eucalyptus oil-infused steam rooms, outdoor and indoor spaces, chromotherapy, hydrotherapy, saltwater pool, and treatment rooms plus salon services, juice bar, and a cardio studio and gym making it one of the best things to do in Montauk if you're looking for a bit of relaxation and rejuvination.
While staying here is one of the best Hamptons and Montauk experiences, you can actually access their spa by booking a day pass if you're only wanting to visit for the day or have other accommodation options.
Montauk Brewing Company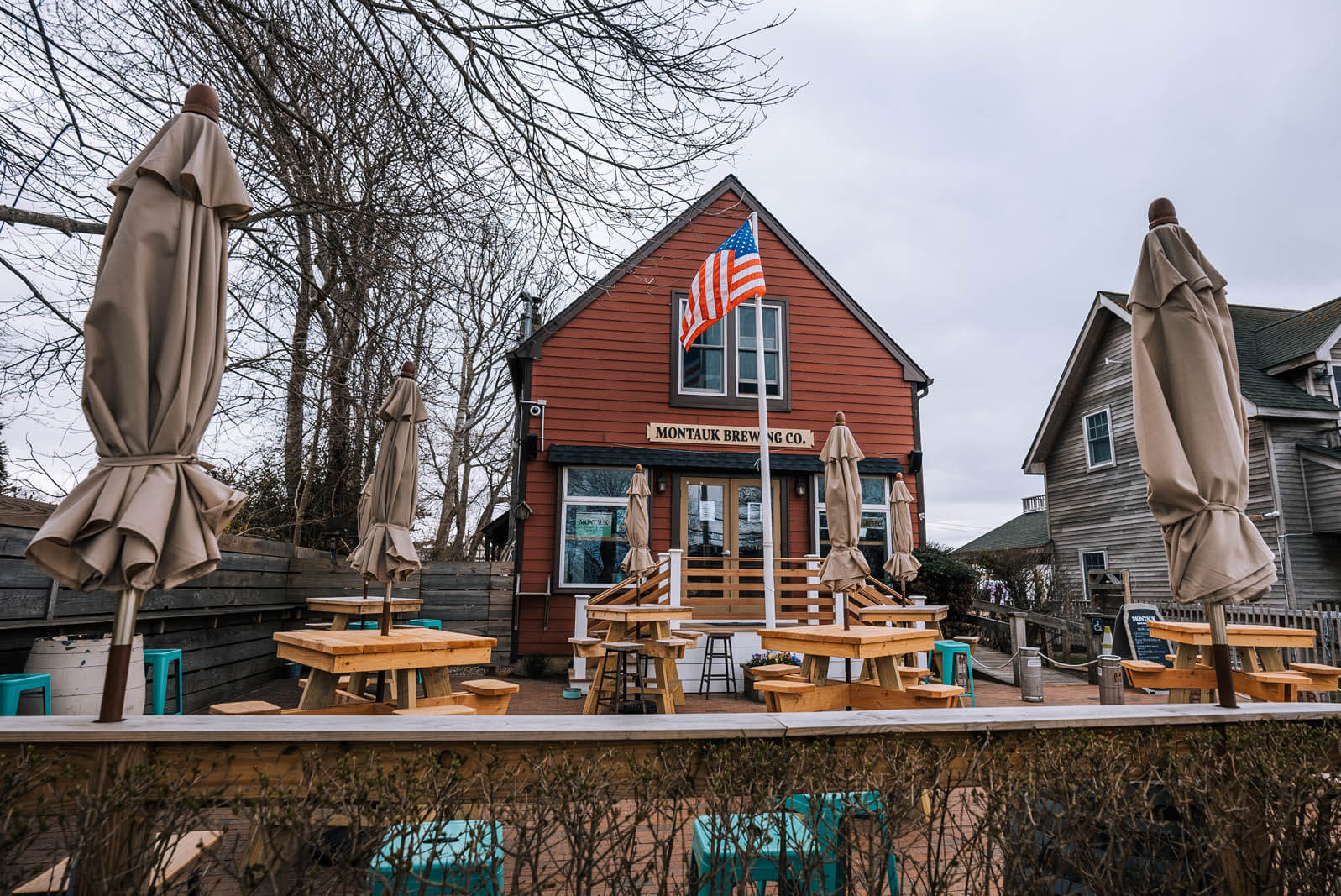 Are you a beer lover like us? If so, this is what to do in Montauk when you need a drink! Head to the HQ of Montauk Brewing Company in the heart of the village in a tiny, red house facility!
It's hard to believe that this place is the site of where they produce all their beer considering this is a popular beer to find on draft all throughout the state of New York including NYC.
There's a nice outdoor seating area and you can visit their taproom to try their brews on draft, we recommend trying a few if you're not familiar with their beer, or grab a pack for the hotel.
Memory Motel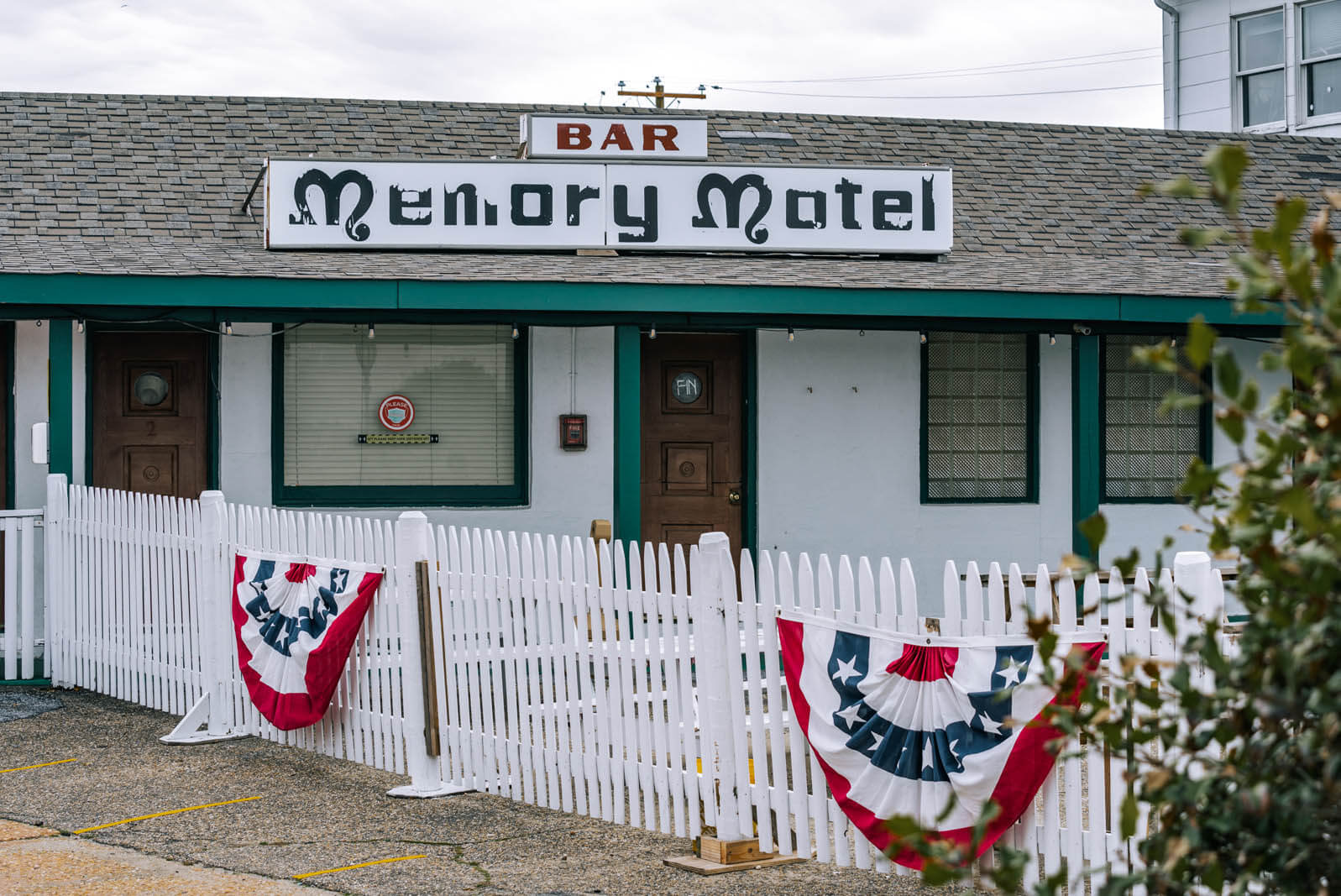 Another cool Montauk attraction and landmark is the Memory Motel located on the Montauk Highway in the heart of downtown. While this may seem like an ordinary motel from the exterior, this was actually the inspiration for the Rolling Stones song, Memory Motel on their 1976 album Black and Blue.
The song was written by Mick Jagger and Keith Richards who were rumoured to be staying at Andy Warhol's Montauk ocean front estate and compound known as Eothen.
Warhol was known for hosting several A-list guests at Eothen including Mick Jagger, Jackie O, Liz Taylor, and John Lennon to name a few. This is a private estate, so unless you know the right people you won't be able to visit. Or you could fork up around $65-85 million which were the most recent listing prices for this ocean-side estate if you have some extra cash lying around.
It is said that Mick Jagger caused quite a commotion in Montauk too which attracted groupies to the motels in Montauk. It's also rumored that the owners of Memory Motel didn't like the Rolling Stones and the feeling was mutual as Jagger didn't like them either – he really liked the name of the place though.
Anyway, this is a quick stop and what to do in Montauk if you're a fan of the Stones!
Deep Hollow Ranch
Dating back to 1658, Deep Hollow Ranch is the first American cattle ranch and what to do in Montauk if you want an unforgettable horseback riding experience on trails along the scenic coastline. They offer small guided or private guided horseback riding experiences along the beach and coastline for beginners up to experienced riders.
Besides being one of the most fun outdoor Montauk activities, Deep Hollow Ranch has a deep history since it dates back to the 17 century and they claim to be the birthplace of the "American Cowboy," even though cowboy culture originated in Mexico.
While the ranch began as a cattle ranch, there are no longer cows here, instead you'll find horses. This is the oldest continuously operating ranch in US history.
This piece by Andrea Downing with the help of Montauk Archivist and Historian, Robin Strong details the history of Deep Hollow Ranch.
What to do Nearby Montauk
East Hampton & Amagansett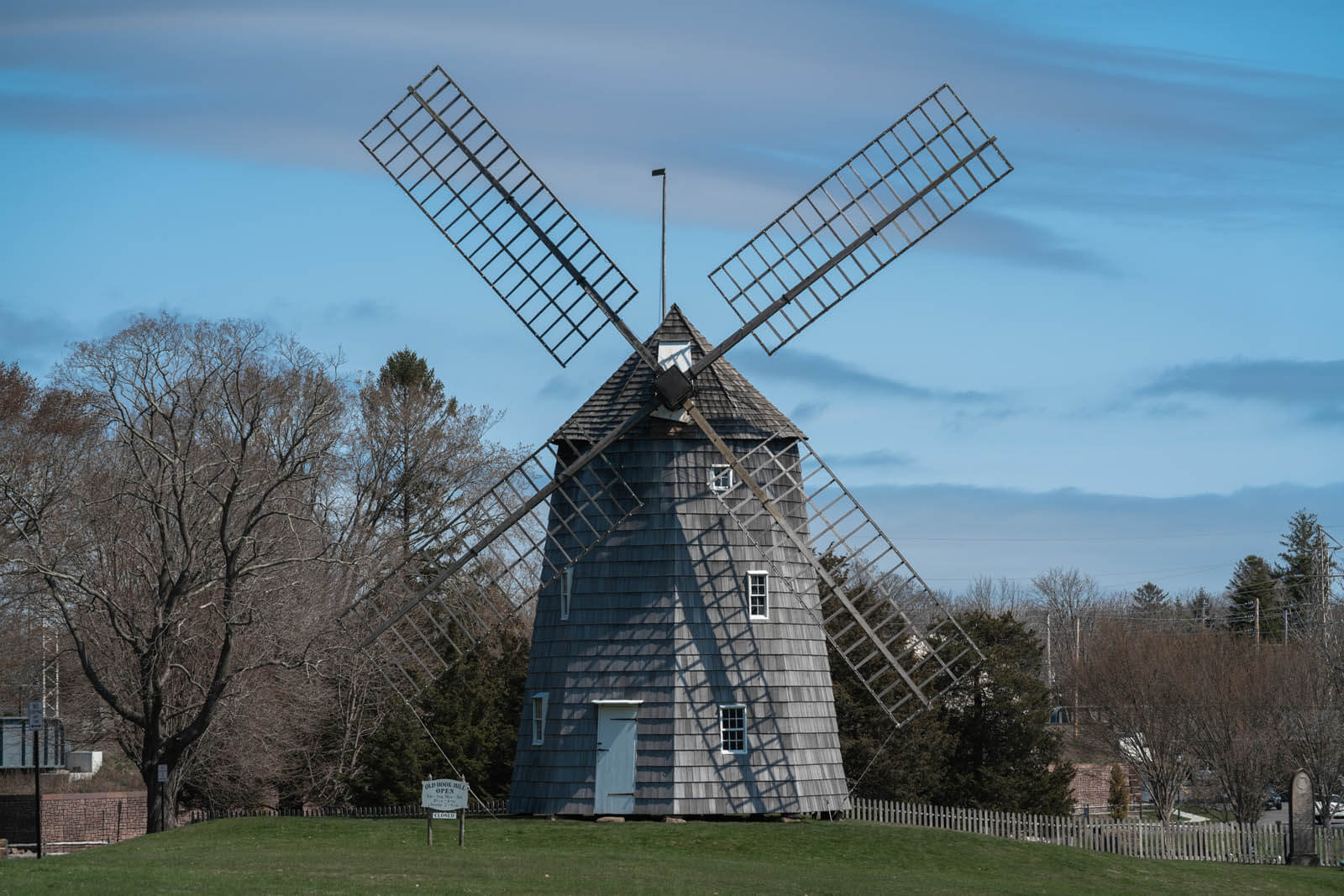 After you're exploring what to do in Montauk, you may want to explore more of what the Hamptons have to offer. The next town over off the Montauk Highway is Amagansett and East Hampton which offer more opportunities for shopping, dining, as well as more beaches.
Some recommended beaches are Main Beach close to East Hampton's downtown, Two Mile Hollow for a laid-back gay beach, and Atlantic Beach which is great for families with kids to name a few. Parking, like at most Hampton beaches, can be tricky. At Main Beach you can buy a day pass and the others require a resident pass – so check with your house rental or hotel to see if they lend these or ask where you're staying which beaches you have access to park at with your stay.
Check out the cutest roadside produce stand, Vicki's Veggies, which Vicki started at her family farm at the age of 11 and has been running it the past 4 decades!
And check out the shops and upscale boutiques at Amagansett Square, don't miss Innersleeve Records if you're a vinyl fan, I loved their selection and came home with a few new records!
And if you're a fan of local products, check out the East Hampton Farmer's Market every Sunday from 10-2 (or first and third Sundays off-season) where you can try local products like The Hampton Grocer granola – one of our favorite local products which you can shop online for too.
Sag Harbor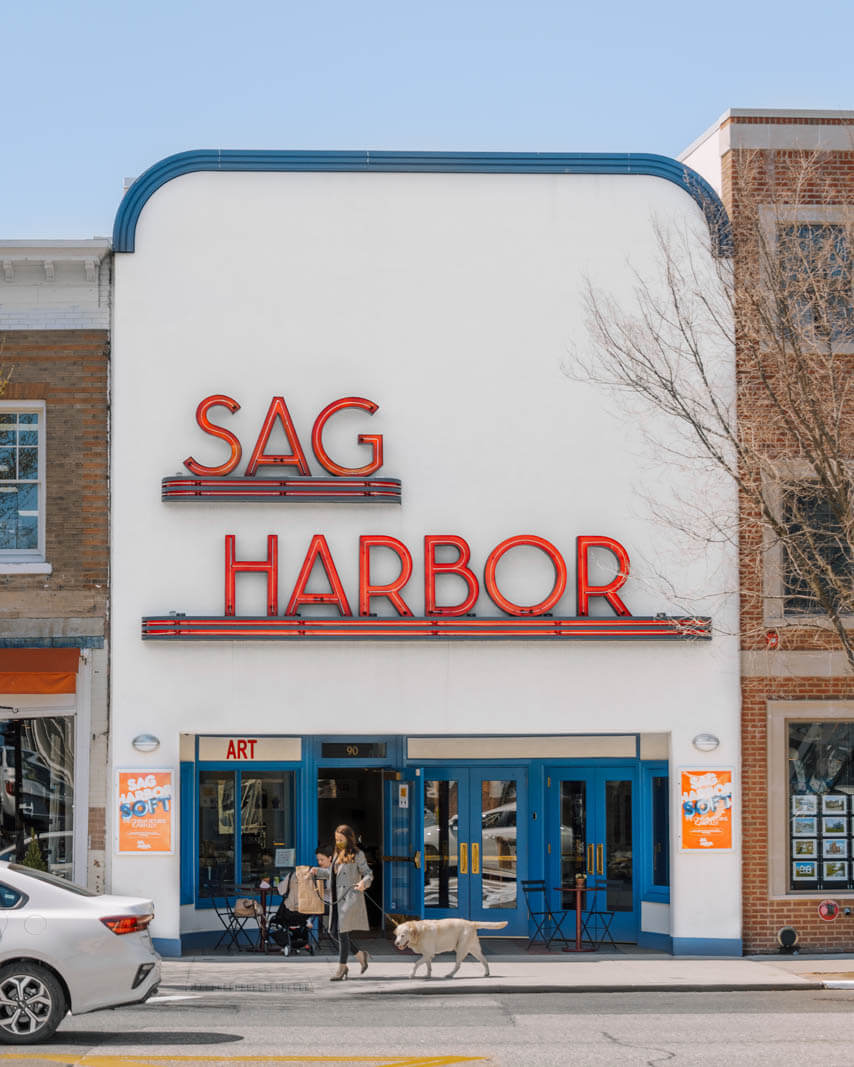 Just a 30 minute drive, with no traffic, from all the fun Montauk activities is one of the most picturesque little towns in the Hamptons! Sag Harbor is packed with history and small town charm including great dining options, shopping, and more!
For fans of Herman Melville's Moby Dick, Sag Harbor was mentioned in the book because in the 18th – 19th centuries this was a major whaling port and even designated as the first port of entry to the United States! The first United States custom house was located here on Long Island!
The Sag Harbor Village District is designated on the National Register of Historic Places and inspired and attracted artists and writers to move here, some of which, like Billy Joel, live here to this day.
There are cool shops and things to check out here, if you are looking for a meal you can dine at the famous American Hotel which has been around since 1846 or if you're looking for something casual with a great view check out Dockside Bar & Grill located in an old American Legion overlooking the boats in the Sag Harbor Yacht Club.
If you're looking to deep dive in the history, check out the Sag Harbor Whaling & Historical Museum or take a day trip to Shelter Island.
If you need a pick me up, head to Grindstone Coffee & Donuts, you can even order a giant donut in any of their flavors, but you'll need to do that ahead of time.
If you're looking to spend a night in Sag Harbor, try Baron's Cove which has a historic waterfront location and had famous guests like Willem & Elaine de Kooning as well as Truman Capote.
Where to Stay in Montauk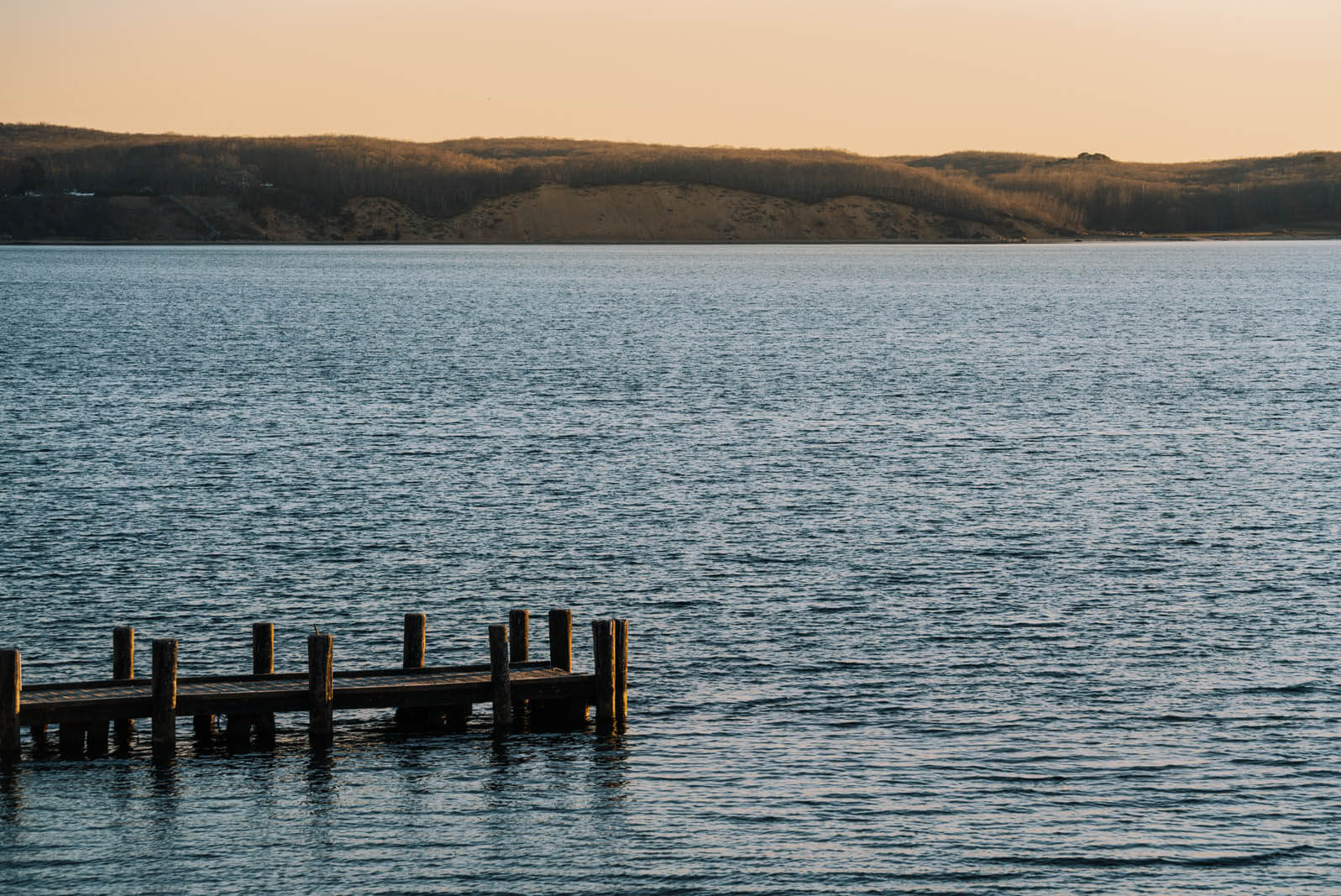 Some may want to just come for a day to explore all the Montauk attractions, but we recommend the best way to enjoy all the amazing things to do in Montauk that you need to stay a few days. Here are a few picks for places to stay:
Hotels & Resorts:
Kenny's Tipperary Inn – This is a more budget-friendly option compared to other properties in the Hamptons and Montauk with a great location steps from the water with laid back rooms with options with kitchens and living areas.
The Surf Lodge – Stay at one of the most popular hangout spots in Montauk for live music and celebrity sightings. The rooms are chic and minimal located right on Fort Pond. Be sure to stay the night for a Sunday Session!
Marram – This 4-star beach-front hotel offers chic-rooms and prides itself on being the "only oceanfront, barefoot luxury boutique resort in the heart of Montauk.
Gurney's Resort – This luxury spa hotel has its own private beach, gorgeous spa available to guests, 6 on-site dining options, and gorgeous rooms, cottages, and suites. This is one of the most popular, luxury stays in the Hamptons not to mention one of the most romantic getaways in New York.
House Rentals:
House rentals are a popular way to enjoy all the great Montauk activities but often require a minimum stay and require booking well in advance if you want to secure summer/peak season dates.
Beautiful House with Pool – This 5 bedroom house can sleep up to 12 guests, so perfect for families or groups of friends, and has a great backyard set up with a pool. The rooms are chic and there's a home movie theater set up in the living room. Guests can borrow the 4 bicycles to take to the beach and even a beginner surfboard. For an extra fee you can rent their car with the village beach parking pass. (min 7 night stay) *this one is a great value and even better if you have a few friends to split the cost with
1928 English Stone Cottage on Country Estate with Heated Pool – This gorgeous house rental in Montauk offers a quiet and secluded retreat that's only a 3 minute drive to the nearest beach that has 2 bedrooms, 2 baths, and can sleep up to 6. Relax in the heated pool or glass garden conservatory during your stay. (min 6 night stay)
Montauk Condo with Ocean Views – Located on the Old Montauk Highway (the scenic road) with ocean views is this adorable 1 bedroom/1 bath condo that can sleep up to 4 guests in a family friendly community that has a pool and free parking just steps away from the beach. (min 3 night stay)
Gorgeous Ditch Plains Beach House – Looking for the ultimate surfcation? Stay steps away from the popular surfing beach and community of Ditch Plains in these cool digs that has 4 bedrooms/3 bathrooms and can sleep up to 8. No need to get a parking permit as you can walk or bike to the beach then hang out by the firepit in the backyard at night. (min 2 night stay)
Luxury Beach Front Mansion – This beach front mansion is 6,200 square feet located on the shores of the Long Island Sound with a huge 2,000 sq foot deck floating above the water. This luxe home has 6 bedrooms/4.5 baths and can sleep up to 12 complete with game and recreation rooms, giant floor to ceiling windows with ocean views, private beach access, and sporting equipment like paddleboards, bikes, and kayaks. (min 7 night stay)
Getting to Montauk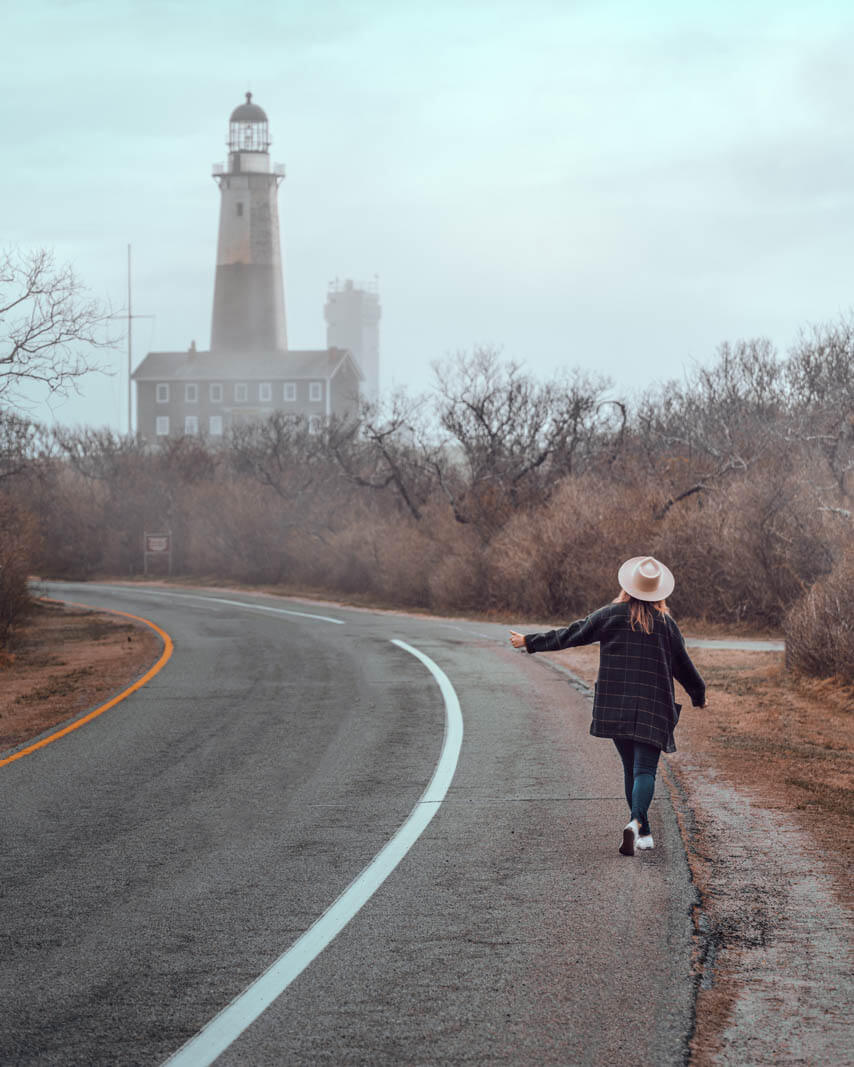 Getting to Montauk By Car
Montauk is located around 120 miles from New York City and can take anywhere from 3 hours to, well much more during the summer traffic. It is said if you are driving during peak season (summer) that the best time to drive is early mornings or late evenings/night to avoid gridlock traffic the entire way.
If you are renting, be sure to read our guide about renting a car in NYC.
Also, note that there are some service dead zones on Long Island, from our experience it was on the drag between Southhampton and Amagansett where it got spotty. Be sure to load your directions in advance in case this is a problem for you!
Getting to Montauk by Bus
Another option from NYC to Montauk is to take the Hampton Jitney which has a few stops in Manhattan as well as airport connection stops. These aren't your ordinary buses, the Hampton Jitney has wifi, bathrooms, and snacks. (They also offer wine and beer tours from the city so no need to find a designated driver!)
Another bus option that's a little more luxe is the Hampton Ambassador which has more space and is more comfortable with wifi, snacks, alcohol, movies, and a bathroom on board.
Getting to Montauk by Train
One of the most convenient ways to get to Montauk attractions from the city is by the Long Island Rail Road (LIRR). Depart from Penn Station in Manhattan and be prepared for a little chaos when the designated train tracks are announced 10 minutes before departure.
If you're not familiar with taking the train or LIRR in NYC, you purchase your ticket but the train tracks won't be assigned until 1o minutes before you depart, which can be a bit hectic if you're not familiar with the layout and get mad anxiety if you feel like you're running late or will miss your train like ME.
This route is affordable and takes around 3 hours. Pay attention, there will likely be a transfer at Jamaica. If you don't want to worry about this, get the express train which also saves around 30 minutes of travel time.
Getting to Montauk by Air
If you're extra bougie and have some coin to spare to take the most convenient and quickest way to all the fun Montauk activities and your little getaway, you can get to the Hamptons by air!
Blade offers both helicopter and seaplane options with multiple stops in the Hamptons including Montauk. Helicopter flights take 40 minutes.
Or charter your own private seaplane with Fly the Whale.
---
Enjoyed this guide to best things to do in Montauk and what to do in Montauk on a Hamptons getaway? Bookmark for later or share the love below on Pinterest!