For the most scenic things to do in Dingle, check out our guide.
Ireland has been full of beautiful scenery and wonderful surprises. You could easily spend months here just slowly coasting around the entire country to enjoy the scenery.
We spent a good portion of our 25 days along the Wild Atlantic Way stopping at one incredible coastal town after another, like the Cliffs or Moher, Sligo, and Connemara.
There is one place in particular that just seemed to get better and more beautiful every second we explored, and that's the Dingle Peninsula. Our drive around the whole area just led us from one scenic thing to another!
Most Scenic Things to Do in Dingle
Our Dingle Peninsula drive is probably one of our favorite things to do in Ireland. Best done by car you could easily spend an entire day stopping along the drive for breathtaking views, ancient ruins, petting sheep, and of course eating. Words and photos cannot serve this drive justice, but we will try anyway.
Visit the many ancient huts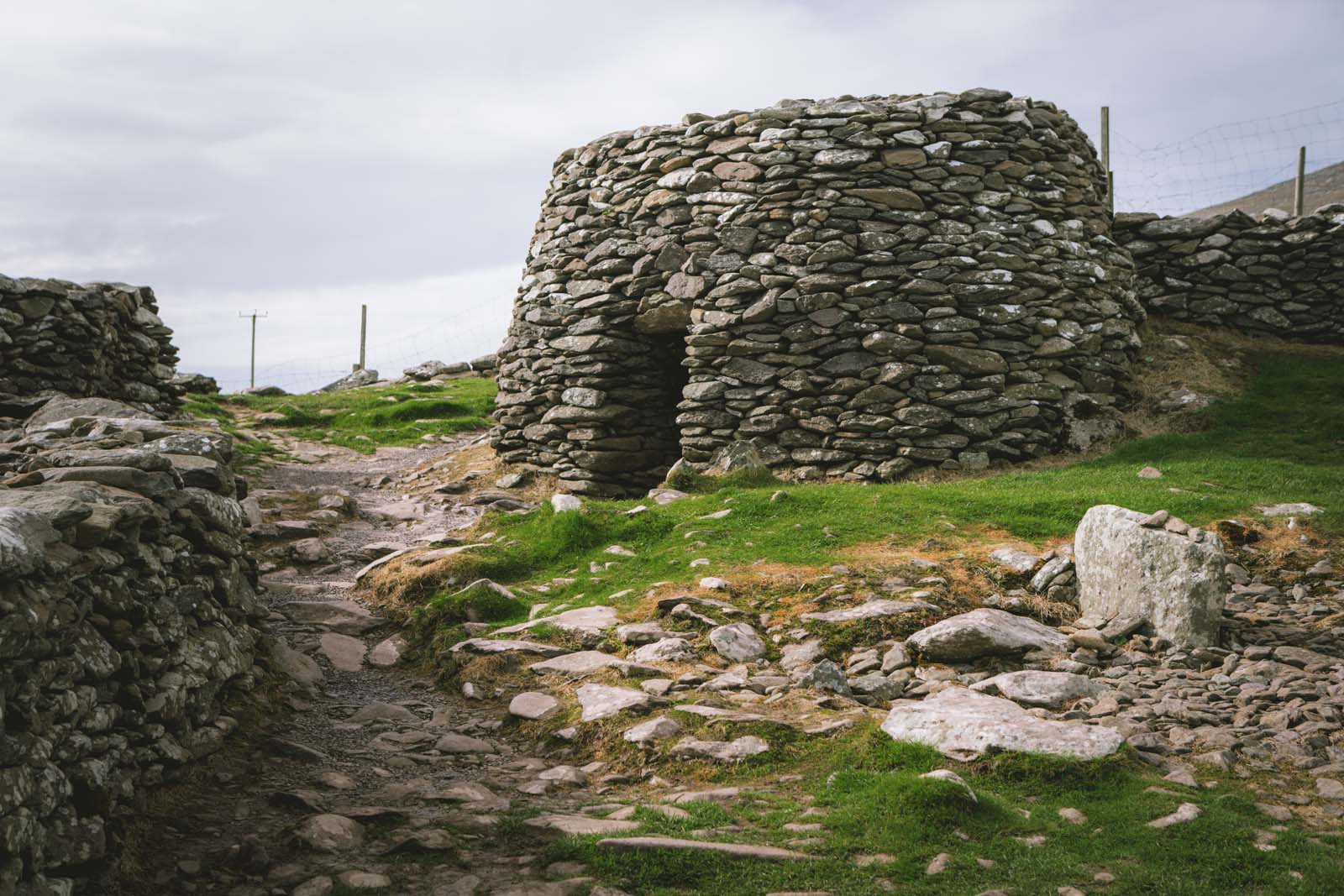 There are many of country's oldest ruins and sites scattered along the way including the prehistoric beehive huts. It's fascinating to think these small huts were used as single family homes made out of stacked flat stones.
It is said there was once around 400 of these huts along the hillside, but today there is one on display.
Gallarus Oratory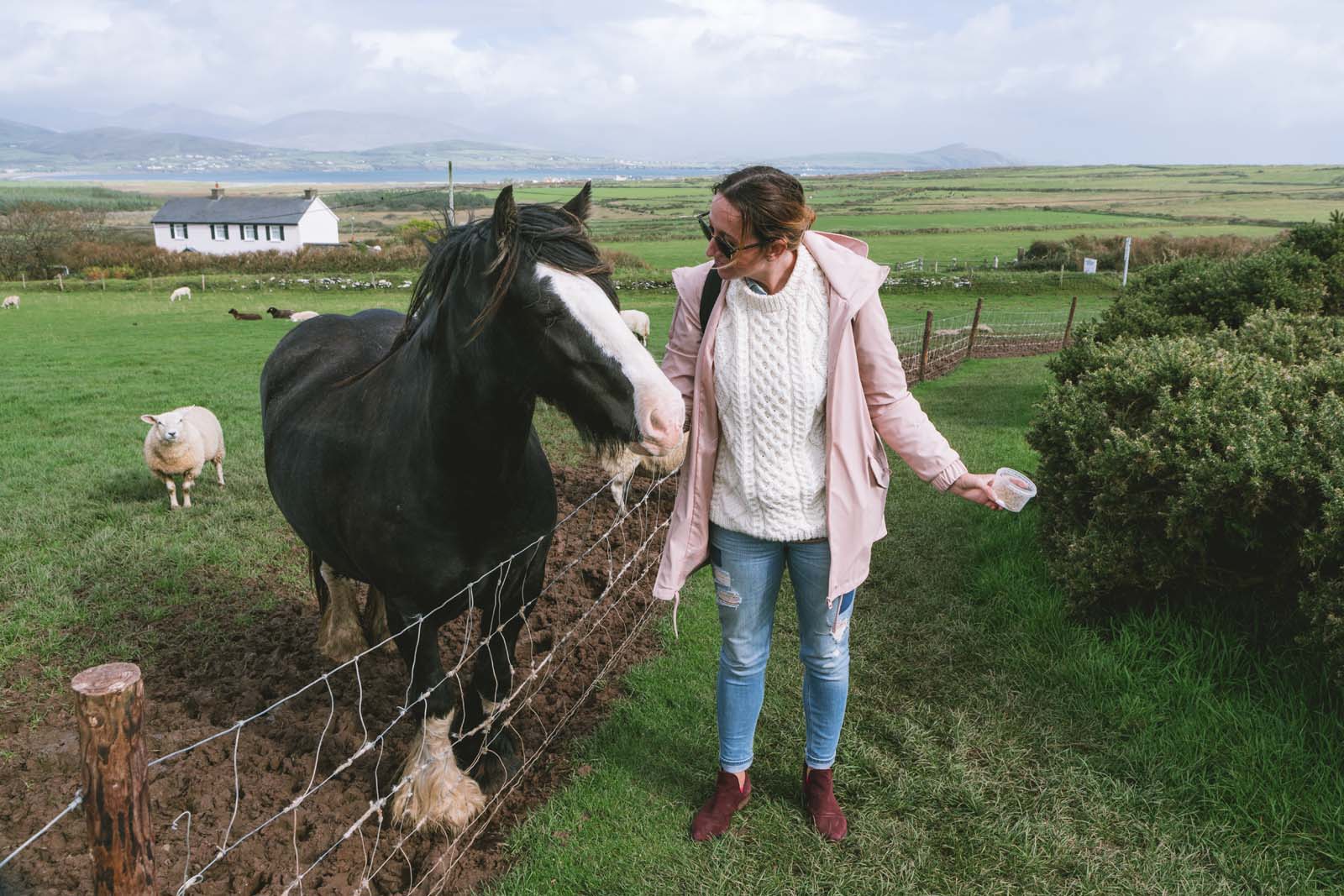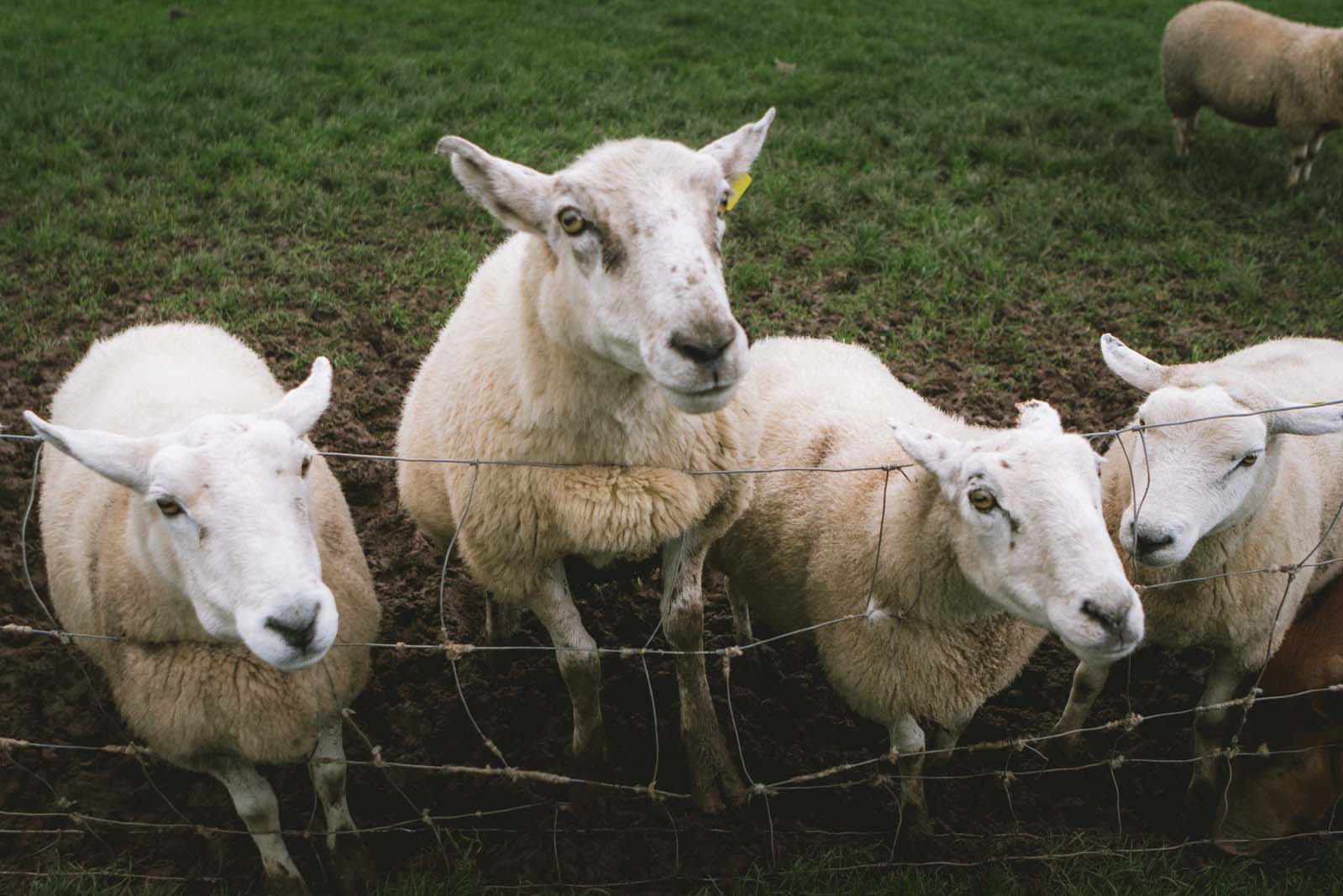 Another ancient structure you can check out would be Gallarus Oratory. This ancient stone building over 1200 years old was used as a place of worship for the local farmers.
Check out the Fairy Forts
Along with ancient structures are stops including mystical fairy or ring forts. We stopped at one where you could pet and feed sheep.
Fairy Forts are circular grass mounds that are said to have special powers that even the most skeptical locals respect. It is said the fairy forts are a way to the other world and if you damage, disrespect, or build on top of one you will be cursed.
There are actually several different local stories about how these forts have affected others in the past.
Take in the Sea Views
Besides historical, cultural, and mystical stops one of the best things to do in Dingle is to take in the incredible cliff and seaside views.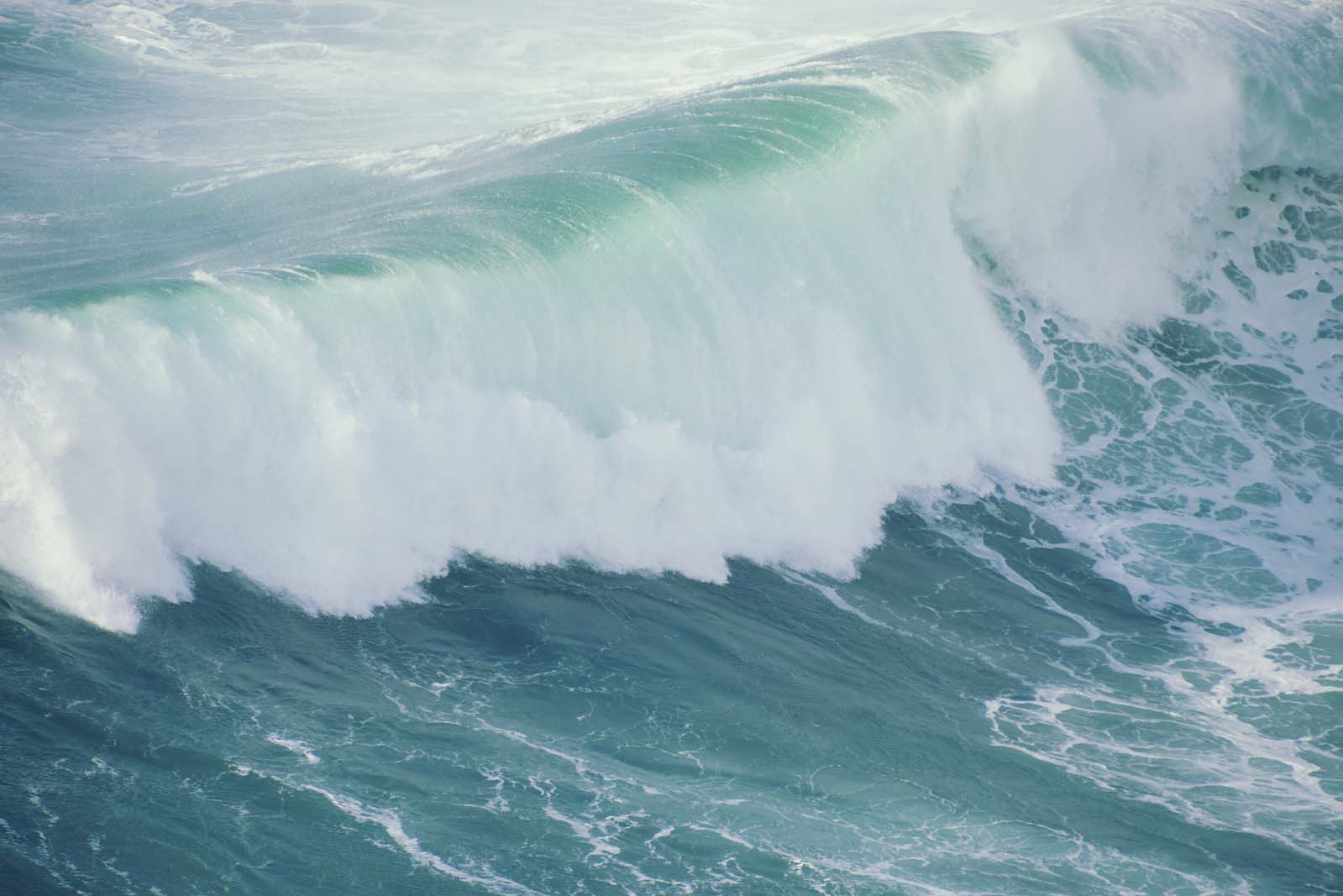 It seemed as if we were making stops every kilometer for photos. We really couldn't get enough of the vantage points.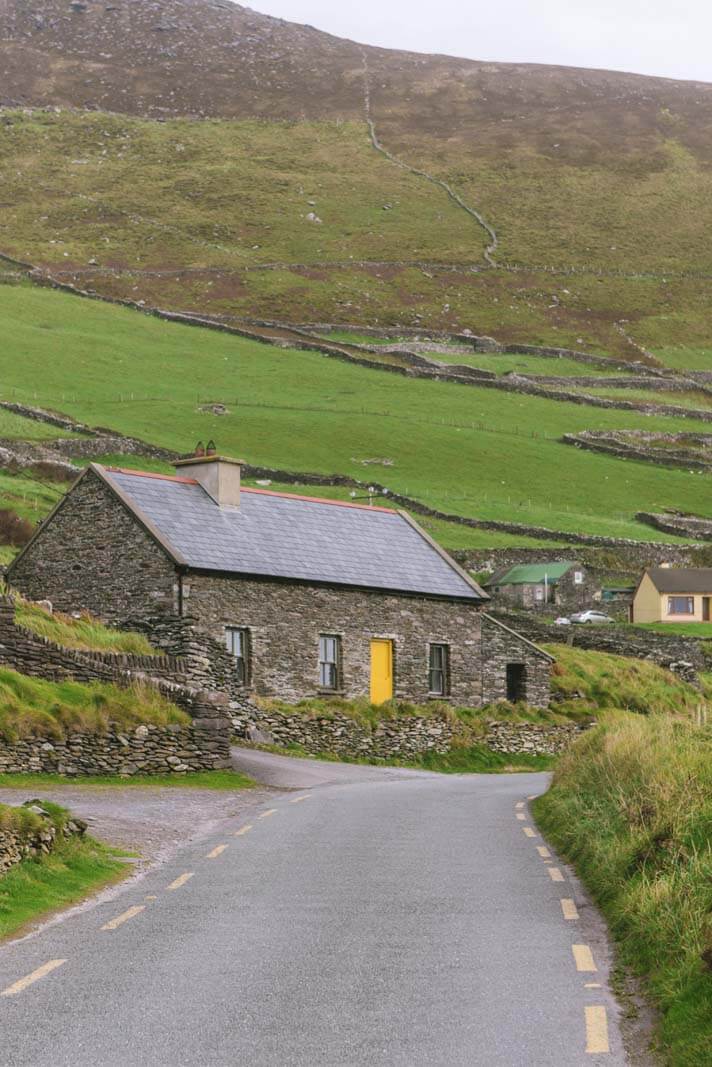 One of the best and most popular stops would be Slea Head Beach. Watch the wild waves, or as locals call them White Horses, at the shore of the Dingle Peninsula. There are great photo opportunities down here as the waves crash on the rocks, cliffs, and beach.

And if you're a Star Wars fan you can check out the fantasy-like views from Ceann Sibeal where the set to recreate the island of Skellig Michael took place to film scenes for The Last Jedi.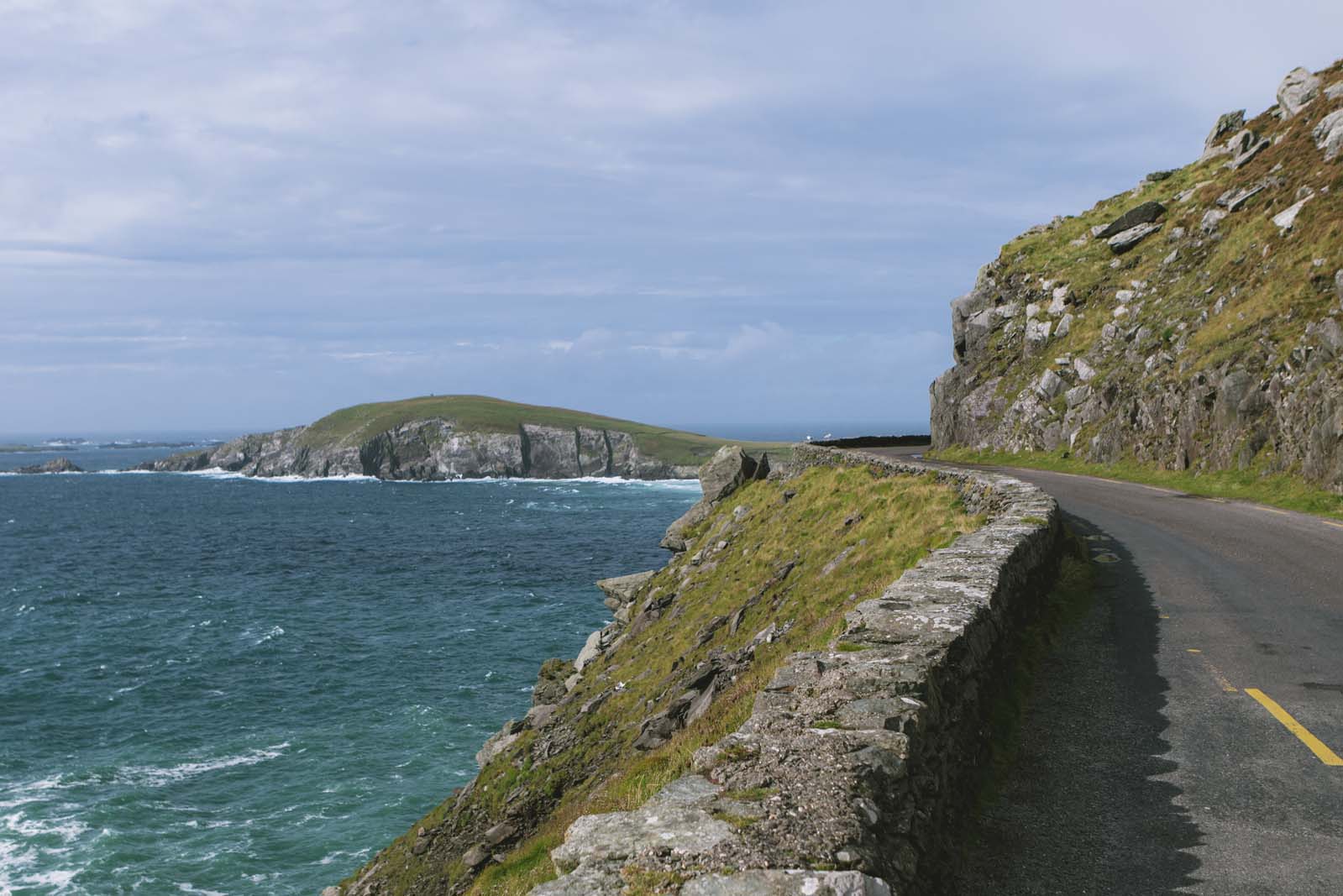 Want to find more filming locations in Ireland? Check out the Game of Thrones filming locations in Ireland.
Connor Pass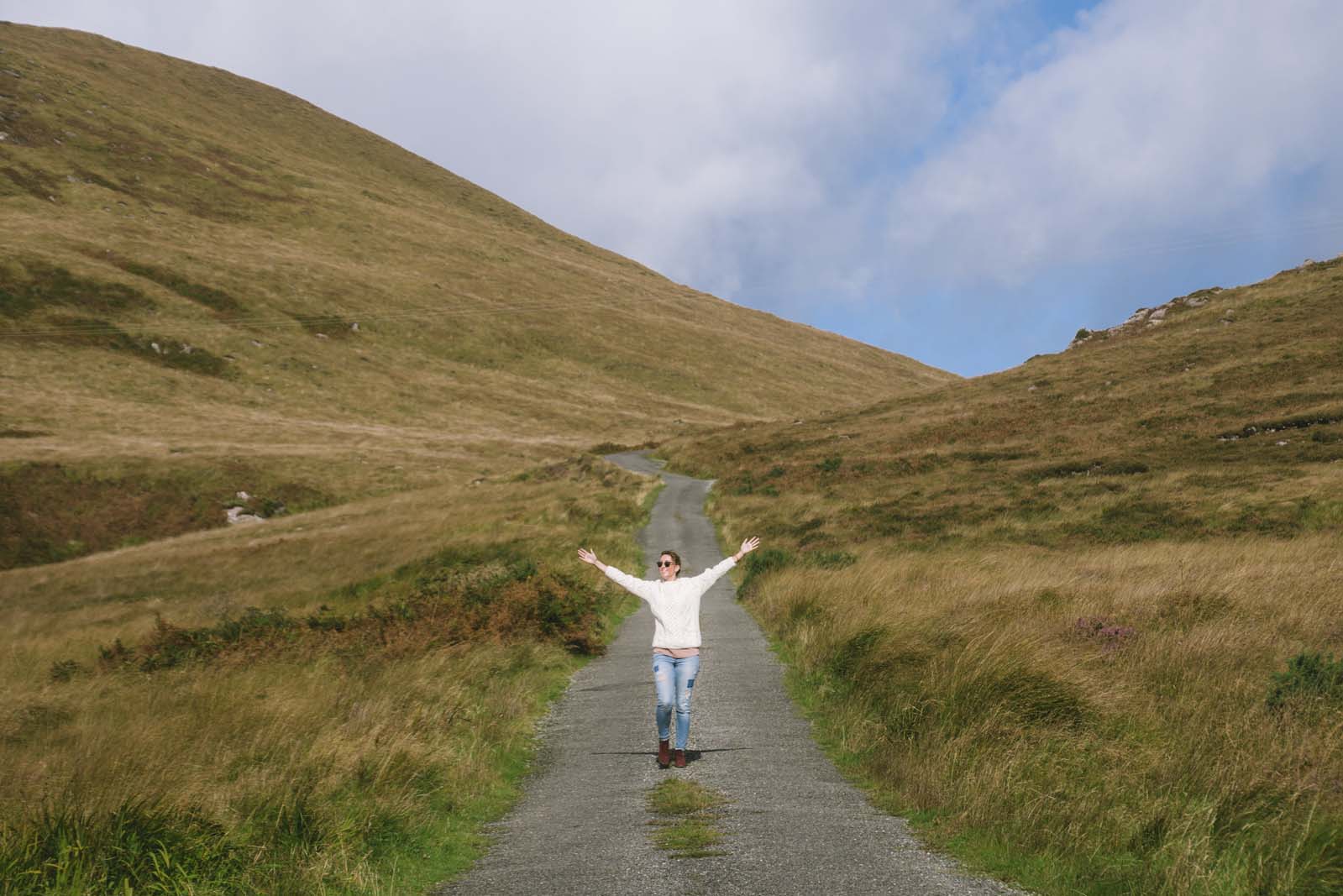 Ireland's highest mountain pass and another one of the unforgettable things to do in Dingle! Connor Pass can only be done via car as tour buses are too large for the road.
This is one of the few places they take this seriously with signs warning no large vehicles to enter since it's one of Europe's most dangerous roads.
Take the narrow and winding drive up past loose sheep to the viewpoint where you pull over your car in the small parking lot. From here you can truly see the peninsula.
From the viewpoint, you can truly see the peninsula. Take in both sides of the Dingle Peninsula and on a clear day, you can even see all the way to Galway and the Aran Islands.
Sadly for us, we had a typical wild Atlantic weather day and it was a bit blustery and rainy.
Visit Downtown Dingle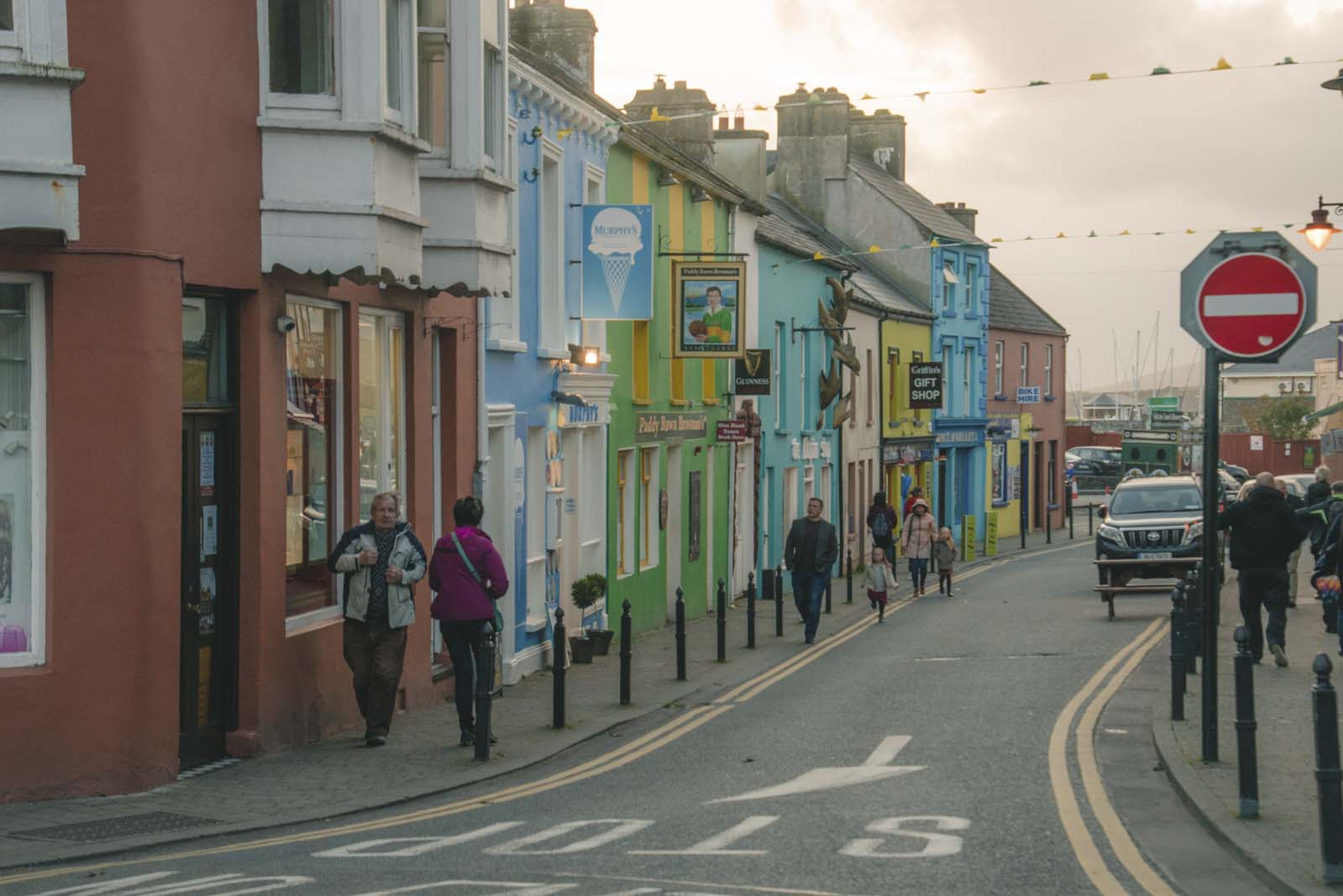 Dingle is a must while one your Dingle Peninsula drive. One of Ireland's last surviving Gaeltacht areas, this fishing town is where Irish culture and history thrive. You will notice signs not only in English but also in Gaelic.
The colorful town has a lot of character and flavor. We ended up spending most of our time in Dingle eating meals, but you could easily spend a day exploring the shops and just taking in this adorable town.
By night you can hit the local pubs and listen to local Irish music.
We also happened to stumble upon Dingle a day before their annual food festival. It's a shame we had a strict itinerary this trip because we easily could have spent another day or two here just living the slow life and taking in the local Irish vibes here.
Do a Day Trip to the Blasket Islands
You can't miss the islands off the coast on your Dingle Peninsula drive. The Blasket Islands are the best things to do in Dingle if you enjoy scenic walks.
We were really looking forward to the photography possibilities and the unfenced, grassy green roads. The Great Blasket Island is also a great place for bird watching, whale watching, spotting dolphins, and seals as well as furry land animals like rabbits and sheep.
There's even a white sand beach, An Tra Ban, Seal Cove, and a hike up to the highest peak to get a view of the other Blasket Islands and the Dingle Peninsula on a clear day.
Sadly, our trip to the Blasket Islands ended up being canceled due to weather and the swell. It's best to have backup plans as there's a 50% chance you will not be able to go!
We organized our trip through Marine Tours. The captain is a local who is an expert in the Blasket waters. He will inform you in advance if he knows your tour will be canceled due to the swell.
We will be going through them when we come back to give the Great Blasket Islands another chance!
How to Visit the Dingle Peninsula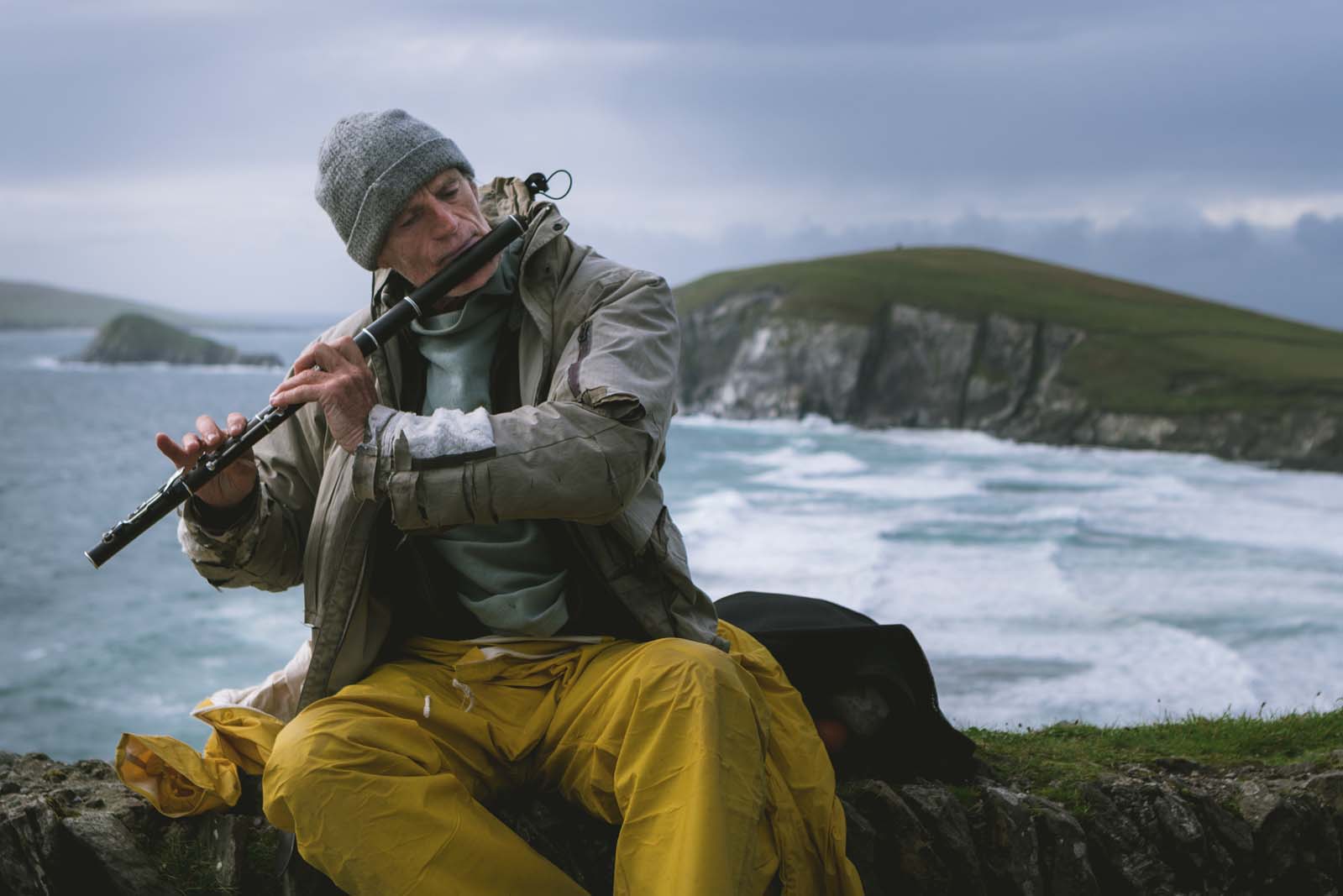 The Dingle Peninsula drive is best done by car. We recommend getting a rental and giving the area a go for yourself, you'll be thankful you have it when you're driving on Slea Head and want to stop every kilometer like we did.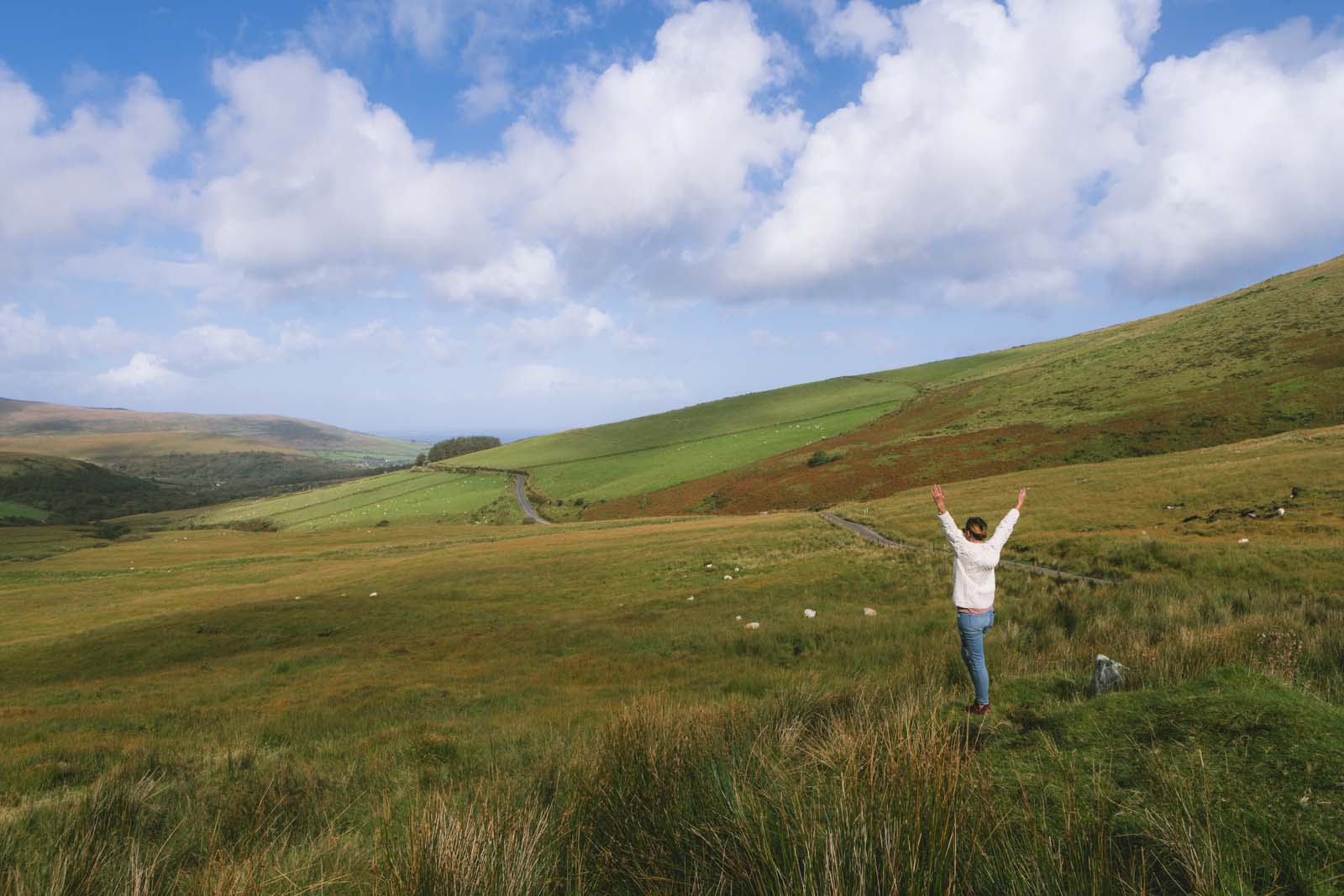 Give yourself a full day if not two to really explore the area. It took us a day and a half to see everything mentioned in this post.
Dingle Peninsula is one of those places you will pinch yourself to make sure you're not in a dream. You'll also understand why Ireland says they have forty shades of green while you're here.
Another highlight would be the roaming sheep who seem to rule the roads.
The place is truly unique and stole our hearts.
Looking forward to a road trip in Ireland? Check out this 7 day road trip in Ireland by a Brit and a Southerner.
Liked this post on the best things to do in Dingle? Share the love on Pinterest below!