Looking for the best things to do in Watkins Glen, New York? We've got you covered in this go-to guide for one of the best Finger Lakes towns you can visit!
One of the best parts about visiting the Finger Lakes region is visiting the gorgeous small towns as well as all the amazing activities to do around them. We were lucky enough to have stayed in Watkins Glen during several trips in the Finger Lakes and just fell head over heels in love.
From the small town charm, being right on the lake, to the waterfalls you can't possibly have a bad time in Watkins Glen. Check out our guide for some of the best things to do in Watkins Glen, New York and around Seneca Lake.
Watkins Glen State Park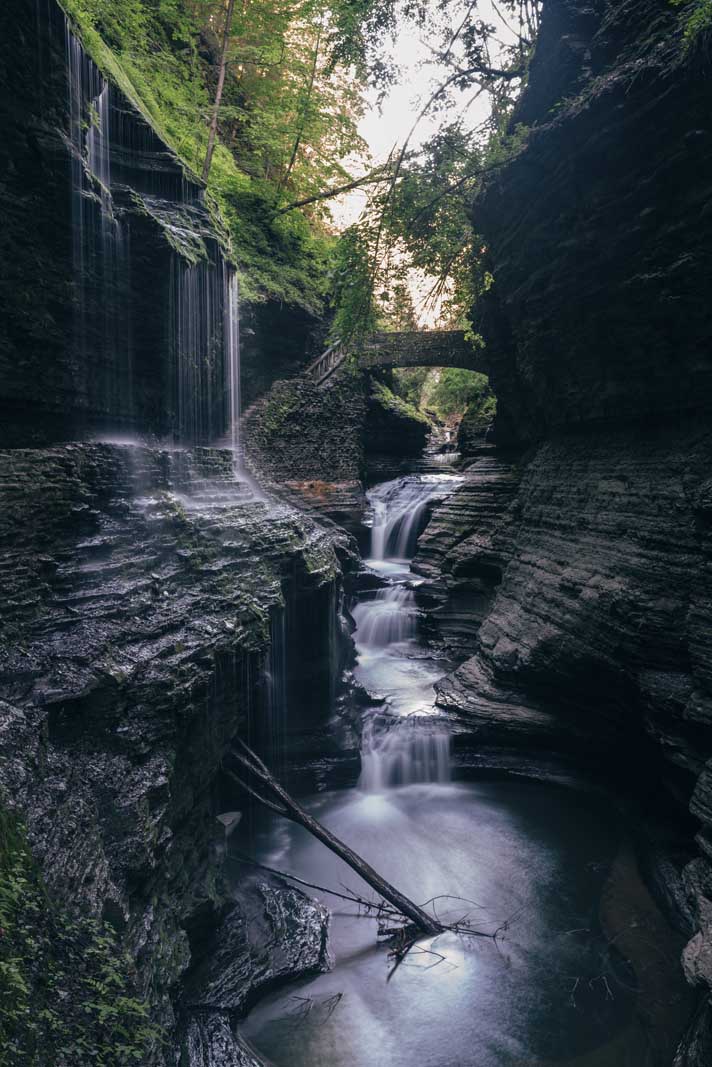 Looking for some of the best waterfalls in New York? Easily one of the best things to do in Watkins Glen is visit the Watkins Glen State Park. The lower entrance is located just a 5-minute drive from downtown Watkins Glen making it easily accessible. The upper entrance is also an easy drive, you can start at either end and walk your way through the gorgeous narrow gorge pathway with one stunning long cascading waterfall after another.
We recommend starting at the lower entrance early in the morning to beat the crowds and just slowly climb your way up the gradual path that leads to one cascading waterfall after another surrounded by the forest and lush green foliage and moss if you're there in the summer.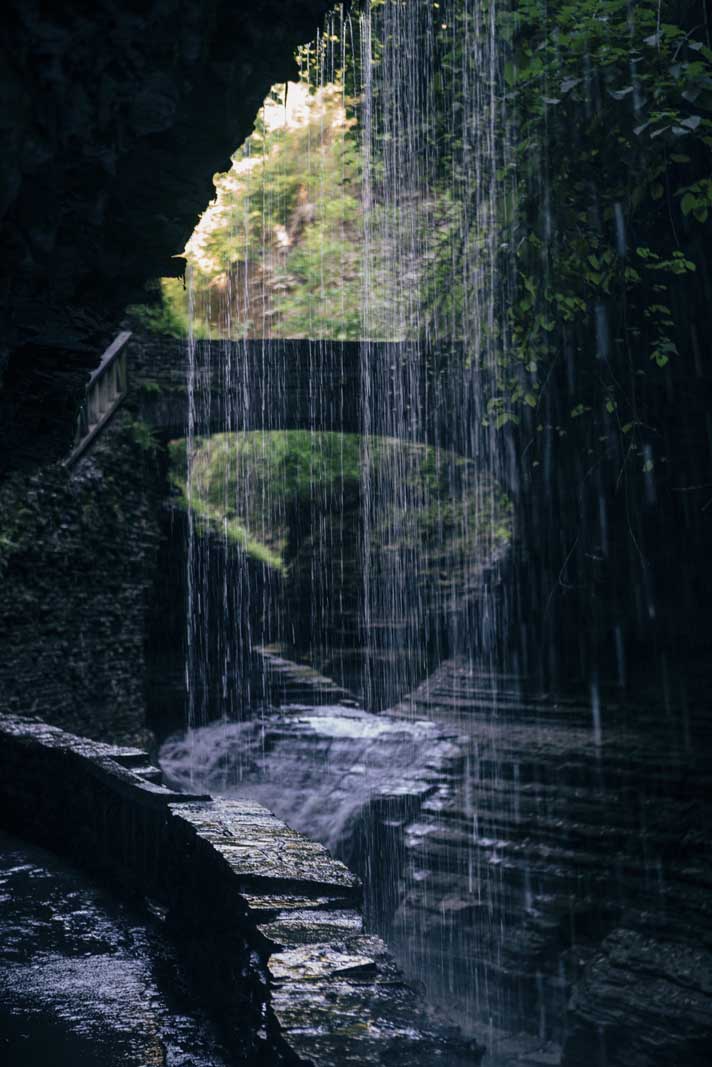 We recommend making your way all the way up to Rainbow Falls, this is the iconic and most mesmerizing spot on the trail where there's a bridge, a wispy waterfall the trail leads behind, and one of the waterfalls that's part of the river that runs through the gorge making the entire gorge one long cascading waterfall.
If anyone is a fan of old cartoons, maybe you'll be like us and feel like you're straight out of a real-life scene of Fern Gully. You can follow the map here.
See more of the best waterfalls in the Finger Lakes in our complete guide to the falls in the region!
Seneca Lake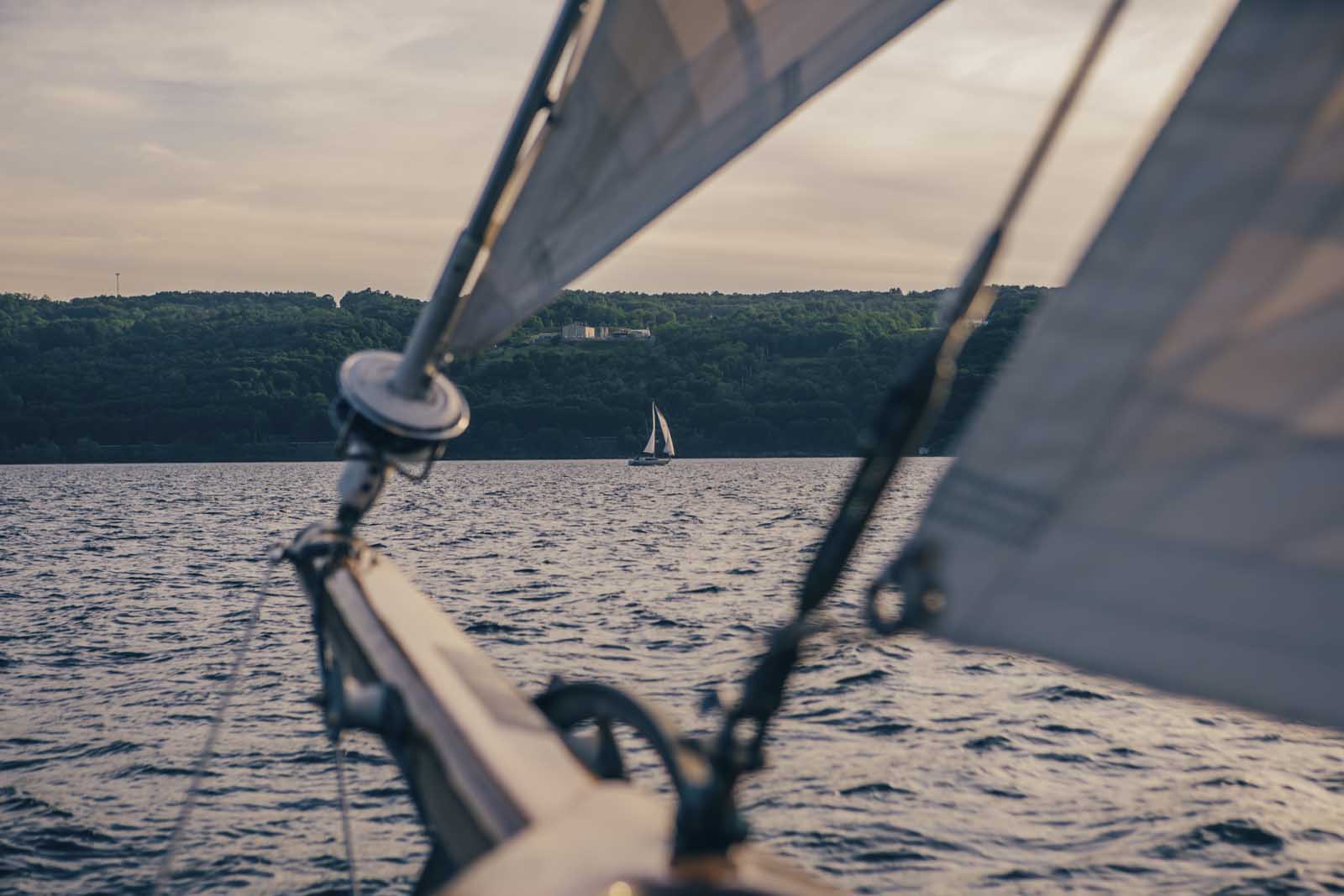 One of the best things to do in Watkins Glen is check out Seneca Lake which is incredibly convenient since Watkins Glen is located right on the south end of the lake and harbor. Whether you are looking to just take a stroll along the harbor, drive around the lake, or enjoy some water activities you're right there.
We highly recommend the sunset schooner experience on the "True Love" as an amazing thing to do in Watkins Glen right on the lake. Meant for lovers, but great for anyone you set sail for two hours before sunset sipping on wine and snacking on cheese and freshly picked berries from local farms ending with the climatic sunset to music with your company.
If you're itching for more lakeside views you can opt to stay in the Harbor Hotel right there in the heart of Watkins Glen on the actual harbor, hence the name, or rent a lakeside house to take it all in.
Montour Falls & Nearby Waterfalls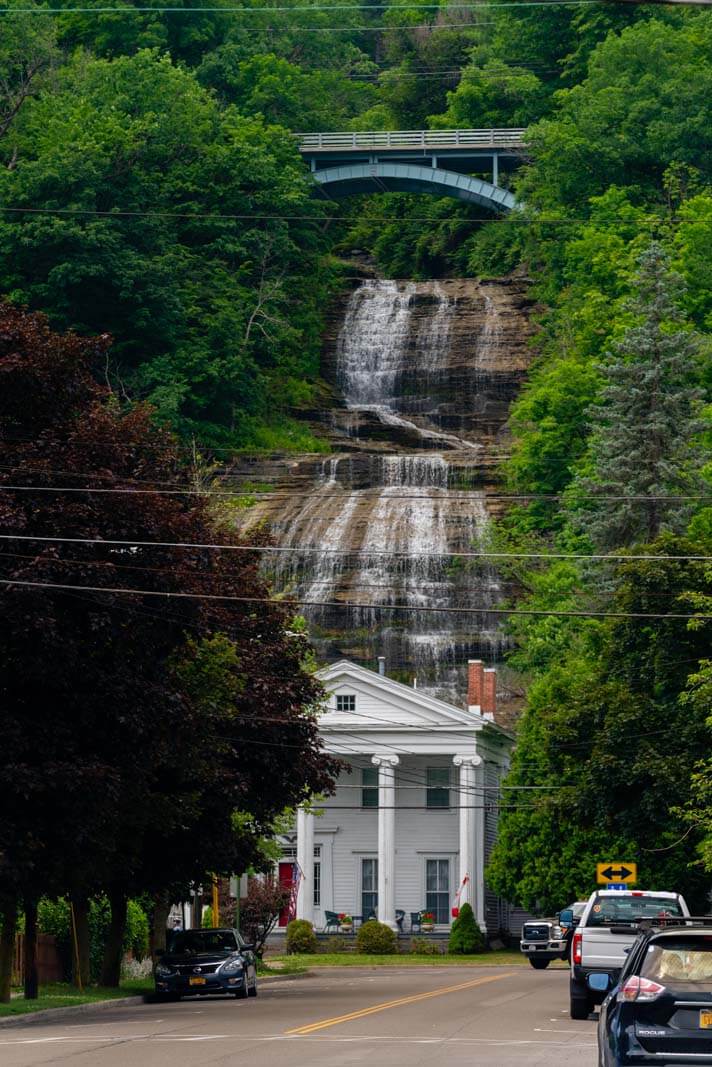 Another one of the best things to do in Watkins Glen is to visit the neighboring town of Montour Falls which has the impressive Shequaga Falls right smack dab in the center of the town as photographed above.
During a dryer season or a summer with little to no rain, you won't get to see Shequaga Falls in its full glory, but most of the time it looks as impressive from the car driving through the charming little town as it does up close.
If you're a waterfall chaser like us, then you will also want to also check out these other nearby waterfalls.
Eagle Cliff Falls at Havana Glen Park offers another jaw-dropping waterfall in Montour Falls. This 40 ft waterfall can be accessed by a short and easy 5-minute hike on a well-maintained trail from the trail head at the parking lot for Havana Glen Park.
Deckertown Falls is a hidden gem and one of the best things to do in Watkins Glen closer to Montour Falls that's been a well-kept local secret! From the small parking area at 101-149 Catlin St and its just a short walk until you catch views of this two-tier waterfall.
Last but not least, Aunt Sarah Falls is another roadside attraction and waterfall near Watkins Glen just north of Montour Falls. If you're driving from Watkins Glen on Route 14, you can spot this waterfall as you're driving. This is one of those waterfalls that is very dependent on rain levels, if its been a dry season don't expect to see more than a trickle or water stain, but if you're lucky and there's been good rain recently you'll be rewarded with another gorgeous waterfall in the region!
Seneca Lake Wine Trail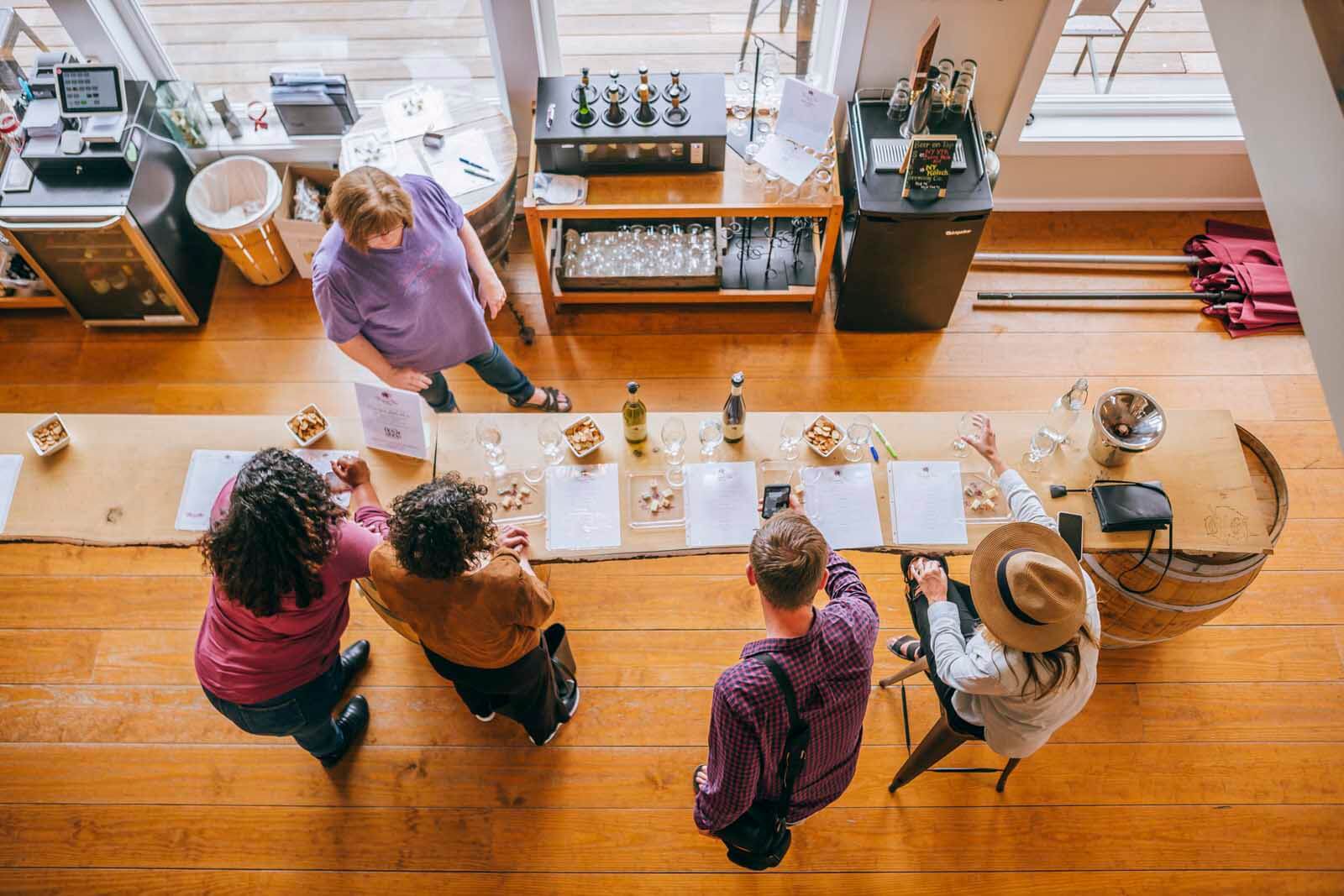 It would be foolish of us to recommend the best things to do in Watkins Glen and not mention the incredible wineries on Seneca Lake. While the wine trail isn't technically in Watkins Glen you can access many of the wineries very close by via car.
With over 35 wineries on the Seneca Lake Wine Trail, you could keep yourself busy for weeks sipping your way from one winery to the next. We will recommend the few that we visited and enjoyed below.
Wagner Vineyards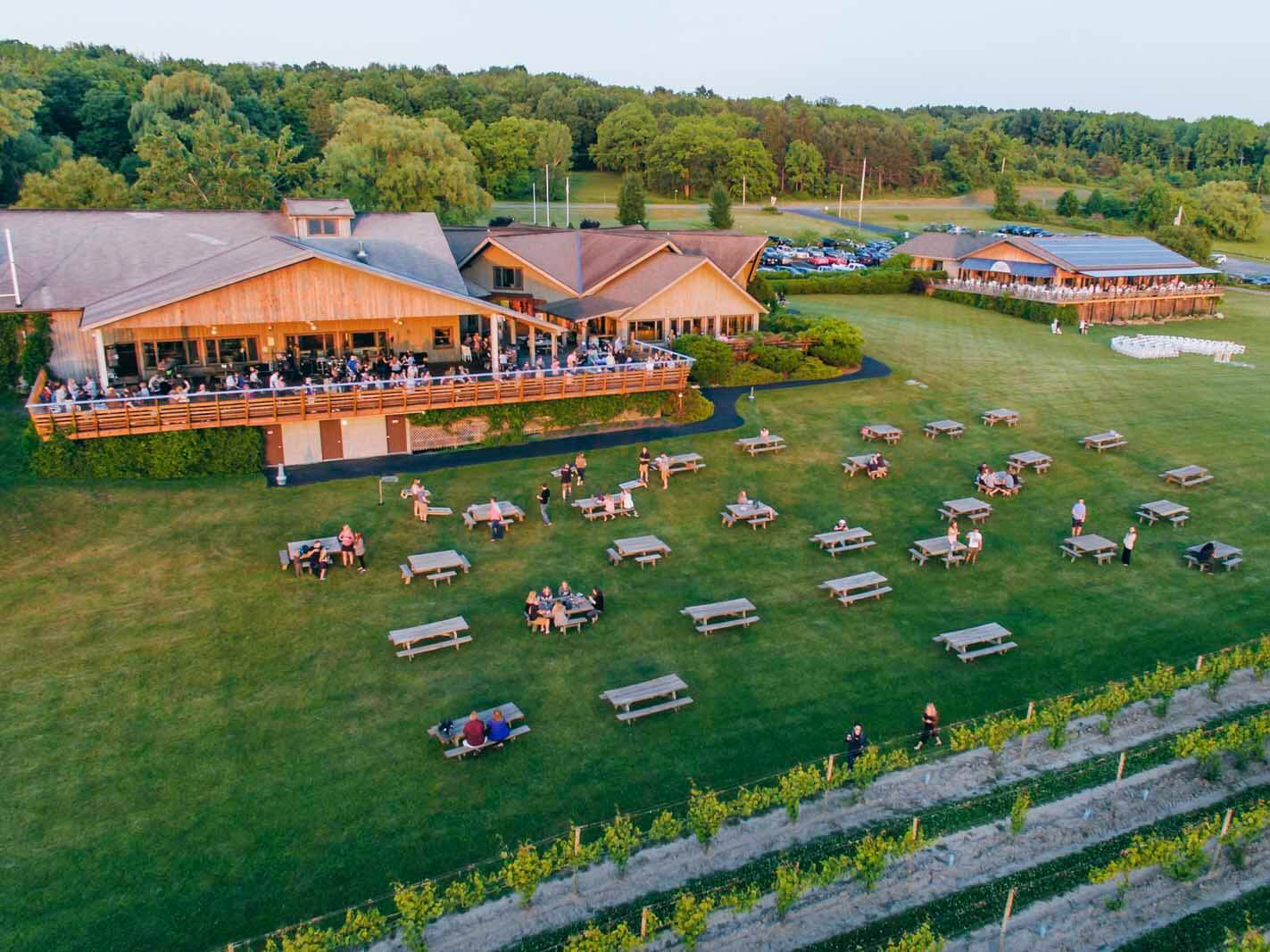 Besides being an amazing winery Wagner offers up their own craft beers as well. With a gorgeous location with a view of Seneca Lake and the vineyards, you can't help but just love this place. If you're around on a Friday night don't miss their Pub Night on the Brew Deck with live music, dancing, and a great barbeque meal that brings out all the locals.
Glenora Wine Cellars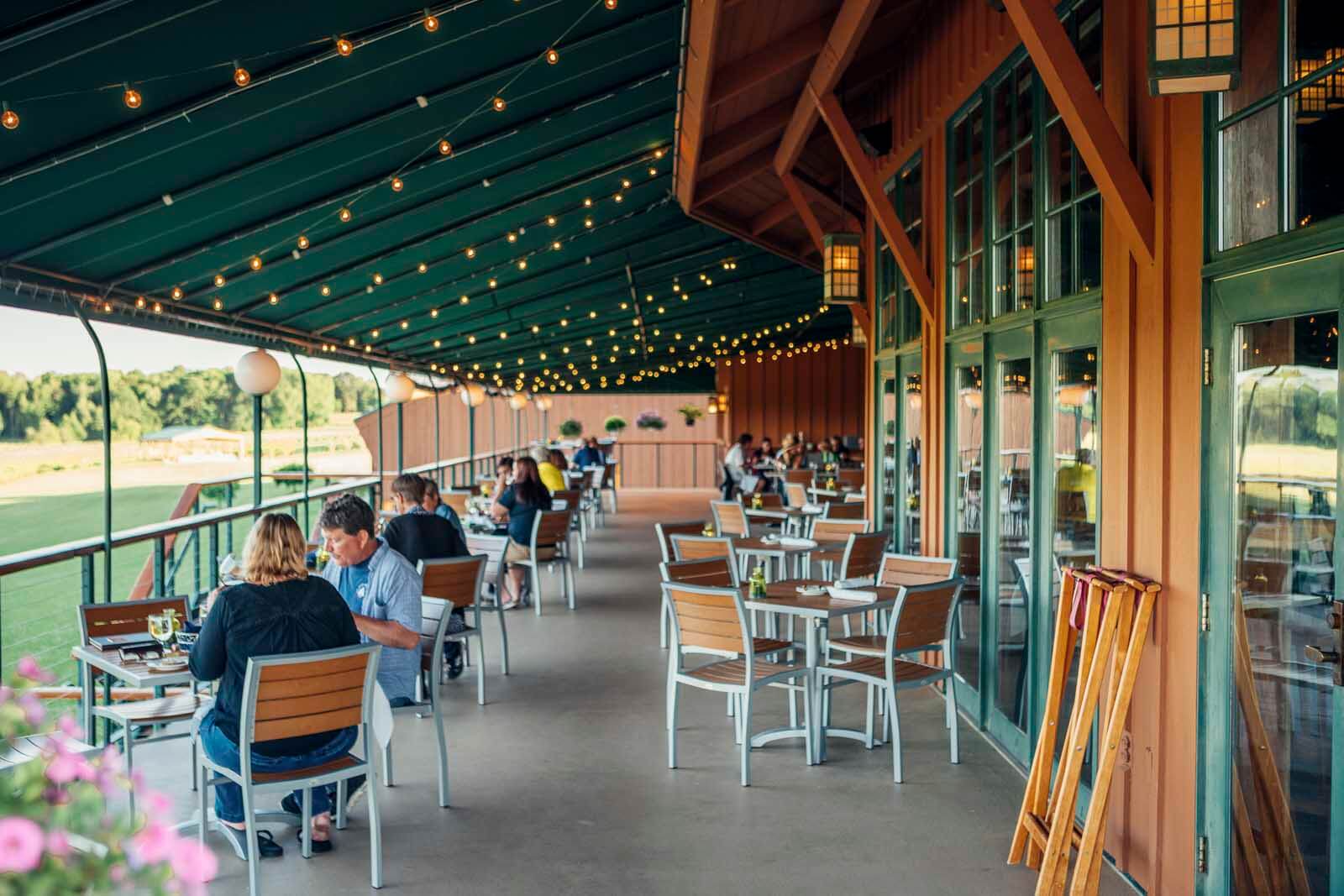 Not just another winery at Glenora Wine Cellars, besides offering up a tasting room and vineyard to visit you can spend an evening having a romantic dinner at their on-site restaurant Verasions with a gorgeous view of the vineyards. We enjoyed the steak and seafood dishes here with the wine pairings and it was fantastic. If you're looking on splurging on a fancy dinner this is the place to do it.
Fulkerson Winery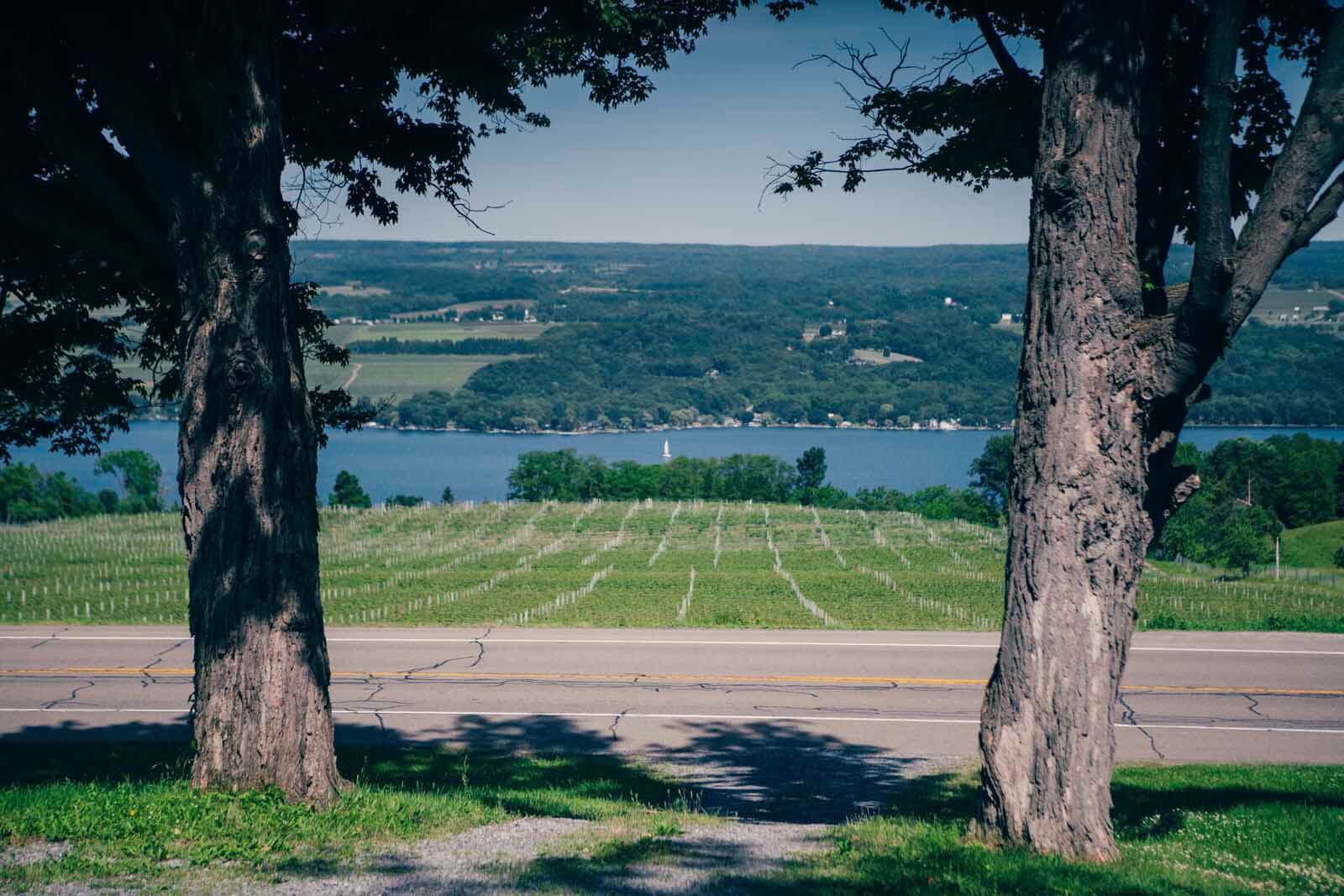 Another fabulous vineyard to visit and awesome thing to do near Watkins Glen is Fulkerson Winery. With great wine their tasting room may make you want to try and make some of your own wine, which is why they sell the equipment in their gift shop! Located on a beautiful farm, you can sip on wine and even rent out their farmhouse for the week overlooking Seneca Lake.
Lakewood Vineyards
While we didn't actually get to stop here on our (first) visit other than to grab a few bottles of wine we think Lakewood Vineyards is worth a mention as one of the best things to do in Watkins Glen because it is really close to Watkins Glen. The different wines we tried were great and it's conveniently close.
We have since been here and really enjoy their selection of dry red wines and they have a beautiful tasting room and patio overlooking Seneca Lake.
Two Goats Brewing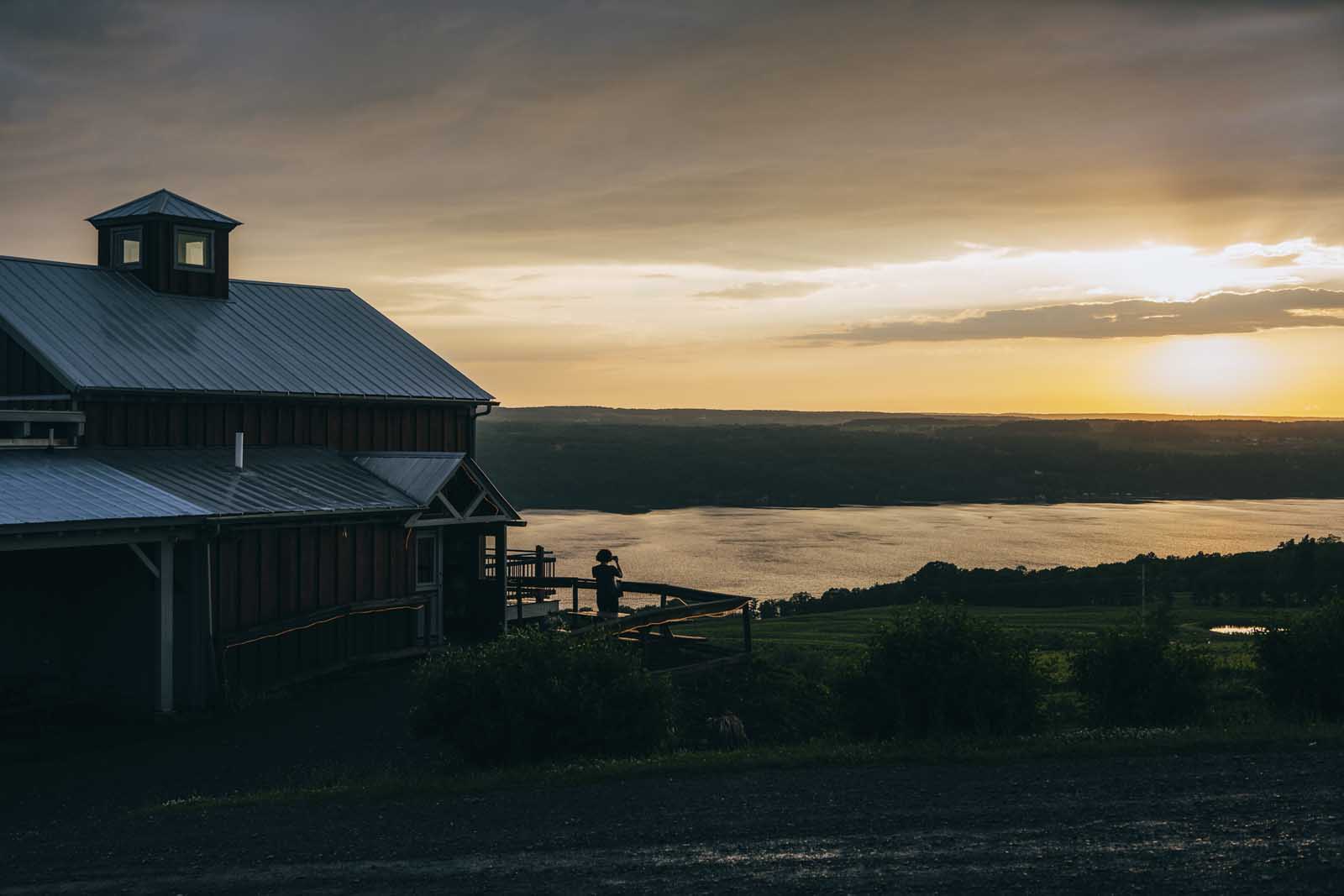 Calling all the beer lovers! So technically not a winery or on the "wine trail" but worth mentioning is Two Goats Brewery. Located less than a 10-minute drive from the harbor we think this is hands down one of the best things to do in Watkins Glen. Located in a picturesque red barn overlooking Seneca Lake this local bar is a favorite and has a ton of character not to mention a great deck with a killer view of the lake and a perfect sunset spot. Stop here and check out the brews for any beer lovers!
Want more breweries? Check out the Finger Lakes Beer Trail! The region is not just for wine lovers with over 75 breweries in the region!
Eat Downtown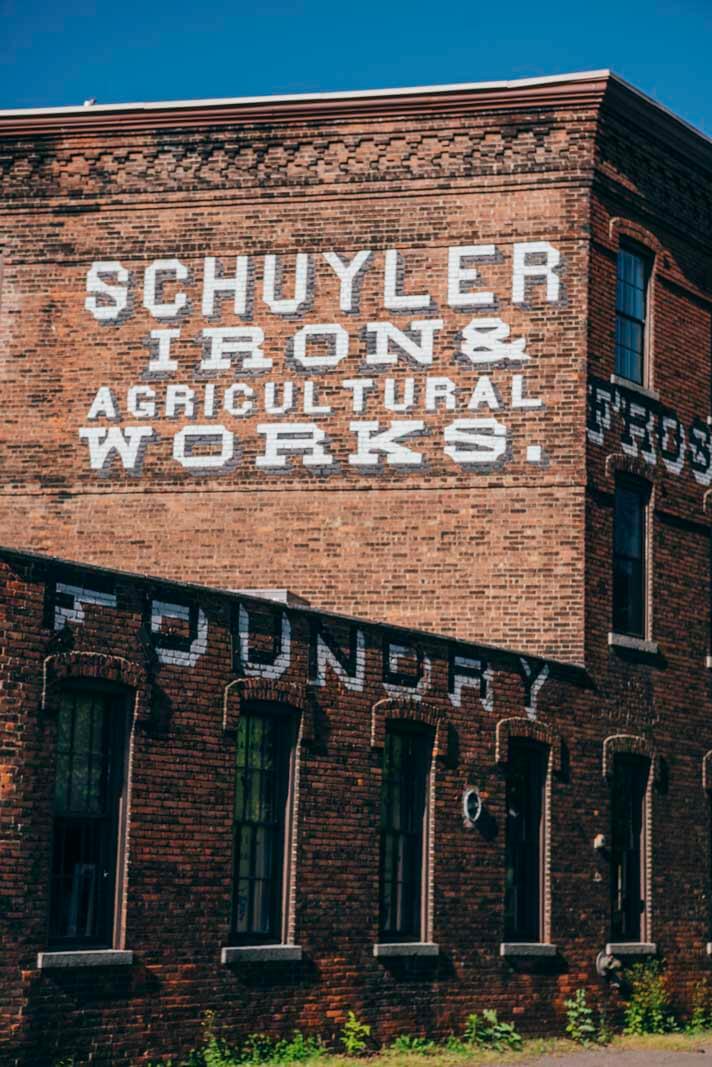 Another one of the best things to do in Watkins Glen is take a stroll to the tiny downtown street for a meal. If you're looking for a great breakfast spot then be sure to stop at Glen Mountain Market Bakery & Deli for a breakfast sandwich made to order, a great cup of joe or a bottle of tea or kombucha. The other spot we enjoyed was Nickel's Pit BBQ which serves up some great chicken wings and we were told they also make some killer tacos.
Visit Hector Falls
One of the greatest waterfalls in the Finger Lakes is Hector Falls and one of the best things to do in Watkins Glen. You can't miss Hector Falls if you're driving on Route 414 because it's an actual roadside attraction located right along the road!
The gorgeous cascading falls a worth a stop for a photo, however, what you don't realize is you're only seeing on part of a series of cascading falls that run through the river down to Seneca Lake.
If you want to see the falls in their entirety it's best to see them from Seneca Lake, we got a great glimpse from the schooner ride, another one of our picks for best things to do in Watkins Glen.
Where to stay in Watkins Glen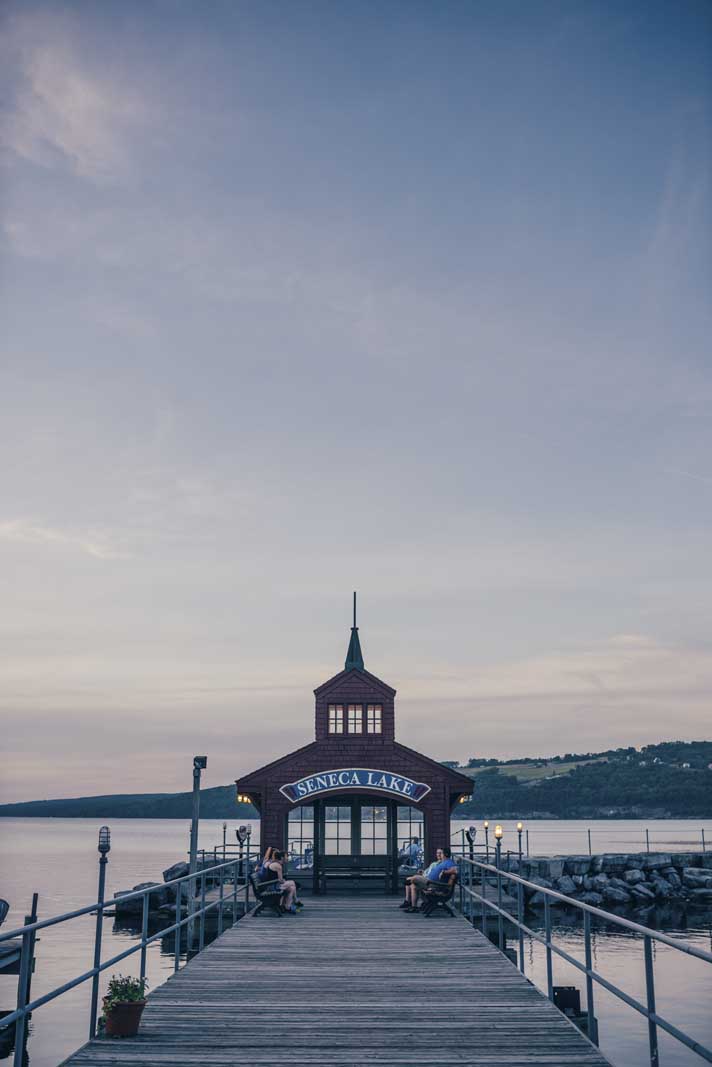 We stayed at the beautiful Harbor Hotel located right on the harbor at the south end of Seneca Lake. Some rooms even come with balconies overlooking the lake. Rooms are contemporary and have the most comfortable beds as well as a complimentary bottle of wine and cheese plate in your mini-fridge. Don't miss out on the outdoor fire pits in the evening with a drink or the complimentary morning coffee and tea stations around the hotel. This is the perfect location for where to stay close to all the incredible things to do in Watkins Glen.
Book Now | Compare Prices for Later | Read Trip Advisor Reviews
---
Read our guide for more of the most charming towns in New York to check out!
Liked this post about the best things to do in Watkins Glen? Bookmark for later or share the love below on Pinterest!