Check out all the amazing things to do in Ithaca, NY, one of the best destinations to visit in New York for a road trip, weekend getaway, or college visit to anyone who has a family, friend, or loved one attending university in this GORGES part of our country!
The marketing catchphrase, "Ithaca is Gorges," is no lie and a fun play on words as the area is full of gorges offering up 150 incredible cascading waterfalls within just 10 miles, just some of the many stunning waterfalls in the Finger Lakes.
On a surface level, Ithaca was nominated as one of the prettiest towns in the US as well as one of our personal picks for best towns in the Finger Lakes, but besides its pleasing aesthetics and stunning natural landscape of ubiquitous amounts of gorges and cascading waterfalls you can find this area of Upstate New York is steeped rich in history including crucial roles in both the domestic Civil Rights and Women's Rights history.
Home to the youngest member of the Ivy League schools, Cornell University as well as another higher education university, Ithaca College there's a vibrant young scene here to accommodate to the area's younger population who studies here.
This is where you can find incredible countryside escapes and agriculture-based tourism located in the heart of NorthEast America's wine country, farms, and the Finger Lakes.
There's no shortage of things to do in Ithaca, NY both in town and in the surrounding area which is why we consider it one of the best places to stay in the Finger Lakes if you're exploring the region.
Things to do in Ithaca
Ithaca's Gorges Waterfalls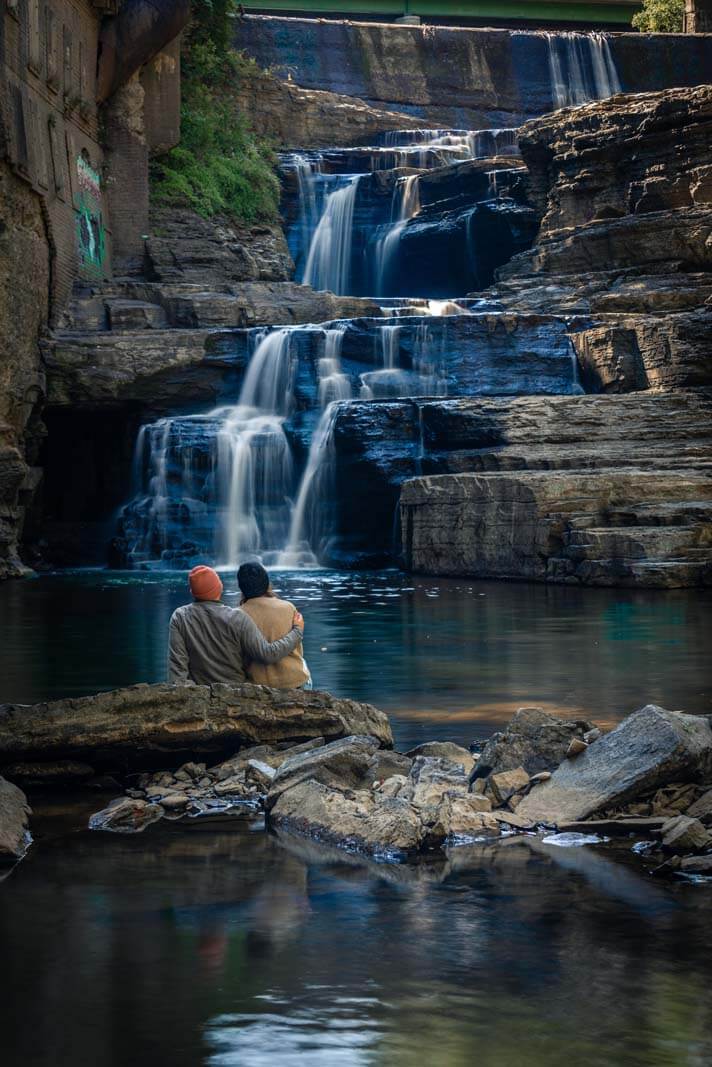 Did you know Ithaca has over 150 waterfalls within 10 miles?! YES, this is 100% true and some are even flowing and cascading right through the center of Cornell University and Downtown Ithaca. Undoubtedly, one of the best things to do in Ithaca is chase the waterfalls during your visit, and where you can find some of the best waterfalls in New York!
We had a bit of jealousy towards the students at Cornell University who get to casually walk to class through campus passing magnificent waterfalls every day. There are actually short cuts through campus using pedestrian suspension bridges hanging over waterfalls!
There's a reason why the slogan is "Ithaca is Gorges." Here are some of the best spots to view multiple waterfalls, however, we recommend reading our entire guide to all the best Ithaca waterfalls if you're serious about chasing down the most GORGES waterfalls as we provide directions to each one, trust us and save yourself the frustration of hunting them down you'll want directions!
Fall Creek – There are 5 amazing waterfalls to check out on Fall Creek in downtown Ithaca and through the Cornell campus including the impressive Ithaca Falls, Forest Falls, Horseshoe Falls, Rocky Falls, and Triphammer Falls. Some of the waterfalls on Fall Creek require viewing from the trail that's open seasonally (closed in the winter months).
Cascadilla Gorge – More amazing waterfalls in the heart of town and another one of the best things to do in Ithaca is visit the Cascadilla Gorge trail that runs through Cornell's campus and downtown Ithaca. Walk along a cobbled lane path with stone bridges passing 8 waterfalls along the way.
Six Mile Creek – There are 3 notable waterfalls to visit on Six Mile Creek including one of our favorites, Well's Falls at First Dam. The Six Mile Creek is also the water source for Ithaca residents!
Robert Treman State Park – One of the best things to do in Ithaca if you're a fan of the outdoors, hiking, and chasing waterfalls that look like they are out of a fairy tale is enjoy the hikes to the impressive waterfalls at Robert Treman State Park. The two most notable waterfalls include Enfield Falls at the lower entrance, one of the few waterfalls in the area you can actually swim in during the summer season with a lifeguard on duty, and the hike to Lucifer Falls, the tallest in the park and best accessed from the upper entrance.
Taughannock Falls State Park – One of the most famous waterfalls in the region and easiest to access is Taughannock Falls. Literally park your car and walk to the viewing deck in less than 1 minute and witness this beauty who happens to be 33 feet taller than Niagara Falls!
Buttermilk Falls State Park – Another famous place for waterfalls and best things to do in Ithaca is visit Buttermilk State Park. The impressive 165-foot Buttermilk Falls cascades down rocks into a pool that is one of the few waterfalls in Ithaca open to the public for swimming in the summer season when a lifeguard is on duty. There are also hiking trails passing more cascading waterfalls in this gorges area.
Downtown Ithaca & Ithaca Commons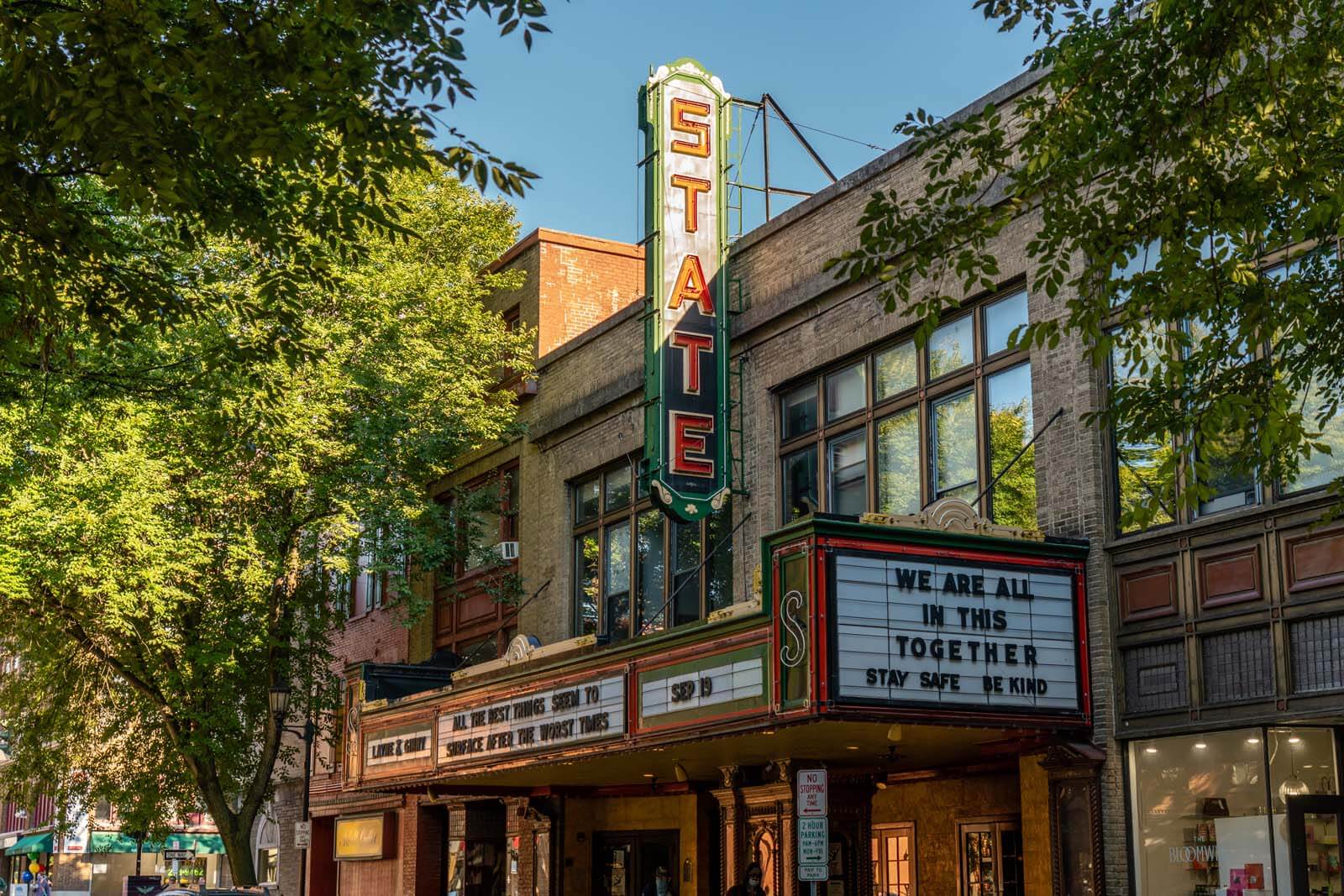 Be sure to check out all the best things to do in Ithaca in the heart of downtown and the Ithaca Commons, a walking street in the center of downtown with shops, restaurants, art installations, murals, and more!
The Ithaca Commons is the pedestrian-only 'Main Street' of Ithaca where you can find shops including those selling Cornell swag, galleries, and independent boutiques as well as restaurants and cafes.
You can also find the beginning of the Carl Sagan, "Sagan Planet Walk," for those who don't know Carl Sagan, the famous planetary scientist and astronomer lived in Ithaca and was a part of the Cornell faculty from the 1960s until his death in the 90s. The walk starts here and is a model version of our solar system scaled down to one five billionth of its actual size and is less than a mile long. More on Carl Sagan later though in the unique things to do in Ithaca section!
Every year there are various festivals and events that take place in the Ithaca Commons and Downtown Ithaca that are worth checking out too.
Be sure to also explore the streets around the Ithaca Commons for more fun shops, restaurants, and other things to do!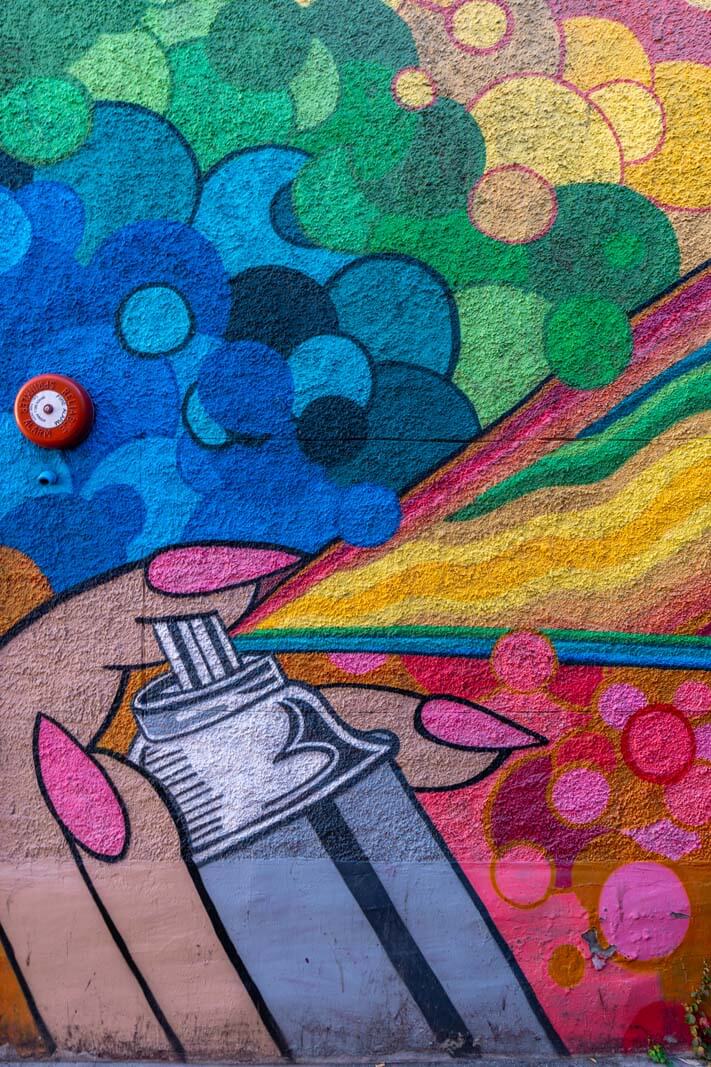 Here are some of our favorite points of interest in the Downtown Ithaca area & recommendations for food.
The Dewitt Mall – Not like a classic mall, this is a fun thing to do in Ithaca where you can restaurants like the famous vegetarian restaurant Moosewood, Buffalo Street Books who often have fun events and is an amazing independent book shop, GreenStar Food Co-op, and other fun shops.
Moosewood – This is one of the best things to do in Ithaca for foodies, whether you're a vegetarian or not, Moosewood is the legendary natural foods and vegetarian restaurant that has been a staple of the community since the 1970s and is famous for their dozens of published cookbooks. Located in the Dewitt Mall, but worth mentioning on its own! This is always one of those spots worth checking out each visit to the area as their menu changes weekly using seasonal ingredients!
Alley Cat Cafe – A guide to the best things to do in Ithaca coming from me, the crazy cat lady that I am, would be incomplete without mentioning that there's a CAT CAFE here!!!! MEOW! Come for just the coffee and baked goods, or you can pay an entry fee to go into one of the two rooms with adoptable kitty cats!
One of the rooms has a glass window facing the rest of the cafe for casual observers, but for the crazy cat ladies like me you can go in and interact and give the kitties some attention and love while they wait to find their forever homes with their adoption services.
If you're a fan of trying fun flavored coffee drinks, try the Cat Lady, a lavender mocha that is amazing iced or hot!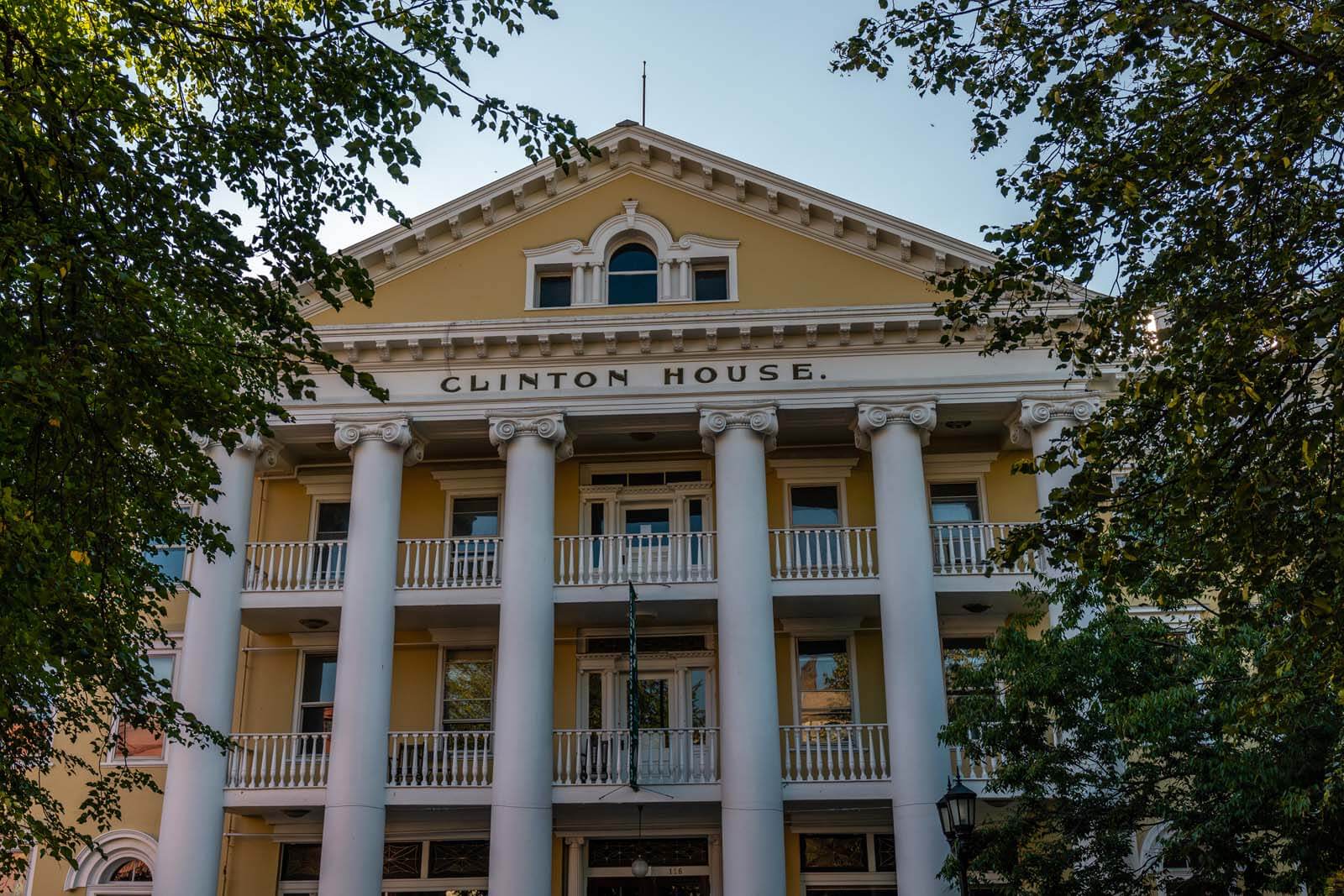 Historic Architecture – While exploring the best things to do in Ithaca in the downtown area be sure to notice the historic landmarks and architecture. One of the historic landmark buildings includes the Greek Revival Clinton House built in 1829 originally as an upscale hotel and is now a public office building where four US presidents have stayed in at one point including temporarily housing famous actors during Ithaca's history with the film industry.
Another famous historic landmark and building that you can catch a show in is the State Theater, a historic 1600 seat theater that hosts a variety of shows including silent film screenings, live musical performances, and more.
In the heart of Ithaca Commons is another historic landmark, The Home Dairy Building which was a former butter milk and donut shop dating back to 1929, it housed a famous department store, also housed the Ithaca Journal, and on the second floor was the location of Firebrand Books, an independent book shop by Nancy Bereano a publisher of feminist and lesbian works.
Kelly's Dockside Cafe – Do yourself a favor and plan a breakfast or brunch around this next pick for best things to do in Ithaca! Kelly's Dockside Restaurant was one of those local recommendations to us that we would have never found oursleves and we are so thankful we know about it now. Located on the waterfront of an inlet of Cayuga Lake, you can dine out on the patio or inside this local joint!
Try their Kelly's french toast on their brunch menu, its ham and cheese stuffed french toast that is probably the best french toast we've ever had!
Ithaca Bakery – Another staple and must for things to do in Ithaca is stop at the legendary Ithaca Bakery serving up incredible sandwiches from their deli, craft brews and kombucha on draft, all kinds of local products on sale in their store, and baked goods! This is an amazing lunch stop and a local favorite!
Purity Ice Cream – Did you know that in 1892 that the ice cream sundae was invented here in Ithaca, NY!? Use that as an excuse to check out one of the local favorite ice cream stops, Purity Ice Cream for some scoops and a classic sundae.
Cornell University
You can't come to Ithaca and miss the gorgeous Ivy League university campus at Cornell. Arguably one of the most beautiful campuses in the US with literally cascading waterfalls weaved throughout the campus alongside its gorgeous buildings and architecture to this university dating back to 1865.
This is actually the youngest of the Ivy League schools and the campus is not to be missed and one of our favorite things to do in Ithaca, New York.
If you're short on time, we recommend at least exploring the waterfalls that are located on campus connecting to downtown Ithaca including the waterfalls along the Cascadilla Gorge Trail and the waterfalls and suspension bridge walk along Fall Creek.
Imagine being a student using these waterfall trails as a shortcut or a place to study!
On campus, you can visit a few noteworthy spots including the Cornell Botanic Gardens that include 40 different natural areas in Ithaca and Cornell, an arboretum, and various gardens featuring flora and fauna from New York State.
Another one of the more popular things to do in Ithaca, NY on the Cornell campus is the A.D. White Reading Room, the library that looks straight out of some whimsical world and the perfect spot for book lovers and cool library admirers named after Cornell's first president and co-founder.
Another fun visit is Cornell's Lab of Ornithology where you can find the Wall of Birds, and an interactive mural with all the species of birds as well as some extinct ancestors. There are other exhibits on display and a favorite stop and thing to do in Ithaca for bird lovers and bird watchers!
Cayuga Lake
One of the best things to do in Ithaca, NY is enjoy one of the main natural attractions, Cayuga Lake, one of the 11 lakes that make up the Finger Lakes region.
In the warmer months, you certainly don't want to miss out on all the fun lake activities or rent a boat for the day and enjoy a day on the lake like a local. You can also rent kayaks and stand up paddleboards from local rental spots like Puddledockers and Paddle-N-More to enjoy some fun on the water.
Don't miss Stewart Park either, this waterfront park on the shores of Cayuga Lake is where you can find fun outdoor performances, great picnic spots on the waterfront and even pavilions for rent, as well as a great spot to watch the sunset.
Stewart Park is also famously the former site of the Wharton Brothers studio famous for its silent film production from 1914-1919 before moving film production and the studios closer to Hollywood in Santa Cruz, California.
Another awesome thing to do in Ithaca on Cayuga Lake is also walk or hike along the Cayuga Waterfront Trail.
Cayuga Lake Wine Trail
One of the best things to do in Ithaca, New York if you're a wine lover is enjoy wine tasting and winery hopping along the Cayuga Lake Wine Trail, America's first and longest-running official wine trail started in 1983.
For those unfamiliar with the region, the Finger Lakes is home to an award-winning and incredible wine region around Cayuga, Keuka, and Seneca Lakes. So if you're really into wine tasting, you may want to schedule more time exploring one of the best things to do in the Finger Lakes by also exploring the Keuka Lake Wine Trail and the Seneca Lake Wine Trail while you're at it.
Closer to downtown Ithaca are wineries like Six Mile Creek Vineyard but you can find tons dotted around Cayuga Lake including Hosmer Winery and Goose Watch Winery which we stopped at on our recent visit.
Breweries & Cideries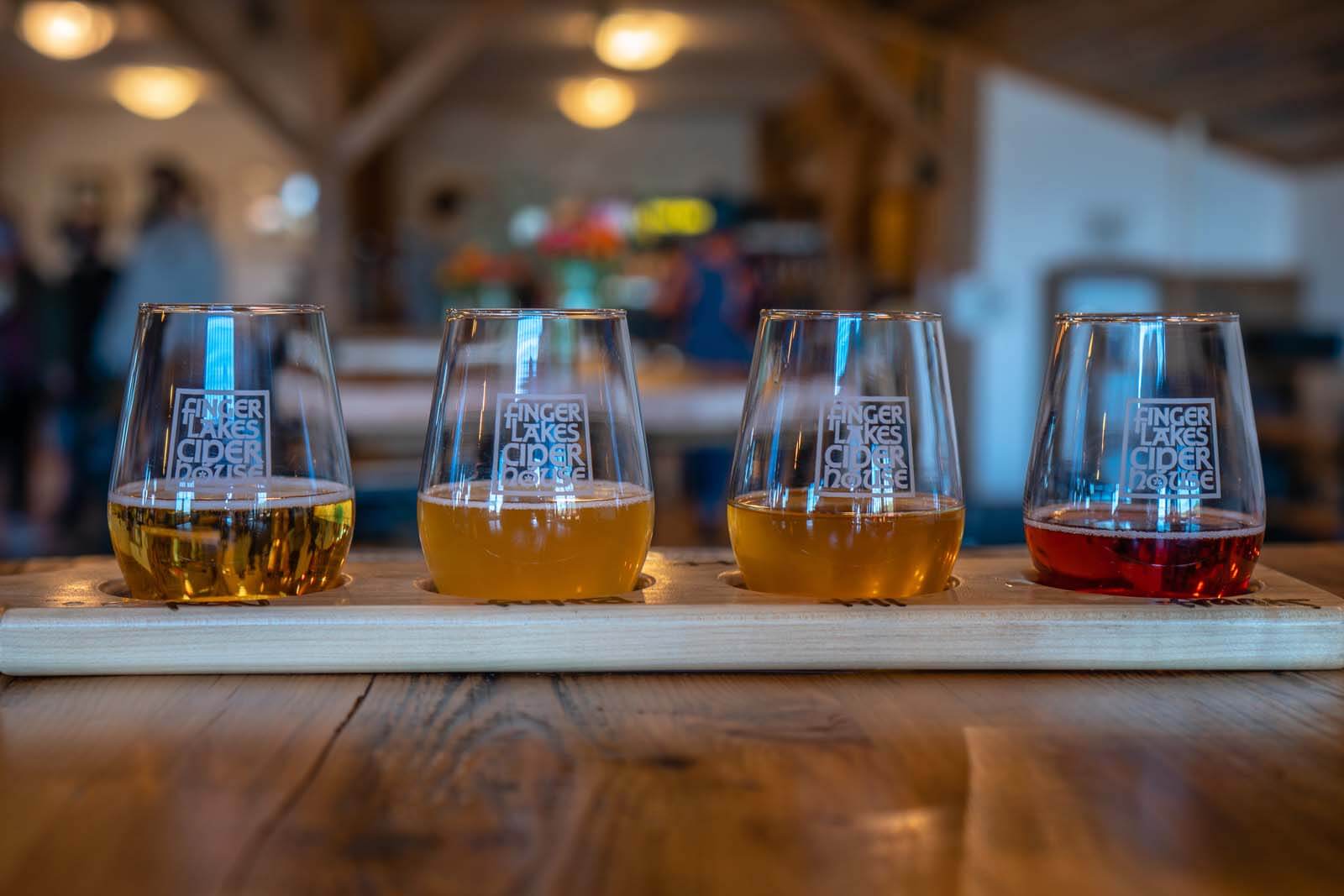 Ithaca, the Finger Lakes, and Upstate New York are known for much more than their award-winning wine region. You can also find amazing breweries, distilleries, and cideries in the region. We will be honest, before the past year or so from our trips to Nova Scotia and the Finger Lakes, we really weren't fans of cider until we did some flight tasting and eventually have been won over!
It's no secret we love a good craft beer either so naturally, one of our picks for best things to do in Ithaca is check out the different tasting options at the local craft drink scene here!
We highly recommend stopping for lunch or an afternoon of tasting and snacking at Ithaca Beer Co. Their brewery is located near downtown Ithaca and has a great outdoor area for those warmer weather seasons. Their most famous brew is their Flower Power IPA which we get often in the city and can be found on draft outside of Ithaca.
We also recommend checking out some of the local cider spots too! We loved both South Hill Cider located on South Hill just outside of Ithaca and Finger Lakes Cider House located along the wine trail on Cayuga Lake.
Ithaca Farmer's Market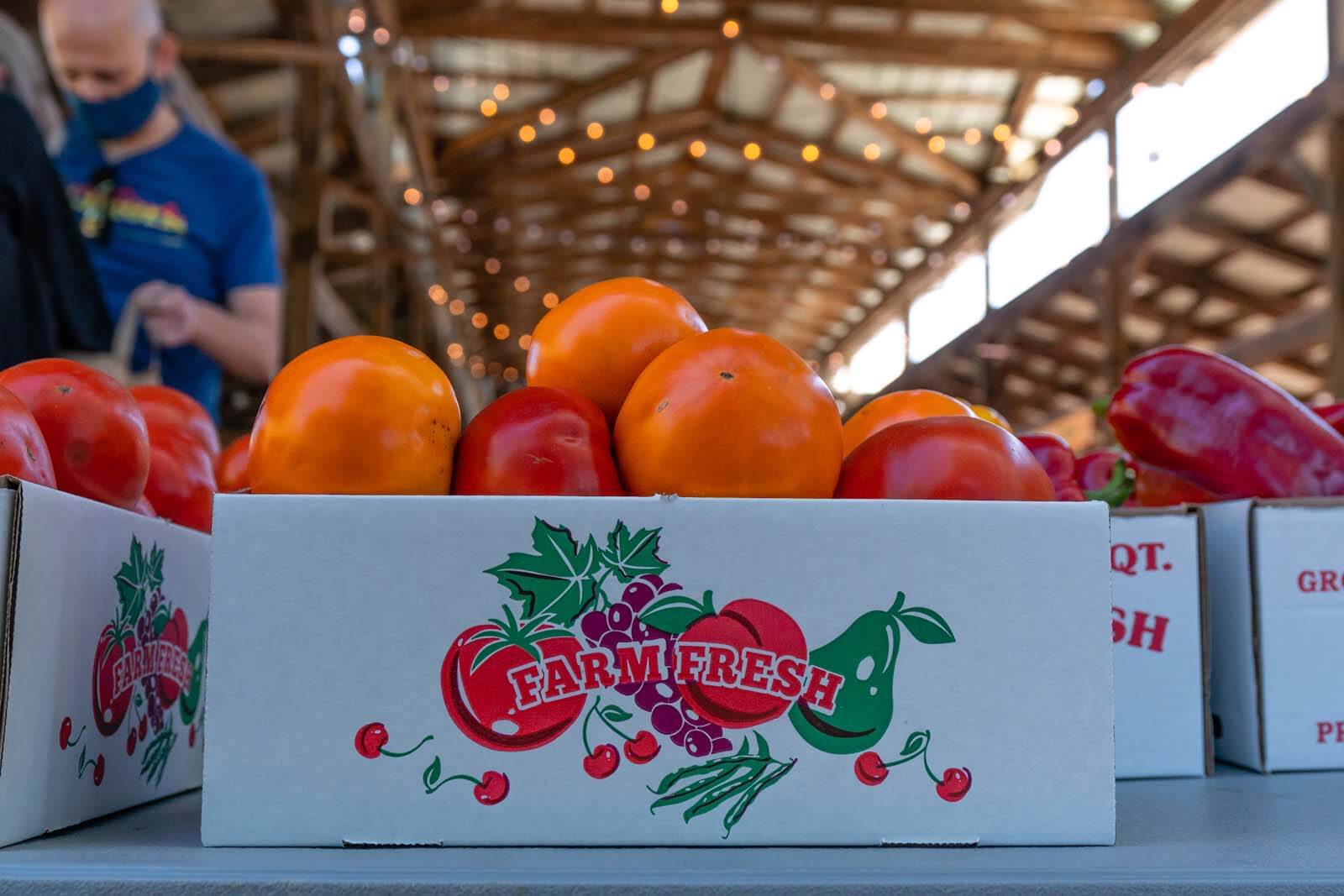 If you're visiting over the weekend, one of the best things to do in Ithaca is to visit their famous Ithaca Farmer's Market on the weekends from 9 am to 3 pm on Saturdays and Sundays seasonally. This farmer's market is a hot spot for foodies as there are several different food stalls to grab some quick eats celebrating cuisines from all over the globe alongside fresh produce and locally sourced products within 30 miles of Ithaca.
This is an experience in itself, come hungry, and grab something to eat after checking out all the different food options and dine on the shores of the water right here in this gorgeous location! Talk to any locals, they will recommend experiencing their farmer's market as its a staple in local pride and considered one of the best in the country.
If you come on a weekday, don't worry, there are other farmer's markets going on in the area on almost every other day of the week.
Farm Visits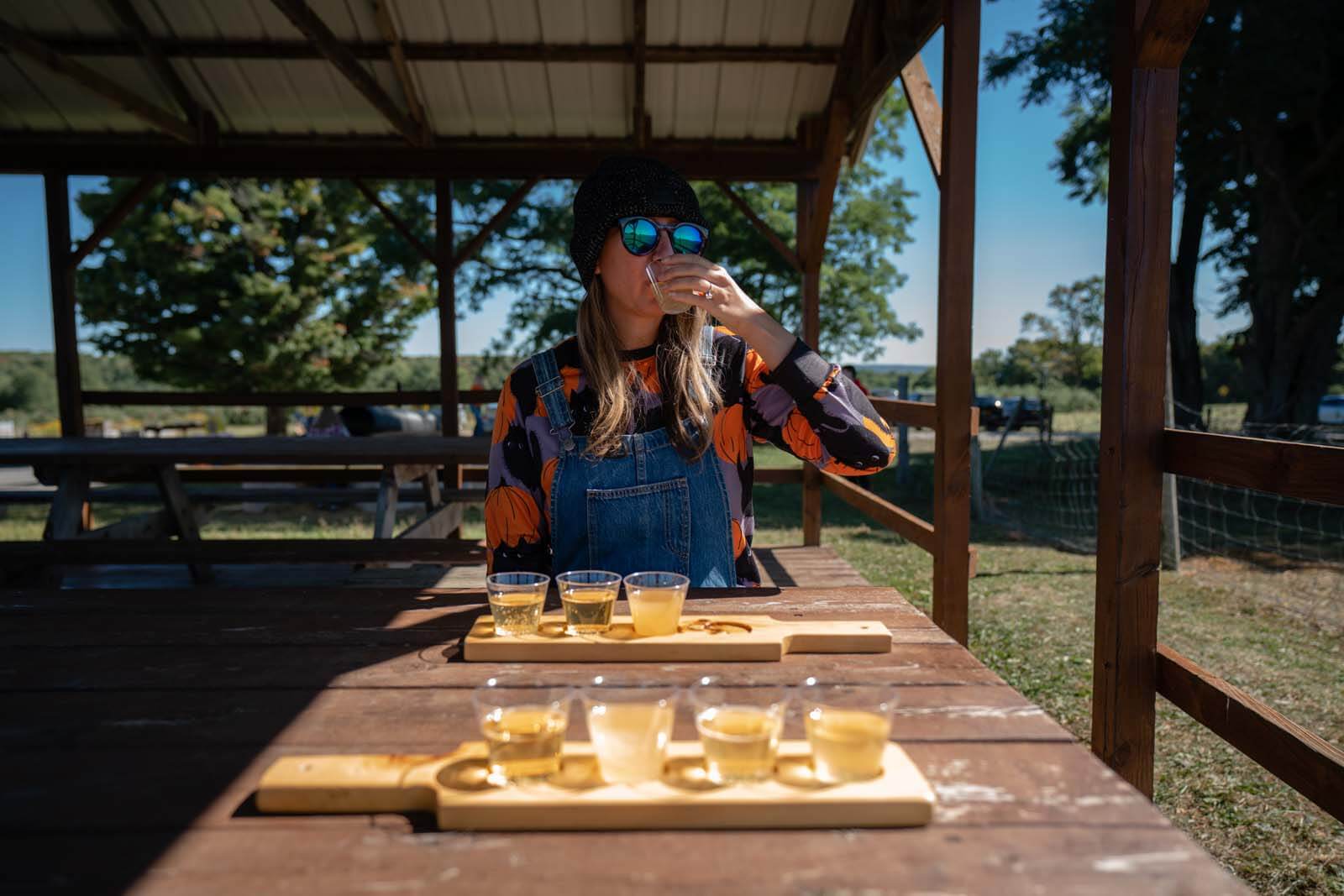 A favorite of ours and many that visit the region is stopping at the local farms surrounding the area. This is one of the best things to do in Ithaca if you want to try some of the local farm products, produce, and just connect with the countryside and see some fun barnyard animals!
Throughout the seasons you can also enjoy U-pick seasonal products at many of the farms from various fruits and veggies as they come in season to wildflowers.
We recommend checking out Lively Run Dairy, an operating goat farm who sells their goat milk products like cheese and other items at their farm visits, Grisamore Farms is awesome in the fall as they have a pumpkin patch, a country store full of gifts and goodies, and even their own cider so don't miss doing a tasting flight here and walk it out to their pavilion where you can befriend a miniature donkey as you sip!
Another great stop is also Indian Creek Farm where you can try their famous cider donuts in the fall, pick from their fresh produce, U-pick wildflowers, and other great farm goodies!
If you're into finding locally sourced products, even though it's not a farm, we recommend visiting Brookton Market just outside of downtown Ithaca. We only discovered this place because we were glamping nearby during our recent visit and they are a small, local shop that sells local products and has great coffee and breakfast sandwiches! So if you're short on time, this is a great place to stock up on some local cheese, meats, jams, and other products in one convenient stop.
They had a cat walk through during our visit and I couldn't help but think this was our countryside bodega during our trip! Complete with a cat and all!
Trumansburg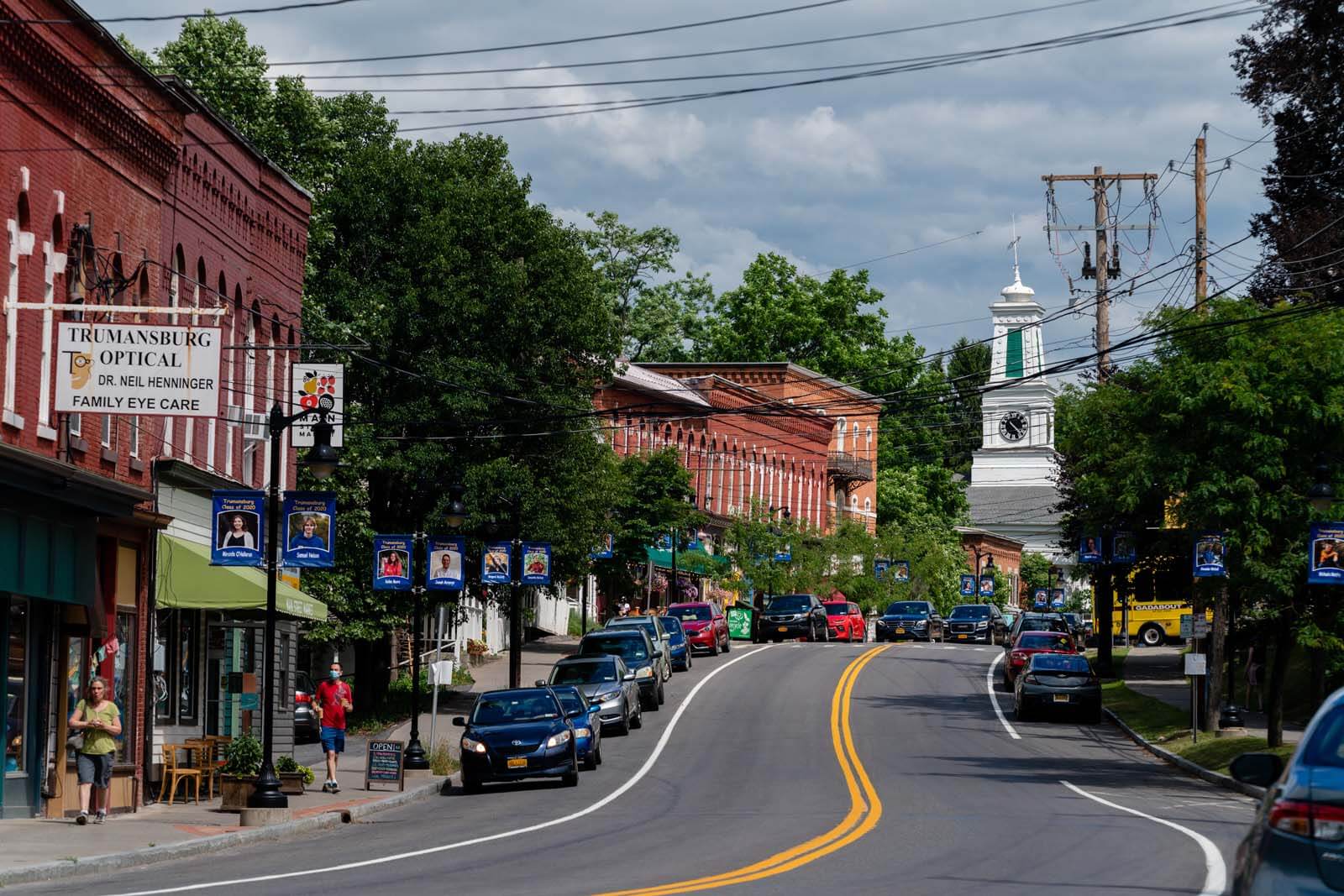 Another great stop and thing to do in Ithaca, NY on your way to or from Taughannock Falls State Park or exploring the surrounding Cayuga Lake area is the small town of Trumansburg. This charming town has a picturesque main street filled with shops, restaurants, and even a chocolate factory.
Unique Things to do in Ithaca
Cayuga Nature Center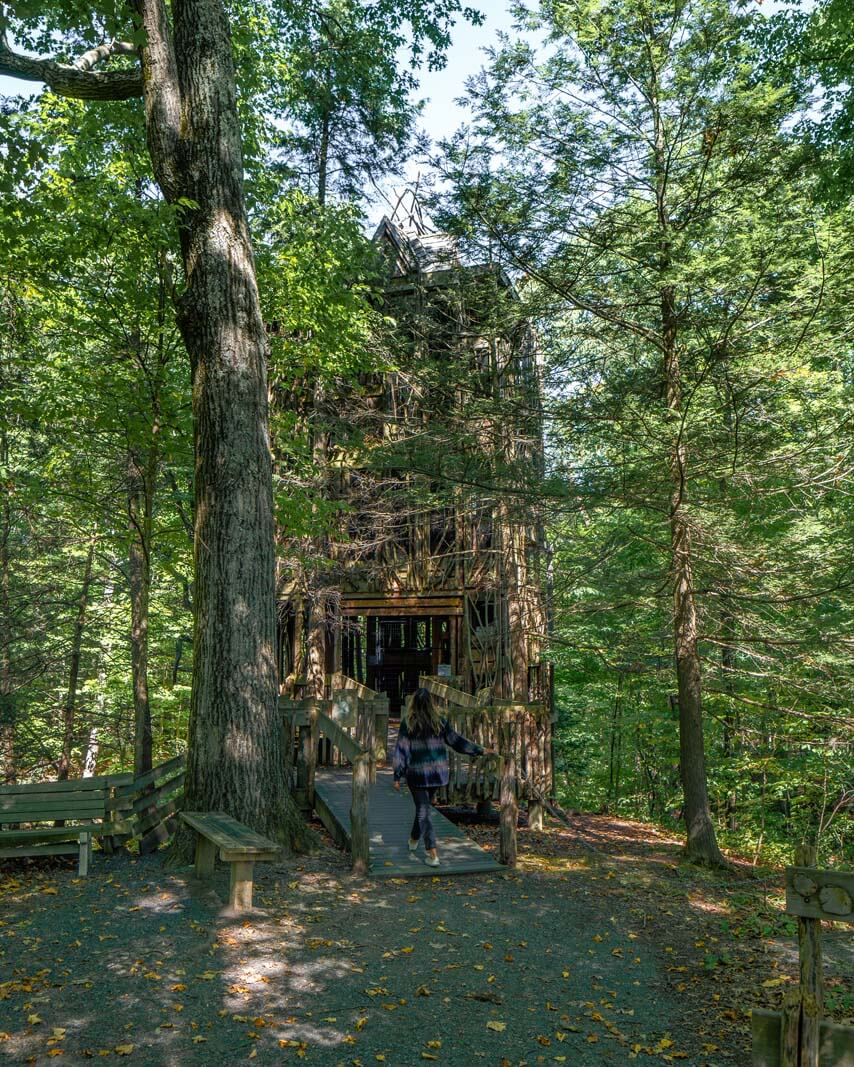 One of the more unique things to do in Ithaca, NY located along the west side of Cayuga Lake is visit the Cayuga Nature Center which offers miles of trails through their woods and fields passing some of the local terrain like gorges and streams.
You can find animals of the region here that have been rehabilitated but are unable to be released back into the wild, so this is their forever home including birds of prey like owls and hawks and a red fox and a grey fox. These little furry and feathered friends are considered the Animal Ambassadors of the nature center.
But the star attraction in our opinion and one of the more unique things to do in Ithaca would be their 6 story high treehouse nestled on a cliff of the gorge overlooking a waterfall. It was a rather dry summer during our visit so the waterfall was dried up, but you can climb the 6 story treehouse when its open and enjoy this cool project that was put together by Ithaca High School class of 2000.
Namgyal Monastery
One of the most interesting facts we learned about Ithaca is that they are home to the North American Seat of the Personal Monastery of His Holiness the Dalai Lama. We were shocked to discover this but once it was explained it made alot of sense.
Ithaca is a pretty progressive place welcoming of all, you can sense it and even see it when you're around Ithaca just by their public display of support of political and social justice movements.
When China invaded Tibet, Ithaca was one of the few places in the United States to openly welcome many Tibetan refugees who were fleeing religious persecution in which those who did find a home here felt very welcomed and is the reason why HH the Dalai Lama has his personal monastery for North America here in Ithaca.
Namgyal Monastery was founded in 1992 and is marked as an important new phase in the history of Buddhism and Tibetan culture in the United States according to their website. Namgyal-Ithaca is an official branch of the Namgyal Monastery in Dharamsala, India where the Dalai Lama exiled seeking political asylum.
Visitors can join various retreats, learning and studying Tibetan Buddhism, and evening meditation classes that preserve and educate Tibetan culture and traditions.
Gourdlandia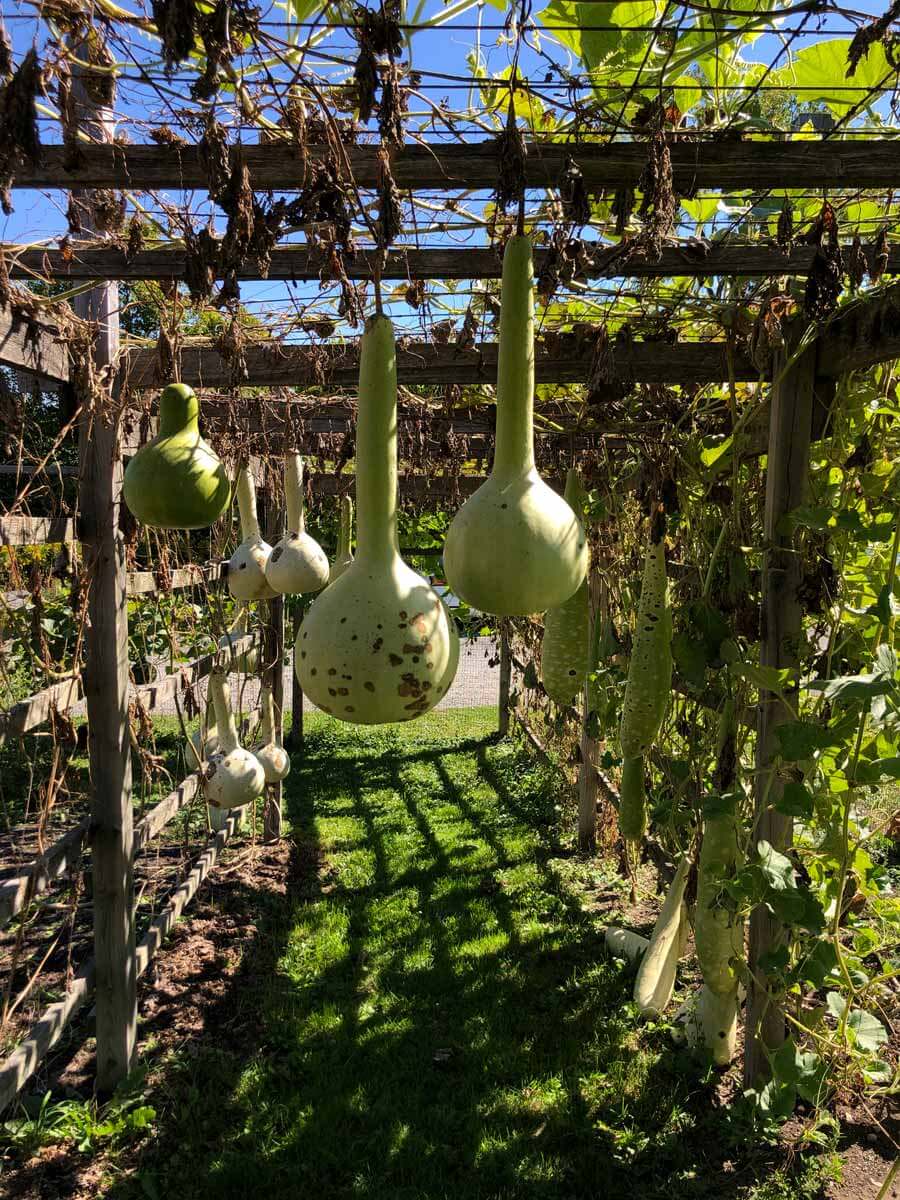 If you're looking for another unique thing to do in Ithaca, NY, and a unique gift for yourself or a friend, make a stop at Gourdlandia where a local artist grows and crafts with gourds making one of a kind treasures for your home.
On your visit, they may show you their backyard garden with large gourds and homegrown hybrids are growing to be dried out and made into the next items in the gallery for sale.
During our visit there was even a student present working on creating her own gourd art. In the store, you can find all kinds of gourd lamps, gourd carvings, designs, and other home furnishings and decor all made of gourds!
Just make sure to check online before your visit to ensure they're open when you stop by!
Carl Sagan Planet Walk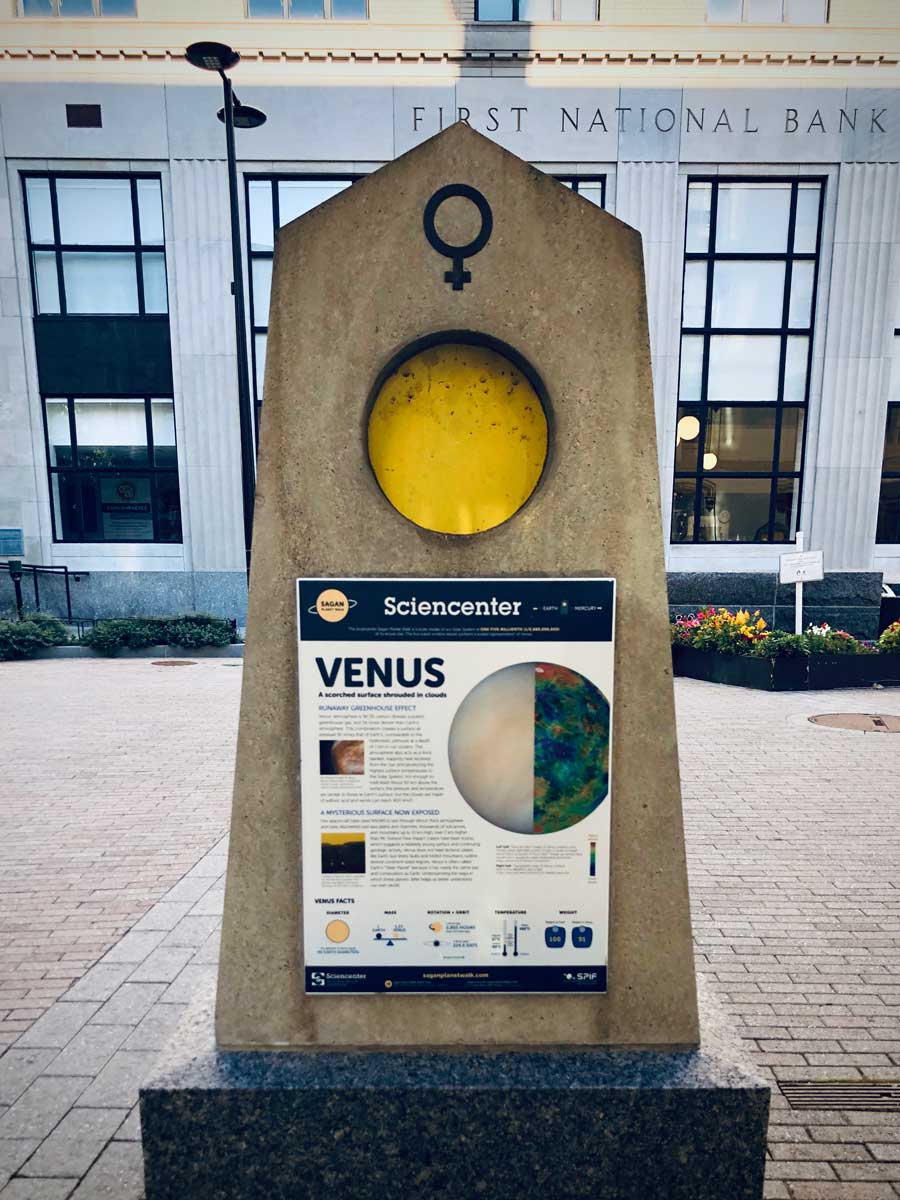 As mentioned earlier, one of the best things to do in Ithaca in the Ithaca Commons is the "Sagan Planet Walk," to honor the legendary planetary scientist and astronomer who lived in Ithaca and was a part of the Cornell faculty from the 1960s until his death in the 90s.
The walk starts at the Ithaca Commons and is just under .75 of a mile in length. This model of our solar system is scaled down to one five billionths of its actual size and you can actually enjoy the walk with a free audio-guided tour by calling 703-637-6237 narrated by famous TV scientist Bill Nye, one of Sagan's former students!
If you're a big fan of Carl Sagan, you can also peek at his former home while visiting the waterfalls on Fall Creek. Perched on a cliff above Ithaca Falls along the Stewart Avenue bridge at 900 Stewart Avenue is Sagan's Ithaca home overlooking Fall Creek facing Cayuga Lake. His home looks more like a museum and is done in the unique Egyptian Revival style of architecture, one of the rare existing examples of this style of architecture that can be found today.
The home, prior to Sagan's purchase in the 1980s was the meeting place of a secret society at Cornell University known as the Sphinx Head Society founded in 1890 and moved to this site in 1908. The building wasn't completed until 1926 after the society hired architect, J Lakin Bainbridge.
This style of architecture was trendy in the late 1800s and became even more popular after the opening of King Tut's tomb in 1922, other Ivy League schools like Dartmouth and Yale is where you can find more examples of this style of architecture too.
So if you love finding unique things to do in Ithaca, you can explore the traces of Carl Sagan and the local legacy he left behind here in Ithaca.
Things to do Near Ithaca
Owego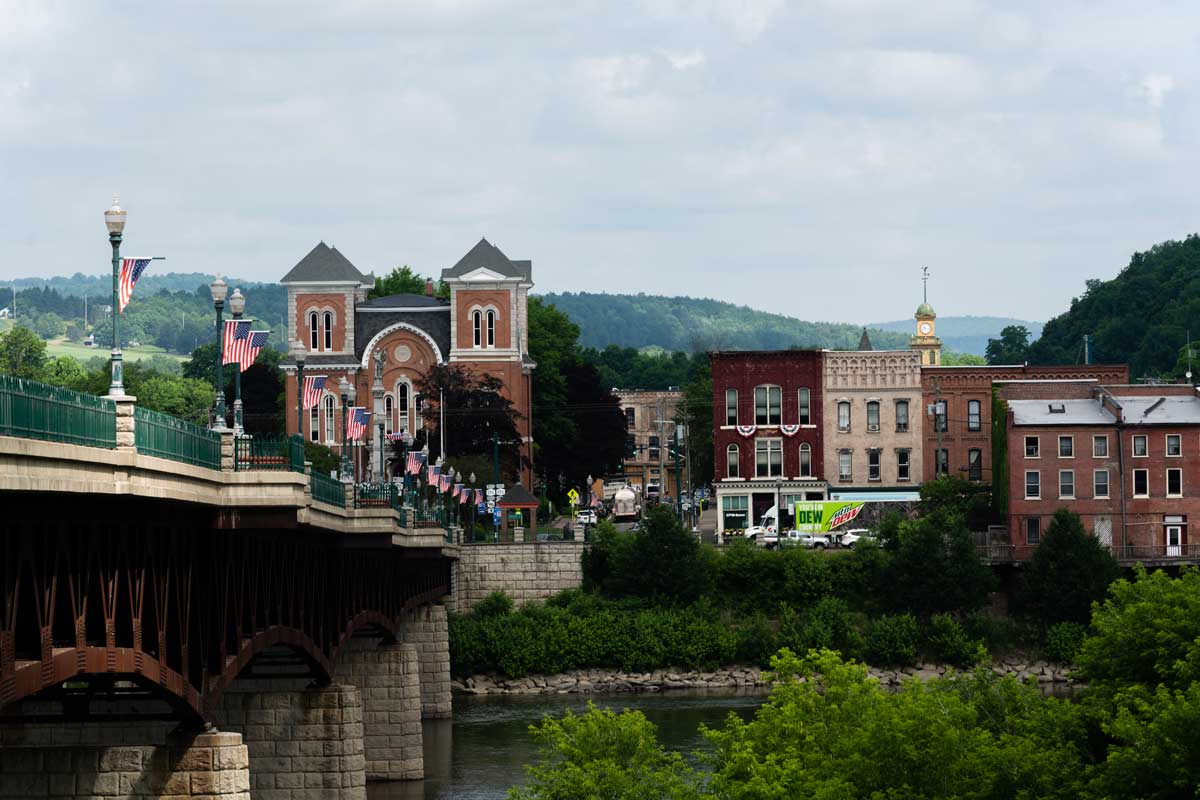 Just a 40-minute drive from downtown Ithaca is the charming town of Owego, one of our favorite charming towns in the Finger Lakes situated on the scenic Susquehanna River with a iconic view of the bridge and town hall you can see passing on the highway.
Stop in for lunch at one of the many delicious eateries downtown and check out their great shops including an awesome bookstore and one of my favorite New York antique shops!
If you are anything like us and love Owego, perhaps stay the night at one of their local bed and breakfast spots like the historic Belva Lockwood Inn.
See our full guide to best things to do in Owego for more inspiration and helpful information to plan your visit.
Watkins Glen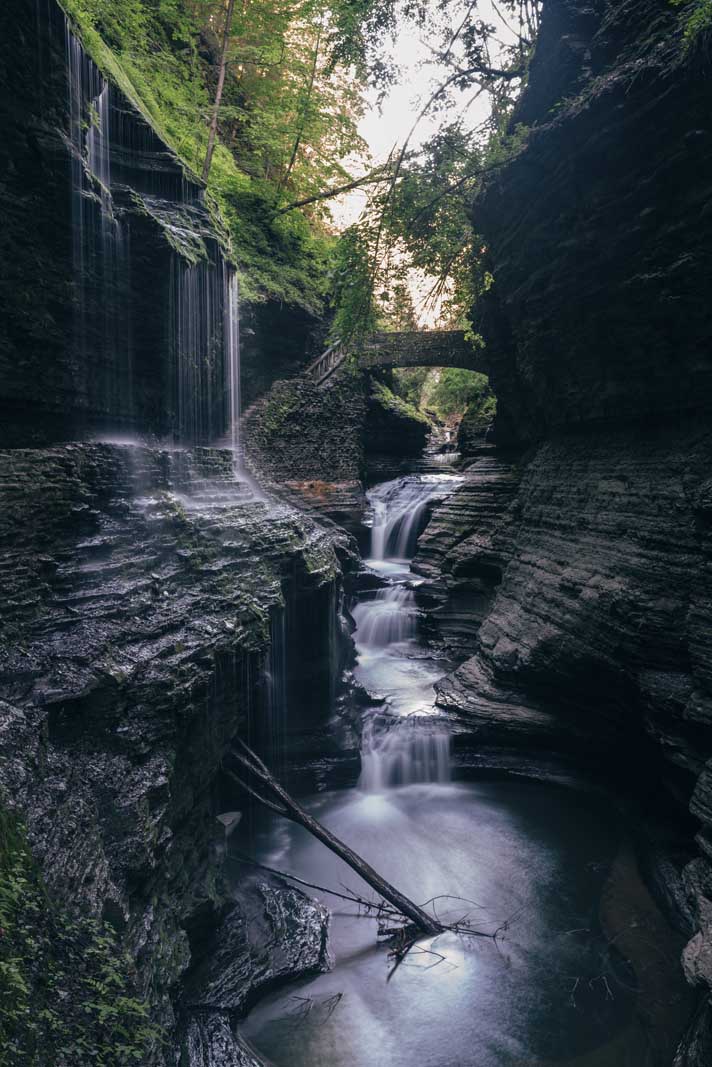 Located at the southern end of Seneca Lake and a 30 minute drive from Ithaca is the gorgeous town of Watkins Glen home to the international race track and the cascading waterfall trail in Watkins Glen State Park.
This is one of our favorite things to do near Ithaca and in the Finger Lakes region as its a great jumping off point to exploring the Seneca Lake wine trail and activities. Don't miss the Seneca Lake pier and downtown area where you can find some great places to eat!
And absolutely check out Watkins Glen State Park which is open seasonally and has a beautiful trail passing incredible cascading waterfalls to add to your waterfall chasing around Ithaca!
See our full guide to best things to do in Watkins Glen for more inspiration and helpful information to plan your visit.
Seneca Falls
Located on the northwest end of Cayuga Lake is a not to be missed place to check out near Ithaca! The town of Seneca Falls is the birthplace of the Women's Rights movement and where the Seneca Falls Convention took place in 1848.
You can visit the Women's Rights National Historic Park which is an educational park that chronicles the history of the Seneca Falls Convention and the historical significance of the Women's Suffrage movement that started here in this spot and kick-started the entire movement that has been a non-stop fight since.
You can trace some of the historic landmarks and homes of the significant leaders of the area, hop on a boat tour along the locks on the Erie Canal, visit museums, and dine or shop downtown.
Besides being the birthplace of Women's Rights in the United States, Seneca Falls was also the inspiration for the setting of Bedford Falls in It's A Wonderful Life, Frank Capra's Hollywood classic. There's a museum dedicated to It's A Wonderful Life and don't miss a visit to the bridge from the famous scene where the hopeless George Bailey goes on Christmas Eve and contemplates taking his own life.
Harriet Tubman National Historic Park
Another one of the best historic stops and things to do near Ithaca, NY along Cayuga Lake you can learn about the history of the Underground Railroad and Harriet Tubman in Auburn.
This National Historic Park and National Landmark is an educational center focusing on Harriet Tubman's role running the Underground Railroad network helping those forced into slavery find their freedom and visit her former home as well as her final resting place at Fort Hill Cemetery and, The Harriet Tubman Home for the Aged, the house where Tubman ran a home for the elderly and indigent Black community and where she stayed herself in her final days.
Historically regarded to at the "Moses of Her People," you can trace the historic and significant sites of Harriet Tubman's lifetime of work of freeing those from slavery and the bravery it took to do this in her time.
Where to Stay in Ithaca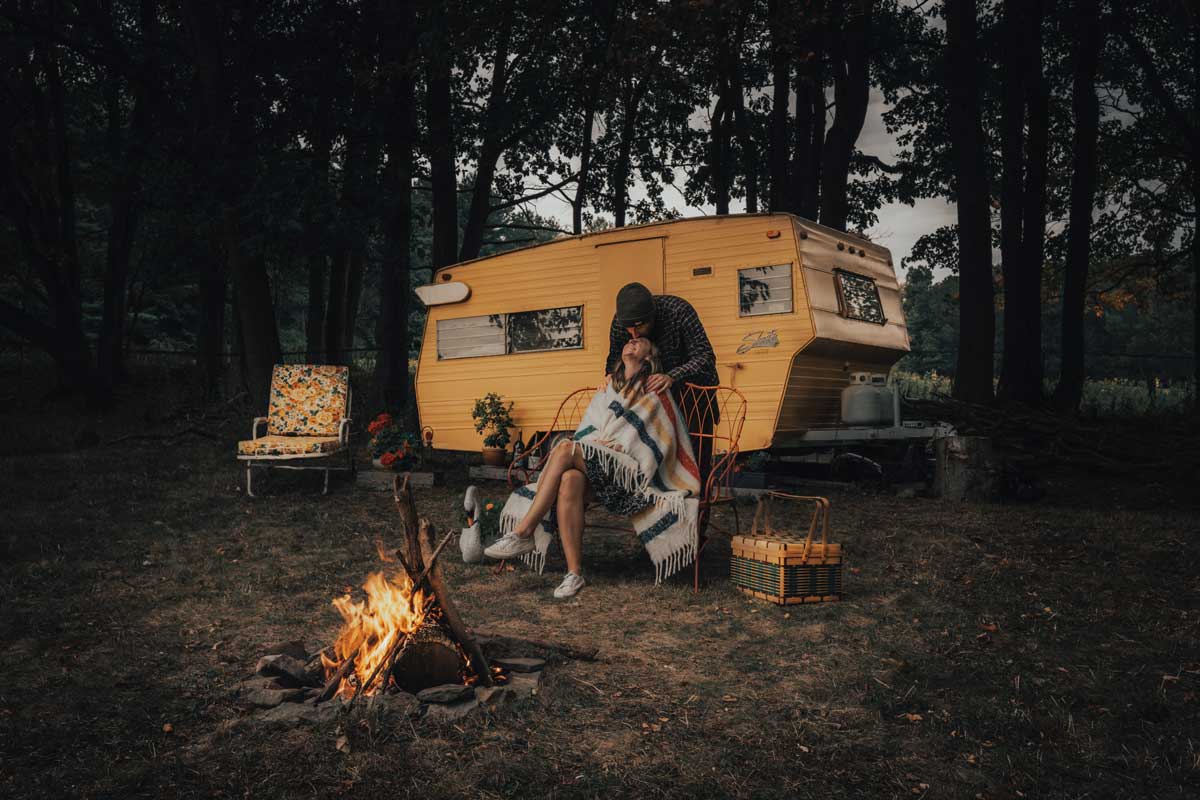 Explore all the best things to do in Ithaca, NY by staying a few days. We have a few options from glamping in Upstate New York to hotels in downtown Ithaca so you can build whatever type of trip or experience you're looking for!
Glamping on a Farm in a Vintage Camper
This is your chance to sit under the stars and unplug for a weekend without wifi and electricity all while staying in this charming 1965 camper on a horse farm just outside of downtown Ithaca. Connect with nature and enjoy this unique experience and stay in Ithaca spending your nights around a campfire under the stars outside your little camper retreat!
Find this listing at Hipcamp. First time trying Hipcamp? Get $10 off your booking using my code: MEGANI4FA199 or booking through this link.
Luxury Glamping at Firelight Camps
Another glamping experience that is a little more luxury than our previous option offers visitors a unique stay while exploring all the best things to do in Ithaca, NY. Firelight Camps offers luxurious tents with balconies overlooking the stunning scenery set on the grounds of La Tourelle Hotel & Spa with an onsite spa, shared lounge and wellness and fitness center for that extra touch of luxury.
Book Now at: Booking.com | Expedia | Hotels.com
Hotel Ithaca in Downtown
Hotel Ithaca is a lovely hotel in the heart of town. The rooms are brightly decorated and cozy, suites offer separate living rooms and parking is free. There's a heated indoor pool accessible year-round and a lovely deck with lounge chairs with easy access to all the best things to do in Ithaca walking distance to many of the attractions downtown.
Book Now | Compare Prices for Later | Read Trip Advisor Reviews
Find more hotels to stay at while exploring all the best things to do in Ithaca, NY using the booking map below.
---
Found this guide to exploring all the best things to do in Ithaca, NY helpful? Bookmark for later or share the love below on Pinterest! Happy travels!